Newspapers on Monday covered the remarks made by President Hassan Rouhani in an address to Iranian people in the southwestern city of Yasuj. President Rouhani announced that the country's economic growth rate has increased to 4.4%, and also voiced his scepticism towards the US.
A Parliamentary statement against the insults to President Rouhani was also widely covered. The lawmakers urged the Judiciary to prosecute the insulters.
A popular TV show, "Dorehami", and its famous host , the popular comedian Mehran Modiri, also appeared on newspaper front pages after an alleged insult by Modiri to two respected Sunni figures during a Saturday night episode. Several MPs have urged the IRIB to apologize and prosecute the perpetrators.
The above issues as well as many more are highlighted in the following headlines:
Abrar:
1- 20 Sunni MPs Call for Serious Action against Producers of Popular TV Show [in which the TV star Mehran Modiri has reportedly insulted two respected Sunni figures]
2- Vice-Speaker Urges IRIB to Apologize over Insults to Sunnis
3- Increase in Number of Prisoners Is Worrying: Official
---
Abrar-e Eqtesadi:
1- Parliament to Review Import of Chinese Car Parts in New Peugeot Contract
2- Iran's Oil Price Dropped to $37 per Barrel
---
Aftab-e Yazd:
1- Alternative to Rouhani: Yes or No?
2- Drones Taking Photos of Houses to Find Tax Evaders in Spain
3- Boys Who Use Cosmetics: Analysis of a Strange Behaviour
4- Iran's Questionable Trust in Russia: Why Tehran Withdraws from Suing Moscow over S-300 Delivery?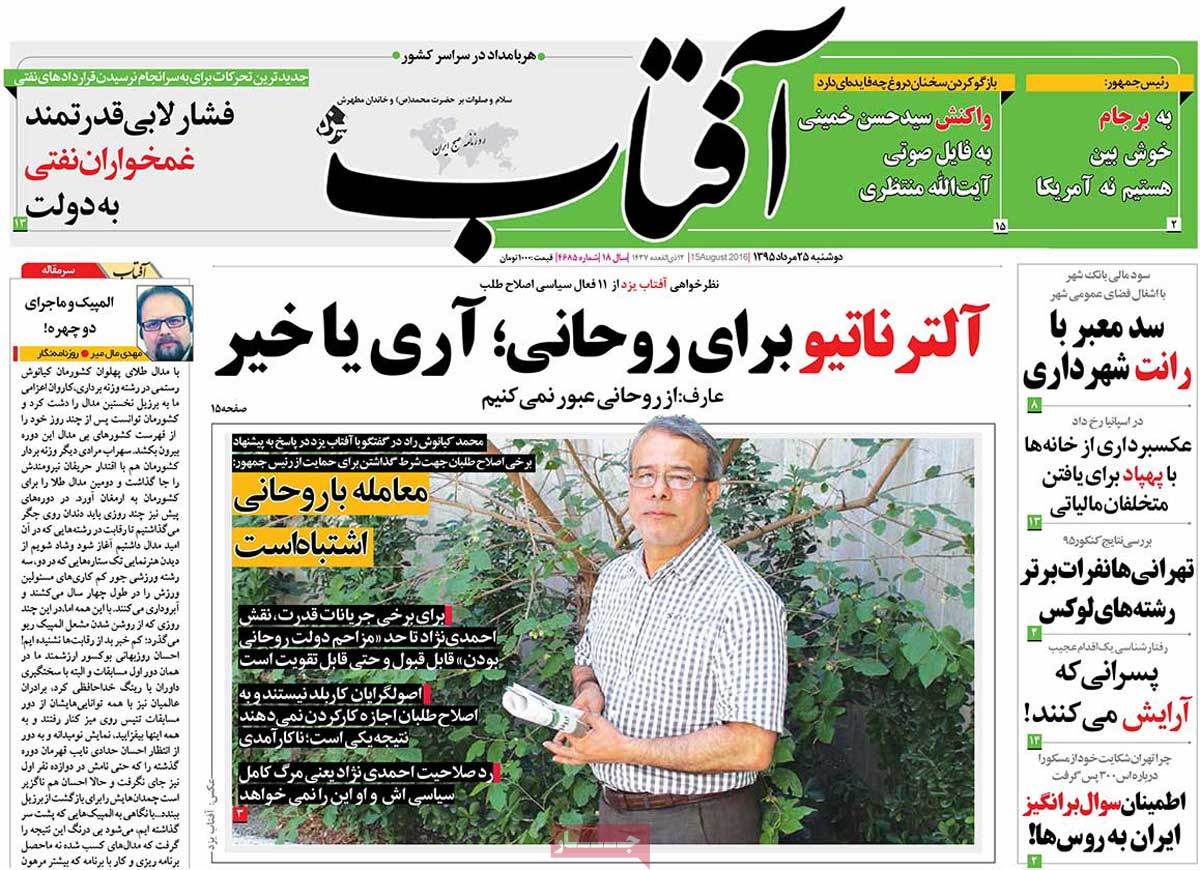 ---
Arman-e Emrooz:
1- Man's Self-Immolation in Front of Tehran's City Council
2- Some Candidates Were Mistakenly Put in List of Hope [Reformists' list in parliamentary elections]: Rafsanjani's Daughter
3- Foreign Ministry to Spend Its Own Budget on Buying Prison Terms of Iranian Inmates in Foreign Countries
4- Qom Seminary and Iranian Police File Lawsuit against Hafez [Cinema] Awards
---
Asrar:
1- Parliament Warns Those Who Insult President
2- Iranian 'Retired' Weightlifter Moradi Wins Gold Medal in Rio Olympics
3- Security along Borders Is Iran's Redline: Shamkhani
4- Zarif: Cooperation for Peace to Be Increased
5- Civil Rights Is Not a Political Issue: President's Aide
6- It's Questionable that Some Are Trying to Target People's Belief in Imam Khomeini: Gradson
7- Iran's Railway System to Be Renovated: Minister
---
Emtiaz:
1- Increase in Fertility Rate in Iran: Official
2- 8 Tons of Various Illicit Drugs Seized in 4 Months
3- Iran Stops Import of Petrol from Turkmenistan
4- Iranian Men Who Win Medals in Olympics, and Son of Paralympics Medal Winners to Be Exempted from Military Service
---
Etemad:
1- My Father Won't Abandon Rouhani [in next year's presidential elections]: Rafsanjani's Daughter
2- Interior Ministry Warns Ahmadinejad against Early Beginning of His Campaign for Presidential Elections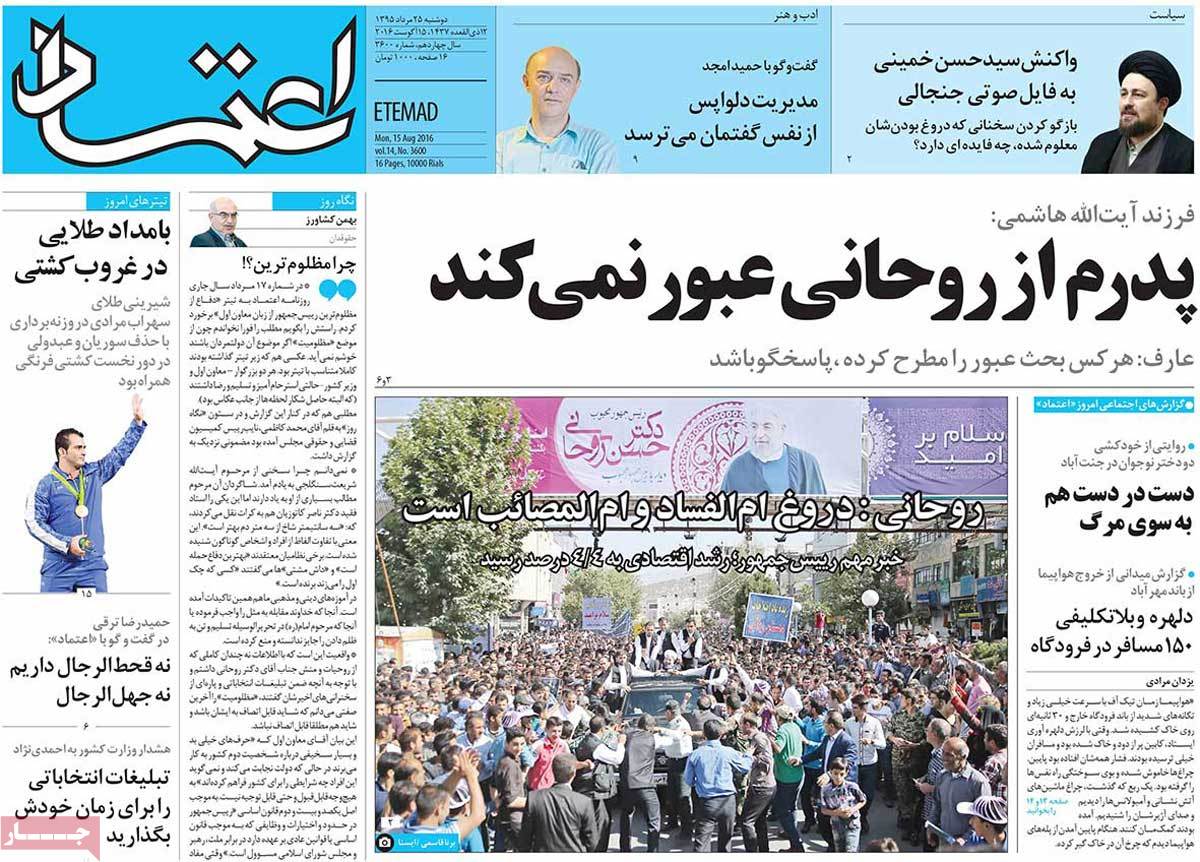 ---
Ettela'at:
1- Economic Growth of Spring Was 4.4%
2- Russia Urges Saudi Arabia to Stop Attacking Yemeni Civilians
3- Iran's Weightlifting Team Wins another Gold Medal in Rio 2016 Olympics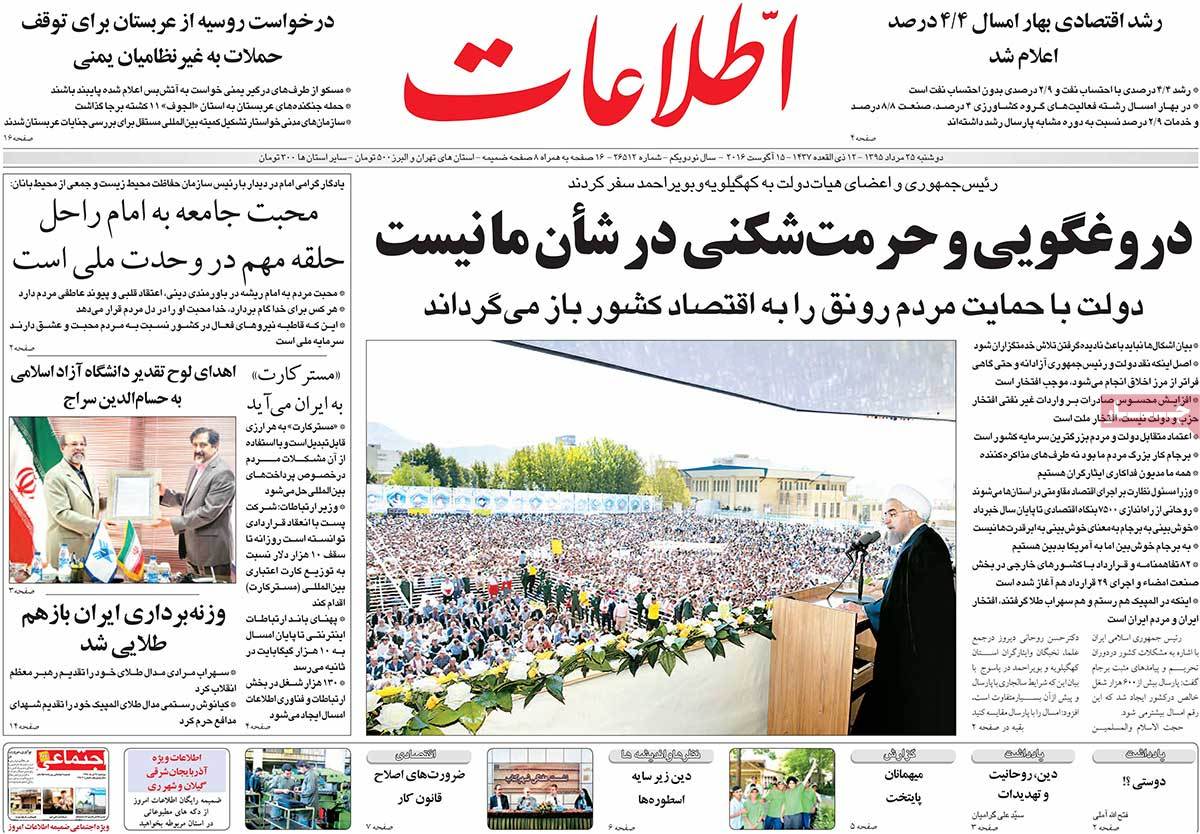 ---
Haft-e Sobh:
1- Tragic Death of 2 Teenage Girls: They Took Selfie and Then Jumped out of Window While Taking Each Other's Hands
2- 4 Million Dollars of Smuggled Benz and Porsche to Be Crushed This Week: What's the Reason for Such a Weird Decision?
3- Grief over Greco-Roman Wrestling Team's Defeats Breaks Hearts of Iranians
---
Hamshahri:
1- Oil Accounts for 1.5% of the 4.4% Economic Growth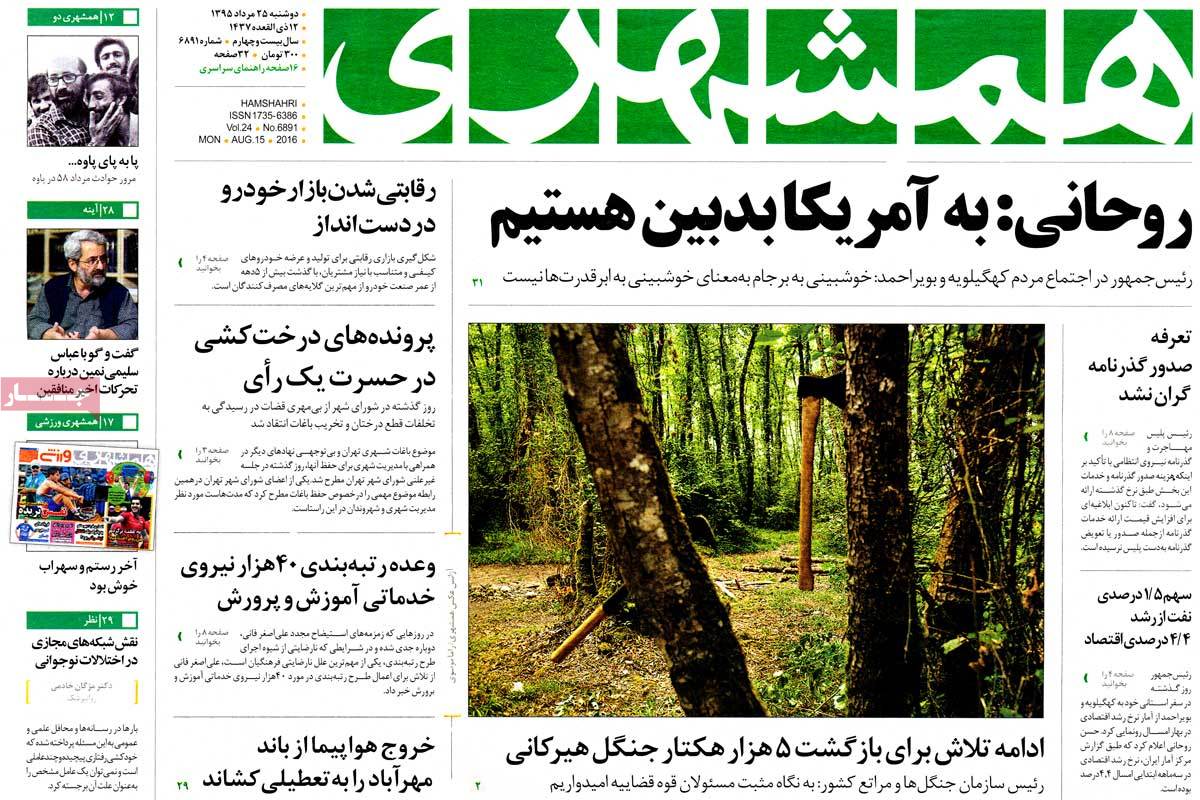 ---
Hemayat:
1- Iran to Become One of the 10 Cleanest Countries in World: Anti-Corruption Official
2- New Documents Show Obama and Clinton's Roles in Creation of ISIS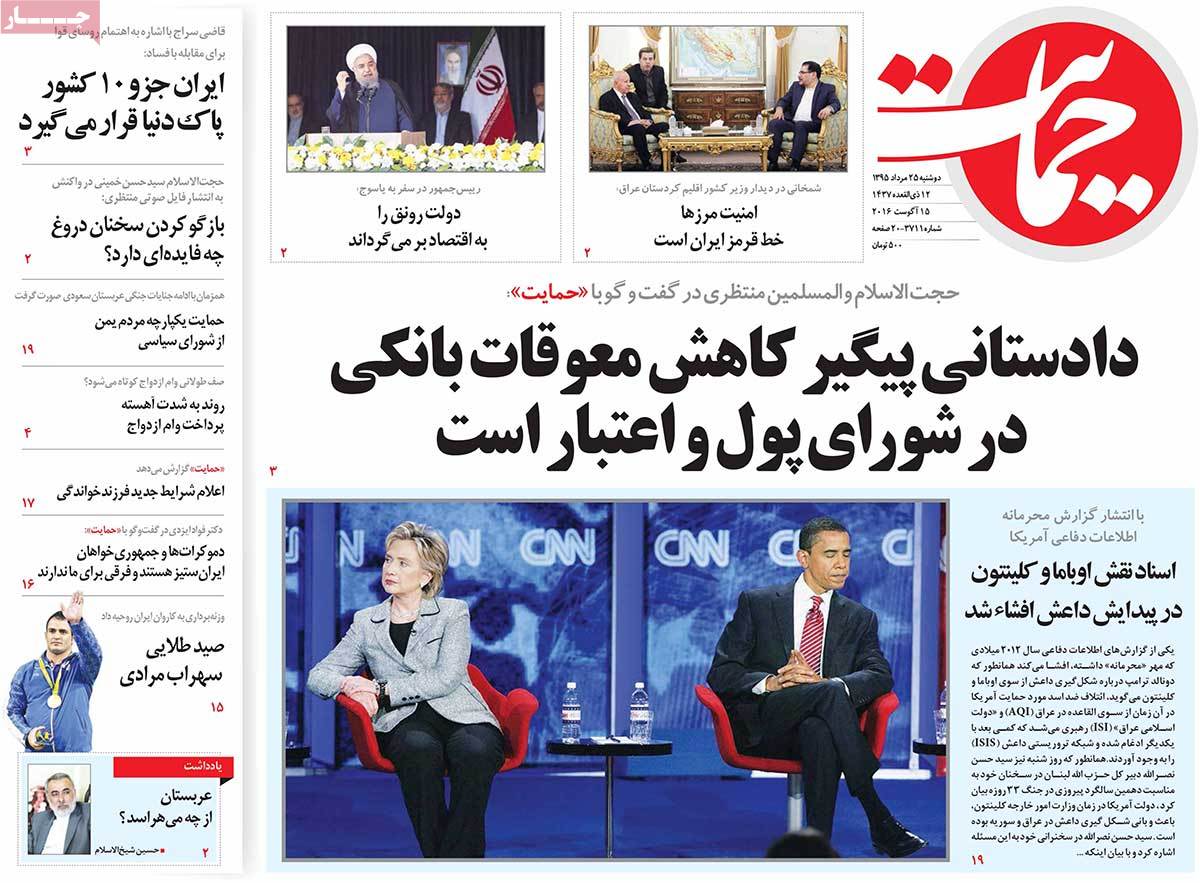 ---
Iran:
1- Details about Biggest Post-JCPOA Investment in Iran: Turkey to Make $4.2bn Investment in Iran's Power Industry
2- Imam Khomeini's Grandson Criticizes Attempts to Undermine National Unity by Attacking the Late Imam
3- It's Now Possible to Provide MasterCard Services in Iran: Minister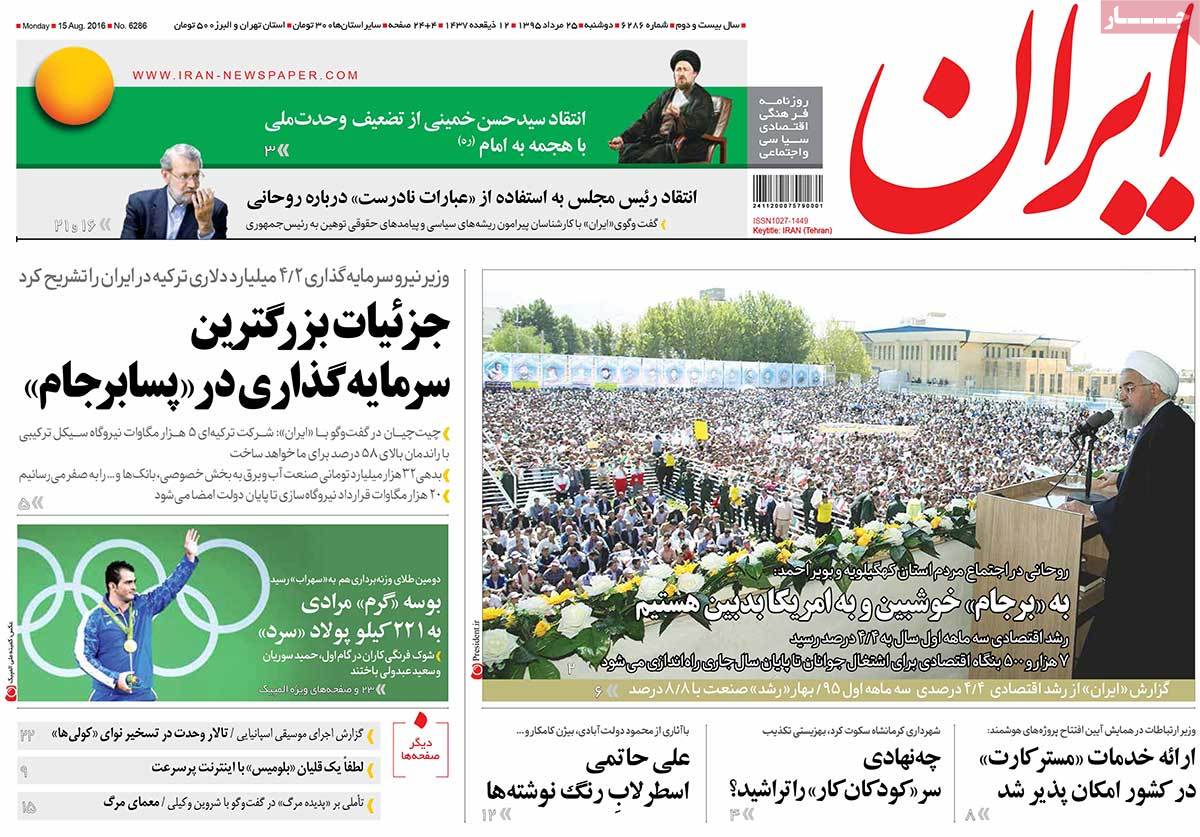 ---
Jame Jam:
1- A Report on How Other Countries Have Countered Smuggling
2- Smoke Trade in Cyberspace: Growing Trend of Selling Tobacco Products in Social Media
3- President Rouhani: We're Sceptic of the US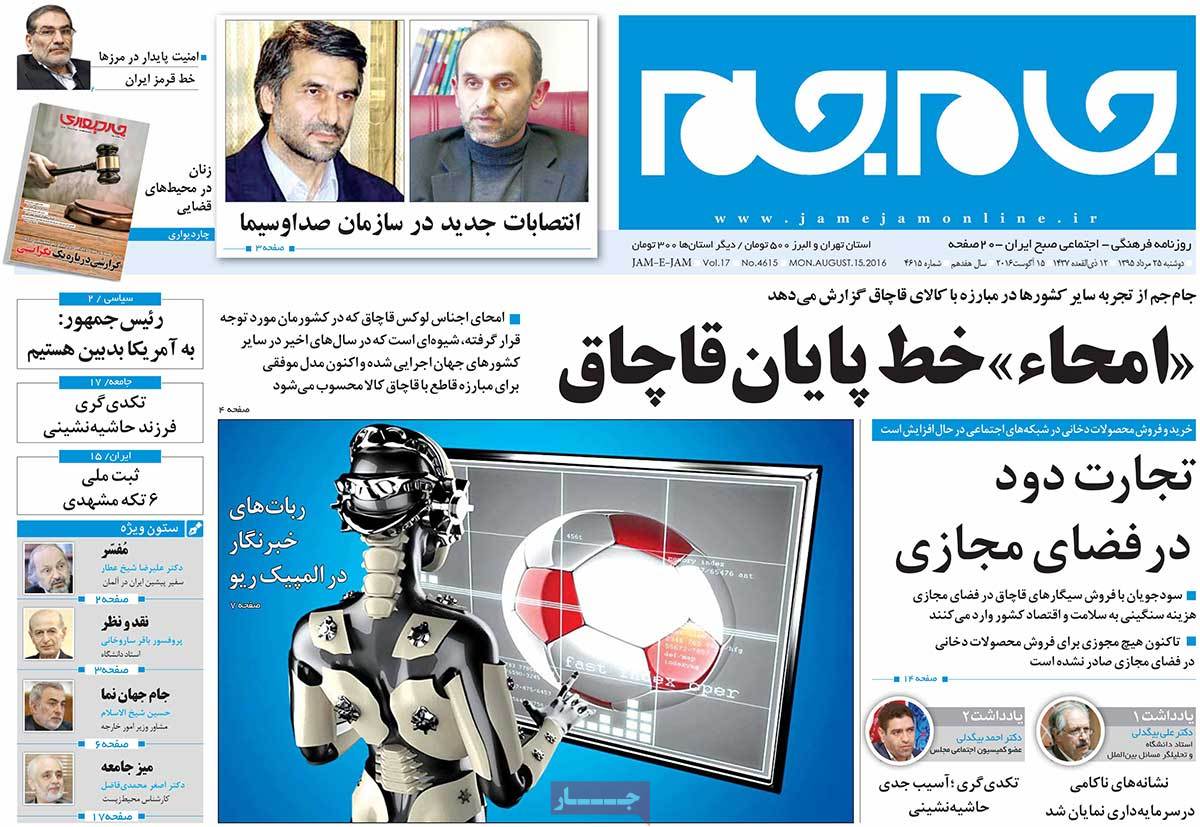 ---
Javan:
1- Yemeni Children Do Homework in Blood: Saudis Claim the Children Slaughtered by Saudi Airstrikes Were Houthi Hirelings
2- Continued Decline in Power of Iran's Passport under Rouhani's Gov't: Iranian Passport Down by 13 Ranks over Past 3 Years
3- Putin's Representative in Iran: Tehran-Moscow Ties Rearranged after Erdogan's Turnaround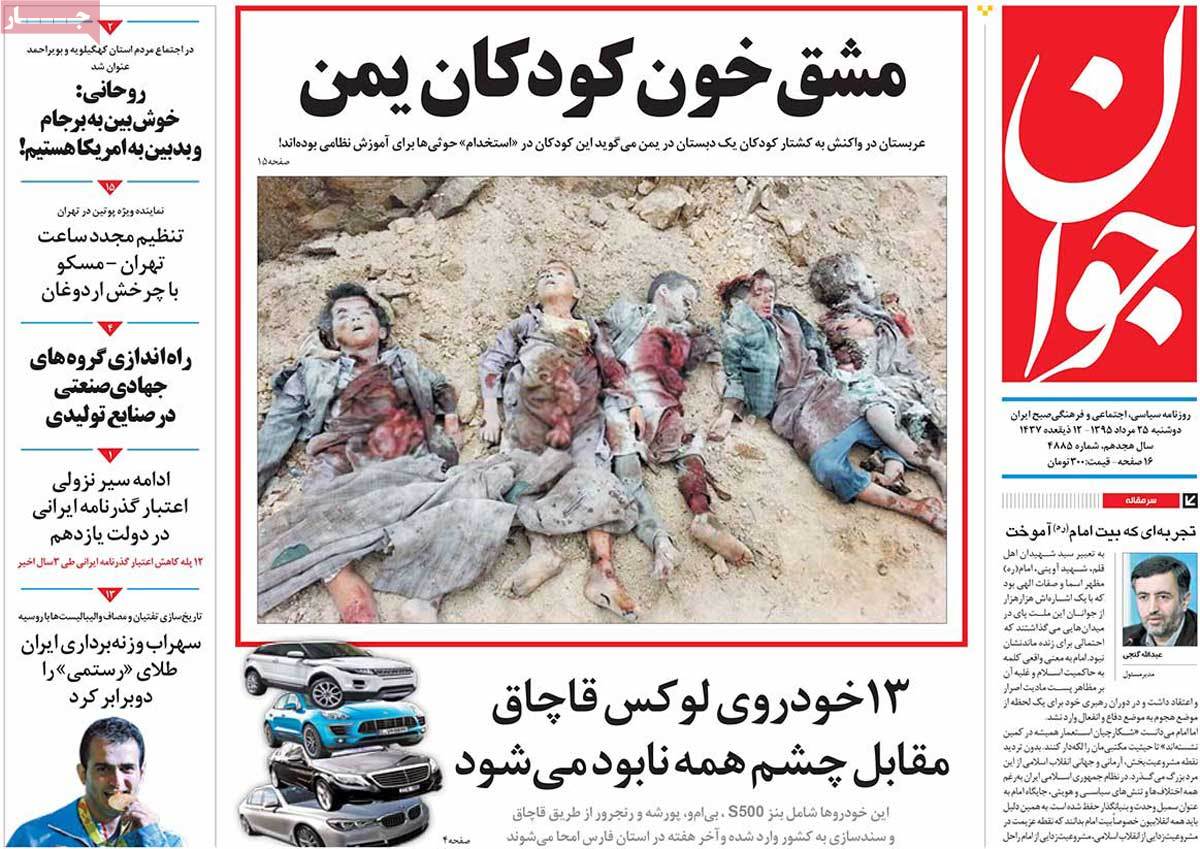 ---
Jomhouri Eslami:
1- ISIS, the Infantry Regiment of Western-Hebrew-Arab Axis of Evil [Editorial]
2- Trump Is a Threat to the World: Former Secretary General of NATO
3- Yemeni People Show Strong Support for MPs' Decision to Convene Parliament
4- End of ISIS Is Near: Iraqi PM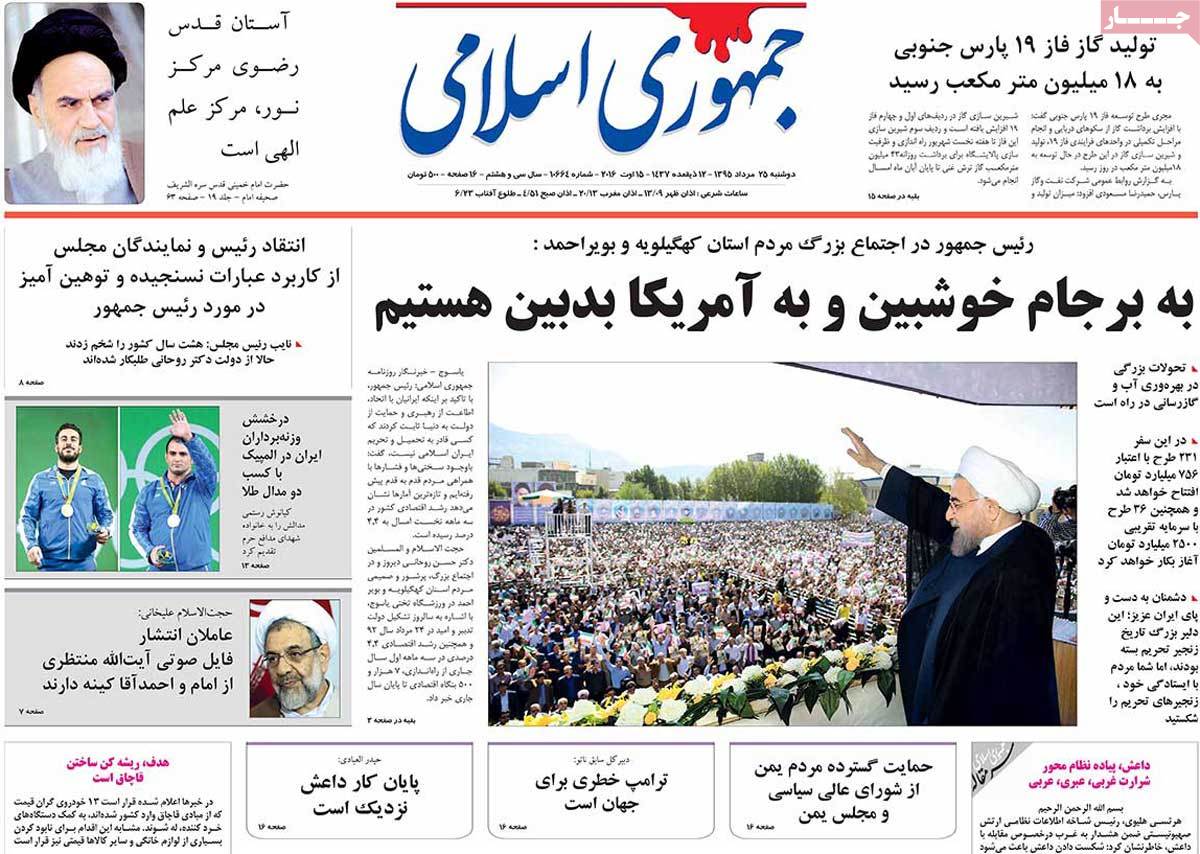 ---
Kayhan:
1- President Rouhani Declares Economic Downturn in Kermanshah, and 5% Economic Growth in Yasuj!
2- Average Use of Agricultural Pesticides in Iran Is One-Sixth of Europe's
3- Syrian Jet Fighters, Assisted by Russia, Bomb Terrorists' Positions for 60 Times
4- Both Democrats and Republicans Plan to Increase Pressure on Iran: US Institute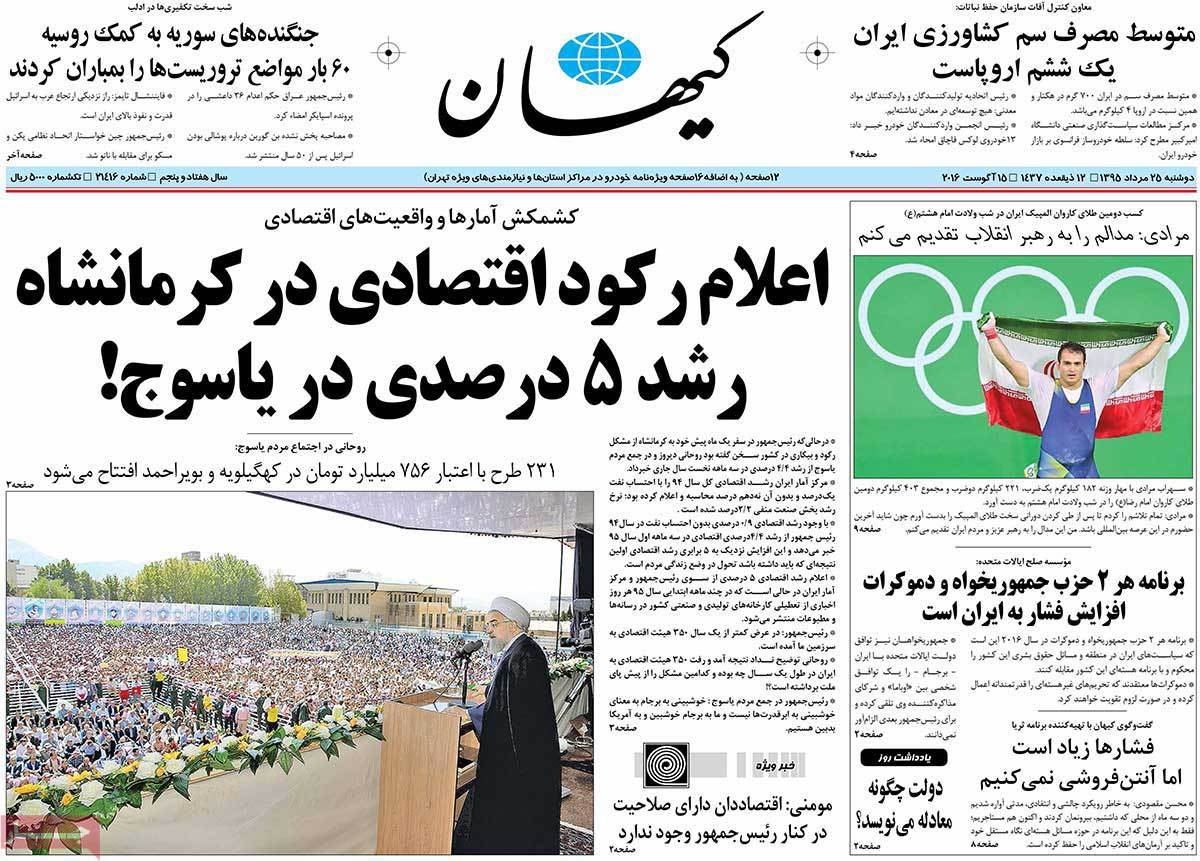 ---
Khorasan:
1- Positive Growth Rate Thanks to Oil Doping
2- 1.1m Annually Added to Iran's Population
3- Saudis Checkmated after Yemenis Convene Parliament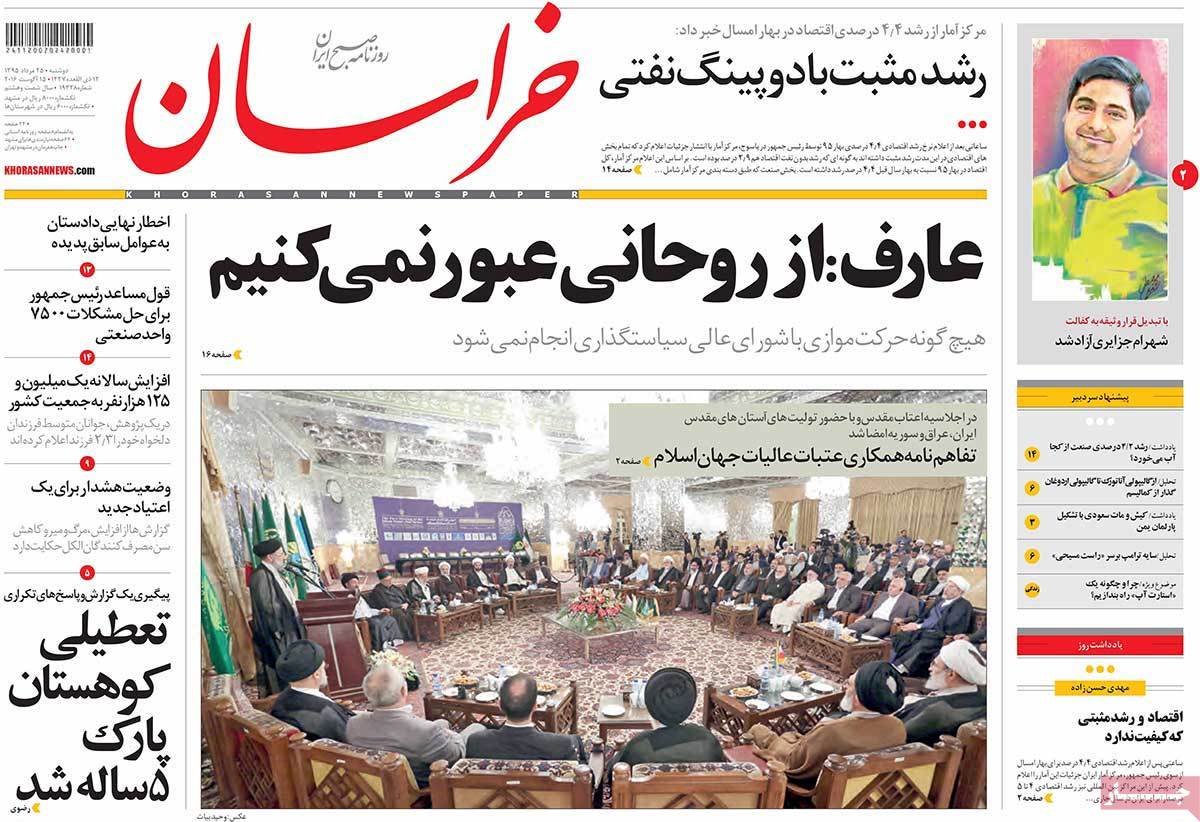 ---
Resalat:
1- We Buried the Legend of Israel's Invincibility: Nasrallah
2- Democracy in British Style: Why London Doesn't Recognize People's Vote?
---
Sepid:
1- The Lesson US Health System Should Learn from Iran: Iran Is Only Country in World to Resolve the Issue of Kidney Shortage through Donation Compensation System
2- Iran the Superpower of Health Diplomacy in Region
3- Iranian MasterCard with Credit Limit of $10,000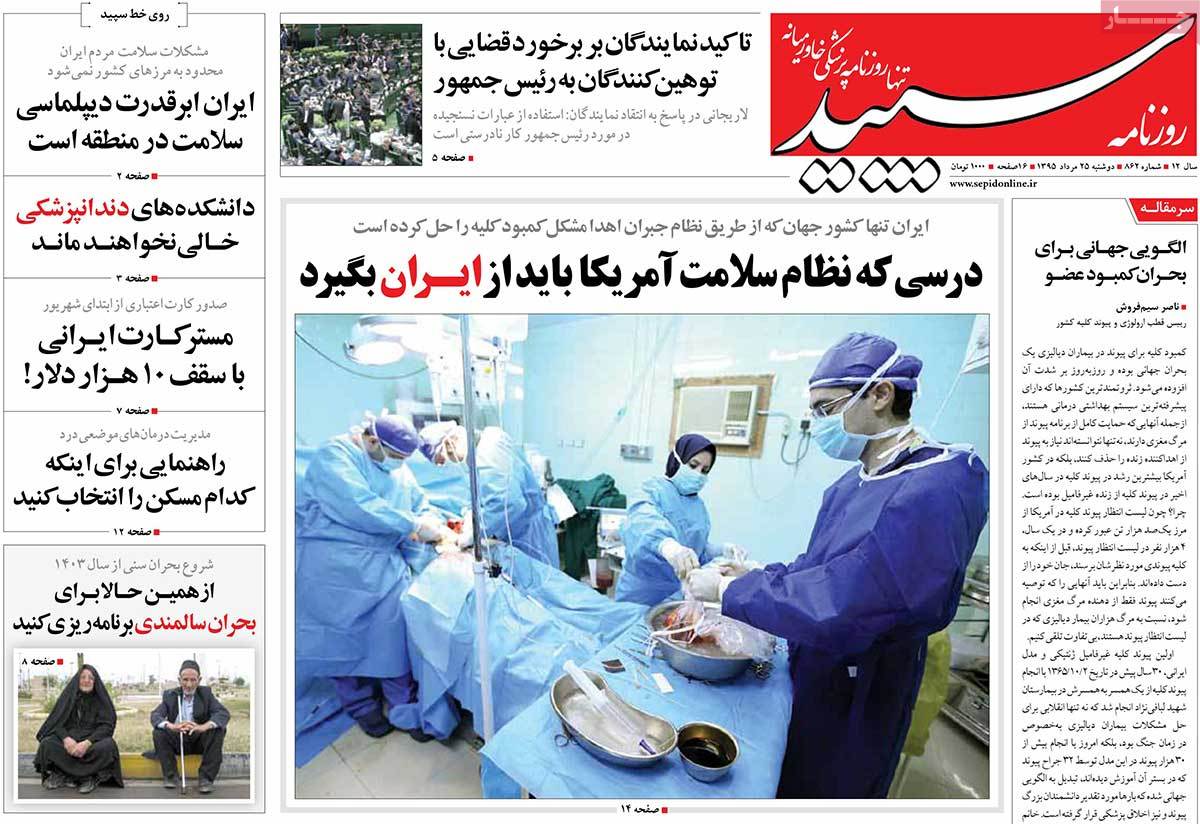 ---
Shahrvand:
1- No One Is Allowed to Give Iranian People Frustration: Rouhani
2- It's Time to Harvest Fruits of JCPOA: Deputy FM
3- Bloody Clash in Second War over Water in Charmahal and Bakhtiari Province
4- Iran Goes 20 Ranks Up in Entrepreneurship Index
5- Chilean Embassy Reopened in Iran after 35 Years
---
Shargh:
1- Political Changes in IRIB Management
2- Aref: We Hope to See End of House Arrest [of opposition leaders Mousavi and Karroubi]
3- Iranian Sailors Captured by Kuwait's Coast Guard
4- MPs Warn: Why Prosecutor-General Is Silent over Insults to President?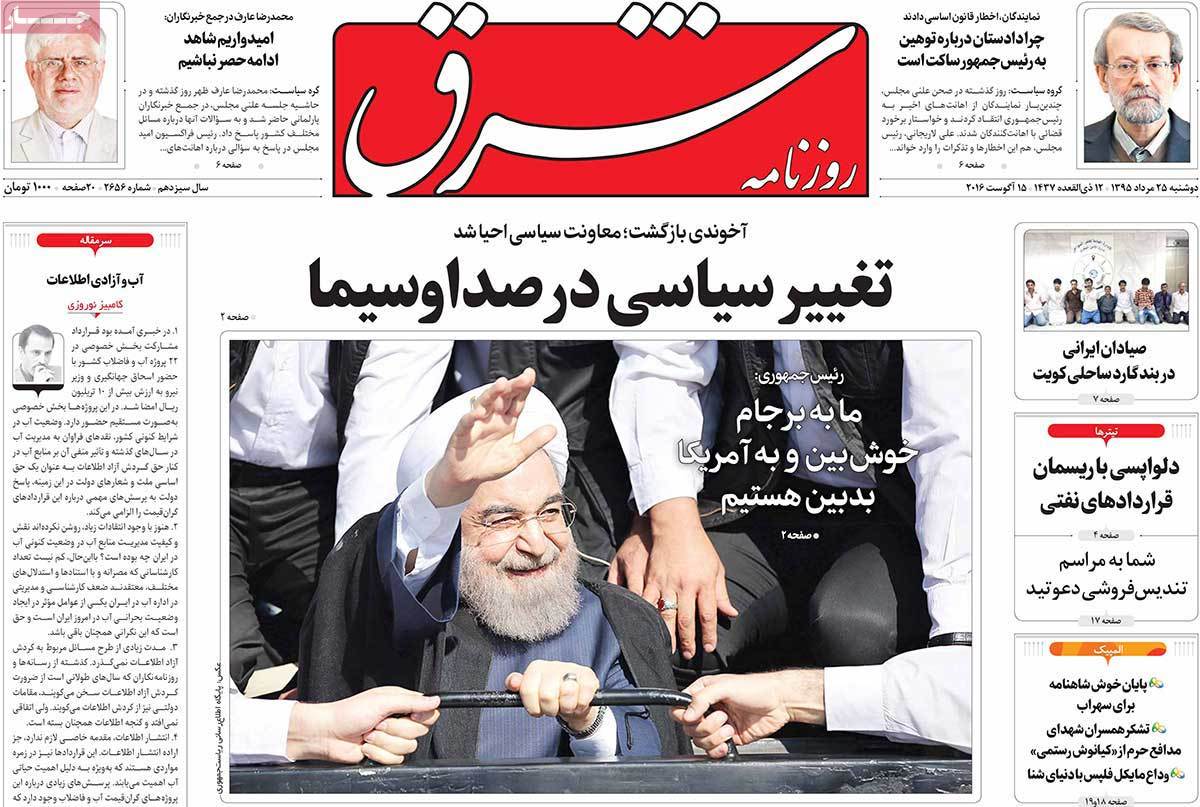 ---
Sobh-e Now:
1- Diplomatic Efforts to Bring Back BBC to Iran: Details of a Meeting between Iranian Attaché in London with BBC Officials