Newspapers on Sunday covered the order by the Leader of the Islamic Revolution Ayatollah Seyyed Ali Khamenei to pardon or commute the sentences of 750 prisoners on the occasion of Imam Reza's birthday anniversary.
They also highlighted the first gold medal bagged by Team Iran in Rio Olympic Games 2016. Kianoosh Rostami, the Iranian weightlifter, was the one who seized the medal.
The remarks by senior conservative figure and a probable presidential candidate Mohammad Reza Bahonar about the house arrest of Iranian opposition figures Mir-Hossein Mousavi and Mahdi Karroubi also received great coverage.
The above issues as well as many more are highlighted in the following headlines:
Abrar:
1- Those Who Support MKO Terrorist Group Can't Restore Life to This Dead Body: IRGC
2- Obama Gave Iraq and Its Oilfields to Iran Like a Piece of Cake: Trump
3- S-300 Missile Defence System to Be Fully Delivered to Iran by Year-End: MP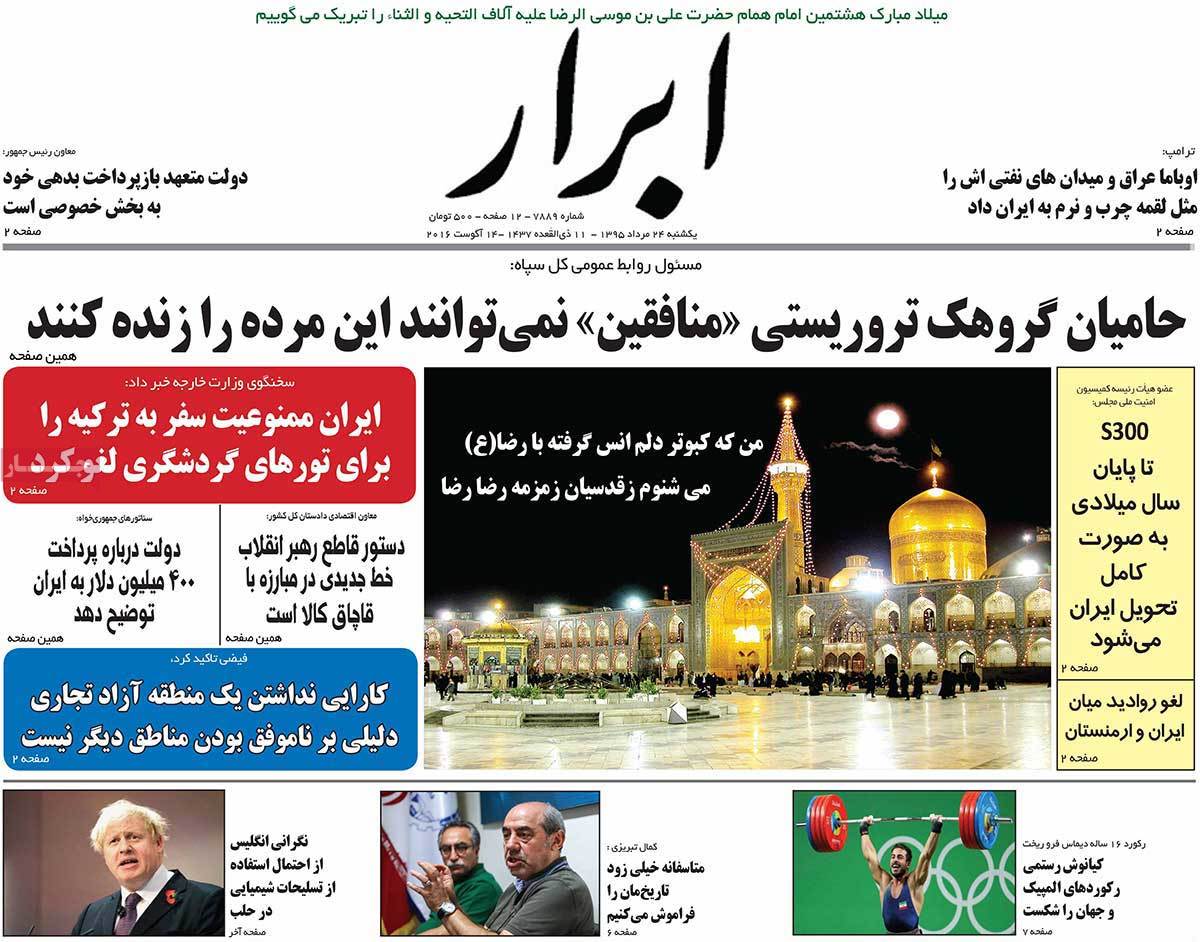 ---
Abrar-e Eqtesadi:
1- Iran-Norway Oil Talks
2- 71% Increase in Iran-Russia Trade
3- Grounds to Be Prepared for Development of Iran-Kazakhstan Economic Ties
4- Renault's Bad Fate in Iran
5- Boeing Official Once Again Start Talks with Iran
---
Aftab-e Yazd:
1- Was Rouhani Successful in Countering Astronomical Salaries?
2- Weightlifter Rostami Wins First Gold Medal for Team Iran
3- Diplomatic Efforts for Promotion of Tourism: Visa Regime Lifted between Iran and Armenia
4- Iran Lifts Ban on Tourism to Turkey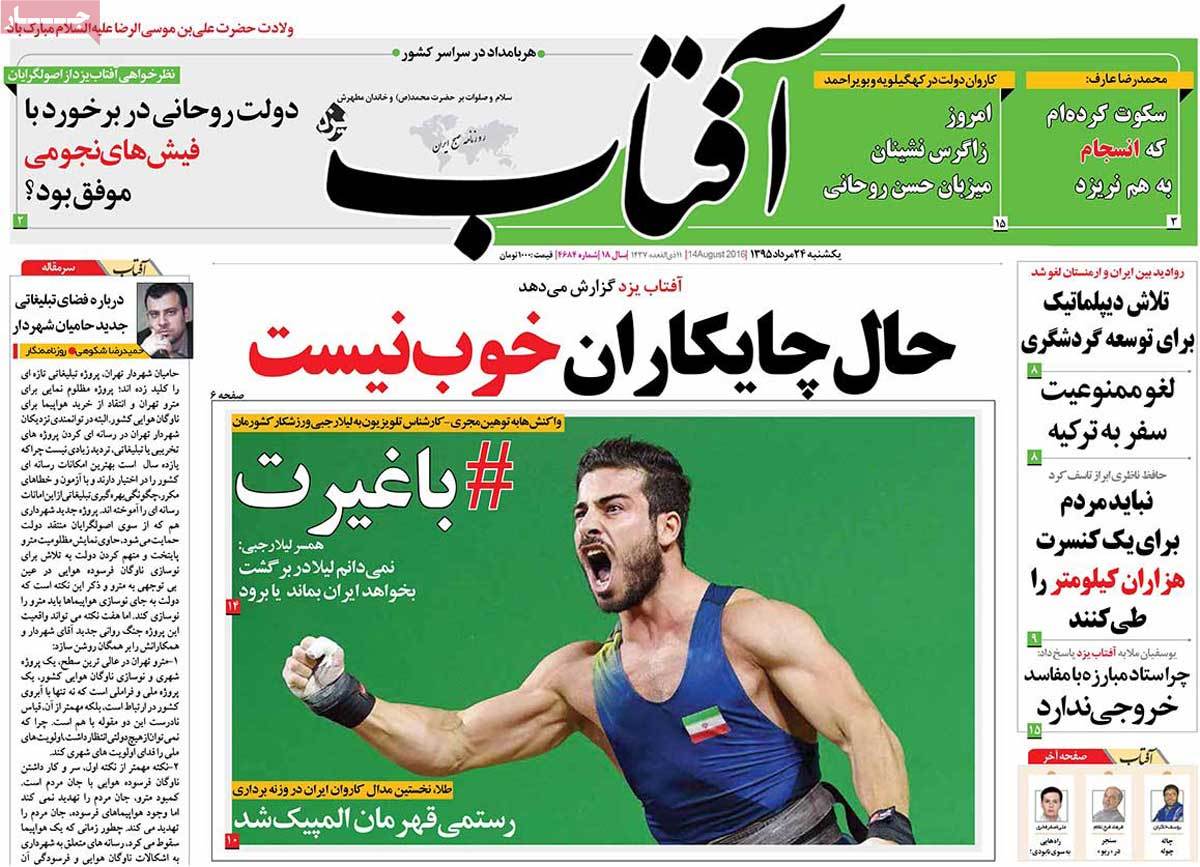 ---
Arman-e Emrooz:
1- Bahonar's Suggestion: Continuation of House Arrest! [for the two opposition figures Mousavi and Karroubi]
2- Senior Conservative: If a Court Is Held for Mousavi and Karroubi, They'd Receive Stiff Sentences
3- Chinese Products Dominate Iran's Lucrative Stationary Market
4- Former MP Urges Reformists to Launch Campaign in Support of Rouhani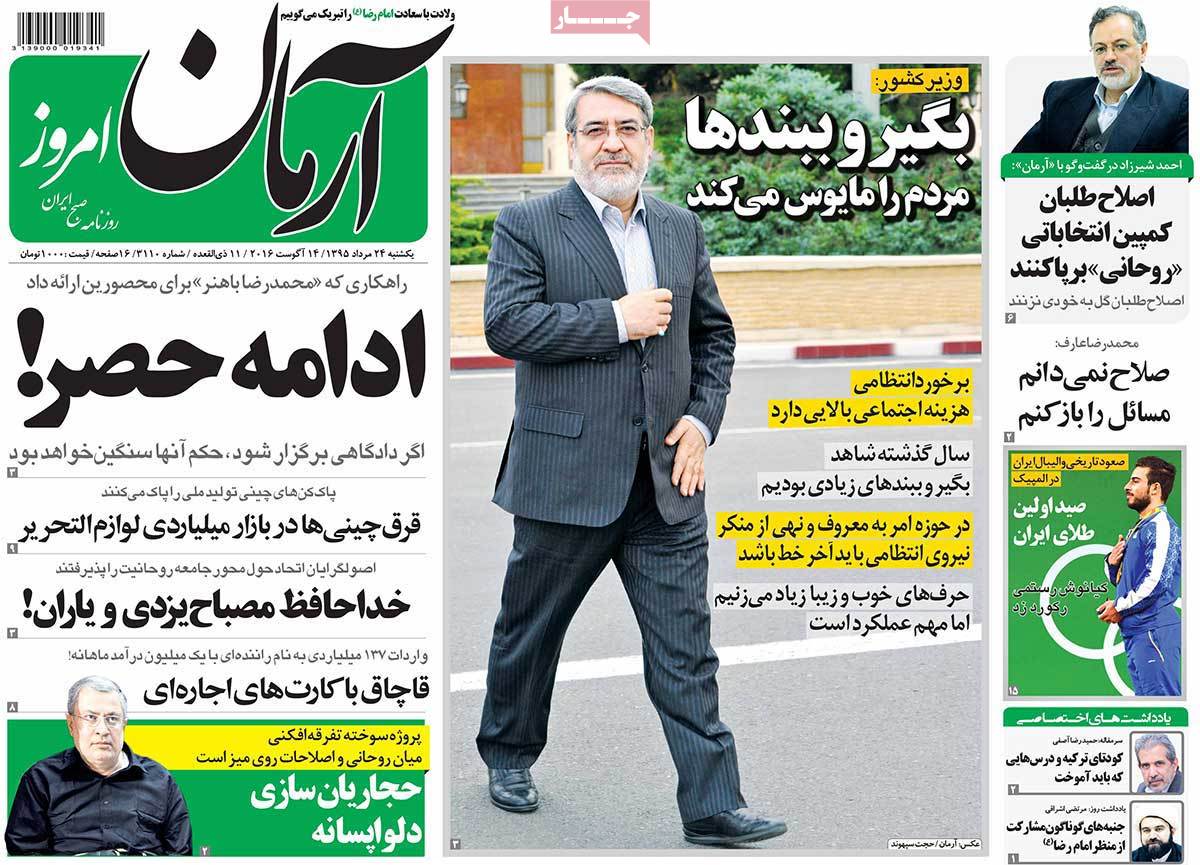 ---
Asrar:
1- Saudi Arabia Slaughters 50 Yemeni Students
2- Mismanagement Hindered the Country's Progress: Aref
3- Zarif: Saudis Want Middle East to Seem Instable
4- Radicals Are in a Minority: Analyst
5- Iran's First Gold Coined for Rostami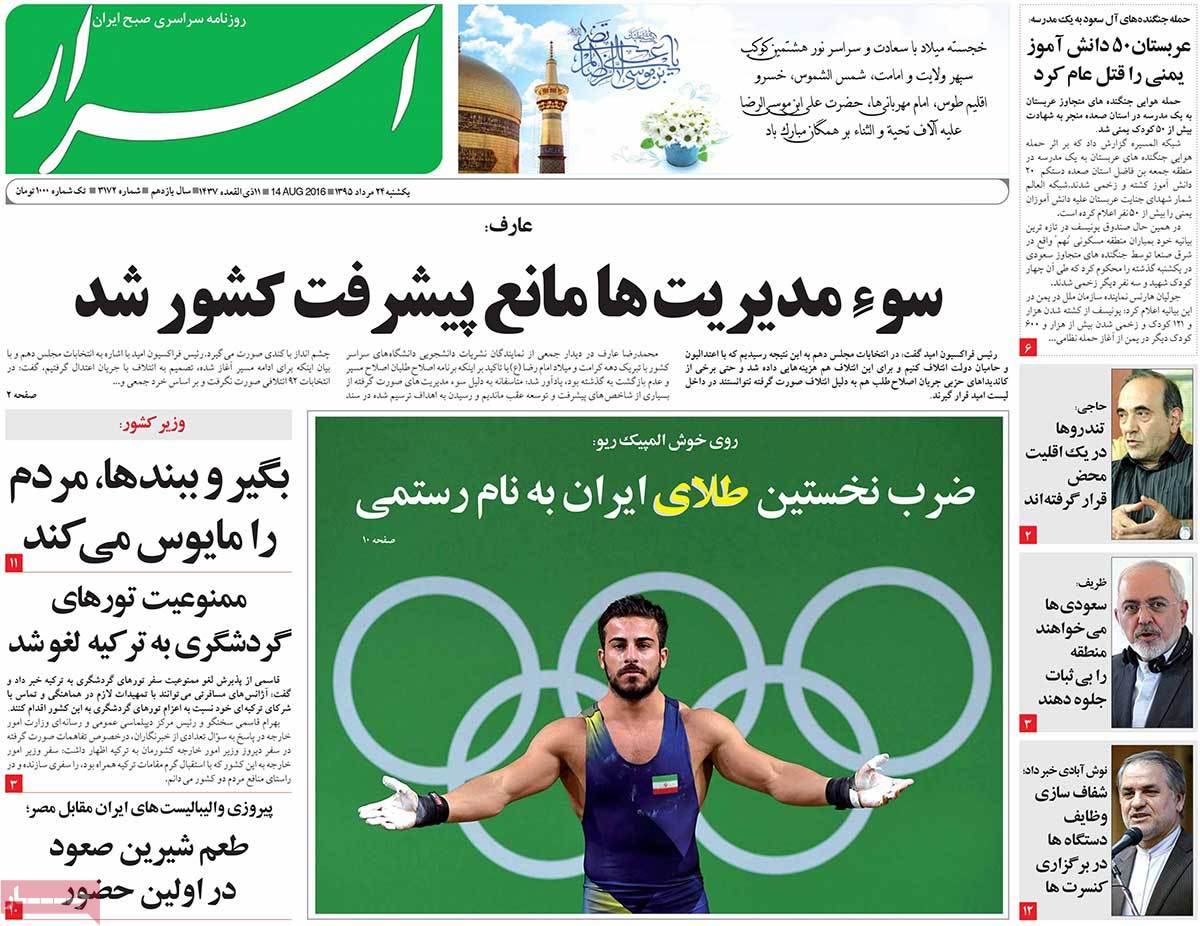 ---
Emtiaz:
1- 13 Benz and Porsche Cars Illegally Smuggled into Iran Will Be Destroyed
2- Health Minister Underlines Reinforcement of All-Out Ties with Cuba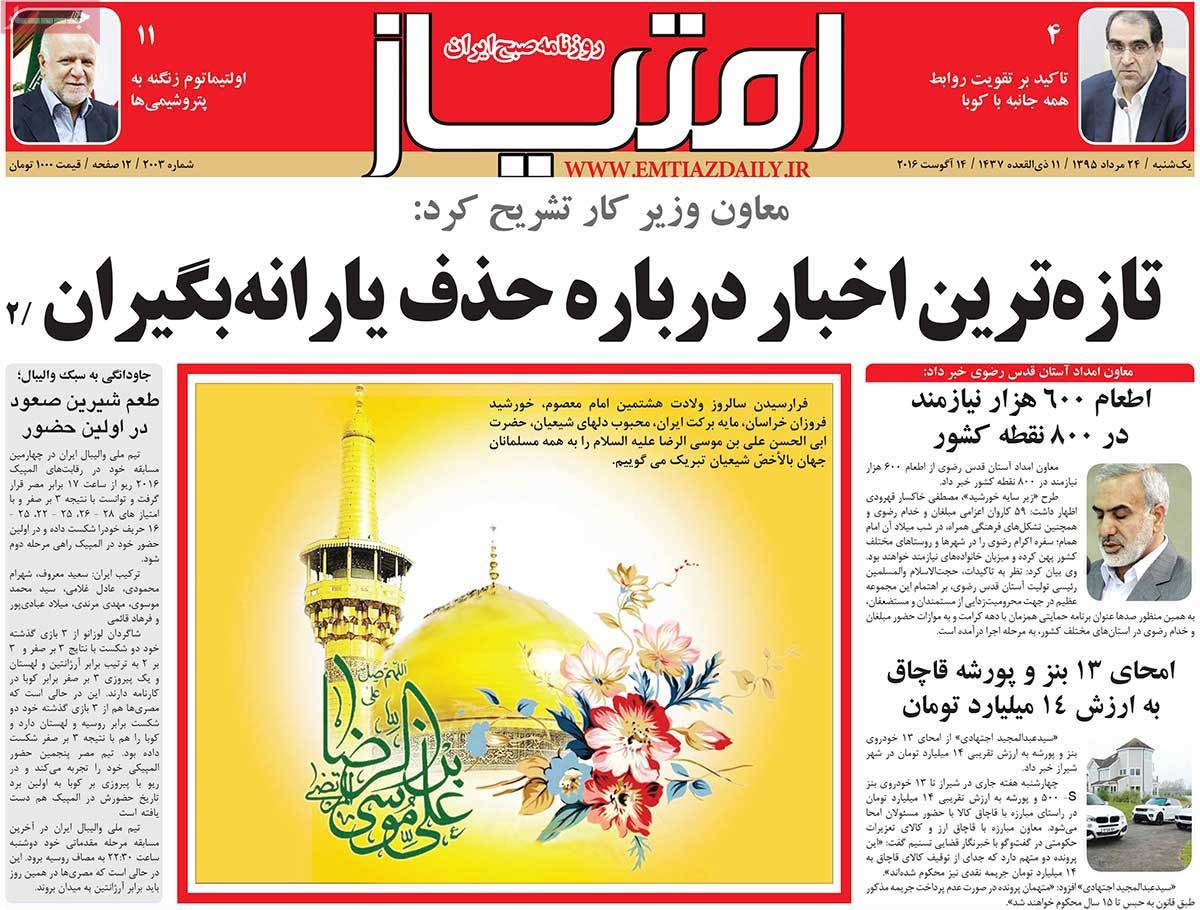 ---
Etemad:
1- Opinions of Aref [reformist] and Bahonar [conservative] about House Arrest
Aref: President Rouhani Hasn't Forgotten the Issue of House Arrests
Bahonar: Best Decision under Current Circumstances Is to Continue House Arrests
2- Fidel Castro Turns 90: Last Survivor of the Red Time
3- Beginning of Iran's Golden Week in Olympics
---
Ettela'at:
1- Rouhani: Iran Wants Freedom of Trade in Global System
2- Several Students Killed in Saudi Airstrike on Yemeni School
3- Iran's Volleyball Team among Top 8 in Rio Olympics
4- ISIS Abducts 2,000 Civilians in Syria's Minbaj
---
Haft-e Sobh:
1- MasterCard to Become Available in Iran: Minister
2- How Iranian Social Media Users Judge and Issue Sentences for Public Figures in Shortest Time!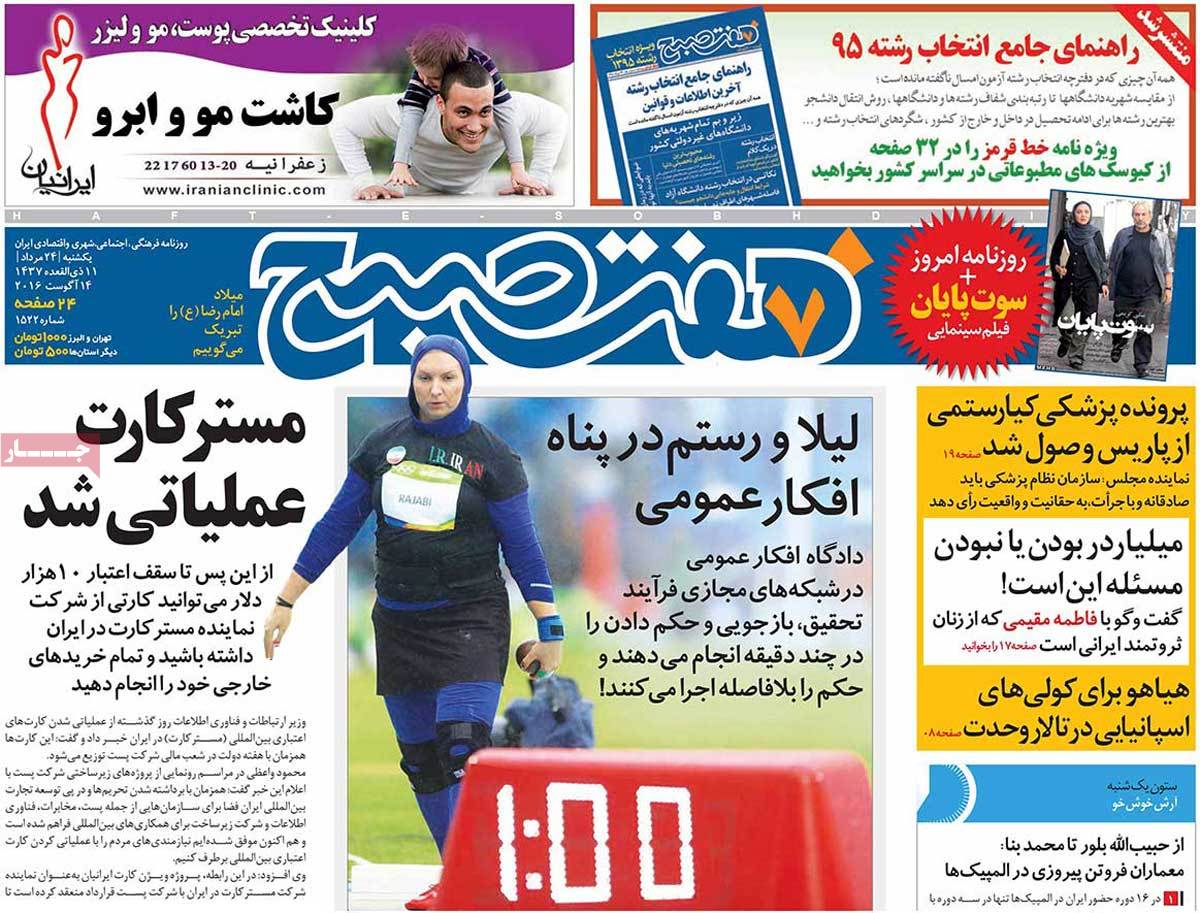 ---
Hemayat:
1- Israel Not Capable of Countering Resistance Movement: Nasrallah
2- Regional Dictators Are Adopting Suicidal Policies against Iran: Zarif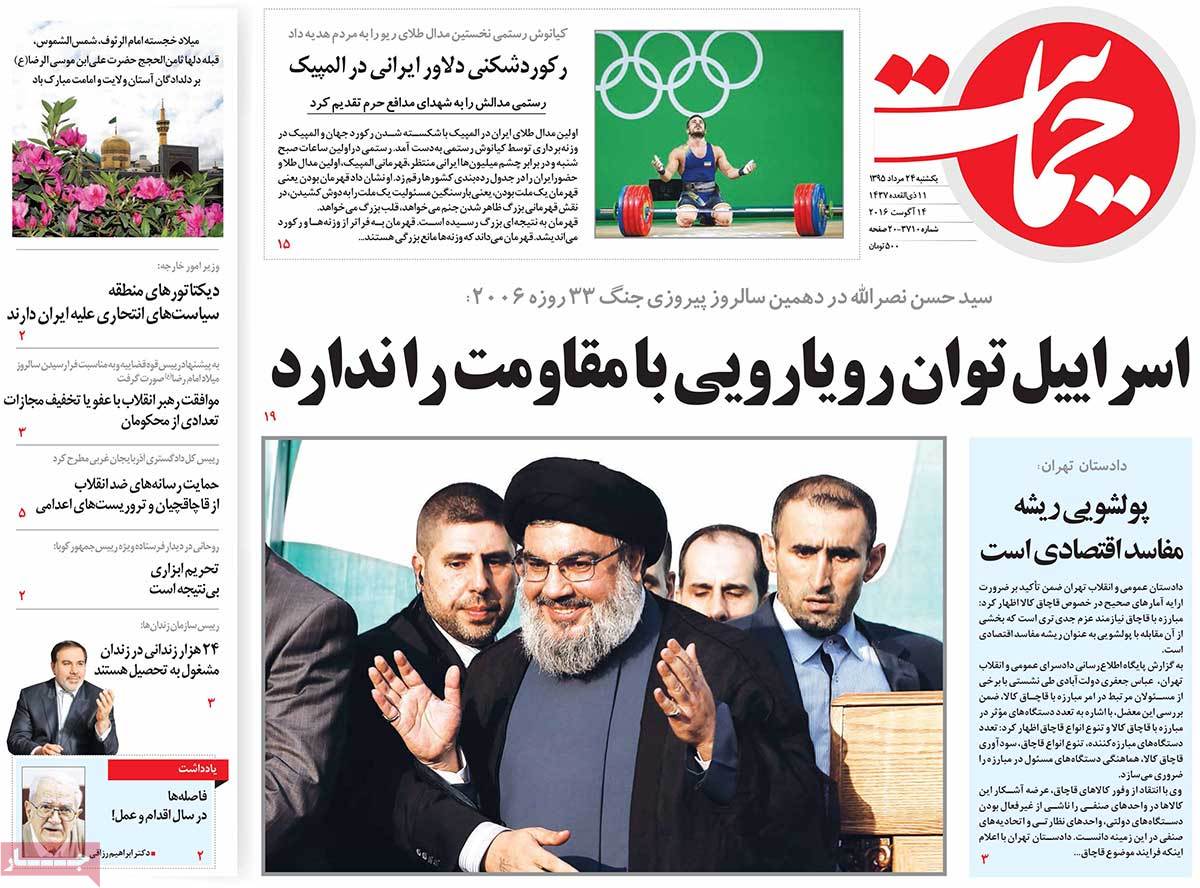 ---
Jame Jam:
1- Killing Children Silently: Saudi Arabia's Massacre in Yemeni School
2- Leader Pardons or Commutes Sentences of 750 Prisoners
---
Javan:
1- Next War with Israelis Will Be inside the Occupied Territories: Nasrallah
2- Arab Governments Face Vital Challenges: Zarif
3- US Wants a War of Attrition in Aleppo: Analyst
4- Malnutrition Is the Main Factor behind 1,300% Increase of Cancer in Iran
---
Jomhouri Eslami:
1- We Shouldn't Victimize JCPOA Because of Electoral Campaigns: Zarif
2- Imposition of Sanctions Is a Wrong and Futile Instrument: Rouhani
3- Resistance Front Has Defeated US and Israel in Middle East: Nasrallah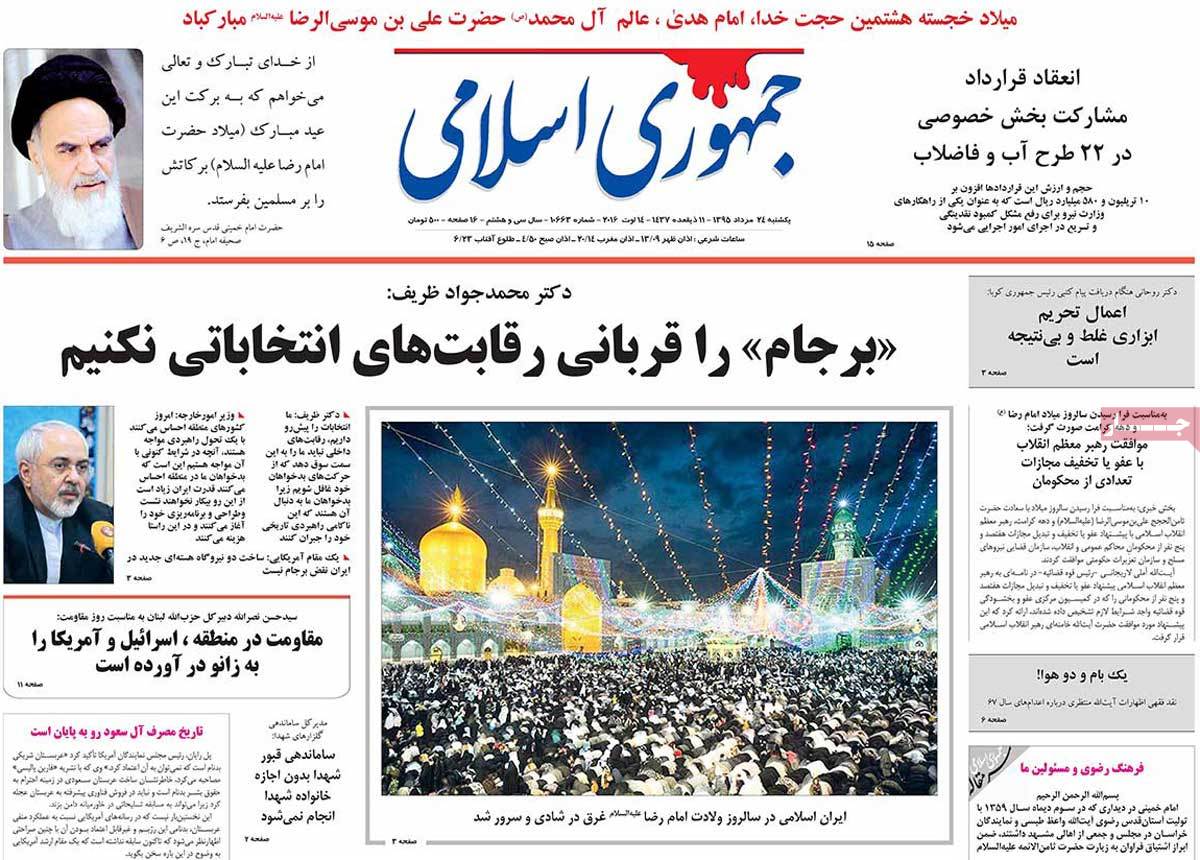 ---
Kayhan:
1- Sanctions Remained after JCPOA; Only 10% of Oil Incomes Are Received: Oil Official
2- Israel Can No Longer Confront Hezbollah: Nasrallah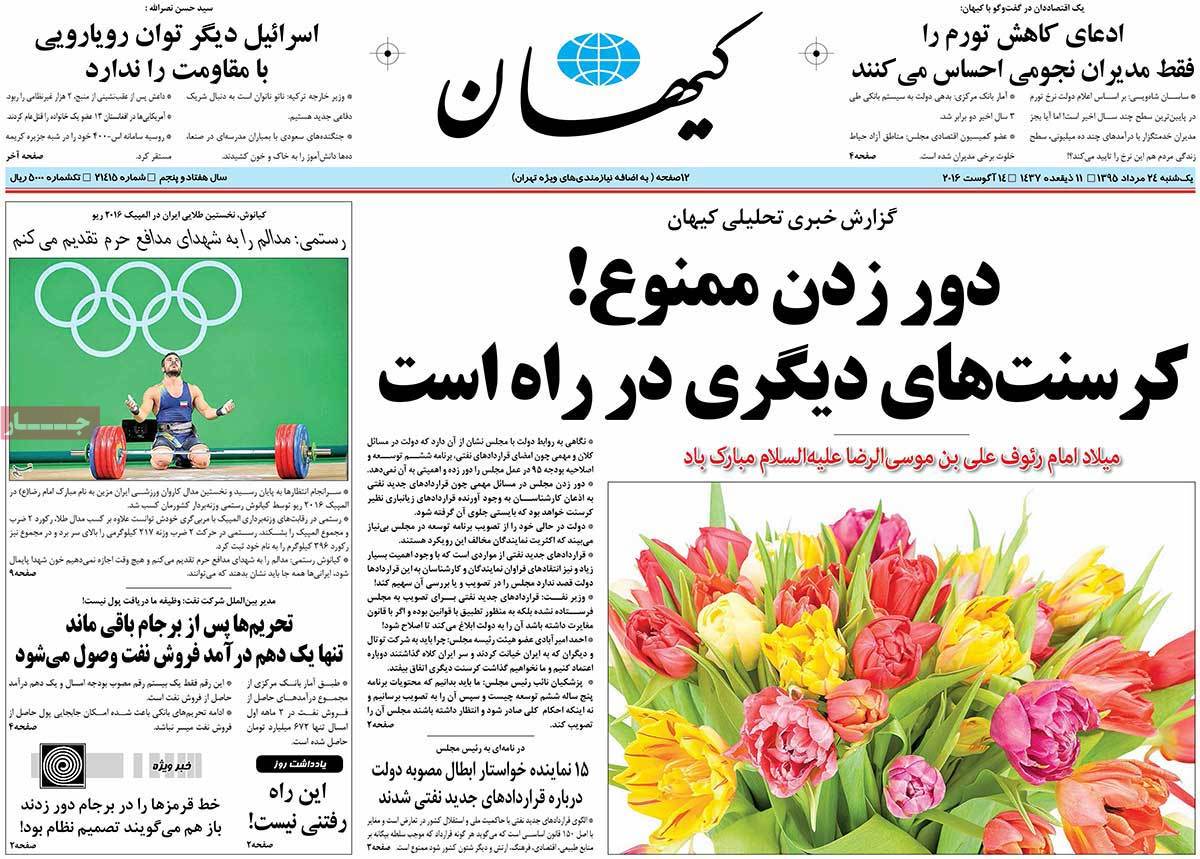 ---
Khorasan:
1- Lebanon's 33-Day War Should Be Named a National Holiday in Iran [Editorial]
2- A Report on Costs of Higher Education in Iran
---
Resalat:
1- If Rouhani Fails to Do Anything Serious in Next 6 Months, He'll Have Problems in 2017 Presidential Elections: Bahonar
2- Revolutionary Outrage Once Again in Bahrain
3- Hassan Nasrallah a Clear Example of a Revolutionary Cleric: Ayatollah Nouri Hamedani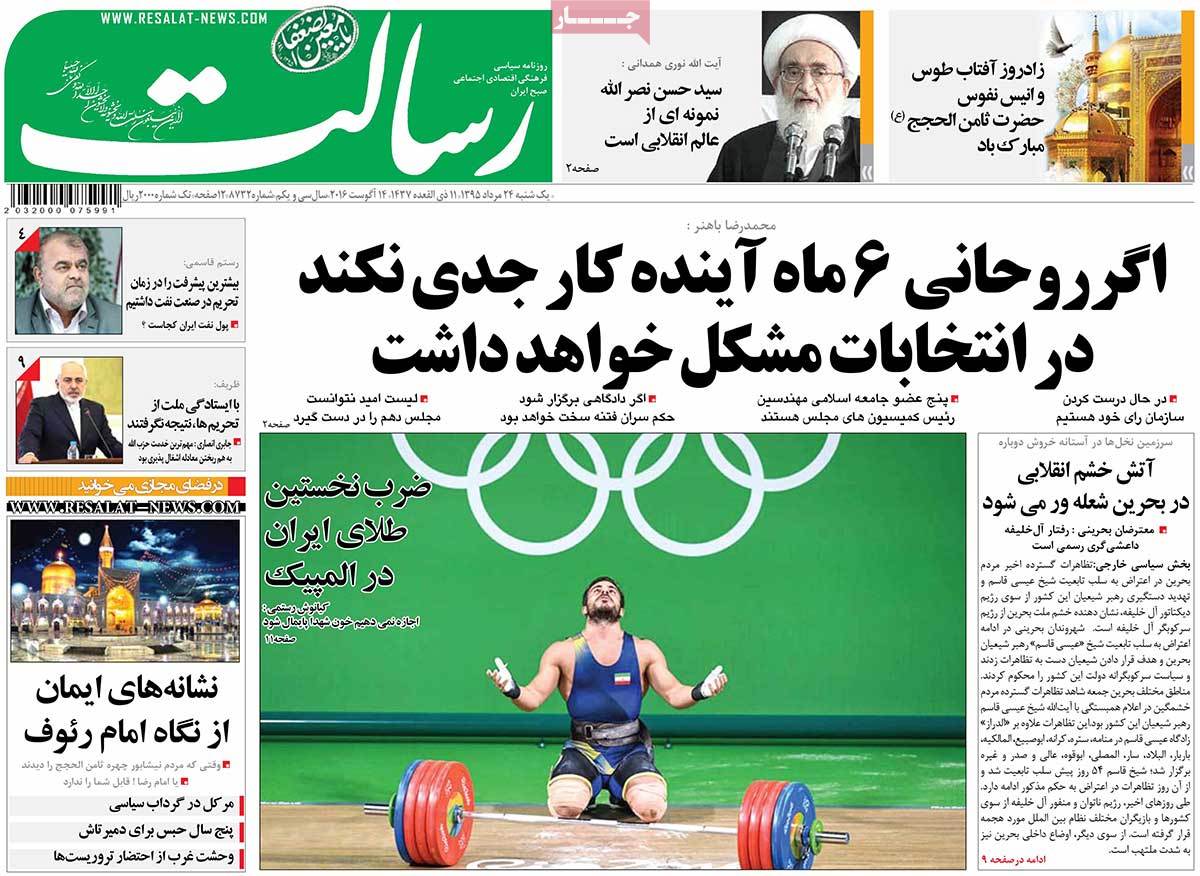 ---
Sayeh:
1- A Cold and Delicious Bite: On Occasion of Popsicle Day
2- Influence in Global Markets Using Components of Power Economy
---
Shahrvand:
1- We'll Definitely Achieve 5% Economic Growth This Year: First VP
2- For First Time in History of Iran's Higher Education: Turkish and Kurdish Languages to Be Taught in Iranian Universities
3- Mousavi Didn't Accept to Stop His Political Activities If He's Released from House Arrest: Bahonar
4- First International Credit Card in Iran
---
Sobh-e Now:
1- A Joint Meeting May Be Held between Rouhani, Putin, and Erdogan: Results of Turkey's Political Turnaround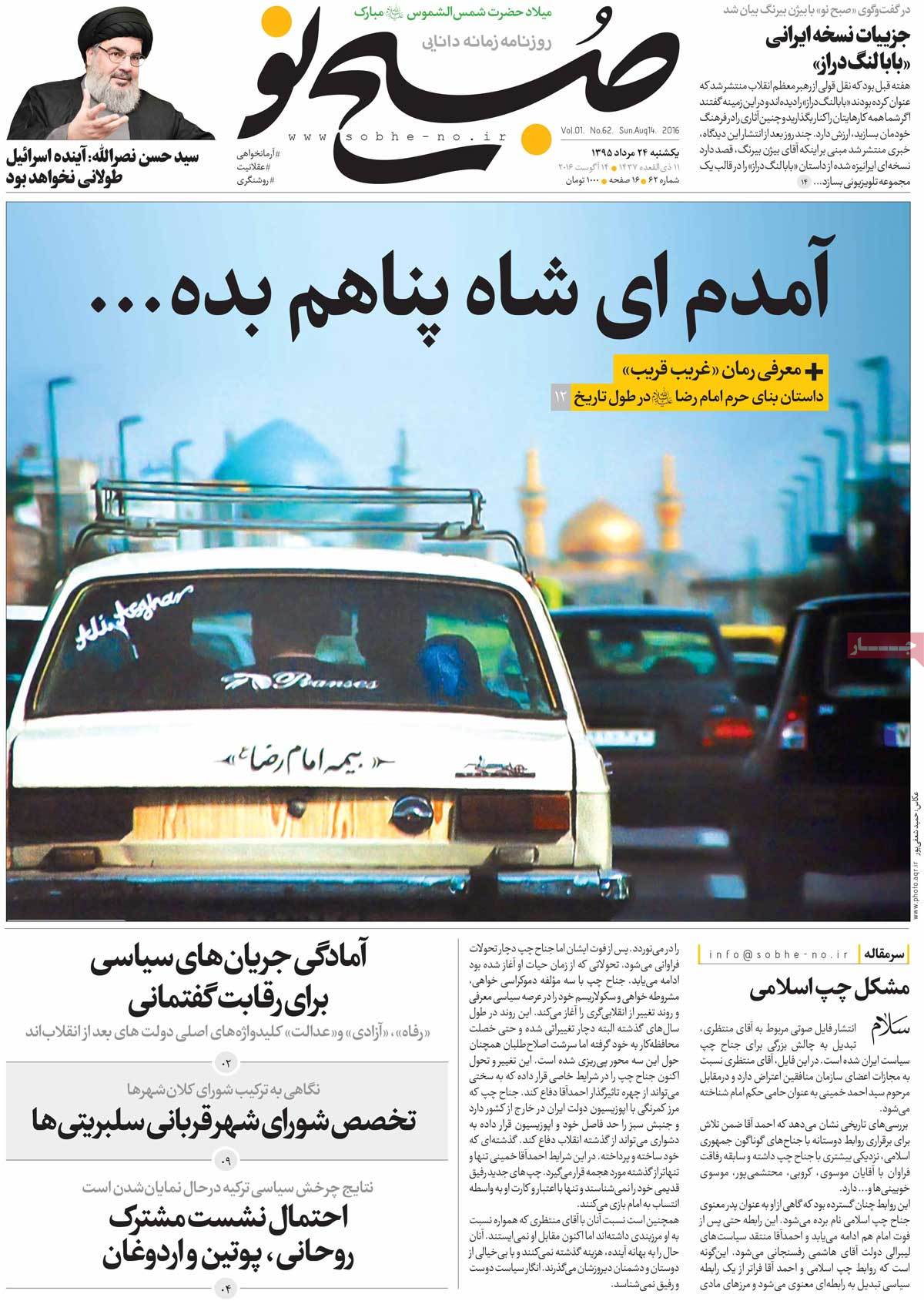 ---
Vaghaye Ettefaghieh:
1- Americans' Economic Tour of Iran: Boeing Officials Arrive in Tehran, Deal Signed for Production of Euro-5 Petrol
2- Turkey Will Maintain Its Orientation to West: Political Analyst
3- Fight over Khorasan: After Cancellation of Concerts, Is Mashhad Going to Be Culturally Autonomous?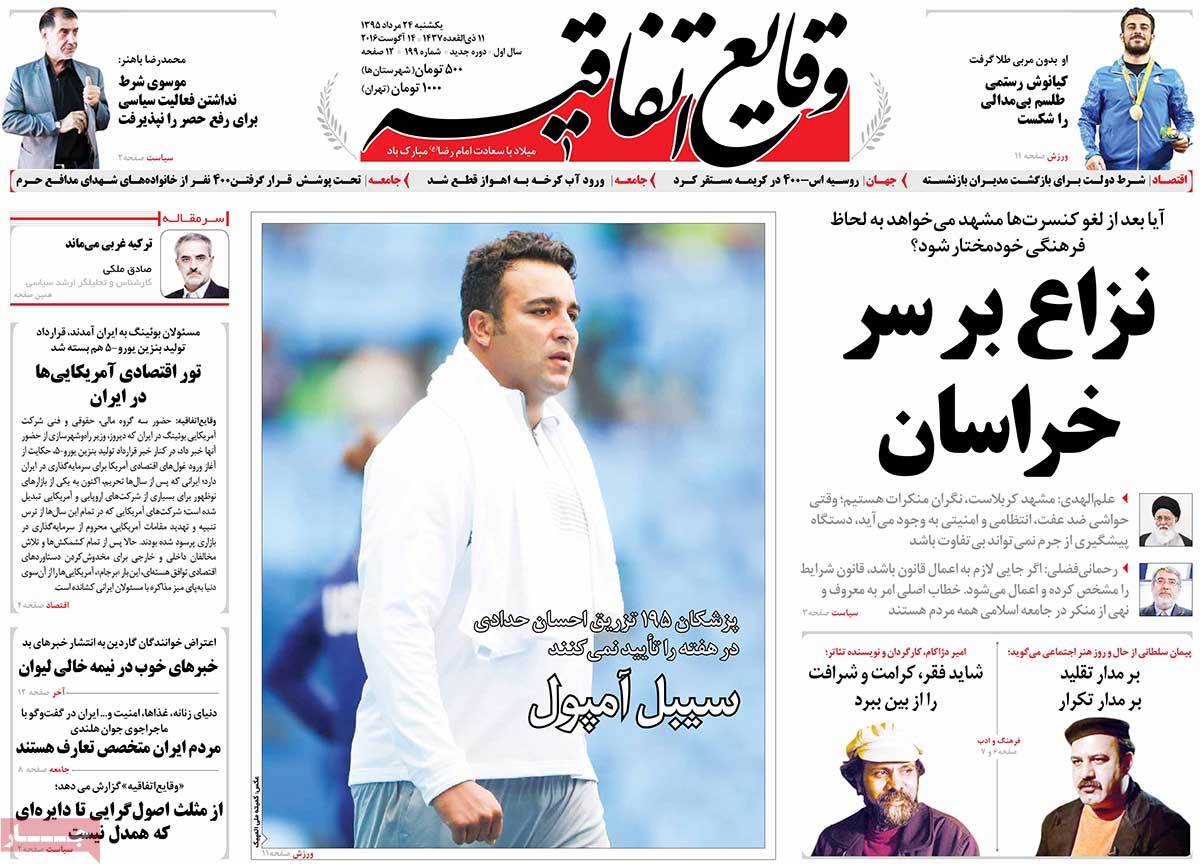 ---
Vatan-e Emrooz:
1- Treasonous Commitment to FATF: Secrets behind Government's Secrecy about a Deal
2- Unclear Fate of 26 Iranian Fishermen