The top story in all Iranian papers today was the decision by US President Donald Trump to extend the Iran sanctions relief while giving a four-month ultimatum to Europe for modifying the nuclear deal.
The Iranian foreign ministry's reaction to Trump's statements also received great coverage. Iran stressed that it will not accept any commitment beyond the current articles of the nuclear deal.
Also a top story was the fate of 29 seafarers on board an Iranian oil tanker which has been burning in Eastern China after an earlier collision.
The above issues, as well as many more, are highlighted in the following headlines and top stories:
19 Dey:
1- Intelligence Minister: Too Much Focus on Dissatisfactions Leads to More Unrest
---
Abrar:
1- MP Criticizes Gov't for Delay in Pursuing Oil Tanker Incident
2- Republican Senator Calls for Continued Use of Sanctions as Leverage against Iran
3- German Foreign Ministry: We Want Iran Nuclear Deal to Be Fully Implemented
---
Aftab-e Yazd:
1- Mousavian: Recent US Sanctions Just a Show
2- Analyst: JCPOA Needed Something to Be Completed
3- Telegram Unblocked in Iran
---
Arman-e Emrooz:
1- All Parties Criticize Friday Prayers Leader Sediqi for Calling Protesters 'Garbage'
2- Official: Iran at Bottom of World List of Gender Gap
---
Ebtekar:
1- Intelligence Minister: We Need to Take Steps to Remedy Wounds after Recent Unrest
2- Consequences of Political Overexcitement: Reasons for Continued Electoral Atmosphere in Iran
3- Iranian People Worried about Victims of Oceanic 'Plasco'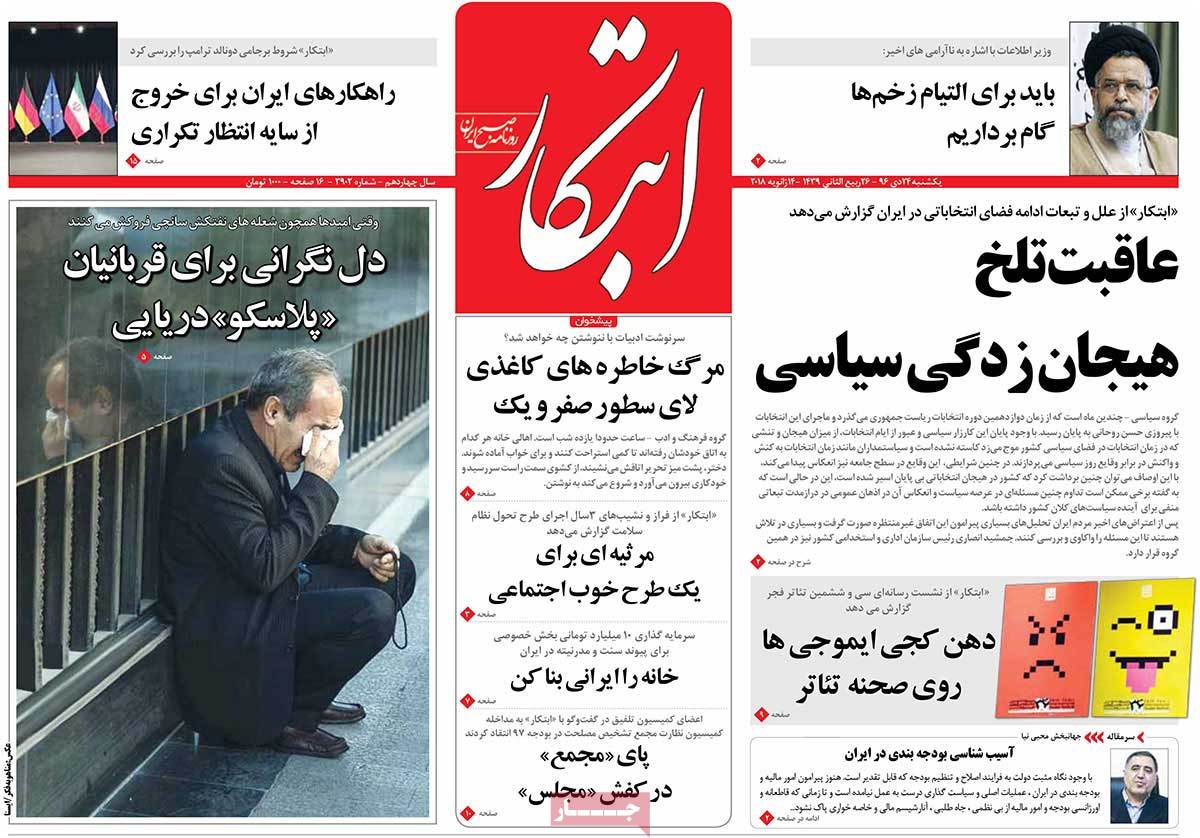 ---
Etemad:
1- Anti-Reformism: A Report on Reasons for Attacks on Reformists in Iran, Abroad
---
Ettela'at:
1- Iran Not to Accept Any Commitment beyond Nuclear Deal: Foreign Ministry
2- African Union Officially Calls for Trump's Apology
3- Tehran; Centre of Asia's Cultural Dialogue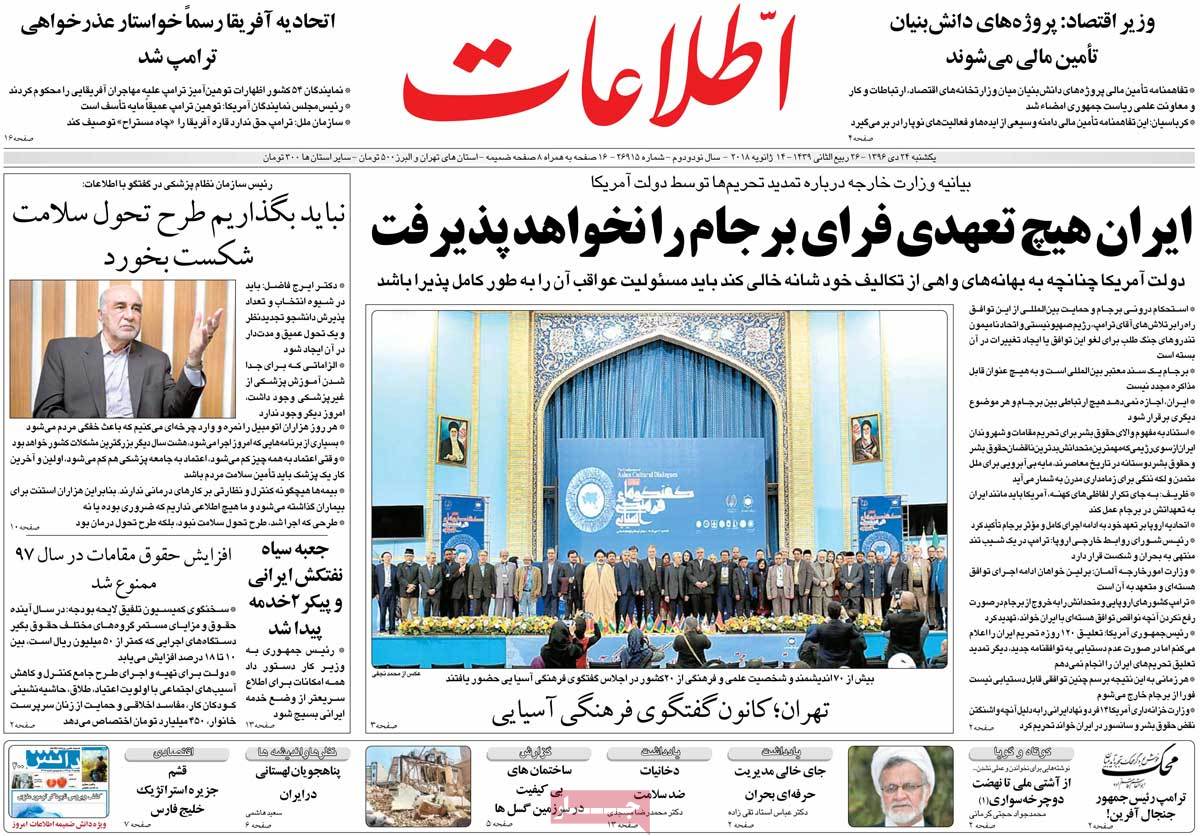 ---
Farhikhtegan:
1- Please Don't Be Hopeful about Europe
What Should Iran Do Now that Trump Has Complicated Future of JCPOA?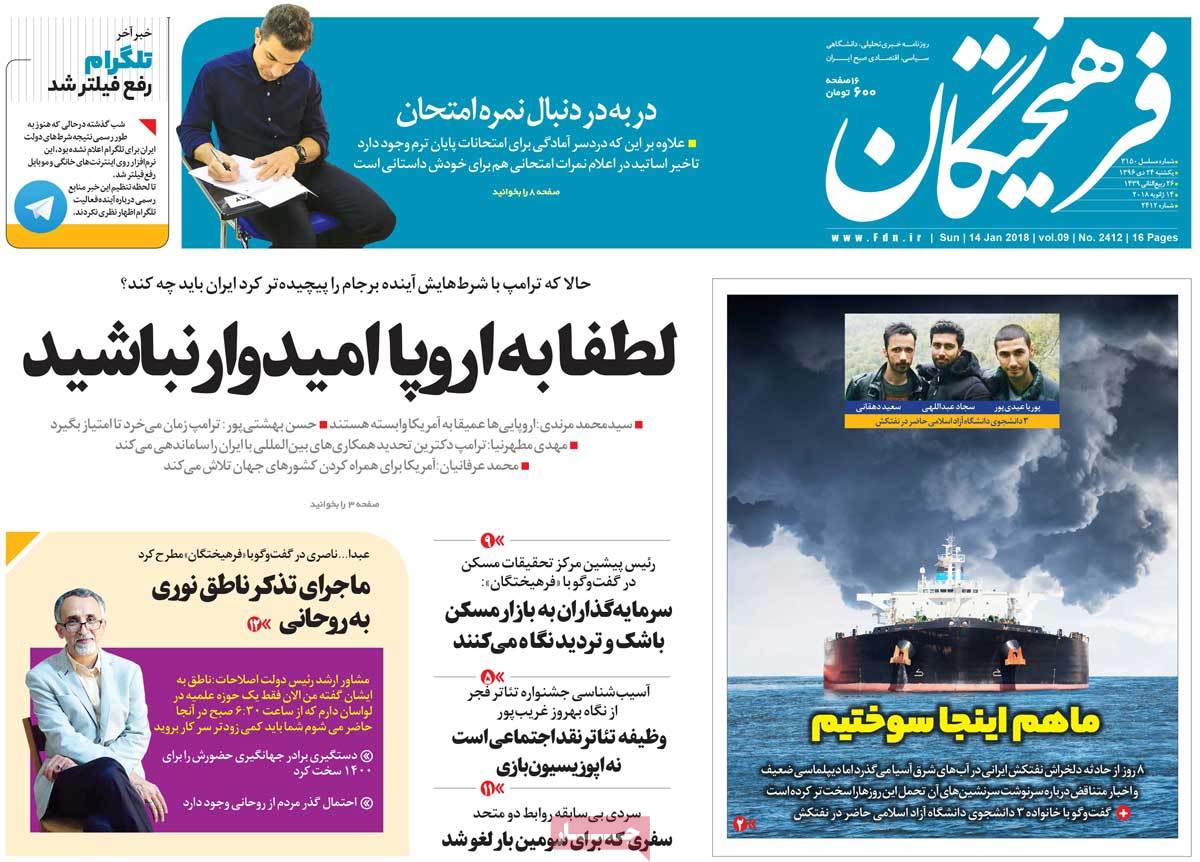 ---
Iran:
1- Hopes and Fears: Sailors' Families Talk about Hard Days
2- Iran, Europe Emphasize JCPOA Doesn't Need Any Modification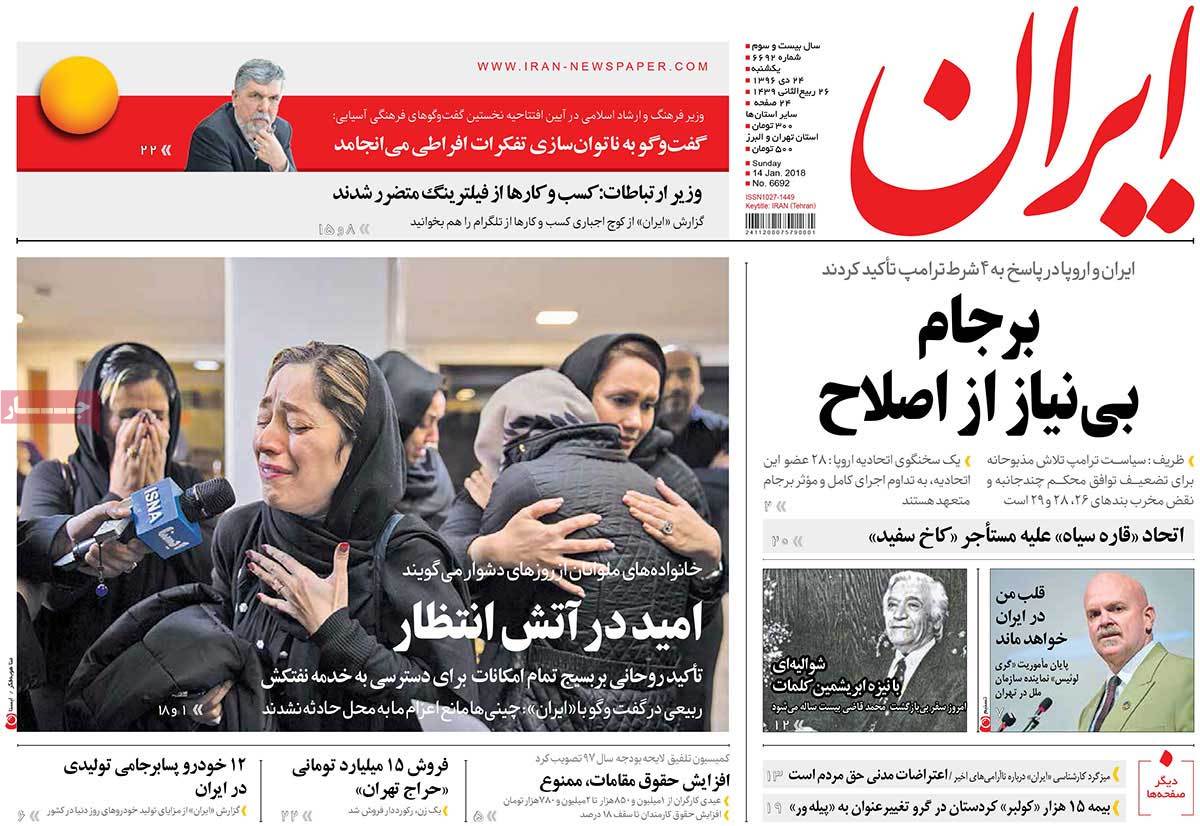 ---
Javan:
1- US President Didn't Withdraw from JCPOA, but Set Conditions
2- Iran's Share of Iraq's Post-ISIS Lucrative Market
3- Erdogan: US Has Sent 4,900 Trucks of Weapons to Terrorists in Syria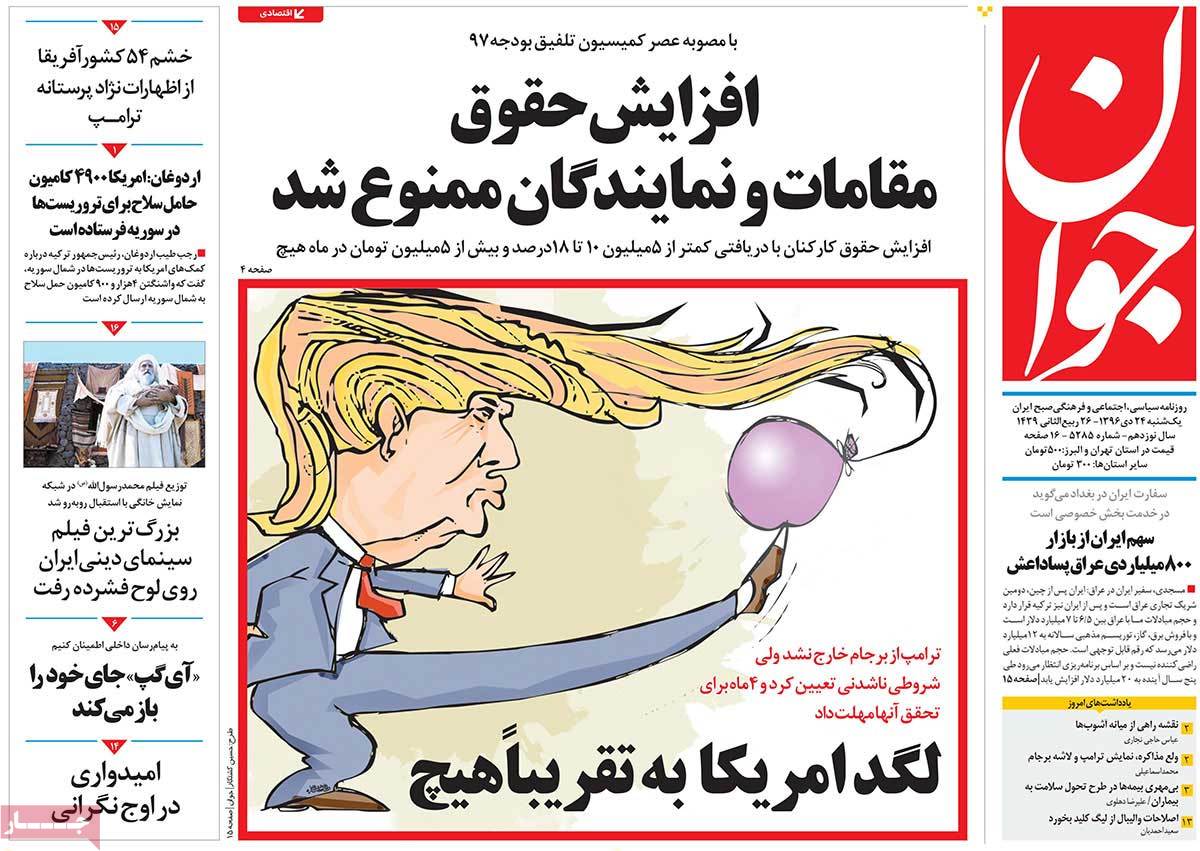 ---
Jomhouri Eslami:
1- Iran Not to Carry Out Any Measure beyond JCPOA: Foreign Ministry
2- Iranian Army Commandos in Shanghai to Save Seafarers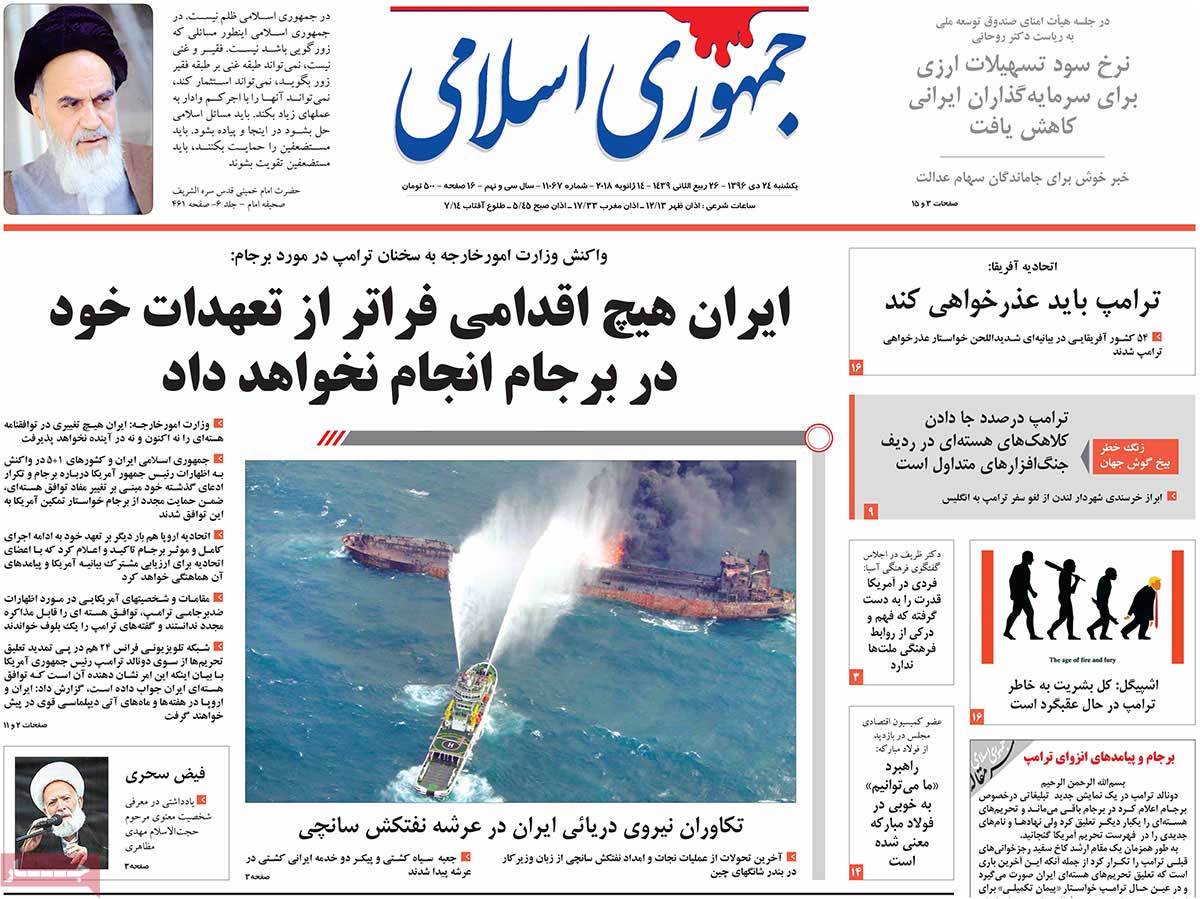 ---
Kayhan:
1- Celebrating with Dead Body of JCPOA or Thinking about Countering Economic Woes?
2- Kayhan Chief: JCPOA Withdrawal Only Way to Counter US Bullying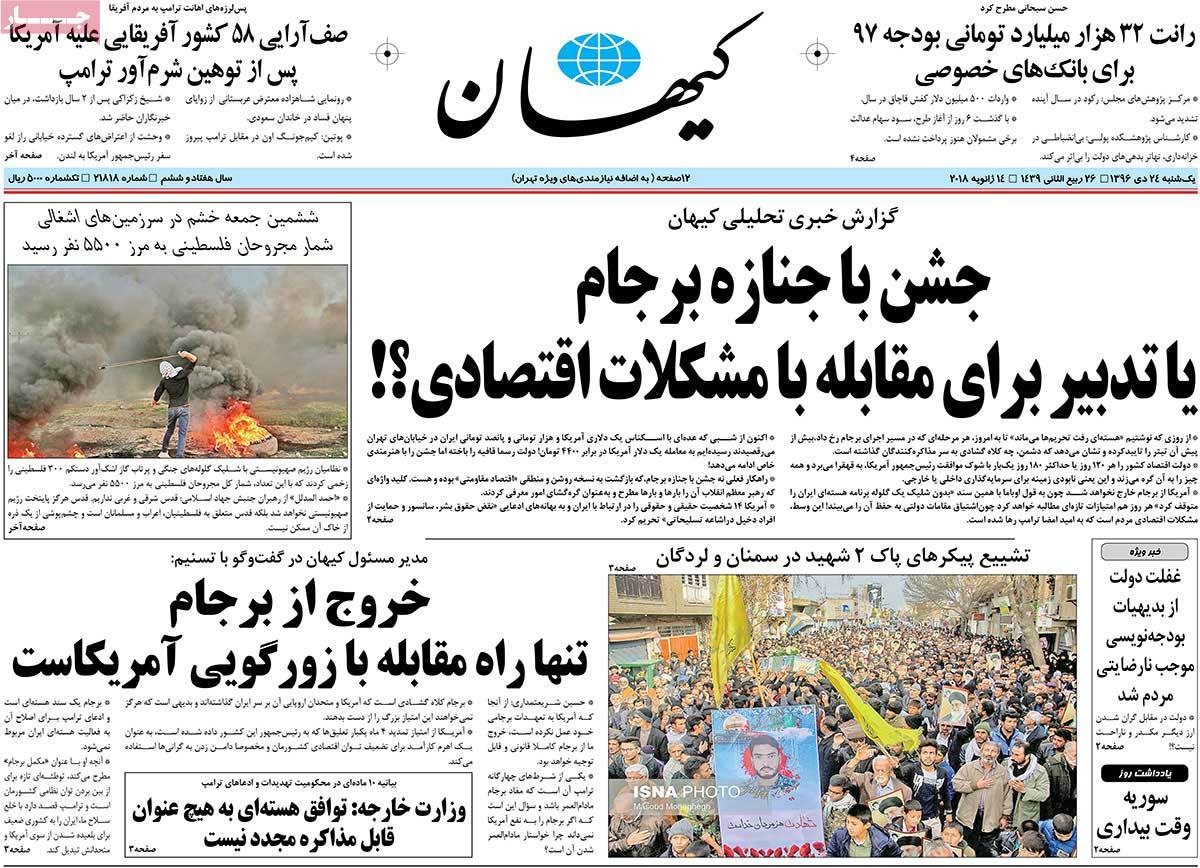 ---
Khorasan:
1- Int'l Reactions to Trump's Announcement: Russia Harshly Warns, Europe Still Cautious
2- Sheikh Zakzaky Makes First Public Appearance after 2 Years of Detention
---
Resalat:
1- Trump's Nuclear Deceit: US Has Long Withdrawn from Iran Deal
---
Shahrvand:
1- Trump's Ultimatum to Europe
Trump Extends Waiver of Iran Nuclear Sanctions, but Issues Ultimatum to Europe
2- Entering Sanchi: Rouhani Orders Minister to Accelerate Efforts to Pursue Fate of Seafarers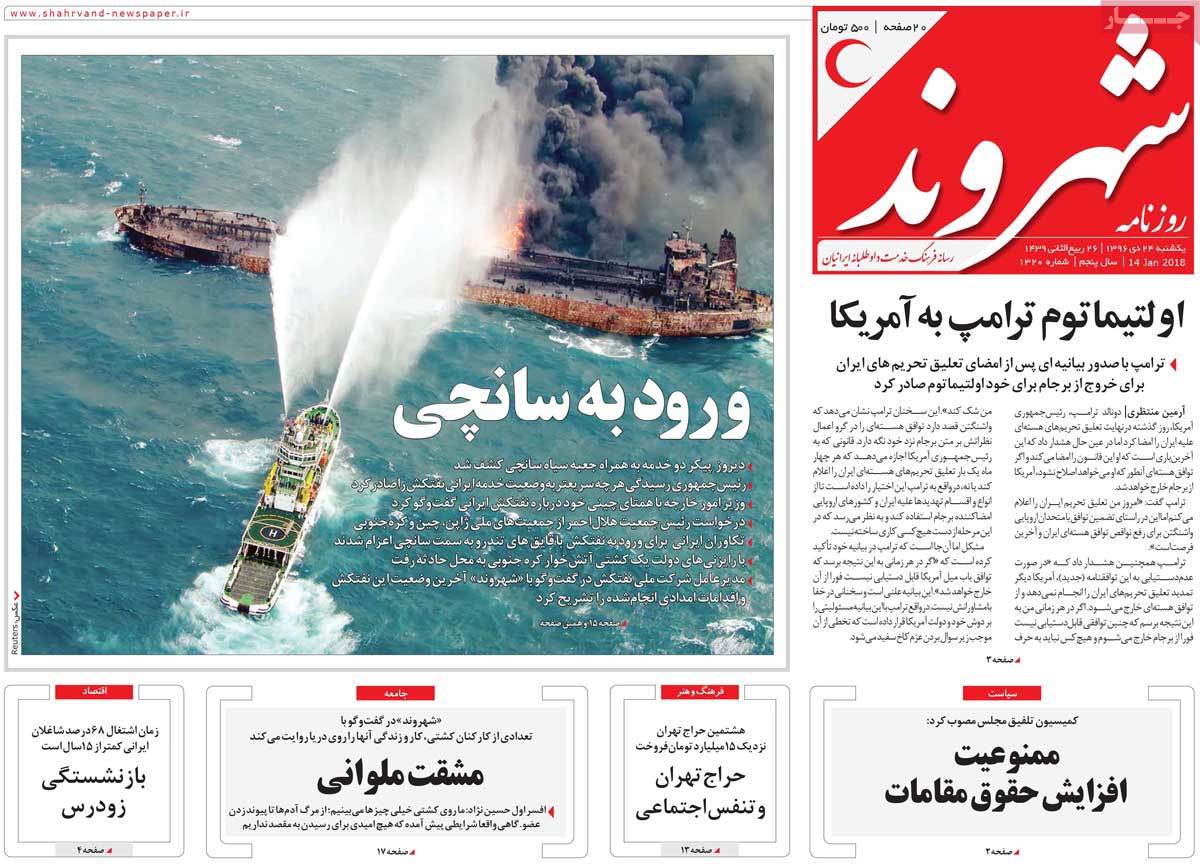 ---
Shargh:
1- Truths and Lies about Brain Drain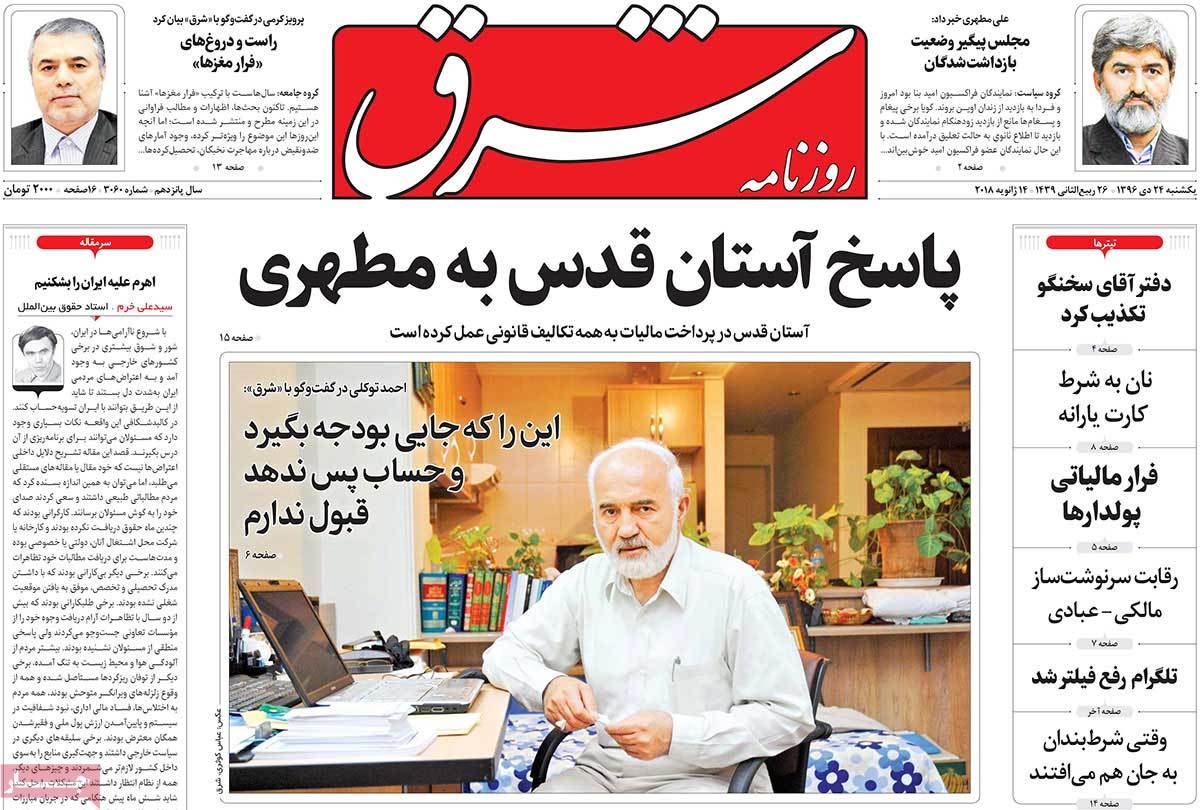 ---
Siasat-e Rooz:
1- IRGC Spokesman: Americans' Cry Not Out of Power
2- US Playing a Game to Impose Further Restrictions on Iran