Almost all Iranian newspapers on Sunday covered the recent protest rallies held across Iran. The protests, which started in the religious cities of Mashhad and Qom on Thursday, mainly focused on economic grievances, particularly the surge in prices and the financial corruption of the state bodies.
However, the ensuing protest rallies in other cities on Friday and Saturday involved more political slogans. Iranian authorities and analysts believe anti-Iran media and foreign officials are trying to make the demonstrations political and provoke people to chant anti-Establishment slogans.
What follows are the way Iranian papers covered the protest rallies on Sunday:
19 Dey:
1- Hardliners Questioning Entire Establishment on Pretext of Attacking Gov't: MP
2- Dey 9 Rallies Held across Iran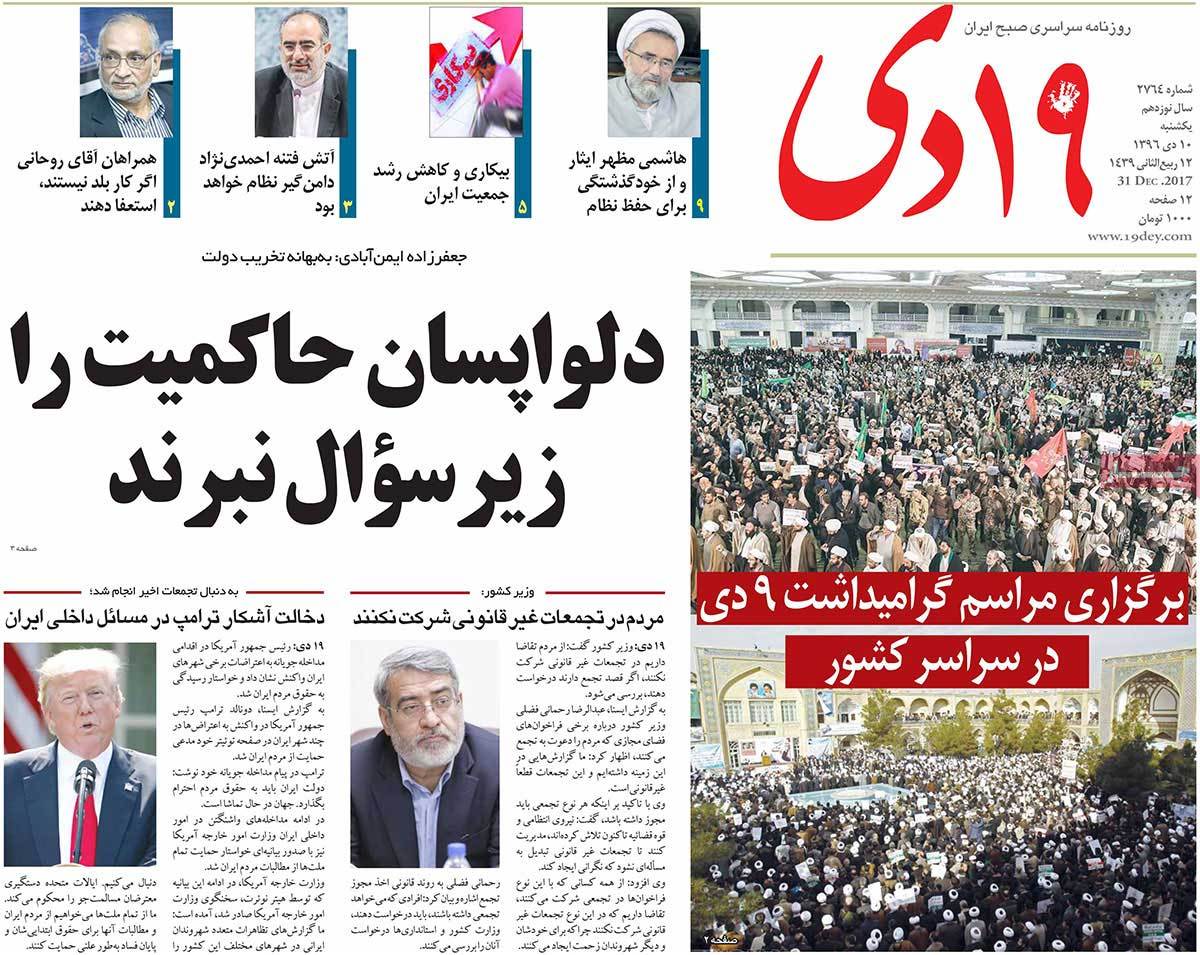 ---
Abrar:
1- Abadi: Corruption Main Reason behind ISIS' Arrival in Iraq
2- US Secretary Warns Assad against Attacking Kurds
3- Roots of People's Protests Are Economic: MP
---
Aftab-e Yazd:
1- Academic Discusses Why Iran's Economy Ended Up Here
2- Interior Minister Urges People Not to Attend Illegal Gatherings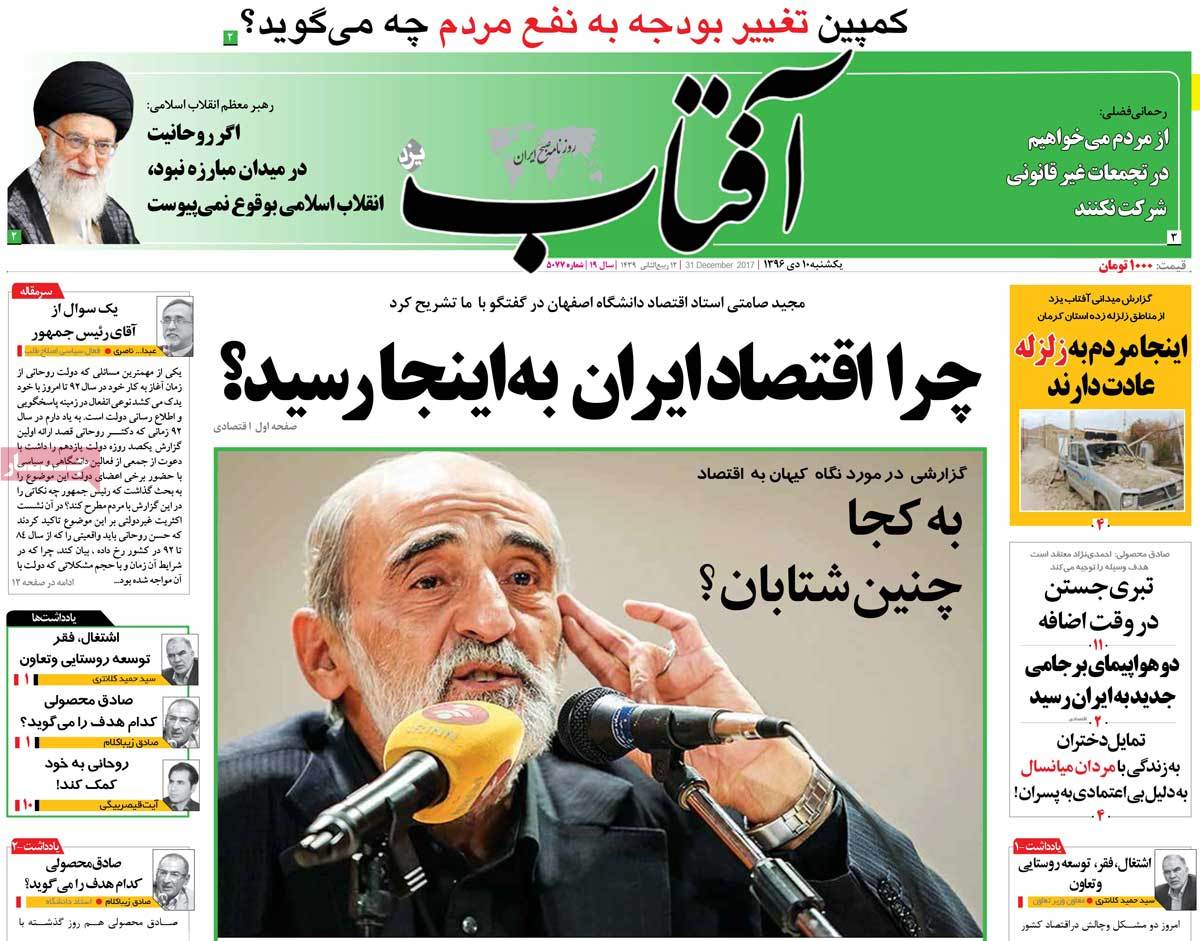 ---
Arman-e Emrooz:
1- Interior Minister Calls on People to Pursue Demands Peacefully
2- Cleric Calls for Ahmadinejad's Removal from Expediency Council
3- Iran Foreign Ministry Spokesman: Trump Has No Credibility among Iranian People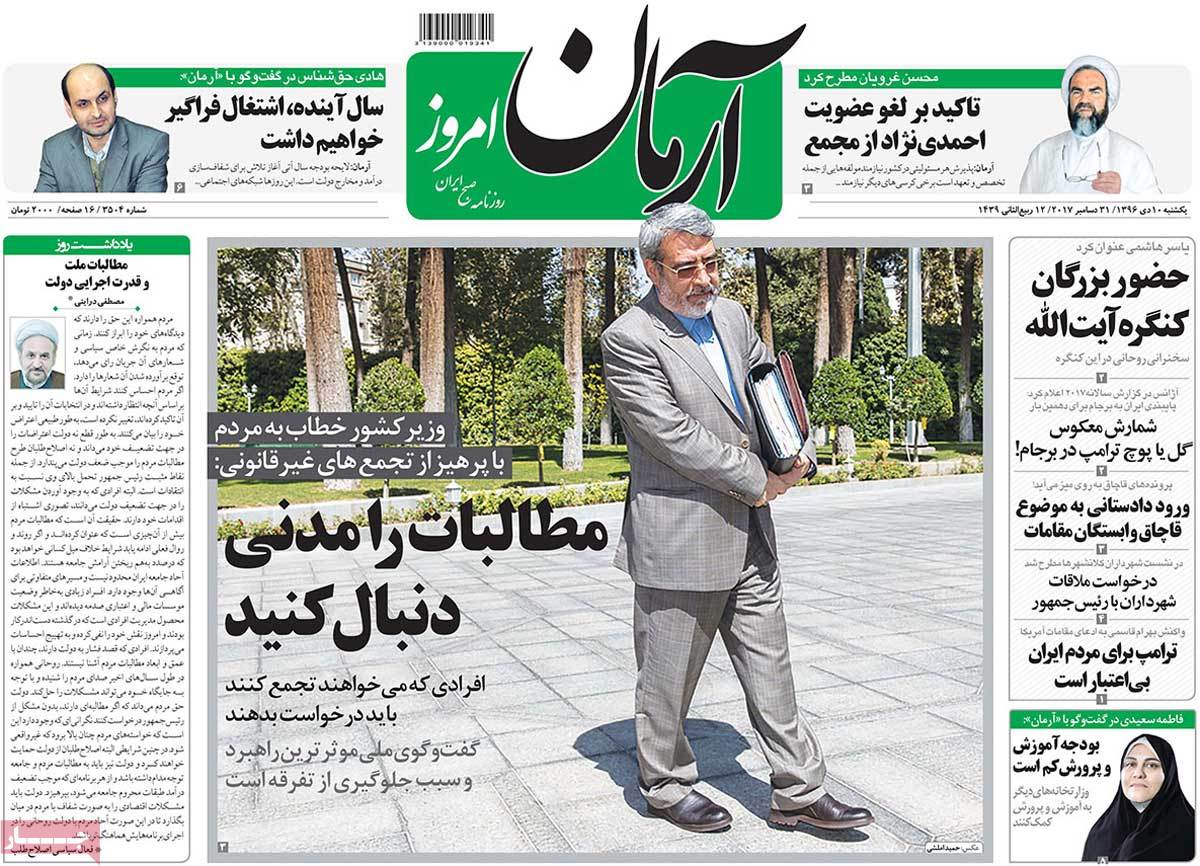 ---
Bahar:
1- Reformist MP on Recent Protests: We Should Be Accountable to People
---
Ebtekar:
1- Telegram, Twitter on Seats of Parliament
2- Syria, A Field for Interaction or Confrontation
A Review of Russia, US Behaviour in Managing Syria Crisis
---
Etemad:
1- Top Cleric Discusses Relation between Corruption, Bribery, Earthquake
2- Natural Disasters and Our Sins [Editorial]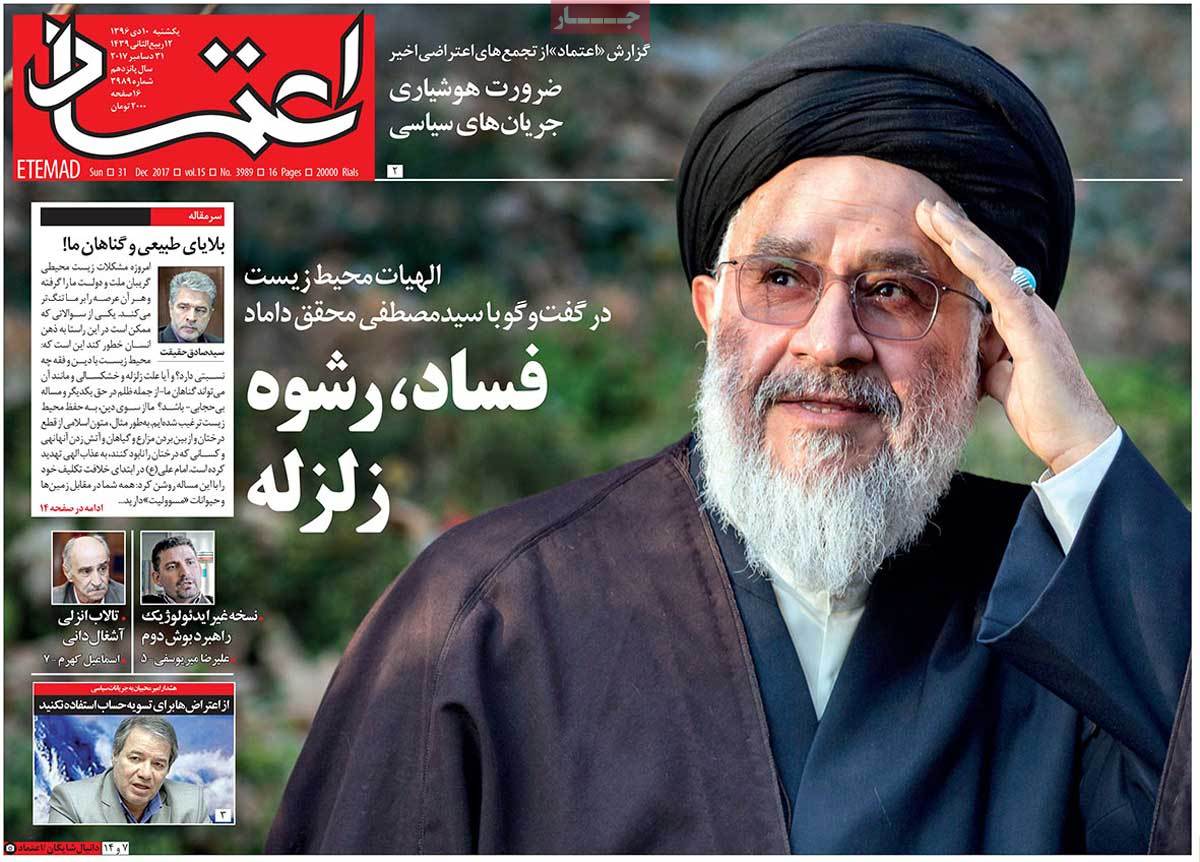 ---
Ettela'at:
1- Iran Leader: Clerics Must Be Prepared to Counter Enemy's Tricks
2- IAEA Confirms Iran's Compliance with Nuclear Deal
3- Putin to Assad: We'll Continue Defending Syria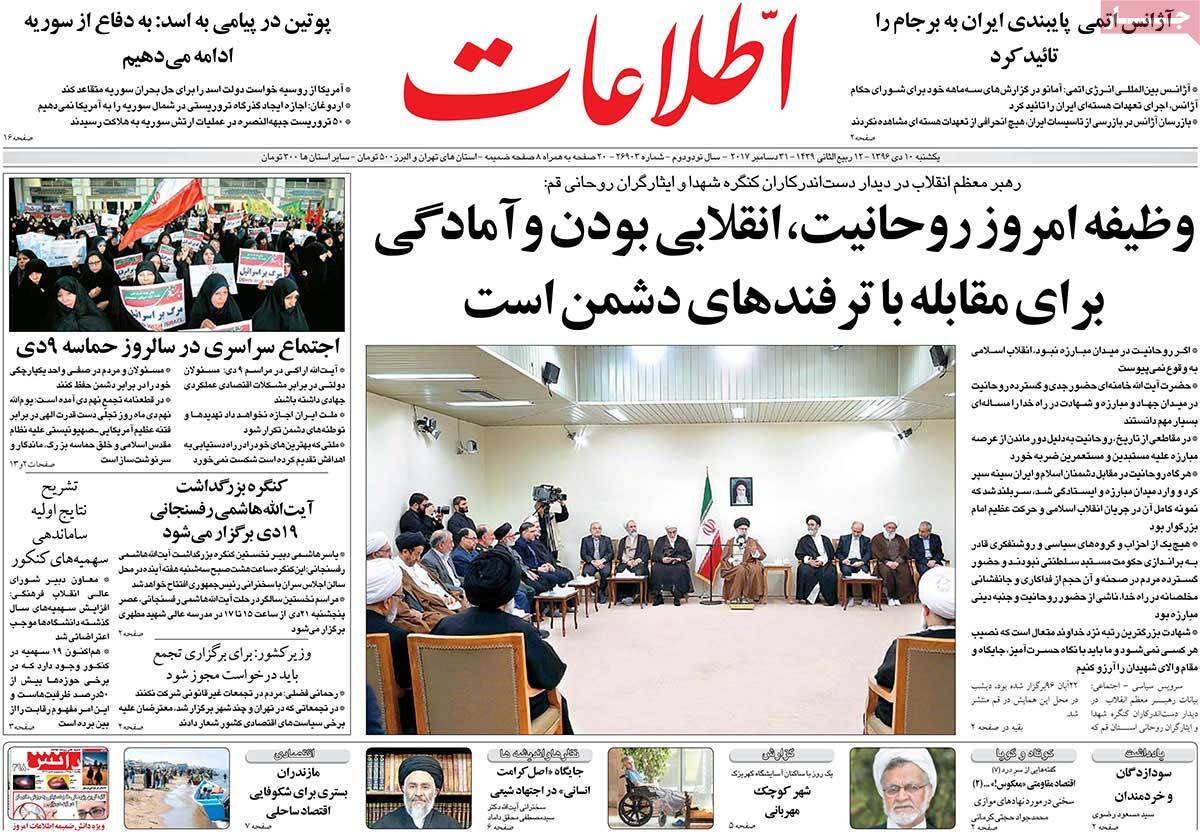 ---
Farhikhtegan:
1- Started for Economic Woes, Ended in Riot
Suspicious Groups Starting Street Riots amid Popular Protests for Economic Grievances
---
Hambastegi:
1- No Faction Should Feel Pleased with People's Frustration
---
Iran:
1- What Should We Do on Recent Gatherings? National Vigilance Required
2- Beginning of 2018 amid Fear of ISIS: World Cities Implementing Tight Security Measures
3- Farewell to a Year Full of Developments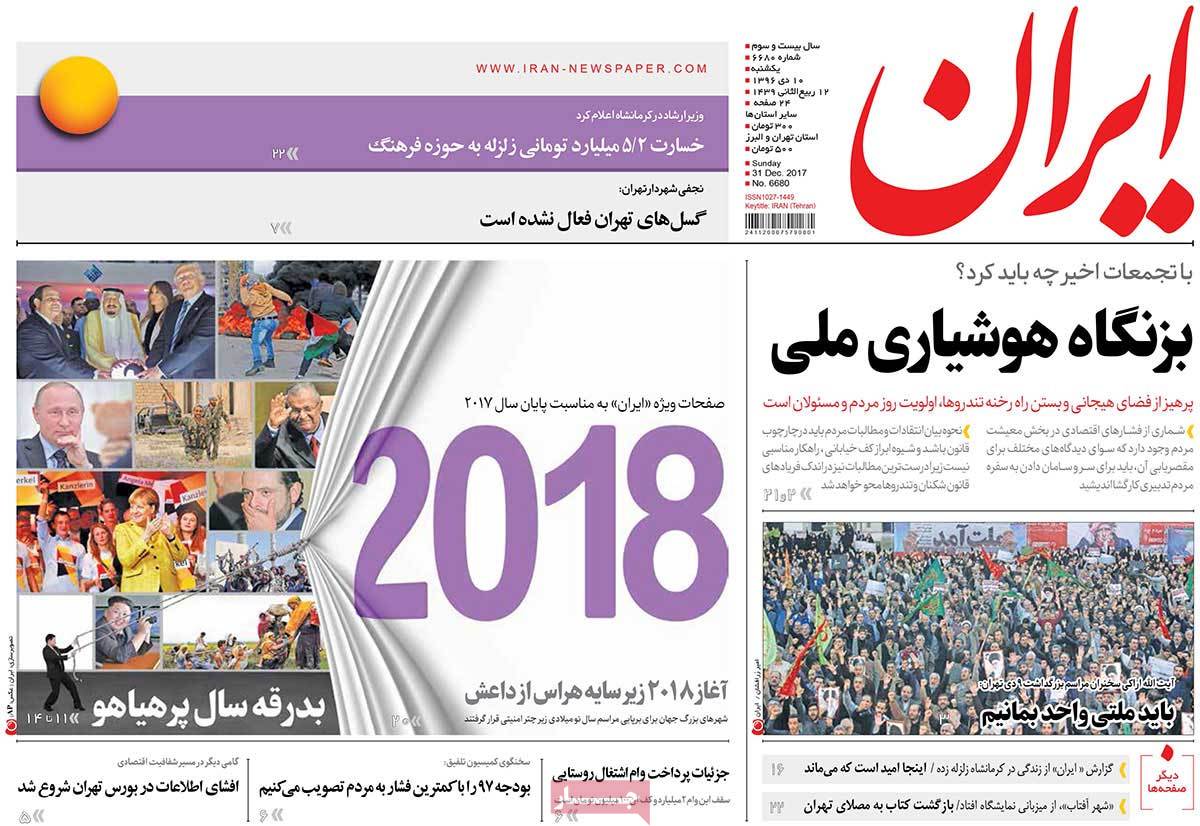 ---
Jame'eh Farda:
1- Political Analysts' Evaluation after Three Days of Protests
End of Political Protests with Economic Reforms, Social Freedoms
2- Analyst: People Not after Radical Moves, but Looking for Change
3- Turkey to Buy S-400 from Russia: Why Moscow Broke Promises Only in Case of Iran?
---
Javan:
1- We Distinguish between Poor Protesters, Anti-Iran Cults: Dey 9 Demonstrators
2- Illusions of US President: Trump Backs Iran Protests
3- ICT Minister: It's Time for Telegram to Stop Promotion of Violence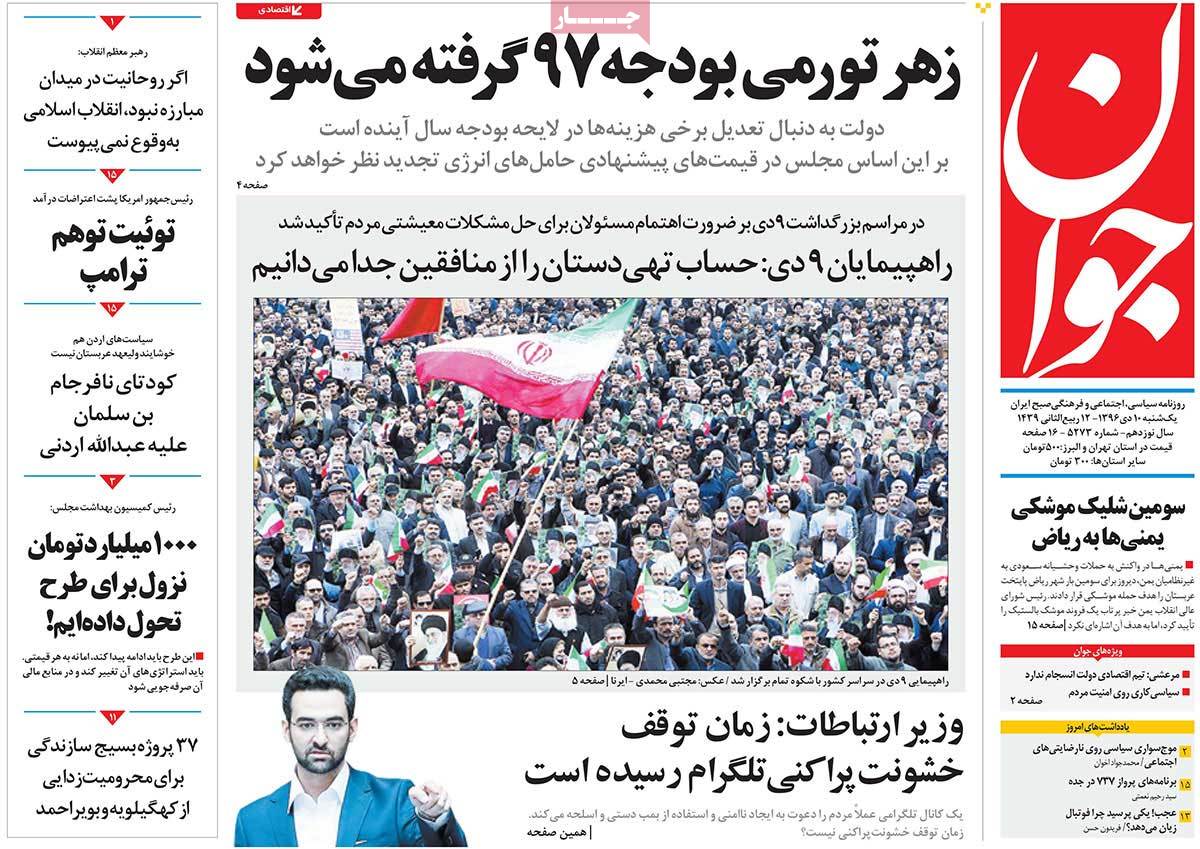 ---
Jomhouri Eslami:
1- Iranian People Believe US Support for Protests Shows Their Hypocrisy: MFA
2- US: We'll Stay in Syria; Russia: We'll Continue Defending Syria
---
Kayhan:
1- Nation Rises on Dey 9 Anniversary: Don't Let Seditionists Take Advantage of Protests
2- Kayhan Chief: Seditionists inside Gov't Trying to Make People Dissatisfied
---
Khorasan:
1- Dey 9 Demonstrators Says No to Opportunists; People Have Livelihood Demands
2- Trump Supports, Saudis Happy with Street Protests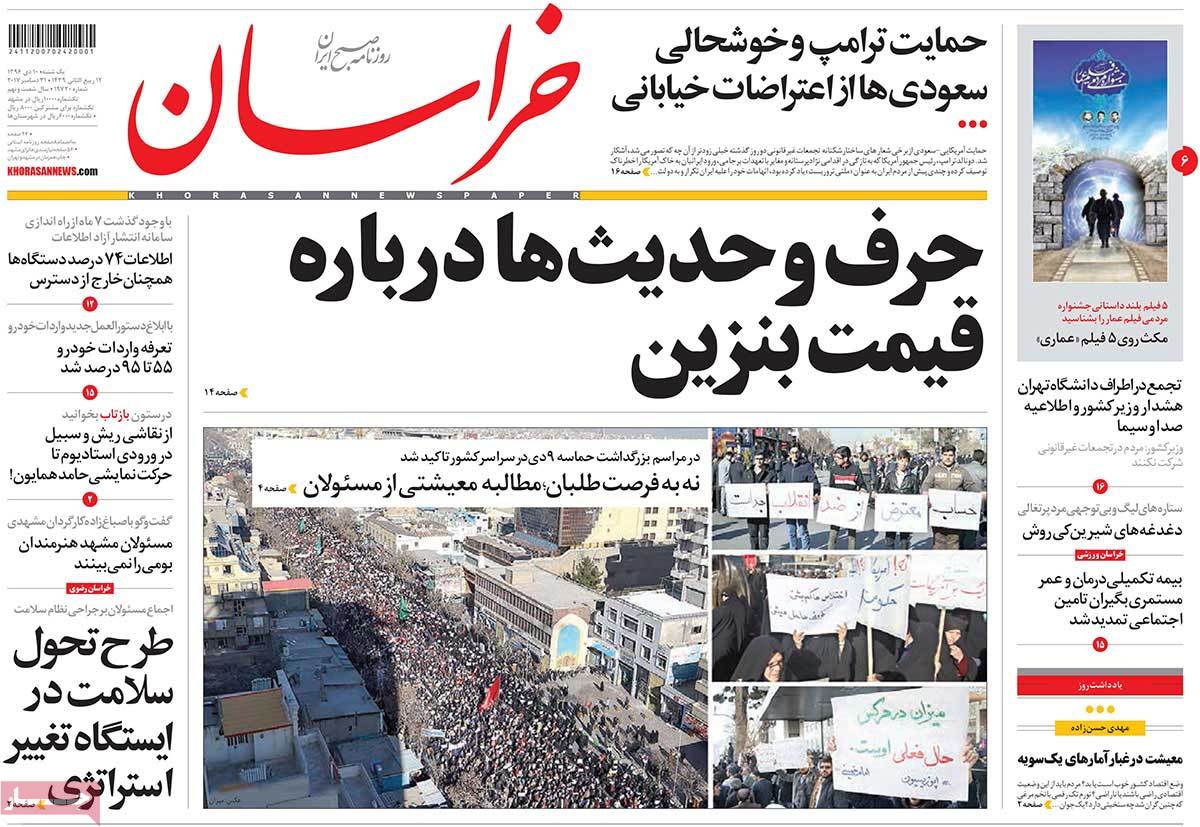 ---
Resalat:
1- Enemy Once Again Tries to Create Sedition: Ayatollah Araki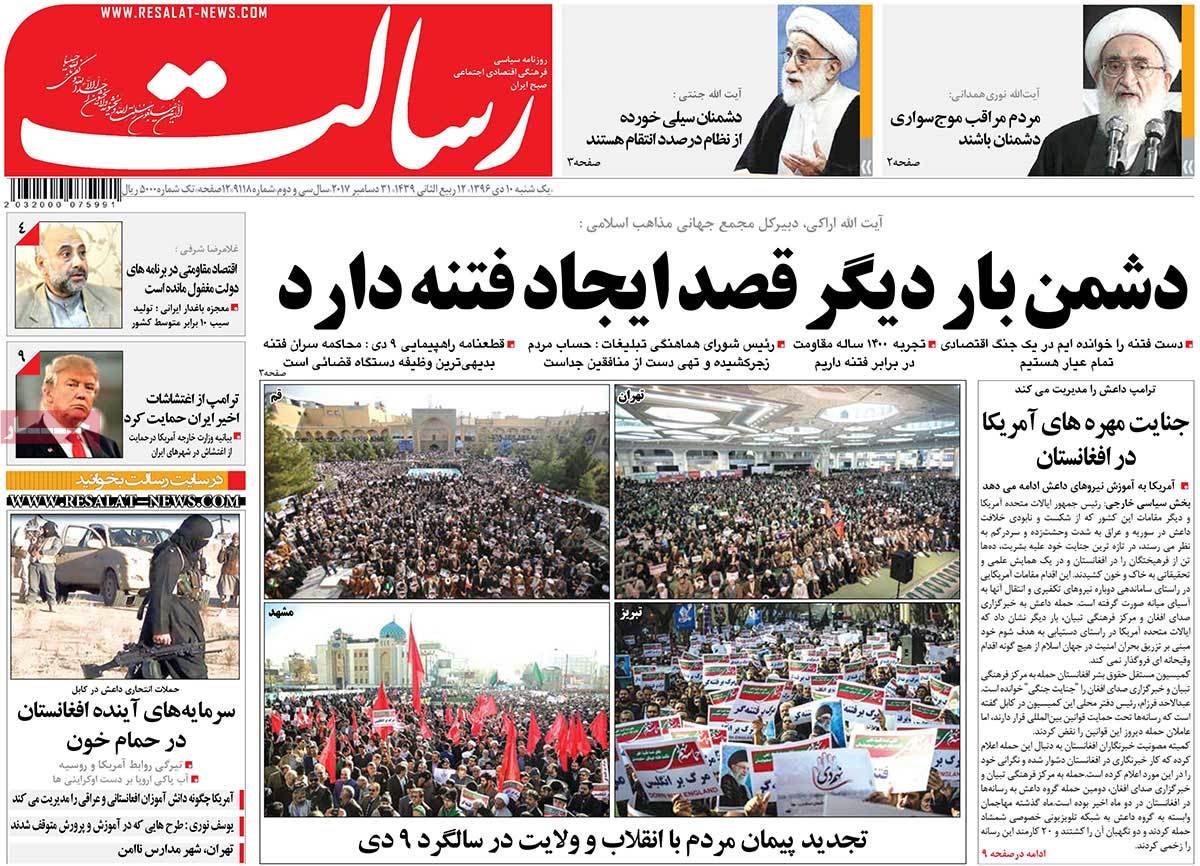 ---
Shargh:
1- Ahmadinejad's Minister Renounces Him: Today's Problems Caused by His Wrong View of Issues
2- Prosecutor General: Role of Certain Officials in Smuggling of Contraband Goods to Be Investigated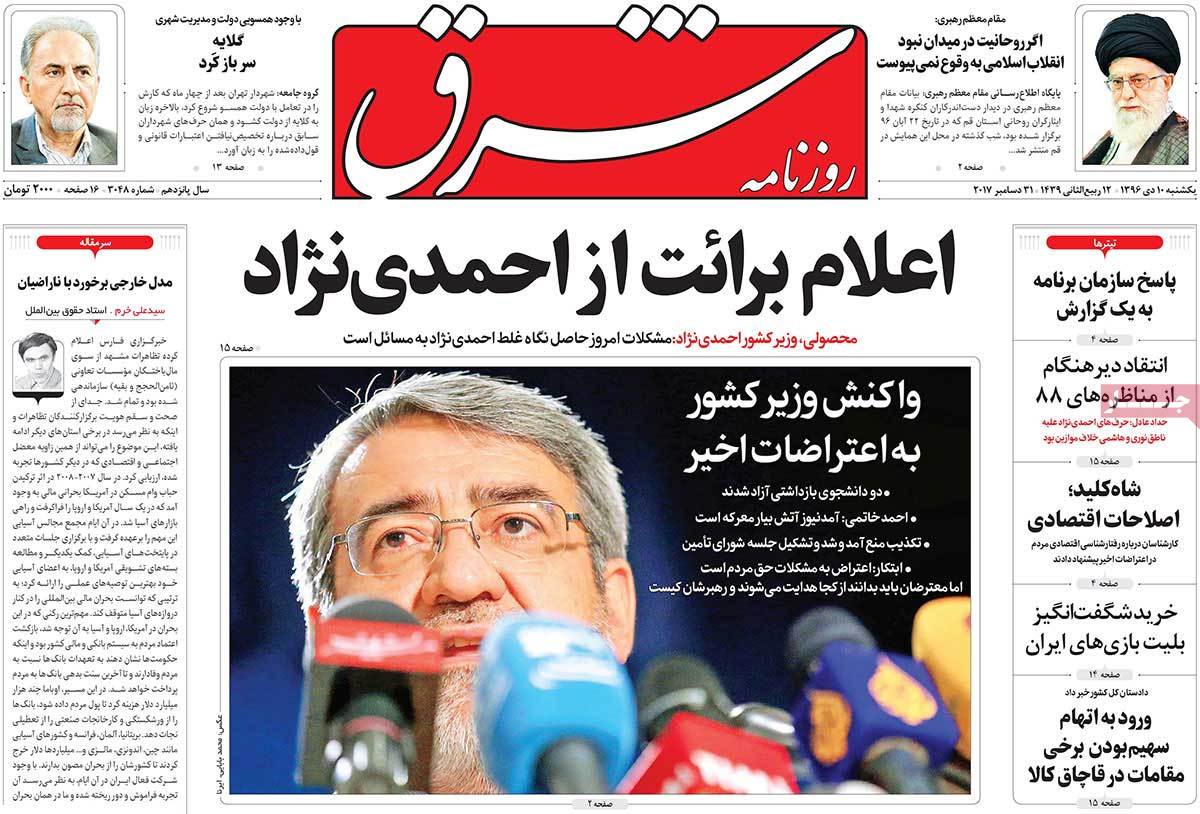 ---
Siasat-e Rooz:
1- People Have the Right to Demand Resolution of Their Problems: General