Death of Ayatollah Akbar Hashemi Rafsanjani, the Chairman of Iran's Expediency Council, a former president and parliament speaker, and the country's second-in-command during the eight-year war with Iraq in the 1980s, shocked Iran and the world on Sunday evening.
A pillar of Islamic Revolution and a key figure in establishment of Islamic Republic, Ayatollah Rafsanjani was widely known as a moderate figure and a companion of Imam Khomeini and Ayatollah Seyyed Ali Khamenei.
Newspapers on Monday widely covered his demise, with many of them focusing on Ayatollah Khamenei's message of condolence.
After the attendance of at least 2.5 million Iranians in the funeral service on Tuesday, newspapers on Wednesday continued to dedicate their headlines to the former president's demise and the glorious funeral.
Here are the selected papers that highlighted Ayatollah Hashemi Rafsanjani's funeral ceremony:
19 Dey:
1- Hashemi's Epic
---
Abrar:
1- Hashemi Became a Guest of Imam Khomeini
2- Hashemi's Family: God Granted Ayatollah Rafsanjani a Good Reward after All the Patience He Showed in Reaction to Attacks and Accusations
---
Abrar-e Eqtesadi:
1- Rafsanjani's Government Achieved Positive Economic Indices for Iran under Difficult Conditions; Ayatollah's Role in Development of Iran's Economy
---
Afkar:
1- Millions of Teary Eyes Escort Ayatollah Hashemi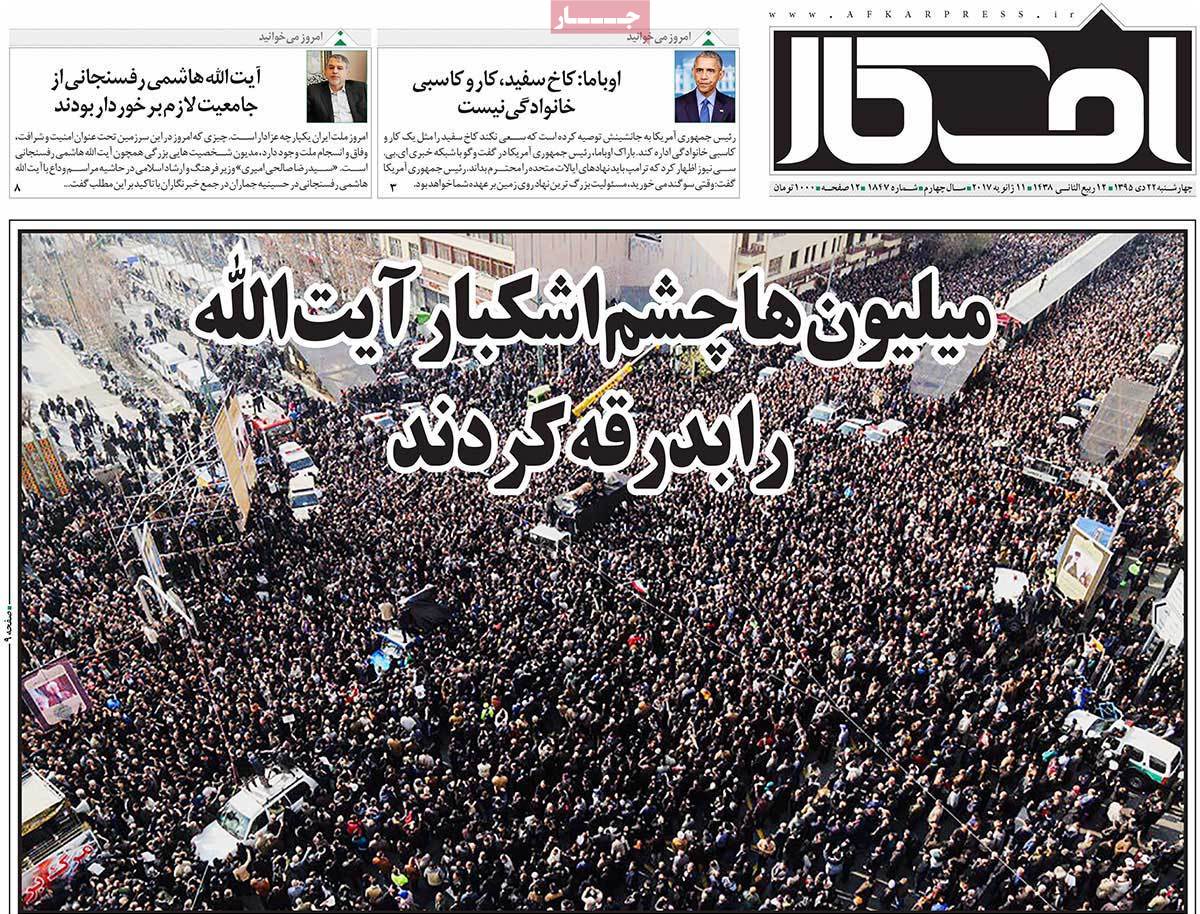 ---
Arman-e Emrooz:
1- Another Uprising: Millions of People Appreciate Ayatollah Hashemi Rafsanjani's Efforts from University of Tehran to Imam Khomeini Shrine
2- Biggest Funeral Ceremony after Imam Khomeini's Death
3- World Amazed by People's Glorious Attendance
4- Hashemi Will Remain Alive until Iranian Nation Is Alive: Family Statement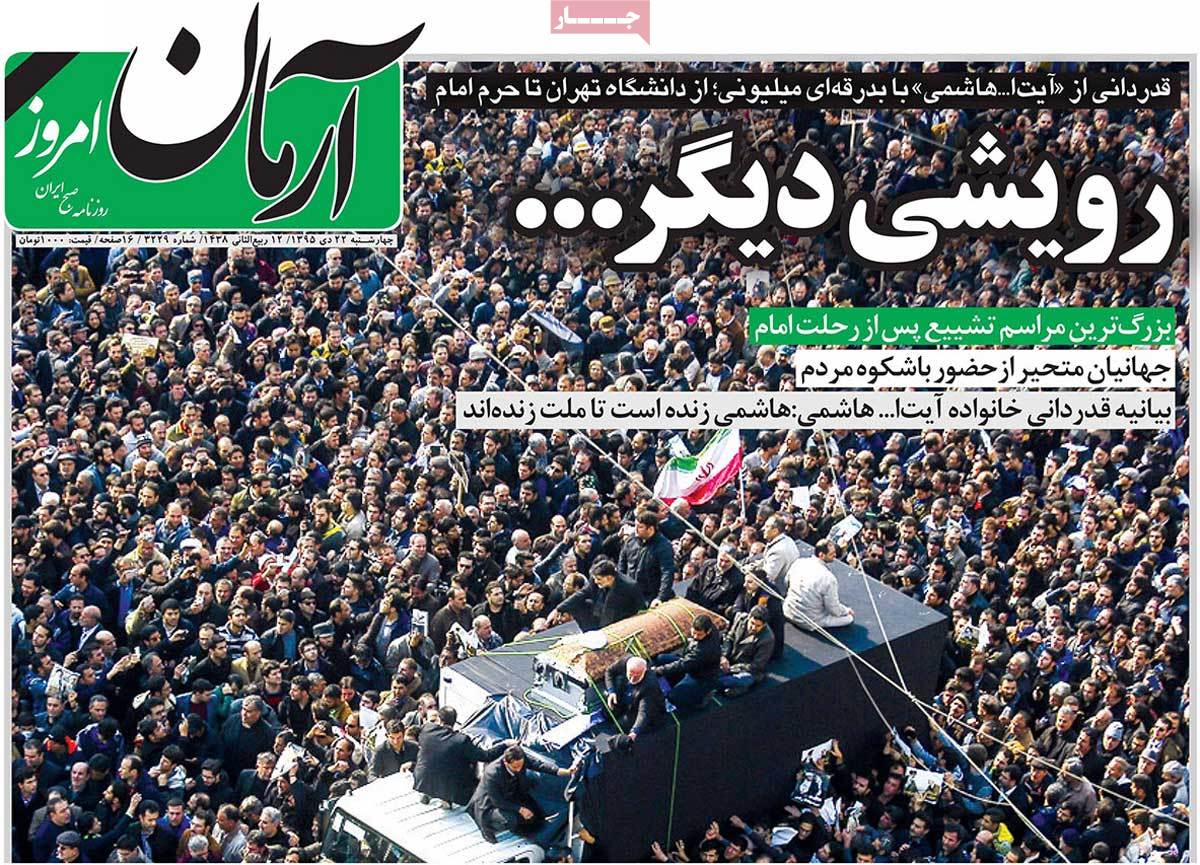 ---
Asrar:
1- Glorious Farewell
2- VP for Women and Family Affairs: Ayatollah Rafsanjani Tried to Keep the Republican Nature of Iran and Islamic Nature of Establishment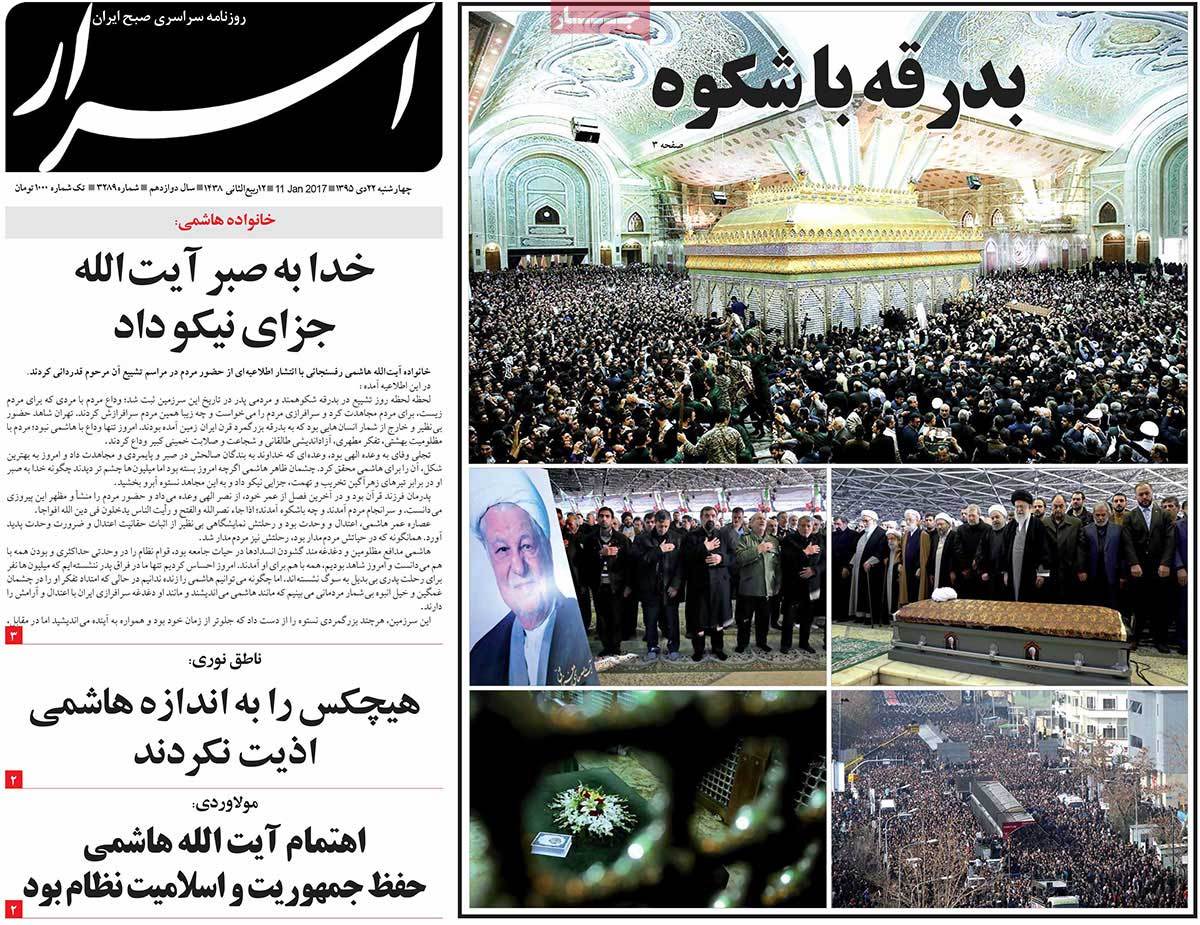 ---
Bahar:
1- Iran Bids Farewell to a Man Who Was Like No One Else: Second Funeral Ceremony Attended by Millions of People
---
Besharat-e Now:
1- Millions of Iranians Escort Great Man of Moderation with Tearful Eyes
2- Blessed Life, Comfortable Death, Glorious Funeral
---
Ebtekar:
1- People Did Their Best for Ayatollah Rafsanjani; Millions of Iranians Escorted Ex-President's Body Buried beside Imam Khomeini; Rafsanjani's Funeral Reminded Everyone of Imam Khomeini's Funeral Service
---
Emtiaz:
1- Iranian Men and Women Made History: Millions of People Attend Hashemi's Farewell Ceremony
---
Etemad:
1- A Show of National Unity in Hashemi's Funeral Attended by 3 Million Iranians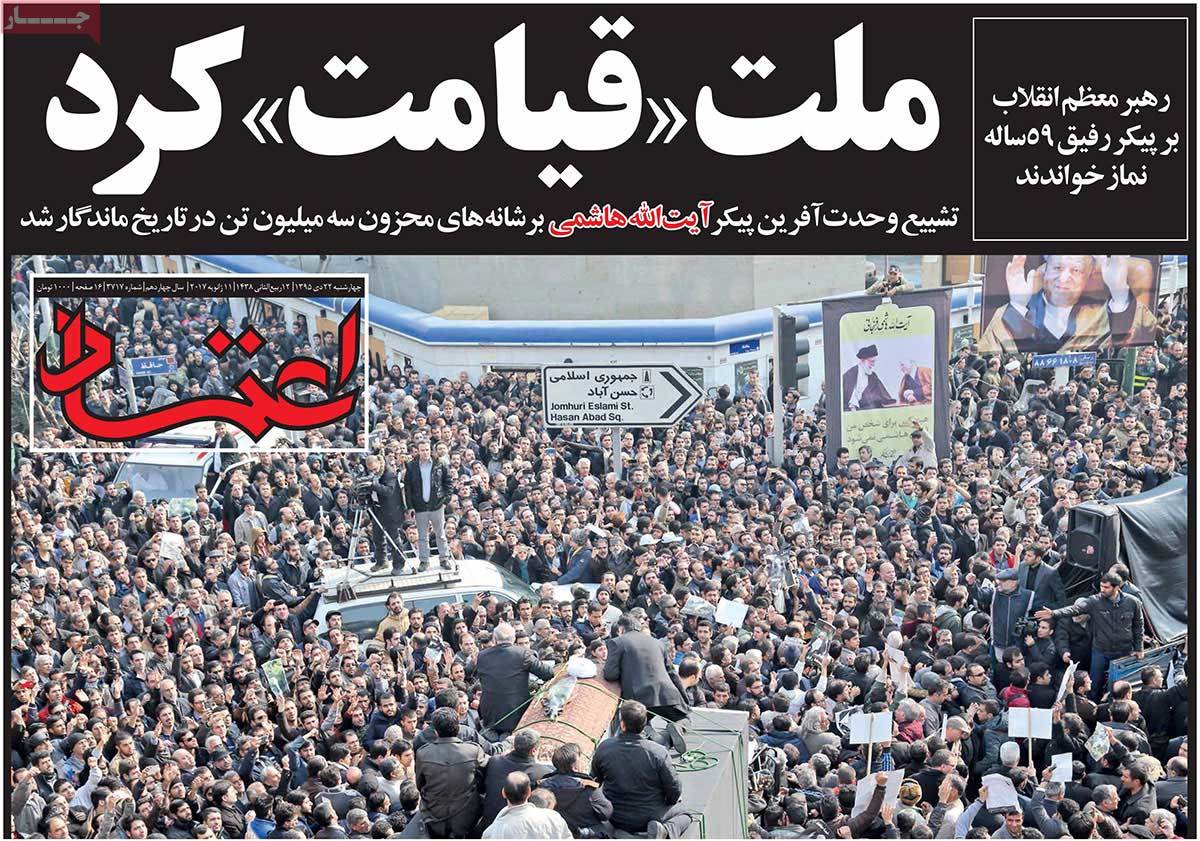 ---
Ettela'at:
1- Historic Burial of the Body of Iran Revolution's Great Man on Shoulders of Mournful People: Ayatollah Khamenei Leads Ritual Prayers for Deceased People at University of Tehran
---
Farhikhtegan:
1- Resting beside Imam Khomeini's Body
---
Forsat-e Emrooz:
1- Hashemi, the Commander of Post-War Economy; A Report on Ayatollah Rafsanjani's Impact on Iran's Economy
2- 55 Years of Struggle: Hashemi's Infographic from Birth to Death
---
Ghanoon:
1- Most Similar to Imam Khomeini's Funeral: People Compensated for Attacks against Rafsanjani during His Life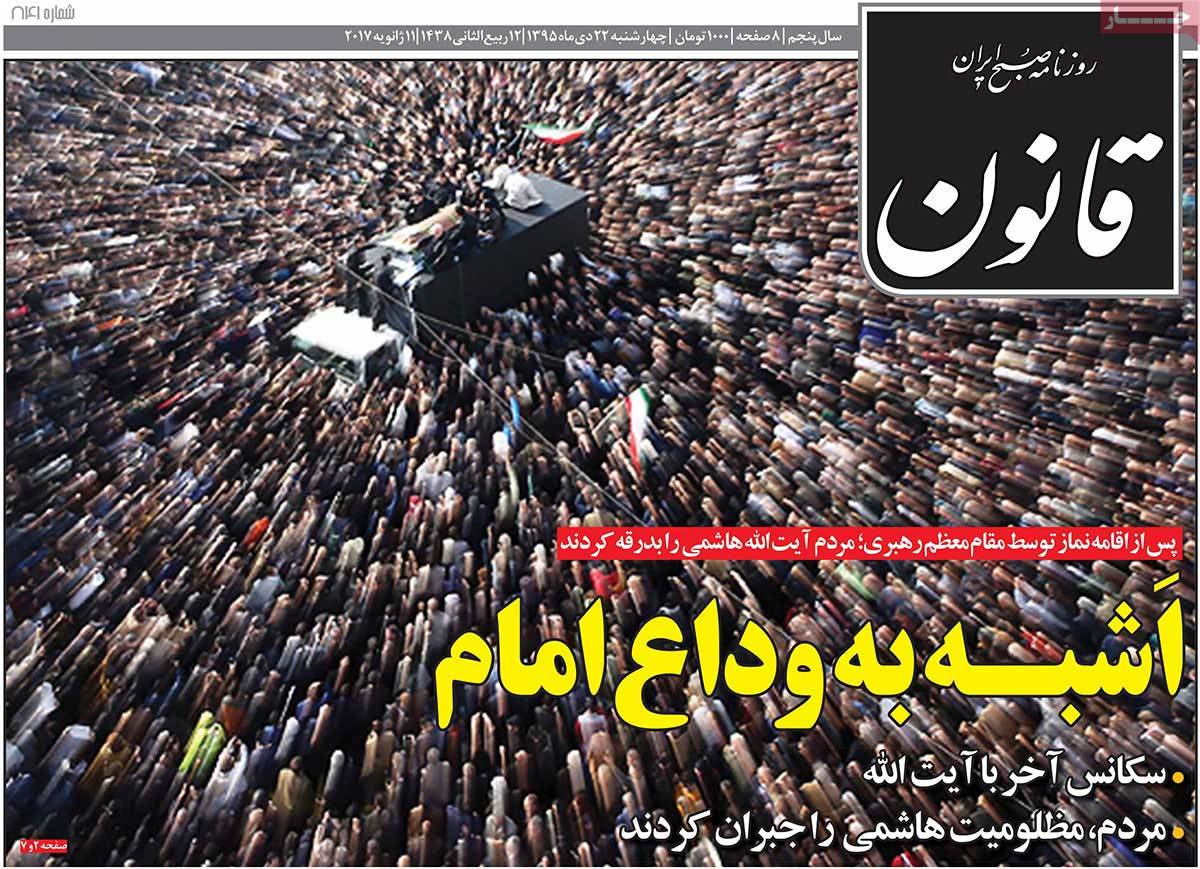 ---
Haft-e Sobh:
1- Post-Hashemi Iran; Answers to Five Strategic Questions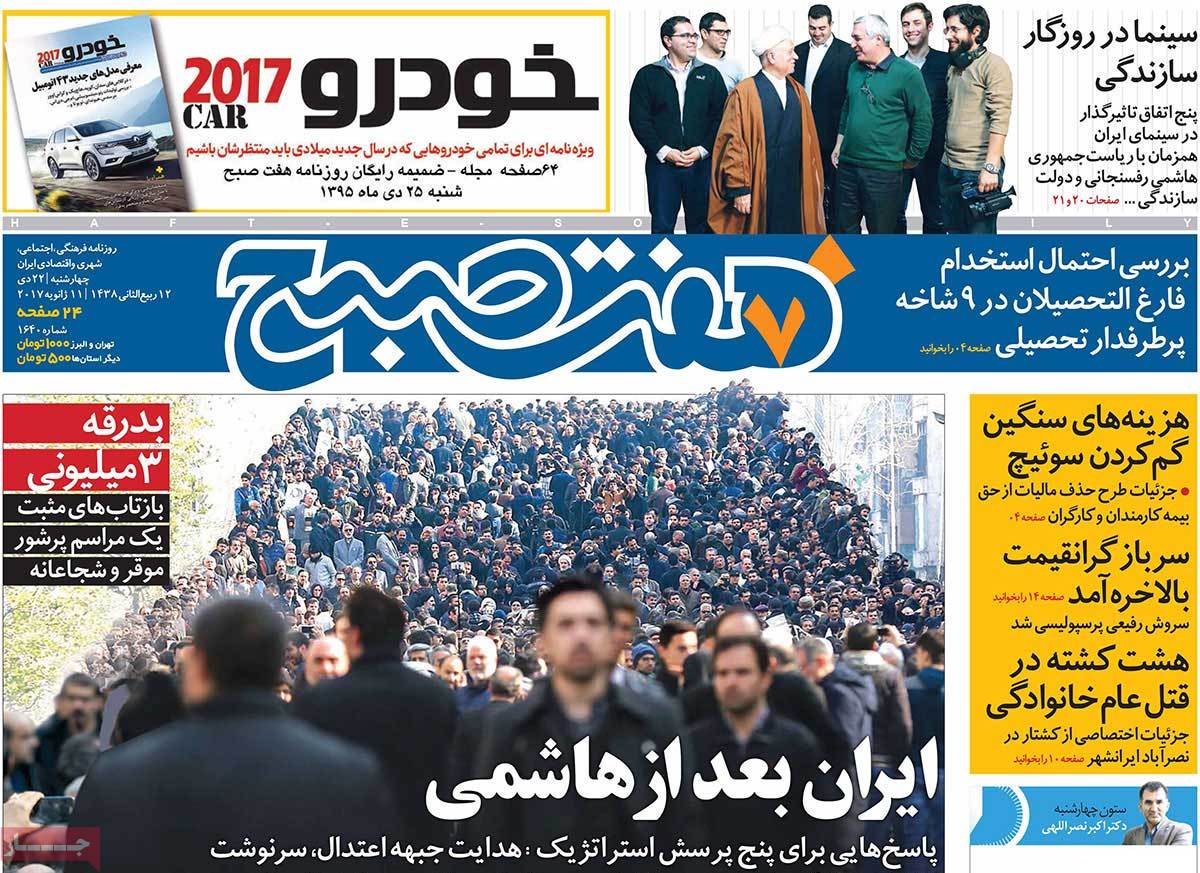 ---
Iran:
1- Historic Farewell: Tehran's Governor-General Says at Least 2.5 Million People Attended Ayatollah Hashemi's Funeral
2- Rouhani: Today, Everyone Came to Say Goodbye to that History-Maker Man. Let's Use This Atmosphere for Friendship, Reconciliation, and National Unity, and Build Bridge instead of Wall
---
Jahan-e San'at:
1- Spontaneous Farewell to Ayatollah: Rafsanjani's Family Appreciate People's Presence in Millions
2- Senior Politician Nateq Noori: It's Regrettable that No One Was Attacked as Much as Hashemi Rafsanjani; Why?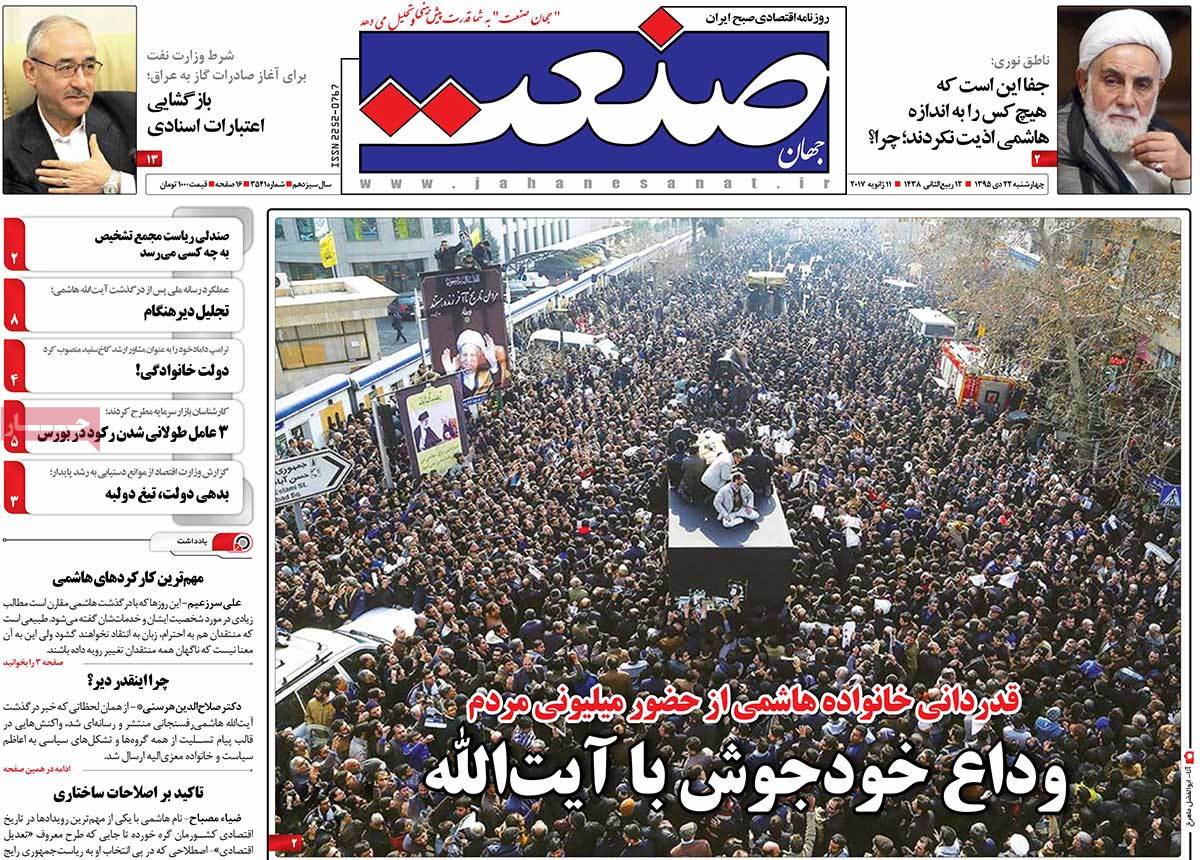 ---
Javan:
1- Resting beside Imam Khomeini; Reuters: Farewell to Rafsanjani Turned to a Show of Solidarity among Iranians
---
Jomhouri Eslami:
1- Imam's Friend Escorted by Grateful Iranians to Mausoleum of the Founder of Islamic Republic
2- Top Clerics Praise Ayatollah Rafsanjani's Character
3- Ayatollah Rafsanjani's Death Immediately Became Top News in the World
---
Kayhan:
1- Glorious Burial of Ayatollah Rafsanjani's Body: People Devoted to Iran's Leader Did Their Best for Ayatollah Khamenei's Friend
2- Deputy FM Araqchi: US Has Violated JCPOA and Should Compensate
3- Kremlin's Harsh Reaction to US Accusations; Moscow: We Hacked Obama's Brain, Not the US Votes!
---
Khorasan:
1- Farewell to Imam's Companion in Millions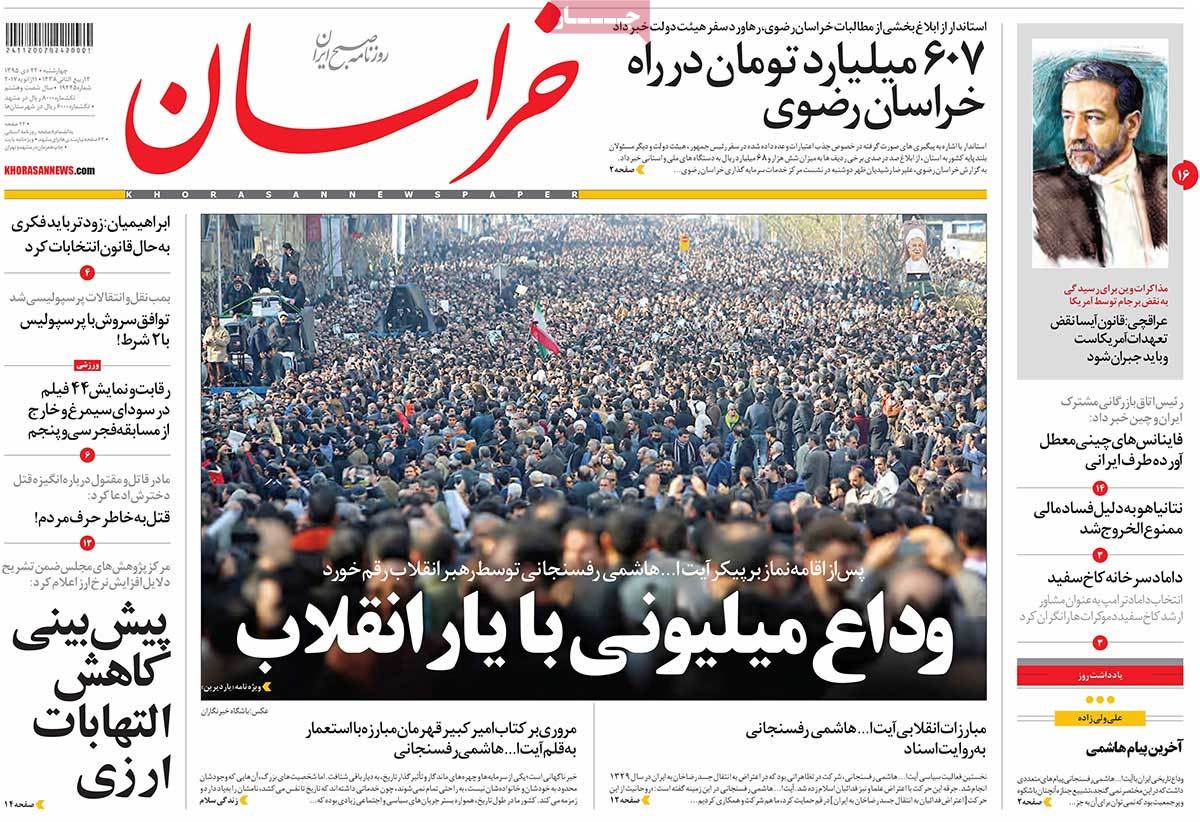 ---
Mardom Salari:
1- Iran Shows Respect for Great Man of Politics
---
Nasl-e Farda:
1- Everyone Came: Artists and Celebrities Took Part in Rafsanjani's Funeral; Iran Is So Quiet without Hashemi; We Owe Our Peace to Rafsanjani
---
Payam-e Zaman:
1- National Unity and Solidarity: Message of People's Passionate Attendance in Ayatollah Rafsanjani's Funeral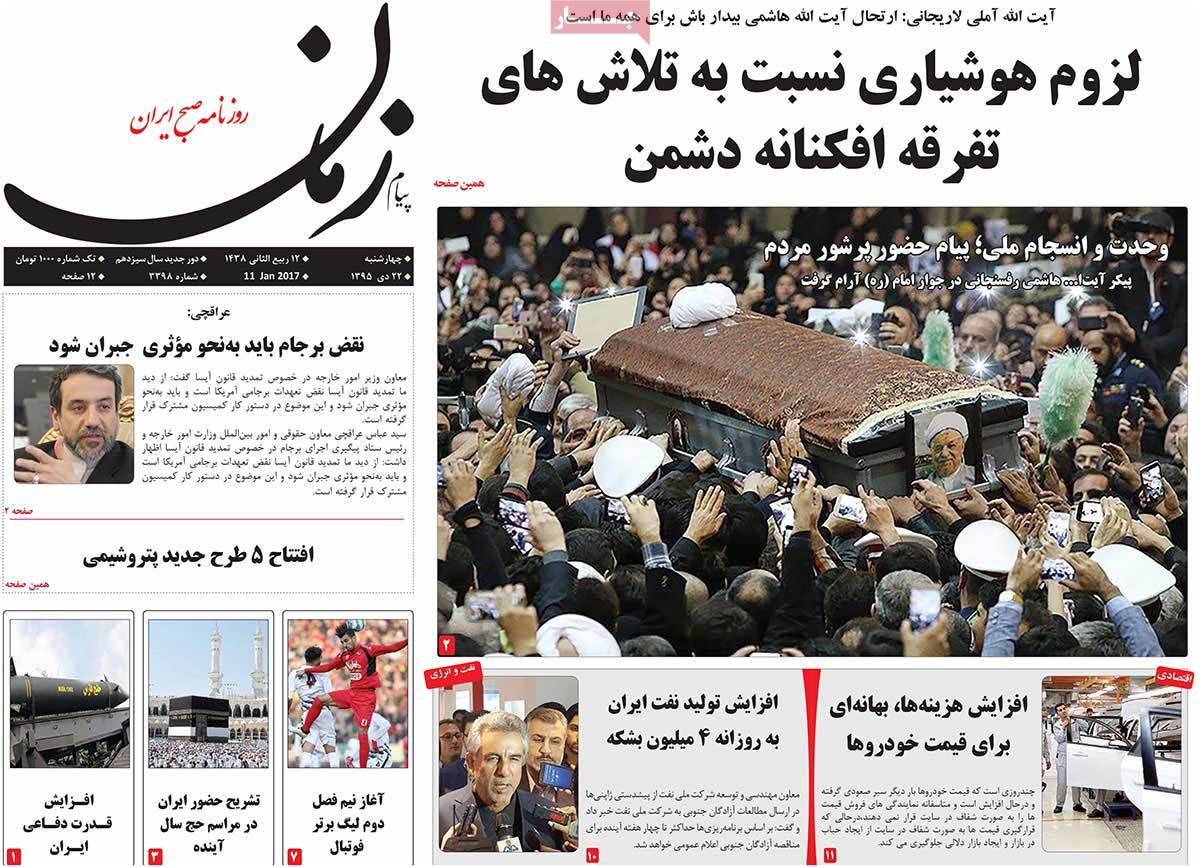 ---
Resalat:
1- Nation's Farewell to Old Friend of Imam Khomeini and Ayatollah Khamenei
2- We Lost One of the Great Men of Islam: Nasrallah
3- Ayatollah Rafsanjani Was a Man of Hard Days of Iran's Revolution: Parliament Speaker
4- Protecting Iran's Islamic Establishment Is Best Sympathy after Rafsanjani's Death: Ayatollah Javadi Amoli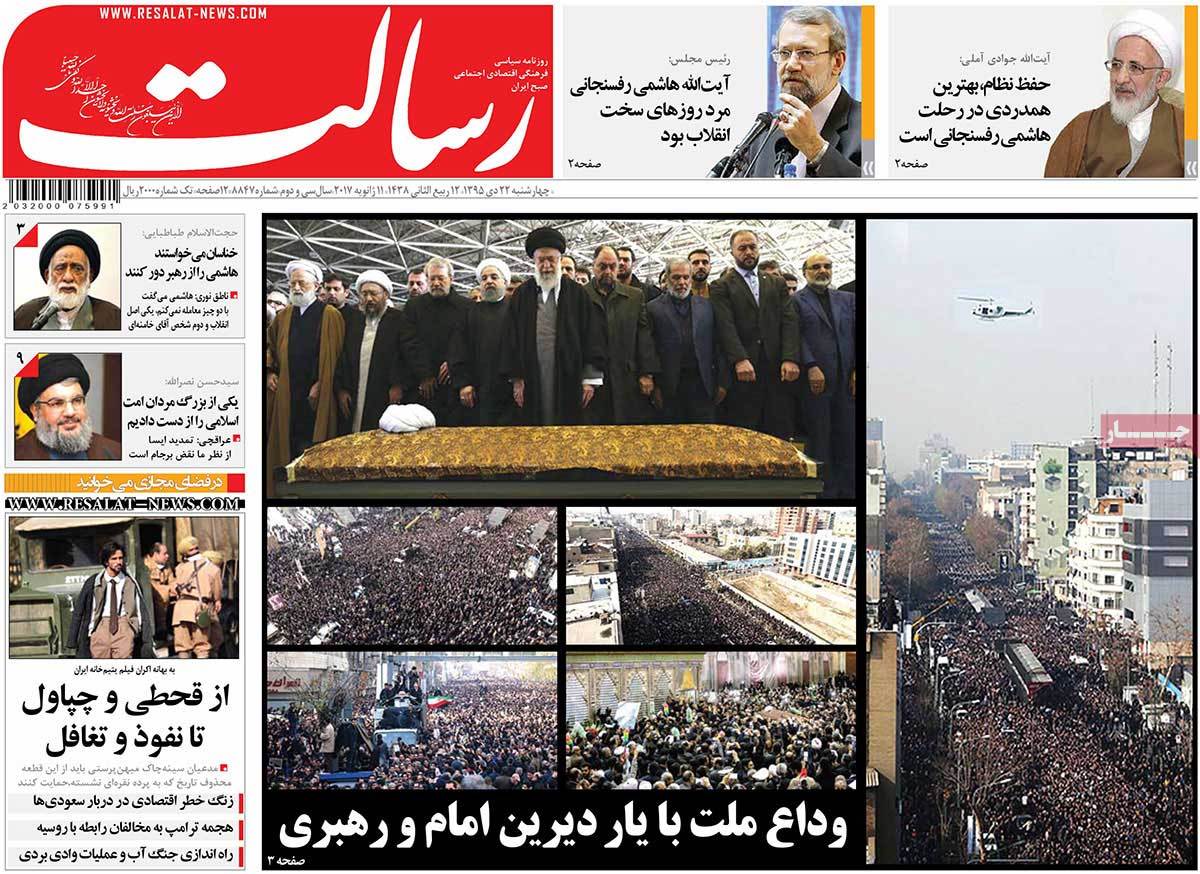 ---
Rooyesh-e Mellat:
1- People Praise the Great Man with No Alternative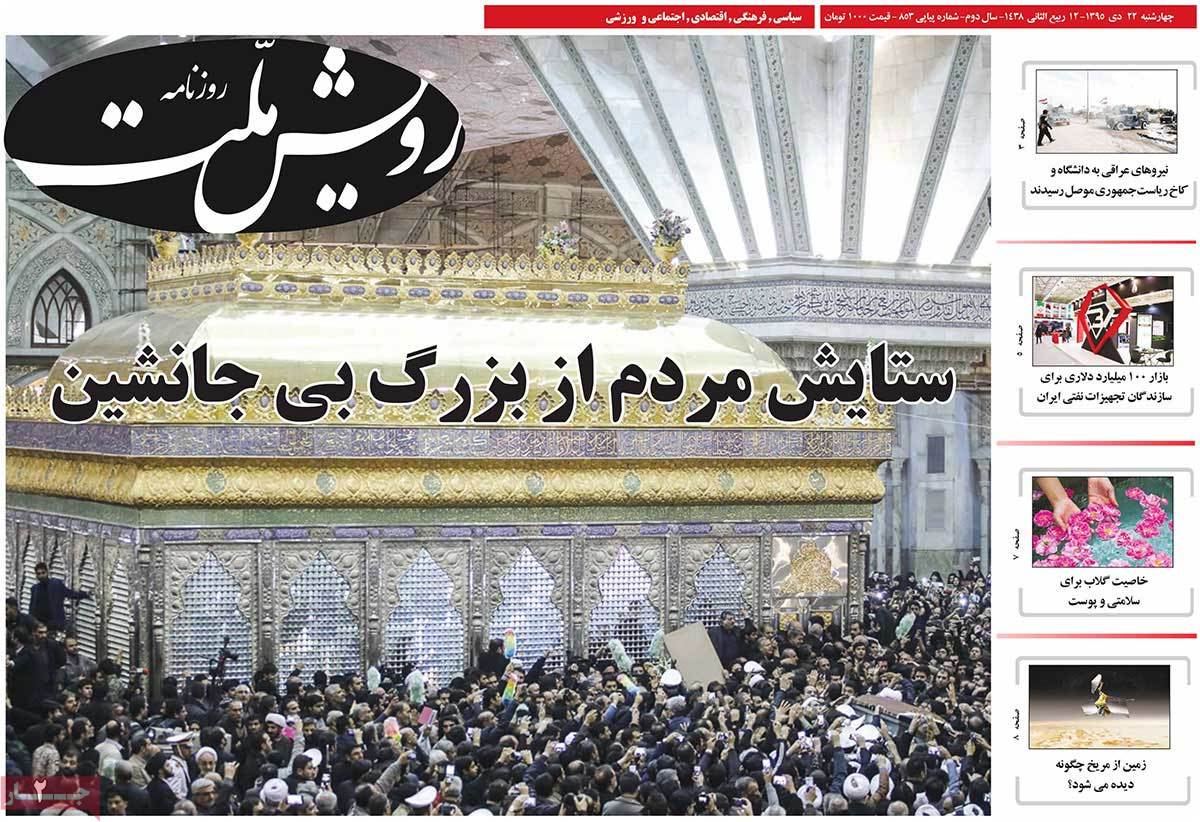 ---
Roozegar-e Ma:
1- Adios the Great Man of Our Time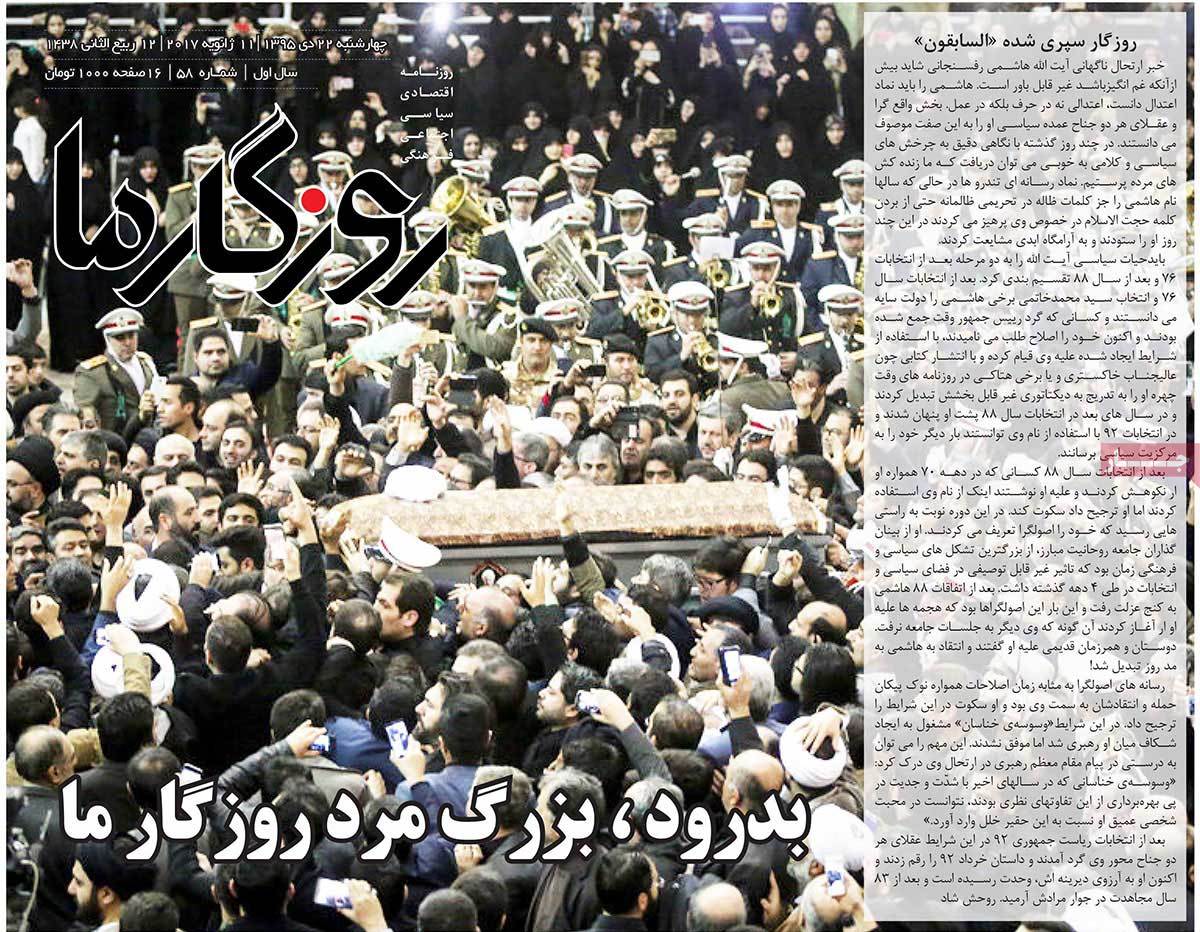 ---
Sayeh:
1- Last Farewell Attended by Millions: Most Glorious Funeral Ceremony after Imam Khomeini's Death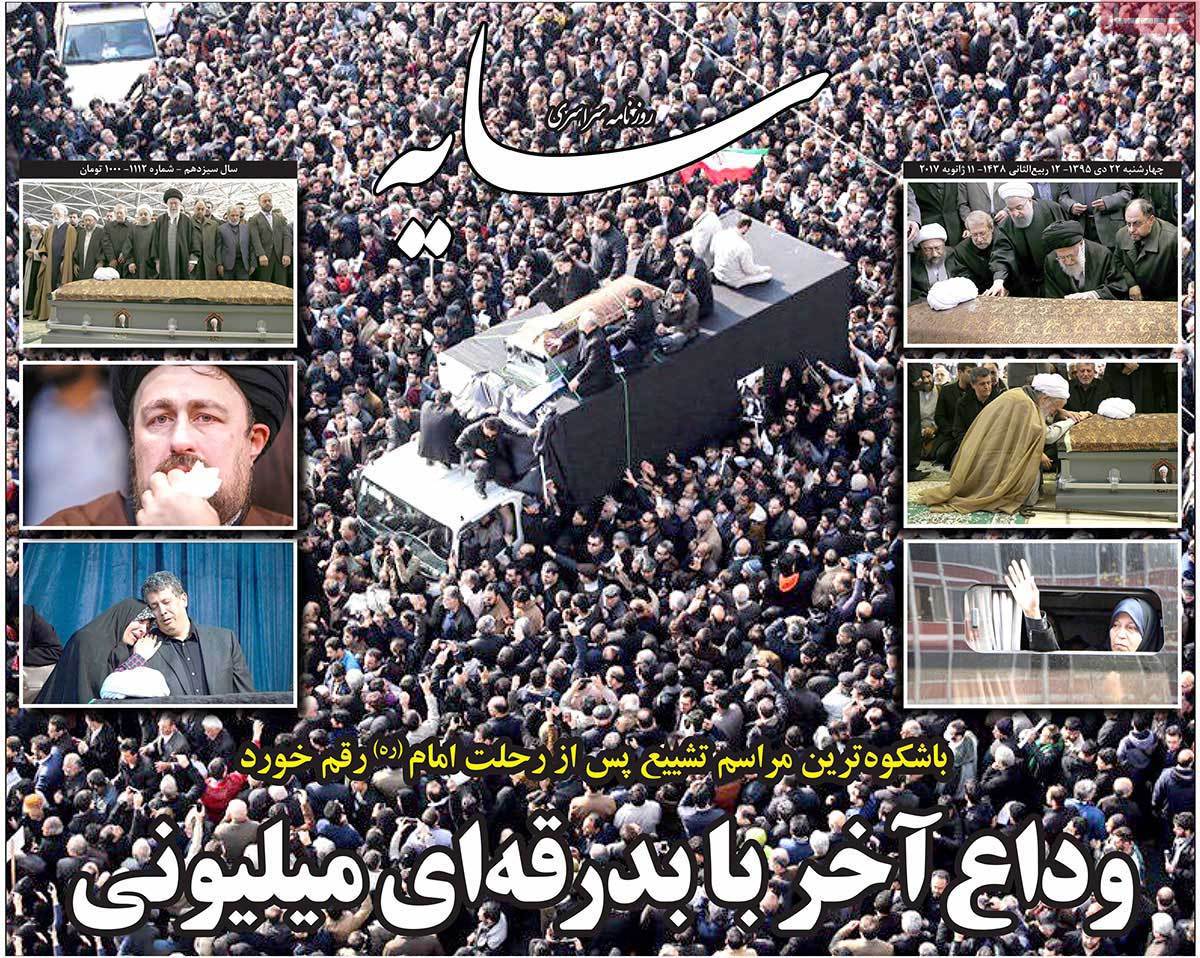 ---
Setareh Sobh:
1- Millions of People Vow to Continue Hashemi Rafsanjani's Path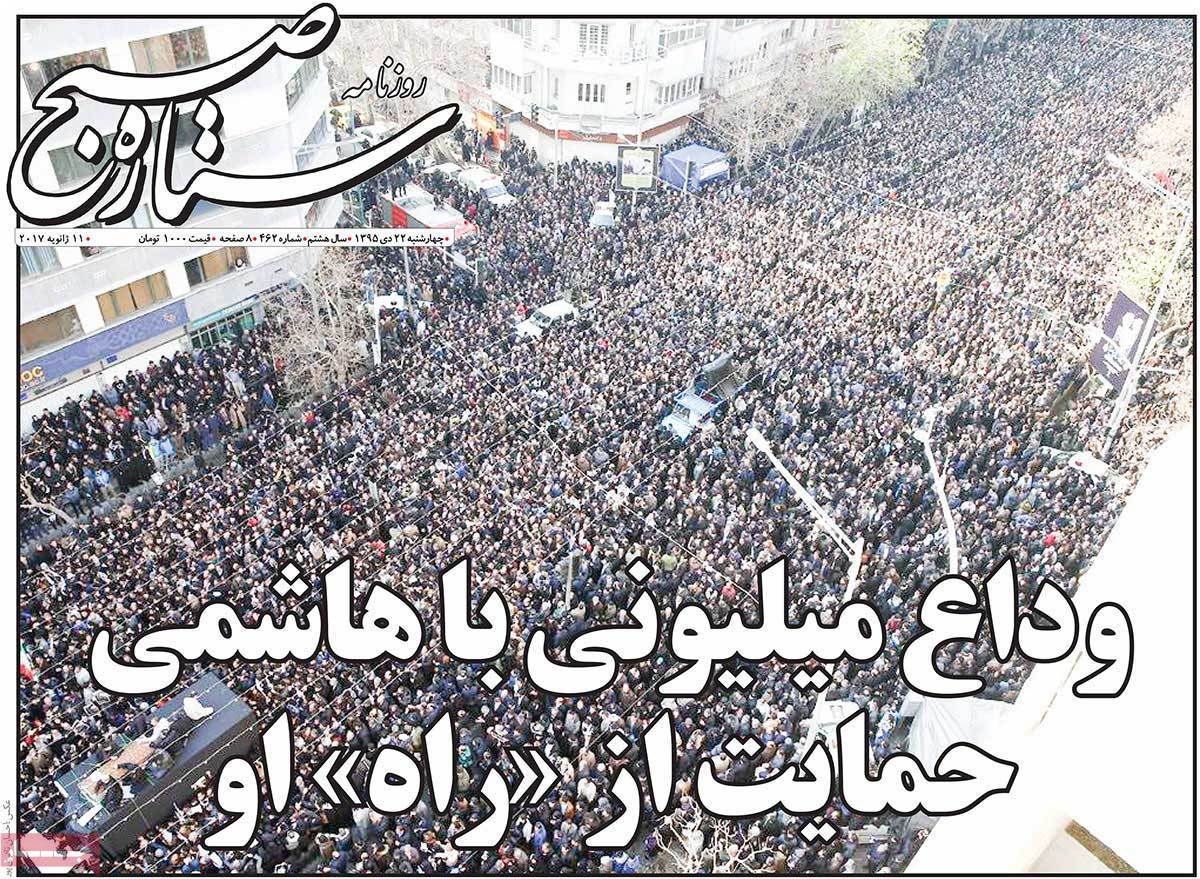 ---
Shahrvand:
1- Farewell to History-Maker Man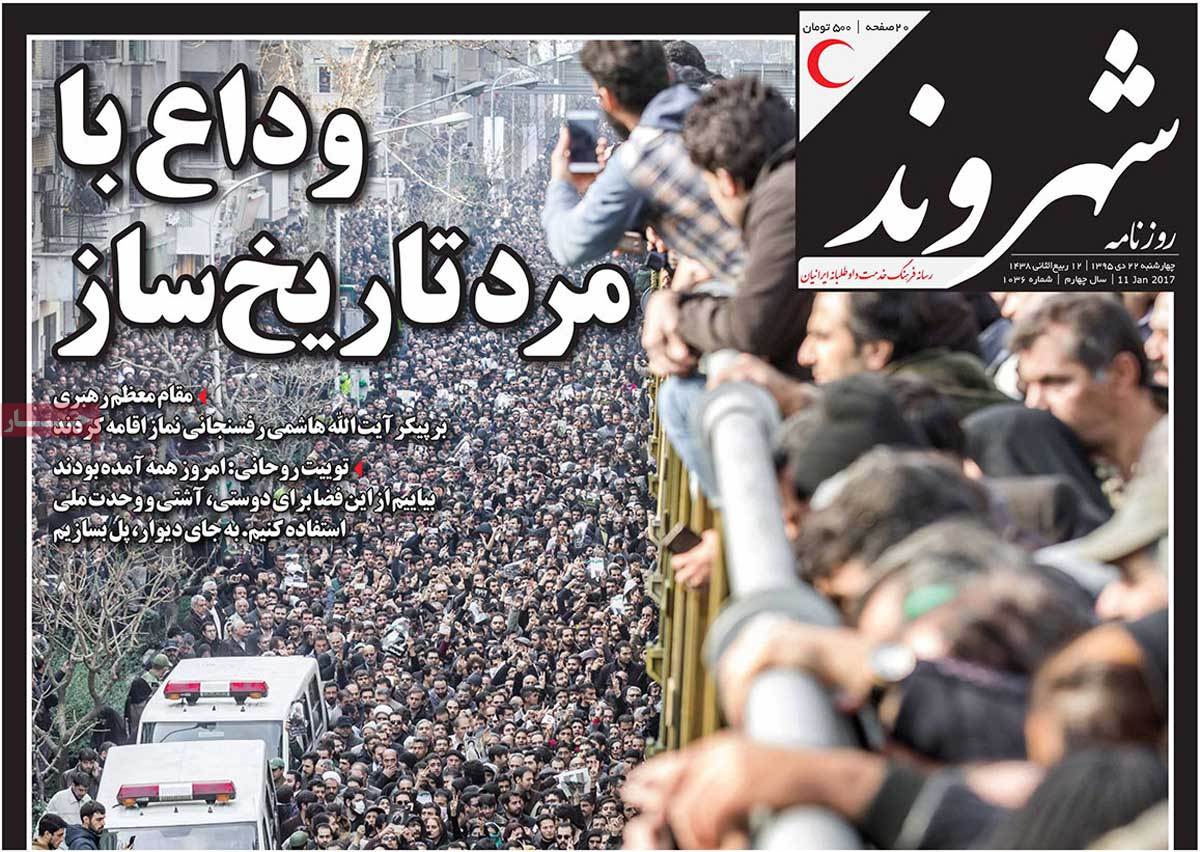 ---
Shargh:
1- Political Intersection: All Political Factions Take Part in Funeral Ceremony of Ayatollah Hashemi Rafsanjani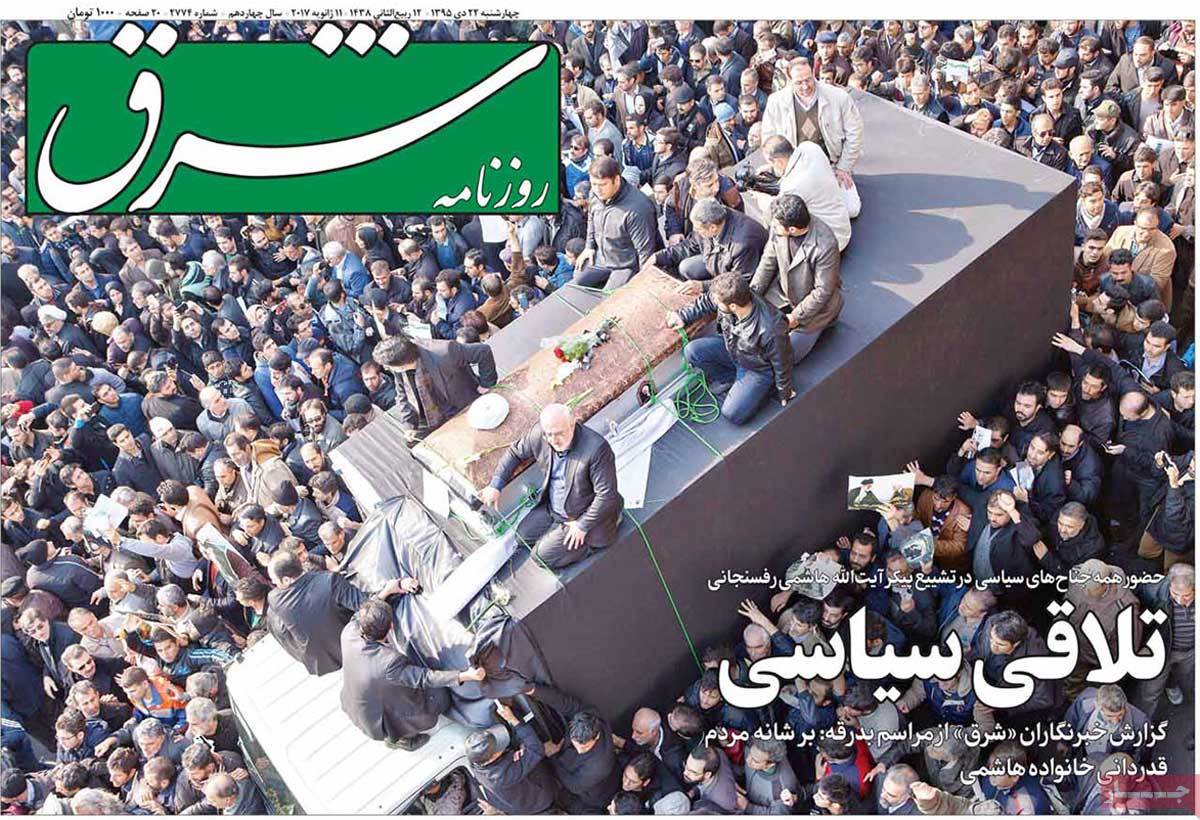 ---
Sobh-e Now:
1- People with Various Tastes and Political Orientations Say Ritual Prayers over Dead Body of Ayatollah Rafsanajni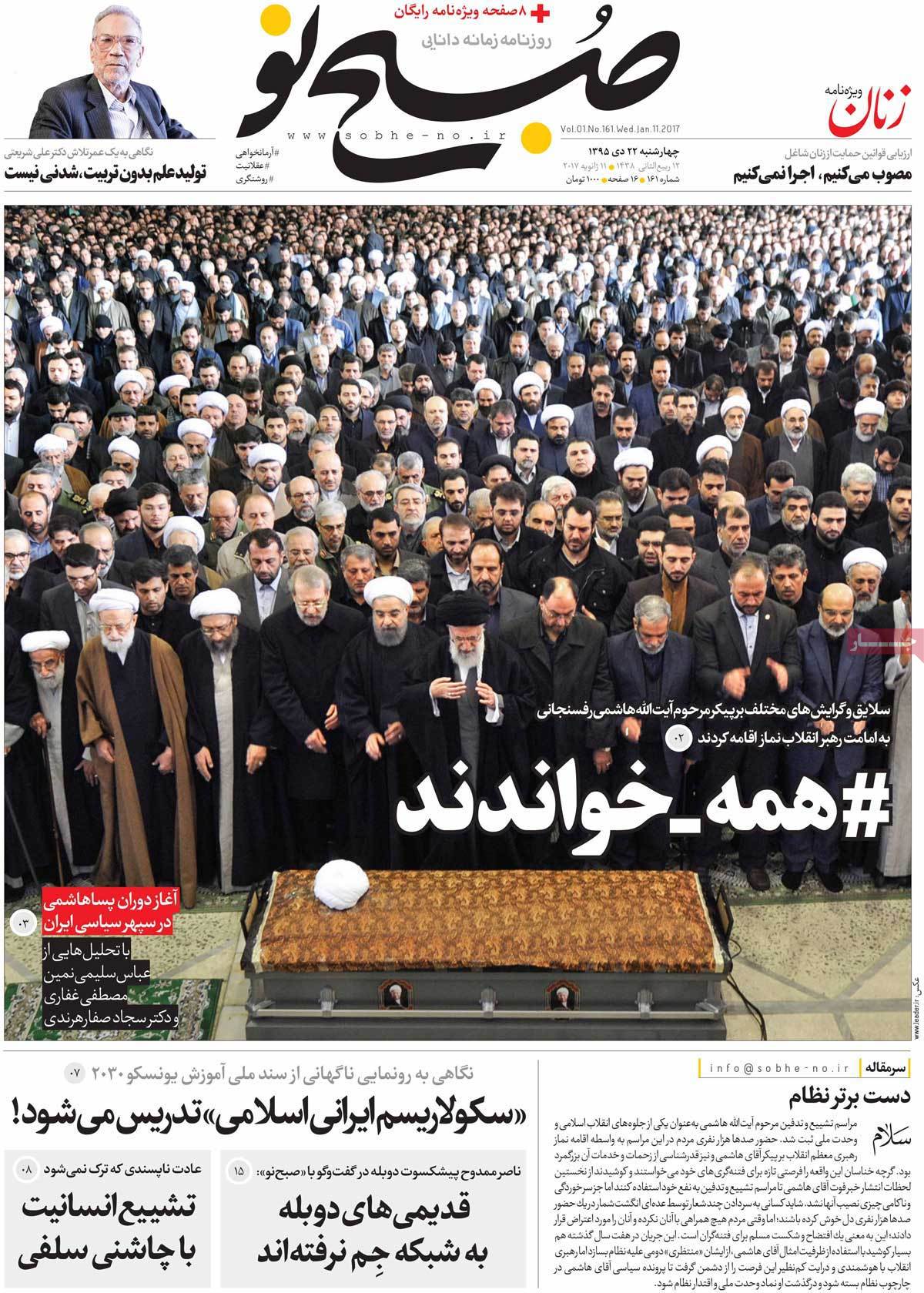 ---
Tamashagaran:
1- Millions of People Escort Ayatollah's Body: Restored Popularity
2- Politician: Saddam Left a Devastated Country after His Death, but Mr. Hashemi …
2- Senior Politician and Cleric: It's Not Useful Anymore to Commemorate Hashemi
3- After Widespread Criticisms of IRIB during Rafsanjani's Funeral Ceremony, IRIB Chief Vows to Improve Its Performance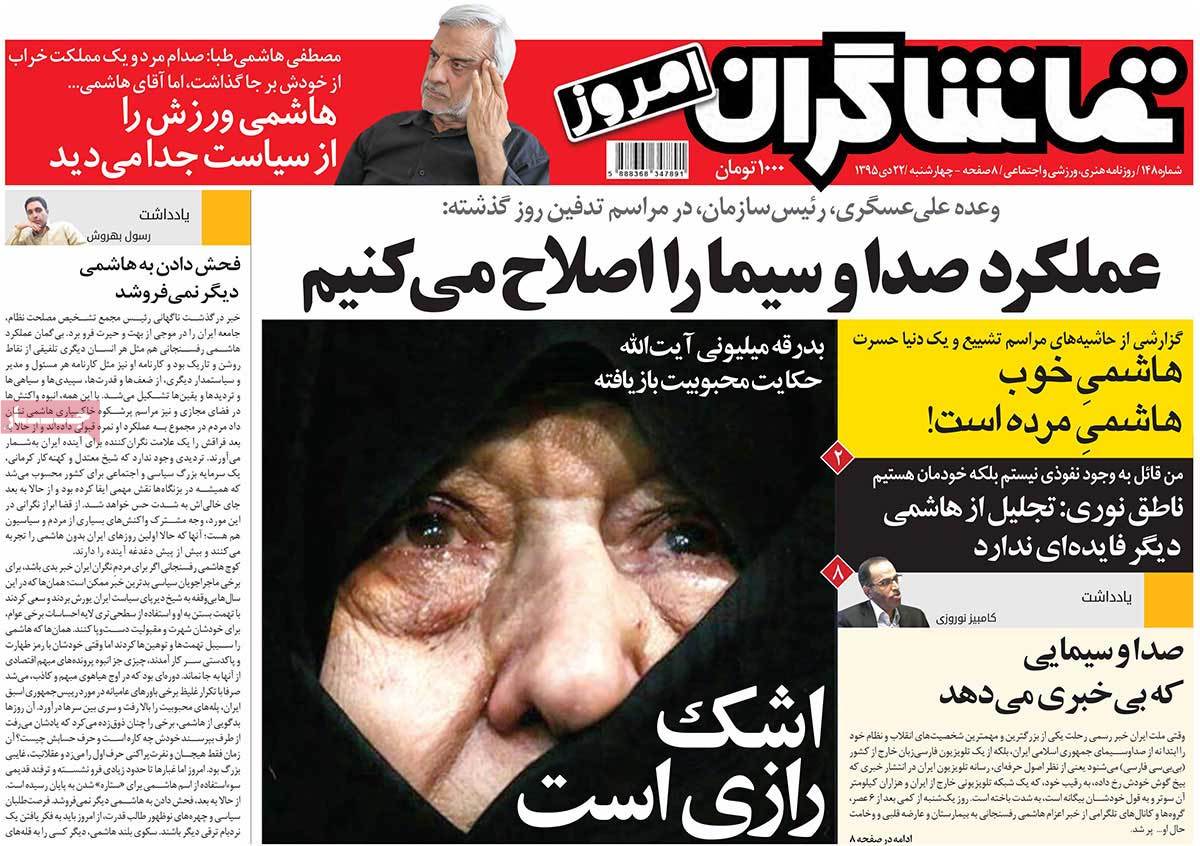 ---
Tejarat:
1- Millions of People Escort Ayatollah Rafsanjani: Apprentice Laid to Rest beside His Master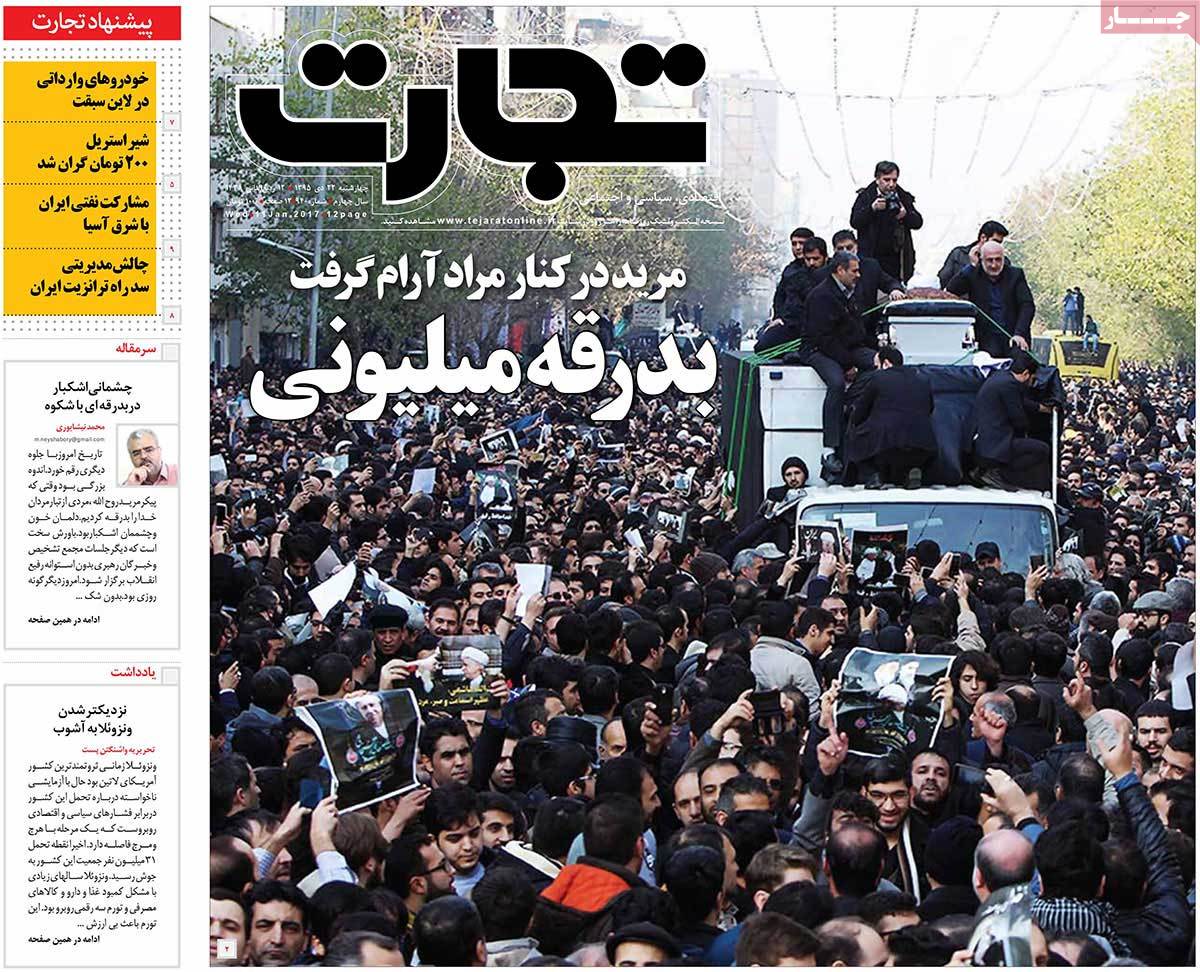 ---
Vaghaye Ettefaghieh:
1- The Glory of a Unified Nation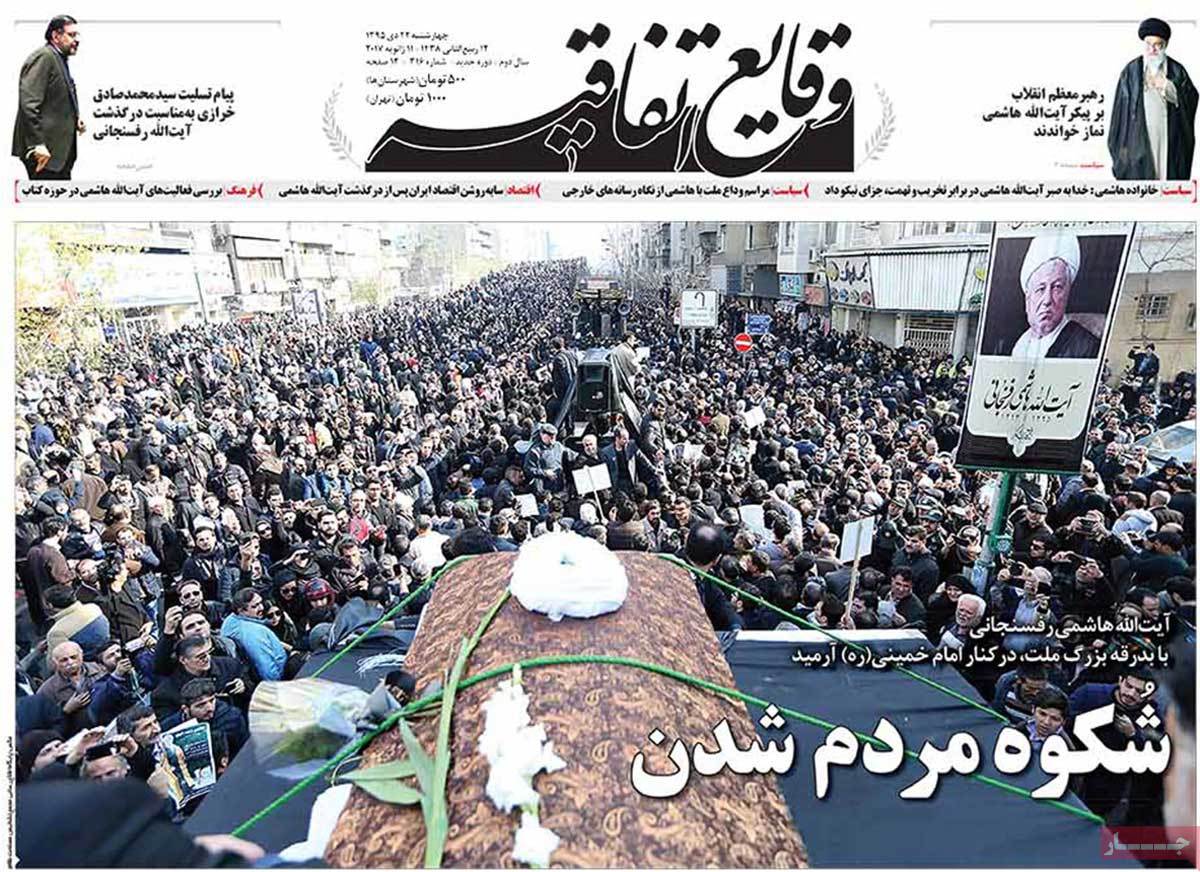 ---
Vatan-e Emrooz:
1- Magnanimous Farewell: People Devoted to Hezbollah Attended Hashemi Rafsanjani's Funeral Even Though They Were Critical of His Positions in Past Years