IFP has taken a look at the front pages of Iranian newspapers on Saturday and picked headlines from 28 of them. IFP has simply translated the headlines and does not vouch for their accuracy.
All newspapers today highlighted the high turnout of Iranian people in the presidential and local elections held on Friday across the country and in other parts of the world.
Since the papers were published before the declaration of results, none of them had the chance to cover Hassan Rouhani's re-election, rumours of which were spread in early hours of Saturday.
However, some of them pointed to the number of voters, which stood nearly at 40 million.
Here are some of the Iranian newspaper front pages released on the day after the historic election:
19 Dey:
1- People's Resurrection
---
Abrar:
1- People Once Again Go to Ballot Boxes to Decide Their Fate
---
Aftan-e Yazd:
1- Iran Leader: The Country's Fate is in People's Hands
2- Real Epic: People's High Turnout Surprised Officials, Observers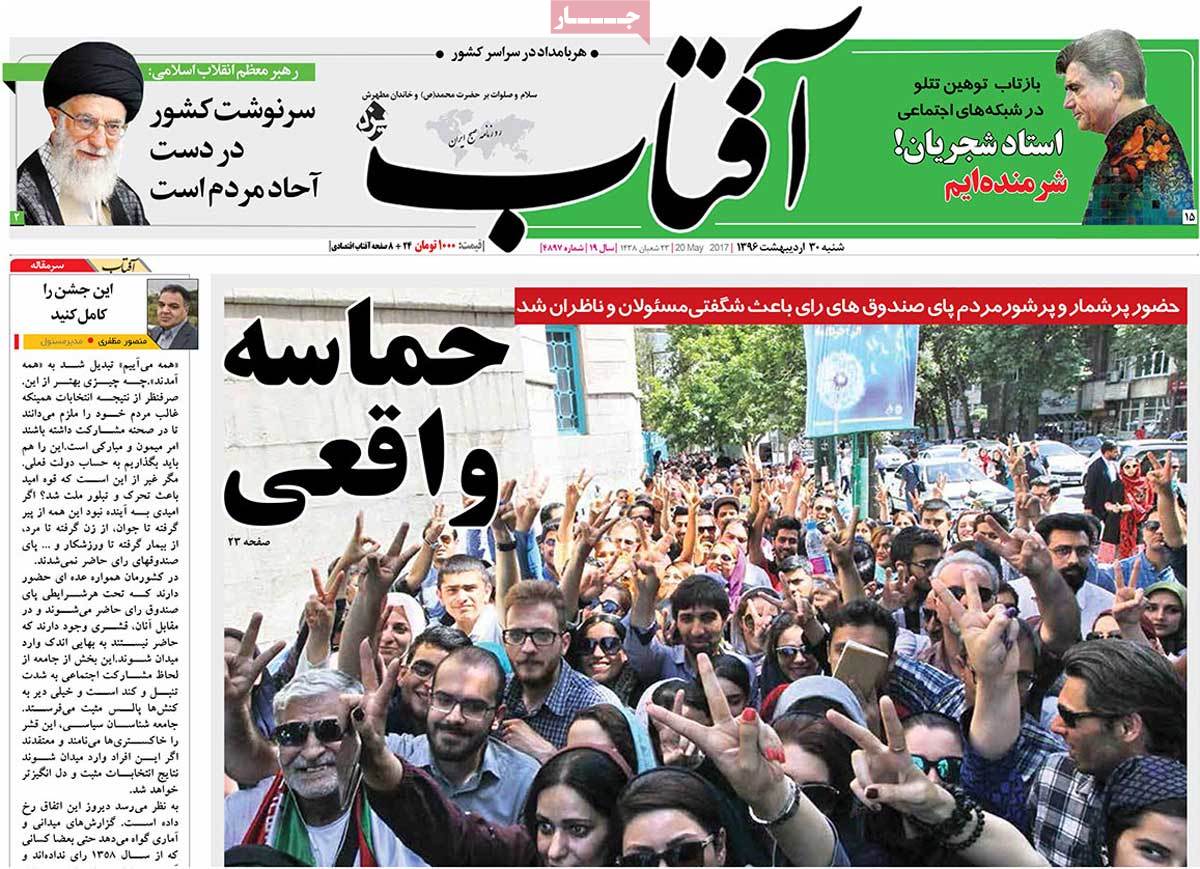 ---
Arman-e Emrooz:
1- People Finished the Job
2- Interior Minister: Over 40m People Voted in Iran Elections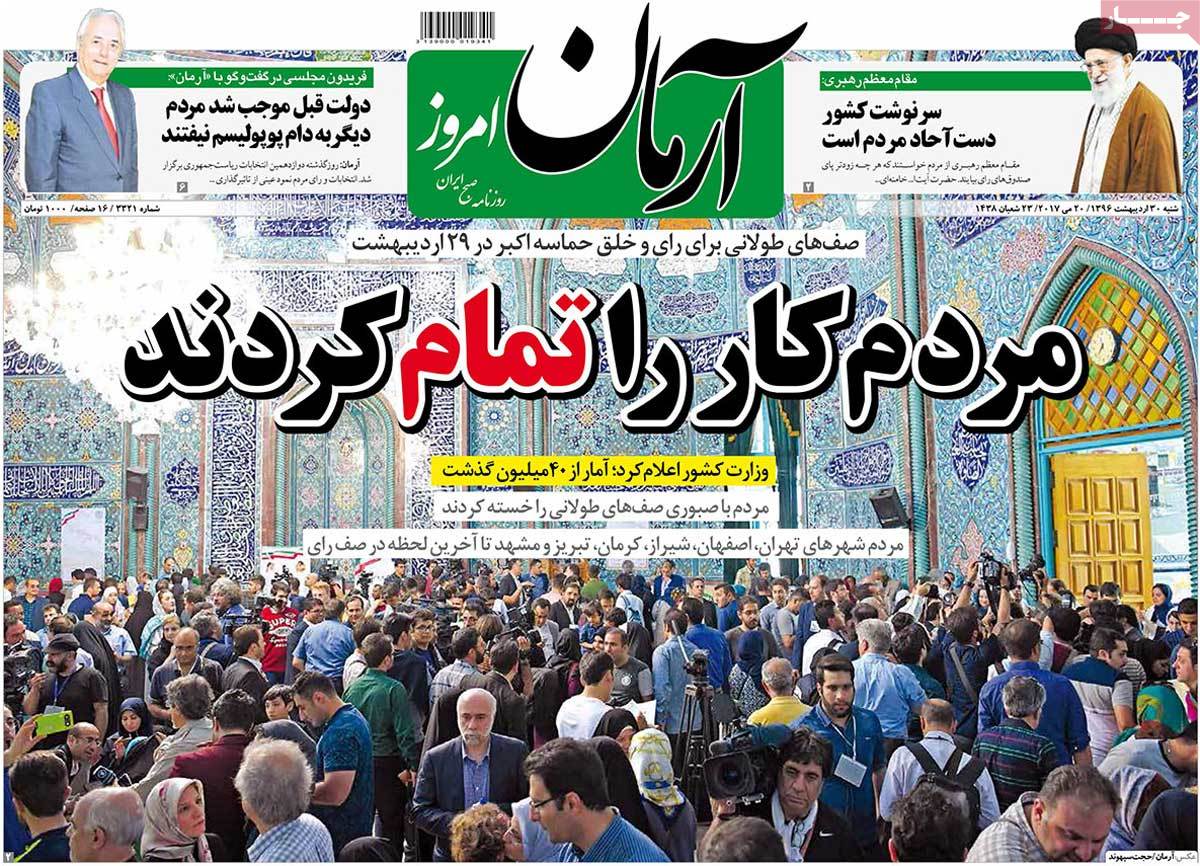 ---
Asrar:
1- People Once Again Insured Iran's Revolution
---
Ebtekar:
1- Hope in Ballot Boxes
2- President: Day after Election is Day of Empathy, Unity, Happiness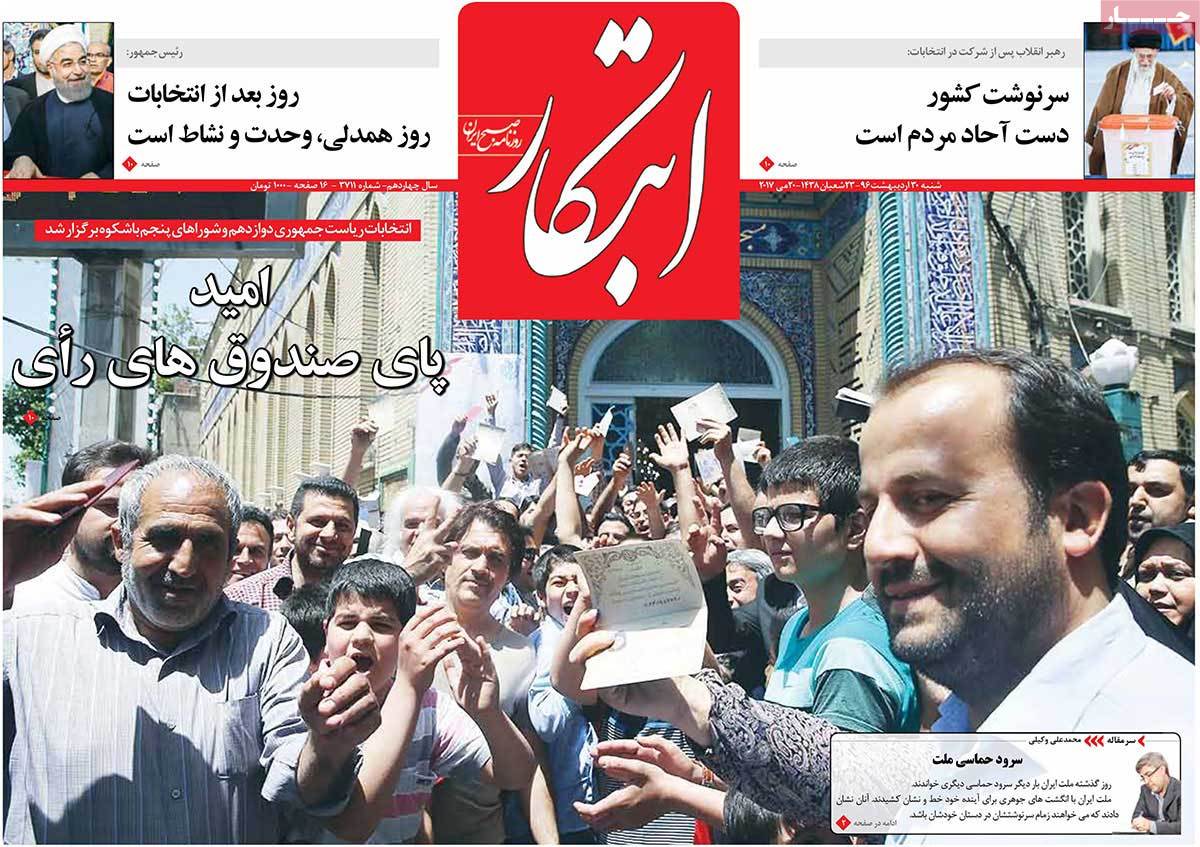 ---
Emtiaz:
1- Salute to So Much Patriotism
---
Etemad:
1- Iranian People Repeated [their vote]
Voters Stood in Long Lines for Hours to Bestow Iran's Fate to a Cleric
2- Rouhani: Saturday is Day of People's Happiness
3- Raisi: Everyone Should Accept the Result
---
Ettela'at:
1- History Made: People's Historic Turnout to Decide Their Fate
---
Ghanoon:
1- The Rouhani [which literally means spiritual] Weather of Spring
Iranian People Do Whatever They Can in Elections
---
Hemayat:
1- People's Great Turnout in Celebration of Election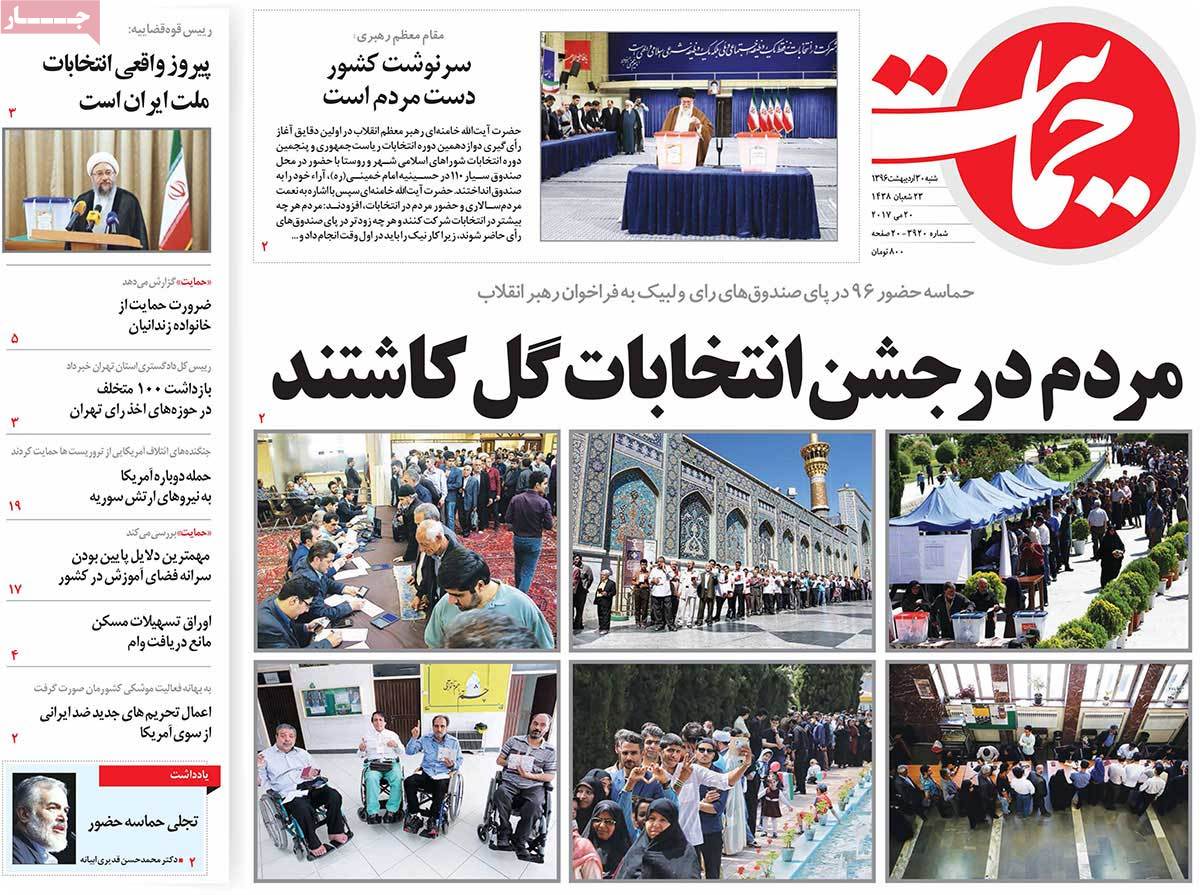 ---
Iran:
1- Once Again People, Once Again Power
World Surprised by High Turnout, Enthusiasm of Iranians in Elections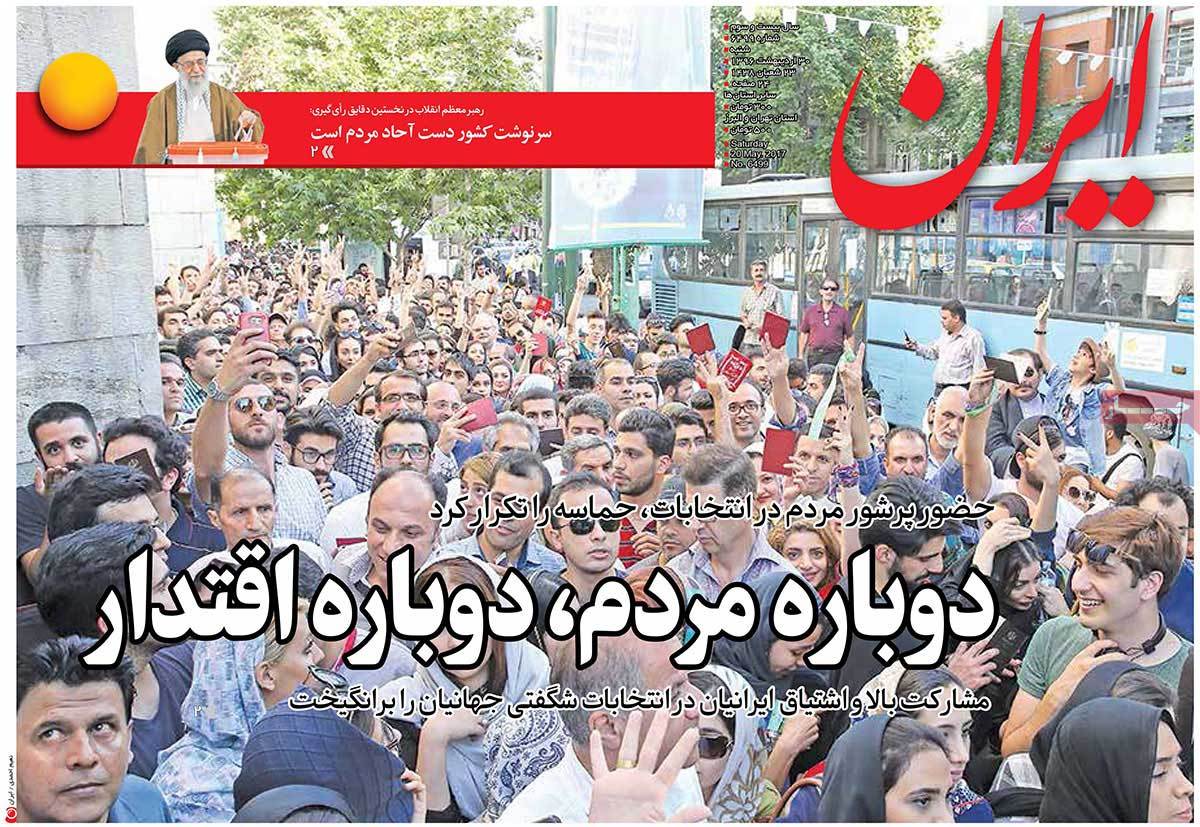 ---
Jame Jam:
1- Celebration of Religious Democracy: Iranian People's Epic Turnout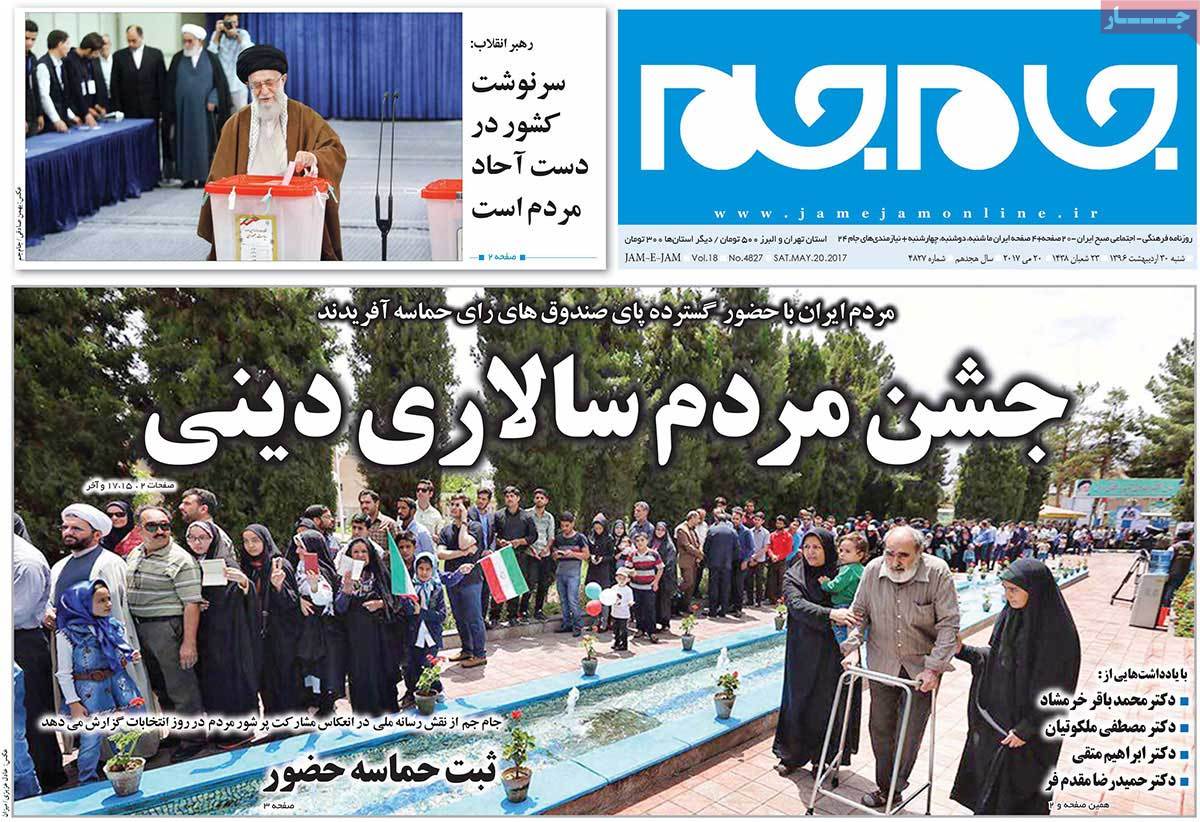 ---
Javan:
1- Amazing Turnout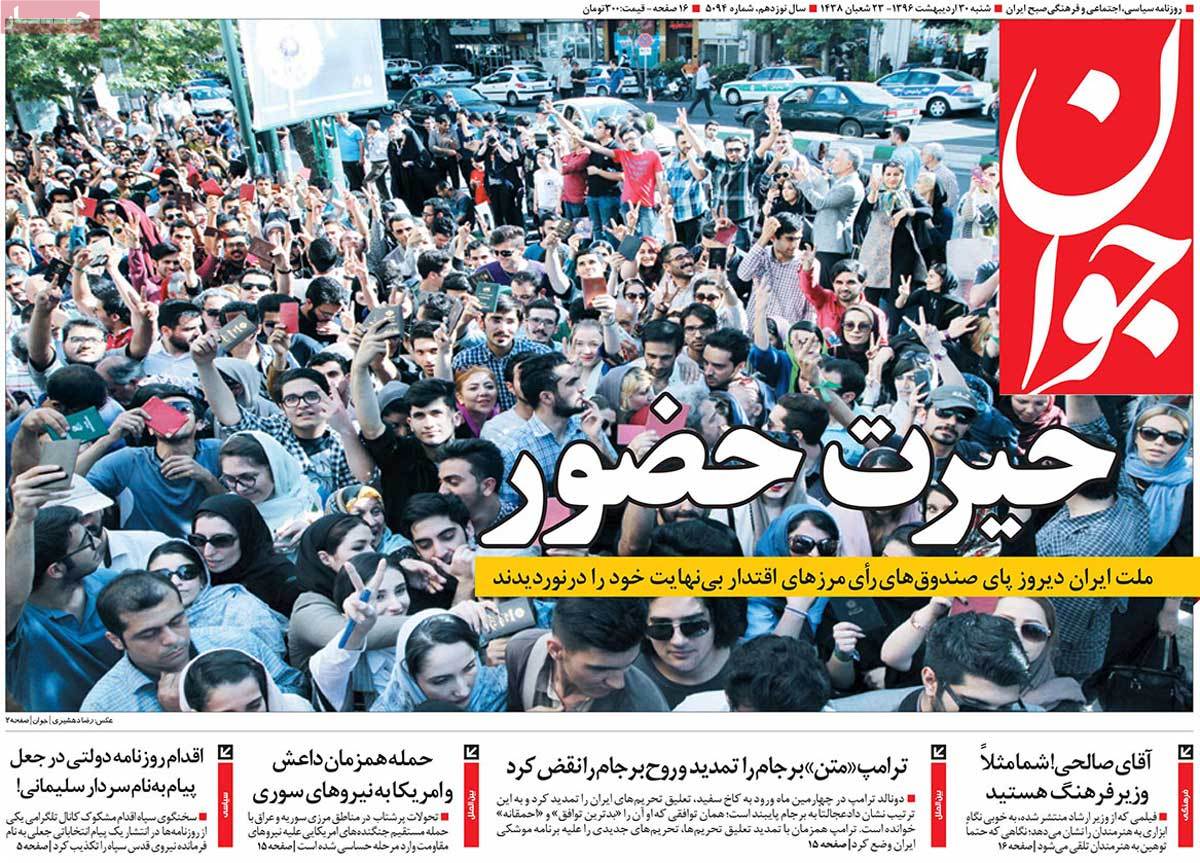 ---
Jomhouri Eslami:
1- Iranians Shine in Great National Celebration of Election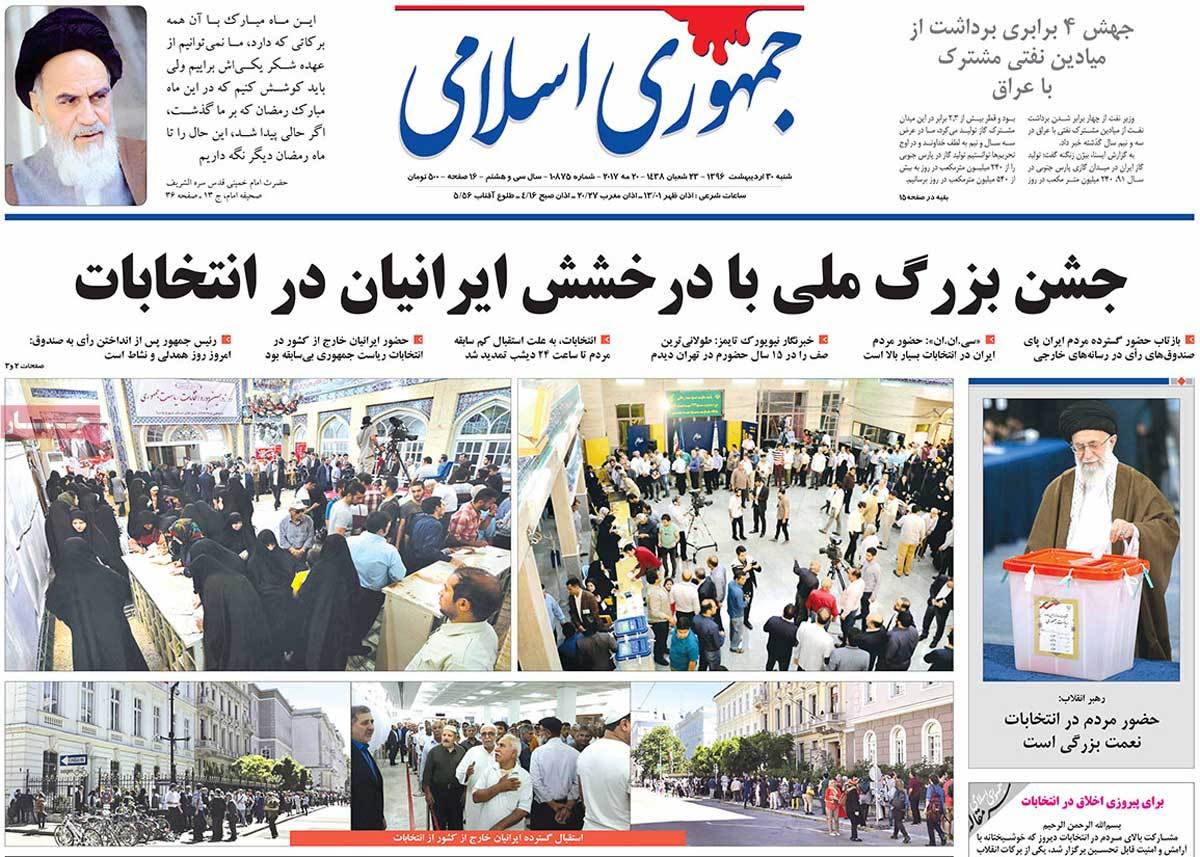 ---
Kayhan:
1- People Did a Great Job
Early Results Show Almost 40m Have Voted in Iran Elections
---
Khorasan:
1- Main Winners: People's Glorious Participation in Deciding Fate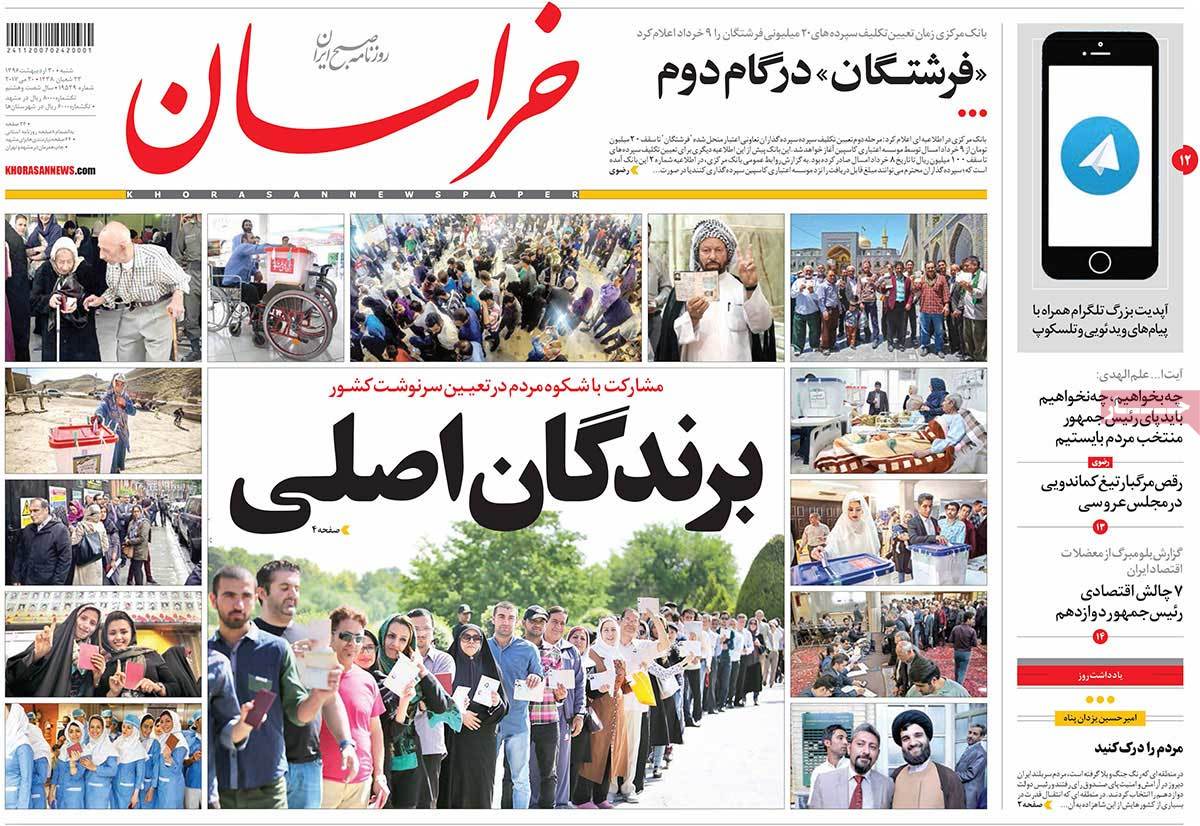 ---
Payam-e Zaman:
1- People Once Again Say 'Yes' to Islamic Republic
---
Resalat:
1- Congratulations on Iranians' Victory
---
Roozan:
1- Everyone Showed up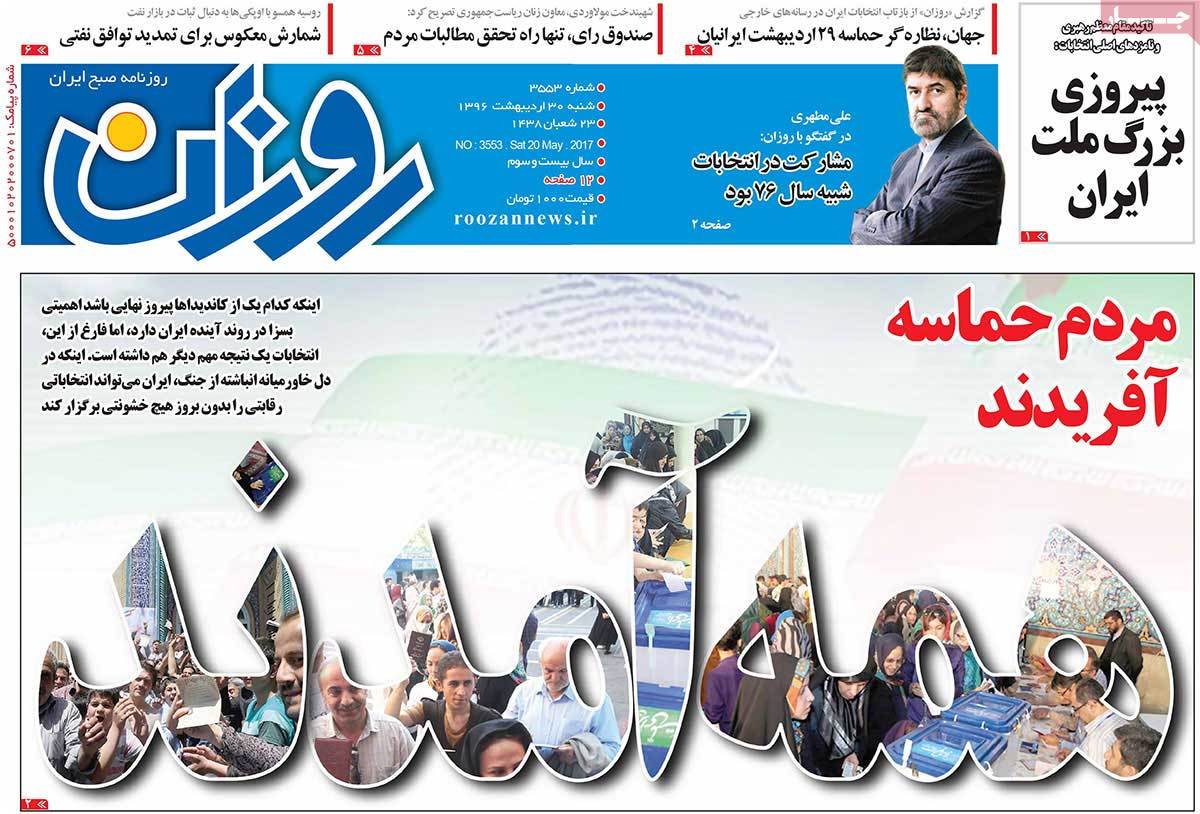 ---
Sayeh:
1- Manifestation of People's Awareness in Their Turnout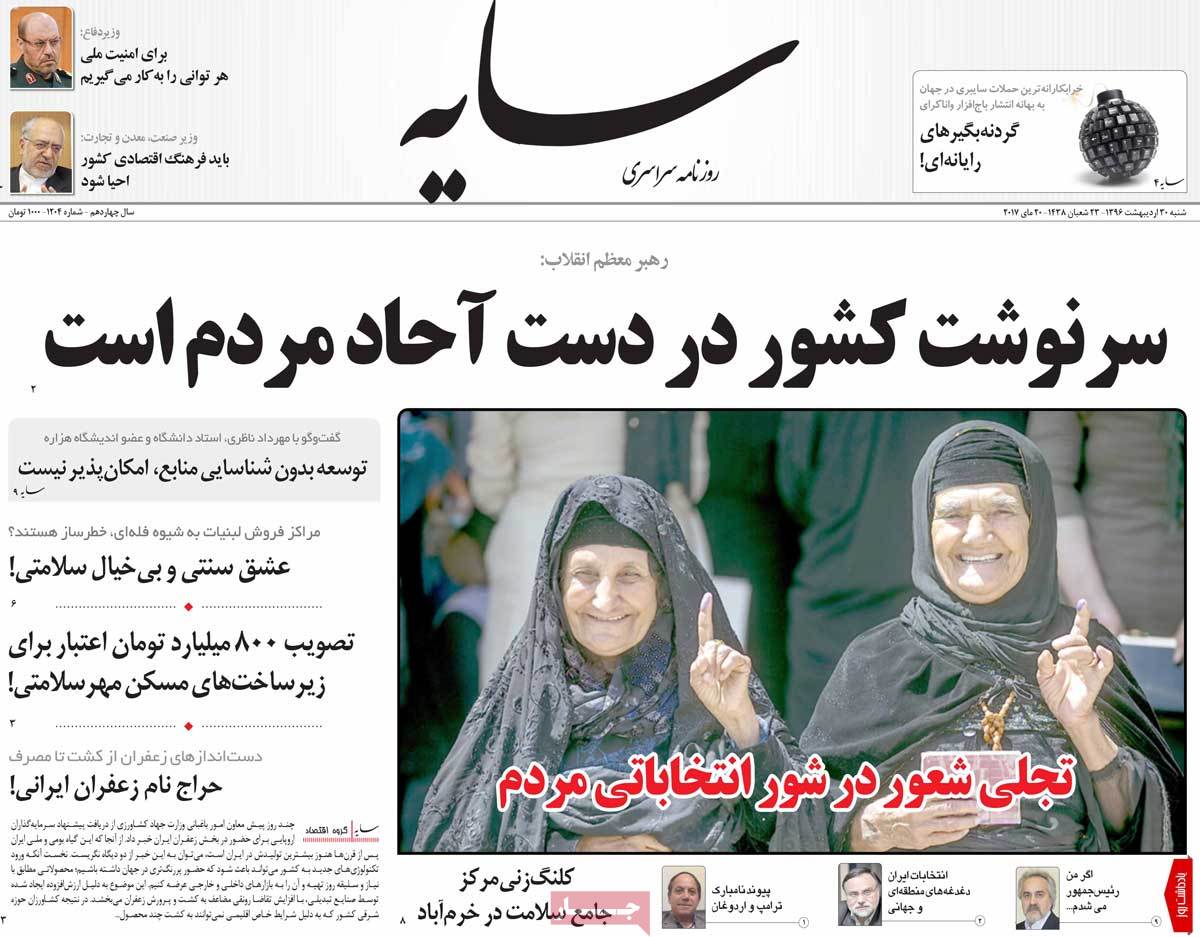 ---
Setareh Sobh:
1- Meaningful Presence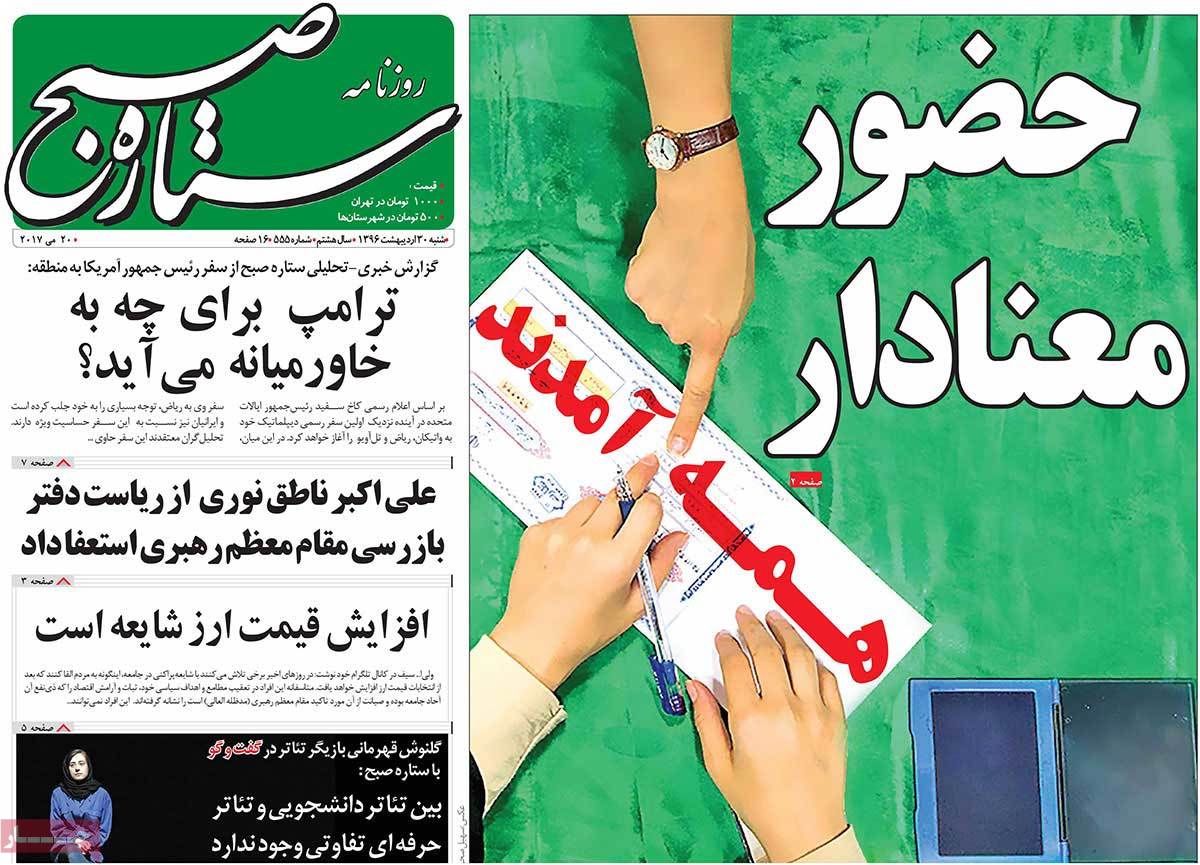 ---
Shahrvand:
1- Sun of Iran's Goodness Shines
---
Shargh:
1- Don't Spoil People's Great Turnout: Larijani
2- All the Prayers We Said for the Election Day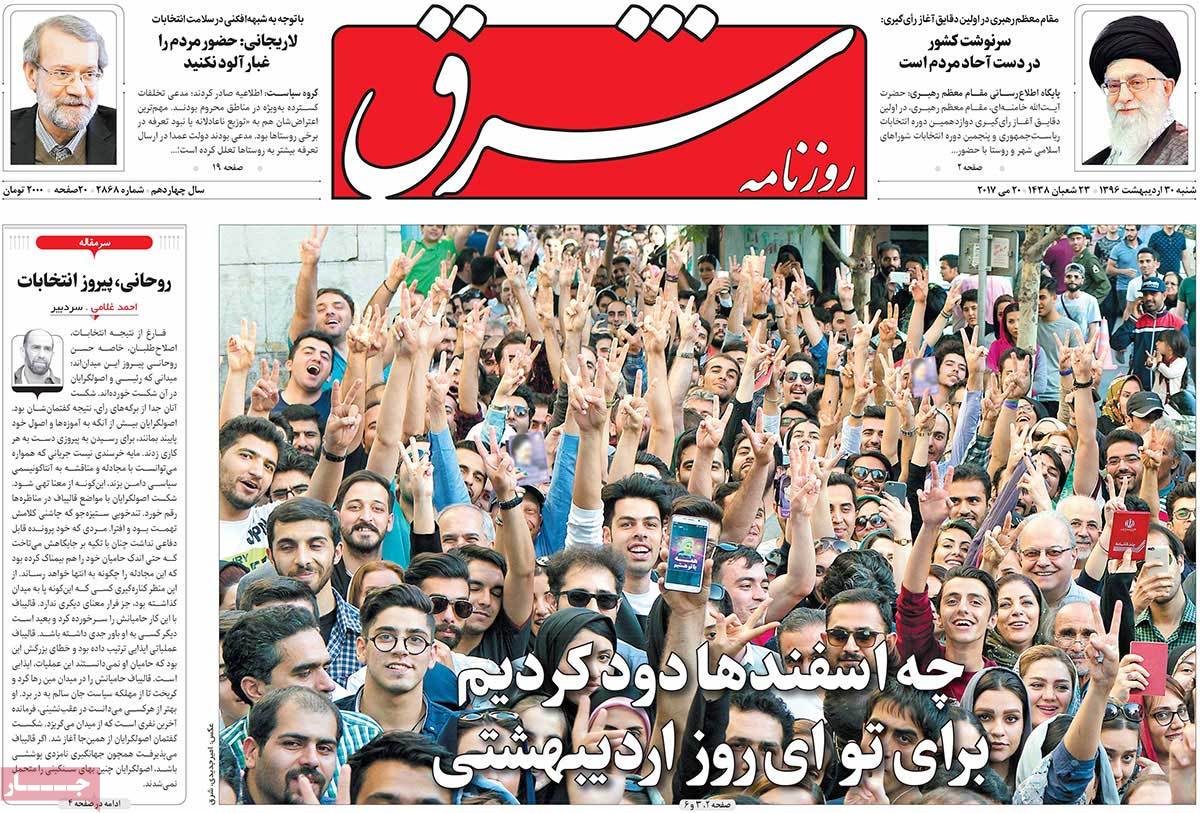 ---
Siasat-e Rooz:
1- Song of Glory
---
Sobh-e Now:
1- Iran Leader Urges Officials to Protect People's Votes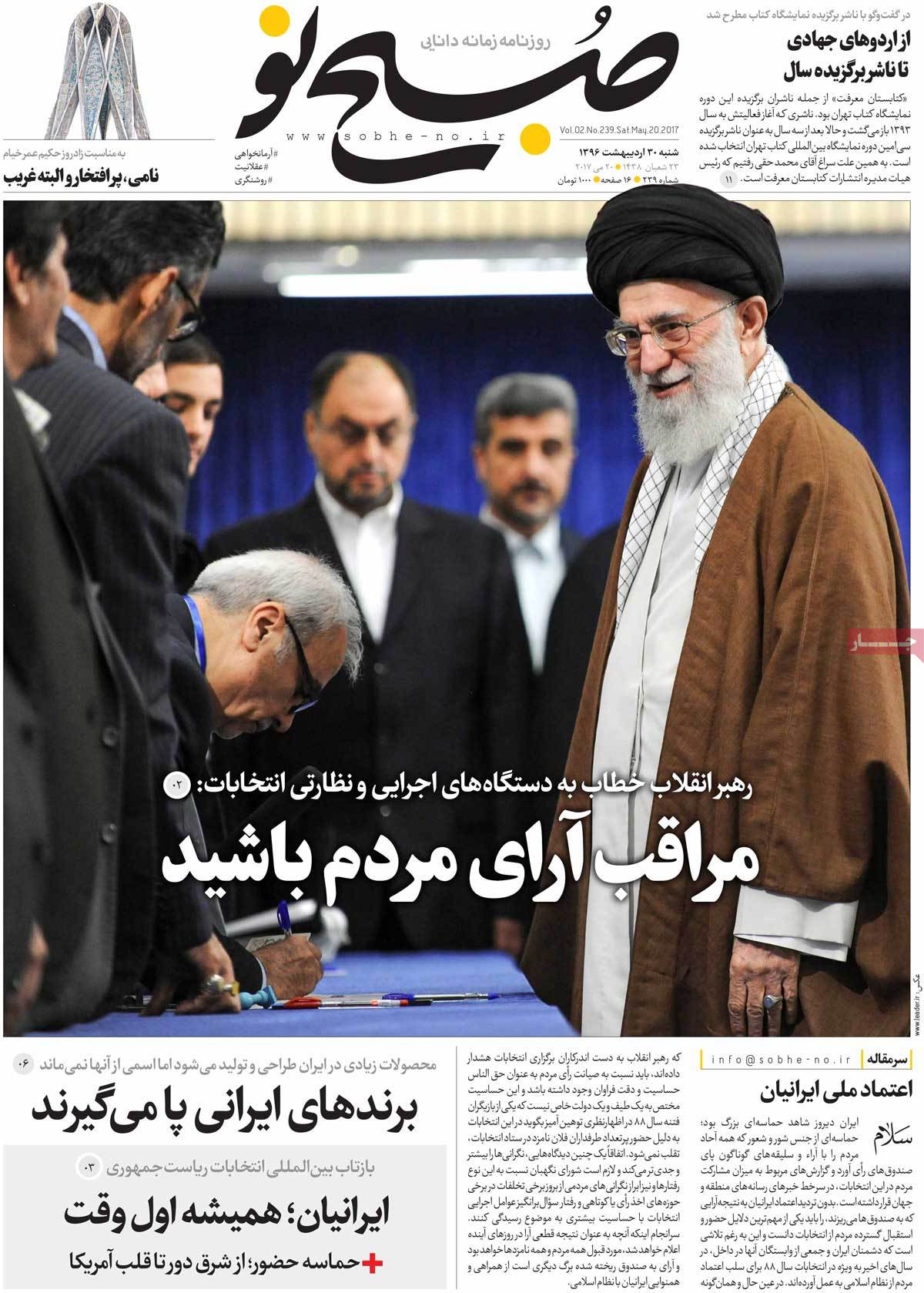 ---
Vaghaye Ettefaghieh:
1- Climax of Iranian Nation: Another Epic on May 19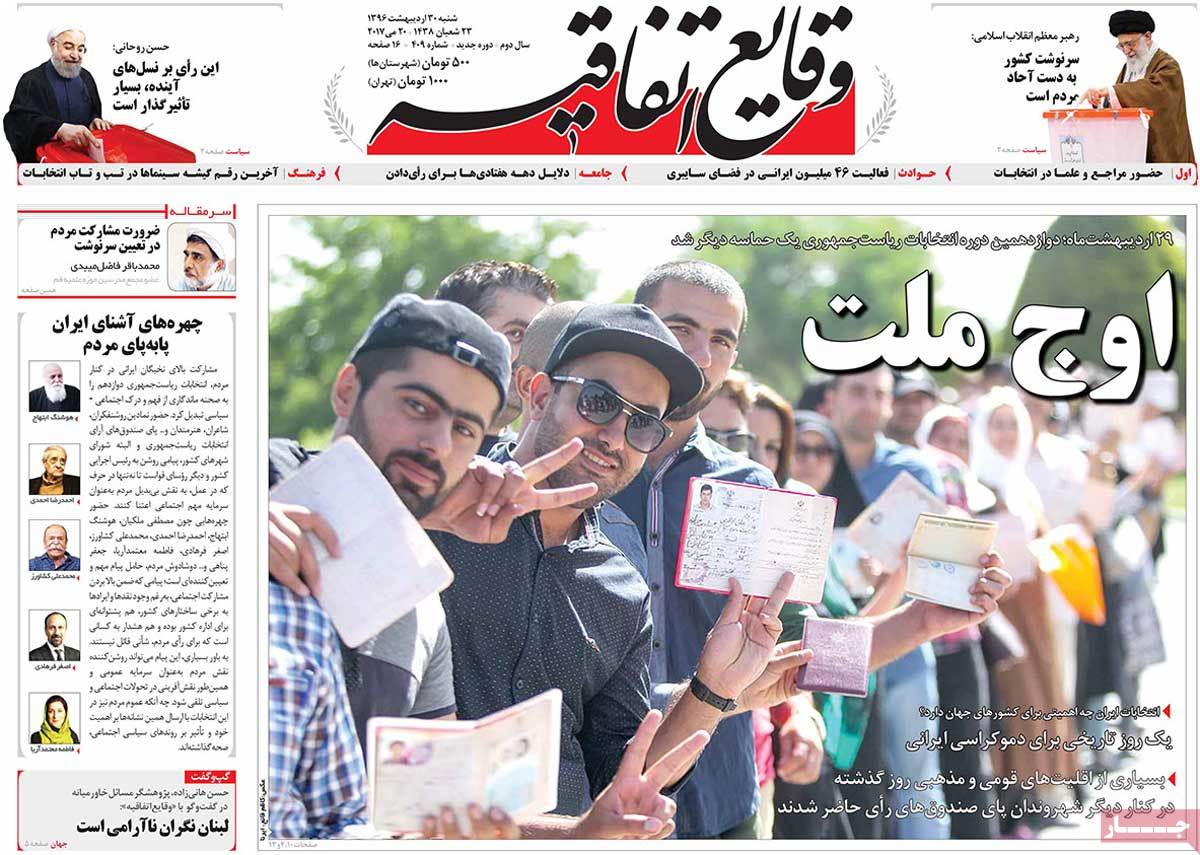 ---
Vatan-e Emrooz:
1- Celebration of Iranian Establishment's Republicanism