The top story today was the alleged chemical attack on the rebel-held Syrian city of Idlib, in which dozens have been reportedly killed.
A deal signed between Iran's Aseman Airlines and the US giant plane manufacturer Boeing for purchase of 60 planes also received great coverage.
Speculations about Iran's upcoming presidential and local elections also remained a top story today.
The above issues, as well as many more, are highlighted in the following headlines and top stories:
Abrar:
1- US: Assad Is a War Criminal Who Should Be Tried
2- Conditions Prepared for Kurdish President Barzani's Visit to Iran
3- Iraqi PM: ISIS Leader Has Most Probably Fled to Syria
4- 1 Child Dies in Yemen Every 10 Minutes
---
Abrar-e Eqtesadi:
1- Official: 16m-Litre Increase in Iran's Euro-IV Petrol Output
2- Revolution in Iran-Iraq Trade Ties
3- Over 35% of Educated Iranians Are Unemployed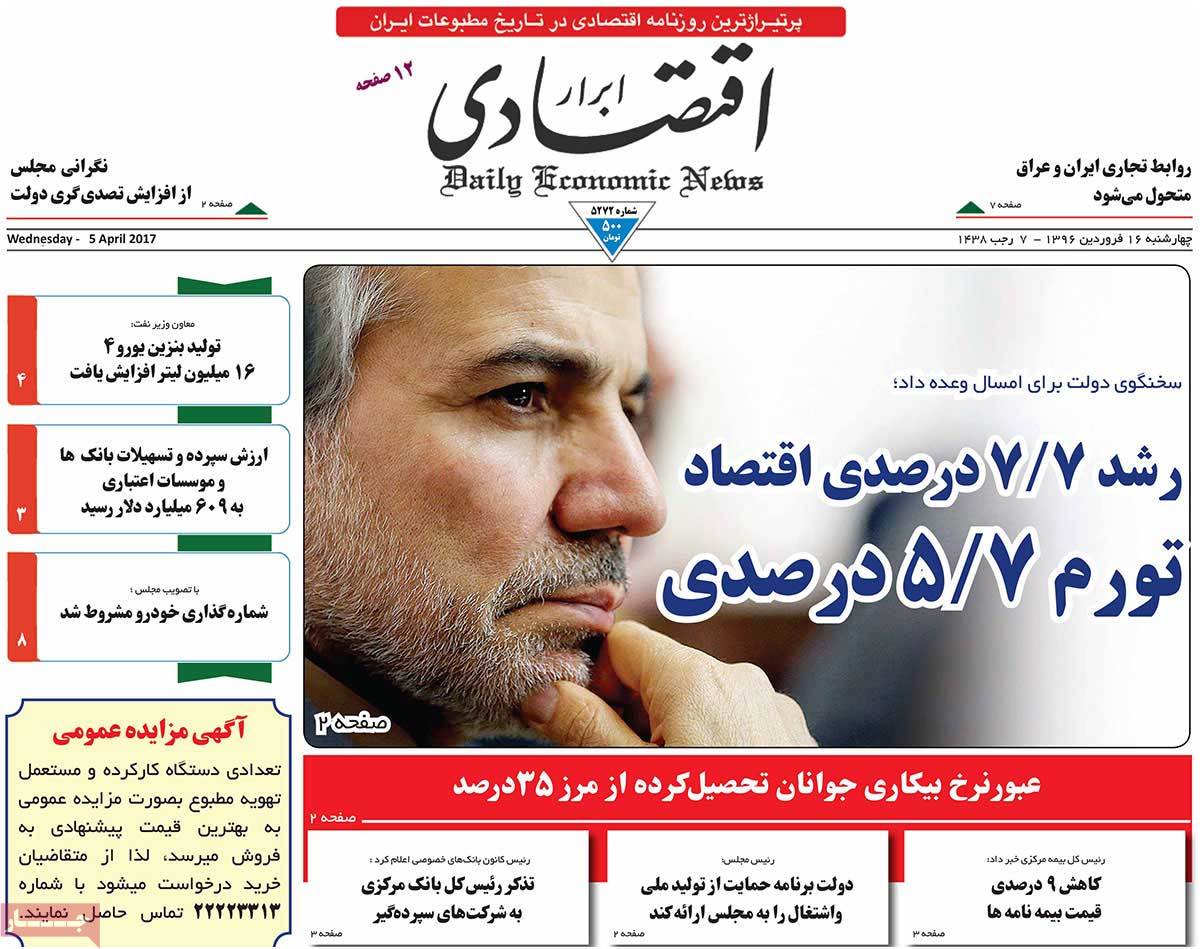 ---
Aftab-e Yazd:
1- Result of Possible Duel between Rouhani and Raeisi
2- Raeisi Should Definitely Run for President [Editorial]
3- Syria Denies, Europe Reacts
58 Including 11 Children Killed in Chemical Attack on Idlib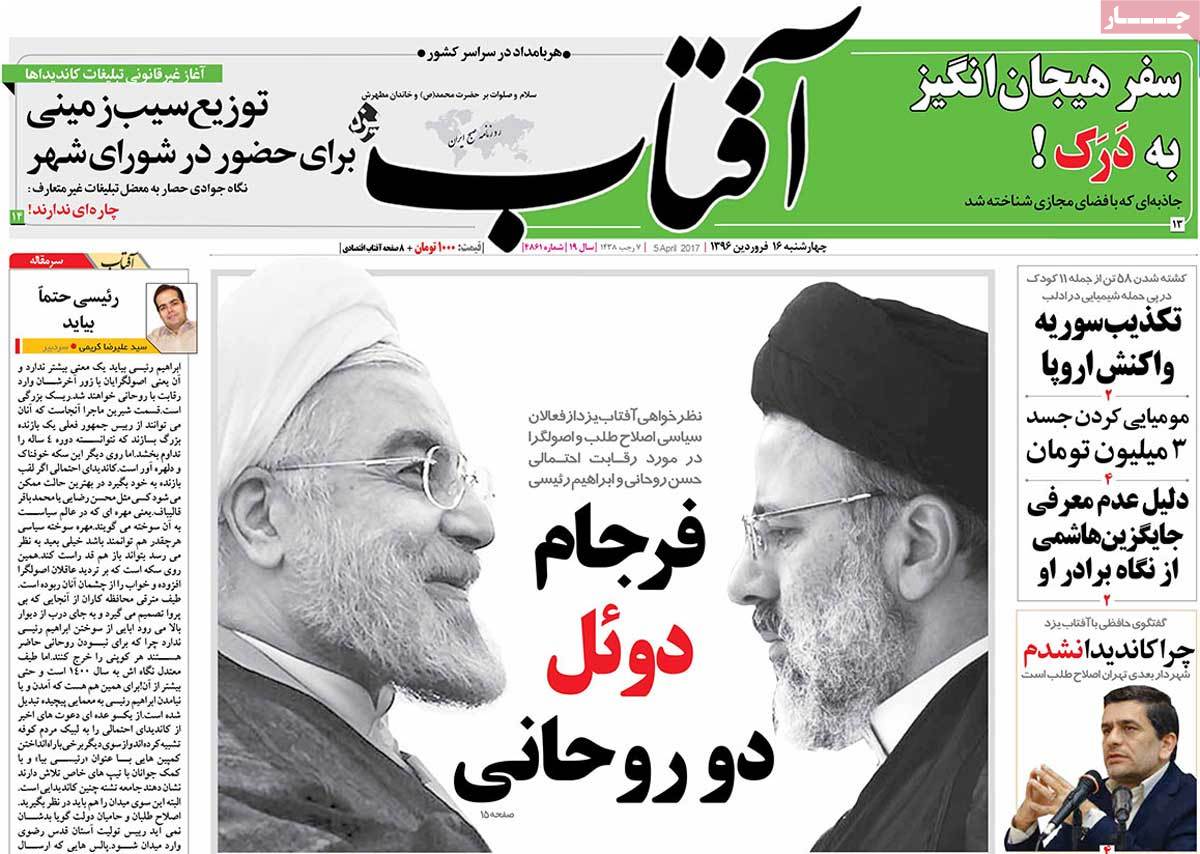 ---
Arman-e Emrooz:
1- Chief: IRGC and Basij Should Not Be Used for Any Party's Interests
2- Key to Victory in Hands of Moderate Sheikh [Rouhani]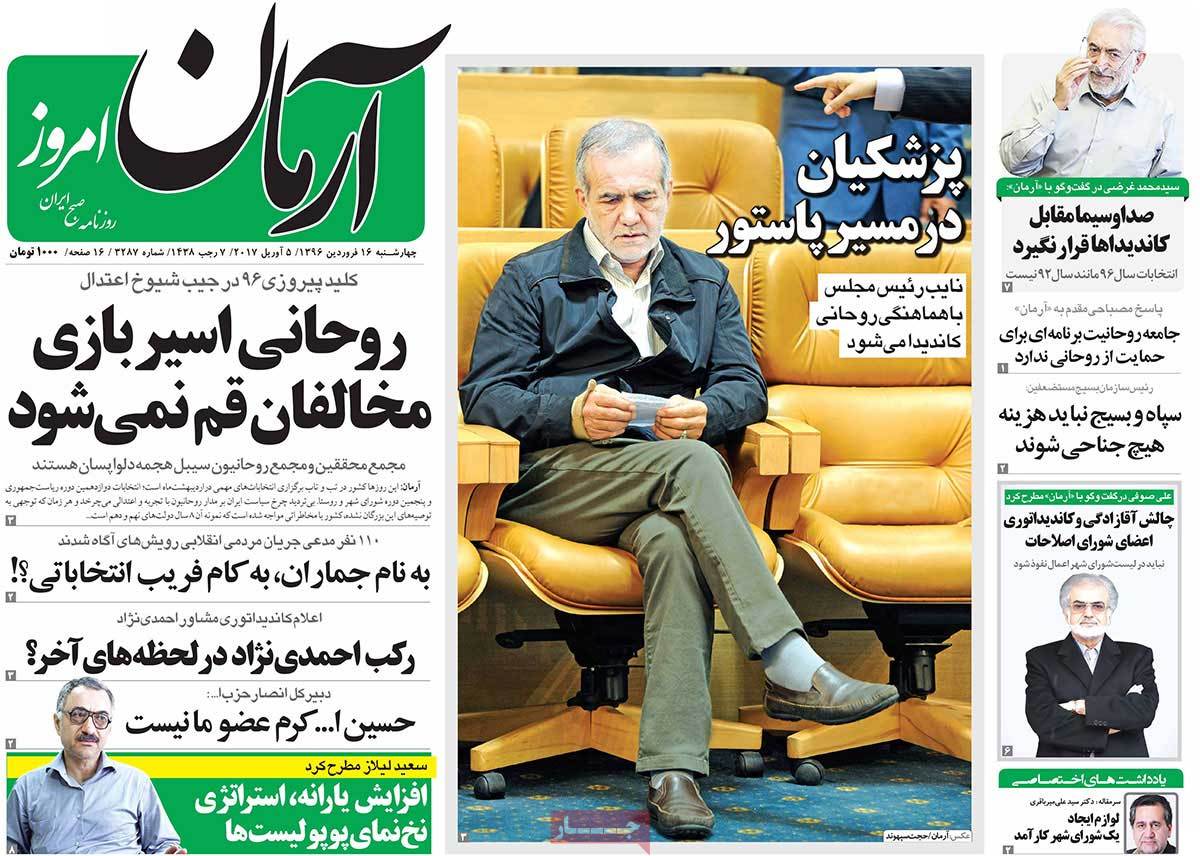 ---
Ebtekar:
1- Conservatives Fail to Unite: Reasons for Delay in Introducing Candidate
2- Ex-Mayor of New York City Becomes Lawyer of Iranian Businessman
3- Modern Plane Boeing 737 to Fly in Iran's Sky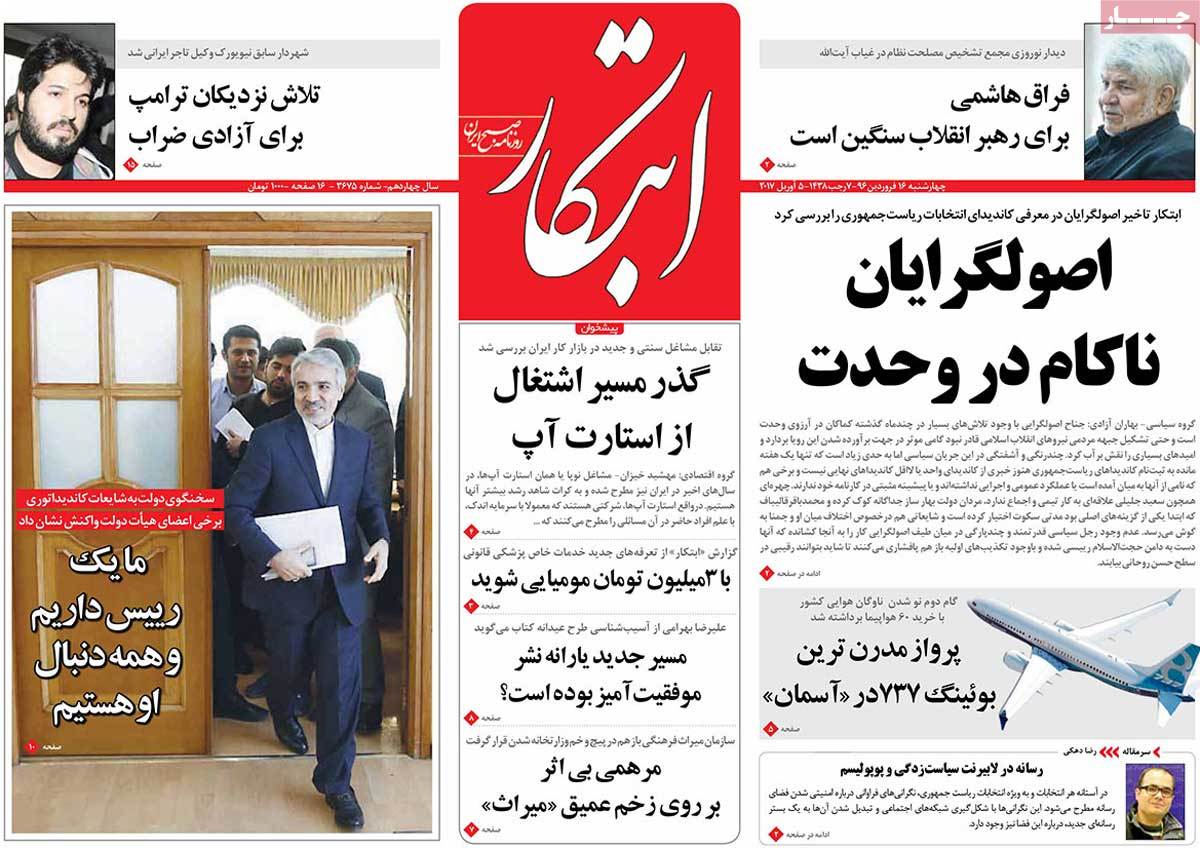 ---
Etemad:
1- 5 MPs Call for Release of Media Activists Recently Arrested
2- Architecture Contest for Designing New Plasco Building
3- France Calls for Extraordinary UNSC Meeting: Chemical Attack in Syria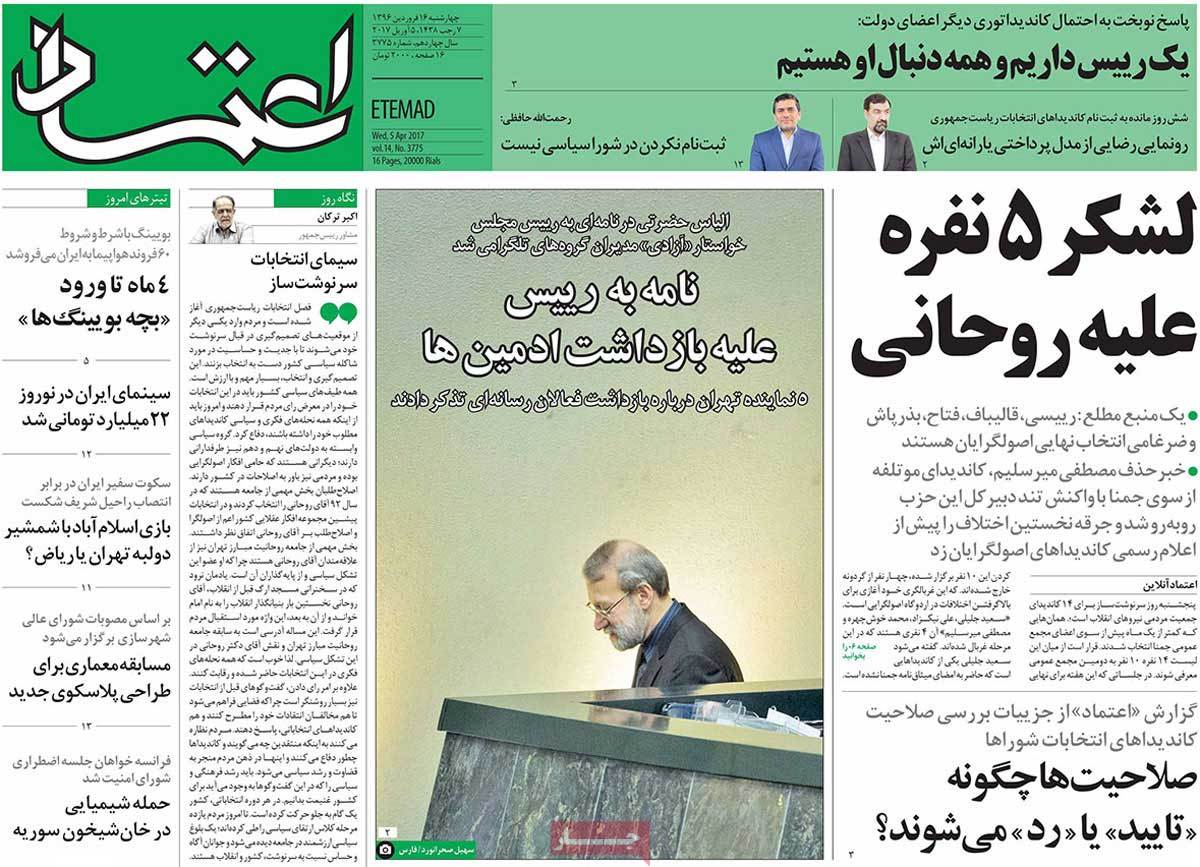 ---
Ettela'at:
1- First VP: Investment Security Most Important Prerequisite for Productive Employment
2- Mogherini: European States Will Never Transfer Embassies to Quds
3- Zarif: Iran's Priority This Year Is to Improve Ties with World
4- Manufacturers, Importers Obliged to Guarantee Cars for 2 Years against Polluting the Air
---
Haft-e Sobh:
1- Well-Known Brands Continuously Opening Branches in Iran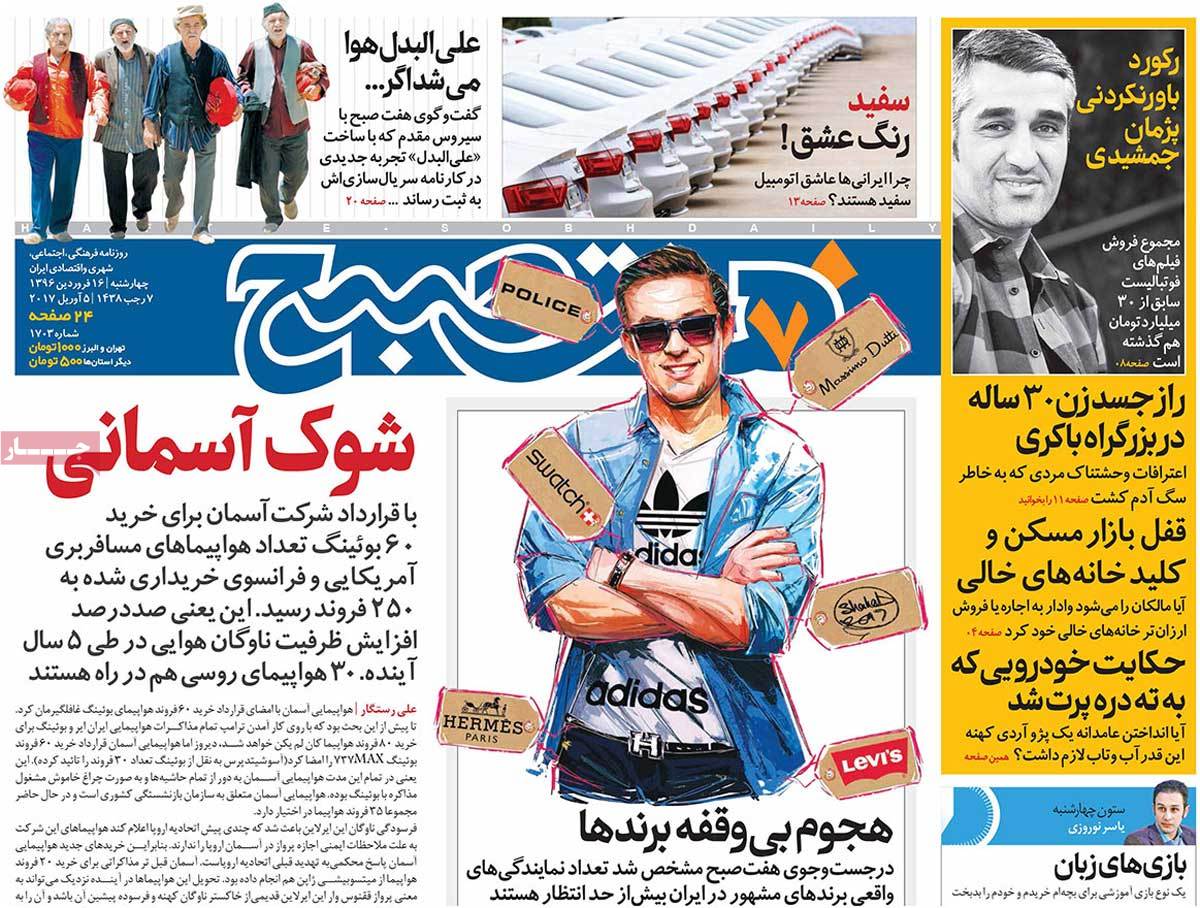 ---
Iran:
1- Iran Didn't Have Any Budget Deficit Last Year: Spokesman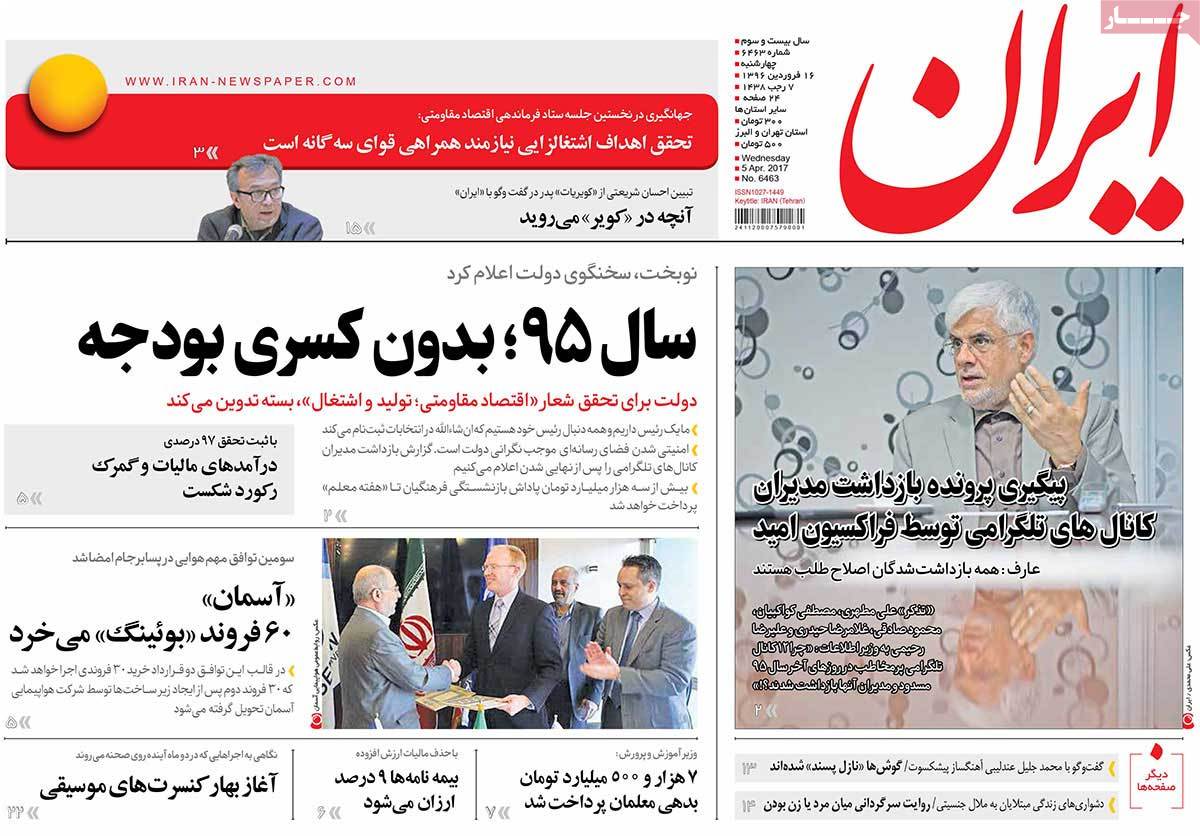 ---
Javan:
1- Obama's Chemical Scenario on Trump's Table: West Claims Idlib Is Hit by Chemical Attack
2- One-Third of Educated Iranians Are Unemployed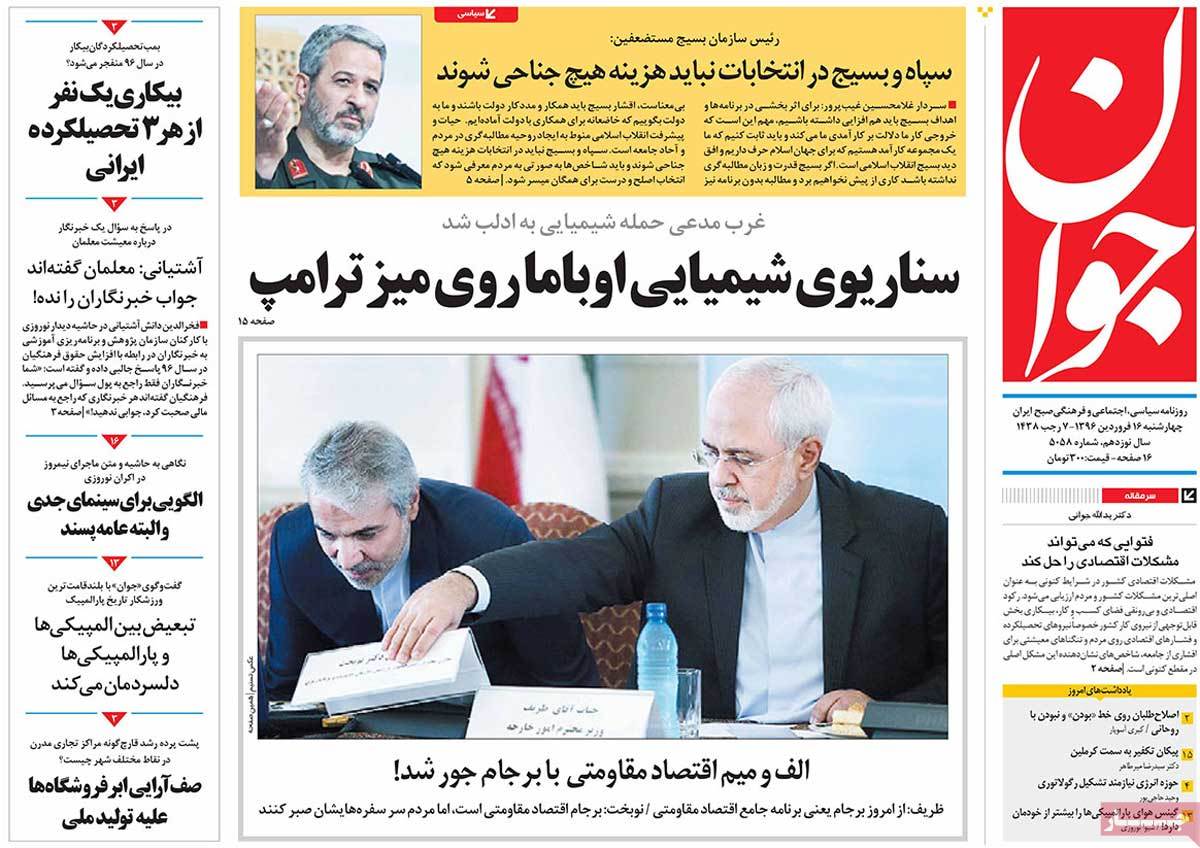 ---
Jomhouri Eslami:
1- Iraqi Kurdistan Plotting to Take Over Kirkuk
2- Iran, Boeing Sign Second Deal to Purchase 60 Planes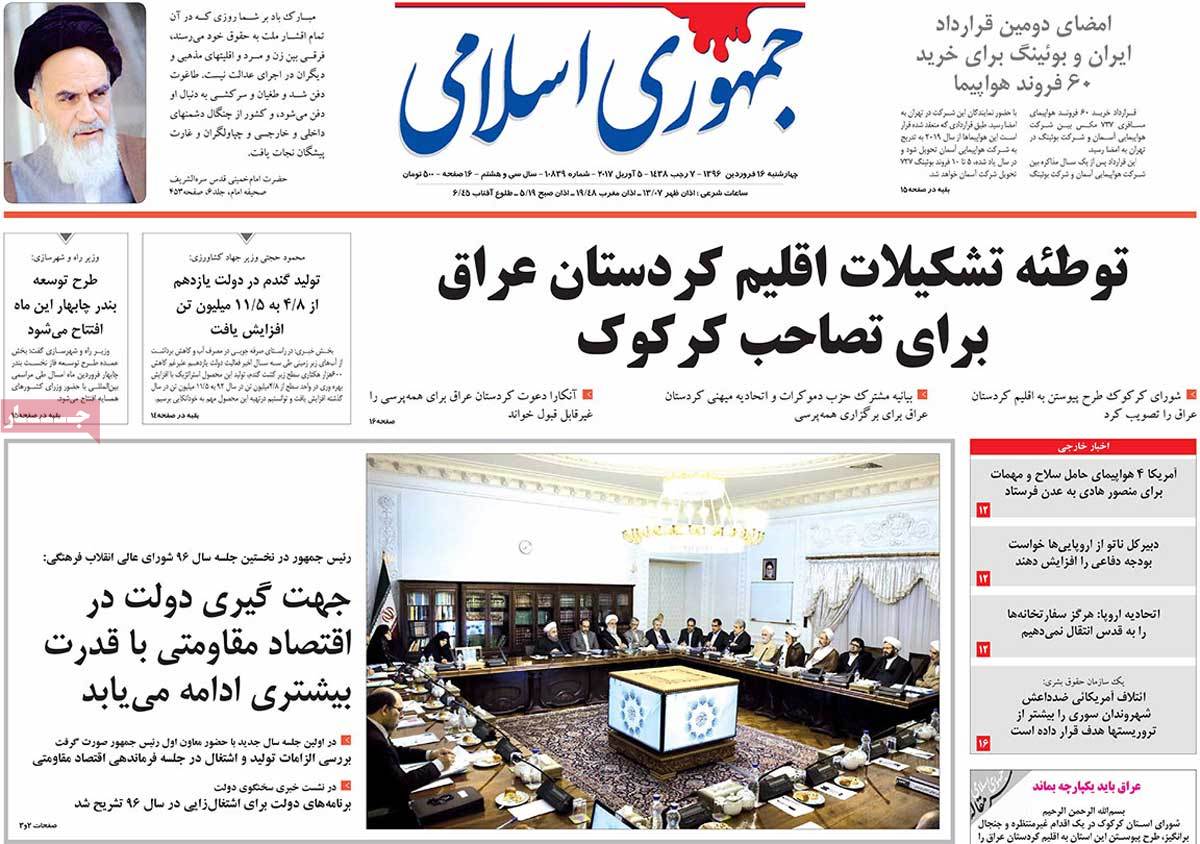 ---
Kayhan:
1- Reformists Afraid of Rouhani's Poor Performance
2- Even Israel's New Missile Defence System Won't Be Able to Stop Hezbollah Missiles: Israeli Expert
3- US, ISIS Competing with Each Other in Killing Syrians
4- American Enterprise: Iran Is a Smart and Serious Player and Hard to Deal with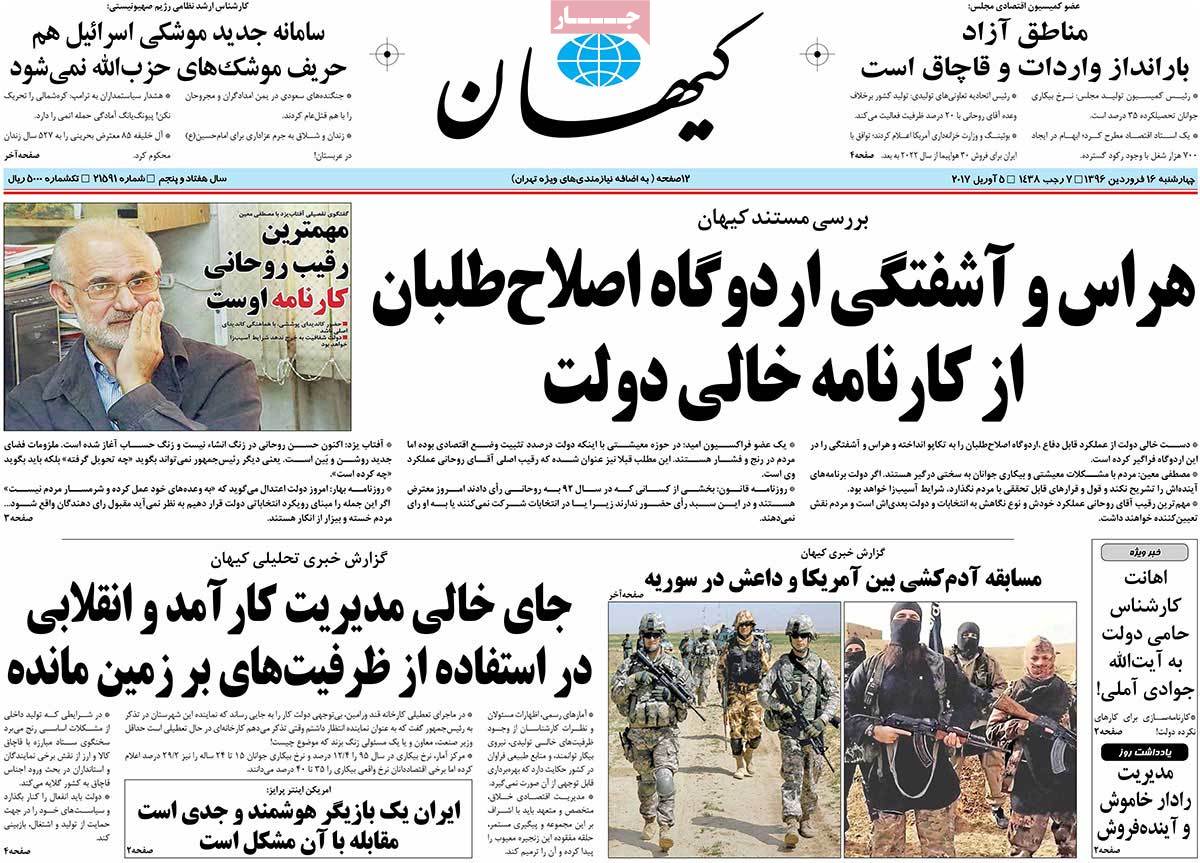 ---
Resalat:
1- US Welcomes Unrest in Russia; Washington's Footprint in St. Petersburg Blast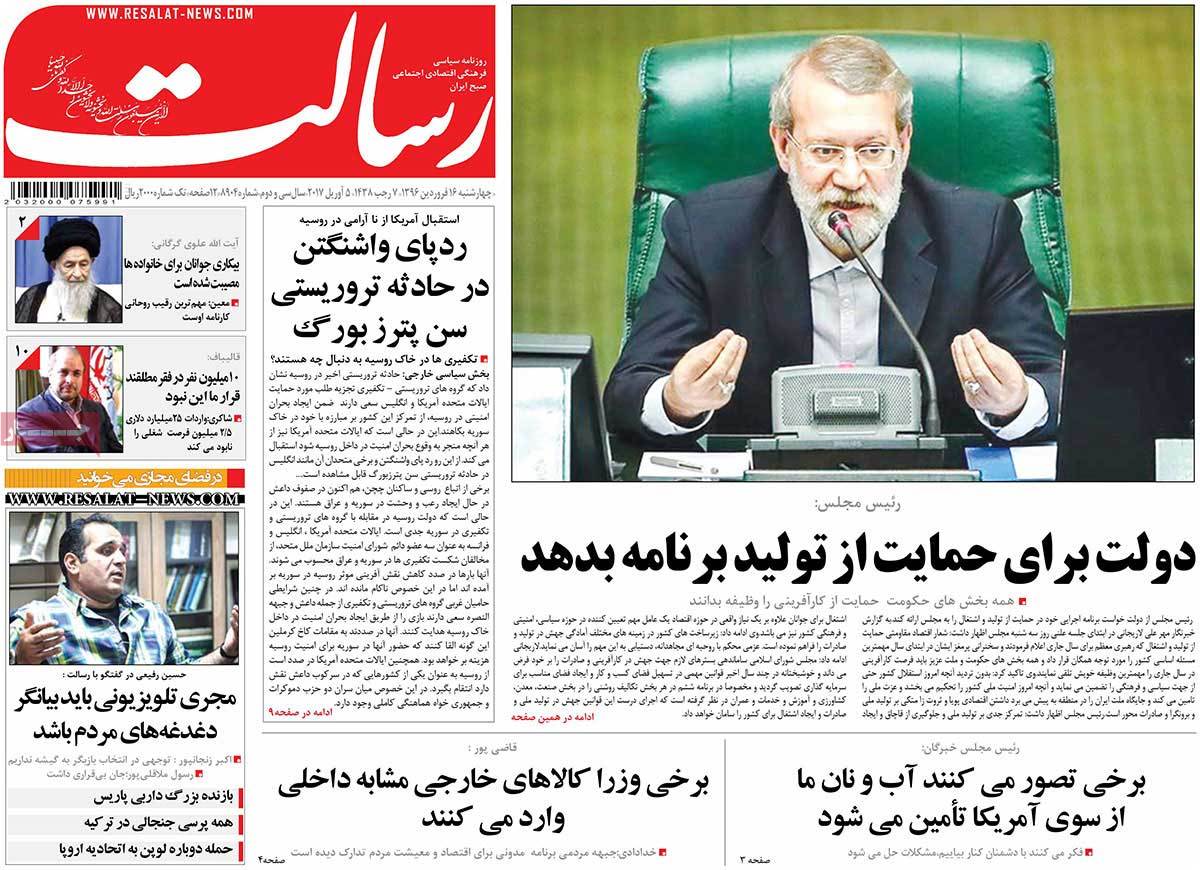 ---
Shahrvand:
1- Last Survivor: A Report on Last Generation of Boat-Makers Living in Iran's Qeshm Island
2- Deal with Boeing in Trump Era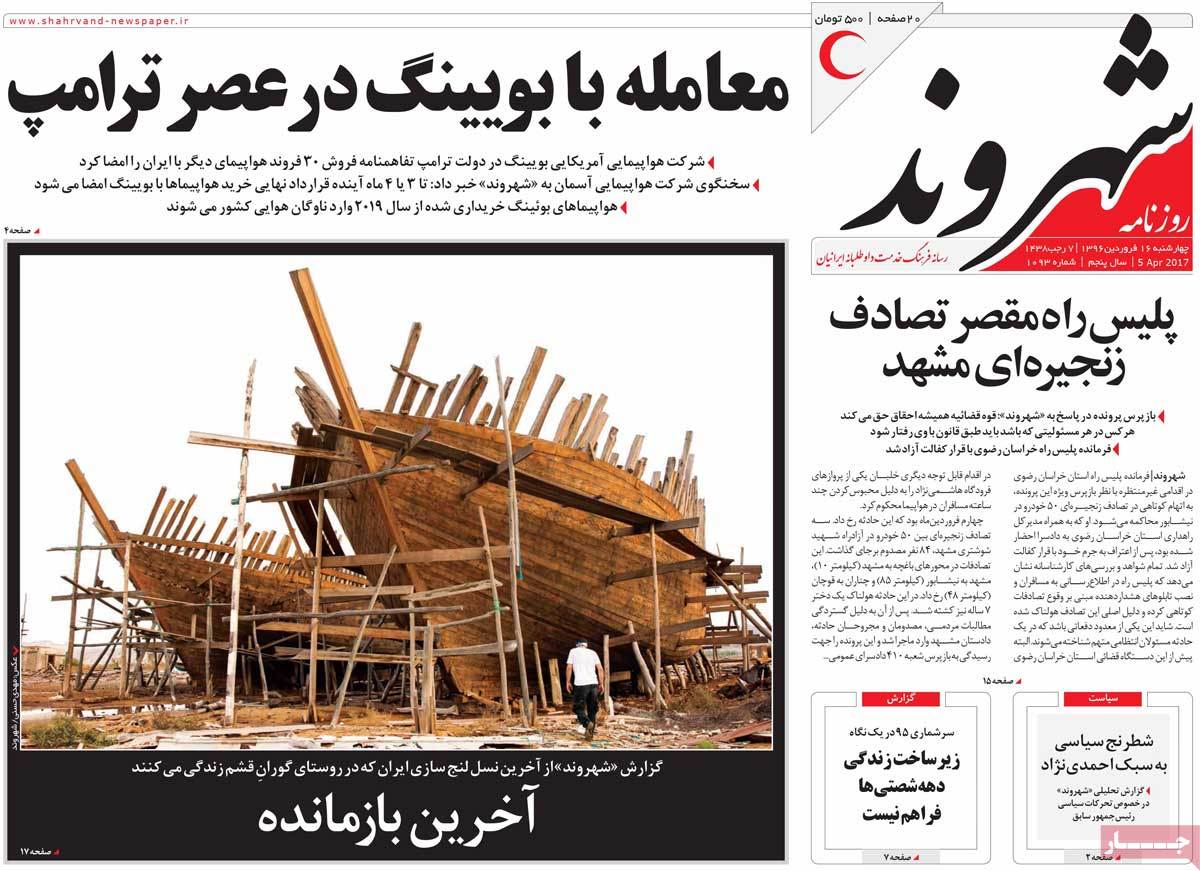 ---
Shargh:
1- Boeing Celebrates Deal with Iran While Ignoring Trump
---
Vaghaye Ettefaghieh:
1- Zarif: JCPOA Means Comprehensive Resistance Economy Plan
2- Nuclear Deal Backs Resistance Economy [Editorial]
3- Top Officer: Iran Not to Give in to US Pressures