Newspapers on the last weekday in Iran used emotional headlines to cover the funeral ceremony held for Atena Aslani, a 7-year-old girl who was raped and killed in Pars Abad in northwestern Iran.
Among other top stories were the remarks made by President Hassan Rouhani in a cabinet meeting on Wednesday as well as the documents revealed by Qatar on Saudi Arabia's support for ISIS.
The top story, however, was the remarks made by Iranian Oil Minister Bijan Namdar Zanganeh about the gas deal with Total in an address to the Parliament on Wednesday. The huge deal has sparked huge controversies since it was signed last week.
'Zanganeh Strongly Defends Total Deal', 'Endless Controversy', and 'Opponents of Total Deal Back Off' were among the headlines used to cover the controversial deal.
Pro-government papers mostly picked positive headlines to highlight the cancellation of a triple-urgency parliamentary motion to stop the deal with Total, and described Zanganeh's defence of the contract as a victory for Rouhani's government.
Critics of the government, however, looked at the same issue from a different point of view and used critical and even harsh headlines to rap MPs for accepting the gas deal. The Siasat-e Rooz and Kayhan newspapers claimed that Iranian officials have violated the law by signing the deal with Total. Resalat, however, adopted a softer stance and only covered the remarks made by Parliament Speaker Ali Larijani who declared a committee composed of Judiciary and Parliamentary representatives will oversee the deal with Total.
The above issues, as well as many more, are highlighted in the following headlines and top stories:
Abrar:
1- Turkish Ambassador to Tehran: I Appreciate Tehran's Support on Coup Night
2- Parliament Speaker: Judiciary, Parliament to Oversee Gas Deal with Total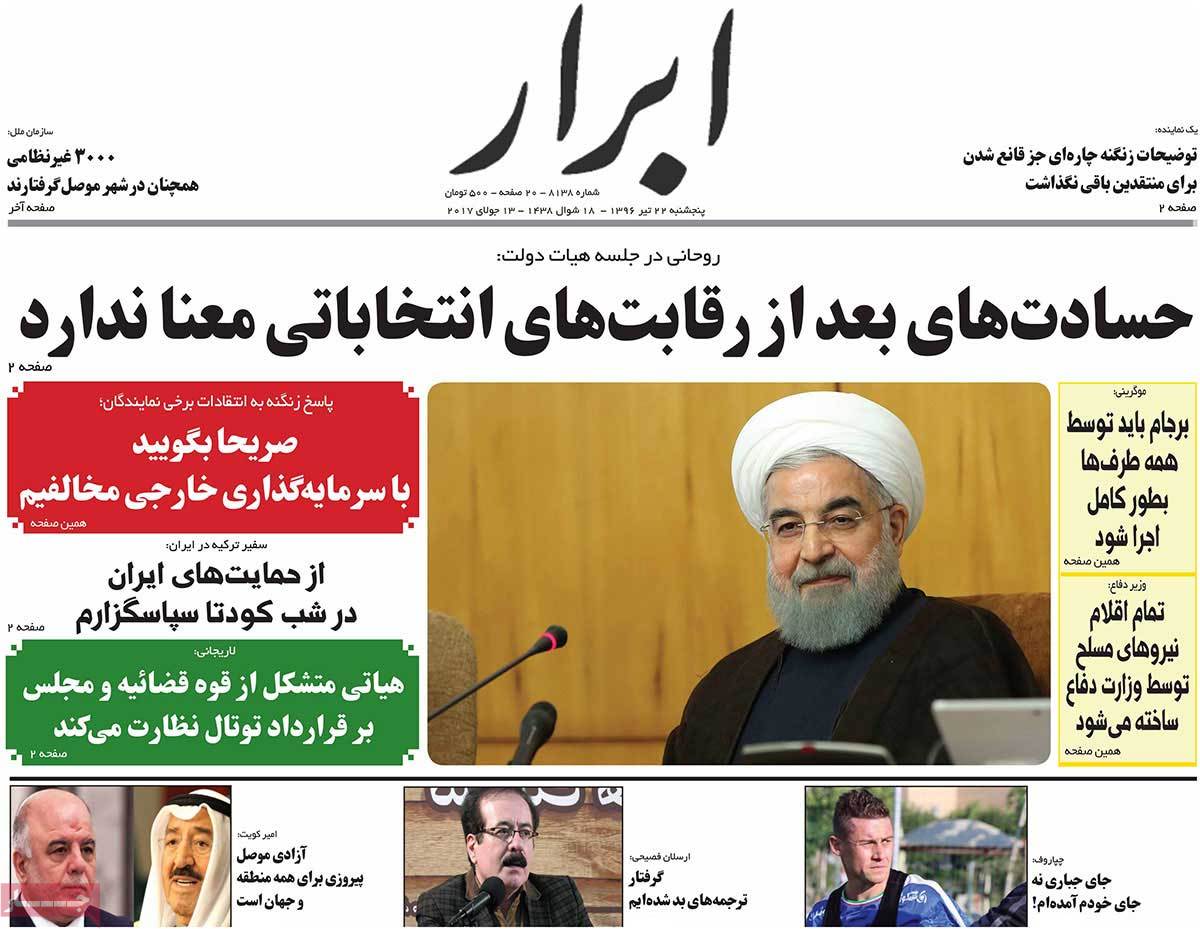 ---
Afkar:
1- Rouhani: We've Seen ISIS Executioners Back in 1980s in MKO Atrocities
2- MP: Oil Minister Should Reveal Secrets about Confidential Deal with Total
3- Holocaust in Myanmar
4- You Can't Talk to Americans unless Using Strong Language
---
Aftab-e Yazd:
1- 919 Anti-Iran Sanctions Removed Thanks to 'Fruitless' JCPOA!
2- Parliament Smiles at Gas Deal with Total
3- Iran's Positive View on Iraq's Reconstruction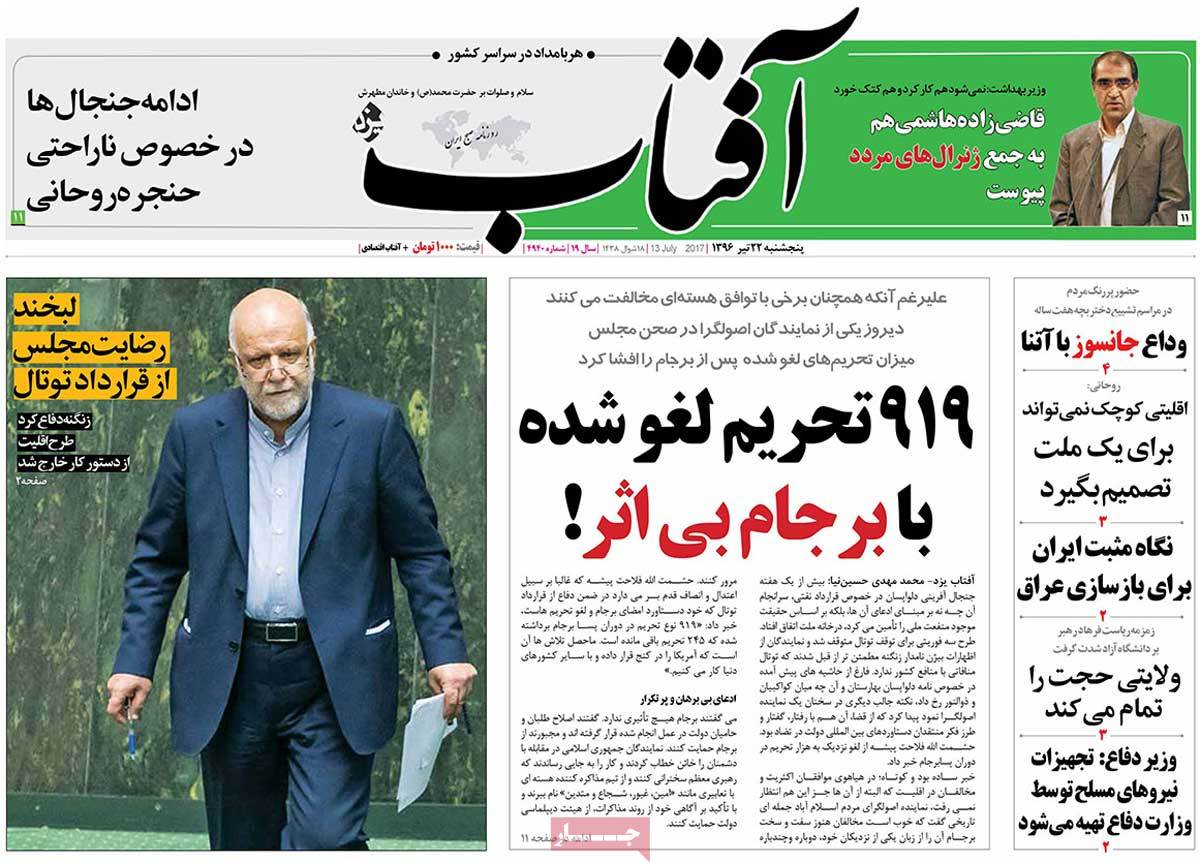 ---
Asr-e Iranian:
1- Iran Government's Actions Not Proportionate to US Violation of JCPOA: Parliament Report
2- Hijab Day Commemorated in Iran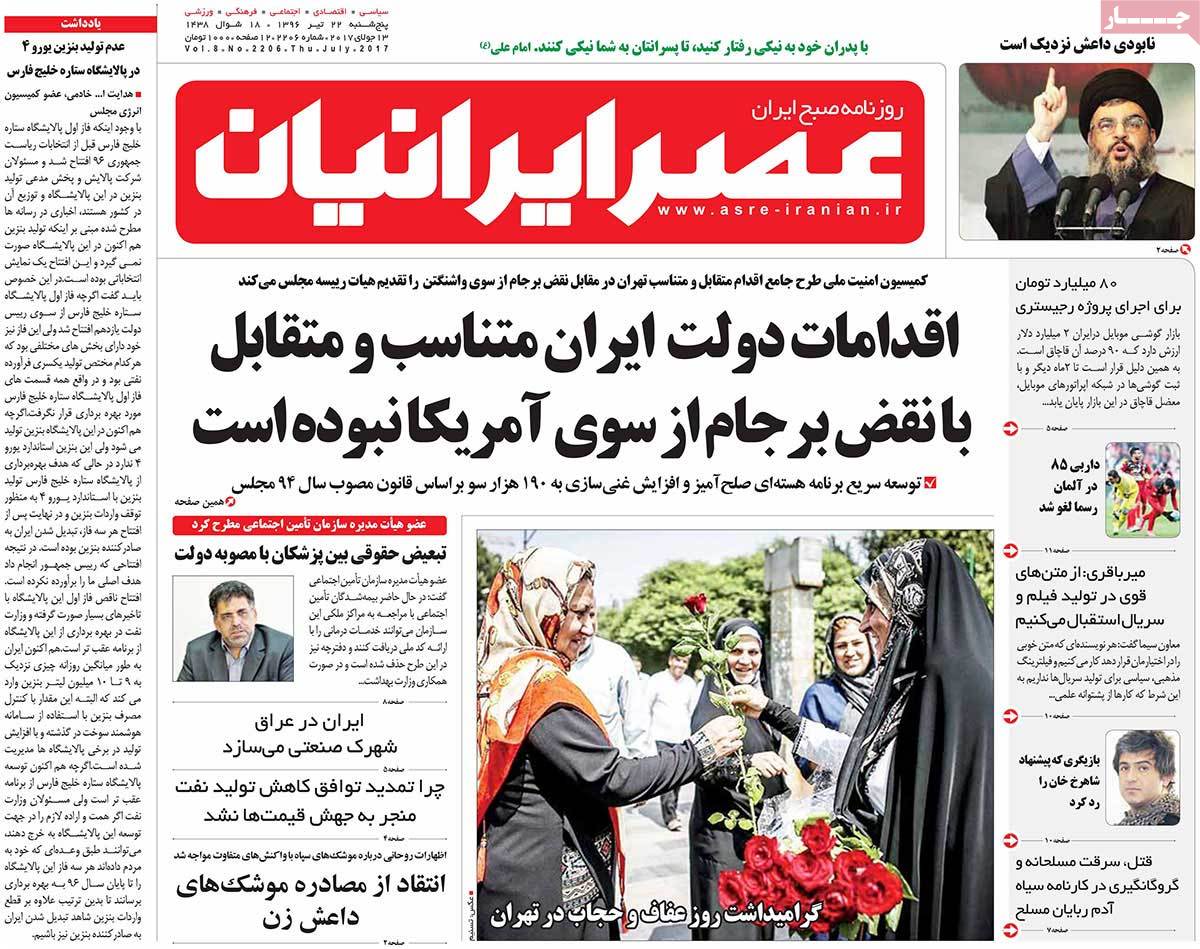 ---
Ebtekar:
1- Total Safely Passes Iran's Parliament
2- Ball of Supporting Terrorism in Saudi Arabia's Court
Qatar Reveals Documents on Riyadh, Abu Dhabi's Support for ISIS, Al-Qaeda
3- Intelligence Minister: I'm Opposed to Arresting Civil Rights Activists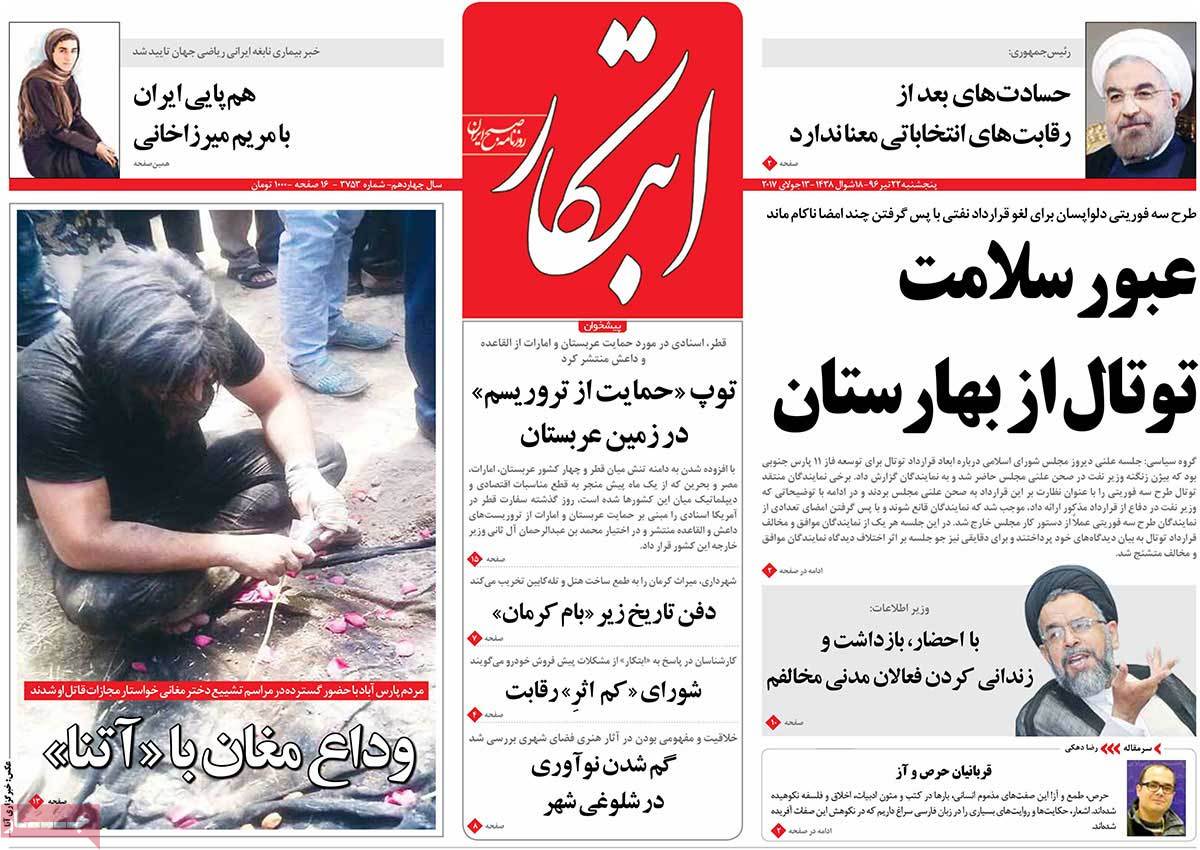 ---
Emtiaz:
1- Government Annuls UNESCO 2030 Document
2- Nature Plagued by Plastic Bags
3- Iran Judiciary to Firmly Counter Destruction of Forests, Seas
---
Etemad:
1- Oil Minister: Say It Loud and Clear You're Opposed to Foreign Investment
2- Atena Aslani's Father Only Wants Death Penalty for Her Killer
Prosecutor: Atena's Murderer Confess to Three More Murders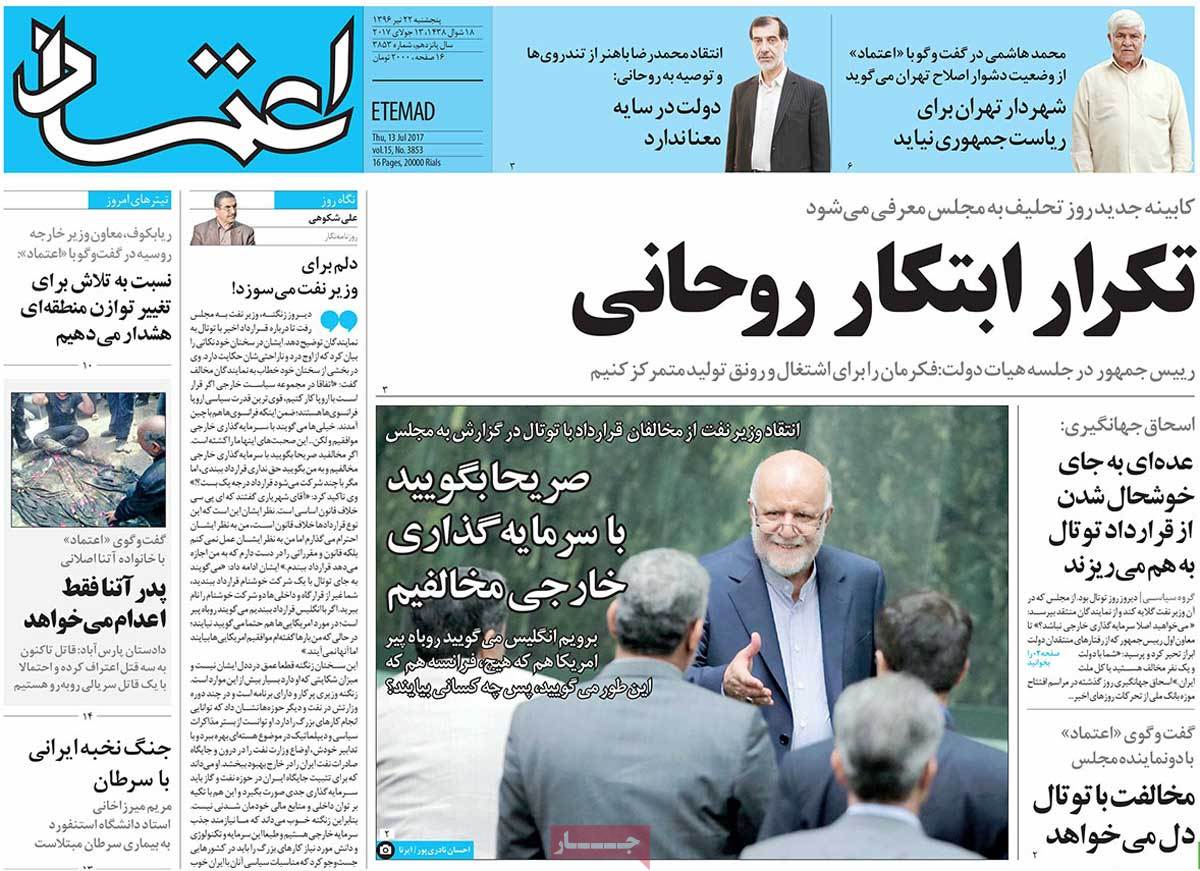 ---
Ettela'at:
1- Qatar Discloses Papers on Saudi Arabia's Support for Al-Qaeda, ISIS
2- Kremlin: Russia's Patience towards US Over
3- Hezbollah Secretary-General: Iran, Ayatollah Khamenei Play Key Role in Mosul Liberation
4- Excessive Expansion of Universities in Iran Leads to Troubles: Speaker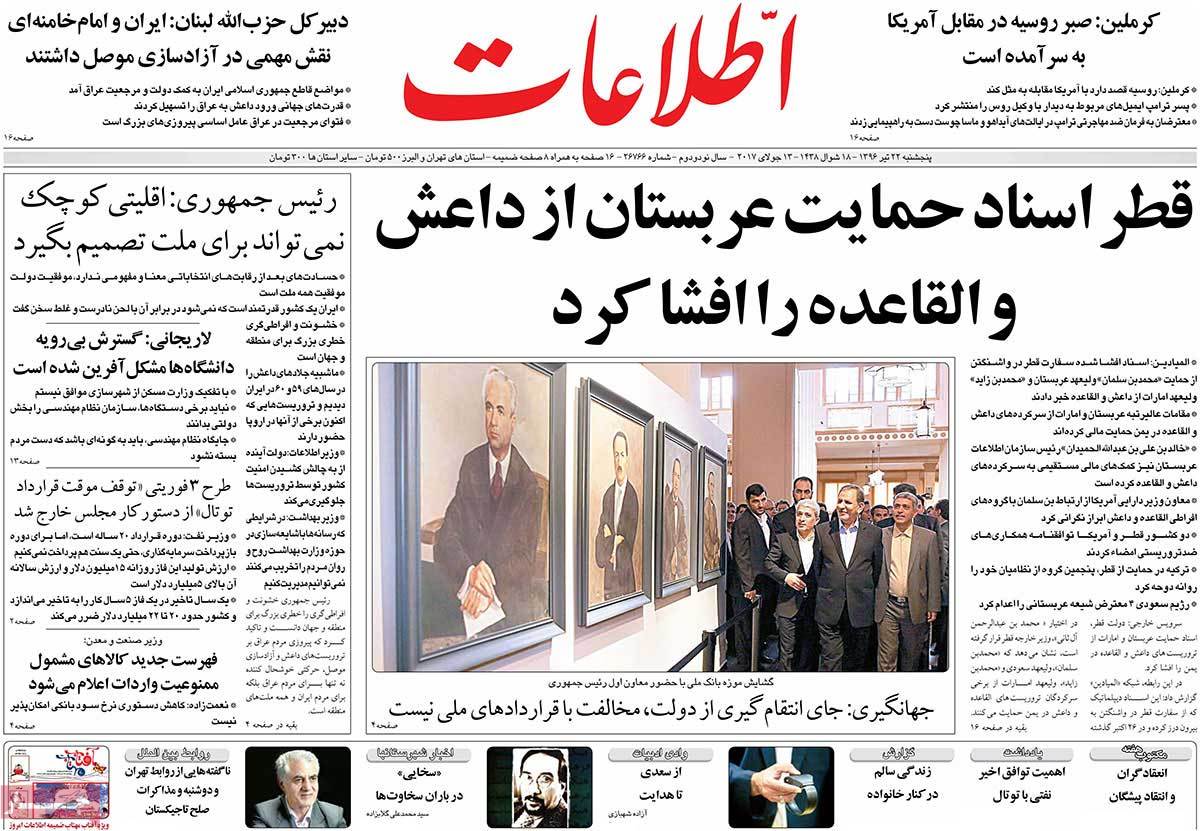 ---
Haft-e Sobh:
1- Report on Health Conditions of Iranian Math Genius Maryam Mirzakhani
---
Hemayat:
1- Plan to Form National Body of Human Rights Being Finalised
2- Anti-Iran Banking Sanctions Only Lifted on Paper: Parliamentary Report
3- People's Support for Hijab
4- Iran's Firm Stances Helped Iraq: Nasrallah
---
Iran:
1- Oil Minister Strongly Defends Deal with Total
Total Death Failure of Americans, Sanctions
Second Deal with Total to Be Signed in Weeks
2- Return to Normal Life in Free Mosul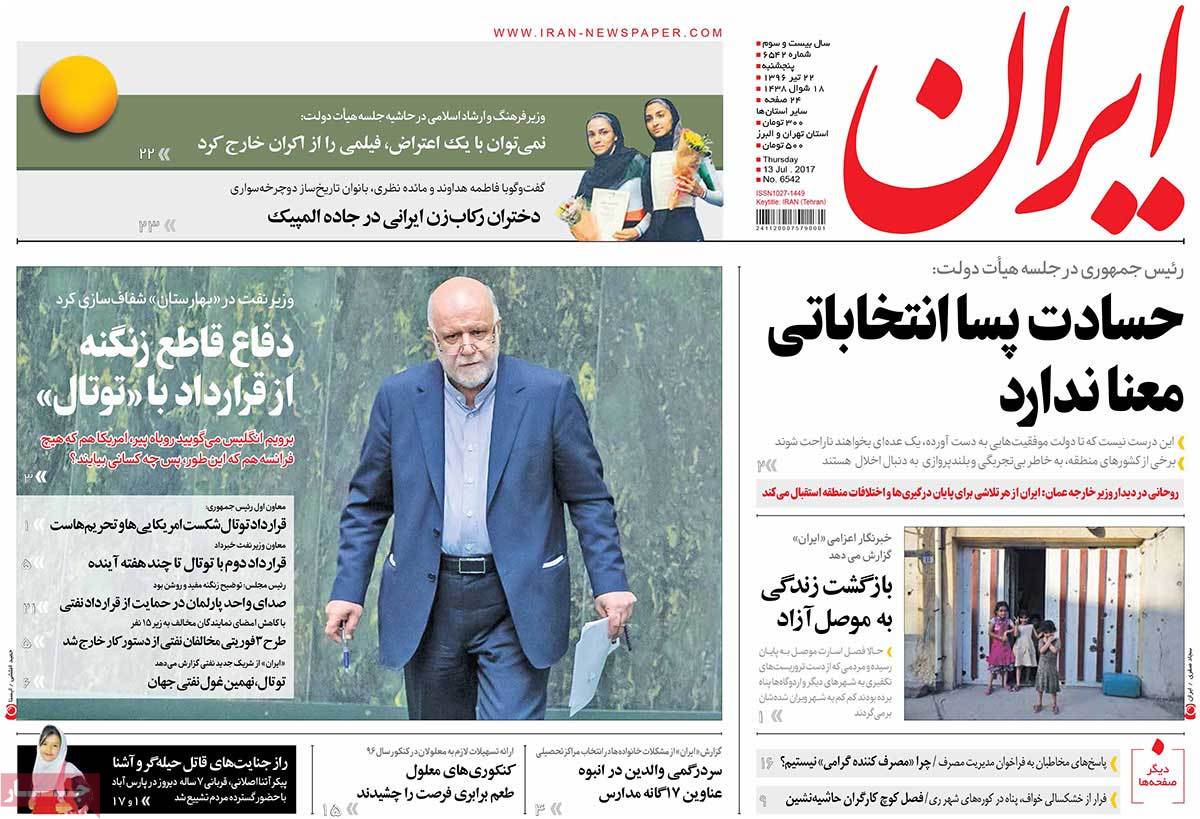 ---
Javan:
1- CIA: Iran Biggest Long-Term Challenge of US in Middle East
First Sign of US Foreign Policy's Exit from Vacuum after 6 Months
2- I Didn't Expect Rouhani to Break Limits, Make People Afraid of Me This Much: Raisi
3- Rouhani: MKO Terrorists in 1980s Skinned IRGC Forces
4- A Flower for Thinking about Best Type of Hijab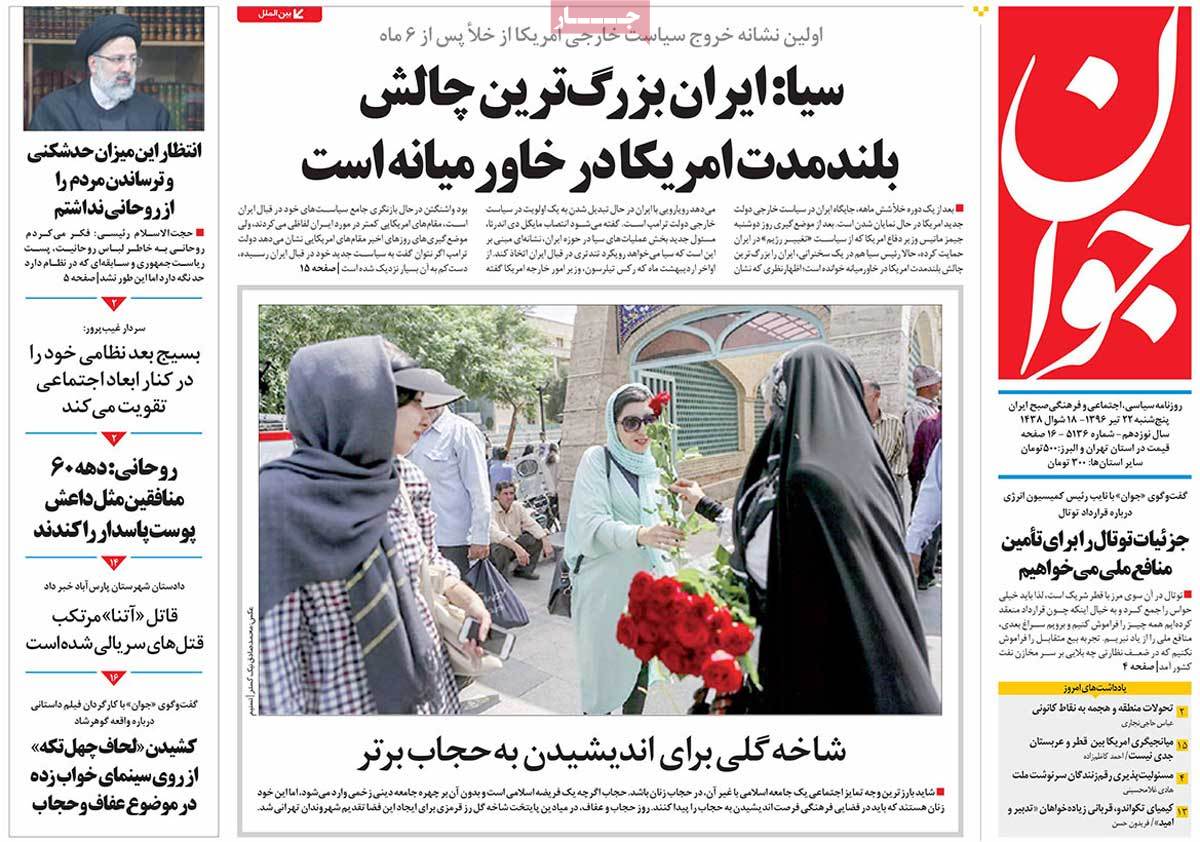 ---
Jomhouri Eslami:
1- Rouhani Welcomes Oman's Offer to End Regional Conflicts
2- Iran in Talks with 27 Foreign Firms for Signing $200bn Worth of Oil Deals
---
Kayhan:
1- Mr Minister! Here's Document on Total's Bribe to Iranian Official
2- Ankara Respects Syria's Territorial Integrity, Sovereignty: Turkish Envoy
3- Iran's Car Production Officials Arrange Policies Based on Opinion of the French
---
Shargh:
1- Which Women Will Be Appointed Ministers?
---
Vatan-e Emrooz:
1- MKO Terrorists Skinned IRGC Forces: Rouhani