Iranian newspapers have widely covered remarks by Iranian President Hassan Rouhani lambasting the genocide of Rohingya Muslims in Myanmar and the international community's passive stance and silence towards the humanitarian crisis in the Southeast Asian state. Rouhani made the remarks in his meeting with his Turkish counterpart Recep Tayyip Erdogan in Kazakhstan's capital Astana on Saturday ahead of a summit of the Organization of Islamic Cooperation.
Also in the spotlight were reactions to analyses of US President Donald Trump's claims of withdrawing from the Joint Comprehensive plan of Action (JCPOA), signed between Iran and P5+1, and his call for reviewing the deal.
Reactions to the response by the Leader of Iran's Islamic Revolution Ayatollah Seyyed Ali Khamenei to a letter by top Iranian Sunni cleric Sheikh Abdulhamid were among other hot topics in the limelight of the Iranian newspapers. In his response to Sheikh Abdulhamid, the Leader urged all Iranian authorities to refrain from any discrimination against ethnicities and religions in the country.
The above issues, as well as many more, are highlighted in the following headlines and top stories:
19 Dey
Eliminating Discrimination against Iranians: Leader's Historic Letter Widely Welcomed
Deputy FM Araqchi: Iran's International Image Has Changed
Rouhani: No One Should Remain Silent about Myanmar's Traumatic Event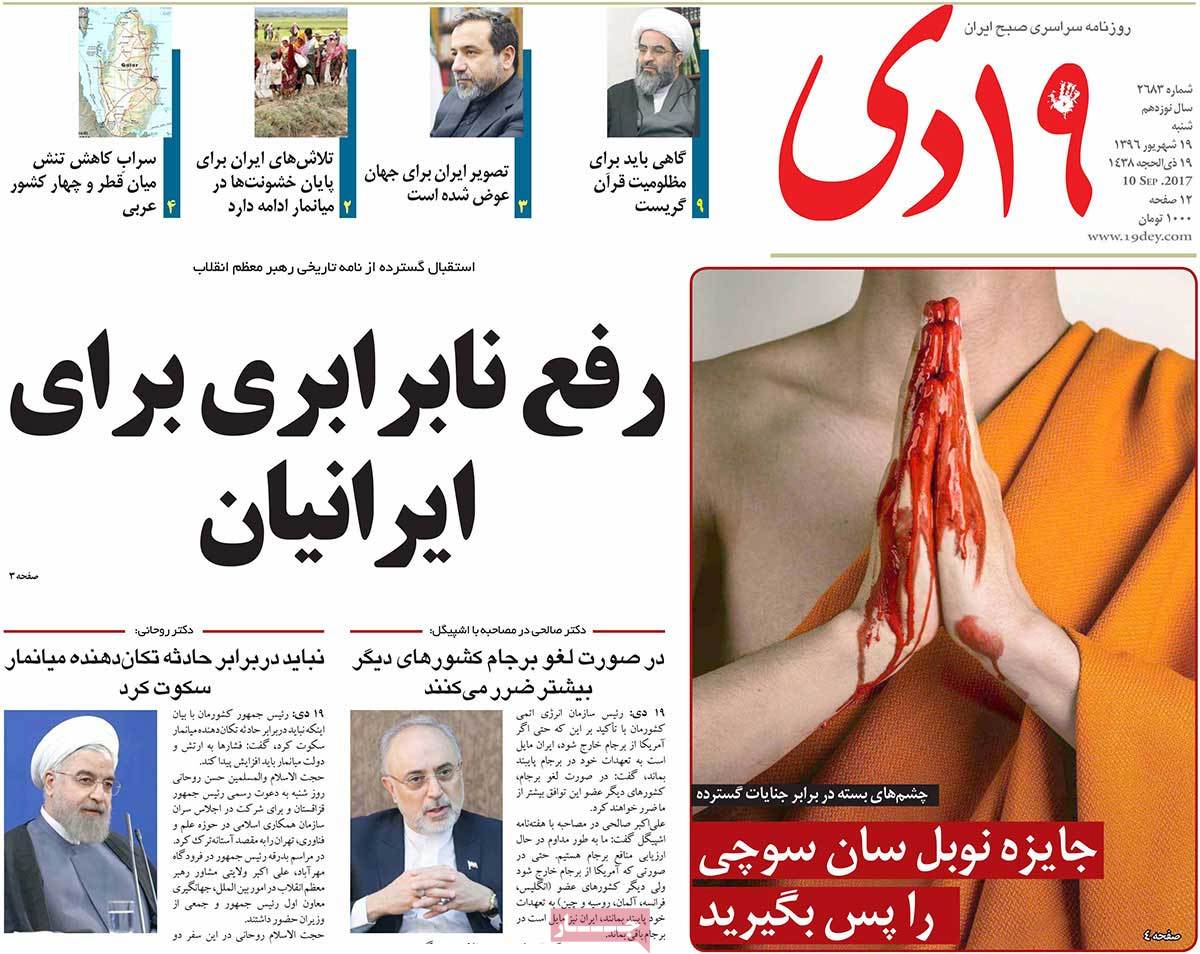 ---
Abrar:
Rouhani Harshly Criticizes International Community's Silence on Crimes against Myanmar Muslims
Presidential Advisor: Helping Myanmar's Muslims among Aims of Rouhani's Visit to Astana
Trump Calls on His Arab Allies to Unite against Iran
KRG President Urges Iran to Use Its Influence to Help Resolve Disputes Between Baghdad, Erbil
---
Aftab-e Yazd:
Reviving First Lady: Rouhani Should Prepare Ground for His Wife's Greater Presence in Social, Cultural Societies
AEOI Chief: Annulment of JCPOA Would Leave North Korea's Issue Unresolved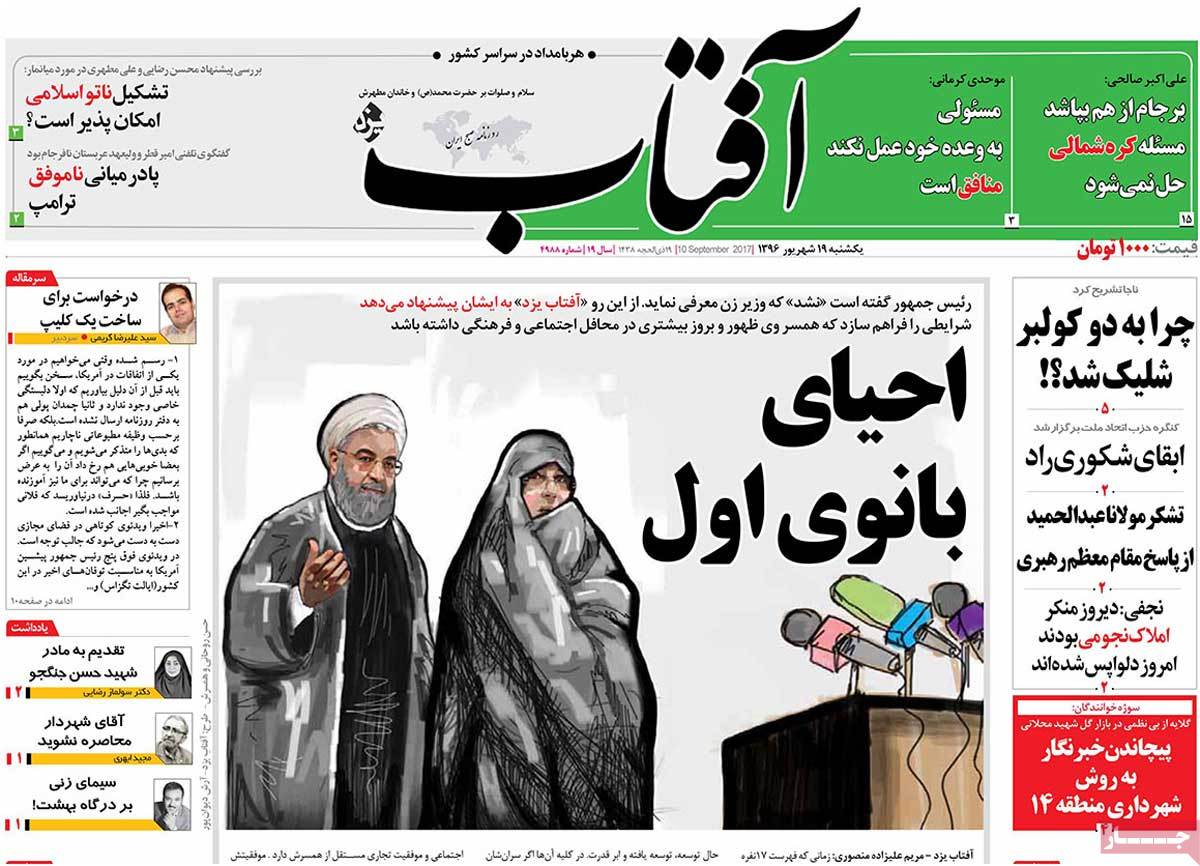 ---
Asrar:
AEOI Head to Germany's Der Spiegel: US to Suffer More Losses from JCPOA's Annulment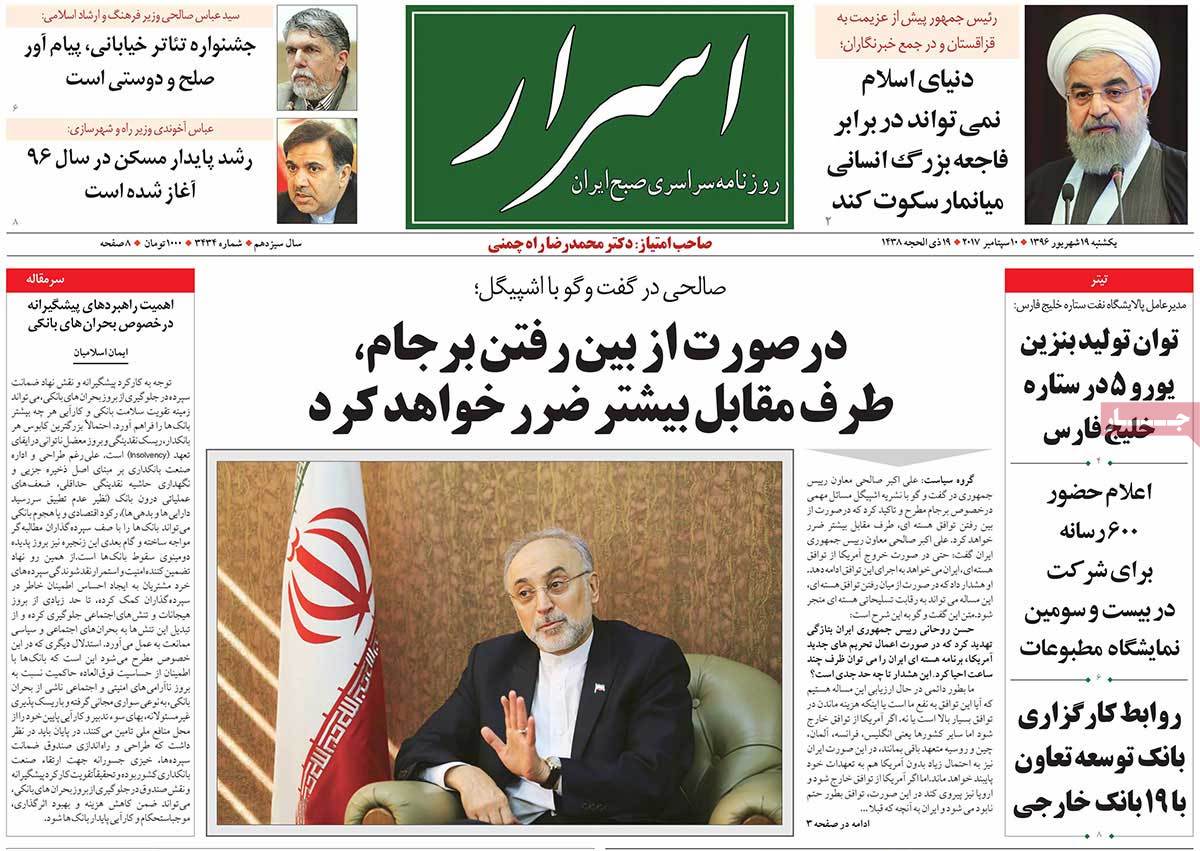 ---
Ettela'at:
Iranian, World Muslims Object to Humanitarian Crimes in Myanmar
Iran's Leader Pardon, Commutes Sentences of 1166 Convicts
Urban Development Minister: 19 Million Iranians Lack Decent Housing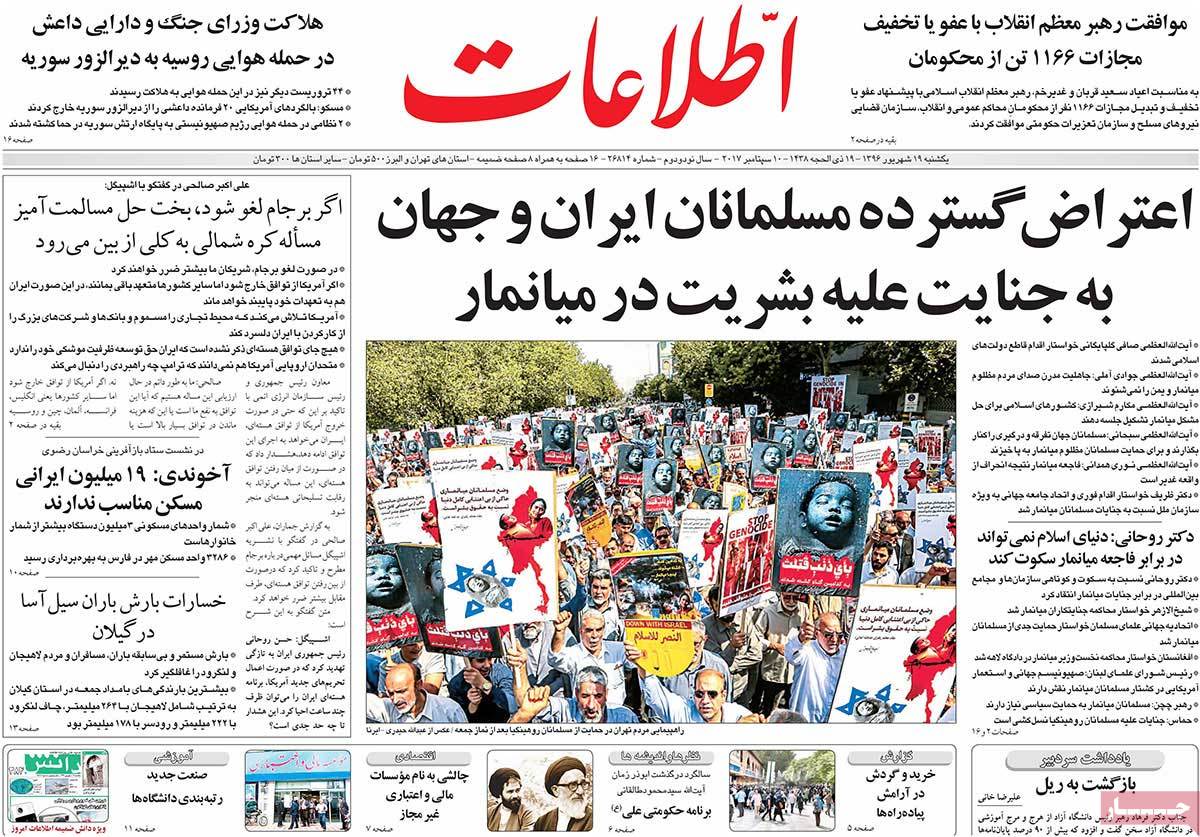 ---
Iran:
Presidents of Turkey, Iran Confer on Helping Muslims in Myanmar
Sunni Cleric's Letter of Appreciation: Iran Leader's Anti-Discrimination Decree Wrap up All Arguments
Iran to Remain Committed to JCPOA Even If US Withdraws: Nuclear Chief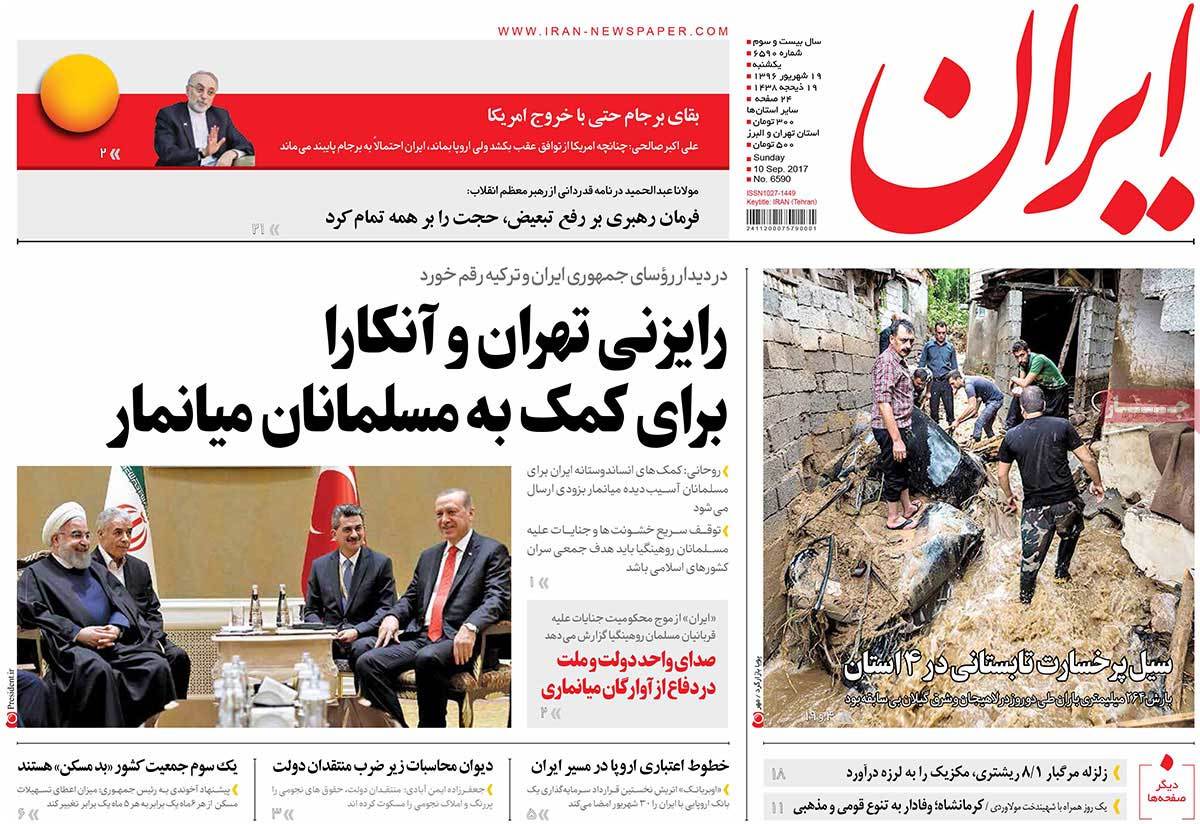 ---
Jomhouri Eslami:
France Strongly Backs JCPOA: Paris Not to Support Reviewing Nuclear Deal
Iraqi PM: We Will Not Approve of Kurdistan Region's Referendum Results as It'd Lead to Dark Era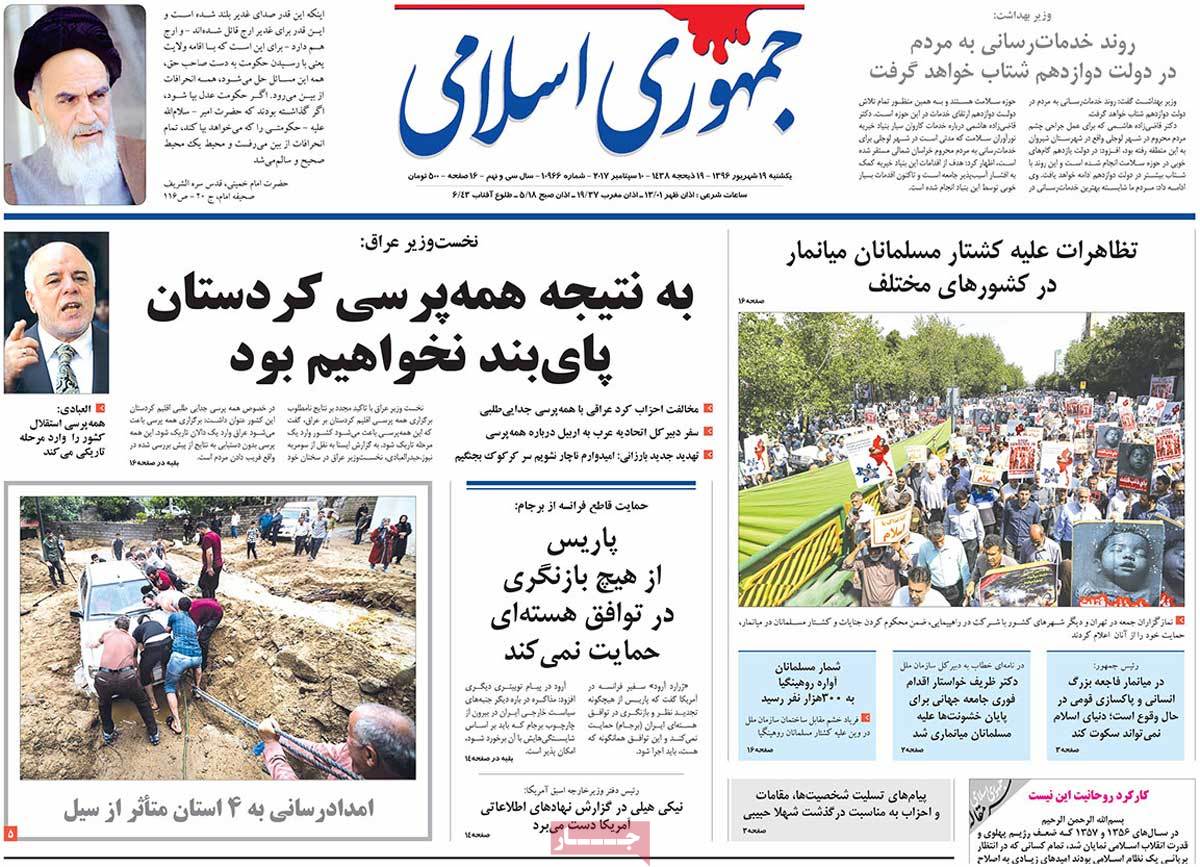 ---
Javan:
Feast of Statements on Halting Bloodshed in Myanmar
Despite World Governments' Rhetorical Statements, Global Passive Stance Approves of Genocide in Myanmar
Trump Seeking to Claim JCPOA's Credit: White House Intending to Downplay Obama's Role in Clinching Nuclear Deal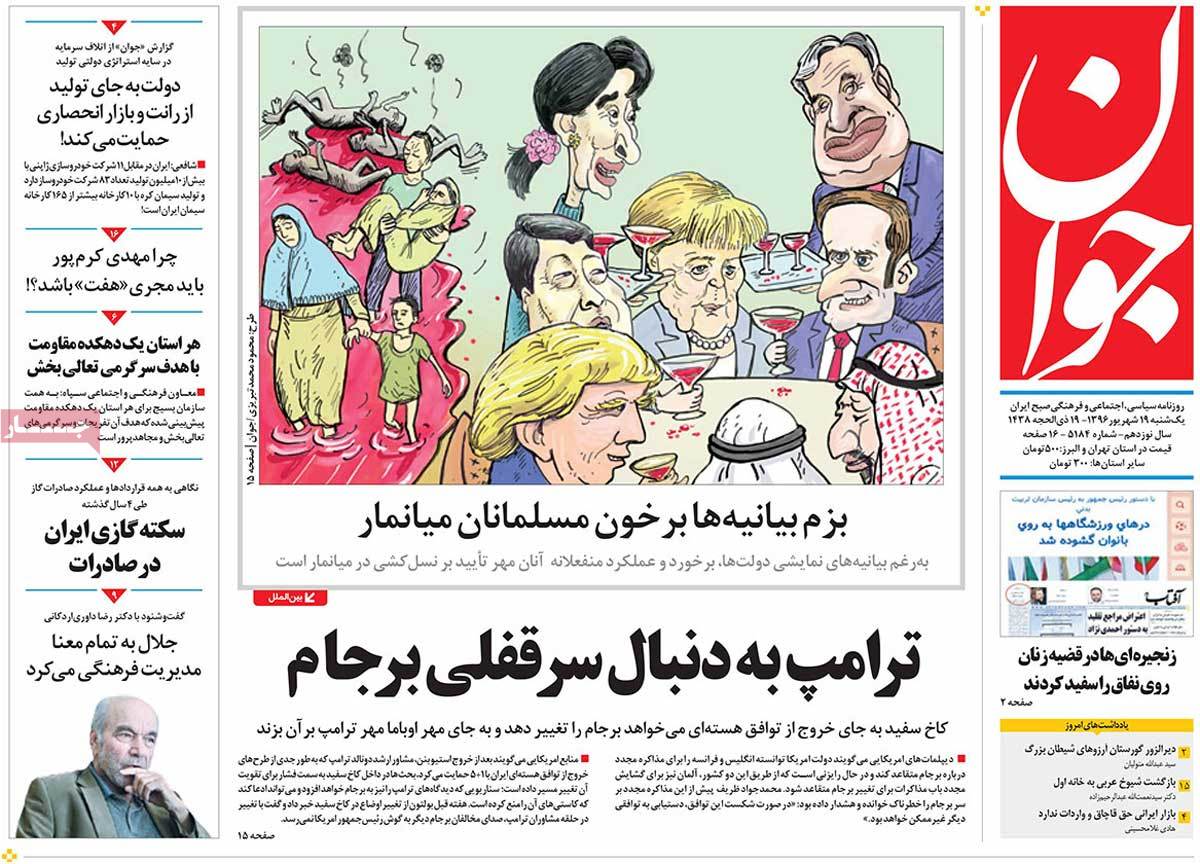 ---
Kayhan:
US Diplomat: JCPOA is Good as It Has Intensified Sanctions against Iran
Flood Causes Heavy Damages to People in Northern Iran
Flared Up Conflict between Qatar, Saudi Arabia Fails Trump's Effort to Prevent Dissolution of Anti-Iran Front
---
Resalat:
Special Report on US Social Indices: Modern Government on Verge of Admitting Defeat
IRGC Chief: Northern Iraq Partition New Conspiracy after Takfiris' Defeat
ISIS Has Lost 90% of Lands under its Control