Newspapers today covered the remarks made by the Leader of Iran's Islamic Revolution Ayatollah Seyyed Ali Khamenei in a meeting with visiting Iraqi Prime Minister Haider al-Abadi.
They also covered the Iraqi PM's meeting with Iranian President Hassan Rouhani, where the latter voiced Tehran's support for an integrated Iraq.
Rouhani's first reaction to the IRGC's missile attacks on ISIS positions in Syria also received great coverage. Rouhani hailed the apt move, and noted that the decision was made by the Supreme National Security Council.
The above issues, as well as many more, are highlighted in the following headlines and top stories:
19 Dey:
1- Attachment of Certain Muslim States to Israel Is a Shame: Larijani
2- Rouhani: Violent Thoughts Very Dangerous for Region
3- Attacks on ISIS Result of US Sanctions on IRGC: Deputy FM
---
Abrar:
1- PM Abadi: Iraqi Kurdistan Referendum Illegal, Troublesome
2- Gov't Sees No Limit on Reinforcement of Iran Missile Power: Spokesman
3- Qatar FM: If Sanctions Not Lifted, Qatar Will Meet Its Needs through Iran
4- 50 ISIS Elements Killed by One of Iran's Missiles Hitting Deir ez-Zor
5- Macron: We Work with Key Regional Players, Including Iran
---
Abrar-e Eqtesadi:
1- Total to Make $1bn Investment in Iran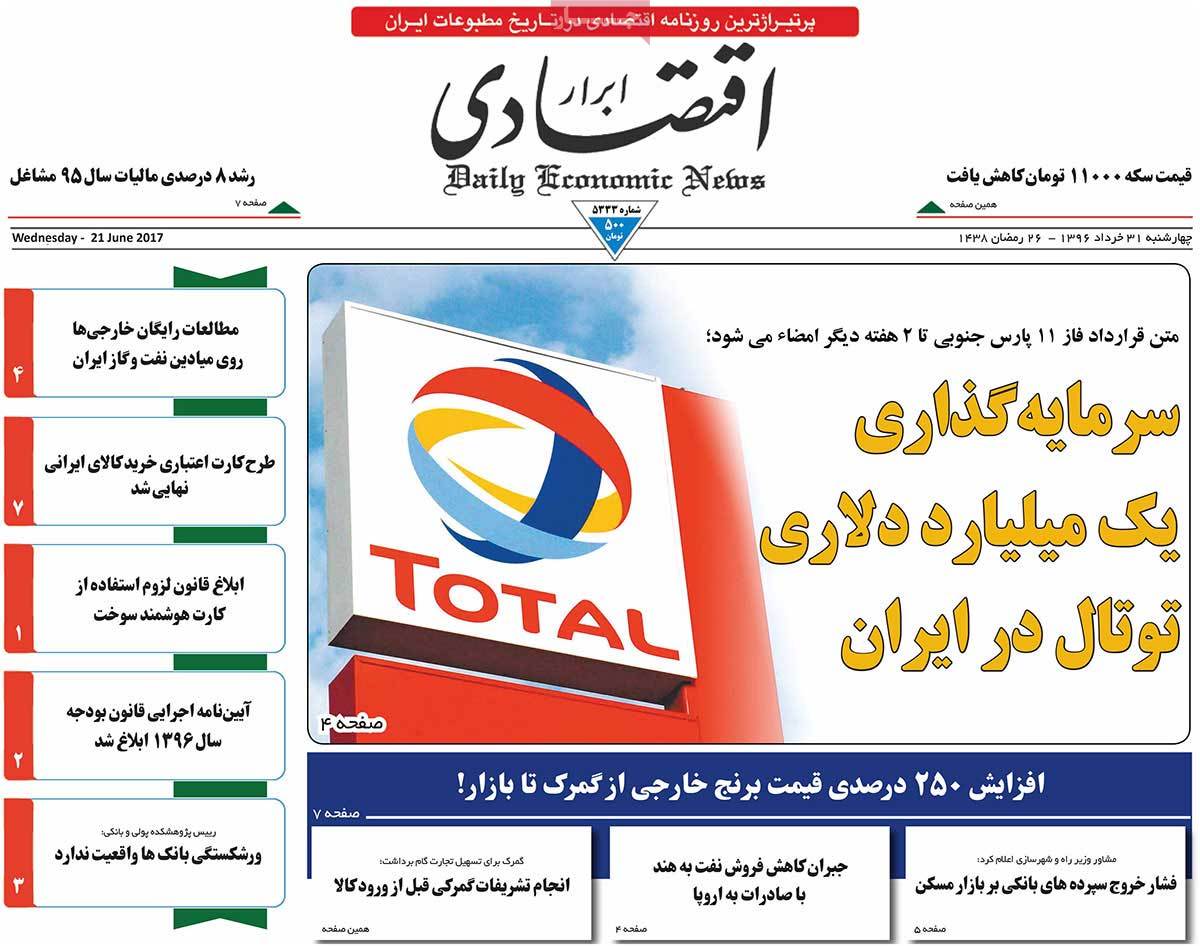 ---
Aftab-e Yazd:
1- What Was Zarif Looking for in Africa?
2- Iran Never Had Hostile Ties with Mauritania, Algeria, Tunisia: Analyst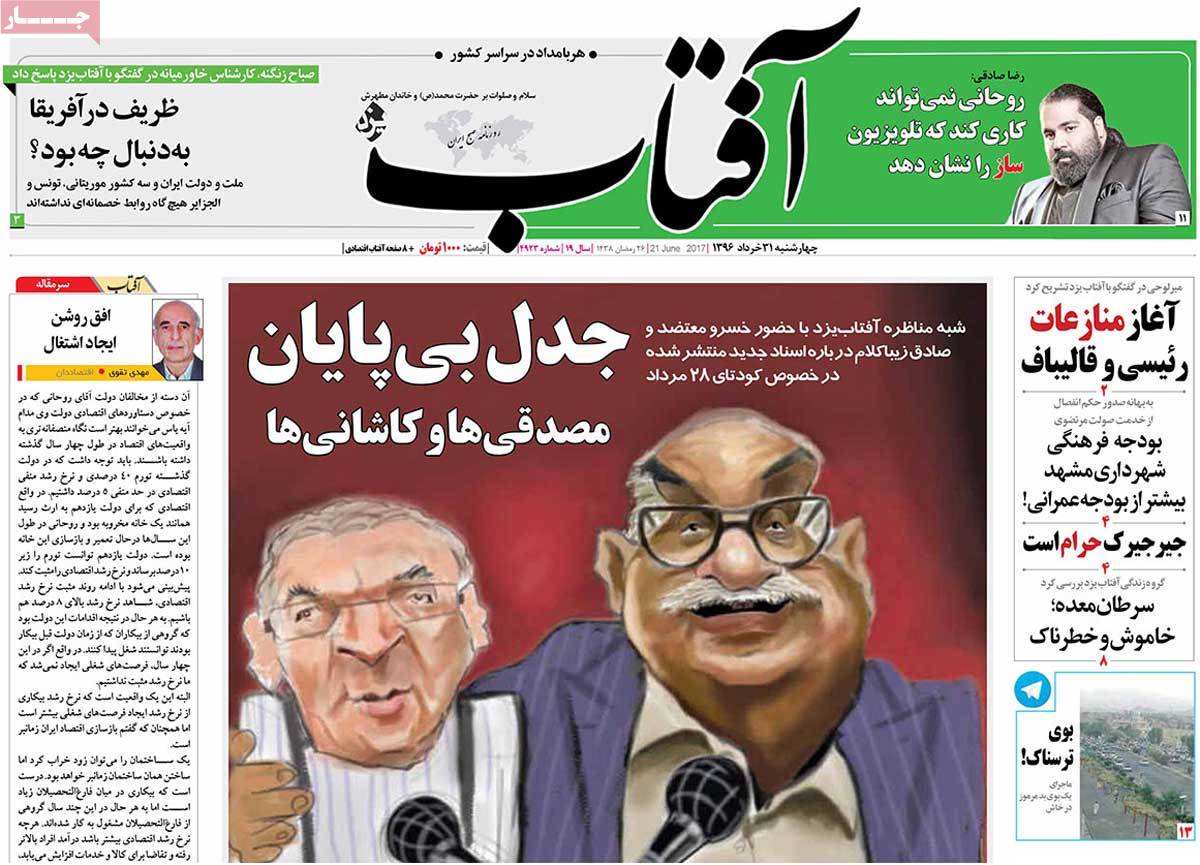 ---
Arman-e Emrooz:
1- Iran Leader to Iraqi PM: Don't Trust US, They're Waiting for Opportunity to Attack
2- Paris Shakes Tehran's Hand: New French Approach to Mideast Challenges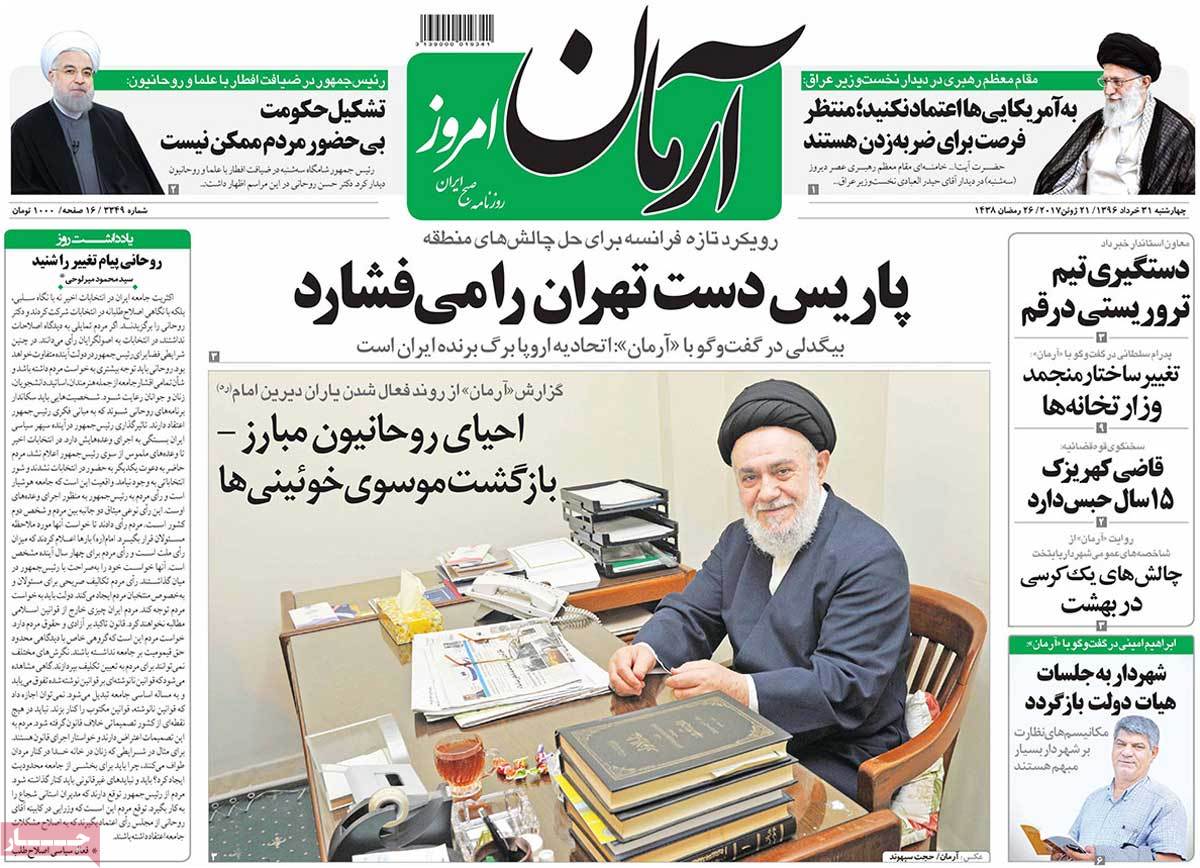 ---
Asrar:
1- Rouhani: Fight against Terrorism Should Not Consign Issue of Quds to Oblivion
2- Velayati: Iranian Nation to Put Differences Aside in Reaction to Foreign Threats
3- Judiciary Spokesman: Intelligence Ministry Has Access to Those Engaged in Oil Case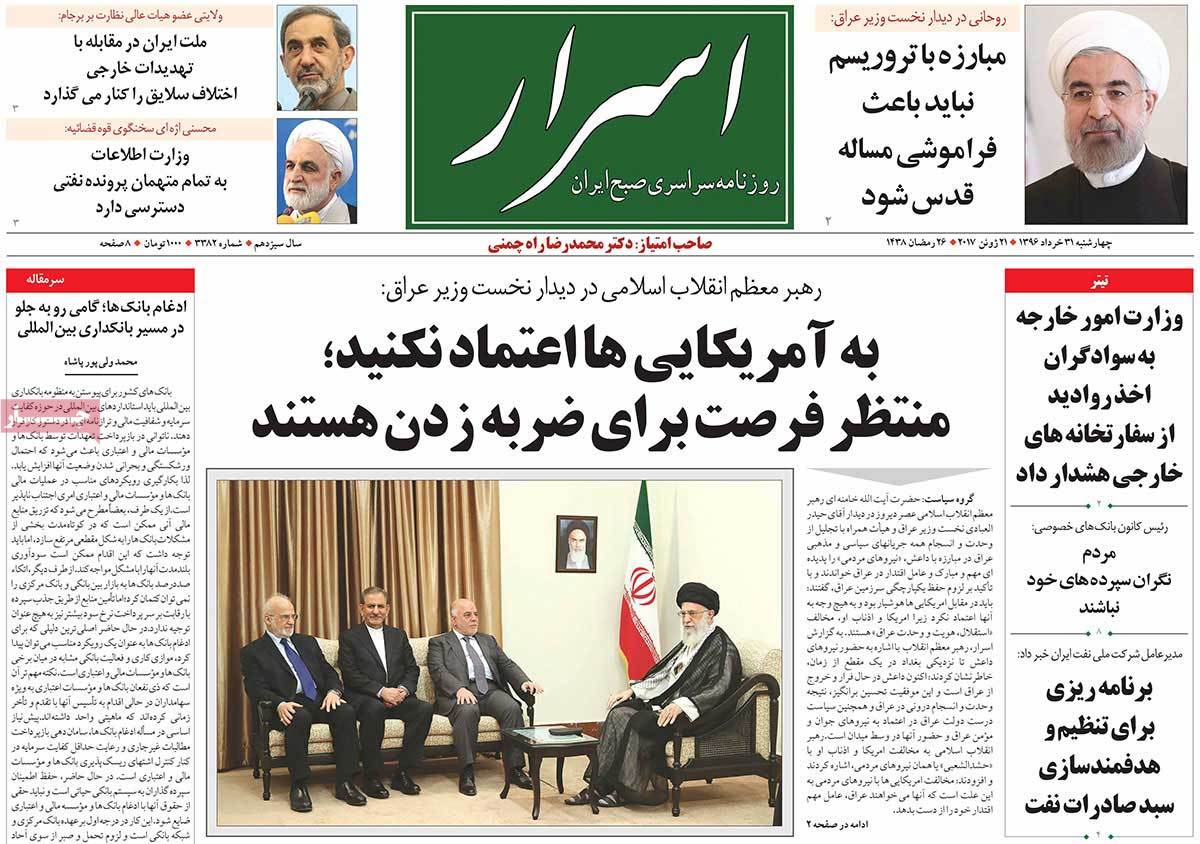 ---
Ettela'at:
1- Iran Leader: Iraqi Popular Forces Source of Power for Iraq
2- US Shouldn't Be Trusted as They're Opposed to Iraq's Independence, Unity
3- Rouhani: Missile Attack on ISIS Positions Apt, Necessary Move
---
Iran:
1- Rouhani to Abadi: Iran Supports Integrated Iraq
2- We're Not Salesmen, We Want to Be Iran's Partner
3- Int'l Quds Day Rallies to Be Held in 900 Cities: IRGC Spokesman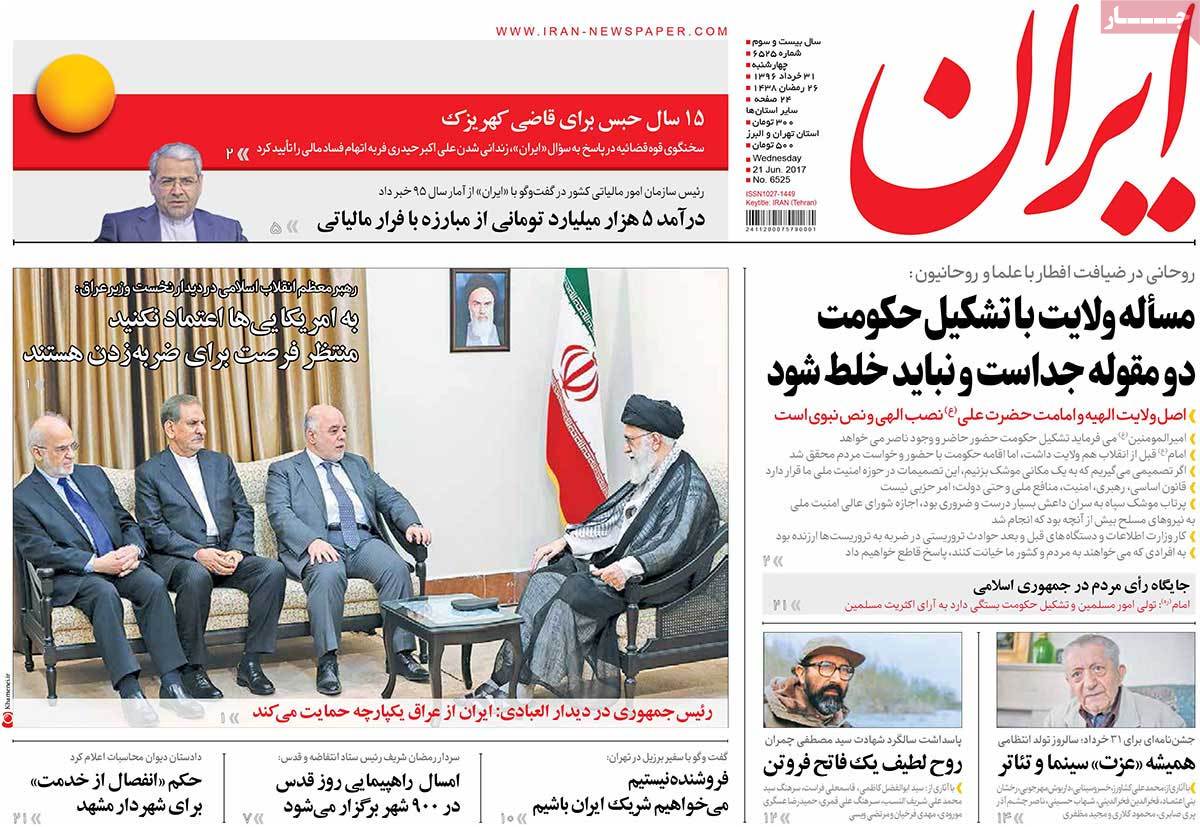 ---
Javan:
1- Third Day of US Silence towards Iran's Missile Revenge
2- Jerusalem Post: Iran Missiles Addressed Israel, Saudi Arabia, US
3- IRGC Makes $550,000 Investment to Fight Deprivation in Sistan-Baluchestan Province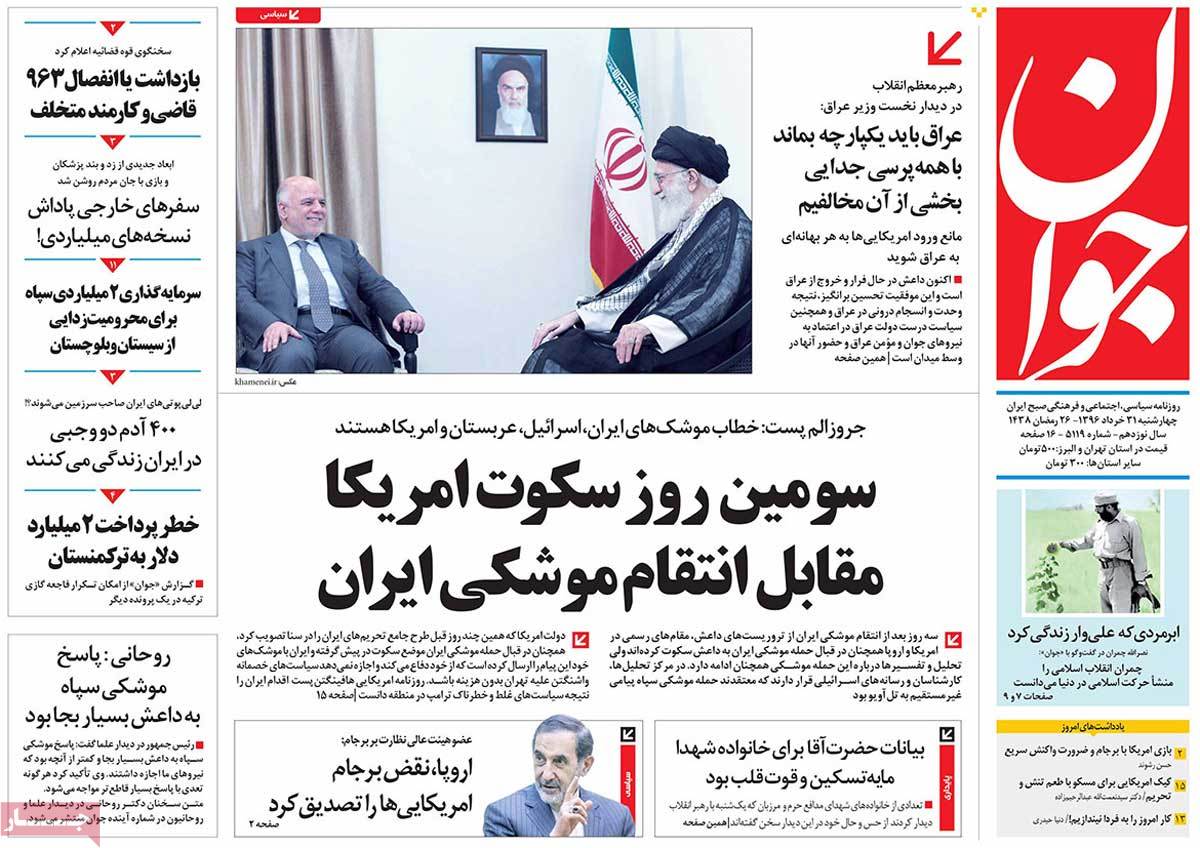 ---
Jomhouri Eslami:
1- Iran Leader: Iraq Should Remain Integrated
2- Iraqi PM Holds Talks with Iranian Officials
3- Rouhani: Armed Forces Allowed to Respond to ISIS in Stronger Way
---
Kayhan:
1- What Did Zolfaqar Missiles Do to ISIS?
2- Total CEO: Investment in Iran Is Risky for Now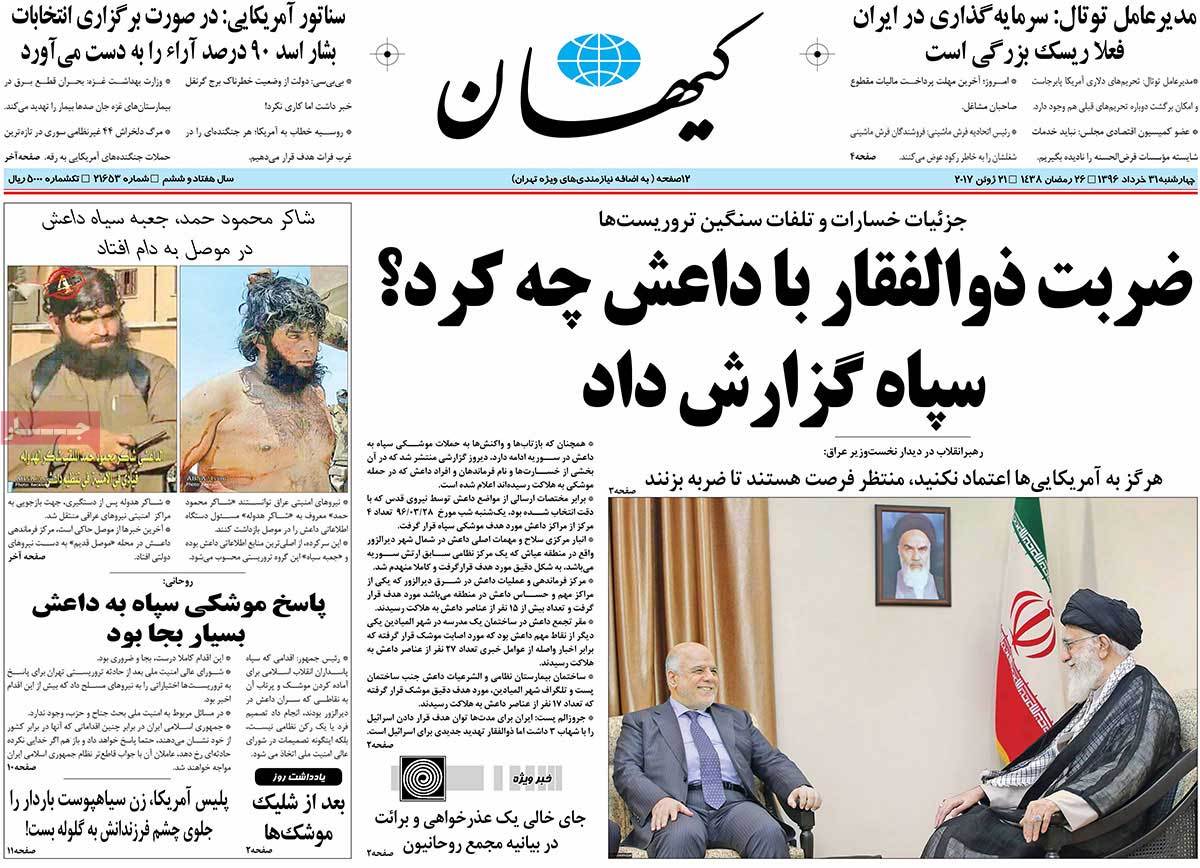 ---
Resalat:
1- Judiciary Spokesman: Whoever Works with ISIS Is Muhareb [one who jeopardizes people's security]
2- Ayatollah Khatami: IRGC's Missile Attack Symbol of Establishment's Might
3- US Senator: 90% of Syrians Will Vote for Assad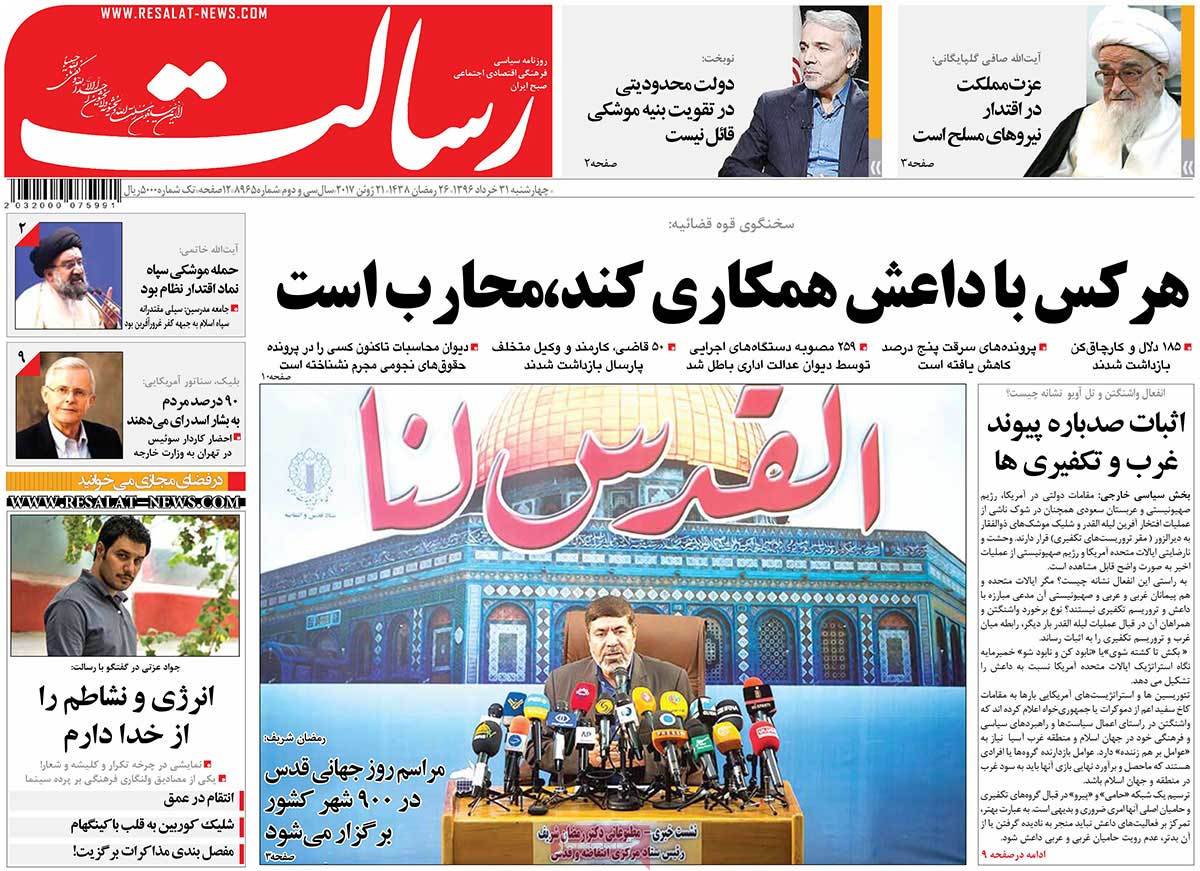 ---
Shargh:
1- Judge Involved in Kahrizak Case Sentenced to 15 Years in Prison
2- Rouhani to Critics: Missile Launch Not an Individual, Sectional Decision
3- Trump Doing Business of Terror: Iran Leader's Advisor