Newspapers today covered the Islamic Republic's reaction to a recent move by the US Senate to approve fresh sanctions against Tehran.
They also highlighted the move by both Iranian reformists and conservatives to condemn US Secretary of State Rex Tillerson's remarks about a regime change in Iran.
Another top story was First Vice-President Es'haq Jahangiri's visit to a long-awaited and controversial highway that will connect Tehran to northern Iran when finally completed.
The above issues, as well as many more, are highlighted in the following headlines and top stories:
19 Dey:
1- Iran to Reciprocate US Senate's Move: MP
2- Highway Linking Tehran to Northern Iran, Masterpiece of Iranian Engineers
3- Iran Disturbing Us in International Waters: US Official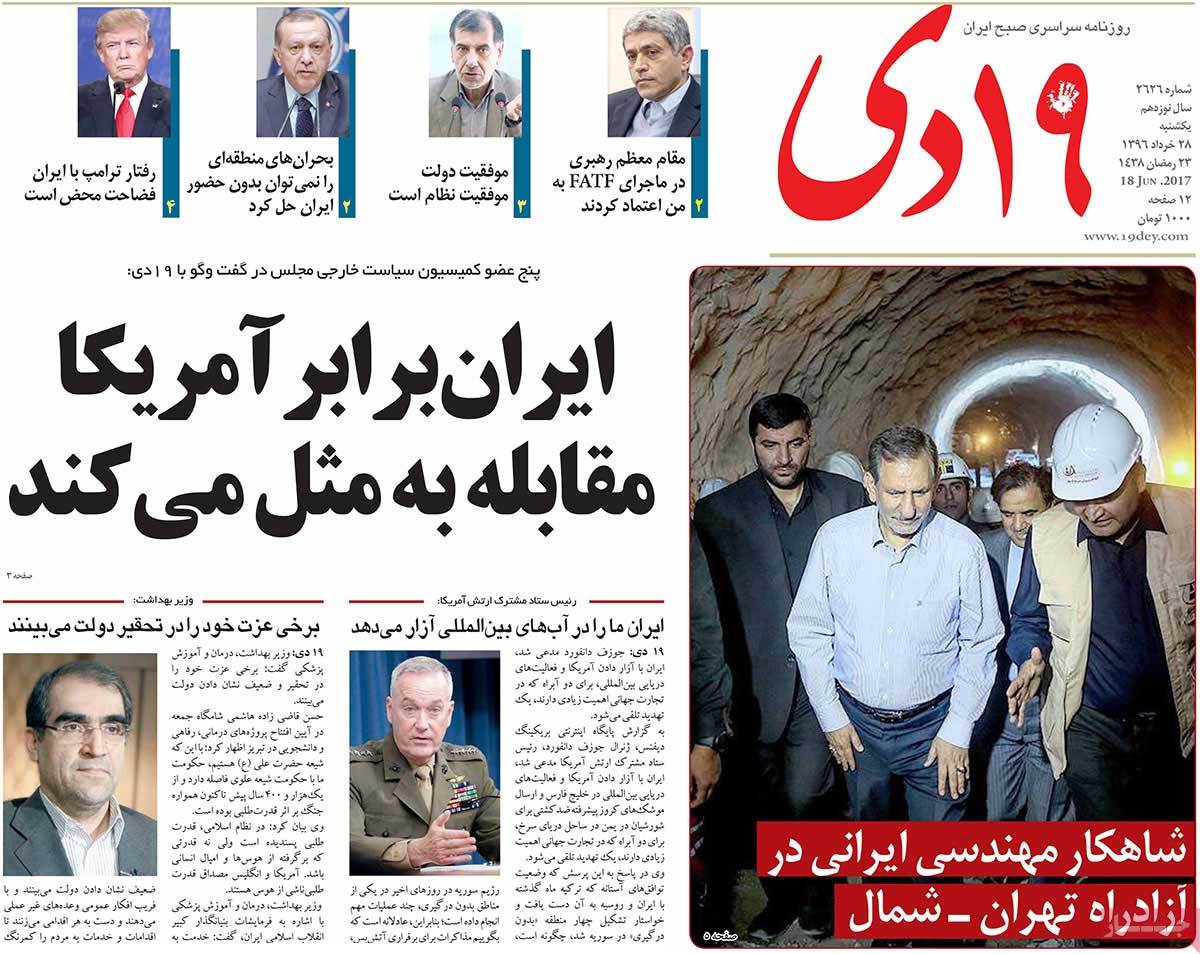 ---
Abrar:
1- ISIS Using 100,000 Civilians in Mosul as Human Shield: UN
2- Iran, China to Hold Joint Naval Drill
3- Guardian: Iran to Build Ground Route Connecting Tehran to Beirut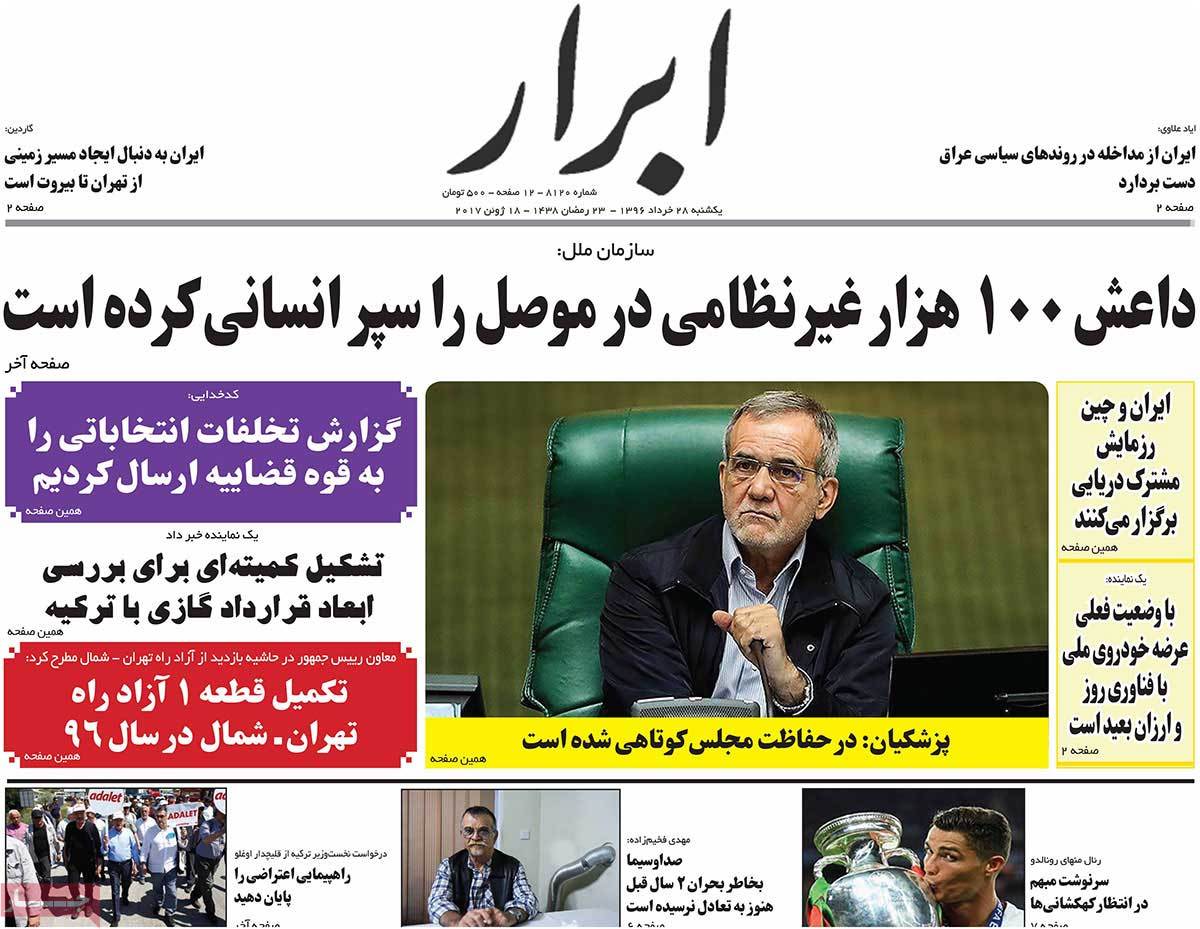 ---
Afkar:
1- JCPOA in ICU: Heart of Nuclear Deal Shot by US Senate's Bill
2- Offending Gov't Executives Introduced to Judiciary: Guardian Council
3- Exporting Iranian Football Players to Europe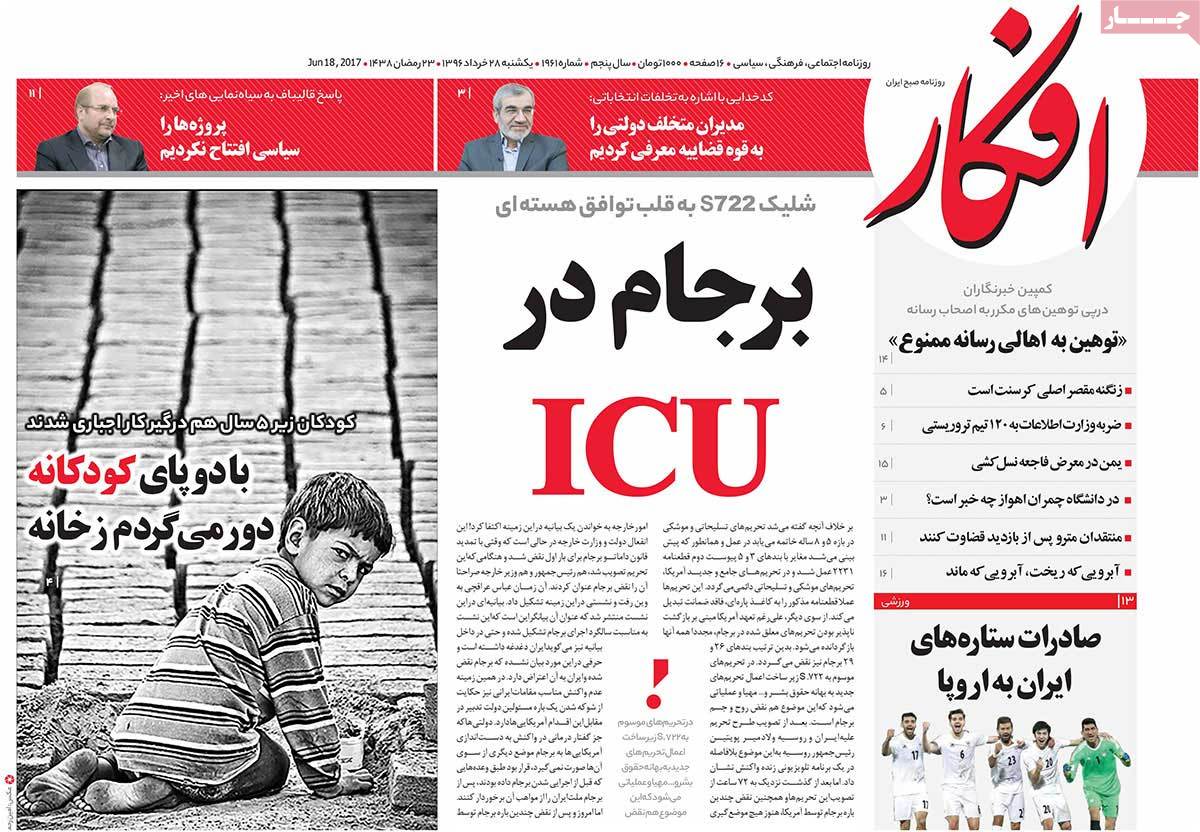 ---
Aftab-e Yazd:
1- Political Analyst: Officials Should Unite against Americans
2- Reformists, More than Others, Have Voted for Iran's Establishment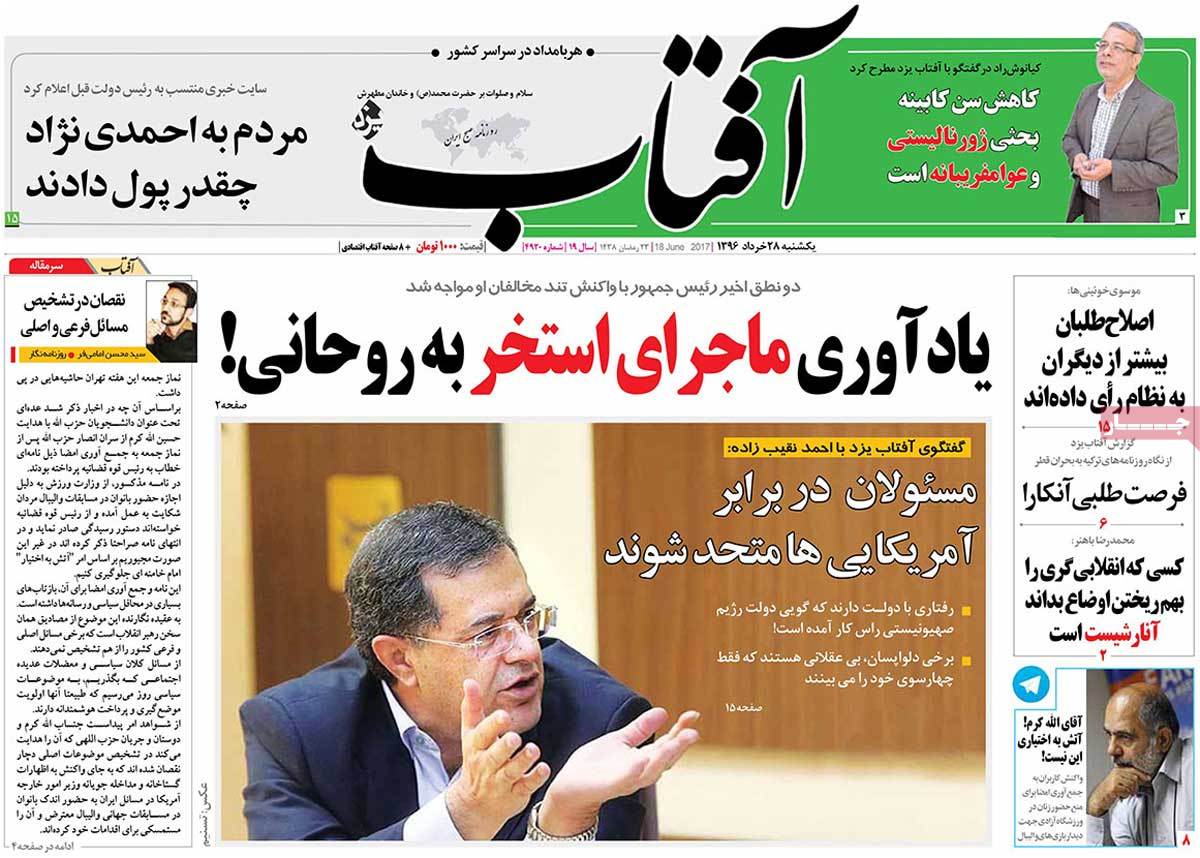 ---
Arman-e Emrooz:
1- Reformists Revised Their Mistakes: Analyst
2- Women's Presence in Iran Stadiums a Cultural Issue: MP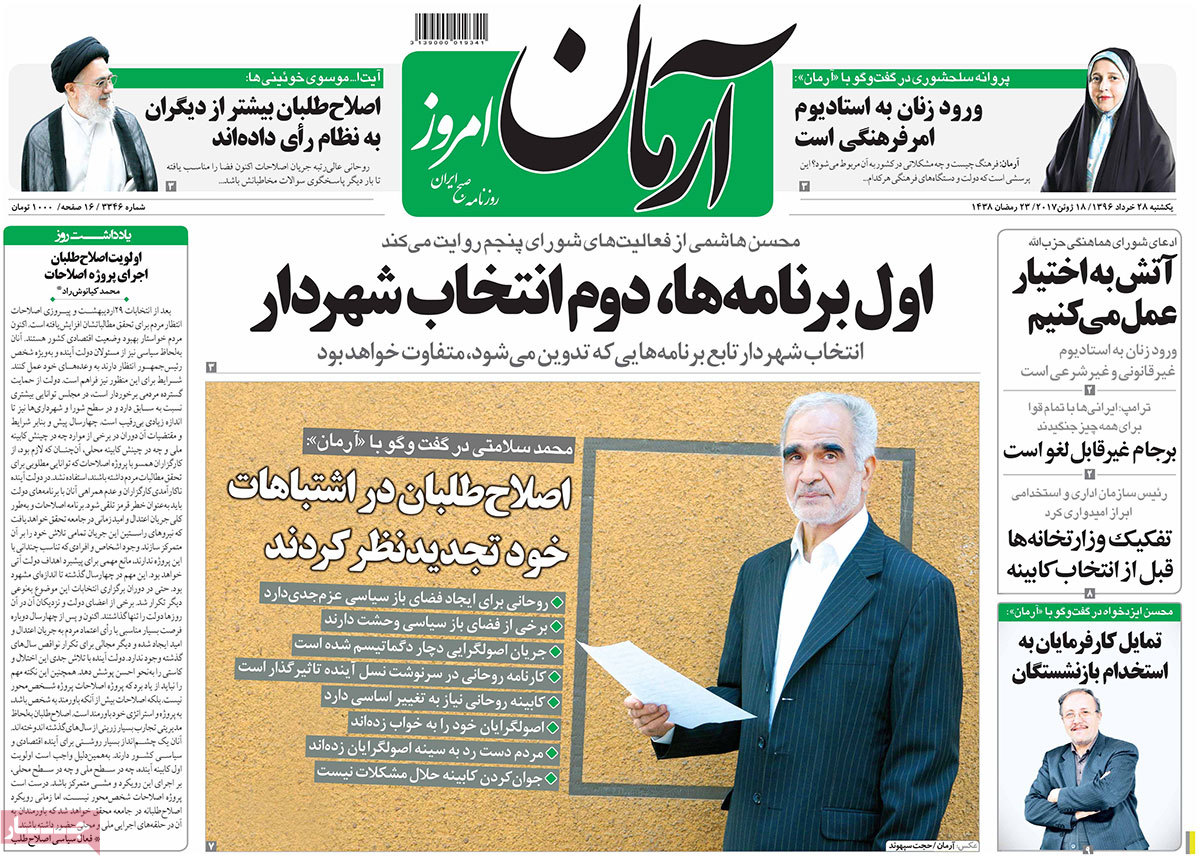 ---
Ebtekar:
1- Gov't Trying to Complete Highway of Century
2- First VP: First Phase of Highway Linking Tehran to Northern Iran to Open This Year
3- Mideast and Crazy Player
Consequences of Trump's Riyadh Visit, Impact on Regional Tensions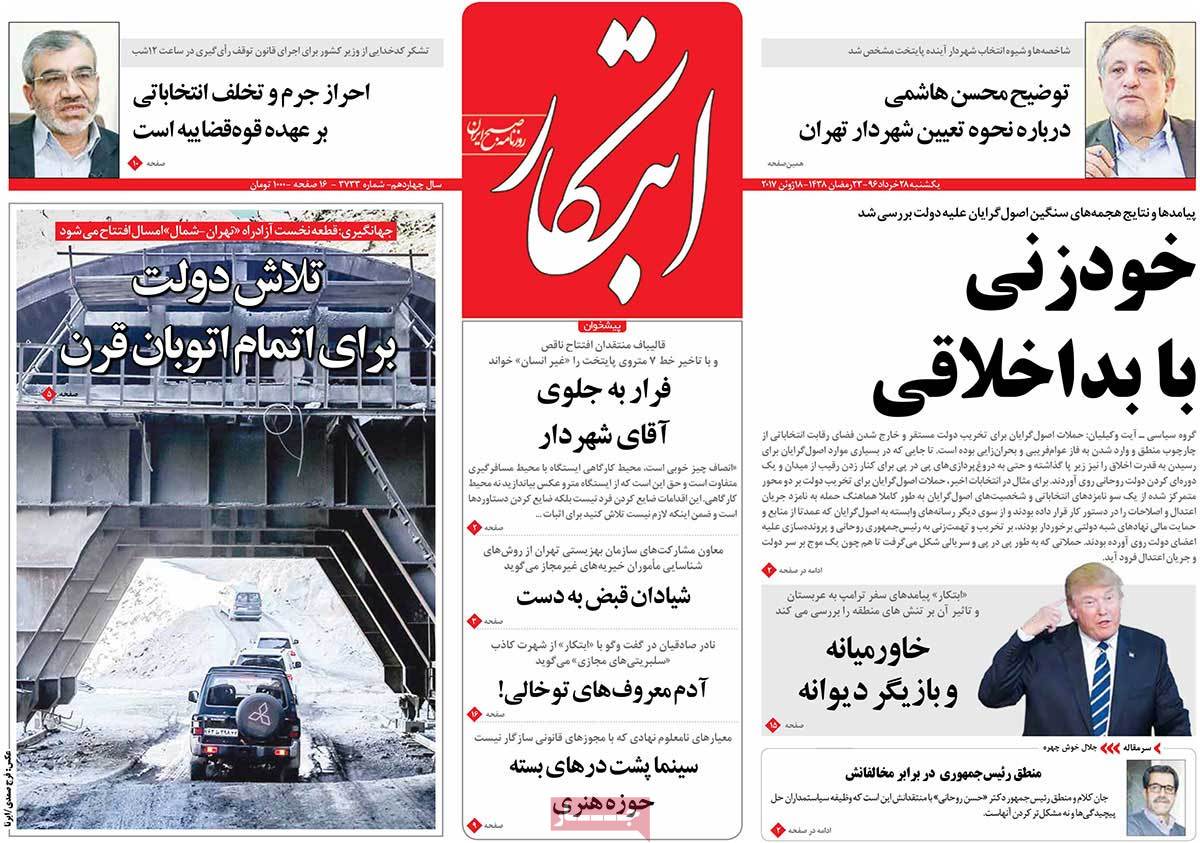 ---
Emtiaz:
1- Details of Koreans' $20m Investment in Iran: Small LNG Units to Be Built
2- Iran, Total to Sign Gas Deal in Coming Weeks: Oil Minister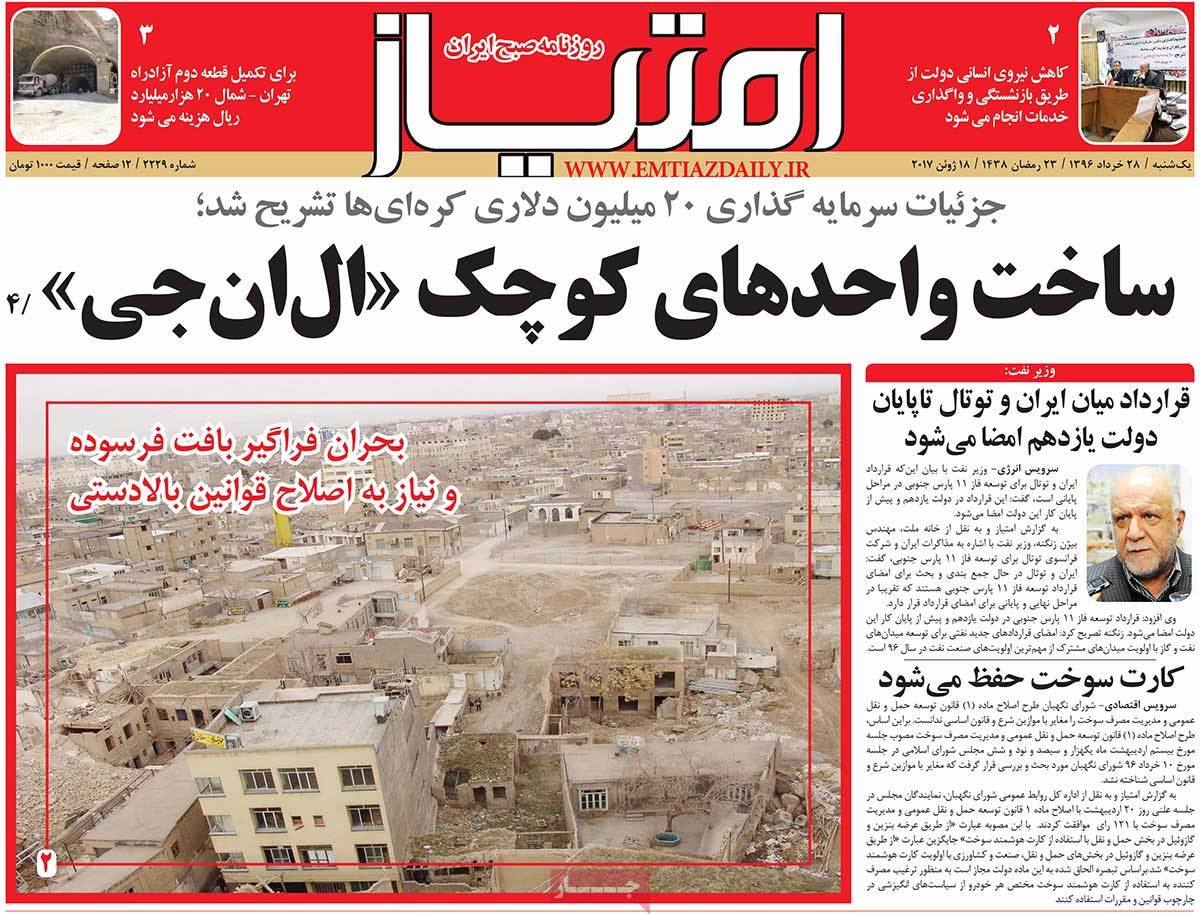 ---
Etemad:
1- Focus on a Country Where Women Are Allowed to Drive: Zarif in Oslo
2- People Should See Masterpiece of Iranian Engineering: First VP
---
Ettela'at:
1- Iran to Deal with 3 Million Hectares of Dust Storm Centres
2- Times: Israel, Saudi Arabia on Verge of Establishing Business Ties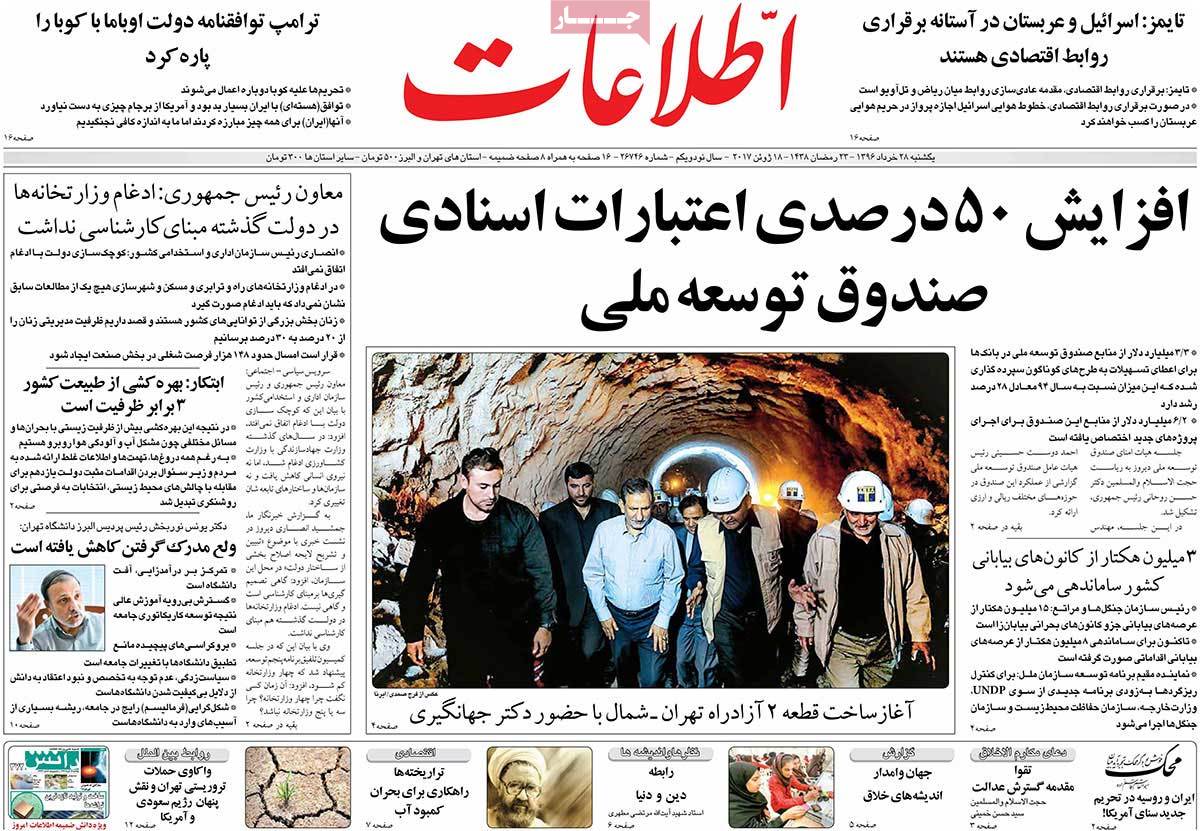 ---
Hemayat:
1- Cuba Victim of Trusting US
2- Trump: Nuclear Deal with Iran a Very Bad Deal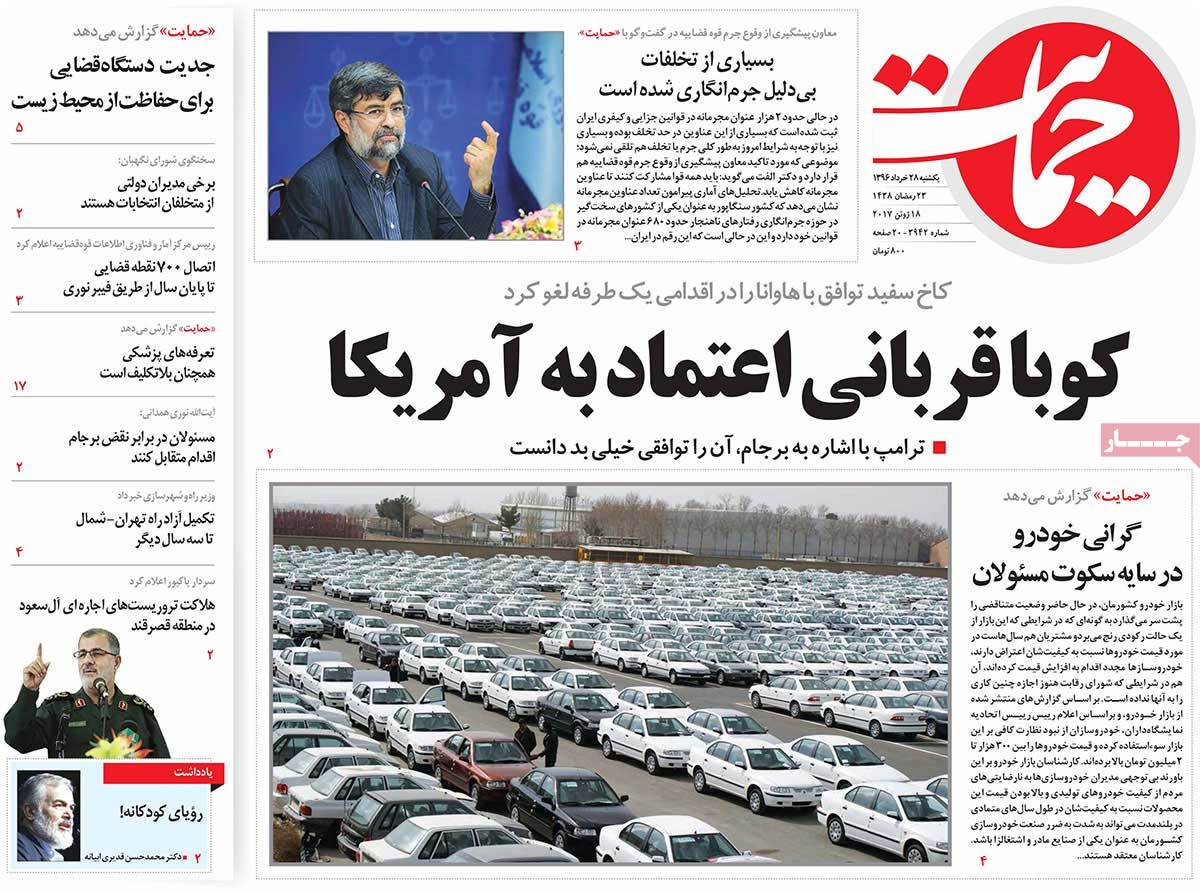 ---
Iran:
1- Members of All Iranian Parties United against Foreign Intervention
Reformists, Conservatives Condemn US Secretary of State's Comments
2- Trump Cancels Obama's Historic Reconciliation with Cuba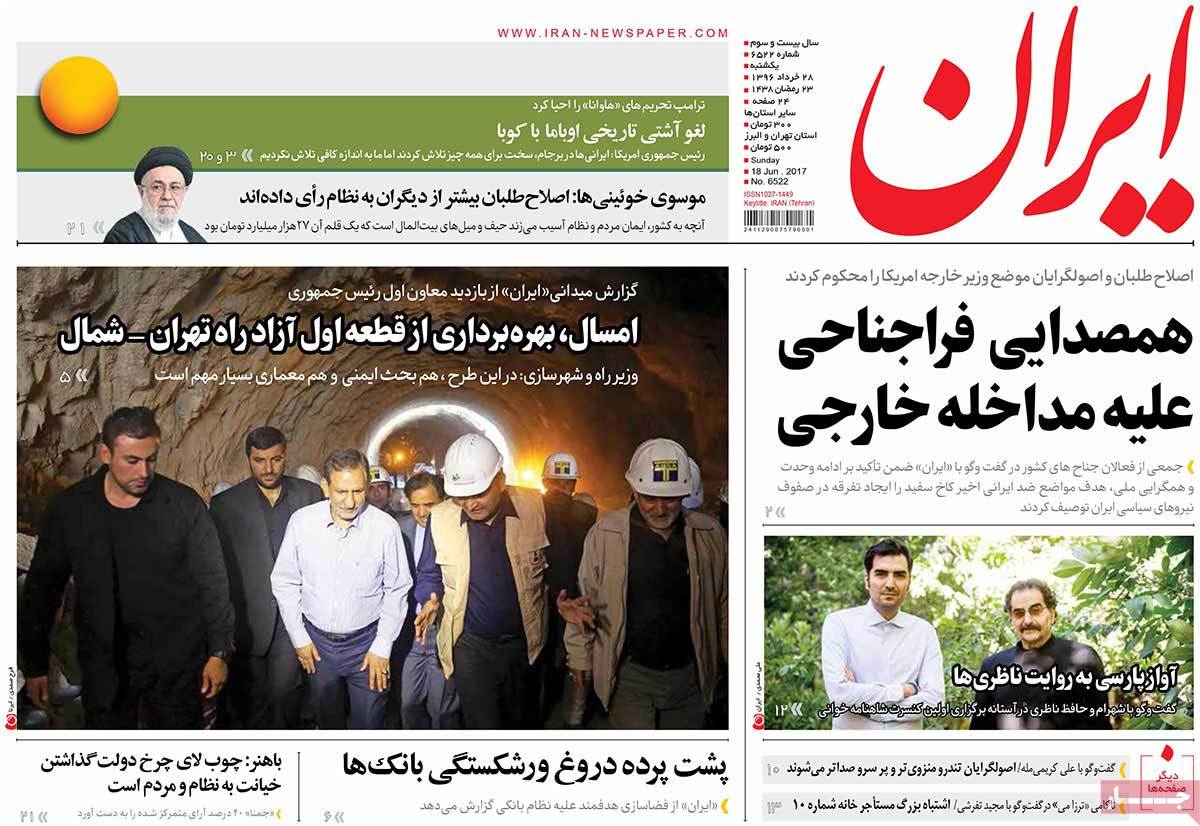 ---
Javan:
1- US Cancels Normalisation of Ties with Cuba
2- At Least $10,000 Spent for Every 20cm of Highway Linking Tehran to Northern Iran!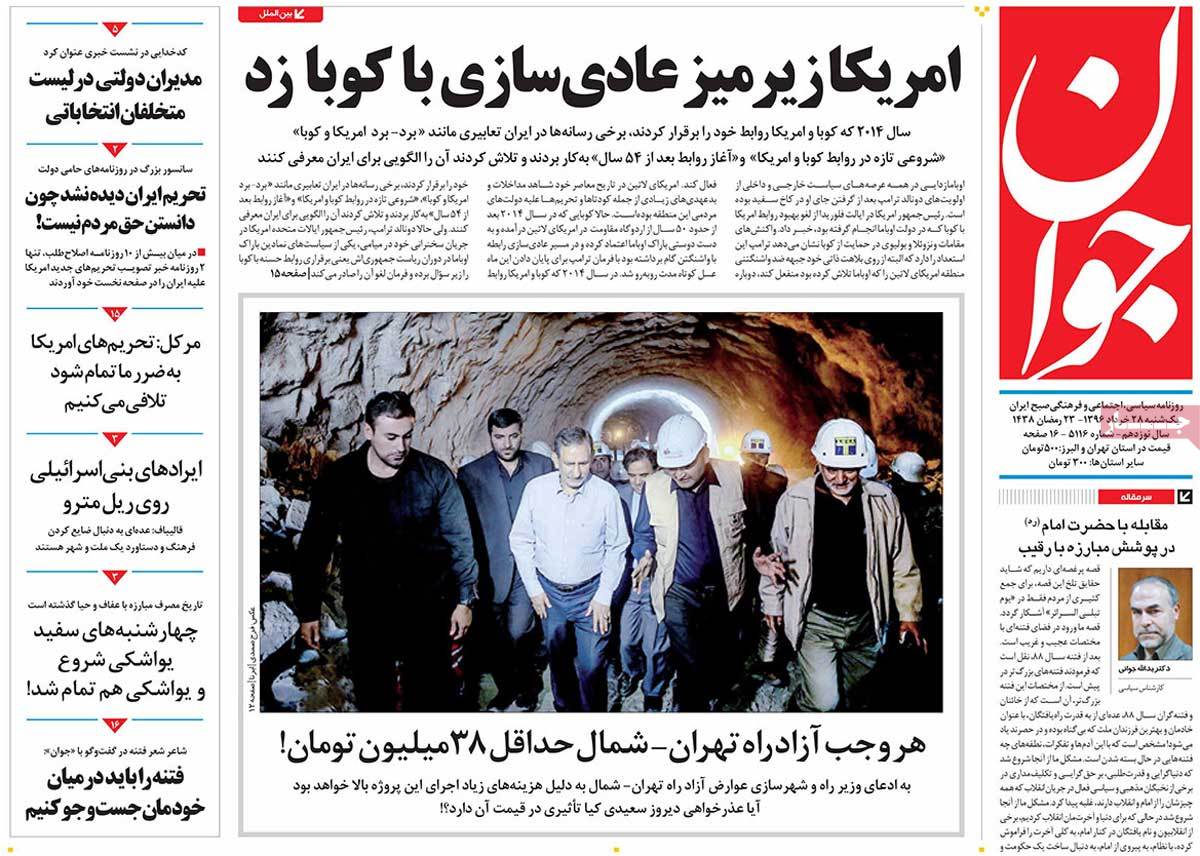 ---
Jomhouri Eslami:
1- Iran to Study Compliance of US Senate's Sanctions with JCPOA: Diplomat
2- UAE Resorts to Westerners for Resolving Qatar Crisis
3- Ansarullah: Yemen's Tragic Situation a Shame for World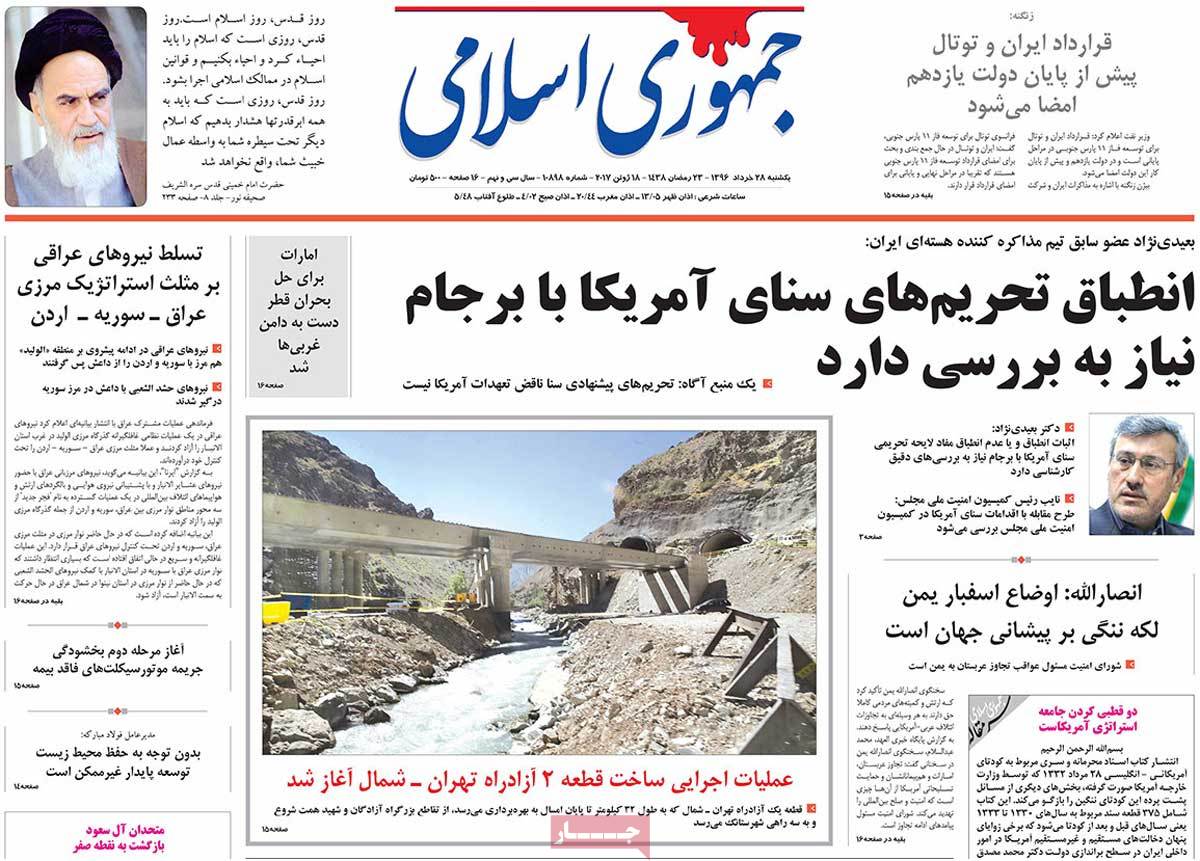 ---
Ka'enat:
1- US in Need of Abubakr al-Baghdadi's Ghost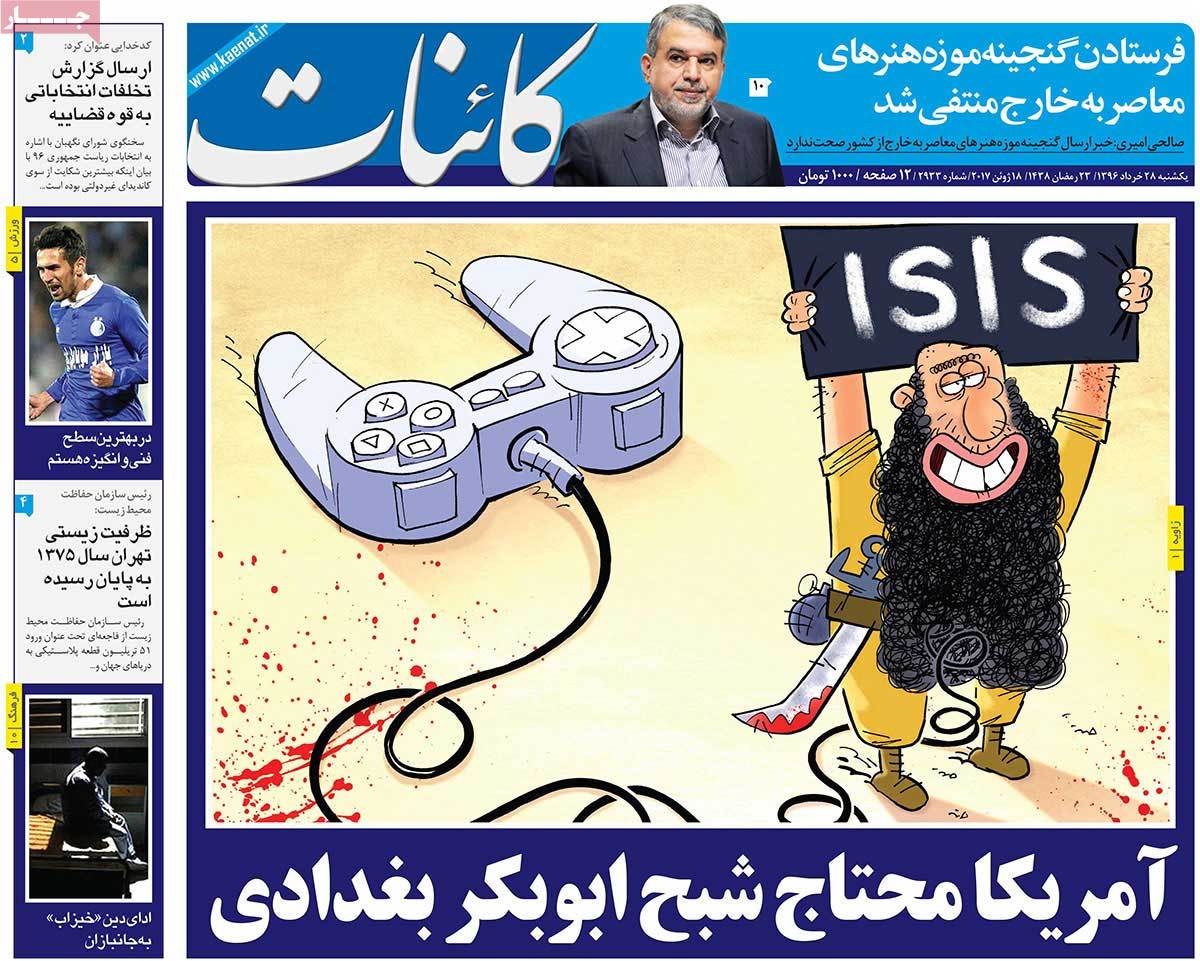 ---
Kayhan:
1- It's Time for Gov't to Be Held Accountable for JCPOA Disaster
2- I Prefer Shiite, Sunni Muslims Kill Each Other: US Congressman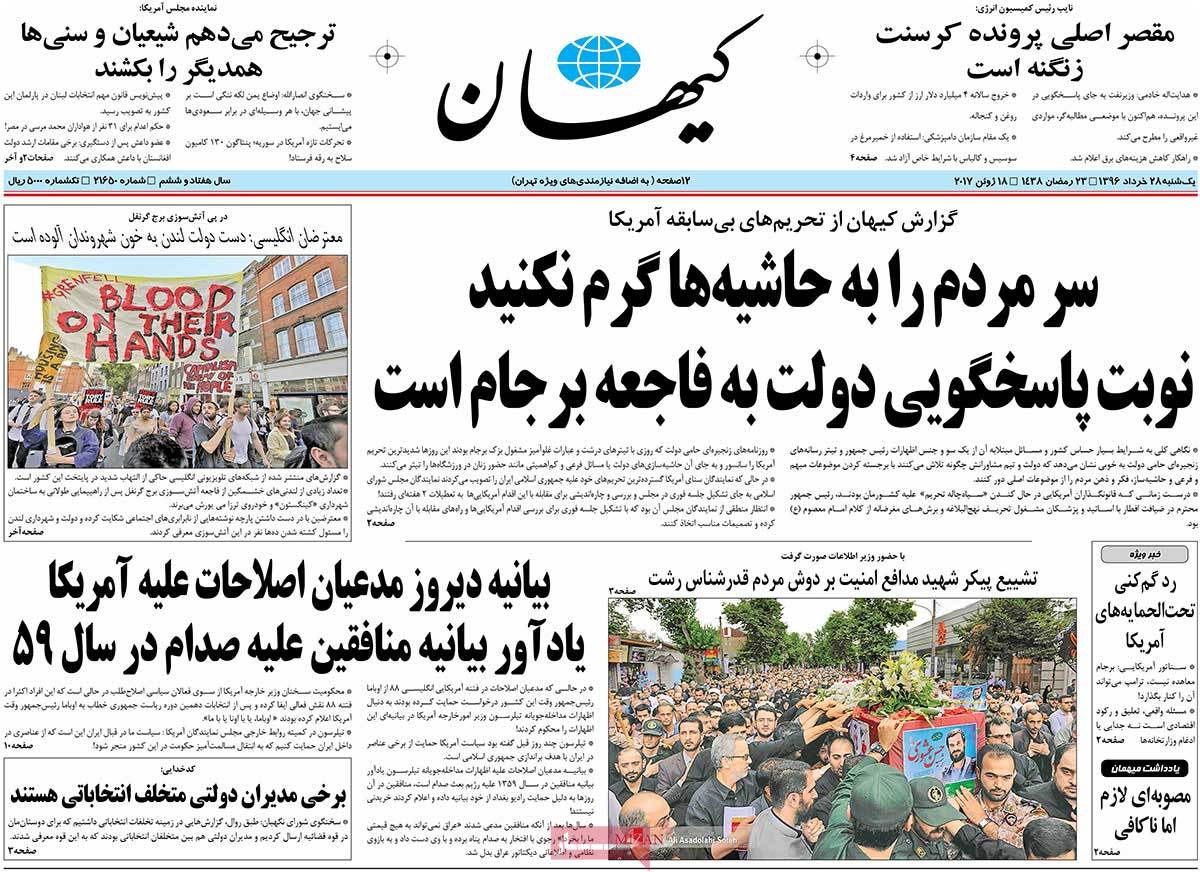 ---
Resalat:
1- US Is a Thief in Nature, Don't Pin Hopes on Them: Senior Cleric
2- Everyone Waiting for Iran's Decisive Response after US JCPOA Violation
3- Government's Success Is That of Establishment: Senior Conservative
4- If All Ministers, Governors Are from One Party, Promise of Unity Becomes a False One
5- Combination of Sanction, Terror Is What Forms US Policy: IRGC General
---
Setareh Sobh:
1- Trump against Obama's Heritage
Obama Didn't Gain Anything from Nuclear Deal with Iran: Trump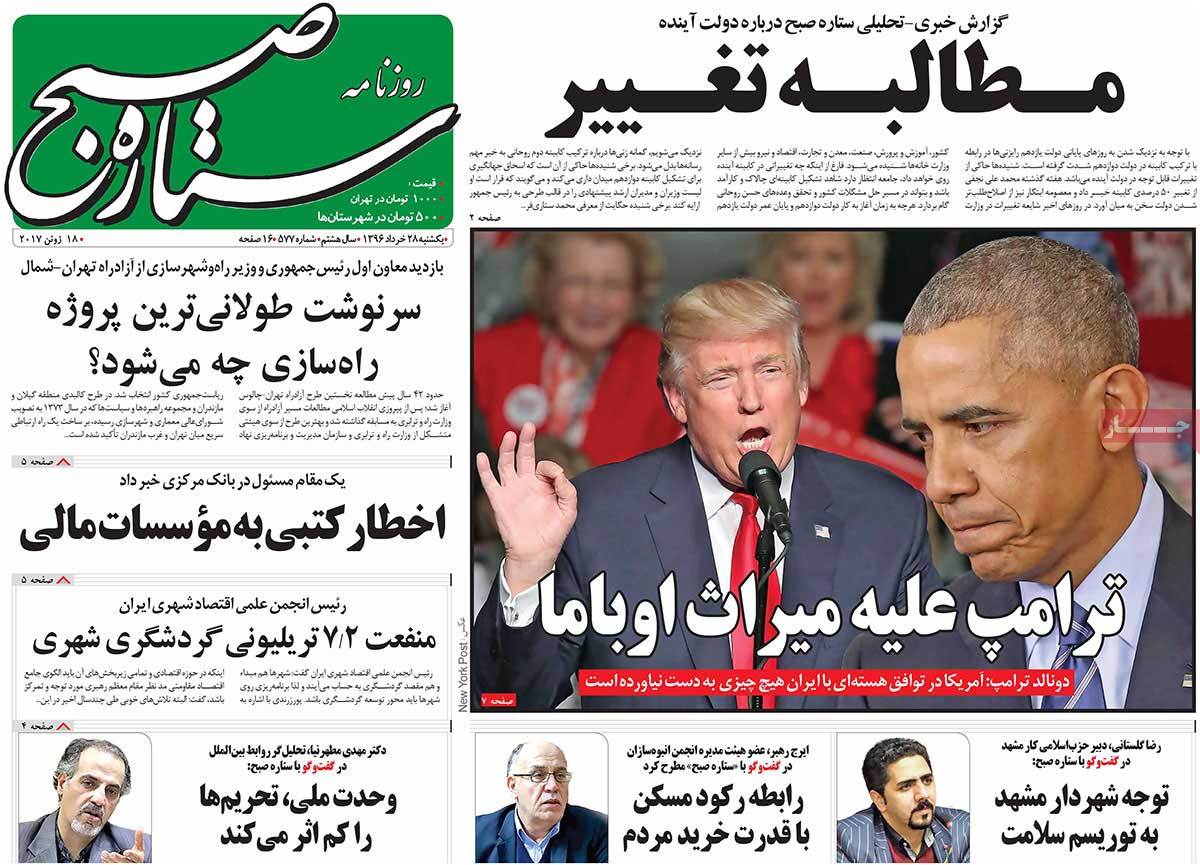 ---
Siasat-e Rooz:
1- US Once Again Reneges on Its Promises: This Time in Cuba