IFP has taken a look at the front pages of Iranian newspapers on Tuesday and picked headlines from 20 of them. IFP has simply translated the headlines and does not vouch for their accuracy.
Newspapers today covered the remarks made by the Leader of Iran's Islamic Revolution Ayatollah Seyyed Ali Khamenei in a meeting with top Judiciary officials in Tehran.
The top story, however, was the historic deal between Iran and a consortium led by the French oil giant Total for the development of Phase 11 of South Pars, the world's largest gas field.
Iranian President Hassan Rouhani's call for regional cooperation, particularly to fight against dust and sand storms gripping Iran and other countries, also received great coverage.
The above issues, as well as many more, are highlighted in the following headlines and top stories:
19 Dey:
1- Iran Leader: Judiciary Should Be Flag-Bearer of Supporting Legitimate Freedom
2- Rouhani: Fighting Dust Pollution Needs Regional, Int'l Cooperation
3- Historic Day for Iran's Oil Industry
---
Abrar:
1- UAE: If Qatar Refuses Our Requests, We'll Increase Economic Pressure
2- Trump, Abe Underline Need for Cessation of Pyongyang's Nuclear Program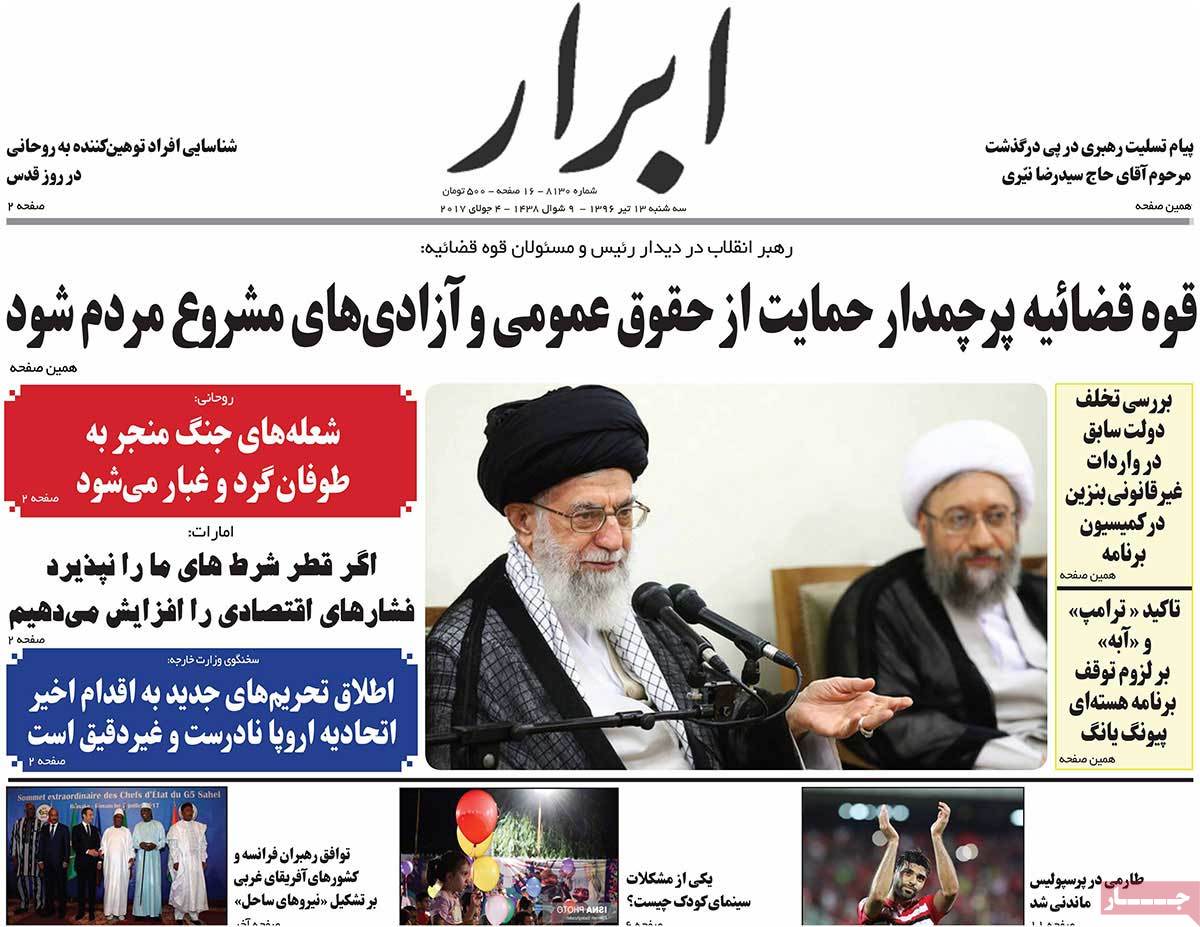 ---
Abrar-e Eqtesadi:
1- Oil Minister: No Barrier to American Companies' Investment in Iran
2- India Interested in Making $11bn Investment in Iranian Gas Fields
---
Aftab-e Yazd:
1- Here's Fruits of Nuclear Deal! Total in Iran
2- Lake Urmia to Be Revived Using Treated Wastewater
3- Iran: It's Inappropriate to Term EU's Recent Move as 'New Sanctions'
4- Beggars in Tehran Earn as Much as $1,000 per Day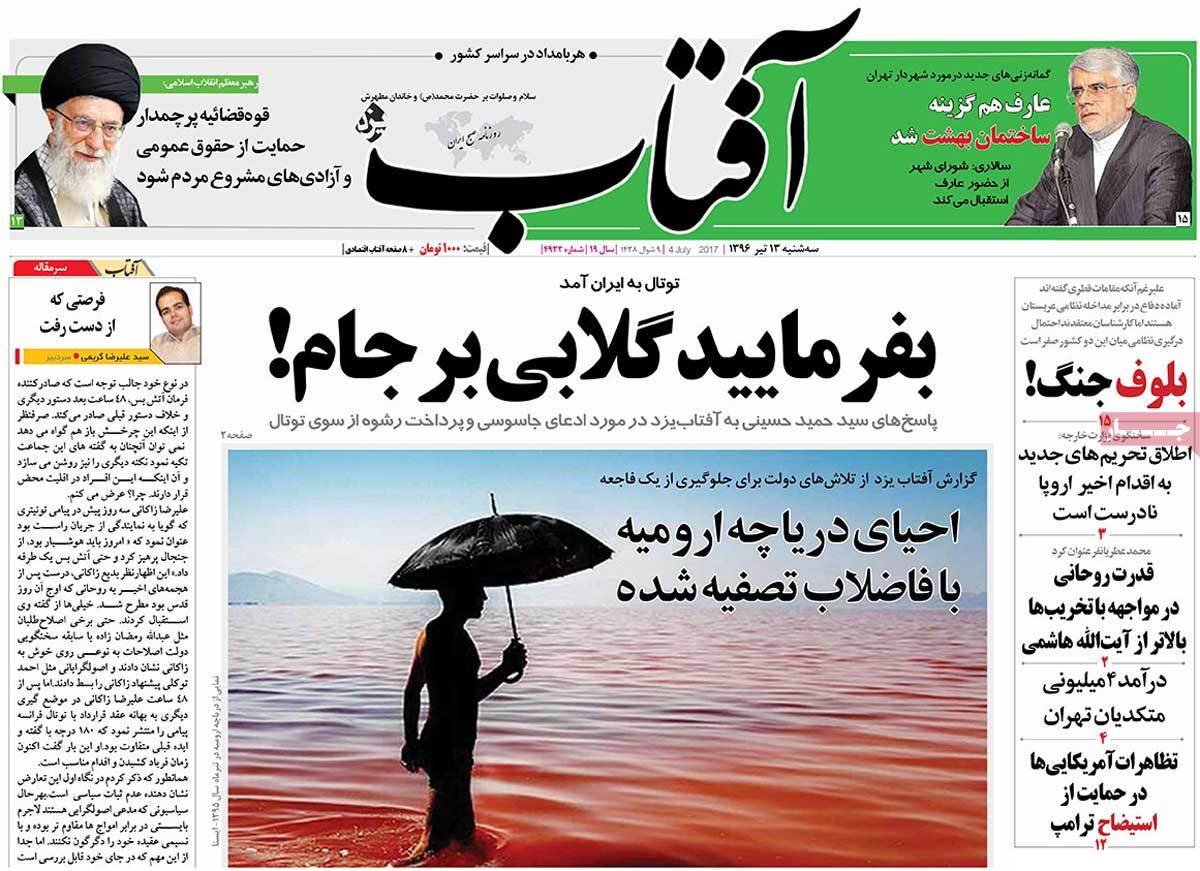 ---
Arman-e Emrooz:
1- Environmental JCPOA: Over 30 States in Iran for Int'l Conference on Dust Pollution
2- Total to Pave Way for Foreign Investment [Editorial]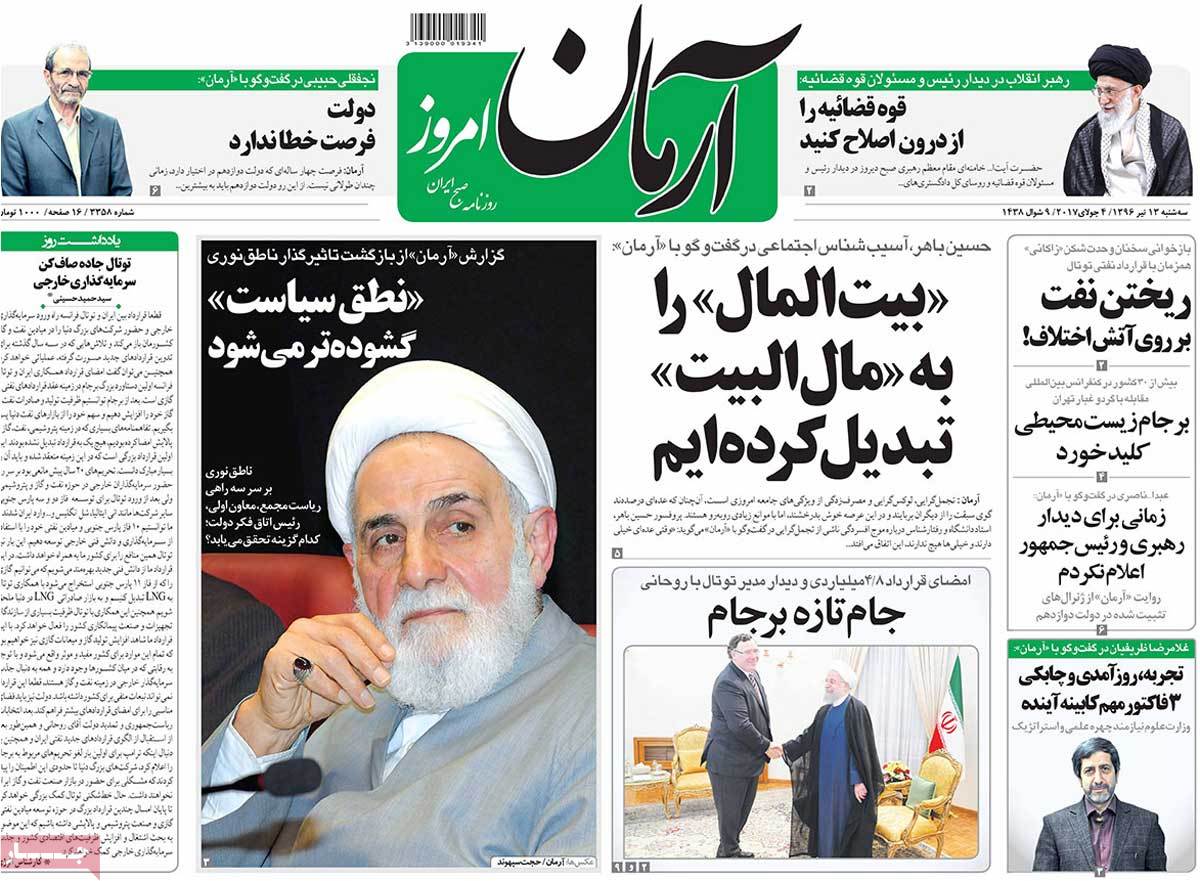 ---
Asrar:
1- No More Room for New Hajj Applicants: Official
2- JCPOA Shock and Iran's Economy [Editorial]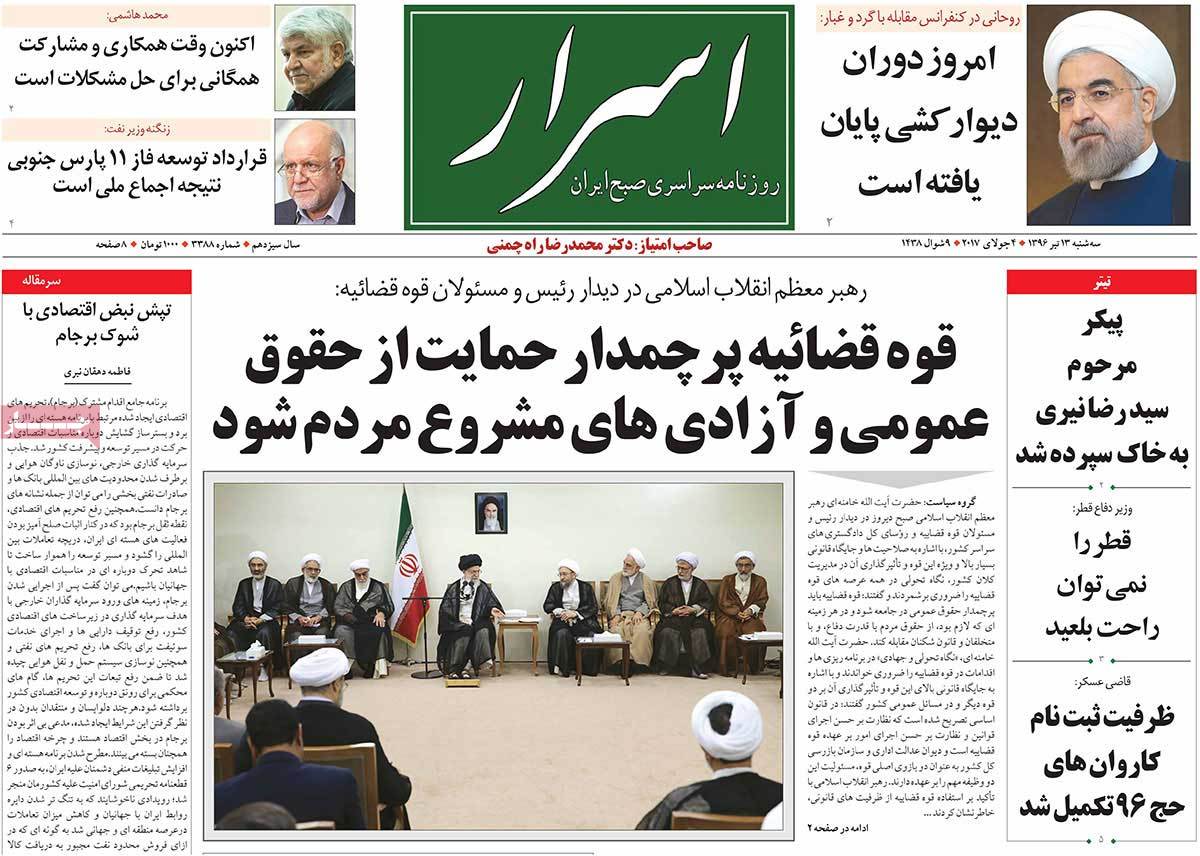 ---
Ebtekar:
1- Rouhani: Flames of War Leads to Dust Storm
---
Etemad:
1- Reformist Figure: You'll See Results of Rouhani's Performance If You Wait
2- Rouhani's Protest against Dam Construction in Neighbouring States
3- Investment Finally Made in Iran's Oil Industry: Vote of Confidence for Iran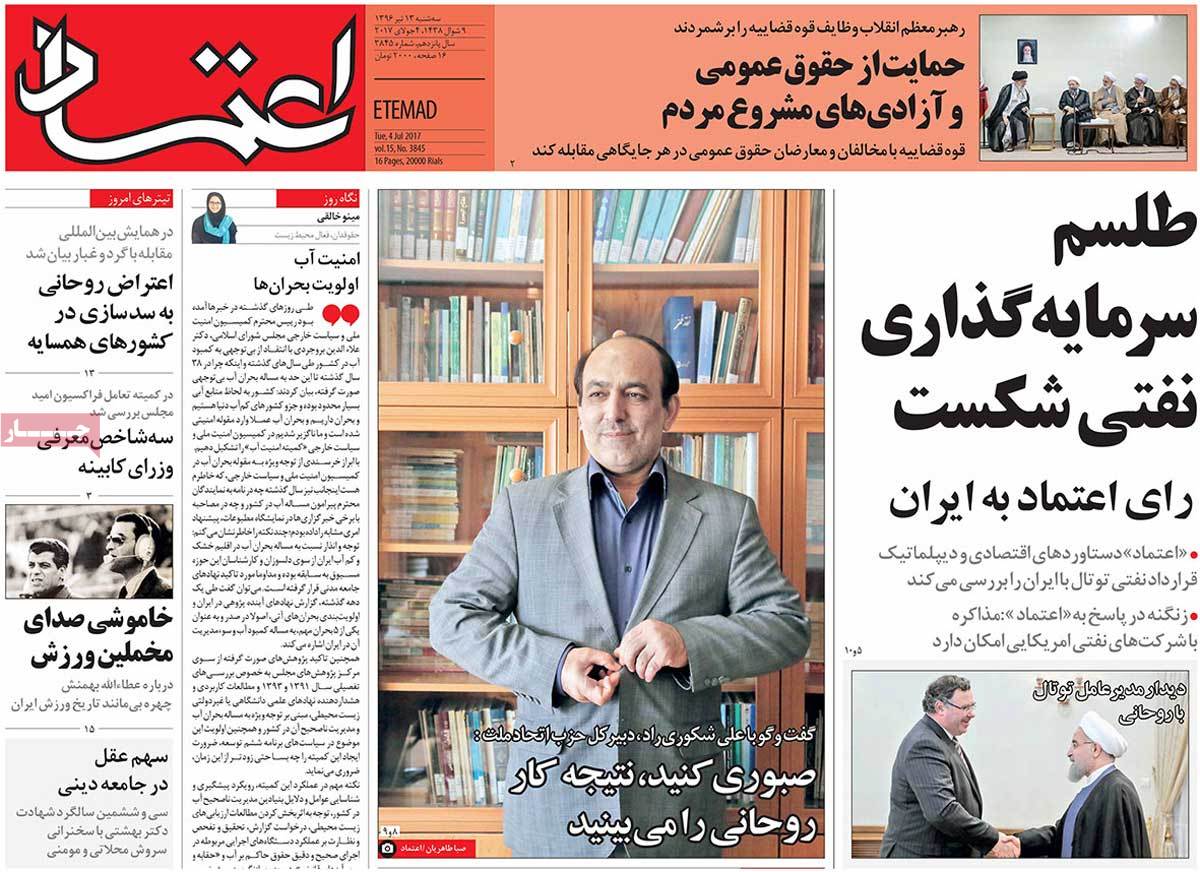 ---
Ettela'at:
1- Iran Leader: Supporting People's Legitimate Freedom Judiciary's Duty
2- Iraq Would Have Collapse without Ayatollah Khamenei, Imam Sistani: Ammar Hakim
34- Doha: Saudi Arabia Cannot Swallow Qatar
---
Haft-e Sobh:
1- The $5bn Giant: Iran, Total Sign Biggest Oil Deal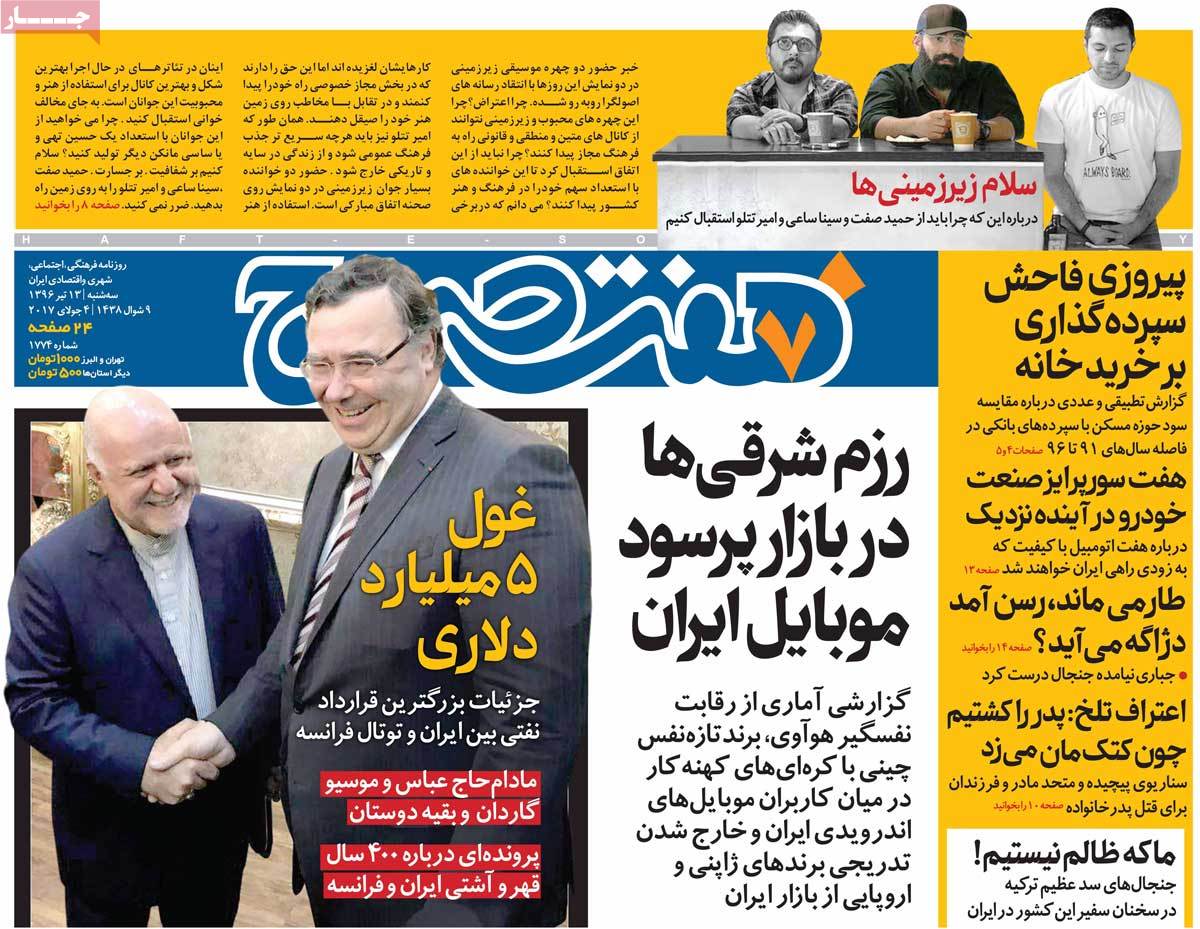 ---
Iran:
1- President: 80% of Iran's Dust Pollution Comes from Abroad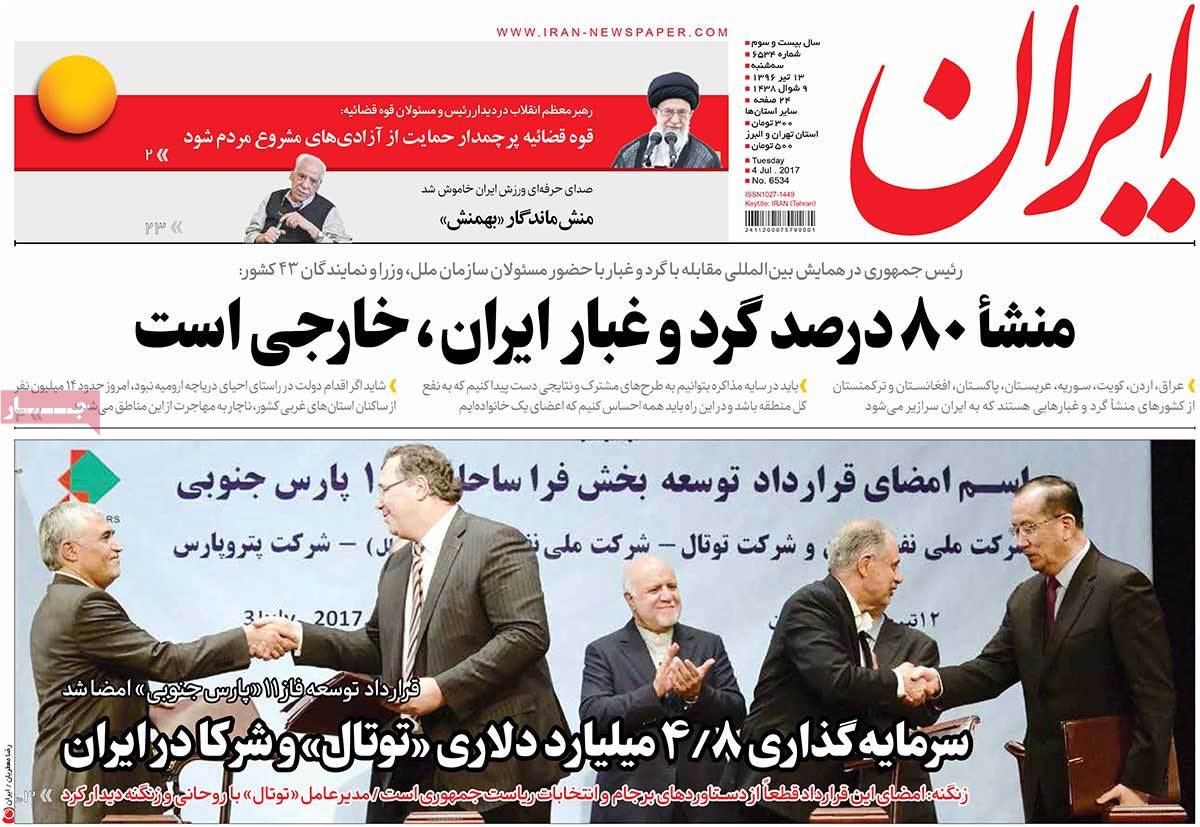 ---
Javan:
1- Leader: Judiciary Should Protect People's Rights on Elections, Dust Pollution
2- 'Qatar Partner' Wins Deal on South Pars Phase Closest to Border
First Oil Deal Gifted to Total after 4 Years
3- Worldwide Protest Rallies Calling for Trump's Impeachment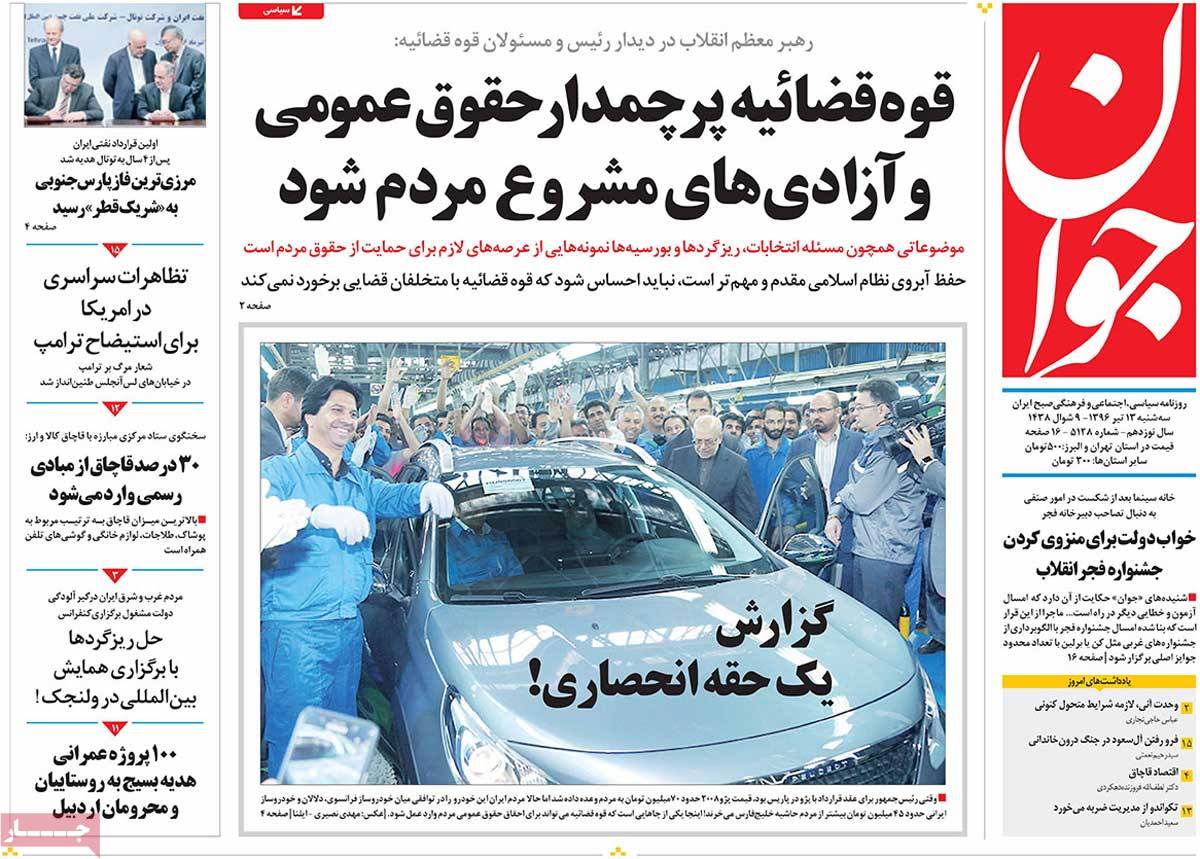 ---
Jomhouri Eslami:
1- Iran Leader: Judiciary Should Be Reformed from Inside
2- Hawking: Trump to Turn Earth Globe into Hell
---
Kayhan:
1- Iran Leader: Serious Punishment of Offenders Gives People Hope, Peace
2- Sunday Times: British Army's Shocking Crime against Innocent Afghans
3- Deal with Total, Rouhani Government's Reward for France's Treasons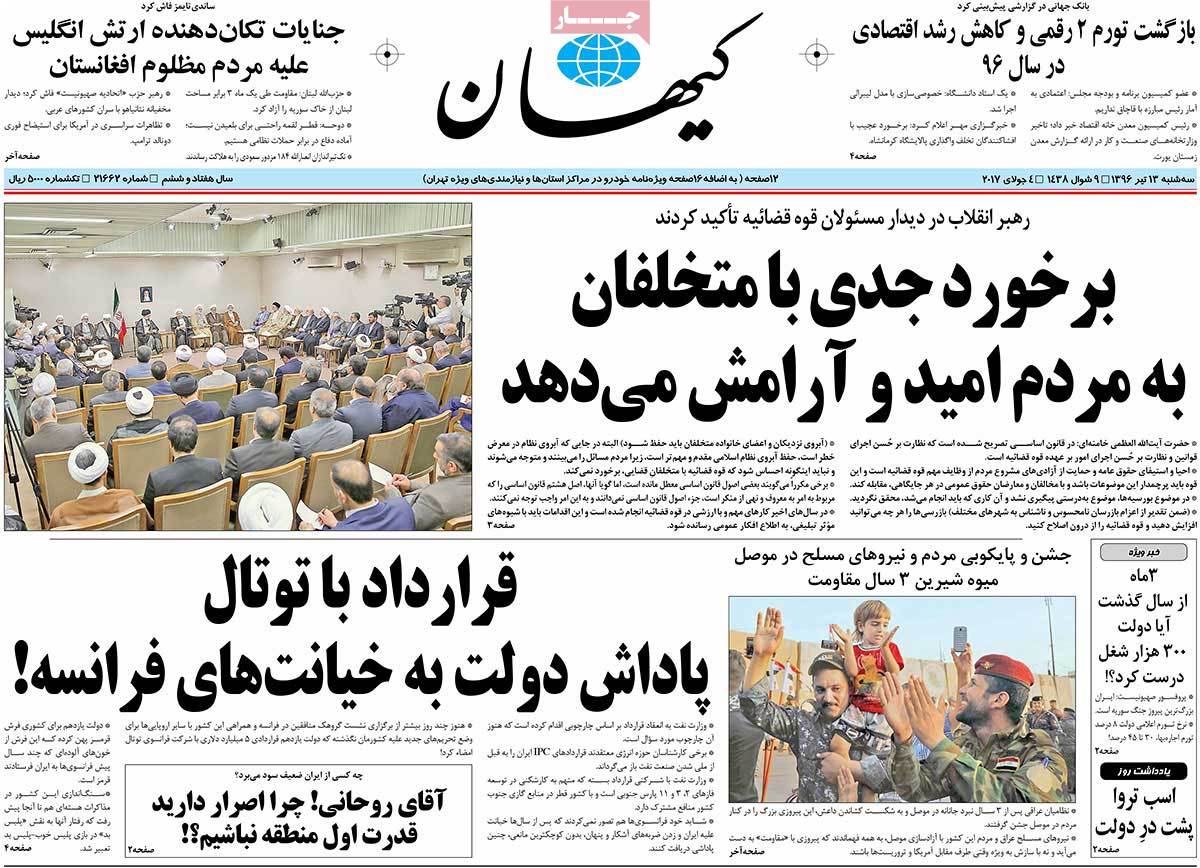 ---
Resalat:
1- Senior Lawmaker: Iran Worried about Hajj 2017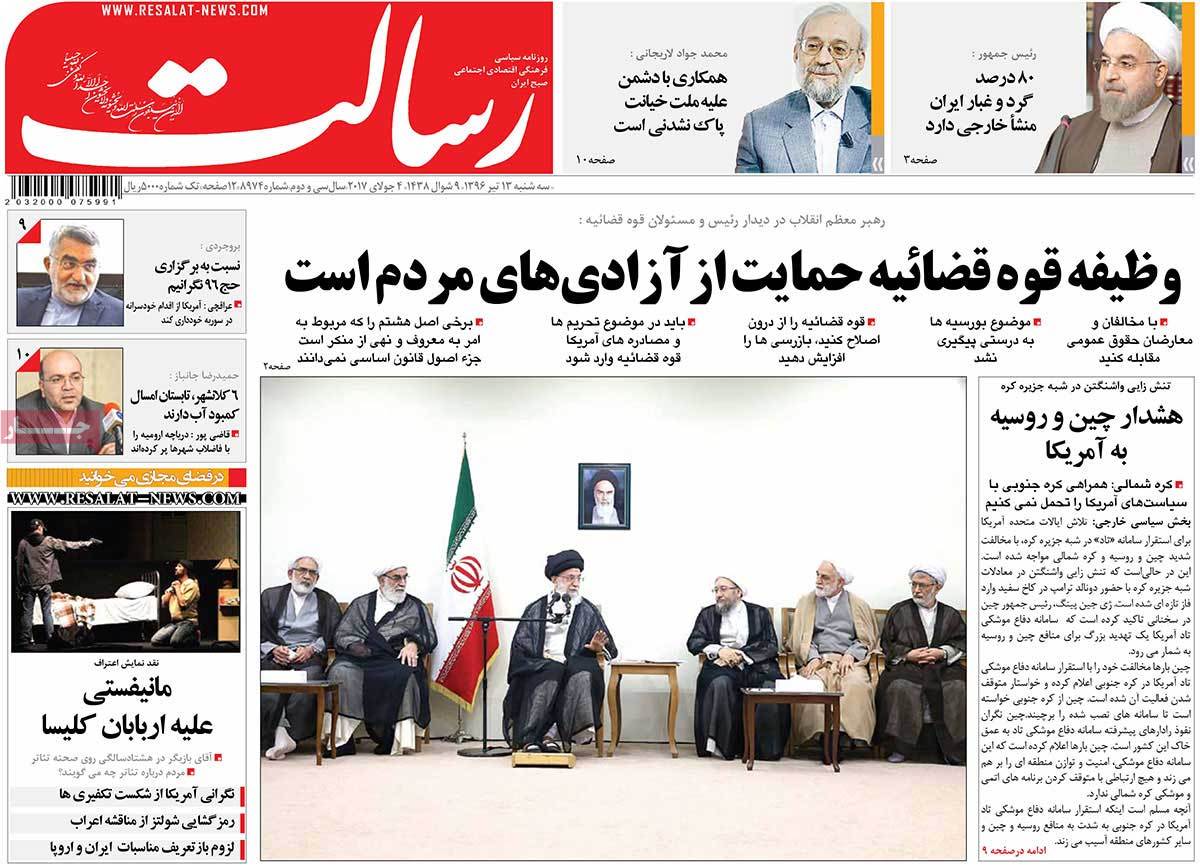 ---
Setareh Sobh:
1- Iran's Rouhani Calls for Win-Win Policy in World
2- 4 Arab States to Use Pressure and Diplomacy for Qatar after Deadline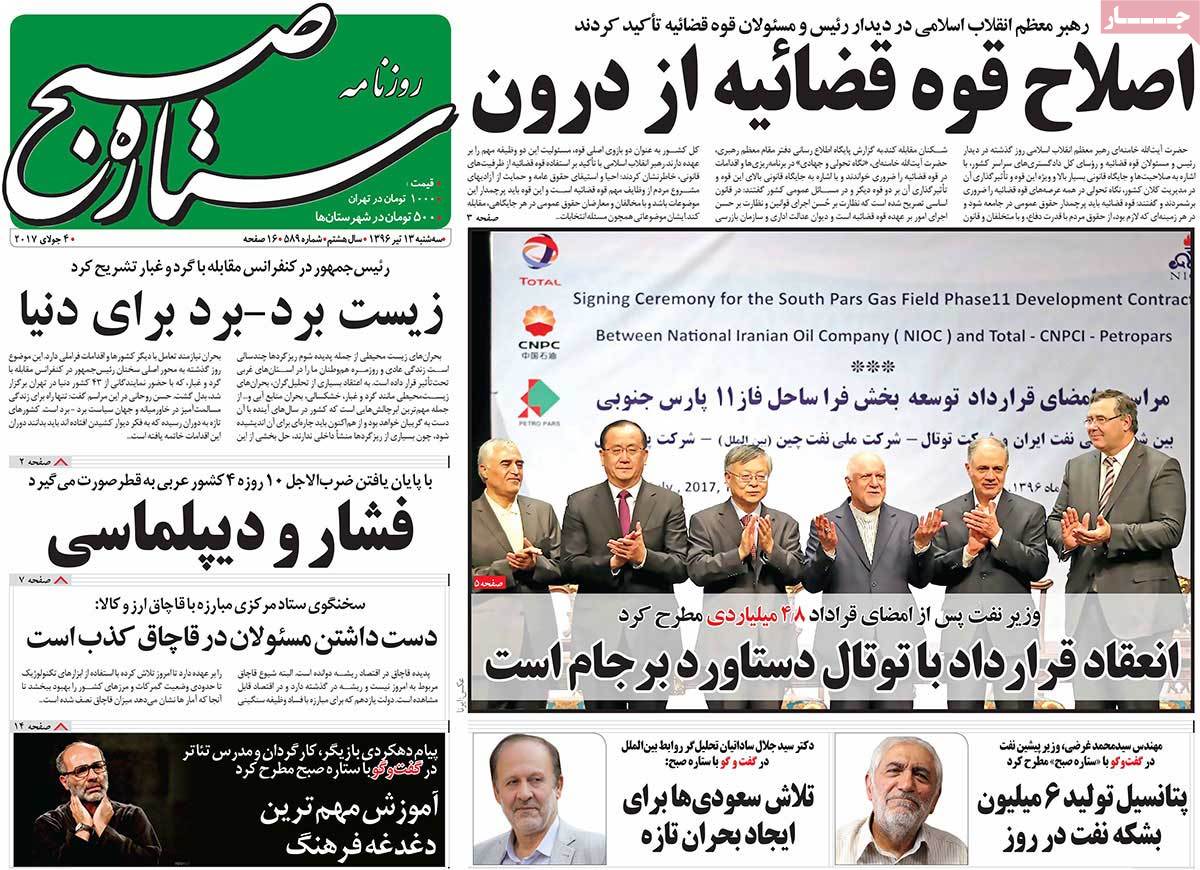 ---
Shahrvand:
1- Water to Become Security Issue in Iran, Entire Region
---
Shargh:
1- Total-Led Consortium Signs Historic Oil Deal with Iran
2- Rouhani May Appoint Army General as Defence Minister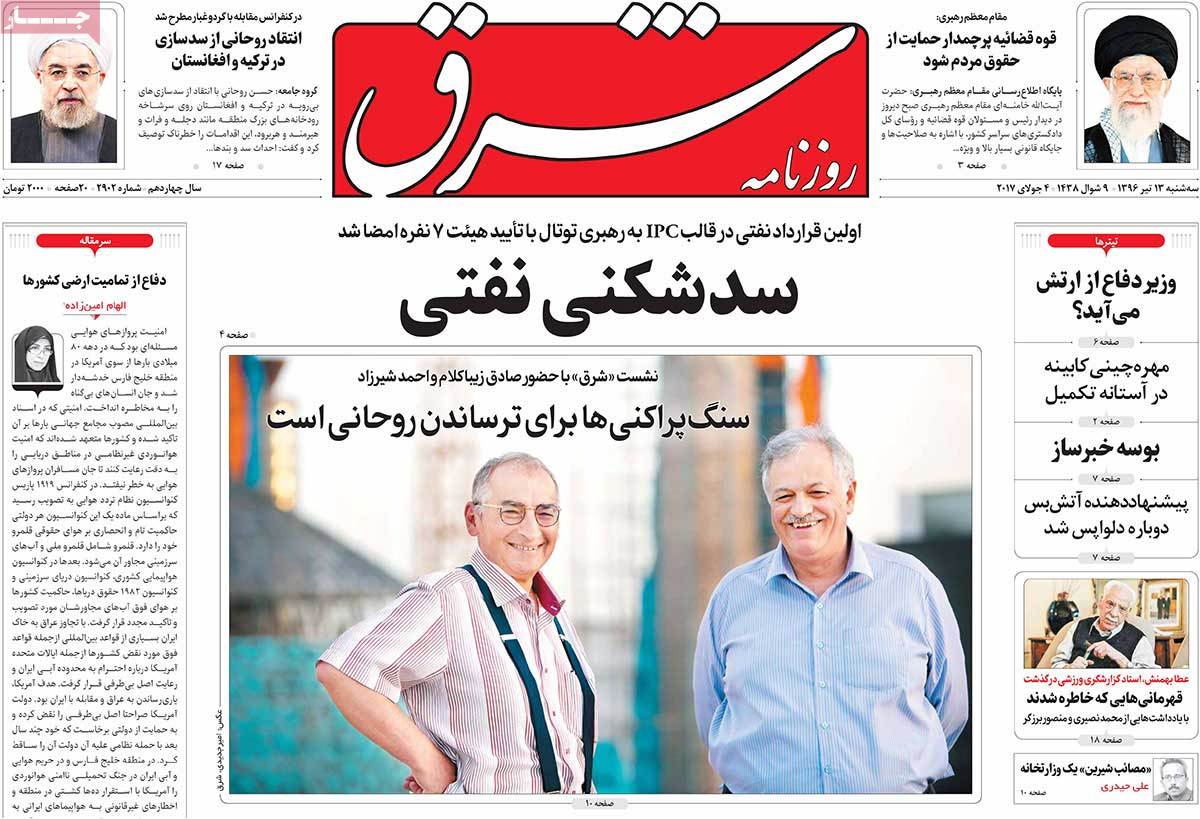 ---
Sobh-e Now:
1- Economic Concession to France: First Contract Signed Based on IPC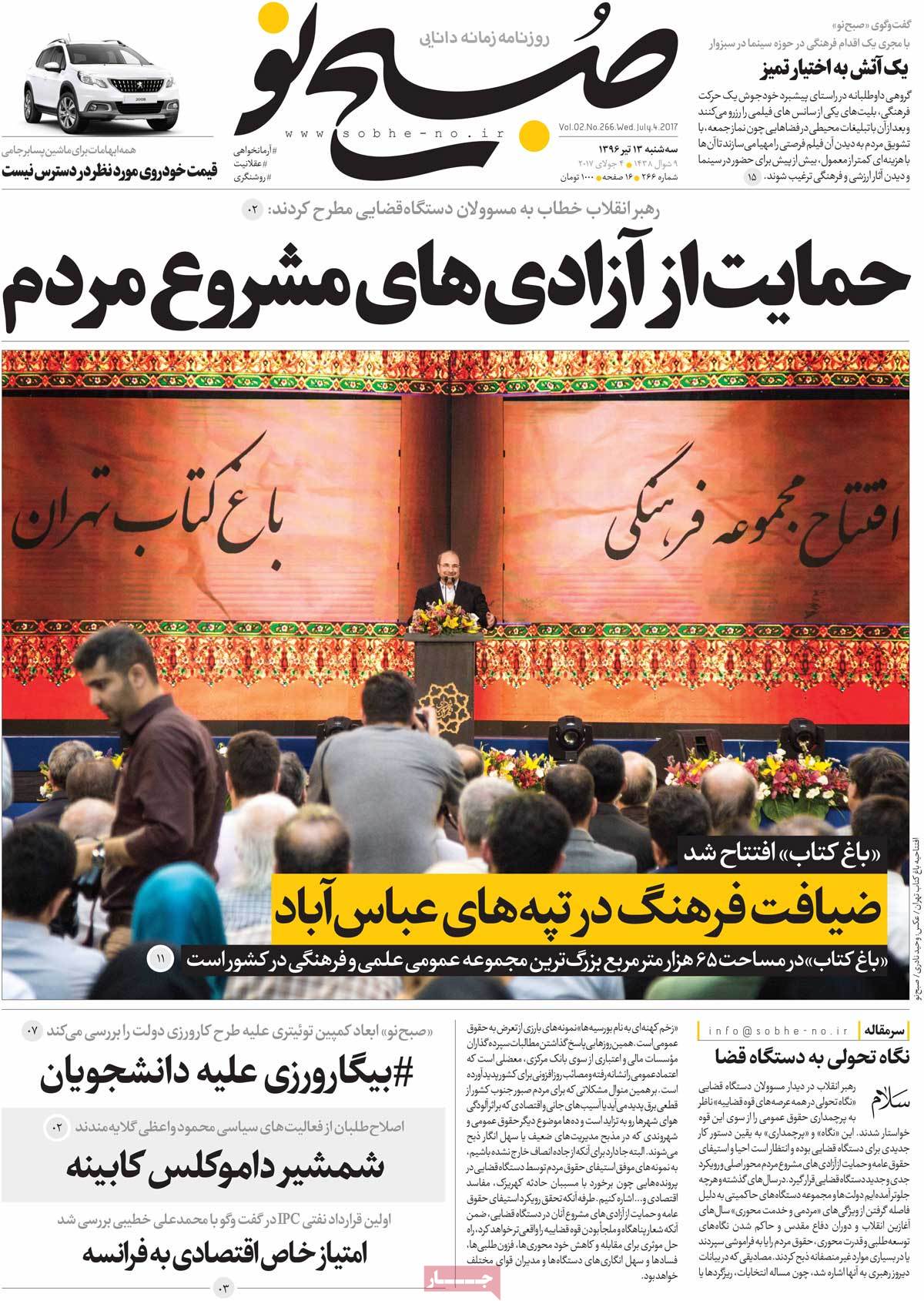 ---
Vaghaye Ettefaghieh:
1- Banned from Sleeping in Graves, Forced to Live in Deserts
A Report on Controversial Grave-Sleepers in Tehran