The top story today was the list of President Hassan Rouhani's ministerial nominees, which was submitted to the Parliament for vote of confidence.
It seems that Rouhani's list has not satisfied either his reformist supporters or his conservative opponents. His reformist supporters, particularly, believe that some of his ministers should have been replaced, and at least one female minister appointed.
The Iranian lawmakers' controversial selfies with EU Foreign Policy Chief Federica Mogherini also remained a top story, with the Parliament condemning the fuss made about it in Iranian media, the IRIB in particular.
Another top story was the remarks made by Ali Akbar Salehi, the head of Atomic Energy Organisation of Iran (AEOI), in an interview with Lebanon's Al Mayadeen TV about the US breach of nuclear deal and Iran's possible reaction.
The above issues, as well as many more, are highlighted in the following headlines and top stories:
Abrar:
1- Larijani: Selfie with Mogherini Was Negligence
2- Judge to Oil Criminals: If You Don't Pay Debts, You'll Be Executed in Front of People's Eyes
---
Aftab-e Yazd:
1- Neutral Cabinet: Rouhani Submits List of Proposed Ministers
2- Poll Shows MPs Not Satisfied with Rouhani's List, Activists Disappointed, but Convinced
3- Larijani: Due to Space Limits, We Couldn't Invite Some People to Inauguration Ceremony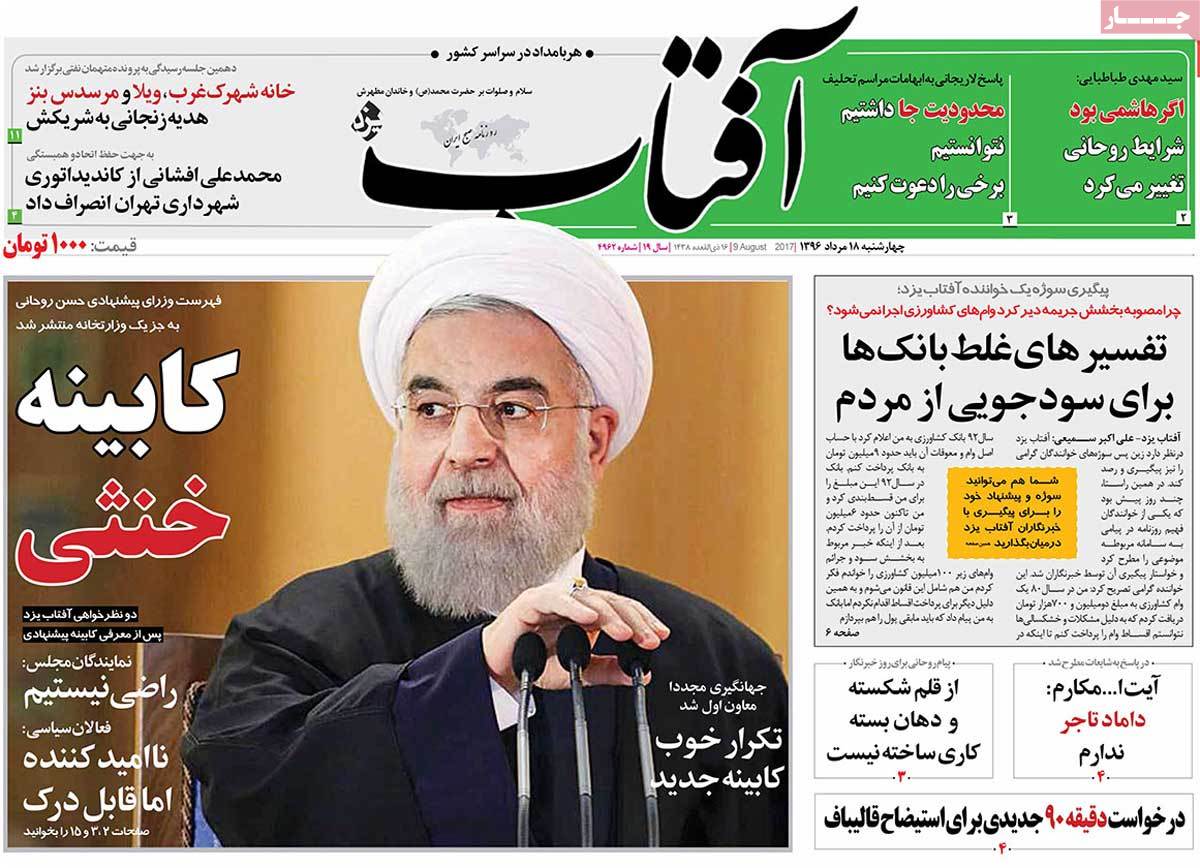 ---
Arman-e Emrooz:
1- And Here's Rouhani's Cabinet: Government 3 Years Younger
2- 22% Increase in Number of Divorces in Tehran\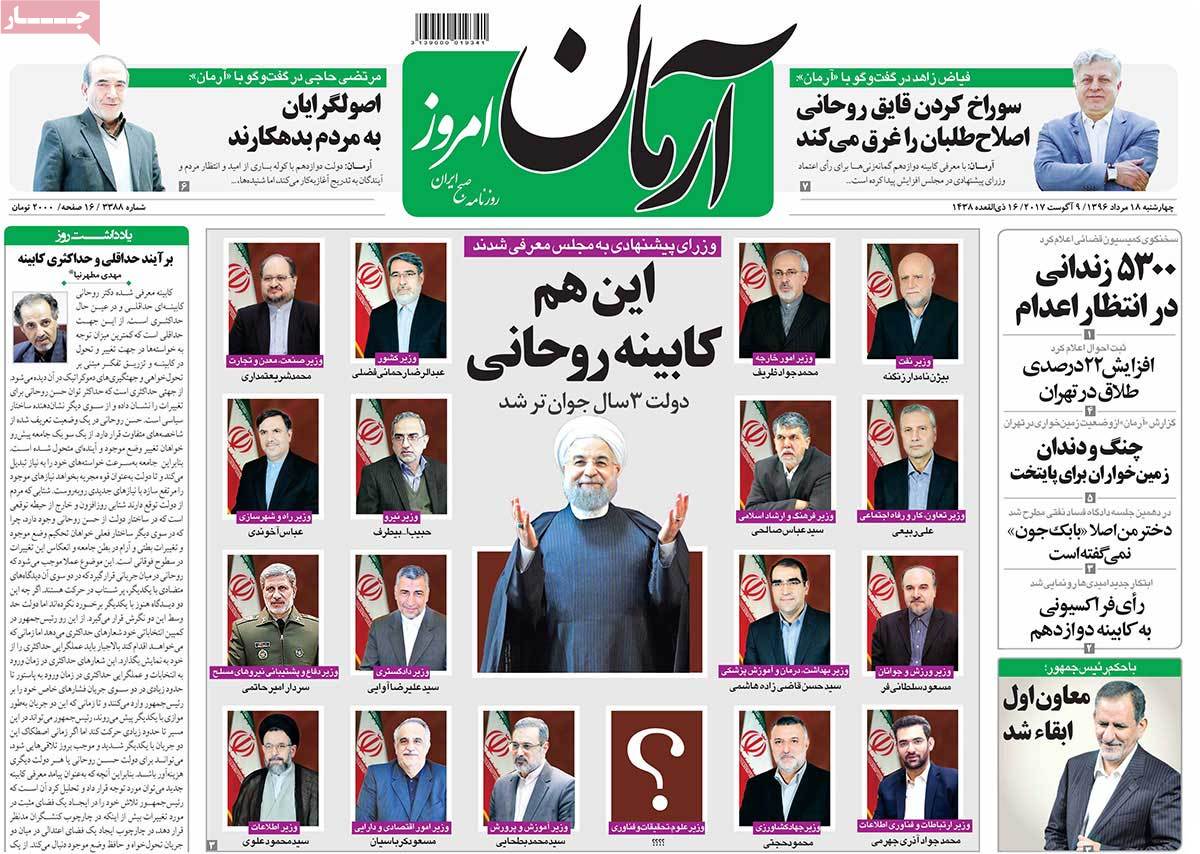 ---
Asrar:
1- Jahangiri Remains Rouhani's First VP
2- Iran Nuclear Chief: All Options on Table If US Breaches Nuclear Deal
3- CNG Syndicate Praises Oil Minister for Deal with Total
---
Etemad:
1- A Slight Change: Half of Rouhani's Cabinet Changed, but Supporters Not Satisfied
2- Rouhani's Political Team Remains Unchanged, Economic Team Modified, Cultural Team Changed
3- Women's Absence from Rouhani's List of Ministers
4- First VP: Number of Senior Female Managers to Be Increased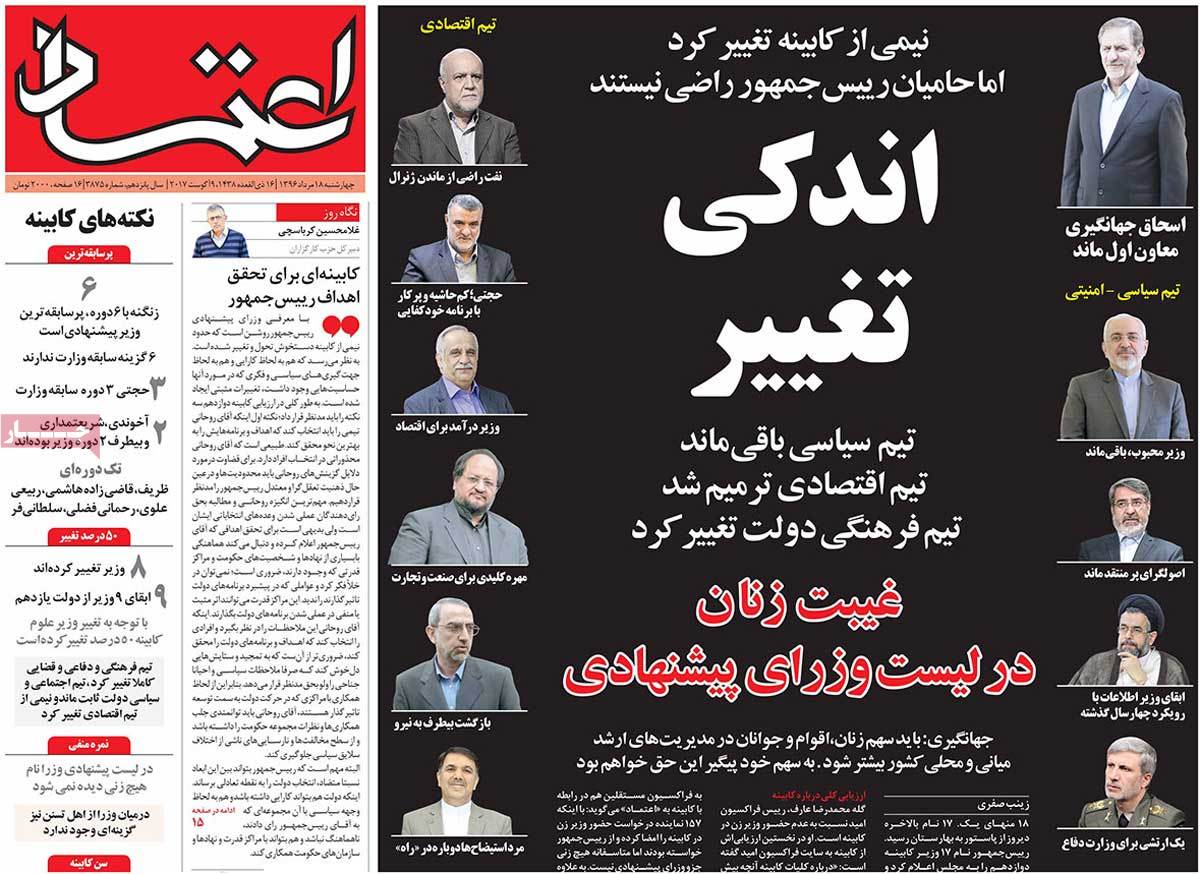 ---
Ettela'at:
1- Zarif: Americans Should Pay Price for Scrapping Iran Deal
2- Rouhani: Let's Avoid Breaking Pens on False Pretexts [on Journalists' Day]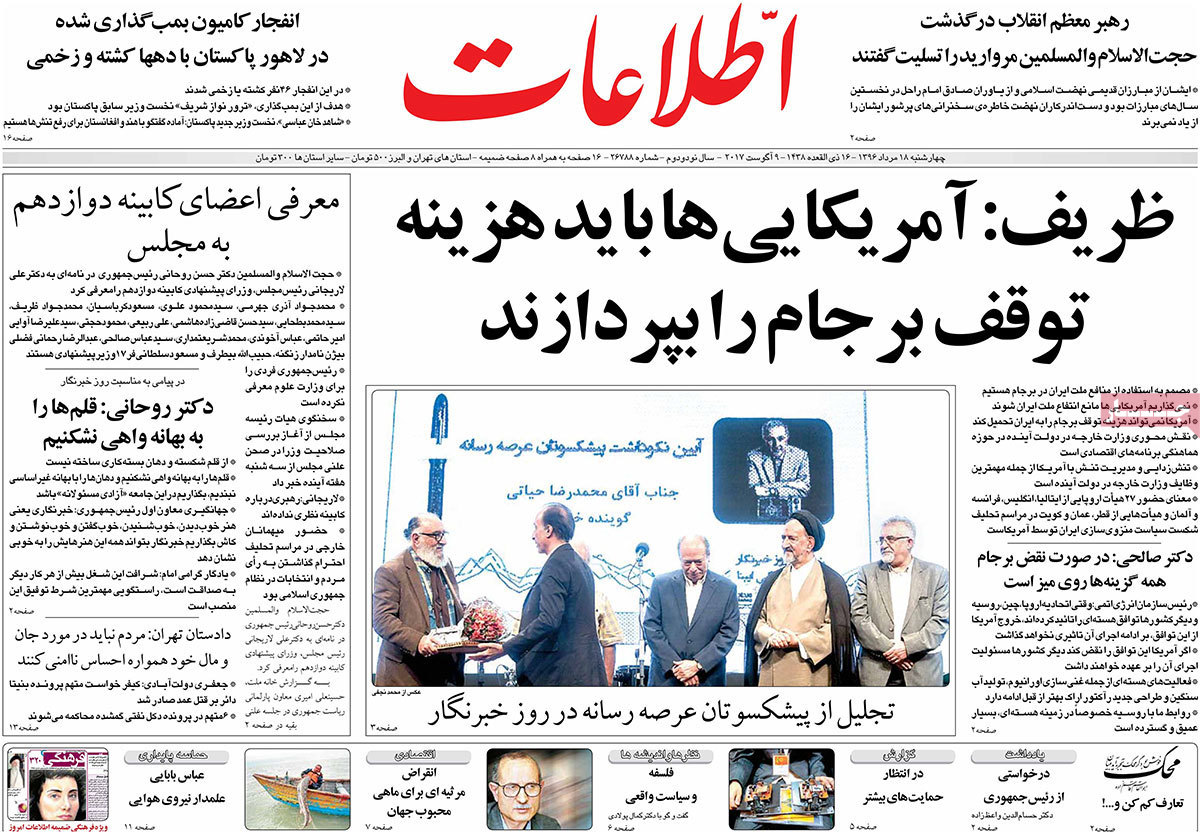 ---
Iran:
1- They Didn't See Glory of Inauguration, They Just Saw Selfie
2- IRIB's Move to Marginalise Swearing-in Ceremony against National Interests: Larijani
3- Parliamentary Committee Formed to Pursue Ending House Arrest of Opposition Leaders
Larijani Has Vowed to Seriously Follow up on Issue: MP
---
Javan:
1- 9 out of 18 Ministers Changed in Rouhani's New Cabinet
Rouhani Didn't Believe in Prudence of Half of His Cabinet Members
2- Iran Nuclear Chief Wants to Implement JCPOA Even without US!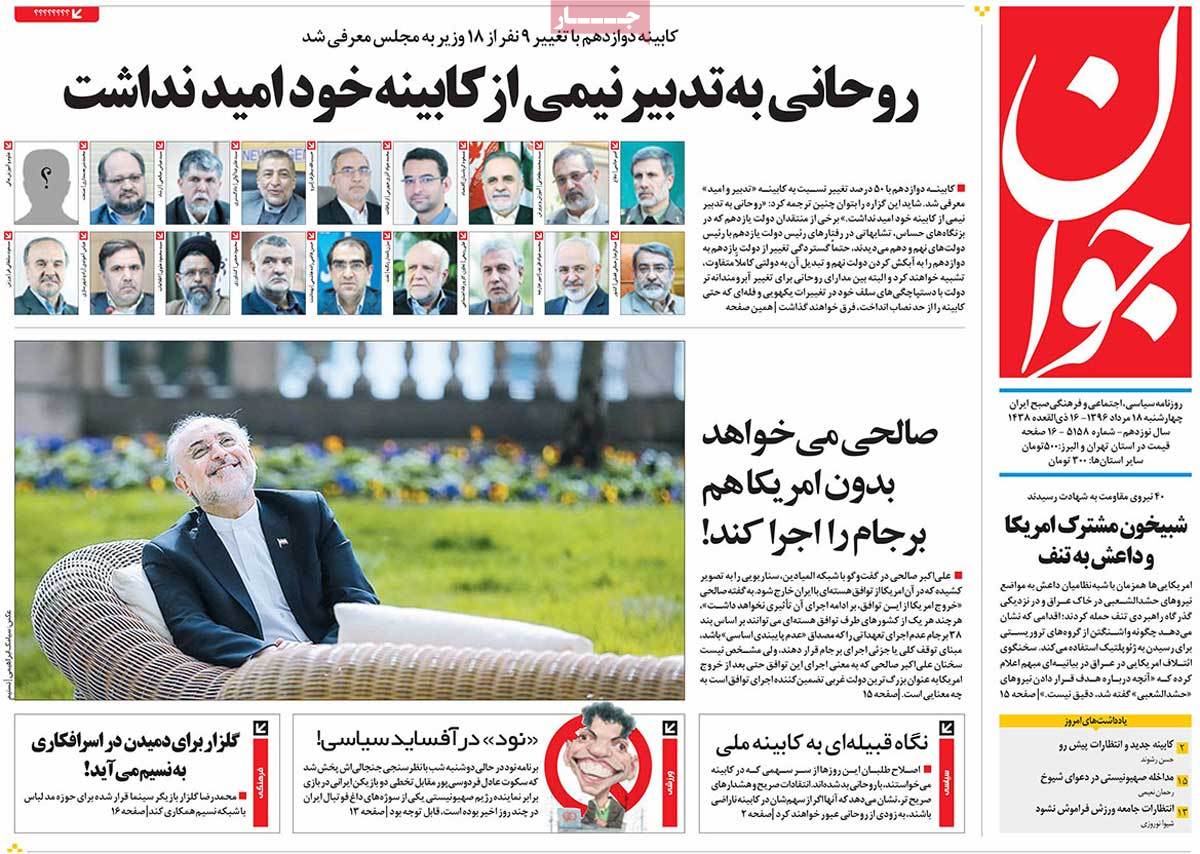 ---
Jomhouri Eslami:
1- Iran-Renault Deal Assures European Firms of JCPOA's Survival
2- AEOI Chief to Al Mayadeen: US to Lose If JCPOA Violated
3- British Official: London Has Noticed Iran's Positive View Due to JCPOA
4- 40 Iraqi Popular Forces Killed by US Airstrike on Syria-Iraq Border
---
Kayhan:
1- New Cabinet Introduced: Are Rouhani's Ministers Compliant with His Promises?
2- Senior Arab Author: Resistance's Victories, from Palestine to Yemen, Thanks to Iran Support
3- Sports Minister Condemns Two Iranian Football Players for Playing against Israeli Team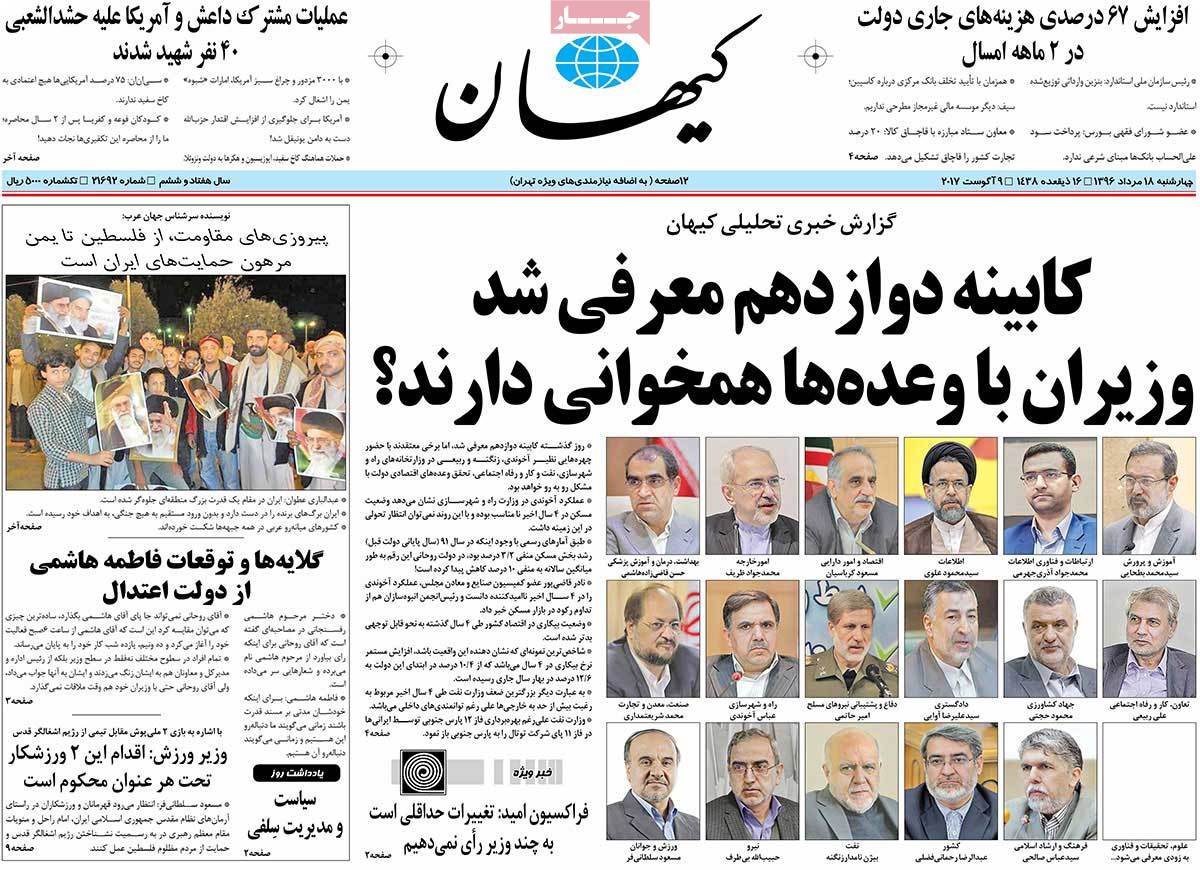 ---
Resalat:
1- Ayatollah Javadi Amoli: Intimidating Enemies to Be Rewarded by God
2- Standard Organization Chief: Imported Petrol Not Based on Standards
3- CBI Governor: We No Longer Have Illegal Financial Institutions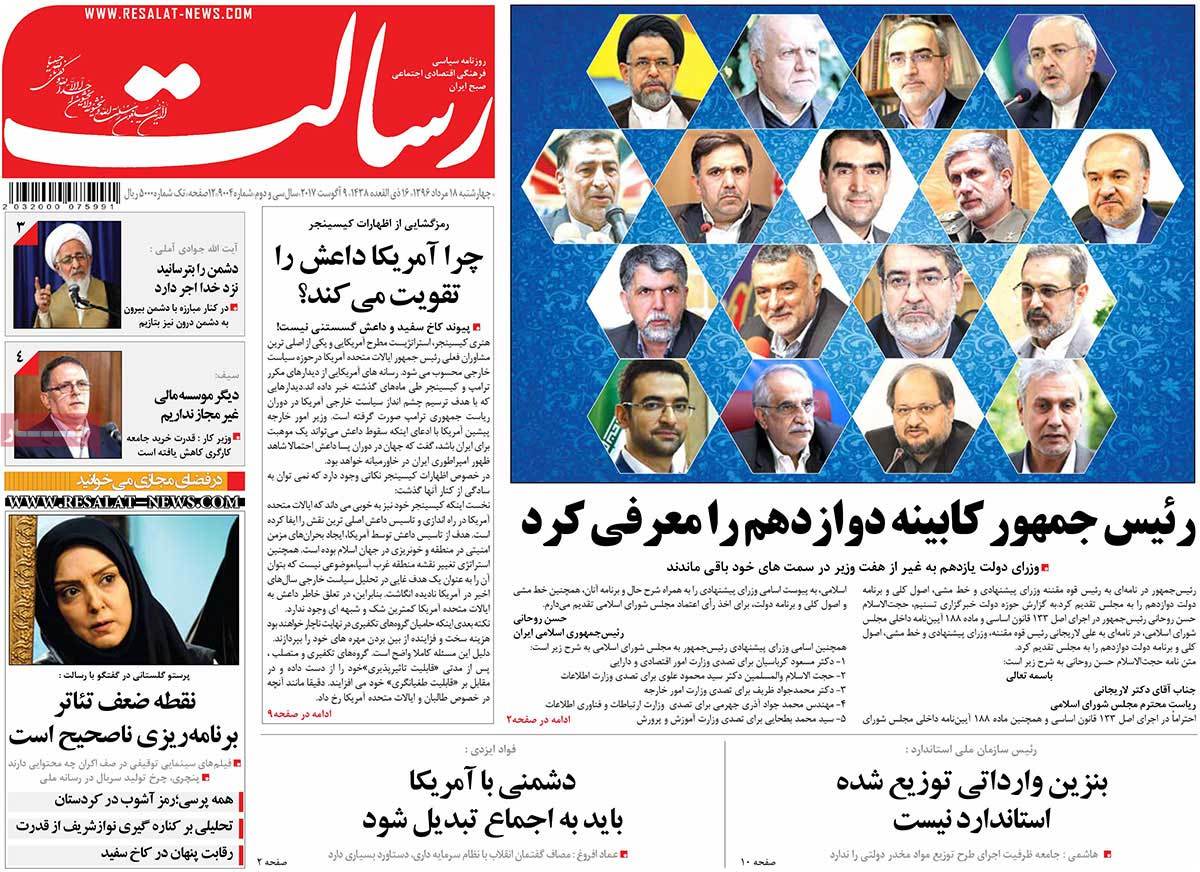 ---
Rooyesh-e Mellat:
1- Larijani: Swearing-in Ceremony Proves Isolation of Iran Pointless
2- Saudi Arabia to Decrease Supplying Oil to Asia by 10%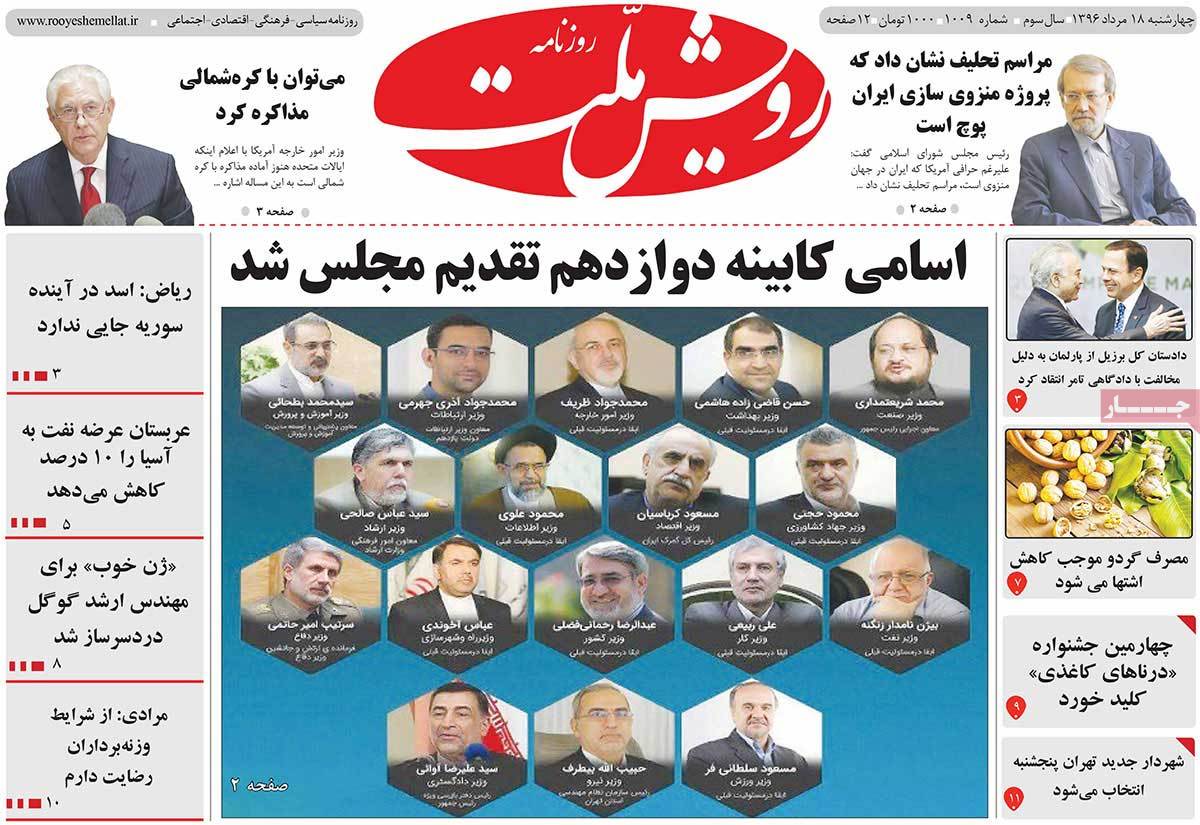 ---
Shargh:
1- Rouhani's Men: New Ministers Unveiled
2- Aref: We Expected to See at Least One Female Minister
3- Deputy FM Explains IRGC Quds Force's Relation with Foreign Ministry
4- Parliament's Failure to Invite Top Sunni Figures Regrettable