According to a report by Mehr, as translated by IFP, Imam Hussain, the grandson of Prophet Muhammad (PBUH) is not only an important religious figure for Shiite Muslims, he is also a unique personality in human history. About 1,400 years after his martyrdom, millions of people are mourning on Arba'een, the fortieth day after the Day of Ashura – his martyrdom anniversary – to recount his story and to value "freedom" and "justice". However, there are still people who don`t know Imam Hussain; and maybe the ISIS` barbarism has shaped the picture of Islam for them.
It has been a few years that "Who is Hussain" campaign is introducing Imam Hussain to the world and talking about social justice. Mehr has interviewed the campaign's members in Toronto, Canada, to hear about their experiences this year.
Christian and Hindu volunteers
The campaign was set up by young people living in London in 2012. Now you can meet the members in the US, France, India, Germany, Norway, Australia, etc. Not all of them are Muslims: "We have volunteers from different Islamic sects, as well as Christians and Hindus, and we work closely with Syrian refugees in Canada; among them are Muslims, Christians and Yazidis."
This movement endeavours to present Imam Hussain`s personality through charitable and peaceful activities. So far in this campaign, members have distributed food among the poor, donated blood, and helped the victims of wars and disasters, all to introduce Imam Hussain and the philosophy of Ashura.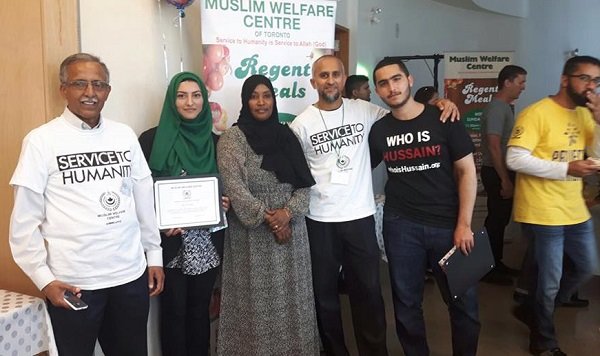 We find the ones who never heard about Imam Hussain
"When we talk about Imam Hussain, people are wondered and like to know more; we generally choose non-Muslim people, the ones who never heard about Imam Hussain before," says Emtiaz Karamali, the group`s leader in Toronto.
Introducing Imam Hussain as a social reformist
"Who is Hussain" campaign is active throughout the year and not only in the days when people mourn for Imam Hussain. The members affirm that they have no intention to change people`s religions; they are in search for the alien concept of "social justice" in today`s world, and they present Imam Hussain as their representative.
"After introducing Imam Hussain as a social reformist, we talk about his sacrifice and resistance for the sake of honour, equality and justice, and his lesson that teaches us it is better to die with honour rather than to live in humiliation," says a member about their way of communication with people.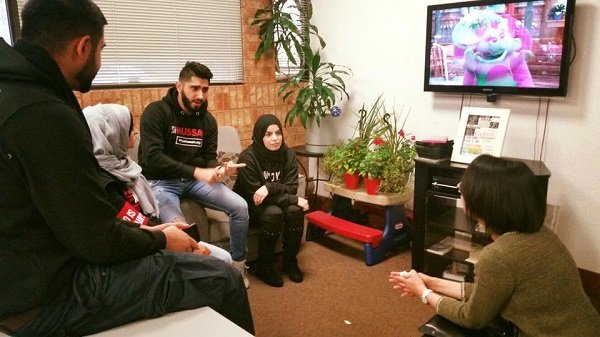 They are fascinated when they learn about 20 million people in Arba'een pilgrimage
The Ashura uprising took place 14 centuries ago; however, it is an eternal and universal story that still attracts people after all these years.
"Various parts of the story can be interesting to our audience. For example, the fact that Imam Hussain resisted the oppression with an army of just 72 people, consisting young and old, Arab and Persian people. In our days when various cases of social injustice, inequality, racism and religious discrimination are rampant, our audience is fascinated by the story of a man who strongly resisted  the injustice of the Arab society 1,400 years ago," campaign members in Toronto said.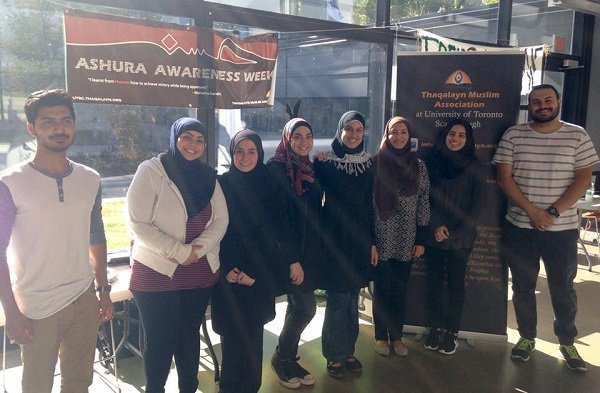 We began with lighting candles for victims
In Canada, the campaign started its activities with lighting candles for victims of Baghdad 2016 explosion in [Islamic month of] Ramadan. Because of that, a meeting was held with 3,000 people in attendance. Mainstream news channels highlighted the event, and this contributed to "Who Is Hussain" campaign's other activities in North America.
A Sunni Muslim thought Shiites worship Imam Hussain
"Some weeks ago, we participated in a police workshop for Syrian refugees to talk about our campaign… we discussed it with two policemen who wanted to know more about Imam Hussain. One of them was a Sunni Muslim, and the other, a Christian black man. The first told us that he thought we, the Shiites, worshipped Imam Hussain. We made it clear to him that we respected Imam Hussain but only worship God. After that, he gave us his contact information and asked us to give him more information.
The second policeman was black. Not only was he impressed by the story of Imam Hussain, but he also wanted to know more about Islam because he believed that this religion was like Christianity in many regards, that the message of Imam Hussain was for all people around the world and everyone should know him," the members added.