Several papers today continued to cover the historic devaluation of the Iranian rial against the US dollar, and worrying price hikes and shortage of basic goods in the country.
Also a top story was the Iranian car manufacturer Saipa's pre-sale of its relatively low-quality cars, which were hugely received by the people. 700,000 people visited the page in one second to buy the cars it offered.
The upcoming meeting between the presidents of Iran, Russia, and Turkey, which is to be held in Tehran on Friday, also received great coverage.
The above issues, as well as many more, are highlighted in the following headlines and top stories:
Aftab-e Yazd:
1- 700,000 People Flock to Buy a Low-Quality Car in One Second!
2- American Invitation for Rouhani
3- Why Conservatives Should Also Be Blamed for Current Situation?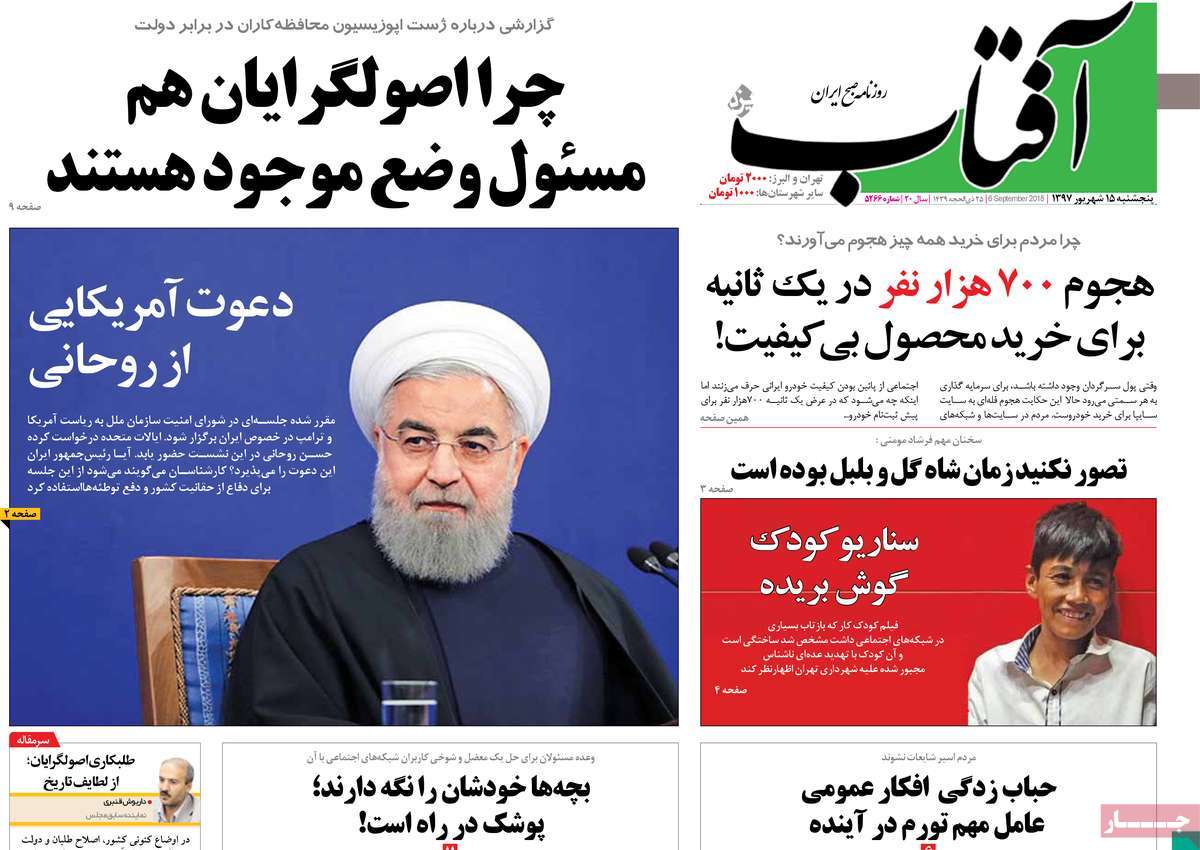 ---
Etemad:
1- Fake Viral Video Targets Tehran Mayor's Reputation
* Boy in Video Claims Municipality Agents Cut Off His Ear, While It's Not True
2- IRGC, Basij Chiefs Say Problems Are Economic, Not Political
3- Leaders of Iran, Turkey, Russia to Meet in Tehran for Peace
---
Ettela'at:
1- Gov't Spokesman Announces 12 Plans to Overcome Crisis
2- IRGC Chief: Peace, Friendship Iran's Message for Regional States
3- Hundreds of Palestinian Kids Deprived of Education after US' Aid Cut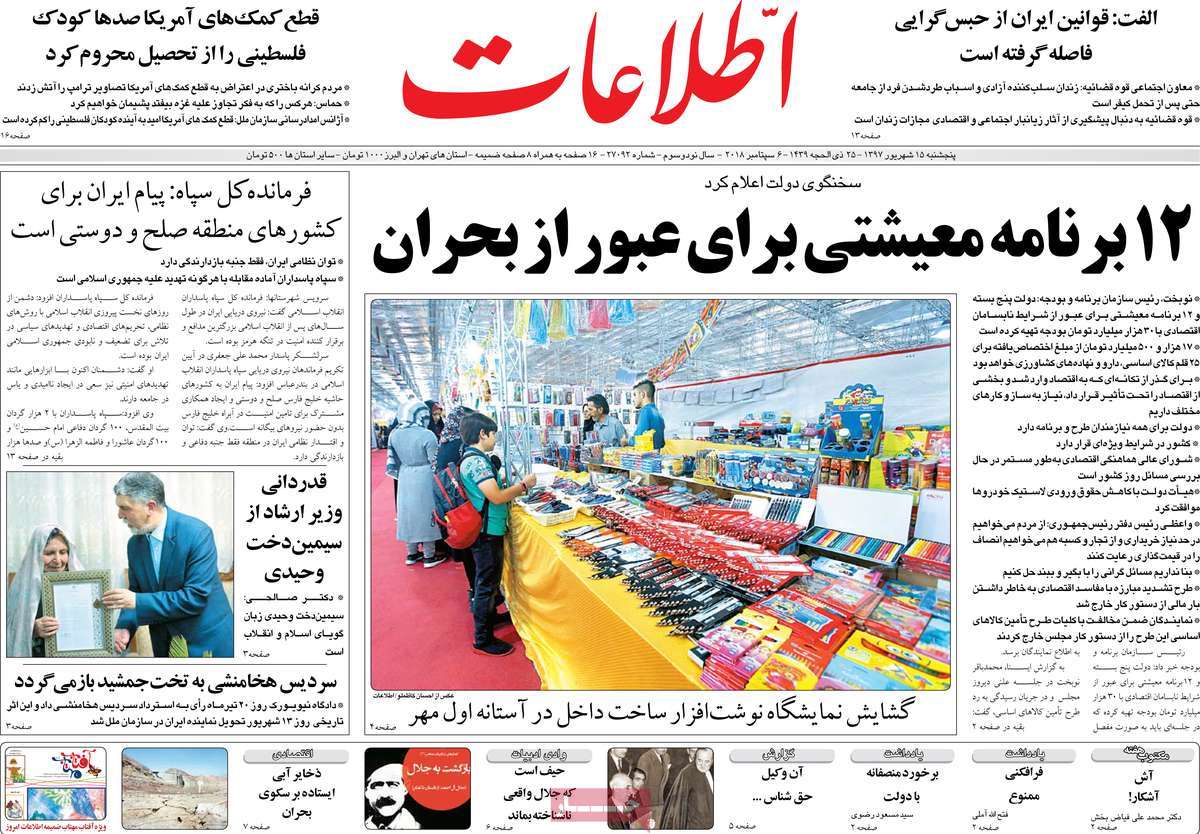 ---
Ghanoon:
1- Sistan and Baluchestan Province Paralyzed by Dust Storm
2- Fake Cutting Off of Boy's Ear
3- Future of Middle East Hinges on Idlib's Fate
---
Haft-e Sobh:
1- At Least 700,000 People Queued Up Wednesday to Pre-Purchase Iranian Cars
2- People Making Fun of Price Hikes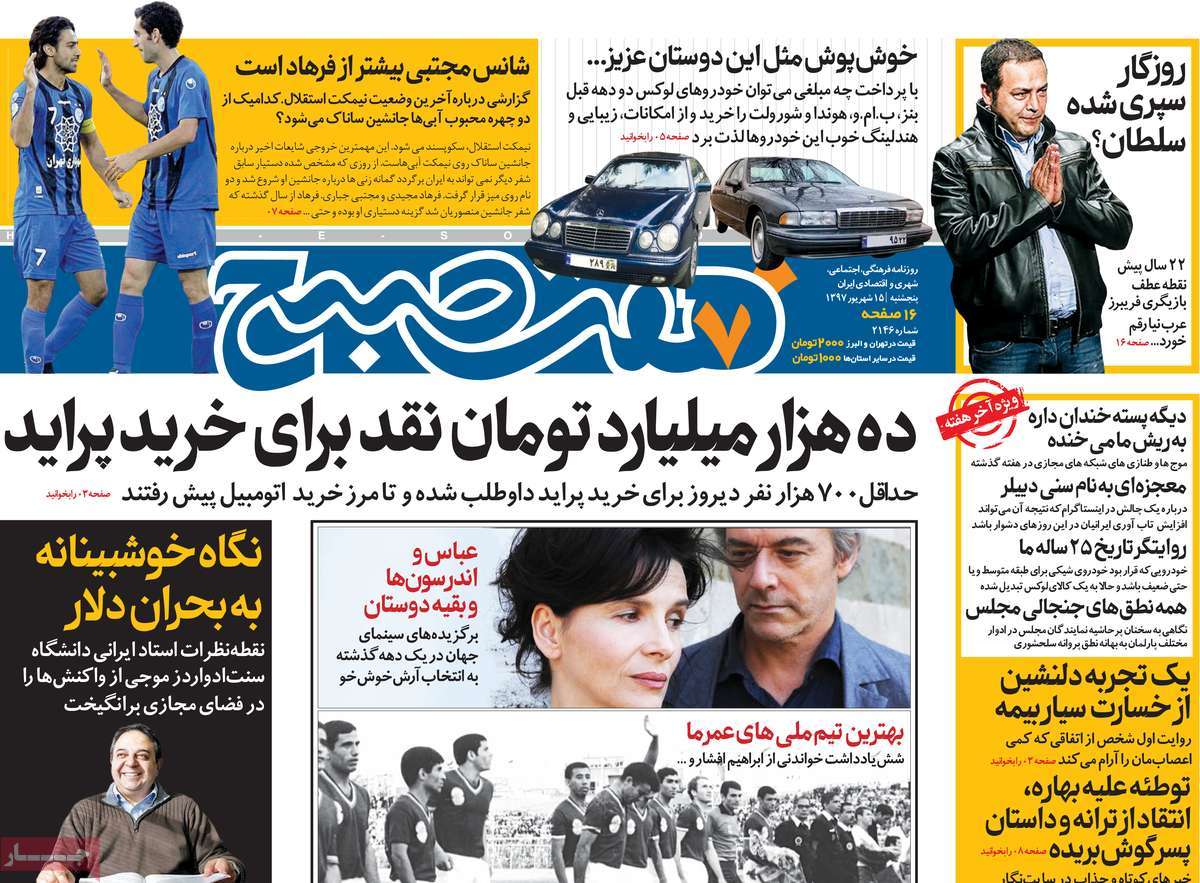 ---
Javan:
1- 8 Million Iranians Queue Up to Buy Low-Quality Car Pride
2- Countdown Begins for Offensive to Retake Idlib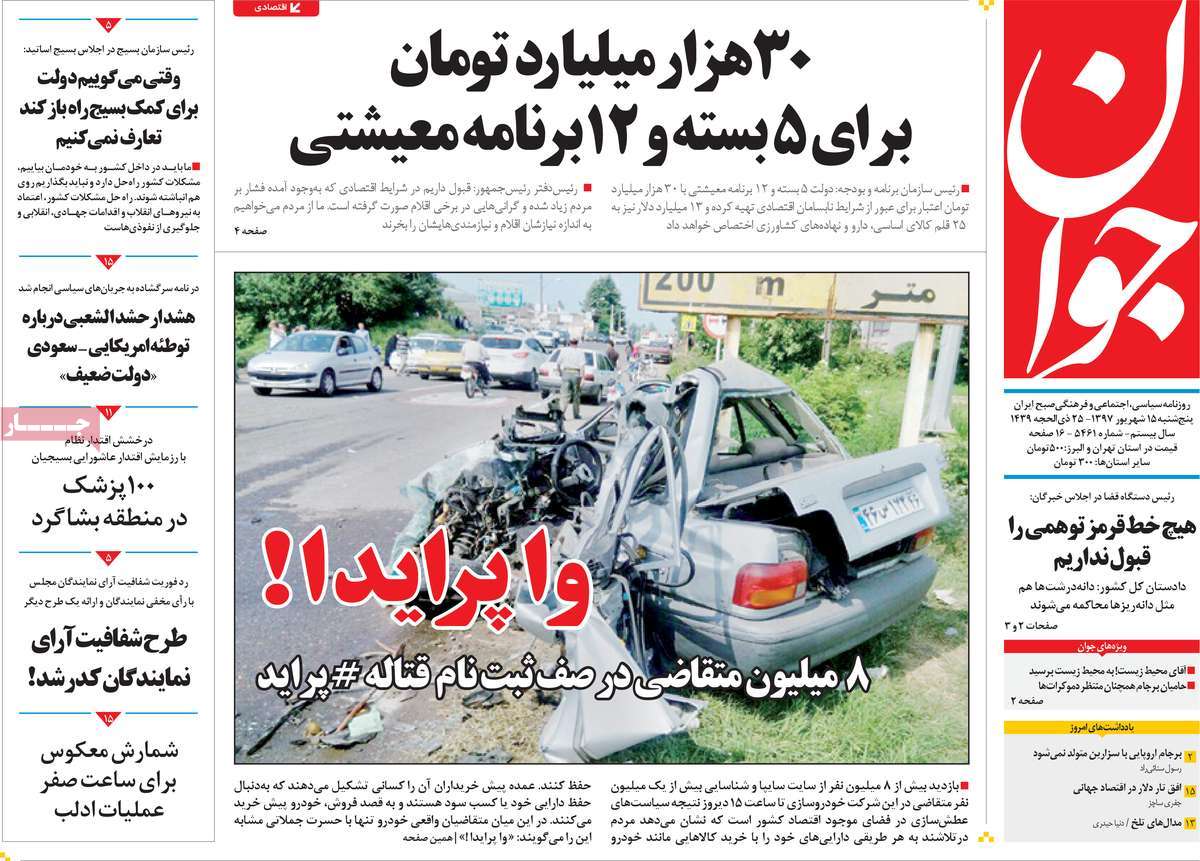 ---
Jomhouri Eslami:
1- Russia Calls on UNSC to Discuss US' Withdrawal from JCPOA
2- FM Zarif Talks of Trump's Chutzpah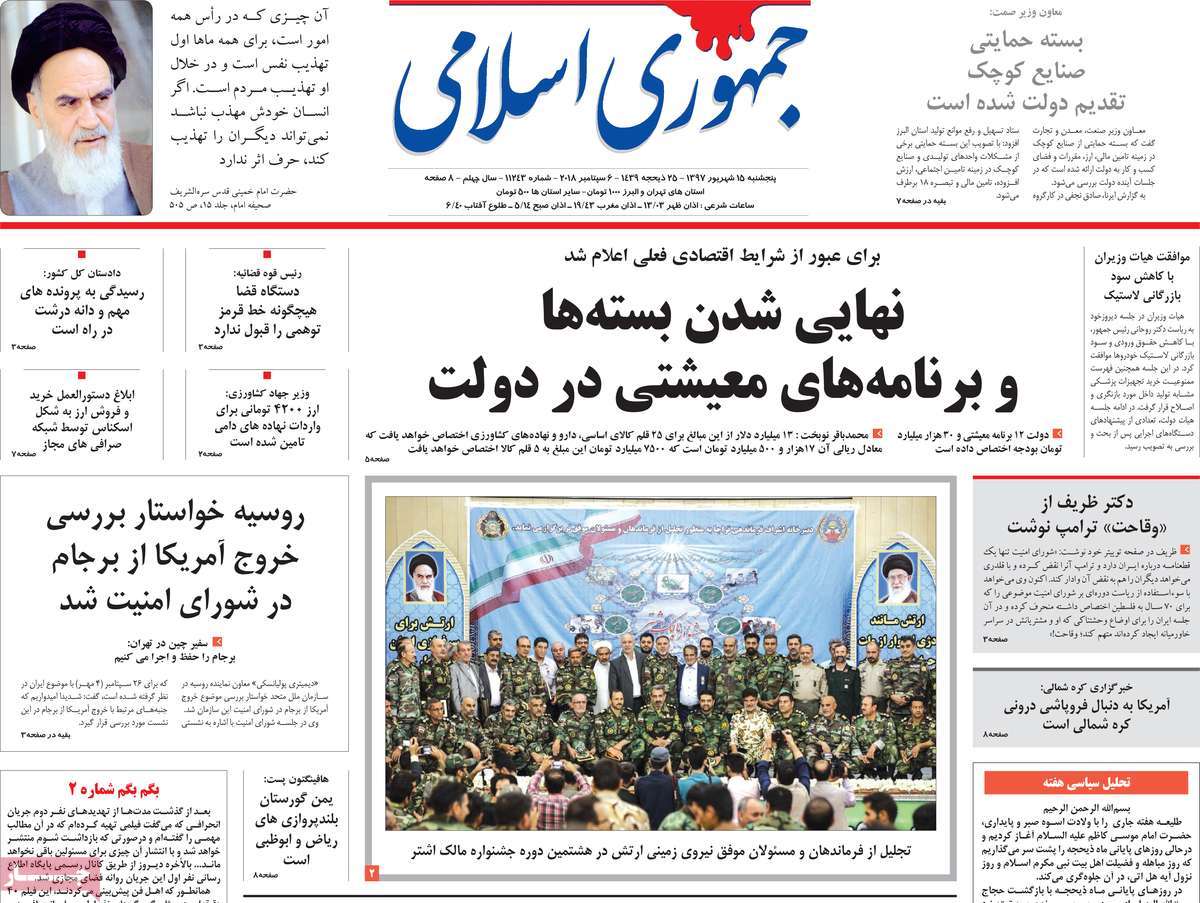 ---
Kayhan:
1- MPs Oppose Intensified Action against Corruption, Go on Vacation!
2- Israeli Regime in Rare Confession Admits It Supported Syria Terrorists
---
Khorasan:
1- Stationary Prices Up by 60%; People Outraged
2- Rouhani, Erdogan, Putin to Meet in Tehran Friday
3- Forex Market Can Be Controlled: Two Economic Analysts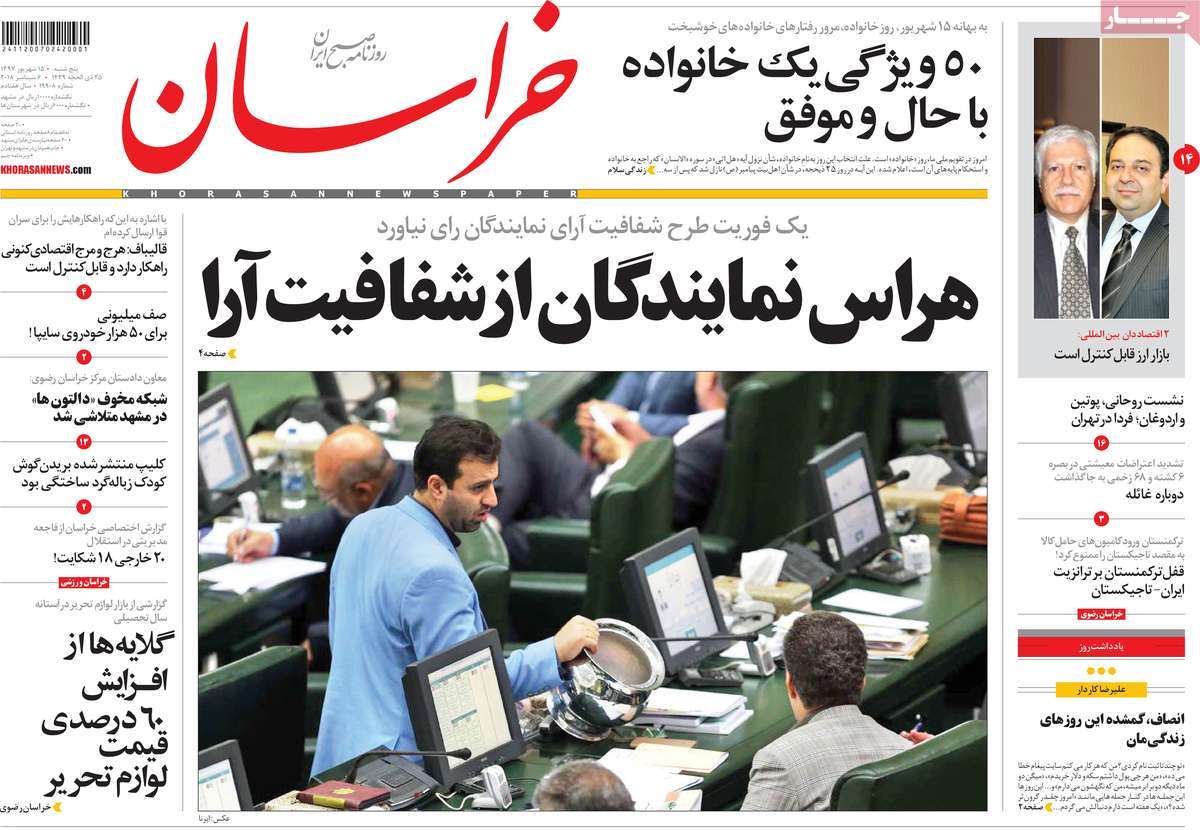 ---
Sazandegi:
1- Iranian People Faced with Shortage of Diaper, Powdered Milk
2- Last Battle of the Levant: Idlib Operation Imminent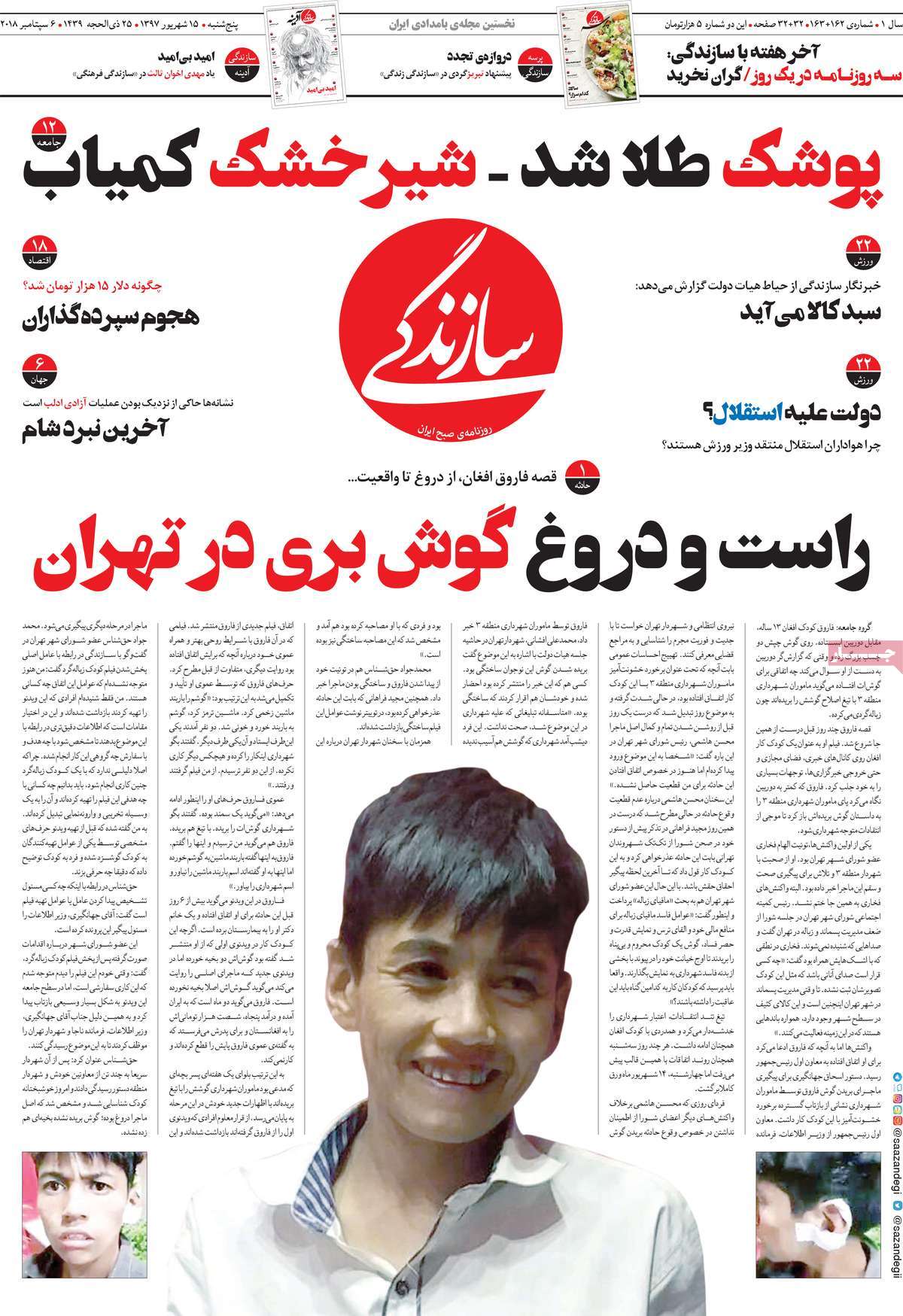 ---
Shahrvand:
1- Sad Destruction of Iranian Dinosaur in Rio Museum Fire
2- People Still Buying More than They Need: Diaper Producers
---
Shargh:
1- Trump, Rouhani May See Each Other at Security Council Meeting
2- Why Real Madrid Player Isco Ask Followers to Watch Asghar Farhadi's New Film