Iranian papers today widely covered the Iraqi Parliament's failure to elect a new prime minister, and the remarks made by Iran's Foreign Ministry Spokesman Bahram Qassemi about Tehran's stance towards the formation of the new Iraqi government.
Comments made by Iranian Foreign Minister Mohammad Javad Zarif about the Syrian army's upcoming operation to retake the north-western province of Idlib from militants also received great coverage.
Also a top story was the latest price hikes and the historic devaluation of the Iranian currency against the US dollar.
The above issues, as well as many more, are highlighted in the following headlines and top stories:
Abrar:
1- Netanyahu, US Special Envoy Discuss Iran, Syria
2- Iran to Work with Any Gov't Formed in Iraq
3- UK Trying to Work with Japan in Countering US Sanctions on Iran
---
Aftab-e Yazd:
1- Why France Is So Much Loved by Tourists?
2- Iraq PM: We Won't Endanger Interests of Iraqi People for Iran's Satisfaction!
3- Kerry: Iran Nuclear Deal Still Useful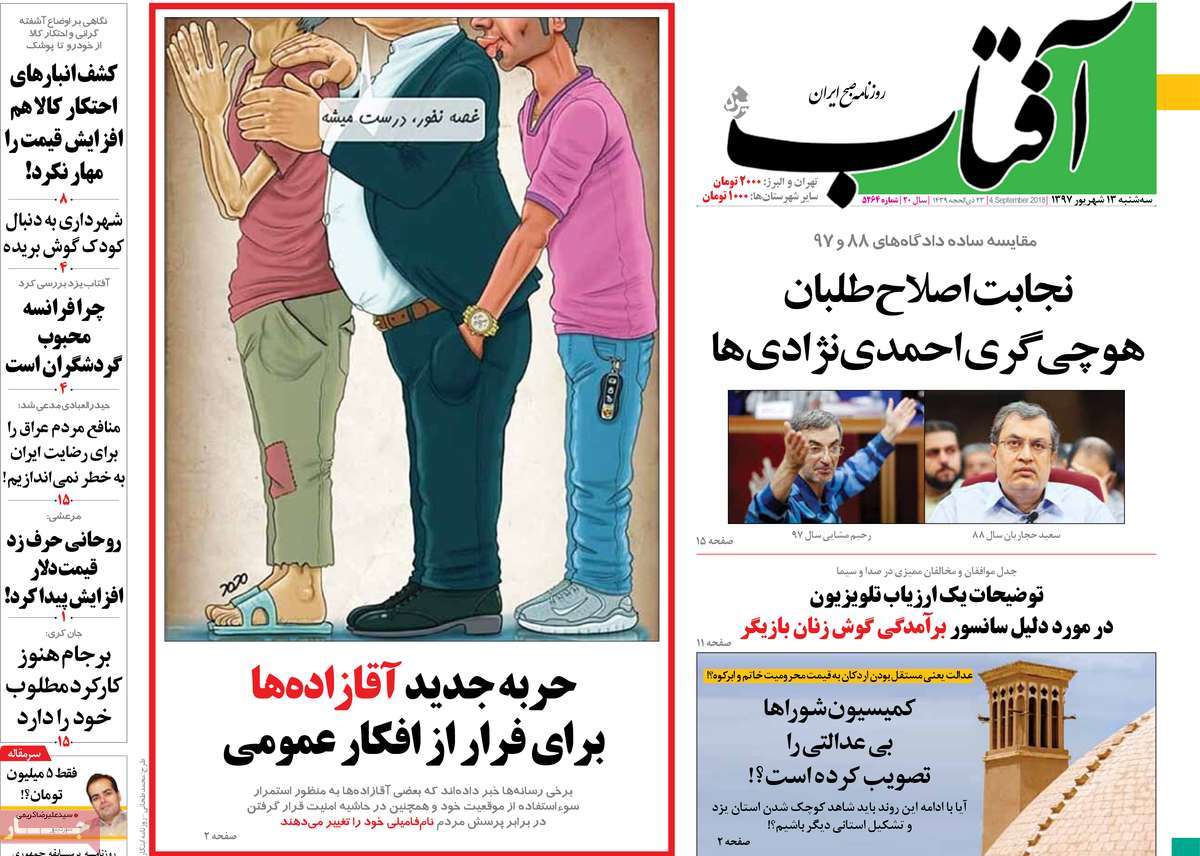 ---
Ebtekar:
1- Continued Political Deadlock in Iraq
2- Europeans Have Yet to Meet Our Expectations: Iran
---
Etemad:
1- Idlib Must Be Cleansed of Terrorists: Iran's Latest Stance Declared in Damascus
2- Dark Side of Caspian Sea Convention
Iran Foreign Ministry Hosts Meeting to Discuss Legal Regime of Caspian Sea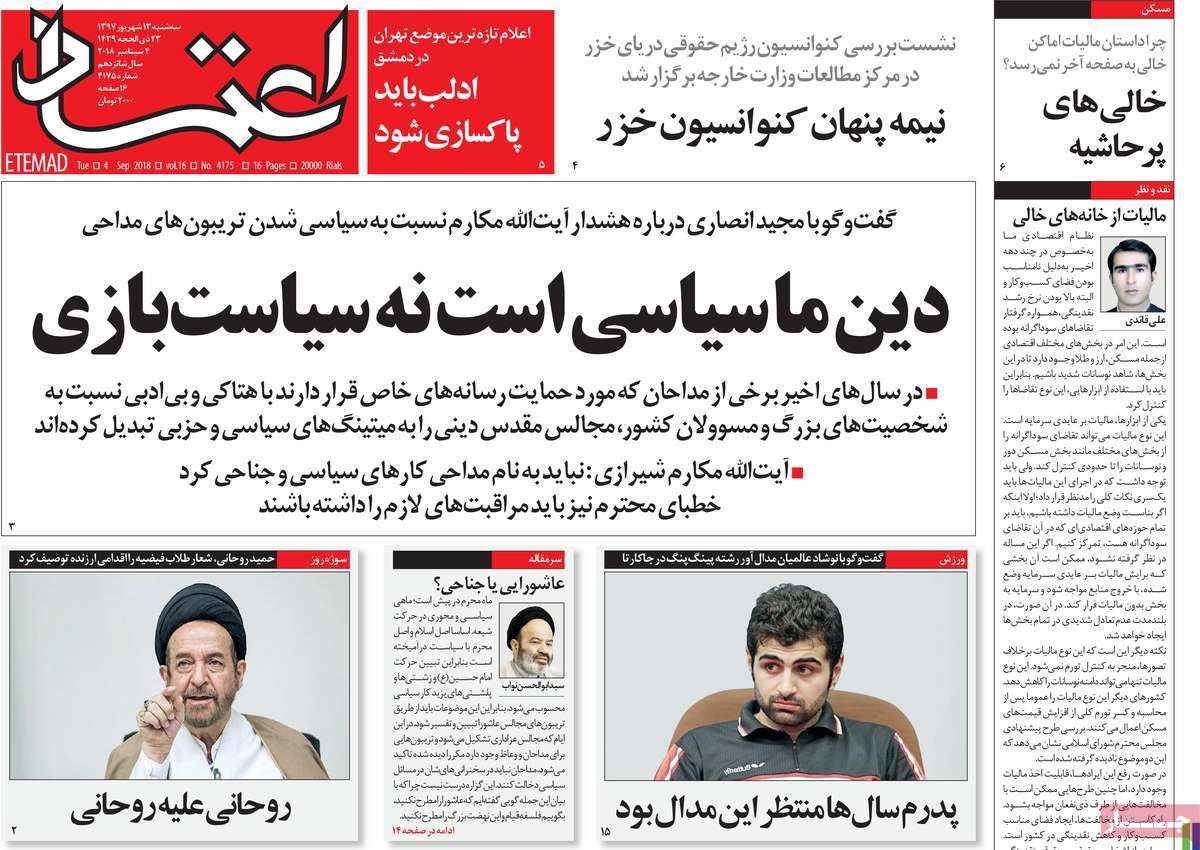 ---
Ettela'at:
1- Tehran Police Chief: Minor Offences Increased Because of Economic Woes
2- France: Assad Winner of Syria War
---
Iran:
1- Plan to Change Iran's Political Capital under Investigation
2- Why Forex, Gold Coin Rates Are Going up Again?
3- Khuzestan's Air to Become Clean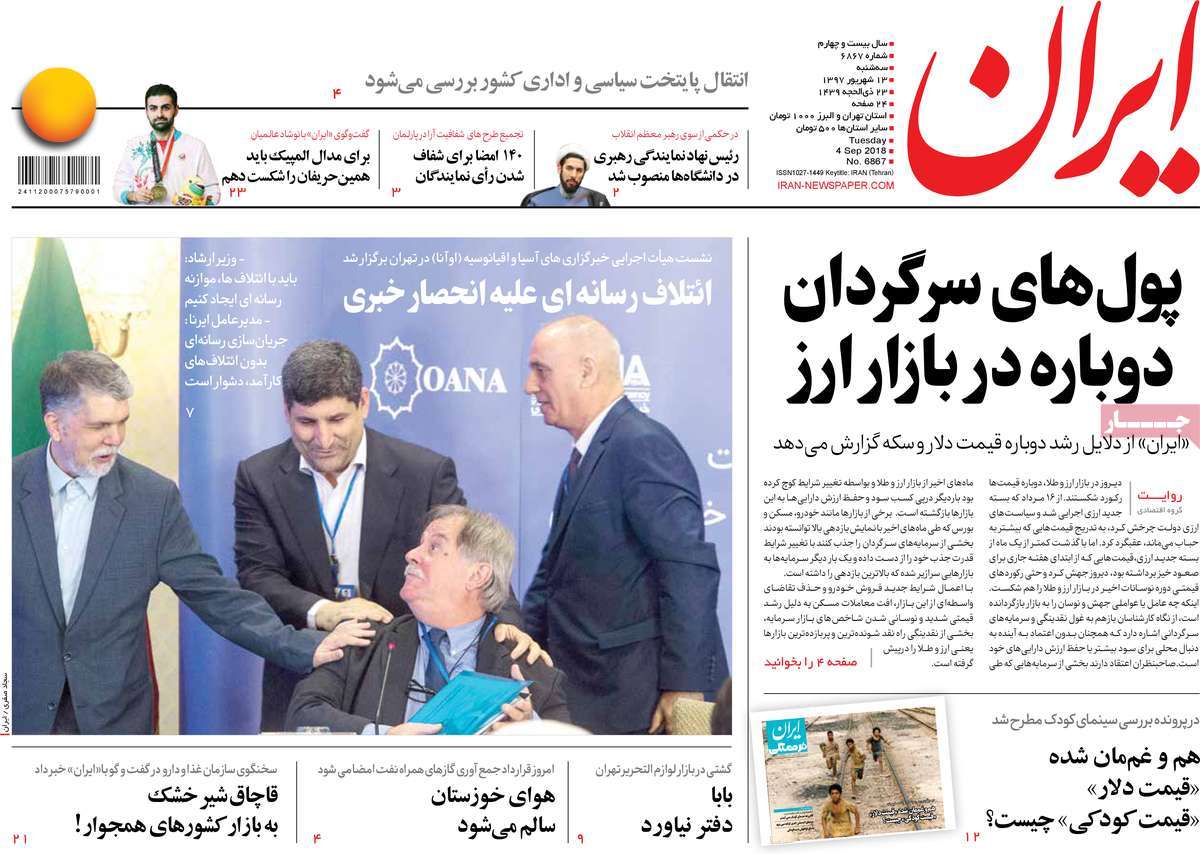 ---
Javan:
1- American Deadlock of Forming New Iraqi Government
2- Imran Khan Orders Pakistani Officials to Provide Facilities for Pilgrims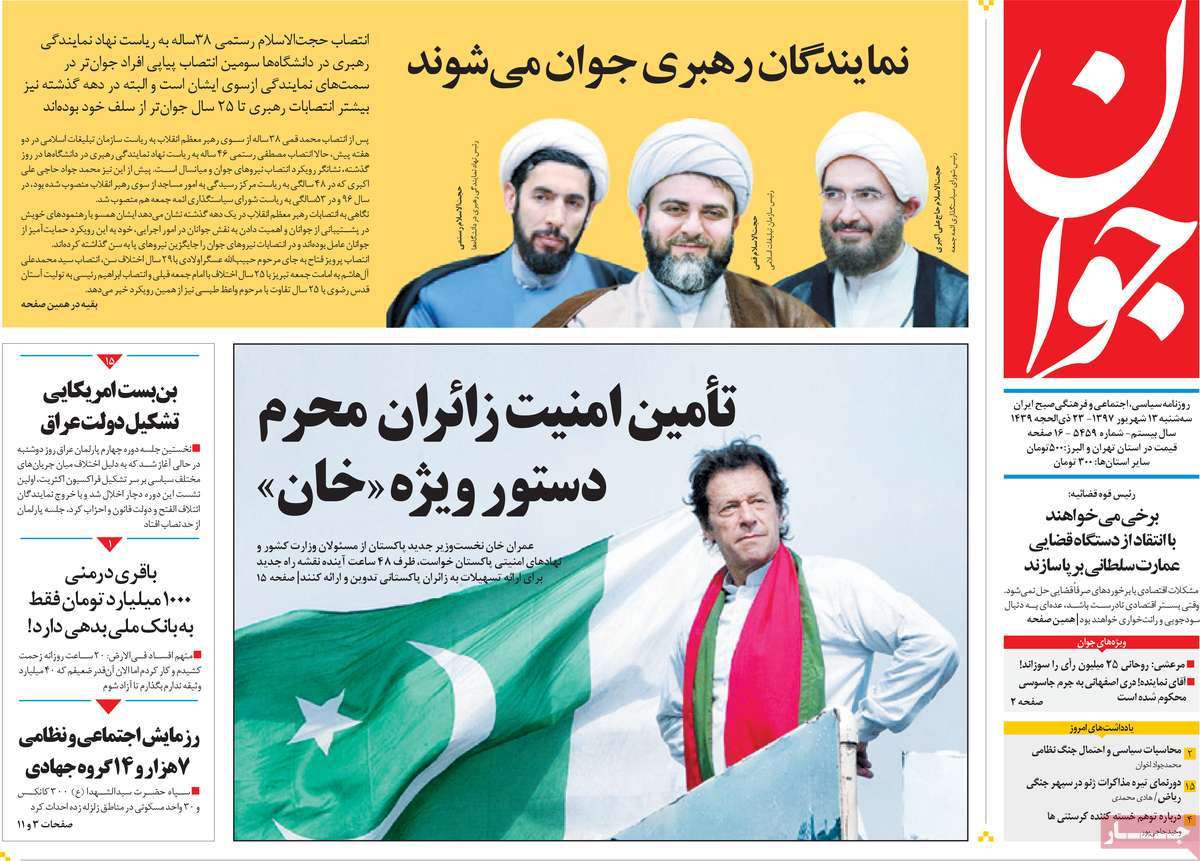 ---
Kayhan:
1- Kerry Explains How Iran Deceived on JCPOA
2- Yemeni Army's Spokesman: No Part of Saudi Arabia Safe, Even Its Waters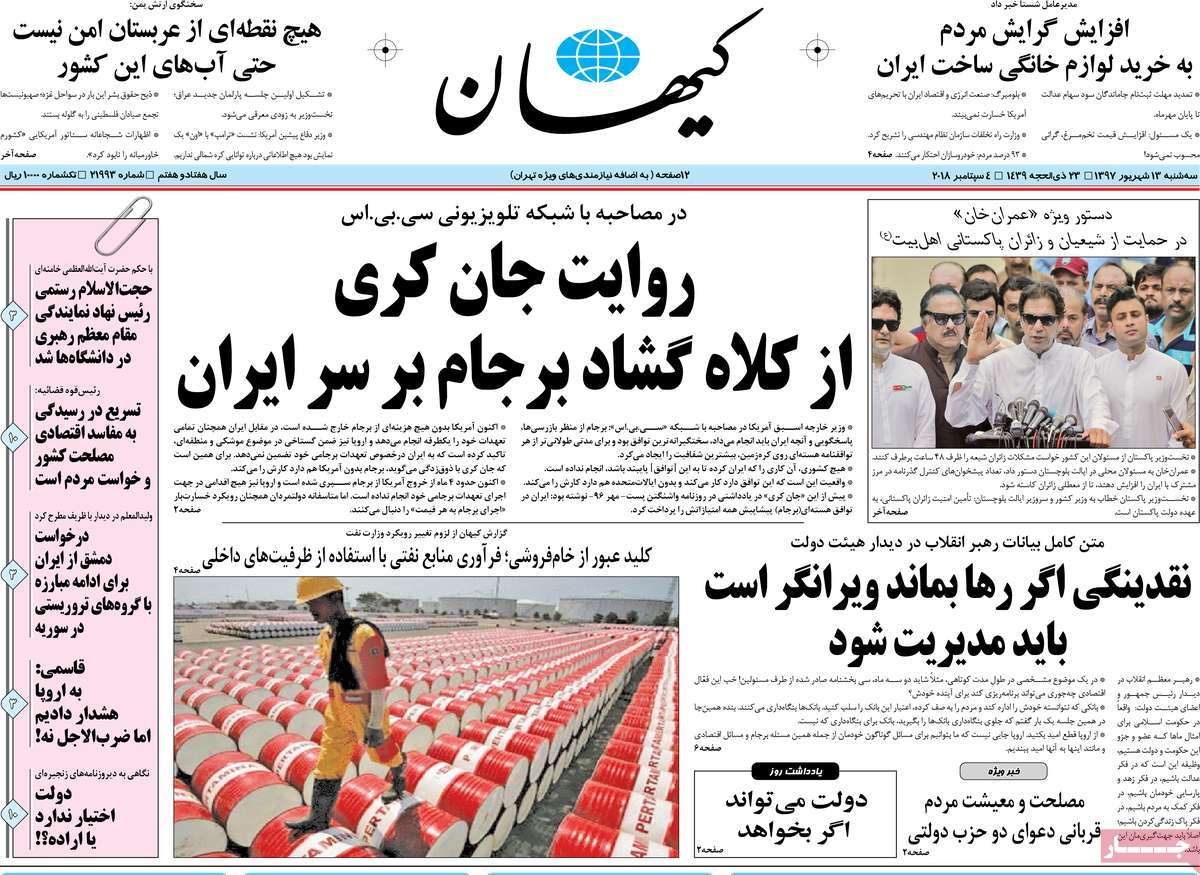 ---
Khorasan:
1- Iran Leader Appointing Young People to Top Positions
2- Iraq Still without Prime Minister
---
Sazandegi:
1- Iraq in Suspension: First Session f New Iraqi Parliament Leads to Duel of Coalitions
---
Setareh Sobh:
1- Israel Threatens Tehran, Puts Pressure on Russia!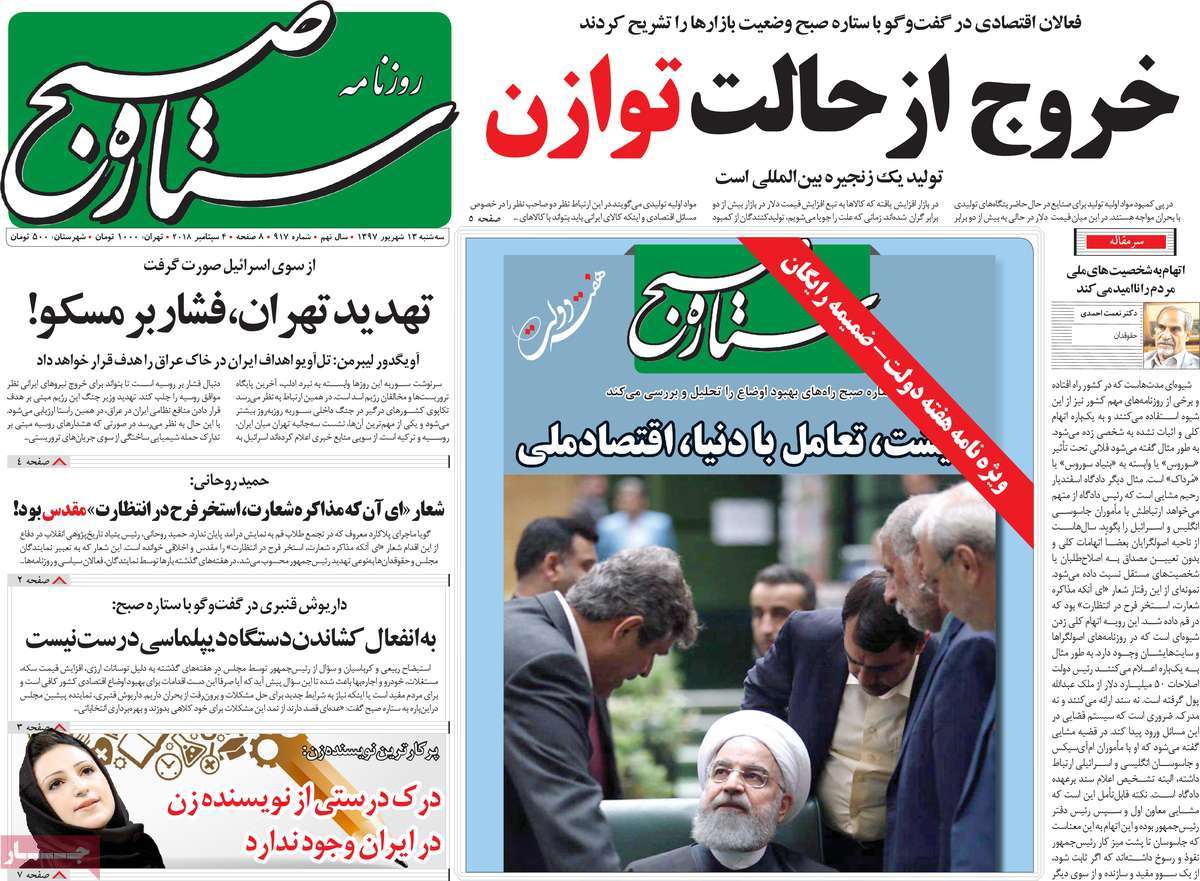 ---
Shahrvand:
1- Where's the Poor Boy Whose Ear Was Cut Off in Tehran?
Viral Video Implies Municipality Agents Have Cut Off Scavenger Boy
Officials Say Pursuing the Issue
2- Living with Bears, Sleeping with Snakes
Iranian Man, American Wife Coexist with Animals in Qazvin Village
---
Shargh:
1- We Have to Keep Silent to Avoid Harming National Interests: Foreign Ministry
2- Europe in Challenge of JCPOA's Fate, Trump