The top story in all papers today was the remarks made by the Leader of Iran's Islamic Revolution Ayatollah Seyyed Ali Khamenei in a meeting with a group of air defence commanders. During the meeting, the Leader said the country's armed forces must boost their defence capabilities even though there is no possibility for a military conflict.
Also a top story was a Sunday parliamentary session, during which Foreign Minister Mohammad Javad Zarif responded to questions raised by a conservative lawmaker. Other MPs finally announced they had been convinced by Zarif's comments.
The final court session of Esfandyar Rahim-Mashaei, the former chief of staff and a close ally of former president Mahmoud Ahmadinejad, also received great coverage.
A decision by Iraqi Prime Minister Haider al-Abadi to dismiss his national security advisor also remained a topic of discussion in many papers today.
The above issues, as well as many more, are highlighted in the following headlines and top stories:
Abrar:
1- Parliament Not to Impeach President Rouhani
2- I Only Bow to Iranian Flag: FM Zarif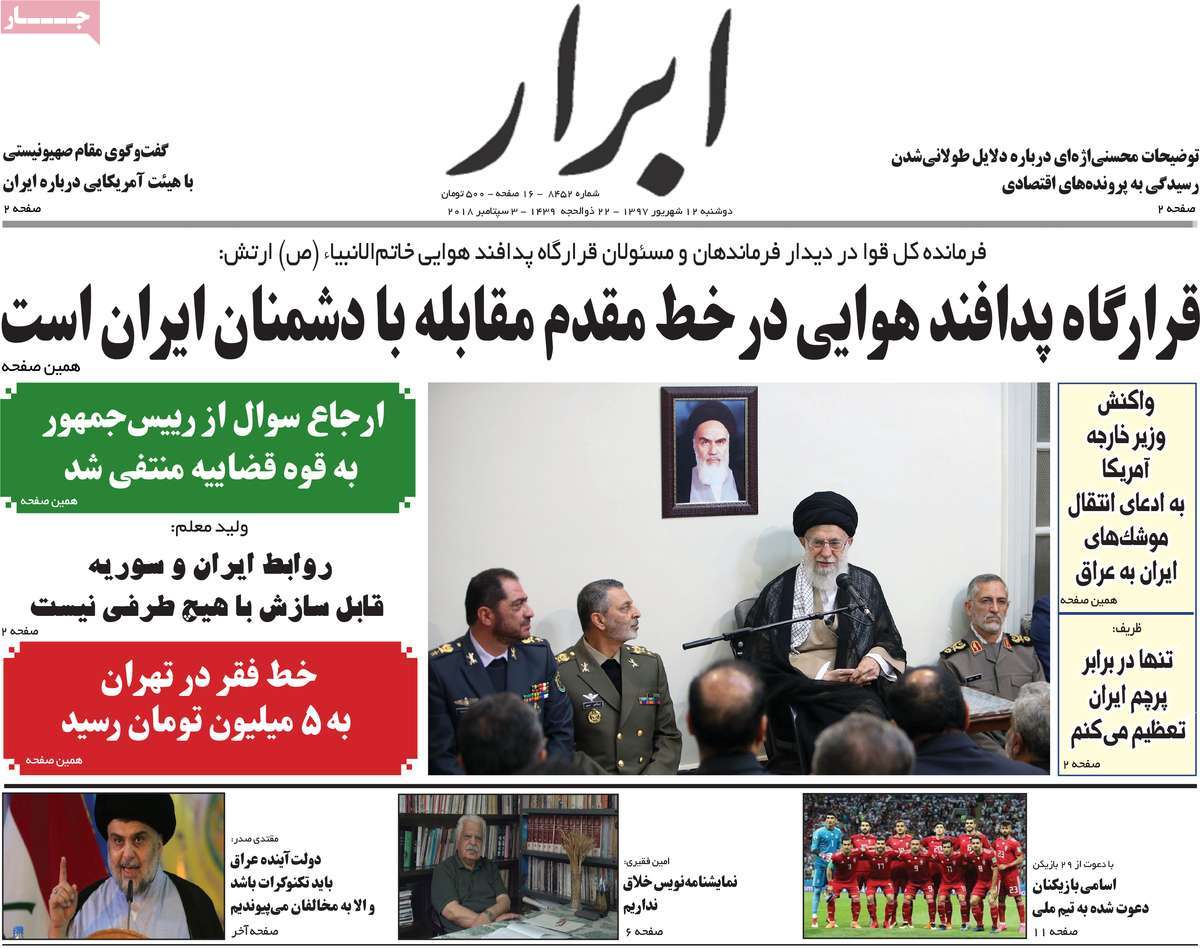 ---
Aftab-e Yazd:
1- The Issue of Diapers!
* Price of Diaper Soars in Iran
2- We Need No One's Help in Reconstructing Syria: FM
3- Why US Angry with Pakistan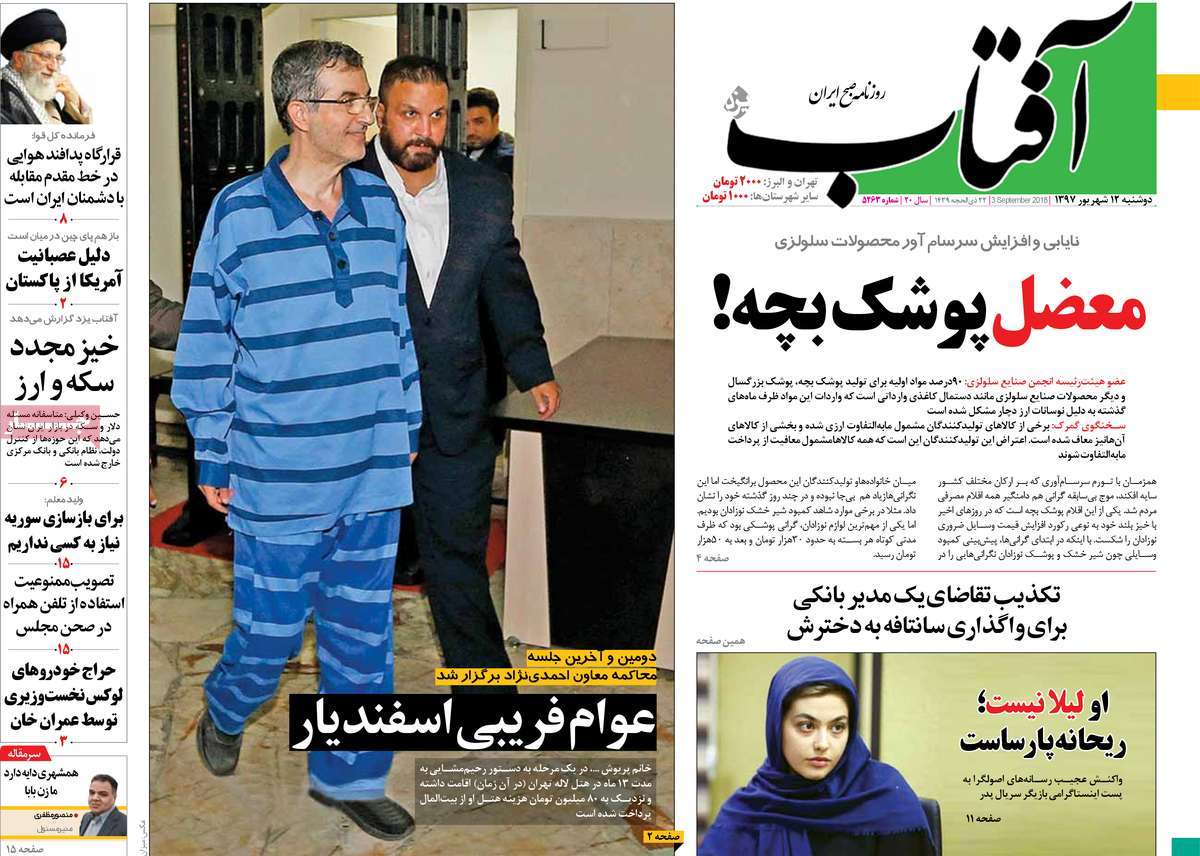 ---
Ebtekar:
1- Three Close Aides of Ahmadinejad to Be Tried
2- Air Defence Base at Frontline of Fight against Iran's Enemies: Leader
3- MPs Convinced by Zarif's Answers
---
Etemad:
1- From MI-6 to Mossad: Names Raised in Trial of Ahmadinejad's Ex-Deputy
2- Workers Back at Work: End of Two Weeks of Strike in Haft-Tappeh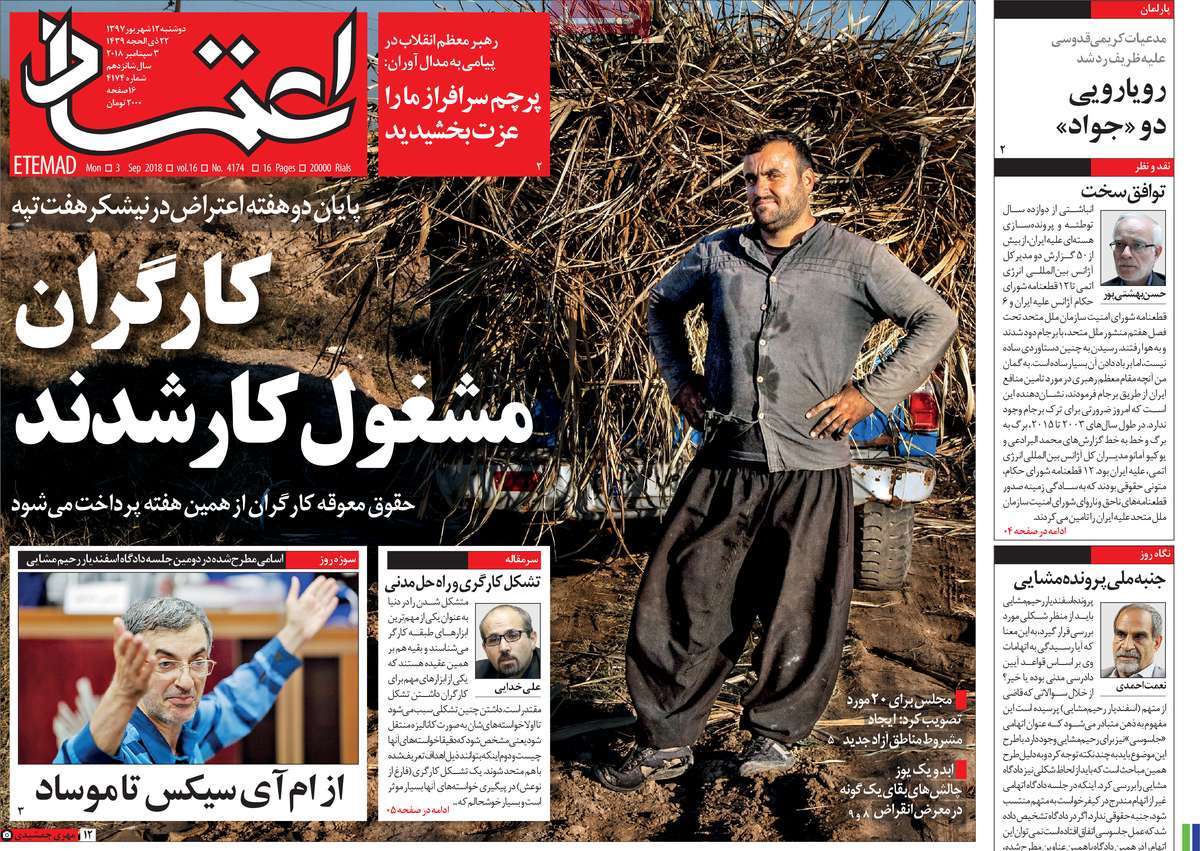 ---
Ettela'at:
1- Chief-Commander of Iran's Armed Forces: Military Conflict Not Going to Happen
2- Syria Says Ties with Iran Not Open to Bargaining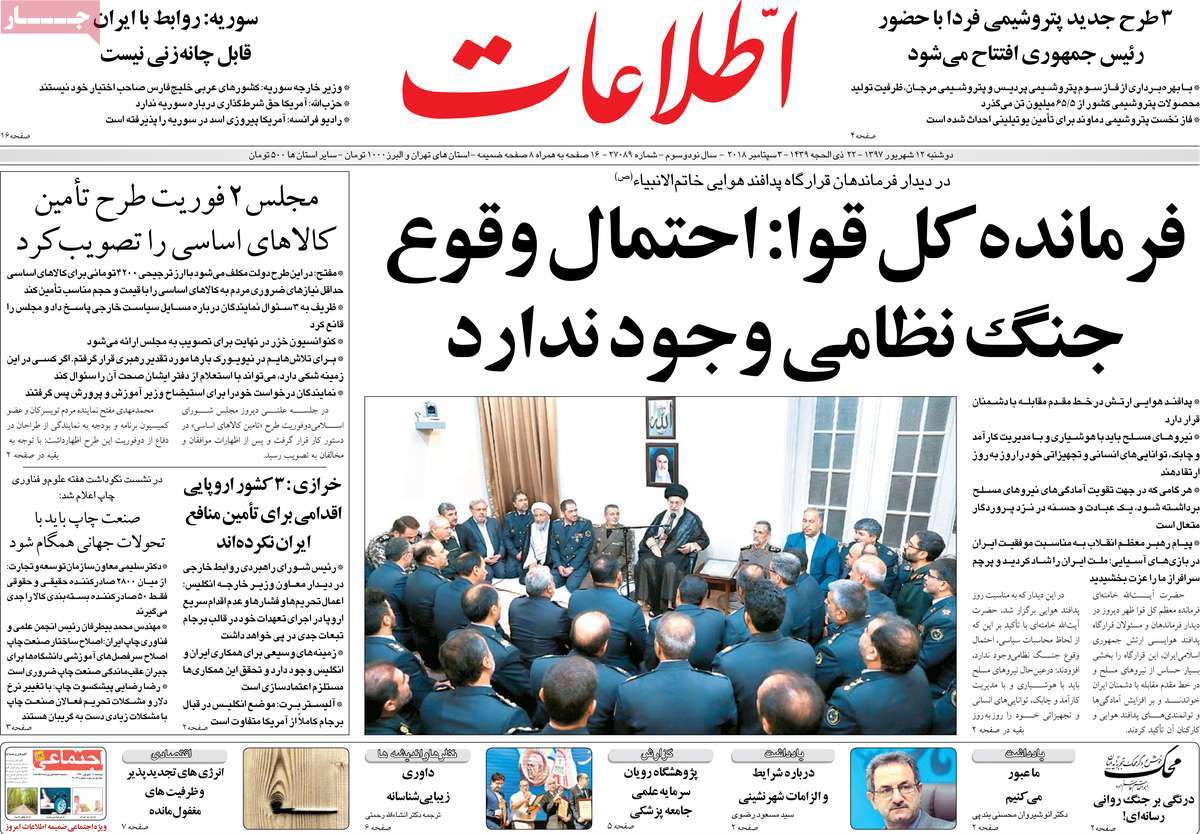 ---
Iran:
1- VP for Women Affairs: Negative, Discriminatory Looks at Women Decreased
2- Reformist Figure: It's Not a Good Time to Negotiate with US Now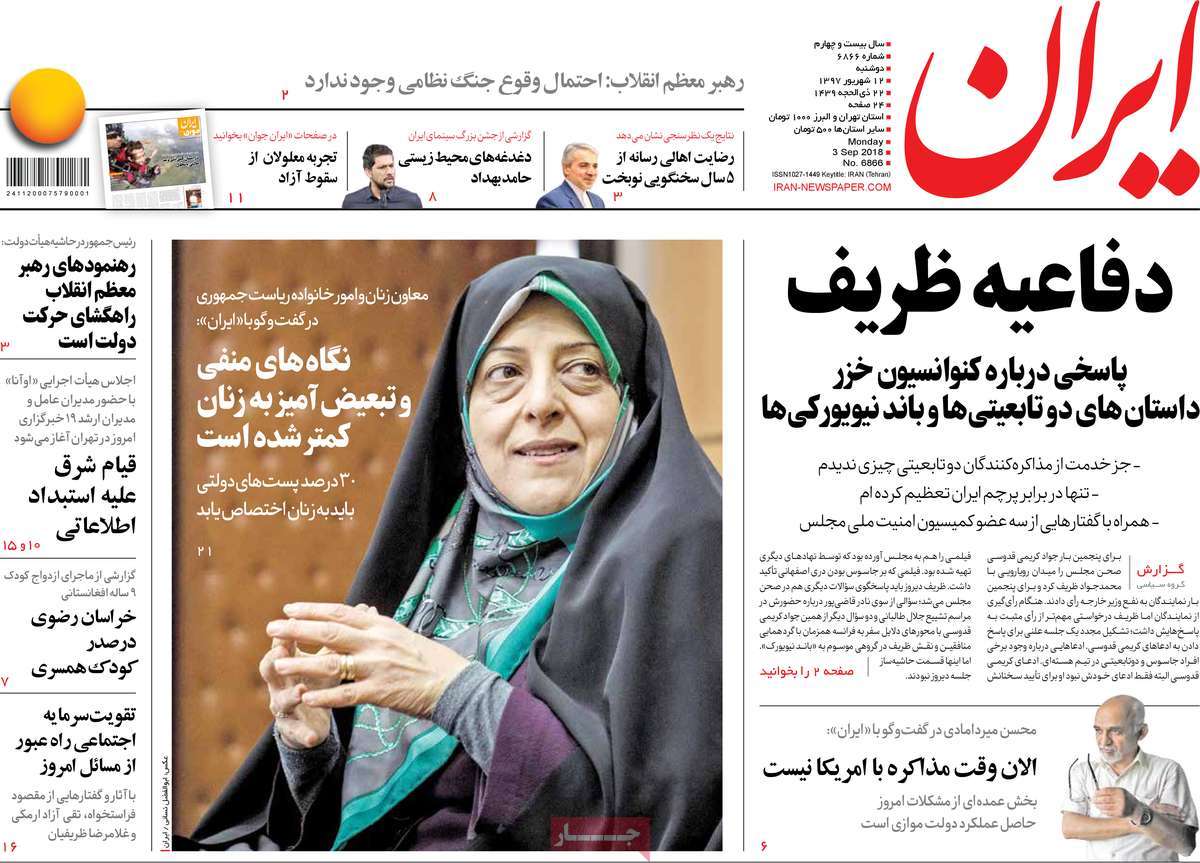 ---
Javan:
1- Zarif: I Limited, Regulated Soros Foundation's Ties with Iran
2- Based on Political Calculations, There's No Possibility for Military Conflict: Leader
3- Ayatollah Khamenei Praises Performance of Iranian Athletes at Jakarta Asian Games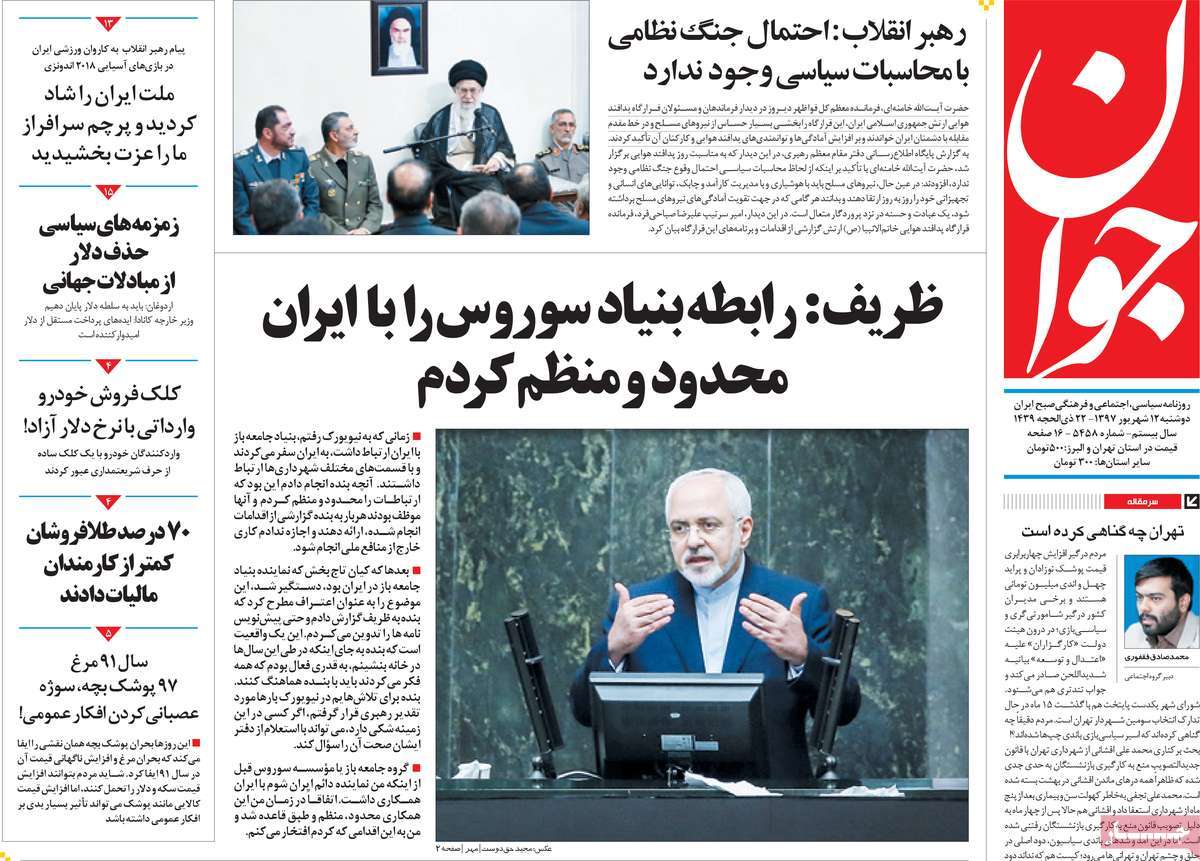 ---
Kayhan:
1- People Expect President to Practically Respond to MPs' Unanswered Questions
2- The Person Zarif Calls a Patriot Is Now in Prison for Espionage!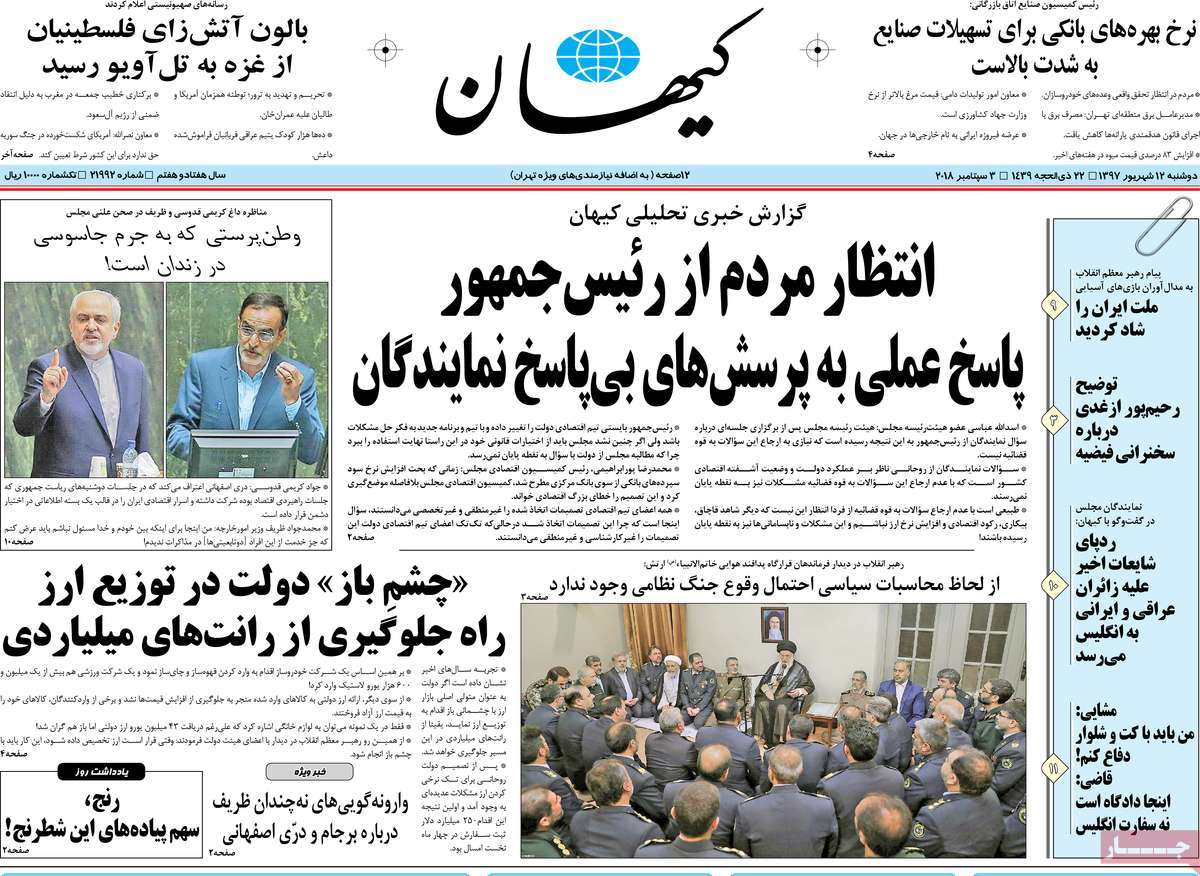 ---
Khorasan:
1- Parliament Approves Plan to Distribute Basic Goods in Cheap Prices
2- Strange Secrets behind a Dismissal in Iraq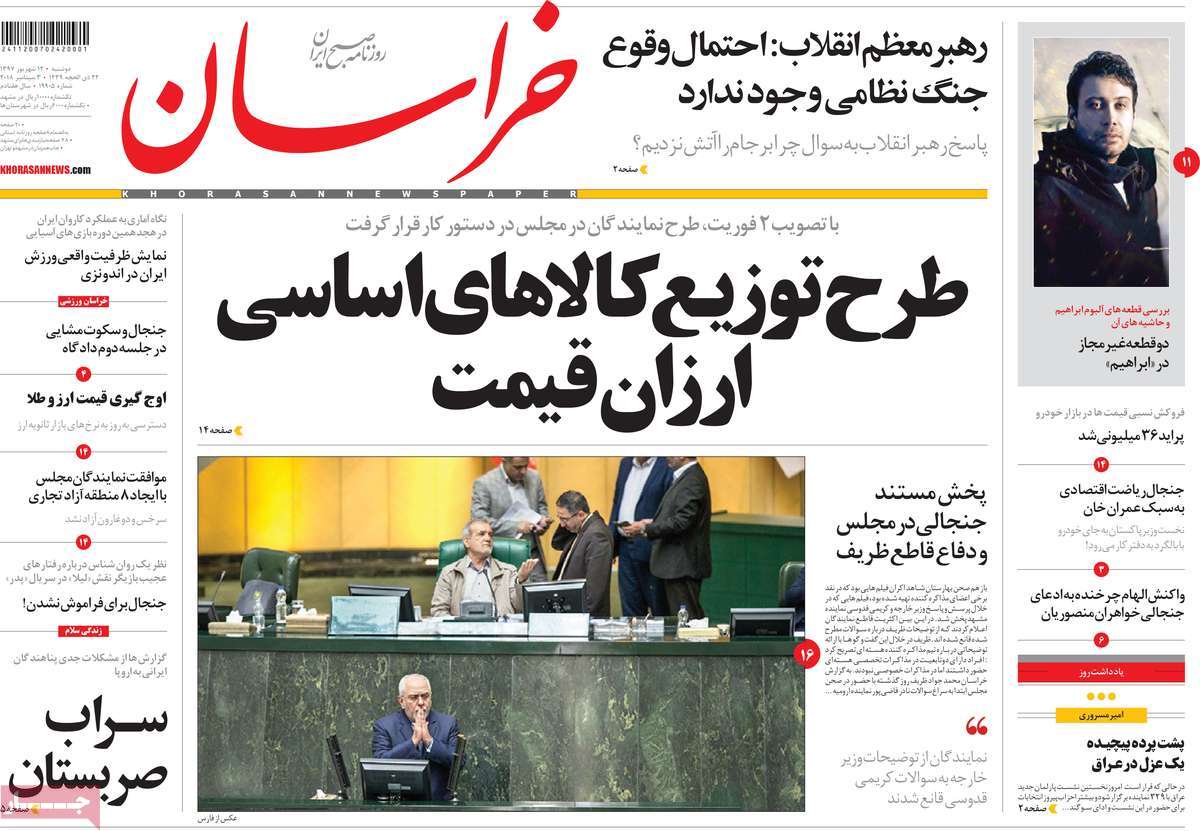 ---
Resalat:
1- Actors, Rules, Regulations Change in Iraq on Daily Basis: Analyst
2- Decisions on Iran's Foreign Policy Taken at Highest Level: FM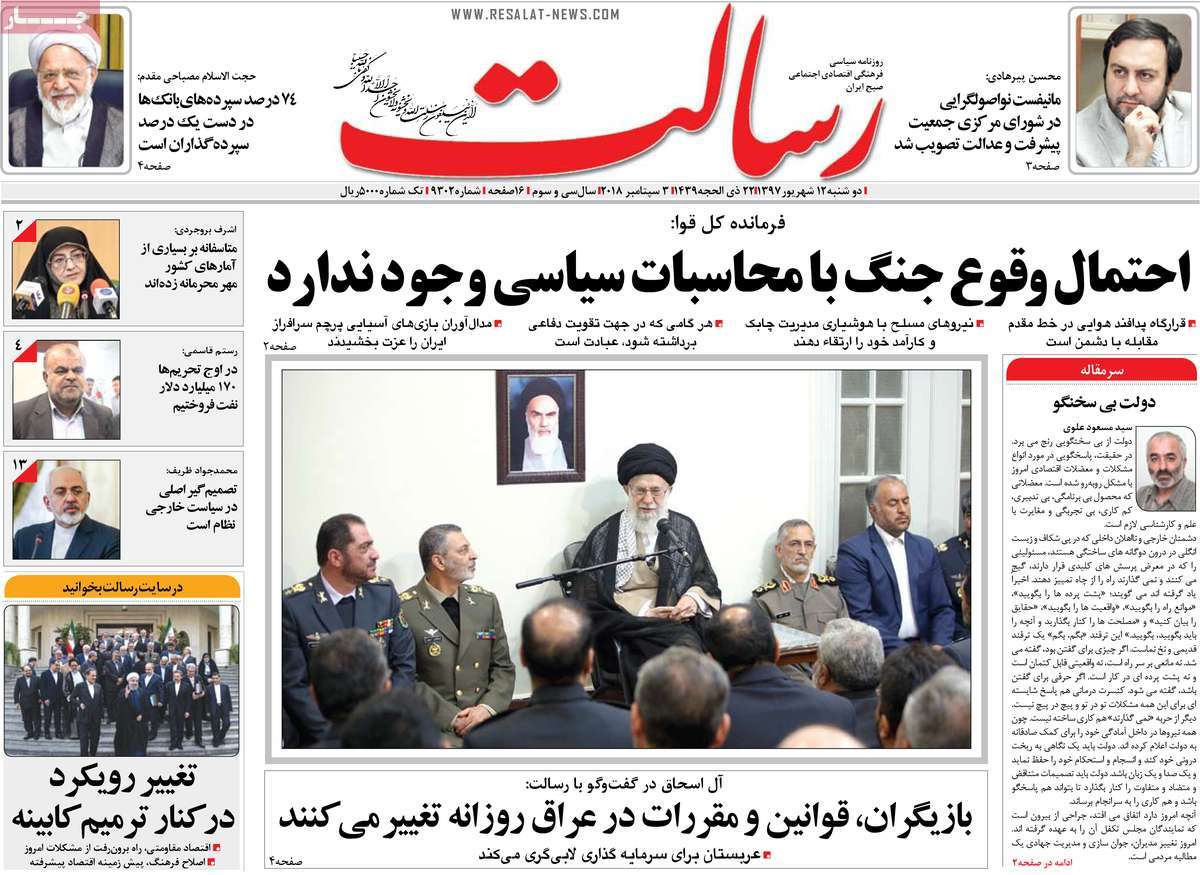 ---
Shargh:
1- Mourners against Trump
2- We Shouldn't Trust Erdogan's Turkey [Editorial]
3- Diplomacy Doesn't Mean Romantic Relationship: Zarif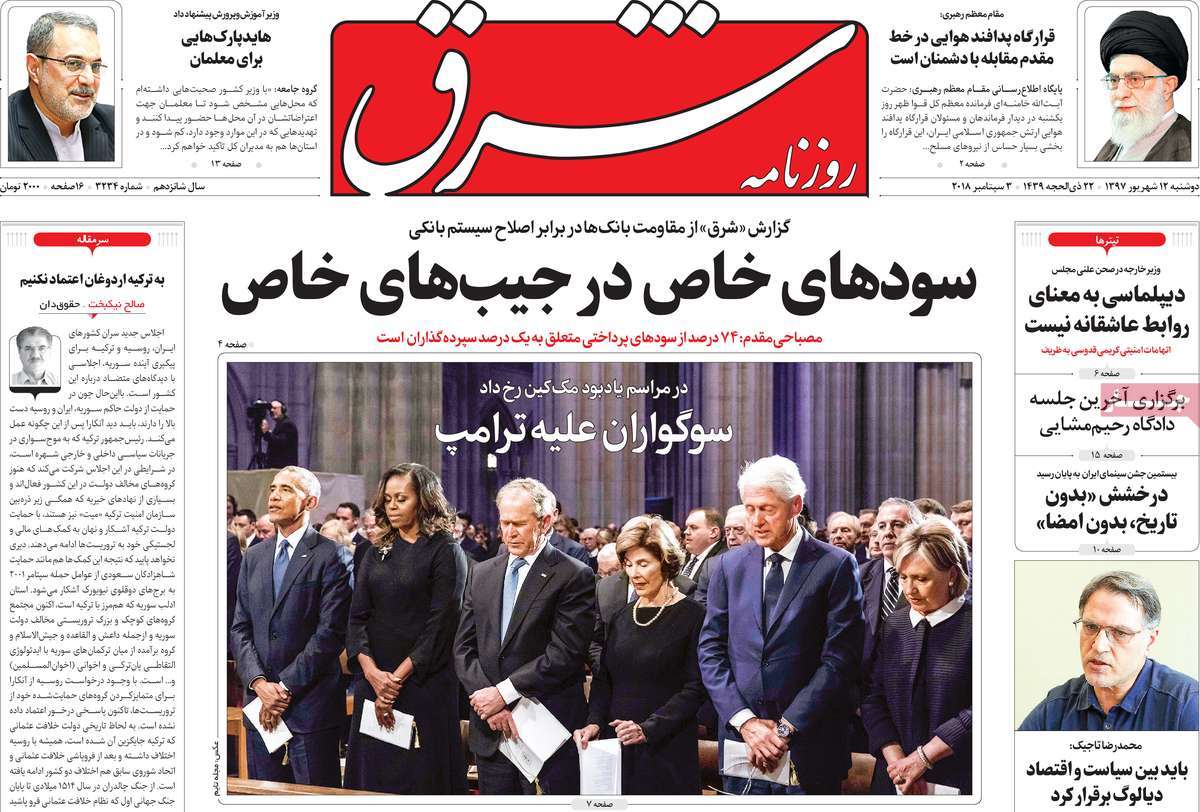 ---
Sobh-e Now:
1- Parliament May Impeach Trade Minister after Sacking Economy, Labour Ministers
2- Iran, Iraq Ditch US Dollar in Trade Ties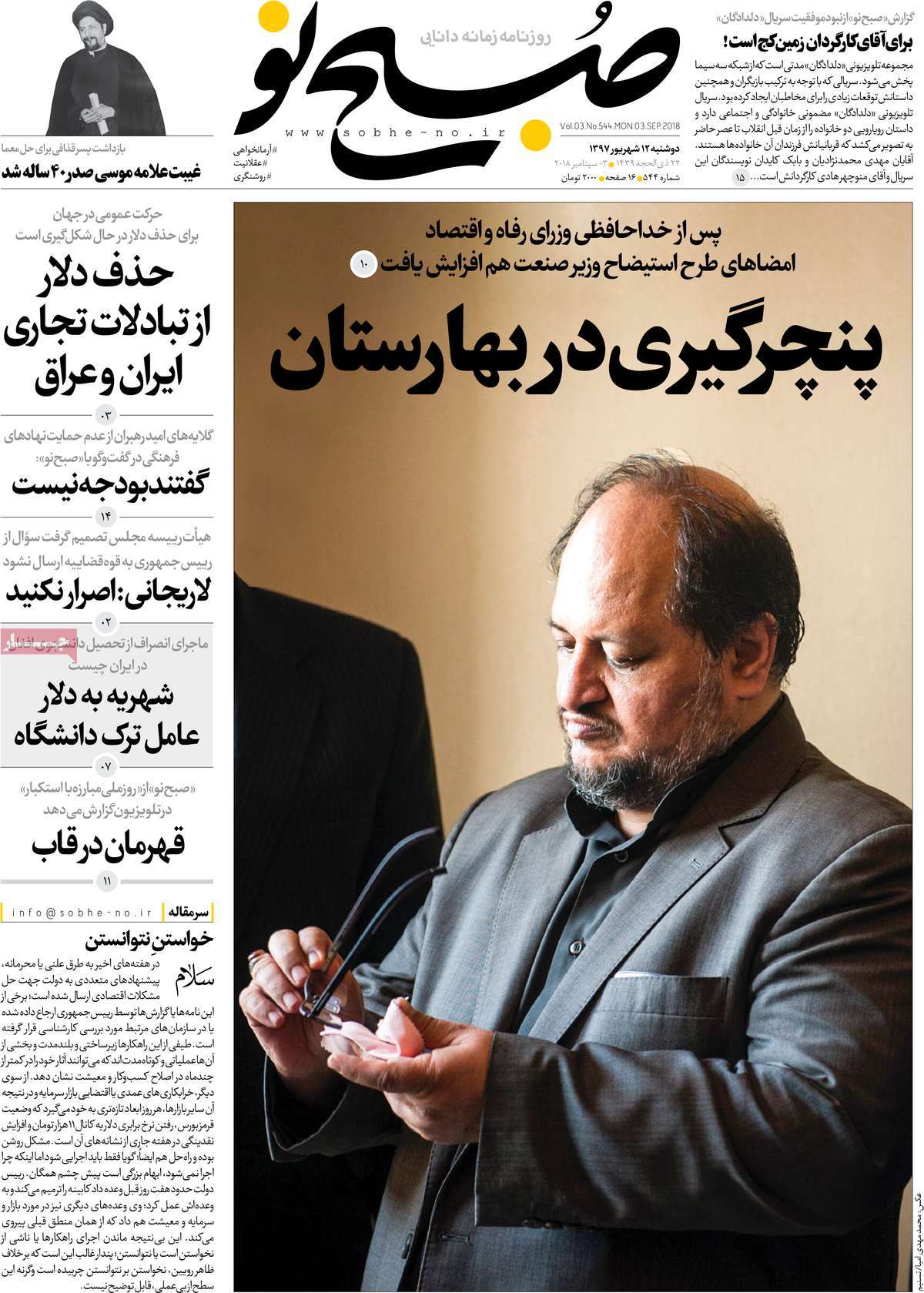 ---
Vatan-e Emrooz:
1- Saudi Arabia: We Attacked Wrong Target in Yemen!
2- Mr Government! "Shake Yourself"!
3- Erdogan: We Should End US Dollar's Monopoly