The top story in all papers today was the ongoing visit of Iranian President Hassan Rouhani to New York, where he will attend and address the UN General Assembly.
Several papers focused on the possibility of a meeting between Rouhani and his American counterpart Donald Trump, at least during the UN Security Council on Wednesday. Reformist papers mostly called for Rouhani's participation in the meeting, but conservatives expressed strong opposition to the meeting.
Also a top story was the recent meeting of the Organization of Petroleum Exporting Countries (OPEC) in Algeria, during which the member states rejected Trump's call for an increase in the body's output.
The above issues, as well as many more, are highlighted in the following headlines and top stories:
Abrar:
1- Qarqash: Iran's Accusations against UAE Baseless
2- French FM: Normal Trade Ties with Iran Must Be Maintained
3- Pompeo: We'll Win Trade War with China
---
Afkar:
1- Takfiri Terrorism Endangered Entire Region: Shamkhani
2- US, Zionist Regime Totally Active in Ahvaz Incident: Senior MP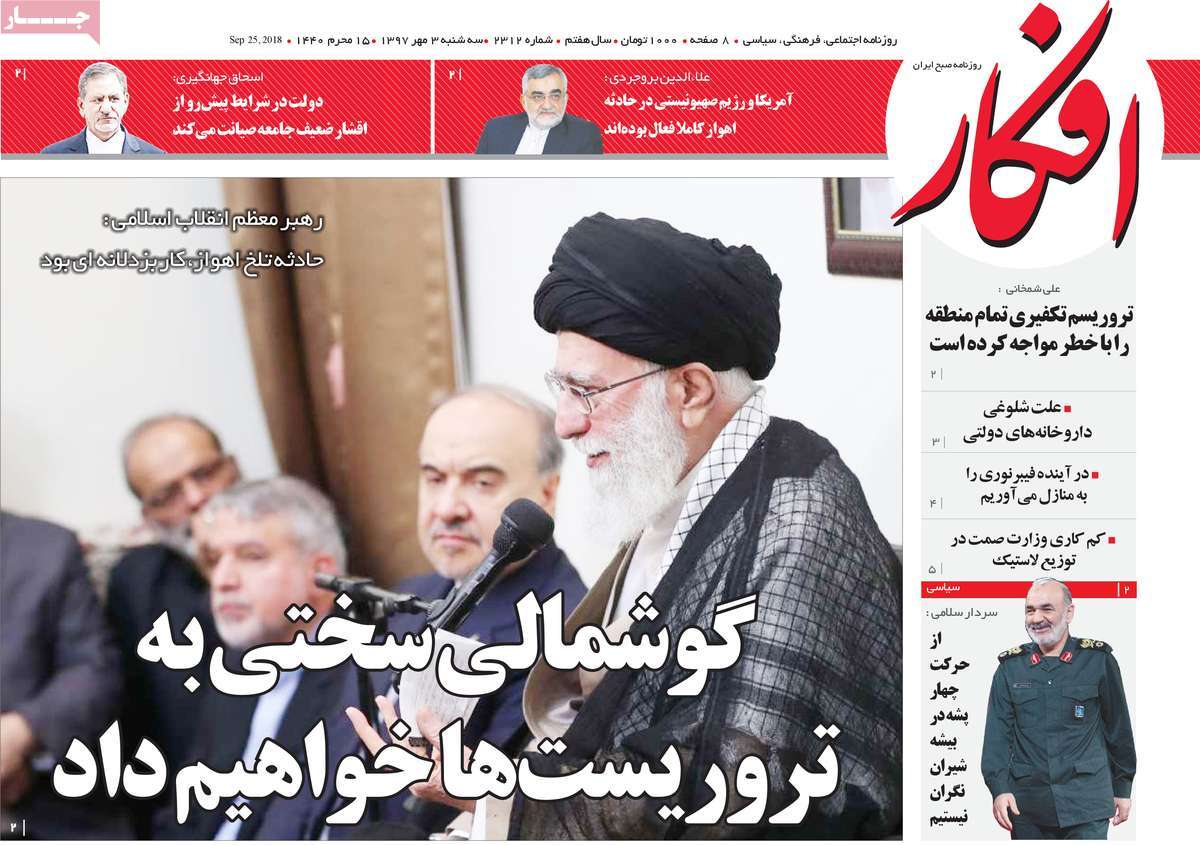 ---
Aftab-e Yazd:
1- Forex Dealers Worried about Possible Positive Developments in New York
2- Instrumental Use of Martyrs' Blood to Reject FATF
Intensified Opposition amid Increased Possibility of Approving Iran's Adoption of FATF Standards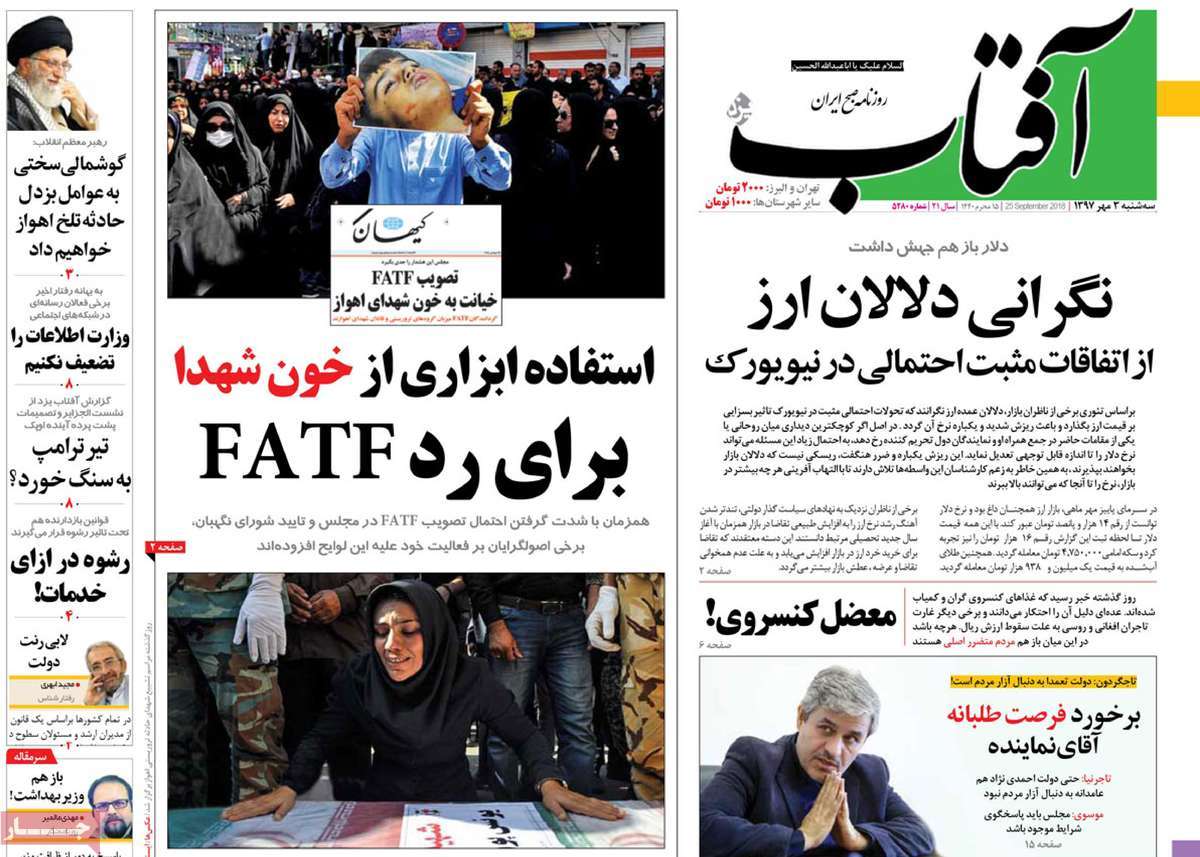 ---
Arman-e Emrooz:
1- Different Atmosphere of New York
Rouhani Must Speak Differently to Emerge Victorious
2- UN Security Council's Tribune, Golden Chance for Iran [Editorial]
3- Rouhani Can Make US Passive by Offering Olive Branch: Academic
---
Ebtekar:
1- Moscow, Riyadh Change Their Opinion in OPEC, Reject US Call for Increasing Oil Output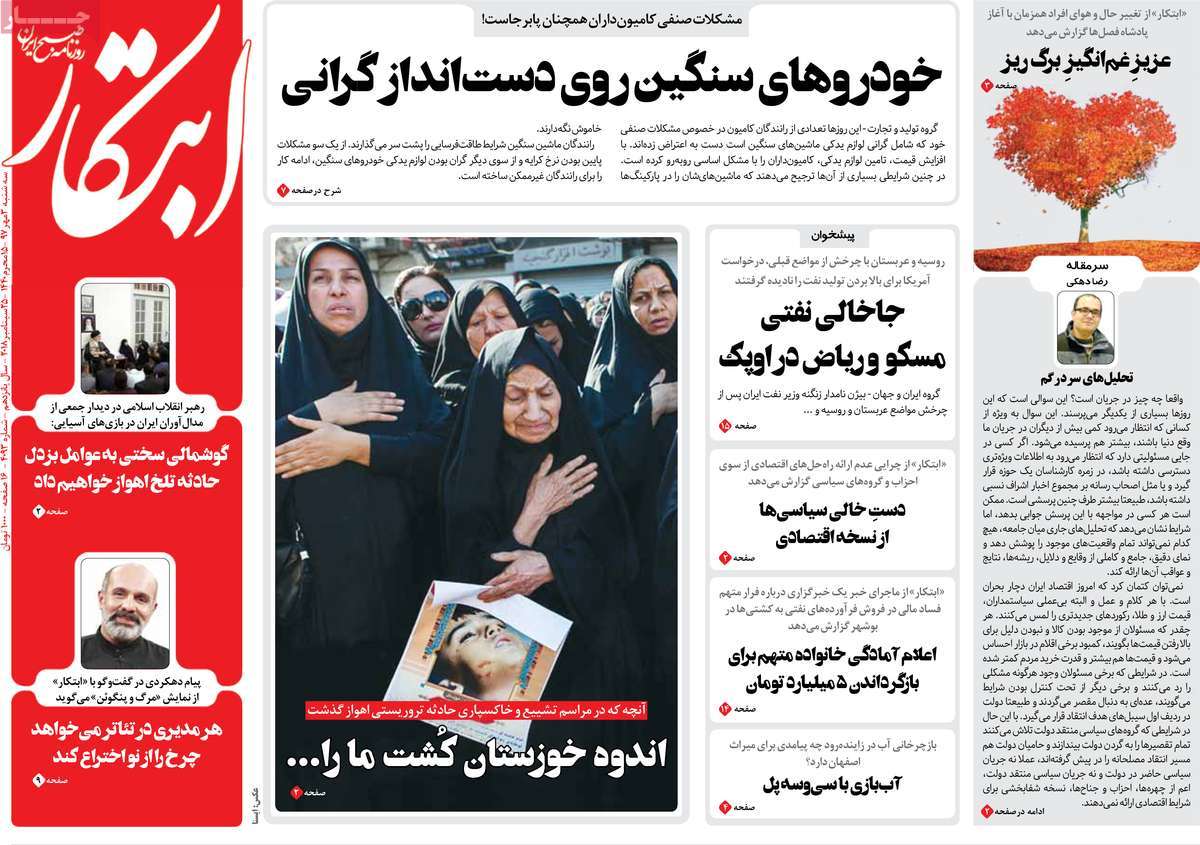 ---
Etemad:
1- Iran-US Diplomatic Conflict
2- Opposition to Pharmaceutical War: 500 Iranian, Foreign Firms in Iran Pharma Exhibition
3- Consequence of Terrorist Attack [Editorial]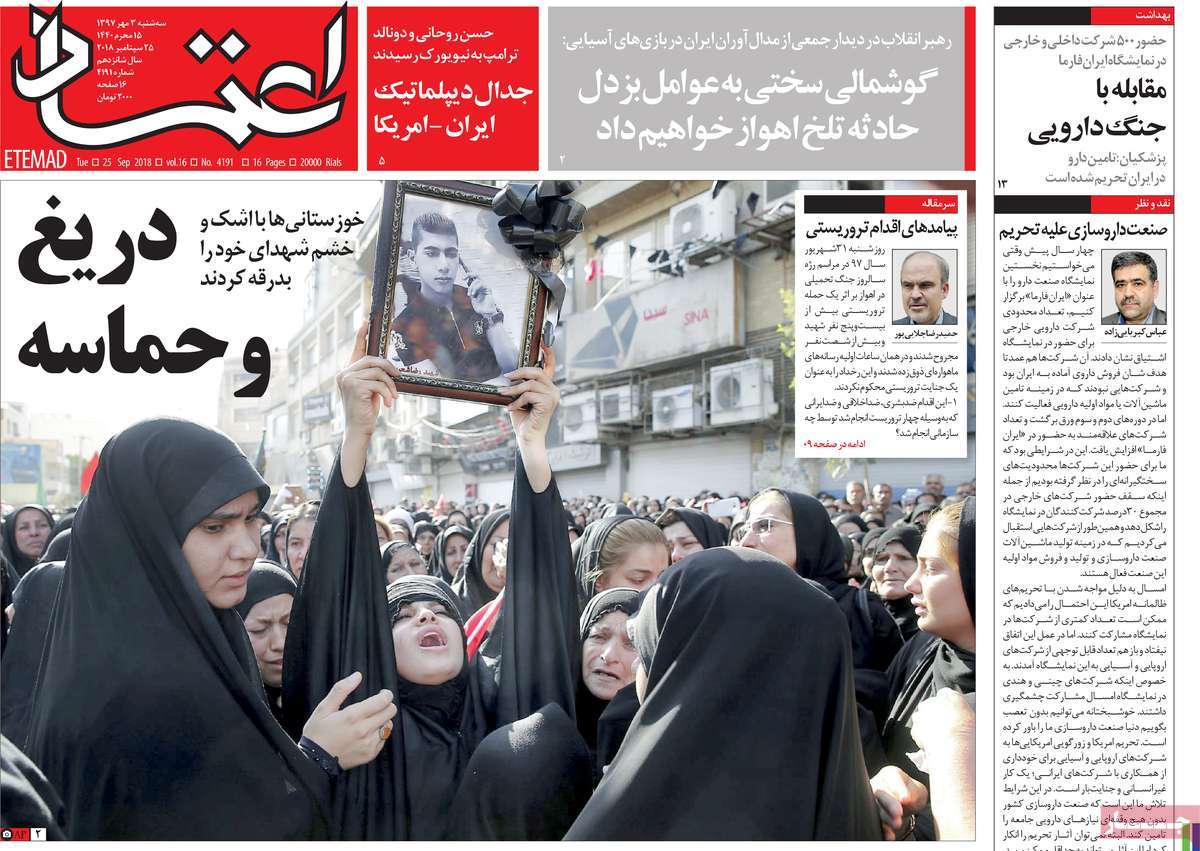 ---
Ettela'at:
1- Rouhani: We May Consider Negotiation with US If Washington Shows Honesty
2- Oil Minister: US' Dream of Cutting Iran's Oil Exports Down to Zero Won't Come True
3- Glorious Funeral Held for Those Martyred in Ahvaz Terrorist Attack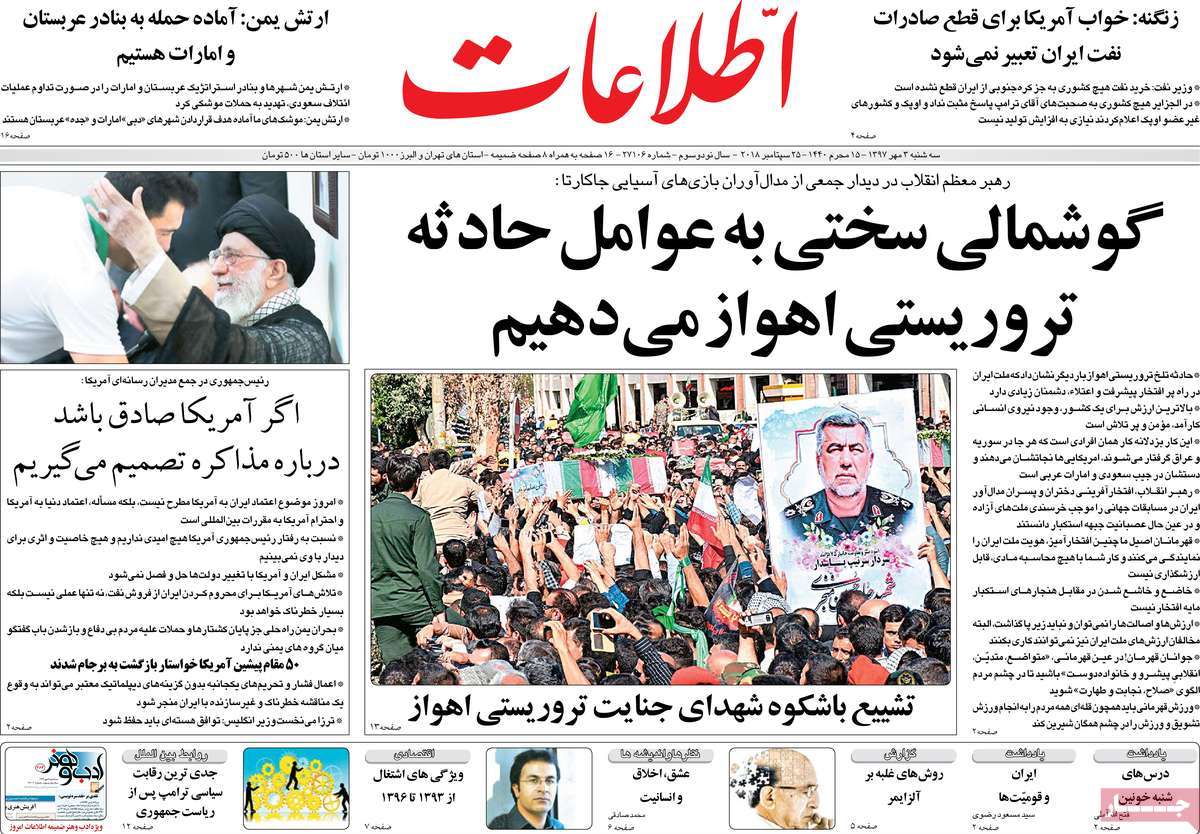 ---
Iran:
1- Rouhani Urges Trump to Compensate
---
Jame Jam:
1- Iran Leader: We'll Give Crushing Response to Terrorists
2- Why Did ISIS Claim Responsibility for Ahvaz Attack?
3- Iraqi People's Resolve Overcomes American Deceit
Iraqi Shiites, Thanks to Iran's Unifying Role, Are on Verge of Great Coalition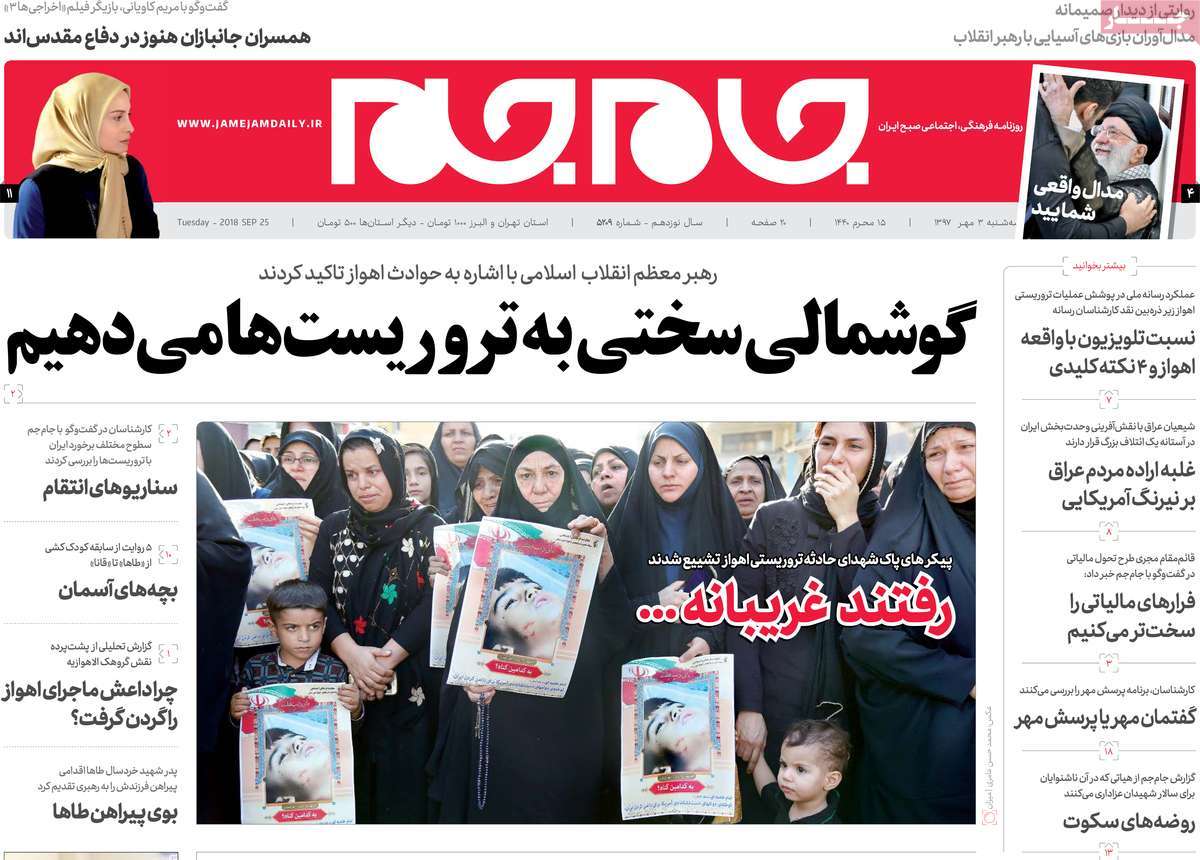 ---
Javan:
1- Iran Not to Sit at Negotiating Table When Sanctions Are in Place
53 Former American Officials, Diplomats Issue Statement against Trump's Iran Policy
2- We'll Tell the World about US' Violation of Its Commitments: Rouhani
---
Kayhan:
1- Expectation from Rouhani's Presence in UN: Mr Rouhani! Stand Firm, US Indebted to Iranians
2- Italian Motorcyclists Hold March in Support of Innocent Palestinians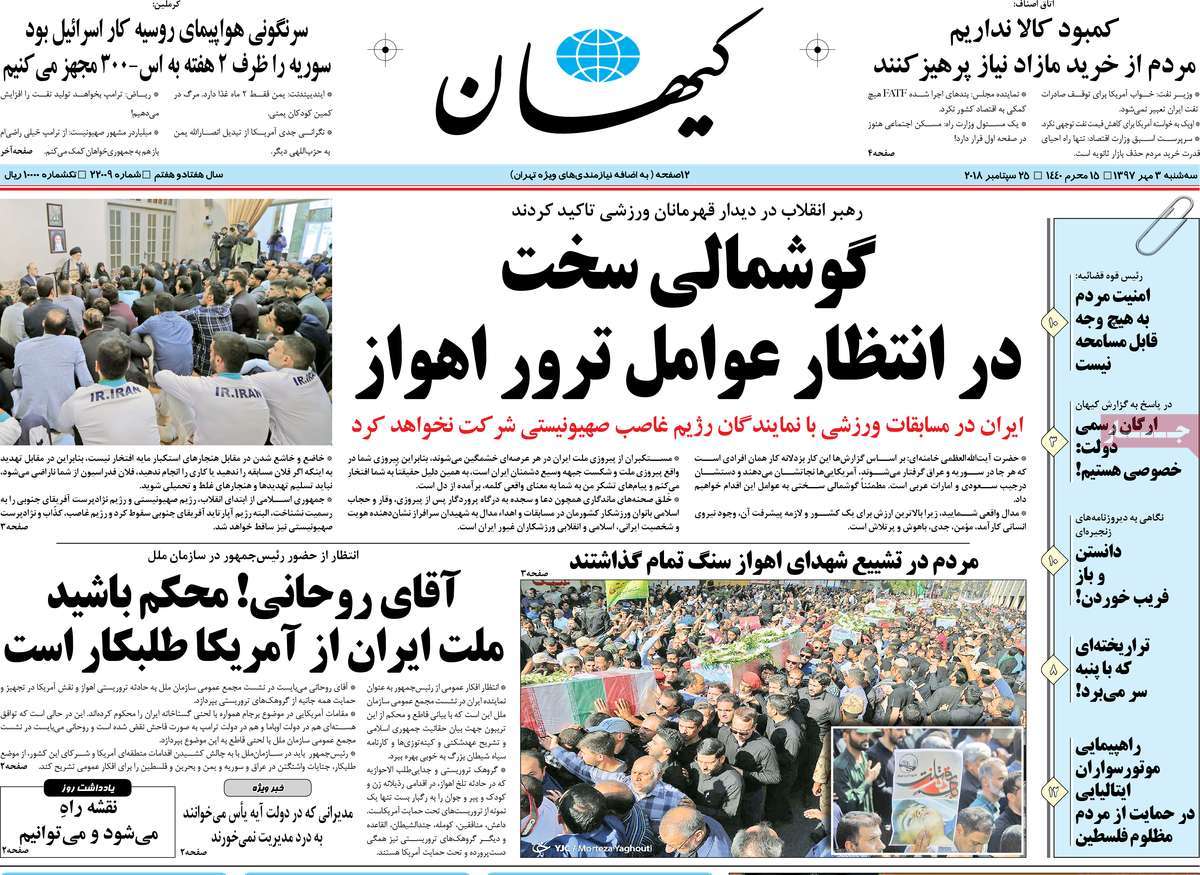 ---
Sazandegi:
1- Reformist Party Calls for Vigilance against Unity of Iran's Enemies
2- Intensified Unemployment Crisis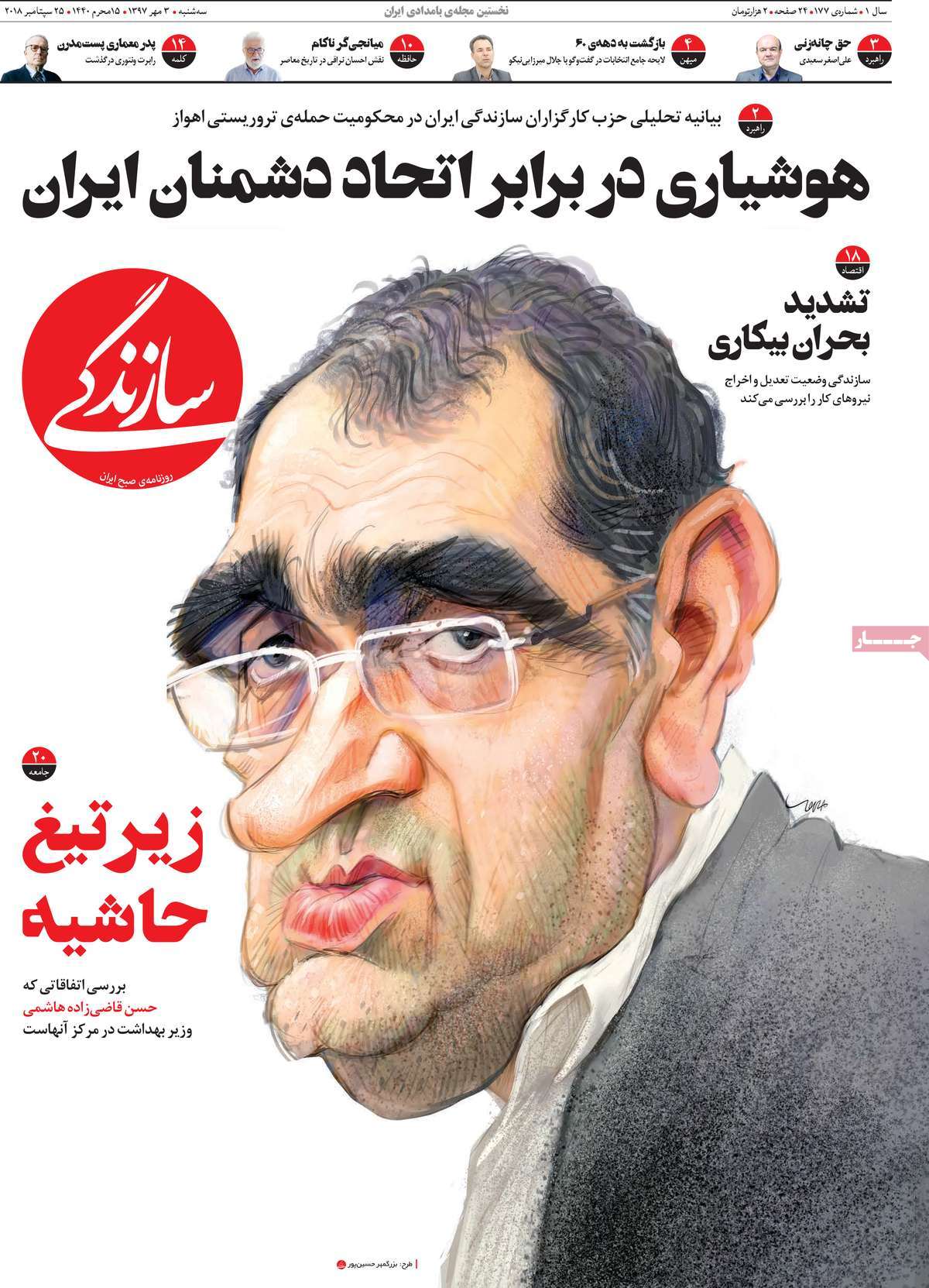 ---
Shahrvand:
1- Iran Can Score Away Goal in UN
Rouhani's New York Visit Best Chance to Defend National Interests
---
Shargh:
1- Rouhani: Trump's Moves in Line with Lose-Lose Policy
2- US' Defeat in Oil Game
3- Golden Chance in UN Security Council [Editorial]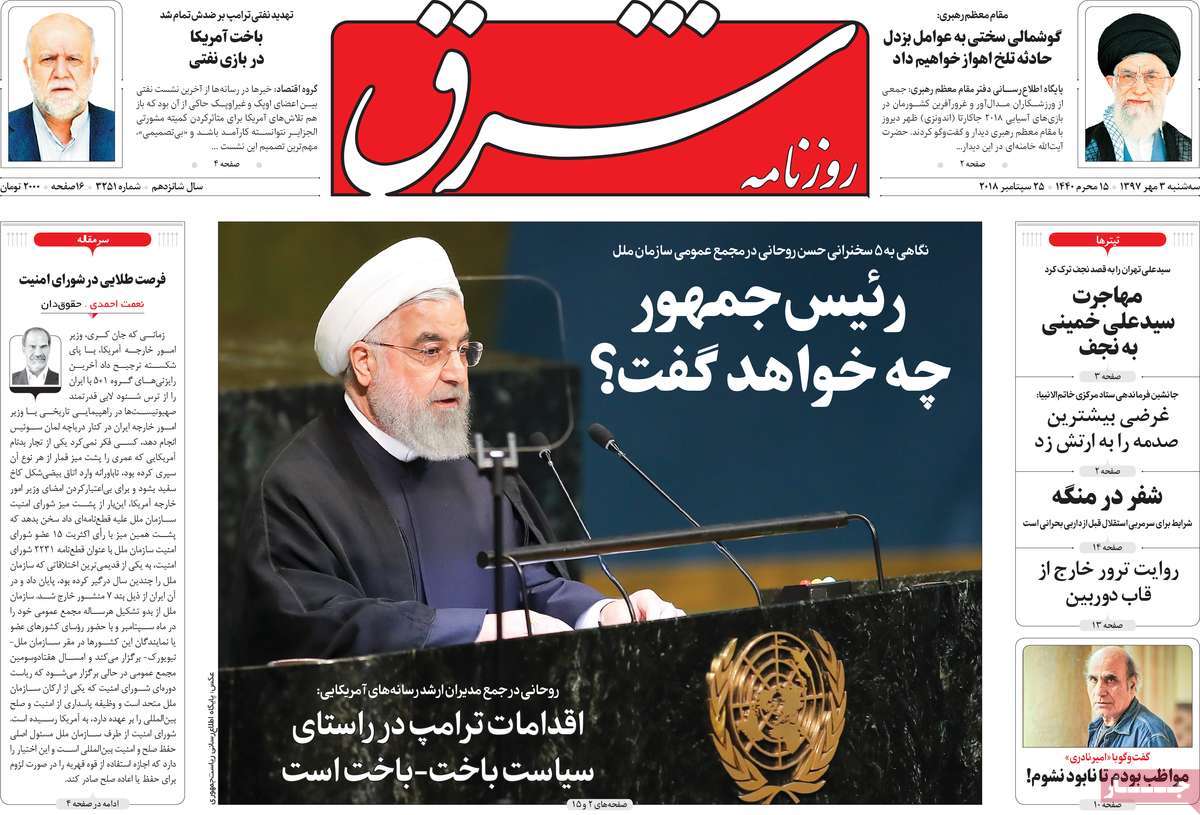 ---
Sobh-e Now:
1- Intelligence Minister: Ahvaz Terrorists' Hideout Found
2- Battle against Media Terrorism
Analysts Discuss Media's Social Responsibility after Terrorist Incidents