Several papers today covered the remarks made by Ali Larijani, the Speaker of Iran's Parliament, about the European leaders' promise to secure Iran's interests under the nuclear deal in case the country remains in JCPOA.
Also a top story was the recent developments in Iraq, particularly the protest rallies against corruption and a decision by Iraqi Prime Minister Haider al-Abadi to dismiss his national security advisor, who is a possible candidate to replace the PM.
Speculations on a possible military conflict in Syria, especially amid the Russian war games in the Mediterranean Sea and the US' alleged preparations to launch an attack on the Arab country, also received great coverage today.
The above issues, as well as many more, are highlighted in the following headlines and top stories:
Abrar:
1- Sadrists Hold Protest Rally against Corruption in Najaf
Iraqi Protesters Set Fire on Basra Governor's Office
2- American Delegation Visiting Middle East for Talks on Syria, Iran
3- Mogherini: It's Good News IAEA Once Again Confirmed Iran's Commitment to JCPOA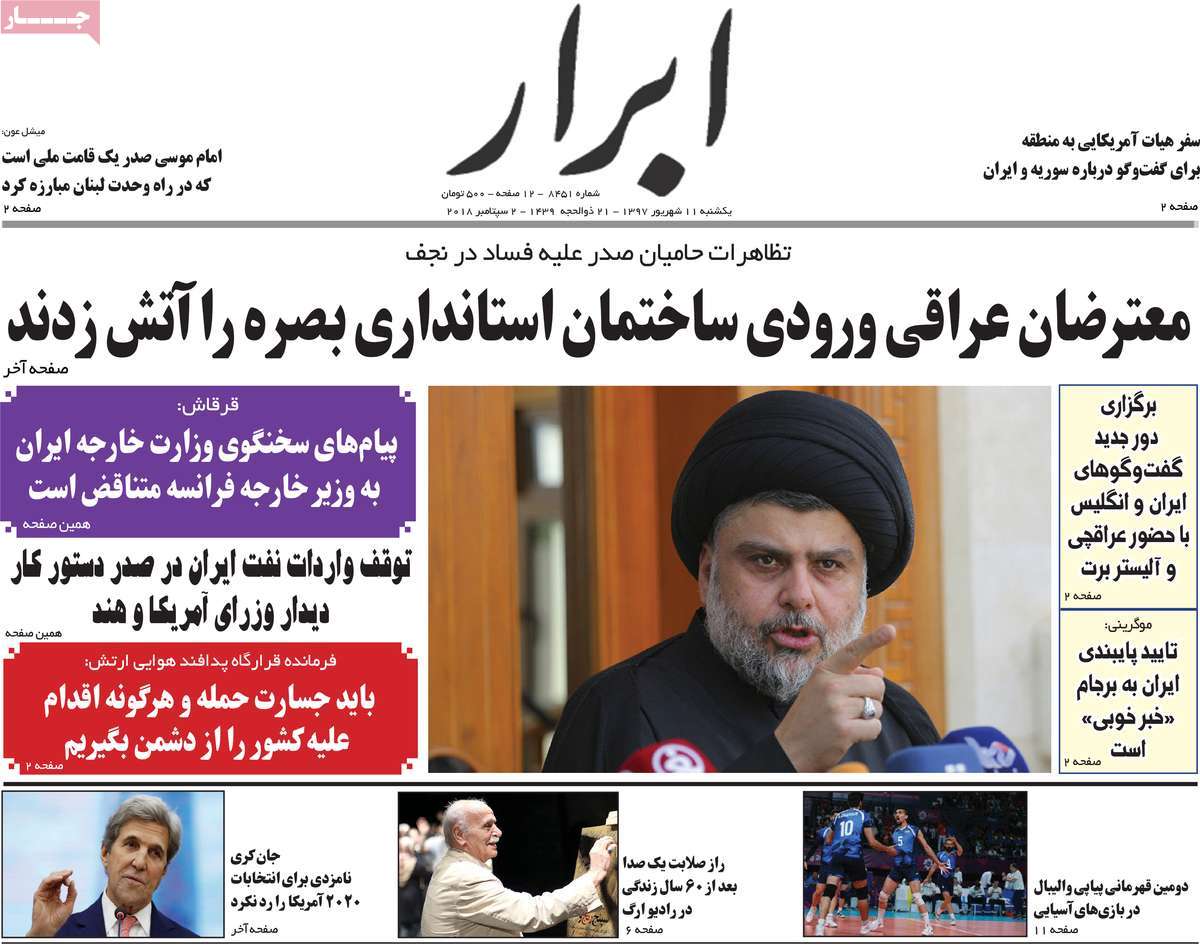 ---
Afkar:
1- Europe, US: Two Different Approaches with One Common Goal on Iran
2- Larijani: EU Unlikely to Make Correct Decision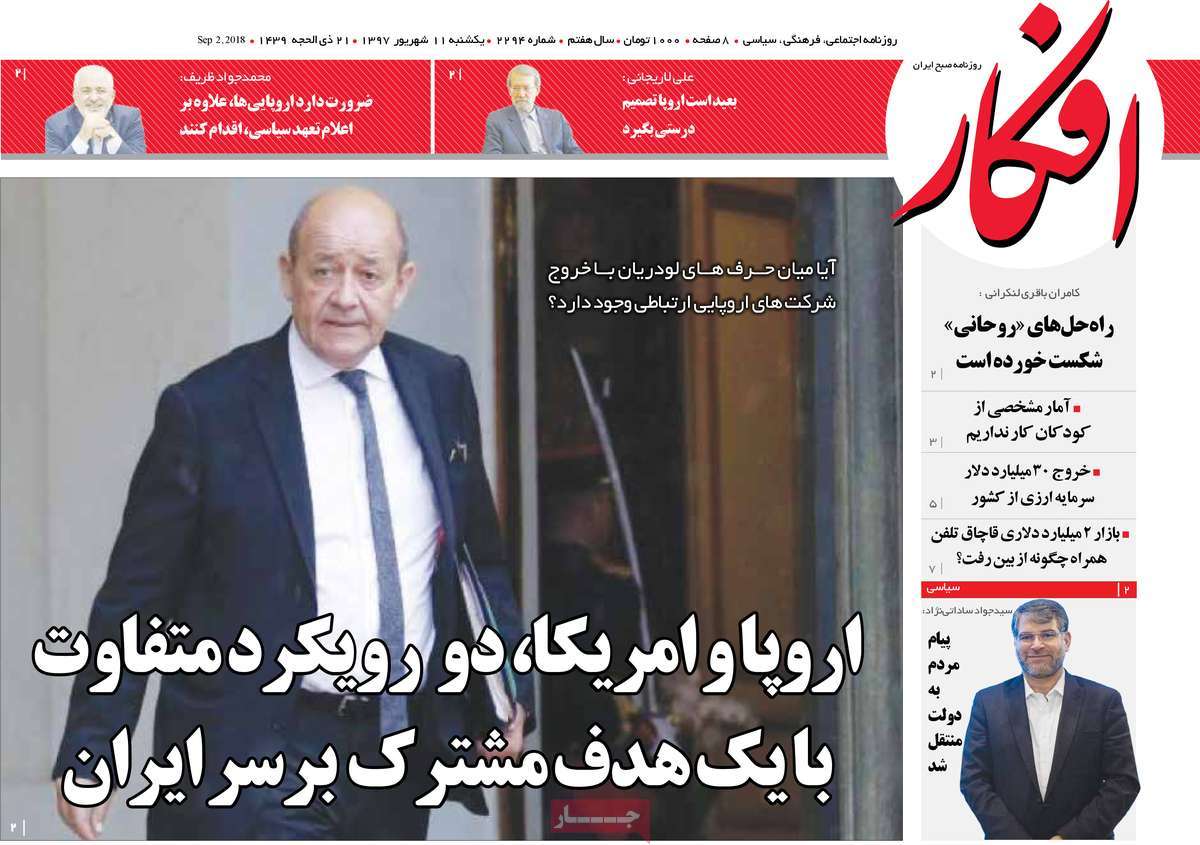 ---
Aftab-e Yazd:
1- Tehran Once Again Expresses Preparedness to Hold Talks with Riyadh
2- They Left Iran, but Will Come Back: A Report on Migration of Afghan Workers from Iran
---
Arman-e Emrooz:
1- Good End of Jakarta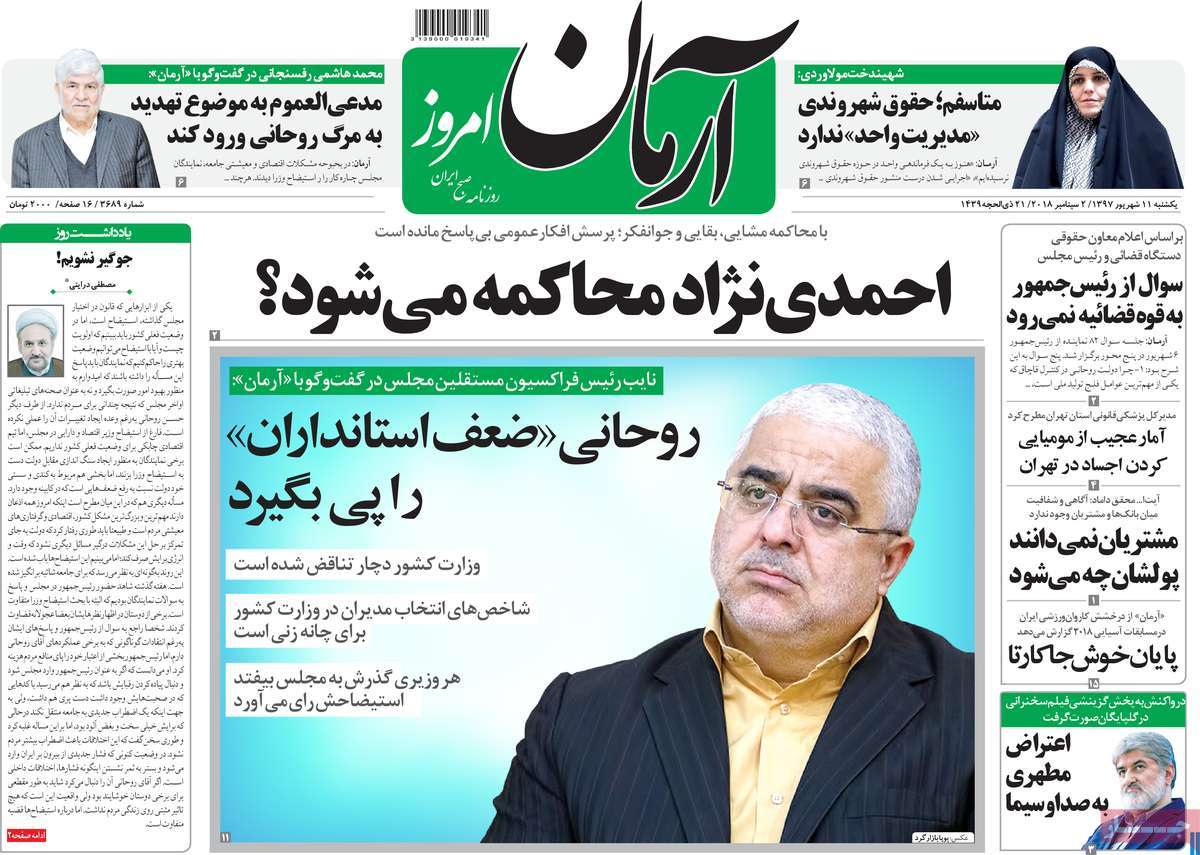 ---
Ebtekar:
1- Zarif: EU Must Take Practical Measures along with Its Political Commitments
2- Calm before Storm in Middle East
Russia Starts War Games in Mediterranean Sea amid Israelis' Threat, US Officials' Visit
---
Etemad:
1- Hellish Days of Trump: Almost Half of Americans Calls for Trump's Impeachment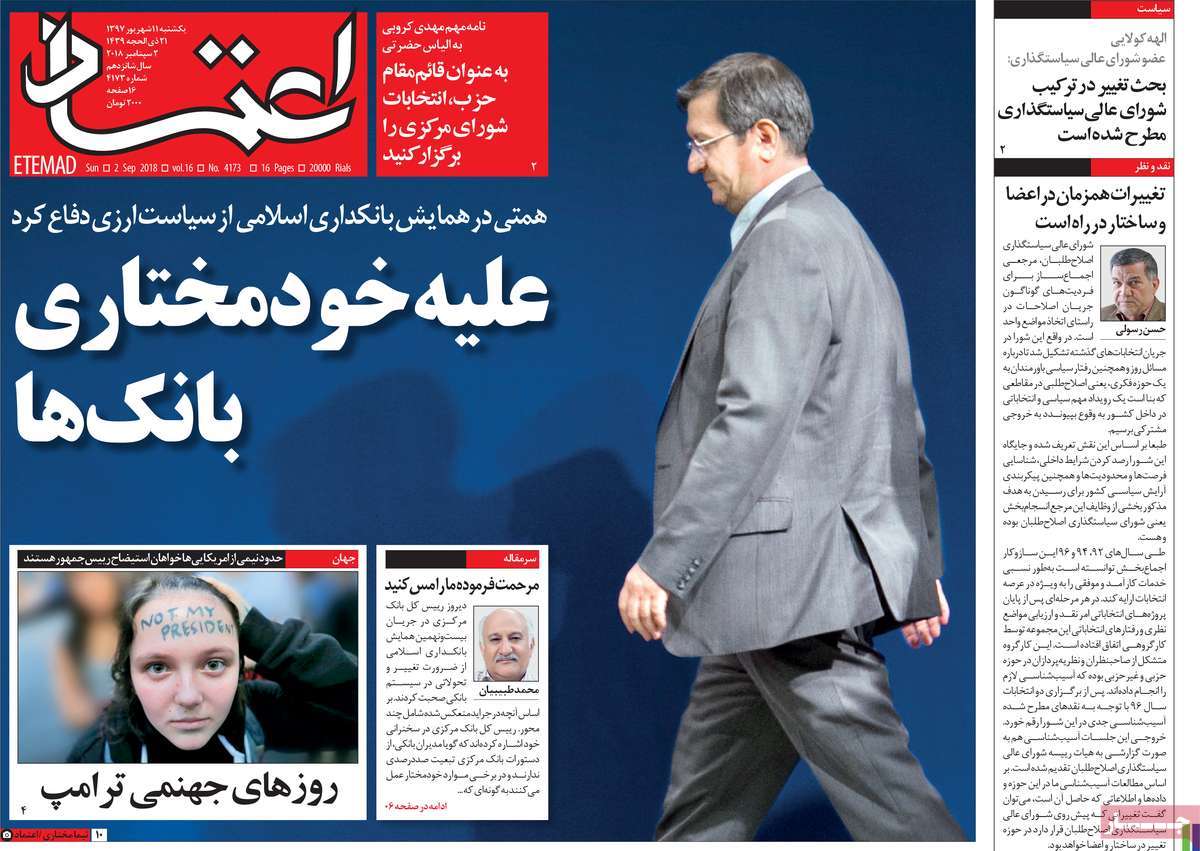 ---
Ettela'at:
1- Larijani: Iran Remained in JCPOA at EU's Request
2- CNN: US Has Prepared List of Targets to Attack in Syria
---
Iran:
1- Where Will Train of Impeachment Finally Stop?
2- Rouhani's Chief of Staff: Holding Free Outdoor Concerts Very Good Initiative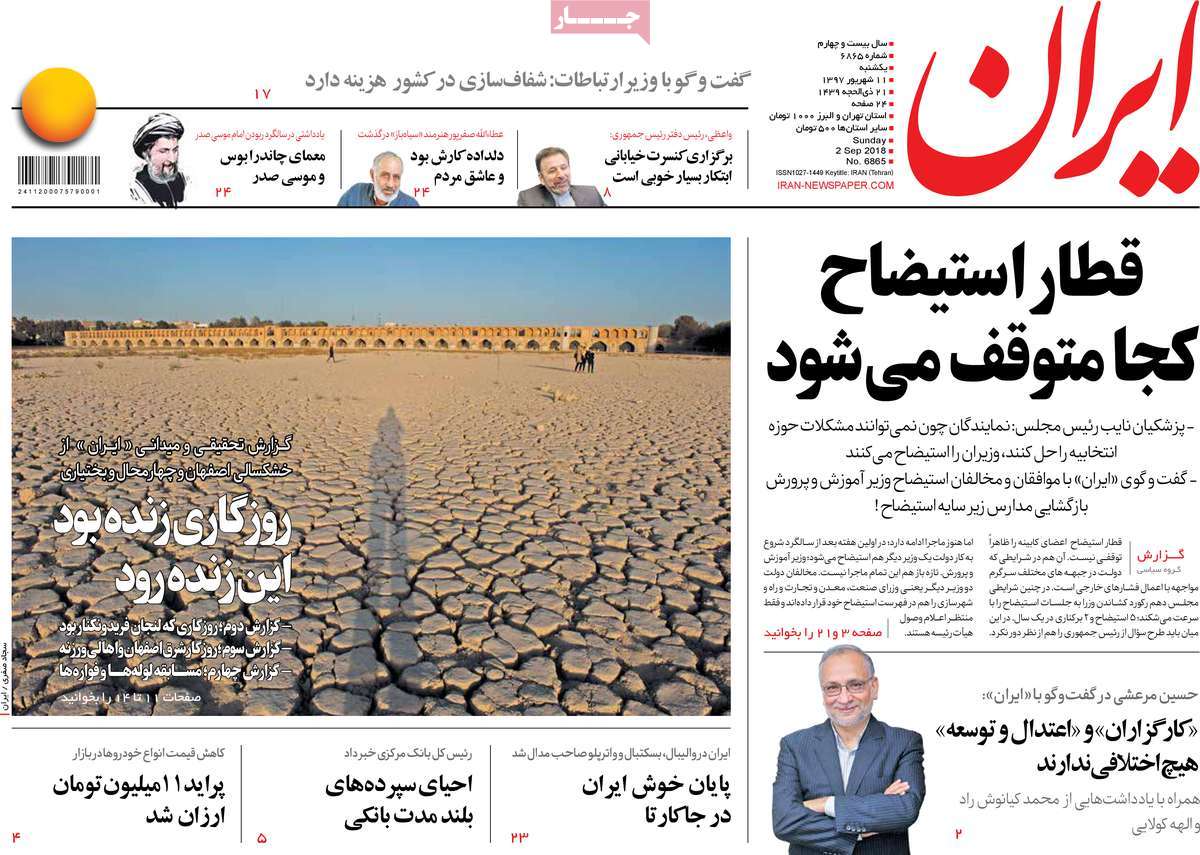 ---
Jame Jam:
1- 62 Medals for United Iran: Iranians Break Their Record in Asian Games
2- Iraq PM under Fire for Dismissing National Security Advisor
PM Abadi's Suspicious Decision Probably Prescribed by US
---
Javan:
1- 150,000 Basij Volunteer Forces to Help People in Deprived Regions
2- American Nuclear Negotiator Says She's Regretful
Wendy Sherman Takes Back Her Words that 'Deceit is in Iranians' Blood'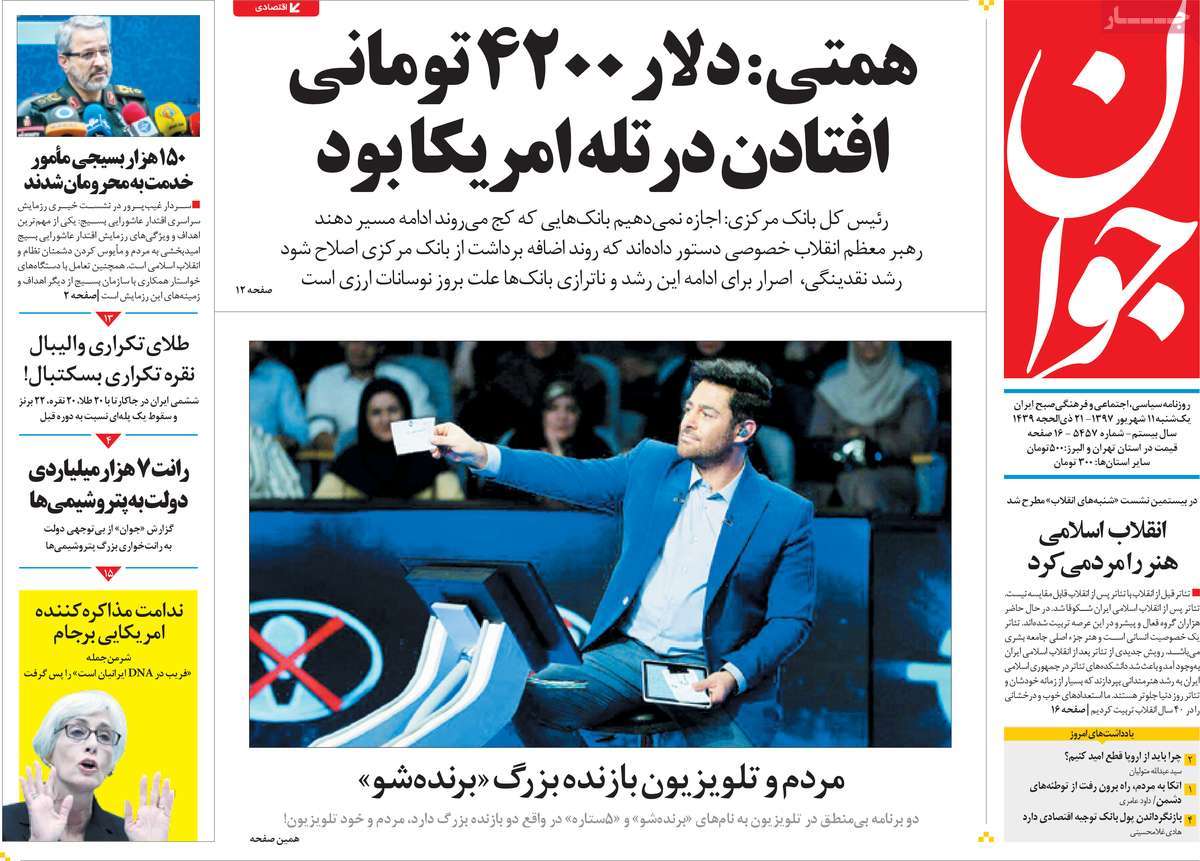 ---
Kayhan:
1- Economic Stability Hinges on Reforming Banking System
2- Huge Anti-US Protests in Baghdad: People Say US Embassy Source of Terrorism
3- Iran, UK Hold New Round of Talks in Tehran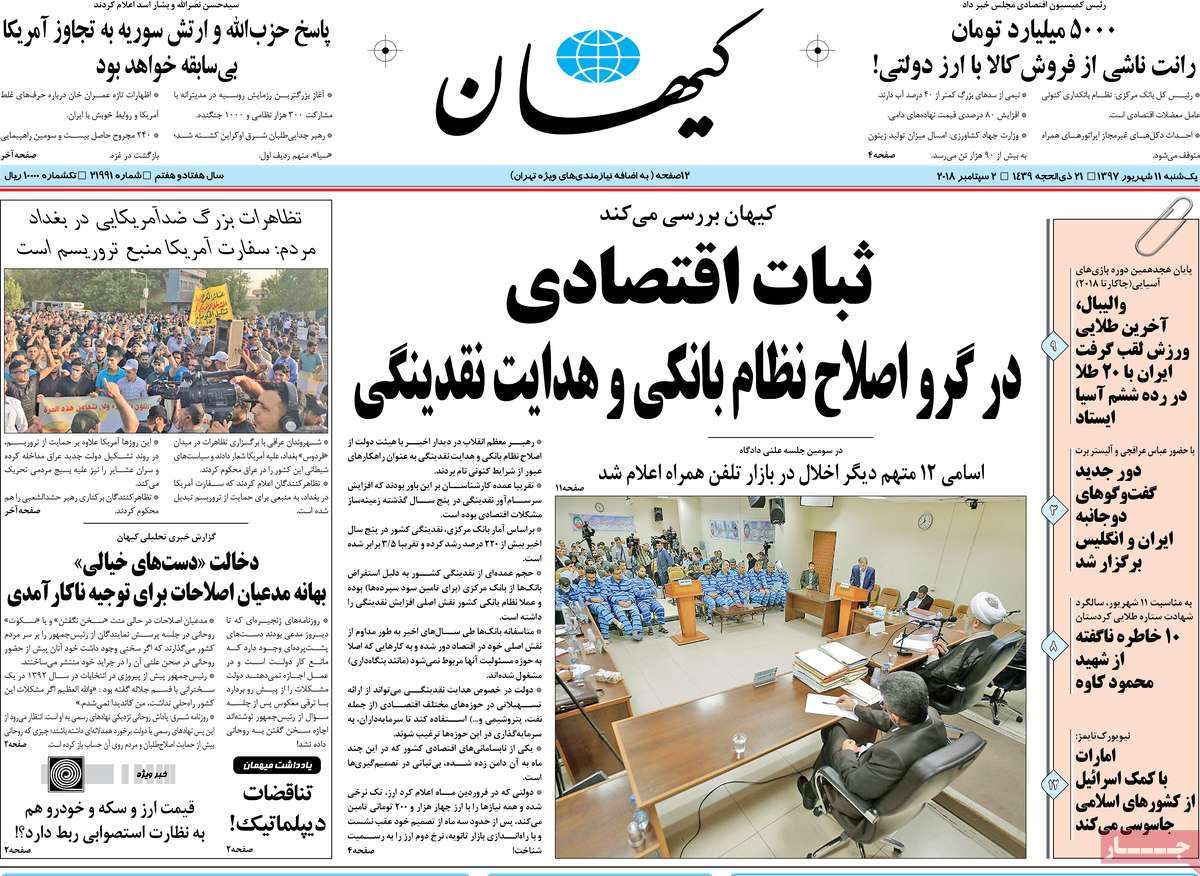 ---
Khorasan:
1- Sistan and Baluchestan Hit by Sand Storm for Past 52 Days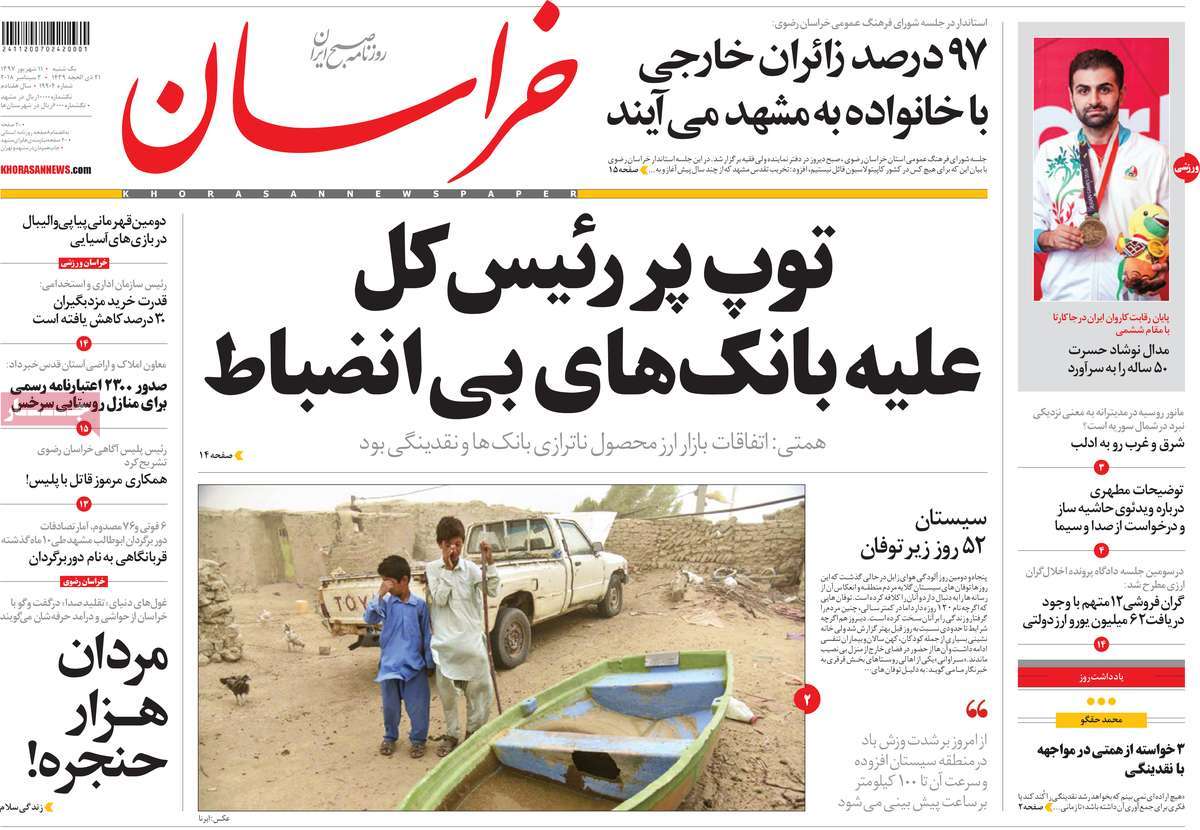 ---
Sazandegi:
1- US Withdraws from Leading the World's Economy
Trump Pulls US Out of NAFTA, Threatens to Withdraw from NATO as Well
2- Inflation Rate May Increase to %20 in Second Half of Current Year
---
Shahrvand:
1- No One Unemployed in Lalejin, the World City of Pottery
---
Shargh:
1- Larijanii: Leaders of UK, France, Germany Asked Us to Remain in JCPOA
2- New Opening in Iran-Saudi Ties
3- Banking in the Way Young Elites Do