IFP has taken a look at the front pages of Iranian newspapers on Wednesday, September 12, 2018, and picked headlines from 14 of them. IFP has simply translated the headlines and does not vouch for their accuracy.
The top story today was speculations regarding President Hassan Rouhani's possible decision to attend or boycott a UN Security Council meeting due to be chaired by US President Donald Trump.
Also a top story was remarks by Major General Mohammad Baqeri, the chief of staff of the Iranian Armed Forces, regarding the recent attack on terrorists' positions in the Iraqi Kurdistan.
The above issues, as well as many more, are highlighted in the following headlines and top stories:
Abrar:
1- UN Warns about Flock of Iranian Refugees to Europe
2- Iraqi PM: I Won't Leave Basra before Public Services Provided Properly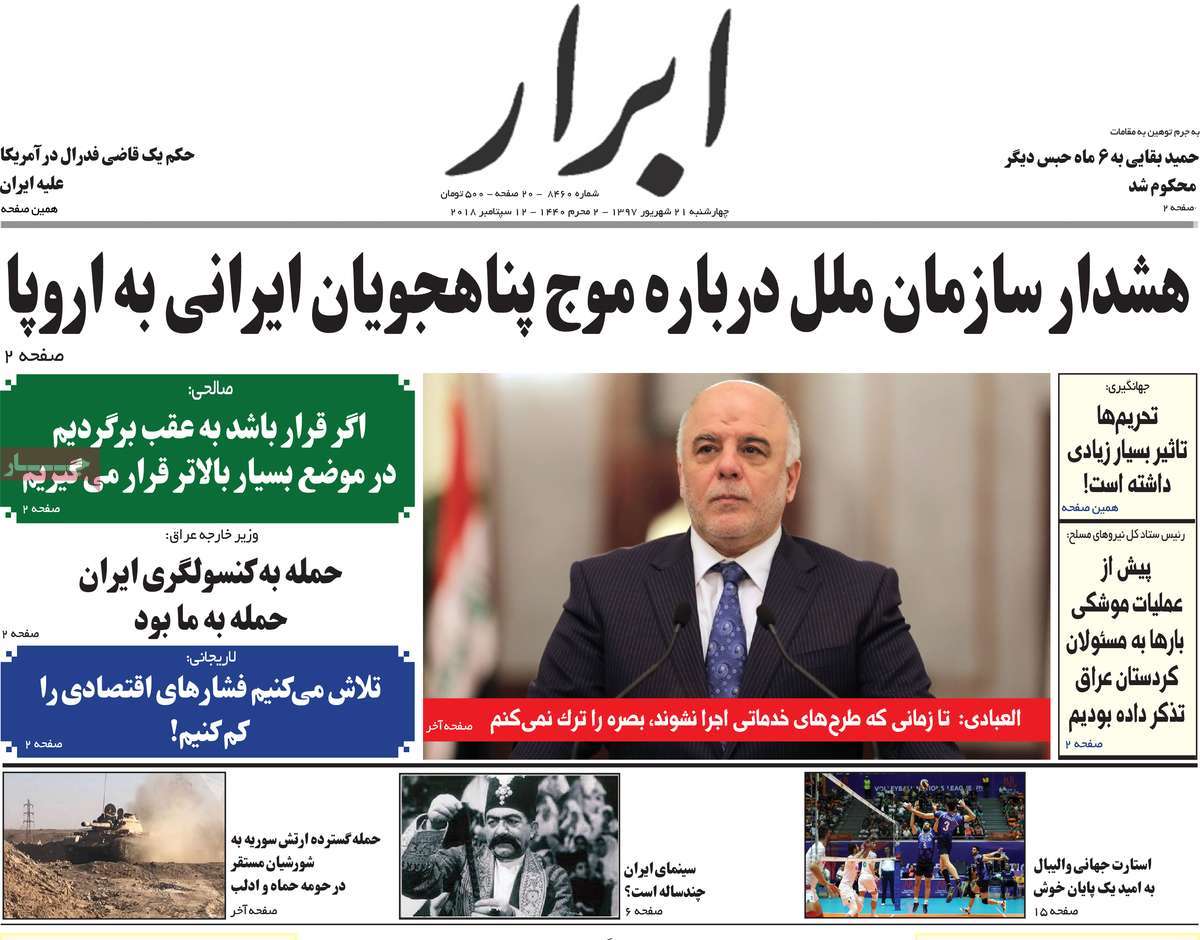 ---
Aftab-e Yazd:
1- Analyst: No One Ready to Replace Economy Minister
2- Working Class Has to Spend 70% of Its Wages on Food
---
Arman-e Emrooz:
1- Experts: Rouhani Shouldn't Miss Chance of New York Visit
2- Scenario of Rouhani's Presence at UN [Editorial]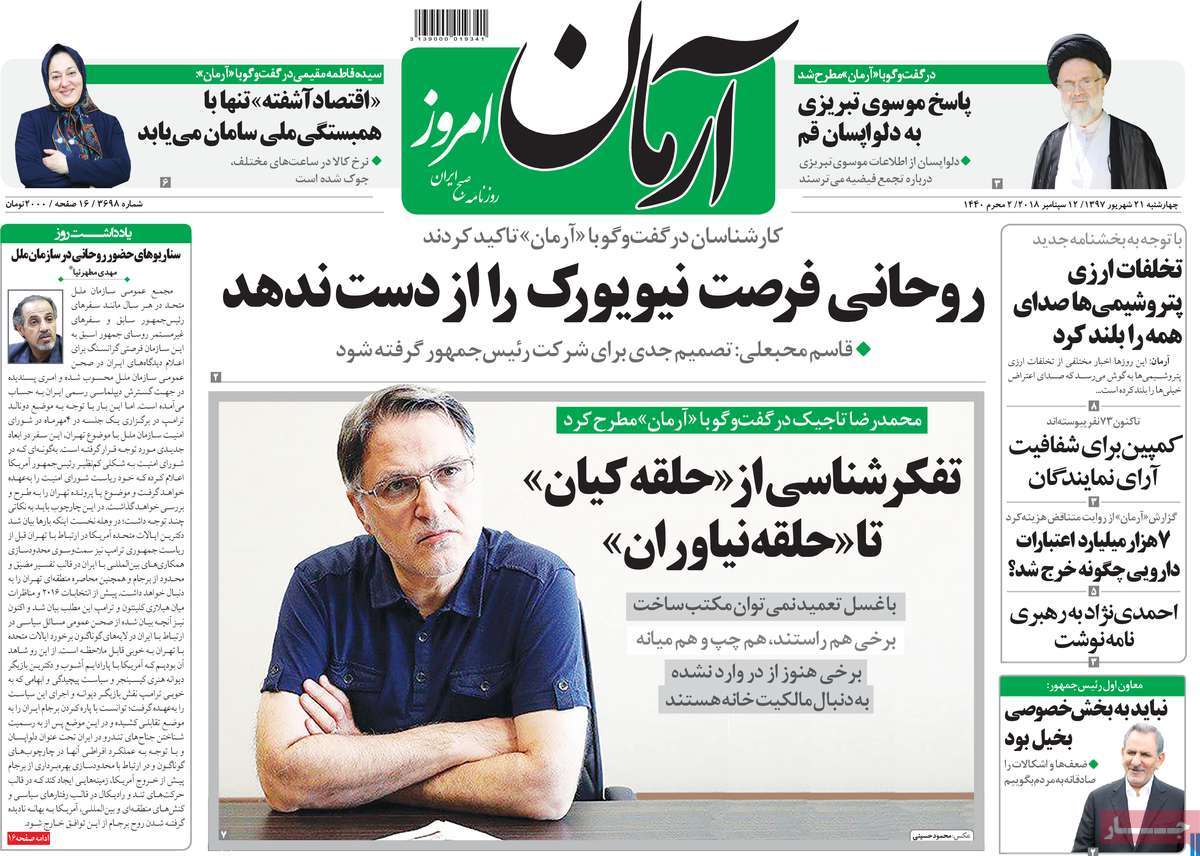 ---
Donya-ye Eqtesad:
1- Kerry Explains Why Iran Doesn't Fight against US
2- Government's Forex Policy Questioned by Economic Parliament
---
Ebtekar:
1- Dilemma of Staying or Going
Speculations Regarding Rouhani's Participation in This Year's UNGA
2- White House Preparing for Second Trump-Kim Meeting
---
Etemad:
1- Rouhani's Critics Asking Him to Boycott UN General Assembly
2- Reformist Figure: Government's Efforts to Increase People's Hope Meaningless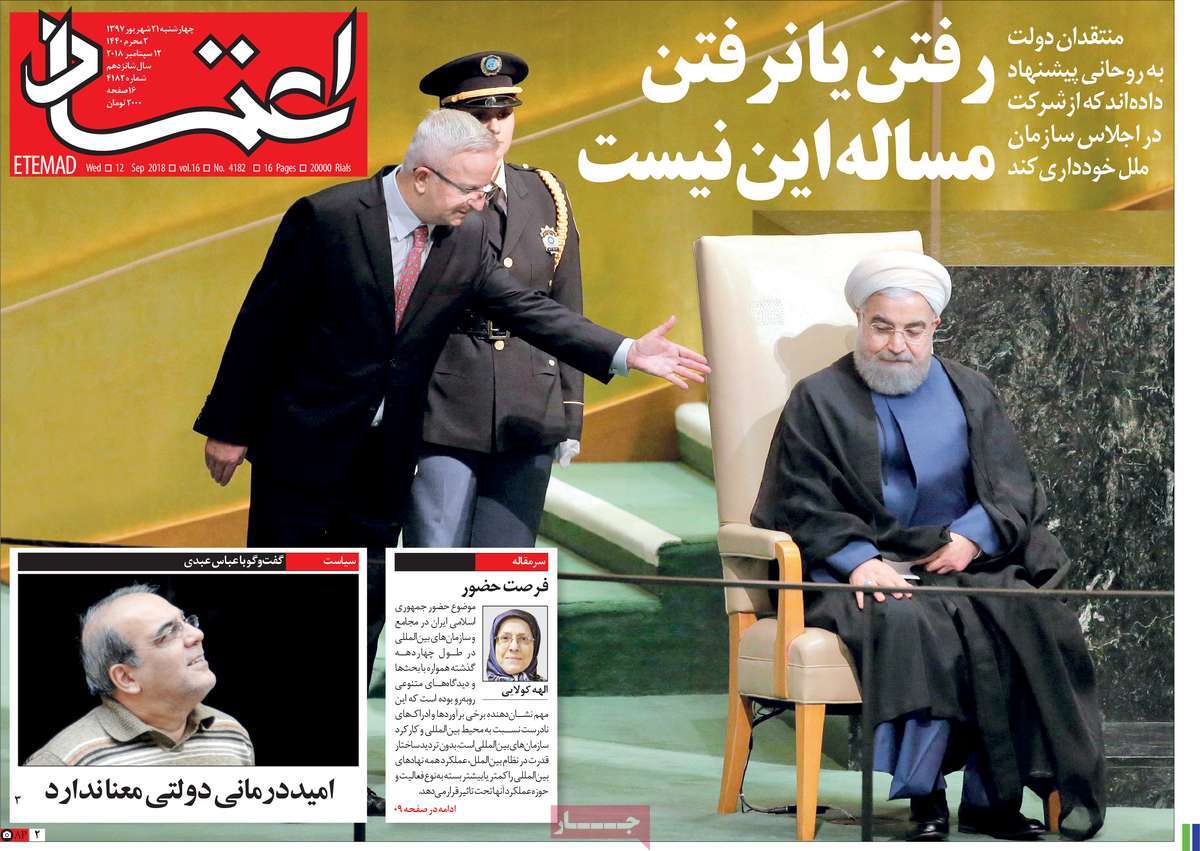 ---
Ettela'at:
1- Rouhani: We'll Overcome Current Situation Thanks to Our Brave Leader, Patient People
2- Iranian Diplomat in Beijing: US' Aim Is to Harm Iranian Nation
3- Leaders of 50 Iraqi Tribes: We'll Defend Iran Wholeheartedly
4- Iran's Nuclear Chief to AP: We'll Be in Much Higher Position If We Withdraw from JCPOA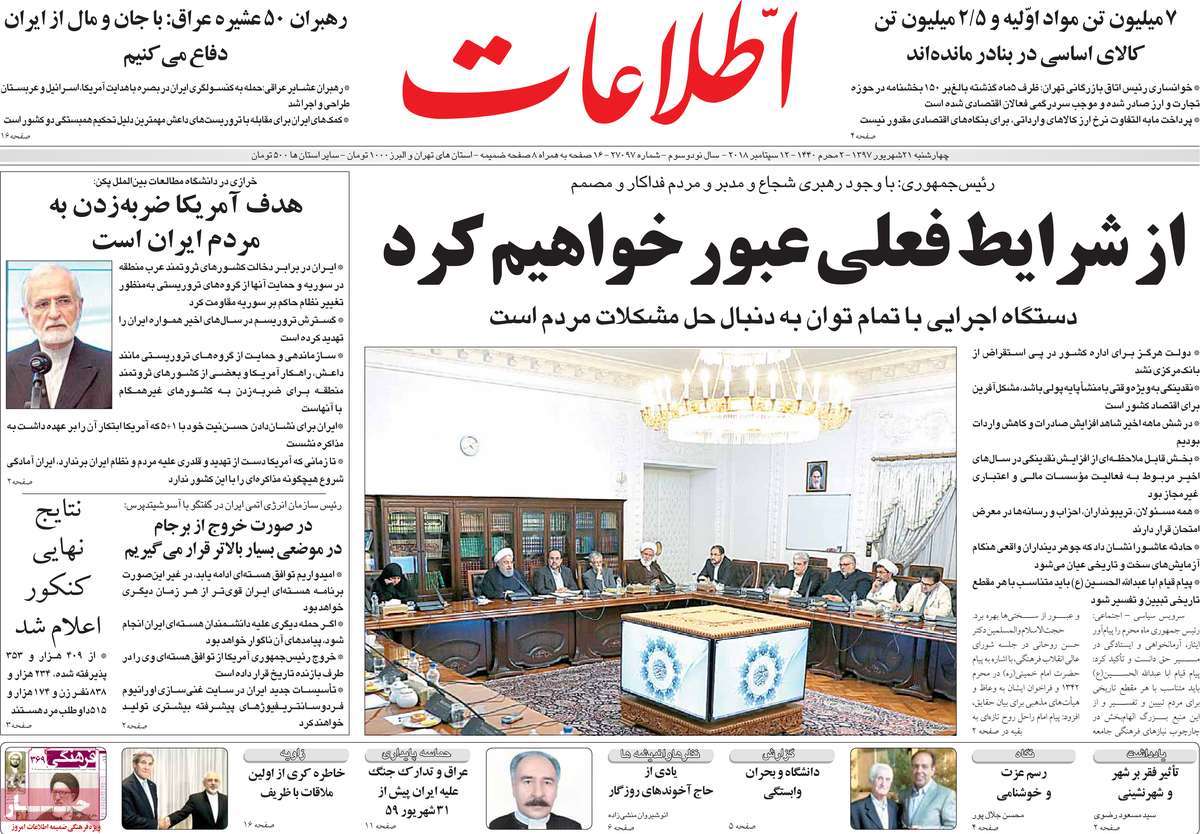 ---
Javan:
1- 20 Million Litres of Petrol Smuggled Every Day
2- Kerry: Trump's Withdrawal from JCPOA Proved US Untrustworthy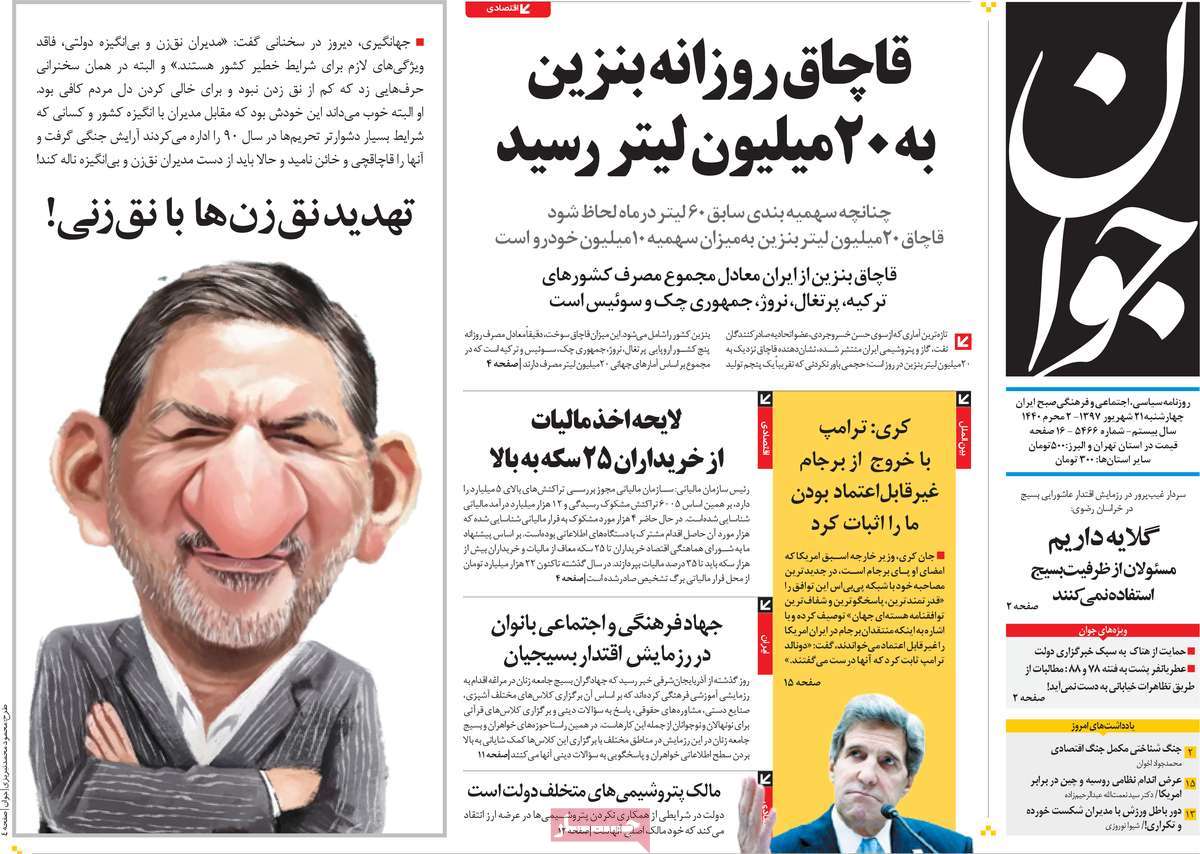 ---
Kayhan:
1- Putin Shows Off His Power to West by Holding Russia's Biggest-Ever Military Drill
2- Top General: Our Armed Forces Won't Wait until Terrorists Bring Insecurity to Iran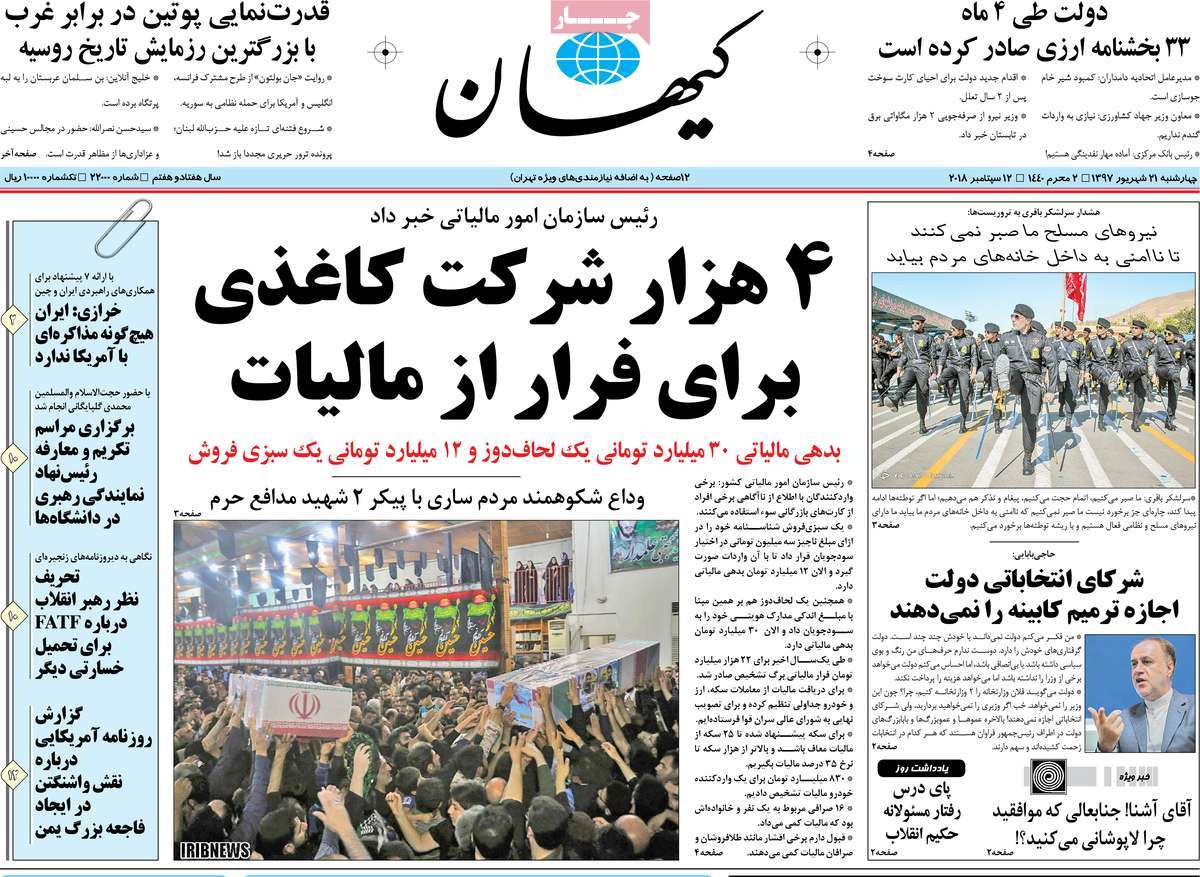 ---
Khorasan:
1- Top Authorities Working on Plan to Receive Tax from Gold Coin, Forex Deals
2- Religious Tourism Income 1.5 Times Bigger than Construction Budget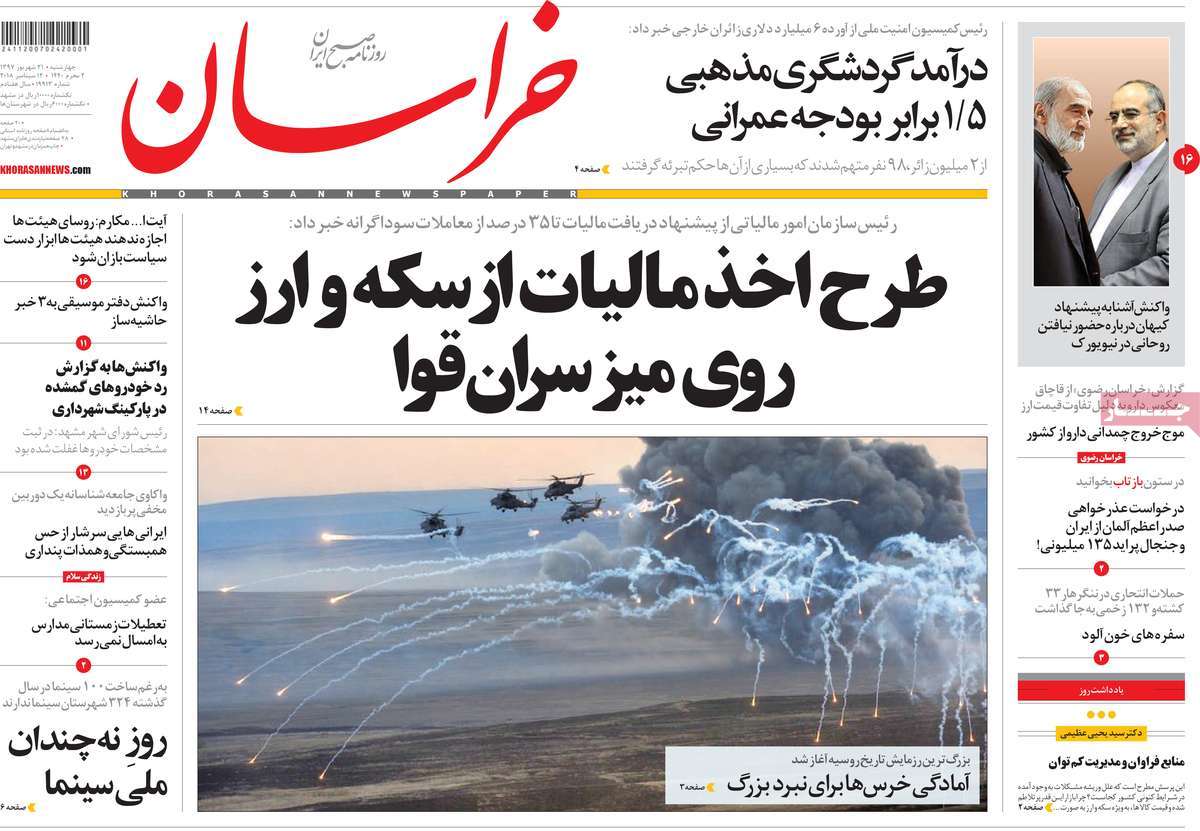 ---
Resalat:
1- Review of Various Aspects of Attack on Iran's Consulate in Basra
How Inauspicious Triangle of Mideast Failed
2- Leaving behind Neoliberal Bodies Only Way to Cure Iran's Economy
3- Every One Must Stand against US' Bullying: Parliament Speaker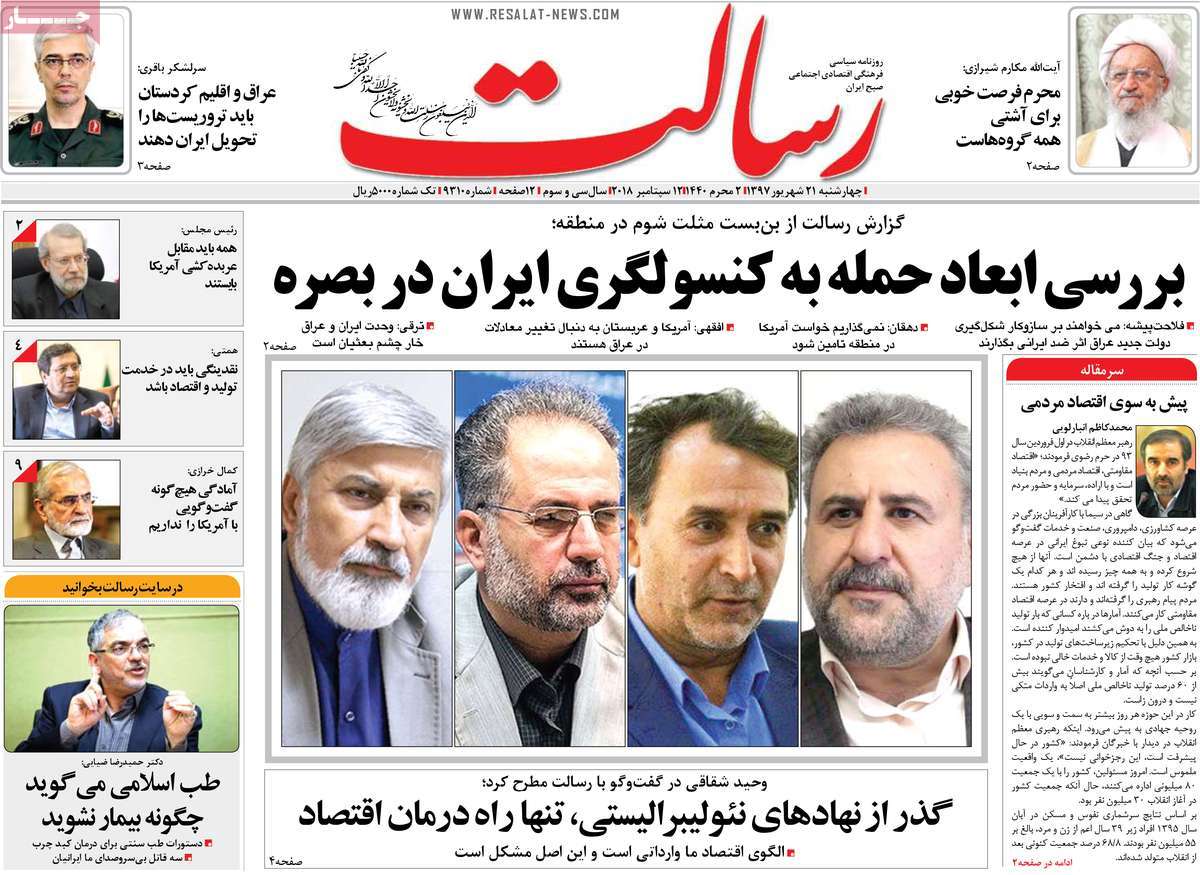 ---
Shargh:
1- Military Alliance of China, Russia: Biggest War Games of Cold War Enemies Held in Russia
2- Bolton's Impudent Honesty [Editorial]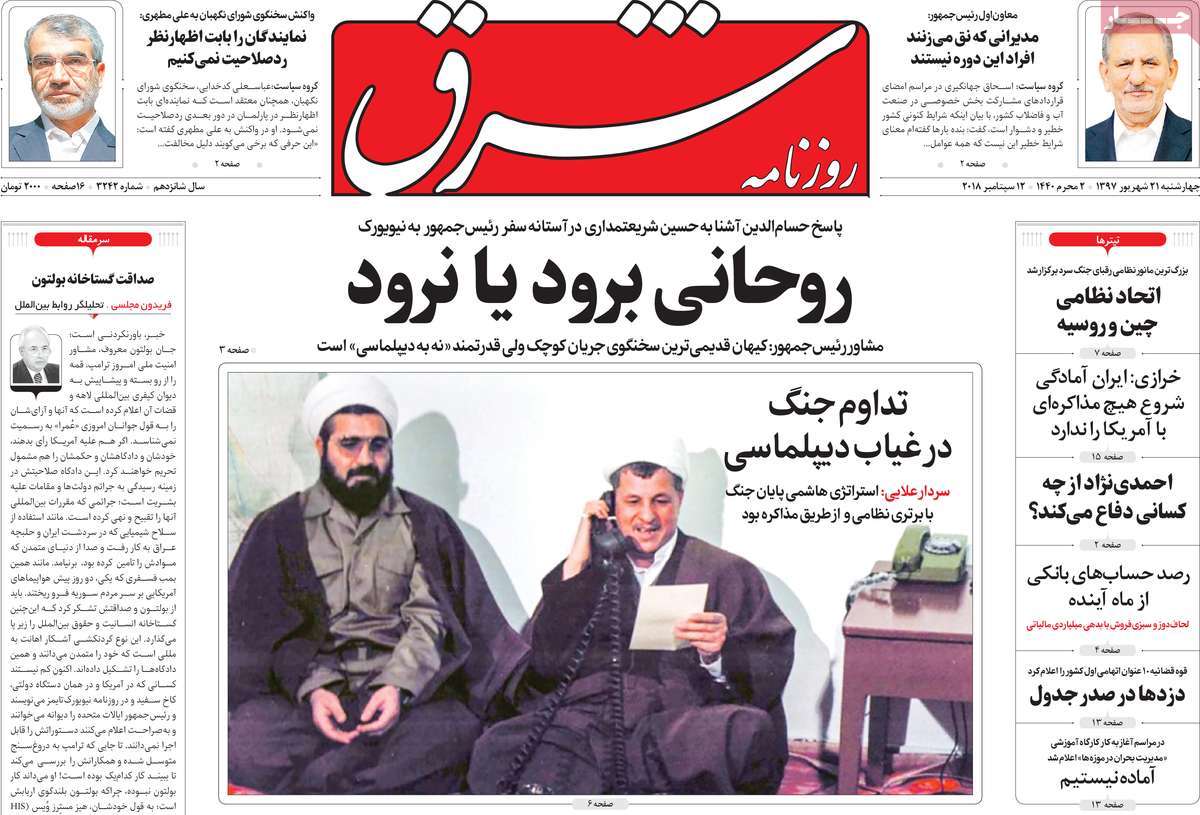 ---
Tejarat:
1- Iran Nuclear Chief: Implementation of Nuclear Program Stronger than Before
2- Iran First VP: Conditions Difficult, but No Deadlock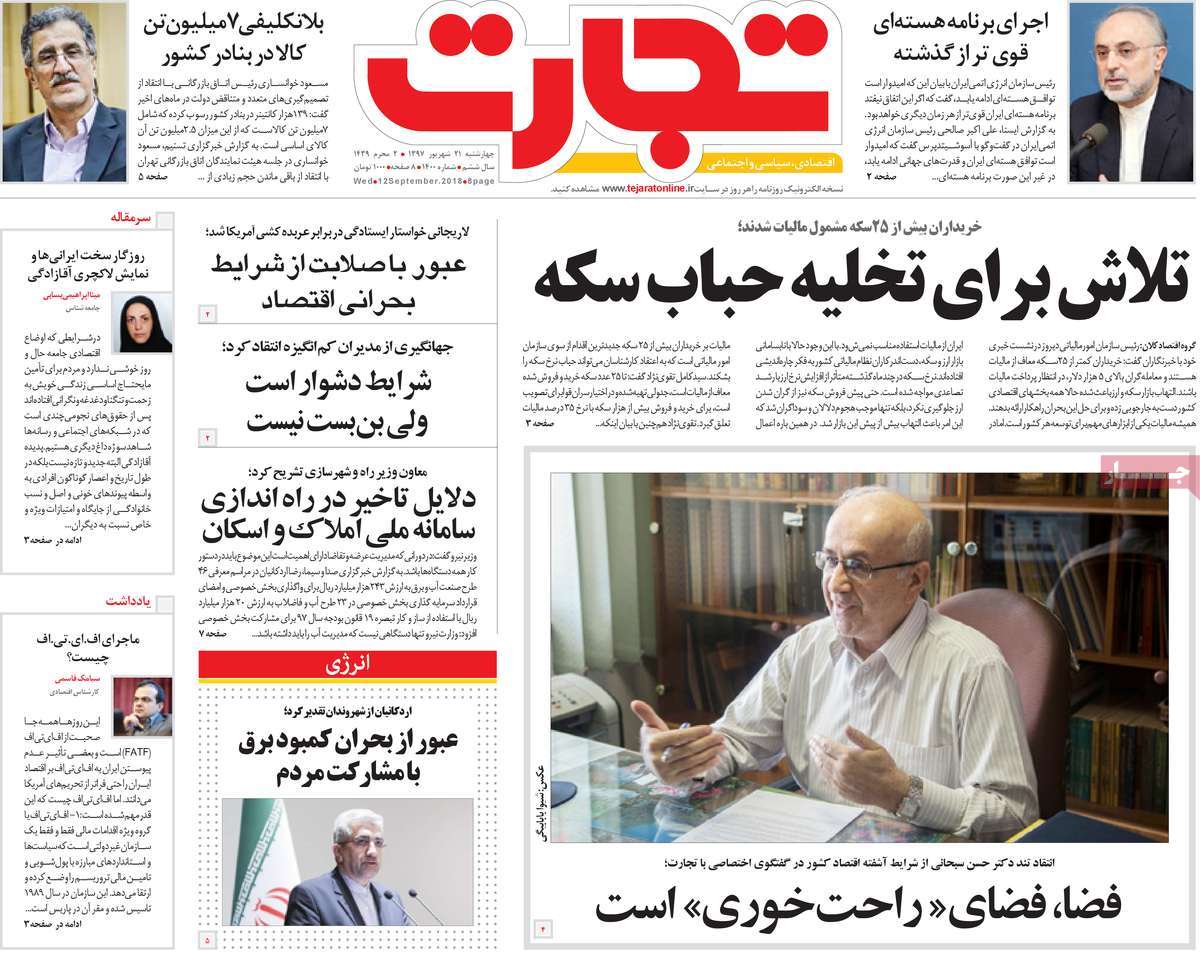 ---
Vatan-e Emrooz:
1- Malaysia's Ex-PM Najib Razak Admits He Has Received Money from Saudi Arabia