The Sunday remarks by the Leader of the Islamic Revolution Ayatollah Seyyed Ali Khamenei about Iran's success in foiling the US' plots in Syria, Lebanon, and Iraq were widely covered by Iranian papers today.
Also a top story was the fate of Iran's adoption of the standards set by the Financial Action Task Force (FATF), and the four bills proposed by the government to prevent the country from being blacklisted by the international body.
The above issues, as well as many more, are highlighted in the following headlines and top stories:
Aftab-e Yazd:
1- Rejecting EP's Invitation Would Be Impolite, We Had to Go: Female MP
Visit of Several Iranian MPs to Europe Sparks Controversy
2- Will Chabahar Port Save Iran's Oil Trade?
Details of Iran-India Cooperation for Development of Chabahar Port
---
Arman-e Emrooz:
1- Details of Plan to Grant General Amnesty
---
Etemad:
1- Your Might Will Force Enemies into Retreating: Iran Leader to Navy Cadets
2- Efforts to Create Happy Ending for FATF
Was Expediency Council's Letter to Guardian Council a Good Thing?
3- Consensus on Getting Out of FATF [Editorial]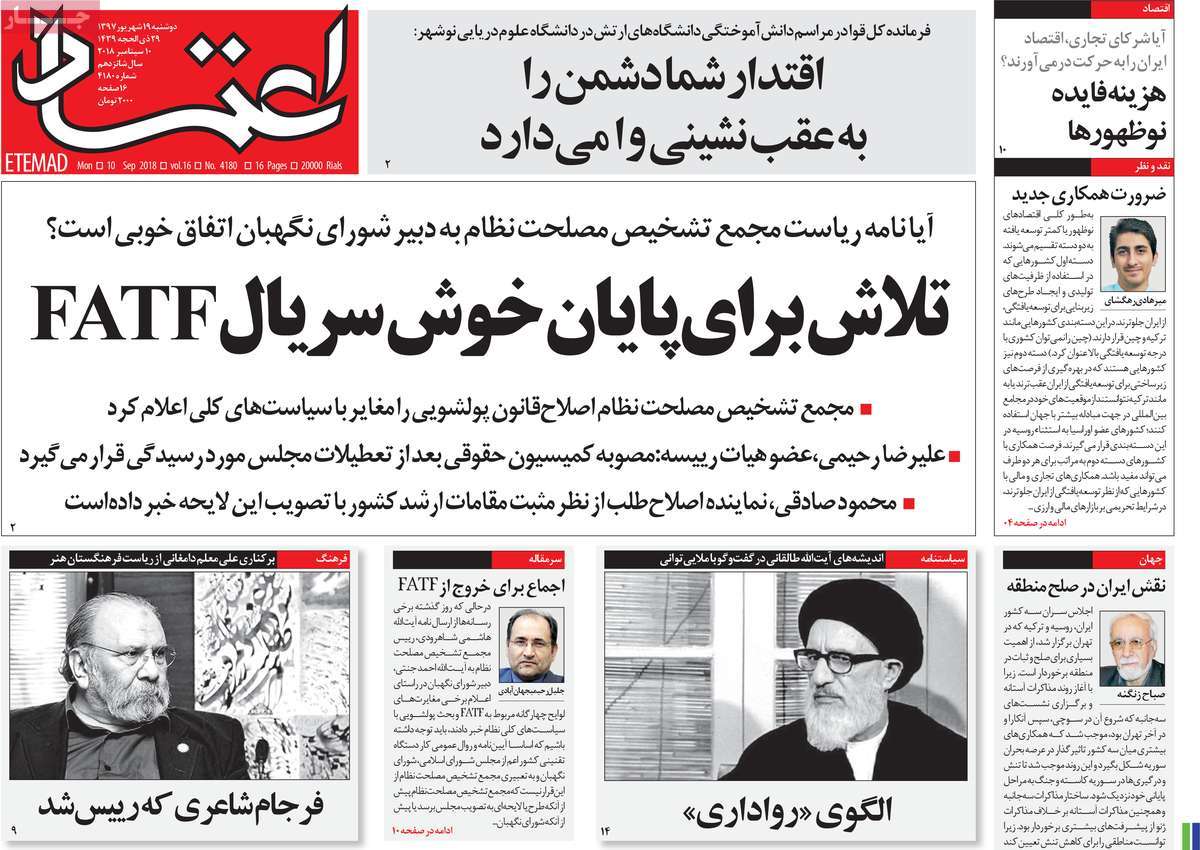 ---
Ettela'at:
1- If a Nation Is Not Afraid, It Can Defeat Superpowers: Iran Leader
2- JCPOA Supporters Must Question Trump at UN Security Council: US Senator
3- Saudi, US Roles in Recent Basra Unrest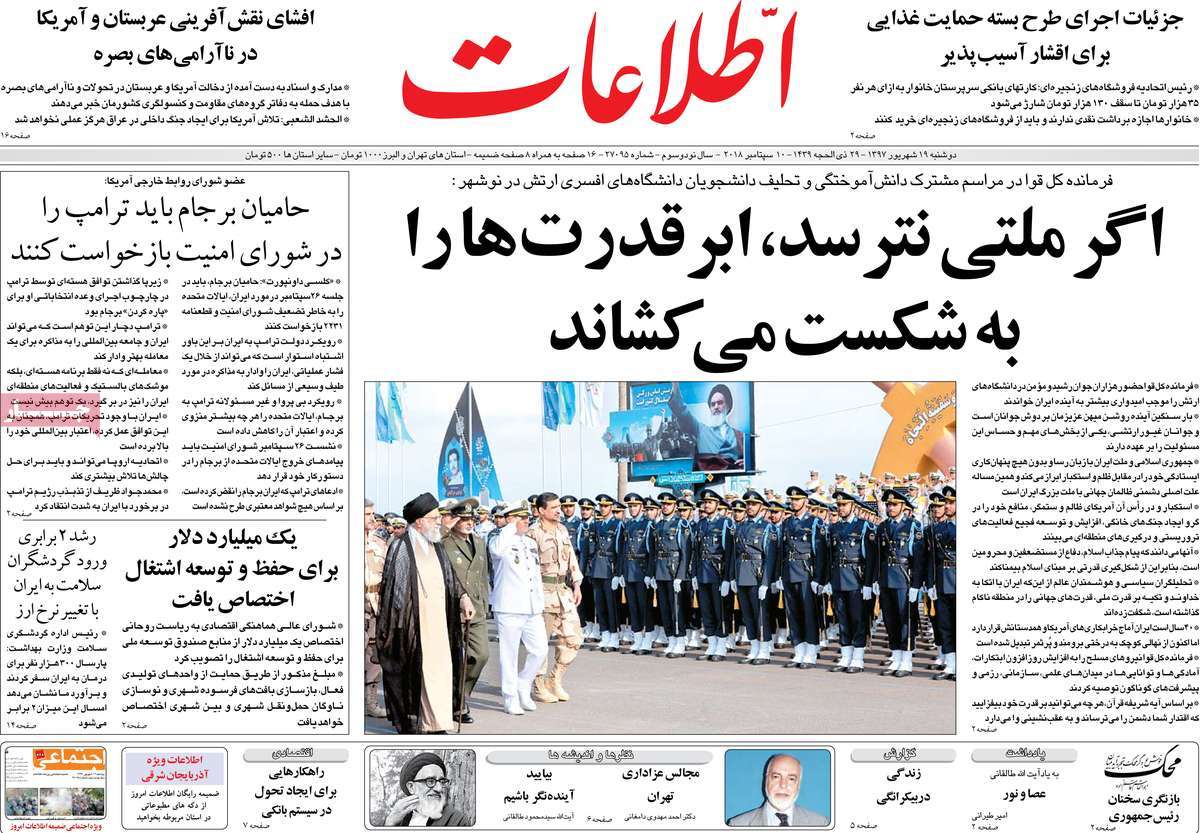 ---
Haft-e Sobh:
1- Iranian Fighter Ali-Akbari Defeats Polish Bear, to Face Russian Giant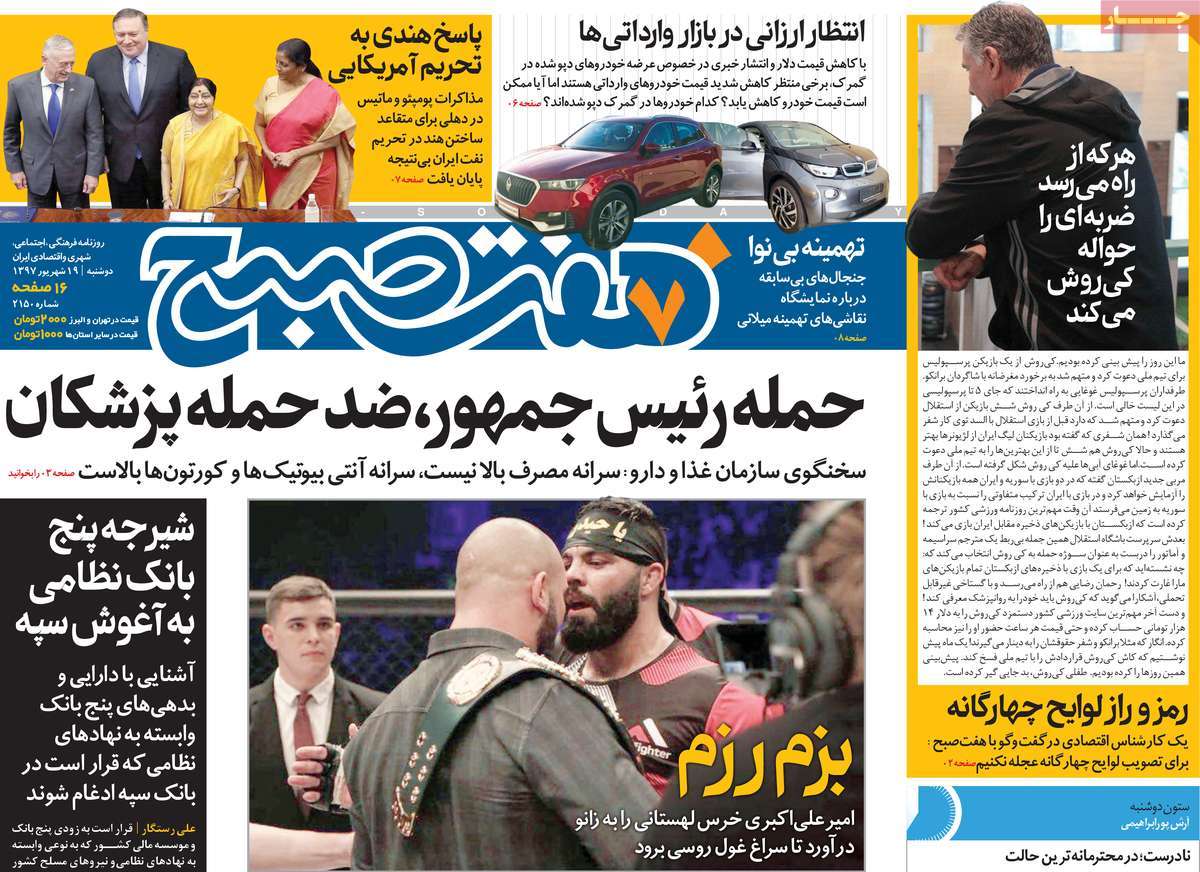 ---
Hemayat:
1- Heavy Punishments for 550 People Involved in Economic Corruption in 4 Years
2- Hashd al-Shaabi to Quench Flames of Basra Sedition
---
Iran:
1- One-Billion-Dollar Budget for Decreasing Unemployment Rate
2- Iranian Nation Not Intimidated by US' Frown: Leader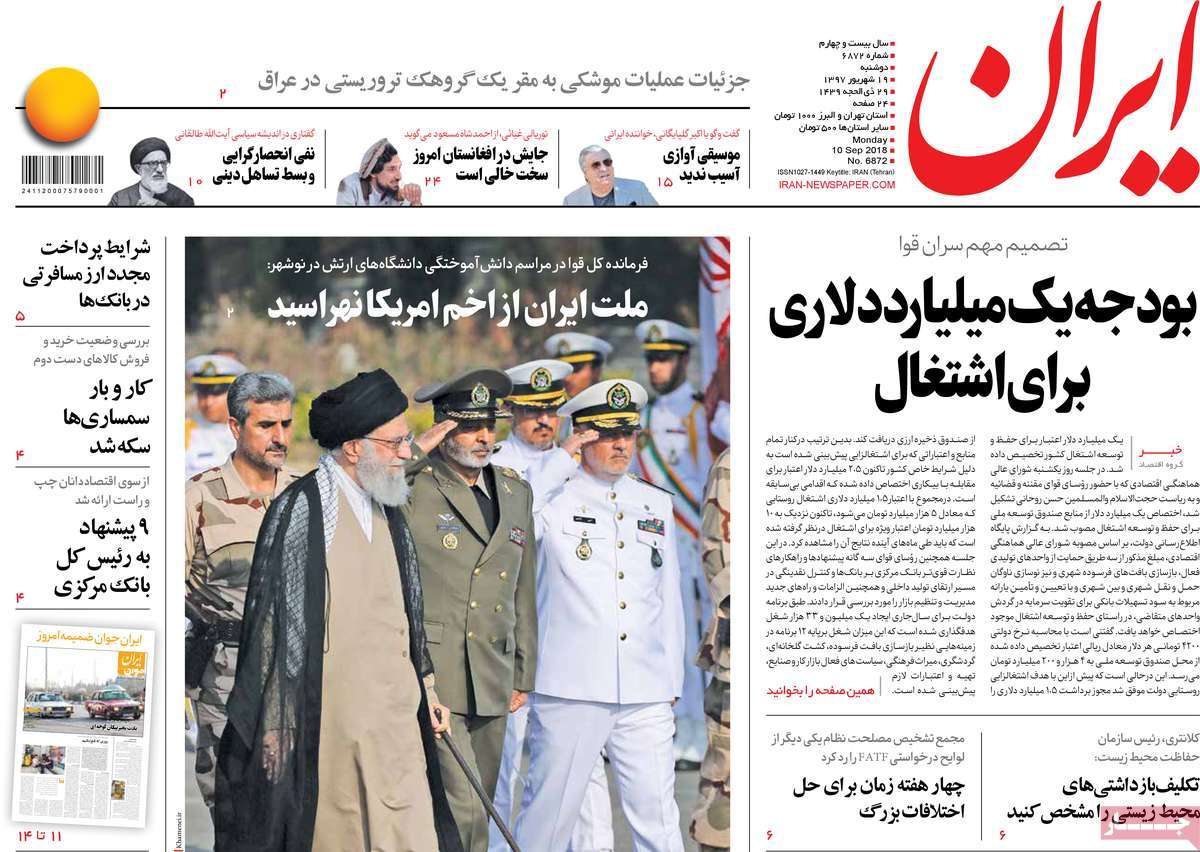 ---
Jame Jam:
1- A Look at IRGC's Missile Attacks on Enemies on Occasion of Recent Attack on Terrorists
---
Javan:
1- World's Intellectuals Surprised We Defeated US in Region: Iran Leader
2- Seven IRGC Missiles Hit Body of Terrorism
IRGC Attacks Terrorists' Gathering in Erbil with 7 Missiles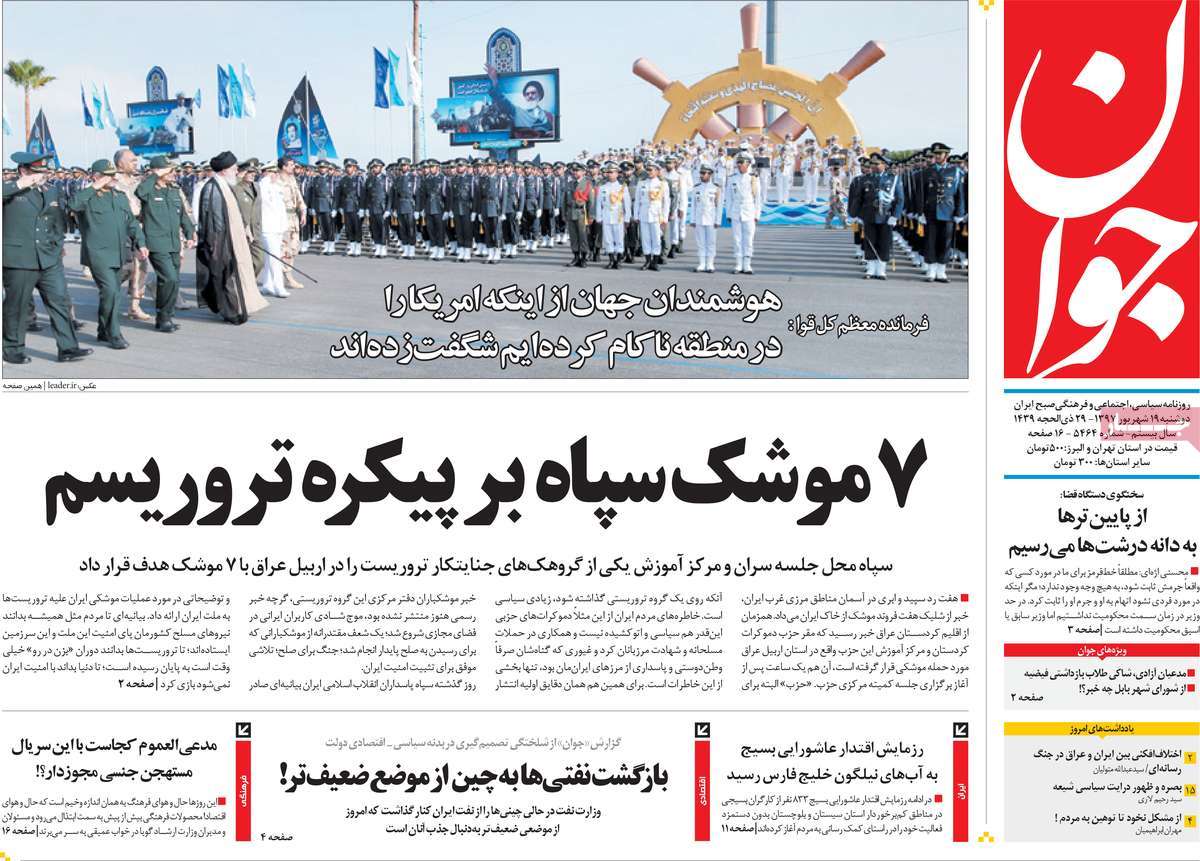 ---
Kayhan:
1- Hashd al-Shaabi's Deputy Chief: US Envoy Threatened to Set Basra on Fire
2- The Netherlands Expels Two Iranian Diplomats, Iran Holds Two Art Fairs There!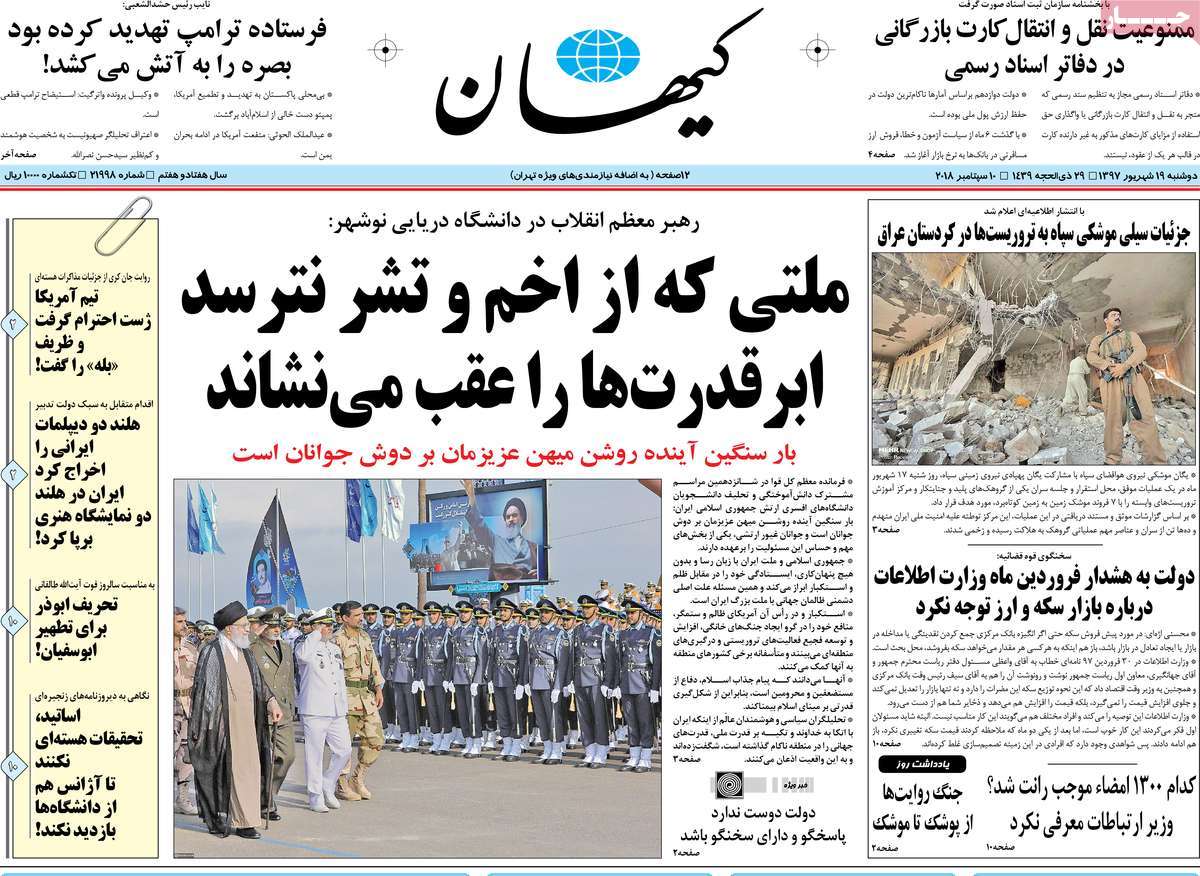 ---
Quds:
1- Rejection of Second FATF Bill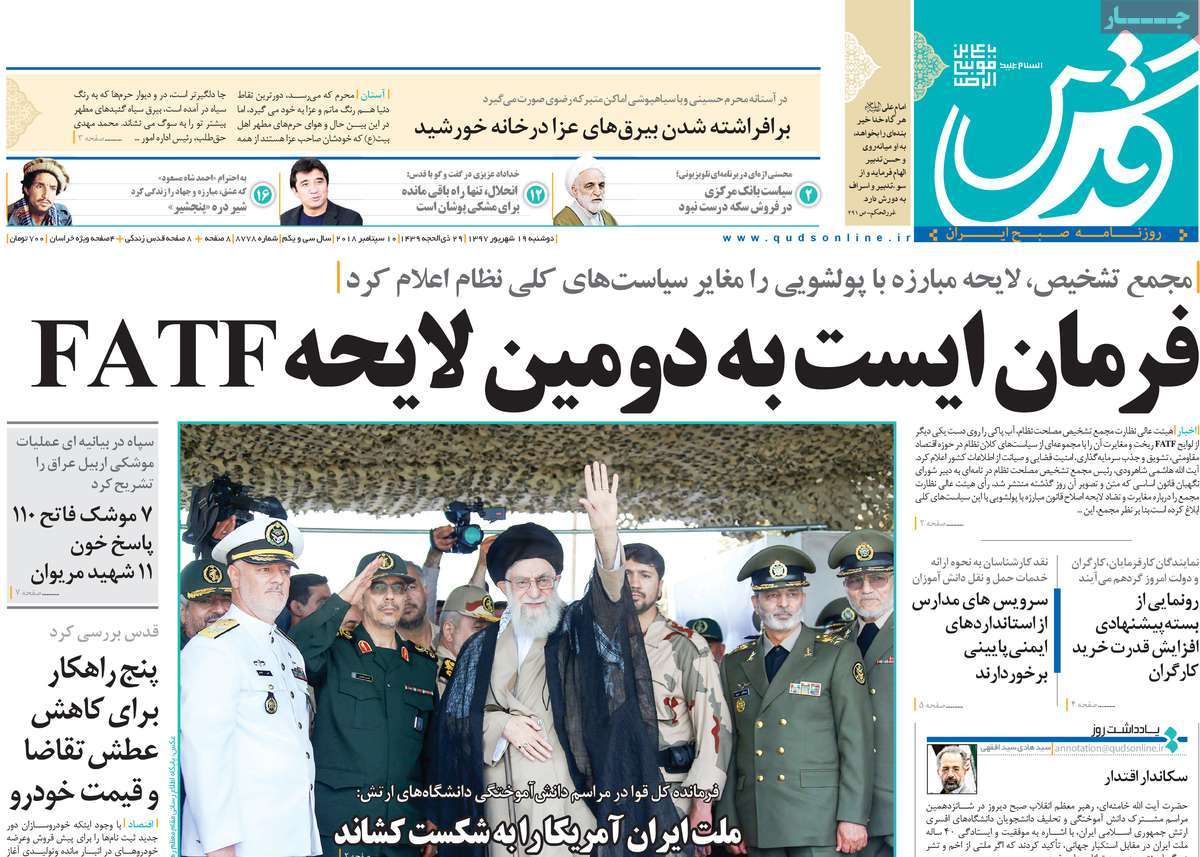 ---
Shargh:
1- Iran Leader: Nation Was Not Intimidated by US' Frown, Brought It to Failure
2- Saudi Arabia Not Capable of Attacking Iran: Leader's Military Aide