Iranian papers today continued to cover reactions to the Iranian Parliament's ratification of a bill on the country's accession to the Combating the Financing of Terrorism (CFT).
Also a top story was the alleged murder of Saudi journalist Jamal Khashoggi in the Saudi consulate in Istanbul, which has sparked a great controversy over the past few days.
The above issues, as well as many more, are highlighted in the following headlines and top stories:
Aftab-e Yazd:
1- Ahmadinejad, Jalili First Passed Bills on FATF; Why Are They Silent Now?
2- Aren't Cell Phone Prices Going to Stop Increasing?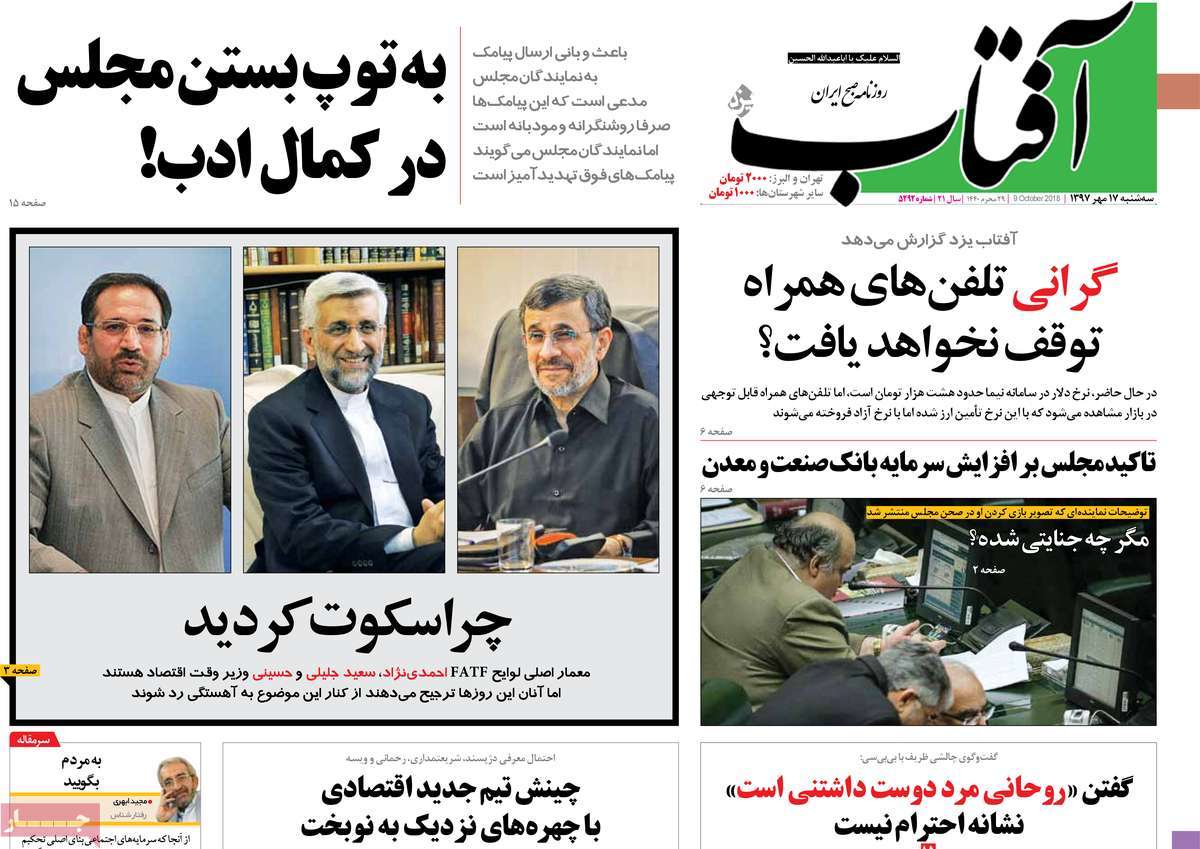 ---
Arman-e Emrooz:
1- Train of Cabinet Reshuffle Arrives in New Station: 4 New Picks to Be Introduced
2- 12 Ways to Get Rid of Forex Problems
3- Iran Can Overcome Sanctions by Passing FATF: MP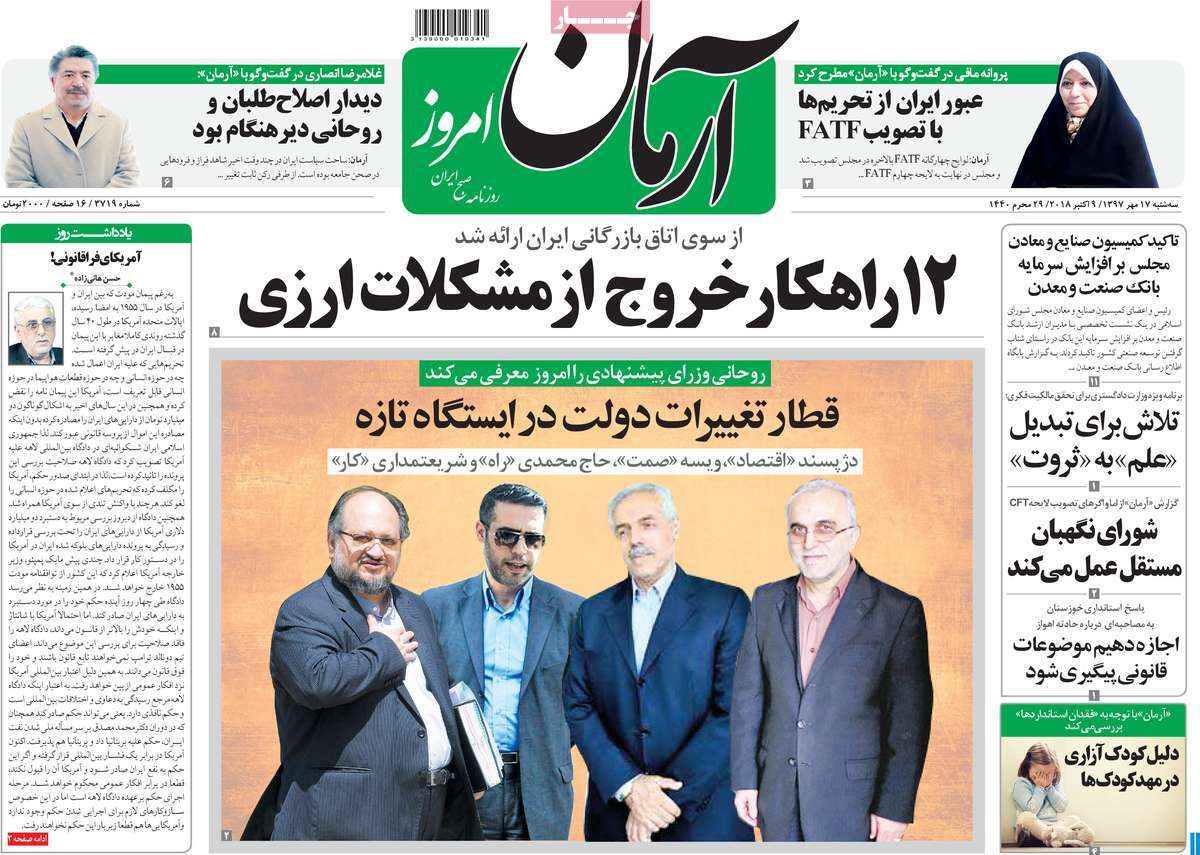 ---
Etemad:
1- Fight Still Goes on: Post-CFT Strategy of Critics, Supporters of FATF
2- Voices of Invisible Kids Not Heard: On National Children's Week
---
Ettela'at:
1- Independent Countries Must Stop US' Radical Behaviours: Larijani
2- 50% of Iran's Higher Education Centres Lack Enough Standards: Science Minister
3- There'll Be No Shortage of Medicine: Iran First VP
4- 19 Governor-Generals, Governors to Be Sacked for Being Retired
5- World Asks for Saudi Arabia's Explanation over Jamal Khashoggi's Case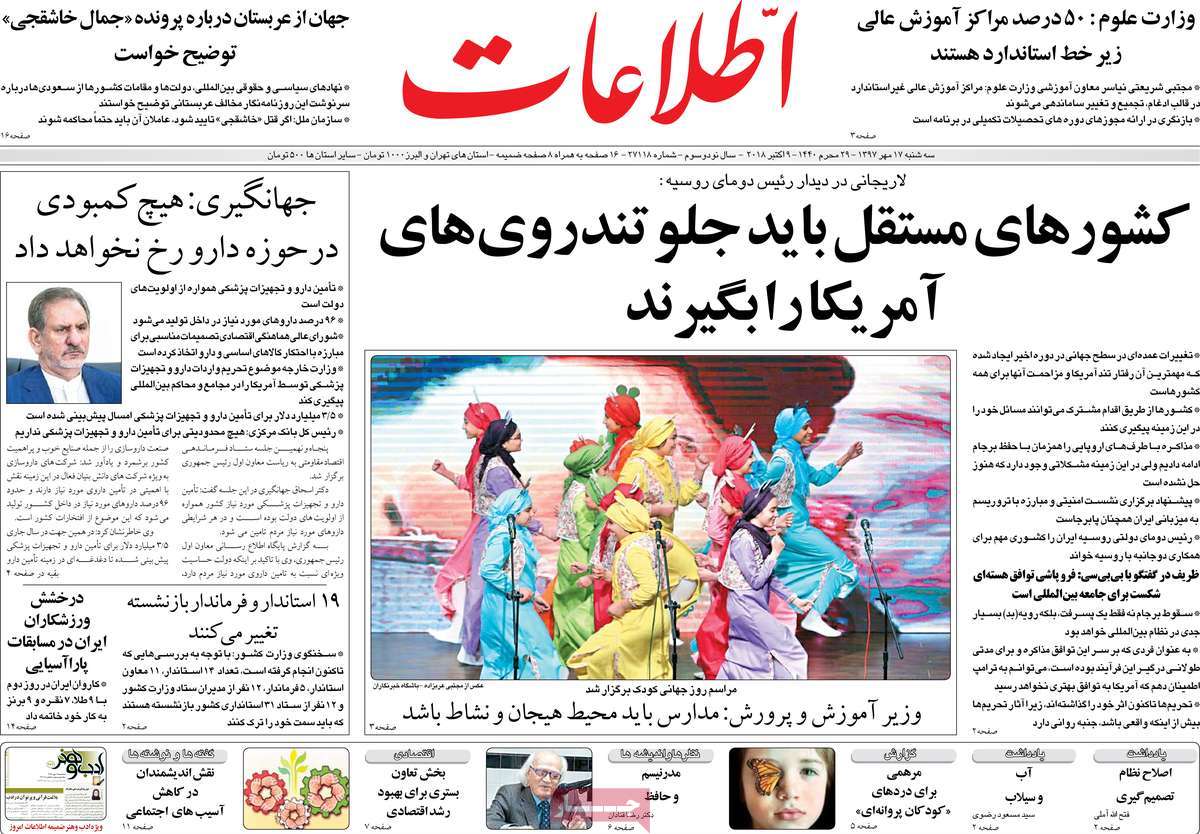 ---
Haft-e Sobh:
1- FATF Continues to Spark Controversy
2- Mystery of Broken Bridges: Why Numerous Bridges Broke in Recent Floods in Northern Iran?
---
Iran:
1- Breeze of Cabinet Reshuffle
2- Two-Way Road of Iran-EU Trade
3- We Haven't Closed Doors for Negotiation with US: Zarif to BBC
---
Javan:
1- India to Buy Iran's Oil in November, When US Sanctions Will Be Re-imposed
2- Humiliation of US in a Meeting Full of Tension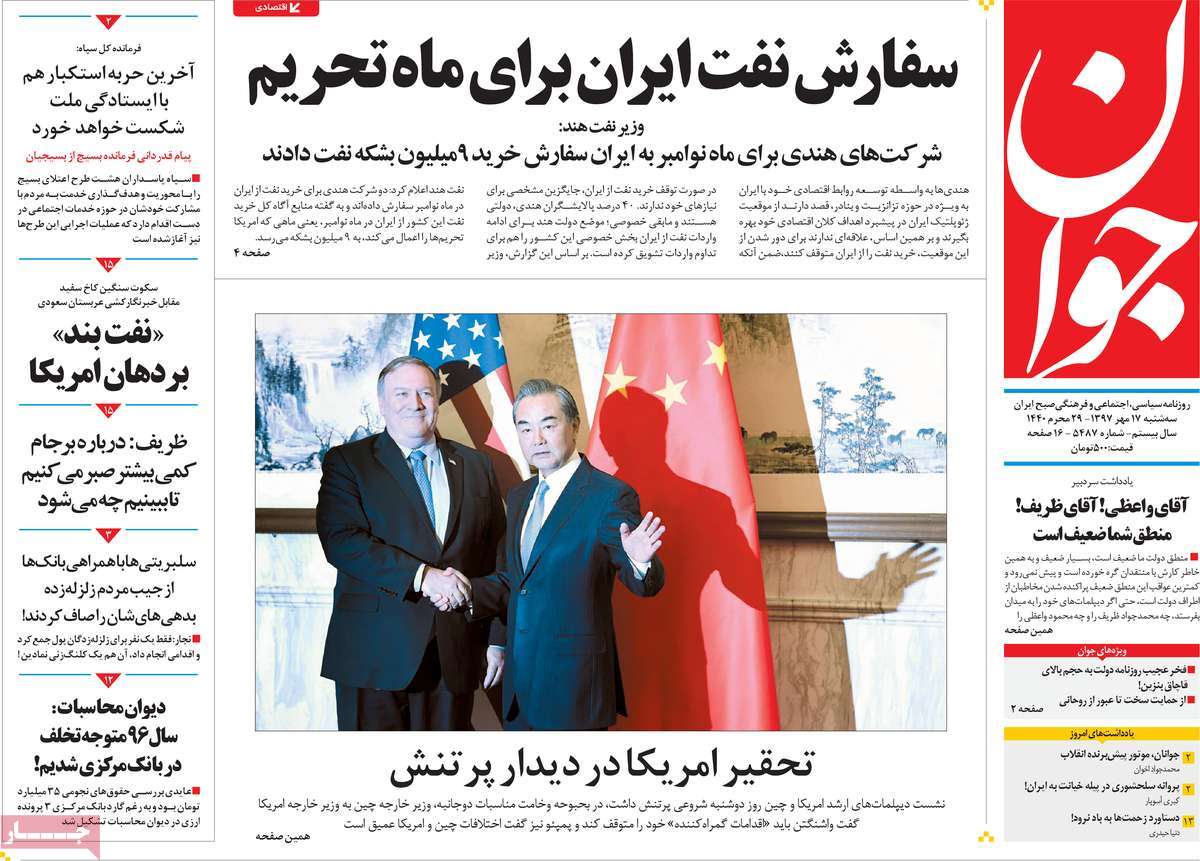 ---
Jomhouri Eslami:
1- Experts, Markets Welcome Iran's Accession to CFT
2- Larijani Calls on World Countries to Cooperate against US' Hostile Behaviours
3- No Producer, Even Saudi Arabia, Can Replace Iran in Oil Market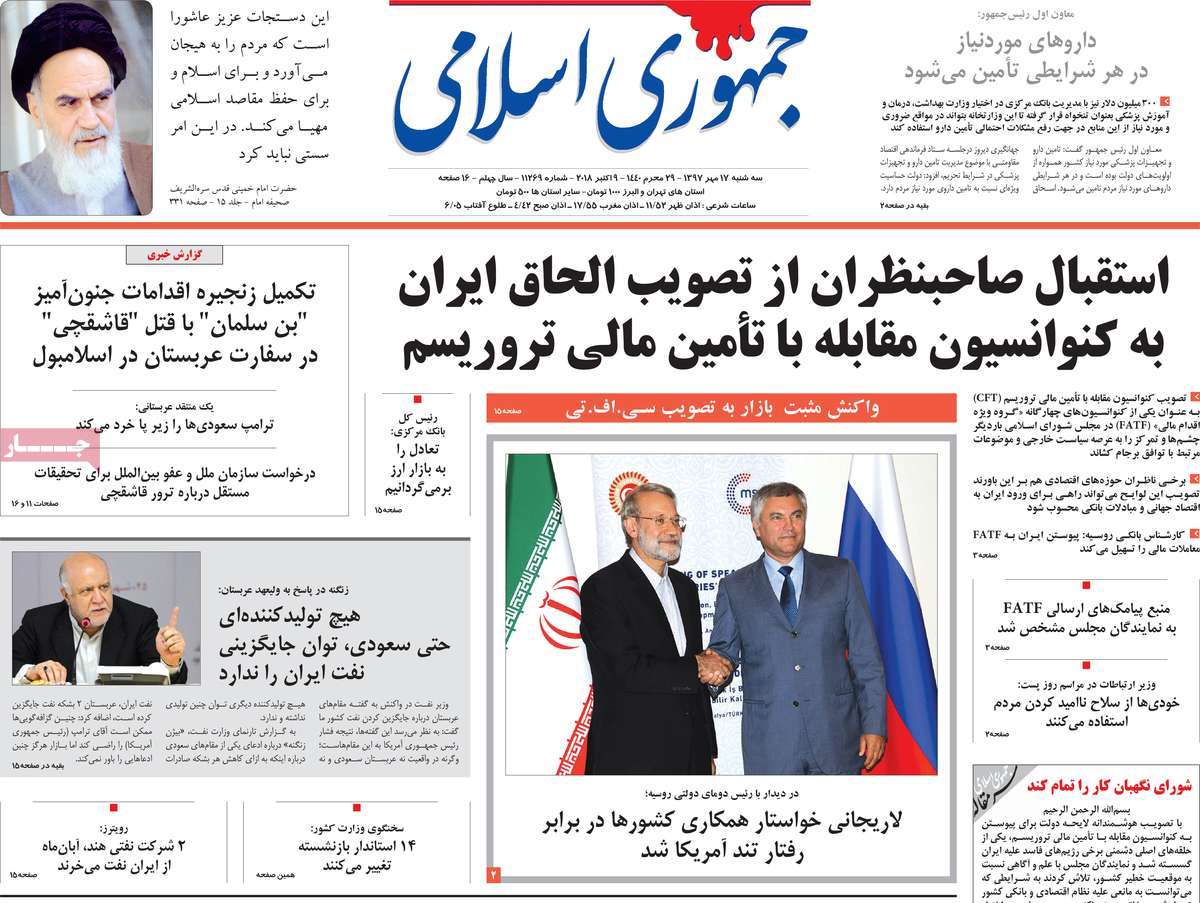 ---
Kayhan:
1- What's Your Next Pretext after JCPOA and FATF?
* They Kept Saying All Problems Will Be Resolved with JCPOA
2- Saudi Prince Calls for Civil Disobedience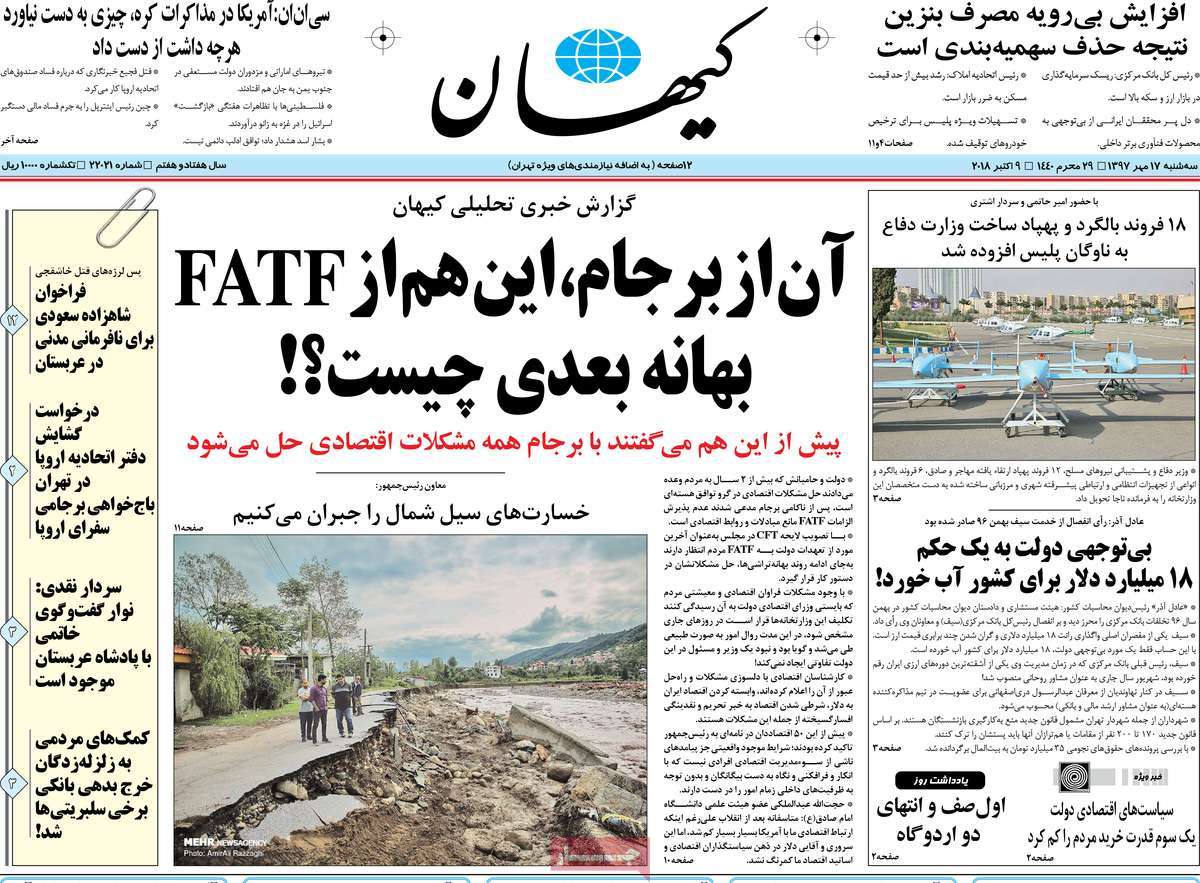 ---
Sazandegi:
1- Restricting Social Assets
* Ali Daei, Zibakalam's Bank Accounts Closed after They Raised Money for Quake-Hit People
2- Jamal Khashoggi's Death Turns into Biggest Diplomatic Crisis in S Arabia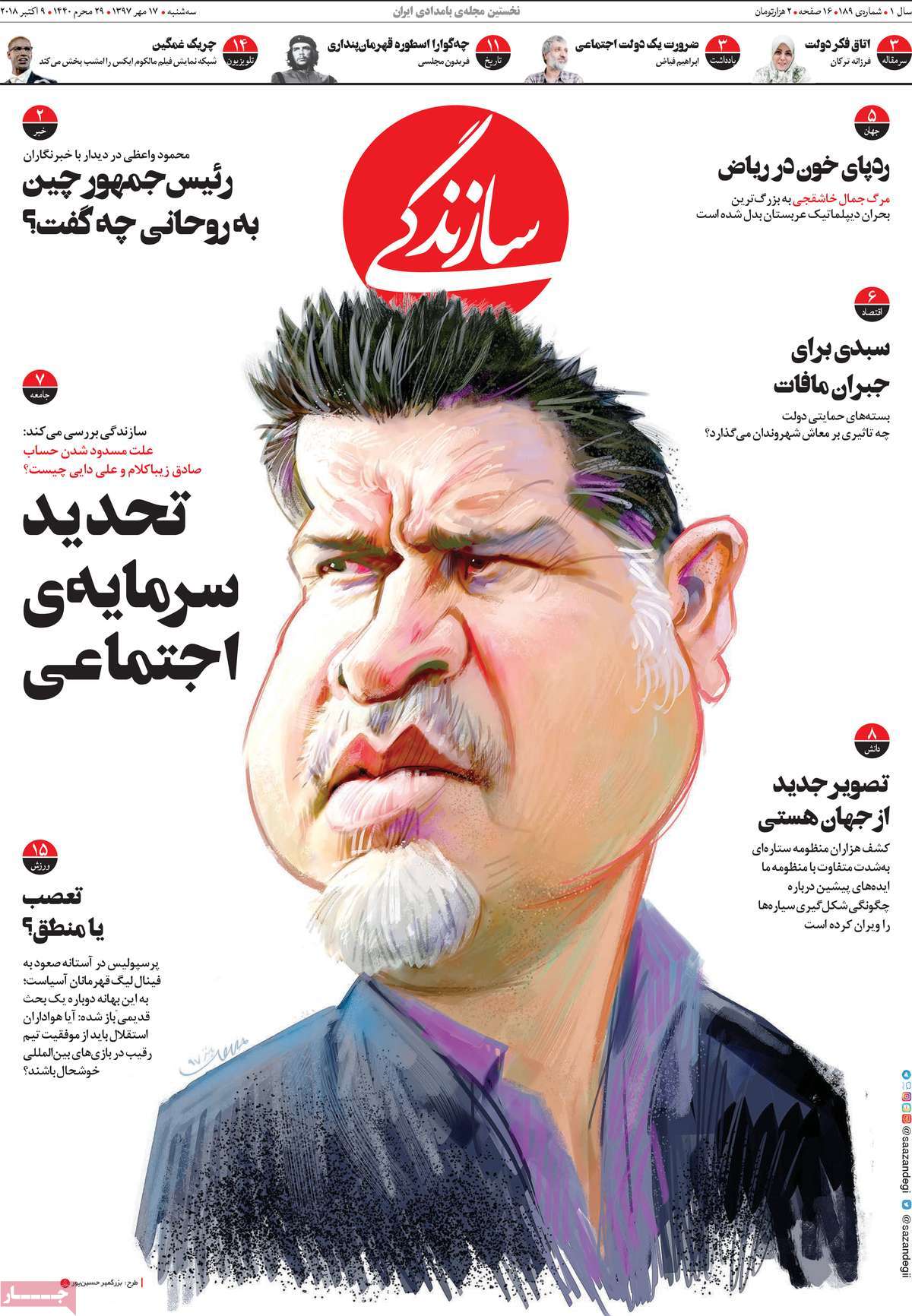 ---
Shargh:
1- Threatening Messages to MPs on FATF Coming from Mashhad
2- Zarif on Rouhani's Possible Meeting with Trump: Nothing Impossible
3- What Will Guardian Council, Expediency Council Do with FATF?
4- Rouhani to Introduce 4 Ministerial Picks Today
---
Vatan-e Emrooz:
1- Bin Butcher: New Aspects of Saudi Crime in Istanbul