Several papers today covered the Parliament's Saturday session to give a vote of confidence to four ministerial picks introduced by President Hassan Rouhani for the ministries of roads, labour, trade, and economy.
Also a top story was the formation of the new Iraqi government – 14 members of which received votes of confidence from the Parliament – and different views regarding the new politicians ruling the Arab country.
Reactions to the murder of Saudi dissident Jamal Khashoggi in the kingdom's consulate in Istanbul, Turkey, also remained on the front pages of Iranian papers today.
The above issues, as well as many more, are highlighted in the following headlines and top stories:
Abrar:
1- Erdogan: We Protected Everyone's Interests by Reaching Deal with Russia, Iran
2- US Expands Sanctions against Hezbollah
3- Adel Abdul-Mahdi Replaces Al-Abadi as Iraqi Premier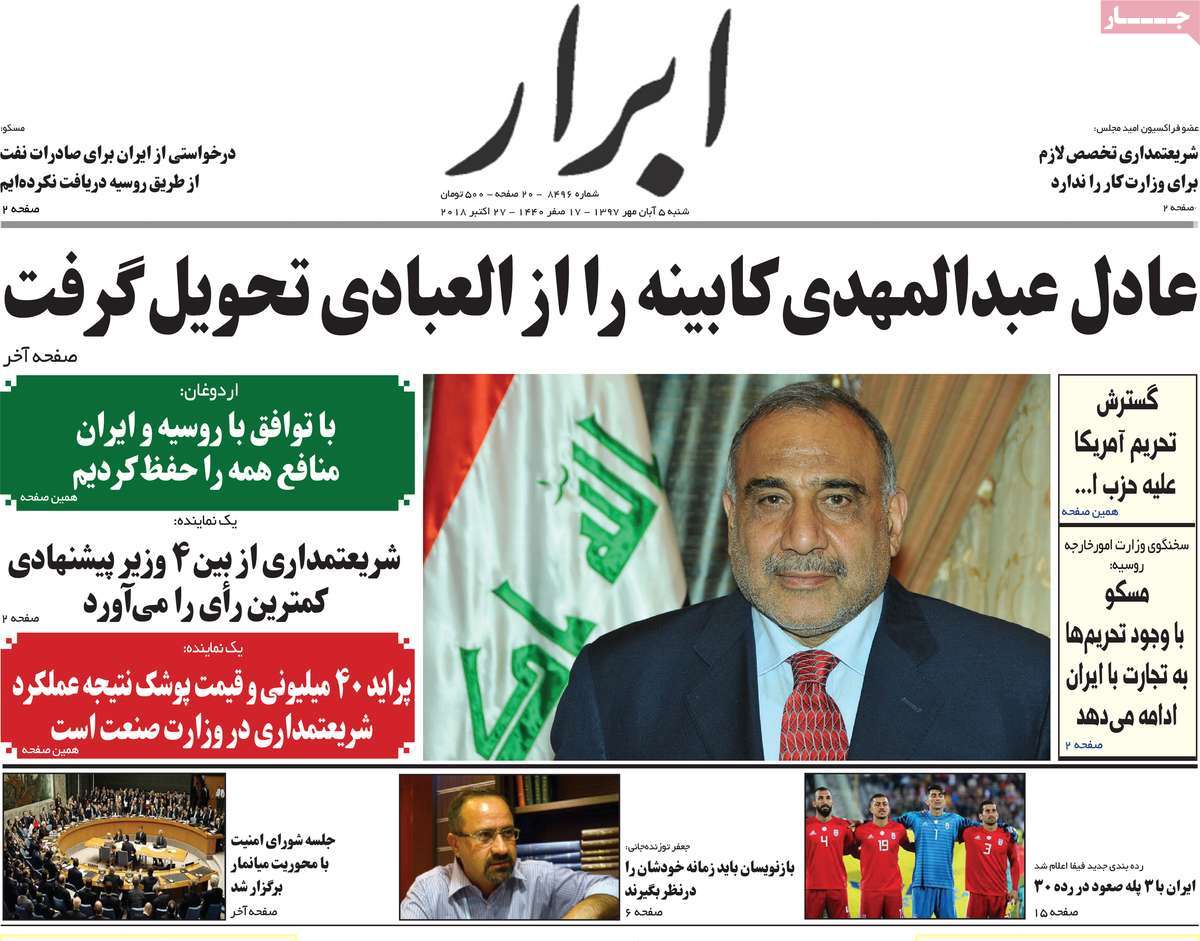 ---
Aftab-e Yazd:
1- Russia Expresses Support for Saudis
Kremlin: No Reason to Doubt Saudis' Comments on Khashoggi!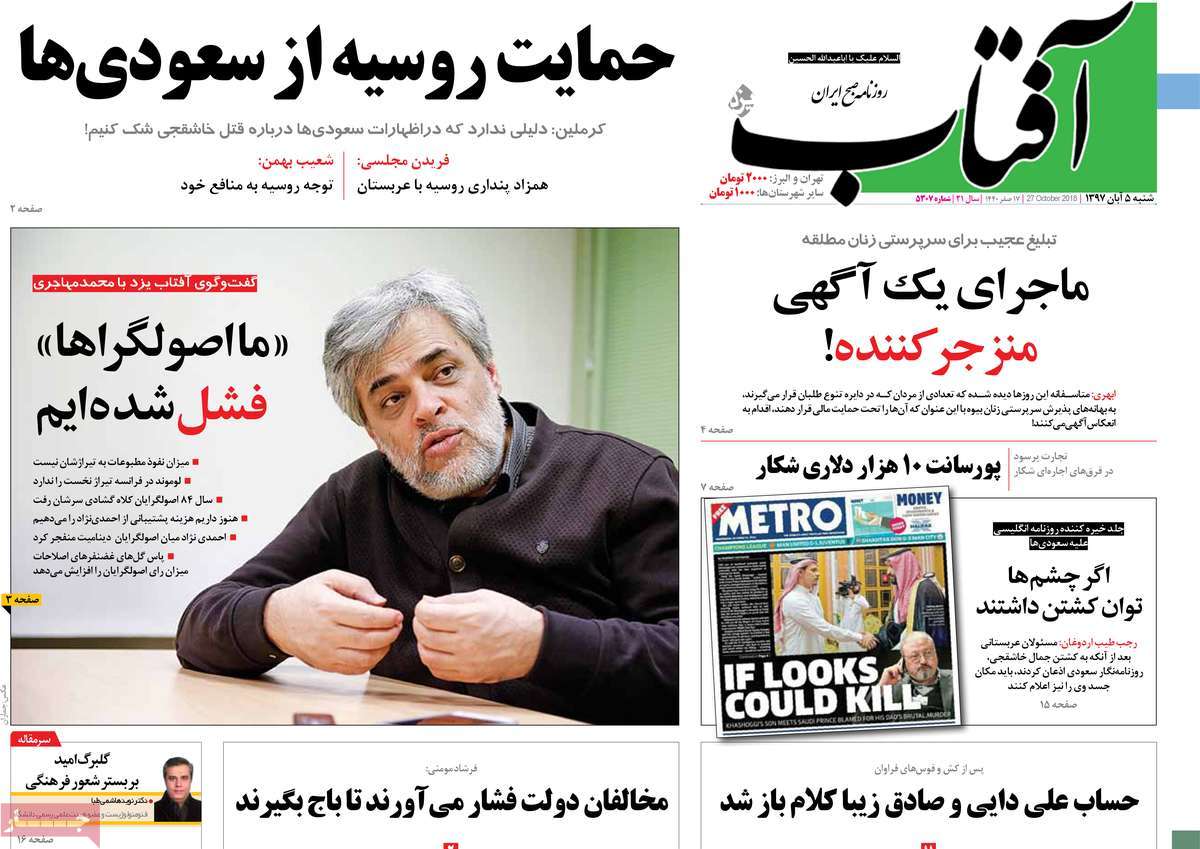 ---
Arman-e Emrooz:
1- Shortage of Foreign Currency Creates Problems for Arba'een Pilgrims in Borders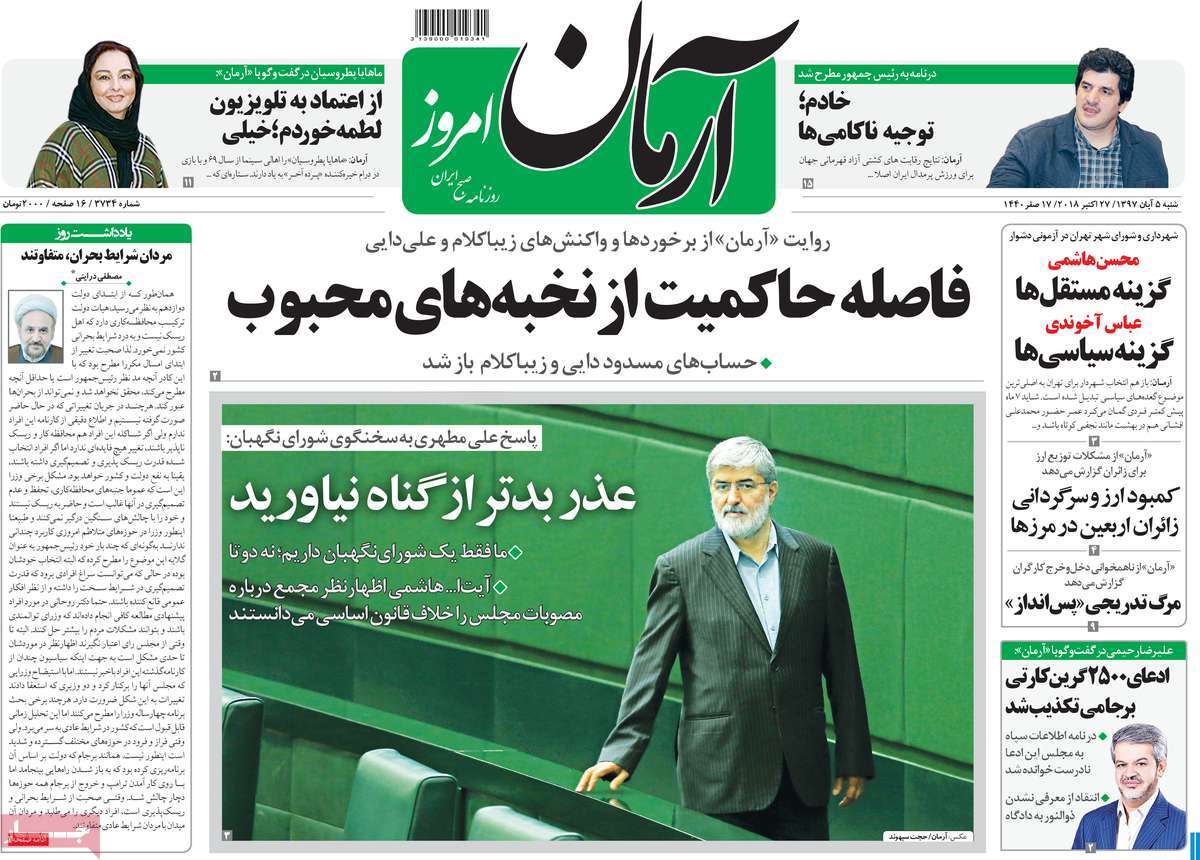 ---
Ebtekar:
1- Difficult Test for Technocrats in Baghdad
2- CFT Has No Contradiction with Establishment's General Policies: Expediency Council
---
Etemad:
1- Riyadh's Hidden Hand in Washington
How Saudi Arabia Uses Its Lobby Groups in US
2- MPs Slam Expediency Council for Getting Engaged in Legislation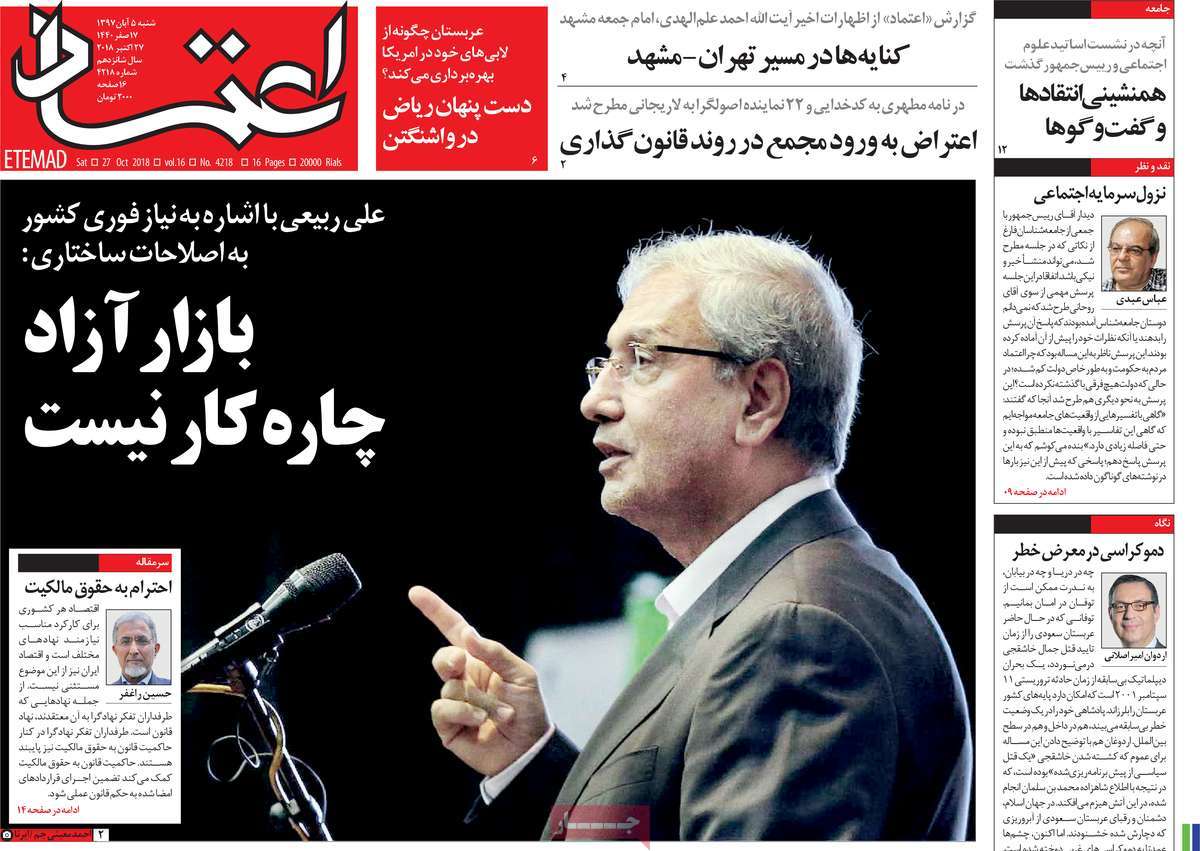 ---
Ettela'at:
1- European Parliament Votes for Arms Embargo against Saudi Arabia
2- Protesters Hold Gathering in Istanbul against Khashoggi Murder
3- Internal Division in Trump Administration over Iran Sanctions
---
Ghanoon:
1- Pedersen, Goodwill Ambassador for Danish Red Cross, Talks of His Adventures
I've Visited 200 Countries: World Is Better than What We Think
---
Hamshahri:
1- Tough Afternoon of Parliament
MPs to Give Vote of Confidence to Four Ministerial Picks
2- Trump Won't Give Any Concessions: Analyst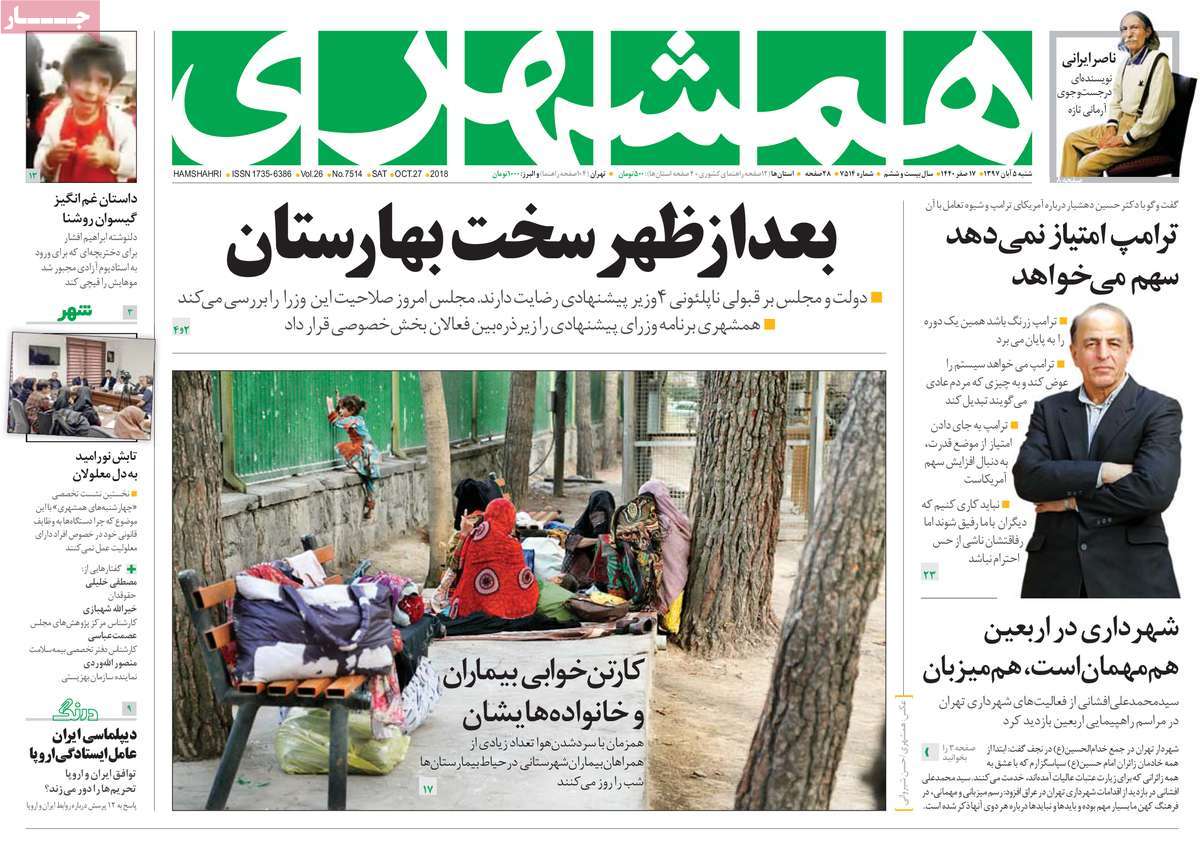 ---
Jame Jam:
1- Netanyahu's Secret Visit to Oman: Sultan Qaboos Welcomes Bibi, His Wife
2- 200 Families Displaced after Jazmourian Wetland Dried Up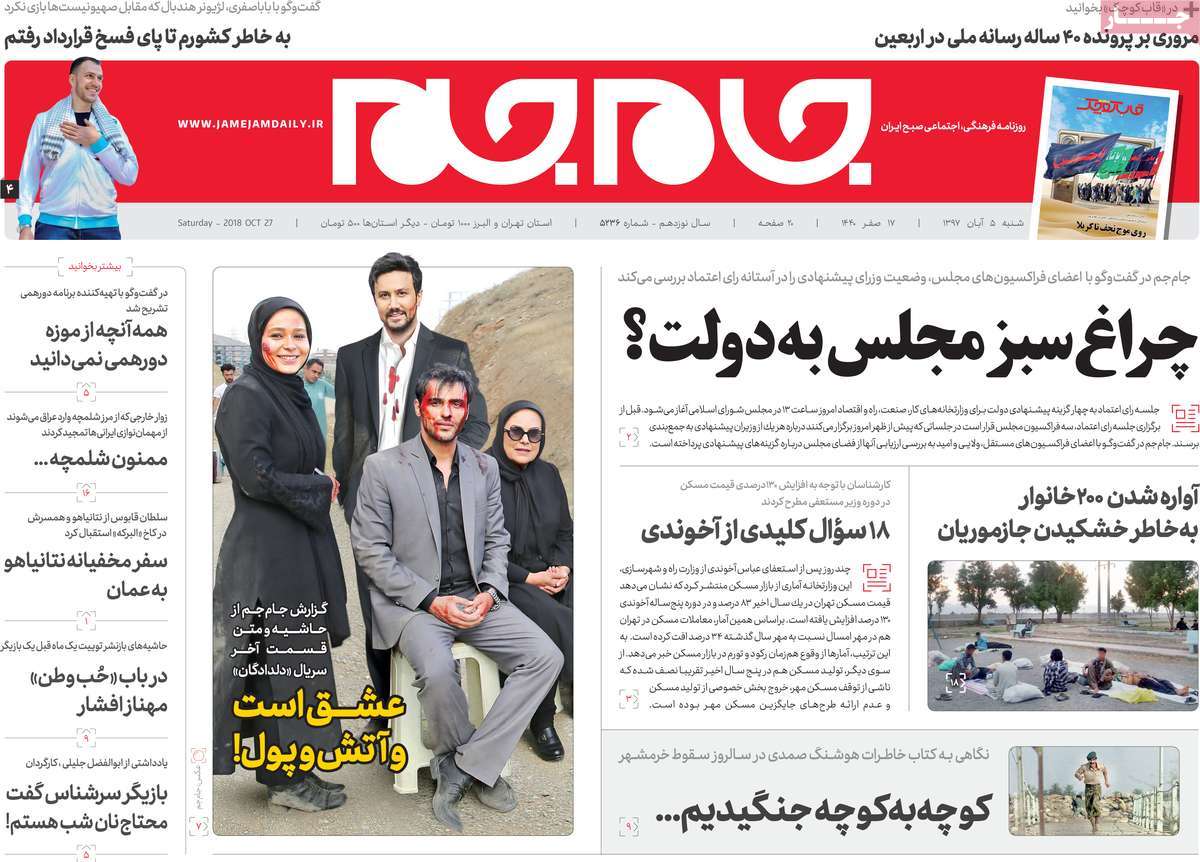 ---
Javan:
1- China, Russia to Join Non-American SWIFT
2- 1.5 Million Arba'een Pilgrims Enter Iraqi Territory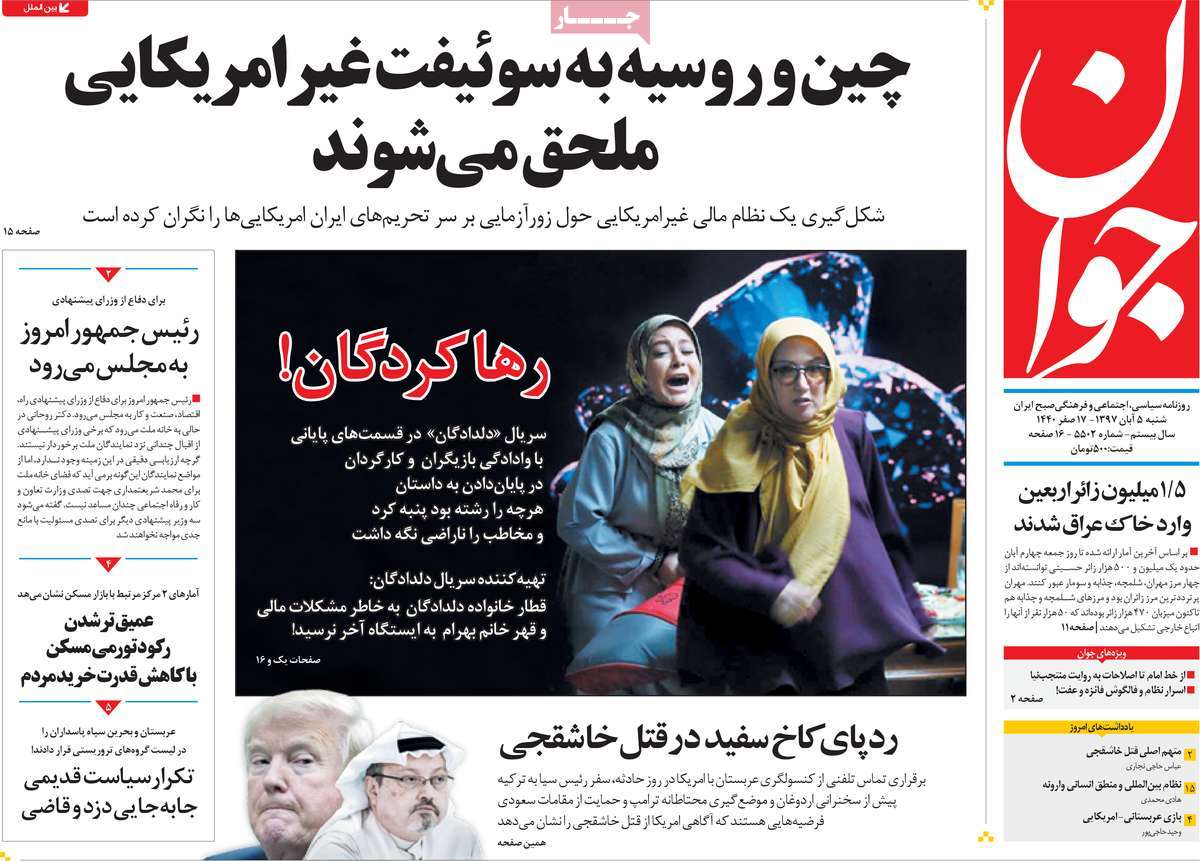 ---
Jomhouri Eslami:
1- ICJ Chief Strongly Defends Iran at UNGA
US Must Immediately Remove Anti-Iran Sanctions
2- UN: Saudi Ruling System Is to Blame for Khashoggi's Murder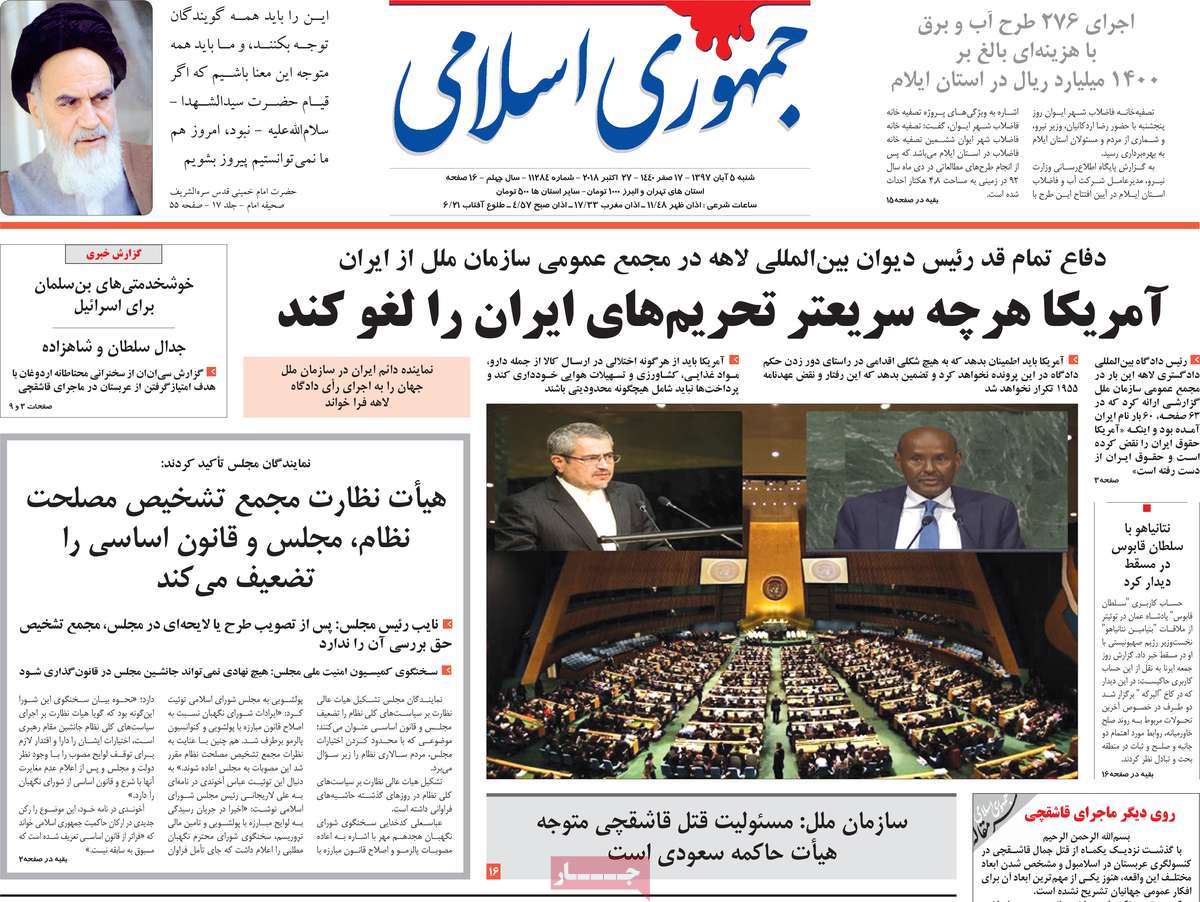 ---
Kayhan:
1- Relentless Political Pressure on Bin Salman: Al Saud Becomes Delirious
2- France's Role in Rwanda Genocide Where One Million Were Massacred
3- China Foreign Ministry: Beijing to Continue Buying Oil from Iran despite US Bans
4- Trump: Mr King, Dictator; You Must Pay for Your Security
Trump Once Again Humiliates His Allies, Urges Them to Pay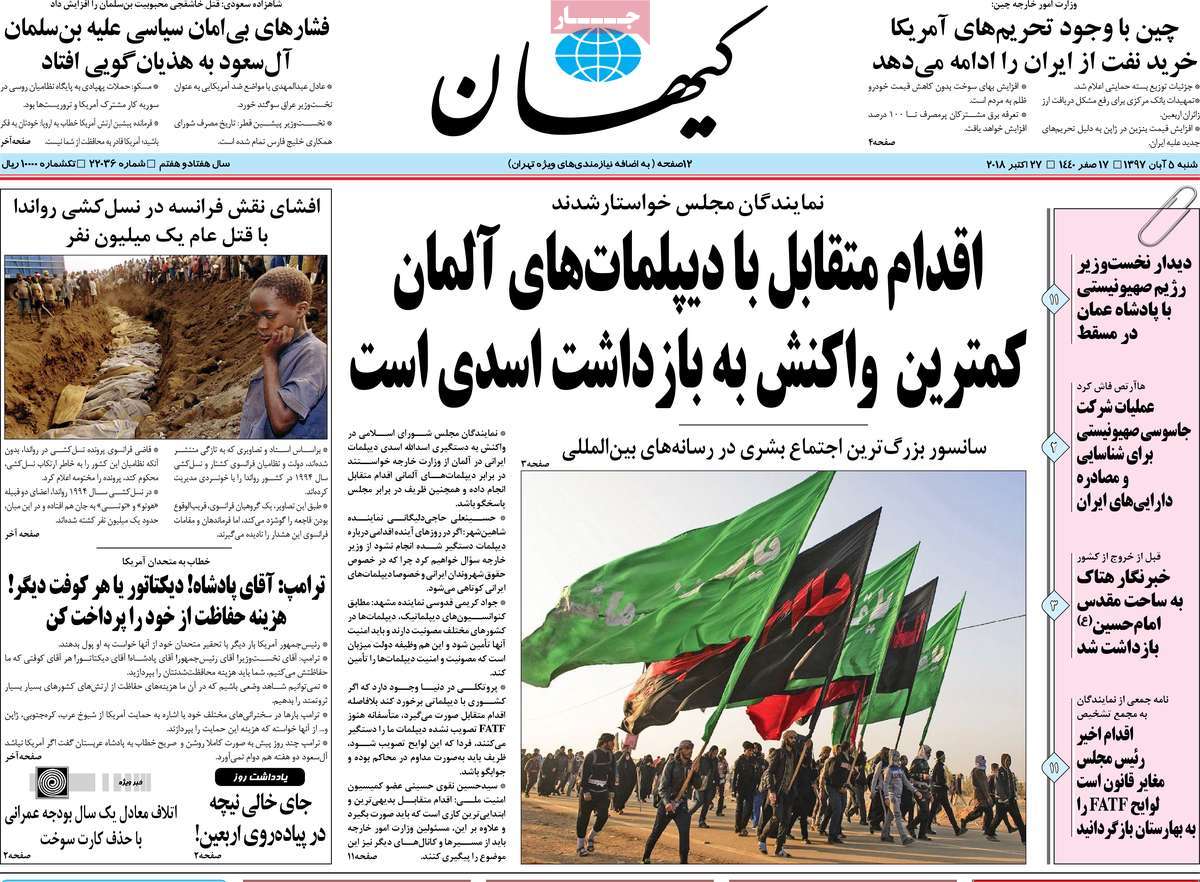 ---
Khorasan:
1- Two Business Giants Ditch US Dollar
China, Japan Sign $30b Deal, Agree to Use National Currencies in Bilateral Trade
---
Sazandegi:
1- Nightmare of Suspicious Packages: Trump Blamed for Bombs Sent to Senior Democrats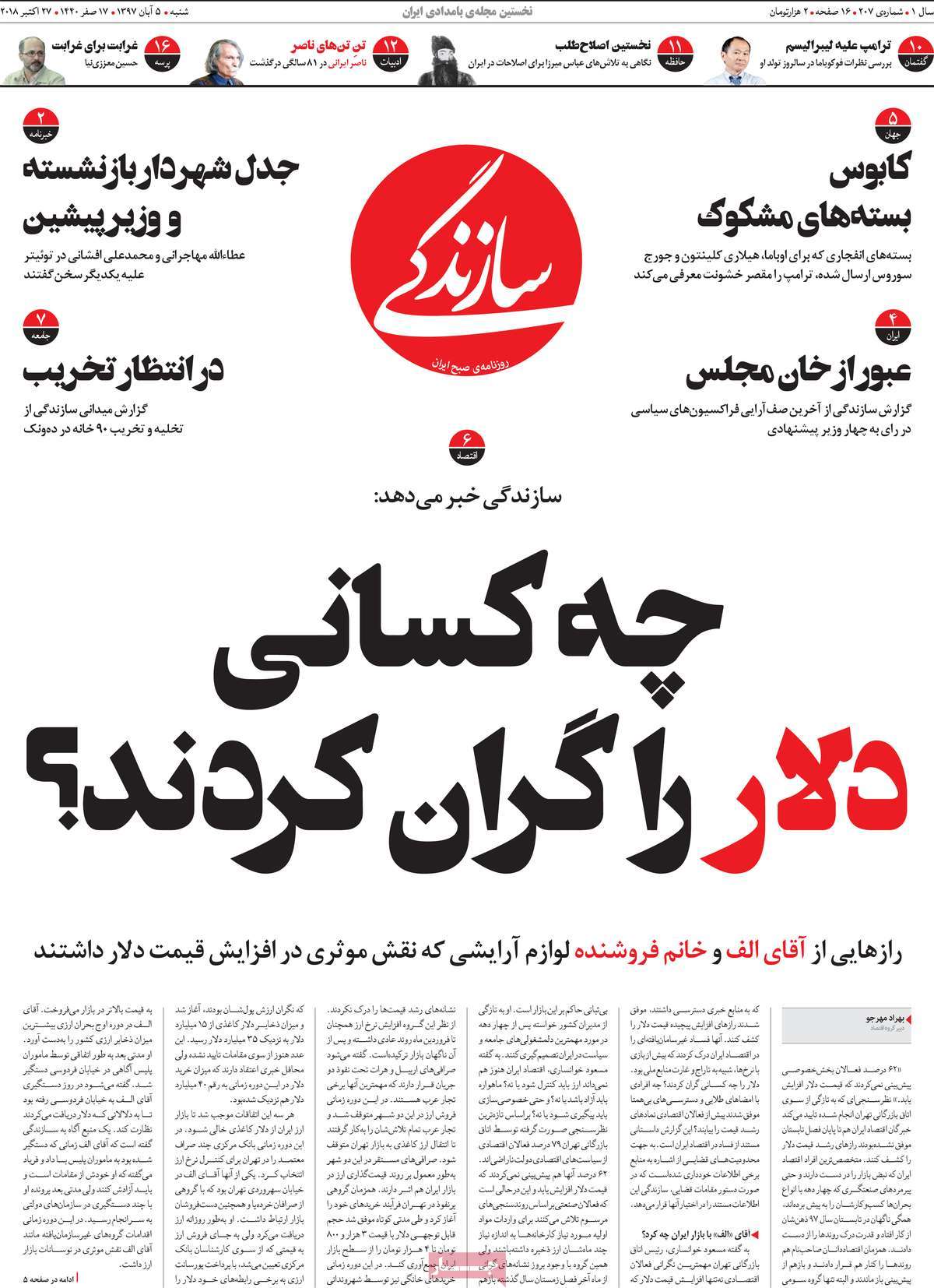 ---
Shargh:
1- Which Country Does Iraq Favour in Foreign Policy?
New Iraqi Cabinet's Ties with Iran
2- Russia-China Competition on Iran's Railway System
3- We Could Use Khashoggi's Case to Mend Ties with Saudis: Analyst