Newspapers today widely covered the decision by the Financial Action Task Force (FATF) to extend the suspension of its anti-Iran measures despite the US pressures on the anti-money laundering body.
The murder of Saudi dissident journalist Jamal Khashoggi in the Kingdom's consulate in Istanbul also remained a top story today.
The above issues, as well as many more, are highlighted in the following headlines and top stories:
Abrar:
1- Pompeo: US Determined to Keep Putting Maximum Pressure on Iran
2- FATF Gives Iran until February 2019
---
Aftab-e Yazd:
1- Tehran's Strategy of Silence over Khashoggi's Murder
2- US, Turkey Seeking to Take Advantage from Saudis; Can Iran Do the Same?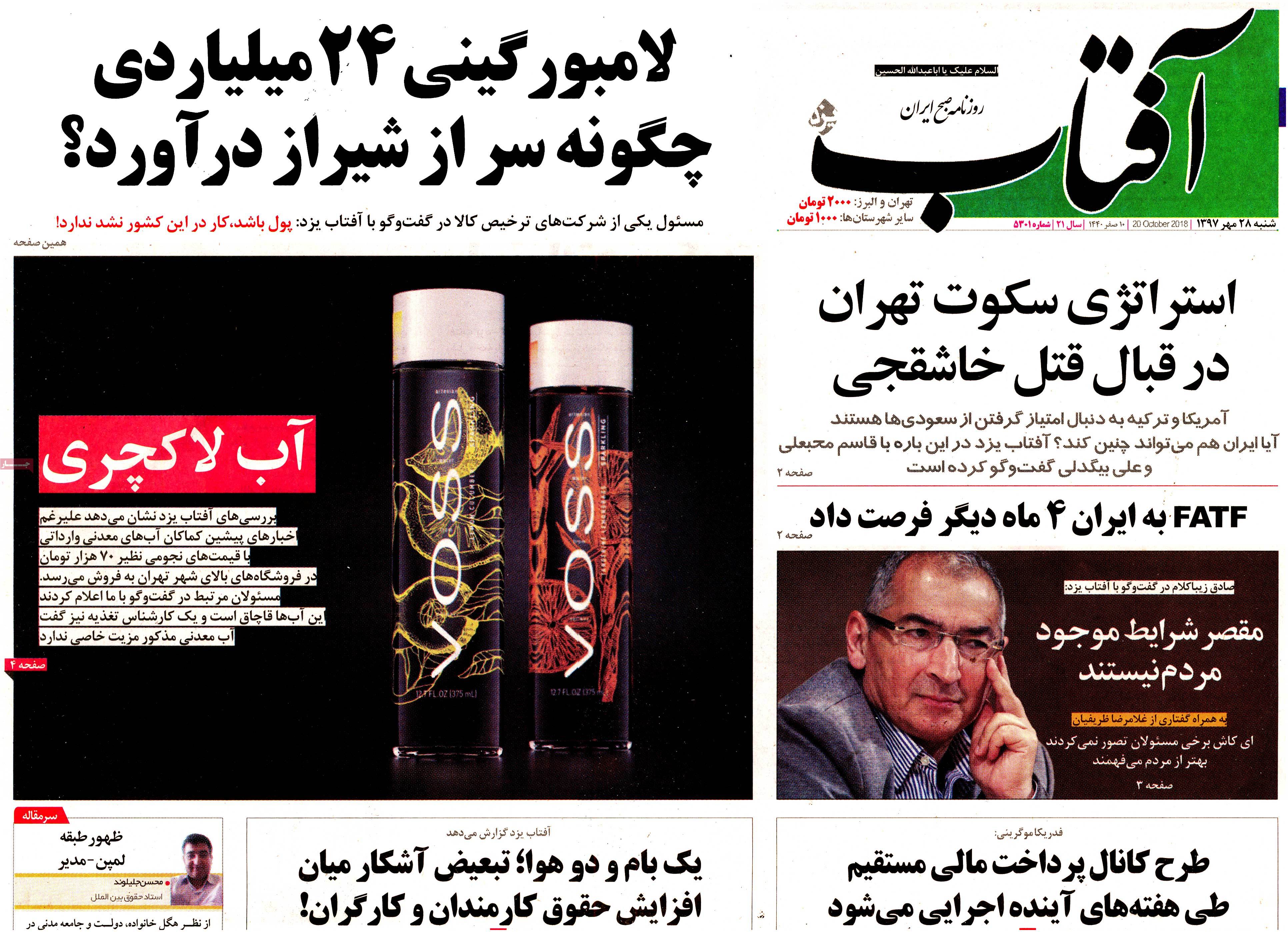 ---
Arman-e Emrooz:
1- Europe Scores Last-Minute Goal against US Sanctions
2- Parliament to Discuss Abduction of 14 Iranian Border Guards
---
Ebtekar:
1- Ambiguity in Political Fate of Young Prince
Has the West Reached Conclusion Bin Salman Must Go?
2- US for First Time Fails to Pass Anti-Iran Restrictions at Int'l Body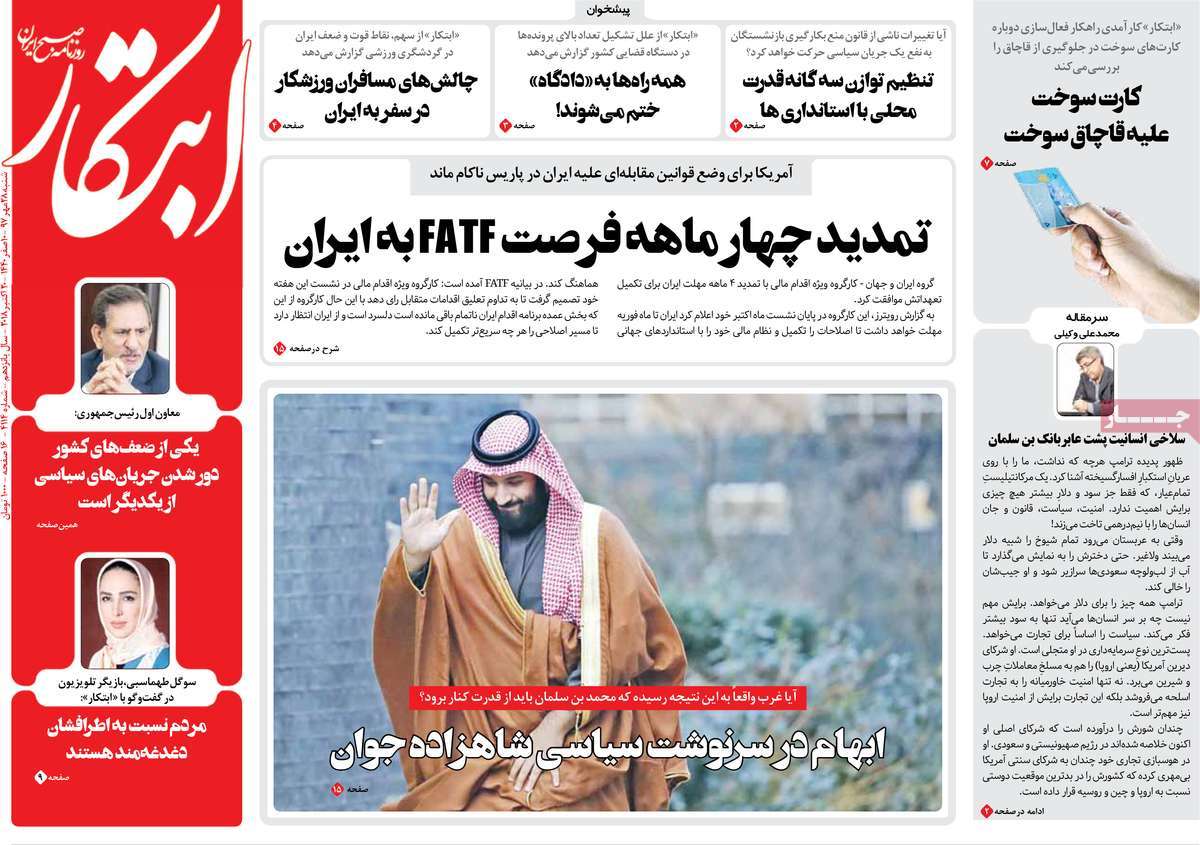 ---
Etemad:
1- Mysteries of Riyadh's Crime in Istanbul Forest
Turkish Police Starts Searching for Khashoggi's Remains
2- US, Saudi Arabia, Israel Fail to Convince FATF to Restore Anti-Iran Measures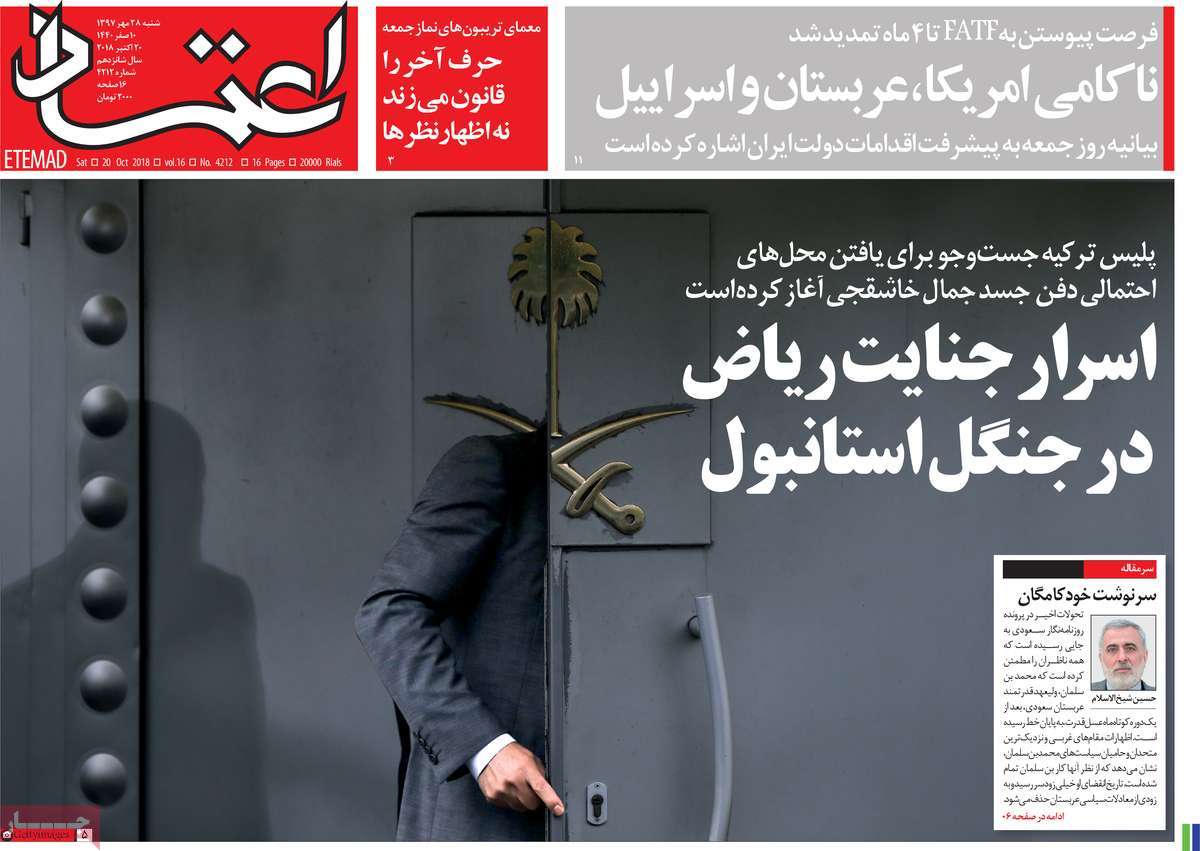 ---
Ettela'at:
1- European Officials Cancel Visits to Saudi Arabia
2- Washington Sets Deadline for Saudis
3- UK: US Sanctions Targeting Iranian People
4- US Sanctions Violate The Hague's Ruling: Zarif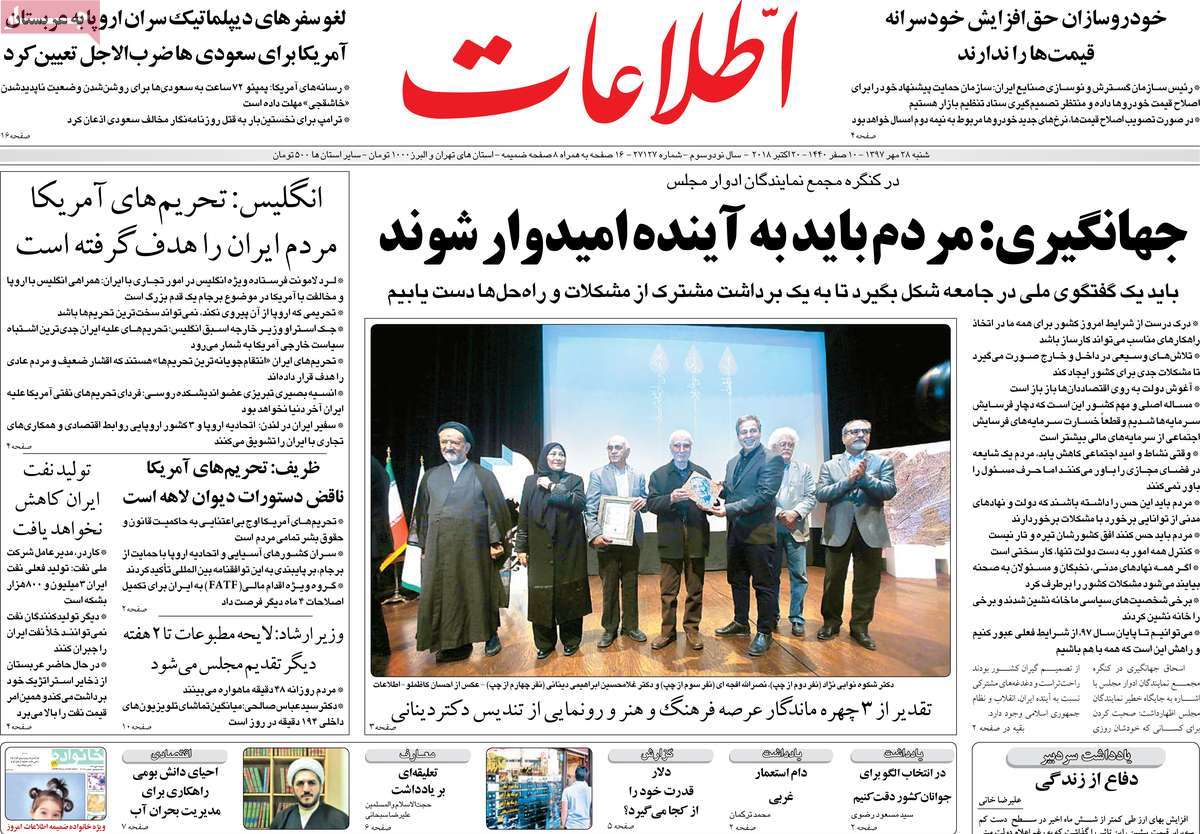 ---
Hamshahri:
1- Tehran to Become More Friendly to Pedestrians, Bicycles
Tehran City Council Plans to End Domination of Cars in Capital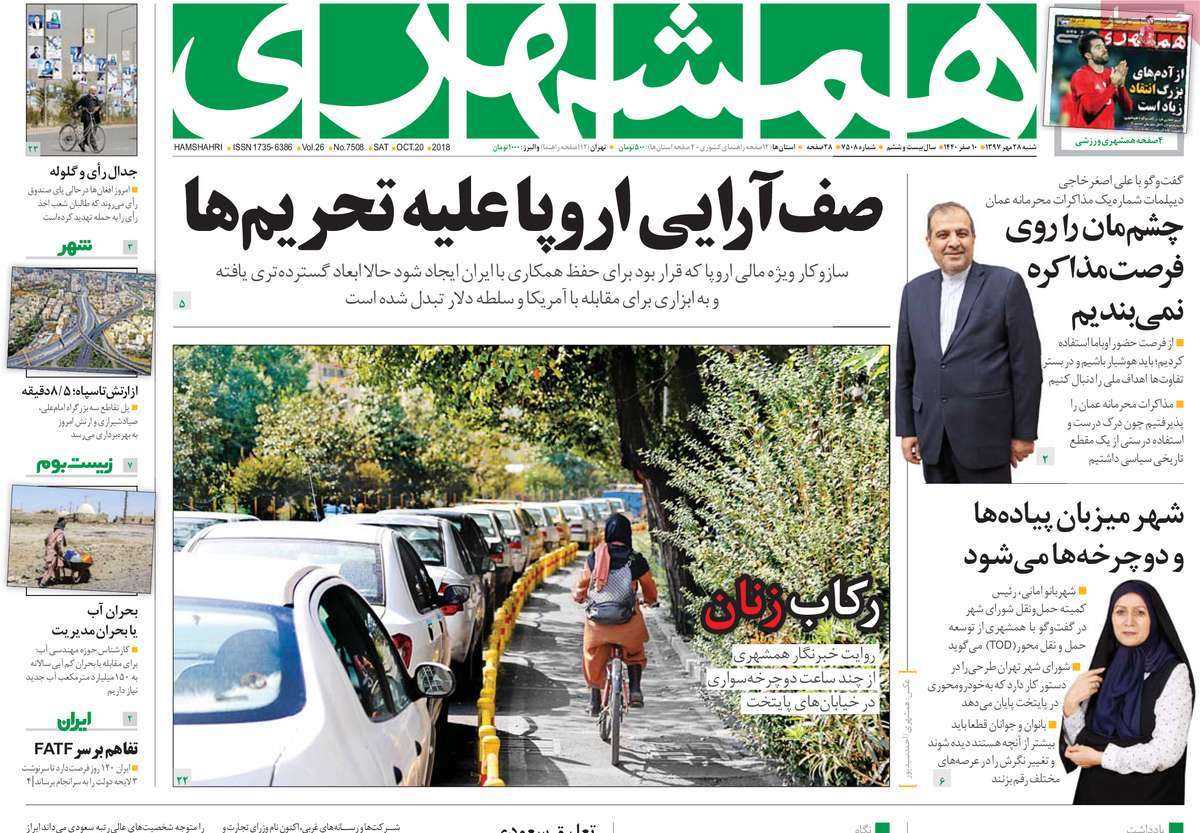 ---
Iran:
1- Rouhani's First VP Calls on All Iranians to Stay Together
2- Culture, Not Politics, to Solve Iran's Problems: Cultural Figure Beheshti
---
Javan:
1- Multilateral Warning to US
Putin: We're Tired of US Sanctions; We Want to Ditch US Dollar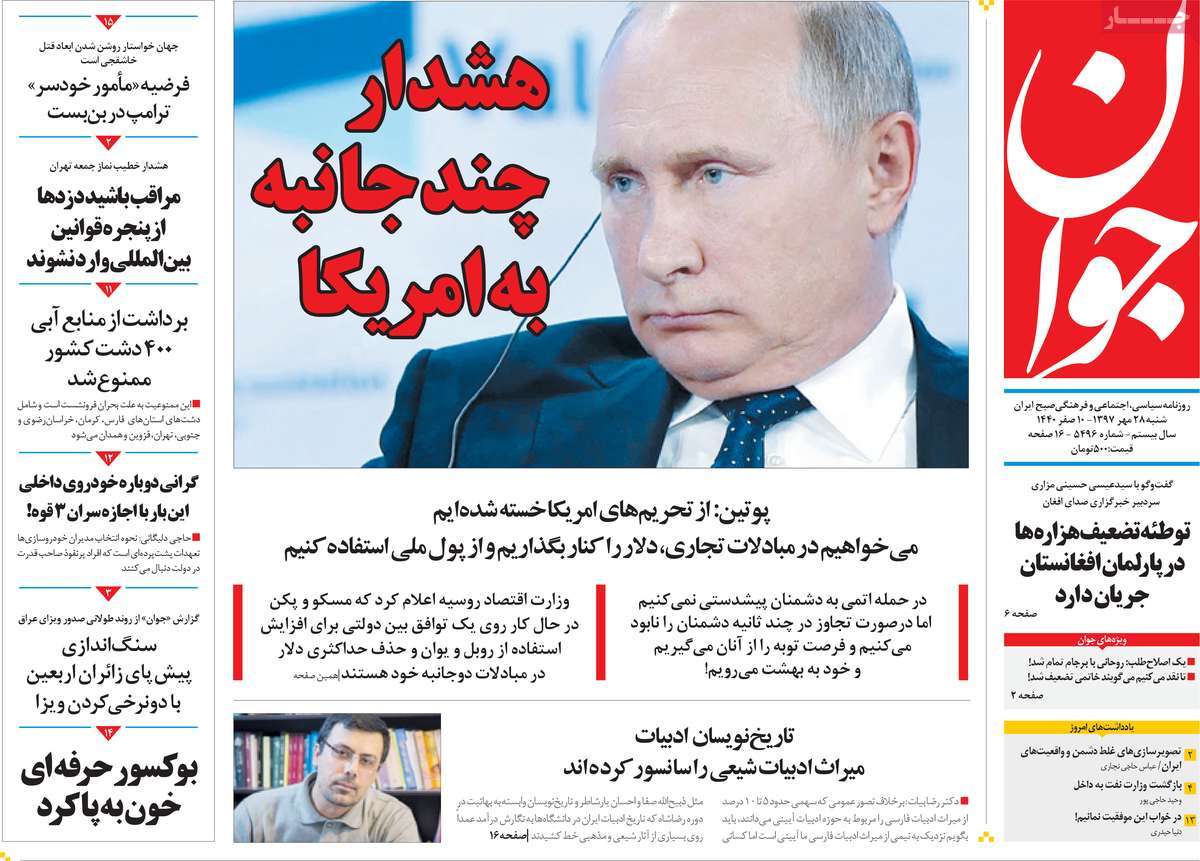 ---
Jomhouri Eslami:
1- Bilateral Monetary Agreement; Safe Way to Ditch US Dollar
2- Trump Trying to Whitewash Saudi's Murder of Khashoggi
3- Foreign Governments, Financial Institutions Continue to Boycott Saudi Conference
---
Kayhan:
1- There's Nothing to Celebrate in FATF' Deadline!
Guardian Council Shouldn't Be Deceived
2- Saudis Humiliated in UN
Syrian Envoy: Saudis Don't Deserve to Give Any Comment at UNSC
3- Haley: My Mission Was to Intimidate Other Countries by Portraying Trump as a Crazy Man
---
Sazandegi:
1- Jahangiri, Zarif Trying to Convince Guardian Council to Approve CFT Bill
2- FATF Extends Suspension of Anti-Iran Measures
---
Shargh:
1- Iran Given another Chance: FATF for Fourth Time Extends Iran's Deadline
2- We Should Borrow Shoes from Messi, Ronaldo: Queiroz on US Sanctions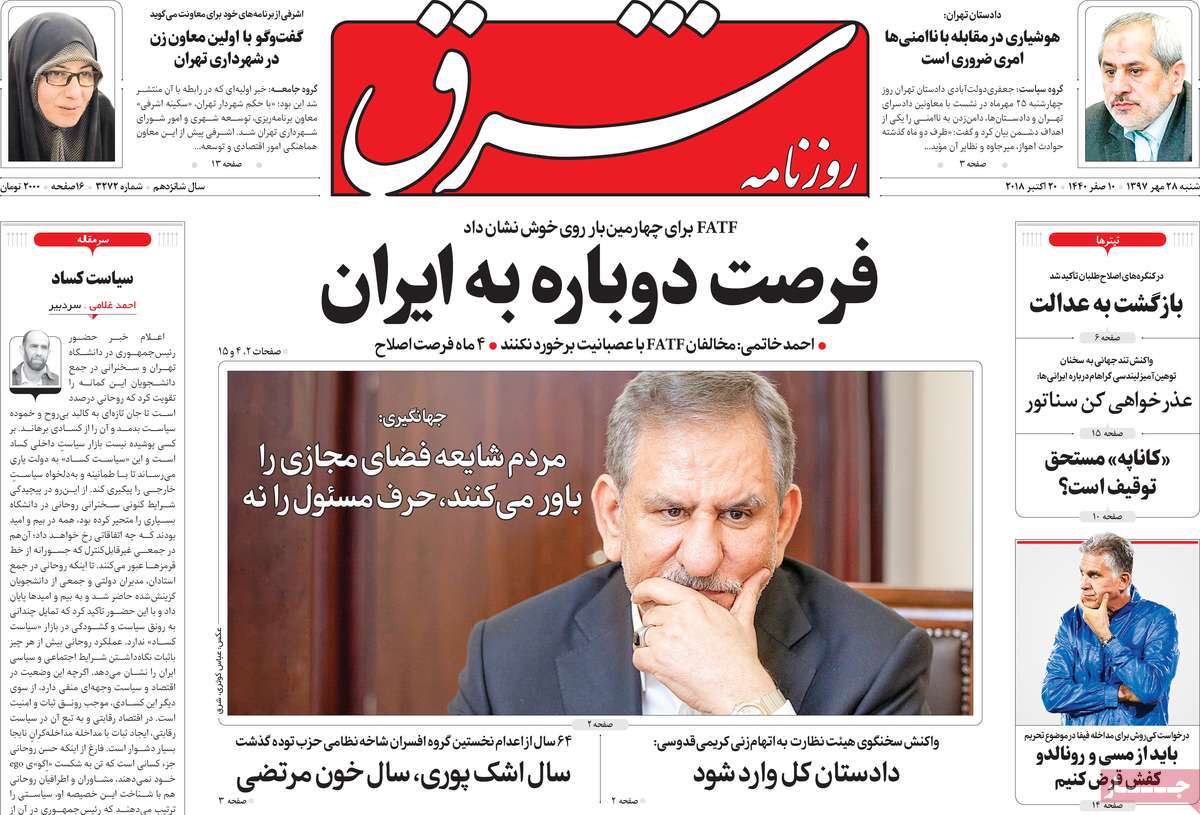 ---
Vatan-e Emrooz:
1- Nasrallah on Khashoggi Case: Saudi Rulers in Quagmire
2- Putin: Iran's Presence in Syria Has Nothing to Do with Us