Several papers today covered the remarks by the Leader of Iran's Islamic Revolution Ayatollah Seyyed Ali Khamenei, in which he asked Iranian elites and experts for their consultative opinion on various aspects of the Islamic-Iranian Paradigm of Progress in order to upgrade the document which defines a roadmap for the next 50 years.
Also a top story was comments by Iranian First Vice-President Es'haq Jahangiri about the country's oil exports under the US sanctions. Jahangiri announced that Iran has already found new clients for its crude oil ahead of new round of US sanctions, due to be imposed on November 4.
President Hassan Rouhani's remarks in an address to university students in Tehran also received great coverage.
The above issues, as well as many more, are highlighted in the following headlines and top stories:
Abrar:
1- Iran Has Stored Enough Basic Supplies for One Year: MP
2- Trump: Deal with Iran Must Be a Real One
3- Increased Casualties in Northern Afghanistan
4- Trump Opposed to Halt in Arms Sales to Saudi Arabia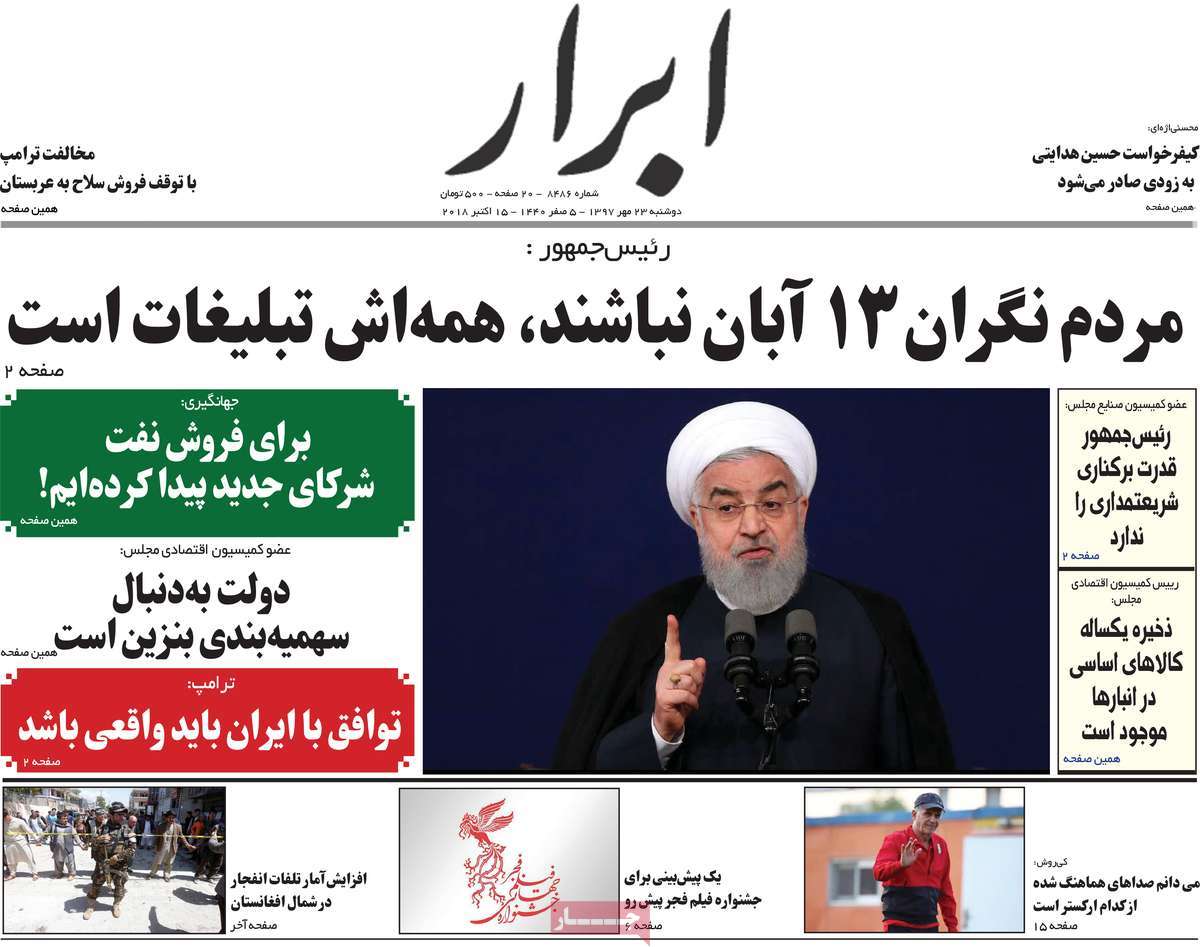 ---
Afkar:
1- Iran First VP: We Must Use Sanctions to Create Opportunities
2- Netanyahu Rules Out Possibility of Early Elections
3- Conservative Figure: CFT Accession to Serve Enemy Plots against Iran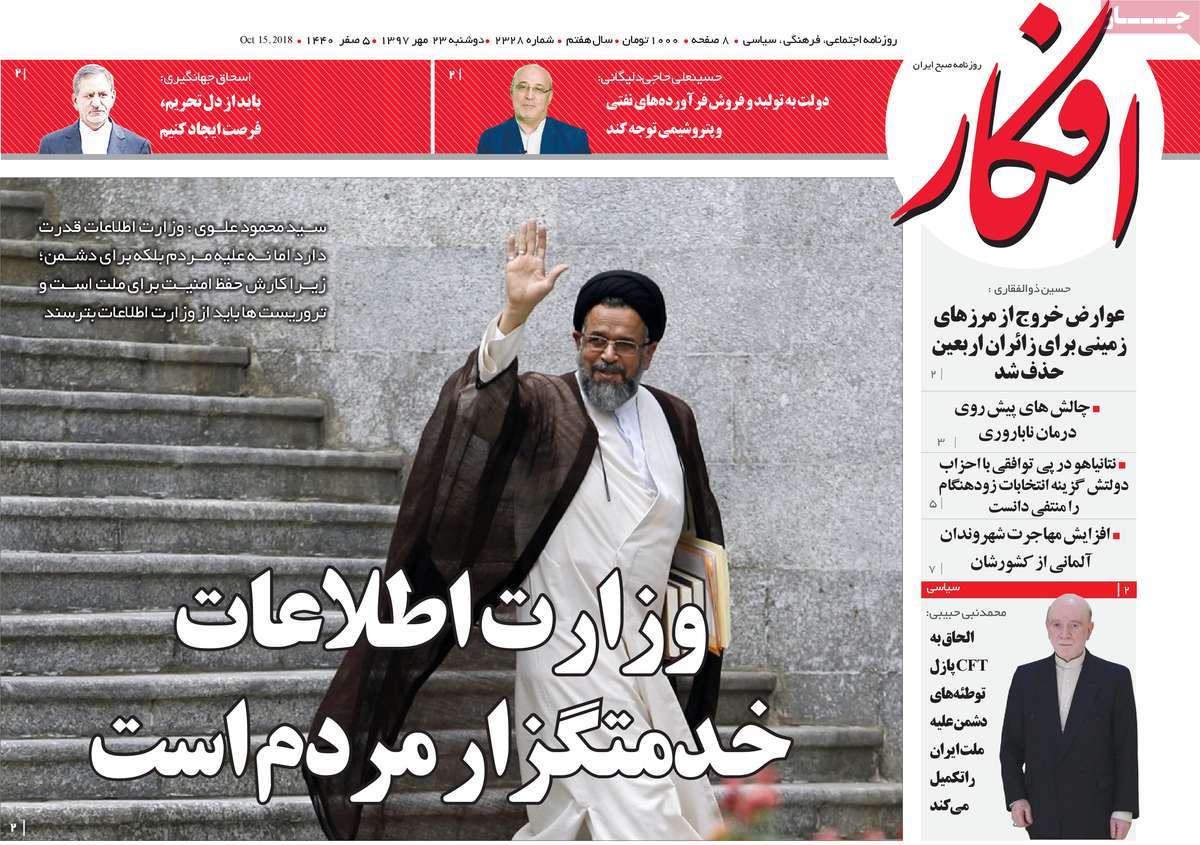 ---
Aftab-e Yazd:
1- Paradigm for Iran's Progress in Next 50 Years
Iran Leader Calls for Upgrading Islamic-Iranian Progress Paradigm
2- When American Judge Rules against His Own Country, It Means Justice Not Dead: Academic
---
Arman-e Emrooz:
1- University Students Protest, Rouhani Tolerates
A Report on Rouhani's Meeting with Students
2- Iran's Judiciary Summons 11 Military Personnel over Ahvaz Attack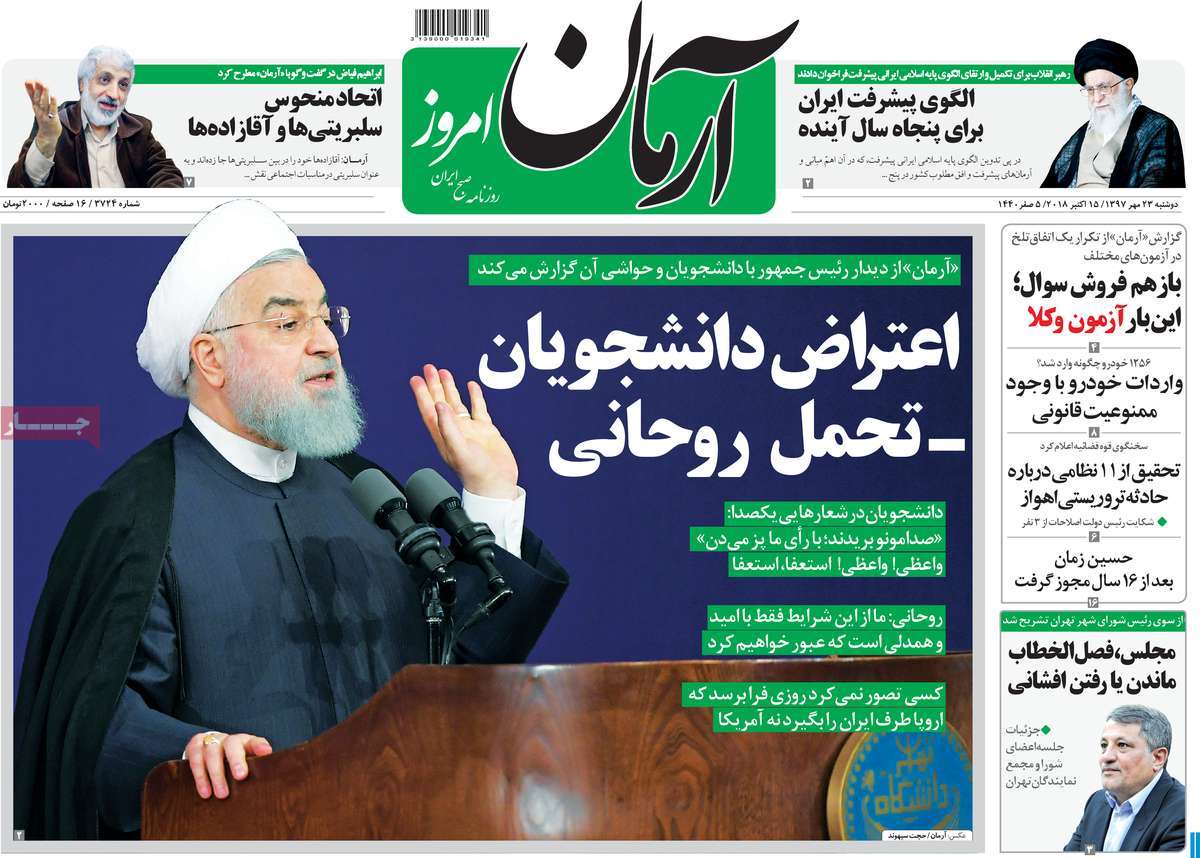 ---
Ebtekar:
1- West Thinking of Punishing Saudis through Threat, Sanction
2- Rouhani Calls for Hope-Therapy, Says Word-Therapy Doesn't Work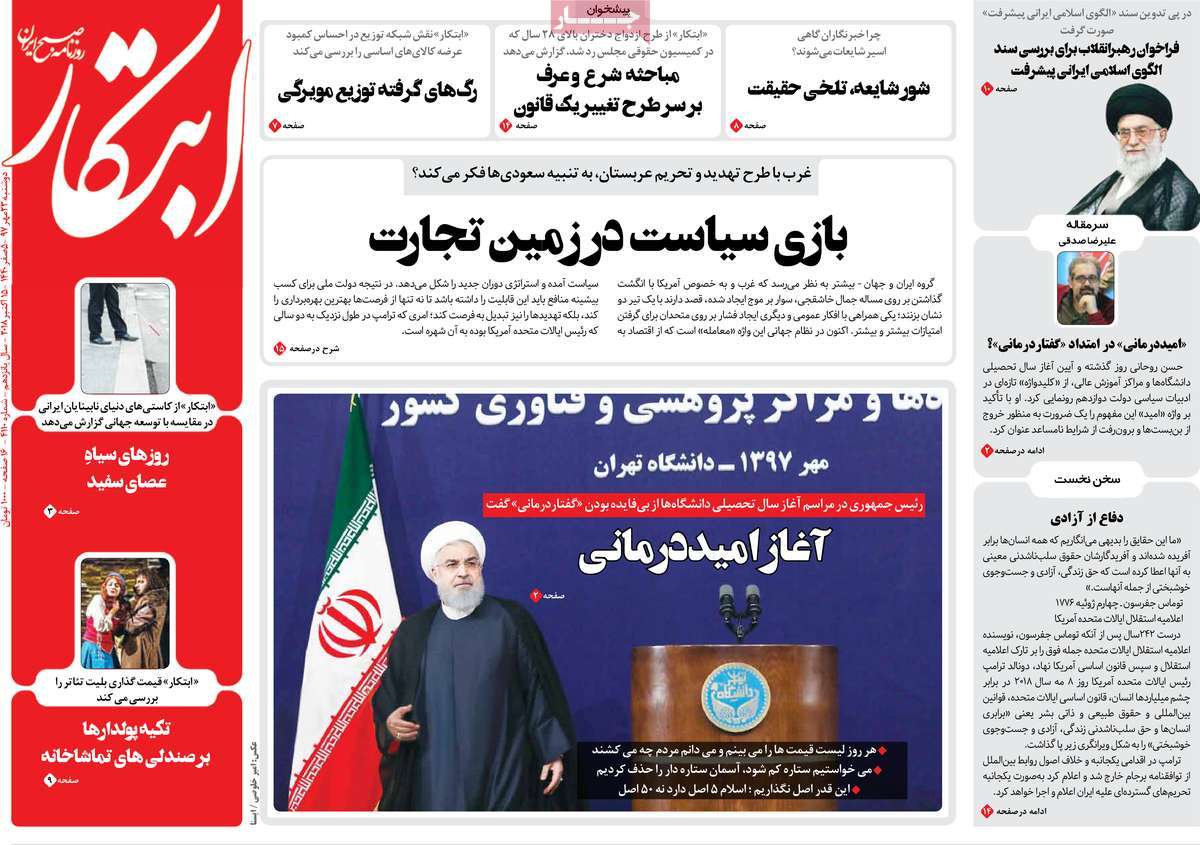 ---
Etemad:
1- Rouhani: Excessive Criticism Not Useful
2- Tax Evasion of Trump's Son-in-Law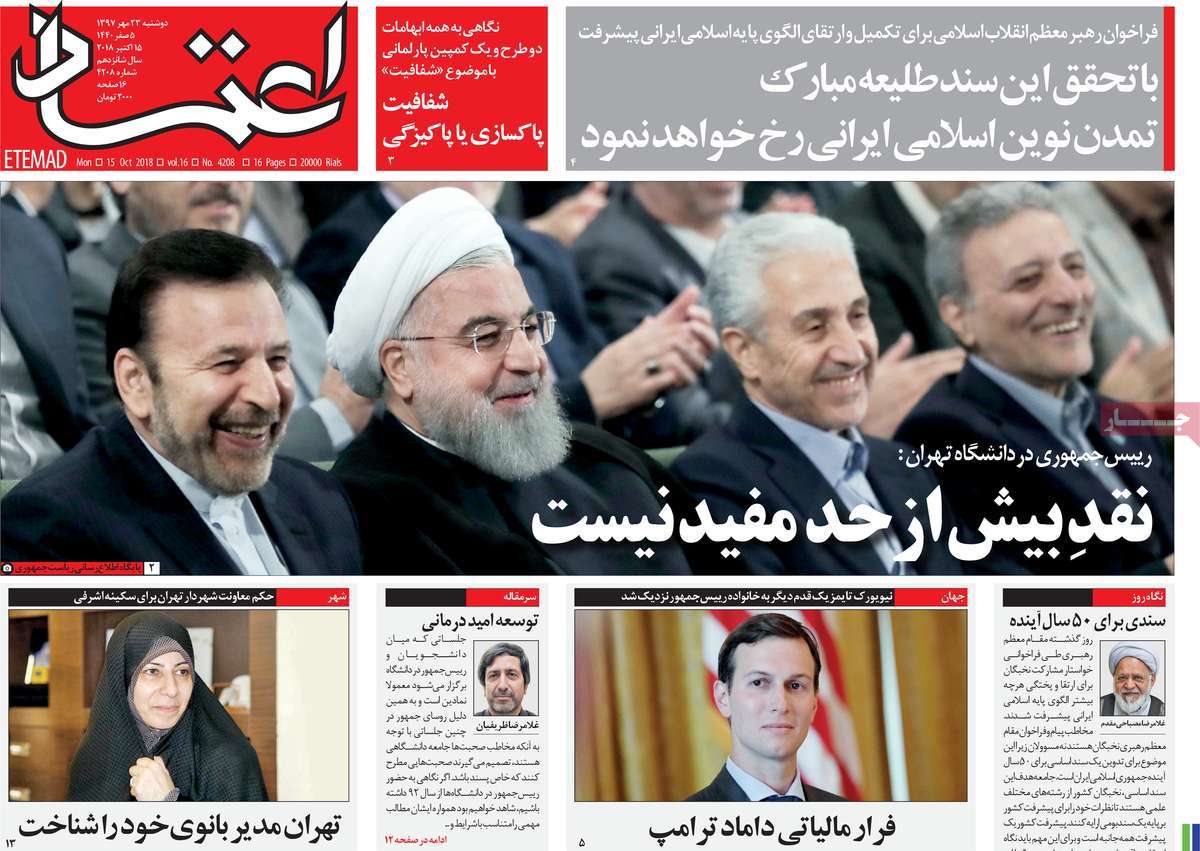 ---
Ettela'at:
1- Iran First VP: Our Oil Revenues Not to Decrease Even If We Sell Half of What We Used to Sell
2- Western Companies Boycott Riyadh Economic Forum over Khashoggi's Assassination
3- Rouhani: We'll Be Winner of Iran-US Conflict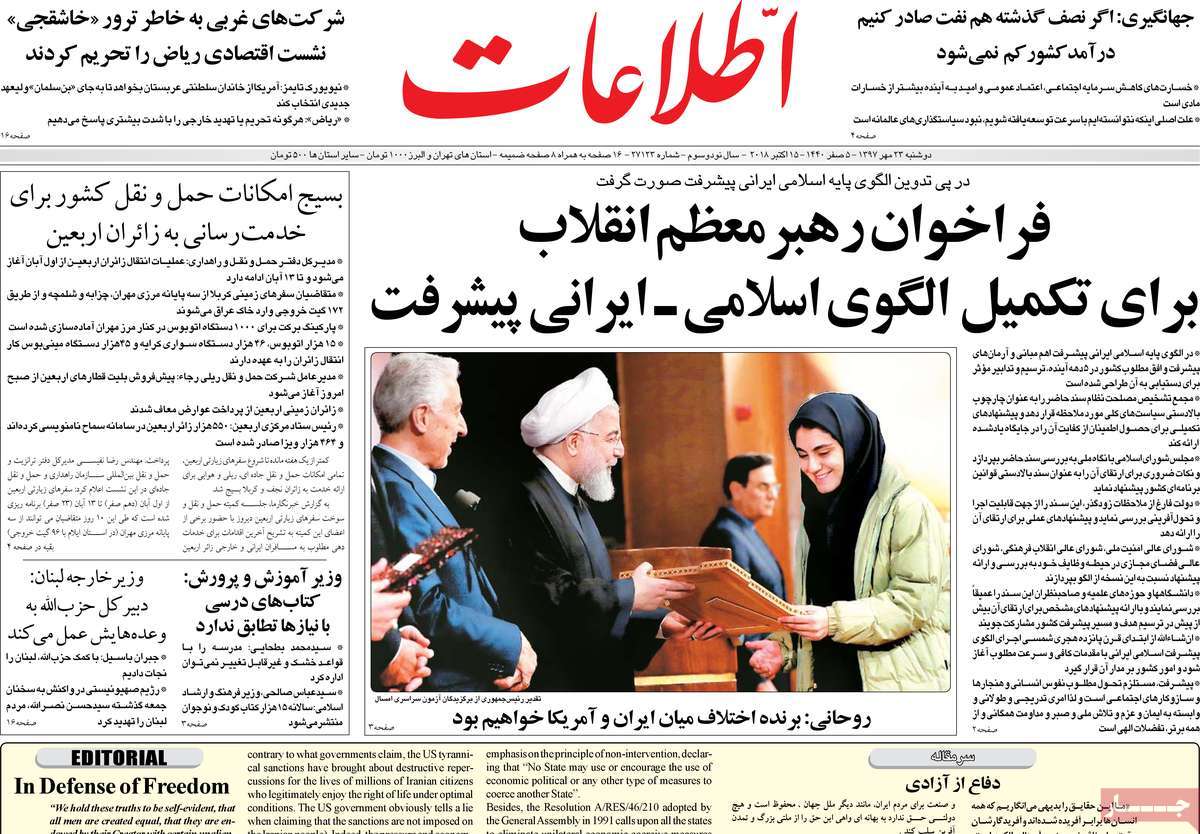 ---
Hemayat:
1- End of Ankara's Deadline for Inspecting Saudi Consulate
2- 196 Arrested for Disrupting Economy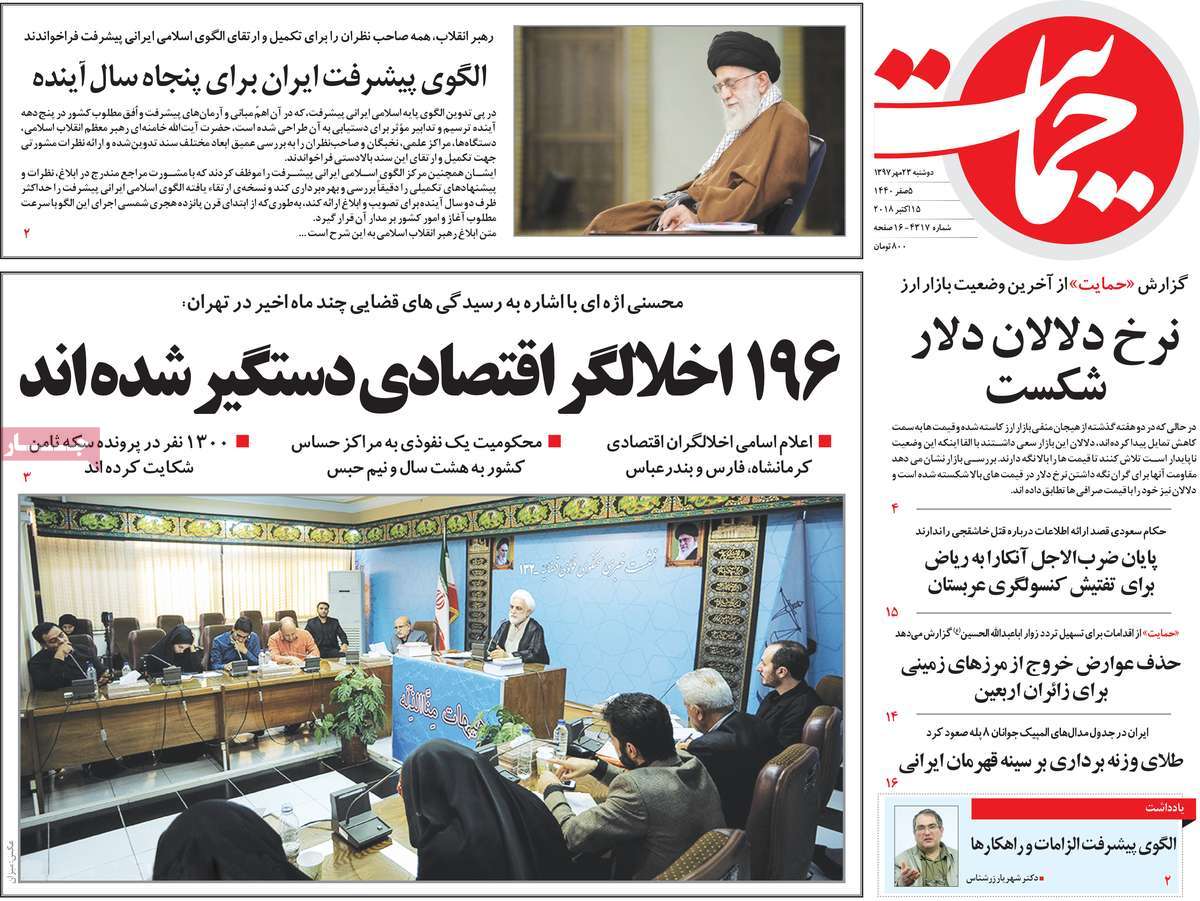 ---
Iran:
1- Defending Freedom: Joint Editorial of Iranian Newspapers Addressing World Journalists
2- Iran: We've Found New Oil Clients
---
Jame Jam:
1- Iran Leader Calls on Elites to Complete Paradigm of Progress
2- Iranian Hercules: Alireza Yusefi Named World's Most Powerful Teenage Weightlifter
---
Javan:
1- Rouhani: This Was All US Could Do, Rest Assured
2- Iran Leader Calls for Upgrading Progress Paradigm for Next 50 Years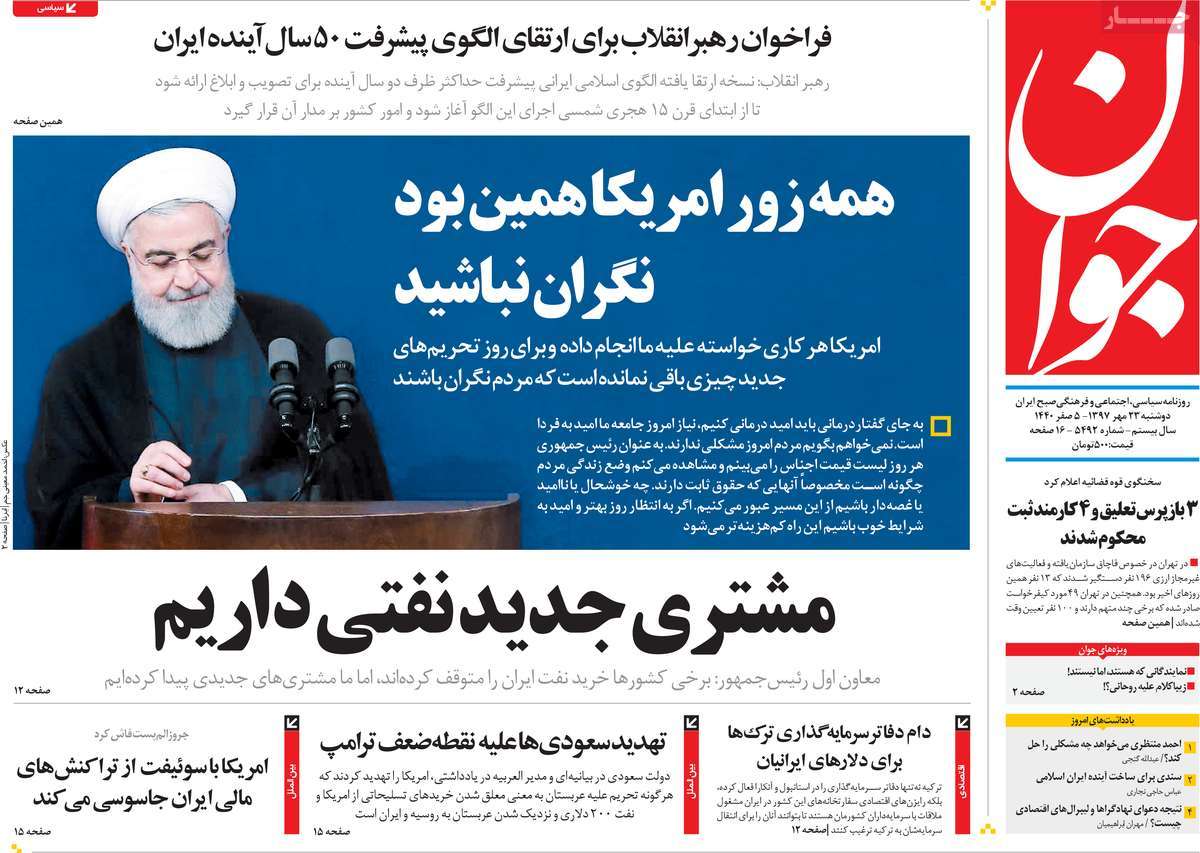 ---
Kayhan:
1- CNN: Khashoggi's Case to Drown Bin Salman
2- New York Times: Saudi Arabia Must Think of another Crown Prince
3- Trump Not to Succeed in Creating Unrest in Iran through Sanctions: NY Times
---
Sazandegi:
1- Defending Freedom: Iranian Papers Publish Joint Editorials in Persian, English
2- Stephen Hawking's Latest Scientific Article Released 7 Months after His Death
3- Rouhani: People Should Not Be Worried about November 4 Sanctions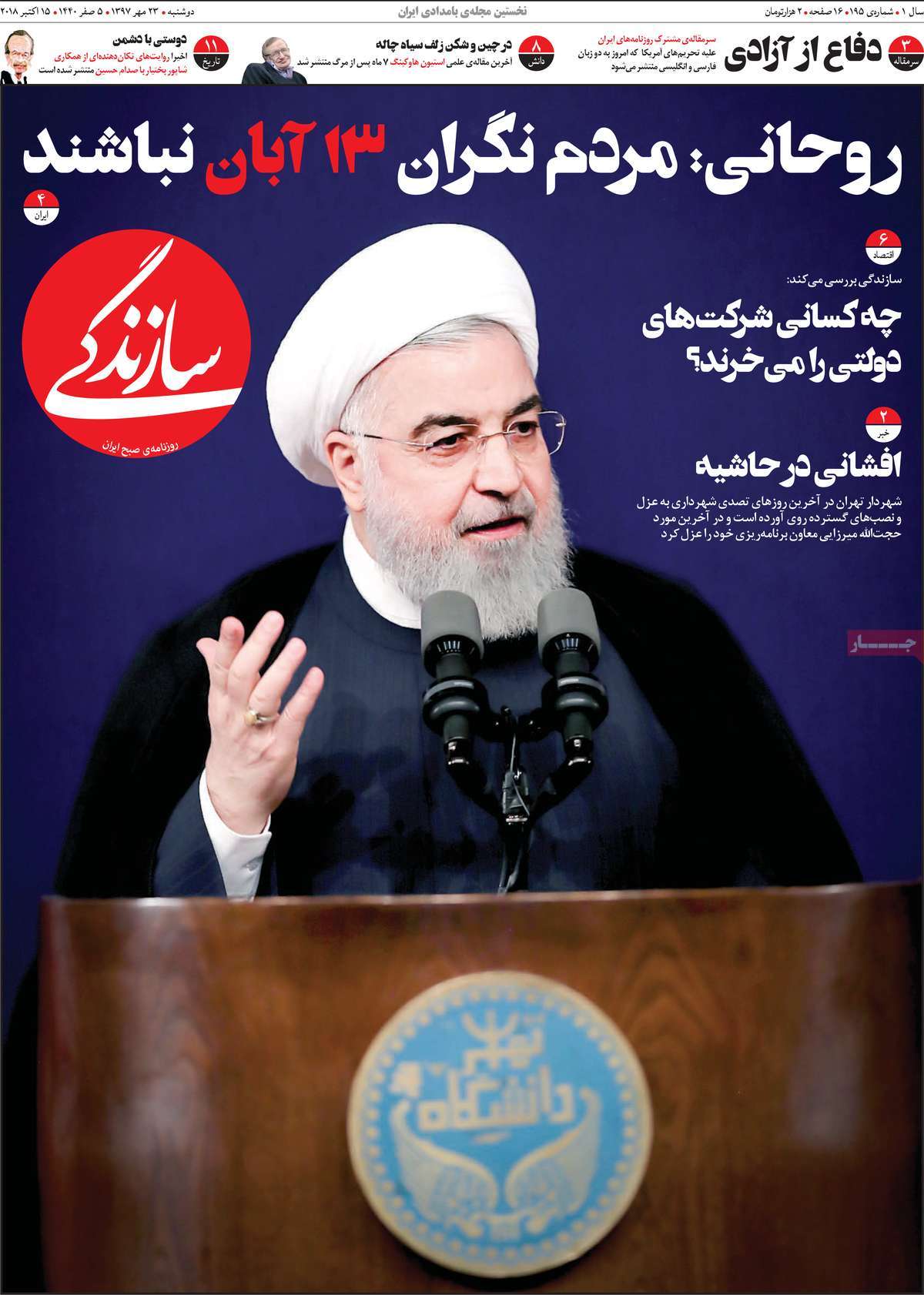 ---
Shargh:
1- Rouhani: Hope for Future Key Reason for My Previous Government's Success
2- Iran Leader Doesn't Want to Personally Decide about FATF Bills: Conservative
3- Nominees for Post of US Envoy to UN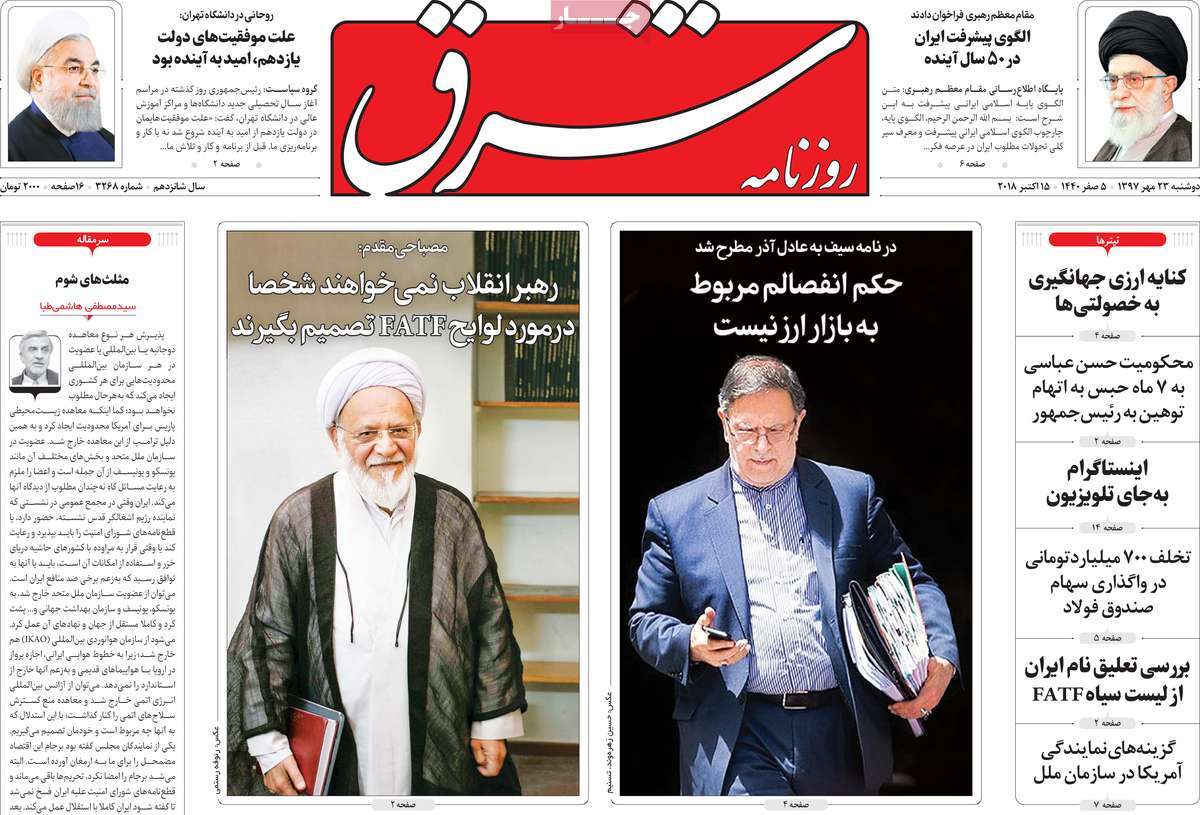 ---
Sobh-e Now:
1- 13 People Arrested for Disrupting Forex Market
2- Roadmap for New Millennium [Editorial]
3- Gap in Unified Europe
---
Vatan-e Emrooz:
1- Islamic Iran in 1444 (2065)
2- Saudis Not to Allow Turkey to Inspect Consulate