Several papers today covered a court ruling that cancelled an earlier order for seizure of $5 billion in Iranian assets in Italy, describing it as another victory for Iran in its legal battles against the US.
Also a top story was the resignation of US Ambassador to the UN Nikki Haley and the possible candidates to replace her. The main focus of speculations was whether Donald Trump would choose a moderate or an anti-Iran figure for the position.
The above issues, as well as many more, are highlighted in the following headlines and top stories:
Aftab-e Yazd:
1- Executives Giving Astronomical Bribes to Bypass Law on Retired Employees
2- Another Legal Victory for Iran against US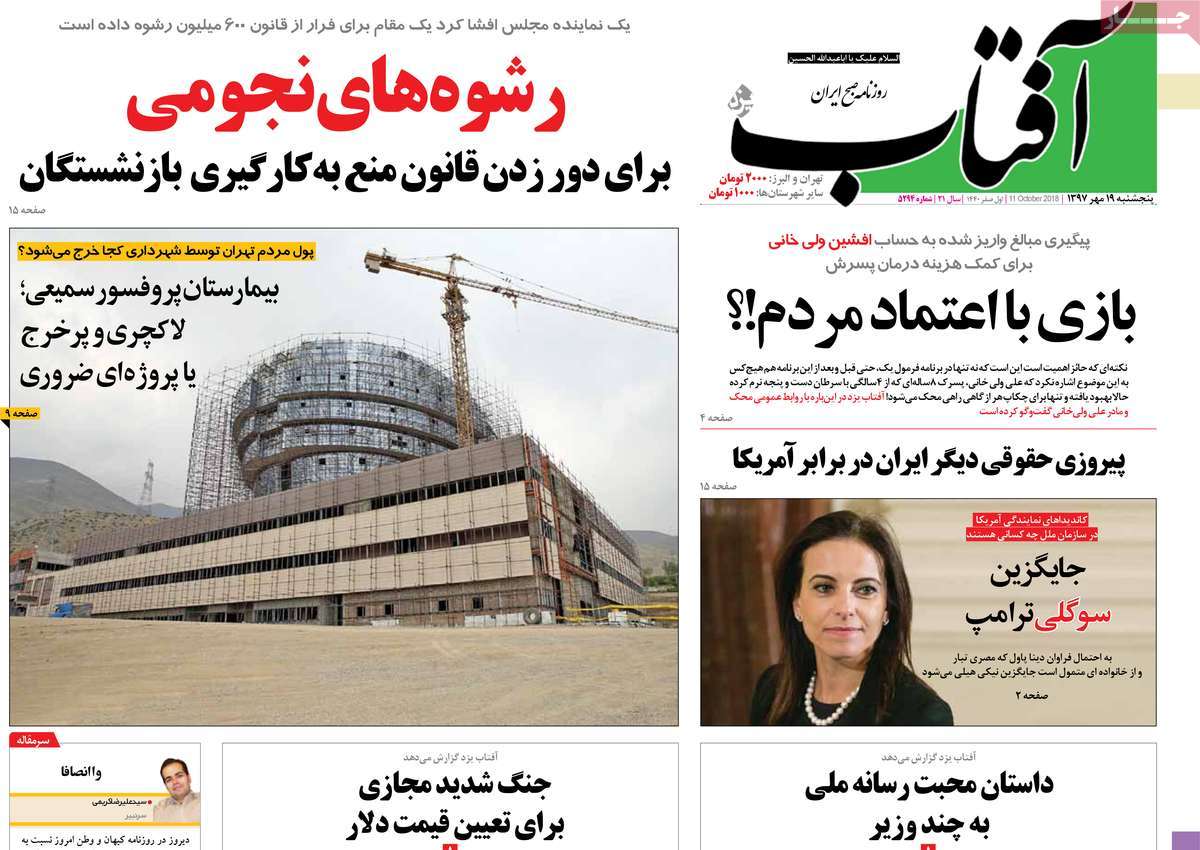 ---
Ebtekar:
1- Iranian Lawyers Accuse US of Avoiding Responding to Questions
2- Earth's Depression: What Impact Do Antidepressant Drugs Have on Earth?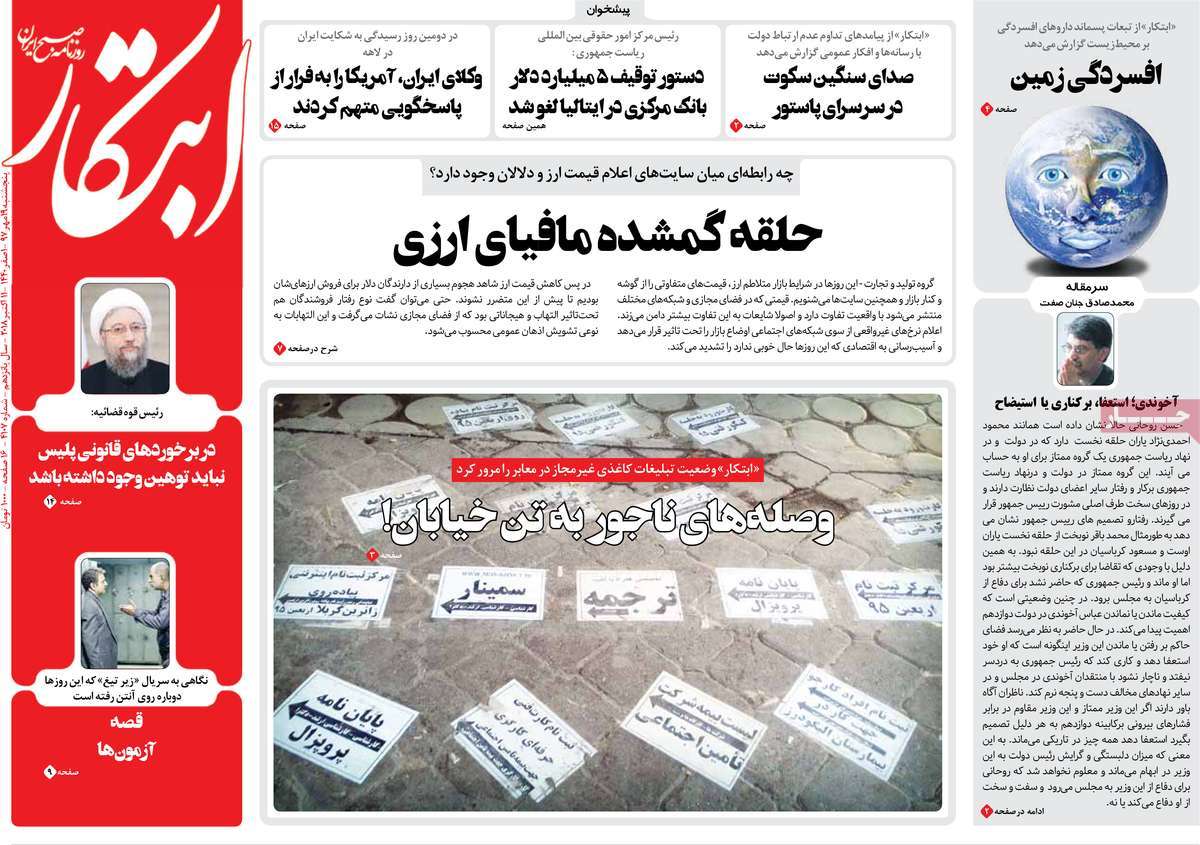 ---
Ettela'at:
1- $7 Billion Worth of Fuel Smuggled Out of Iran in 5 Years
2- New York Times: Khashoggi Dismembered at Order of Highest-Ranking Saudi Official
---
Ghanoon:
1- Temporary Detention to Be Limited in Iran
2- Rafsanjani's Son Mohsen Suggests Ready to Be Elected New Mayor of Tehran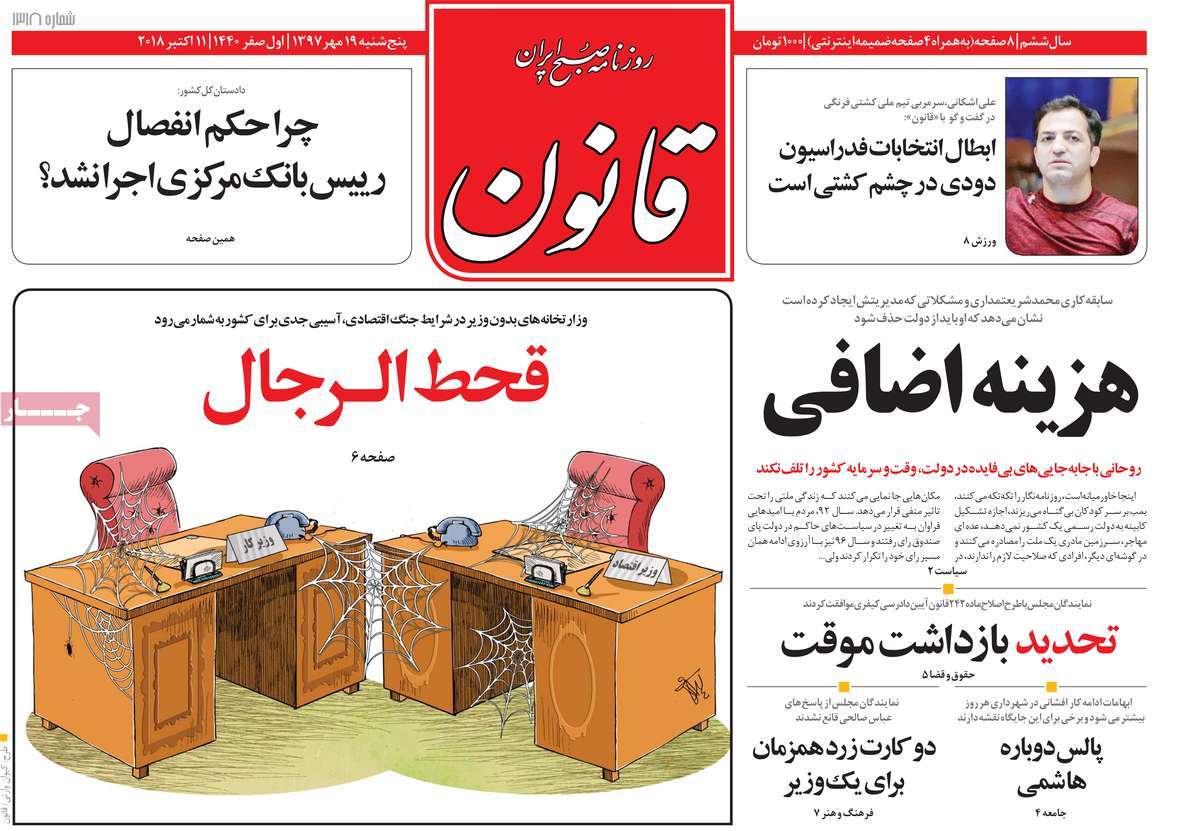 ---
Haft-e Sobh:
1- Serbia Brings Back Visa Regime for Iranian Tourists
2- Iranian Michael Phelps to Receive 800 Gold Coins in Reward
* Shahin Izadyar Wins 5 Gold Medals in Swimming at Jakarta Para-Asian Games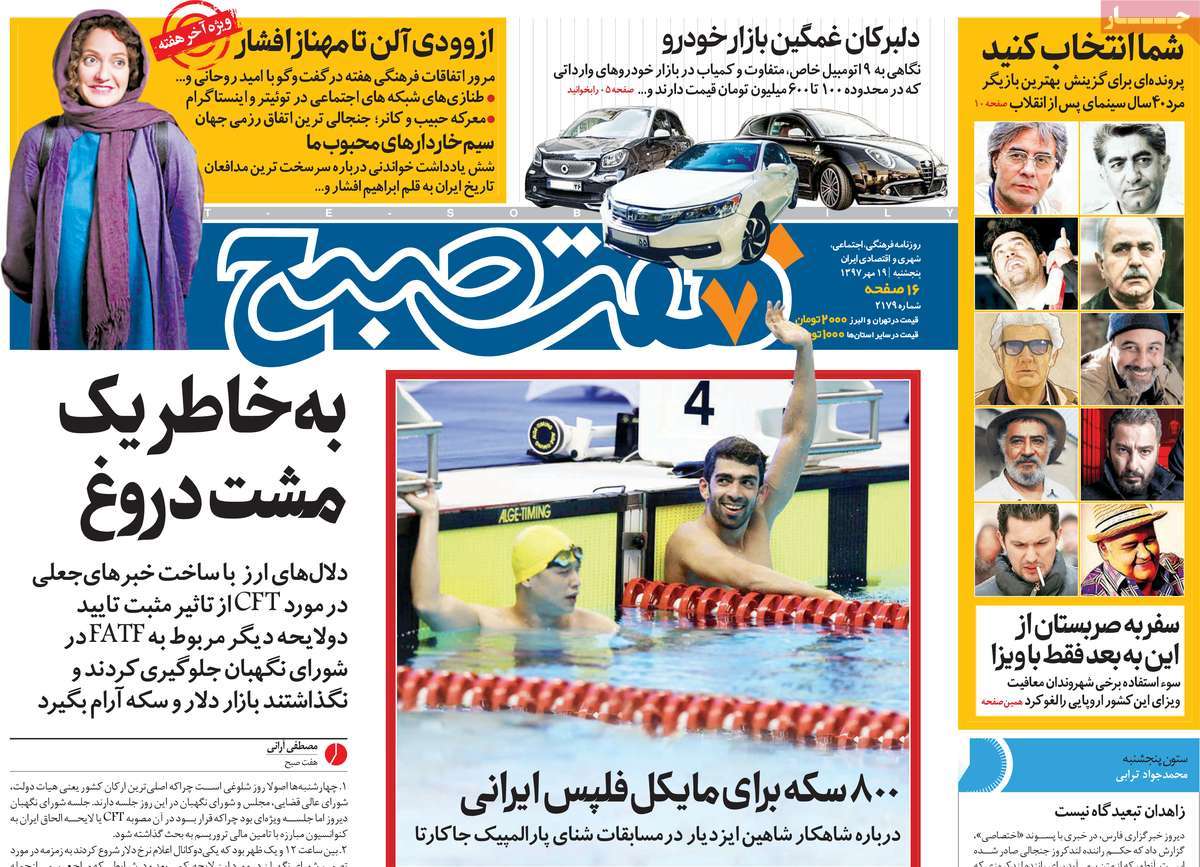 ---
Iran:
1- Based on Parliament's Decision, Temporary Detention Time to Get Shorter
2- Another Deadly Incident for Iranian School Bus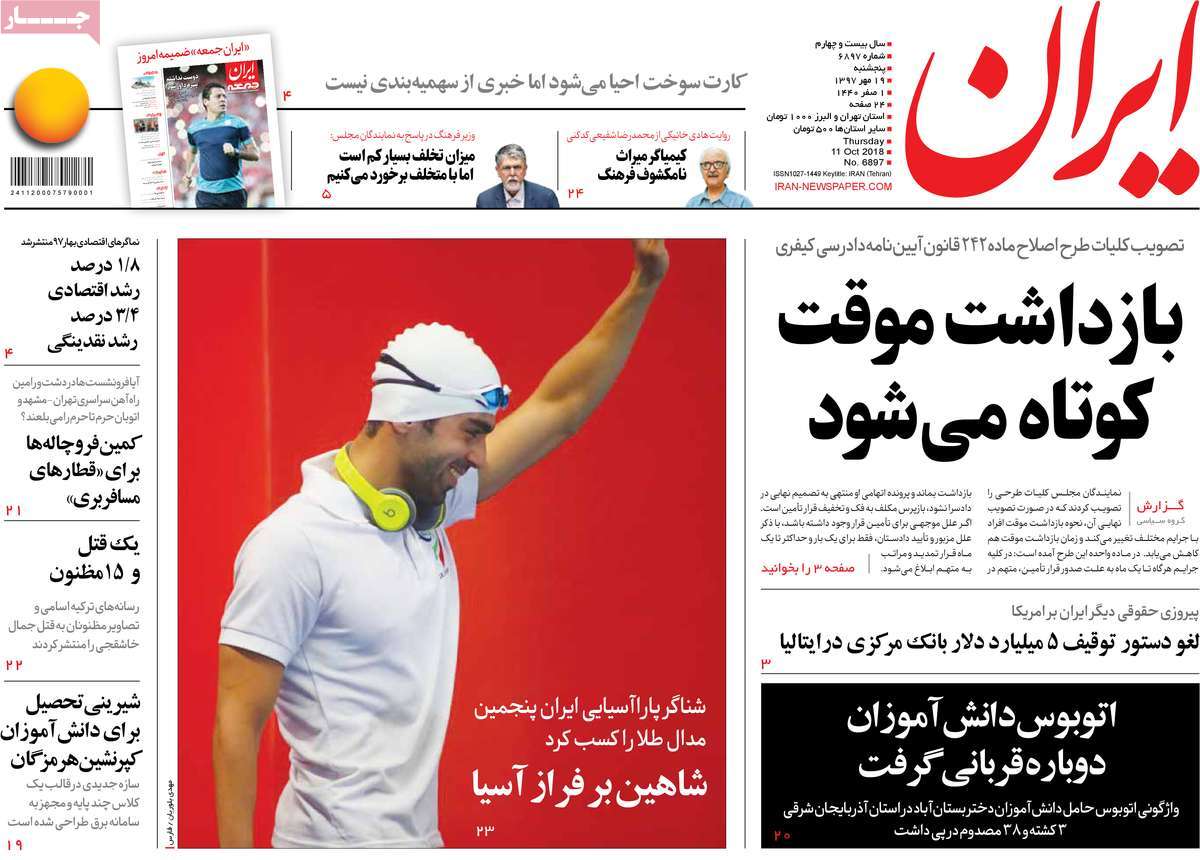 ---
Javan:
1- Rogue Man Verbally Attacks Rest of the World
* Trump Makes Comments against China, S Korea, EU, Iran, Germany
2- US Backs Off for Fear of Iran Losing Its Patience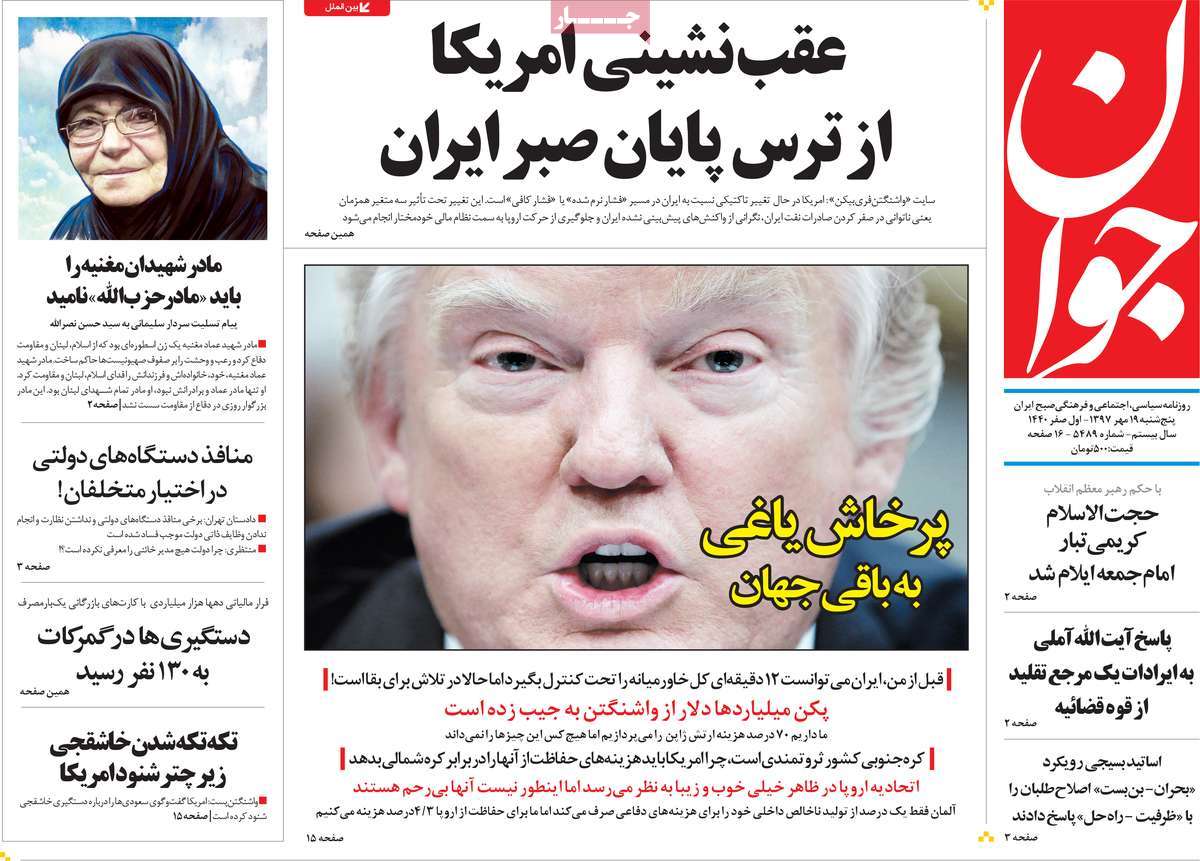 ---
Jomhouri Eslami:
1- UK Envoy: London Wants Iran Reap Economic Benefits of JCPOA
2- French Senators Call for Reinforcement of Euro to Support Iran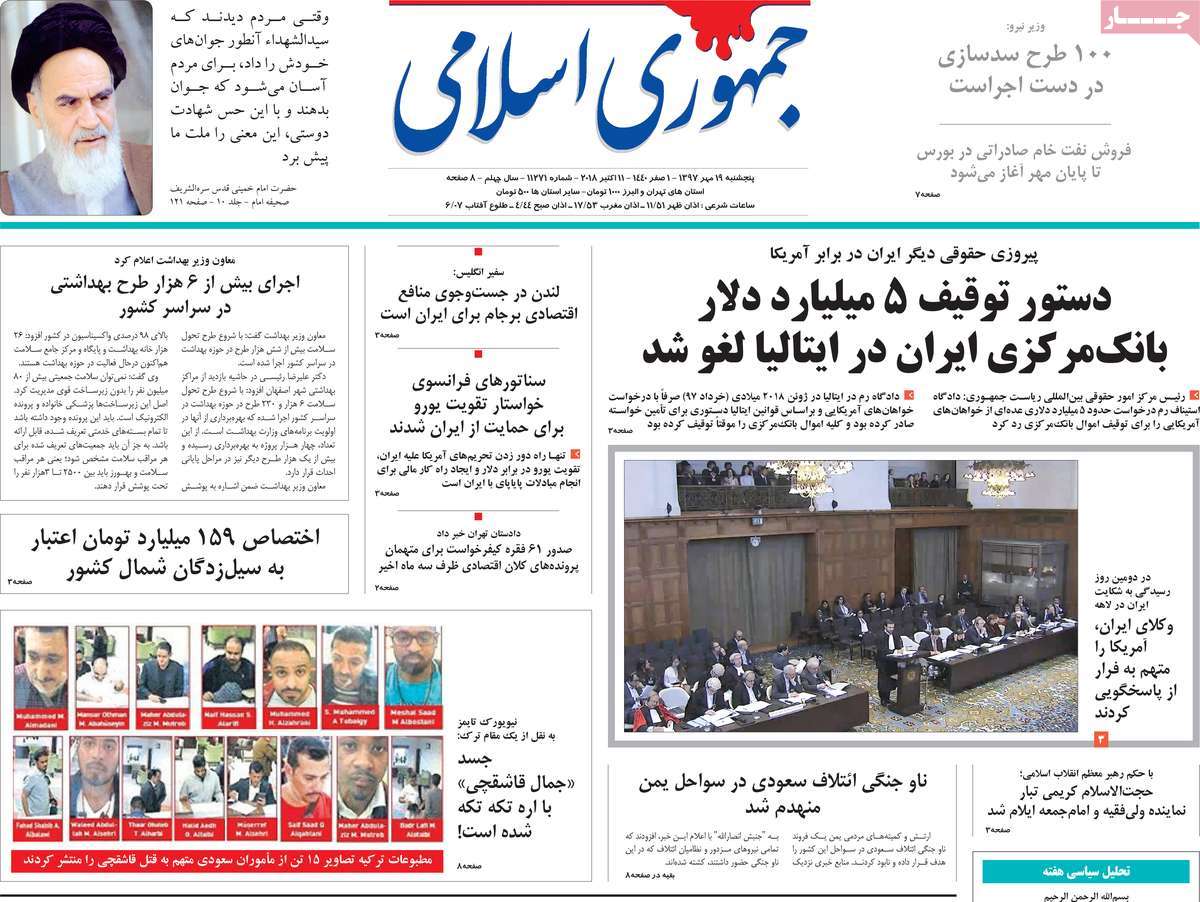 ---
Kayhan:
1- Rouhani's Gov't Had Ordered Banks to Obey US Sanctions Last Year!
* This Is Why FATF Needs to Be Rejected
2- British Papers Boycott News of Khoshoggi's Murder: WikiLeaks
3- Funeral Held for 'Mother of Hezbollah' in Beirut
4- Iran Could Take Control of Entire Mideast in 12 Minutes: Trump in Ridiculous Claim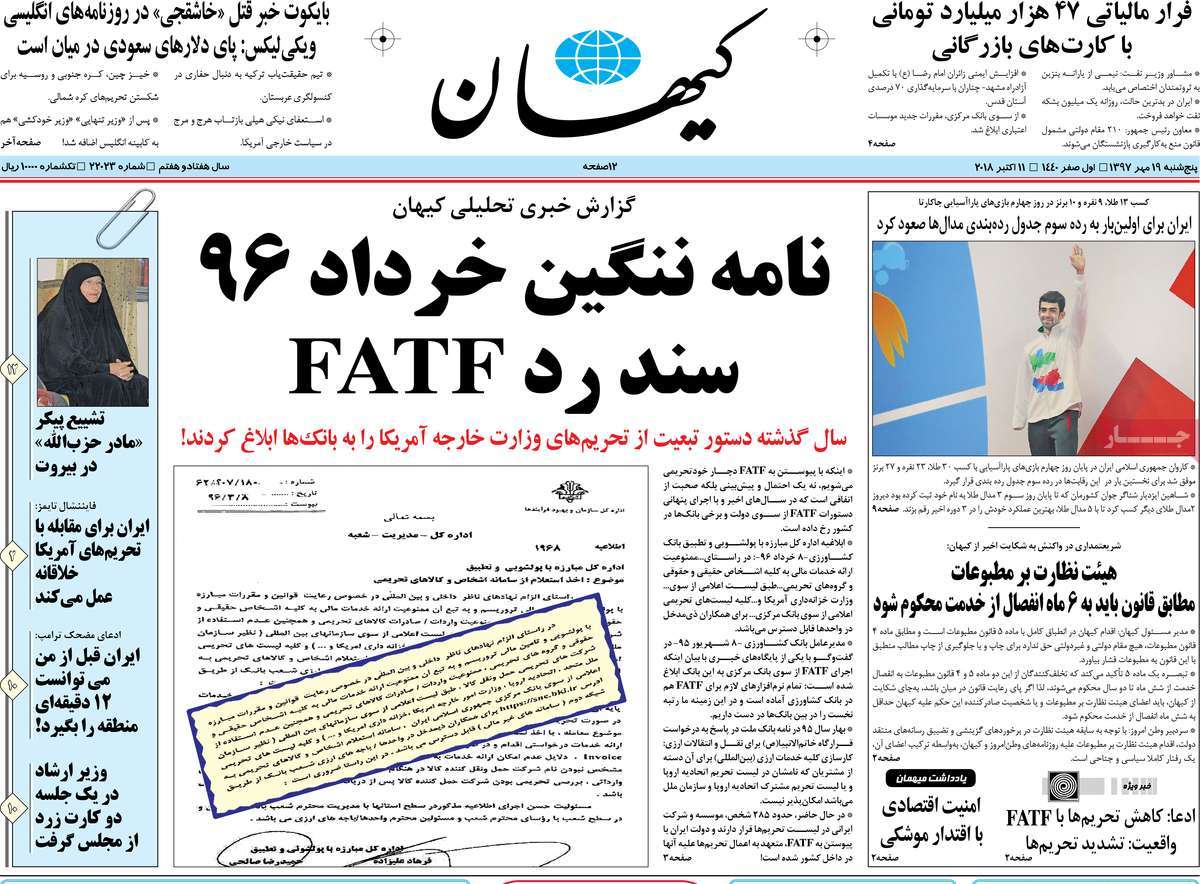 ---
Khorasan:
1- US Sanctions Not to Be Re-imposed on Iran as of November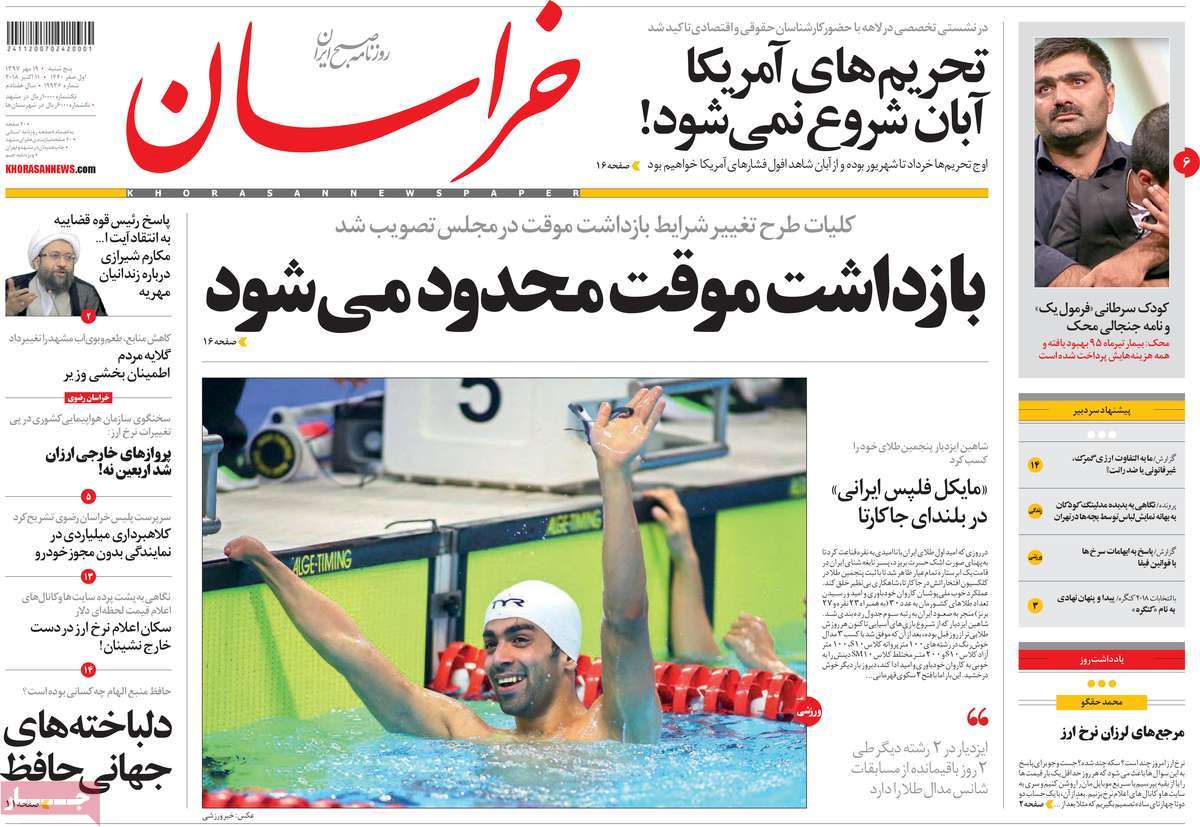 ---
Sazandegi:
1- Iran's Second Victory at The Hague
* Court Rules Italy Must Cancel Seizure of $5 Billion in Iranian Assets
2- Haley another Victim of Trump: Who Are Possible Candidates to Replace Her?
---
Shahrvand:
1- Why Divorce Rates Not Going Down
2- Veteran Sports Commentator Bahram Shafi'e Dies at 62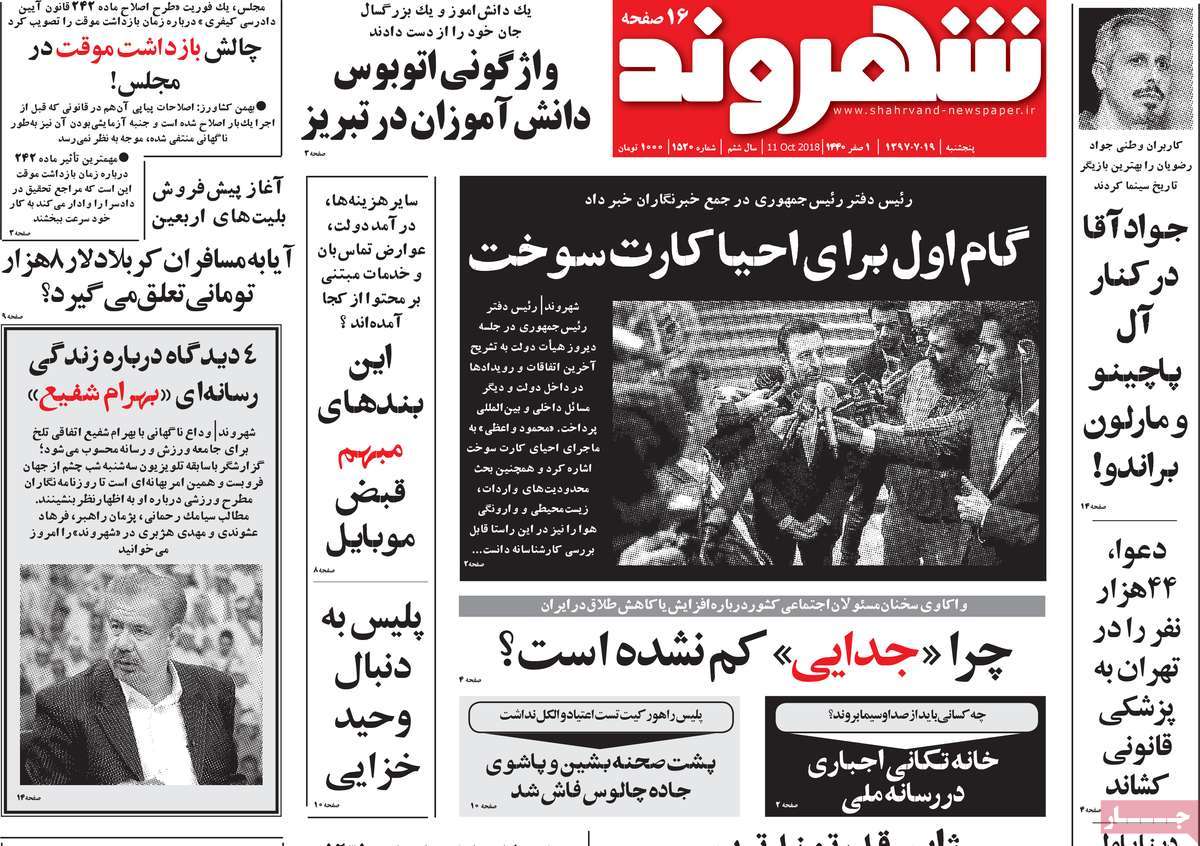 ---
Shargh:
1- $5 Billion in Iranian Assets Unblocked in Italy
2- Who Will Replace Haley in UN: Anti-Iran or Moderate Figure?
---
Vatan-e Emrooz:
1- Top Shiite Clerics Protest at Ratification of CFT Law
2- Diplomatic Slaughterhouse: Turkey Releases Names, Photos of Saudi Suspects