Several papers today covered the surprising resignation of US Envoy to the UN Nikki Haley, which was later accepted by US President Donald Trump.
Also a top story was the threatening messages Iranian lawmakers recently received over their decision on a convention on Combating the Financing of Terrorism (CFT). They particularly highlighted Vice-Speaker Ali Motahari's request from the Judiciary to prosecute those behind the messages.
Comments by Chief of Staff of the Iranian Armed Forces Major General Mohammad Baqeri about the country's drone industry and defensive capabilities also received great coverage.
The above issues, as well as many more, are highlighted in the following headlines and top stories:
Abrar:
1- Biggest Mass Grave Discovered in Syria's Raqqa
2- Moscow Gives Syria Its S-300 Missile Defence Systems for Free
3- Syrian Envoy to UN: Presence of Foreign Forces in Syria Illegal
4- US Concerned about Fate of Saudi Journalist
5- Larijani: Iran to Keep Trying to Save JCPOA
---
Afkar:
1- US Backs Off from Imposing Sanctions on Iran's Oil Exports
2- We Shouldn't Expect [Accession to] CFT to Do a Miracle: Analyst
---
Aftab-e Yazd:
1- Haley's Shocking Resignation Accepted by Trump
2- Germany Calls for Establishment of EU's Security Council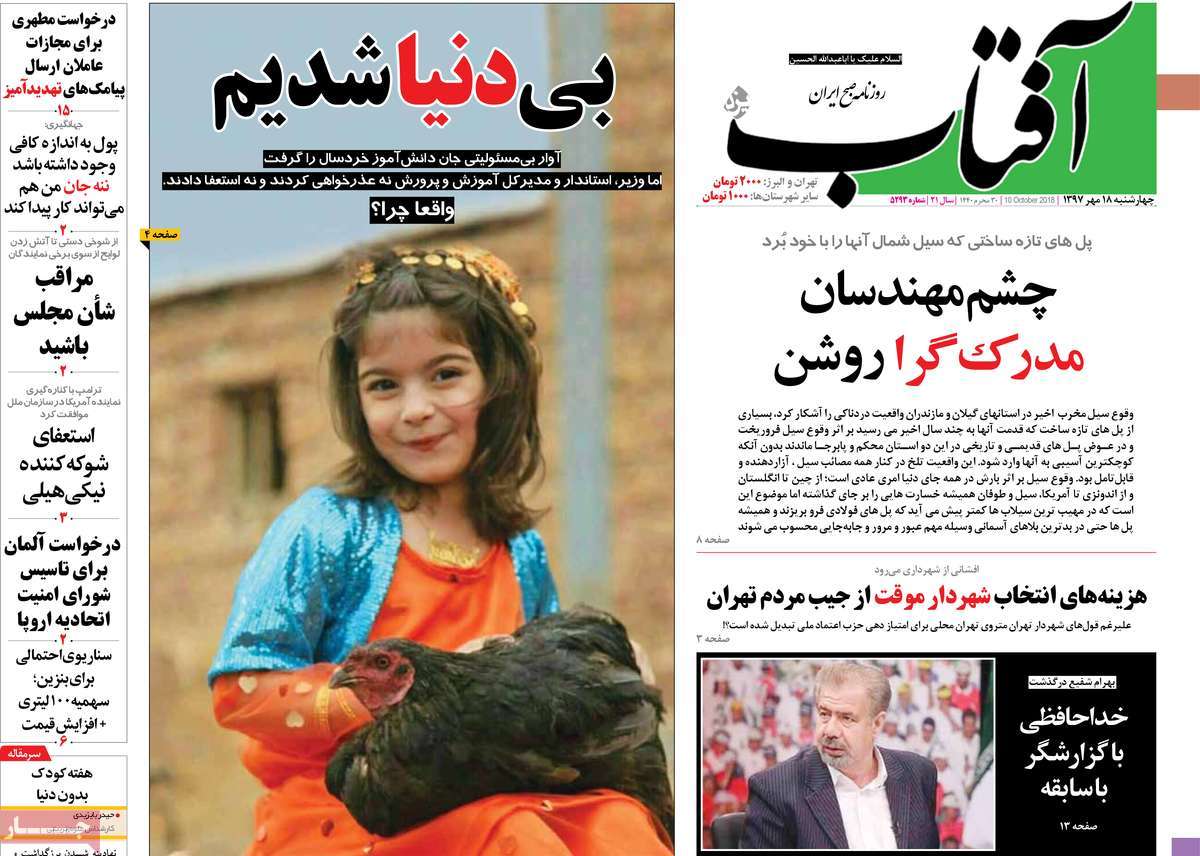 ---
Arman-e Emrooz:
1- Those Who Sent Threatening Messages to MPs over CFT Must Be Punished
2- Iran's Economic Growth to Continue from 2020: IMF, World Bank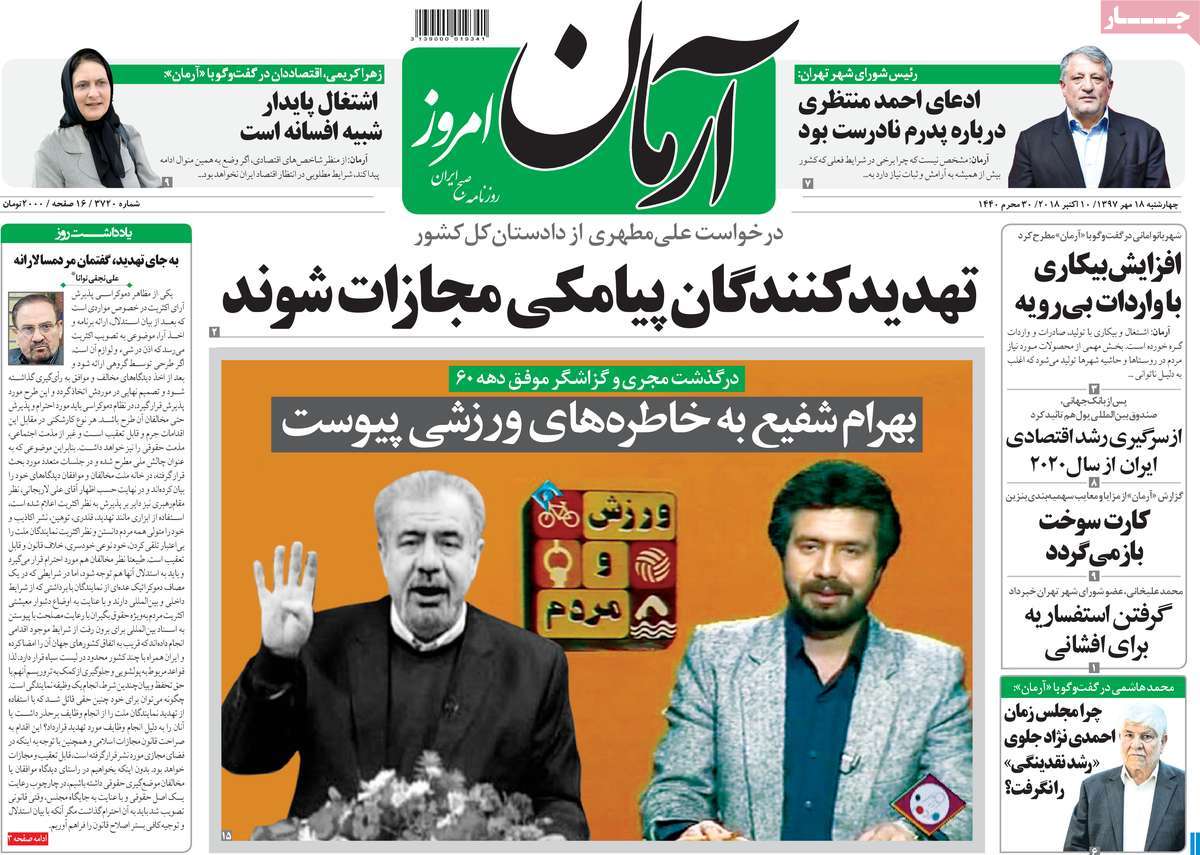 ---
Donya-ye Eqtesad:
1- SWIFT, a Barrier to Iran Sanctions: Division in US Treasury Department
---
Ebtekar:
1- Riyadh to Pay Dearly for Khashoggi's Disappearance
A Review of Consequences for Saudis
---
Etemad:
1- Iranophobic Sherriff Resigns: Trump Accepts Haley's Resignation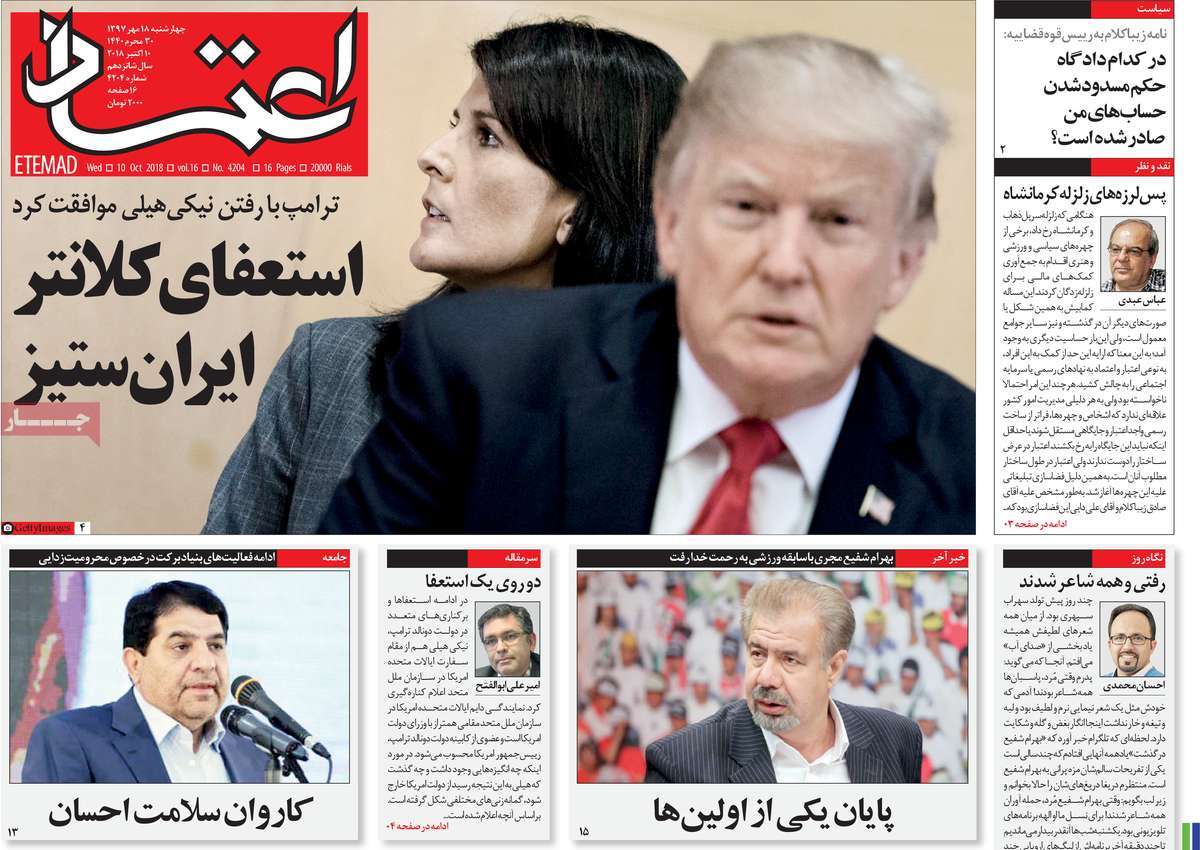 ---
Ettela'at:
1- Iran's Top General: National Security a Red Line for Armed Forces
2- Iranian Athletes Winning Colourful Medals in Jakarta Para-Asian Games
3- Lebanese Hezbollah: We'll Sacrifice Our Lives to Defend Imam Khamenei against West
4- Iran Warns about Return of Unilateralism to International Relations
5- Iran Fighting Terrorism While Respecting Int'l Rules: Foreign Ministry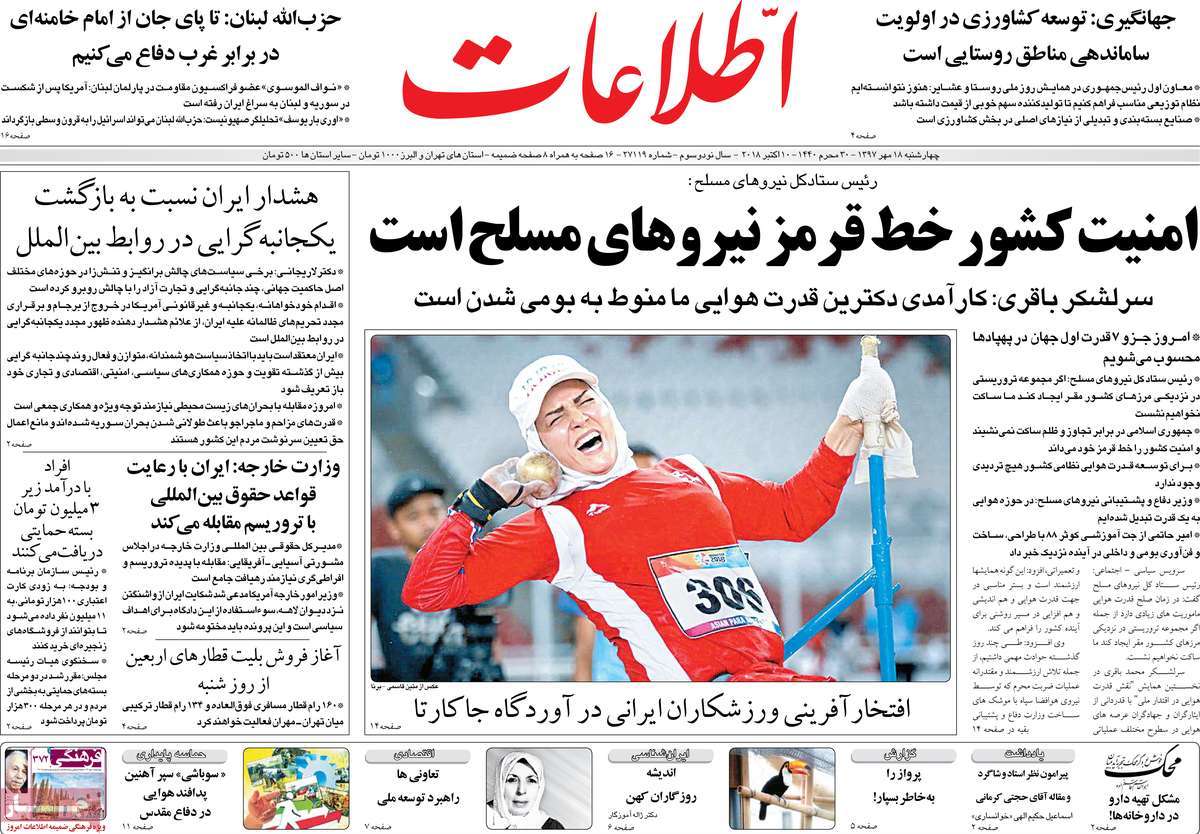 ---
Hemayat:
1- Internal War in White House: A Review of Division in Trump's Cabinet over Iran
2- Top General: Iran Has Had 98% Progress in Building Domestic Jet Fighter's Engine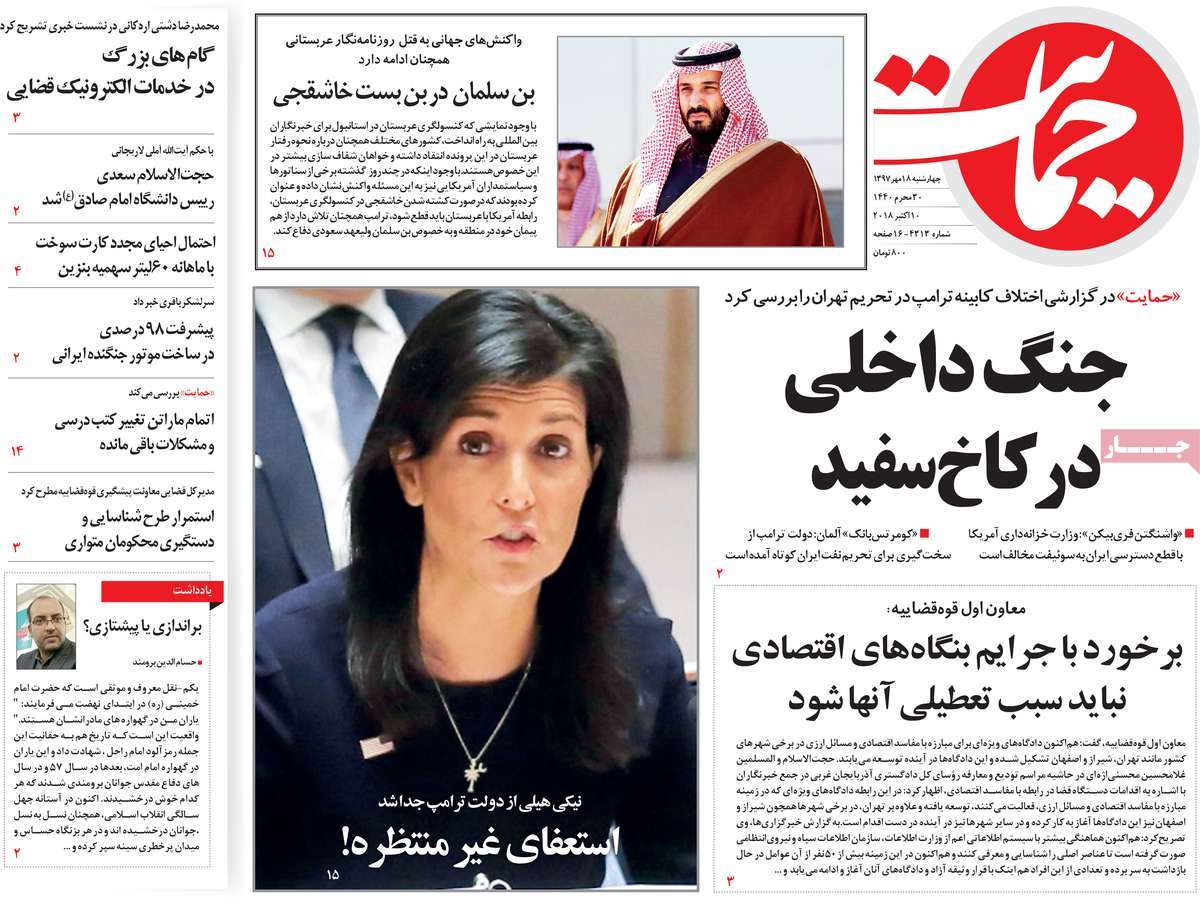 ---
Iran:
1- US Exempts Iran-UK Joint Gas Field from Its Sanctions
---
Javan:
1- Iran among World's Top Drone Powers: Top General
2- Government to Offer Support Package to Those Receiving Less than IRR 30 Million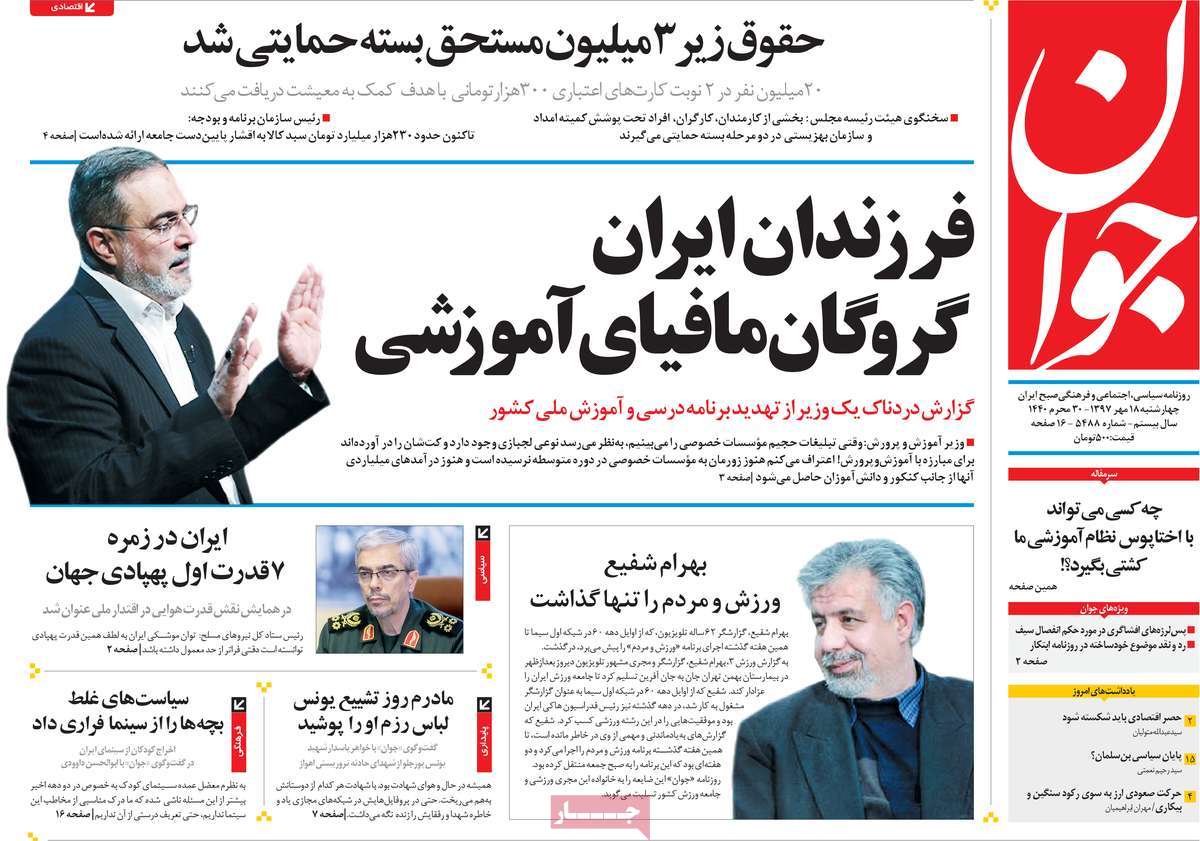 ---
Kayhan:
1- 10 Kids Die of Medicine Shortage in Gaza Every Month
2- Fate of European JCPOA Not to Be Better than American One
3- Joining CFT to Increase Iran's Int'l Commitments with 'Almost No' Achievement
4- New York Times: Bin Salman a Ruthless Murderer Emboldened by Trump
---
Sazandegi:
1- Financial Transparency Beneficial to Iran: Analyst
2- Nobel against Trump: Nobel Prize Winners in Economics Announced
3- Here's Trump of Brazil: Latin America in Shock after Bolsonaro's Victory
---
Shargh:
1- Larijani: Iran, Russia in Total Agreement over Syria
2- Parliament Urges Prosecutor General to Take Action against Those behind CFT Threats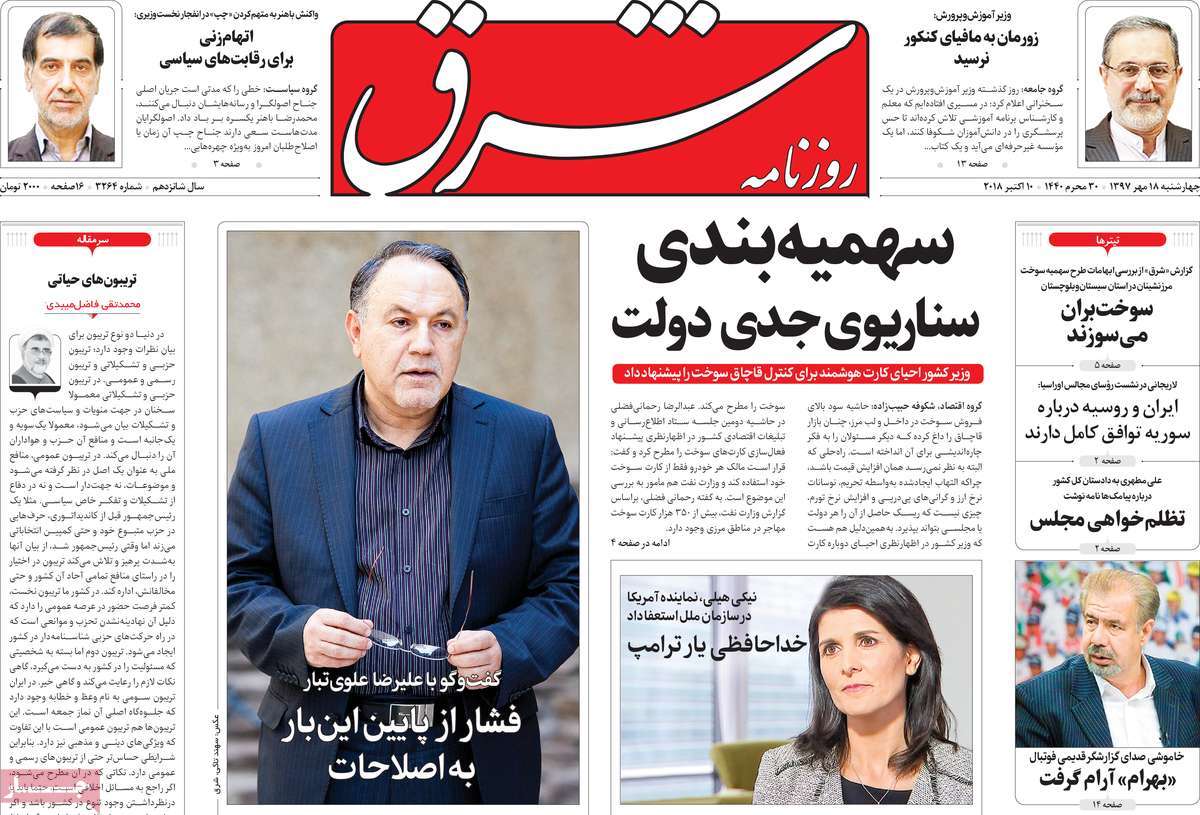 ---
Vatan-e Emrooz:
1- Saudi Gripped with Butchering Scandal