The comments of President Rouhani at separate meetings with new foreign ambassadors to Tehran and the knee injury that sidelines Iran's most powerful weightlifter dominated the front pages of Iranian newspapers on Wednesday.
Ettela'at: "Transition from the economic crisis requires hard, courageous decisions," said the minister of housing and urban development.
Abbas Akhundi said the wrong policies adopted with regard to Mehr [affordable] Housing [project by the previous administration] have cost the country dearly.
Ettela'at: The president has urged the nations to seize the investment opportunity in Iran.
Hassan Rouhani also said that all Muslim nations need to contribute to efforts to settle the problems of the world of Islam.
Ettela'at: Russian jet fighters have bombed Golan on the border with the occupied territories.
In other developments, Moscow confirmed reports that it has sent Special Operations forces to Syria and a spokesman for the US State Department said that Secretary Kerry wants Iran to be part of talks to settle the Syrian crisis.
Ettela'at: The UN envoy to Iran has said that Iran's Human Development Index has improved.
During a 23-year period, life expectancy has risen from 51 to 74 years, Gary Lewis said in an exclusive interview with Ettela'at.
Ettela'at: The first vice-president said that proper planning requires familiarity with realities on the ground in society.
Meanwhile, the director of the Statistical Center of Iran said that his agency will release a report on economic growth every six months.
Ettela'at: Official registration of Masalik wal-Mamalik [a 9th-century geography text by the Persian geographer Ibn Khordadbeh] and Complete Works of Sa'di have been unveiled at the National Library.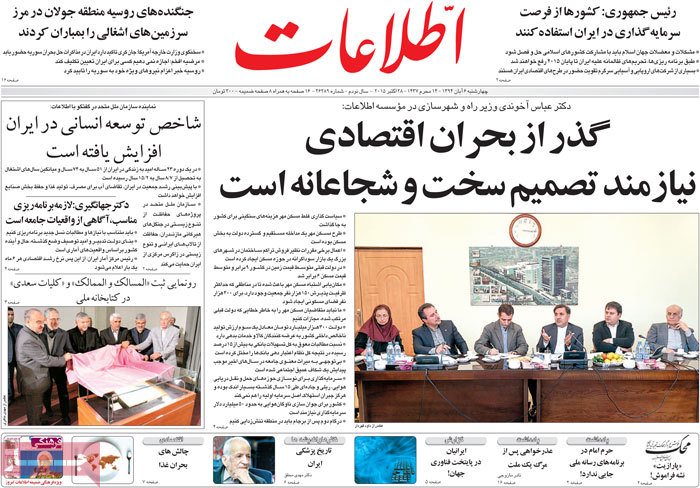 ---
Afarinesh: The document on redesigning the Arak Reactor will be drawn up in three stages, said Foreign Minister Mohammad Javad Zarif.
---
Aftab-e Yazd: Those who want the past trends to persist know nothing about what the public are going through, said First Vice-President Eshagh Jahangiri.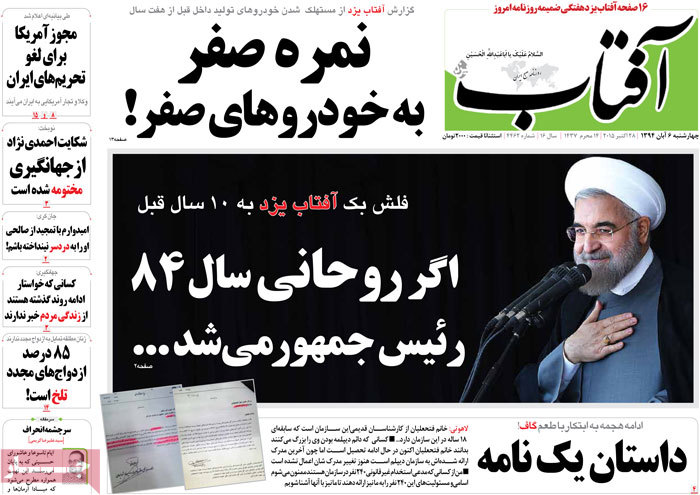 ---
Akhbar Sanat: Exports of Iranian hand-woven carpets to the US have got underway, said the head of the National Carpet Center.
---
Arman-e Emrooz: Air pollution in Tehran kills 12 people on a daily basis.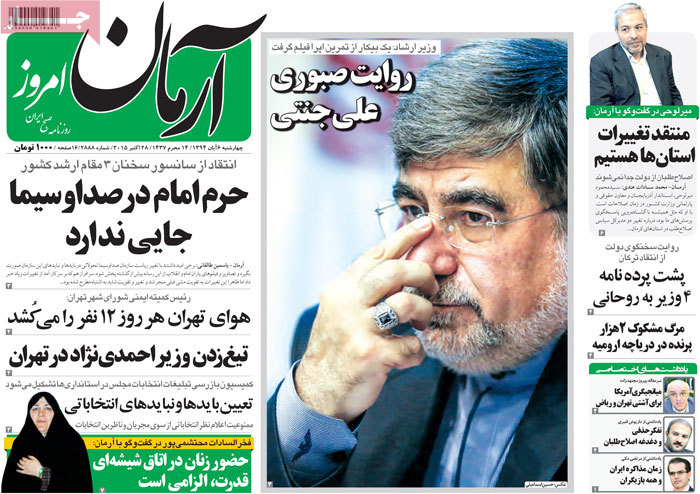 ---
Asr-e Rasaneh: Iran and India hold talks over a $10 billion gas project.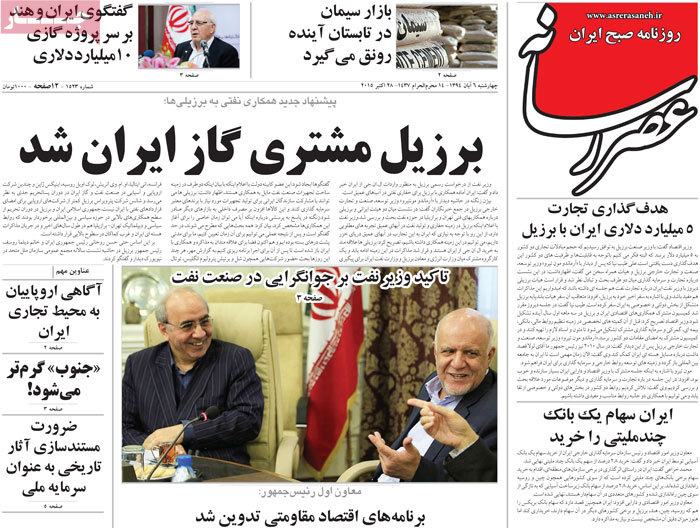 ---
Asrar: Iran's super heavyweight Behdad Salimi [a world record holder] will miss the 2015 World Weightlifting Championships through injury.
Asrar: Visits to Iran by economic delegations do not amount to infiltration by foreigners, said the government spokesman.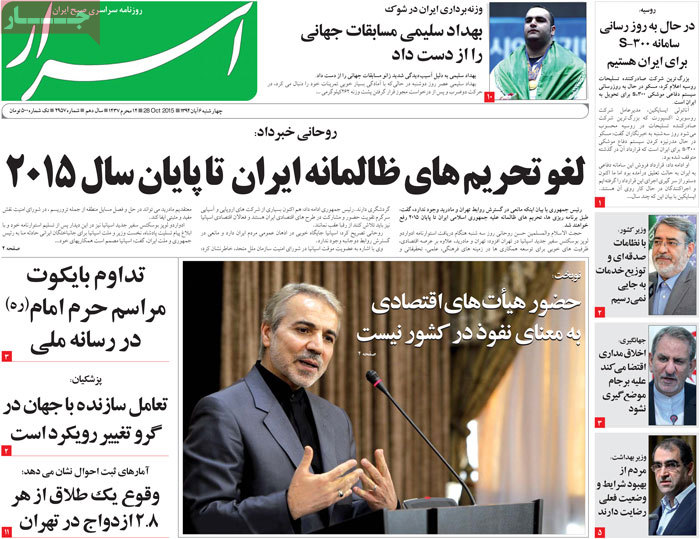 ---
Ebtekar: Foreign Minister Zarif predicts that sanctions will have been lifted in two months.
---
Eghtesad-e Pooya: Iran has purchased the shares of a multinational bank.
---
Emtiaz: A number of birds have died of suspicious causes at the Orumiyeh Lake.
Emtiaz: The interior minister has said that as many as 1,700 illegals enter the country on a daily basis.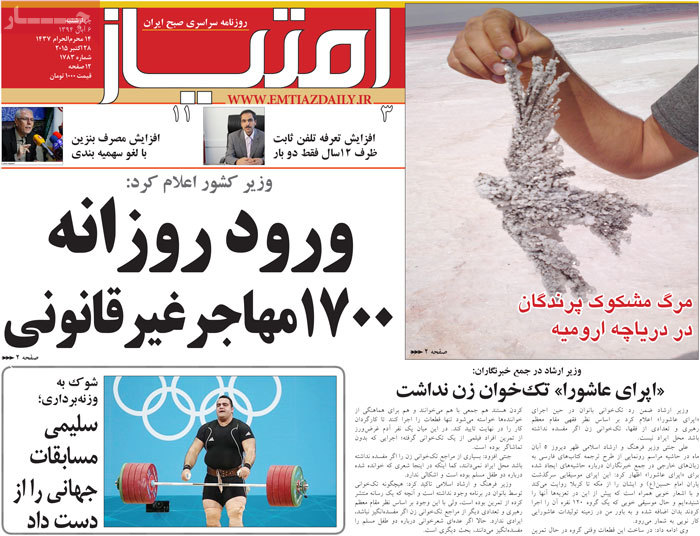 ---
Etemad: Ahmad Tavakoli leads an uprising against corruption
Transparency and Justice Watch, an agency led by [Tehran principlist MP] Ahmad Tavakoli has been formed.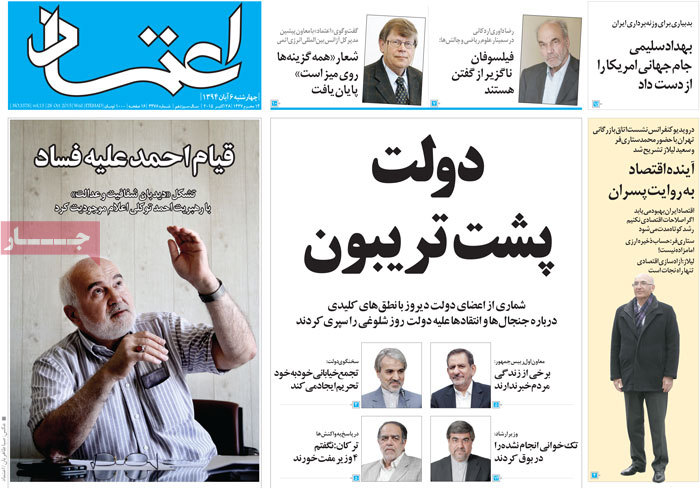 ---
Hemayat: McDonald's has no outlets in Iran; neither does it have any permit to operate here.
---
Iran: IRIB has become a mouthpiece for opponents of the Joint Comprehensive Plan of Action, a number of MPs have said.
Iran: In an interview with the daily, the director of the Environment Protection Organization has revealed the political nature of opposition to her by her rivals.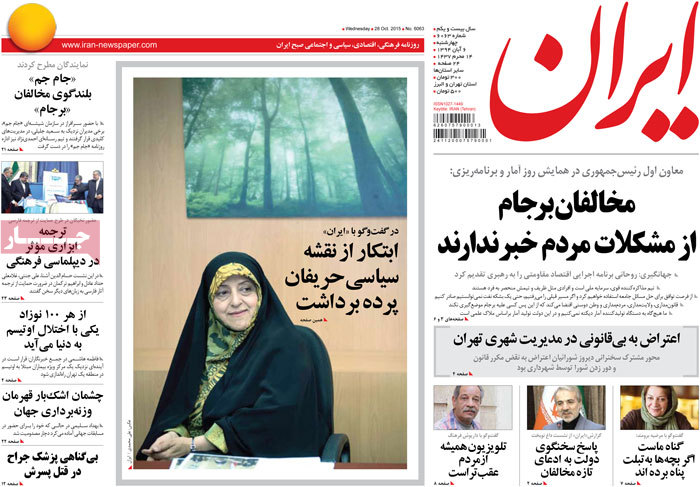 ---
Javan: Without production, termination of sanctions will be of no use.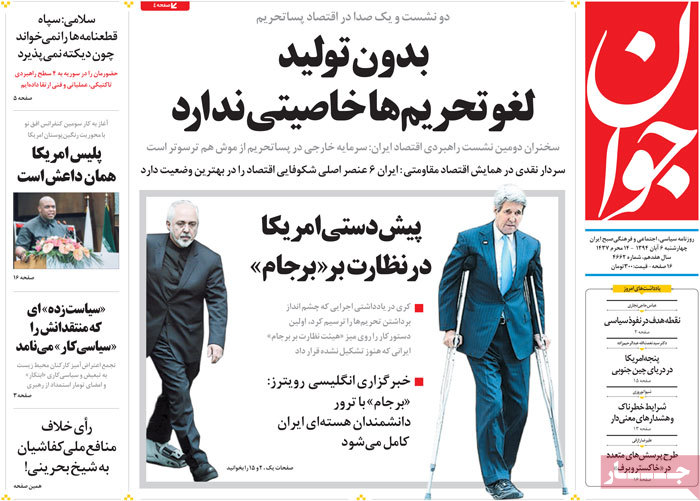 ---
Jomhouri Islami: At separate meetings with the new Iran ambassadors of eight countries, the president said that Tehran welcomes expansion of all-out economic and political cooperation with all countries.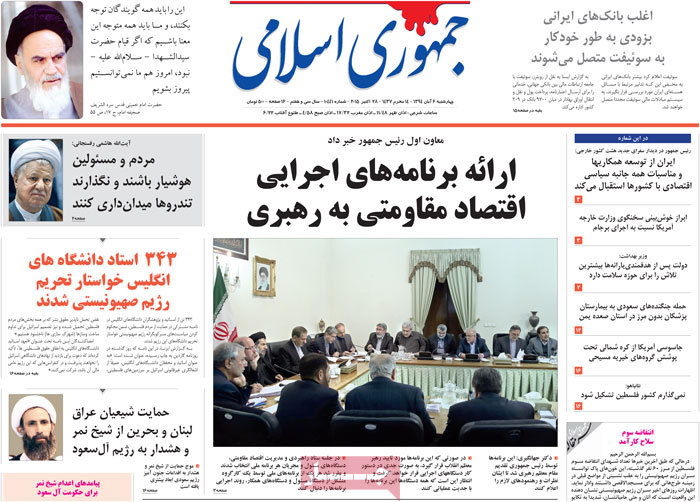 ---
Kar va Kargar: Unjust sanctions against Iran will have been lifted by the end of 2015, said President Rouhani at separate meetings with eight new foreign ambassadors to Tehran.
---
Kayhan: Economic recession and prevalence of useless debates!
---
Mardomsalari: The oil billionaire has asked the court to give him an account number so that he can have a letter of credit issued for the company he owes money to.
---
Payam-e Zaman: The Leader's continued support for the Joint Comprehensive Plan of Action hinges on compliance with his instructions about the deal's implementation, said Ali Akbar Velayati, an advisor to Ayatollah Khamenei.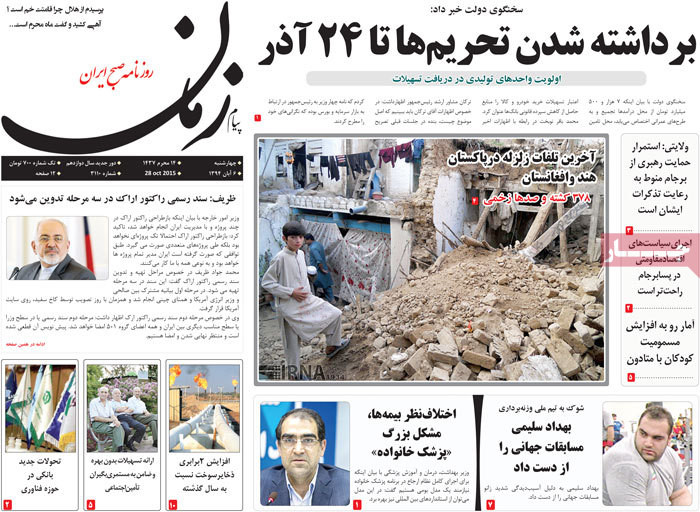 ---
Resalat: Ali Akbar Velayati has said that Saudi Arabia sponsors state terrorism in Islamic countries.