Several papers today covered the comments made by the Leader of Iran's Islamic Revolution Ayatollah Seyyed Ali Khamenei about the danger of a soft war imposed by enemies on Iran.
Also a top story was efforts by a number of conservative lawmakers to impeach Parliament Speaker Ali Larijani, apparently for his recent approach of siding with reformists.
Iranian papers also covered a report by the Wall Street Journal on a decision by France and Germany to host the Special Vehicle Purpose (SPV), a payment channel aimed at facilitating trade with Iran in the face of US sanctions, in a bid to save the Iran nuclear deal.
The above issues, as well as many more, are highlighted in the following headlines and top stories:
Abrar:
1- Tension Escalates between Russia, Ukraine
2- EU's Statement on Seminar of Iran-Europe Nuclear Cooperation
3- Paying Tribute to Last Emperor of Italian Cinema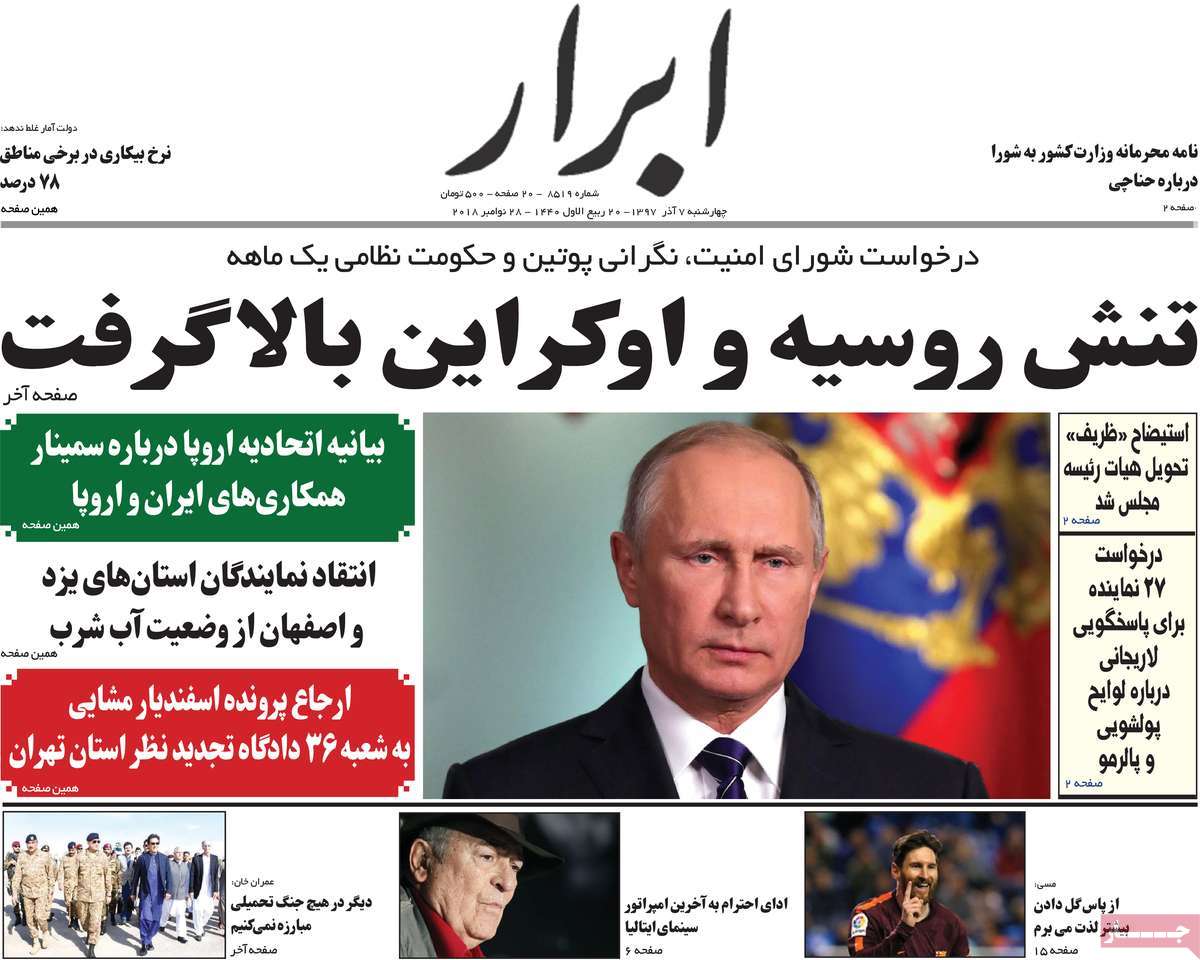 ---
Aftab-e Yazd:
1- Europe Moves One Step Forward
Wall Street Journal: France, Germany to Host Iran Payment Channel
2- Riyadh-Washington Axis United against OPEC [Editorial]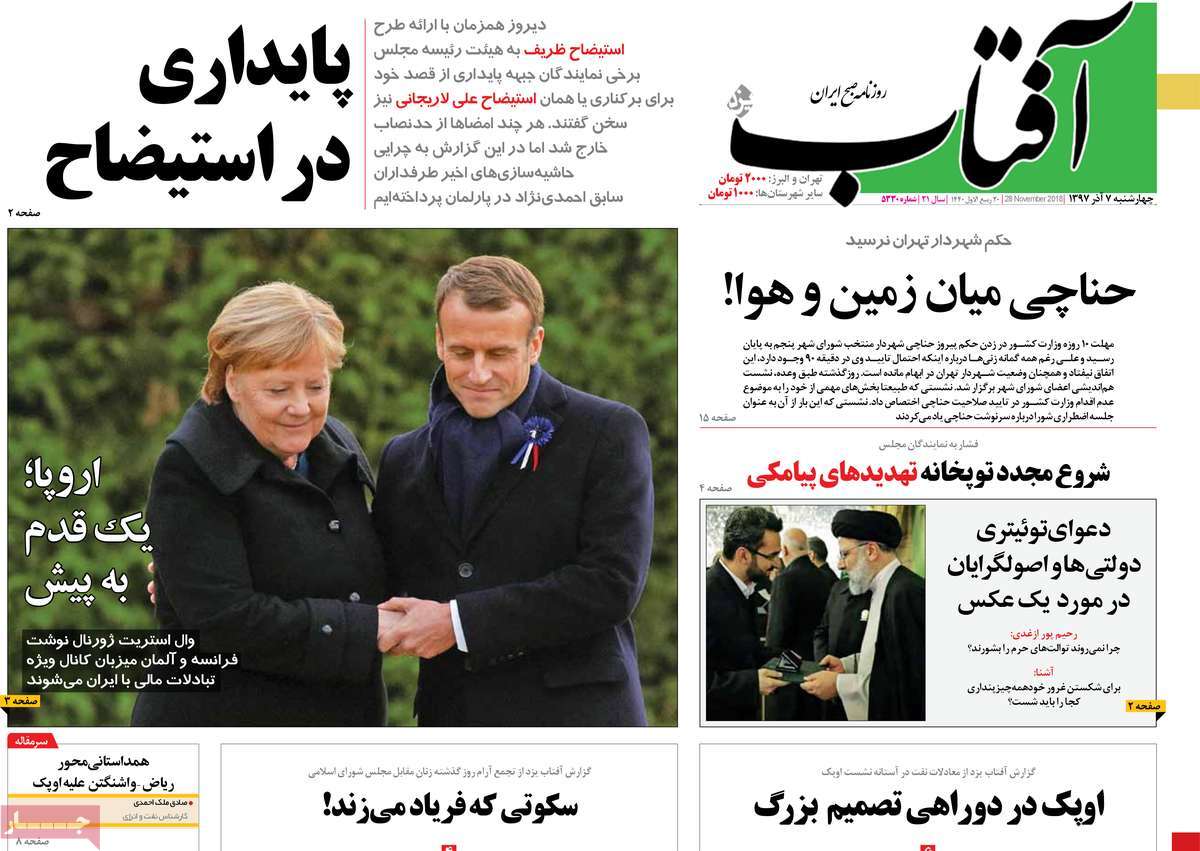 ---
Arman-e Emrooz:
1- A Report on Use of Women at High-Level Executive Positions
---
Etemad:
1- Enemy's All-Out Soft War Not Deniable: Iran Leader
2- Analyst Discusses Plan for Gradual Withdrawal from JCPOA
3- Price of Standing by Reformists
In Unprecedented Move, Some MPs Call for Impeachment of Larijani
---
Ettela'at:
1- Germany, France to Host Iran Special Payment Channel
2- Morocco Refuses to Let Bin Salman in
---
Haft-e Sobh:
1- Here's Mars, a Neighbour of Earth: Eighth Trip to Red Planet
---
Jame Jam:
1- Ayatollah Khamenei Urges Artists to Defend Magnificence of Iranian Nation
---
Javan:
1- Those in Love with Enemies Are Guilty in Soft War: Leader
---
Jomhouri Eslami:
1- Trump's Special Aide to Leave White House
2- Saudi Army's Abrams Tank Destroyed by Yemeni Missile
3- Three American Troopers Killed in Afghanistan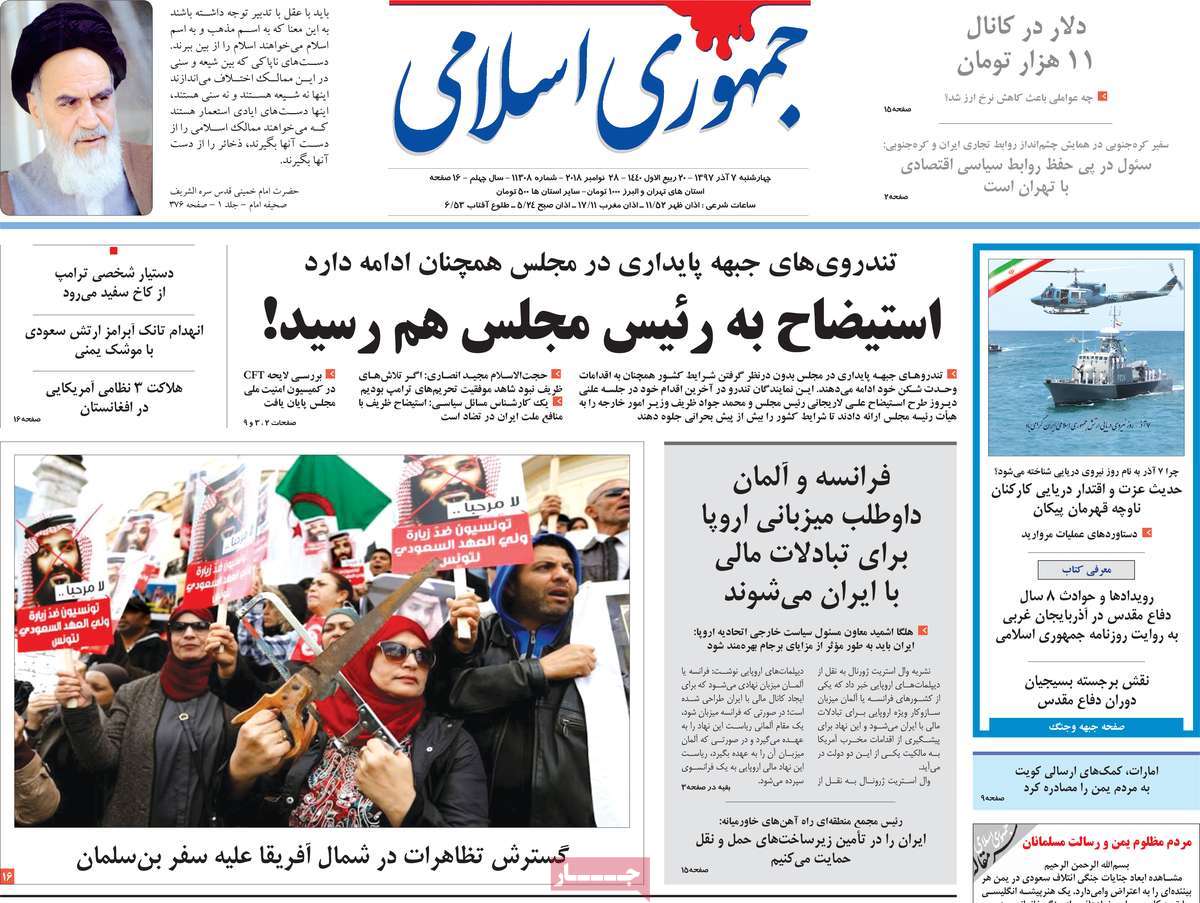 ---
Kayhan:
1- Tunisian, Egyptian People Hold Protest Rally against Bin Salman's Visit
Murderer Returns with Saw in Hand
2- Iranian Teachers Hold Rally in Front of UN Office in Support of Yemeni People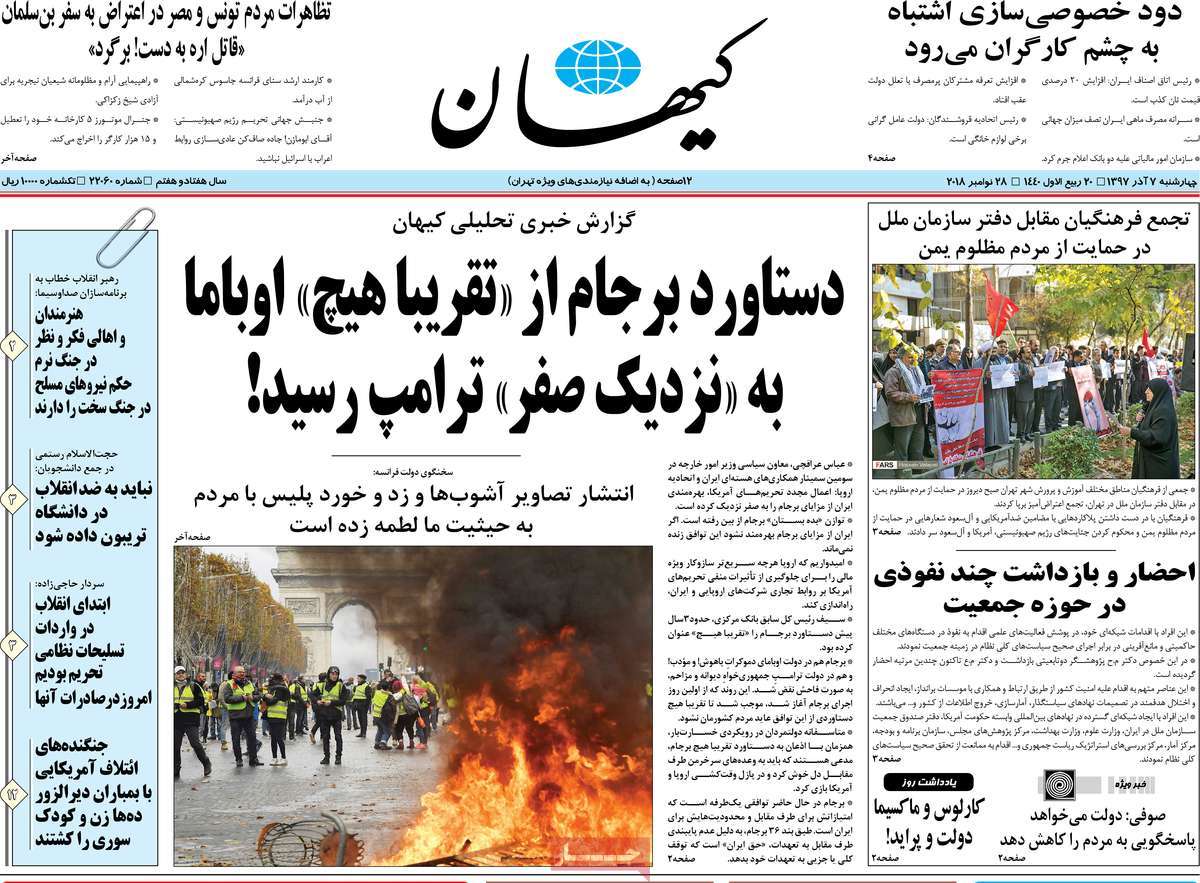 ---
Sazandegi:
1- Return of Anti-Semitism to West
2- Under Skin of Mars: NASA's InSight Lands on Mars
---
Shargh:
1- Conservative MPs' Failed Attempt to Impeach Larijani
2- Europeans Doing Their Best to Save JCPOA [Editorial]
3- Germany, France to Jointly Host SPV: Wall Street Journal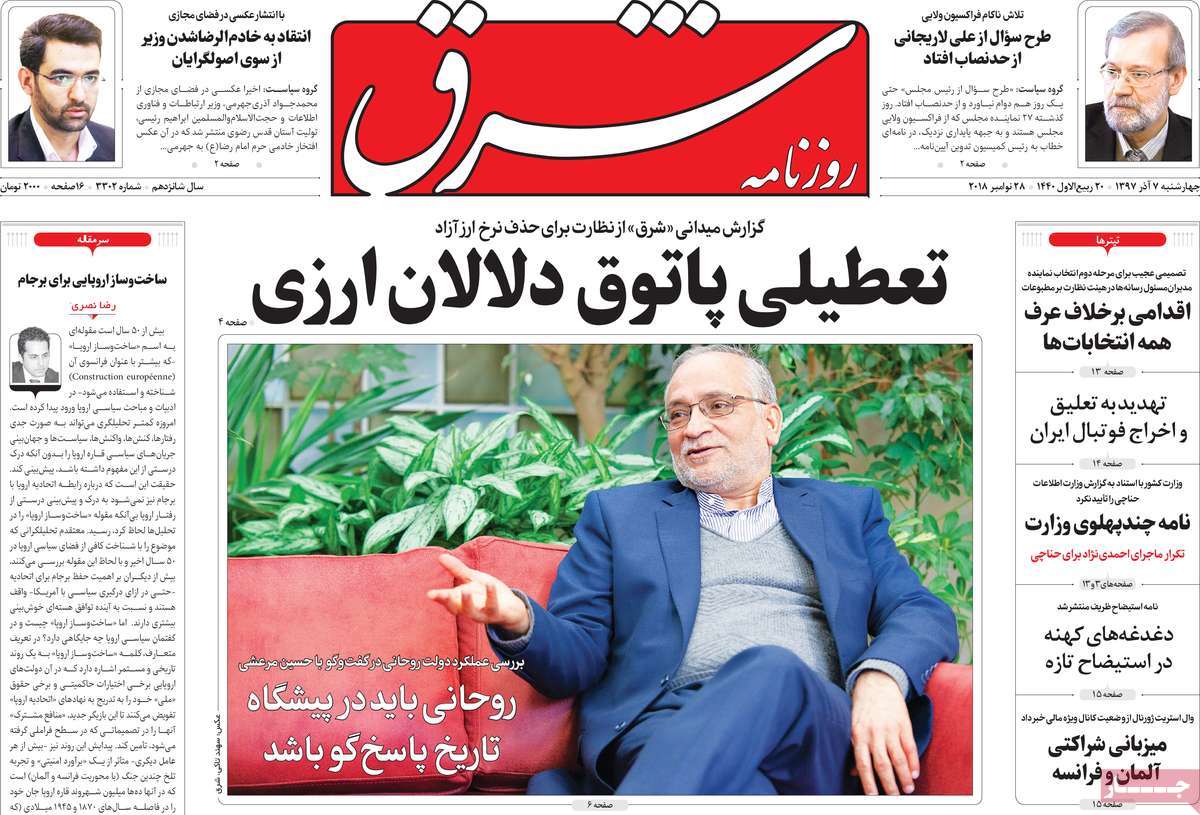 ---
Sobh-e Now:
1- Denying Soft War Itself a Soft War Trick: Iran Leader
2- Deadline for Interior Ministry to Approve Tehran Mayor Hanachi Passes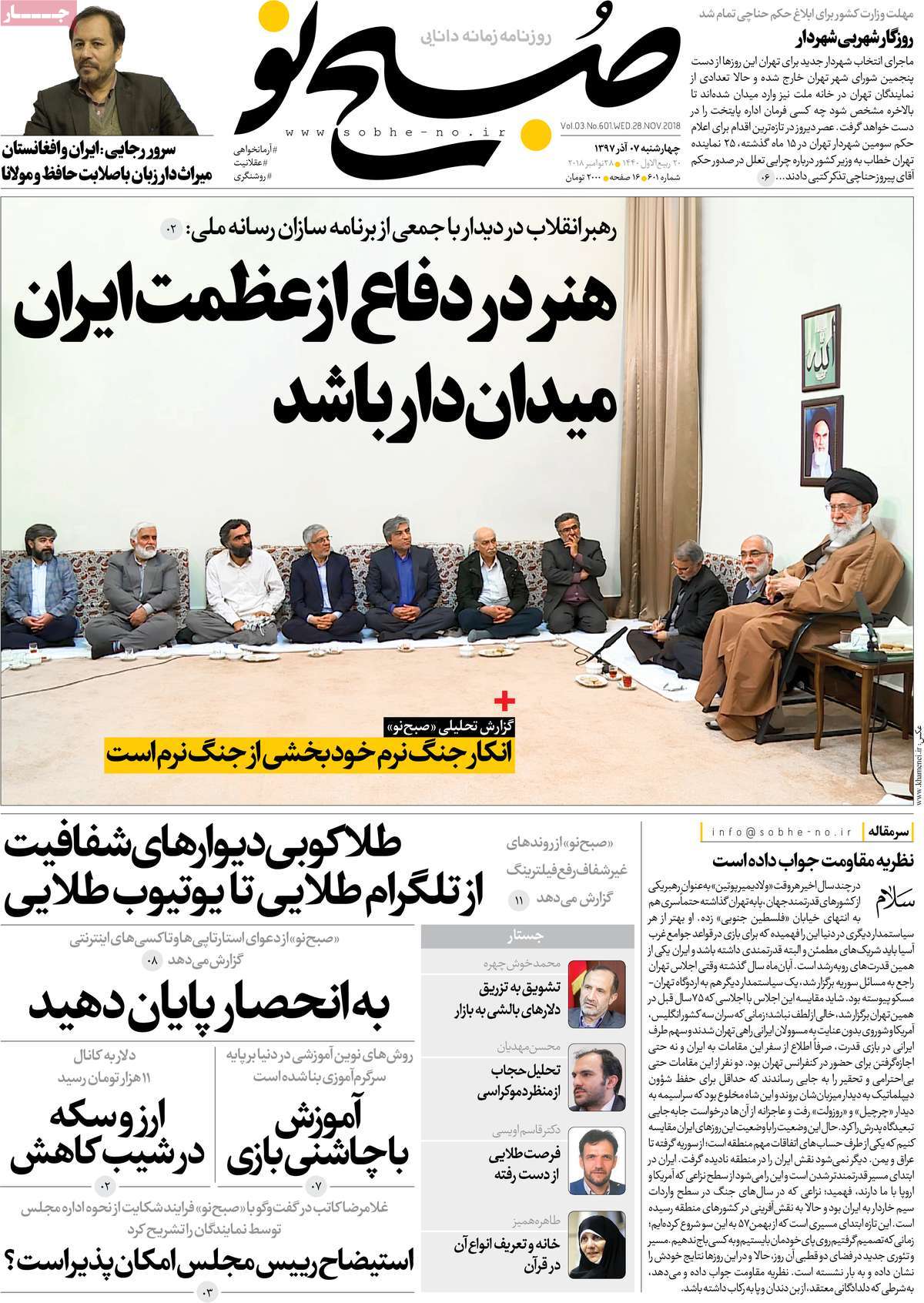 ---
Vatan-e Emrooz:
1- Has IRGC Seeded Clouds in Iran?
Commander: IRGC, Energy Ministry Engaged in Major Cloud Seeding Project
2- Policy of Taking Photo with Enemies
US State Secretary: Trump Not Looking for War with Iran, Wants to Repeat N Korea Talks