The controversy over Foreign Minister Mohammad Javad Zarif's comments about 'rampant' money laundering in Iran remained a top story today, as several conservative lawmakers have expedited their efforts to have him impeached over the comments. However, the conservative paper Javan urged the lawmakers not to try to impeach Zarif under the current sensitive situation, where he is the only voice of Iran against the US and its policies.
Also a top story was the remarks made by Iran's nuclear chief Ali Akbar Salehi, during which he warned the international community of the 'unpredictable' and 'ominous' consequences of the annulment of the Iran nuclear deal.
The death of great Italian filmmaker Bernardo Bertolucci at the age of 77 also received great coverage in toda's papers.
Several papers also covered the 6.4-magnitude earthquake which hit Kermanshah province in Western Iran, but fortunately left no one killed.
The above issues, as well as many more, are highlighted in the following headlines and top stories:
Aftab-e Yazd:
1- 30% of Executive Positions to Be Filled by Women by Year-End
2- We Talk like Those in Switzerland, Act like Africans: Cleric
3- Why Do We See So Many Quakes in Kermanshah?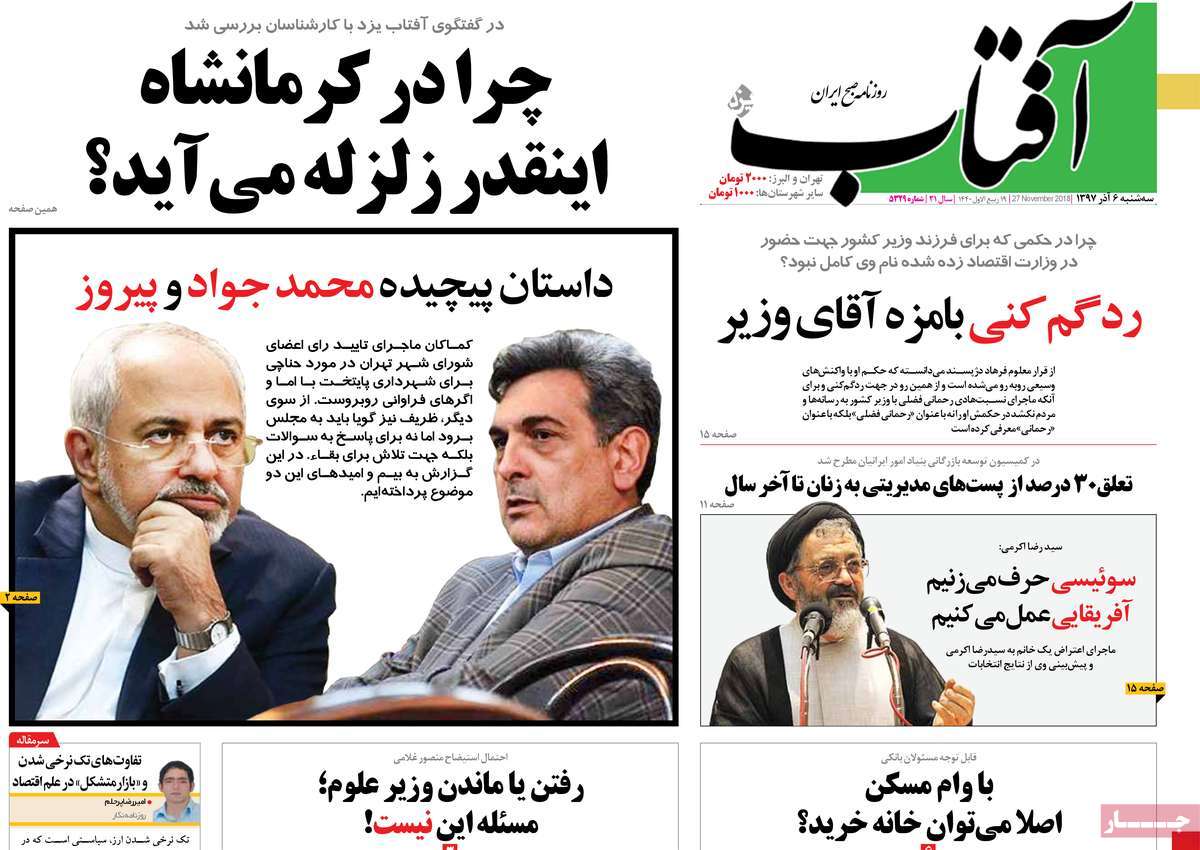 ---
Arman-e Emrooz:
1- Some Trying to Use Zarif's Impeachment as Pretext to Postpone CFT Ratification
2- Annulment of Iran Nuclear Deal to Result in Chaos: Iran Nuclear Chief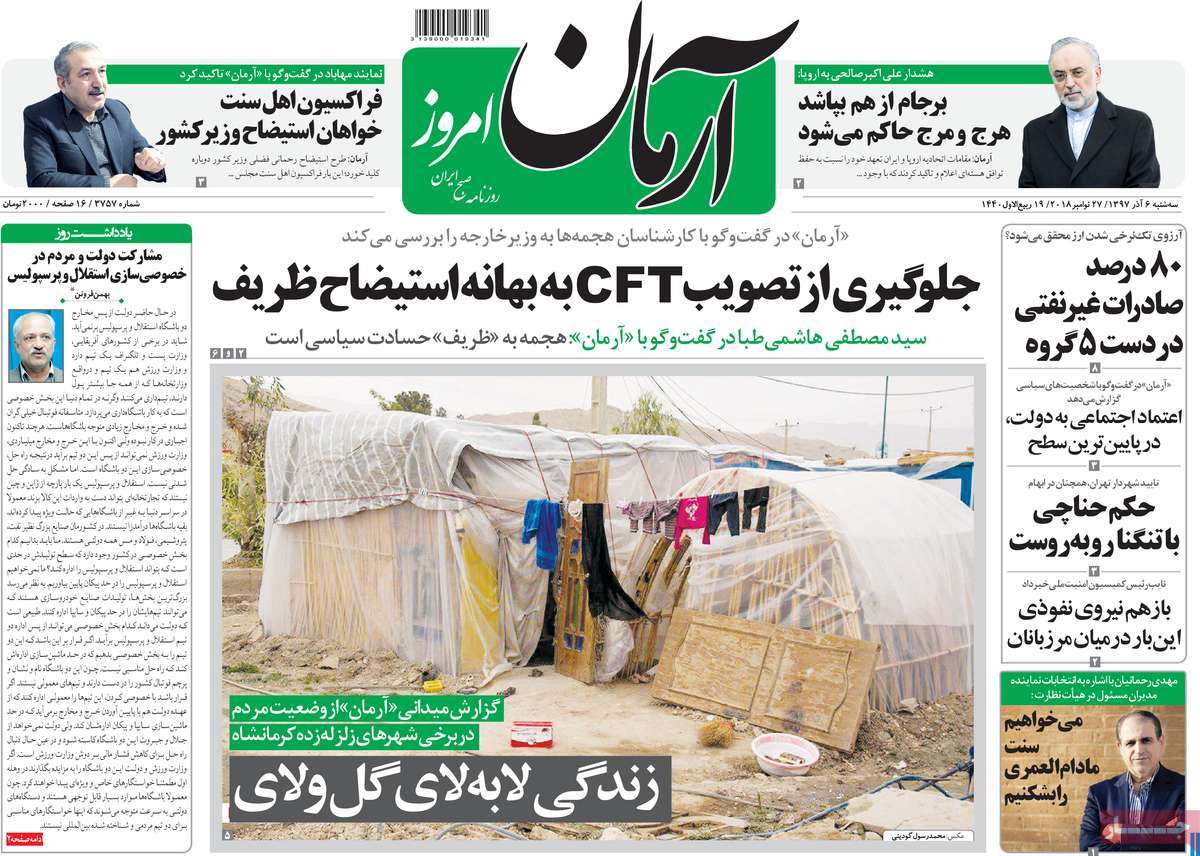 ---
Ebtekar:
1- Champ Elysees Conquered by Yellow Vests
2- Serious Death of Serious Cinema: Master of Italian Cinema Dies
---
Etemad:
1- Addiction to Impeachment
* Ministers of Foreign Affairs, Education, Science, Interior on Verge of Being Impeached
2- Can Anyone Buy a House with Current Mortgages?
3- Chinese Company Replaces Total in Development of Phase 11 of South Pars Gas Field
4- Death of Italian Cinema's Giant [Editorial]
5- Netanyahu Had No Choice but Ceasefire: Hamas Envoy to Tehran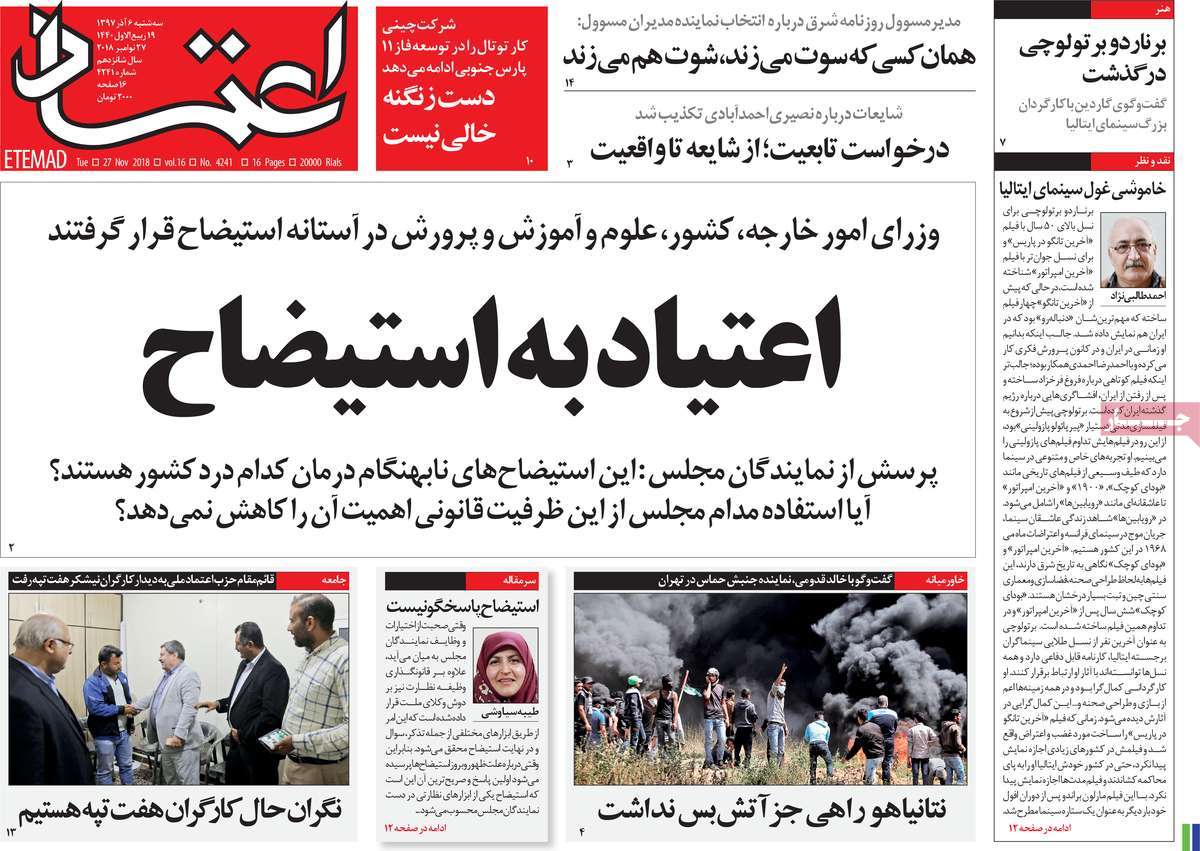 ---
Ettela'at:
1- World to Be Damaged by JCPOA Annulment: Salehi
2- Iran Sends Message of Friendship, Peace to Neighbours: DM
---
Iran:
1- Emergency Treatment of High Inflation
2- European Energy Commissioner: We're Committed to Creating Iran Payment Channel
3- Queiroz: We're Well Prepared for AFC Asian Cup 2019; Nothing Will Stop Us
---
Javan:
1- 15 Reasons for Continued Decline in US Dollar Rates
2- Iran Nuclear Deal at 'Almost Zero' Point: Araqchi
3- Forget about Zarif's Impeachment; Not a Good Time to Do That [Editorial]
4- Eastern Borders to Become More Secure
5- Ukraine Creating Tension to Retake Crimea
---
Jomhouri Eslami:
1- People of Tunisia, Algeria, Egypt, Mauritania Protest Bin Salman's Visit to Their Countries
2- 30% Decrease in Gold Prices
3- Anti-Cancer Drug Production Factory Launched in Iran's Alborz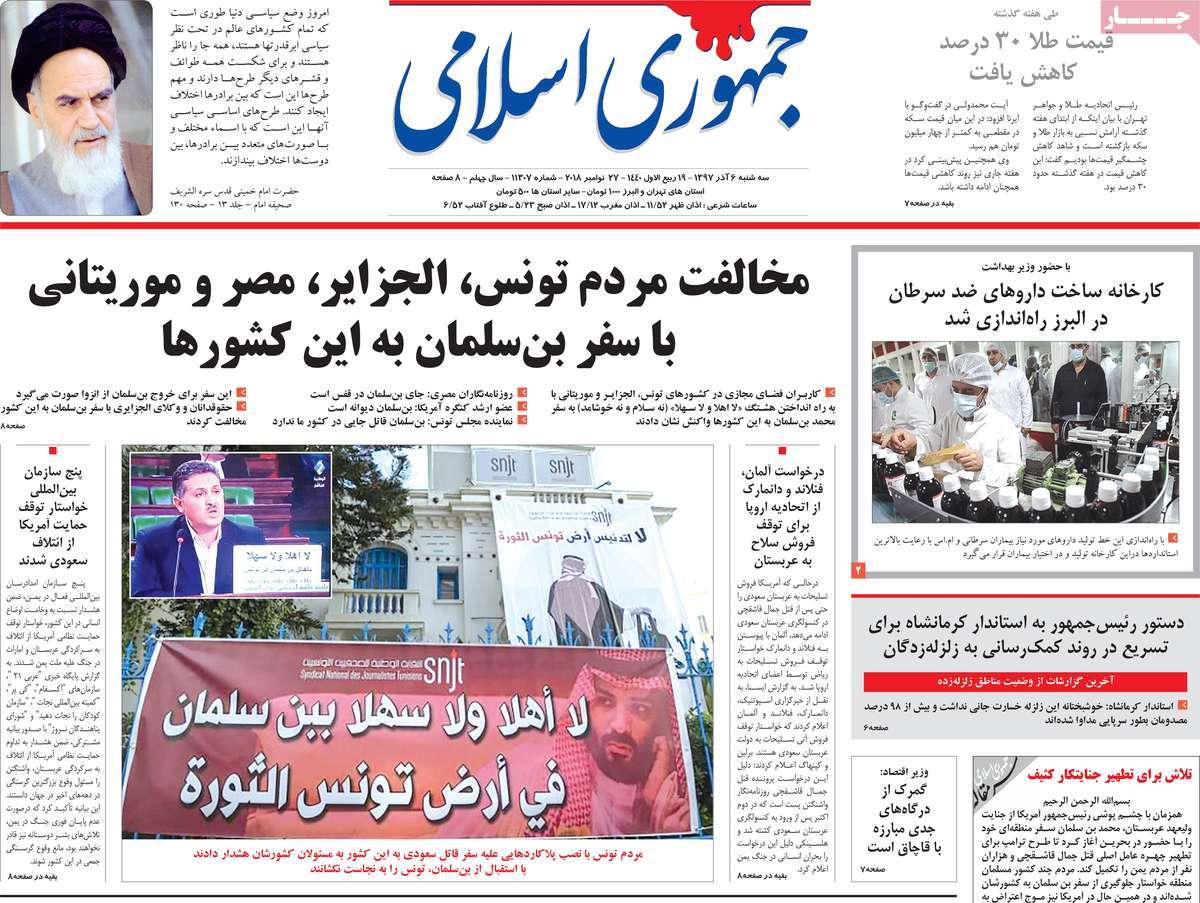 ---
Kayhan:
1- Dollar Rates Down, but No Change in Those of Consumer Goods; Where's Problem?
2- Sarpol-e Zahab Earthquake Fortunately Leaves No One Dead
3- Tsunami of Ageing Population in Iran; Kissinger's Prescription to Be Discussed by Parliament
---
Resalat:
1- Social Literacy to Decrease Divorce Rates
2- Zarif's Impeachment Imminent: MP
3- We Can Launch Our Own Alternative to SWIFT: Former Chief Banker
---
Sazandegi:
1- Mystery of Kermanshah Quakes: Why So Many Earthquake in One Region?
2- Death of Cinema's Leftist Giant: Bertolucci Dies at 77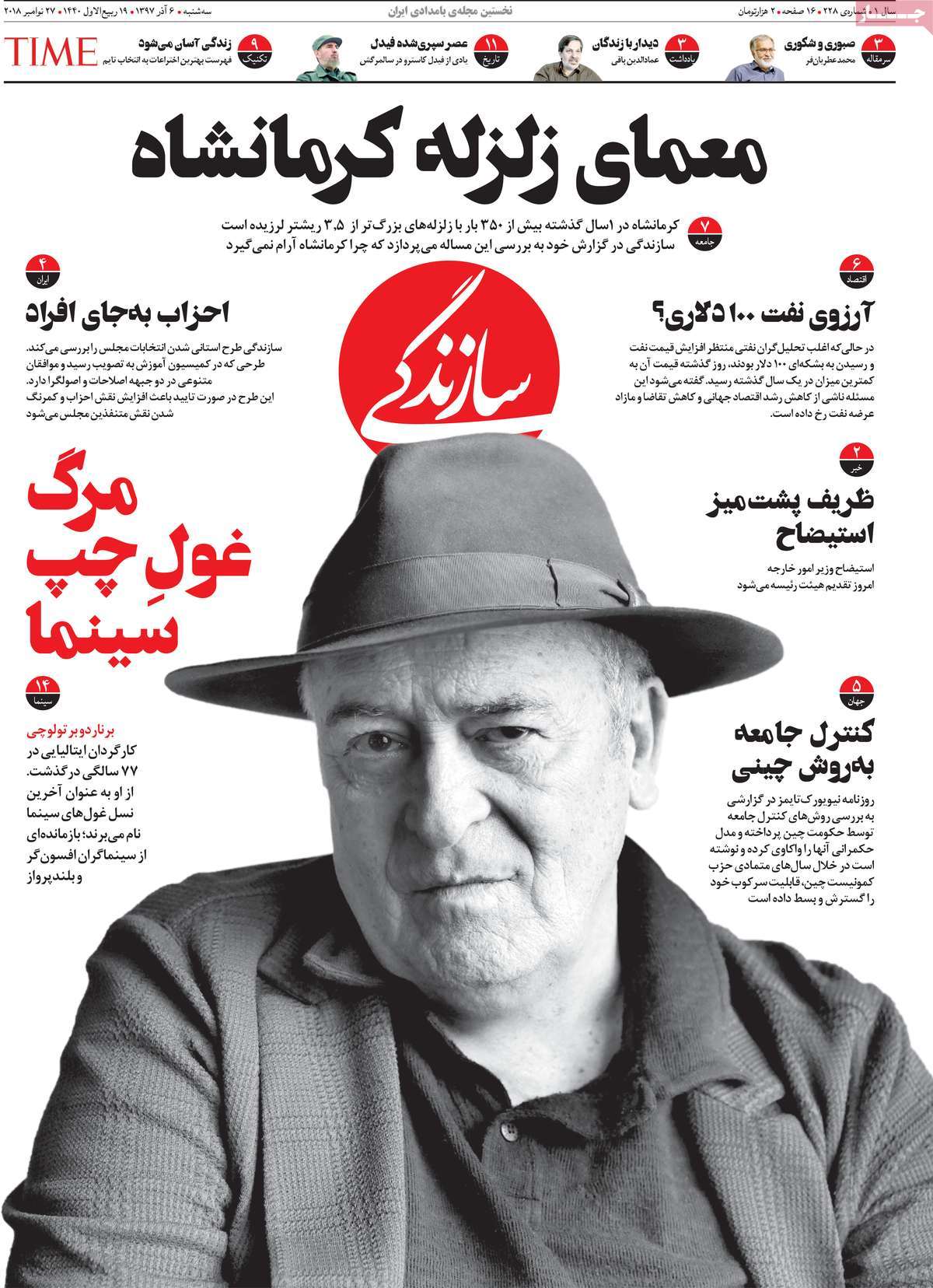 ---
Setareh Sobh:
1- Traditional Voting Outdated: Parliament Speaker
* Electronic Voting Must Replace Old Ways
2- People's Votes to Be Protected through Electronic Voting [Editorial]
3- Bernardo Bertolucci Dies
---
Shahrvand:
1- Asghar Farhadi's 'Everybody Knows' Pirated, Available for Download!
2- Imam Khomeini's Great Grandson Suddenly Gets Married
3- Fraudsters Blackmailing Iranians Using Their 'American Dream'
* US Green Card Lottery Tempting Millions of People Each Year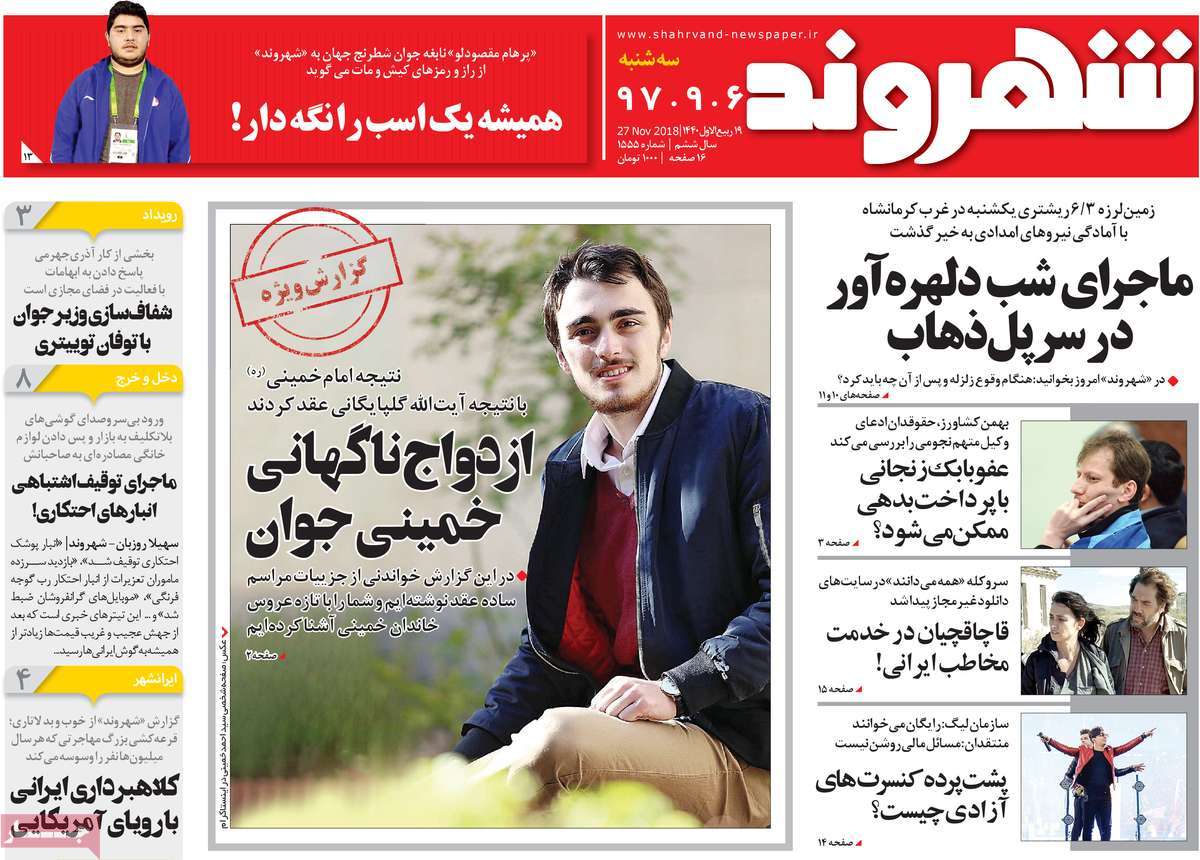 ---
Shargh:
1- Tehran Mayor Has Always Been a Politician, Except for This Time
* Interior Ministry Has Yet to Approve Qualification of Urban Engineer Hanachi
2- Europe's Last Hope for Having Ties with Iran: German Economic Attaché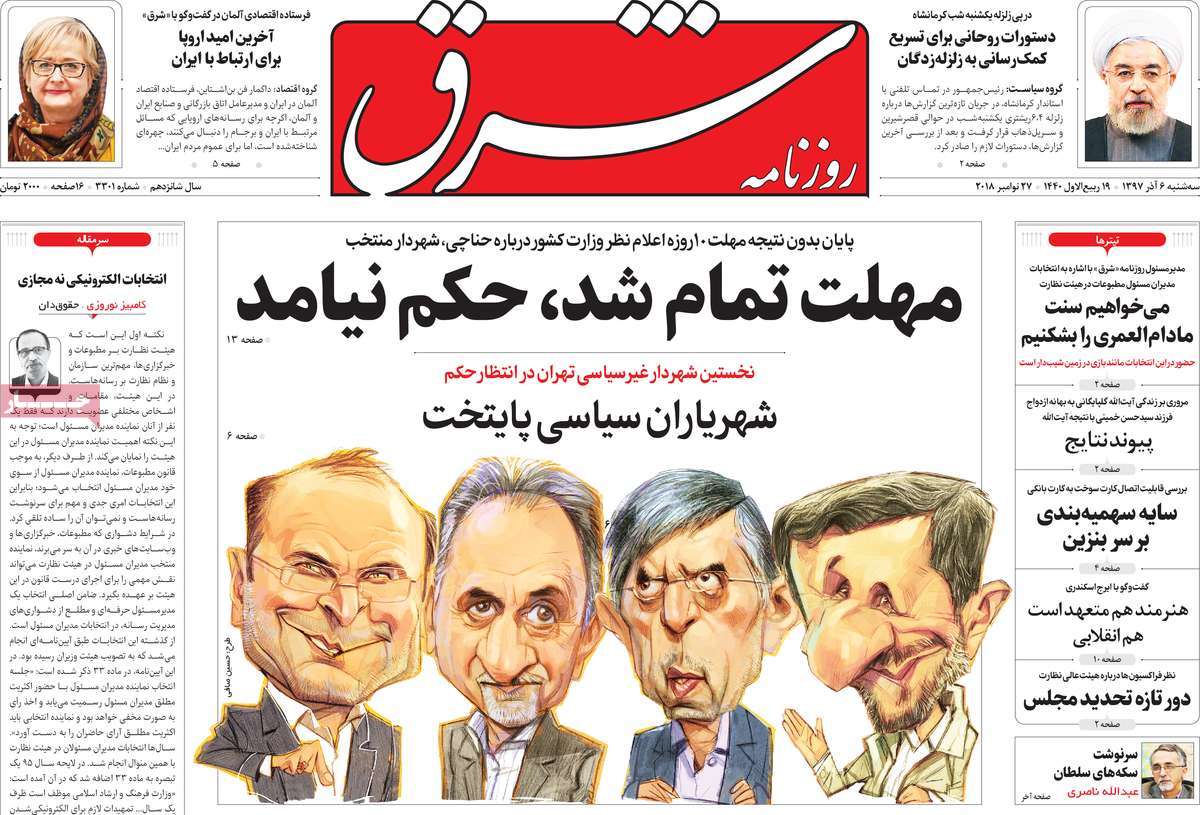 ---
Sobh-e Now:
1- Benefits of JCPOA for Iran Close to Nothing: Araqchi
2- Houses Jolted, but Didn't Collapse in Recent Kermanshah Quake
3- Muslim Countries' Unity to Devalue US Dollar: Iraqi Official
4- Telegram's Role in Devaluating Iran's National Currency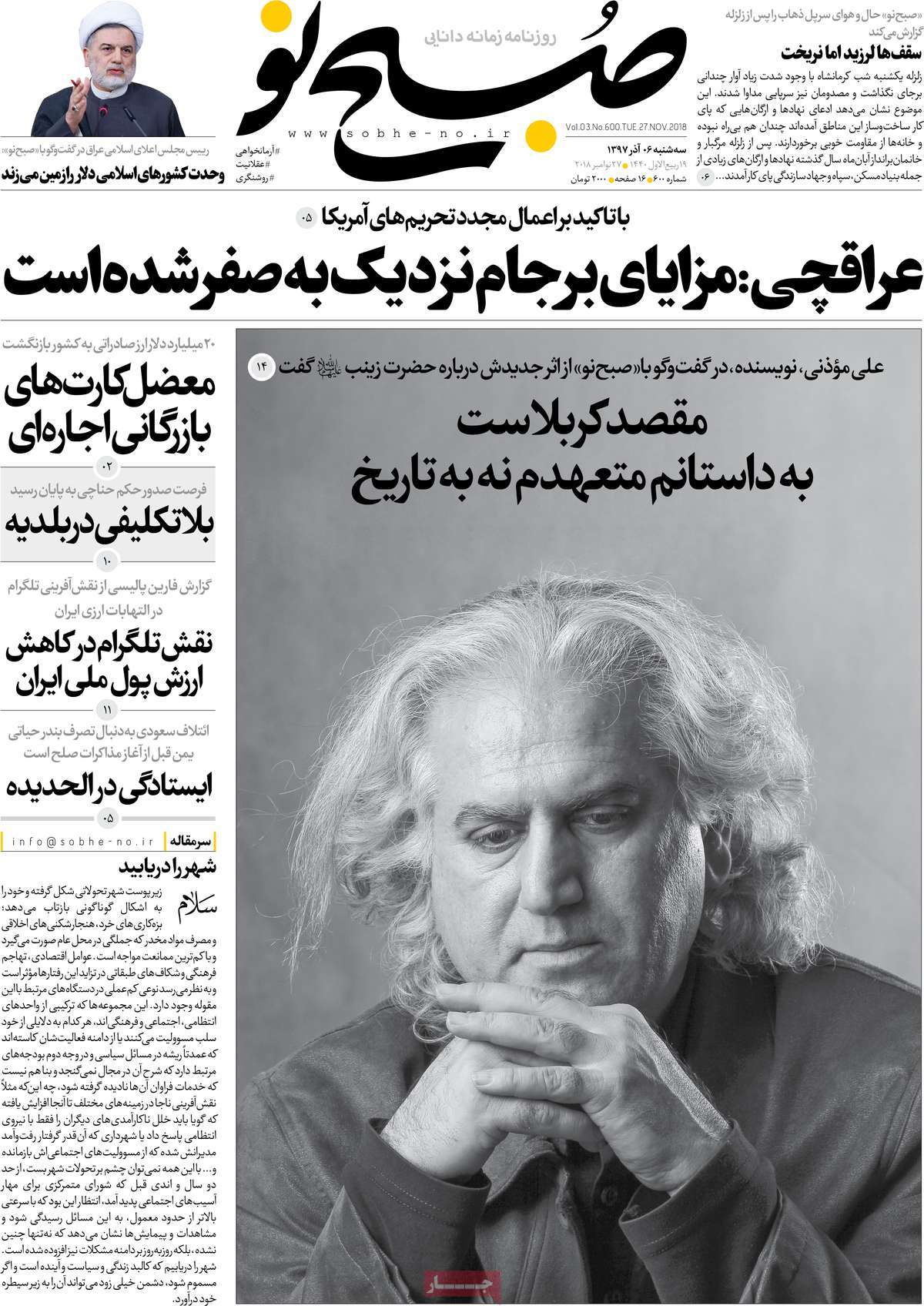 ---
Vatan-e Emrooz:
1- Lord of the Saws: Bin Salman's Tour of N. Africa Widely Protested
2- Why Iran, France Have No Ambassadors in Paris, Tehran?
* Conditional Relations
3- France against Neo-Liberalism [Editorial]
4- $17 Million worth of Hunt: IRGC Aerospace Force Has Captured US' MQ9 Drone