Almost all papers today covered the ongoing debates at Tehran City Council to elect a new mayor after the ban on use of retired employees forced Mohammad-Ali Afshani to resign. They councillors are to elect either former controversial minister of urban development Abbas Akhoundi or his deputy Pirouz Hanachi.
Also a top story was the recent decline in oil prices, which ended a growing trend started in 2015.
The controversies over the country's bid to adopt the standards set by the Financial Action Task Force (FATF) also received great coverage.
The above issues, as well as many more, are highlighted in the following headlines and top stories:
Abrar:
1- Pompeo, Le Drian Hold Talks on Iran
2- Larijani: Nuclear Talks Held at Request of Obama Administration
3- Session to Be Held on Nov. 18 to Discuss Guardian Council's Opposition to CFT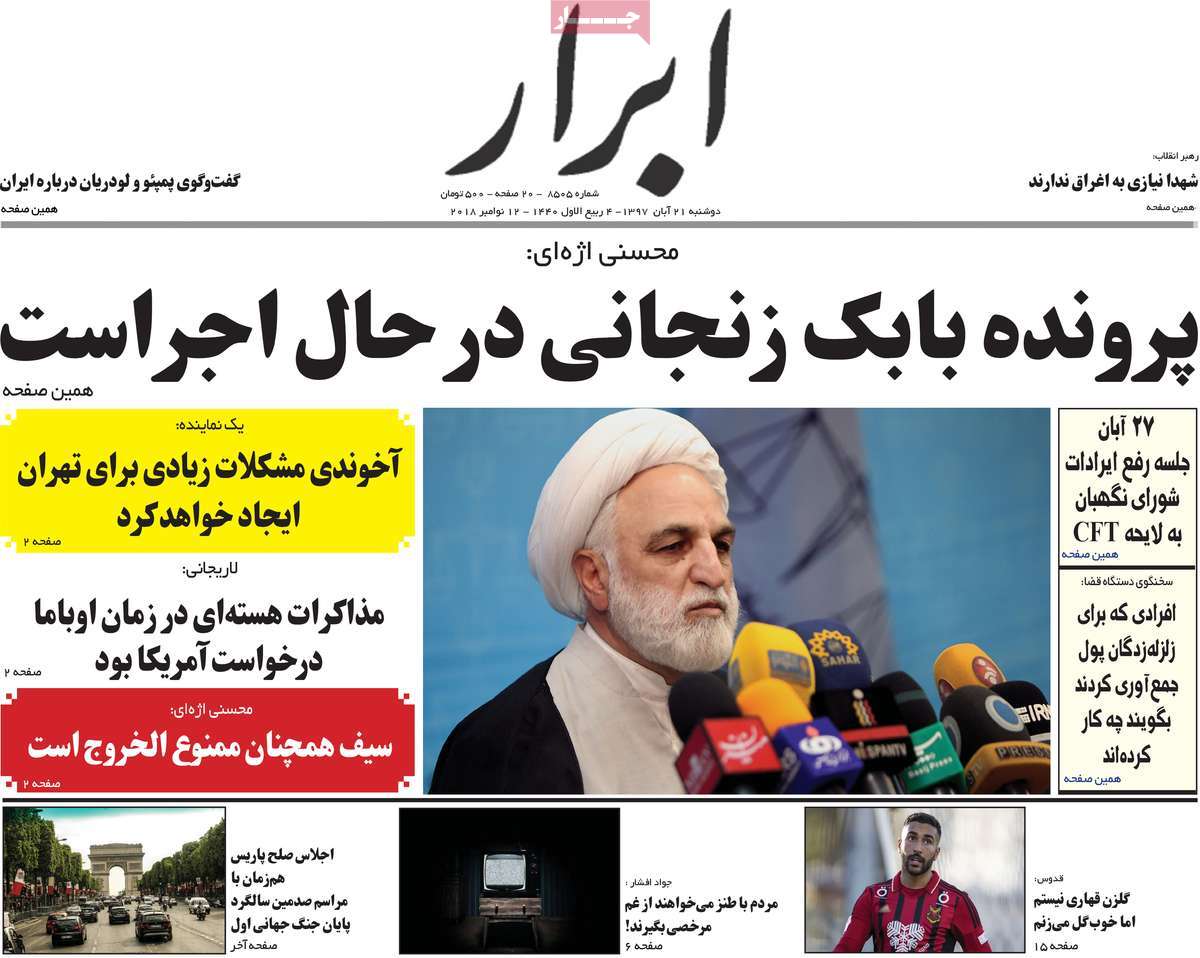 ---
Afkar:
1- Region to Be Cleansed of Terrorist Groups Soon, Forever: Iran
---
Aftab-e Yazd:
1- Oil Market's Amazing Situation
Oil Giants Convene in Abu Dhabi to Reduce Oil Prices
---
Arman-e Emrooz:
1- Ambiguous Fate of CFT
2- Tehran to Become More Expensive City: Analyst
3- Children of Some Opponents of FATF Living in London!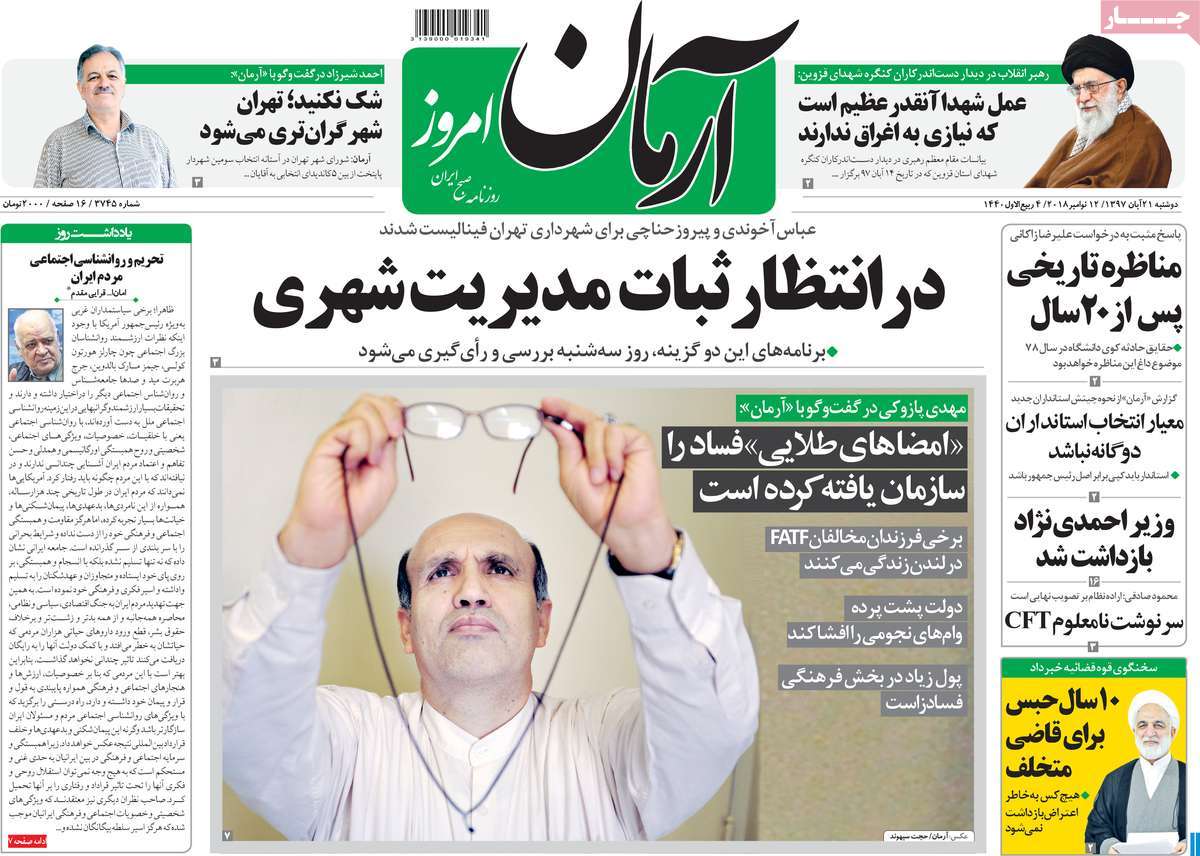 ---
Ebtekar:
1- Marathon of Electing New Mayor of Tehran at Final Stage
2- Change in Classic Equations of Yemen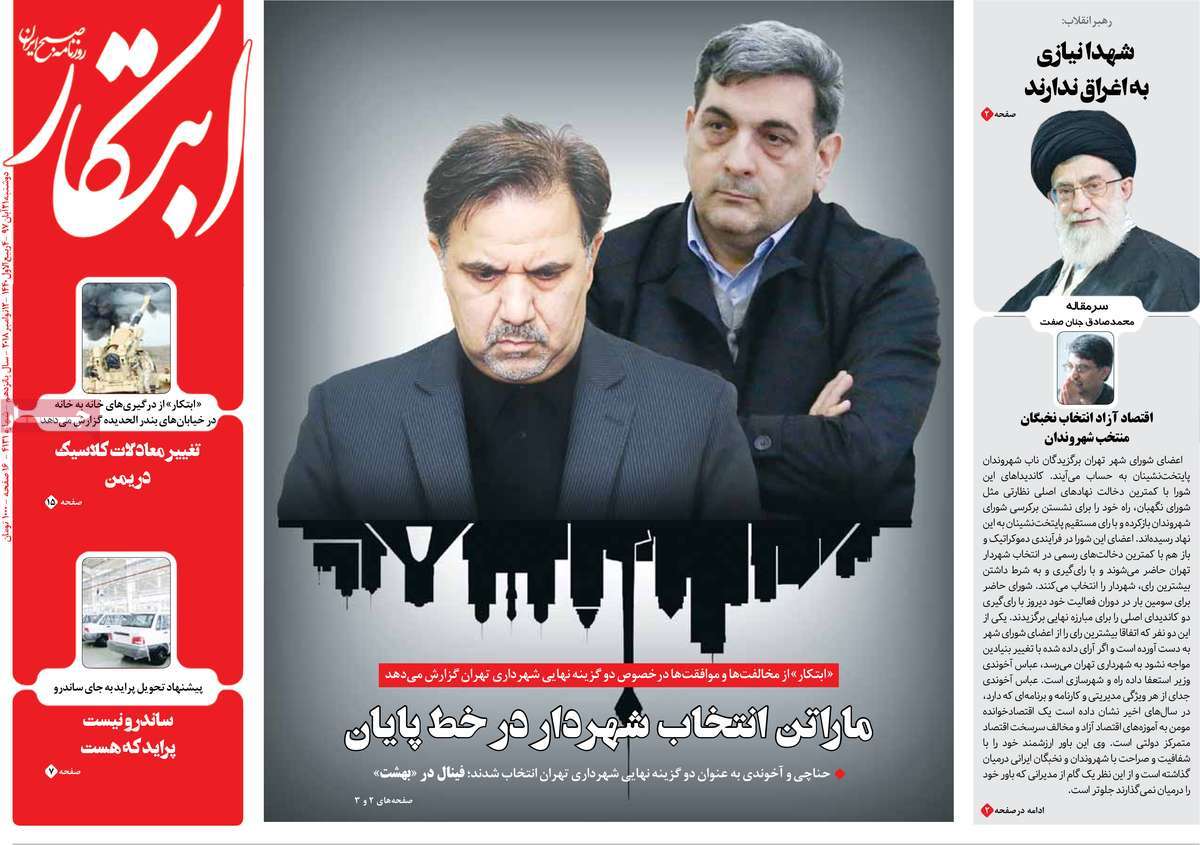 ---
Etemad:
1- Show of Peace in Paris: 100th Anniversary of WWI Held in France
2- Minister or His Deputy to Become Next Mayor of Tehran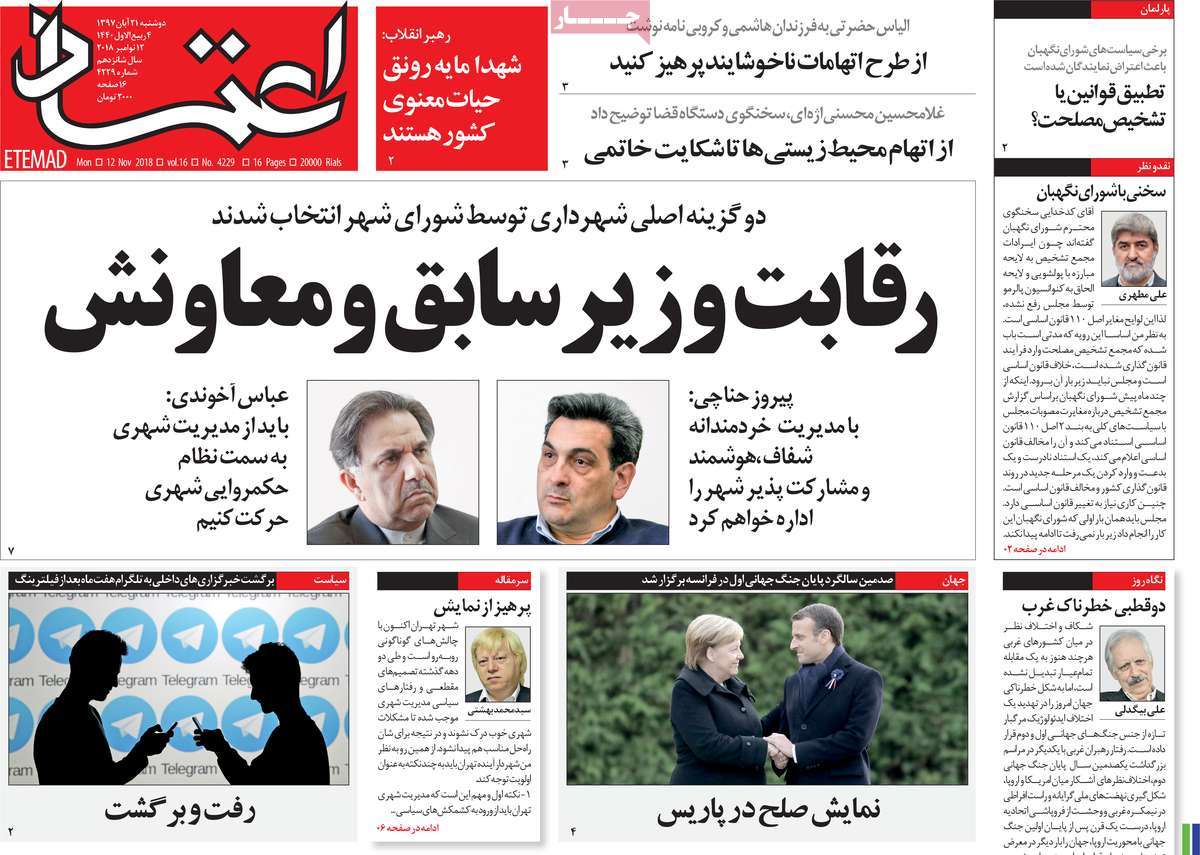 ---
Ettela'at:
1- Iran Leader: Promotion of Jihadi Spirit to End Inclinations towards East, West
2- Iran Crowned at Int'l Astronomy Olympiad
3- Four Iranians Banks Removed from List of US Sanctions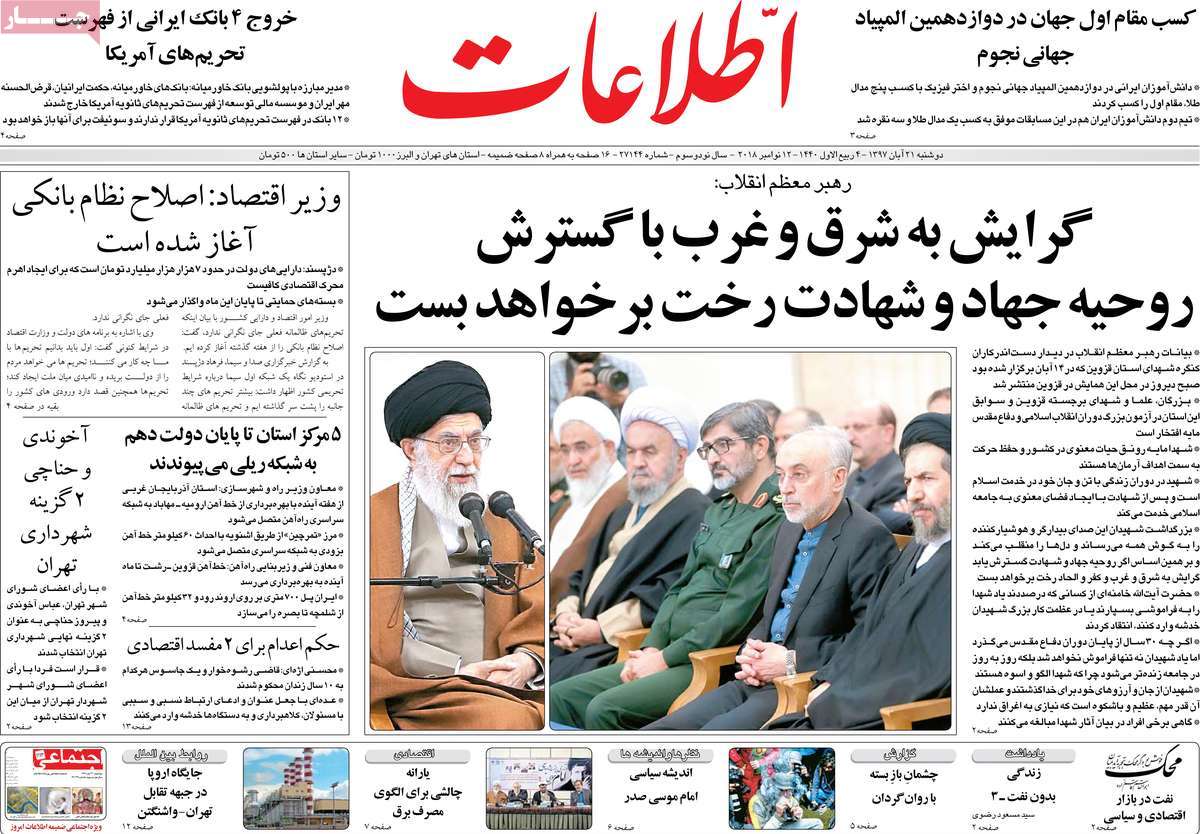 ---
Ghanoon:
1- Wishes Buried under the Rubble: First Anniversary of Kermanshah Quake
2- Yes Vote to FATF: Officials Suggest FATF to Be Finally Adopted by Iran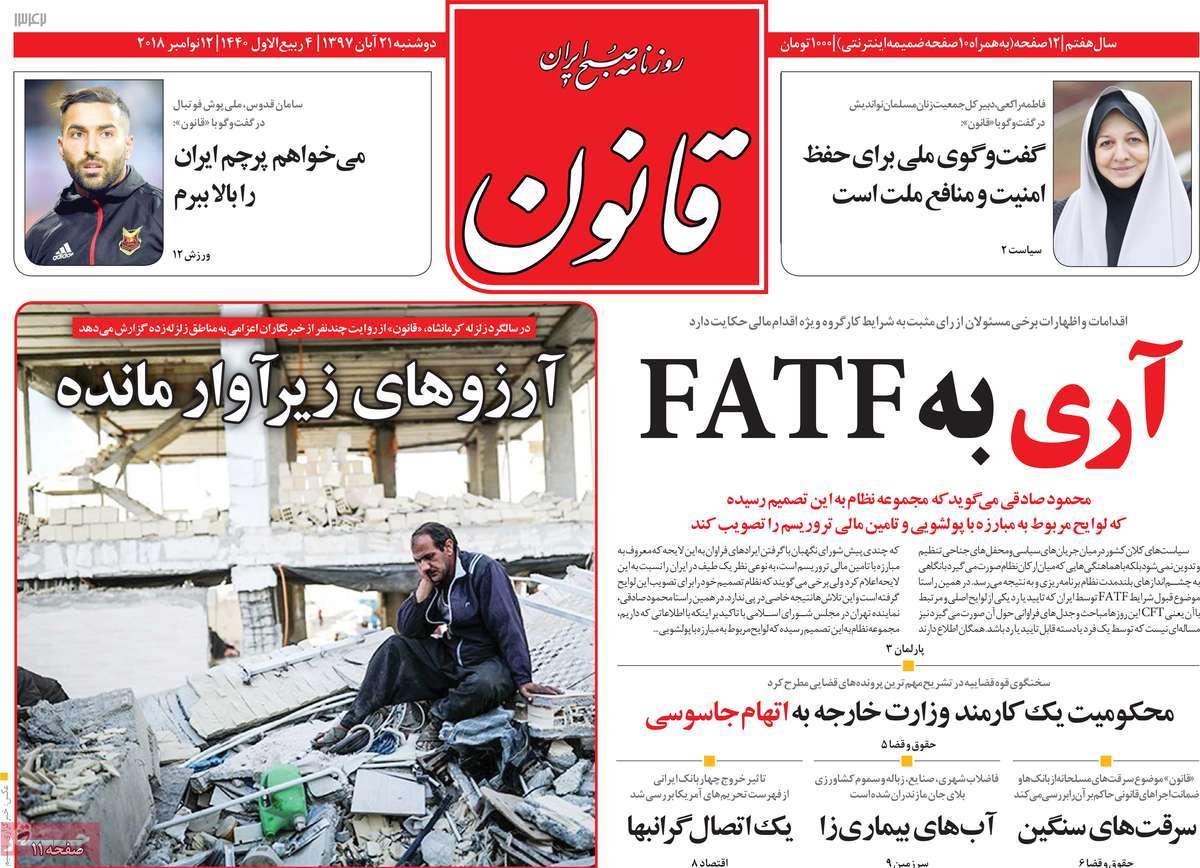 ---
Iran:
1- Women's Presence in Stadium Made Atmosphere Great: Celebrities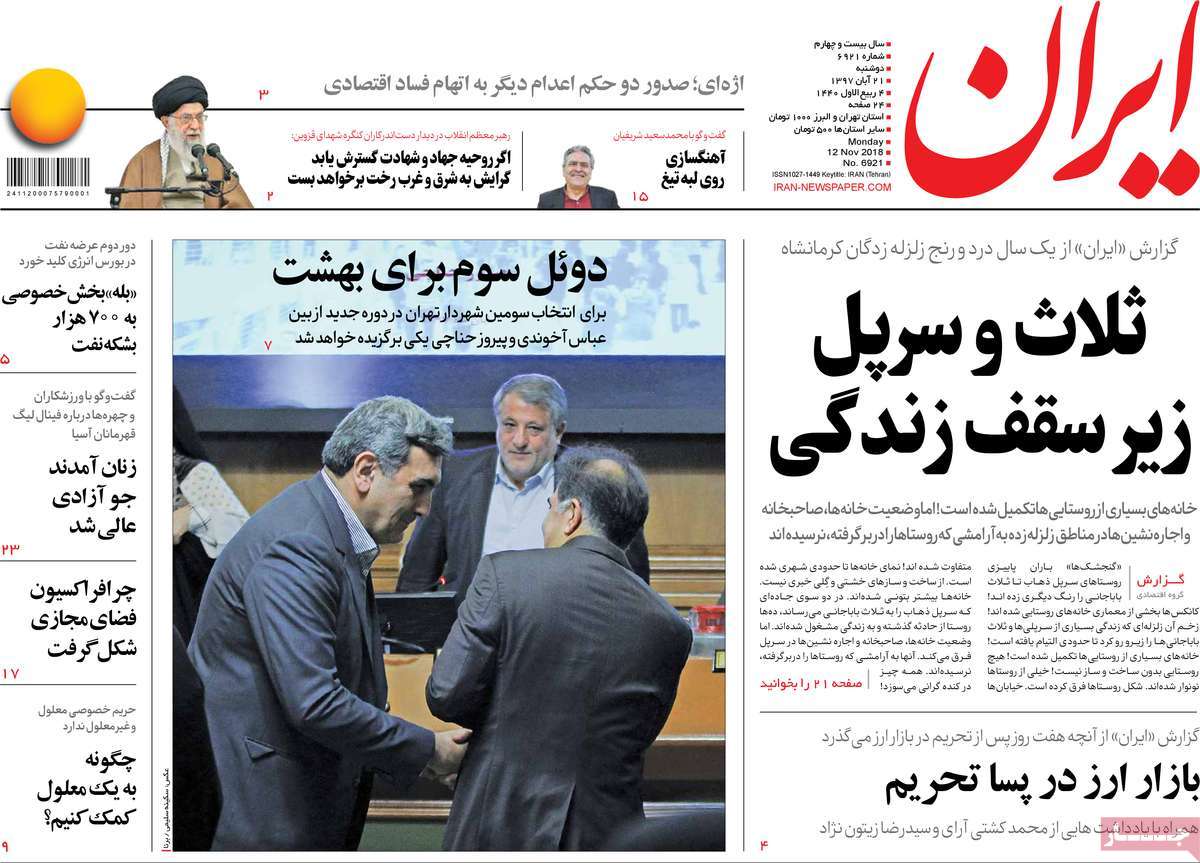 ---
Javan:
1- Ansarullah's Fierce Fight to Save Hudaydah
2- Tehran, the Open City!
Tehran City Council to Elect Rouhani's Most Incompetent Minister as New Mayor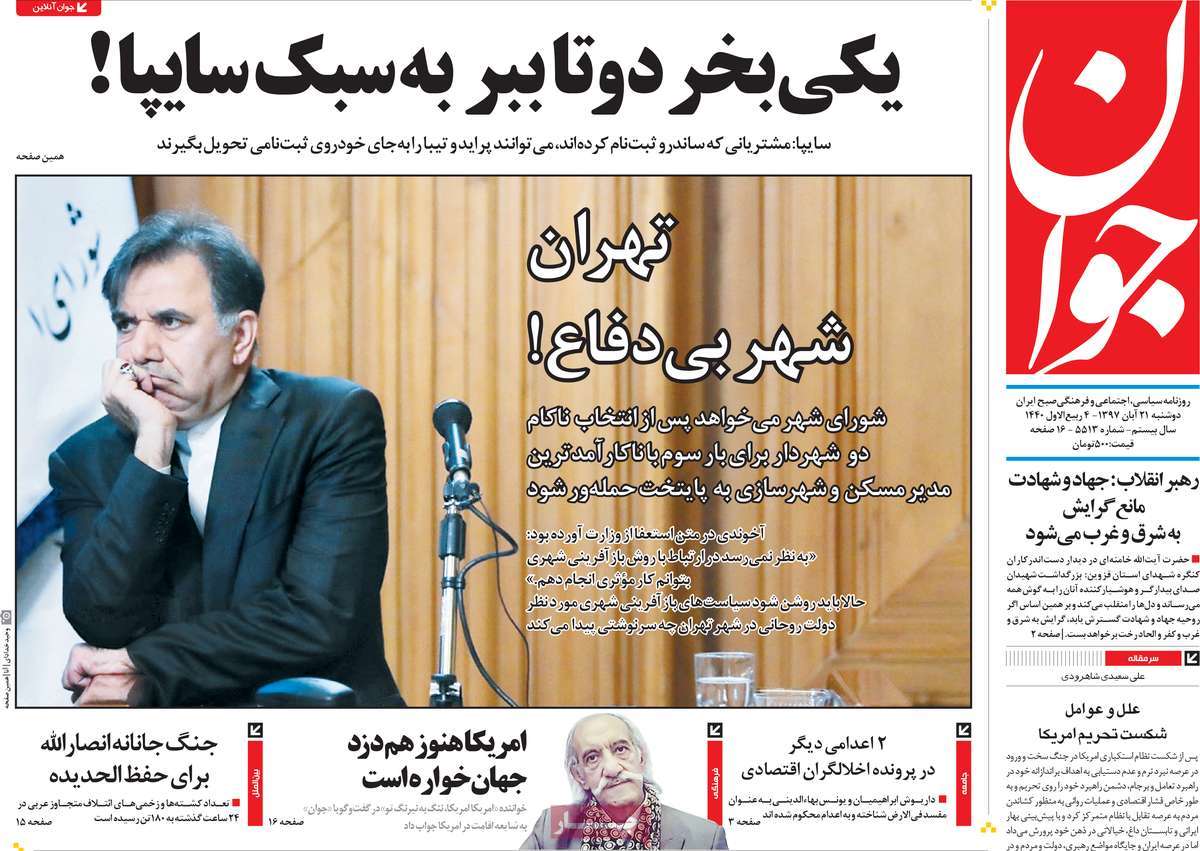 ---
Jomhouri Eslami:
1- Iran Nuclear Chief: World Amazed by Our Nuclear Achievements despite Sanctions
2- 700,000 Barrels of Oil Sold at Iran Energy Bourse
---
Kayhan:
1- Fierce Fighting Goes on in Yemen's Hudaydah
2- Judiciary: Two New Death Penalties, 22 Prison Terms Issues for Economic Corruption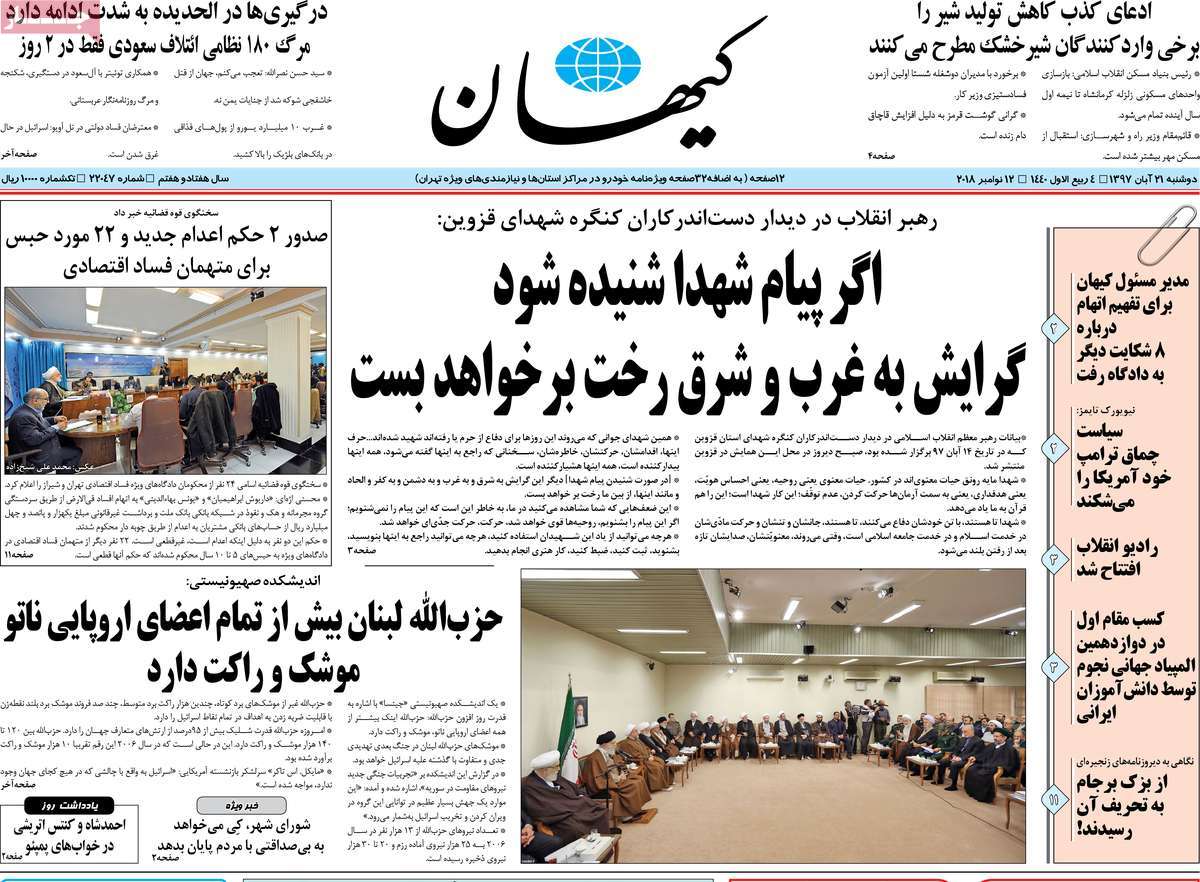 ---
Setareh Sobh:
1- UNWTO Gives Green Light to Iran's Tourism
2- Global Oil Prices Decrease: End of Growing Trend Which Started in 2015
---
Shahrvand:
1- 365 Days after Sorrow of Kermanshah
---
Shargh:
1- Unity against Nationalism
Radical Nationalism Once Again Rising on 100th Anniversary of WWI
2- Cold Encounter at Elysee: Macron Hosts World Leaders in Paris
3- Economy Minister Says Forex Rates Will Decrease