A Tehran conference in which a new model of Iran's oil contracts was unveiled to local and foreign investors dominated the front pages of Iranian newspapers on Sunday.
Ettela'at: Russia's tactical formation to launch the biggest military operation against IS
The operation will include 69 Sukhoi fighters and Topolev 160 bombers and a large number of warships and submarines.
---
Abrar: More than 1.15 million Iranian pilgrims have already crossed the border into Iraq to take part in Arba'een ceremonies.
Abrar: The families of 14 Iranian pilgrims who have been missing since a late September stampede in Mina will travel to Saudi Arabia to try to identify their loved ones.
---
Aftab-e Yazd: "I will lead Friday prayers again, if the stage is set," said Ayatollah Hashemi Rafsanjani.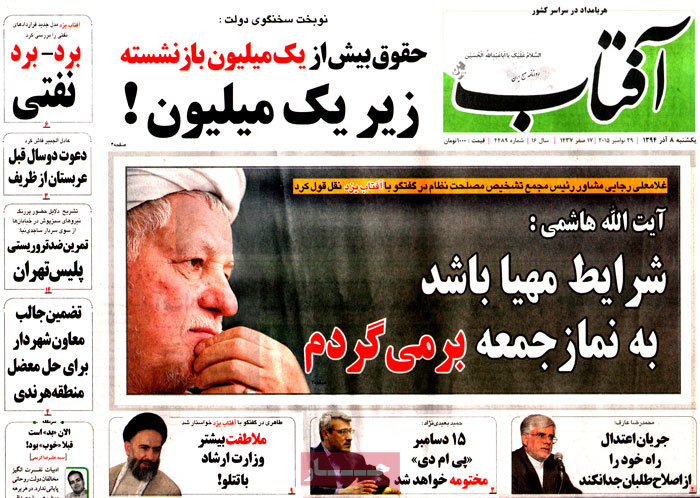 ---
Amin: The deputy commander of the Islamic Revolution Guard Corps has said that any movement by Takfiri groups [a reference to IS] will draw a crushing response from the Revolutionary Guards.
---
Arman-e Emrooz: Velayati and Larijani [two prominent principlist figures, one serving as an advisor to the Supreme Leader and the other as parliament speaker] unite to put aside hardliners.
Moderate principlists land on a moderation course.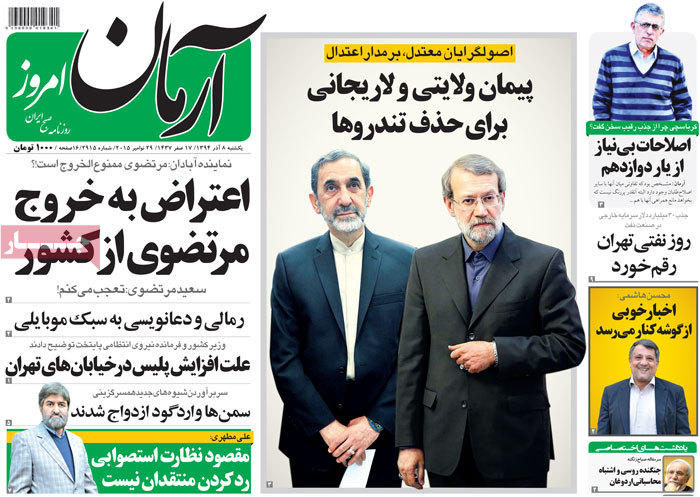 ---
Asrar: Police in the capital have staged an anti-terrorism drill to counter possible threats, said Tehran Police Chief Brigadier General Hossein Sajedinia.
Asrar: Arts and the environment cannot be walled off, said Masoumeh Ebtekar, the director of the Environment Protection Organization.
---
Bahar: Tehran readies for anti-terror operations
Special units have been deployed across the city, including in subway stations.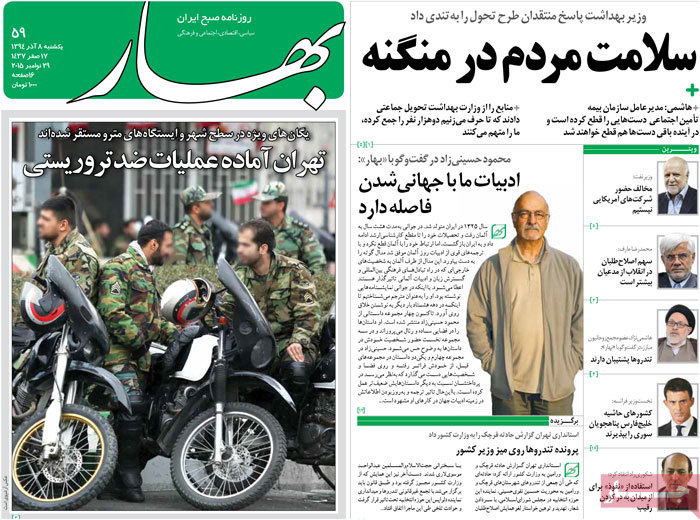 ---
Ebtekar: Representatives of 137 international companies were on hand as Iran unveiled a new model of its oil contracts on Saturday.
Ebtekar: Riyadh has said that it favors good relations with Tehran!
The Saudi foreign minister has said that he extended an invitation to his Iranian counterpart two years ago.
---
Etemad: Tehran's mayor has appealed to members of the public to help those who sleep rough.
Etemad: No to separation of moderation and reformism
Mohammad Reza Aref [a prominent reformist leader] has warned against divisions between moderates [supporters of the Rouhani administration] and reformists.
---
Ghanoon: A defendant [in a high-profile case] leaves the country
A look at the departure of Saeed Mortazavi [who is on trial for corruption] from a legal perspective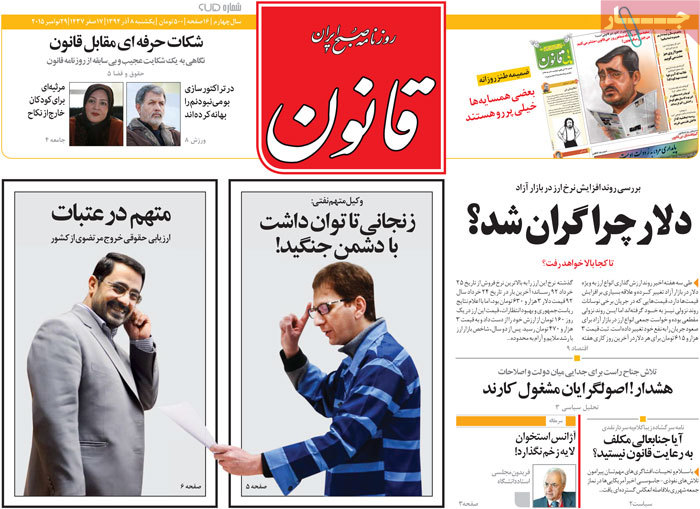 ---
Hambastegi: The interior minister has said that disrupting authorized gatherings under any pretext is unacceptable.
---
Hemayat: The interior minister has said there have been no "anti-security" measures in border areas.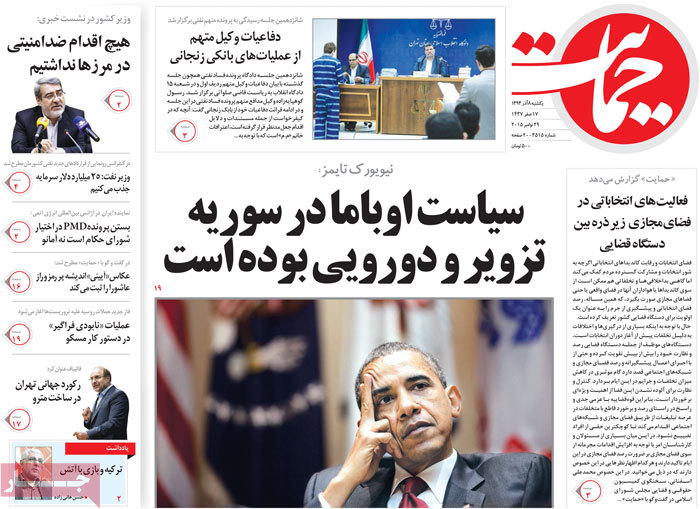 ---
Iran: Twenty ministers and state managers have been tasked with overseeing services offered to Arba'een pilgrims.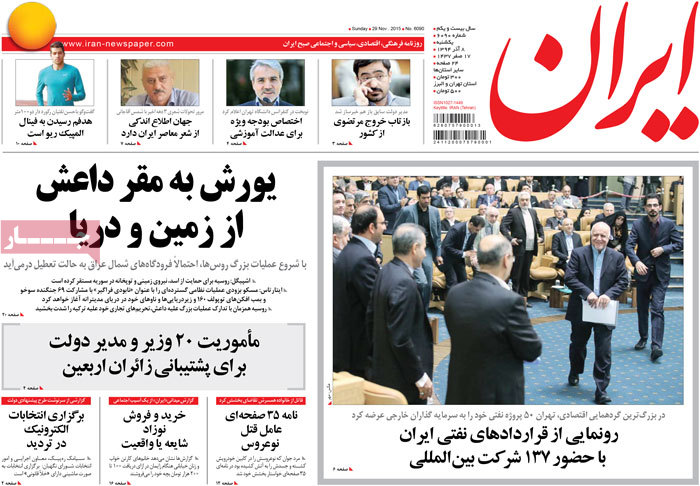 ---
Javan: An uprising against social harms
Tehran Mayor Mohammad Bagher Ghalibaf has urged residents of the capital to help heal the metropolis' social problems.
---
Jomhouri Islami: Iran sanctions will be lifted next month.
The announcement came as Iran unveiled a new oil contract model to world investors.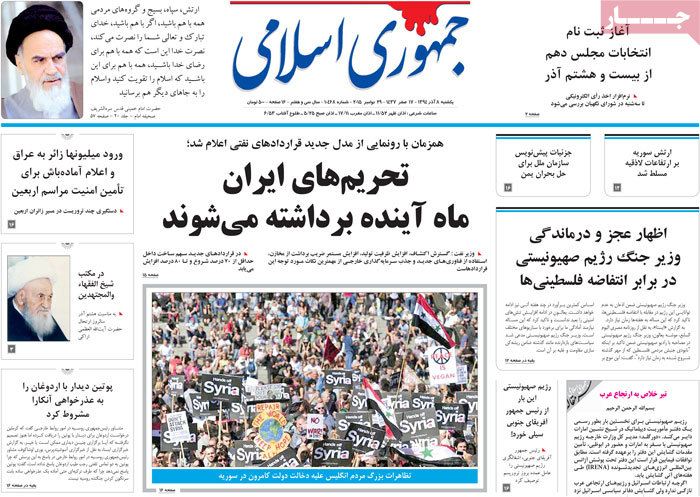 ---
Kar va Kargar: An Iranian Foreign Ministry official has urged the IAEA Board of Governors to close the so-called PMD (possible military dimension) in a constructive atmosphere.
Hamid Baeedinejad further said that Iran has had good relations with the International Atomic Energy Agency.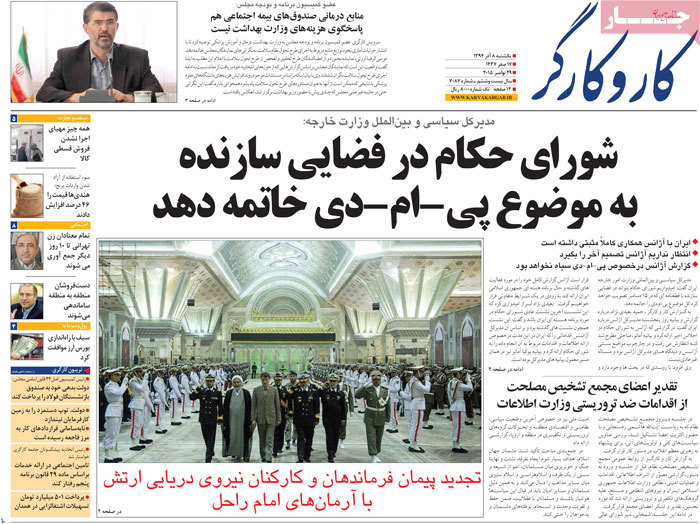 ---
Kayhan: A countdown is on for a major air and sea offensive by Russia against IS.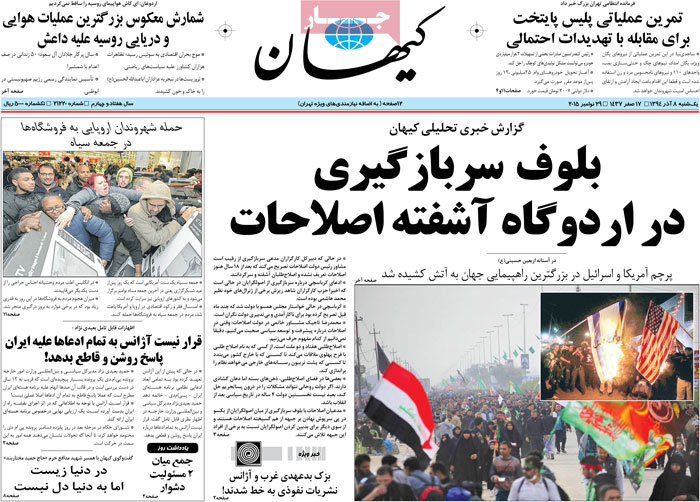 ---
Nasl-e Farda: The spokesman of parliament's Judicial Committee has said that Saeed Mortazavi [a former director of the Social Security Organization on trial for corruption] is a flight risk.
[Mortazavi has left the country to take part in Arba'een ceremonies in neighboring Iraq.]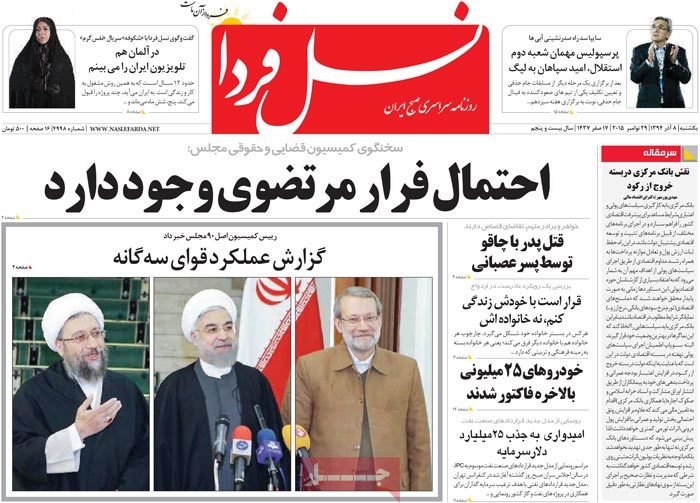 ---
Qods: A member of parliament's National Security and Foreign Policy Committee has said that Britain has put forth the idea of Iran establishing an anti-IS coalition.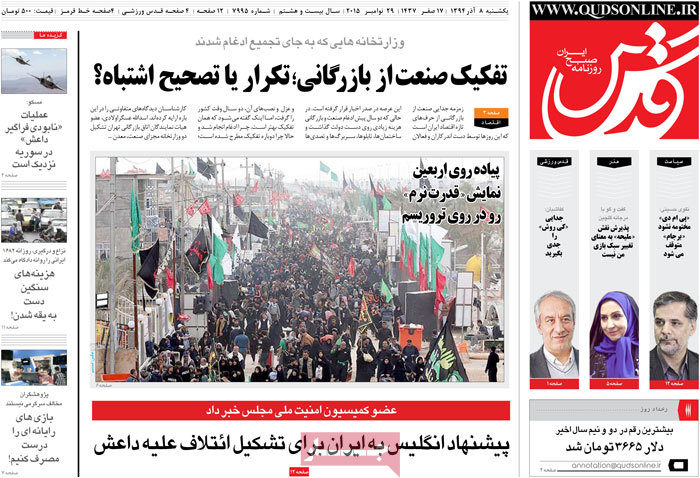 ---
Resalat: The black gold in exchange for the blood of Syrian citizens
A look at how Turkey is involved in oil trade with IS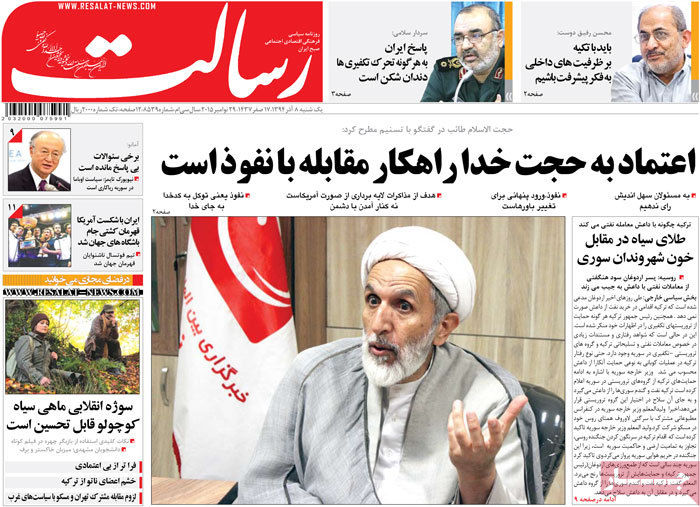 ---
Sayeh: Those who cross the border into Iraq without a visa will be dealt with, warned the interior minister.
---
Setareh Sobh: The Iranian oil industry is open to investment by American firms, said the Iranian oil minister.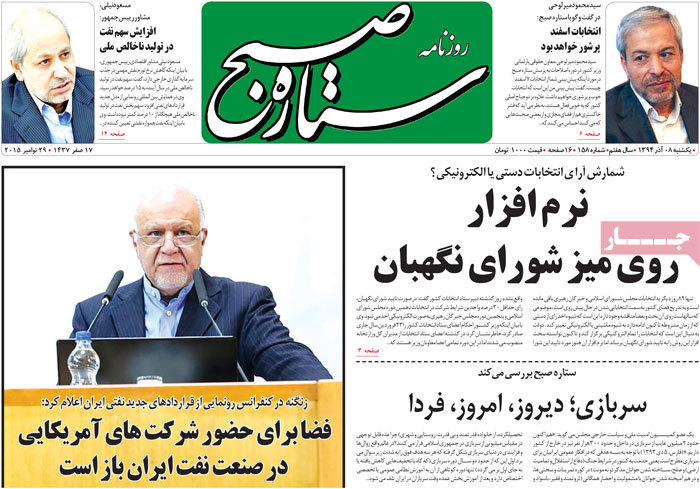 ---
SMT: Oil contracts worth $25 billion have been unveiled at an international conference in Tehran.