The Leader of the Islamic Revolution, Ayatollah Seyyed Ali Khamenei, made important remarks in a Sunday meeting with a group of Iranian police officials and officers. The Leader's statements about security, particularly moral security, were widely covered by almost all Iranian media.
The newspapers on Monday also talked about a controversial clip from the TV show Elixir, aired by IRIB, in which the host publicly humiliated the guest. The producers later announced that it was just a show, and the host and the guest were both acting out a scene; however, the criticisms have remained severe.
Many newspapers, particularly reformist ones, have looked at the recent multiple assaults on Mir-Mahmoud Mousavi, a former Iranian diplomat and the brother of detained opposition leader Mir-Hossein Mousavi.
An ongoing conflict in Syria's Khan Tuman, where a number of Iranian advisors, among others, were killed by terrorists also received much coverage.
Abrar:
1- Iran's Help to Venezuela in Pharmaceutical Production: Maduro
2- Providing Social and Moral Security Very Important: Leader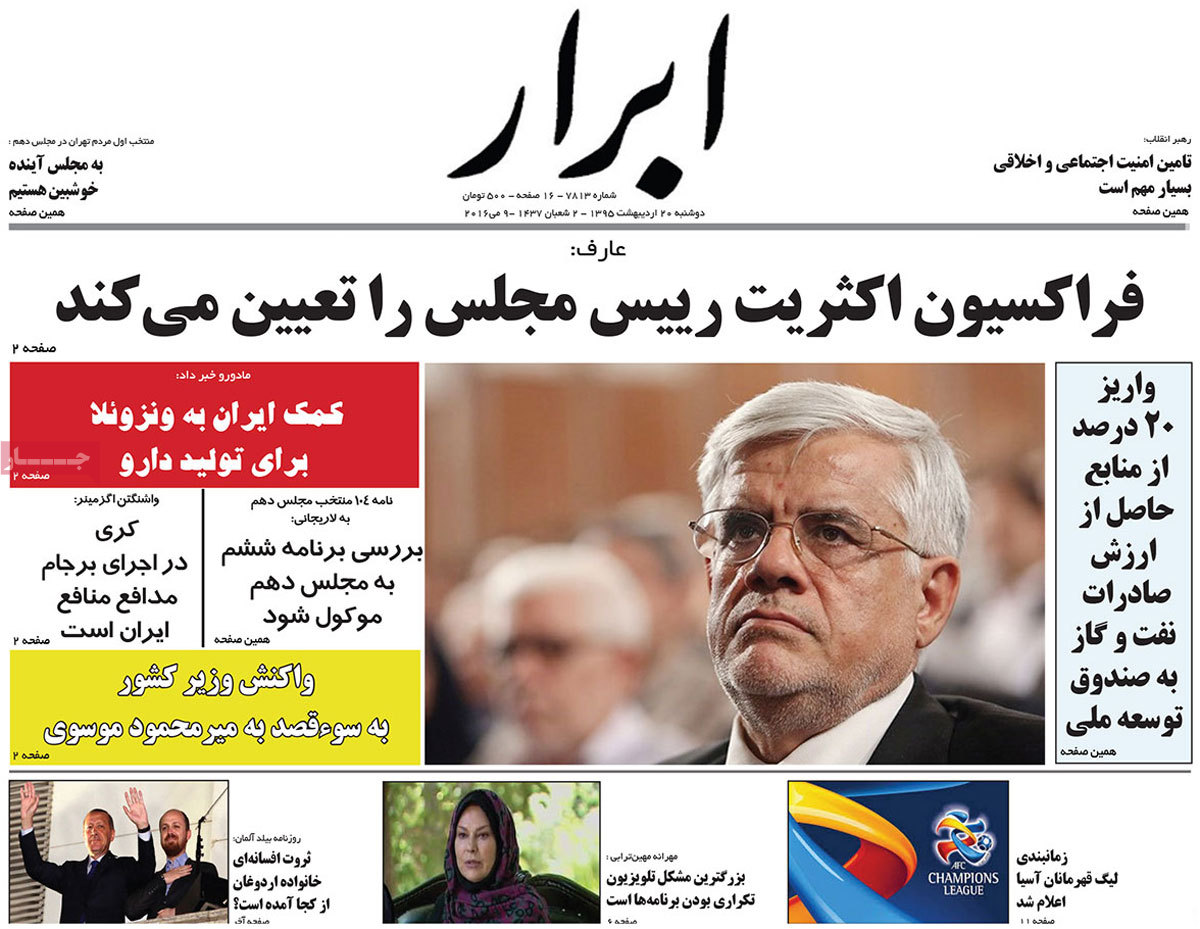 ---
Abrar-e Eqtesadi:
1- Britons' Investment in Iran's Airport Infrastructure
2- Iran in Talks with 4 Countries to Resume Oil Swaps: Deputy Oil Minister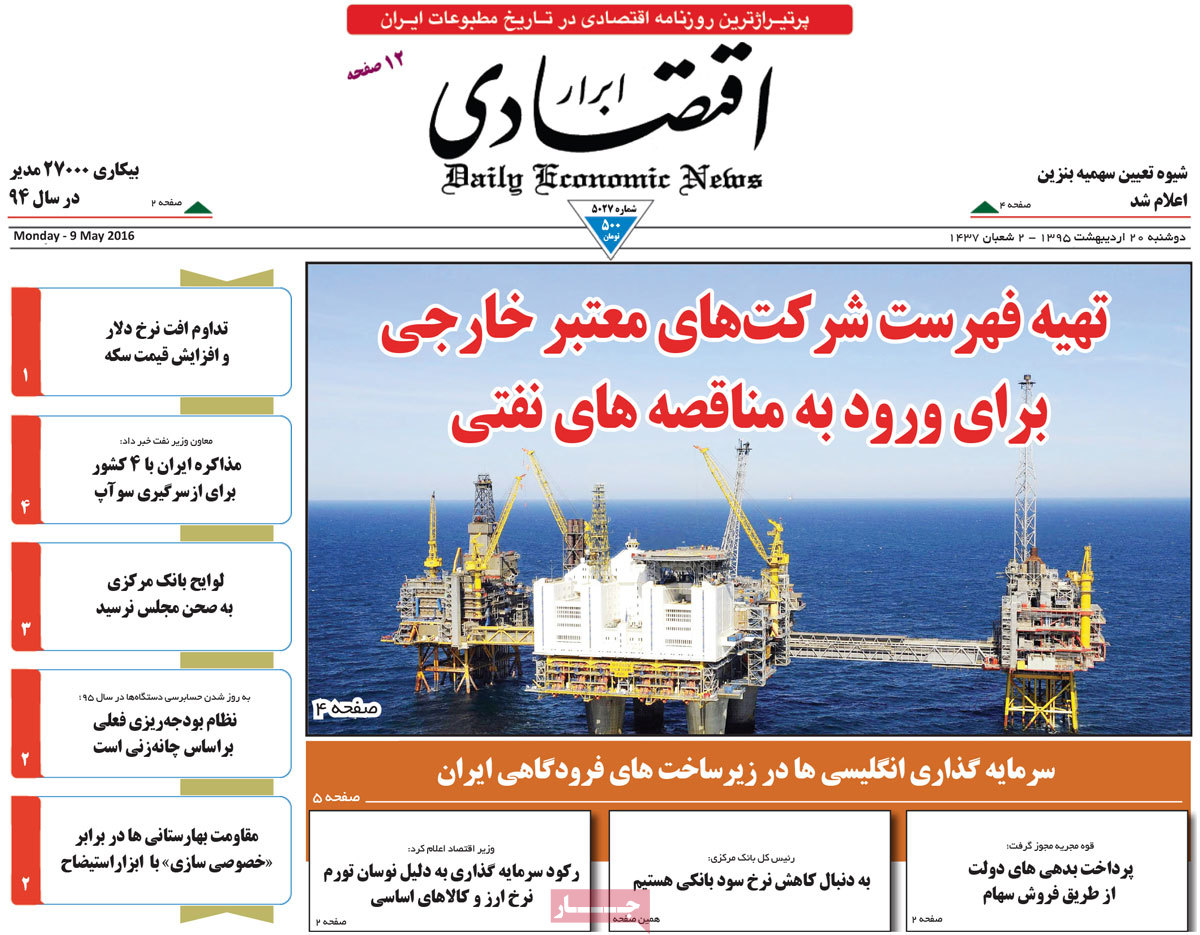 ---
Arman-e Emrooz:
1- Attack on Mir-Mahmoud Mousavi: 3 Motorcyclists Extort Foreign Ministry Diplomat
2- Details of Saeid Jalili's Offer to Americans in Istanbul
3- Indictment Issued for 48 Attackers on Saudi Embassy in Tehran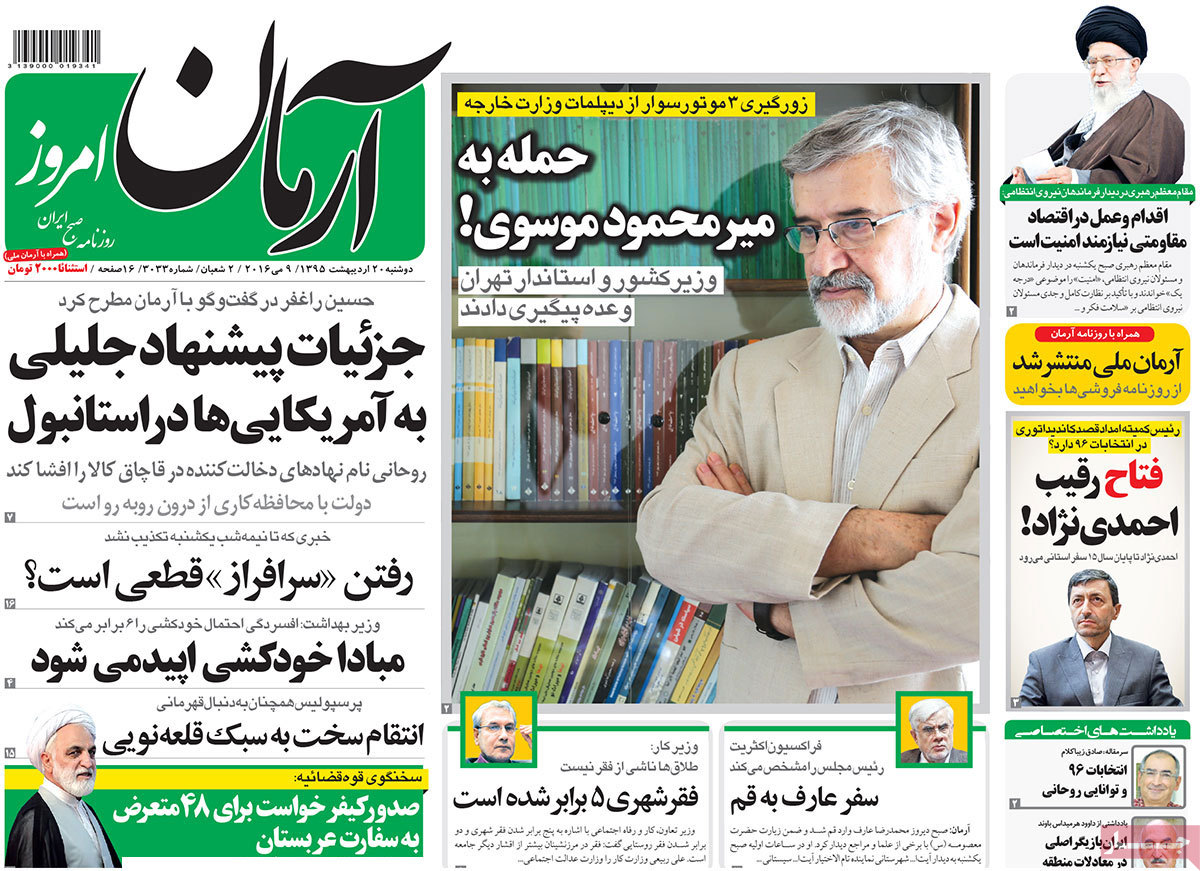 ---
Asia:
1- It Is Cost-Efficient to Launch Direct Iran-US Flight
---
Bani Film:
1- Iran and Italy Plan to Co-Produce Feature Film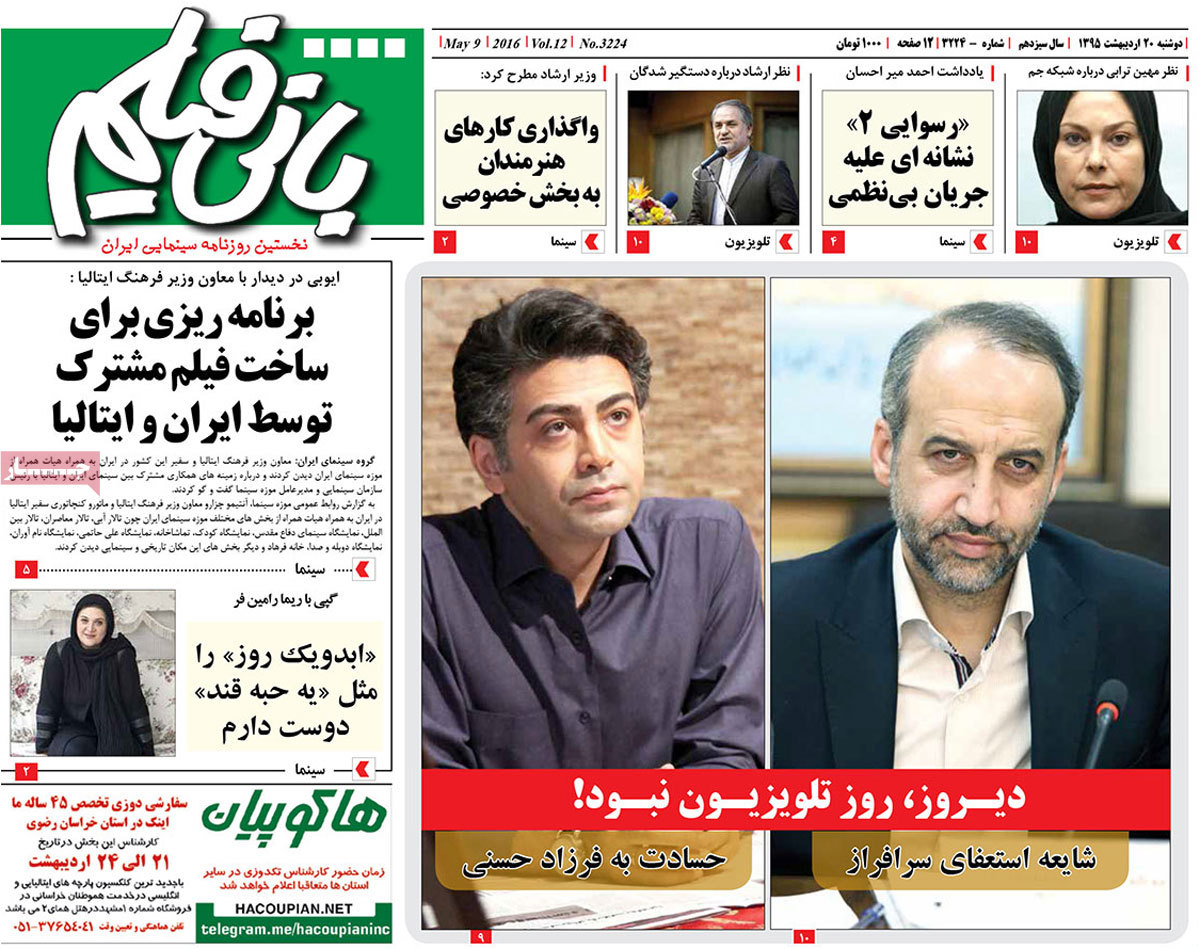 ---
Emtiaz:
1- US Gives Back 73 Ancient Relics Dating Back to Sassanid Dynasty: Spokesman
2- 5 Foreign Languages to Be Taught in Iranian Schools
3- Growth of Drug Abuse among Women in Iran
4- 20% Decrease in Imports of Gas Oil to Iran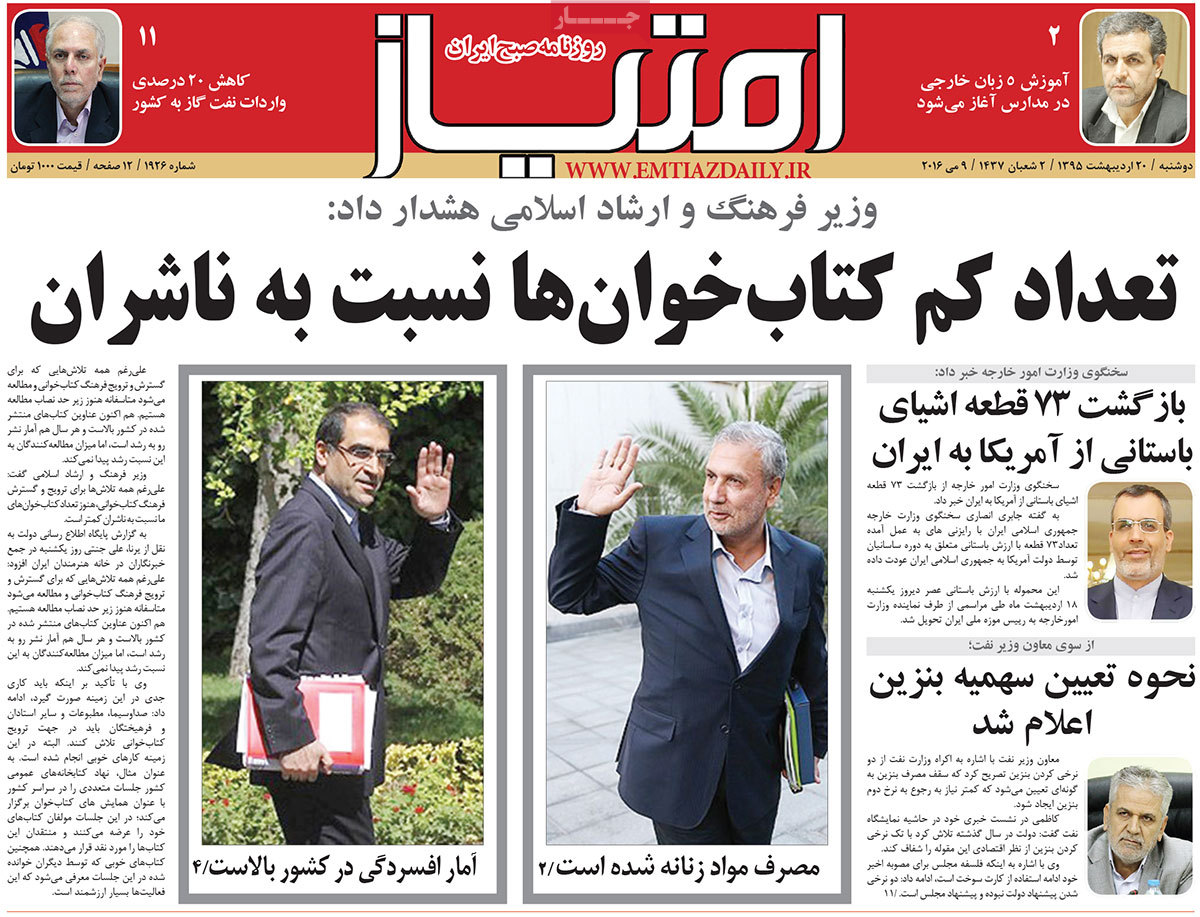 ---
Etemad:
1- Senior Reformist Aref Meets with Top Clerics in Qom
2- Tehran Governor-General Vows to Seriously Pursue Attack on Mir-Mahmoud Mousavi
3- Leader Cautions: Enemy Is Seeking to Bipolarize Iranian Society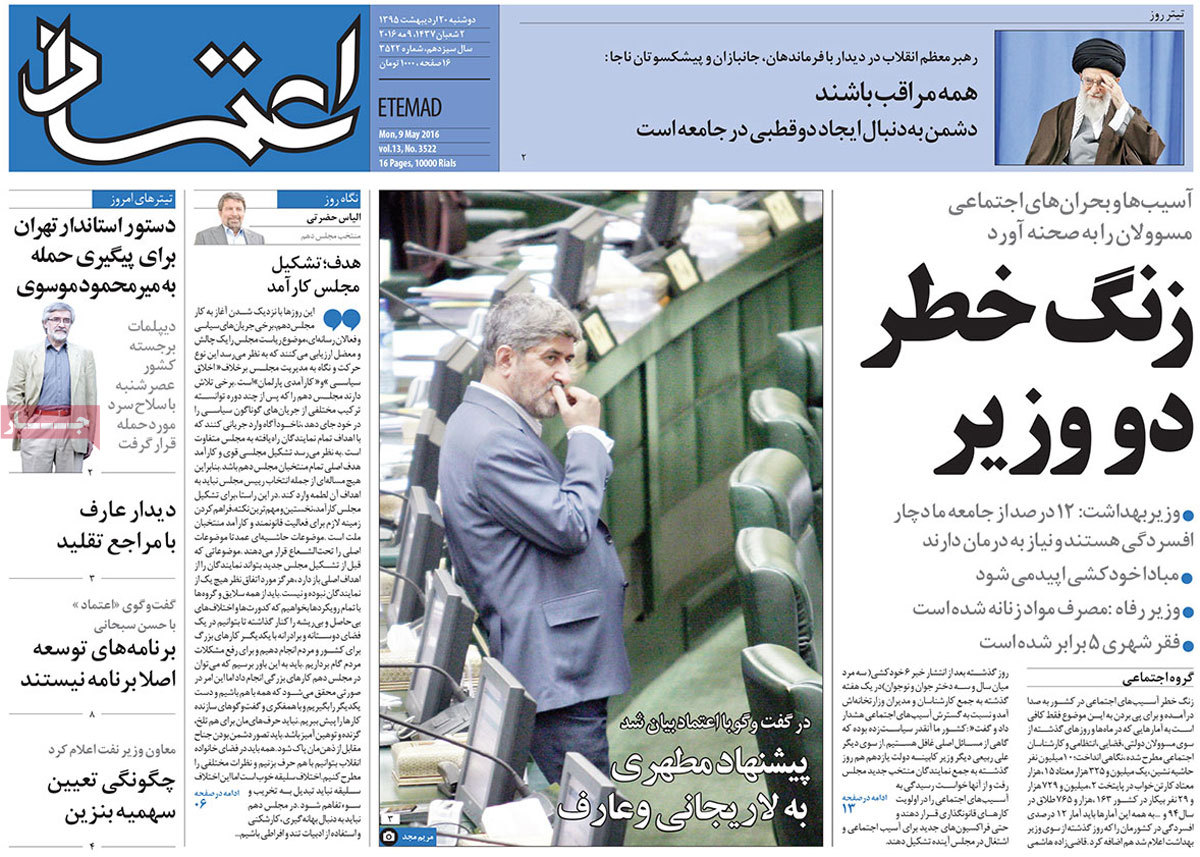 ---
Ettela'at:
1- Security Is Iran's Top Priority: Ayatollah Khamenei
2- Petrol to Be Sold at Two Different Rates from Autumn
3- 300 Killed in Fights among Terrorists near Damascus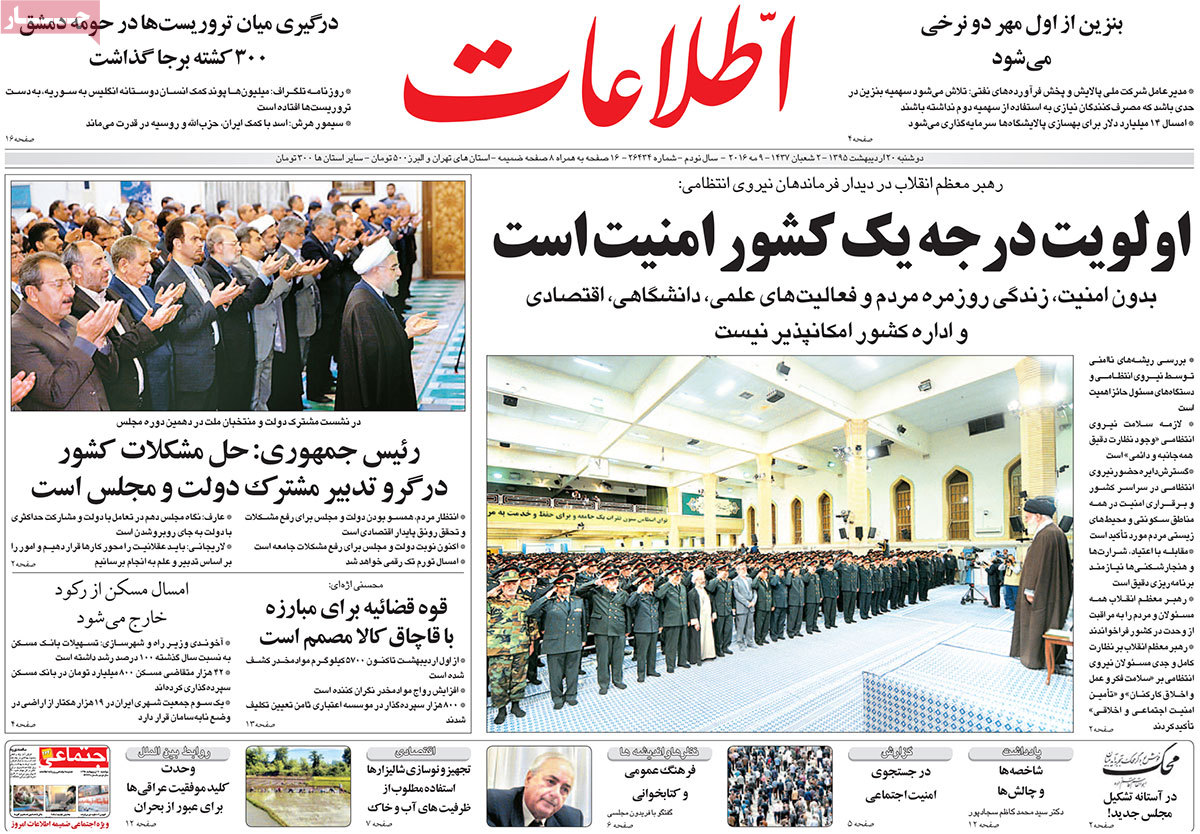 ---
Ghanoon:
1- Controversies Surrounding IRIB's TV Show Elixir [in one of the episodes recently released, the host Farzad Hassani publicly humiliated the guest, which has provoked severe criticism.]
2- I'm Unemployed, So I'll Commit Suicide [on growing rate of suicide in Iran]
3- Leader Underlines Necessity for Attending to People's Concerns about "Moral Security"
4- What Have Drugs and Alcohol Done to Athletes? [on the recent death of a famous Iranian footballer due to substance abuse]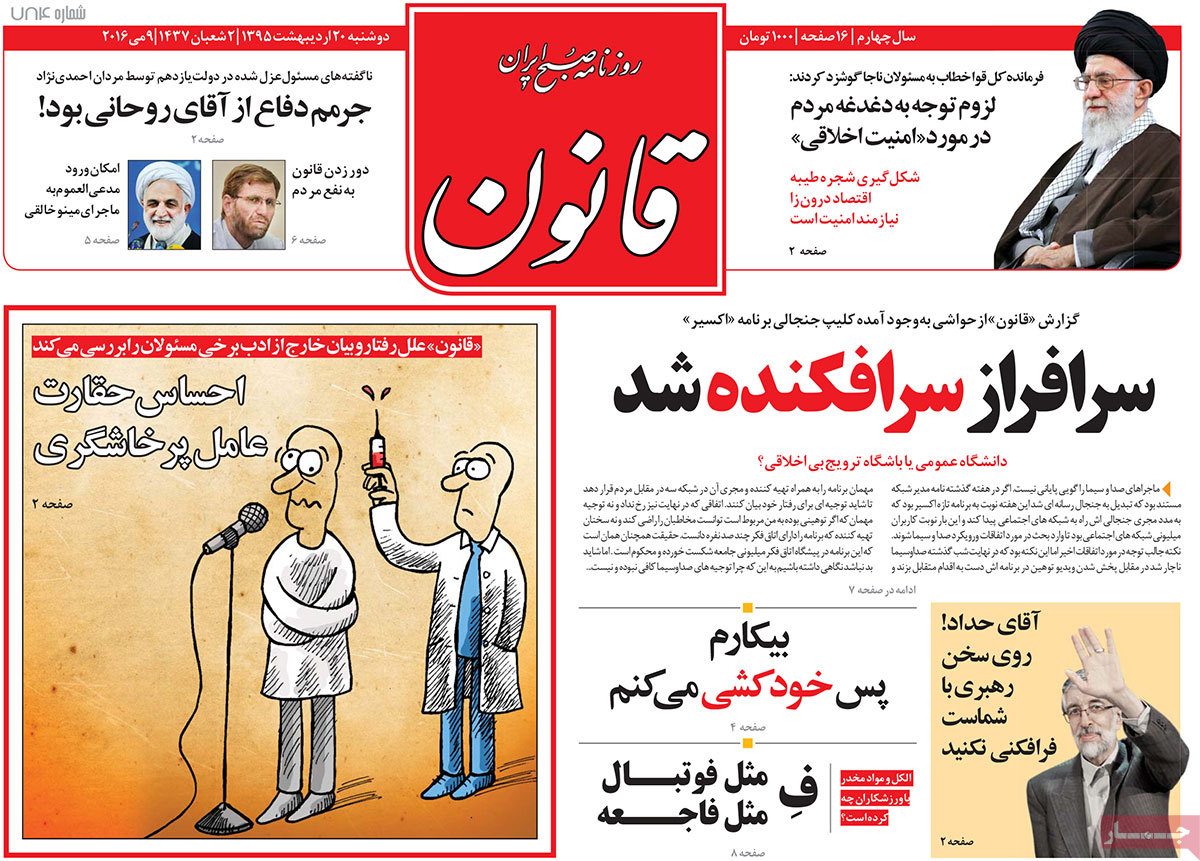 ---
Iran:
1- Iran to Host Foreign Capitals and Banks
2- Early Death of Pilots and Flight Attendants under Sanctions Pressure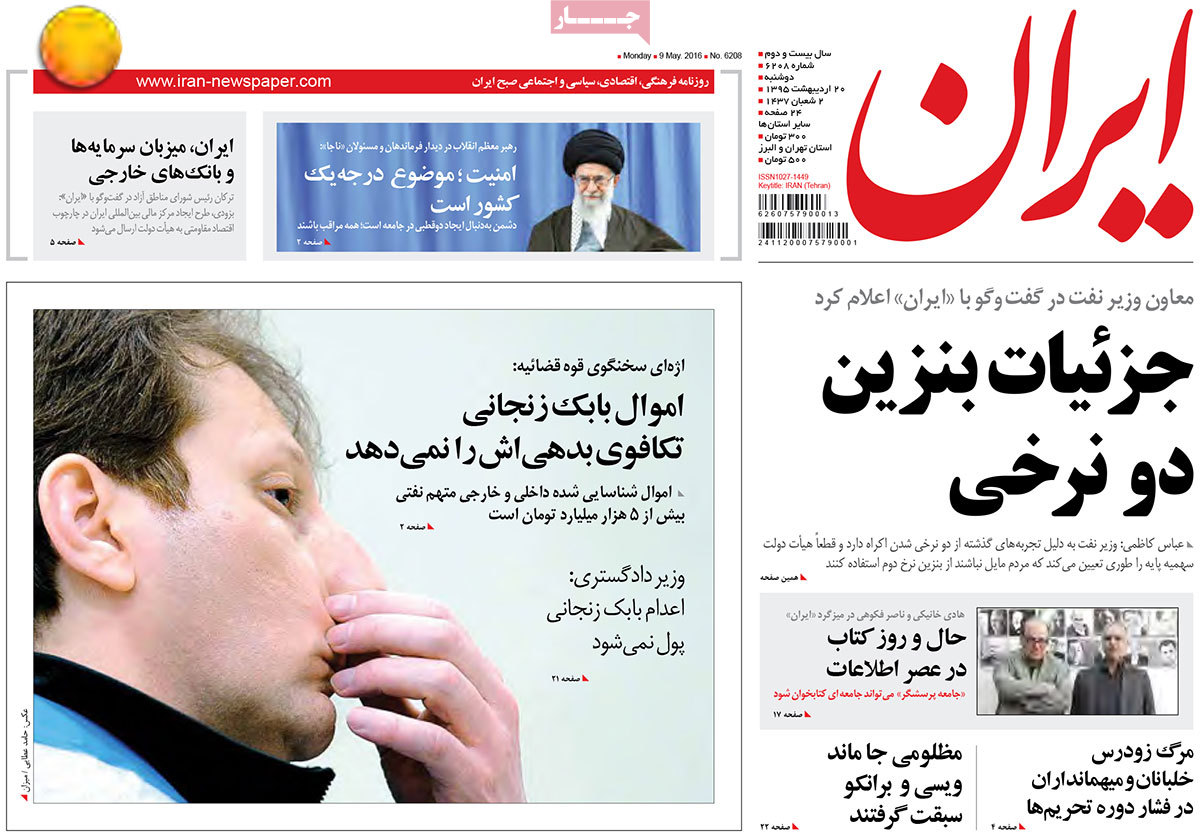 ---
Javan:
1- Leader Urges Police to Ignore Opposition to Rational Decisions
2- Resistance Front Ready to Take Revenge in Syria's Khan Tuman
---
Jomhouri Eslami:
1- Police Should Be a "Kind and Powerful Friend" to People: Leader
2- Massive Air Operation Starts in Syria to Retake Khan Tuman
3- Turkish Fighter Jets Once Again Bomb Northern Iraq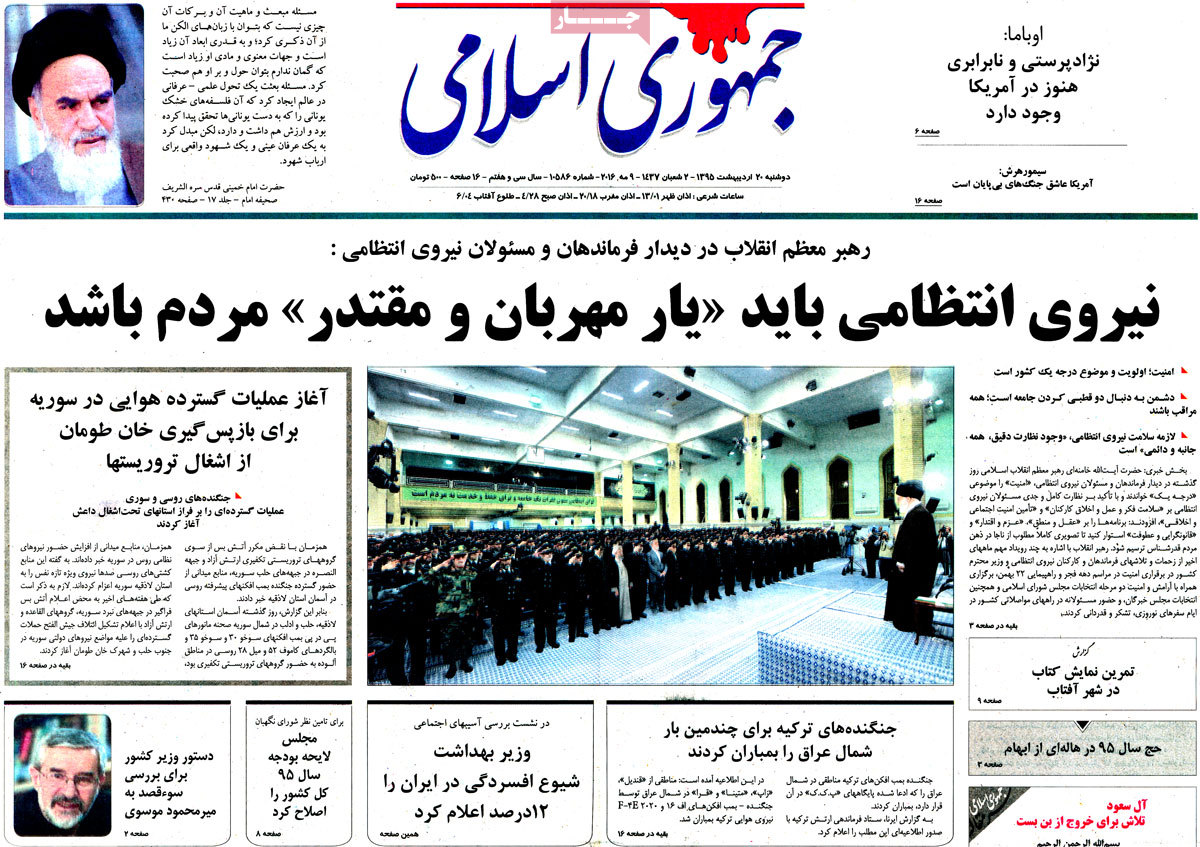 ---
Kayhan:
1- British Soldiers Planted Bombs in Iraq's Shiite and Sunni Mosques in Arabic Dress
2- Senior Cleric: After Filling Iran with Imported Goods, Then You Talk about Production?
3- Khan Tuman on Verge of Liberation: US Plot in Syria Backfires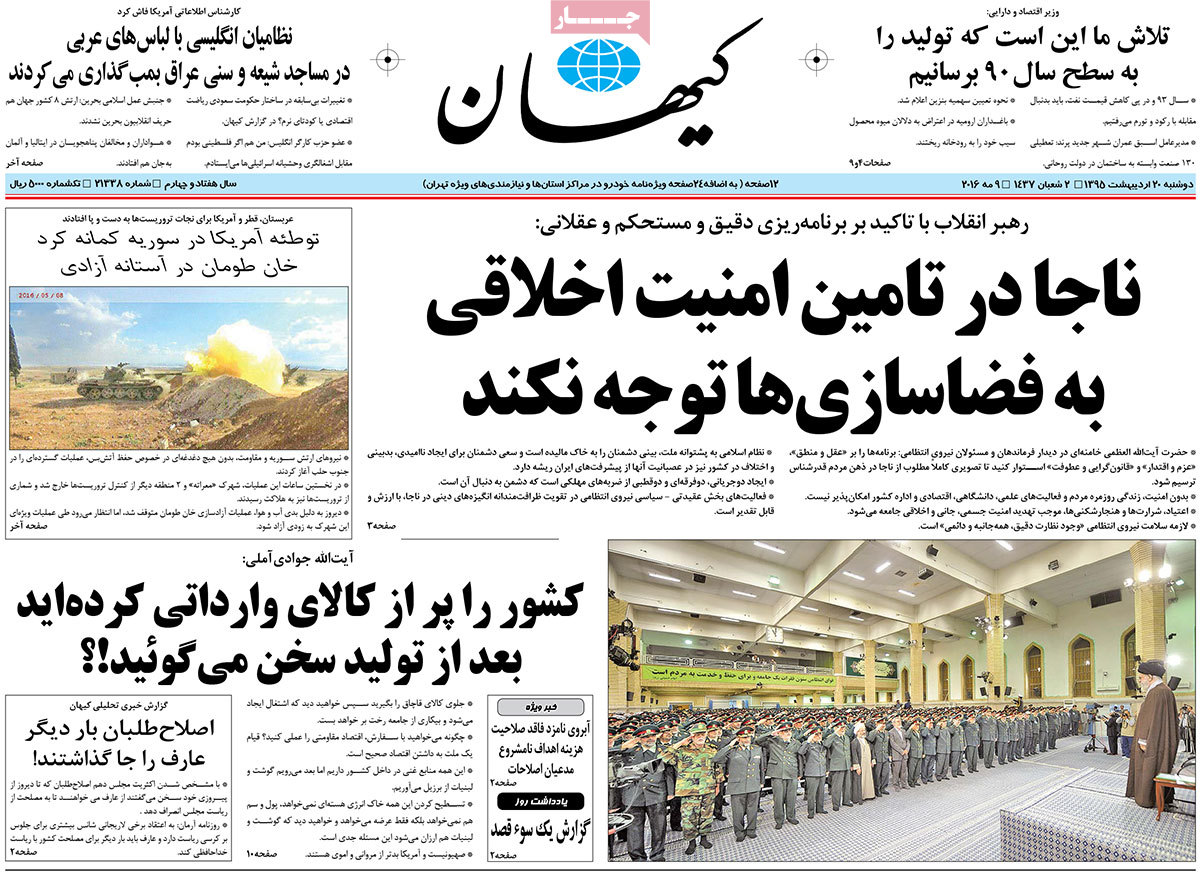 ---
Khorasan:
1- Salehi Relates Untold Stories about Secret "AMIA" Talks
2- Shamkhani: Iran and Its Allies Not to Leave Khan Tuman Incidents Unanswered
3- Leader Doesn't Oppose English Language Teaching: Haddad Adel
4- Secret behind Deadly Selfie
5- Saudi Arabia Plotting against Iran's Oil Marketing in Post-JCPOA Era: Minister
6- Syndrome of Consumerism in Iran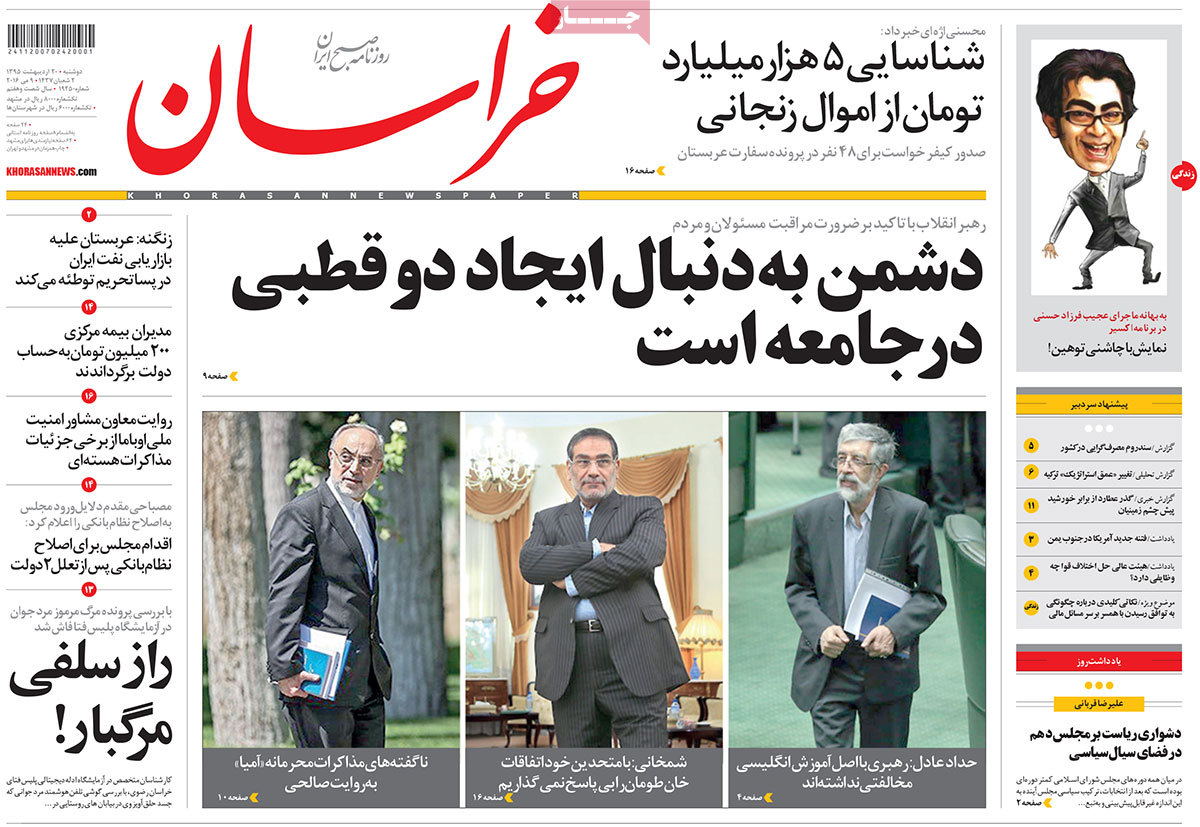 ---
Payam-e Zaman:
1- Ground Prepared for 8% Economic Growth: Minister
2- Reasons for Low Levels of Book-Reading in Iran
3- Major Hajj Pilgrimage Likely to Be Cancelled: MP
---
Resalat:
1- Expenses Have Doubled, Country's Costly Governance: Court of Audit Chief
2- Underclothes Police Not Solely for Hijab: Minister
3- Storm of Jeremy Corbyn: Labour Party Leader's Position Reinforced
---
Sepid:
1- Car Crash Fatality Rates Still High: Leader
---
Shahrvand:
1- This Year's Hajj Pilgrimage on Verge of Cancellation Due to Saudi Arabia's Stonewalling
2- 22% Growth of Elderly in 45 Years: Iran's Rapidly Ageing Population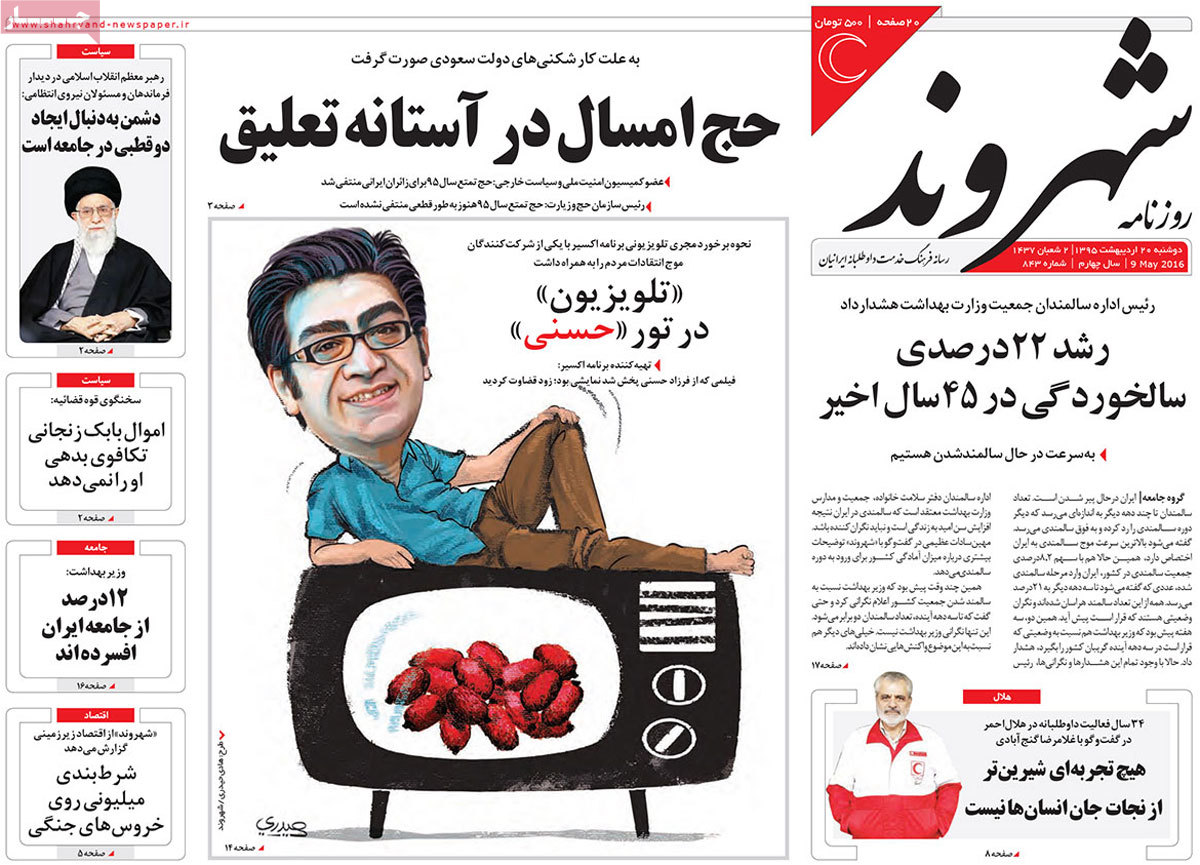 ---
Vaghaye Ettefaghieh:
1- Al-Sisi Not Looking for Tension with Iran in Spite of Saudi Arabia's Wishes
2- Emergence of ISIS Was a Reaction to Islamic Revolution: Ex-FM Kharrazi
3- Leader: Angered Enemies Seeking to Cause Rifts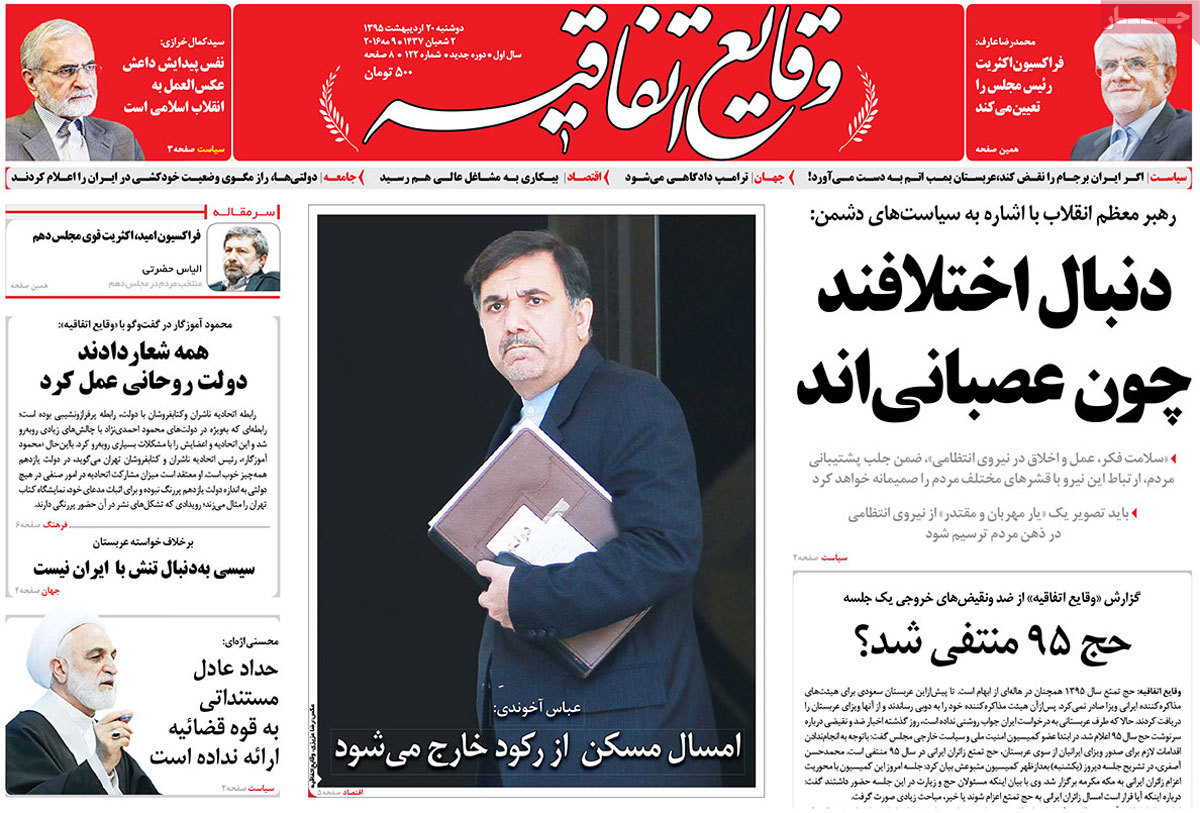 ---
Vatan-e Emrooz:
1- Foreign Investors' Hesitation in Attending Iran Oil Exhibition: Oil Giants Didn't Come!
2- He Isn't Being National [Editorial: A criticism of FM Zarif's attendance and speech at a meeting of the reformist faction – the paper says that as a minister, Zarif should be 'national', thus not getting involved in domestic party politics]