Almost all newspapers on Sunday covered the Saturday meetings of the newly elected MPs. Both reformists and conservatives held separate meetings with their fellow parliamentarians, while President Hassan Rouhani and incumbent Parliament Speaker Ali Larijani both hosted the MPs separately.
The recent conflicts in Syria's Aleppo, in which several Iranian advisors were killed, also received great coverage by Iranian newspapers.
Abrar:
1- UN Warns against Deteriorating Humanitarian Situation in Iraq
2- 10 Al Qaeda Elements Killed in Recent US Strikes in Yemen
3- JCPOA Was a Historical Necessity for Iran's Special Situation: Zarif
4- Putin-Medvedev, Iranian Style: Iran's Football President to Continue Work as Vice-President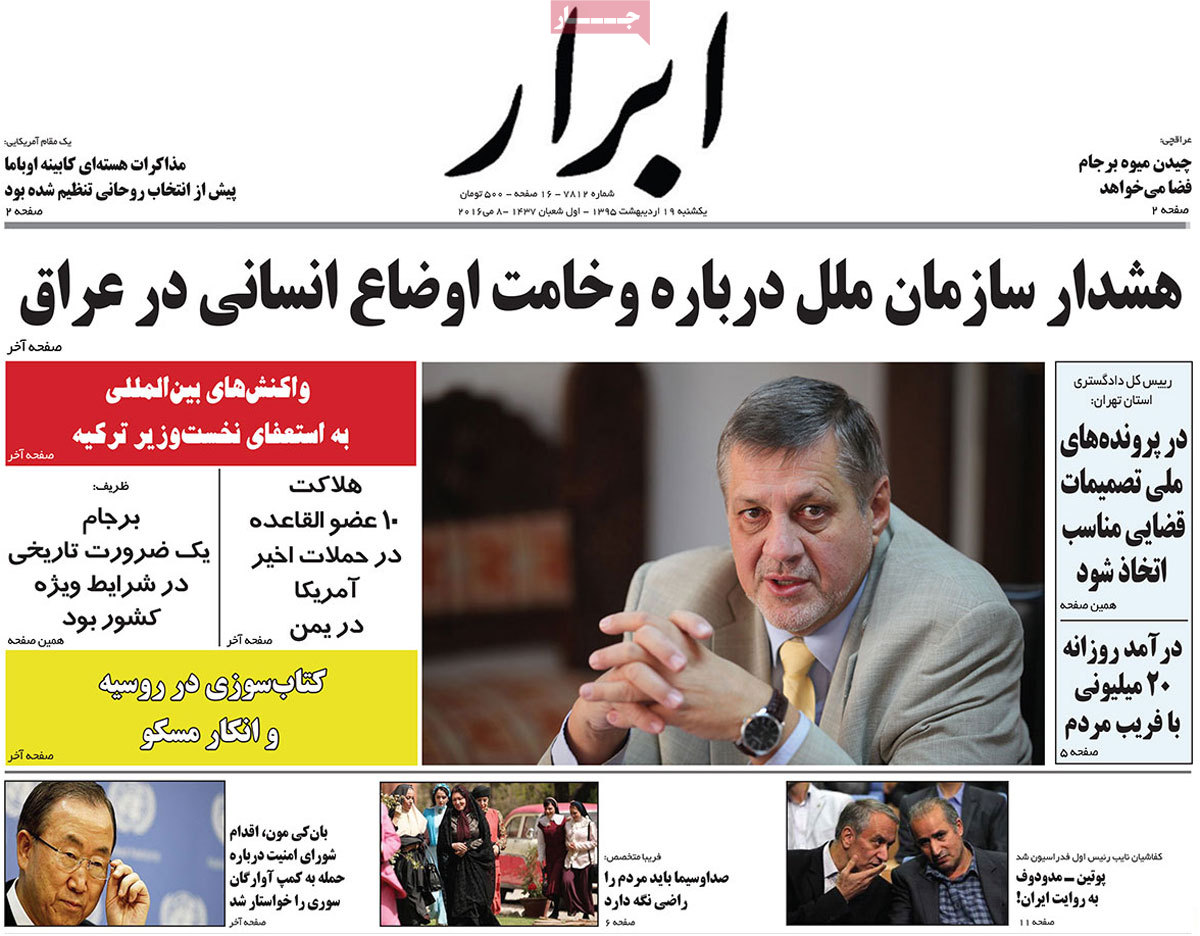 ---
Abrar-e Eqtesadi:
1- Target for Liquidity Growth: Deputy Central Bank Governor
2- Russia's Customs Office Gives 25% Discount on Iranian Goods
3- Iran Starts Oil Exports to Italy
4- New Oil Contracts to Be Revised Within a Week
5- US Joins Importers of Iran's Dates
6- Tajikistan to Buy Iranian Jet Fuel
7- Managers of Russia's Gazprom En Route to Iran
8- Koreans Eyeing Iranian State Projects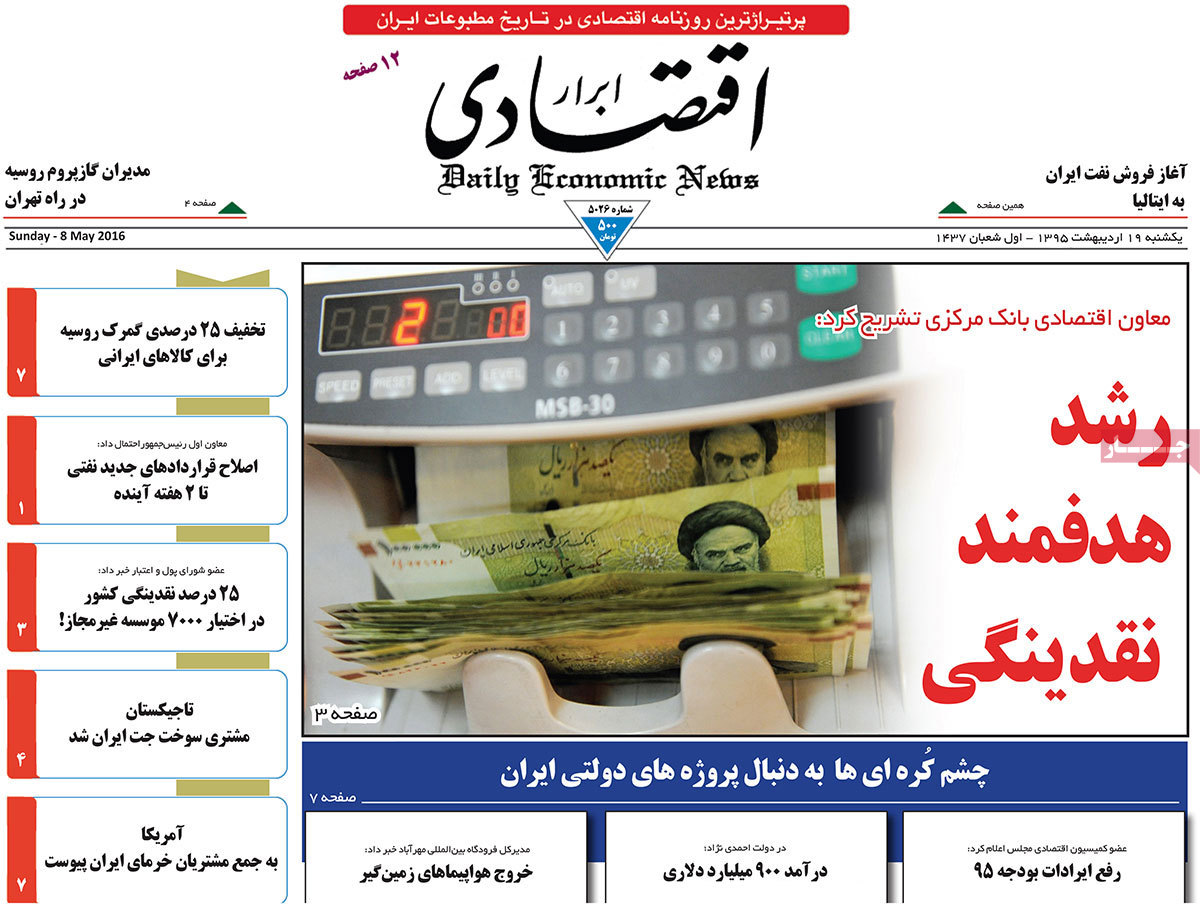 ---
Afkar:
1- If Iran Violates Nuclear Deal, Saudi Arabia Will Become Nuclear Power: Member of Al Saud Family
2- Koreans to Produce Steel in Iran's Chabahar Port
---
Aftab-e Yazd:
1- Many Anti-Iran Sanctions Still in Place on Pretext of Tehran's Support for Hezbollah
2- Reformists and Moderates to Have Parliamentary Majority with 158 Members
3- Surgeons Society Official: Kickbacks Received by Doctors Are Their Right!
---
Arman-e Emrooz:
1- "Joint Prudence", Codename of Rouhani's Ceremony for Newly-Elected MPs
2- Rouhani: I'm Very Hopeful about the Next Parliament
3- 13 Iranian Fighters Killed in Syria: Attacks Underway in Spite of Ceasefire
4- Victims of Acid-Throwing to Receive Free Plastic Surgery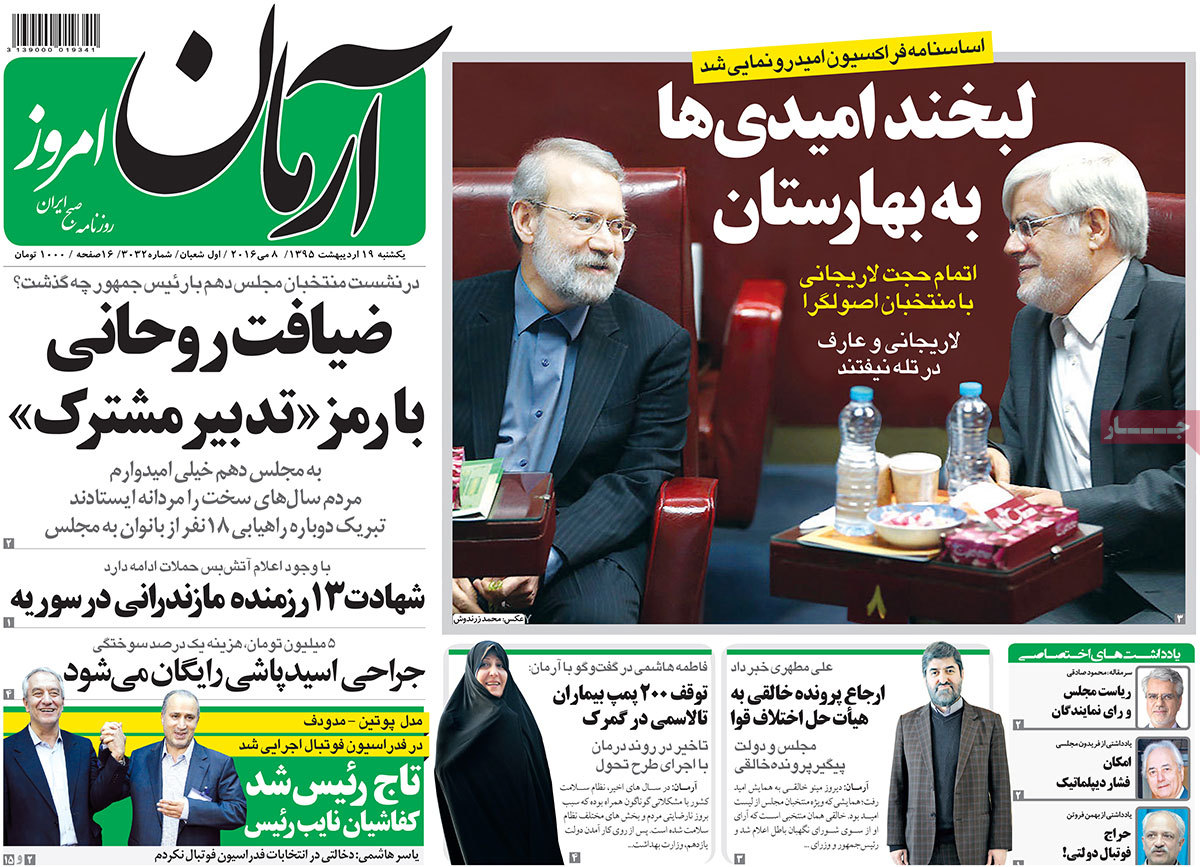 ---
Emtiaz:
1- Newly-Purchased Passenger Planes to Be Delivered in Autumn: Minister
2- Iranians Rank Fourth in Nose Jobs
3- Iran's Petchem Products Up by $4bn
4- Culture Minister Responds to Sale of Opposition Humourist's Book in Tehran Fair
---
Ettela'at:
1- Rouhani Invites Regional Countries to Expand Multilateral Ties
2- Sudden Changes in Saudi Arabia's Ruling System on King Salman's Orders
3- Oil Minister: Iran to Become Gasoline Exporter by Next Year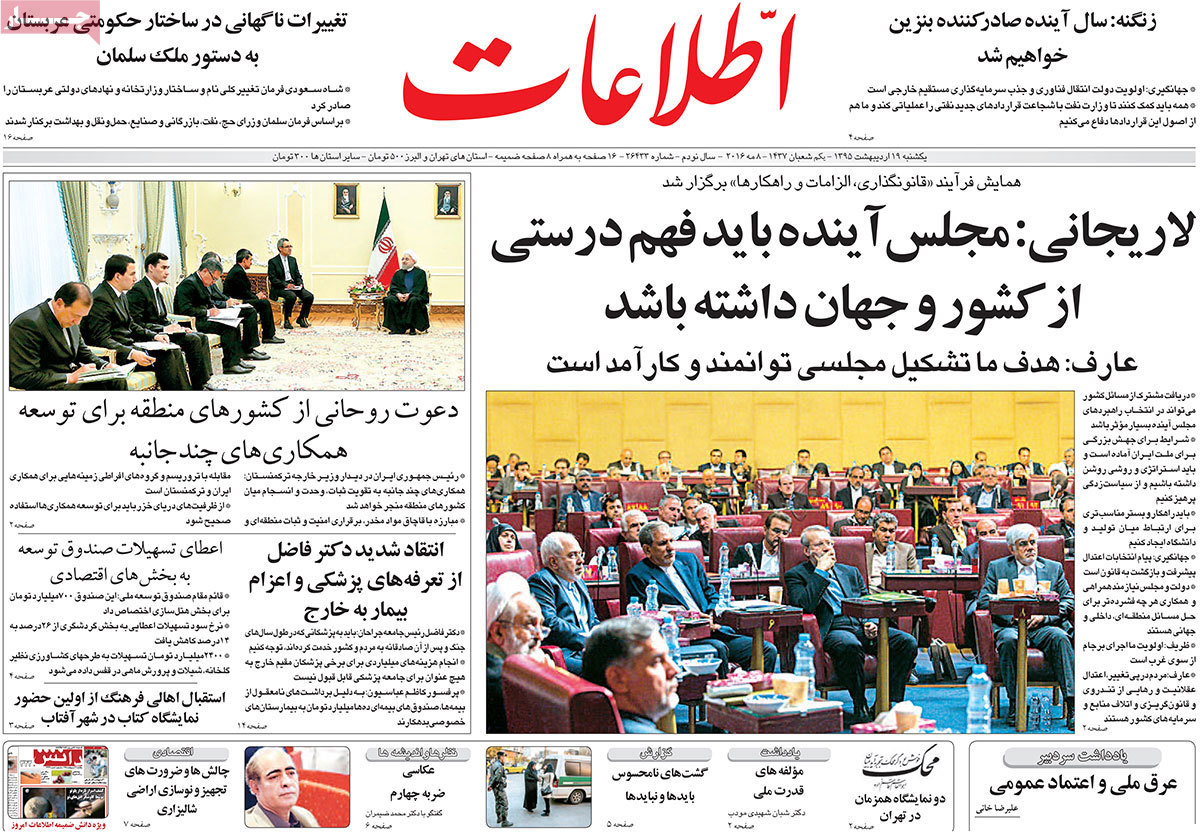 ---
Ghanoon:
1- Aleppo Becomes a Karbala: Sons of Iran Captured by Terrorists
2- Demonstration of National Moderation [in Member Elects' Meetings]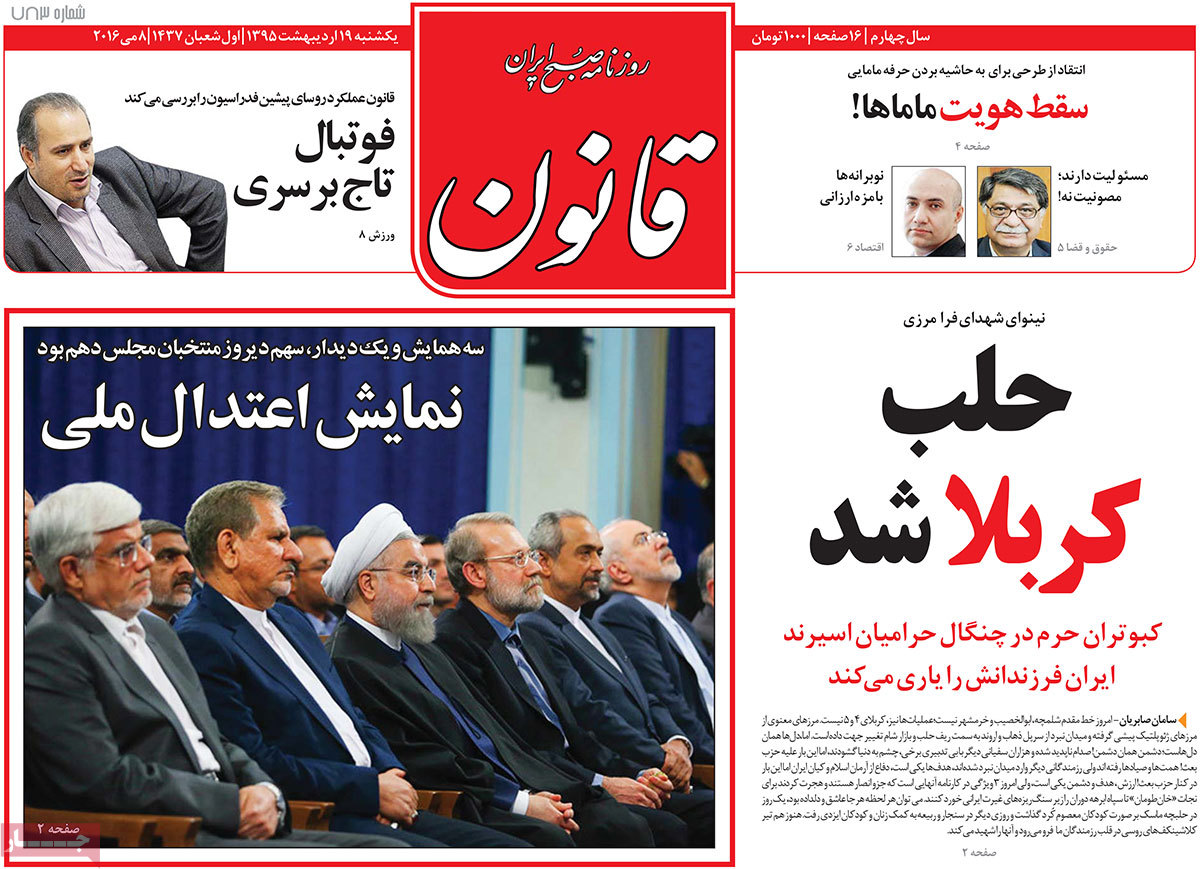 ---
Iran:
1- JCPOA is an Opportunity for Building the Country: Zarif
2- Resolution of Iran's Problems Hinges on "Joint Prudence" of Parliament and Gov't: Rouhani
3- First Muslim Mayor Elected in Europe: London's Key Goes to Sadiq Khan
---
Jam-e Jam:
1- Cabinet Reshuffle: Mohammed bin Salman's White Coup in Saudi Arabia
2- 490 Violations of Ceasefire Prove Aleppo's Innocence
3- Unfair Distribution of Facilities between Cities and Villages Leading to Increased Rural Poverty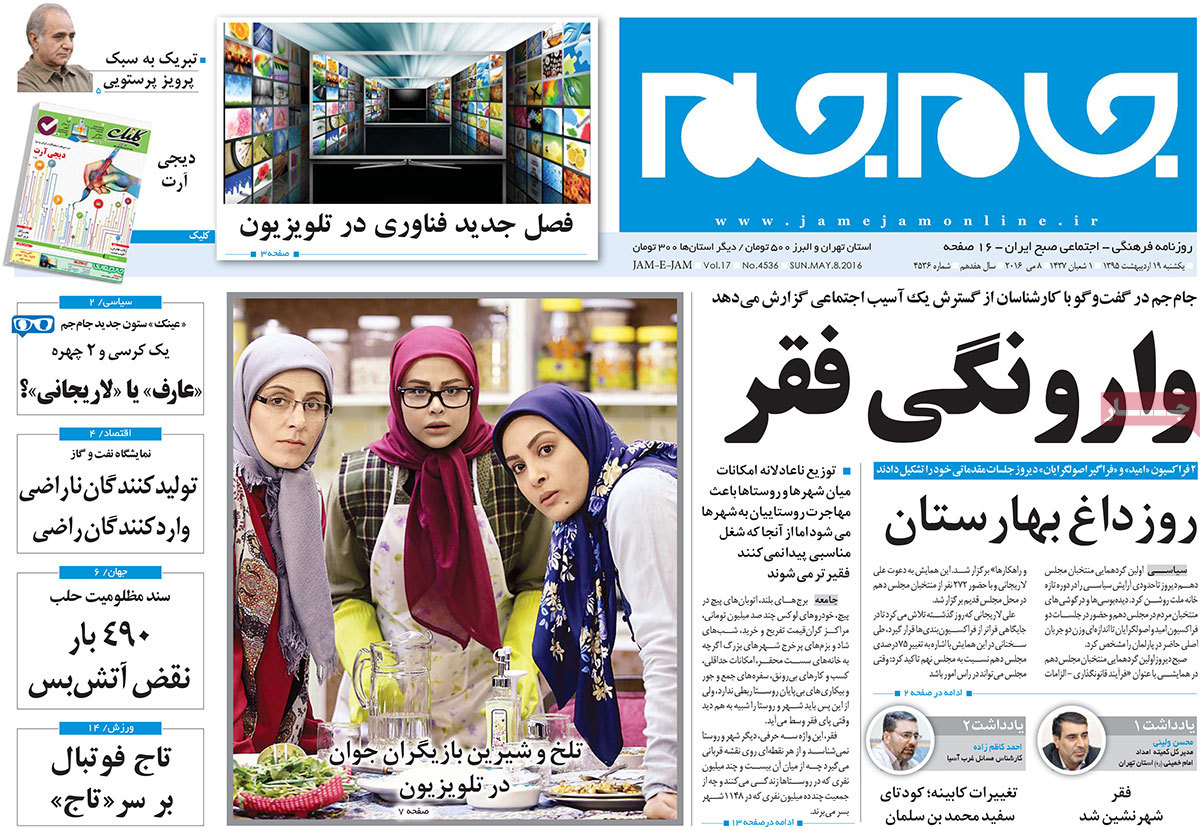 ---
Javan:
1- US 25-Year Plan to Control Iran's Regional Influence
2- Newly-Elected MP from North-Western City of Maragheh Dies in Car Accident
3- American Camisado on Aleppo Ceasefire: Terrorists Seize Khan Touman in Violation of Truce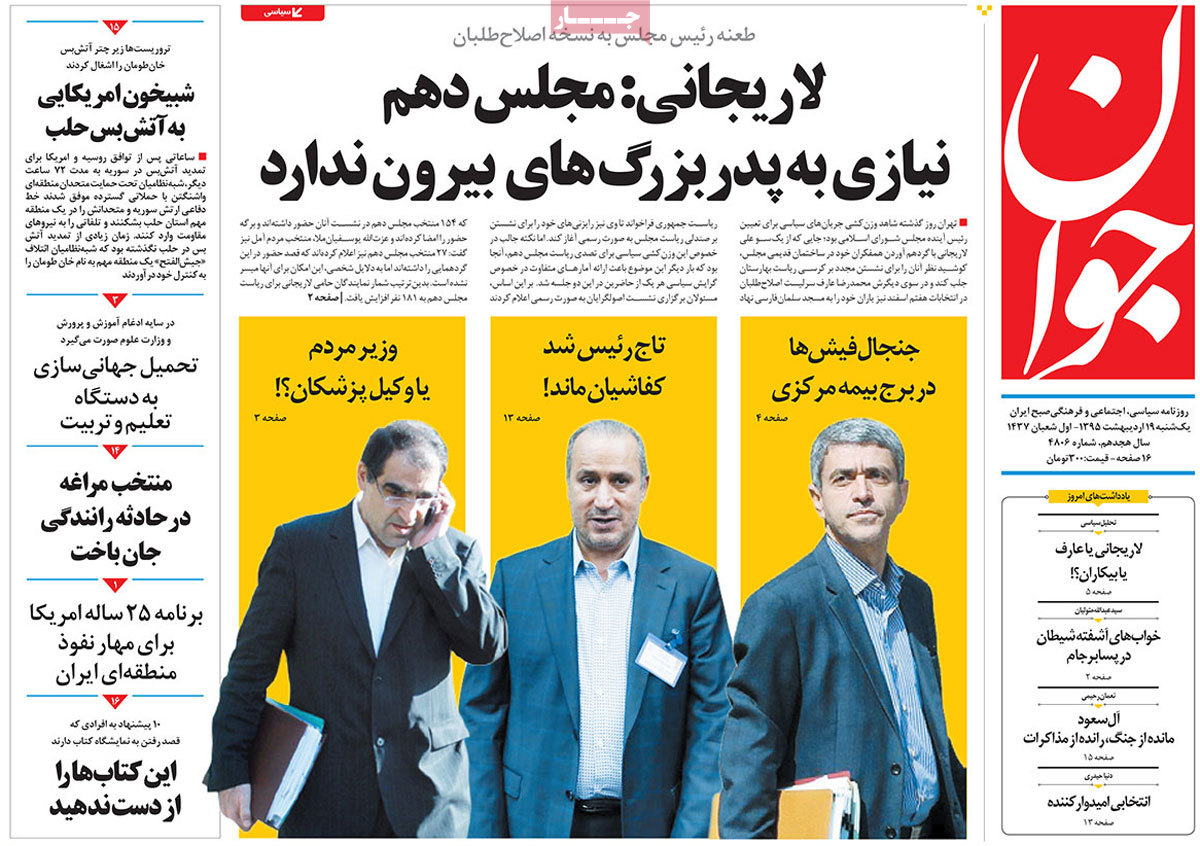 ---
Jomhouri Eslami:
1- Elected MPs Start Consultations for Choosing Parliament Speaker
2- Human Rights Watch Protests at Sale of US-Made Cluster Bombs to Saudi Arabia
3- Saudi Arabian Cabinet Earthquake
4- New Phase of Iran's Cooperation with Major Int'l Energy Companies
5- Iran's UN Envoy: US Violating International Laws
---
Keyhan:
1- Gov't Poised to Pasteurize Parliament [Note: Iran's presidential office is located in Pasteur Square in Tehran, and the name is sometimes used to refer to the administration]
2- Hezbollah Chief Nasrallah Assures Ayatollah Khamenei of Resistance's Victory over Enemies
3- 181 MPs Support Larijani's Presidency in Next Parliament
---
Khorasan:
1- 13 Iranian Advisors Killed in Khan Touman, South of Aleppo
2- Economy Minister Vows to Investigate Astronomical Salaries of Insurance Managers
---
Resalat:
1- We Should Counter Dangerous Policy of Saudi Rulers: Zarif
2- People Are Not Feeling Fall in Inflation: Economic Figure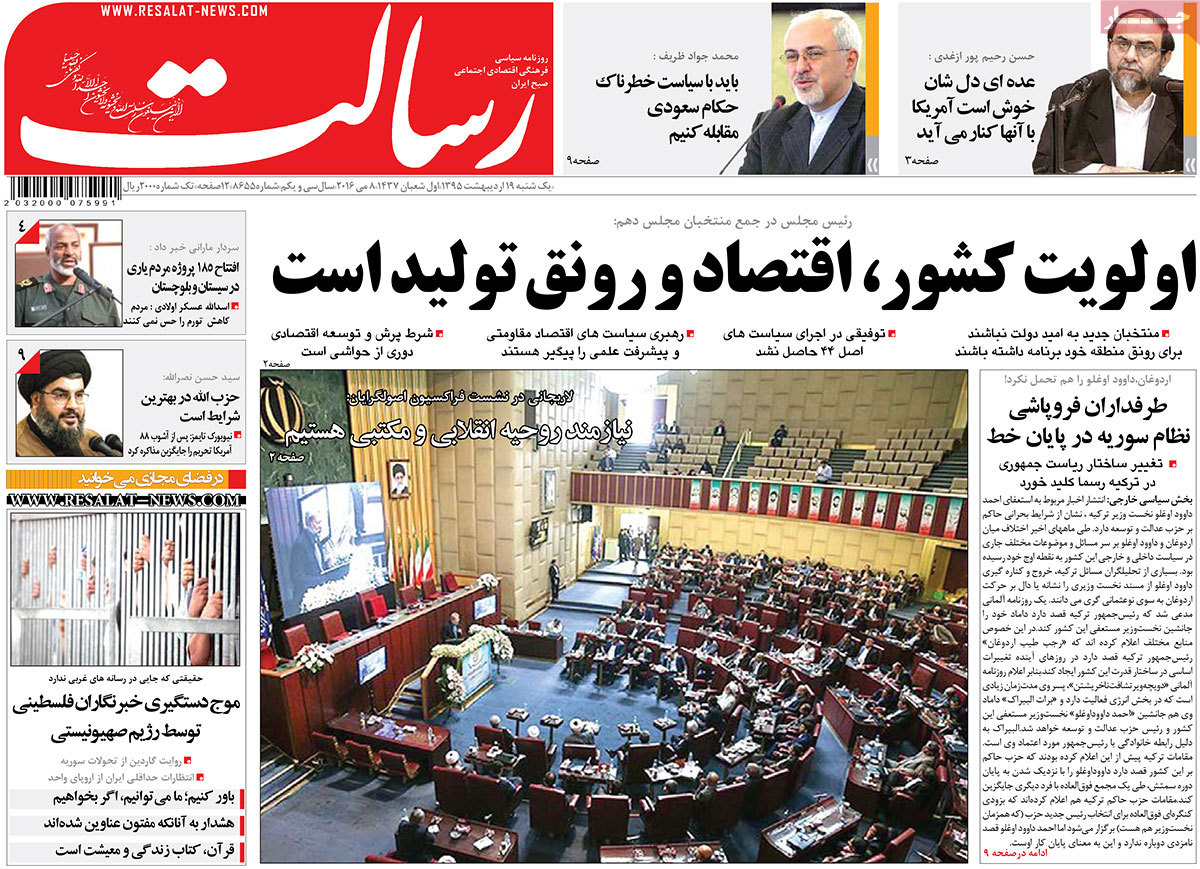 ---
Roozan:
1- Oil Exports Up 100% since JCPOA
2- Coexistence [of Aref and Larijani] on Line of Moderation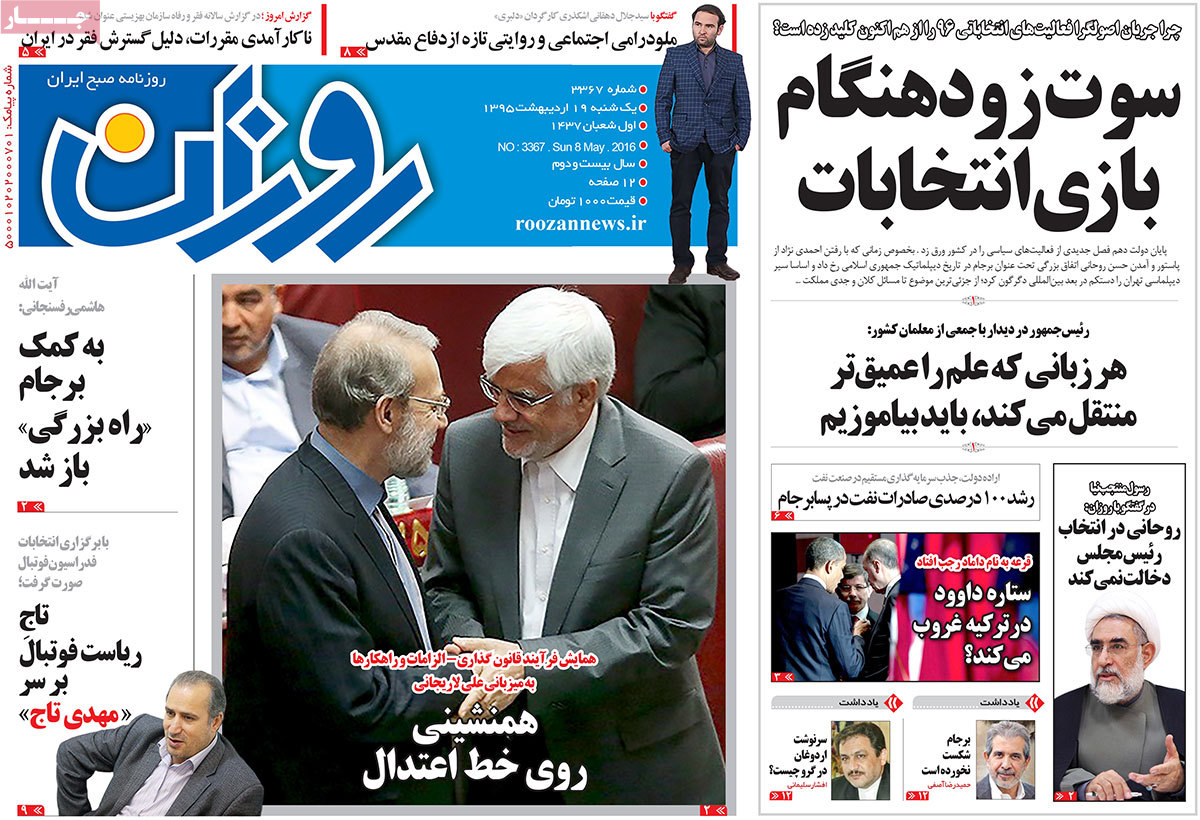 ---
Sayeh:
1- Expansion and Reinforcement of Tehran-Ashgabat Ties Necessary: Rouhani
2- Bread Price Increases Once Again
---
Sepid:
1- 40 People Die in Car Accidents in Tehran Every Day: Tehranis Rank First in Number of Urban Deaths
2- 250,000 People Fall Victim to Medical Errors Each Year
---
Sharq:
1- Rebirth: 156 Members-Elect Attend Meeting of Reformist Faction
2- Leader Constantly Prays for Your Victory: Adviser to Syria's Assad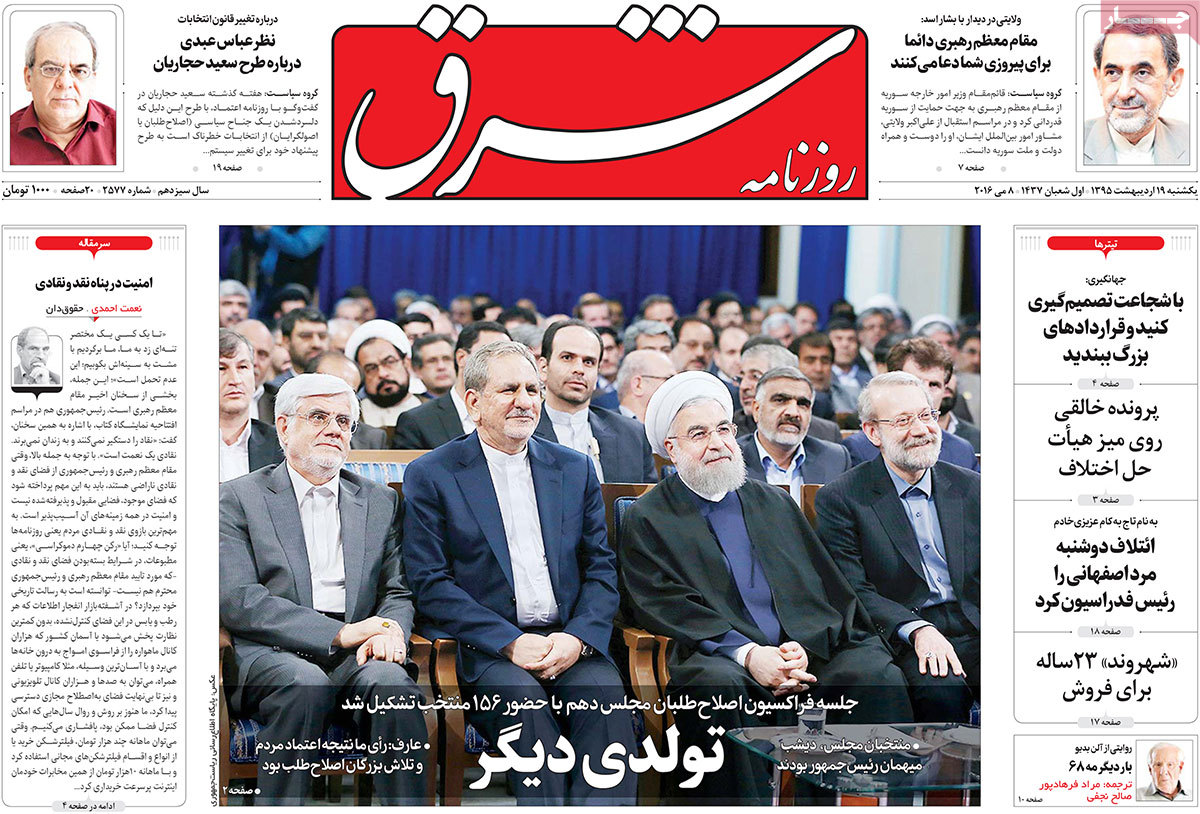 ---
Vatan-e Emrooz:
1- There Is "Hope", But Not That Much: 181 Members-Elect Show Support for Conservatives
2- People Not Feeling Inflation Rate Drop in Their Lives: What's the Real Rate?
3- Cheap War of Rhetoric in US Presidential Elections
4- Germany Sets Preconditions for Expansion of Trade with Iran: Even Angela Wants a Ransom