Iranian President Hassan Rouhani's statements at the opening ceremony of the Tehran International Book Fair, about the necessity for showing tolerance towards criticism and giving freedom and security to authors, were widely covered by Iranian newspapers.
The media also focused on the warning by IRGC's Brigadier General Hossein Salami to block the Strait of Hormuz in the Persian Gulf if the US threatens Iran.
There were also reports on a bill passed by the parliament to tax certain bodies like the custodians of holy shrines and IRGC construction units, which had previously been exempt from taxation.
Abrar:
1- Parliament Approves Plan for Construction Units and Custodians of Holy Shrines to Pay Taxes
2- Queiroz: Brand of National Team Kit Unimportant, They Should Be Standardized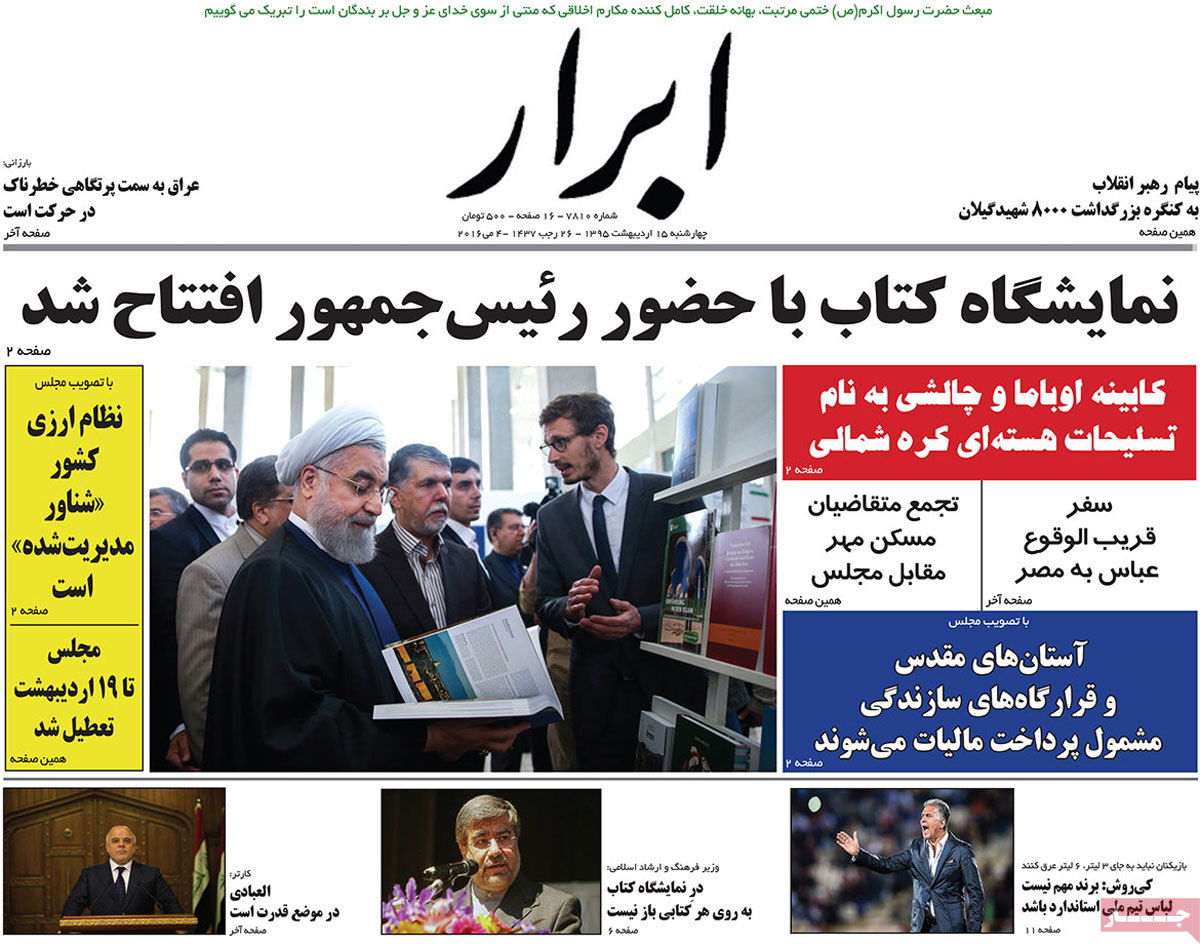 ---
Abrar-e Eqtesadi:
1- Suspicious Bank Accounts to Be Controlled by Gov't
2- Iran's Oil to Be Exported to Europe in 2 Months
3- Giant Iranian Auto-Manufacturer Saipa Signs MoU with South Korea
4- Iran-European Trade Up by 22%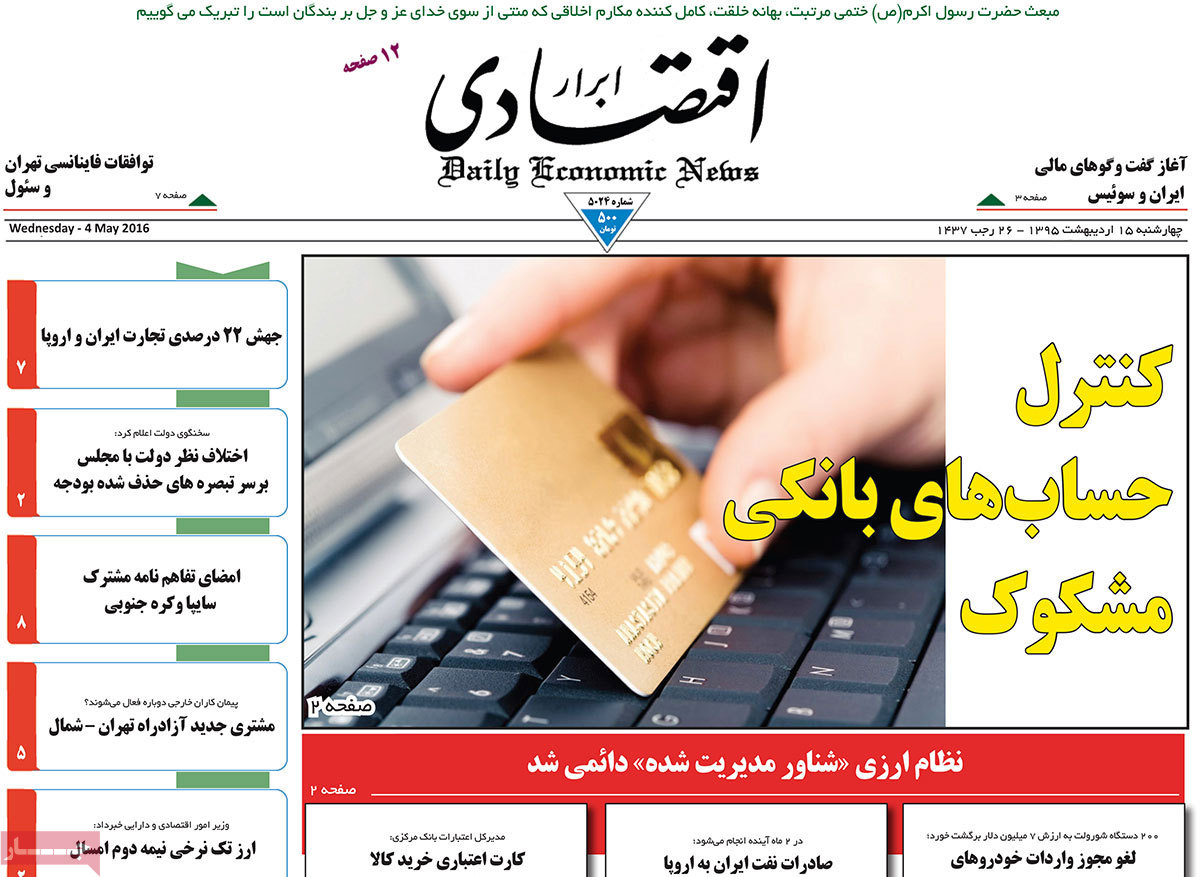 ---
Aftab-e Yazd:
1- Number of Female Drug Addicts Doubled in 6 Years
2- Iran's Destruction under Ahmadinejad Even Worse than Alexander's Invasion
---
Arman-e Emrooz:
1- Critics Should Not Be Arrested and Jailed: Rouhani
2- Blood Sale in Iran Officially Confirmed: Almost $1,500 per Bag
---
Etemad:
1- Tehran Has 1,200 Bookstores but 8,000 Cosmetics Shops: Mayor
2- Senior Reformist Aref: US Congressmen Can Visit Iran without Setting Preconditions
---
Ettela'at:
1- If Not Useful, Leader Would Have Opposed Nuclear Talks: Negotiator
2- Parliament Speaker Larijani: We Should Prepare Grounds for People's Recreation and Happiness
---
Haft-e Sobh:
1- Barefoot Kingdom: Leicester City, the Unknown EPL Champions
2- Godfathers of Robbery in Tehran Arrested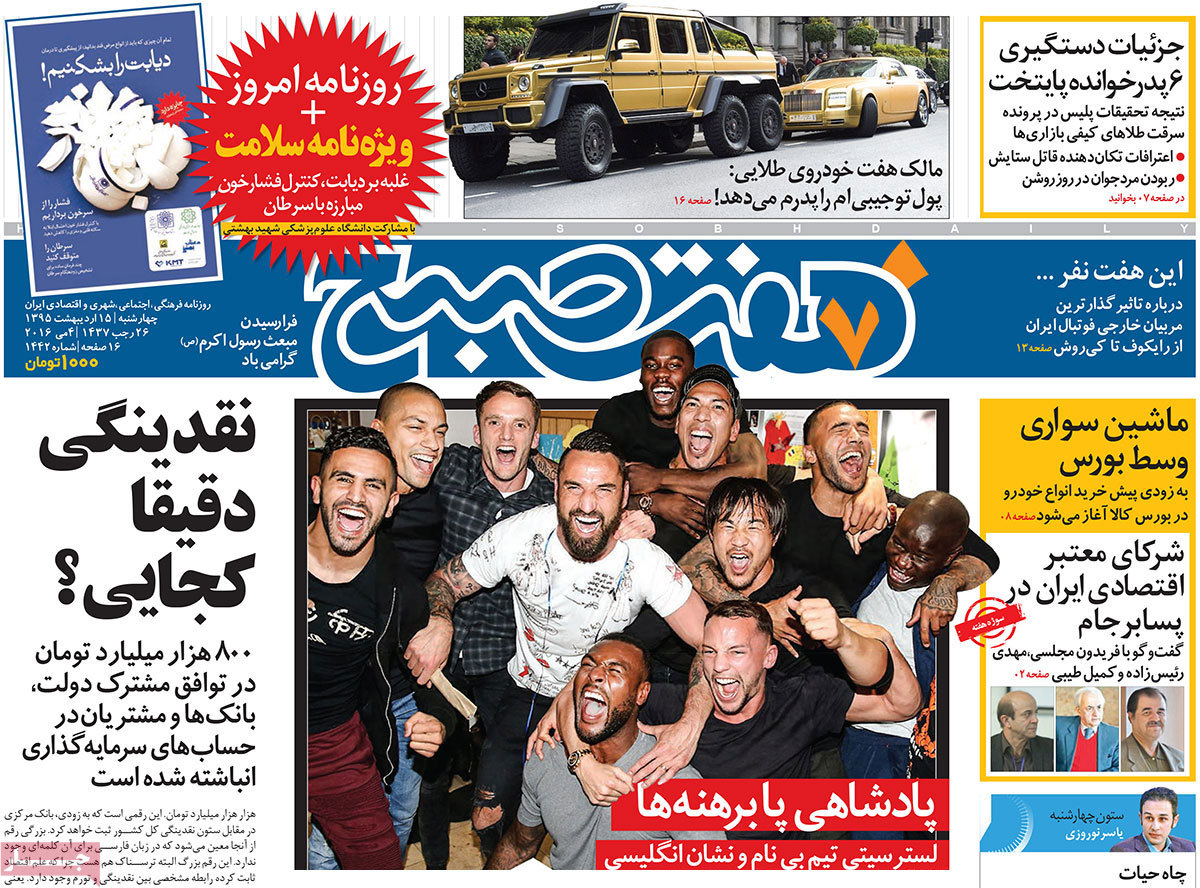 ---
Hemayat:
1- Licence for Import of American Cars Rescinded
2- We Brought Enemies to Their Knees: IRGC Quds Force Commander Gen. Soleimani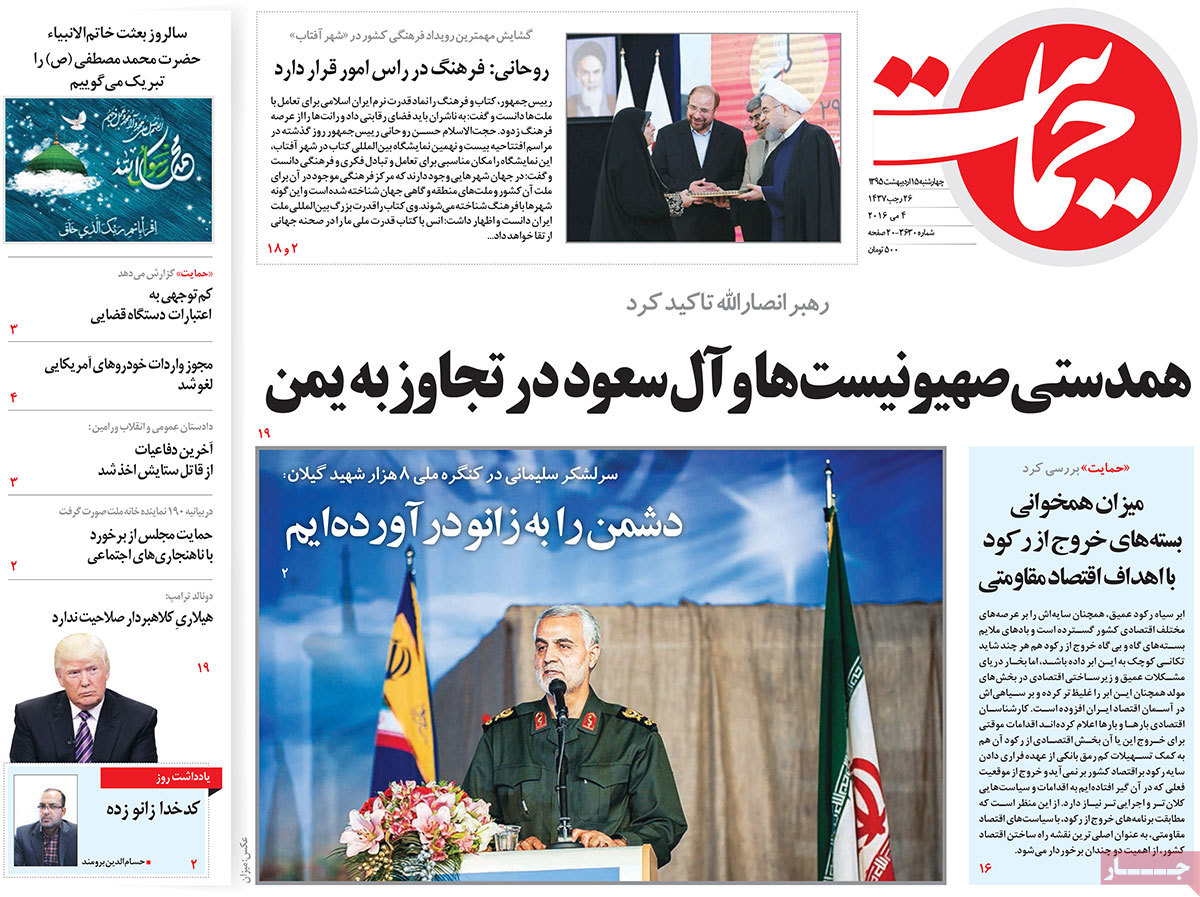 ---
Iran:
1- We Should Guarantee Security and Freedom of Authors: Rouhani
2- Rafsanjani Hails Improvement of Women's Position [in Iran]
---
Javan:
1- If US Threatens Iran, We Will Blockade Straits of Hormuz: IRGC Lieutenant Commander
2- Intelligence Ministry to Deal with Prosecution of Tax Evaders: Tax Organization
3- President Rouhani Insists JCPOA Brings Good Results
---
Jomhouri Eslami:
1- World Now Trusts Islamic Republic of Iran and Its Commitments: President
2- Iran and South Korea Sign MoU on Medicine and Medical Equipment
3- Millions of Pilgrims Visit Iraqi Holy City of Kadhimiya despite ISIS Threat
---
Keyhan:
1- Rouhani Says Life in Iran is Totally Different Before and After Nuclear Deal: Do All Roads End in JCPOA?
2- 190 MPs Support Police's Fight against Social and Ethical Norm-Breaking
3- How Many More Setayeshs Should Fall Victim until Gov't Does Something?
[A piece urging the filtering of social media such as Telegram. The murderer of a 6-year-old Afghan girl, Setayesh, had reportedly watched pornographic clips on Telegram before raping and killing her]
---
Khorasan:
1- Secret behind Transmission of Dangerous Disease from British Girl
2- Freedom of Speech Suspended: 50 Members of Britain's Labour Party Suspended over Anti-Israeli Comments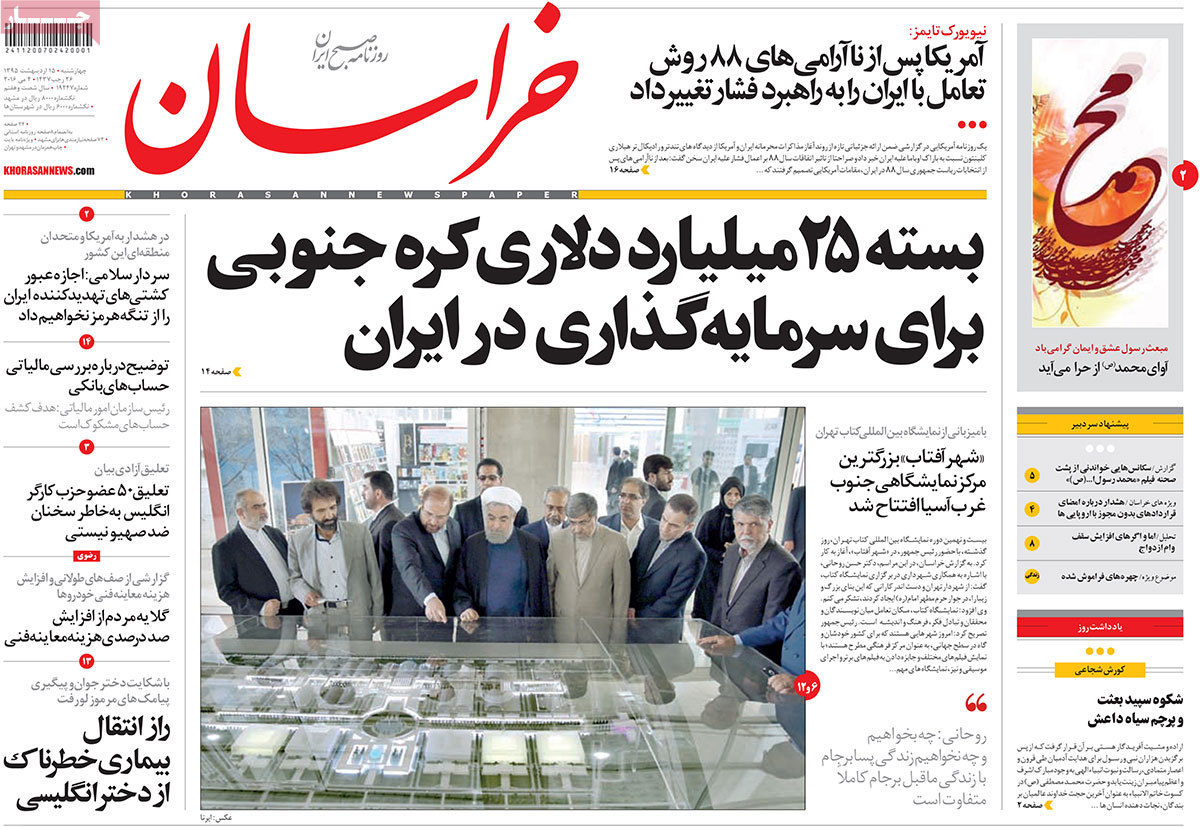 ---
Mardom Salari:
1- Financial and Banking Cooperation, New Opportunity for Iran and Malaysia: Zarif in meeting with Aman
2- Reformists to Form Majority of Next Parliament: Politician
---
Resalat:
1- Maintaining Dignity and Independence is Our Main Priority: General Soleimani
2- Optimism towards US is Strategic Mistake: Iran's Former UN Envoy
3- Need for Global Fight against US Influence: Implications of Leader's Meeting with Korean President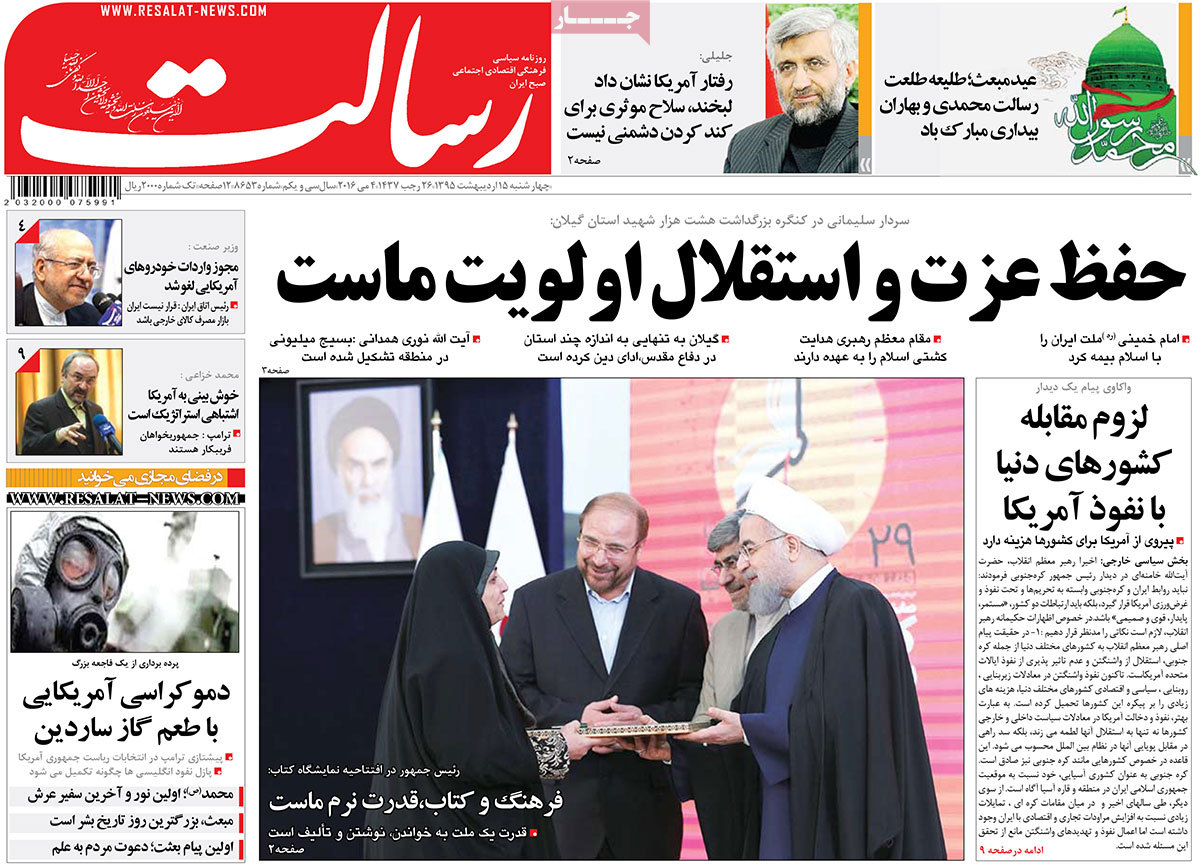 ---
Roozan:
1- Why is Rouhani, unlike Ahmadinejad, against Cabinet Reshuffle?
2- Iranian Teachers to Receive as much as University Lecturers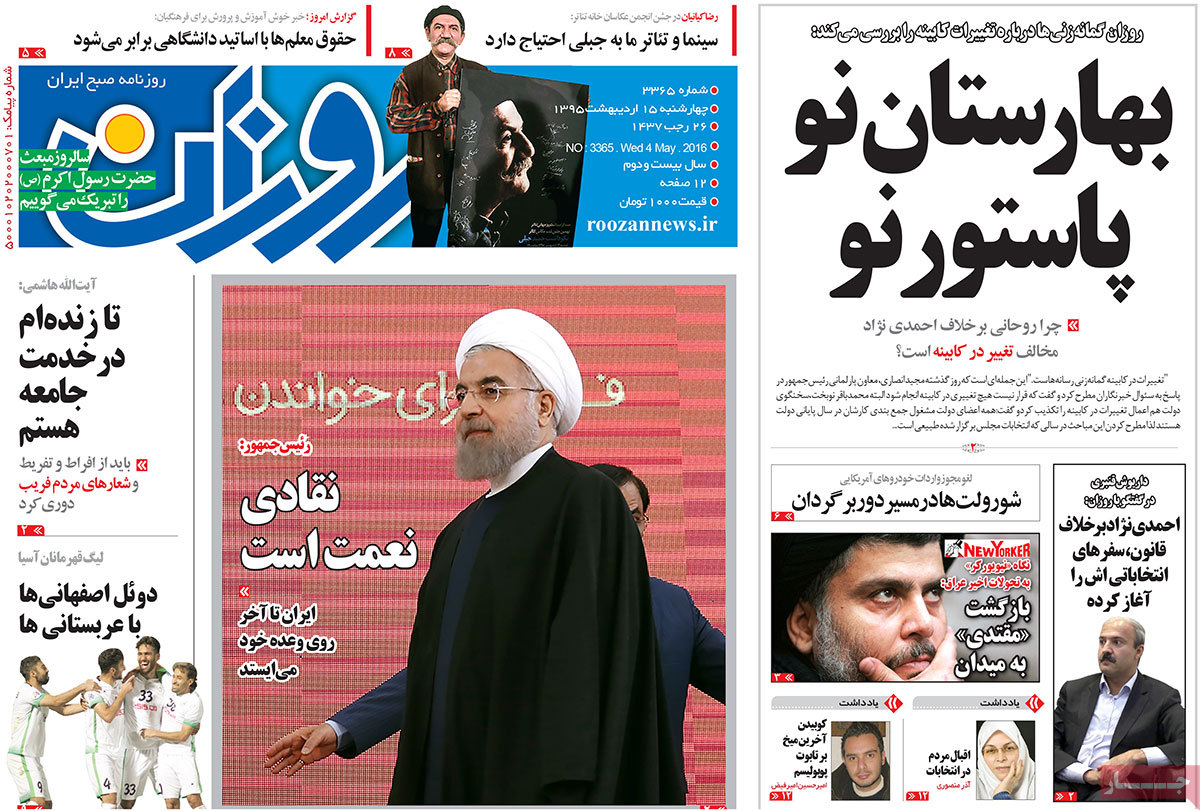 ---
Shahrvand:
1- A Schoolgirl Changed the Rules of Iran's Entrance Exam [Konkour – the university application exam]
2- Asiatic Cheetah Removed from National Team Shirts Based on FIFA Laws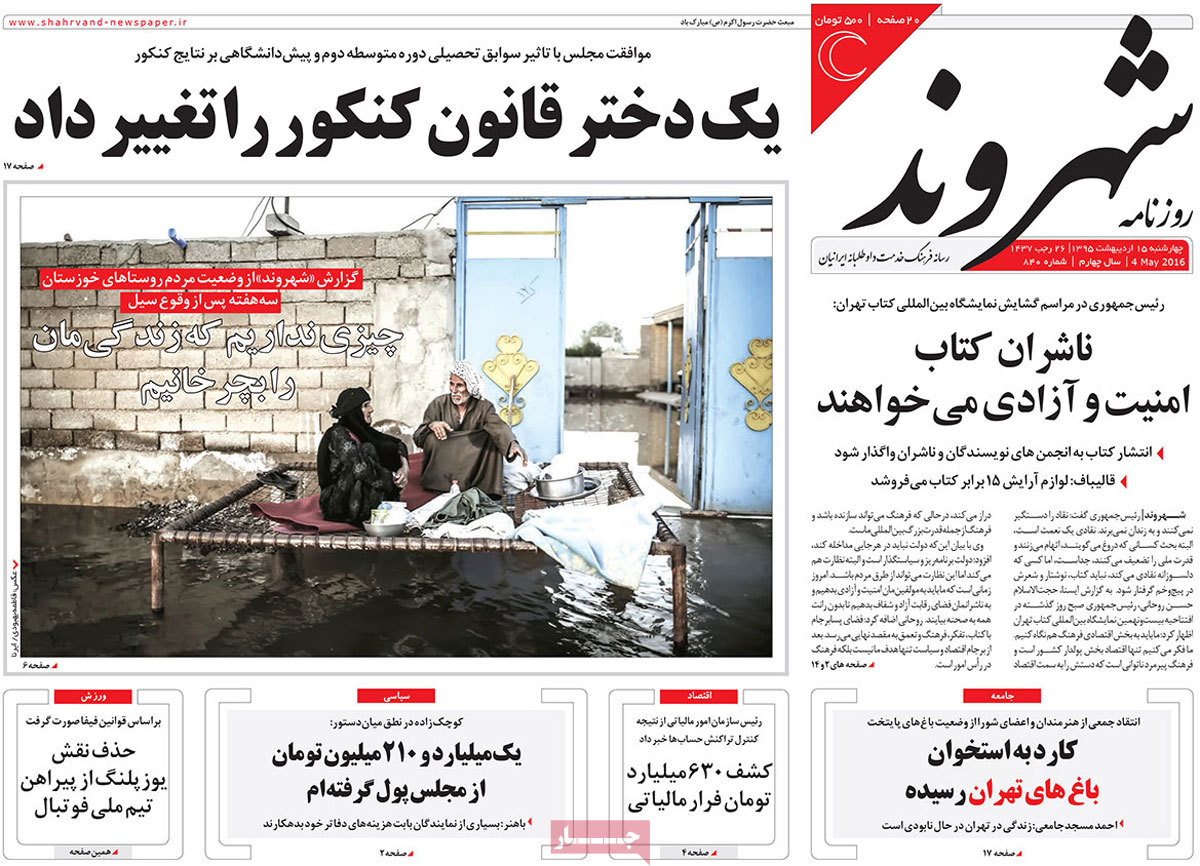 ---
Vaghaye Ettefaghieh:
1- Attack on Saudi Embassy Was a Setback for Iran: Reformist Politician Aref
2- Sound of Iranian Music for Eastern Lady [Iran's National Orchestra's performance for South Korean President in Tehran's Milad Tower]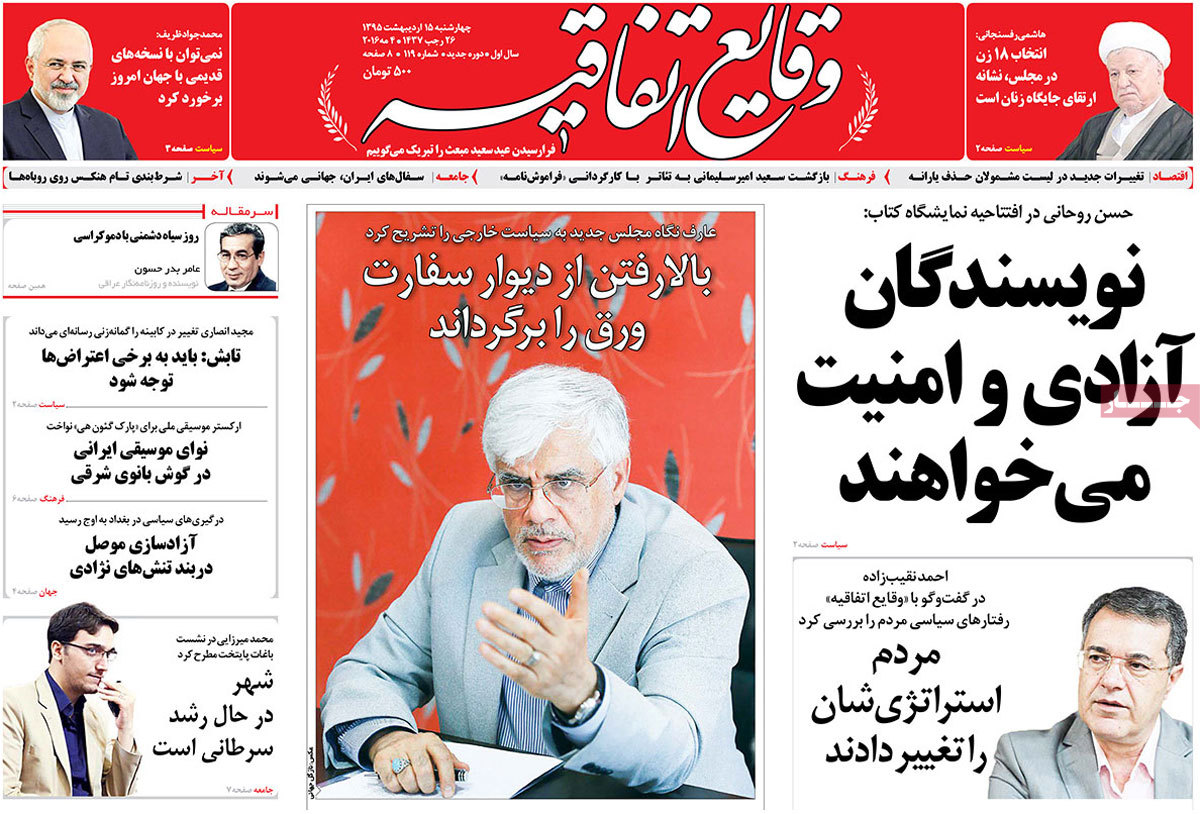 ---
Vatan-e Emrooz:
1- Without JCPOA, Iran Could Have Been Attacked Militarily: VP
2- Will USA's Ford Come to Iran through European Middleman?
3- Flooding in Iran's Southern City of Kerman Kills 2