The cancellation of the Hajj pilgrimage for Iranians this year was a top story in all Monday newspapers. Most headlines blamed Saudi Arabia, while only one of them, Ghanoon, blamed the protesters who attacked the Saudi embassy and increased diplomatic tension.
The Parliament's board of governors elections, and the victory of Ali Larijani also received huge coverage by all newspapers. Headlines talked about a loss for reformists, and the MPs who betrayed Mohammad Reza Aref (the leading reformist who ran for the Parliament presidency but lost to Larijani), as well as discussing many other topics related to the factions of the new Parliament.
The ongoing campaign against ISIS terrorists in Iraq and Syria, particularly the operation to liberate Fallujah, remained a top story on Monday.
Iranian Foreign Minister Mohammad Javad Zarif was also on the front pages of Iranian newspapers, as he started his tour of four European countries, with Poland being his first destination.
Ukrainian Foreign Minister Pavlo Klimkin's visit to Iran and his meetings with President Rouhani and FM Zarif were also highlighted.
Abrar:
1- Tehran Welcomes Expansion of Ties with Kiev: Rouhani
2- Aref Was the First to Congratulate Larijani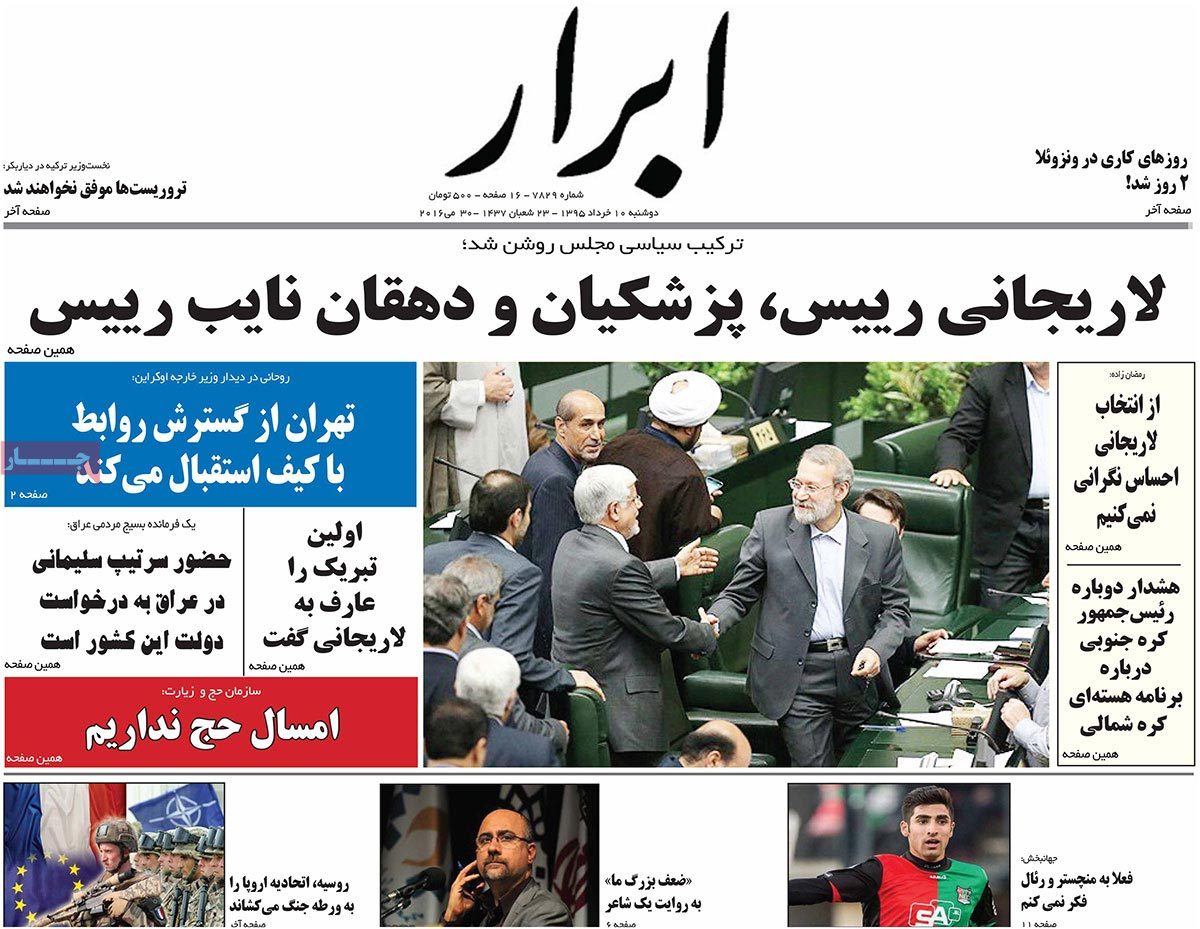 ---
Abrar-e Eqtesadi:
1- New Disease in Iran's Economy: Epidemic of Fake Bankruptcy Declarations
2- Japan Begins Activities in Iran's Oil Industry
3- Iran and Lithuania Sign Economic Cooperation Agreement
4- OFAC Has Yet to Issue Licence for Sale of Planes to Iran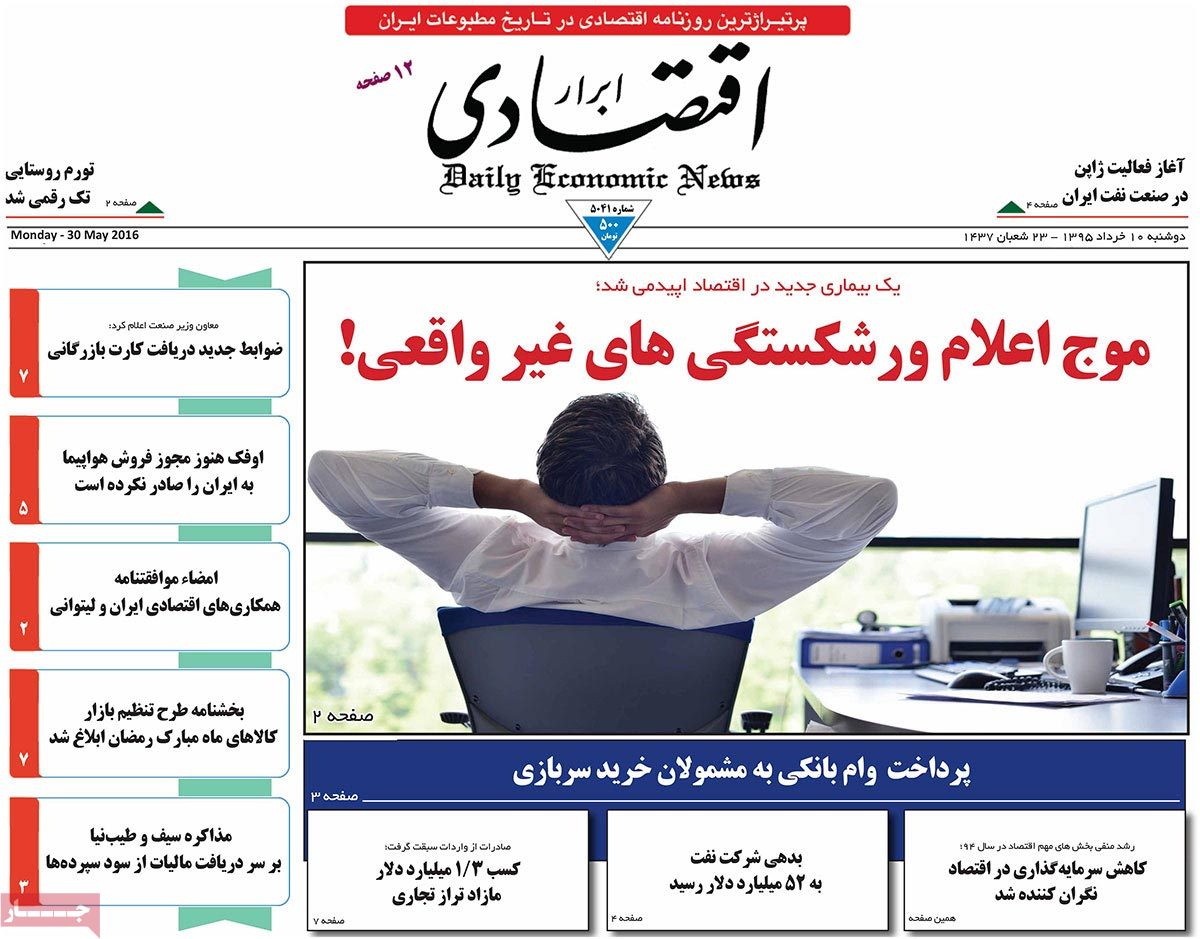 ---
Afkar:
1- Chabahar Most Important Part in Makran Coast Development: First VP
2- Necessity for Tehran-Kiev Cooperation in Fight against Illegal Drugs
3- "Nothing": Share of Newly-Elected MPs in Parliament's Board of Governors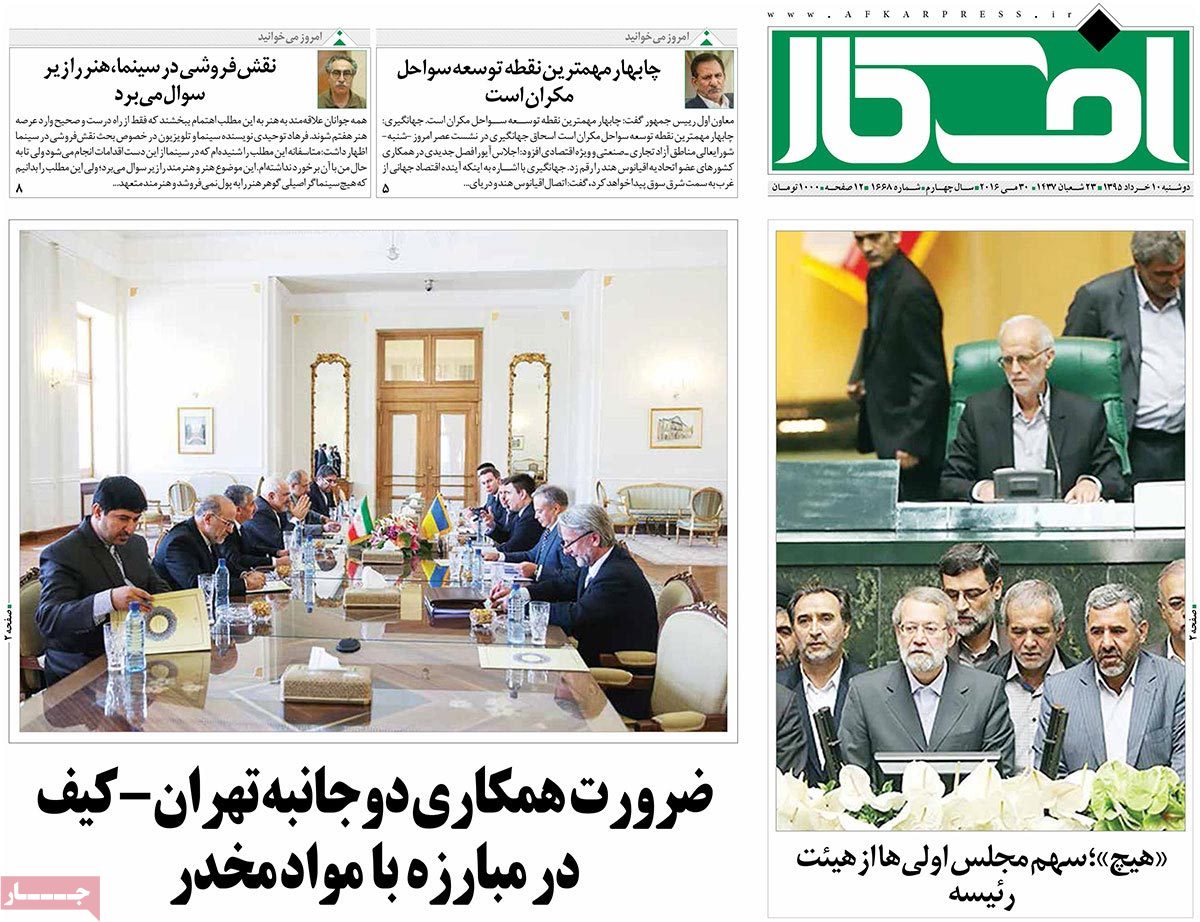 ---
Aftab-e Yazd:
1- Conservatives Voted for a Person They Were Cursing Earlier: Politician
2- Ethics Dead and Buried: 140 MPs Signed Reformist Covenant, Only 103 Voted for Aref
3- Imam Khomeini Relief Foundation Swears to God in Trying to Convince Public Opinion that People's Donated Money Is Not Spent Abroad!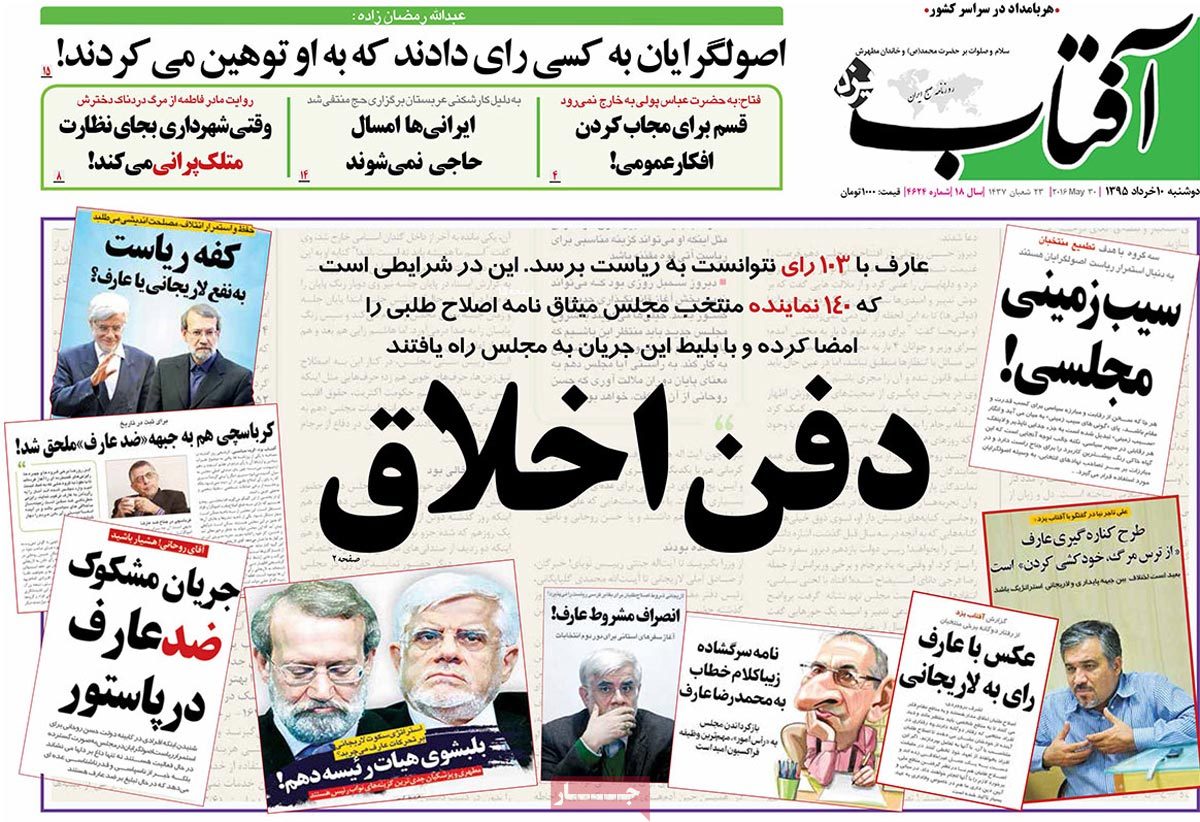 ---
Arman-e Emrooz:
1- Hajj and Pilgrimage Organization: We Won't Have Hajj This Year!
2- Putin to Mediate between Iran and Saudi Arabia
3- Private School Train Iranian Students for Canada and USA!
4- 6 Cases on Ahmadinejad's Performance Sent to Judiciary
5- Parliament's Governing Board Elections Unsurprising: Zibakalam
6- Hossein Fereydoun, Rouhani's Brother, Not Under Arrest
---
Asia:
1- 60 Iranian Businesspeople Accompanying Zarif in Tour of 4 European States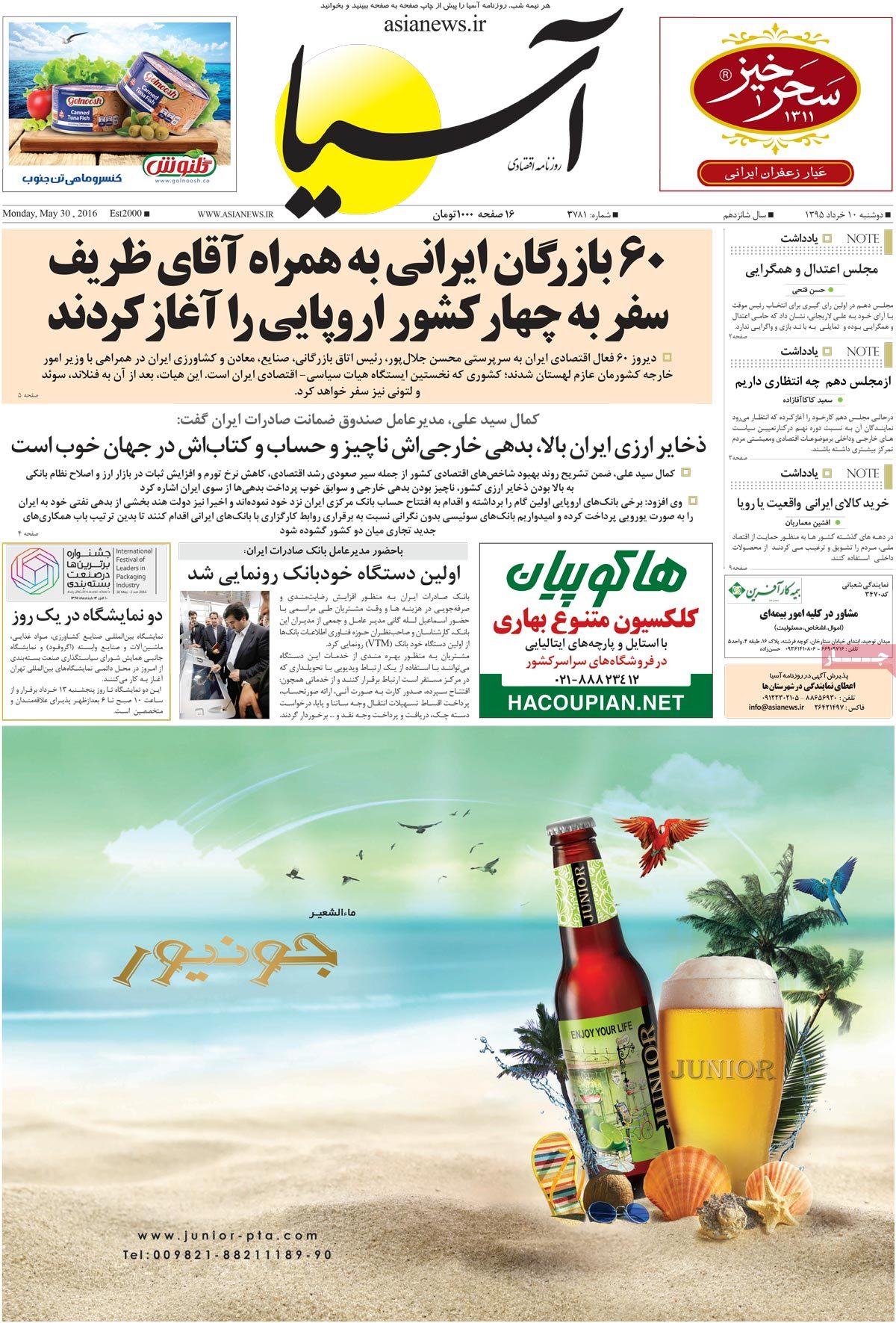 ---
Asrar:
1- No Change in Presidency of Parliament
2- Hajj 2016 Called Off Due to Saudi Arabia's Obstructionism
3- Police to Strongly Counter Armed and Violent Crimes
4- JCPOA Achievements Have Been Extraordinary: Araqchi
5- Terrorist Attempts to Infiltrate Iran Were Doomed to Fail: Rafsanjani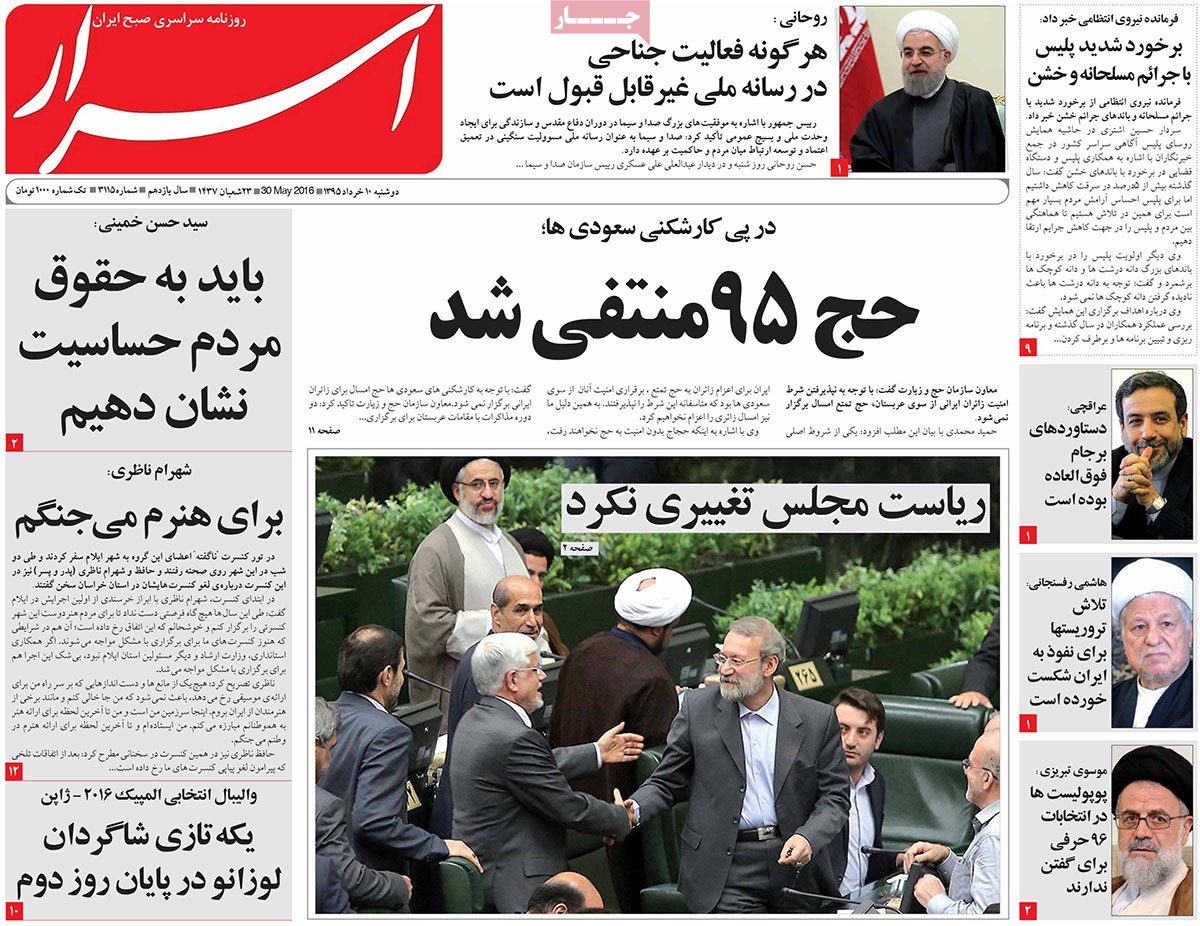 ---
Ebtekar:
1- Global Spread of Terrorism Is Dangerous: Rafsanjani
2- Larijani Wins the "Friendly" Competition
3- Iranians Won't Go on Hajj: Futile End to Tehran-Riyadh Negotiations
4- Is ISIS Going to Collapse? Operations to Liberate Raqqa and Fallujah Rage On
5- Hackers' Attacks Originated in Saudi Arabia: Cyber Police Chief
---
Emtiaz:
1- Germans to Build 10 Hotels in Iran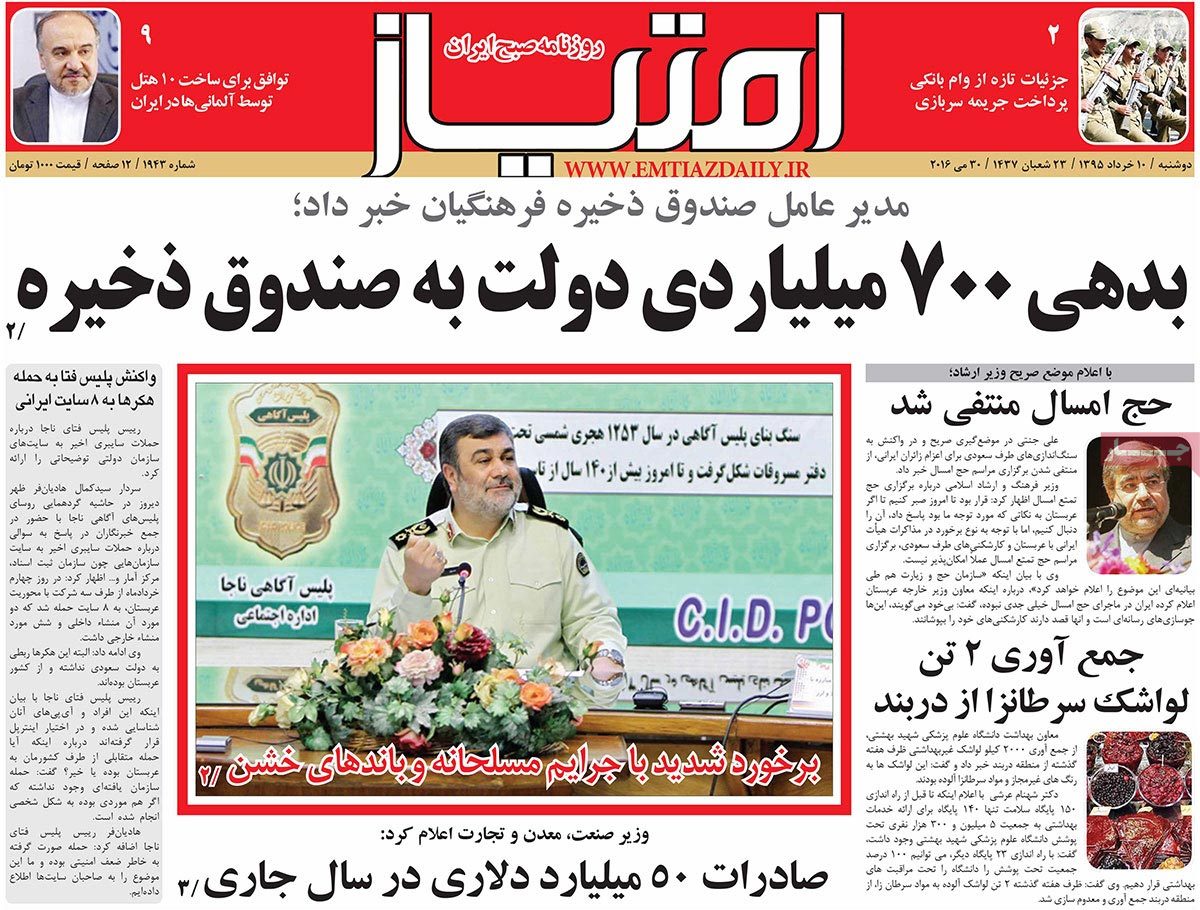 ---
Etemad:
1- 103 Votes for Aref Indicate Promising Future of Reformists in Parliament
2- Reformists Aimed to Remove Radicals from Parliament, and They Achieved It: Karbaschi
3- Prosecutor-General Dismisses Rumours of Rouhani's Brother's Arrest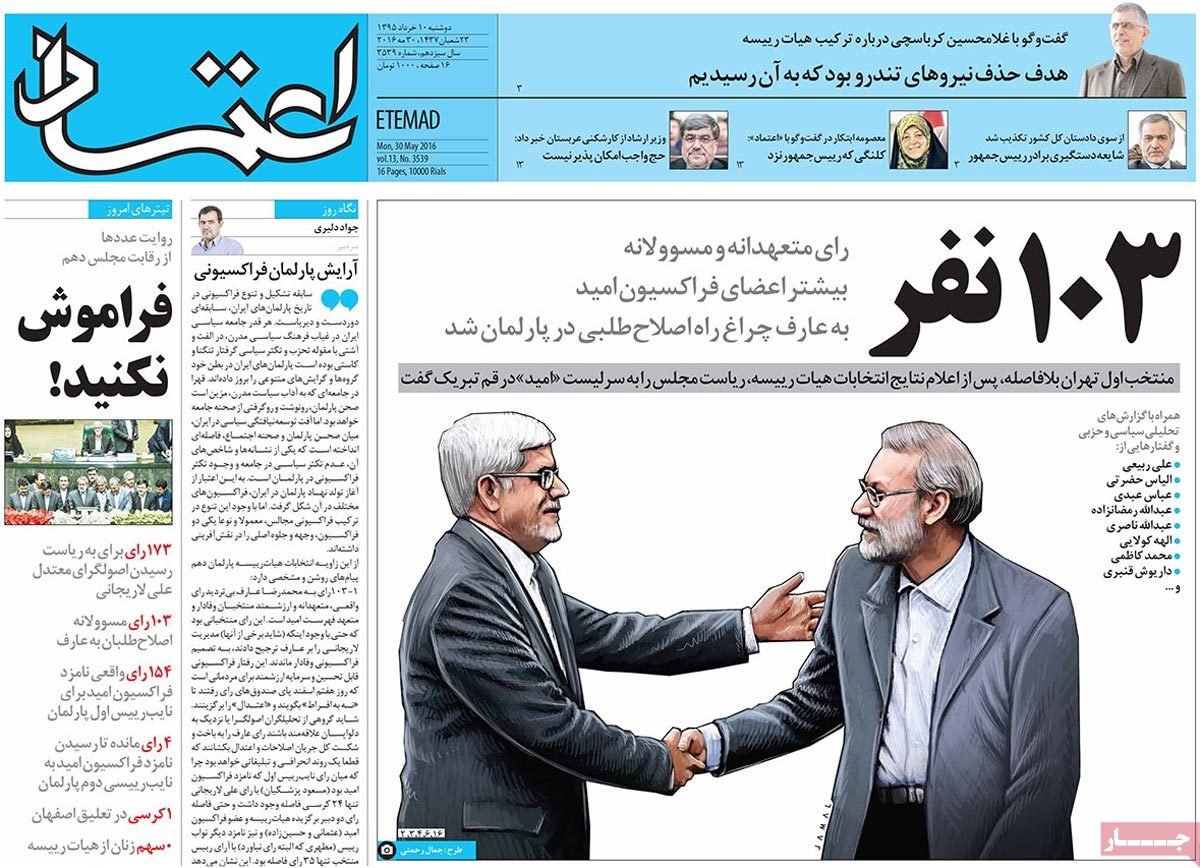 ---
Ettela'at:
1- Hezbollah Once Again Strongly Oppose ISIS's Infiltration into Lebanon
2- Saudi Gov't Opposed Iranians' Hajj Pilgrimage
3- Iraqi Troops at the Gates of Fallujah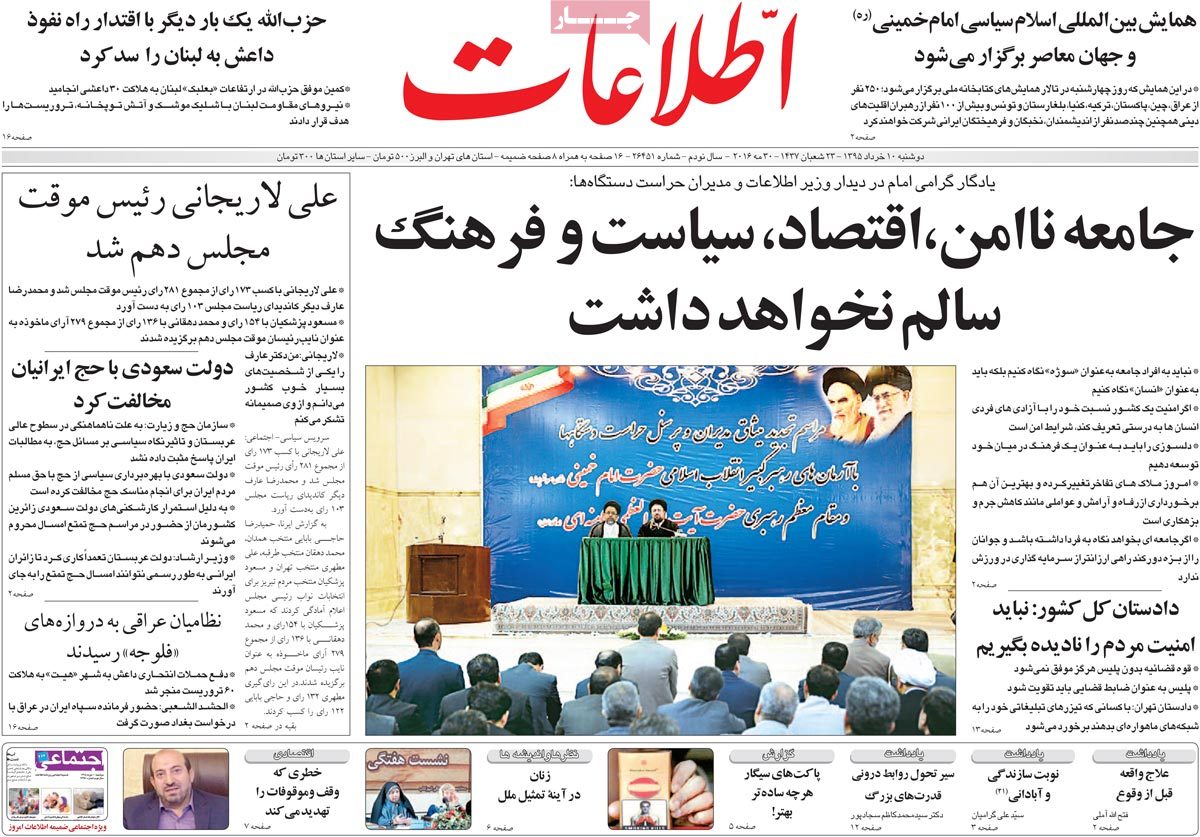 ---
Farhikhtegan:
1- Rouhani Winner of Parliament's Governing Board Elections: Larijani Elected as Speaker for Third Time
2- A Legend in Defence: General Soleimani's Role in Fallujah Battle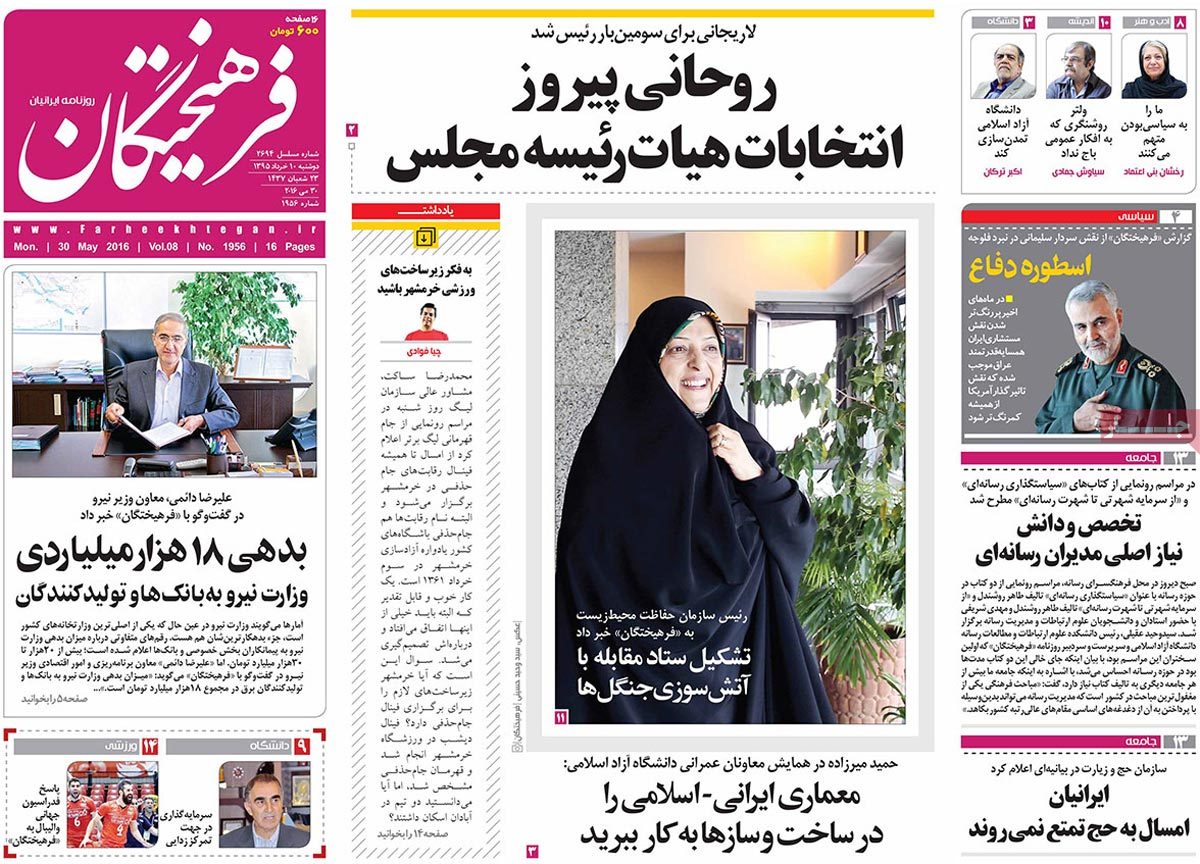 ---
Ghanoon:
1- Epic of the Wilful! A Report on How Hajj Pilgrimage Was Called Off for Iranian Pilgrims
2- France Invites Iran to Cooperate in Nuclear Fusion Project
3- Will We See a Coup in Pakistan Once Again?
4- Parliament of Ethics and Hope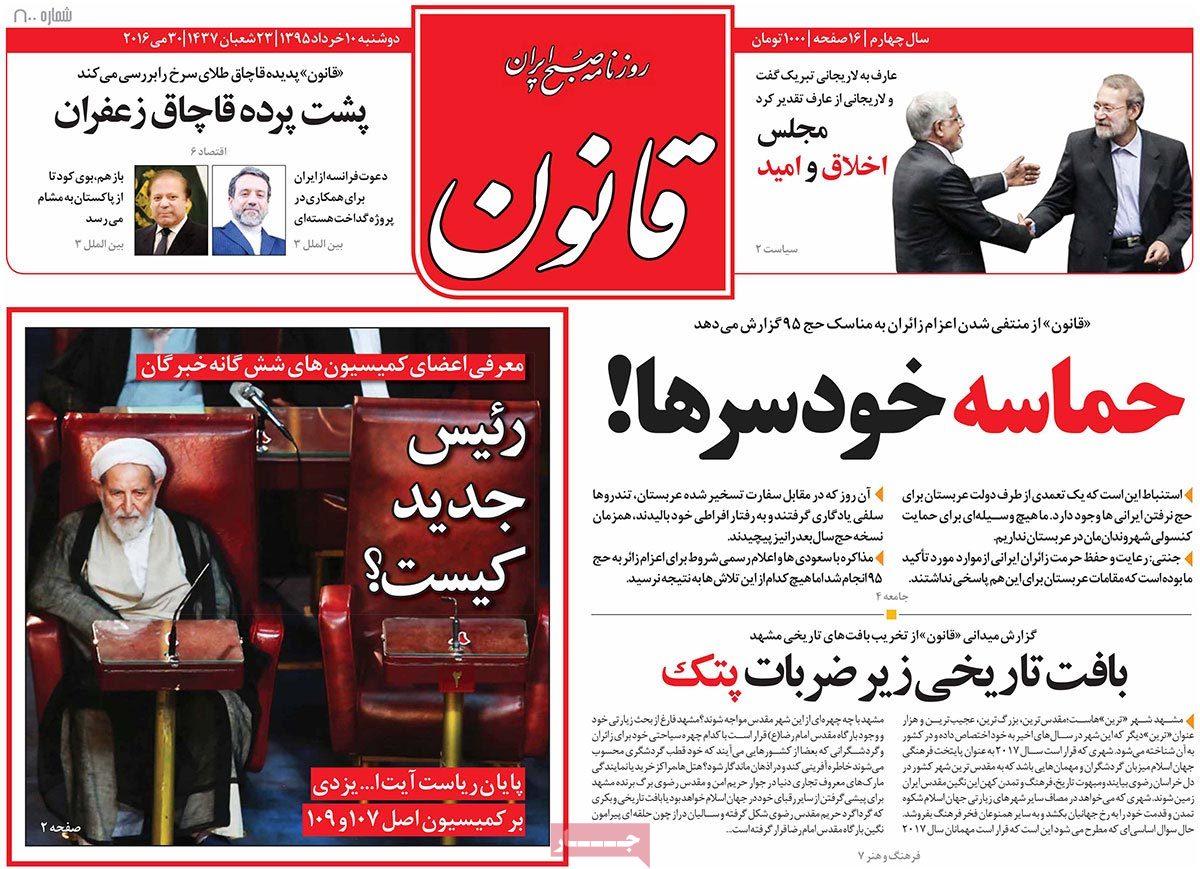 ---
Hemayat:
1- Immigrants Are Not Dangerous; They Are in Danger: Pope
2- Producers of Several Iranian Films Summoned to Court over Advertisements in Satellite Channels
3- Iraqi Army Retakes Euphrates River
---
Iran:
1- 20% Rise in Salaries of Retired Iranians
2- Larijani Re-Elected as Parliament Speaker
3- Sweet Victory in Dreamlike Comeback: Iran's Volleyball Team Beats Canada
---
Jahan-e San'at:
1- Tehran a Utopia for the Unemployed: 26.5% of National Job Opportunities in the Capital
2- Larijani's Speakership Not a Defeat for Faction of Hope: Politician
3- Prosecutor-General: We're Not Opposed to People's Happiness
4- 99% of Lifts in Government Buildings Are Not Up to Standard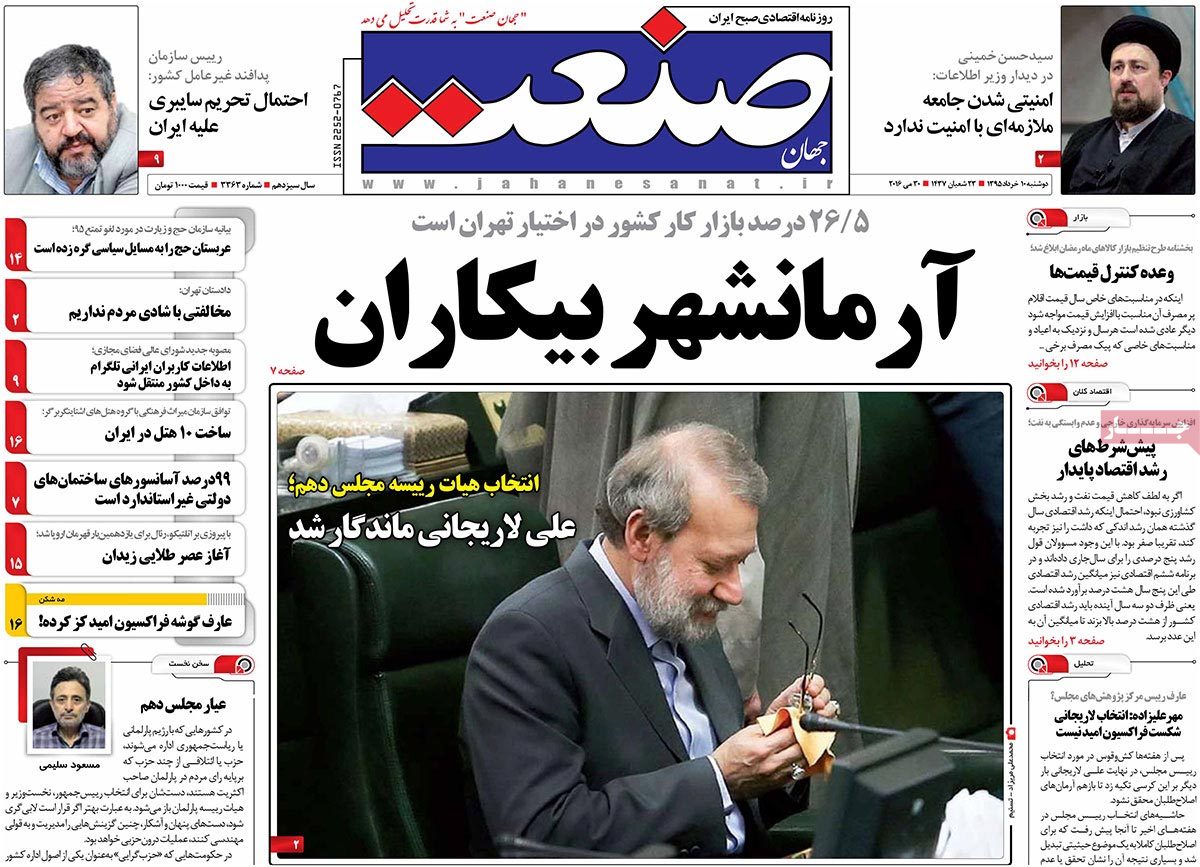 ---
Jame Jam:
1- Iran Says No to "Saudi" Version of Hajj Pilgrimage
2- Partisan Wars to Liberate Fallujah
3- Spanish-Speaking People Hail IRIB's Hispan TV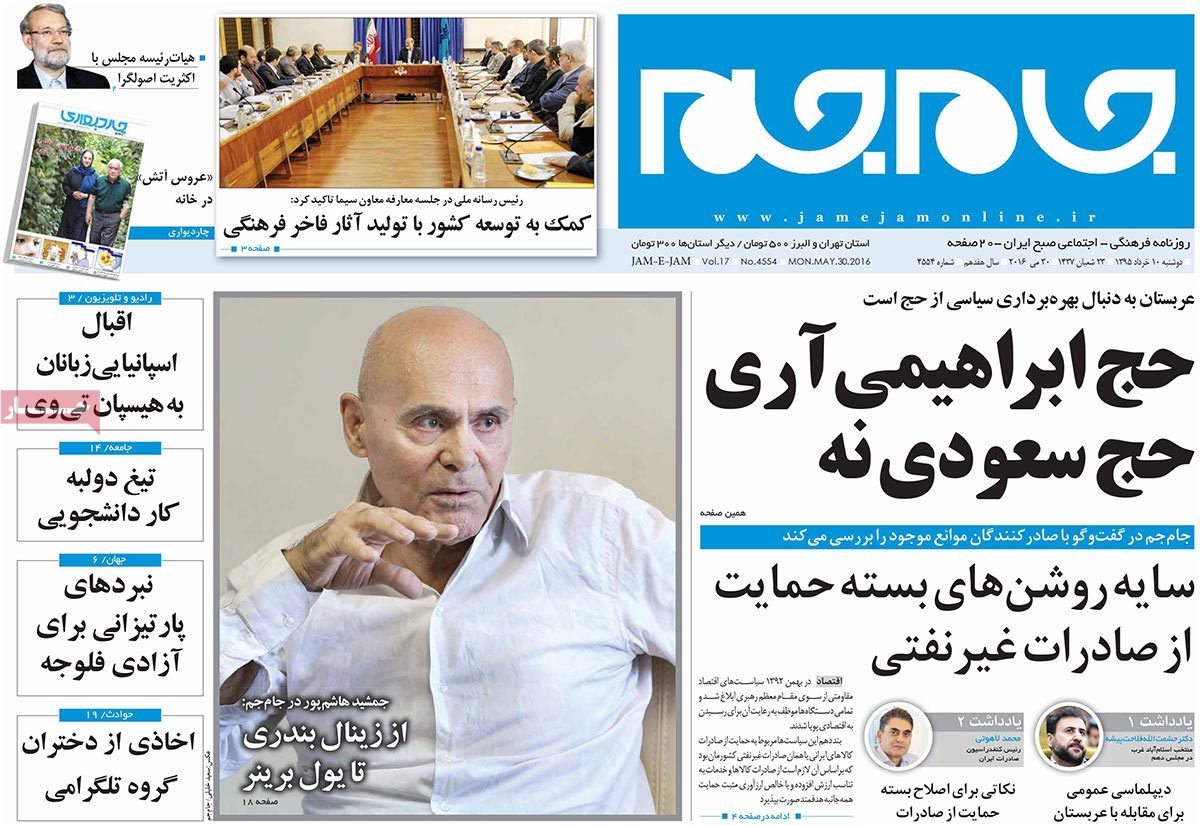 ---
Javan:
1- Bubble Bursts for "Reformists Hold Parliamentary Majority"
2- Reformists Control Members of "Hope Faction" Like Undercover Police! Members Said to Be Coerced as They Voted for Aref or Not
3- Iranians' Hajj Called Off until It Is Held in Abrahamic Style
4- Cannes' Paradoxical Behaviour towards Asghar Farhadi's Films: Le Passe Ignored, The Salesman Hailed; Poverty and Prostitution Welcomed
5- US Trying to Disrupt Liberation of Fallujah
6- Troubles of Nawaz Sharif in Third Term as Pakistan's PM
7- Killing of Refugees in Europe: UN Says 700 Refugees Likely to Have Drowned in Mediterranean Sea Last Week
8- 1-Year Ultimatum to Telegram to Transfer Its Data to Iran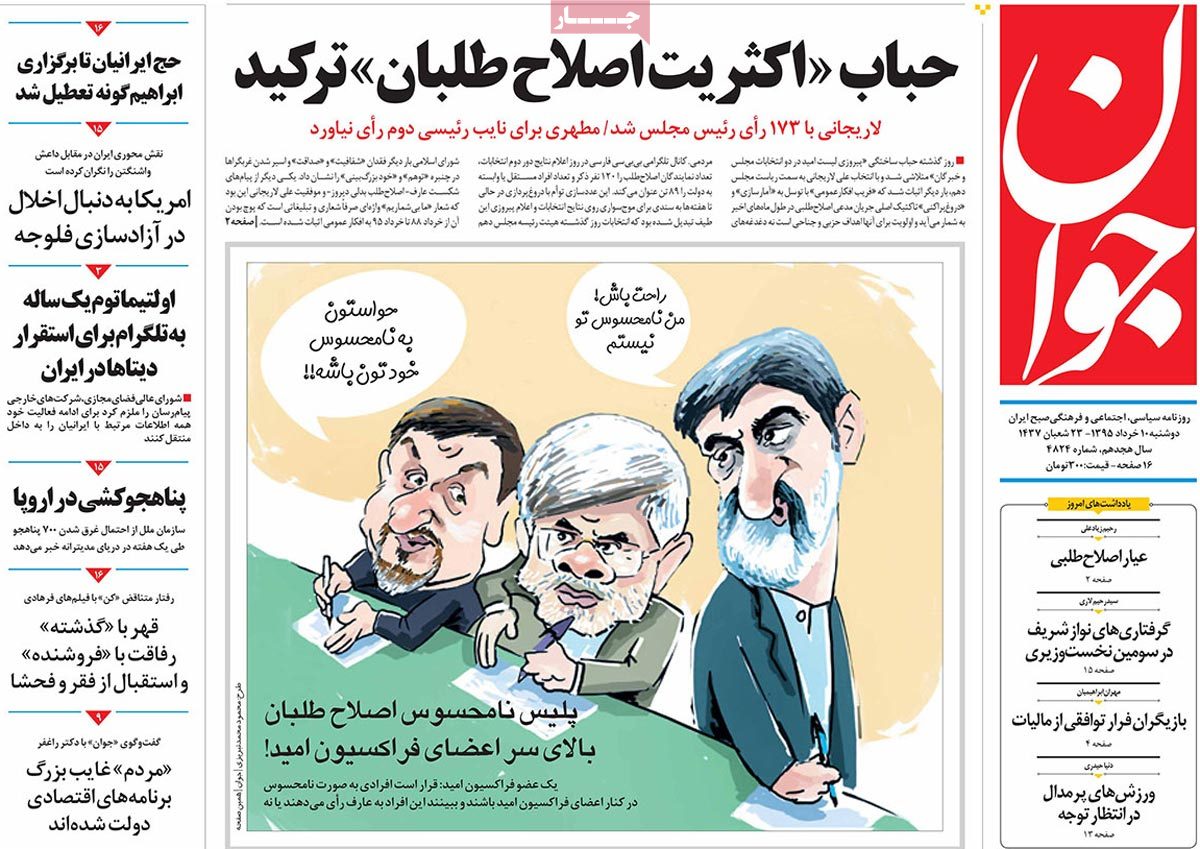 ---
Jomhouri Eslami:
1- Saudi Regime Deprives Iranians of Hajj Pilgrimage
2- Today's Terrorism Result of Seeds Planted by Saudis: New York Times
3- Britain to Sell £3bn of Arms to Oppressive Governments
4- JCPOA Removed Obstacles to Int'l Scientific Cooperation: Araqchi
5- JCPOA Implementation a Beginning for Evolution in Global Ties with Iran: Rafsanjani
6- Iran Targeting $50bn of Non-Oil Exports for This Year: Minister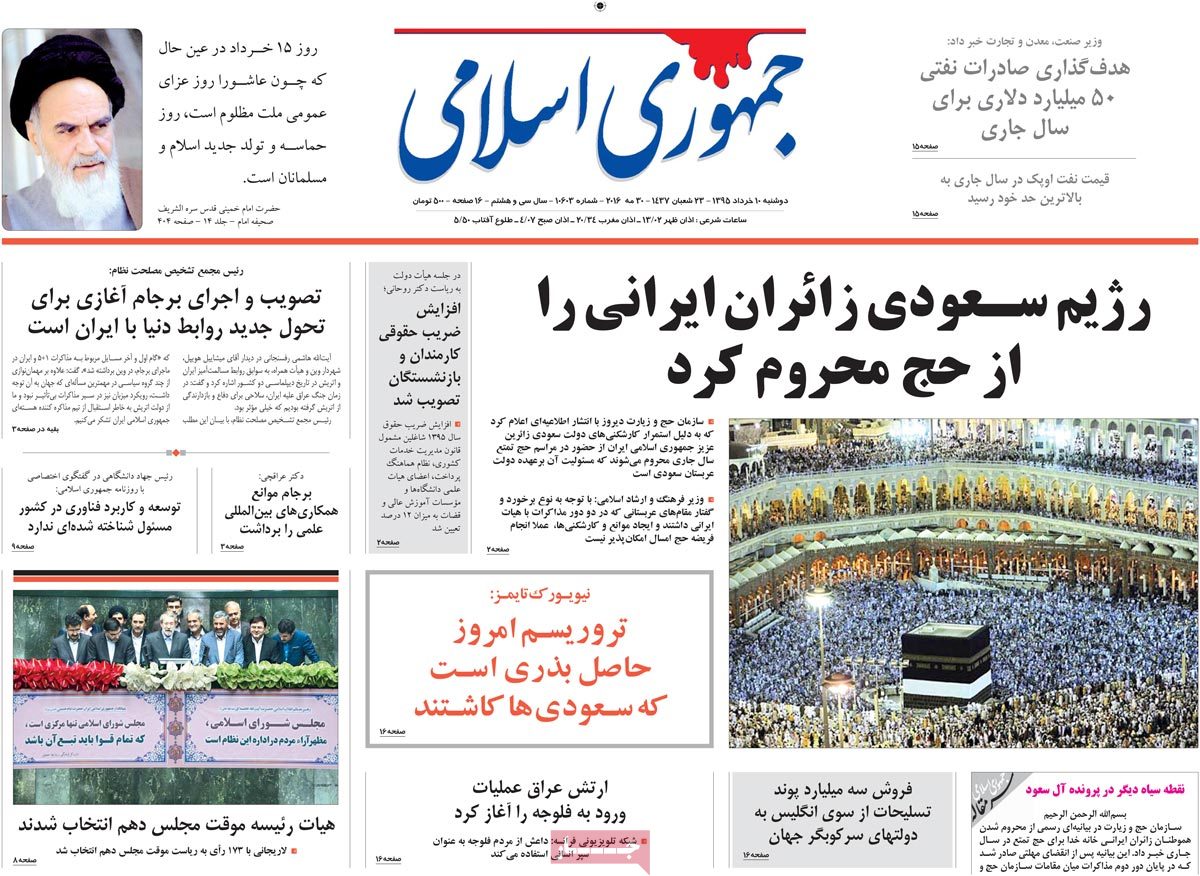 ---
Kayhan:
1- Achievement of "Hope" in Parliament Was "Almost Nothing"!
2- Brussels Getting Prepared for an EU without Britain
3- Pakistan's Sunni Cleric: Saudi Arabia Don't Deserve to Run Hajj Pilgrimage
4- Cannes 2016: Custom-Made Movies + Dollars of Qatari Emir
5- Victory of Moderates in Iran's Elections Was an Illusion: US Foreign Relations Council
---
Resalat:
1- Larijani's Presidency Shows Who Has the Majority and Who the Minority: Conservative Politician
2- Reformists and Pro-Gov't MPs Were Defeated in Elections: Analyst
3- US Worried about Iran's Role in Liberation of Fallujah
4- Senate Paves the Way for FBI to Officially Spy on American Citizens
---
Roozan:
1- Victory of "List of Hope" Supporter in Parliamentary Presidency Elections: Write Larijani, Read Aref
2- 4-Year [Rather than 8-Year] Gov't, Dream of Opponents, Nightmare of Supporters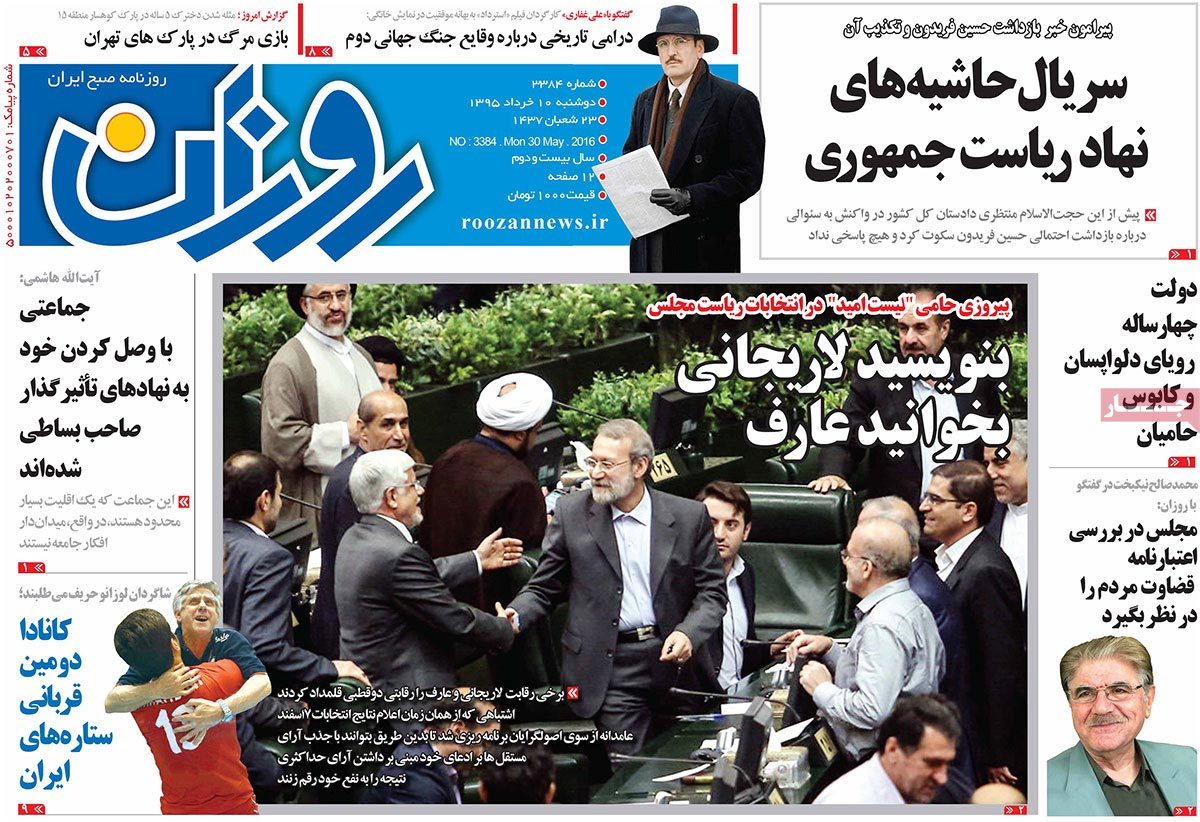 ---
Sepid:
1- 150 Prominent Experts Urge Rio Olympics Cancellation: WHO Sees No Reason for It
2- Ebtekar: Iran Is Pioneer in Fight against Dust Pollution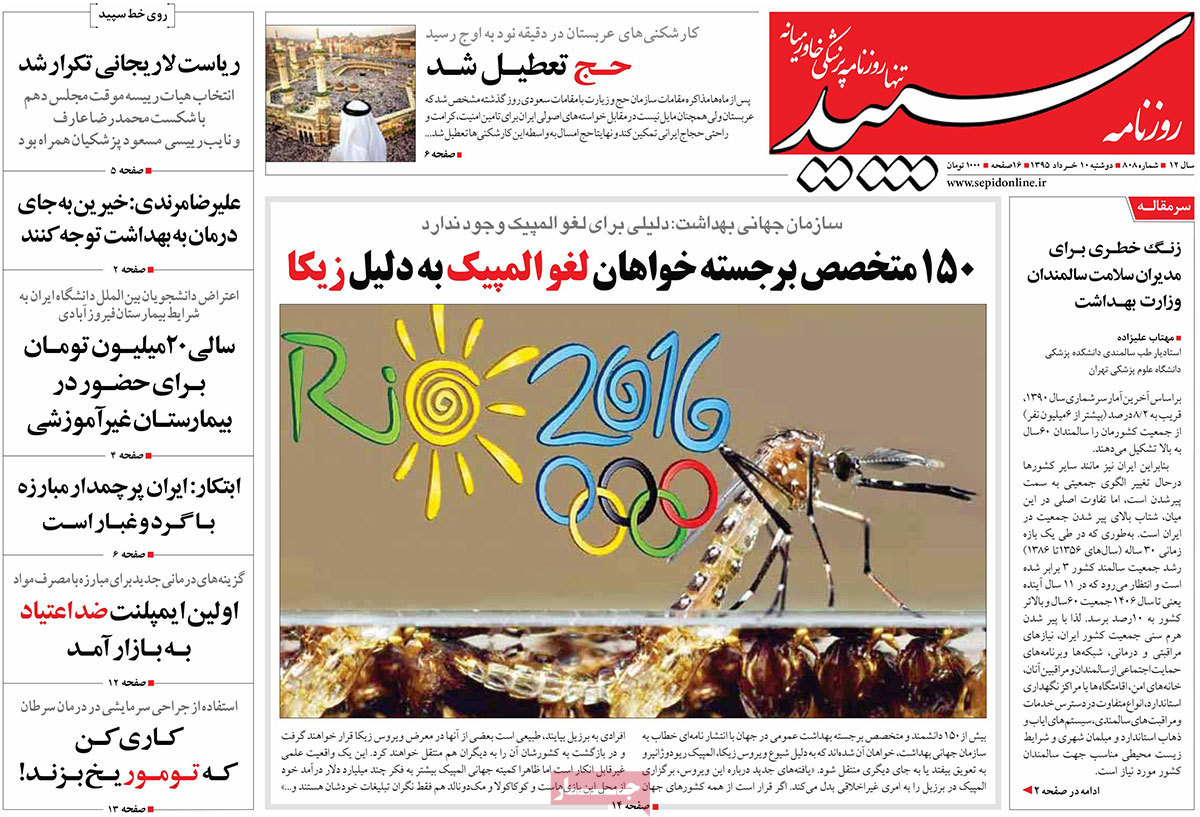 ---
Shahrvand:
1- Aref Shakes Hand of Friendship with Larijani
2- Iran, Shelter of Second-Class Foreign Football Players: Why do Xavi, Raul, or Del Piero Prefer Qatar, China, and India to Iran?
---
Shargh:
1- Rouhani Has a Rival, But It's Not Ahmadinejad: Bahonar
2- Stability and Peace in Eastern Europe Important to Iran: Rouhani
3- Reformists Remained Reformist: Larijani Appreciates Aref, Aref Supports Larijani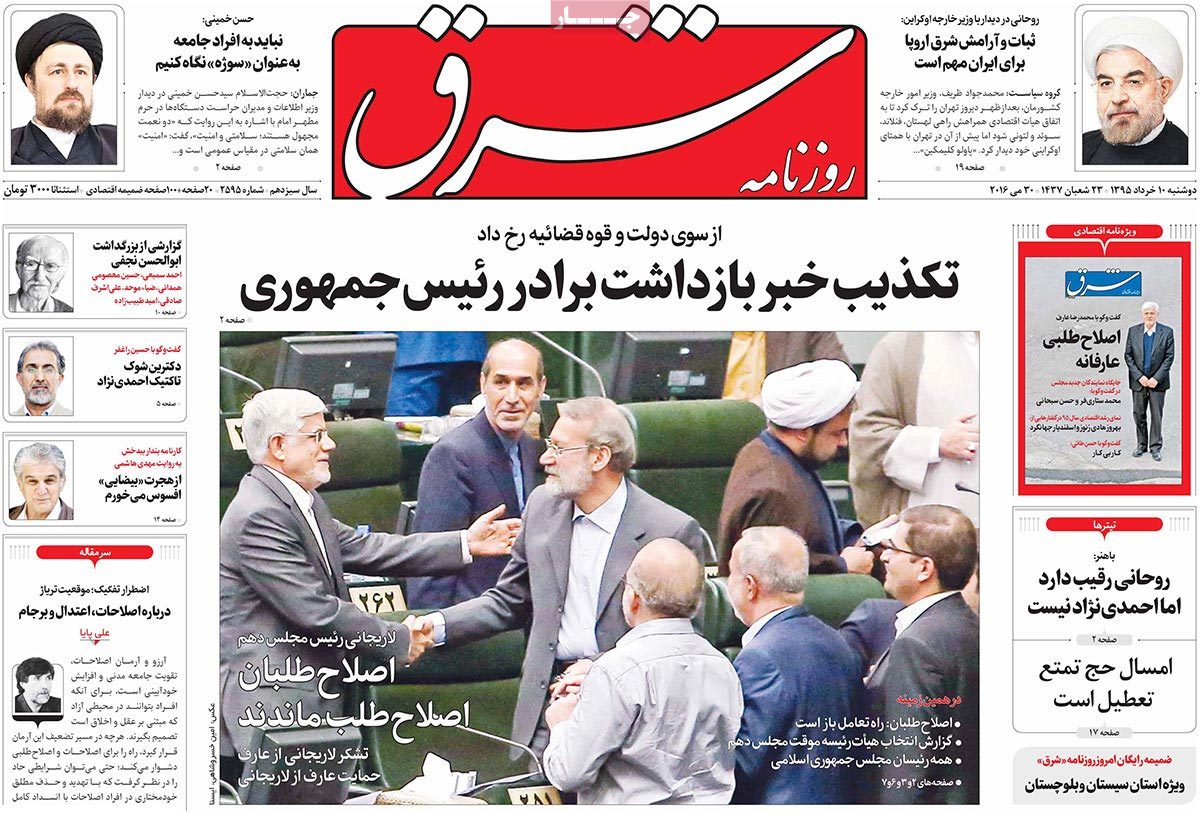 ---
Shorou:
1- Al Saud's Obstacle for Iranian Pilgrims
---
Siasat-e Rooz:
1- Al Saud [Family] Don't Deserve to Host Hajj Pilgrims: People, Clerics, and Authorities Didn't Accept Saudi Arabia's Cruel Provisions
2- I Say It Again: Please Don't Justify [Your Defeat], Men! [on Larijani's victory over reformists]
3- Boycott of Israel: Several European Countries Express Solidarity with Anti-Zionist Campaign
4- London Committed to Increased Slaughter [on British FM's visit to Saudi Arabia]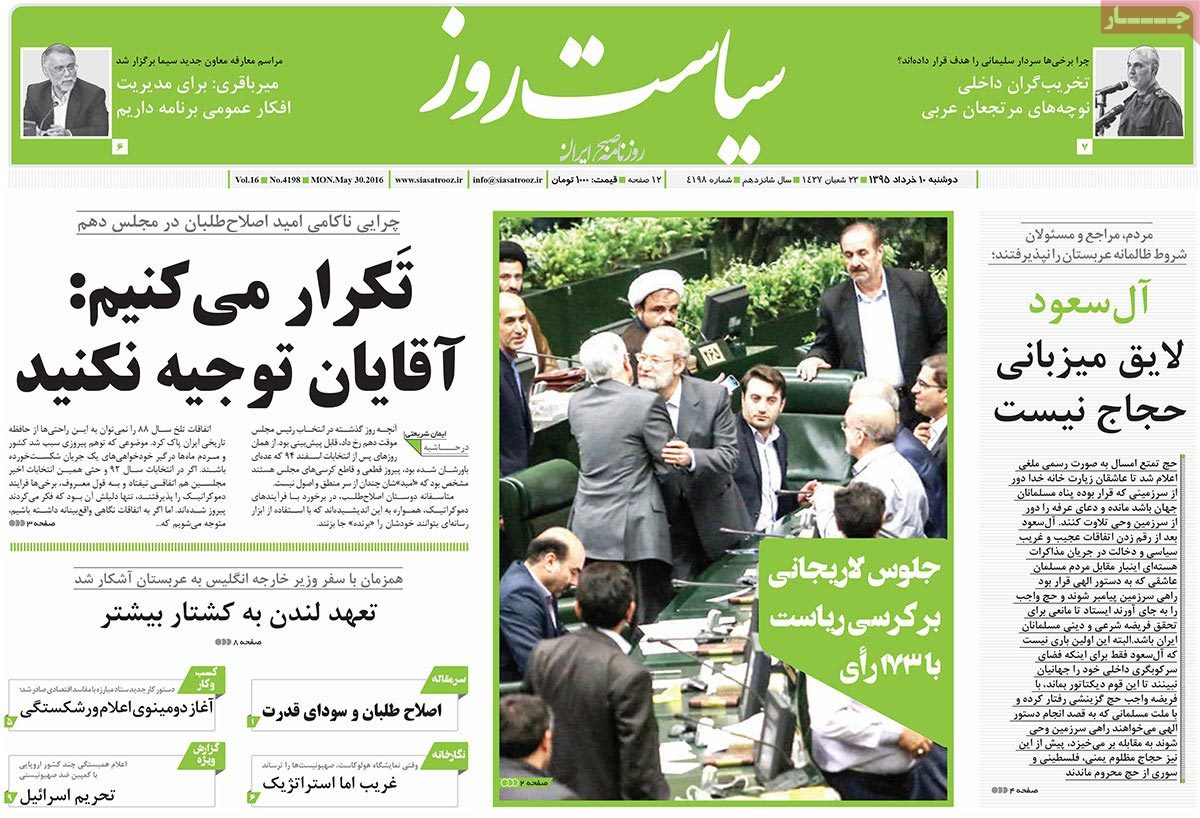 ---
Sobh-e Now:
1- Obama's Fifth Letter to Iran: Continued Appeals for Iran's Cooperation in Resolving Global Problems
2- Larijani's Smile: Female MP Started Her Speech "In the Name of the God of Rainbow" [The photo shows Larijani's reaction to the expression used by Sakineh Almasi]
---
Vaghaye Ettefaghieh:
1- Accusations Levelled at Iran's Nuclear Negotiating Team Have Frustrated Zarif: Mousavian
2- Aref Didn't Become the Speaker; He Became the Winner
3- Turkish People Afraid of Erdogan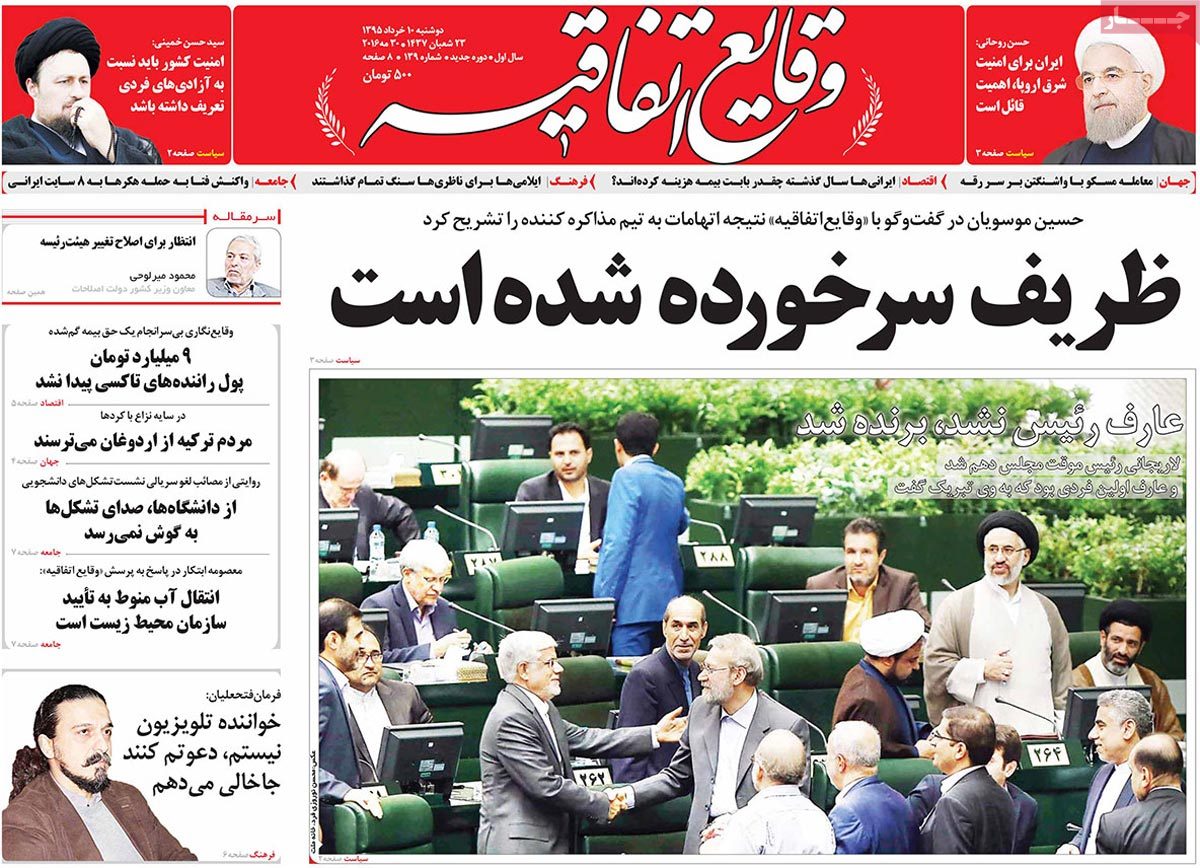 ---
Vatan-e Emrooz:
1- Second Step! Repeated Defeat of Reformists, This Time in Parliament's Governing Board Elections
2- Saudi Hacker on Interpol Wanted List
3- Fuel Crisis Continues in France
4- Route to Hajj Blocked by Saudi Arabia's Obstacles