Almost all newspapers on Sunday focused their attention on the opening of Iran's new Parliament, and the election of its Speaker, which was planned to take place on Sunday.
The message of the Leader of the Islamic Revolution, Ayatollah Seyyed Ali Khamenei, to the new Parliament, and the special guests at the opening ceremony on Saturday also received great coverage.
Abrar:
1- Zarif's Tour of European States to Begin Today
2- Iran and India Wrap Up Joint Navy Drills in Persian Gulf
3- Iran's 10th Parliament Opens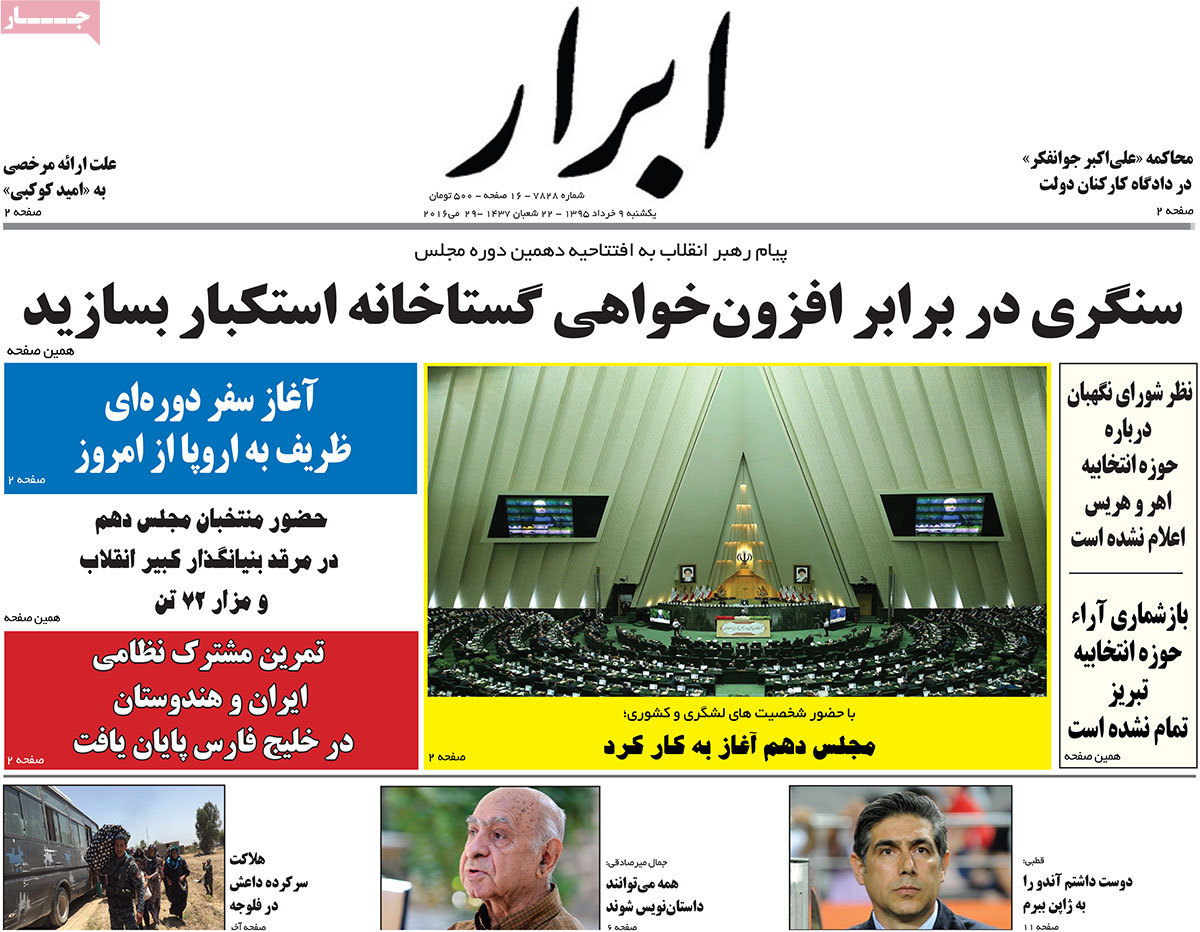 ---
Abrar-e Eqtesadi:
1- Iran and China to Expand Bilateral Ties
2- Italian Banks Begin Cooperation with Iranian Businesses
3- 20-Year-Old European Wagons to Renovate Iran's Railway Fleet!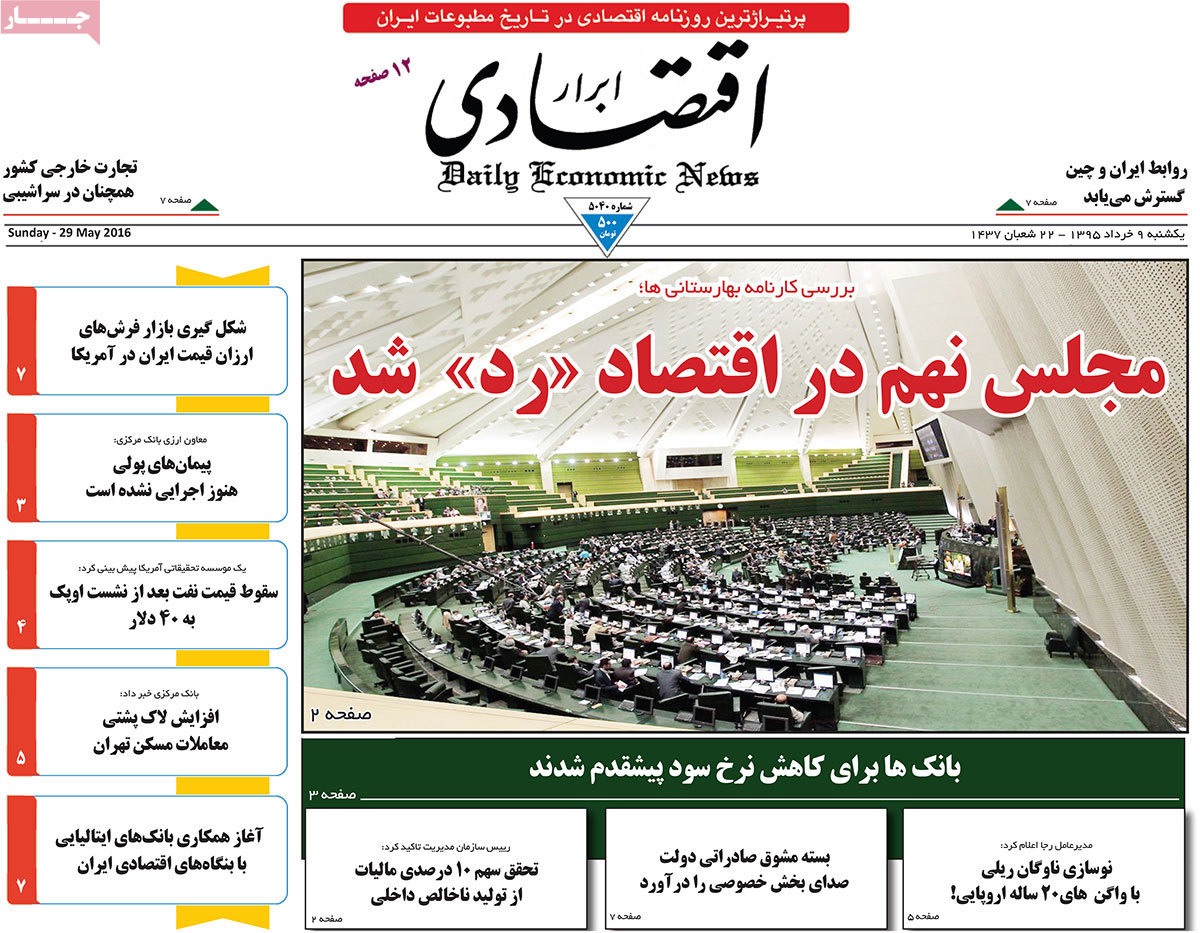 ---
Aftab-e Yazd:
1- Increased Fatality Rate from Age 18 to 35
2- Hope for IRIB: New Chief Held Meeting with President Rouhani
3- End of Frustrating Days in Parliament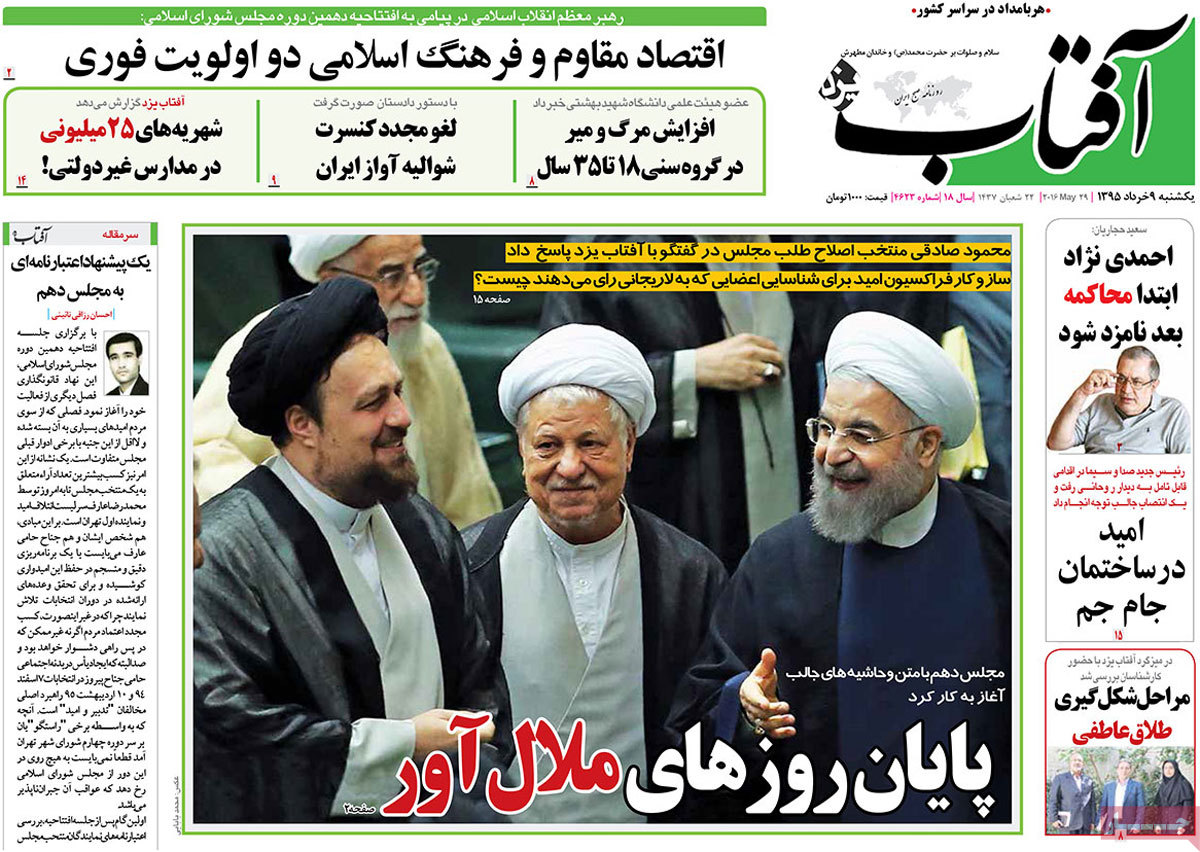 ---
Arman-e Emrooz:
1- Rouhani Urges Parliament to Control Wilfulness
2- Ahmadinejad Should Be Put on Trial before Running for Presidency: Reformist Figure
3- Conservatives Turn to General Soleimani
4- Leader Calls on MPs to Build Stronghold against Excessive Insolent Hegemonic Demands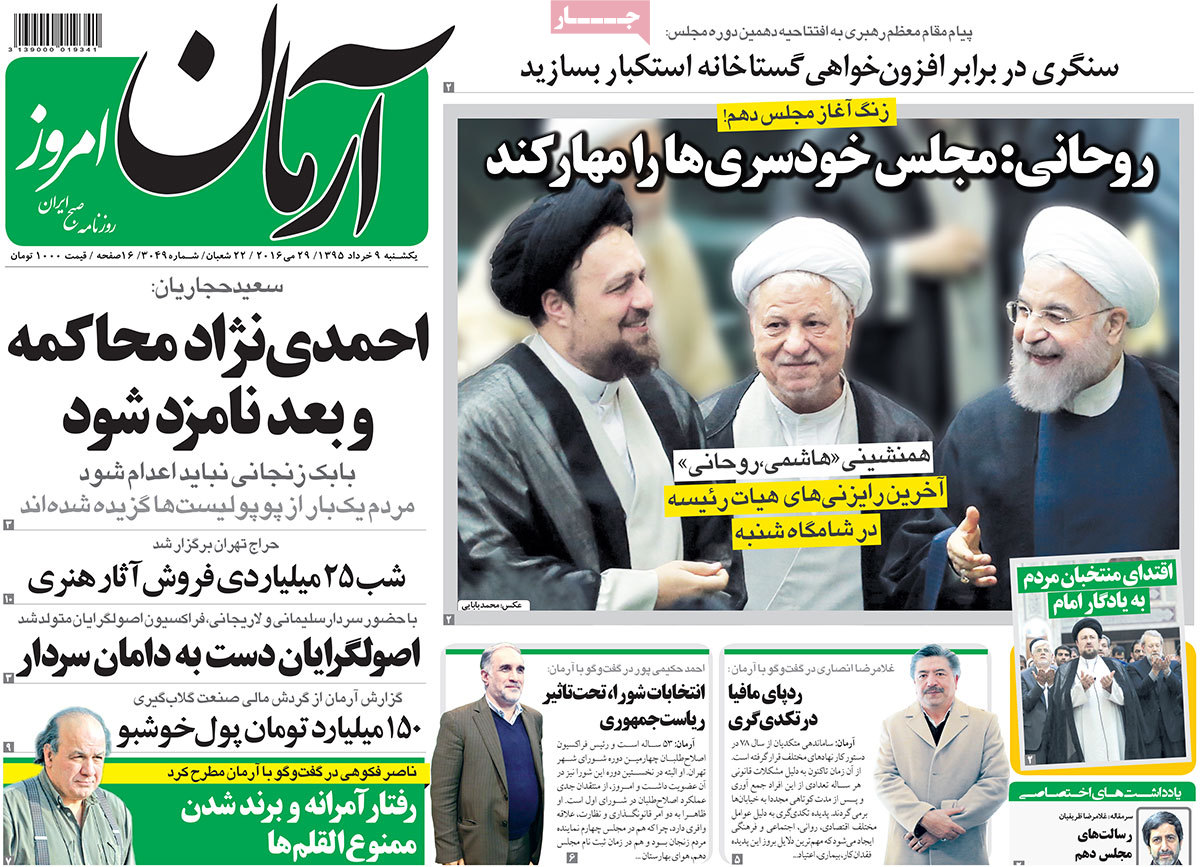 ---
Asia:
1- Iran Needs $30-50bn of Foreign Investment: Rouhani
2- Sotheby's Representative Attends Tehran Auction
3- Iran's Non-Oil Exports to Hit $50bn This Year: Minister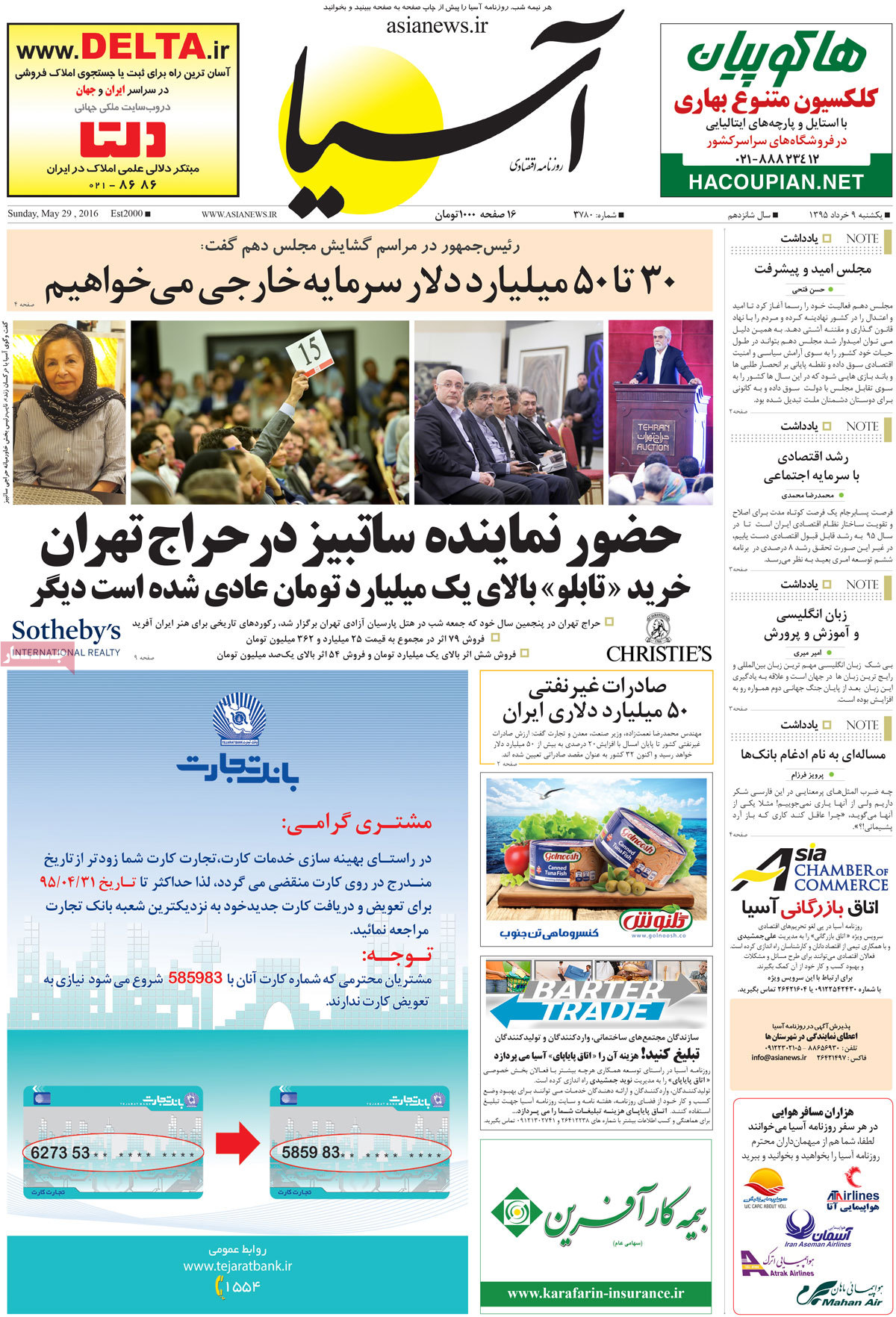 ---
Asrar:
1- Chomsky: Saudi Arabia Centre of World Extremism
2- US Targeting Iran's National Economy: DM
3- Holding Successful Elections Shows Maturity of Islamic Establishment: Rafsanjani
4- Denying National Problems Won't Solve Them: Hassan Khomeini
5- Administration Spokesman: Iran's Economy Moving on from Downturn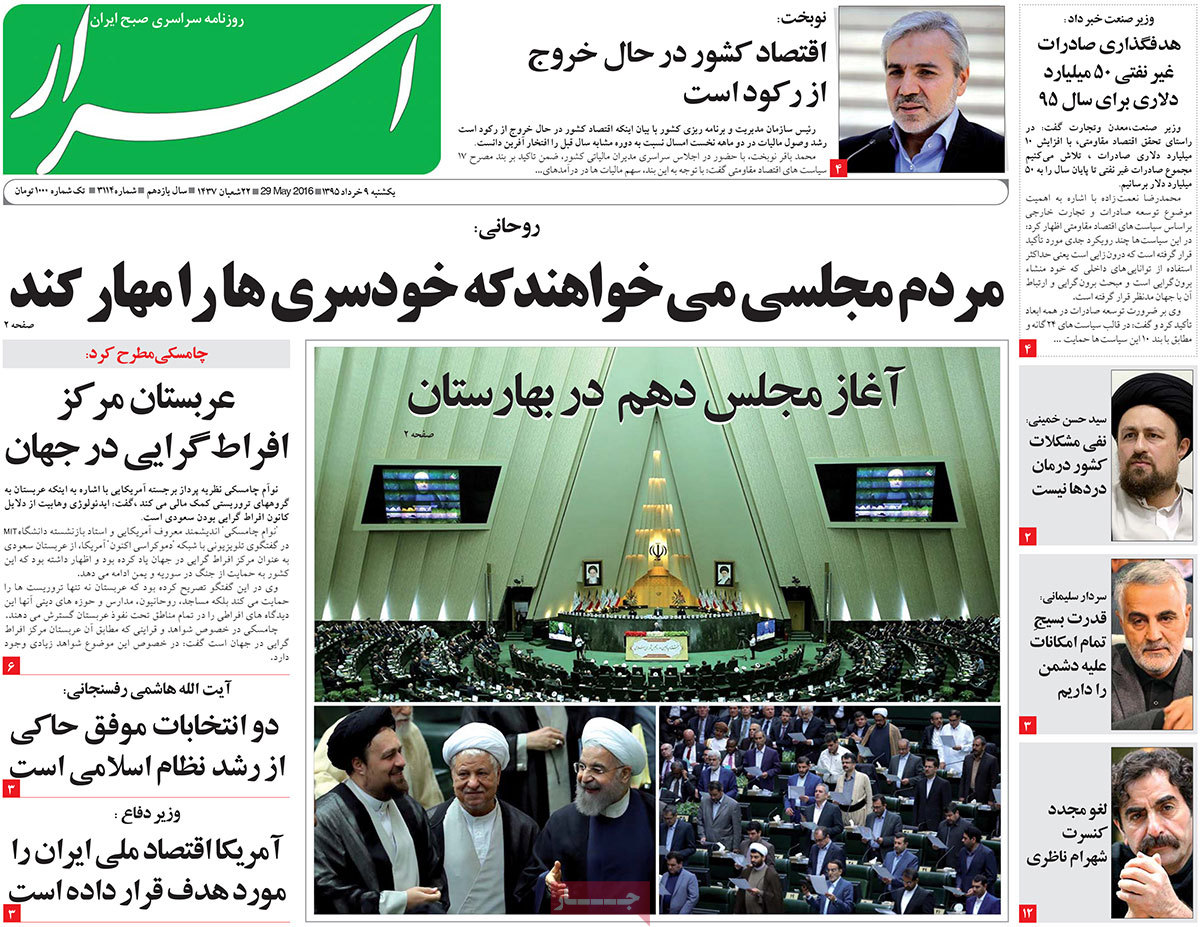 ---
Emtiaz:
1- Police Ultimatum to Music Video Producers
2- Blocking Telegram's Unethical Channels: Minister
3- $7.25m of Sales at 5th Tehran Auction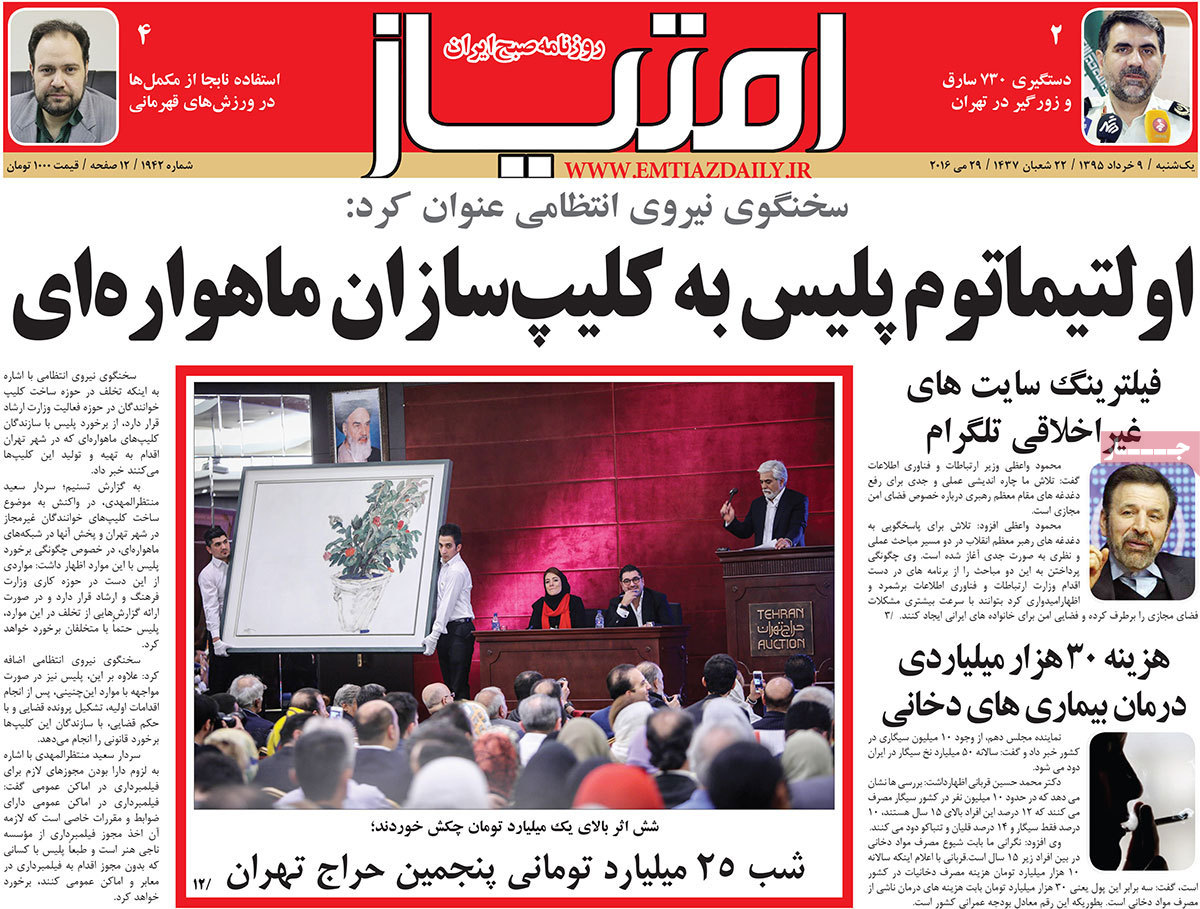 ---
Etemad:
1- Architects of Moderate Parliament on Opening Day
2- I See No Rival for Rouhani in Next Year's Presidential Elections: Reformist Theorist
3- Resistant Economy and Islamic Culture are Urgent Priorities [of New Parliament]: Leader
---
Ettela'at:
1- Flavoured Tobacco Leads to Brain Cancer: Health Minister
2- Hundreds of Thousands of Syrian Civilians Trapped by Terrorists: UN
3- General Soleimani: We Can Mobilize All Facilities and Equipment against Enemy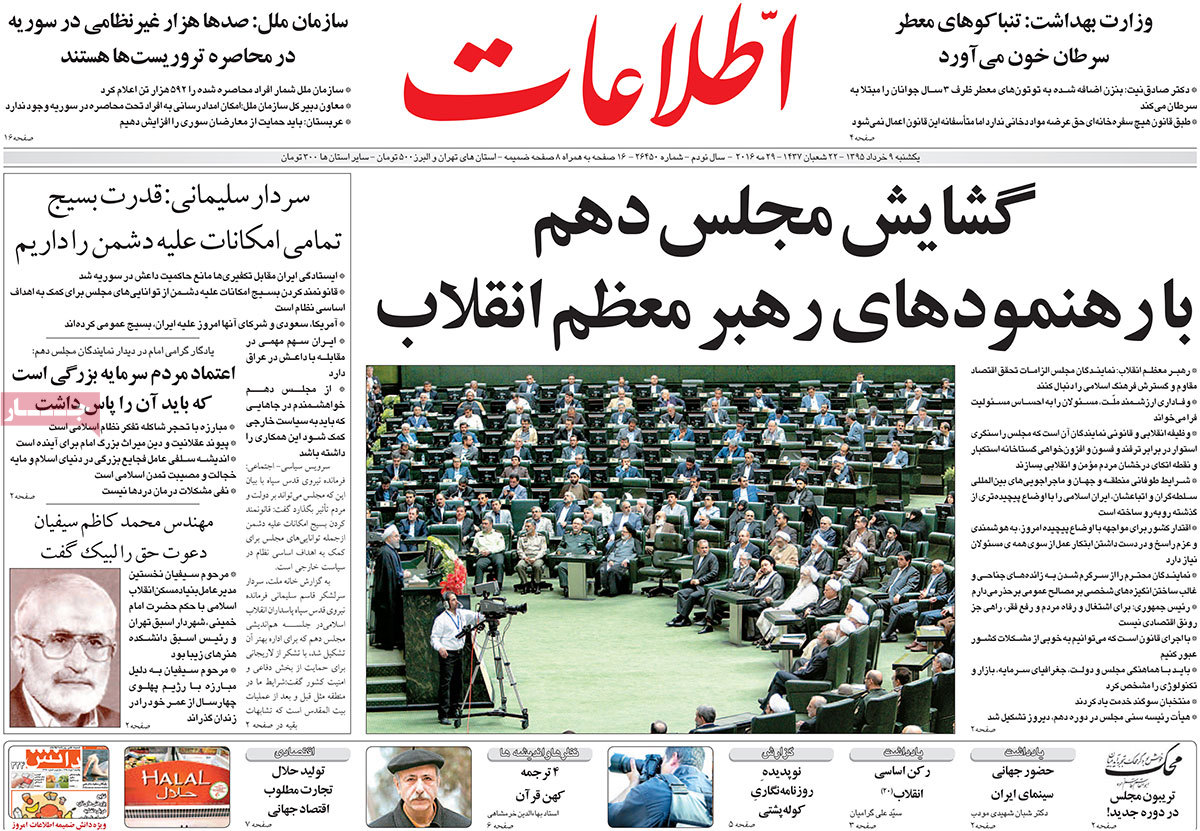 ---
Ghanoon:
1- Everyone Showed Up! [at the opening session of the 10th Parliament]
2- Beginning of a Victim's Life: Baby Born with HIV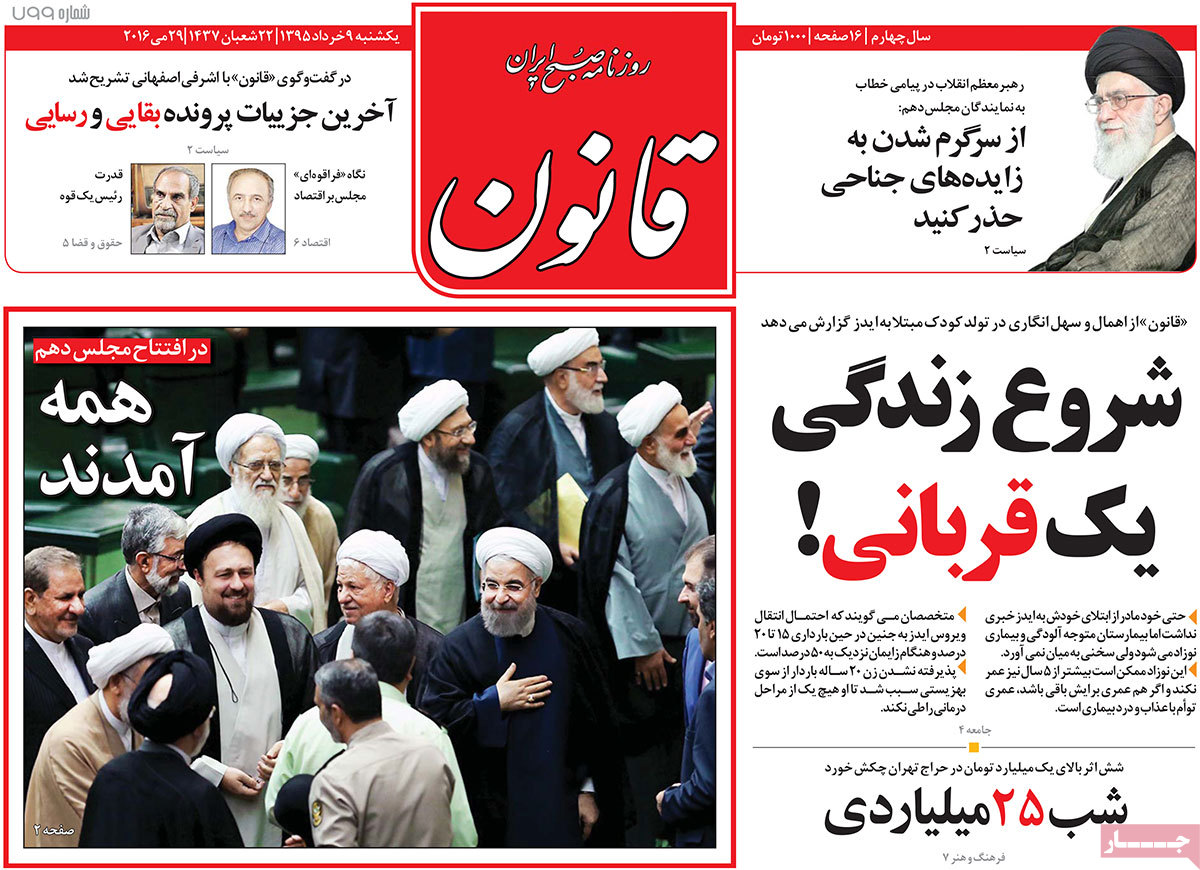 ---
Haft-e Sobh:
1- Parliament of Moderates: A Parliament Different from All Previous Ones
2- Robbery Only on Even Days!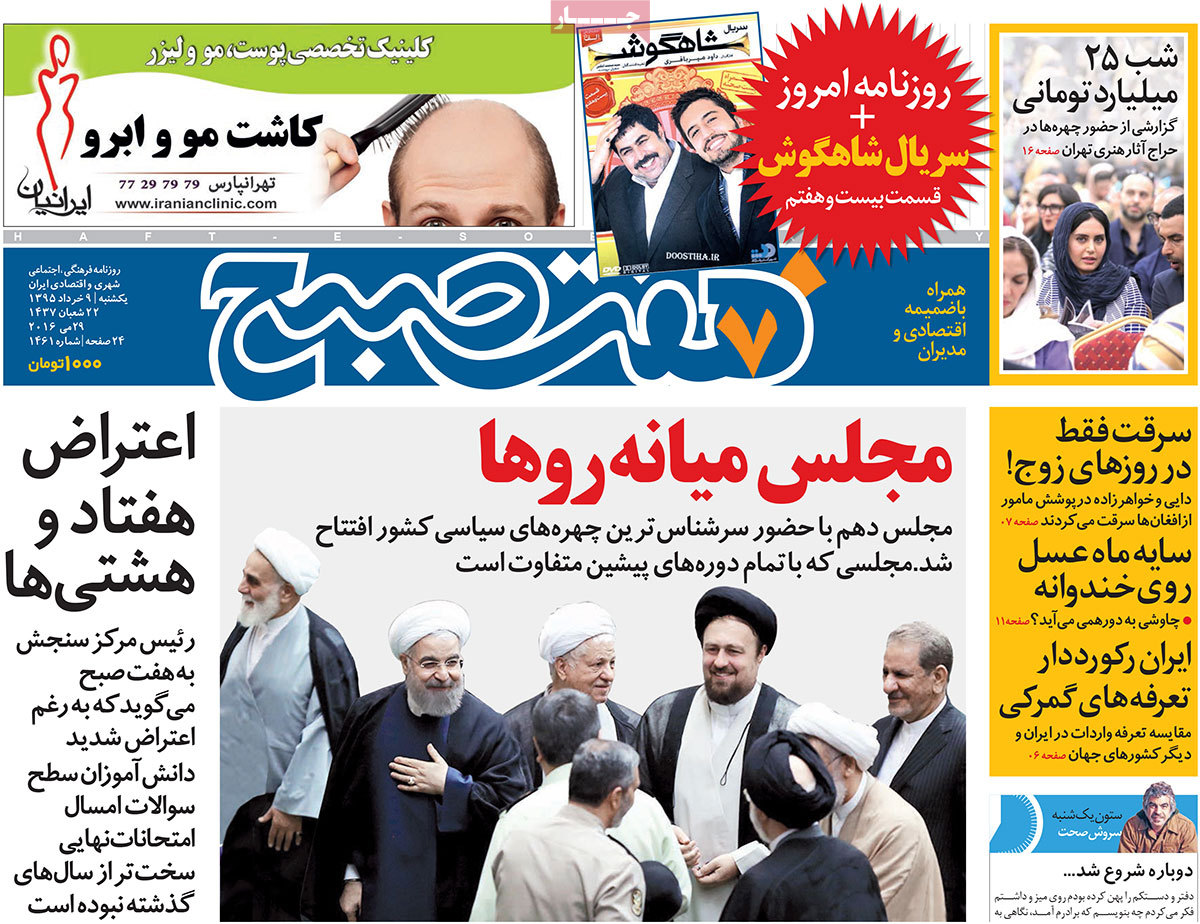 ---
Hamshahri:
1- Rapid Reactions to Cyber-Attacks
2- Tehran Very Different from Prior Image We Had: Vienna Mayor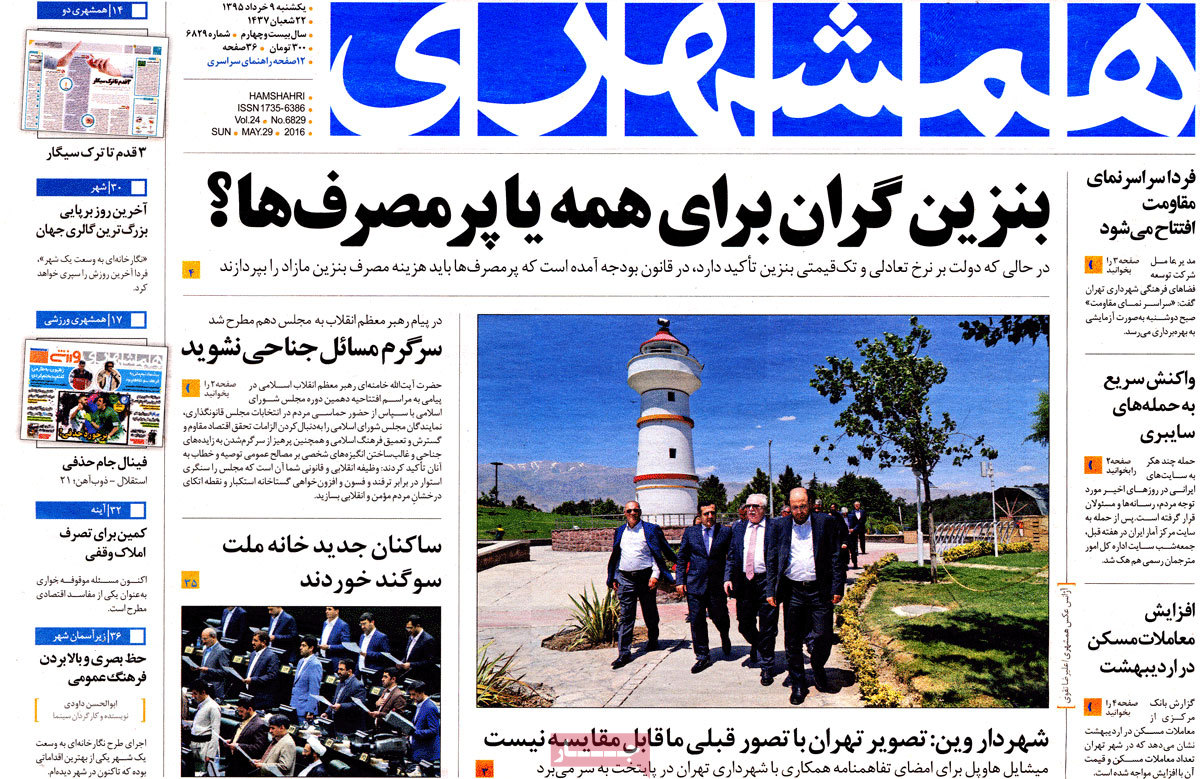 ---
Honarmand:
1- Tehran Auction Promotes Iranian Artists and Helps Art Market Thrive: Minister
2- A Review of David Ayer's Fury: US Longs to Be World Saviour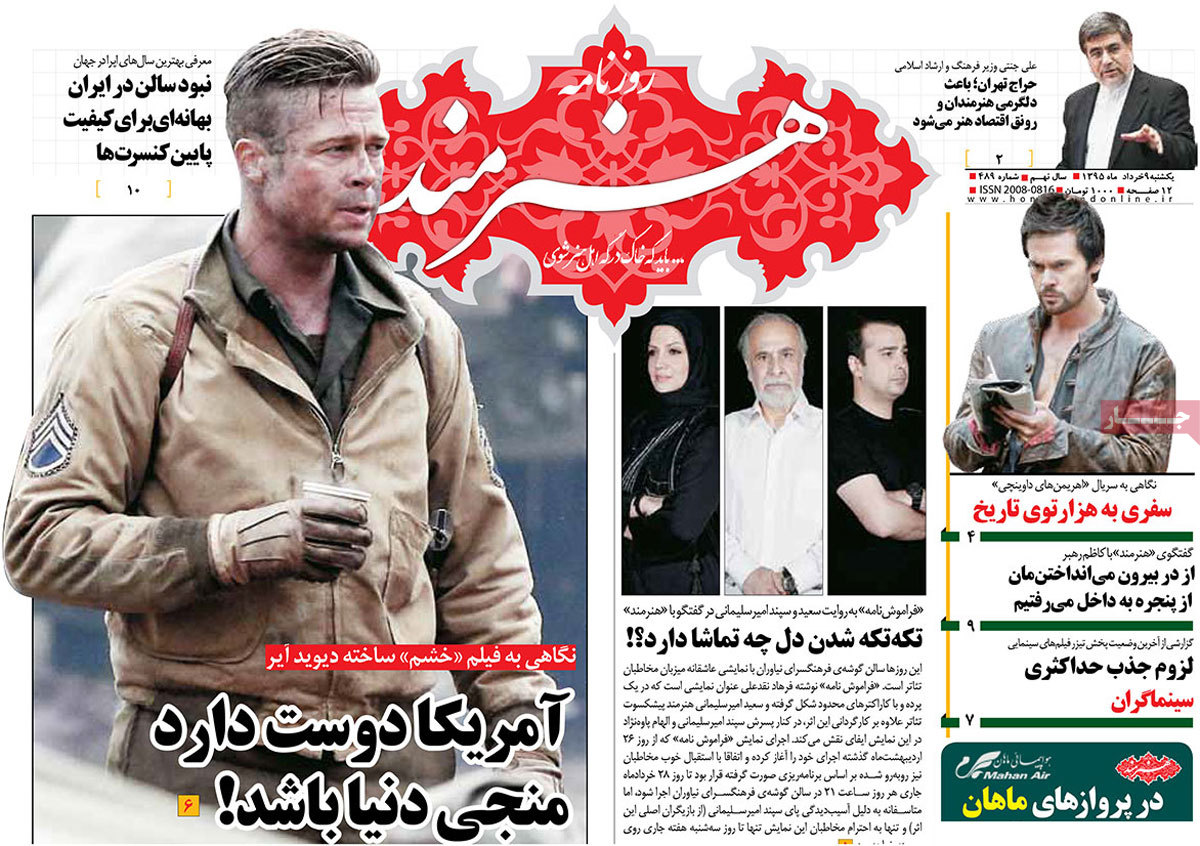 ---
Iran:
1- Iran's New Parliament Sworn In
2- Iran and UN Agree Environmental Plan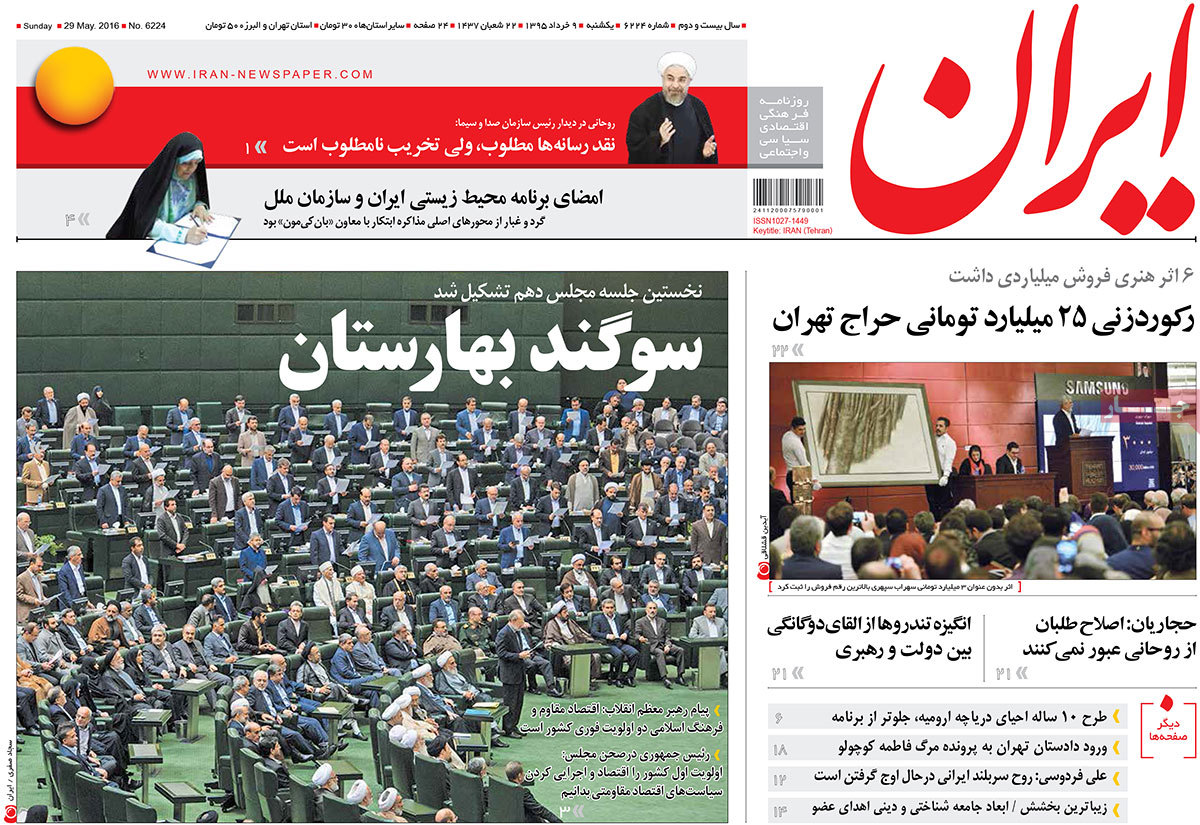 ---
Jame Jam:
1- Iranian Rock Singer Commits Suicide
2- Gov't Resolved to Help IRIB: Rouhani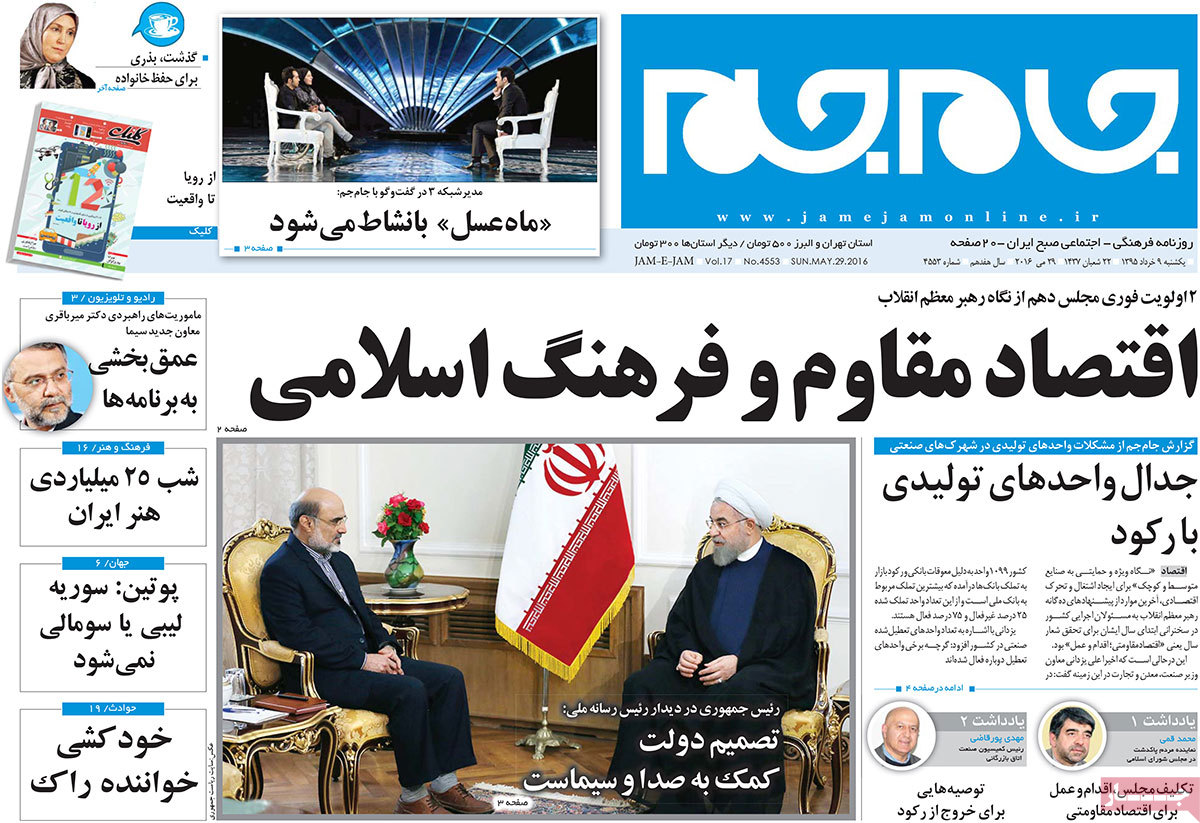 ---
Javan:
1- West Confirms Nuclear Deal Resulted from Iran's Power
2- Qatari ISIS Supporters Spend Money on Iranian Cinema: Sponsor of Asghar Farhadi's Film Wants to Have Global Influence
3- A Perfect Exhibition: 2nd Holocaust Cartoon and Caricature Contest Wraps Up in Tehran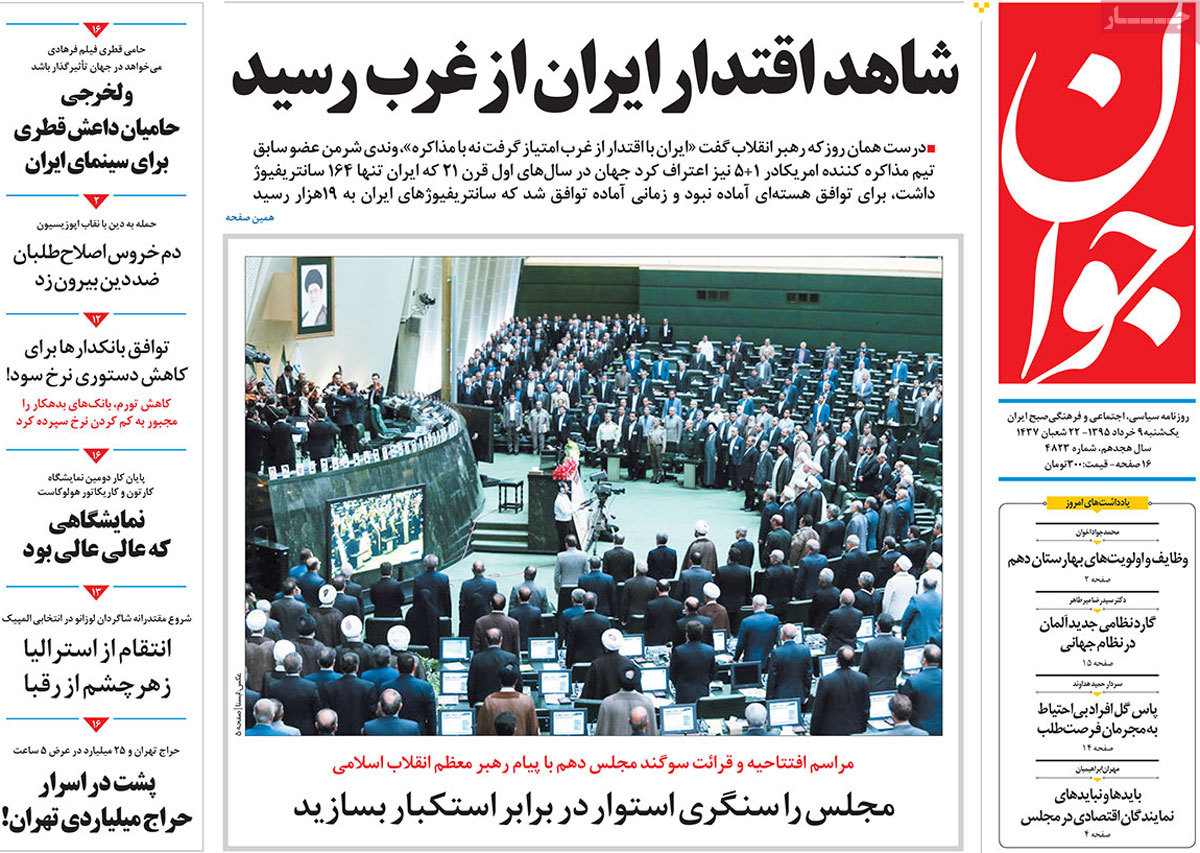 ---
Jomhouri Eslami:
1- Conditions for Importing Chinese Goods to Iran in Post-JCPOA Period
2- Iraqi Army Advances to Entrance of Fallujah: Final Stage of Liberation to Begin in Coming Days
3- How Israel Is Intertwined with Saudi Arabia and UAE: Israeli Analyst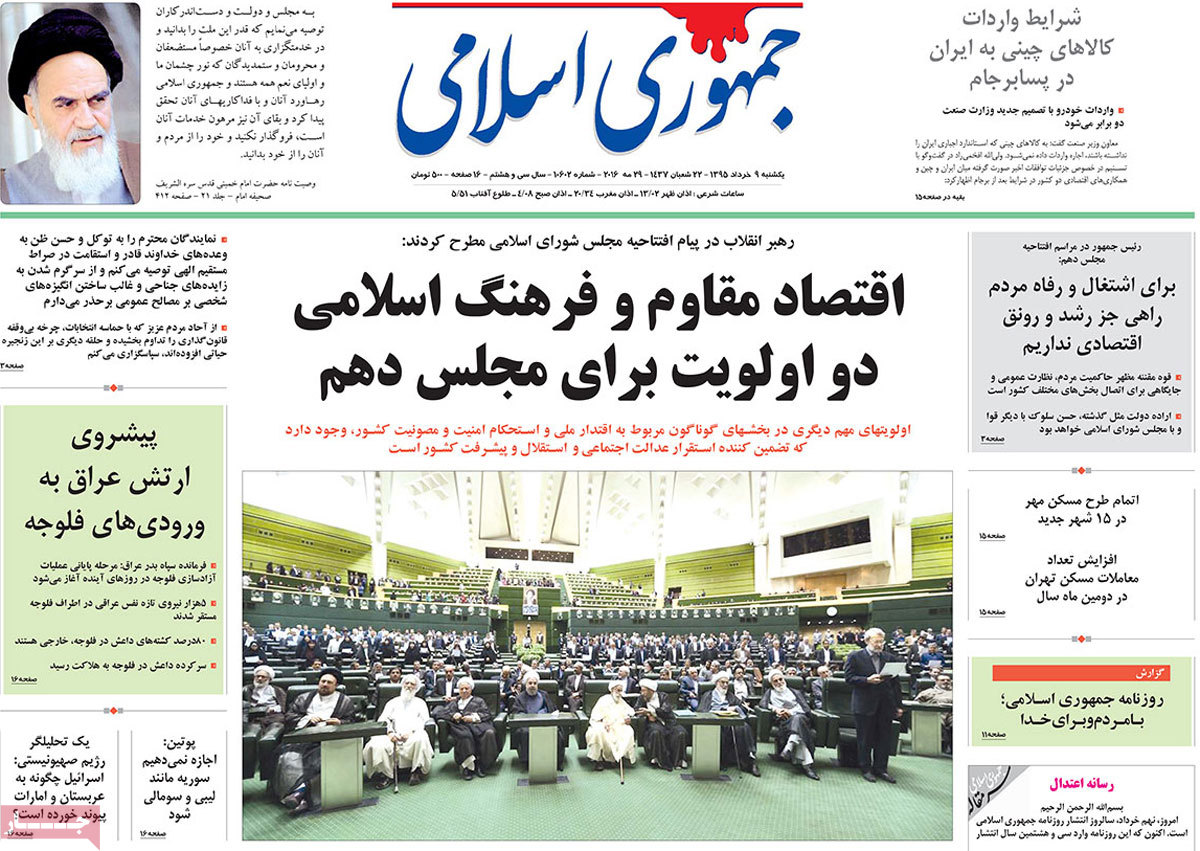 ---
Kayhan:
1- Grand Sheikh of Al-Azhar: Takfiris Are Not Humans
2- Artists from 50 Countries Shout to Reveal Holocaust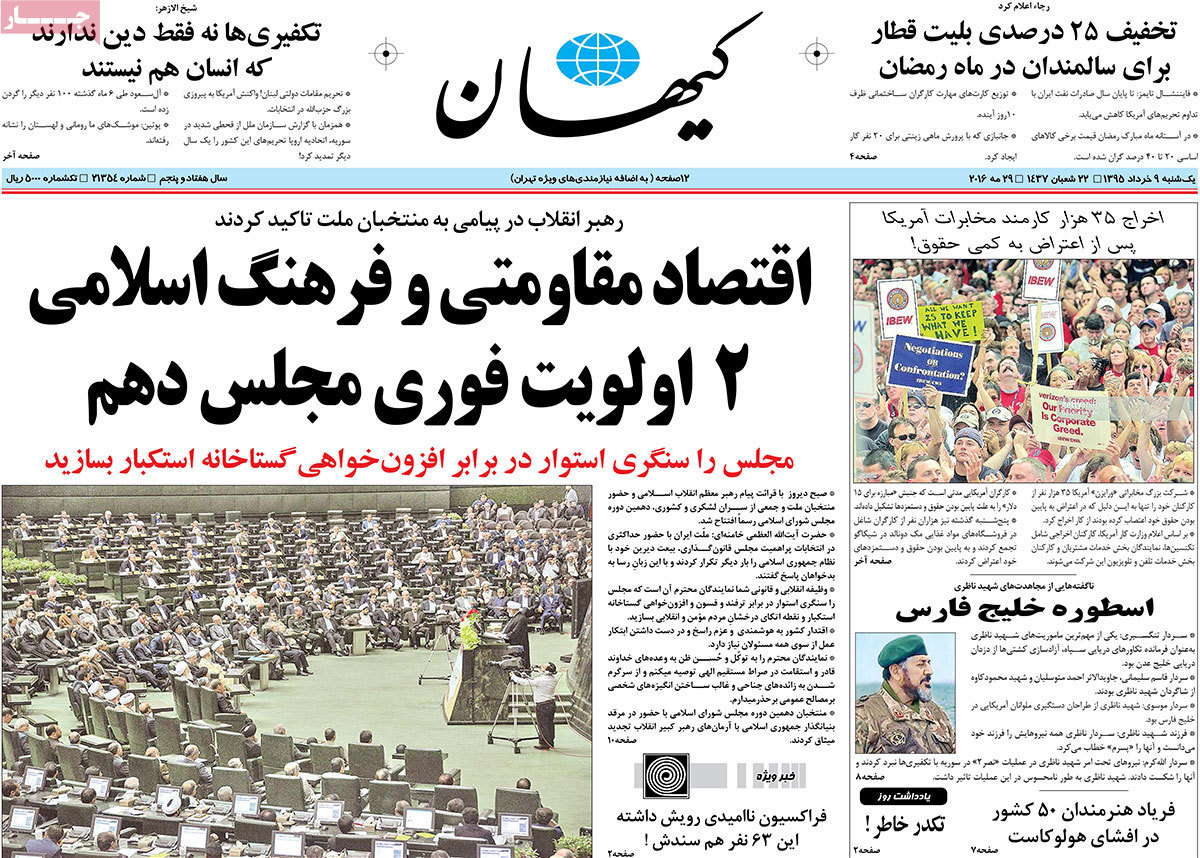 ---
Khorasan:
1- Continued Protests at Difficult High School Examinations
2- Kosovo, a New Victim of Wahhabism
3- President's Advisor Criticizes the Way English Language Is Propagated in Iran
4- Zarif: We Hope Europeans Take Required Steps for Facilitating Banking Ties
---
Resalat:
1- Resistance to Takfiris [Extremists] Prevented Formation of ISIS Government in Syria
2- Consumerist Culture in Contradiction to Economy of Resistance
3- Corbyn Calls for Tony Blair to Be Prosecuted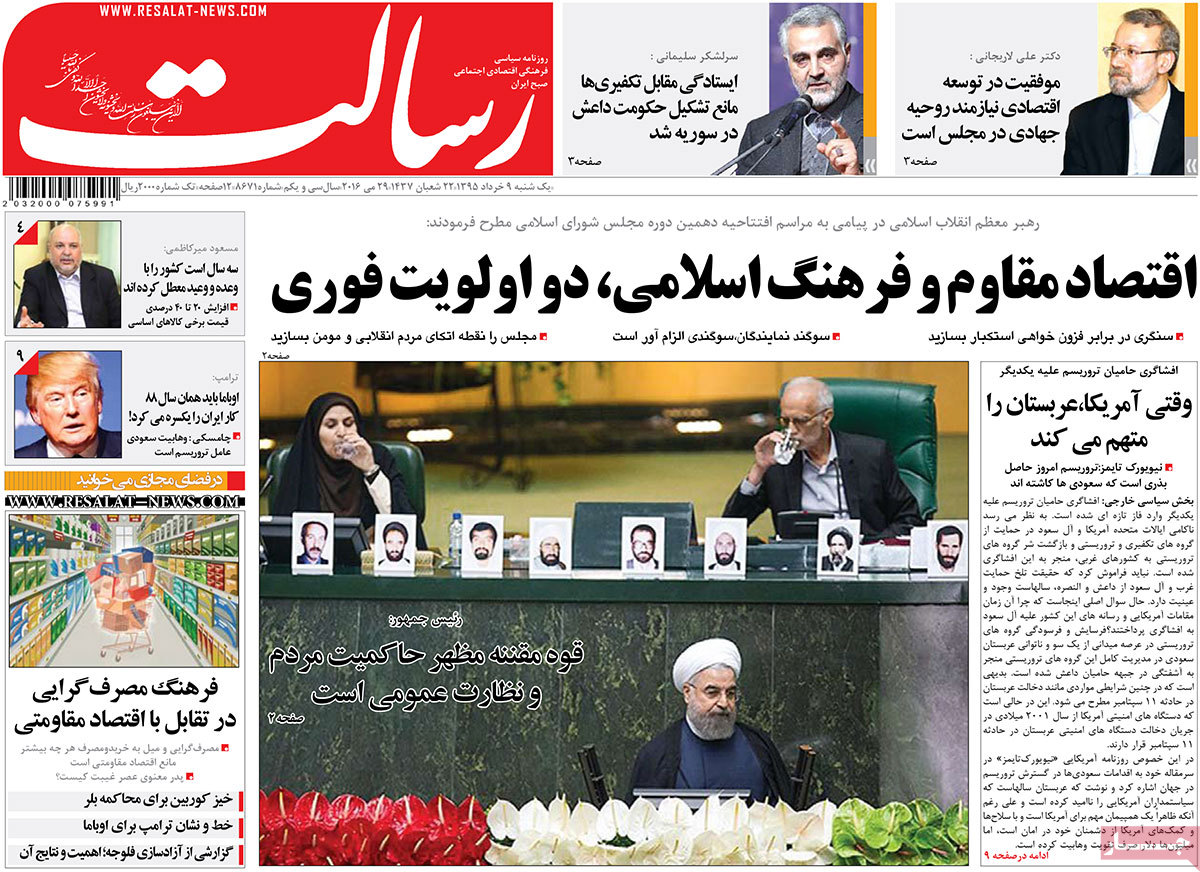 ---
Roozan:
1- New Taliban Head Is an Inexperienced and Fanatical Leader
2- Larijani's Dilemma: 1 Test, Several Audiences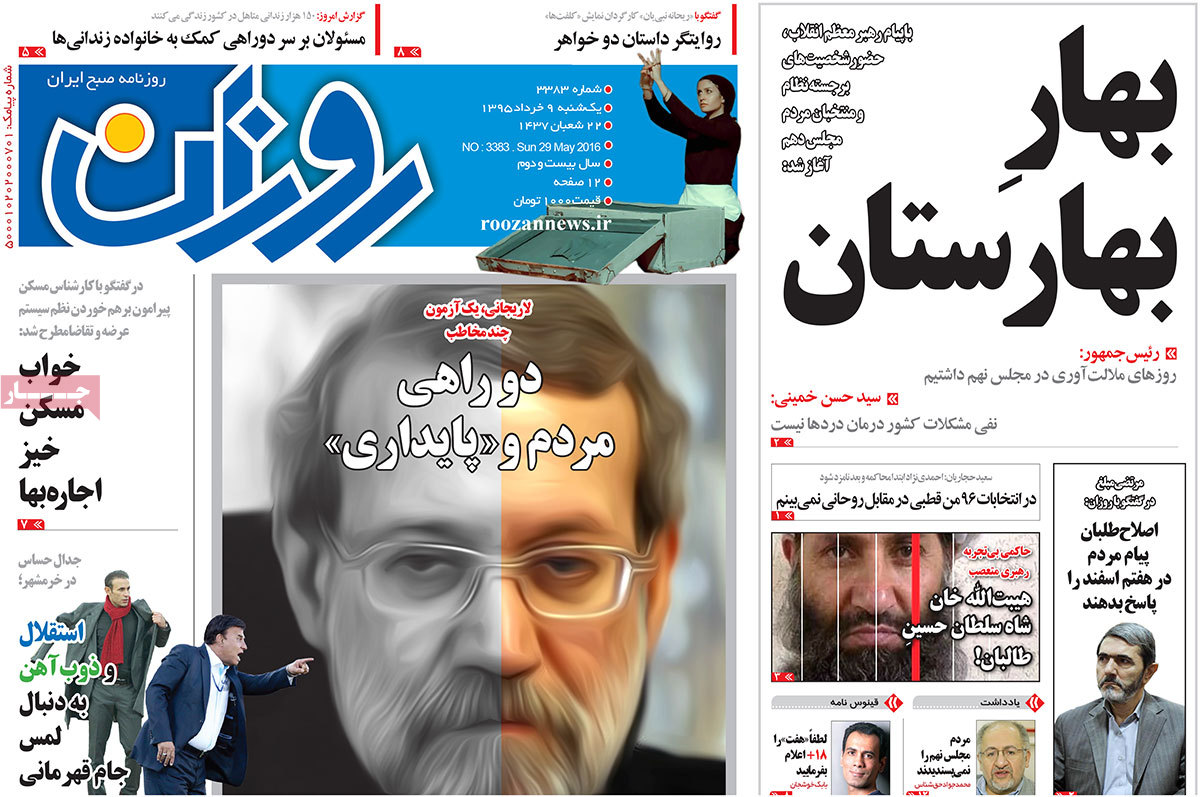 ---
Shahrvand:
1- 10th Parliament: End of Radicalism, Beginning of Moderation
2- Zika Olympics: Int'l Concerns Grow over Zika Outbreak in Rio
3- Filtering Robots in Instagram and Telegram: Communications Minister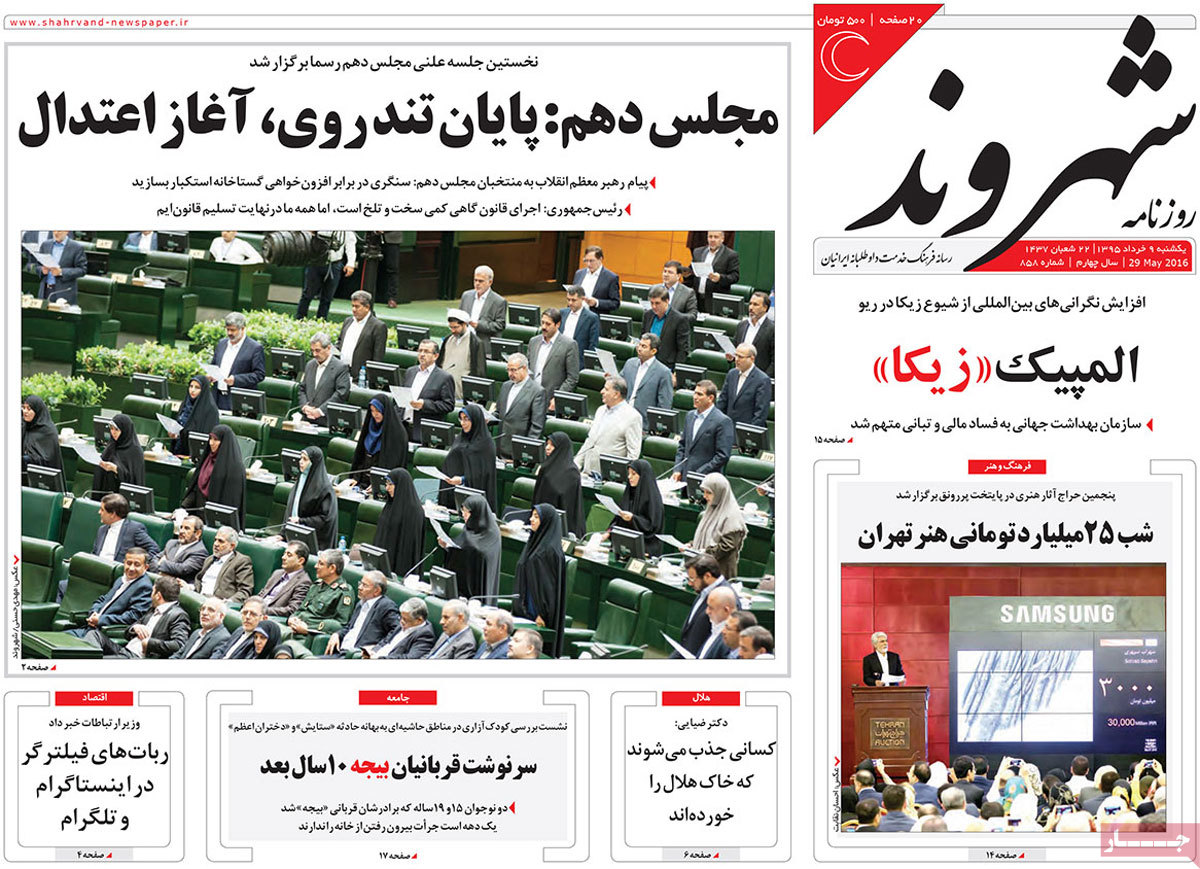 ---
Shargh:
1- Bell of Hope Rings in Majlis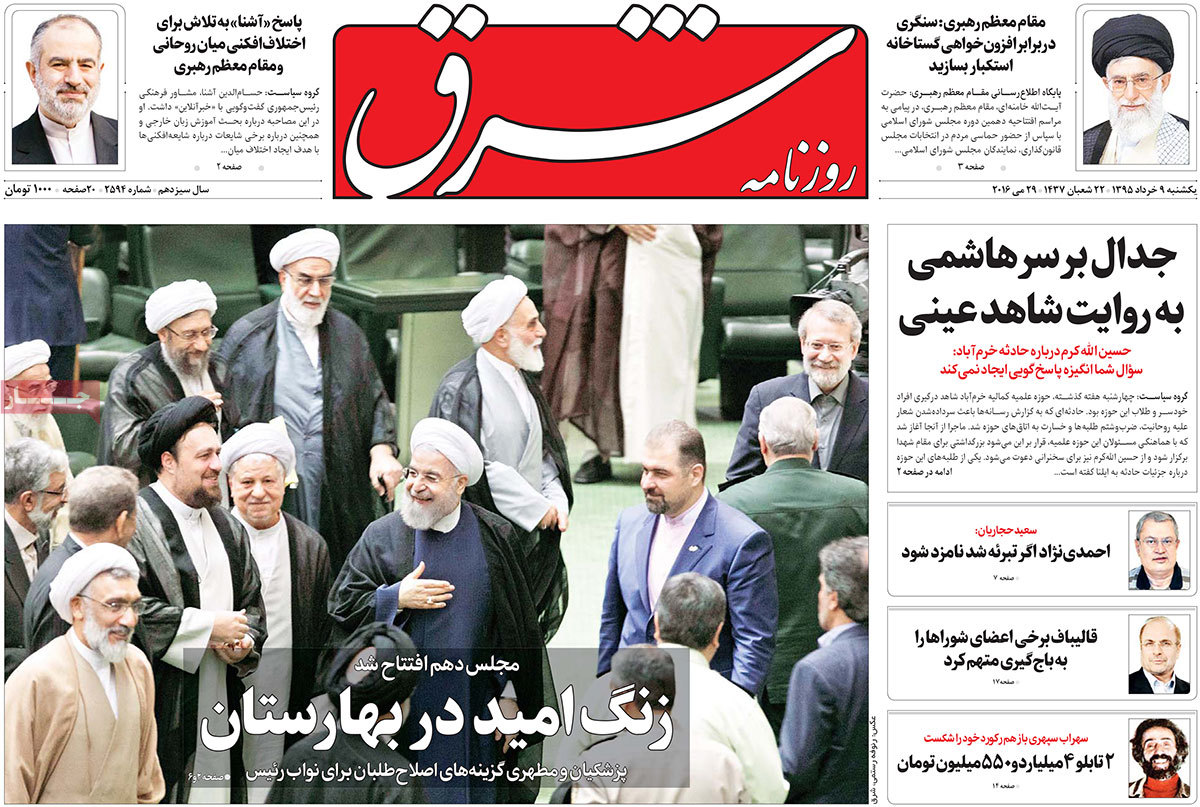 ---
Sobh-e Now:
1- Decisive Sunday: Who Will Parliament Elect as New Speaker?
2- Russia Seeking a Multi-Polar World: Putin and Alliance with the Muslim World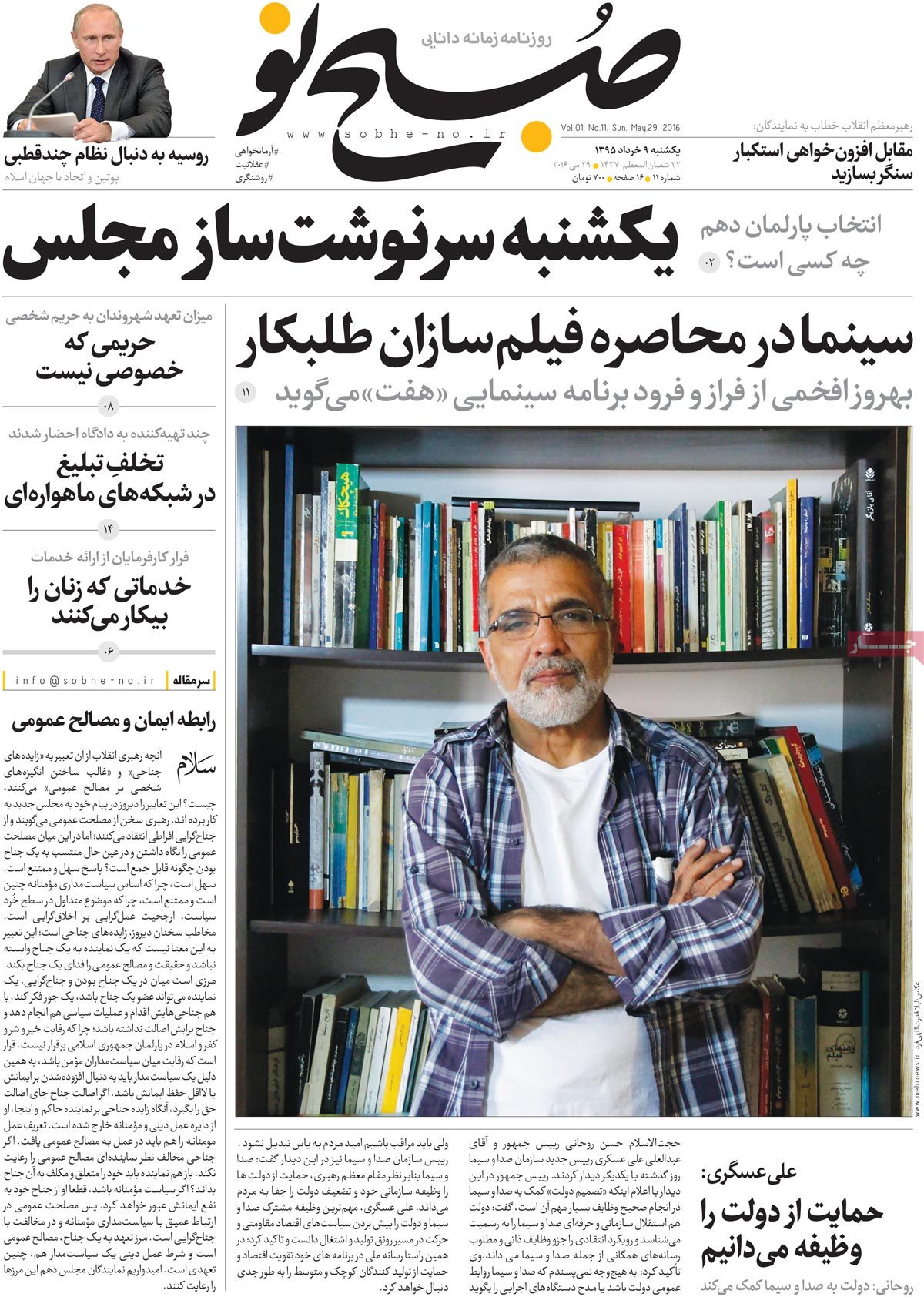 ---
Vaghaye Ettefaghieh:
1- Saudis' Request from the Swiss: Final Decision on Iran's Hajj Pilgrimage to Be Made Today
2- Gathering of Senior Figures in "Nation's House" [Parliament]
3- Iranian Poet and Painter Sohrab Sepehri Breaks Records Once Again [His painting was sold for the highest price at the Tehran Auction]
4- Rotten Rope of Hardliners for Larijani [an article suggesting that if Larijani accepts the proffered 'rope' from the hard-liners, he will likely fail]
5- Why Didn't Japan's Abe Want Obama to Apologize over Hiroshima Bombing?