Newspapers on Saturday focused their attention on the opening of Iran's new parliament, where the MPs are going to elect the reformist Mohammad Reza Aref or the moderate conservative Ali Larijani as the new speaker.
The remarks by the Leader of the Islamic Revolution, Ayatollah Seyyed Ali Khamenei, on the nuclear talks and the concessions Iran received were also a top story in today's newspapers.
Abrar:
1- Iran Is No Longer under Banking Sanctions: Senior Negotiator
2- Tehran and Riyadh Agree on Iranian Pilgrims' Use of E-Visas: Saudi Official
3- Larijani Will Definitely Be Next Parliament Speaker: Senior Conservative Bahonar
4- Zarif to Visit Sweden on June 4: Swedish Ambassador
5- Fallujah Surrounded by Iraqi Forces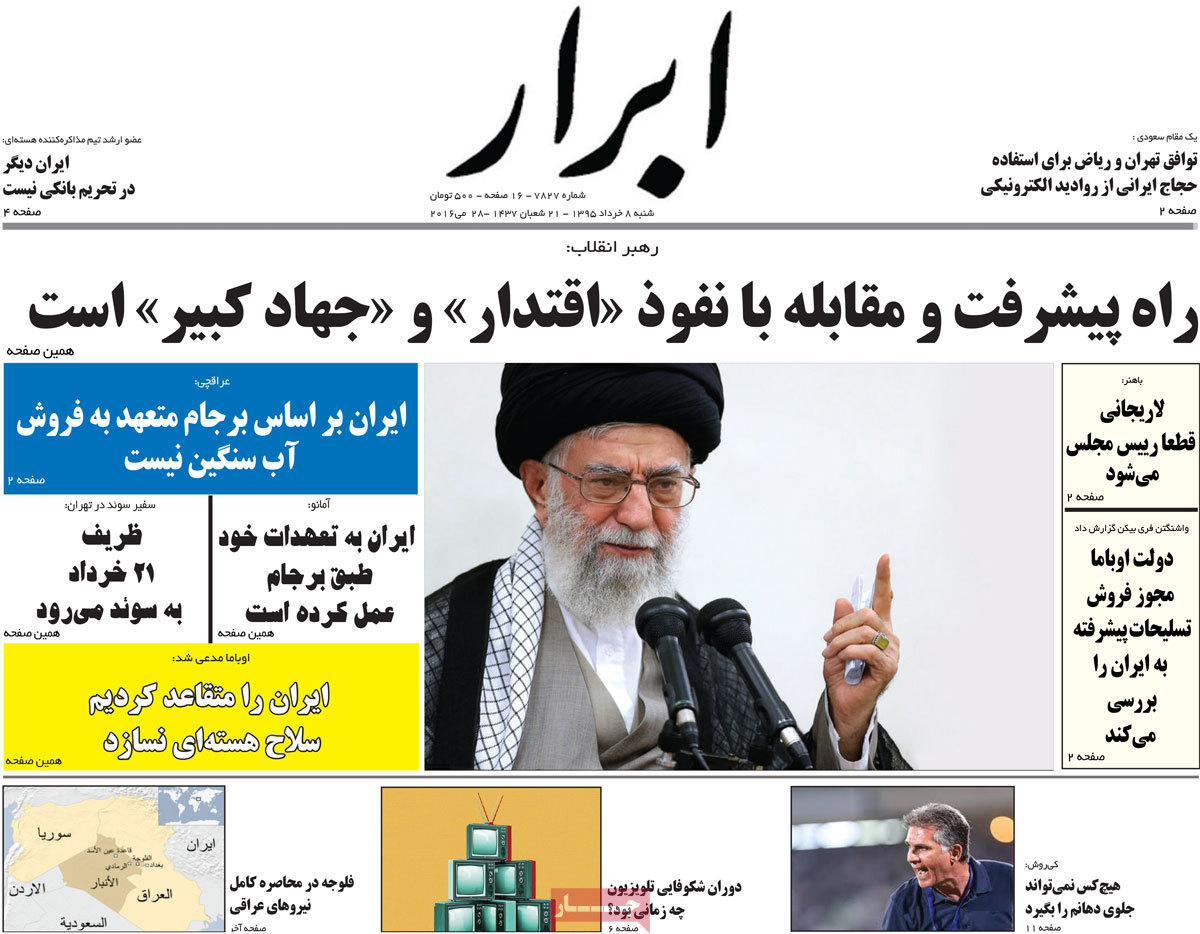 ---
Abrar-e Eqtesadi:
1- Trade between Iran and Switzerland to Triple
2- Conditions Set Out for Foreign Presence in Iran Power Projects
3- €500m German Exports to Iran
---
Aftab-e Yazd:
1- Rafsanjani Boycotted by IRIB, Obama Live on Air!
2- Saudi Newspaper: Shahab Hosseini Is Dangerous
3- Central Bank Governor Praises Anti-Gov't News Agencies!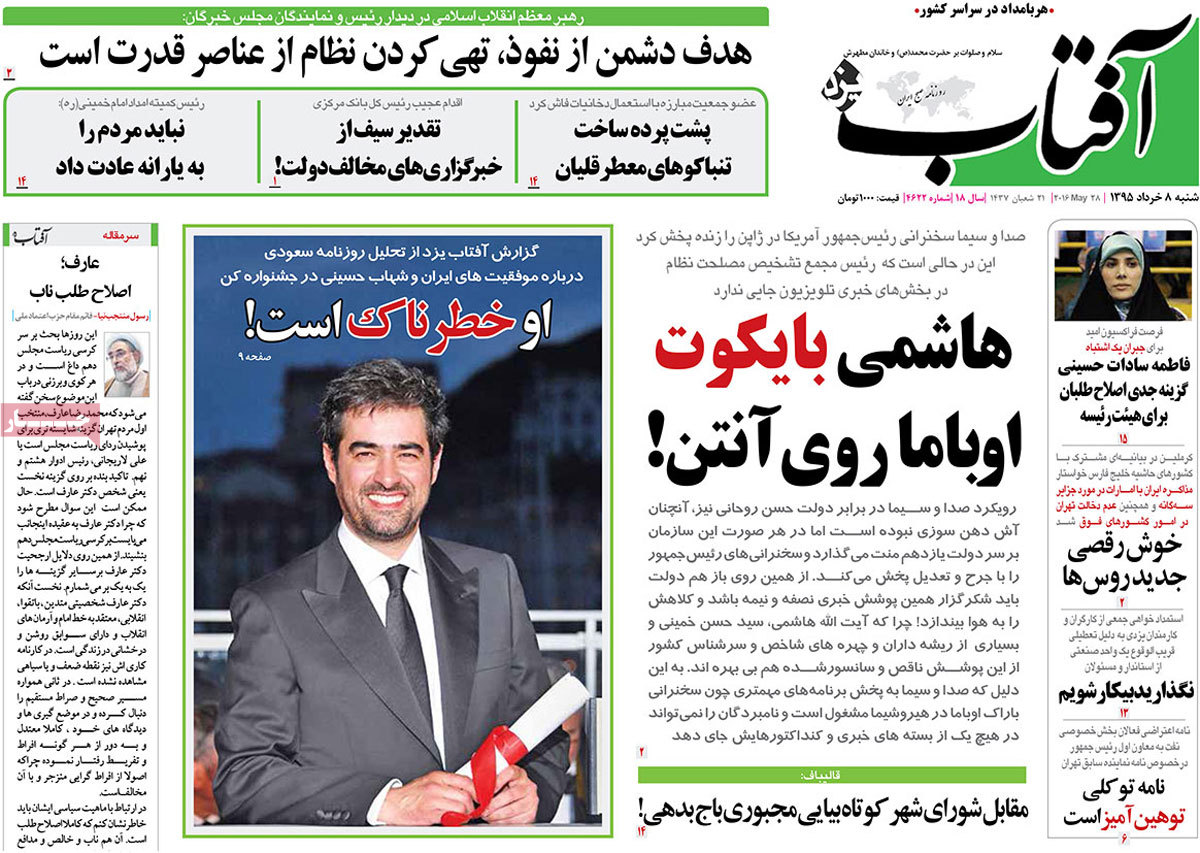 ---
Arman-e Emrooz:
1- Iranian Golden Palms (Farhadi, Hosseini, Alidousti) Warmly Received [in Tehran]
2- Major Changes in IRIB Management: Will It Become Moderate?
3- Hajj to Be Cancelled If Iran's Demands Not Met: Minister
4- 35 Boys and Girls Arrested in Overnight Party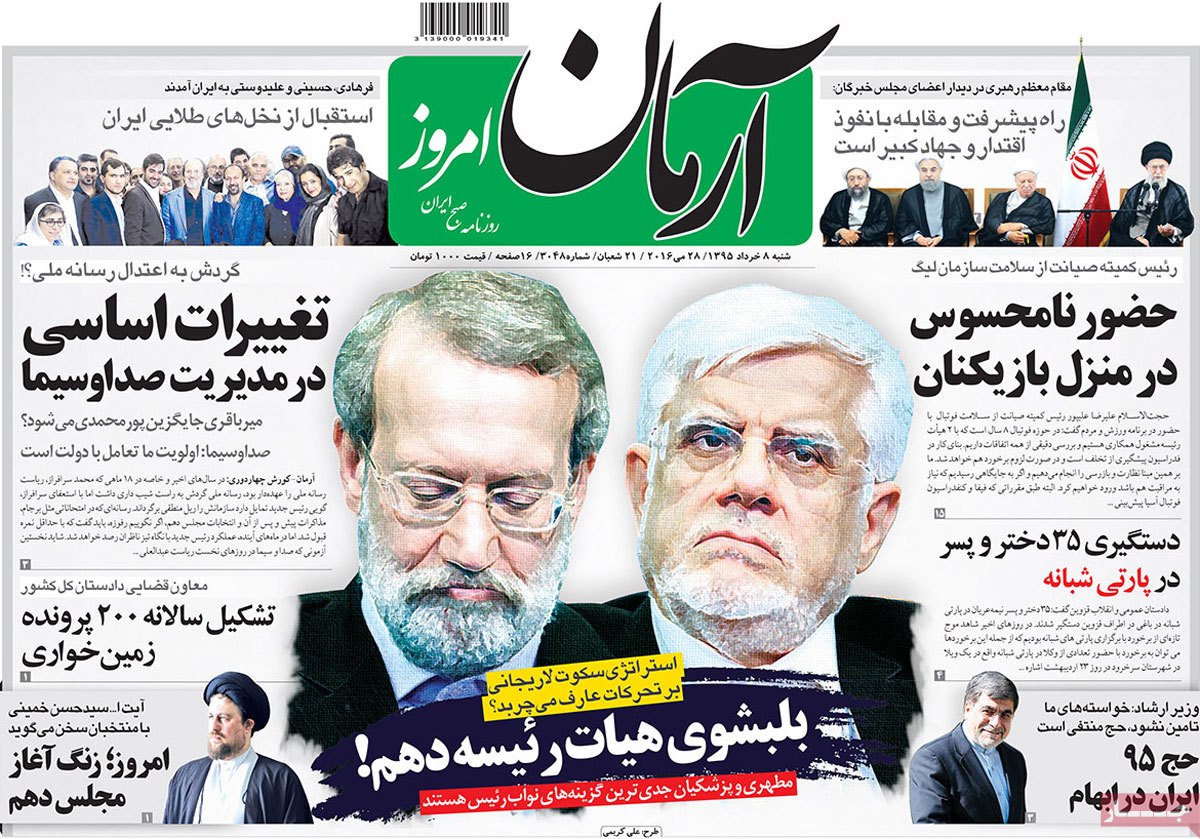 ---
Asia:
1- Gov't to Hire 35,000 New Personnel
2- Azerbaijan's Railway Connected to Iran's
3- Financial Facilities to Be Provided for Purchase Military Service Exemptions
4- 7 Wealthy Countries Commit Themselves to Solving World's Economic Problems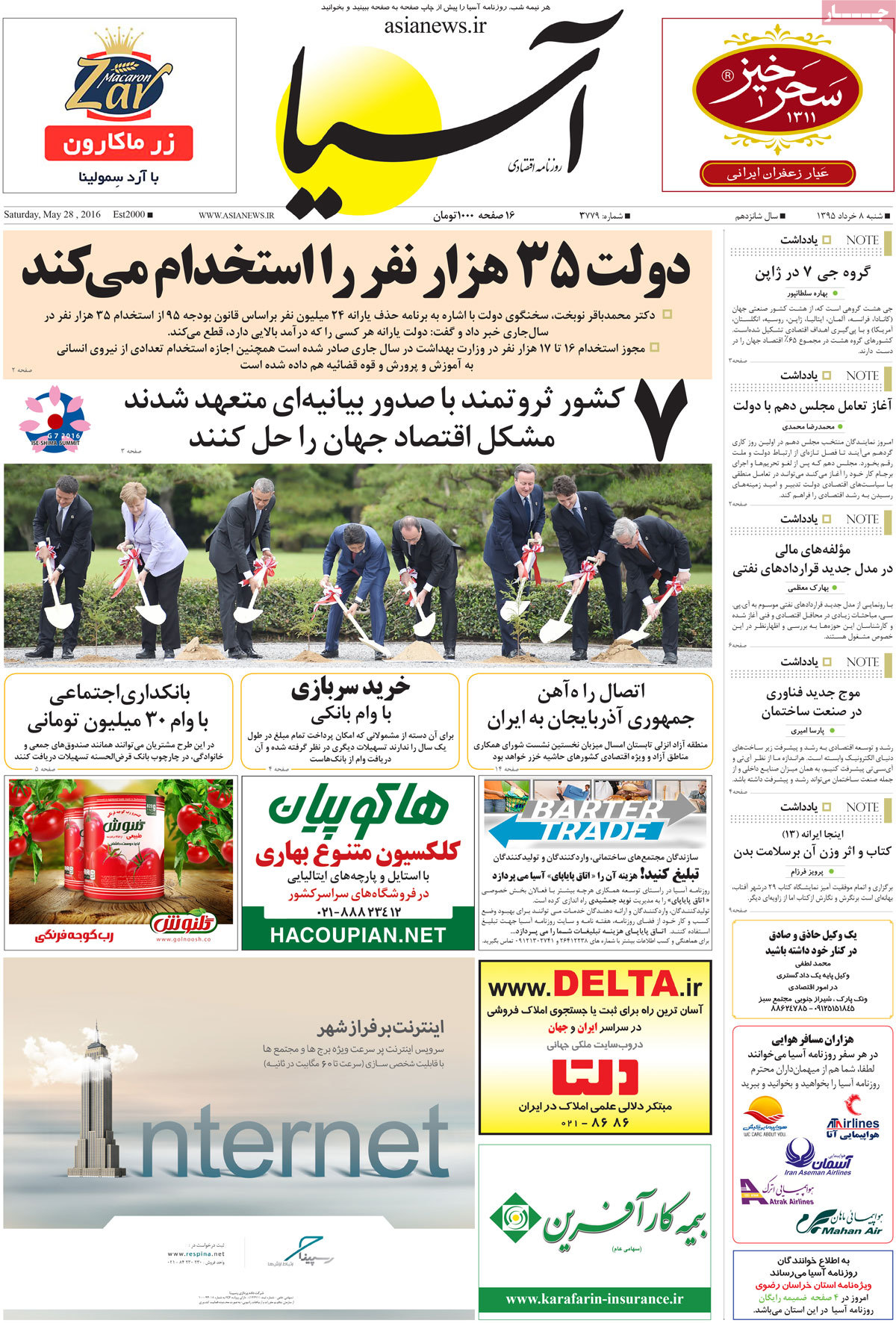 ---
Asrar:
1- People Want Change in Parliament: Aref
2- It's Ridiculous to Use the Title 'Custodian of 2 Holy Mosques' for Saudi Kings: Senior Cleric
3- Russia Ready to Mediate between Iran and Saudi Arabia: Lavrov
4- CL Final: Battle of Madrid to Seize Citadel of Milan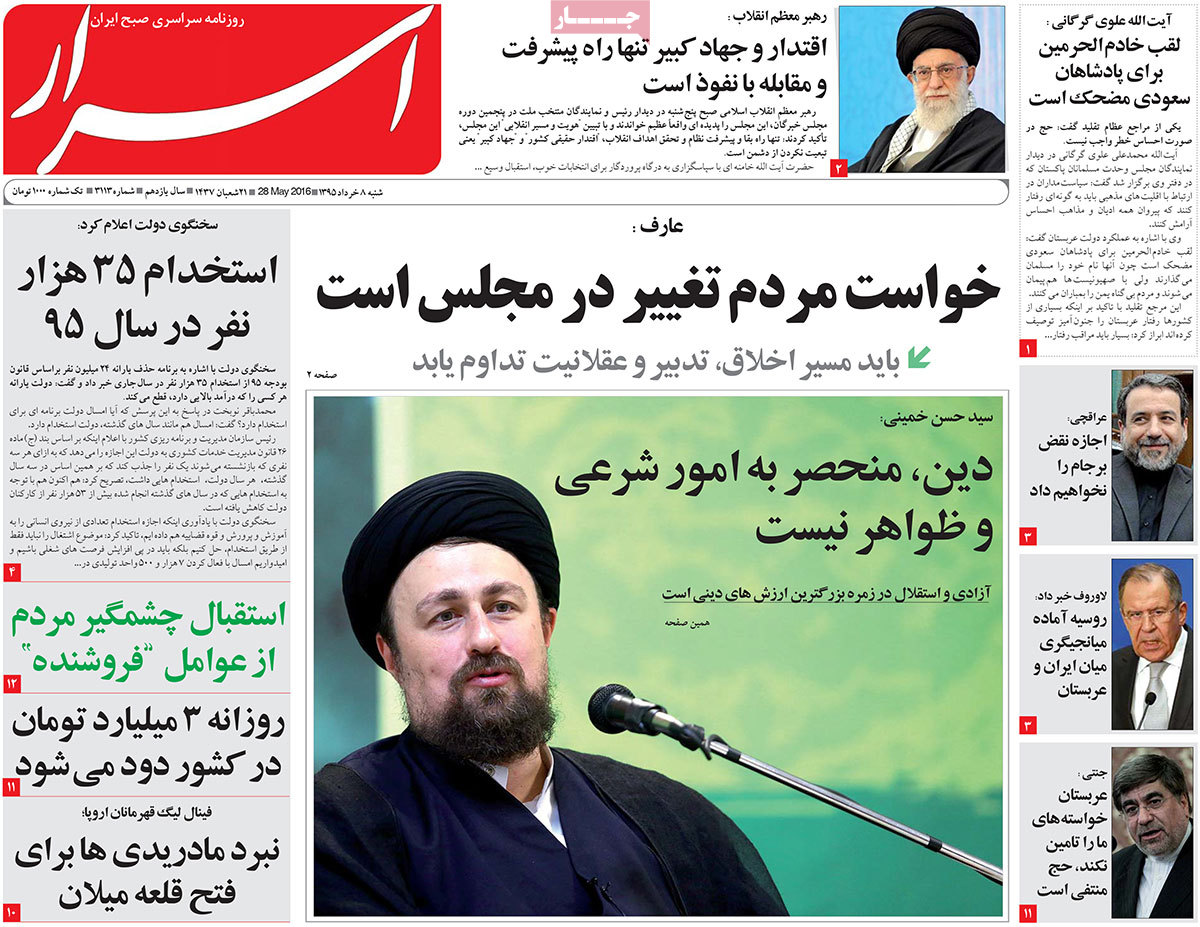 ---
Ebtekar:
1- Beginning of Parliamentary "Hope" Season: Experts Highlight Necessity for Major Majlis Changes
2- Officials Absent from Ceremony to Welcome The Salesman Crew
3- No Country Obliged to Buy Iran's Heavy Water Based on JCPOA: Deputy FM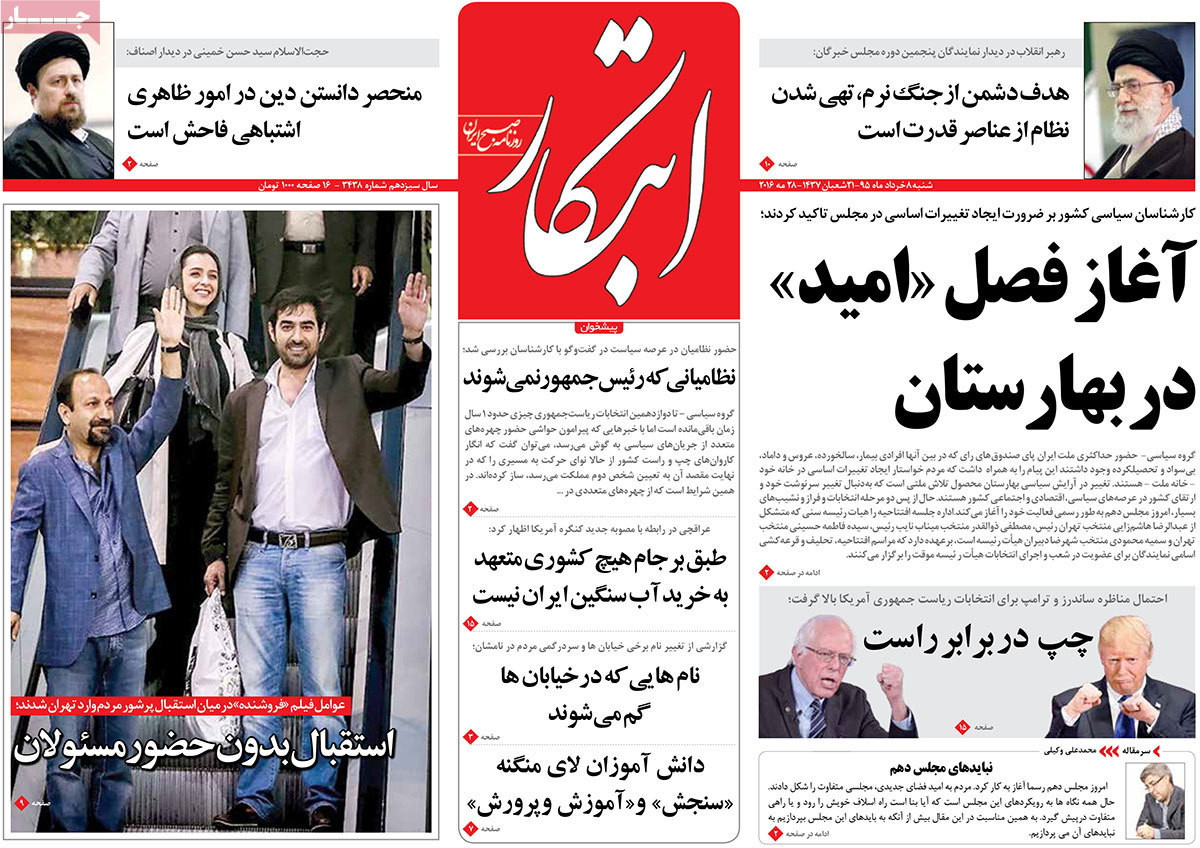 ---
Emtiaz:
1- People Can Receive Hookah Just by Sending a Text Message
2- Contract Extended for Oil Sale to Turkey
3- People Welcome Cannes Winners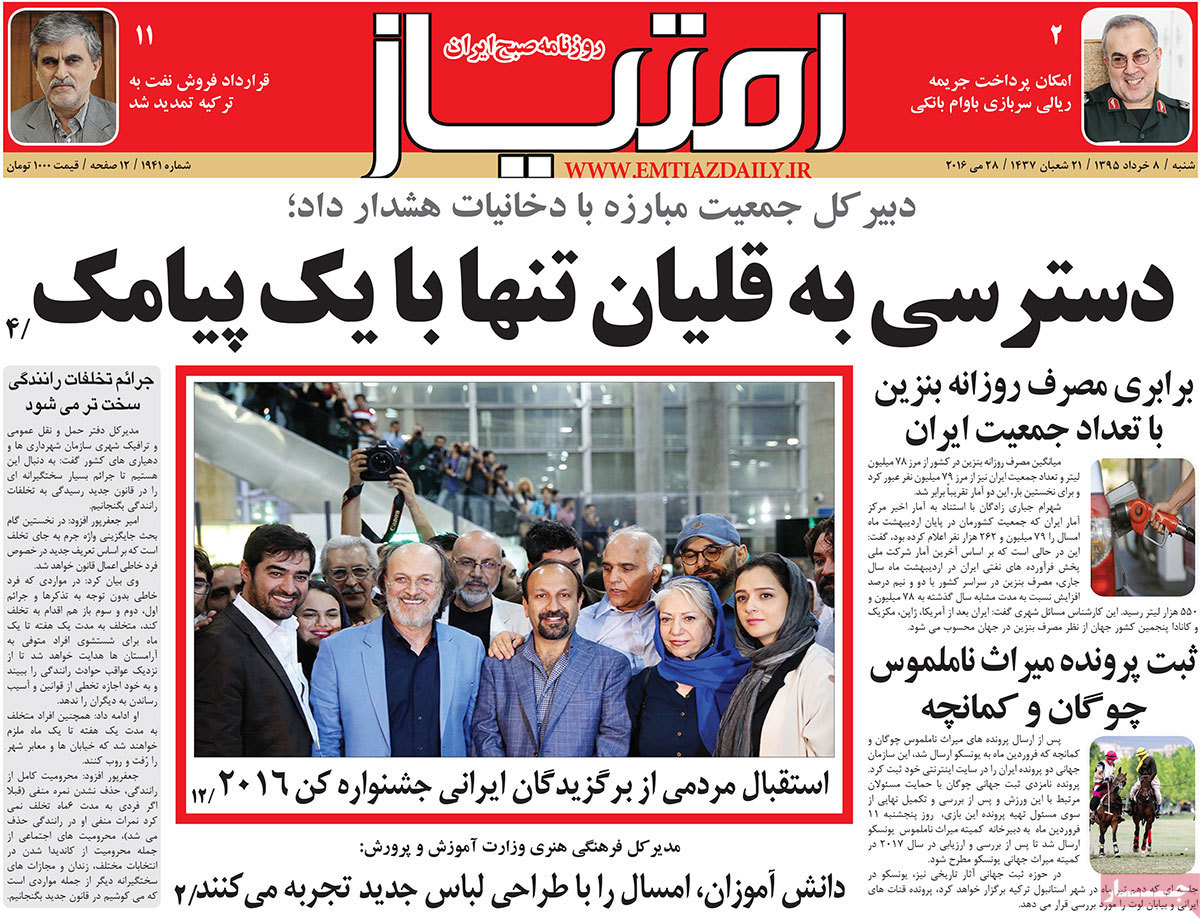 ---
Ettela'at:
1- Real Power, Only Way for Survival and Progress of Revolution and Nation: Leader
2- Iran Not to Allow JCPOA Violation: Araqchi
3- $3.4bn Direct Foreign Investment in 4 Months: Gov't Spokesman
4- Lebanon Has Become Exemplary Thanks to Hezbollah: Ayatollah Khamenei
5- People Will Soon See Impact of Major [Political] Decisions: First VP
6- Countdown to Iraqi Forces Final Fallujah Campaign against ISIS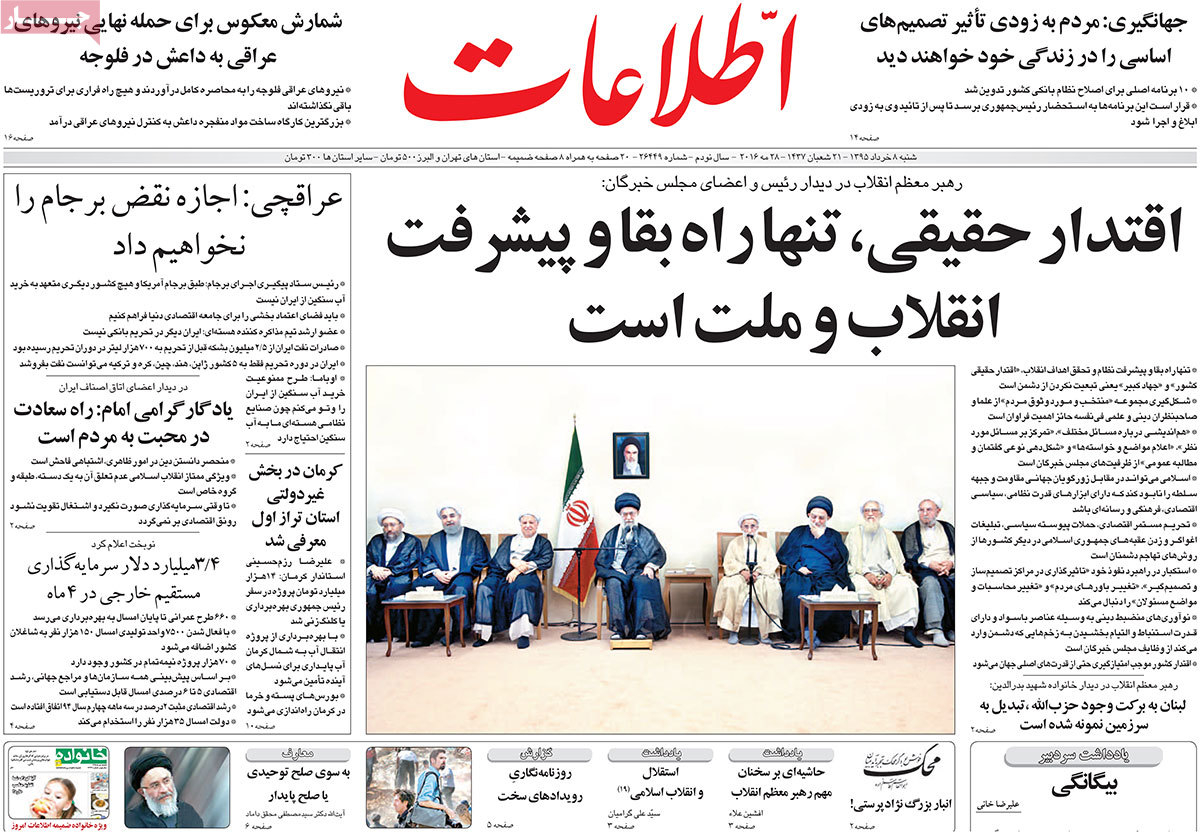 ---
Haft-e Sobh:
1- Palm and JCPOA: Is the Success of Farhadi's The Salesman a Result of Zarif's Efforts?
2- Story of a City: A Full-Spanish Finale in Milan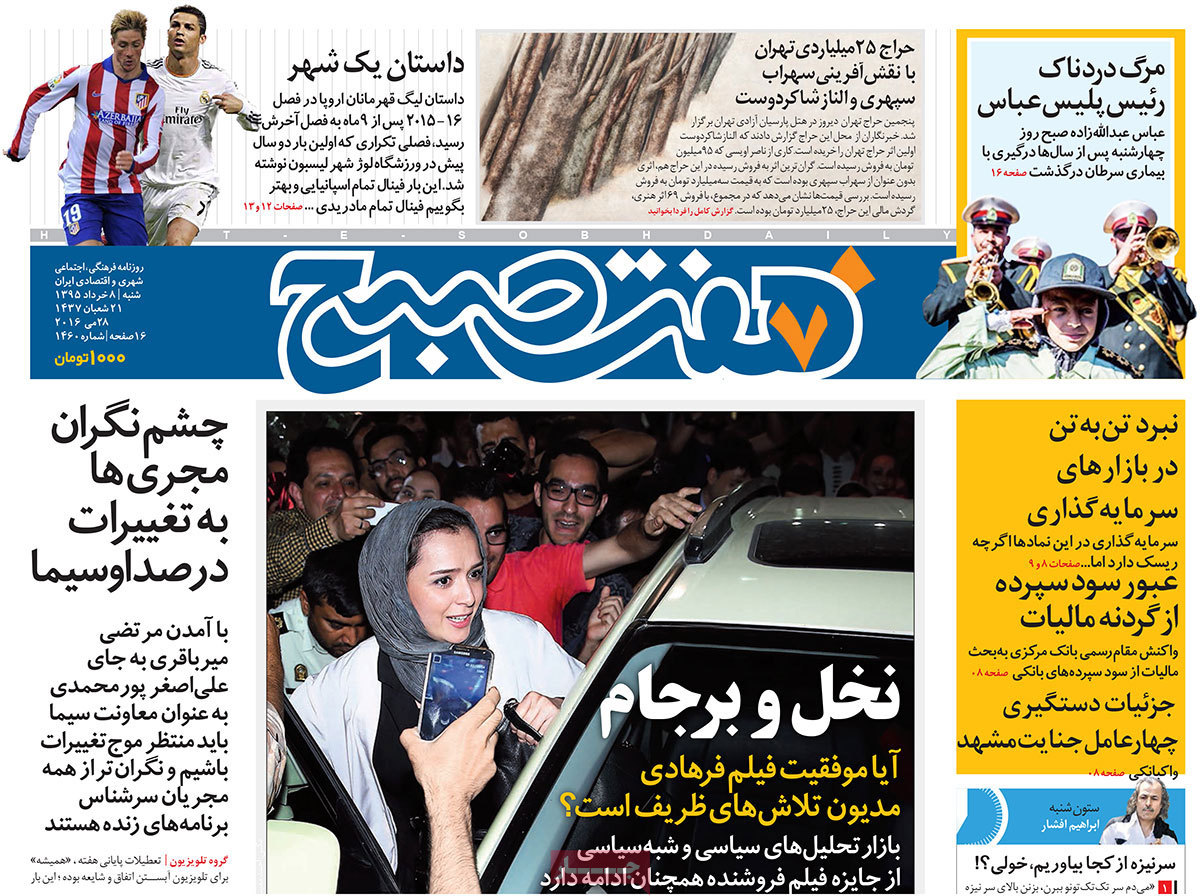 ---
Hamshahri:
1- France Suspended [due to strikes]
2- Iran Gov't Vows to Prevent Astronomical Salaries and Stop Subsidies to High Earners
---
Iran:
1- Battle between Iranian and Saudi Hackers: Cyber War Begins
[A hacker who claimed to be a member of ISIS, but is reported to be a Saudi national supported by the Riyadh government, hacked the website of Iran's Statistics Organization a few days ago. In response, an Iranian hacking team hacked the official website of Saudi Arabia's statistics organization as well as the portal of King Abdulaziz University. Since then, both Saudi and Iranian hackers have continued their attacks on each other, infiltrating several official and non-official websites so far.]
2- Ranger Killed by Timber Poachers in Northern Iran
3- Obama Pays Tribute [to Japanese Victims of US Nuclear Attack] without Apologizing
4- Iran-Saudi Hajj Negotiations Fruitless So Far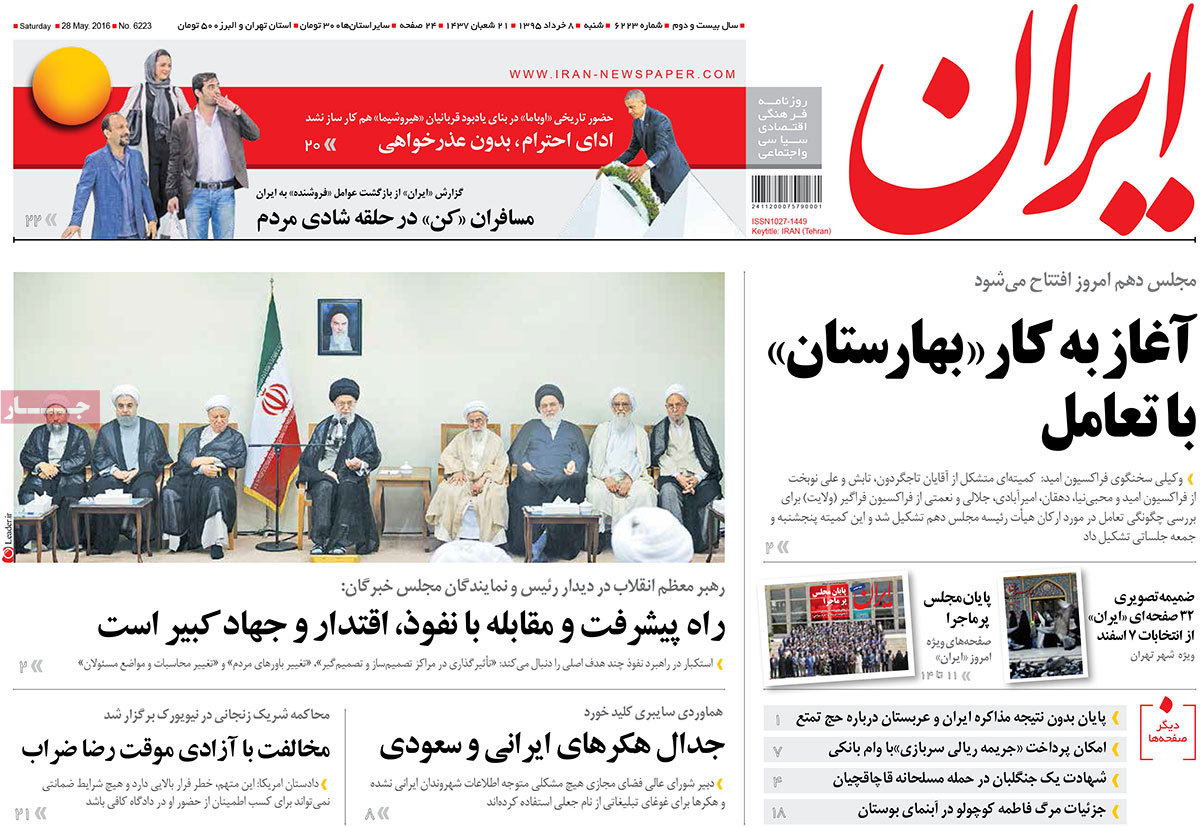 ---
Javan:
1- We Gained [Nuclear] Concessions through Our Might, Not by Negotiation: Leader
2- Ayatollah Khamenei: Enemy Will Understand Futility of Sanctions Once Resistance Economy Bears Fruit
3- Reformists to Turn Their Back on Their Leader Aref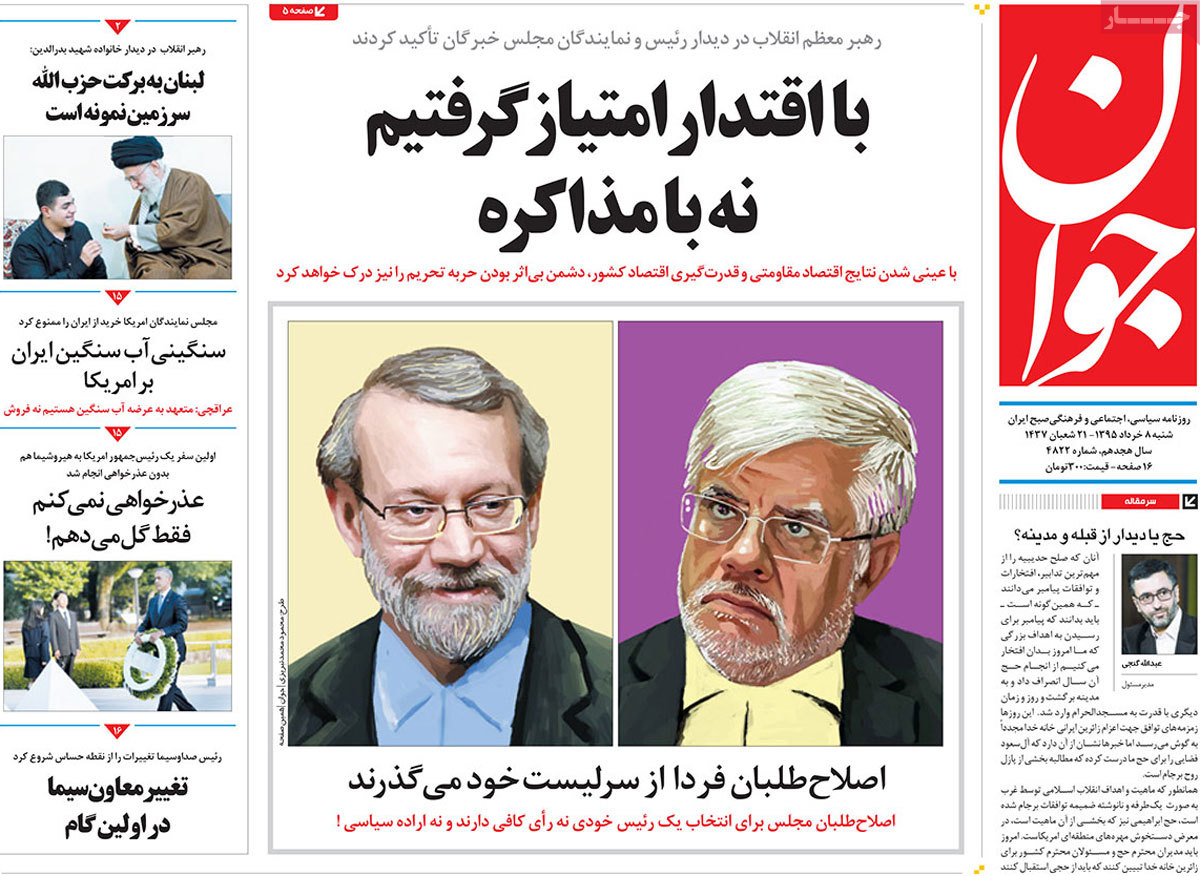 ---
Jomhouri Eslami:
1- Iran Has Fulfilled Its JCPOA Commitments: IAEA
2- UAE's Role in Selling Holy Quds Land to Zionist Regime [Israel]
3- Prominent British University Professor Refuses to Accept Zionist Foundation's Prize
4- Riyadh Has No Serious Desire to Receive Iranian Pilgrims: Official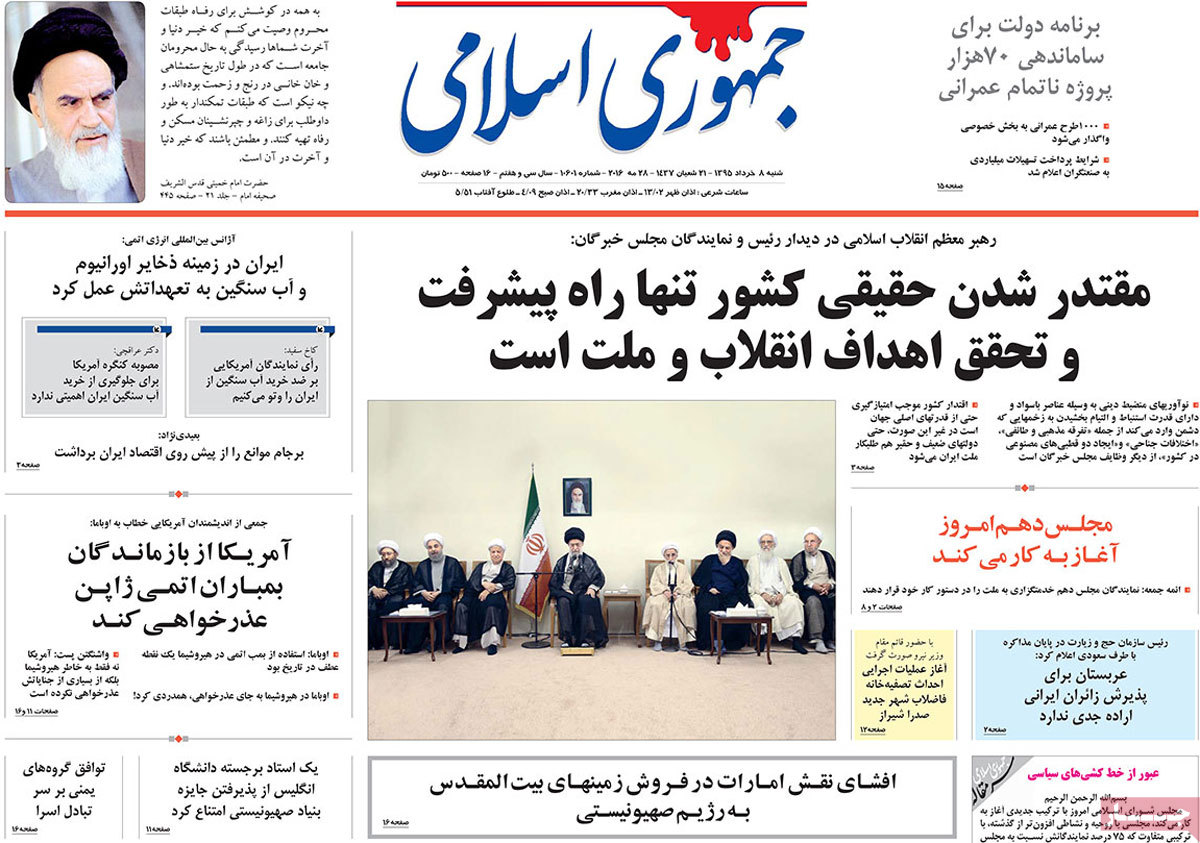 ---
Kayhan:
1- If We're Powerful and Don't Obey Others, Enemy Will Beg: Leader
2- Evidence on Turkey's Aid to ISIS Given to UN Secretary General
3- Iran Should Reconsider Its Domestic Policies to Enjoy JCPOA Results: US State Department
4- Saudi Arabia Doesn't Guarantee Security of Iranian Pilgrims: Cleric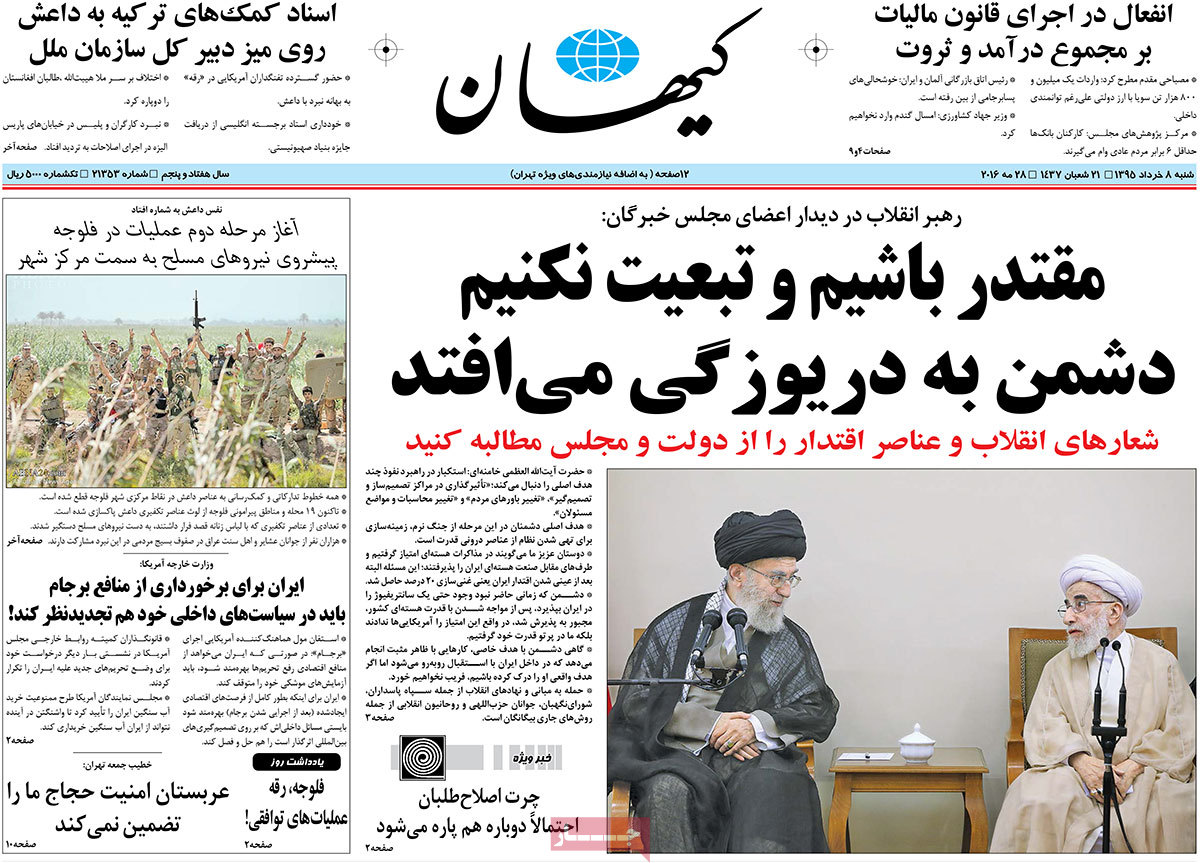 ---
Nasl-e Farda:
1- Following Trends in Iran: Iranians Spend Over $290/Month to Be Fashionable
2- Iranian People Spend $870,000 on Smoking Each Day
3- Iran's Advisory Presence in Iraq Is on Baghdad's Request: Spokesman
4- Trump: From Fun to Nightmare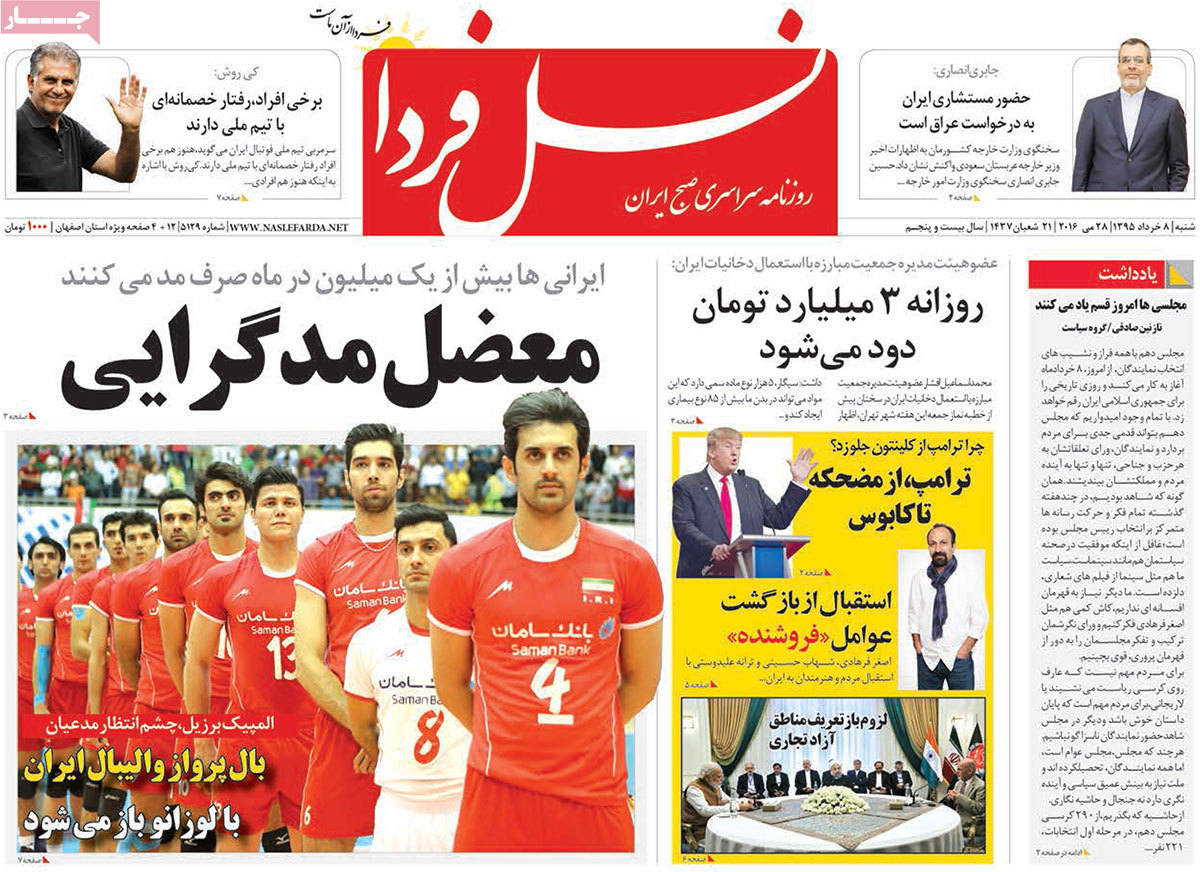 ---
Shahrvand:
1- 700 Parents in Court for Not Sending Children to School
2- Caspian Sea Regression Crisis: Gorgan Gulf to Dry Up in 8 Years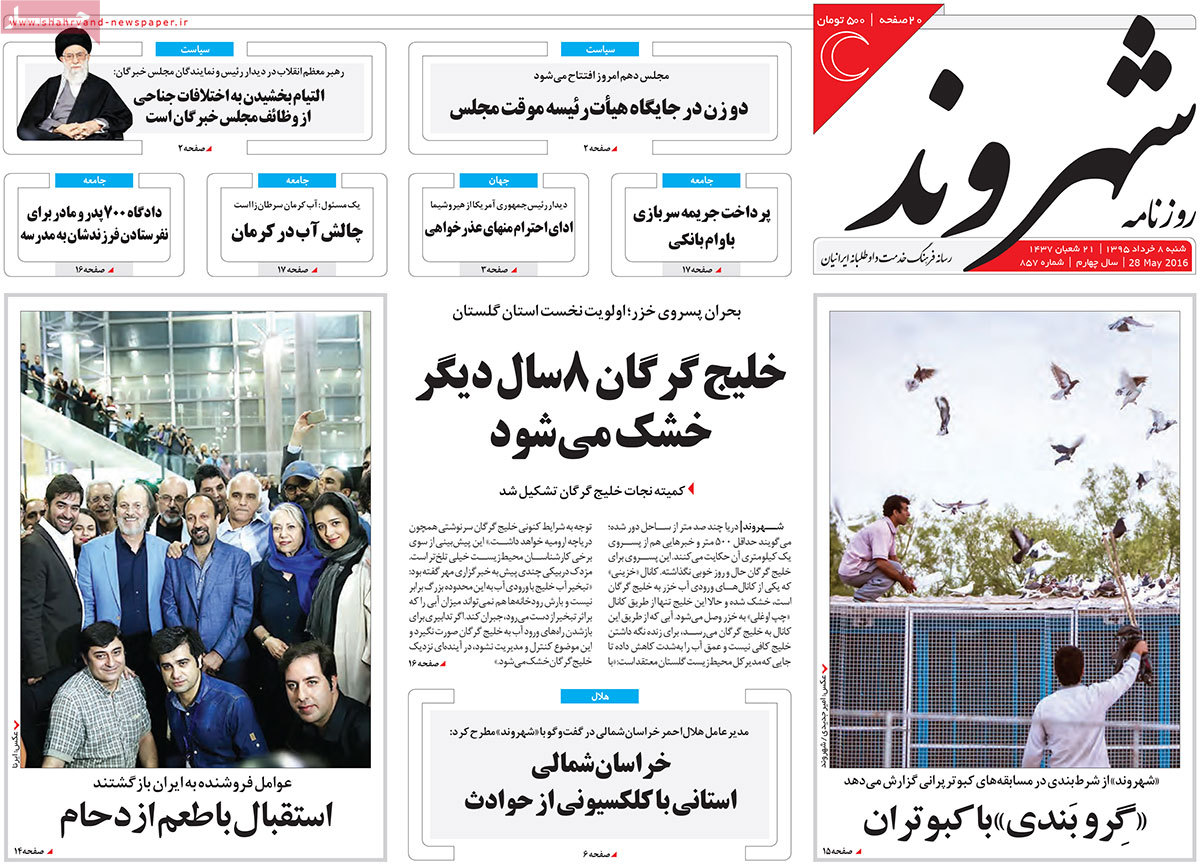 ---
Tejarat:
1- Central Asia to Be Developed with Iranian Fuel
2- Downturn is G7's Shared Pain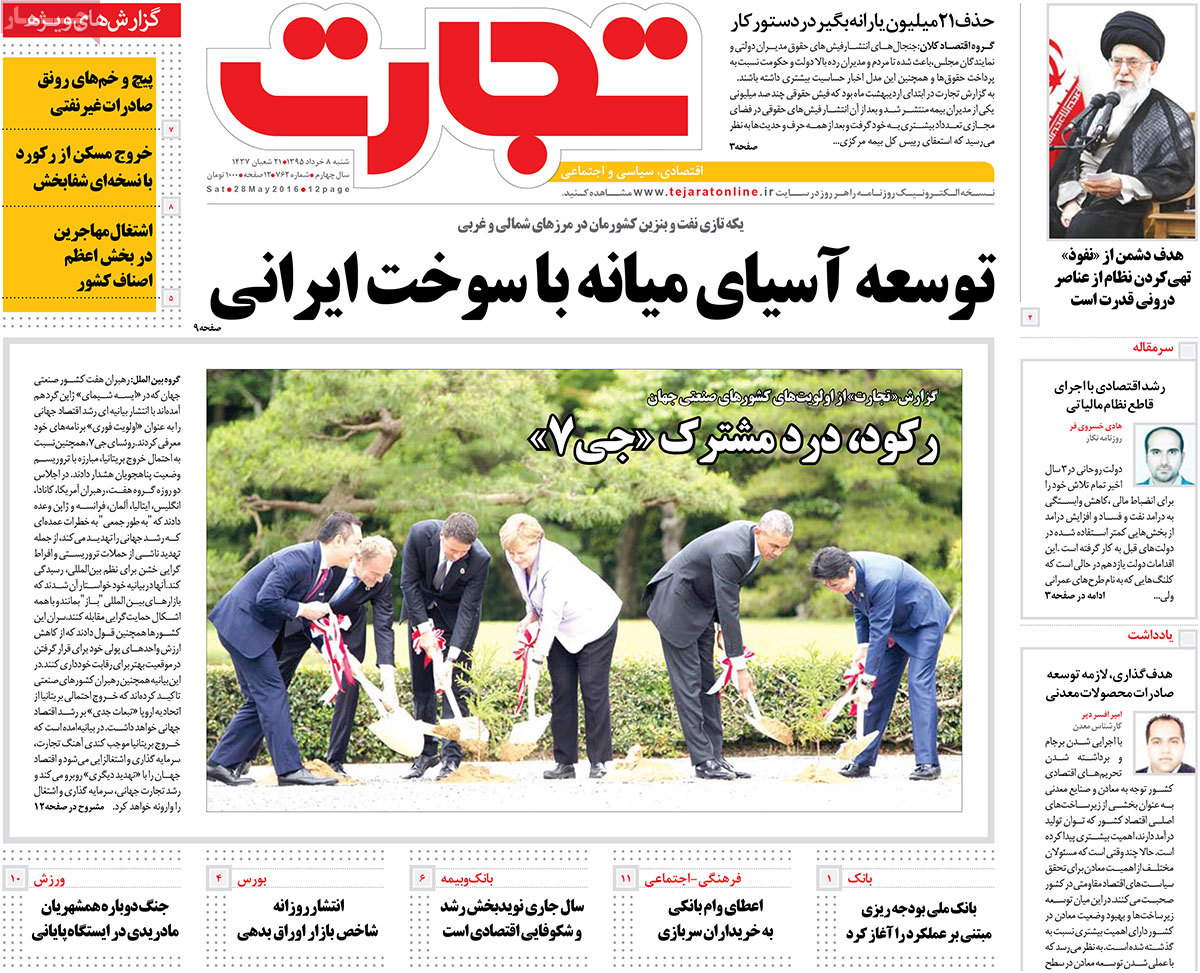 ---
Vaghaye Ettefaghieh:
1- Happiness Is Not Just [Achieved by] Making Comedies: Shahab Hosseini [The Salesman actor replied to an IRIB reporter's question, asking why Asghar Farhadi doesn't consider Iranian people's happiness.]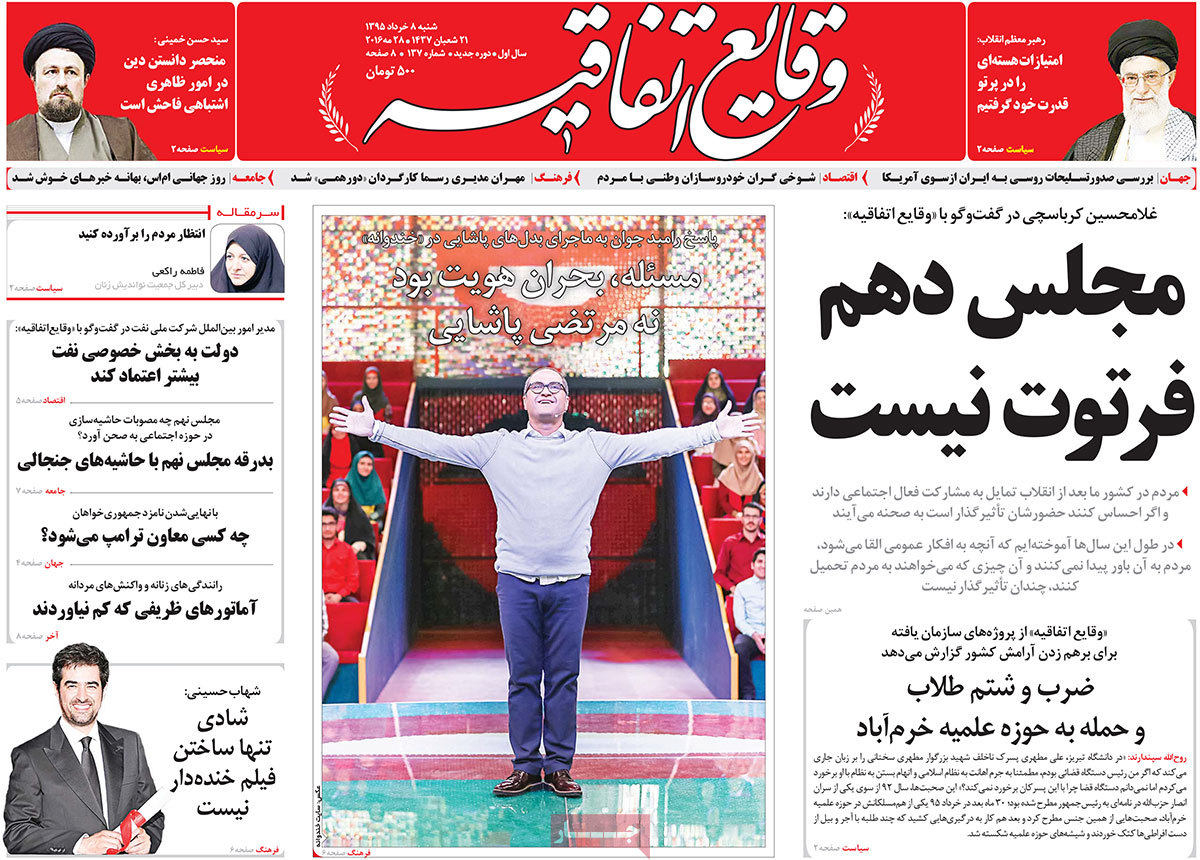 ---
Vatan-e Emrooz:
1- USA's 2nd Nuclear Bomb in Hiroshima: Refusing to Apologize Is Shameless Codename of New Nuclear War [Editorial]
2- How English Replaced Persian Language in India
3- Reformists' Disappointment over Presidency of Parliament [predictions]: We're Not the Minority; We're Turncoats!
4- 5-Year-Old Girl Brings HIV Back as Souvenir from Dubai!