The upcoming election in Iran's new parliament to choose the next speaker was a top story in most newspapers on Thursday. The competition will be between the reformist Mohammad Reza Aref and the moderate conservative Ali Larijani.
A number of papers also covered the unfinished parliamentary investigations into an alleged corruption in the Foundation of Martyrs and Veterans Affairs.
Abrar:
1- We're Looking for Reinforcement of Ties with Iran: New Turkish PM
2- Shrine of Imam Khomeini Ready to Receive 1m Visitors [on his upcoming anniversary]
3- Barzani: We're Ready for Independence
4- Iranian and Afghan Officials Discuss Bilateral Security Cooperation
---
Abrar-e Eqtesadi:
1- Negative Signals of Negative [Decreasing] Inflation: Decrease of Prices Result of Deep Economic Downturn
2- Iran and Austria Sign Oil MoU
3- Iran's Economy Is Ill: Minister
4- India and China Competing for Presence in Iran's Chabahar Port
5- Iran and Iraq's Basra Ink $10m Contract
6- Indian Companies Ready to Develop 3 Oilfields in Iran
7- Global Oil Price Poised to Exceed $50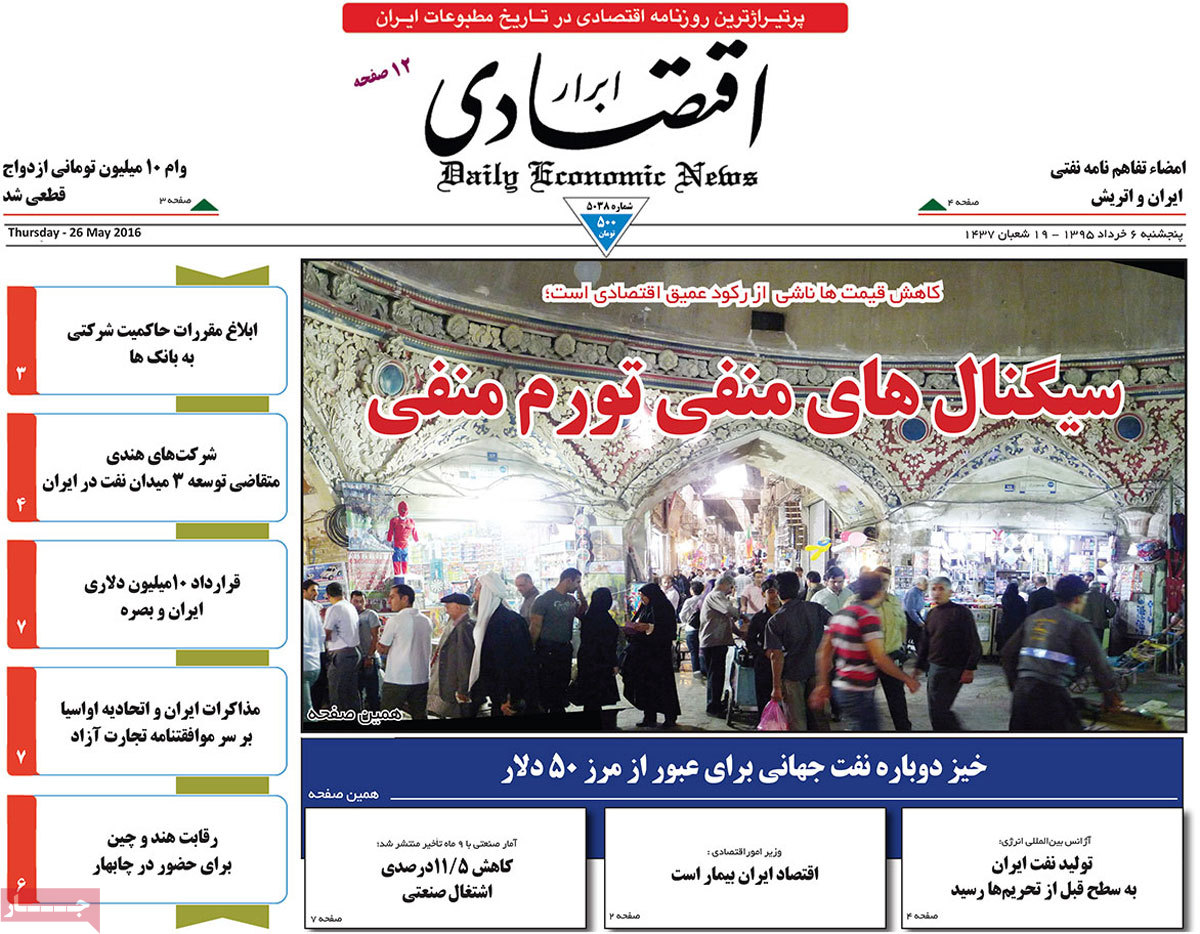 ---
Aftab-e Yazd:
1- Larijani: We're Not Indebted to List of Hope [reformists' list in February 26 elections]
2- Age of First Cigarette Use Down to 11
3- Rooster's Comb Used in Sausage Production!
4- Medical Error, Once Again: Surgery Blade Touches Infant's Face
5- 6% of Iranians Have Used Alcohol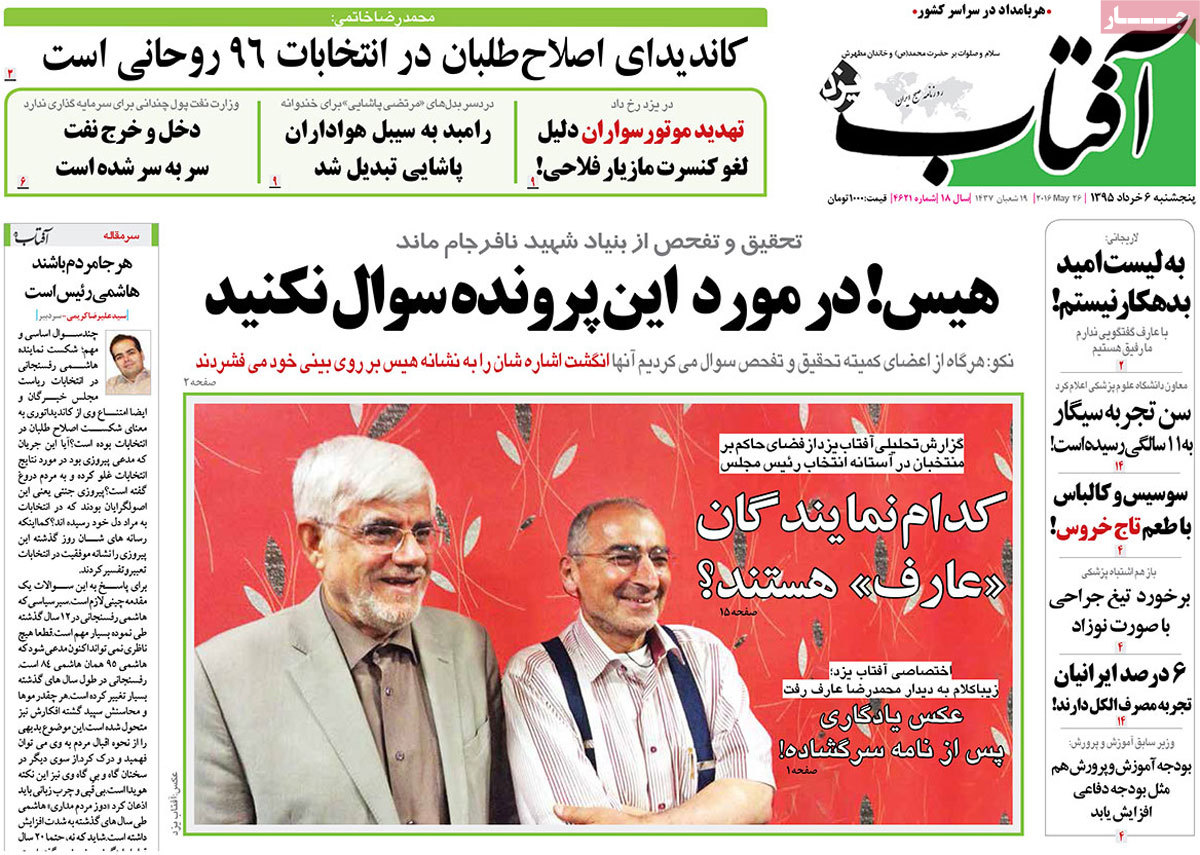 ---
Arman-e Emrooz:
1- Details of Aref's Meeting with Rouhani: Secrets behind Reformists' Offer to Larijani
2- Aref: I Won't Withdraw [from running for speakership of parliament]
3- Lawsuit Filed against Science Minister of Ahmadinejad
4- Rouhani Will Be Reformists' Candidate in Next Year's Presidential Elections: Mohammad Reza Khatami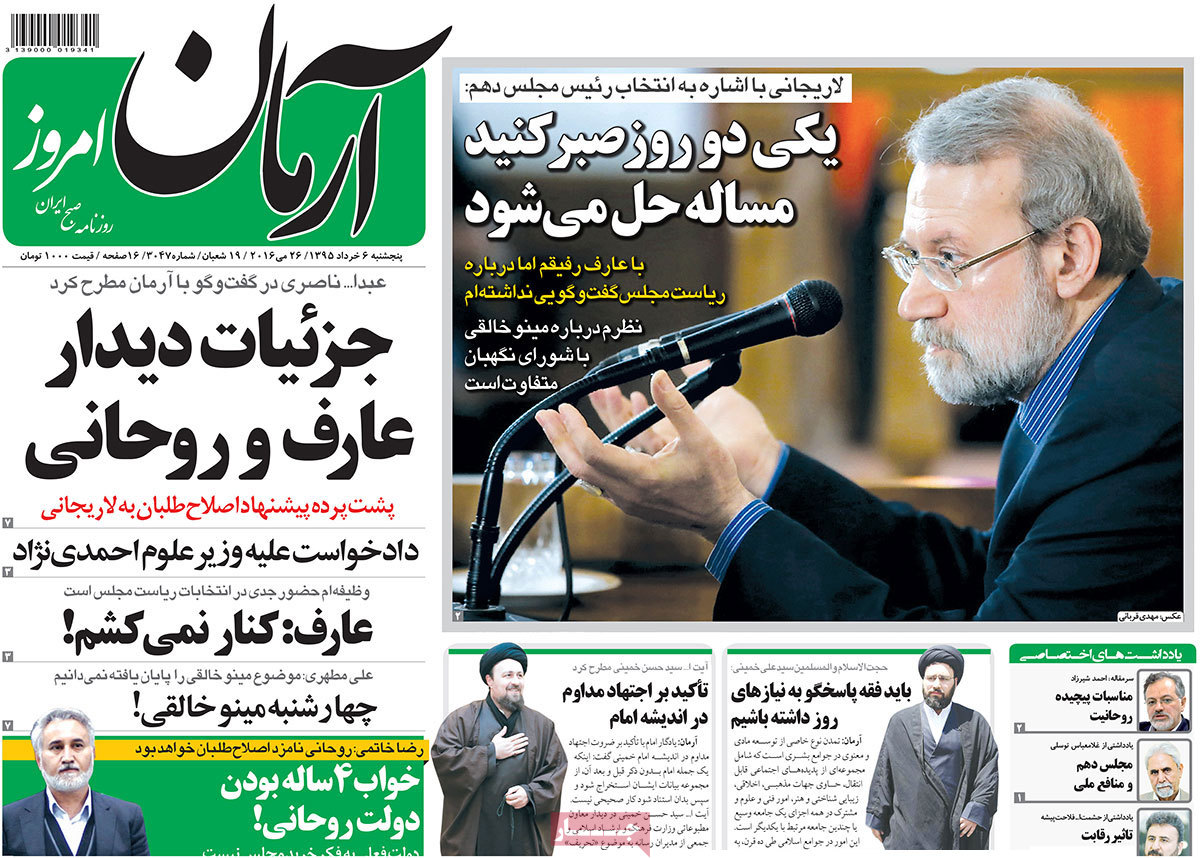 ---
Asrar:
1- 2 Austrian Banks Have Started Their Ties with Iran: Chamber of Commerce
2- Gov't Will Not at All Interfere in Election of Parliament Speaker: VP
3- Aref: I Feel Duty-Bound to Participate in Election for Parliamentarian Presidency
4- Imam Khomeini's Grandson: We Should Have a Fiqh [Islamic Jurisprudence] that Can Respond to Modern Needs
5- Iran's Volleyball Crushes Poland
---
Emtiaz:
1- Cigarette Kills 1 Person Each 8 Seconds: Health Minister
2- Arg-e Bam [Bam Citadel] Revives after 13 Years
3- Growth of Divorce Rate Stopped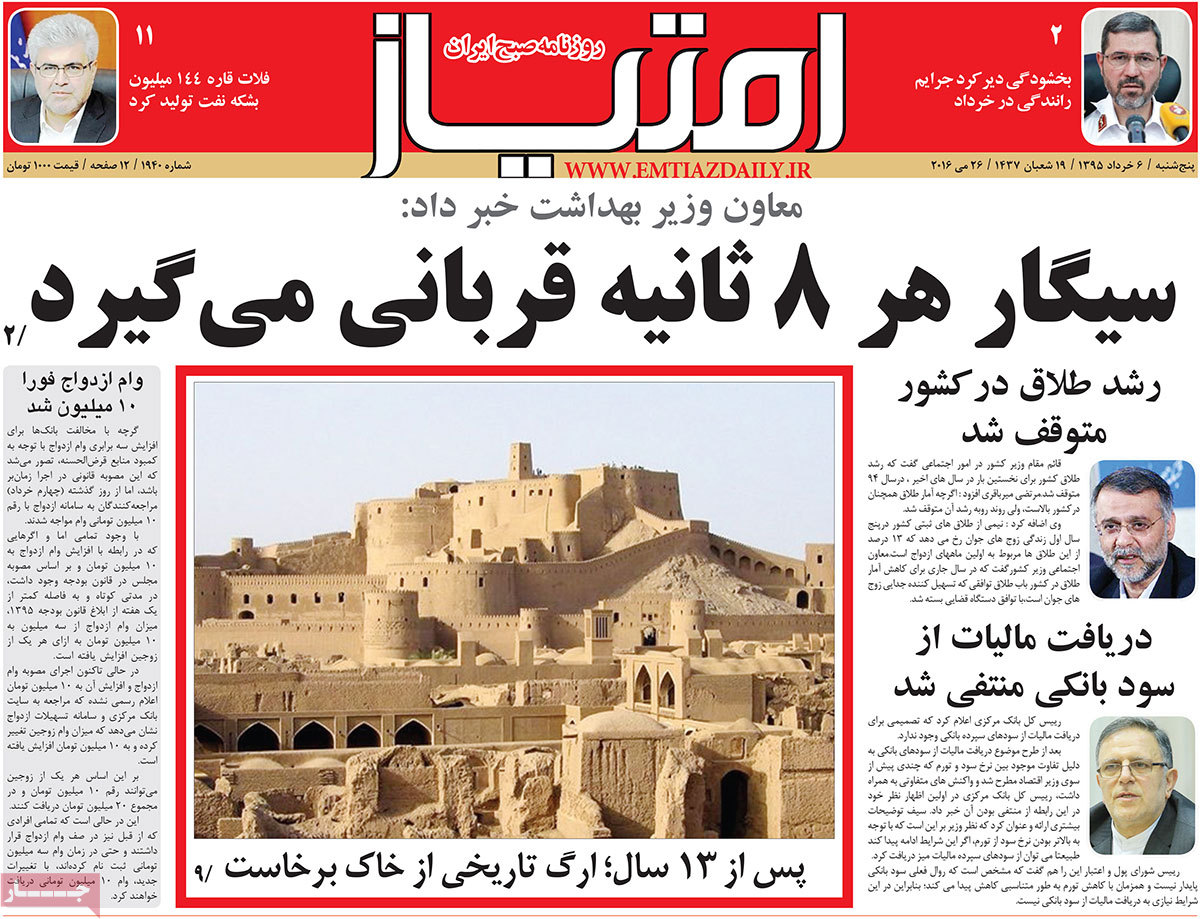 ---
Etemad:
1- Forensics Official Urges Increased Punishments for Alcohol Use
---
Ettela'at:
1- People's Message in Recent Elections Was to Ease Tensions in the Country
2- Tax Incomes to Become Government's Main Source of Income: Minister
3- Victory in Fallujah Is Imminent and ISIS Is on Verge of Collapse: Iraqi PM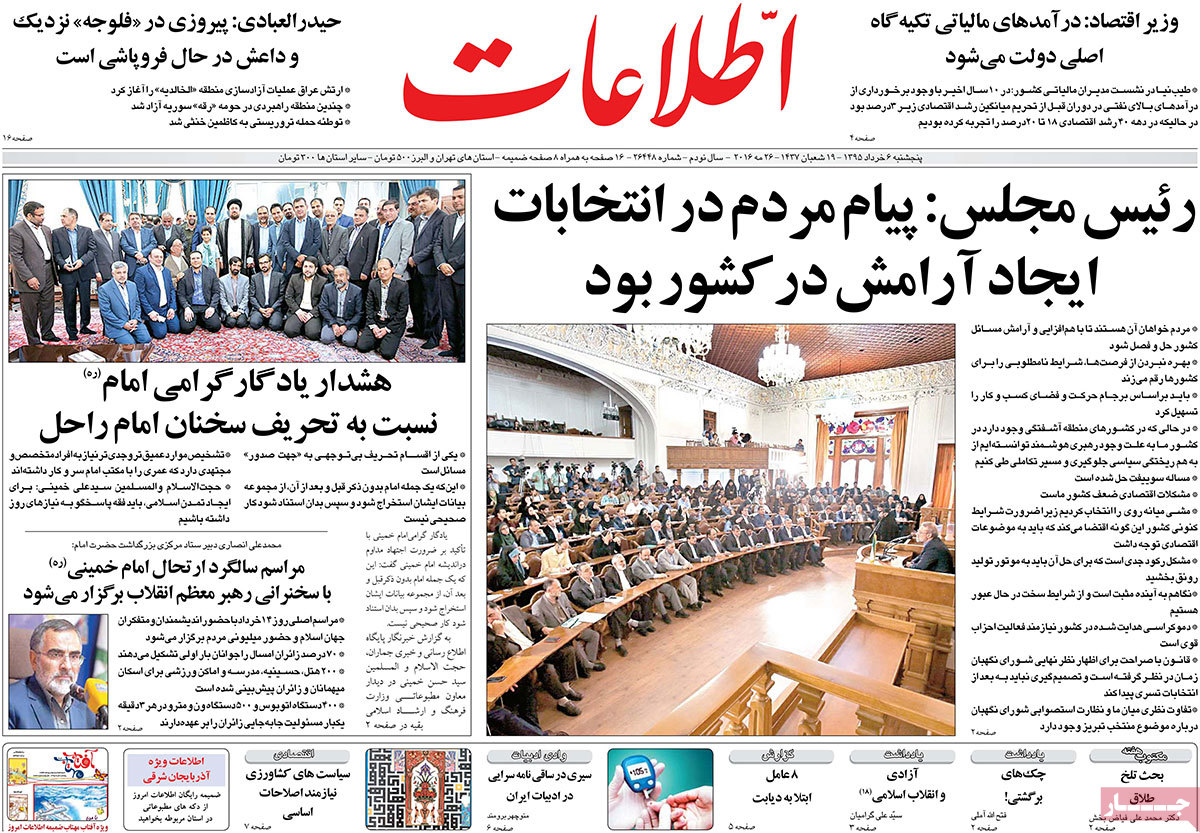 ---
Haft-e Sobh:
1- Traces of Alcohol Use in 4 Serious Incidents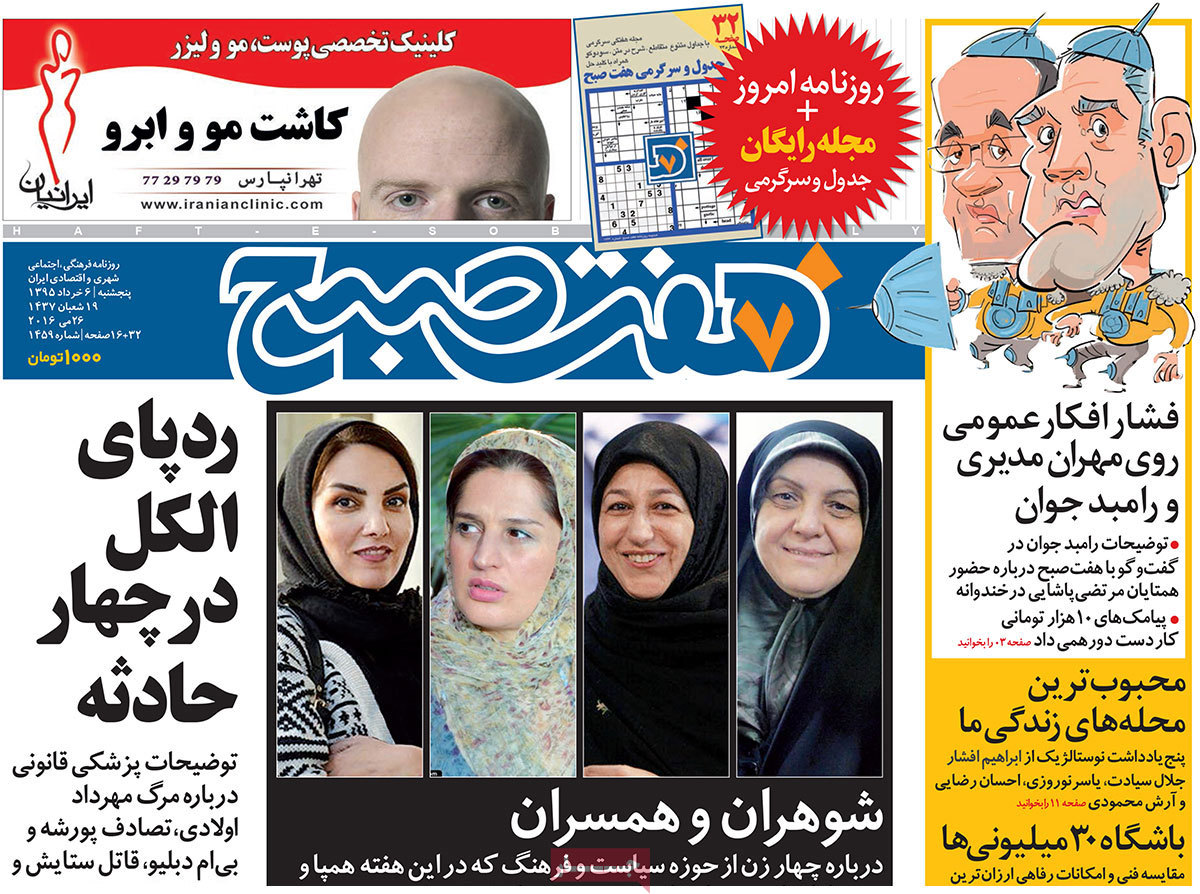 ---
Javan:
1- "Hellish" Behaviour towards Ayatollah Jannati: Were Rafsanjani and Karoubi the First Members-Elect in Tehran during Their Presidency? [Jannati's election as the chairman of Assembly of Experts came as he had the least number of votes in Tehran, ranking 16 among the 16 candidates.]
2- Money-Lovers Won't Achieve Resistance Economy: 2 Months after Leader's Guidelines, Nothing Accomplished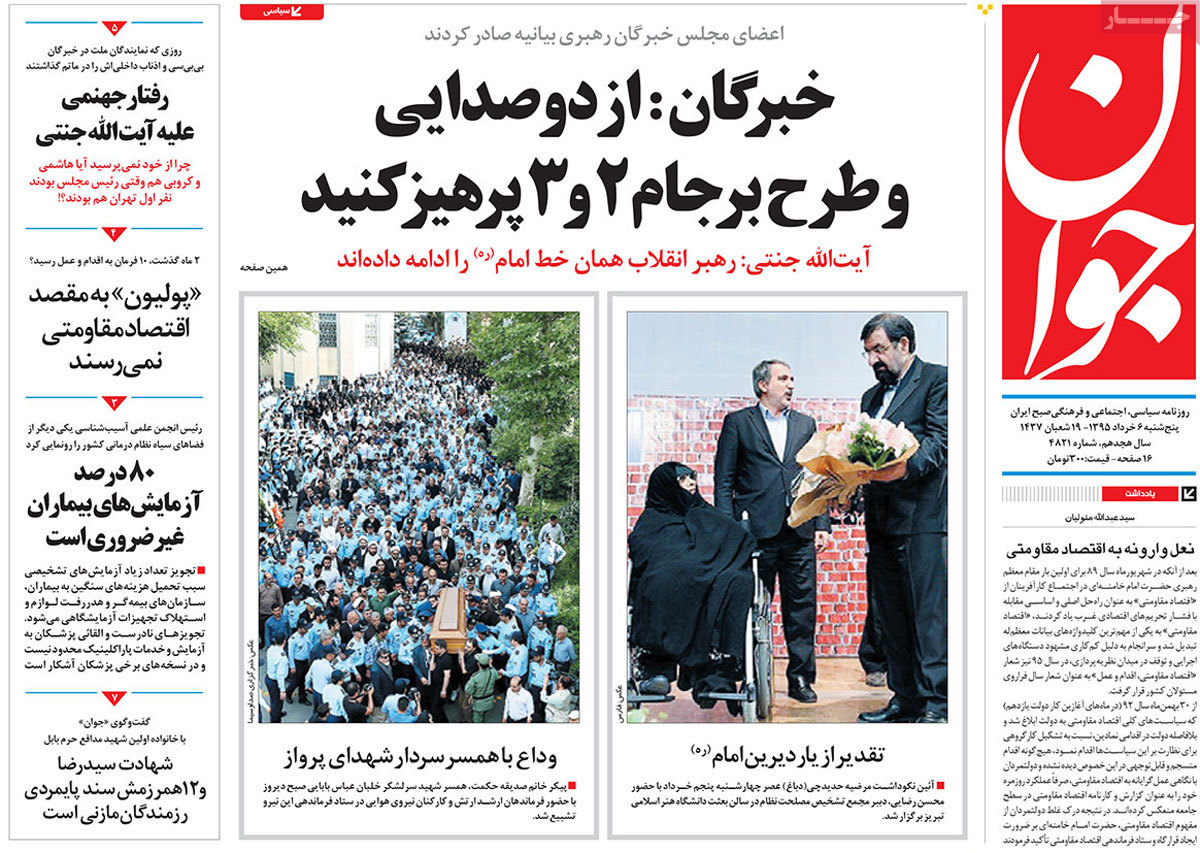 ---
Jomhouri Eslami:
1- Carter: USA Is a Big Reservoir of Racism
2- We Created Al-Qaeda 20 Years Ago: Clinton
3- Royal Dutch Shell Returns to Iran [Oil Industry] in Cooperation with 2 Iranian Companies
4- Iran's Oil Exports to Europe Increased to 600,000bpd
5- Ayatollah Sistani's Advice to Iraqi Fighters
---
Kayhan:
1- Iran's Oil Extraction from Joint Fields One-Tenth of That of Sheikhdoms
2- Terror and Intimidation, Main Instruments Used by US to Dominate Other Countries: Swiss Analyst told Kayhan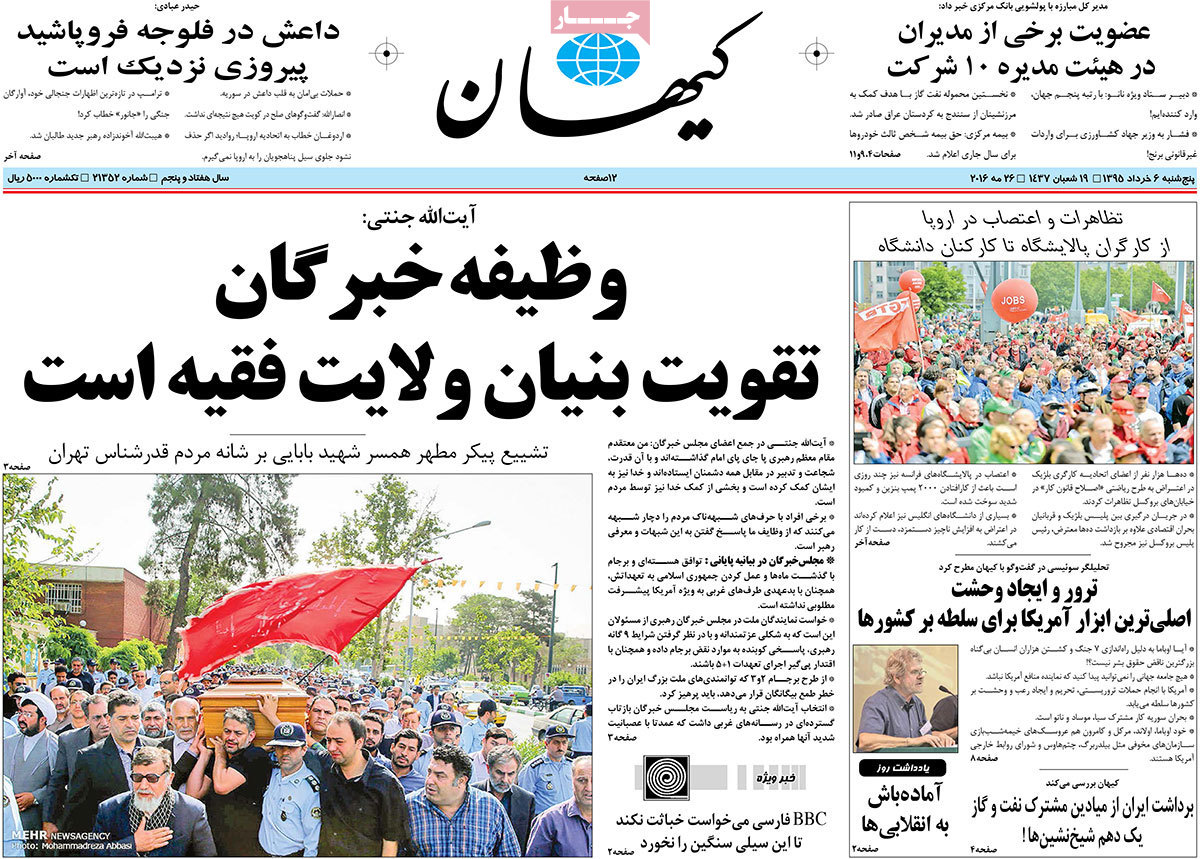 ---
Nasl-e Farda:
1- Young Generation's Reluctance to Marriage
2- Legendary General: Foreign Media Talk about General Soleimani's Being Iran's President
---
Resalat:
1- Foreign Media Should Understand Message of Ayatollah Jannati's Election: Cleric Ahmad Khatami
2- Economic Downturn Is Serious, Gov't Should Take Action Faster: Larijani
3- Unrest in US Elections: Protesters in New Mexico Hold Rallies
---
Roozan:
1- Parliament Speaker Larijani Consults Ayatollah Khamenei on Minoo Khaleghi's Case
2- Riyadh Planting Seeds of Terrorism
---
Sayeh:
1- Shanghai Cooperation Organization Waiting for Iran's Accession: Putin's Representative
2- Housekeeping in Capitalist World a Symbol of Exploitation of Women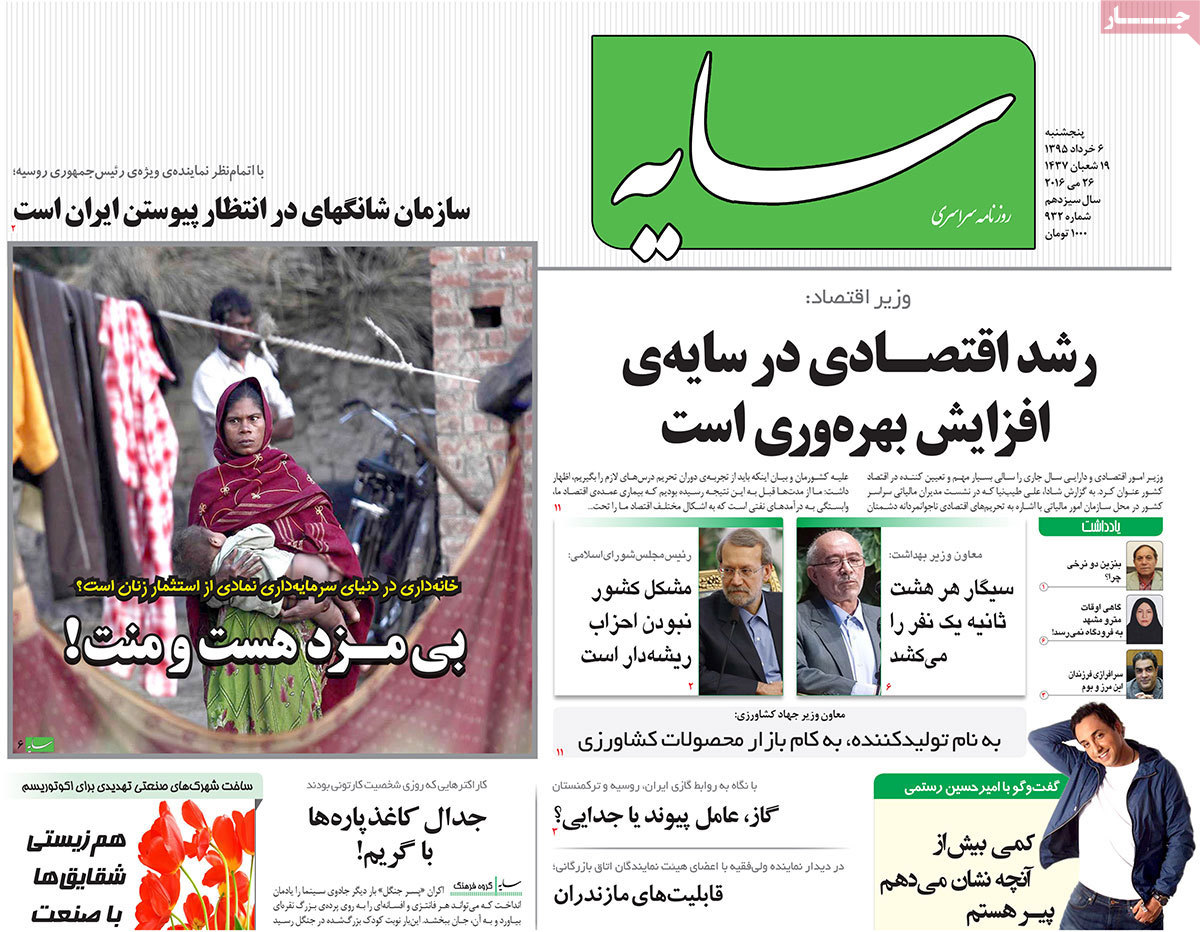 ---
Shahrvand:
1- Bam Smiles Once Again: Arg-e Bam Will Be Opened to Visitors after 13 Years [A huge earthquake devastated the historical citadel in 2003.]
2- New Incentives for Banks Giving Facilities to Exporters: Huge Step Taken by Gov't to Encourage Exports
3- Father of Girls Beaten Up in Armenian Competition: I'm Happy My Daughters Became Famous
4- Mullah Haibatullah Becomes New Leader of Taliban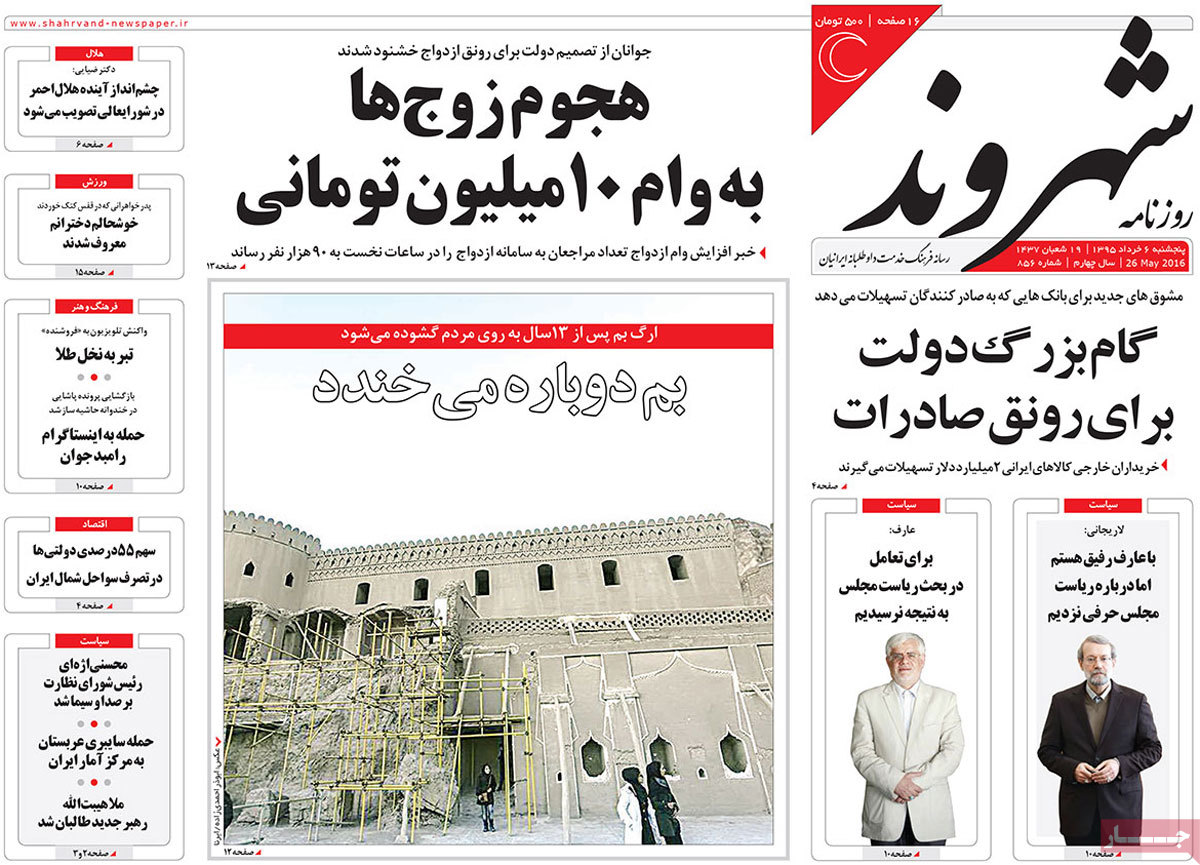 ---
Shargh:
1- First Statement by Jannati-Led Assembly of Experts: 2nd and 3rd JCPOAs Should Be Avoided [President Hassan Rouhani has repeatedly talked about how the country can resolve other problems, including domestic ones, using the same formula that led to the nuclear deal, JCPOA, and called them the 2nd and 3rd JCPOAs.]
2- Certain Changes in Cabinet Are Necessary: Reformist Figure Mohammad Reza Khatami
3- Saudi Arabia on Path of Regional Confrontation [Editorial]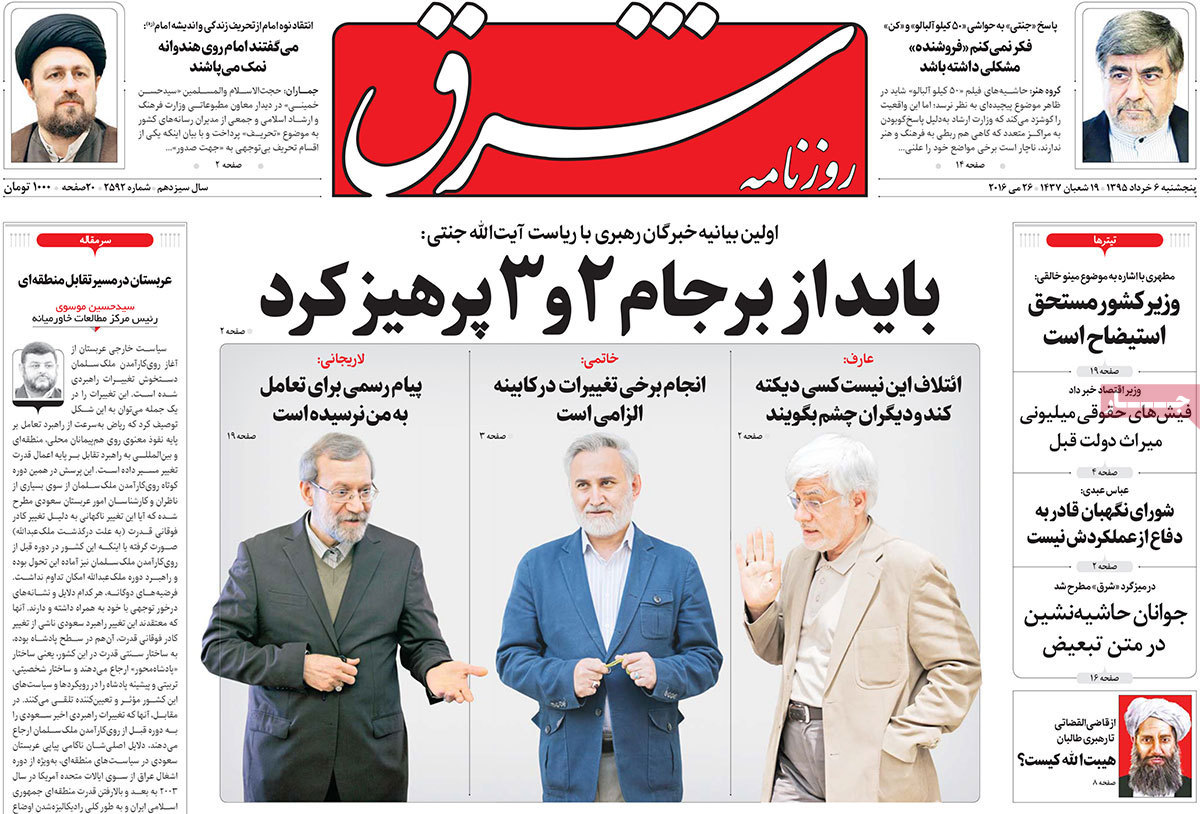 ---
Shorou:
1- KIA Pride Has Killed 92,000 Iranians in Past 20 Years
2- It Might Get Too Late to Permit Mohammad Reza Shajarian to Continue His Work in Iran [The legendary singer Shajarian has been banned from working in Iran because of his stances after the protests at 2009 presidential elections.]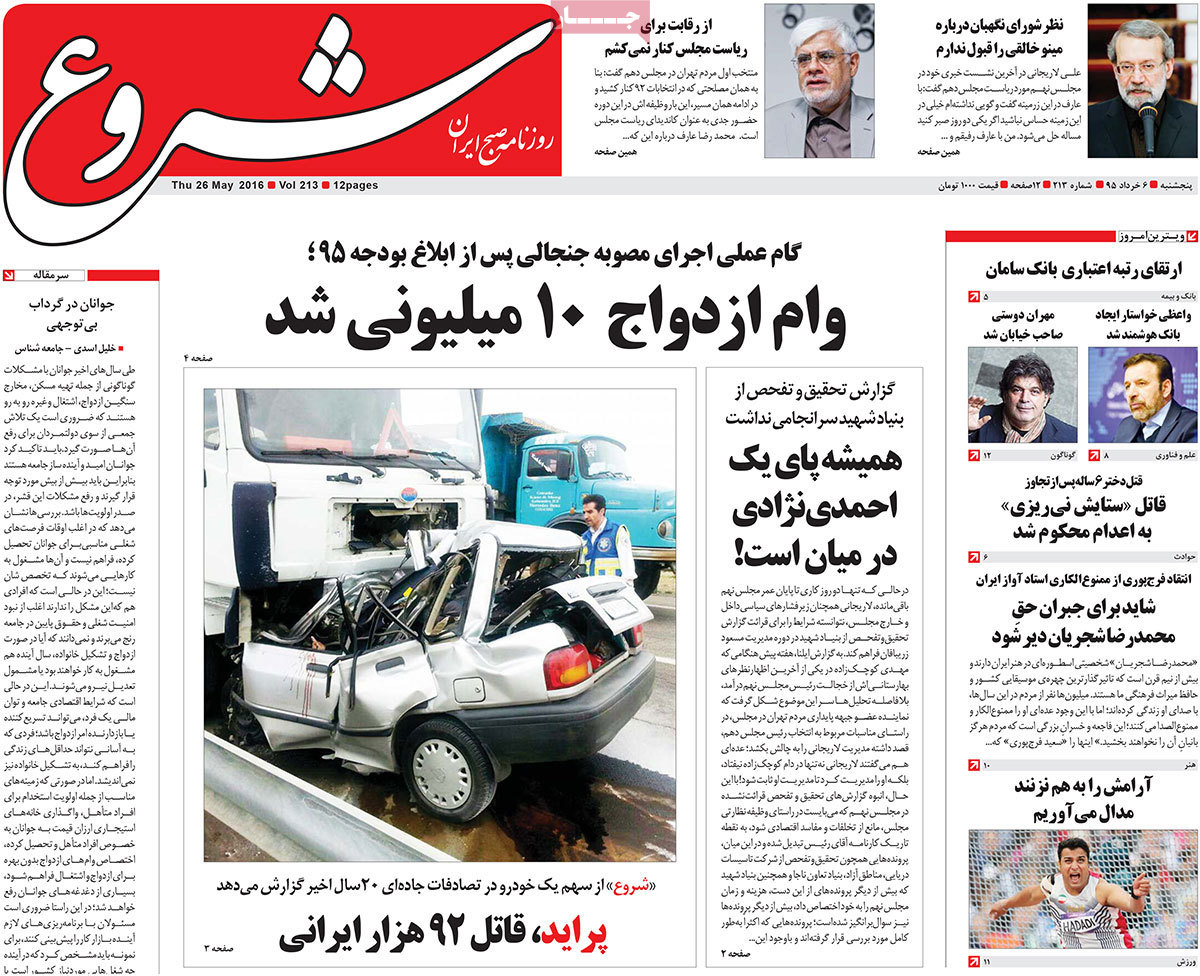 ---
Vaghaye Ettefaghieh:
1- ISIS Cleaned Iraq of Christians: Baghdad's Anglican Church Archbishop
---
Vatan-e Emrooz:
1- Abortion of "Hope" in a Womb for Rent, Resulted from Repeated Conspiracy of Reformist Leaders with Neo-Conservatives
2- Iran Statistics Organization Portal Hacked: Consequences of Procrastinating Implementation of National Information Network Plan
3- Larijani: List of Hope Had No Impact on My Votes