Most newspapers on Monday covered the success of Asghar Farhadi's most recent movie, The Salesman, in the Sunday night closing ceremony of the Cannes Film Festival, where Shahab Hossein won the Best Actor award, and Asghar Farhadi was awarded for the Best Screenplay.
Another top story was the ongoing visit of Indian Prime Minister Narendra Modi and Afghan President Ashraf Ghani to Tehran and the trilateral agreement due to be signed regarding Chabahar Port.
Remarks by different Iranian officials on the nuclear deal (JCPOA) and the problems of its implementation were also covered by Iranian newspapers as usual.
Abrar:
1- No More Restrictions on Banking Transactions in Euros: Iranian Diplomat
2- US Drone Attacks Kill Taliban Leader
3- 2 Senators Warn US Treasury Department against Iran Accessing Dollar
4- Threats Never Surprise Army: Ground Force Commander
5- Big Changes Expected in Taliban after Death of Mullah Mansour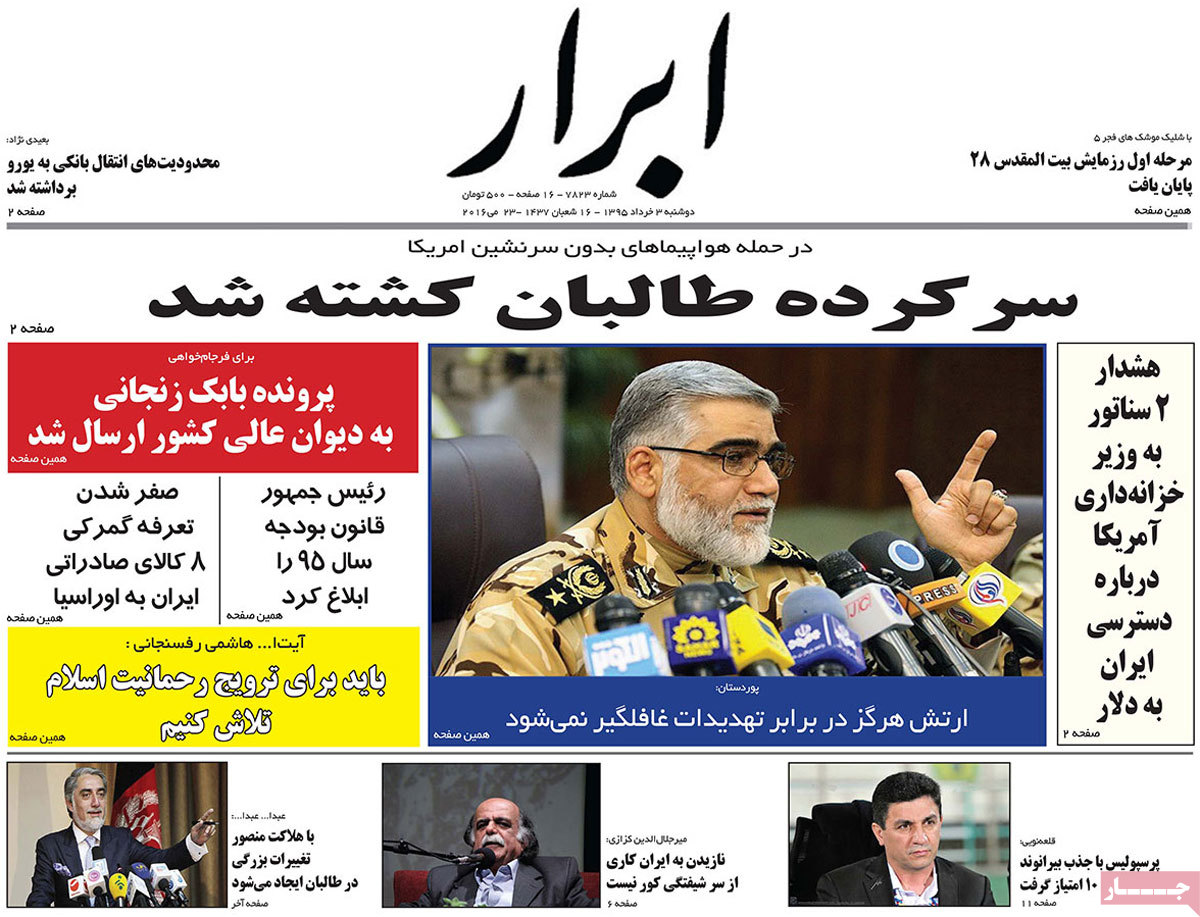 ---
Abrar-e Eqtesadi:
1- Inflation Rate Turns Negative
2- Fresh Talks between Iran and Britain's Shell
3- Iranians Set New Oil Deadline for Chinese
4- Iranian Auto-Manufacturers in Talks with Indians
5- Iran to Raise Oil Exports to 2.2bpd by Summer
6- Reasons behind Eni Oil Sale Delay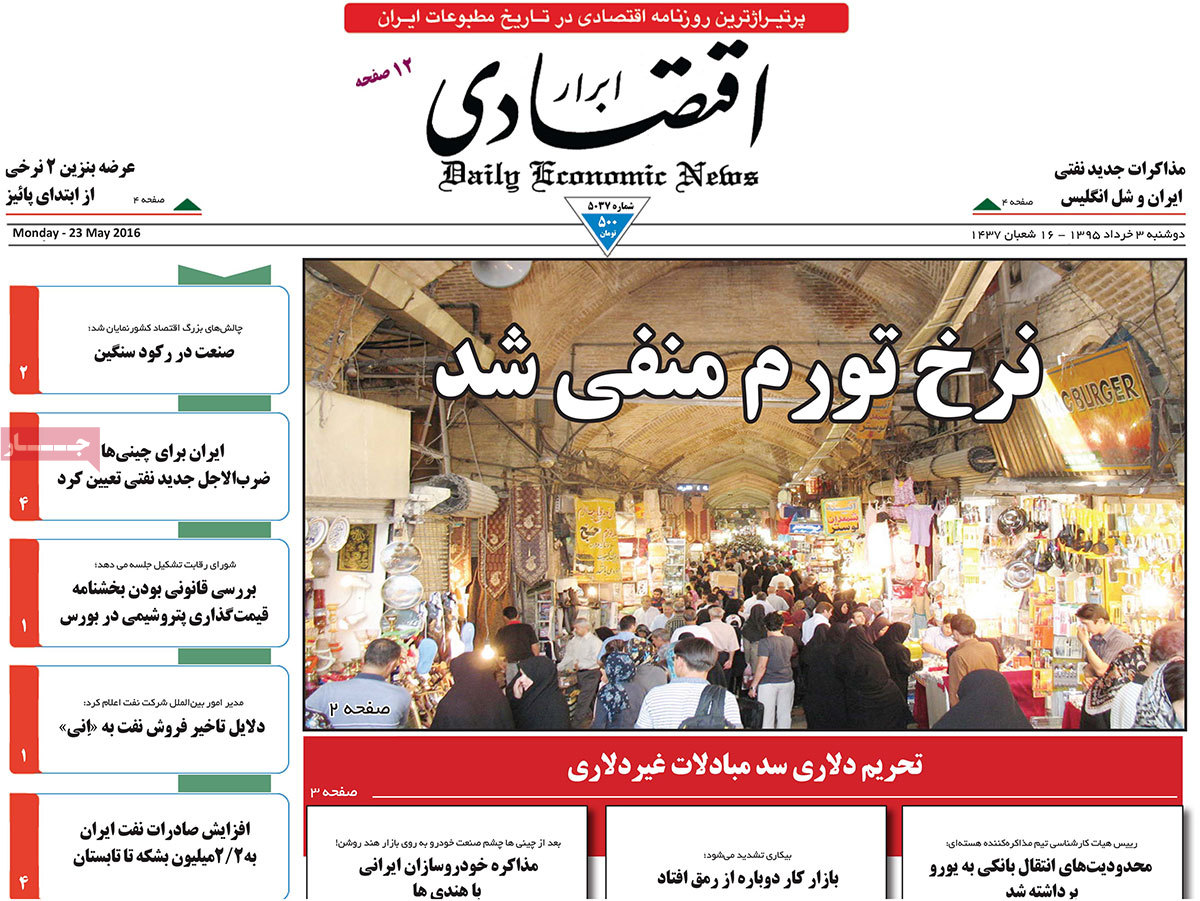 ---
Arman-e Emrooz:
1- Independent MPs-Elect Key to Selection of Next Parliament Speaker
2- Practical Measures Also Needed for JCPOA Implementation: Zarif
3- Cannes Pays Tribute to The Salesman: Awards for Shahab Hossein and Asghar Farhadi
4- Who Will Take Assembly of Experts Presidency?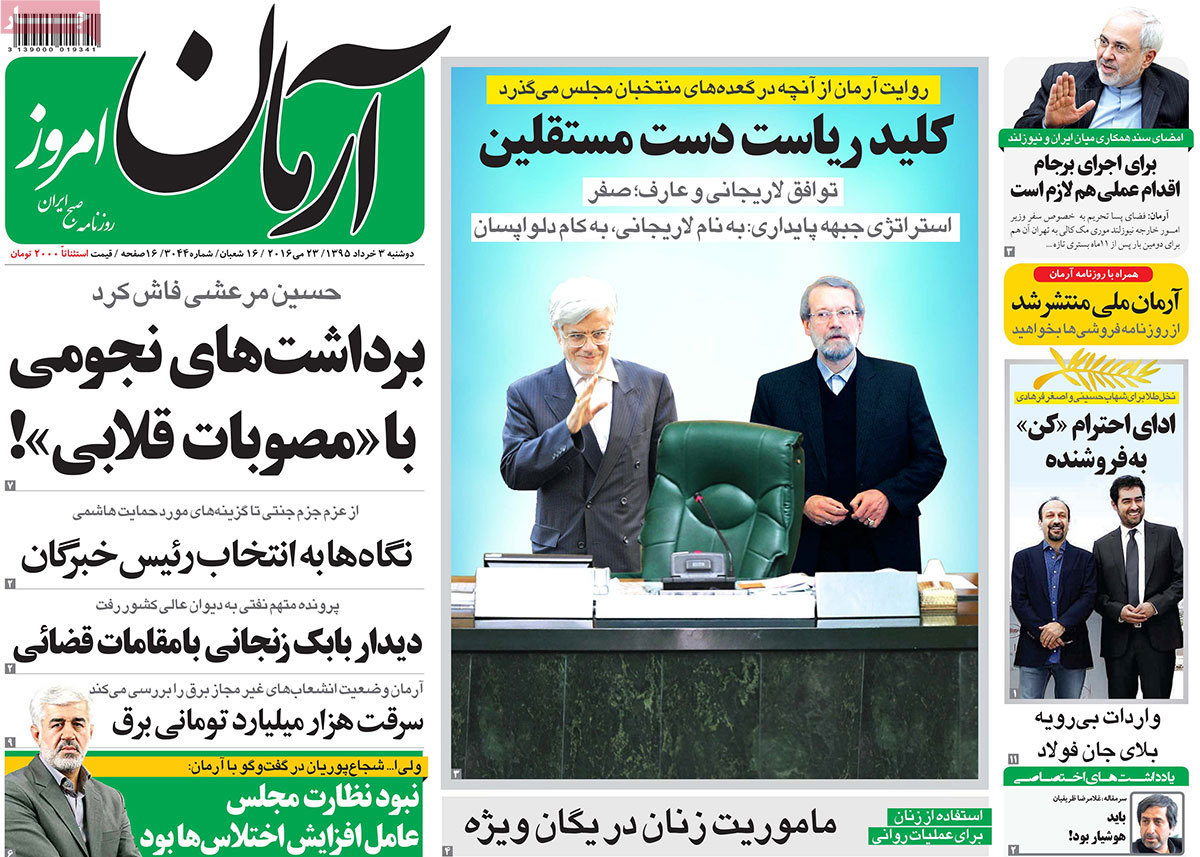 ---
Asia:
1- Congress and White House Still Fighting over Iran's Access to Dollar
2- Afghan President Ghani Will Leave Tehran after a Few Hours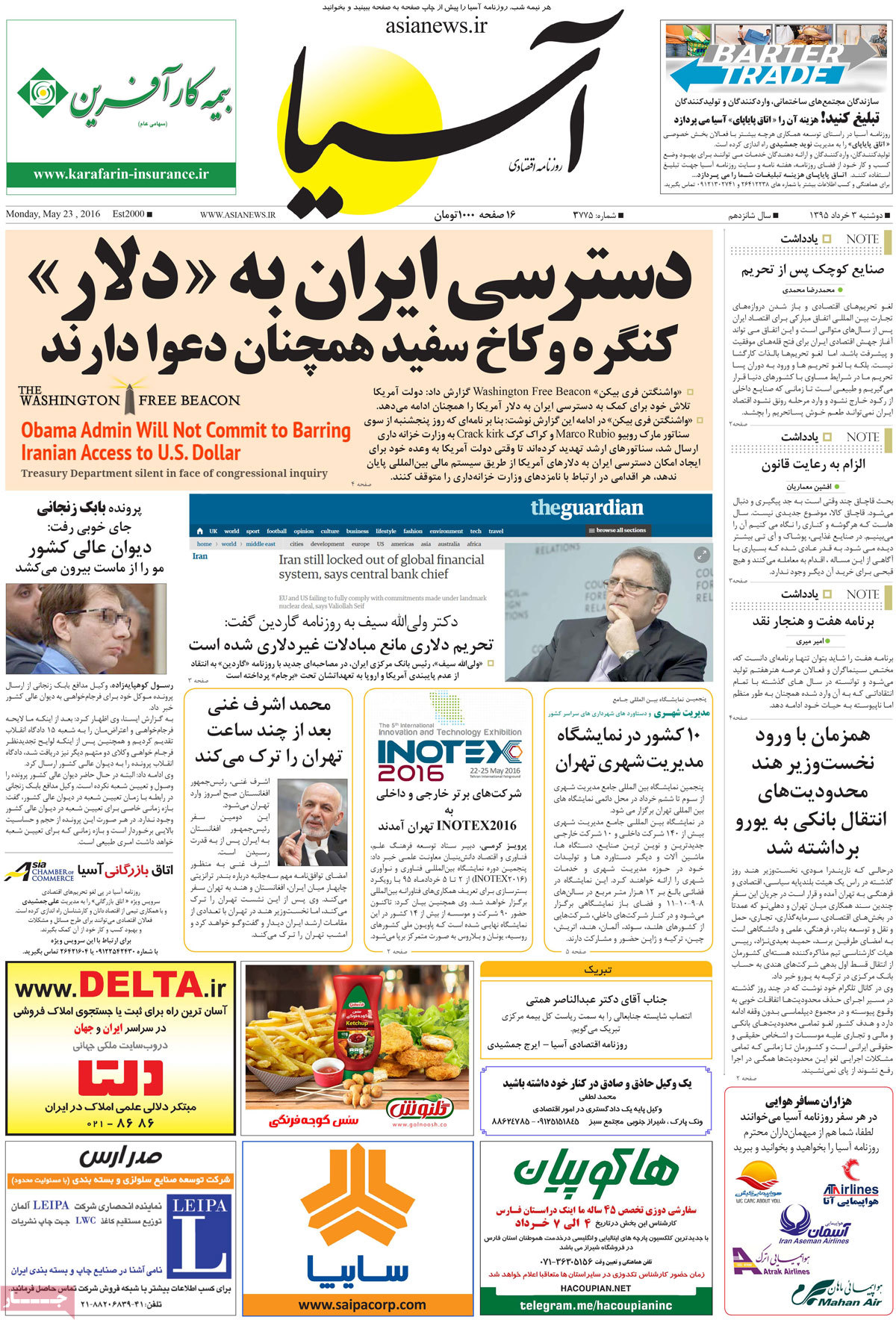 ---
Besharat-e Now:
1- 7th Islamic Countries World Forum Due to Take Place in Iran on May 24-25
2- Violence and Extremism Have No Place in Iranian Culture: Zarif
3- It Is Unwise to Deprive People of Music: Int'l Green Film Festival Secretary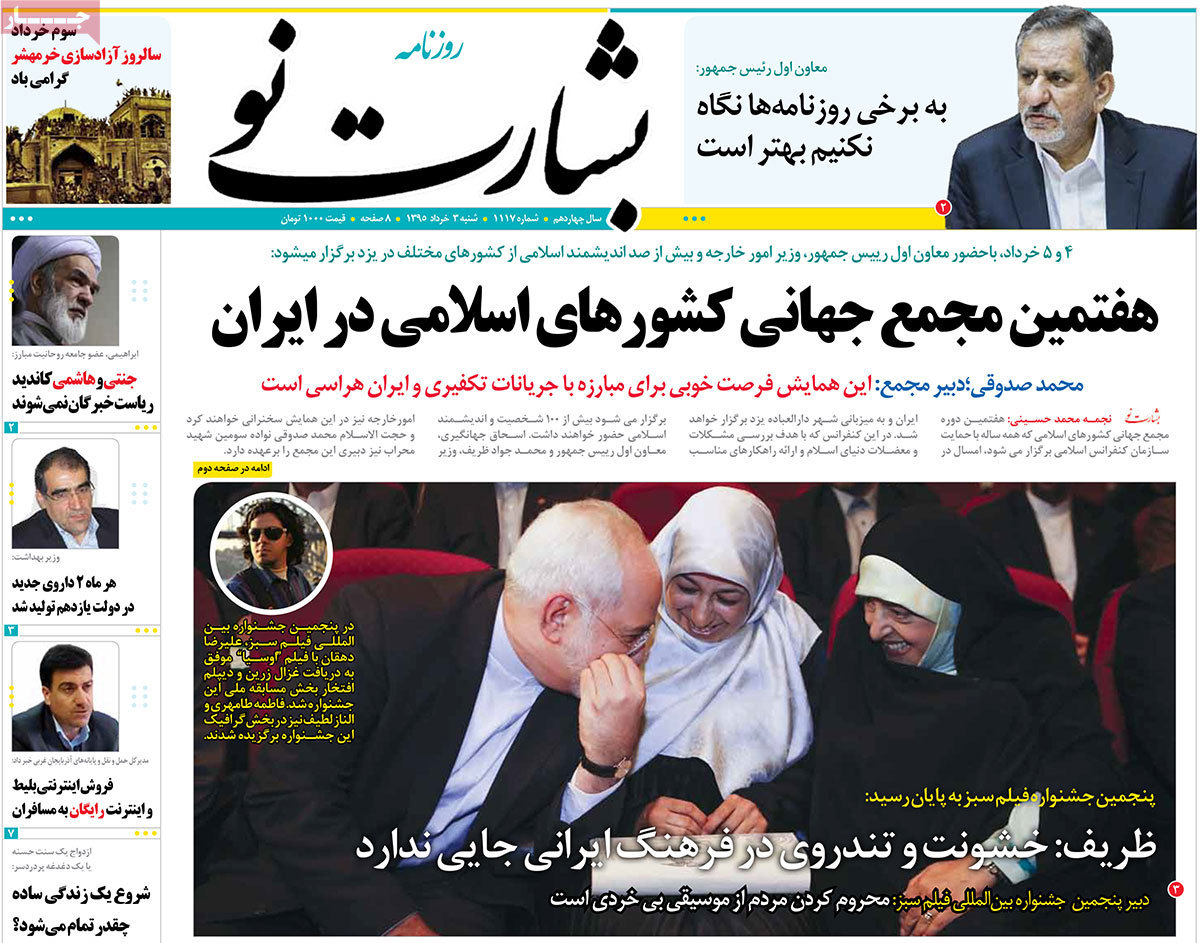 ---
Ebtekar:
1- We Should Try to Spread Mercy of Islam: Rafsanjani
2- 2 Main Cannes Awards Given to Iranian Cinema
3- Afghan President Confirms Killing of Taliban Leader Akhtar Mansour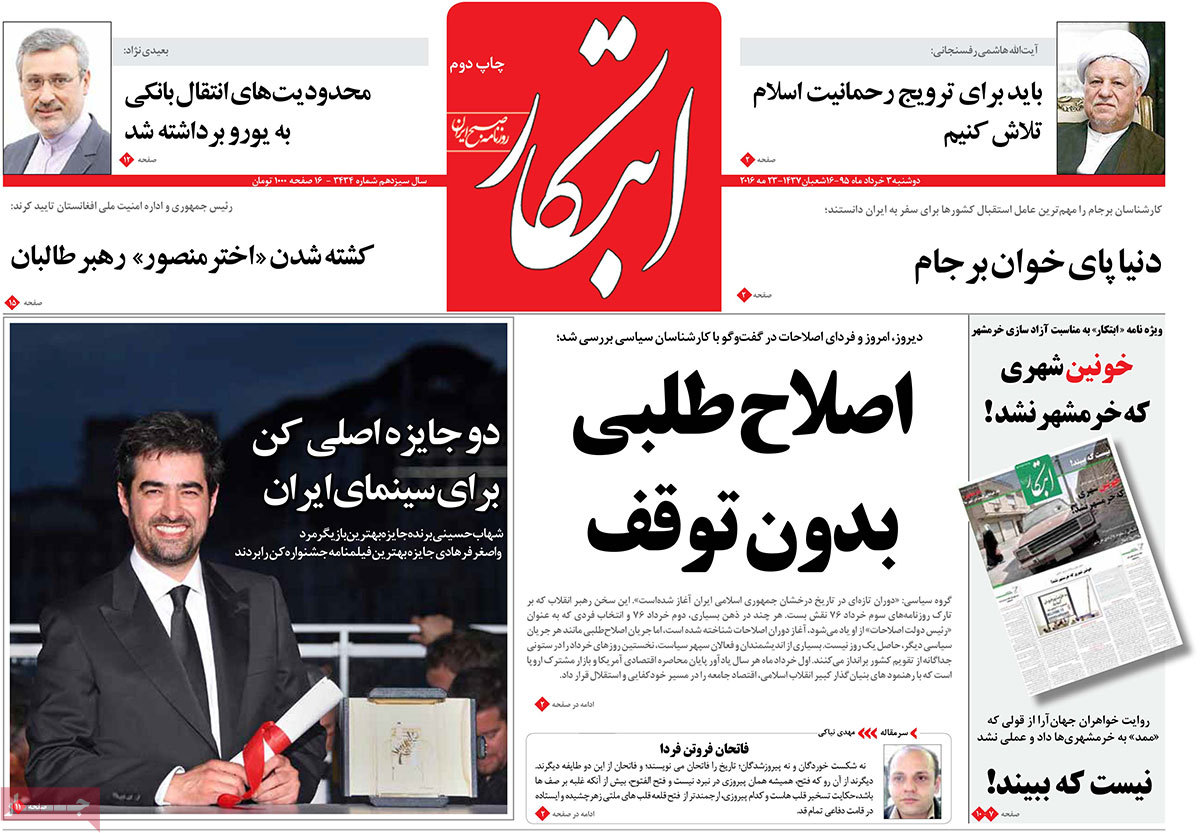 ---
Emtiaz:
1- Tsunami of Foreign Tourists in Iran
2- Direct Flights from Moscow to Holy City of Mashhad
3- Inflation Rate to Be Reduced to Less than 10% This Year: Gov't Spokesman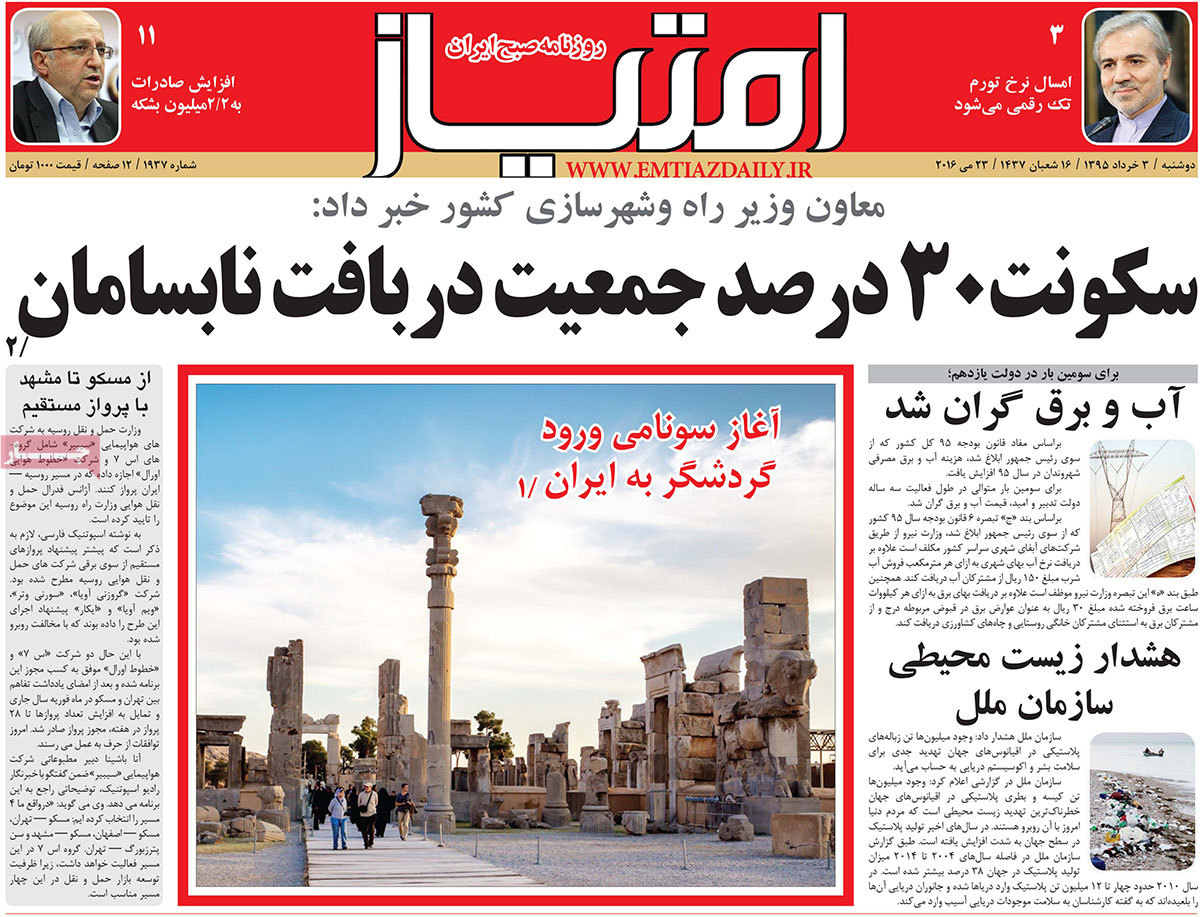 ---
Etemad:
1- Speculations Increase ahead of Assembly of Experts Presidency Vote: First Choice of Fifth Assembly
2- Shajarian's Voice Heard in Cannes with Farhadi's The Salesman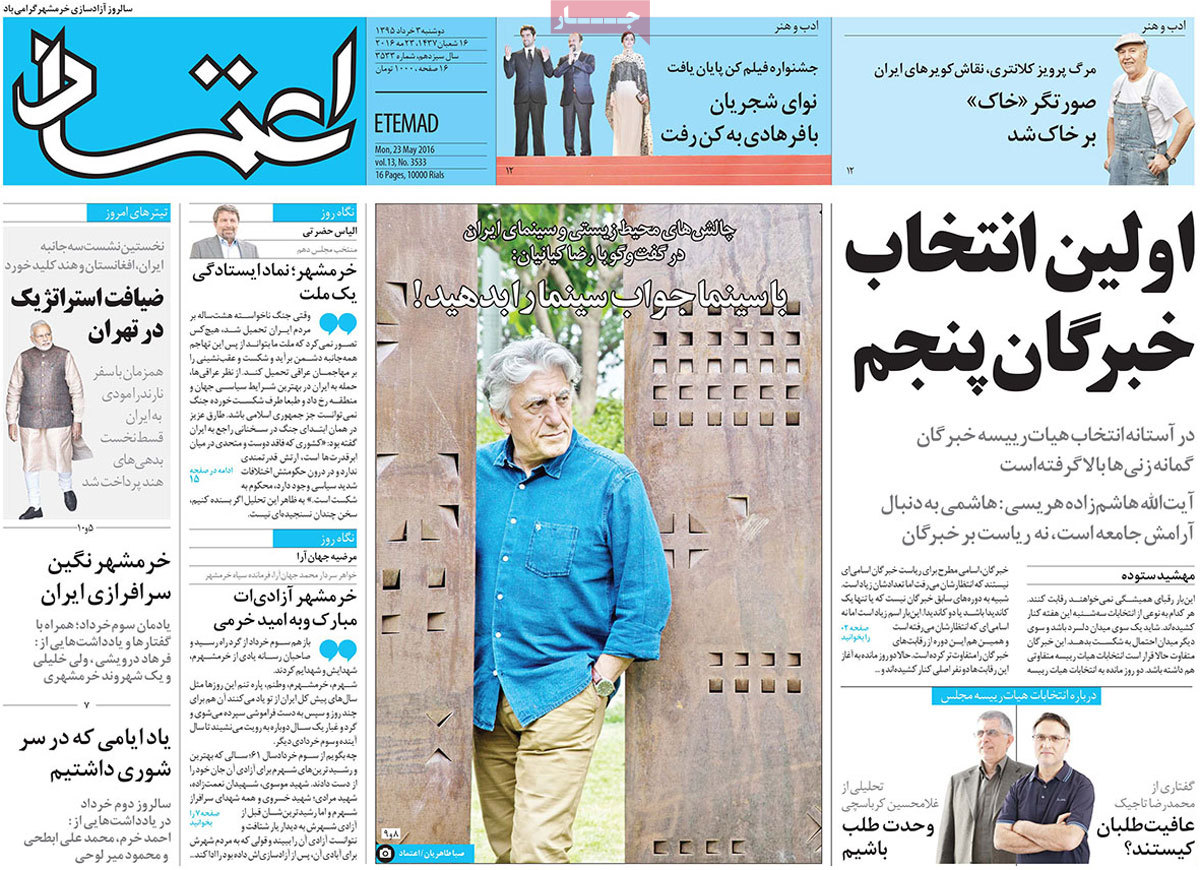 ---
Ettela'at:
1- Last Month's Inflation Rate Was 10.2%
2- Chabahar Port to Become Regional Trade Hub: Iran, India, Afghanistan to Sign Chabahar Agreement Today
3- Production of 2 New Pharmaceuticals per Month an Honour for Gov't: First VP
4- Iran Is Safest Country in Middle East: Deputy FM
5- "Naze'at" and "Fajr" Missiles Fired in Army Ground Force Drills
---
Ghanoon:
1- The Golden 2nd of Khordad [May 22]: Farhadi and Hossein Win Cannes Awards
2- God Liberated Khorramshahr [during Iran-Iraq War], Authorities Left It [ignored the city's destruction and failed to renovate it after the war]
3- I Repeat: Take Ahmadinejad's Return Seriously!
---
Iran:
1- Iranian Cinema Wins 2 Cannes Awards
2- Tehran and New Delhi to Commence Strategic Ties: Indian PM Modi after Arriving in Iran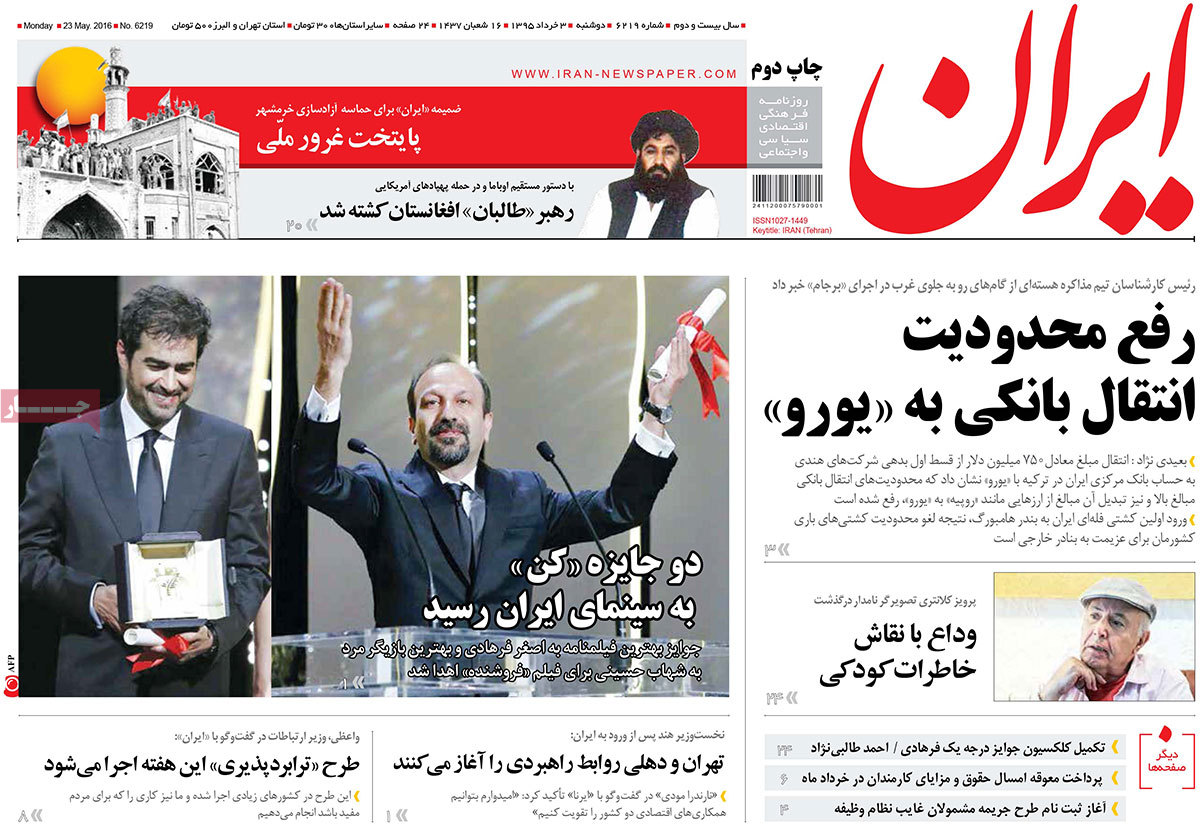 ---
Javan:
1- Obama Spent Hundreds of Thousands of Dollars Justifying JCPOA: Selling the JCPOA by Buying Media
2- Pentagon Targets Taliban Leader Mullah Mansour: US Fire on ISIS Rival in Afghanistan
3- Farhadi and the Suspicious Salesman: He Complained in French Territory that American Filmmakers Can't Make Films in Iran!
4- SNSC Secretary: USA's Double-Standard Policies on JCPOA Are Worrying
5- Defending Women's Rights Using Imported [Foreign] Standards Will Destroy [the Iranian] Family
6- Informed Source: Ayatollah Jannati [Guardian Council Secretary] Will Run for Presidency of Assembly of Experts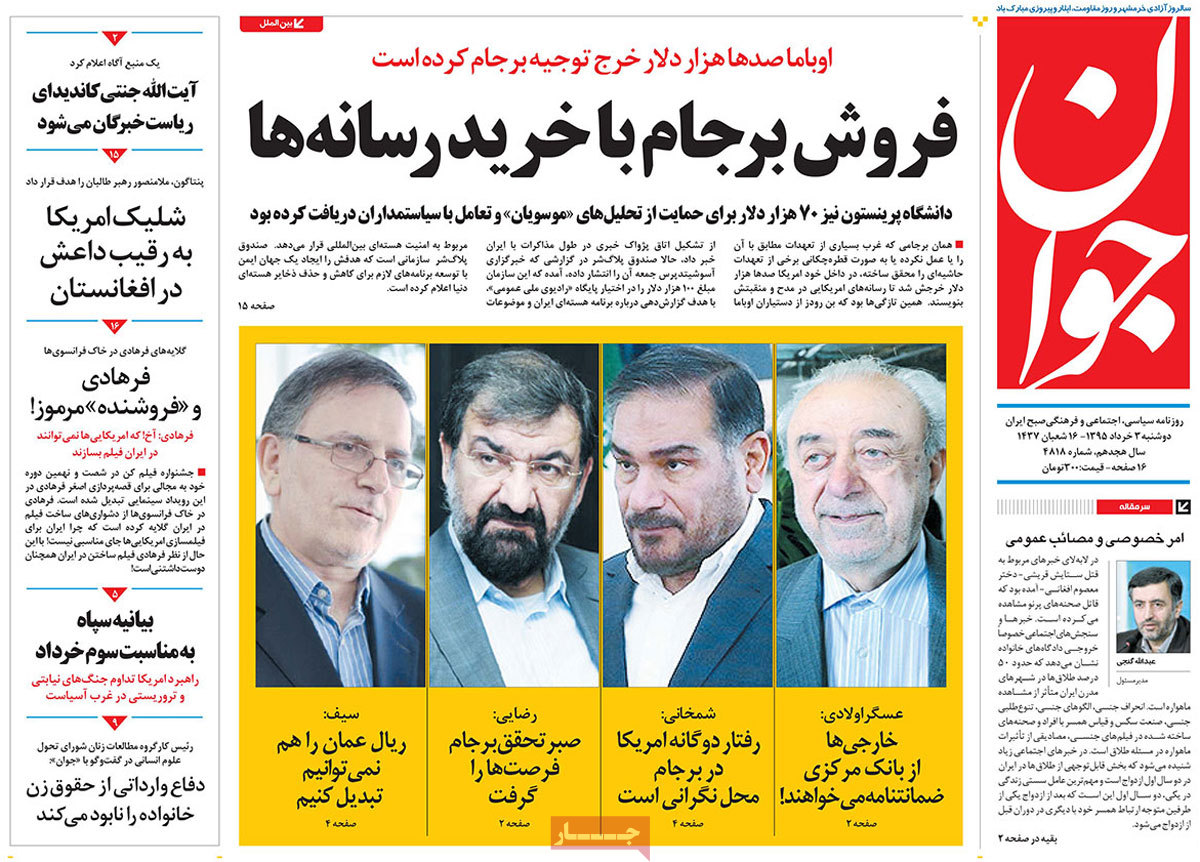 ---
Jomhouri Eslami:
1- Important Development in Syria War: 2 American and French Officers Captured by Hezbollah in Aleppo
2- Indian PM in Tehran: 2 Major Civilizations of the East on the Verge of Huge Cooperation
3- 2 Terrorists Busted on Their Way to Tehran
4- Iraqi Army Preparing to Liberate Fallujah
---
Kayhan:
1- "Almost Nothing" [JCPOA Achievements] Is a Result of Precise US Planning
2- US and French Intelligence Officers Captured by Hezbollah near Aleppo
3- We're Getting Prepared to Counter the Big Satan: Army Ground Force Commander
4- Major Operation Begins to Liberate Fallujah from 4 Sides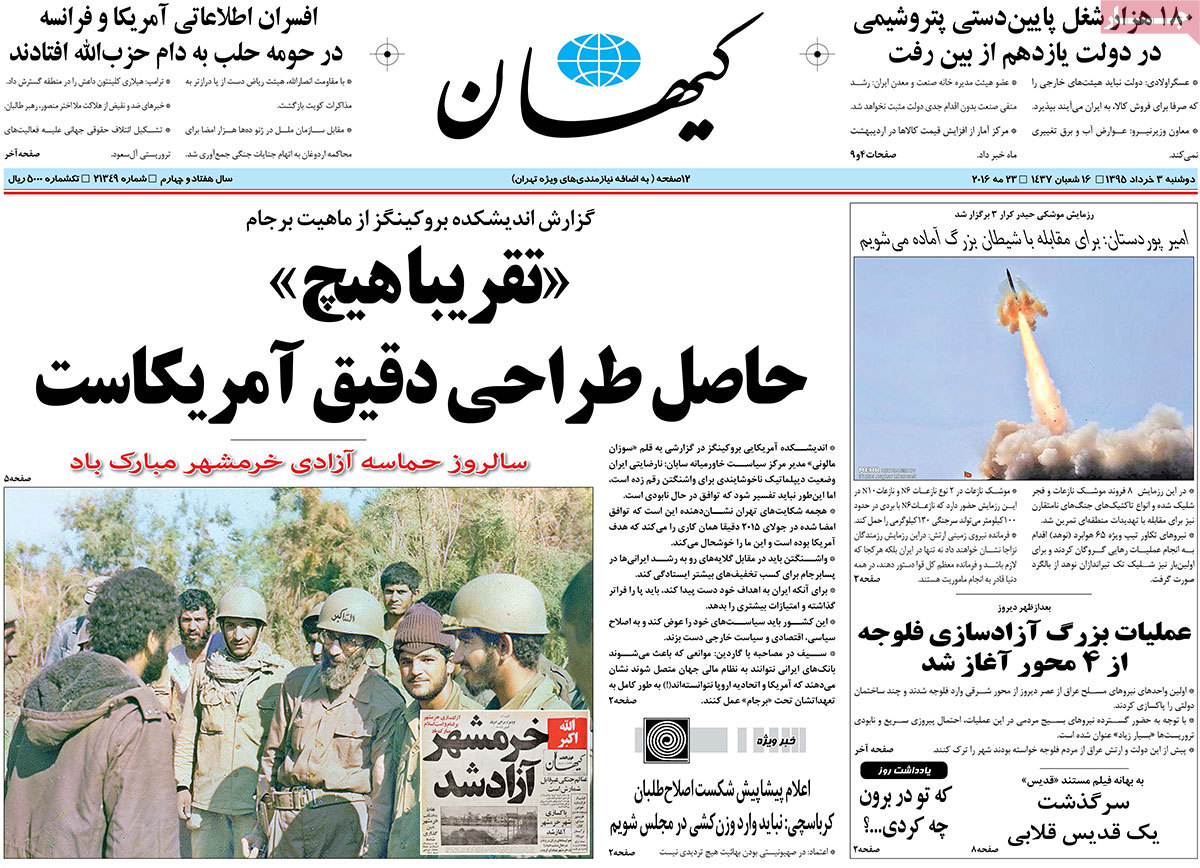 ---
Khorasan:
1- 2 Cannes Palms Grown in the Name of Iran
2- Russian Sukhoi Planes to Return to Syria
3- Speculations about Future of Taliban and Mansour's Replacement
4- Iran-India $20bn Negotiations in Tehran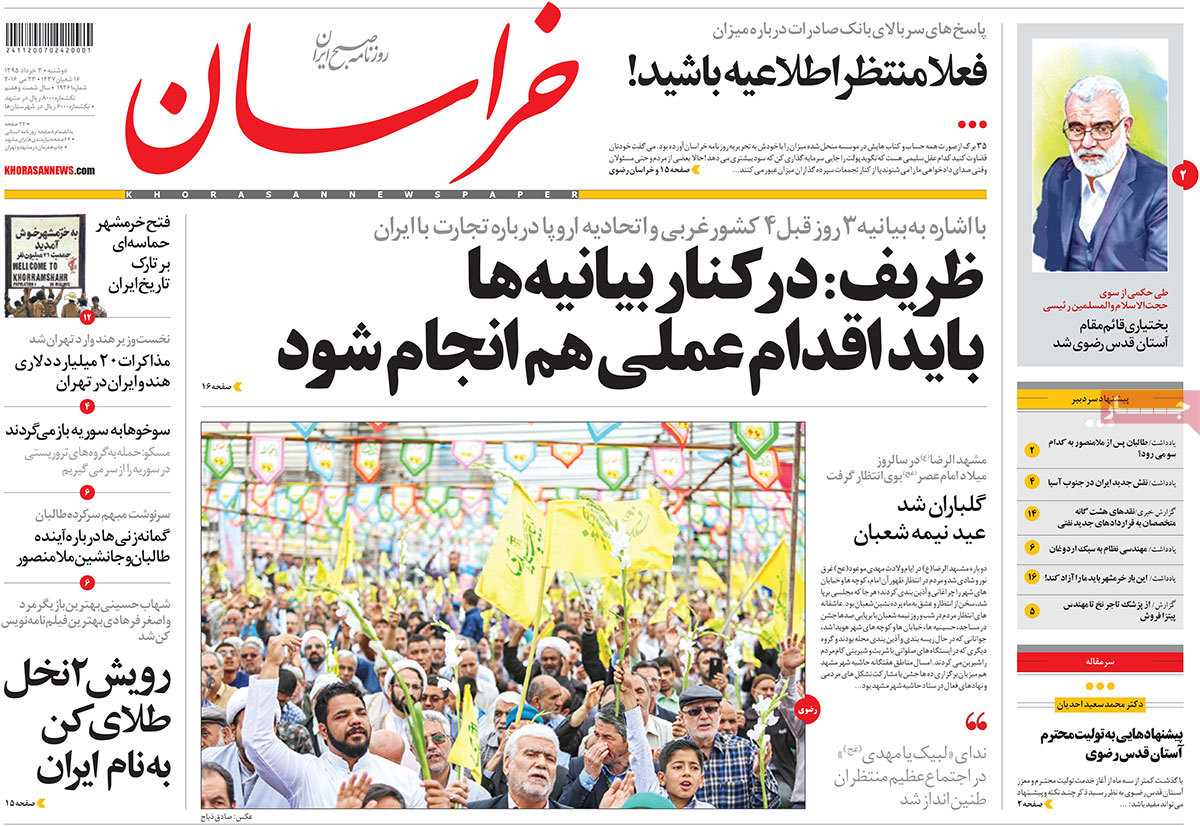 ---
Resalat:
1- Senior Cleric Makarem Shirazi Delivers People's Concerns to Rouhani: If We Don't Stand against US, They'll Urge Us to Recognize Israel!
2- USA's Continued Hostilities in Post-JCPOA Era: Congress Says Washington Should Cooperate with Persian Gulf Littoral States in Launching Anti-Iran Missile Defence System
3- Cleric Urges Gov't to Strongly Pursue Lawsuit to Receive Compensation from US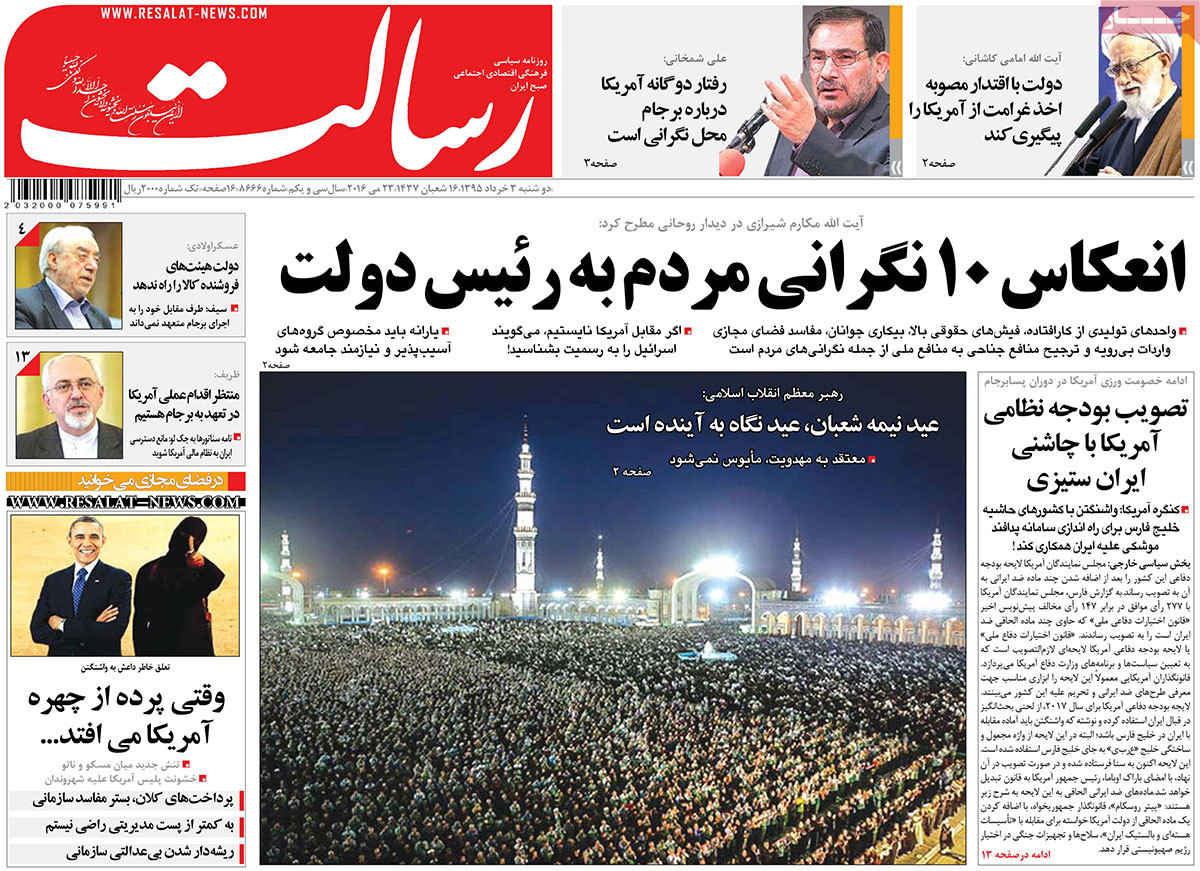 ---
Sayeh:
1- E-Visas to Be Issued for Tourists as of Fall 2016: Iranian Tourism Chief
2- Conservatives and Reformists "Melted" in Moderation
3- We Are Hungry: Countries with Highest Rates of Malnutrition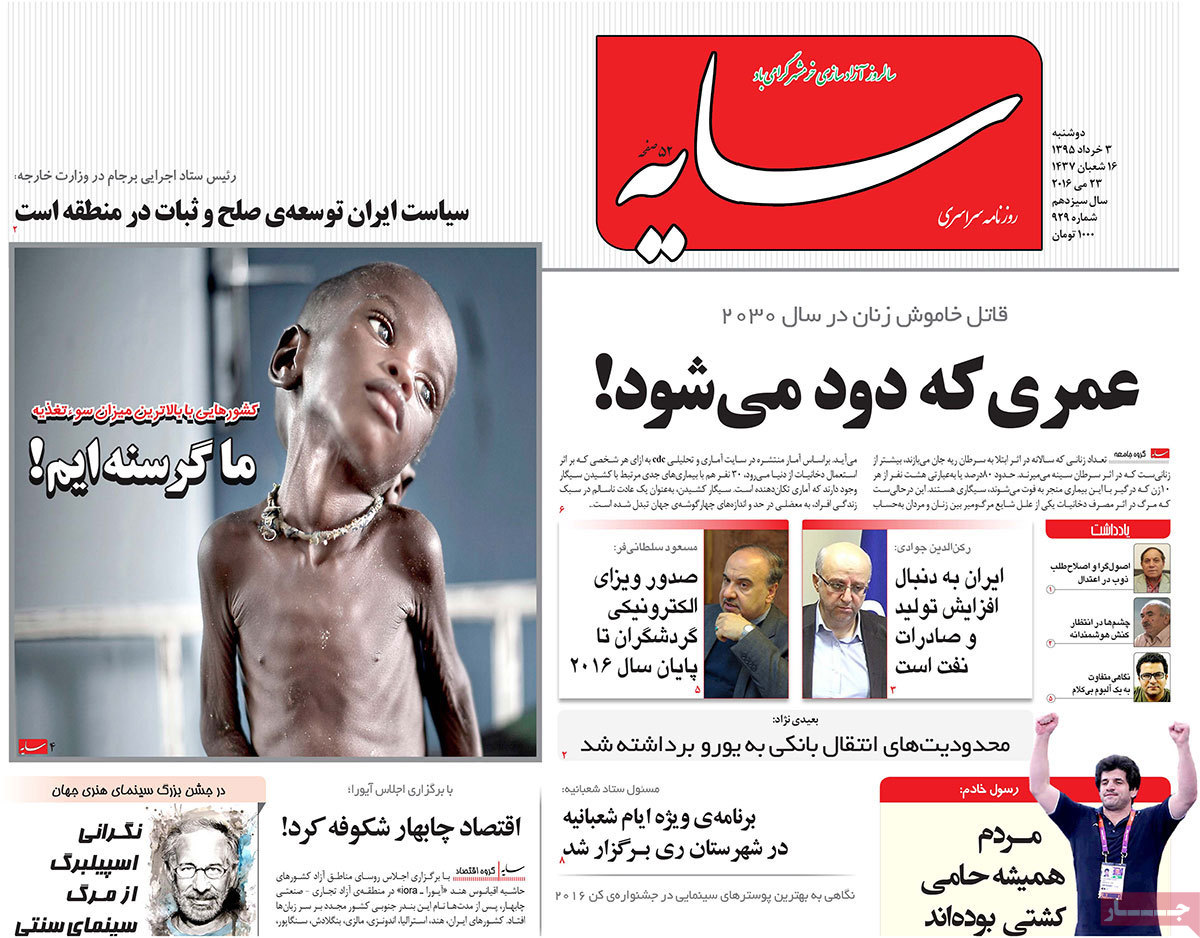 ---
Shahrvand:
1- Iran's Economic Growth Rate to Hit 7%
2- Cristiano Ronaldo: I Know Persian Script Very Well
3- Top Clerics Satisfied with Performance of Rouhani's Gov't
4- Female Police Forces in Special Relief and Rescue Operation Units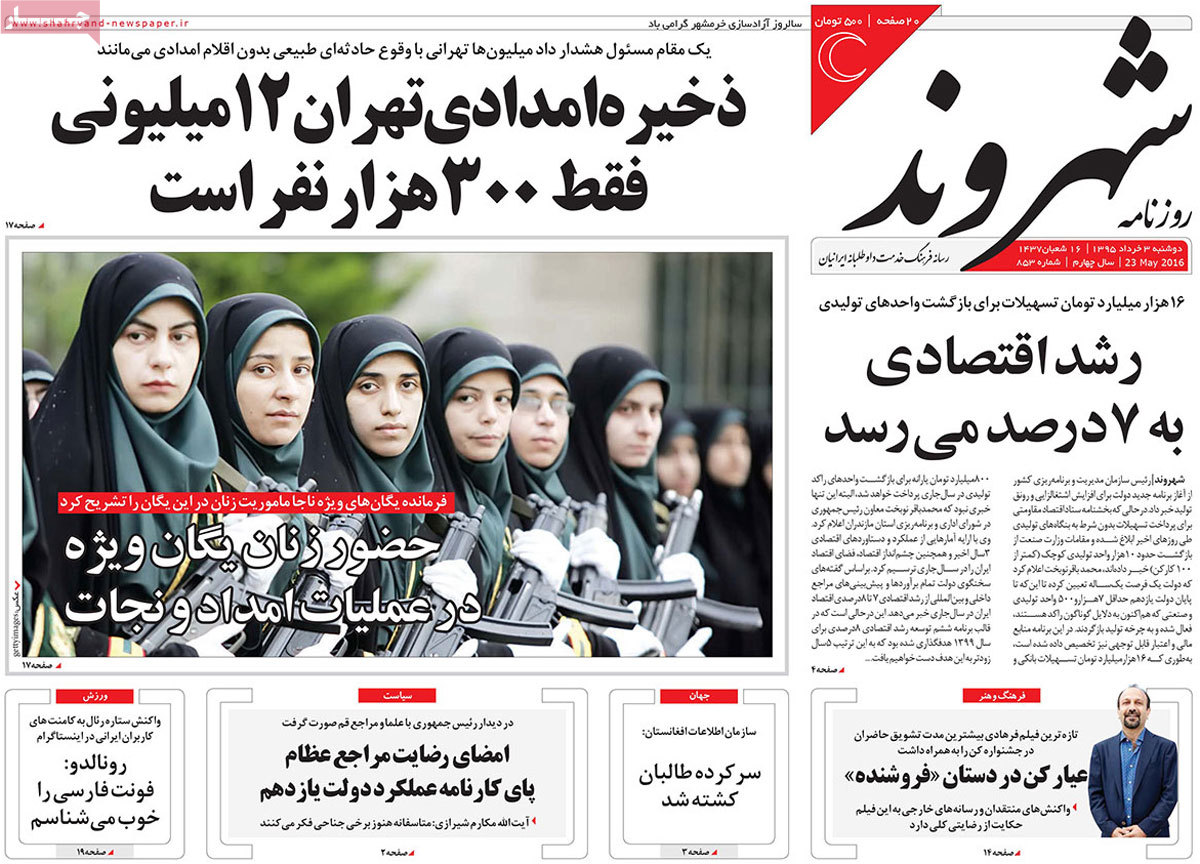 ---
Shargh:
1- 1 Film, 2 Awards: Shahab Hossein and Asghar Farhadi among Cannes Festival Best
2- Who's the Fifth Chief of the Assembly of Experts?
3- Reformism Is Alive: On Anniversary of Khordad 2 [May 23, 1997], the Day Khatami Was Elected as President
4- Leader's Adviser Velayati: We're Still Preoccupied with Foreign Orientation in Education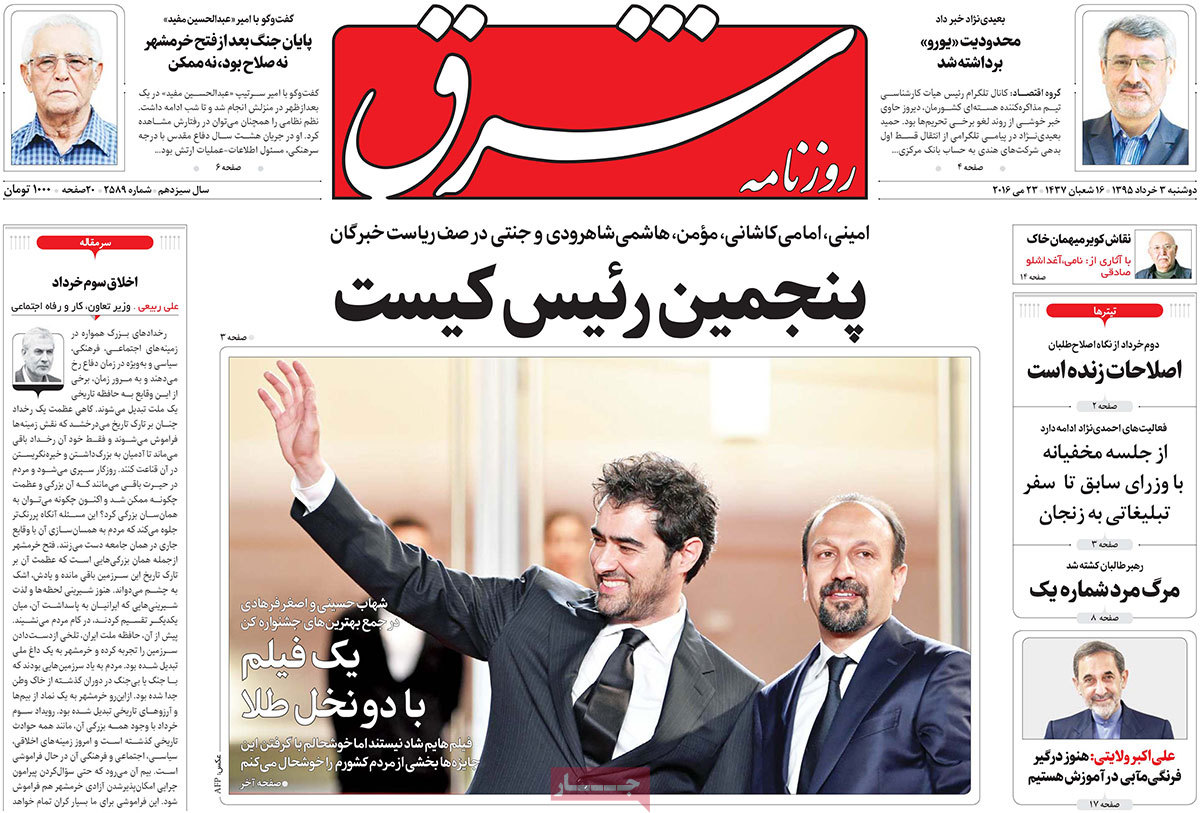 ---
Shorou:
1- 20m Iranians Suffering from Mental Illnesses
2- Parviz Kalantari, Famous Iranian Painter and Illustrator of Nostalgic School Books, Dies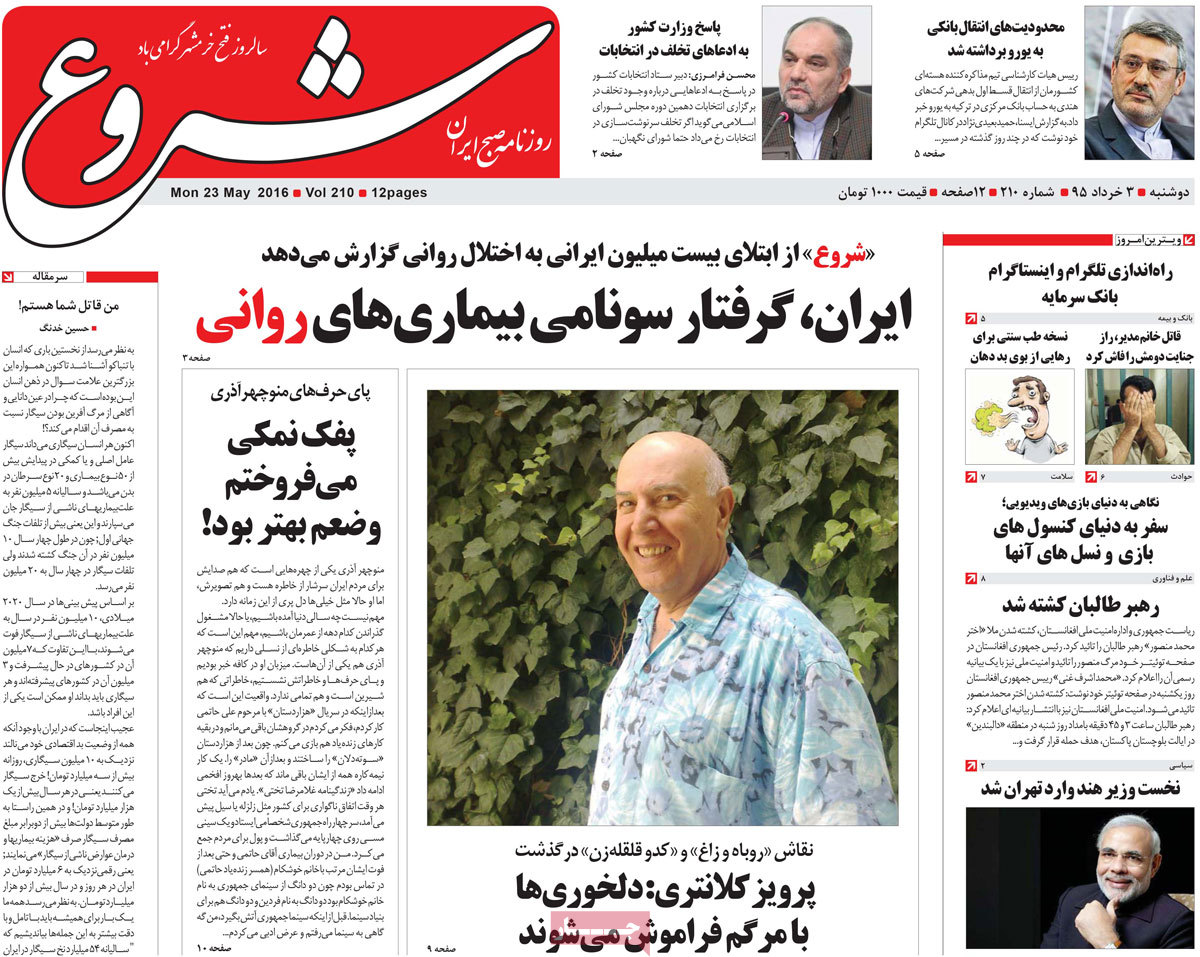 ---
Tejarat:
1- Iran to Become a Foreign Tourist Heaven: A Report on Huge Crowds of Tourists in Front of Int'l Hotels
2- British FM in Meeting with Iranian Central Bank Chief: Accelerated Banking Collaborations
3- G7 Summit under Shadow of Washington-Tokyo Tensions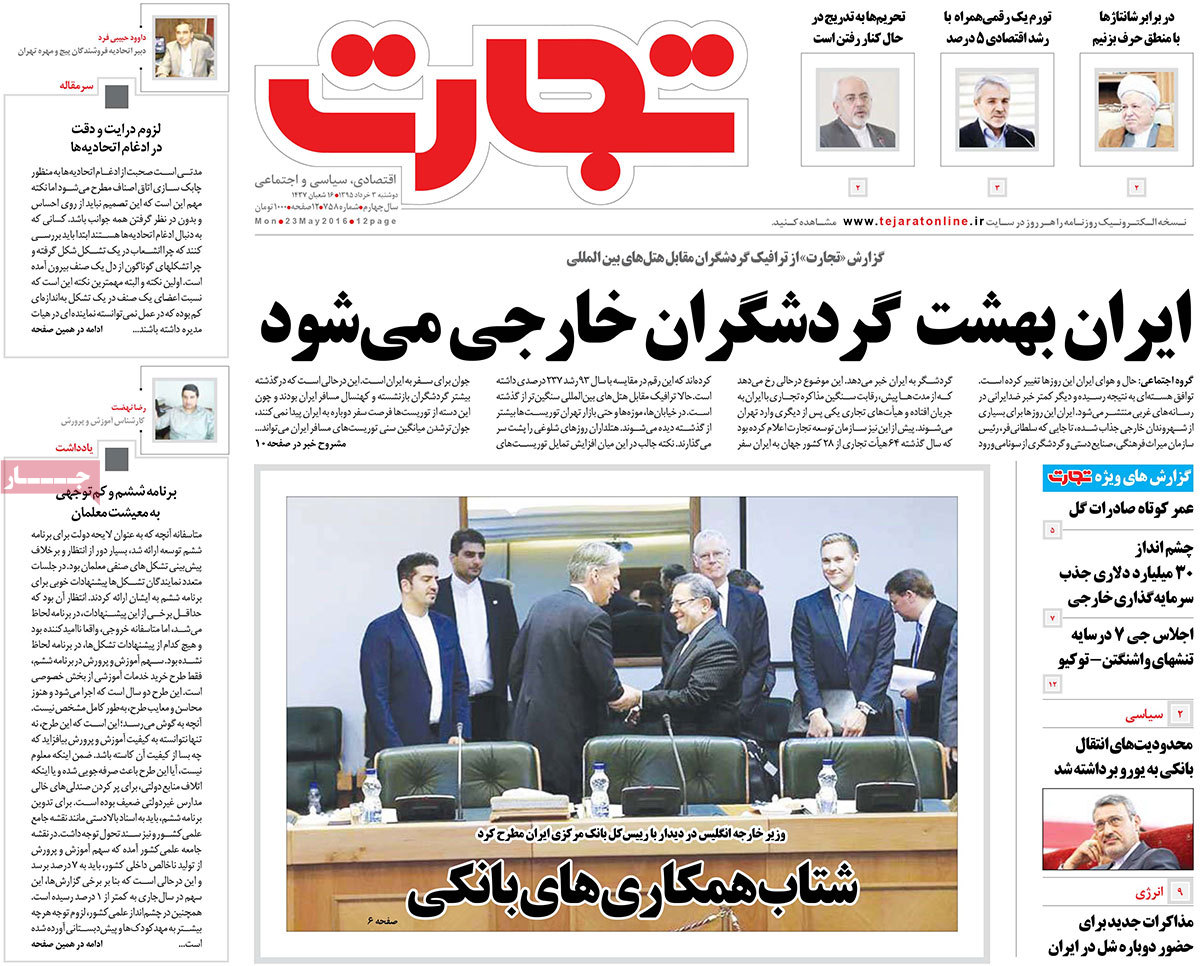 ---
Vaghaye Ettefaghieh:
1- Golden Night for The Salesman
2- US Passports Sold in Iran for Almost $35,000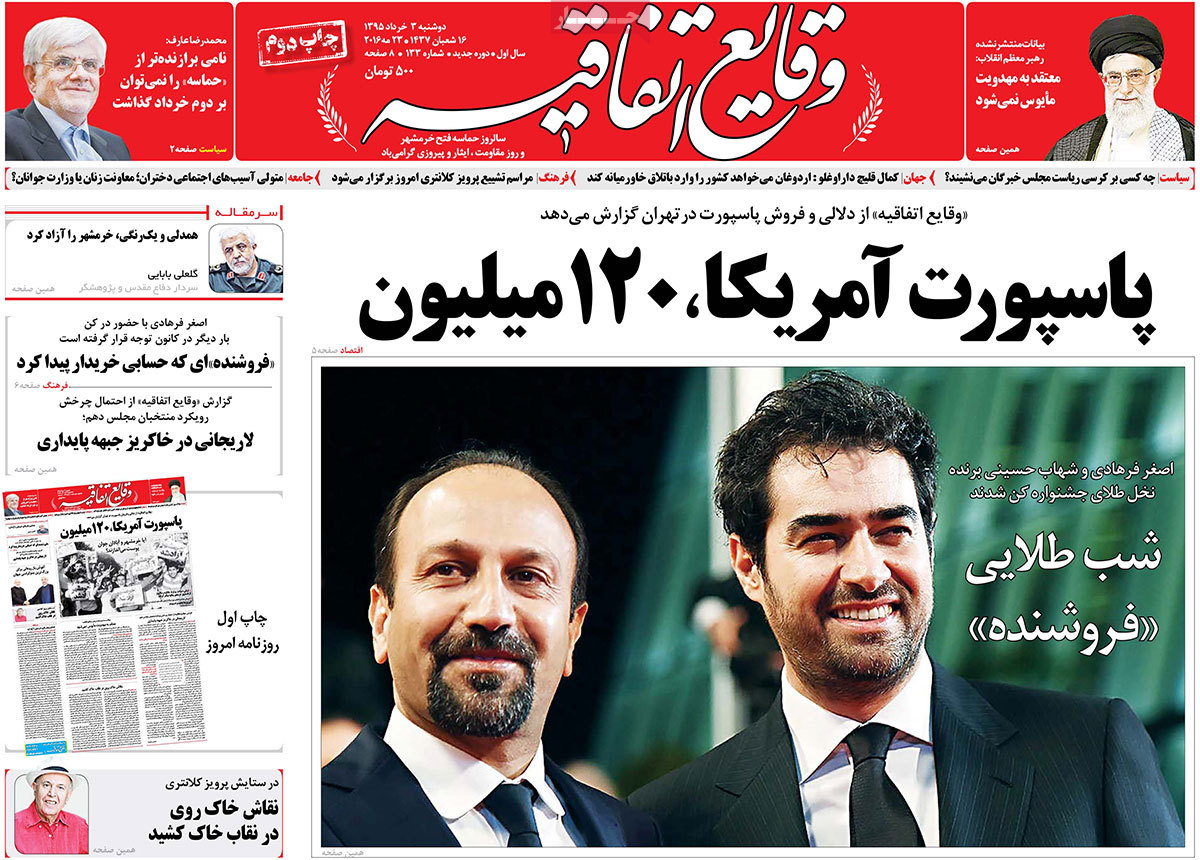 ---
Vatan-e Emrooz:
1- Americans Claim to Have Given Mousavian $70,000 to Help Sell JCPOA
2- Secrets behind Sexual War in France
3- We Can't Even Change Oman's Rial into Euro: CBI Chief