Almost all newspapers on Saturday covered the visit of President Hassan Rouhani to the holy city of Qom and his meetings with senior clerics. Pro-government, independent, and reformist media highlighted the support and praises expressed by clerics for the government, and certain conservative newspapers focused on their pieces of advice on the resolution of Iran's economic problems.
Meanwhile, a controversial "humour" conference was also held in Tehran, and many conservative figures including Mayor of Tehran Mohammad Baqer Qalibaf, IRGC Navy Commander Brigadier General Ali Fadavi, and chief of Kayhan newspaper Hossein Shariatmadari attended the gathering. Again, conservative media covered it as an amusing conference warmly received by students and officials, and reformists described it as another attack on the administration.
A recent statement by world powers encouraging European banks and businesses to do business with Iran was also widely covered. Conservatives downplayed it as yet another show of commitment on paper, and reformists described it as a result of Foreign Minister Mohammad Javad Zarif's consultations, which have borne fruit.
Aftab-e Yazd:
1- We Can't Order People to Bring Children: Minister
2- Don't Cancel Concerts, People Are Suffering from Depression: Culture Minjistry Protests
3- In a Statement, Western Powers Encourage European Banks and Businessmen to Trade with Iran: Will JCPOA Begin to Revive?
4- Thailand Expects to Receive 120,000 Iranian Tourists!
5- How Much Money Iranian Women Spend on Cosmetics
---
Arman-e Emrooz:
1- And Suddenly Rouhani's Visit to Qom: Top Clerics Praise Performance of Gov't
2- Iran Wins Crown in Greco-Roman Wrestling World Cup, Rouhani Extends Congratulations
3- Written Guarantee to Iran: Zarif's Consultations Lead to Renovation of Deals
4- Turkey's Role in Zarrab and Zanjani Phenomena
5- Ayatollah Rafsanjani Urges IRIB to Revise Its Policies
---
Asia:
1- Economic Development Should Be Realized in Iran: US and Europe Vow to Support, Encourage, and Reassure [European Banks for Ties with Iran]
2- Iran Waiting for Indian PM
3- Historic Elections in Austria
4- A Special Report of IORA Summit in Chabahar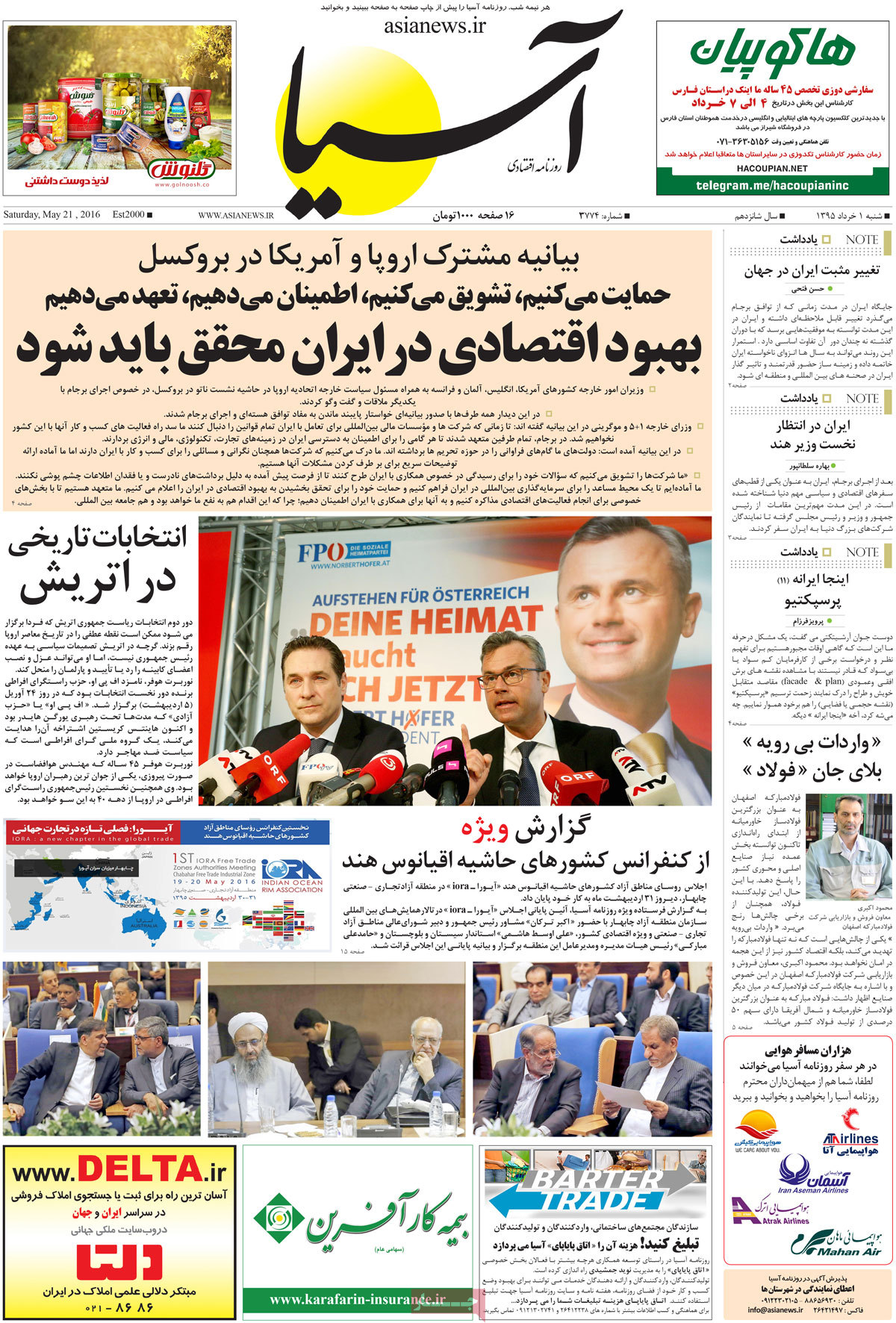 ---
Etemad:
1- European and American Foreign Ministers Urge Foreign Investors and Bankers to Deal with Iran
2- Leader Once Again Warns Authorities of Social Damages
3- Ayatollah Rafsanjani Explicitly Criticizes Hardliners: They Ruin an Entire City to See Their Opponents Buried under Rubble
4- Clerics Warmly Welcome President Rouhani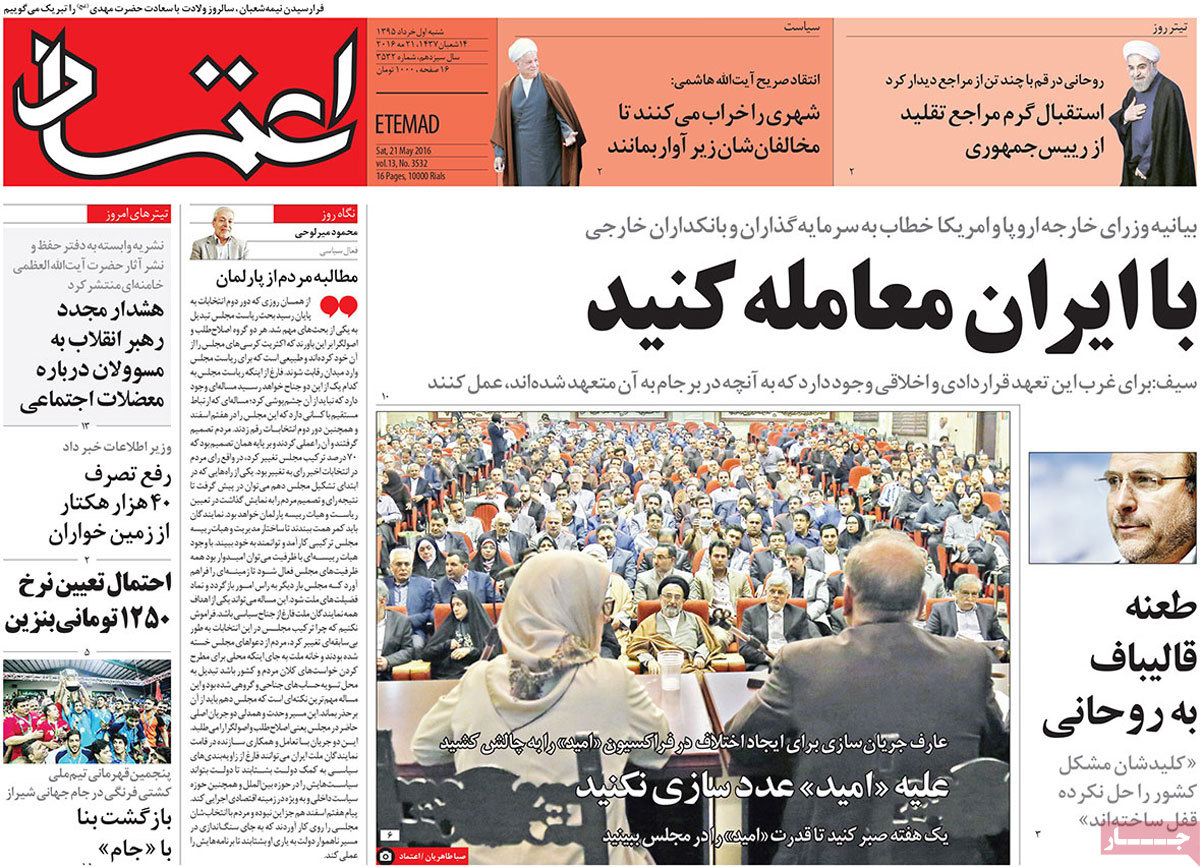 ---
Ettela'at:
1- Senior Clerics Appreciate [Rouhani] Administration's Efforts to Improve the Country's Situation
2- US, France, Germany, and Britain Issue Statement in Support for Trade with Iran
3- Population of Cities Quintupled in Past 35 Years: Deputy Minister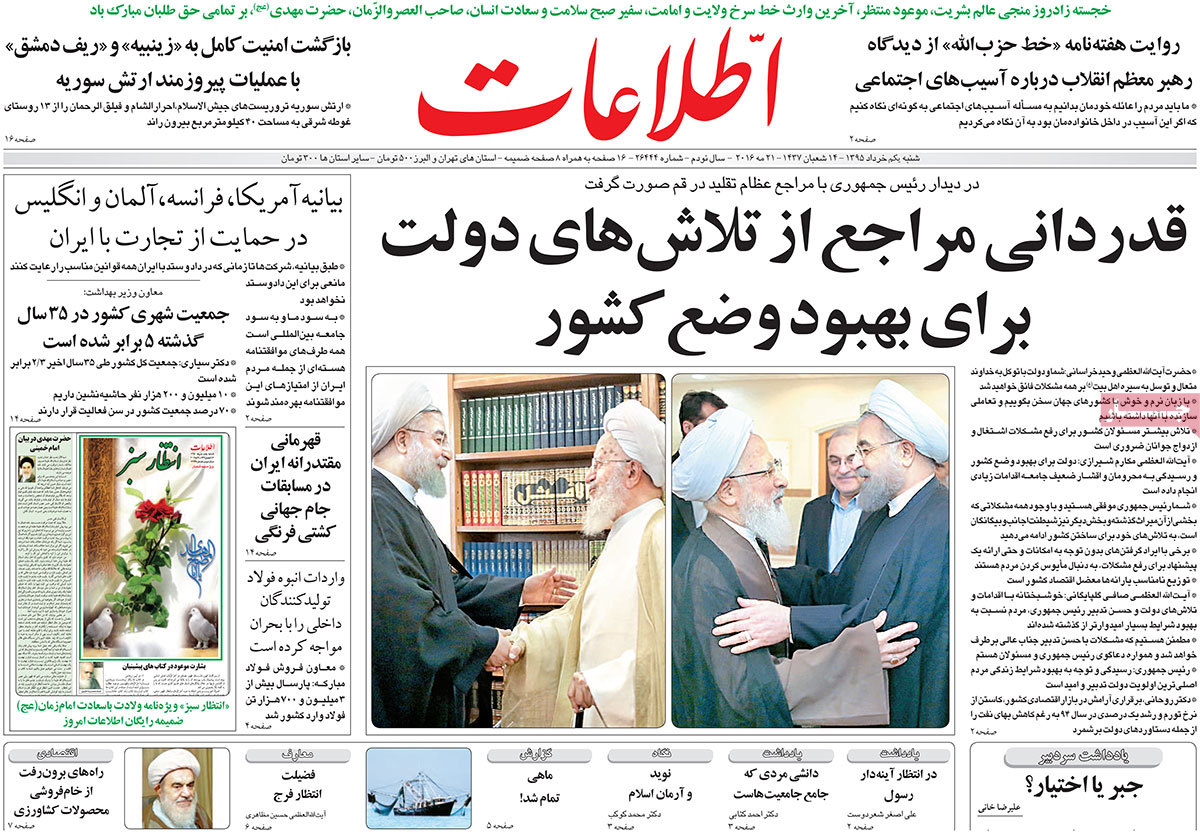 ---
Haft-e Sobh:
1- Iranian Mountain Climber Azim Gheychisaz Conquers Everest without Oxygen Use
2- Wrestling under Shadow of McDonald's: Iranian and American Wrestlers Fight in Times Square
---
Hamdeli:
1- Statements and Speeches Won't Resolve Problems with Banking Ties [Editorial]
2- Insult in Tehran, Praise in Qom: Opponents Not Going to Stop Attacking the Gov't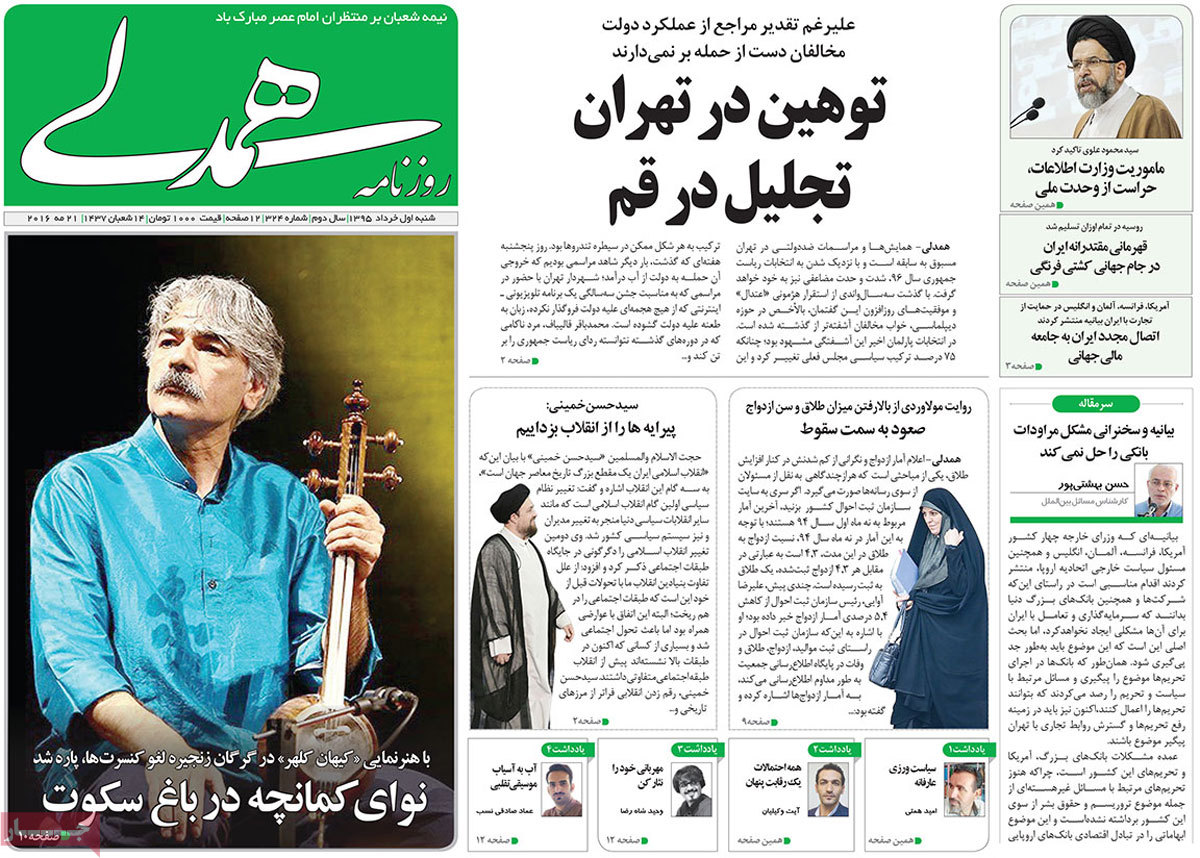 ---
Hamshahri:
1- School Tuition Fees Increase beyond Inflation Rate
2- We Should Consider People as Our Own Family Members: Leader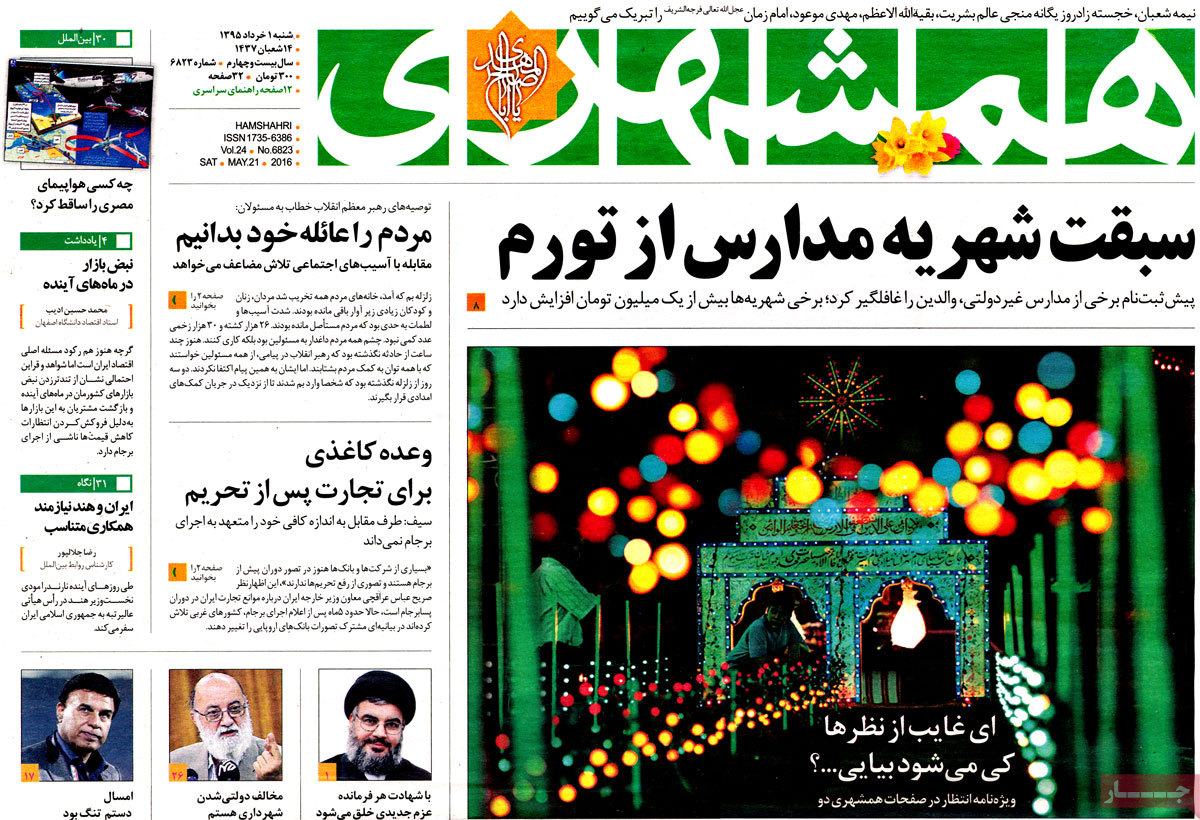 ---
Hemayat:
1- Senior Clerics Emphasize the Need for Resolving Economic Problems and Unemployment
2- US Has Failed to Fulfil Its JCPOA Commitments: Seif in London Conference
3- Sherman: Nuclear Bombardment of Japan Was a Justifiable Decision!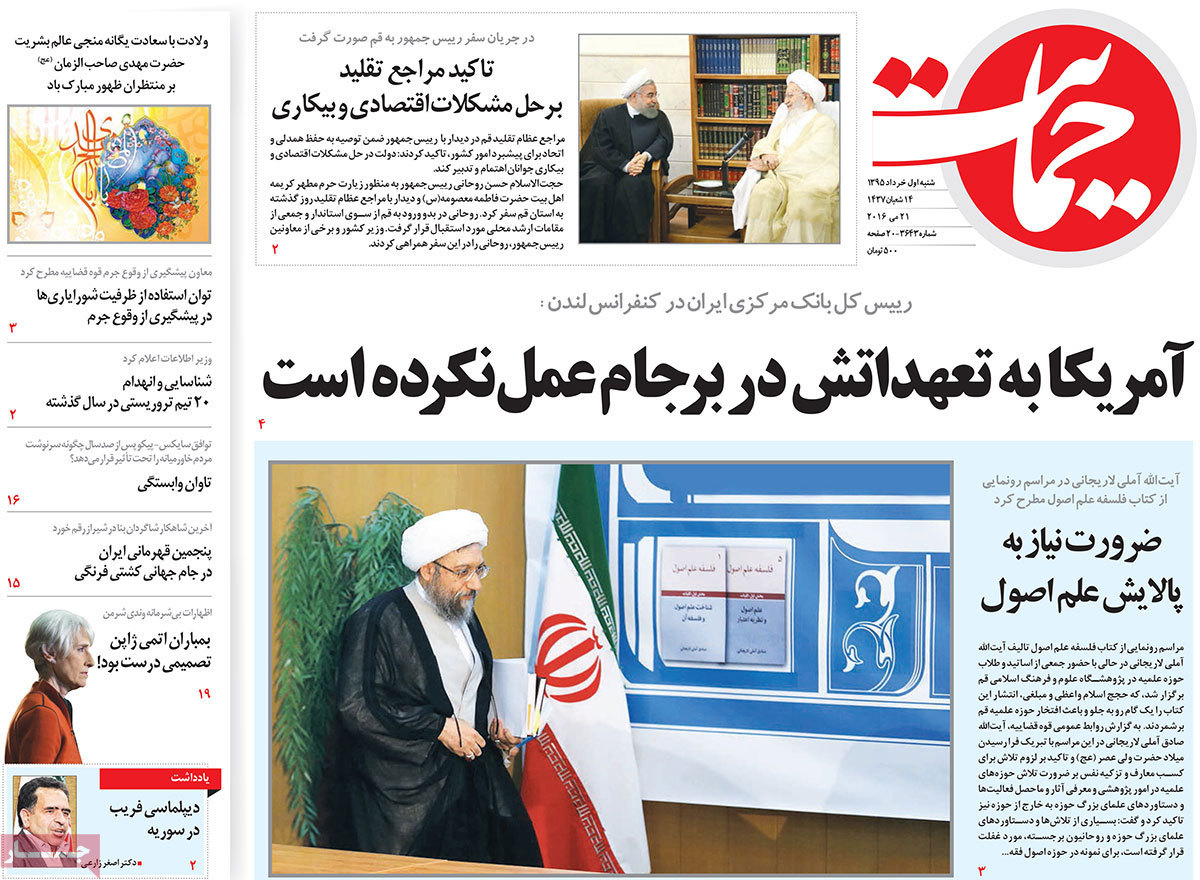 ---
Jame Jam:
1- 4 Interesting Iranian Stories in Cannes
2- National Unity against Saudi Arabia's Inauspicious Plot
3- "Say No to Al Saud" Movement: People Can Defuse Riyadh's Plot by Obeying the Establishment's Decision on Hajj Pilgrimage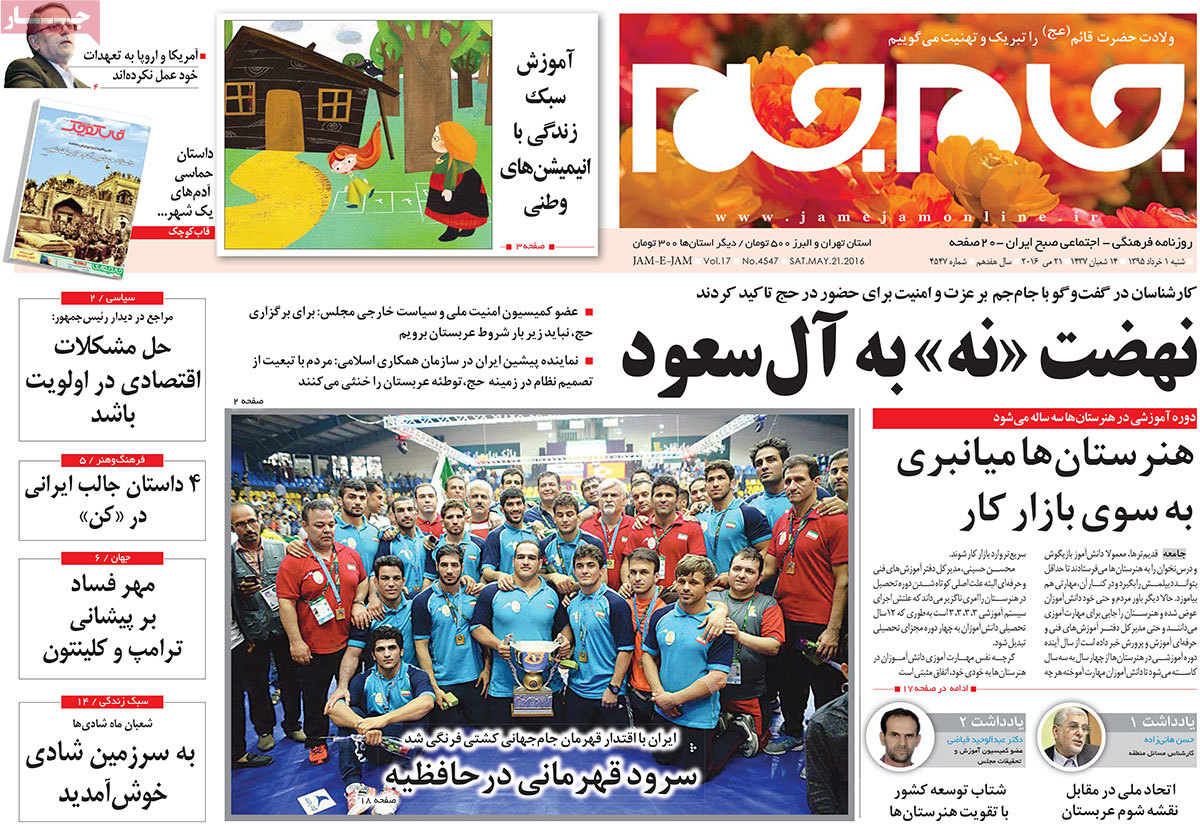 ---
Javan:
1- Clerics Advise Rouhani on People's Living
2- Central Bank Chief Seif Makes New Vows Instead of Fulfilling JCPOA Commitments!
3- Westerners Playing with Iran Using Statements on JCPOA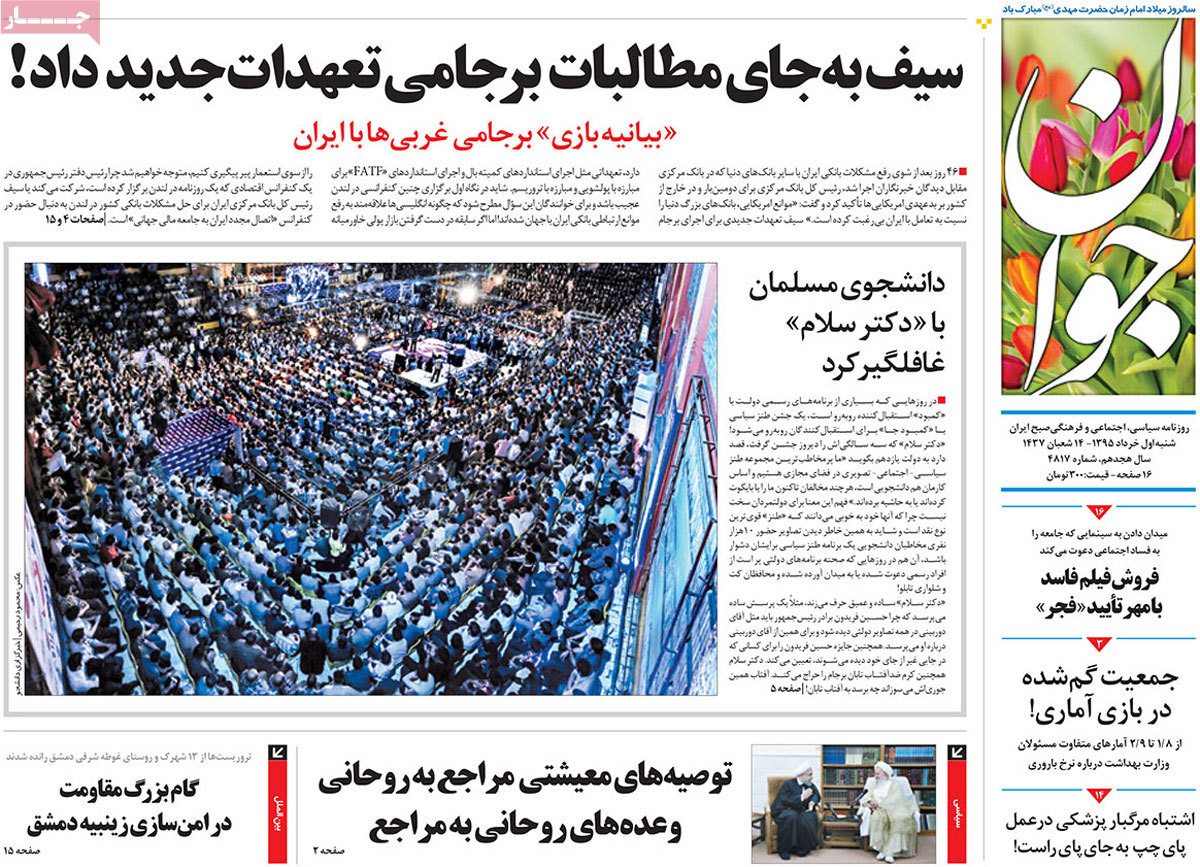 ---
Jomhouri Eslami:
1- All Countries Can Trade with Iran: G5+1 Member States Emphasize in Statement
2- Radical and Extremist Zionist Figure Lieberman Appointed as Israel's War [Defence] Minister
3- More than 20 Terrorist Cells Disbanded in Recent Year: Intelligence Minister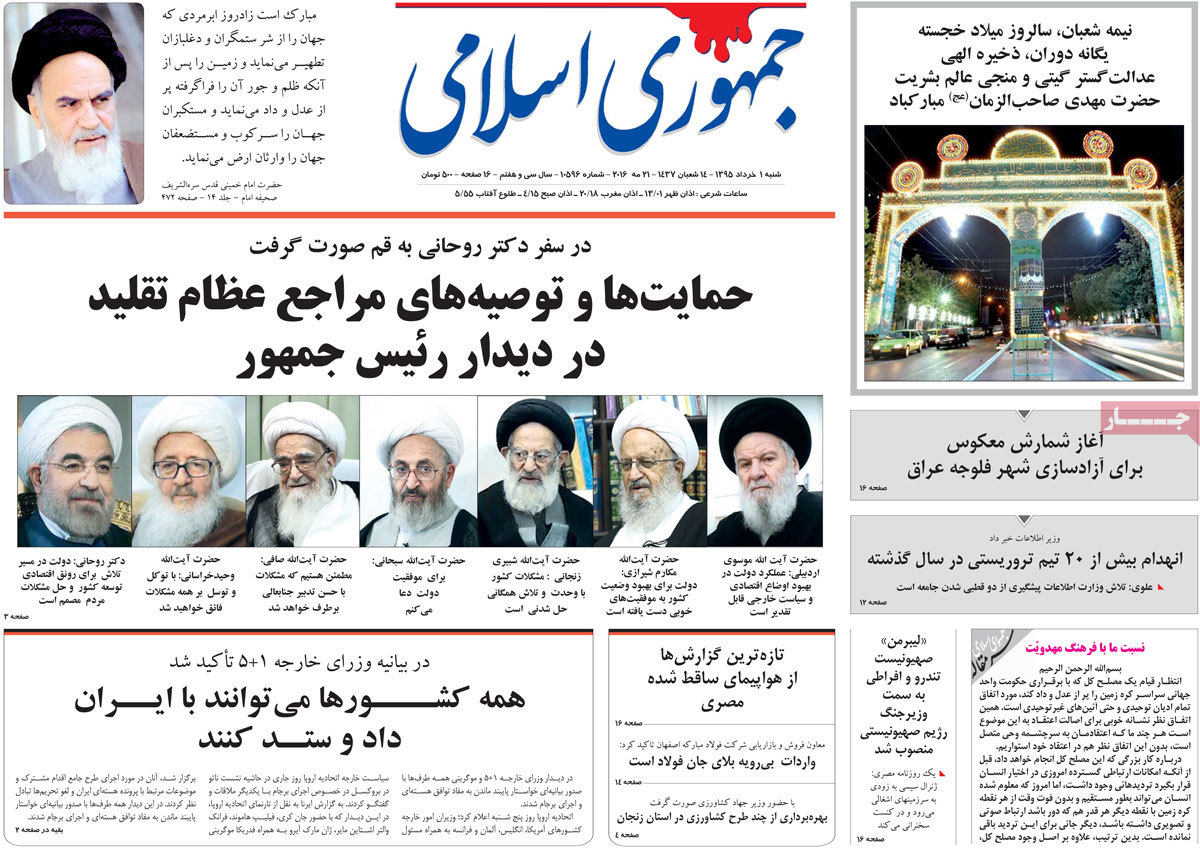 ---
Kar-o Kargar:
1- Clerics Voice Their Support for Rouhani Administration's Foreign Policy
2- Cleric Vahid Khorasani: We Should Talk to the World in a Soft Voice
3- Forecasts Indicate Growth of Investment in Iran: Minister
4- VP for Women and Family Affairs: Increased Age of Marriage and Growing Rate of Divorce Is Worrying
---
Kayhan:
1- Pro-Gov't Website: Rouhani Should Do Away with CBI Chief Seif [because of his remarks about JCPOA]
2- Kerry to US Diplomats: Give an Embellished Account of JCPOA for Your Grandchildren!
3- This Was Just the Result of "Thinking about" the US for 3 Years!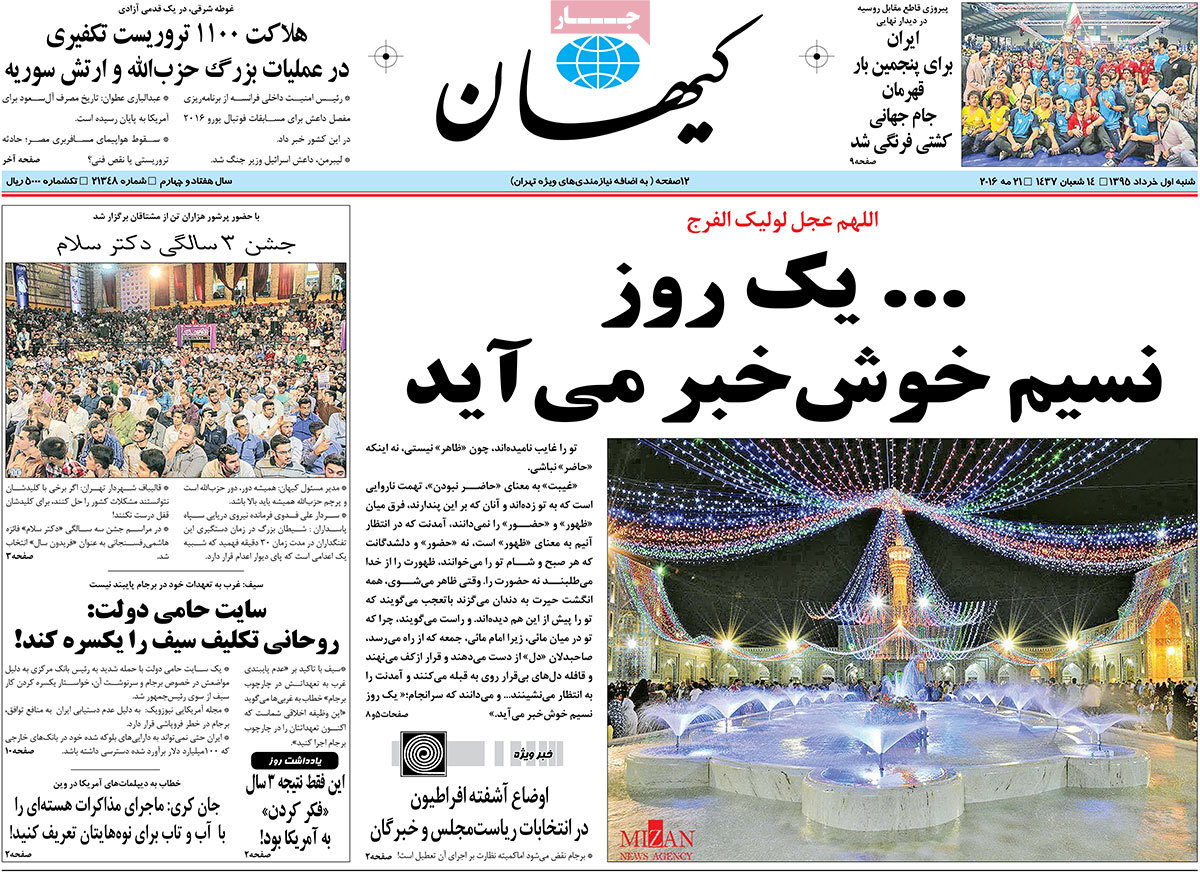 ---
Khorasan:
1- Khorasan's Interview with Winston Groom, Author of "Forrest Gump"
2- Mixed Reports on Whether Terrorist Attack Led to Crash of Egyptian Airliner
---
Payam-e Zaman:
1- France Is the 4th Country Willing to Launch LNG [Production] in Iran [after Oman, India, and South Korea]
2- 20% of Iranian Couples Are Sterile
3- People Don't Accept Showing Any Fear towards US: IRGC Navy Commander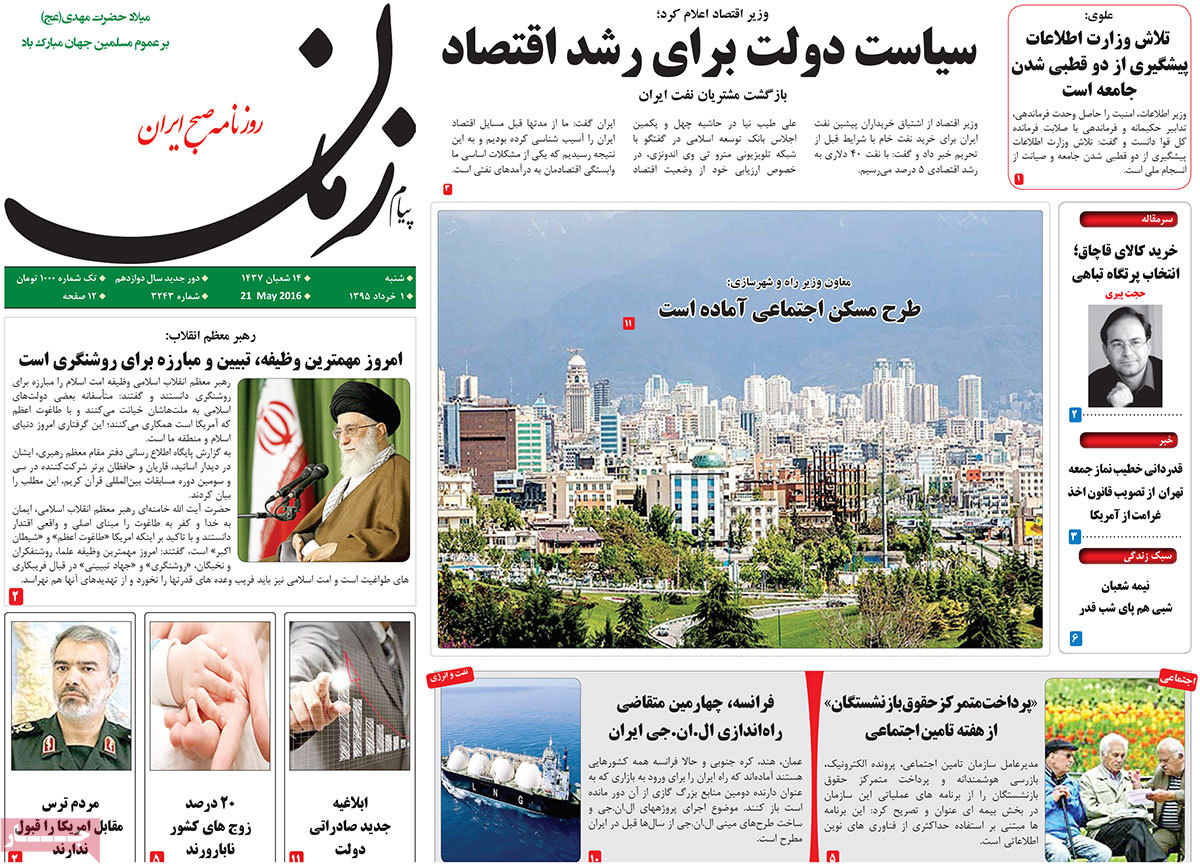 ---
Shargh:
1- American Companies Are Losers of US Stonewalling [in Trade with Tehran]
2- Economic Prescription of [IMF Chief] Lagarde's Envoy [to Tehran] for President Rouhani: Economic Analyst Discusses the Issuance of 2 Economic Statements [one by IMF deputy and another one by the US and Europe on trade with Iran]
3- Opponents of Rouhani's Administration Gather Together in a [So-Called] Humour Conference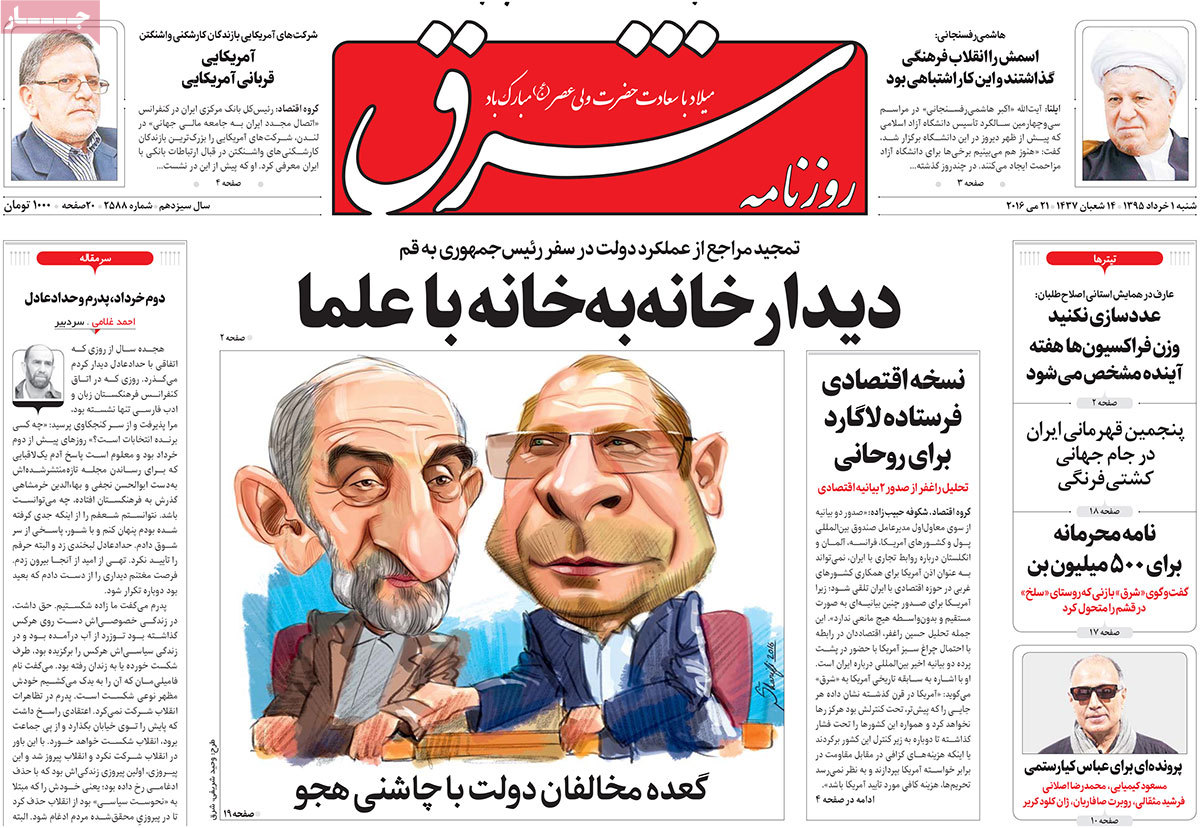 ---
Vatan-e Emrooz:
1- John Kerry to US Diplomats: Tell Your Grandchildren How You Sat with Zarif in a Room and Made Him Surrender [this is one of the incorrect translations and misinterpretations of Kerry's remarks, which was mentioned by Iranian Foreign Ministry Spokesman Hossein Jaberi Ansari in a post in KhabarOnline. Certain media, the conservative ones particularly, ignored the word "embellish" in Kerry's remarks, and claimed that the US Secretary of State had referred to how the Americans made Zarif give in and surrender.]
2- Fall of Europe's Airspace Security: ISIS Claims Responsibility of Plane Crash in Mediterranean Sea