IFP has taken a look at the front pages of newspapers on Thursday and picked headlines from 15 of them. IFP has simply translated the headlines and does not vouch for their accuracy.
Comments by the Supreme Leader that he would not allow foreign inspections of Iran's military sites and interrogation of Iranian scientists dominated the front pages of Iranian newspapers on Thursday. President Rouhani, who is in Tabriz, also made front-page headlines by saying no one has the right to chant slogans at the expense of the public.
Abrar: Foreign Minister Mohammad Javad Zarif has held talks with a deputy of the UN secretary general.
At a meeting with visiting UN Under-Secretary General for Humanitarian Affairs and Emergency Relief Coordinator Valerie Amos, the Iranian top diplomat said that the UN should do more to assist the stricken people of Yemen.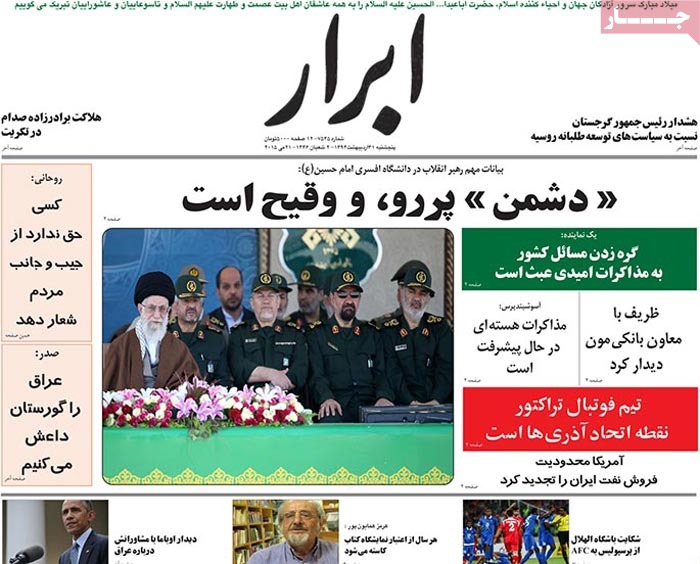 ---
Afarinesh: Some 8 percent of the population of Markazi Province suffers from diabetes.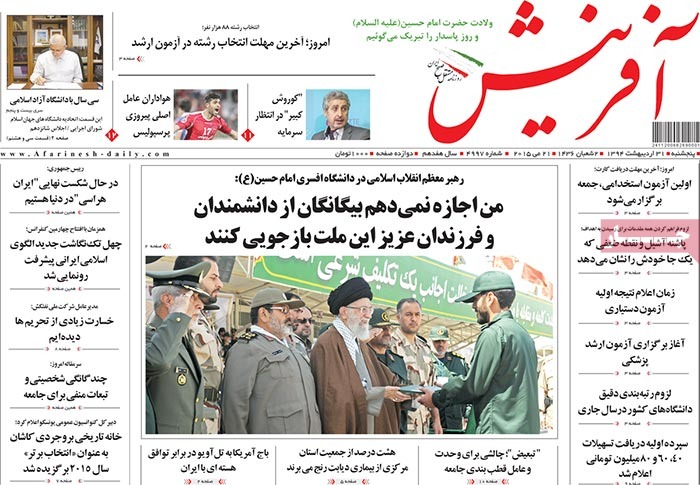 ---
Afkar: Cooperation between Tehran and Moscow metropolises is to increase.
Afkar: "They are not allowed to engage in sloganeering at the cost of the public and on behalf of the public," President Rouhani said.
---
Aftab-e Yazd: "I won't allow foreigners to interrogate the children of the Revolution," said Supreme Leader Ayatollah Ali Khamenei.
The Leader made the comment during a visit to Imam Hossein Military Academy on Wednesday.
Aftab-e Yazd: "Threats by American officials have been vehemently responded," said Foreign Ministry Spokeswoman Marzieh Afkham.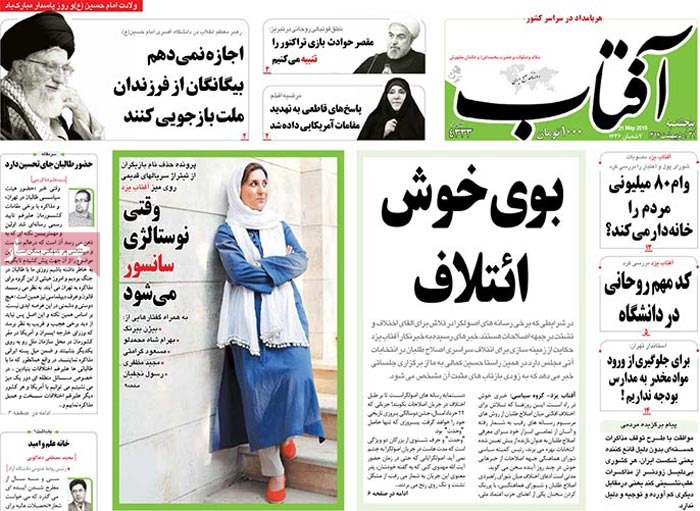 ---
Arman-e Emrooz: Mohsen Rezaei in the outfit of Revolution Guards for the first time in 18 years
[It came after the Supreme Leader gave the green-light to the former commander of the Islamic Revolution Guard Corps to become a Revolution Guards again.]
Arman-e Emrooz: A teacher has been assassinated in Khash by an unknown assailant.
Arman-e Emrooz: The source that triggered the incident in Tabriz has been identified.
[Last Friday, rumors in Tabriz that the home team has been crowned champion of the Premier League triggered bitter incidents in the city.]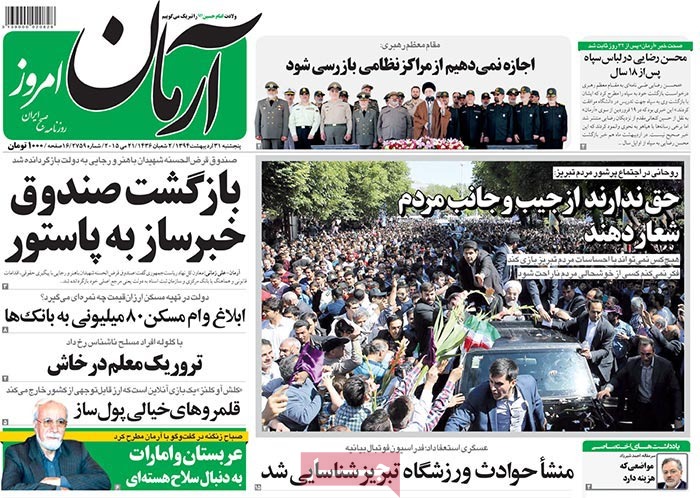 ---
Asrar: "We are on the verge of defeating an Iranophobia project in the world," President Rouhani said during a visit to Tabriz, the capital of East Azerbaijan Province.
Asrar: "Some 80,000 missiles are ready to target Tel Aviv and Haifa," said Major General Rahim Safavi, a military advisor to the Supreme Leader, in response to threats by Zionist officials.
Asrar: The growth in smoking among women is greater than men.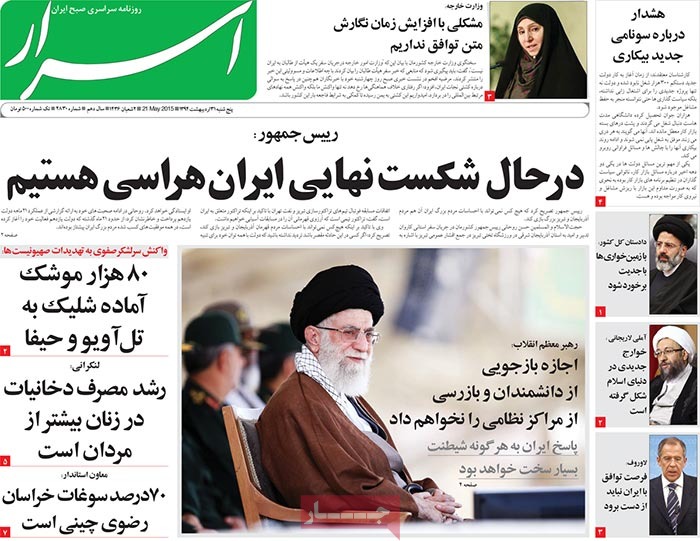 ---
Emtiaz: The judiciary has issued an ultimatum to financial institutes that operate without permit.
---
Ettela'at: "Iran's response to any evil measure would be crushing," said the Supreme Leader.
[The Leader's comment came in reaction to efforts by some regional countries to take proxy wars to the borders of Iran.]
Ettela'at: "Individuals are not allowed to make people worried about their security and future," said President Hassan Rouhani.
---
Hemayat: Police in Tehran have arrested more than 100 thugs.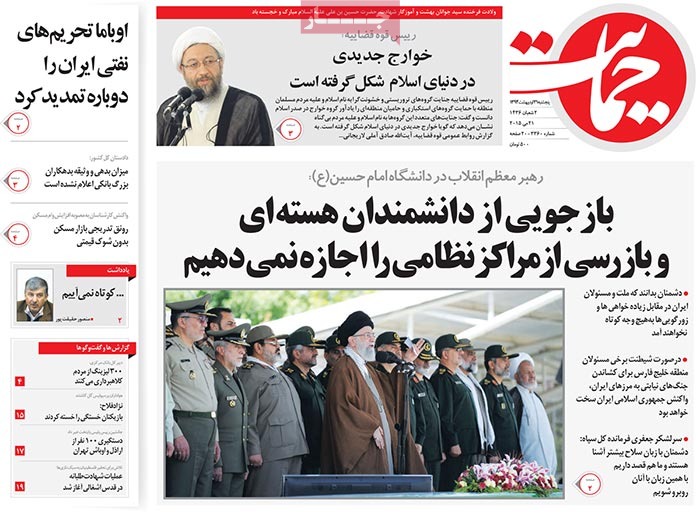 ---
Iran: Farhad Fakhreddini [a renowned Iranian composer, conductor and founder of Iran's National Orchestra] has returned to the National Orchestra.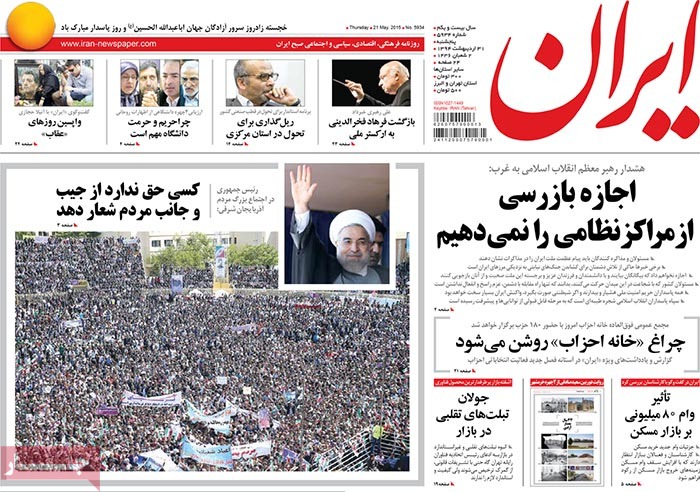 ---
Jomhouri Islami: "The Iranian negotiating team won't budge in the face of excessive demands," said Foreign Ministry Spokeswoman Marzieh Afkham.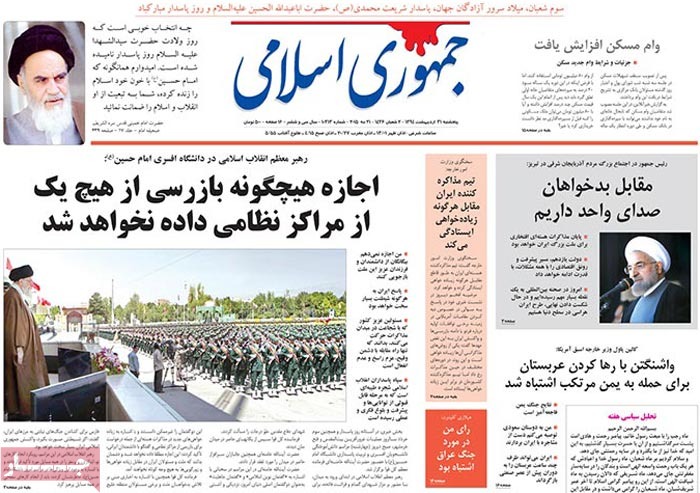 ---
Kar va Kargar: "Helping low-income families have proper housing is a government priority," said the labor minister.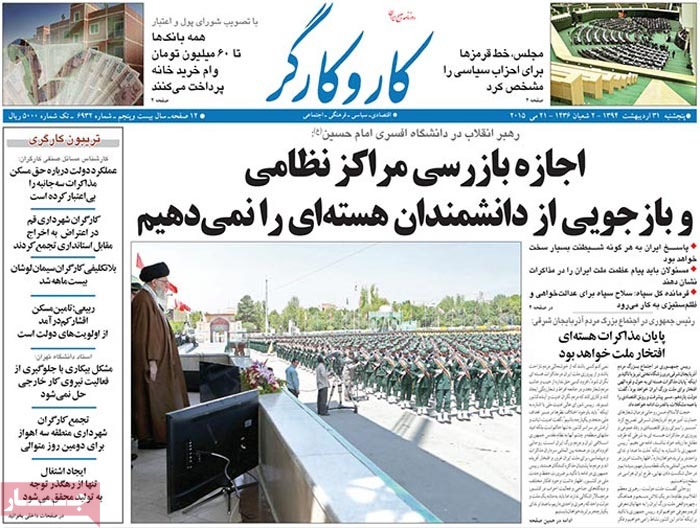 ---
Nasl-e Farda: Some 300 leasing companies have ripped off their clients.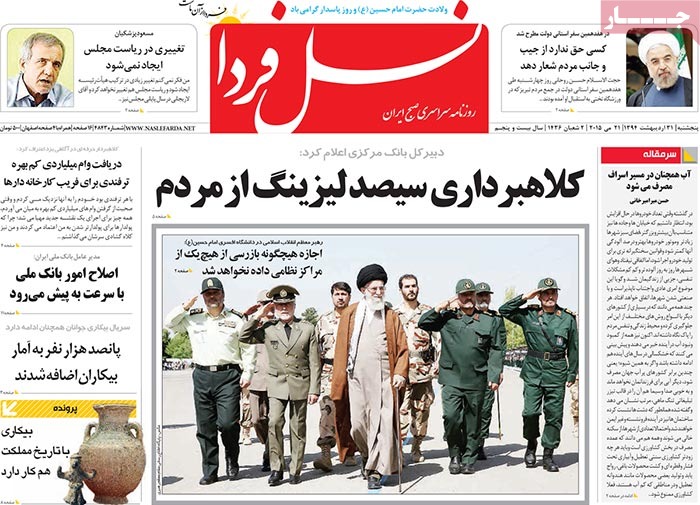 ---
Resalat: President Obama has maintained Iran's oil sanctions.
---
Shahrvand: Tehran provincial governor has expressed concern about drugs finding their way into schools.
Shahrvand: "The end of negotiations will be a source of pride for the Iranian people," President Rouhani said.