Most Iranian newspapers on Thursday covered the remarks by the Leader of the Islamic Revolution Ayatollah Seyyed Ali Khamenei, who called the US "the Greater Satan" and called on Muslim society to raise their power.
The ongoing visit of Croatian President Kolinda Grabar-Kitarović to Tehran and her meetings with Iranian officials including President Hassan Rouhani and Chairman of Iran's Expediency Council Ayatollah Akbar Hashemi Rafsanjani were also a hot story in today's media.
Abrar:
1- Iran and Croatia Sign 2 MoUs
2- Release of Petrol in 2 Different Prices Will Pave the Way for Corruption: MP
---
Abrar-e Eqtesadi:
1- Iran's Oil Exports to Be Increased by 60%: Reuters
2- 12% Rise in Employees' Salaries as of Next Week
3- Iran to Take Part in Uzbekistan's Oil and Gas Tenders
4- 3 Global Economic Challenges for Iran: IMF Official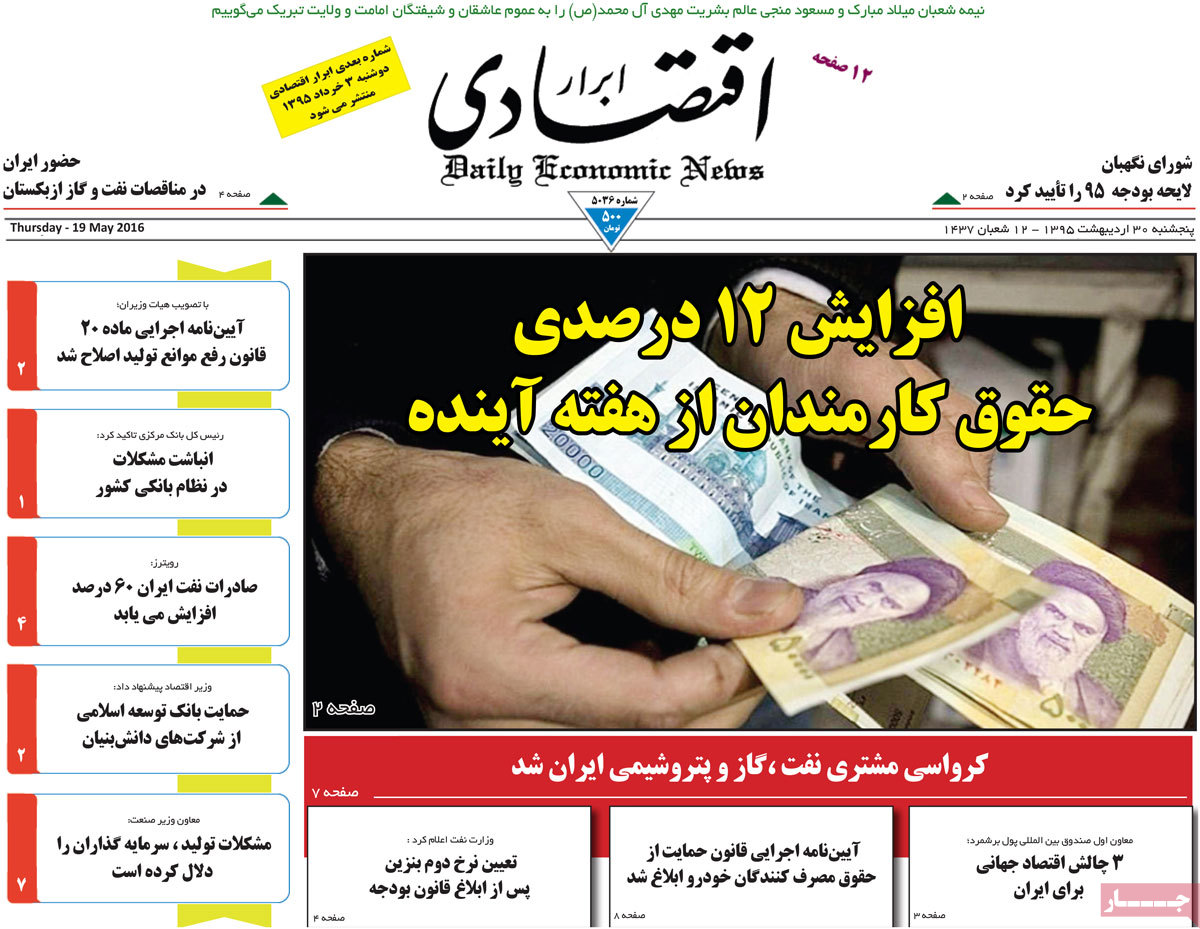 ---
Aftab-e Yazd:
1- Arab Teams Have Mistaken Football Field with Hospital: Teraktorsazi Coach
2- "Ayatollah" [Rafsanjani] Withdraws from Running for Presidency of Experts Assembly
3- Ahmadinejad Didn't Have a Single Penny of Financial Abuse: MP
4- Cleric: Female MPs-Elect Are Dangerous Creatures!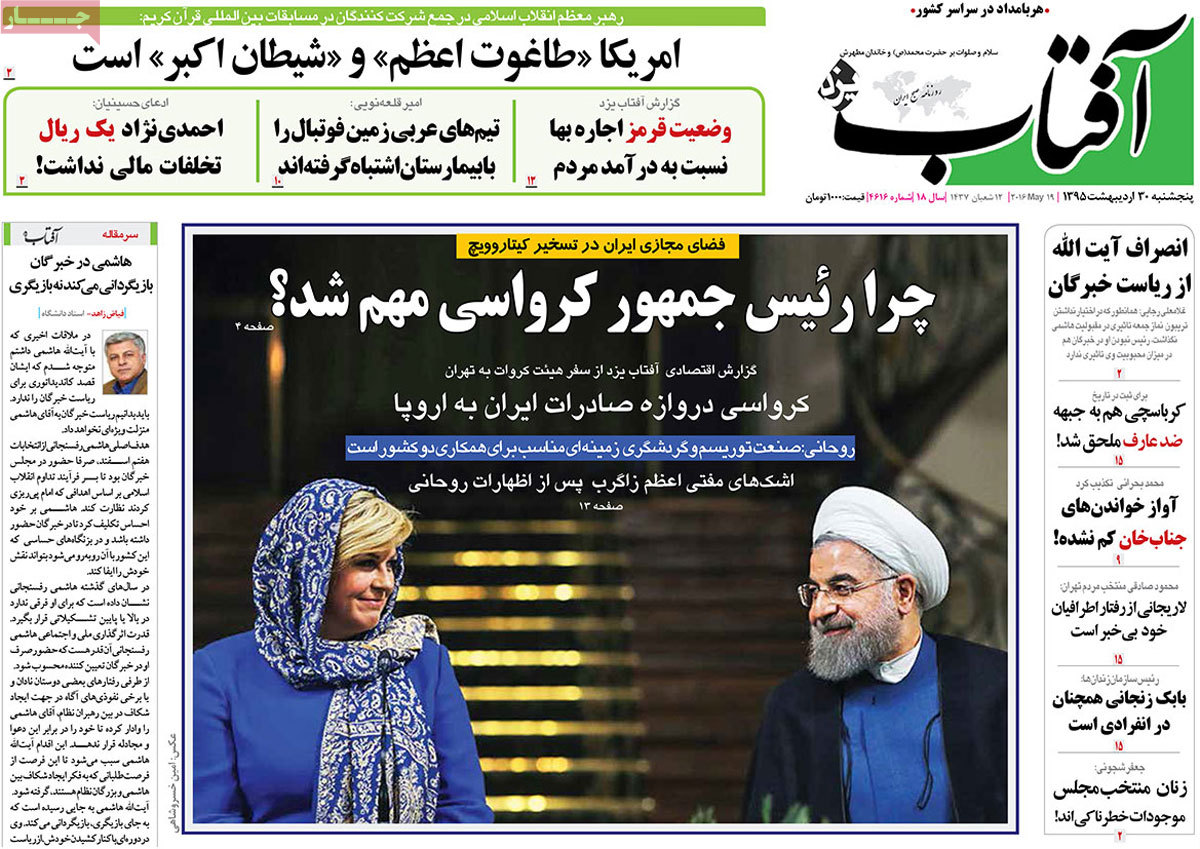 ---
Arman-e Emrooz:
1- Croatia, a Gate for Iran's Relations with Europe
2- Details of Explosion in Tehranpars
3- I'm Currently Not into Running for Presidency of Assembly of Experts: Rafsanjani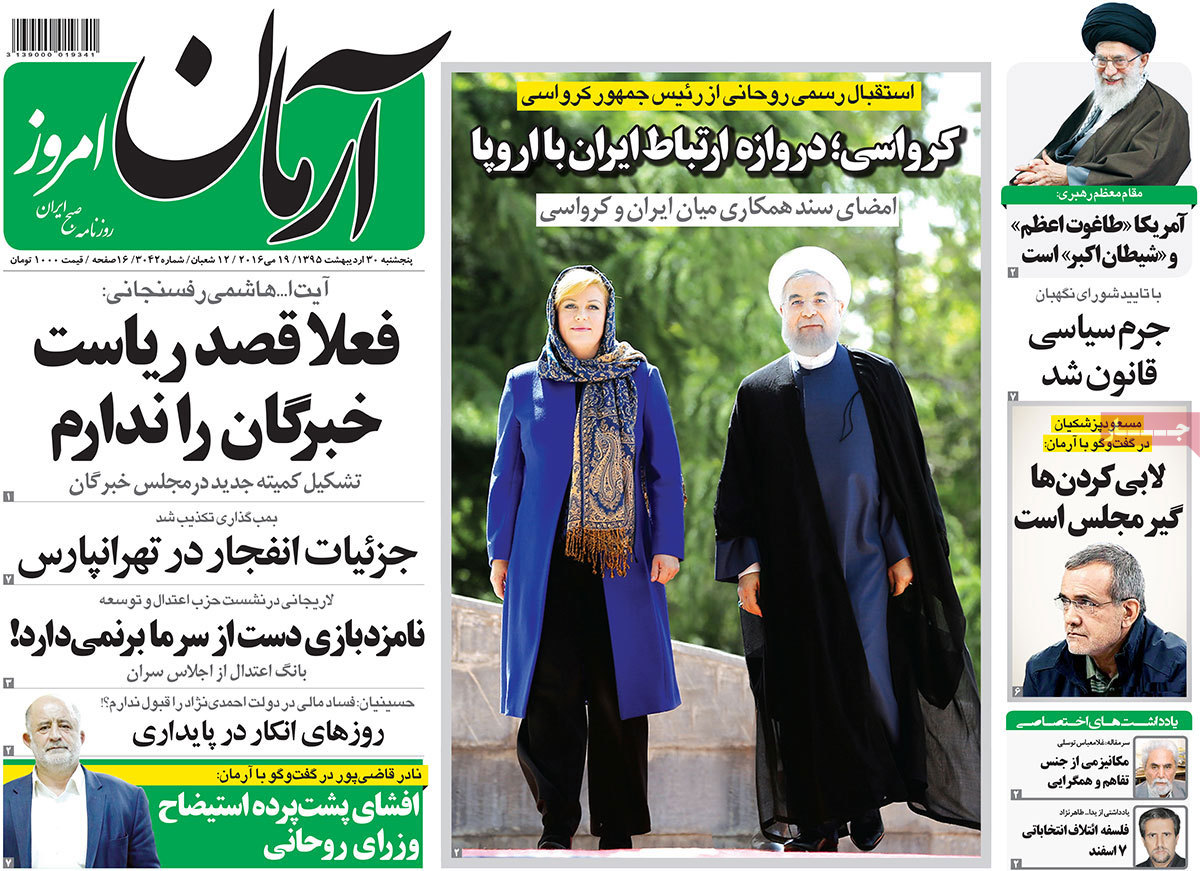 ---
Asrar:
1- More than 11m Young Iranians Have Never Been Married
2- Iran Should Be Top Regional Economic Power: First VP
3- People Are Tired of Extremism and Radicalism [in Politics]: Minister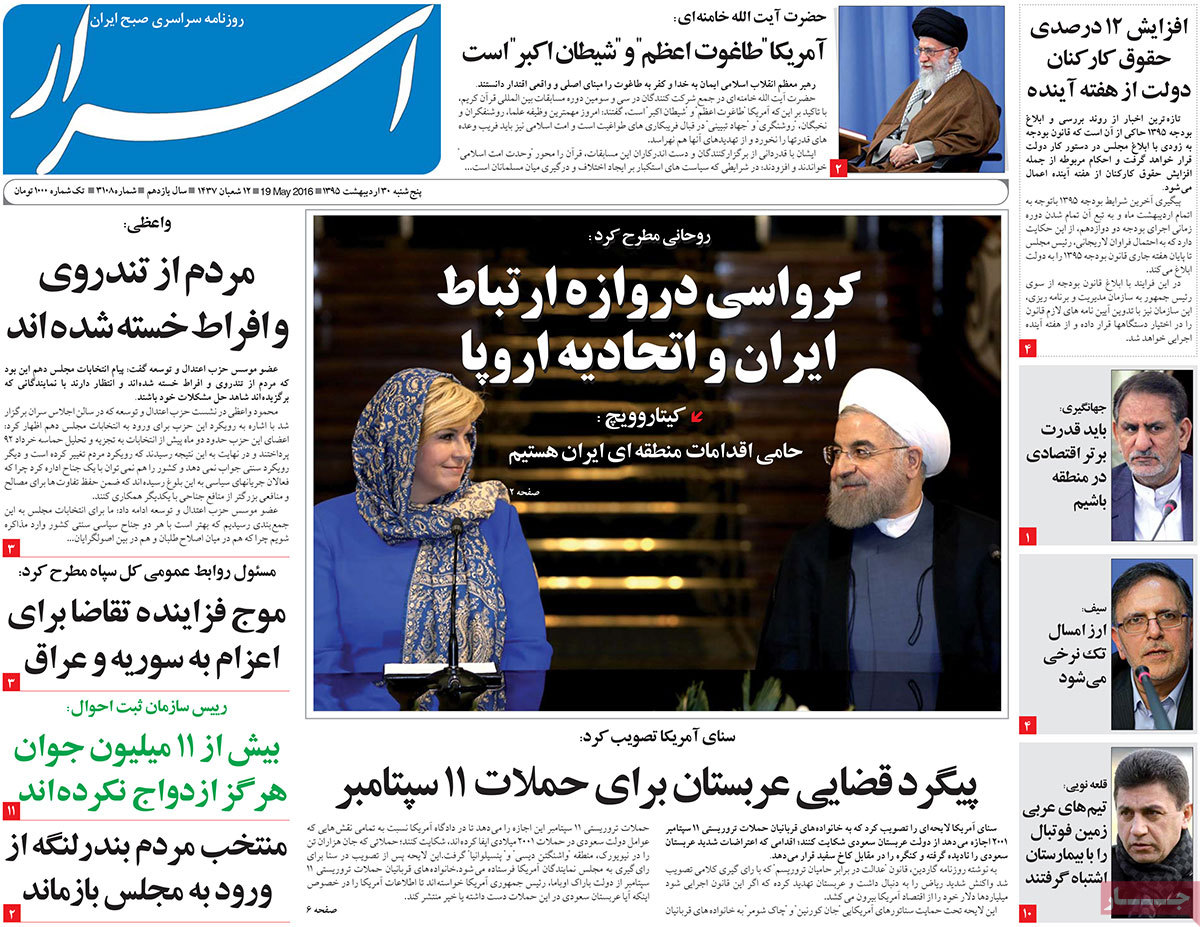 ---
Besharat-e Now:
1- Judiciary Spokesman: Legal Action to Be Taken against Faezeh Hashemi [Rafsanjani's daughter, who recently met a Baha'i leader in Iran]
2- They Feel Threatened by Reformists' Taking Power
3- Iranian Population Hits 80m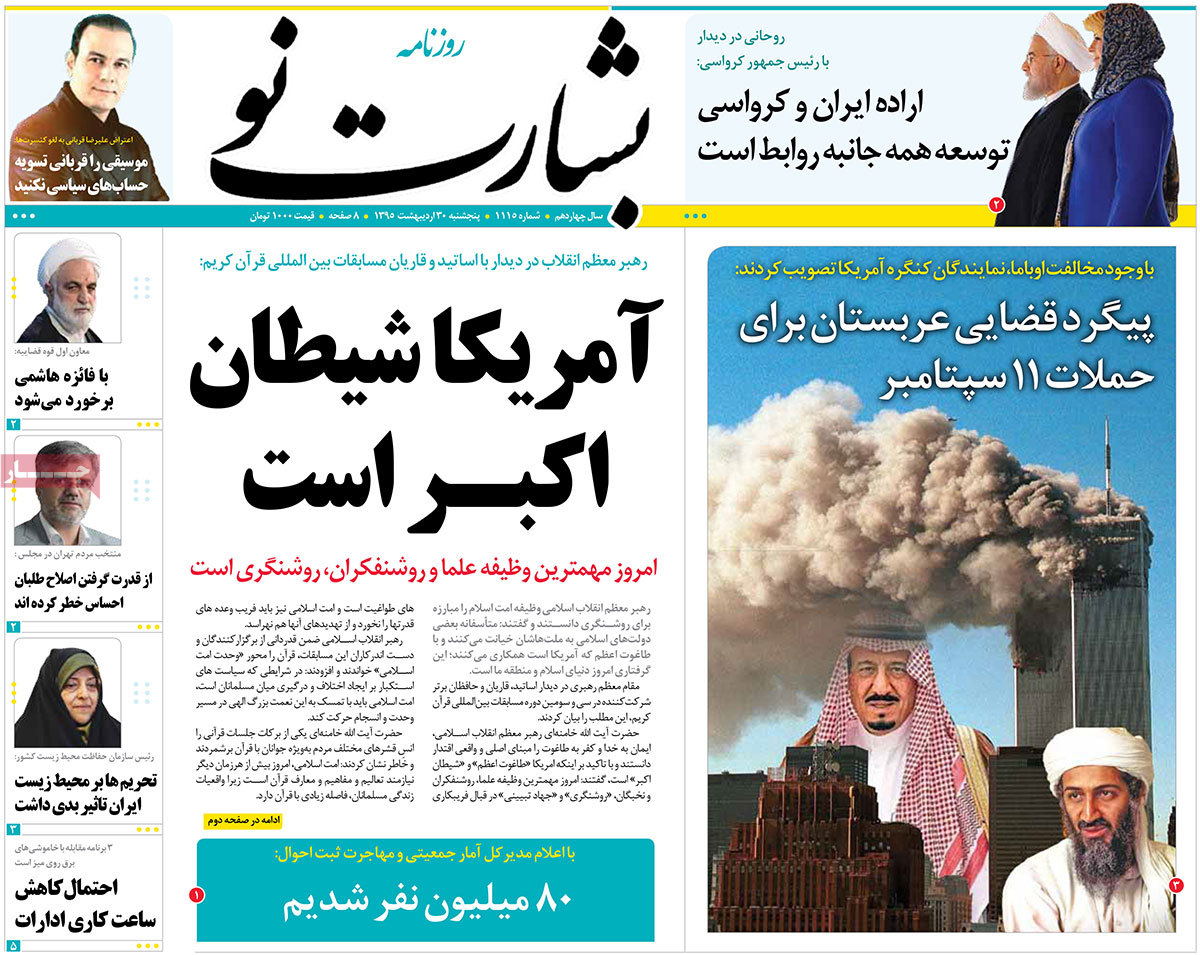 ---
Ebtekar:
1- Leader: US Is "Greater Taghut" and "Greater Satan"
2- 34,000 Villages Evacuated in Past 50 Years: Immigrant Out of "Desparation"
3- Haft-e Tir Bomber [Recently Announced to Be Arrested in Albania] Isn't under Arrest: Spokesman
4- Expansion of Ties with Affluent Countries: Zarif to Visit Northern Europe
5- Cooperation with EU Effective on Reinforcement of Economy and Industry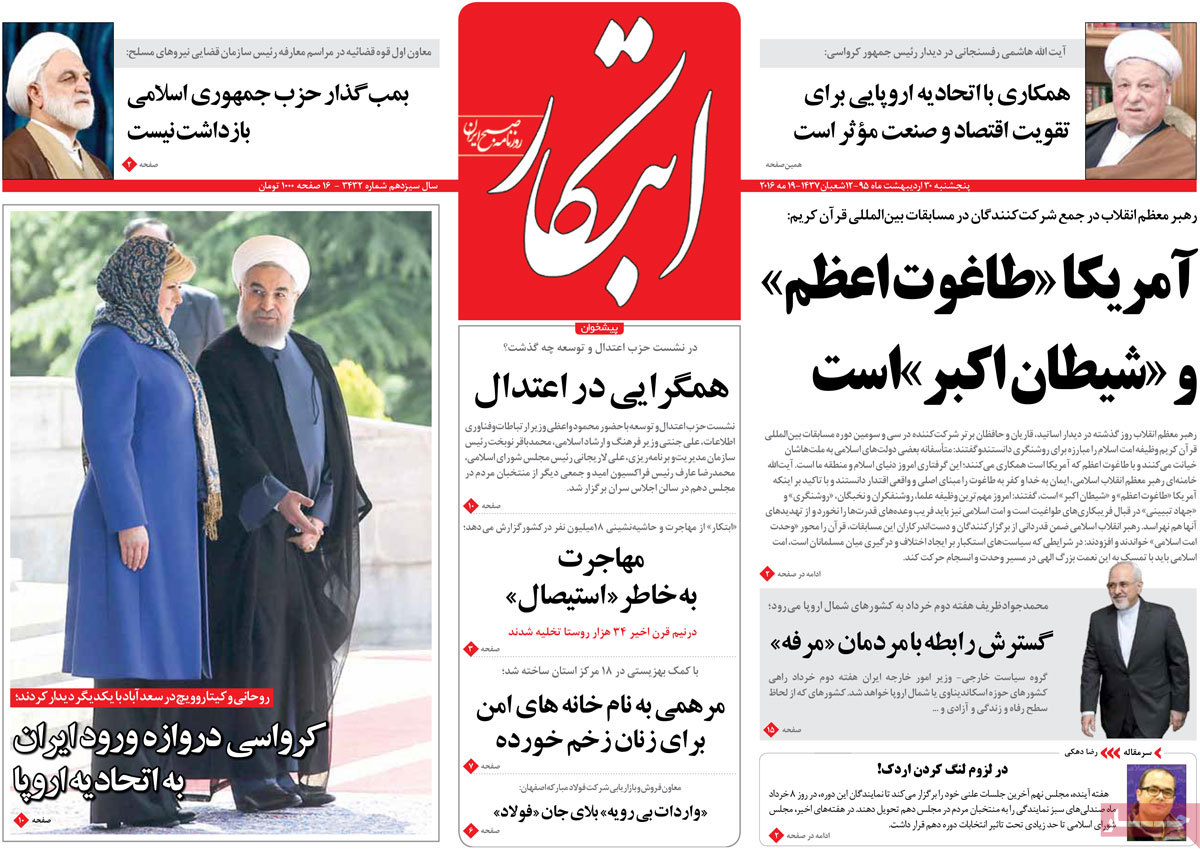 ---
Etemad:
1- "Political Crime" Enacted into Law in Iran
2- It's Now Time for Economic Transparency: IMF to Iran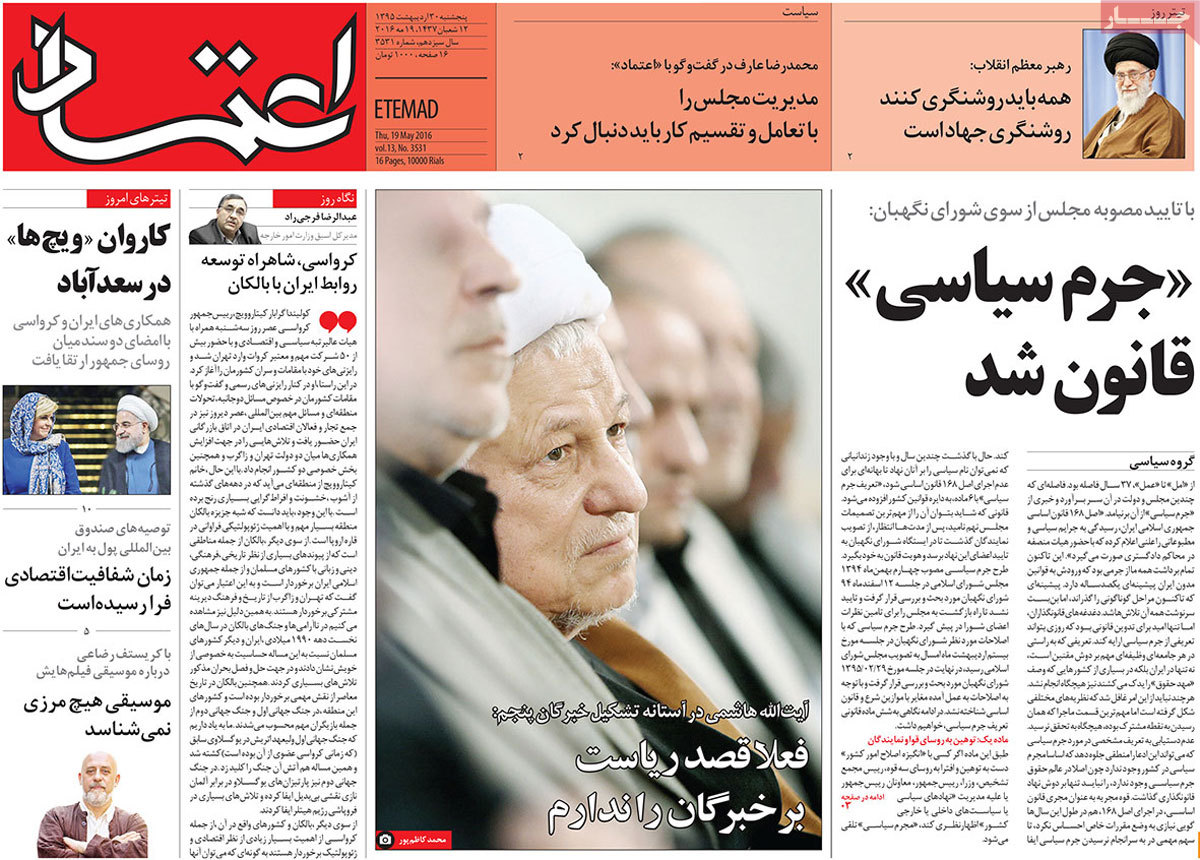 ---
Ettela'at:
1- Regional Countries Implementing US Policies in Mideast Are Betraying Islamic Ummah: Leader
2- Dangerous Reforms in Saudi Arabia: Al Saud's Efforts for Survival
3- US Senate Approves Plan to Prosecute Saudi Arabia over 9/11 Attacks
4- Syrian Army Liberates Strategic Heights in Northern Latakia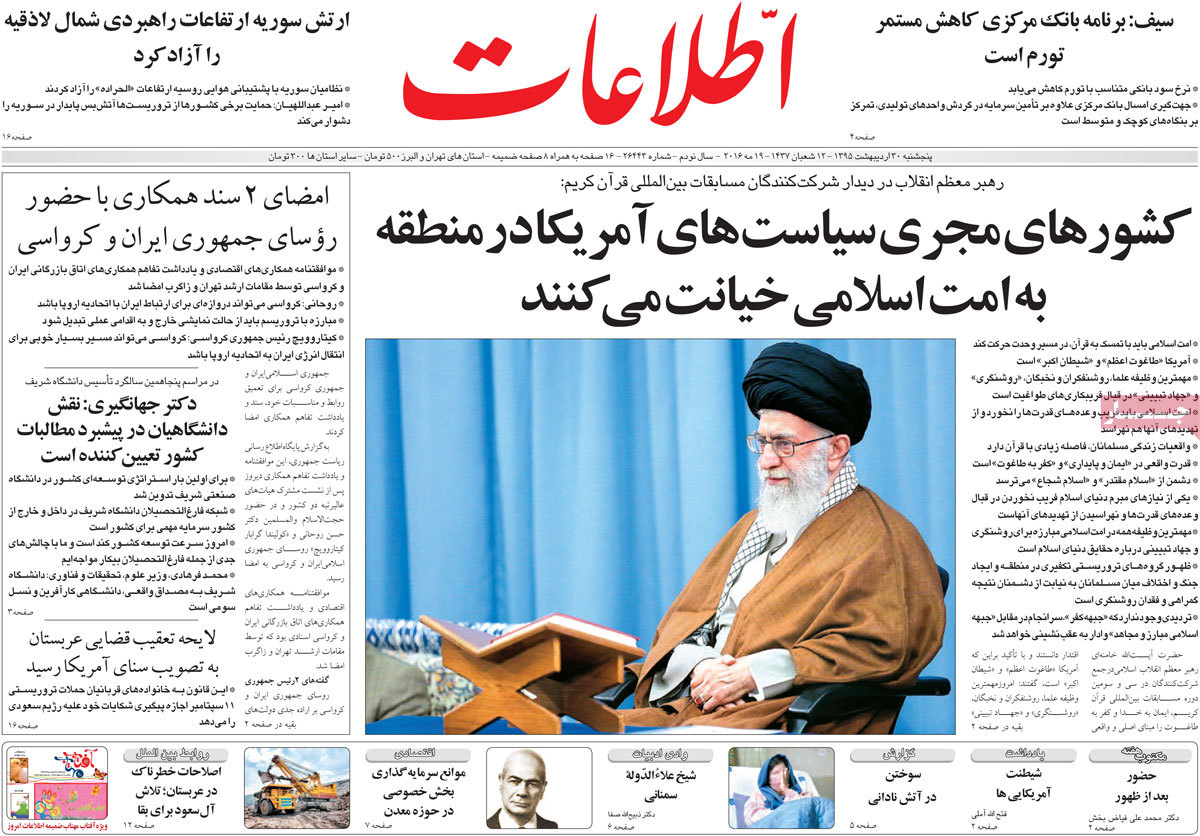 ---
Haft-e Sobh:
1- How Instagram Has Changed Our Lives: Horrible Backyard of Our Life
2- Bloody Stormy Wednesday: A Day with Deadly Thunderbolt, Deadly Crash of Buses, Explosion in Khak-Sefid, etc.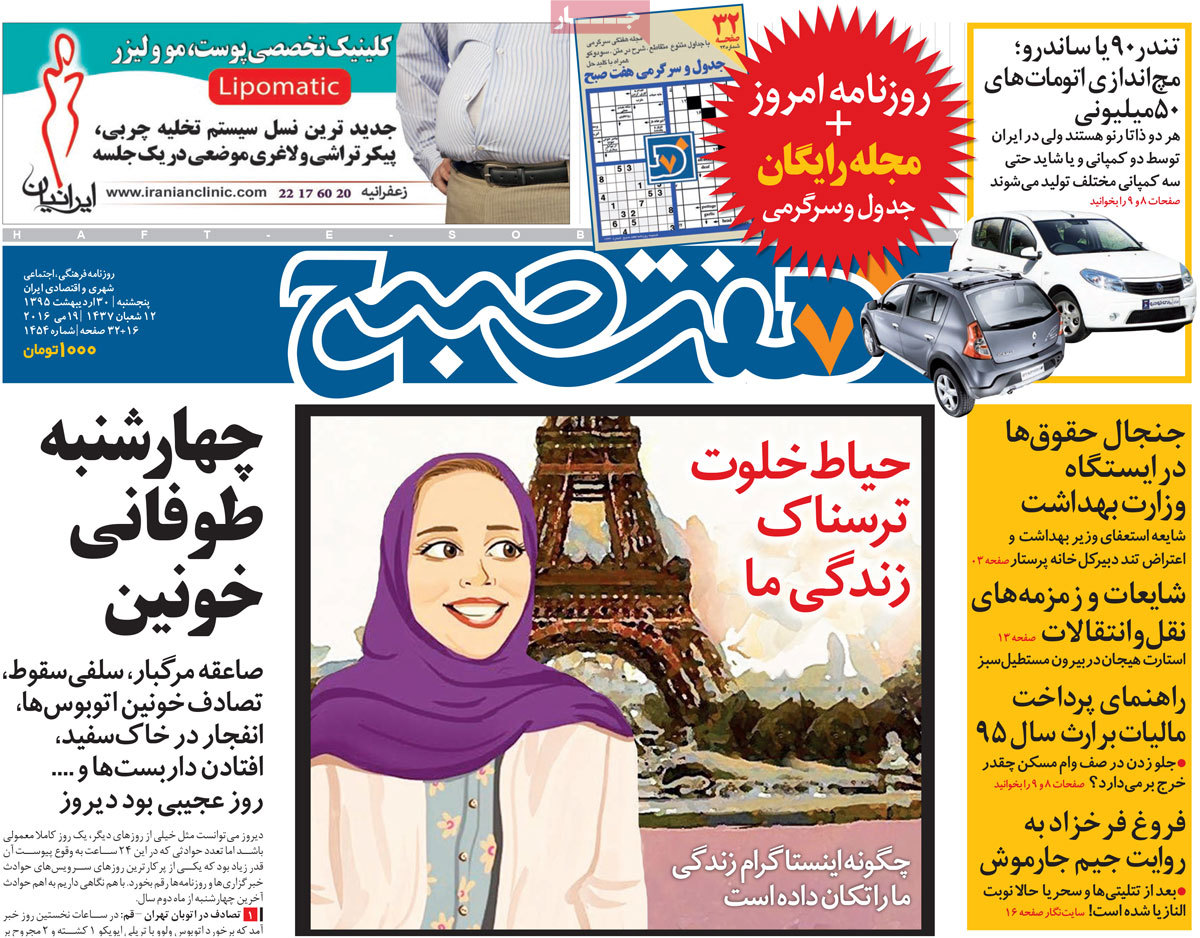 ---
Hemayat:
1- Ayatollah Khamenei: Resistance to US Excessive Demands Is Main Reason for Iran's Might
2- Production of Illicit Synthetic Drugs in Iran at Alarming Level: Police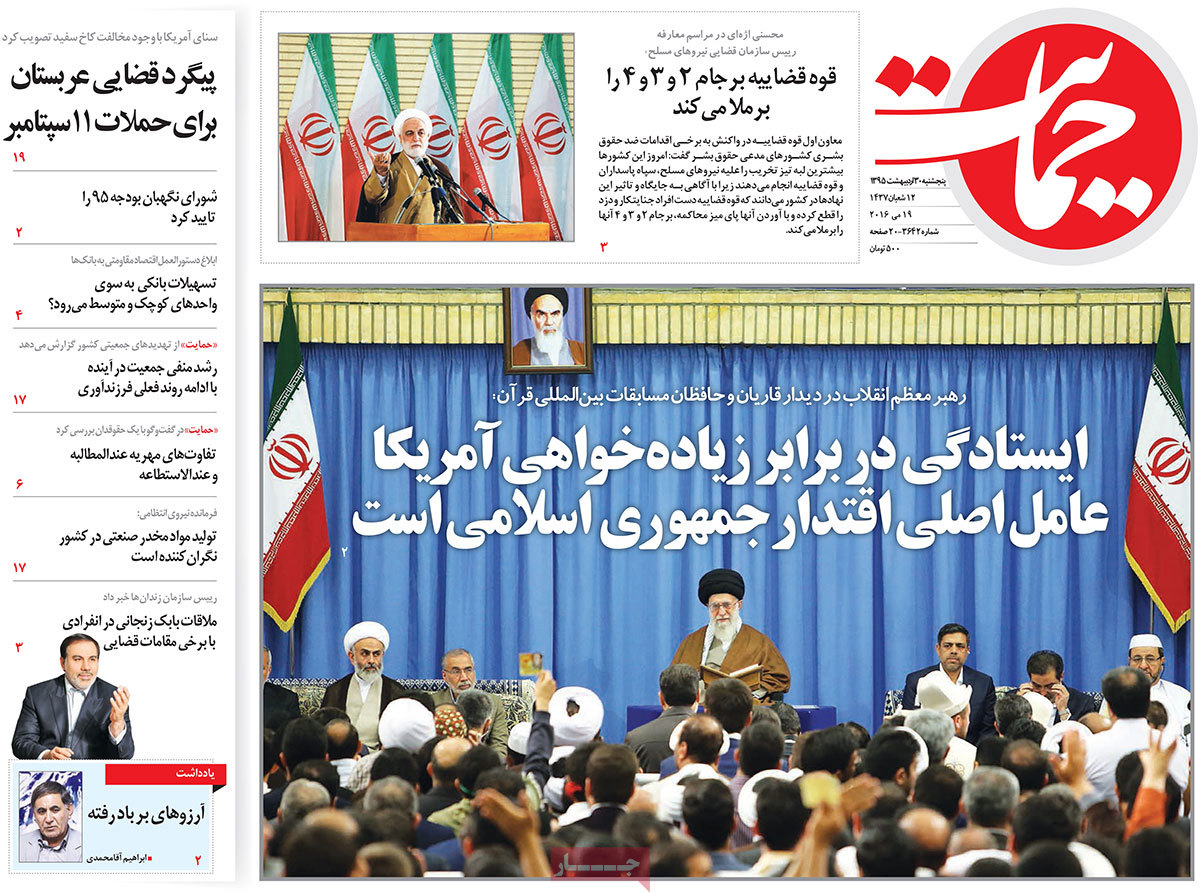 ---
Javan:
1- US Afraid of Iranian Nation's Islamic Might: Leader
2- Fight against Terrorism Should No Longer Be for Show: Rouhani
3- Iranian Doctors Sent to European Medical Exhibition Will Receive Commission for Equipment They Import to Iran
4- Forgotten Responsibilities of Council Responsible for Monitoring JCPOA [Implementation]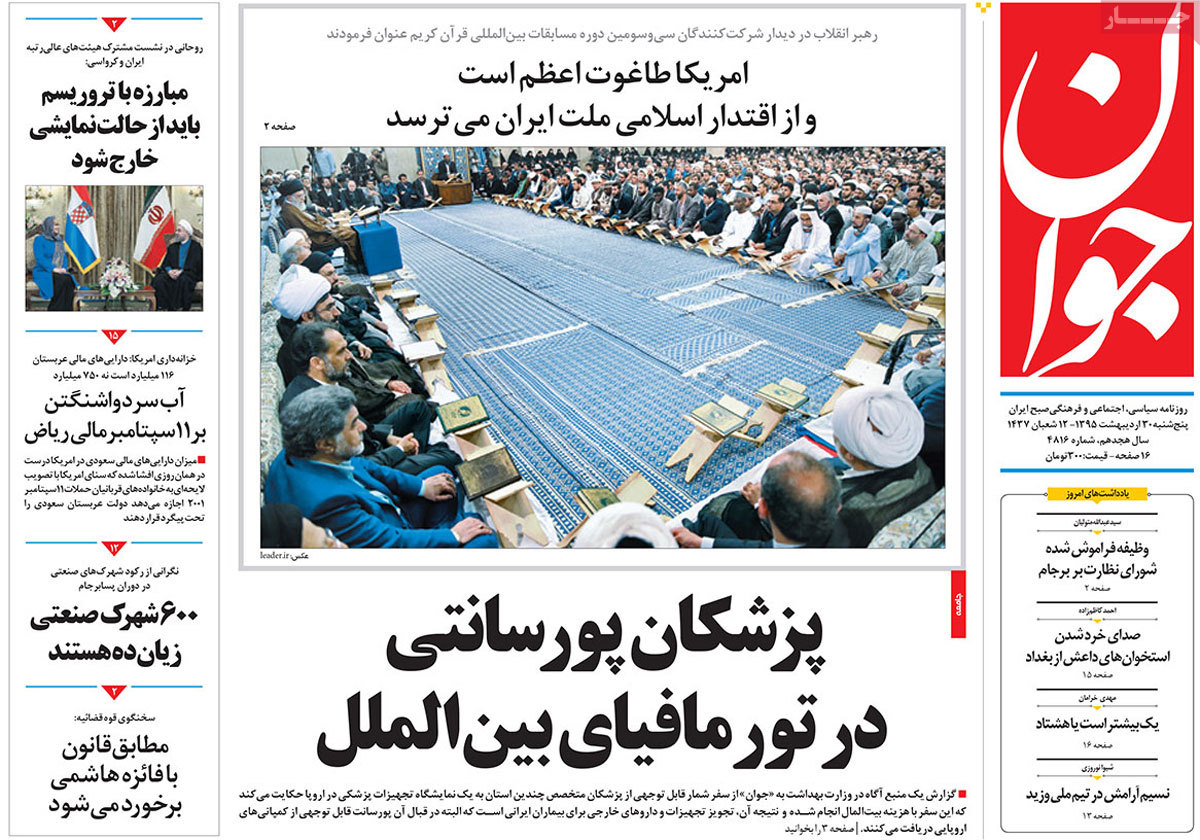 ---
Jomhouri Eslami:
1- US Policies Hinders Iran's Gas Exports to Europe: Rafsanjani in Meeting with Croatian President
2- Russia Ready to Design Second Unit of Bushehr Nuclear Power Plant [in southern Iran]
3- Iran Ready to Transfer Its Engineering and Technical Experiences to Croatia: Rouhani
4- Saudi Arabia Calls for Foreign Military Intervention in Syria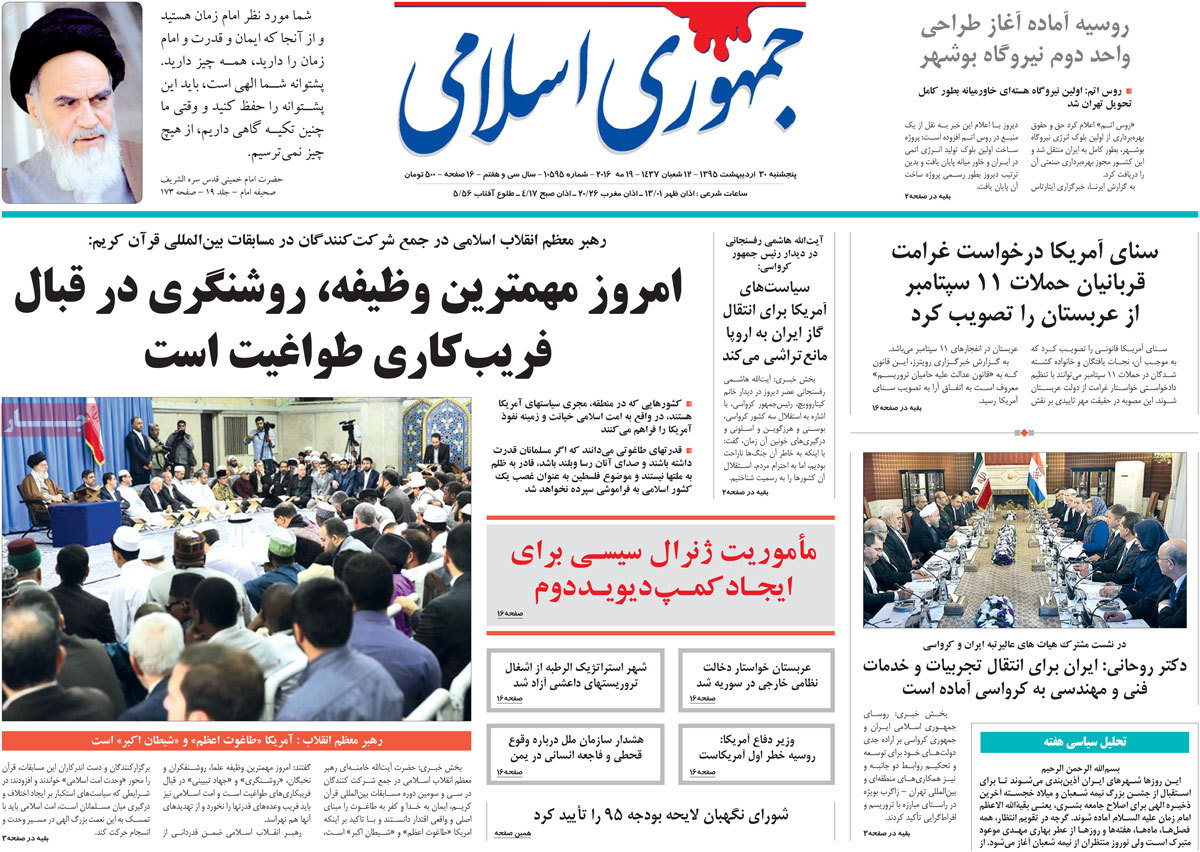 ---
Kayhan:
1- Sisi's Plan to Compromise with Israel, Latest Betrayal of Egypt to Palestinian Cause
2- Infiltration of Powers through New Oil Contracts
3- Larijani One Step Closer to Presidency of Next Parliament: Reformists Bypassing Aref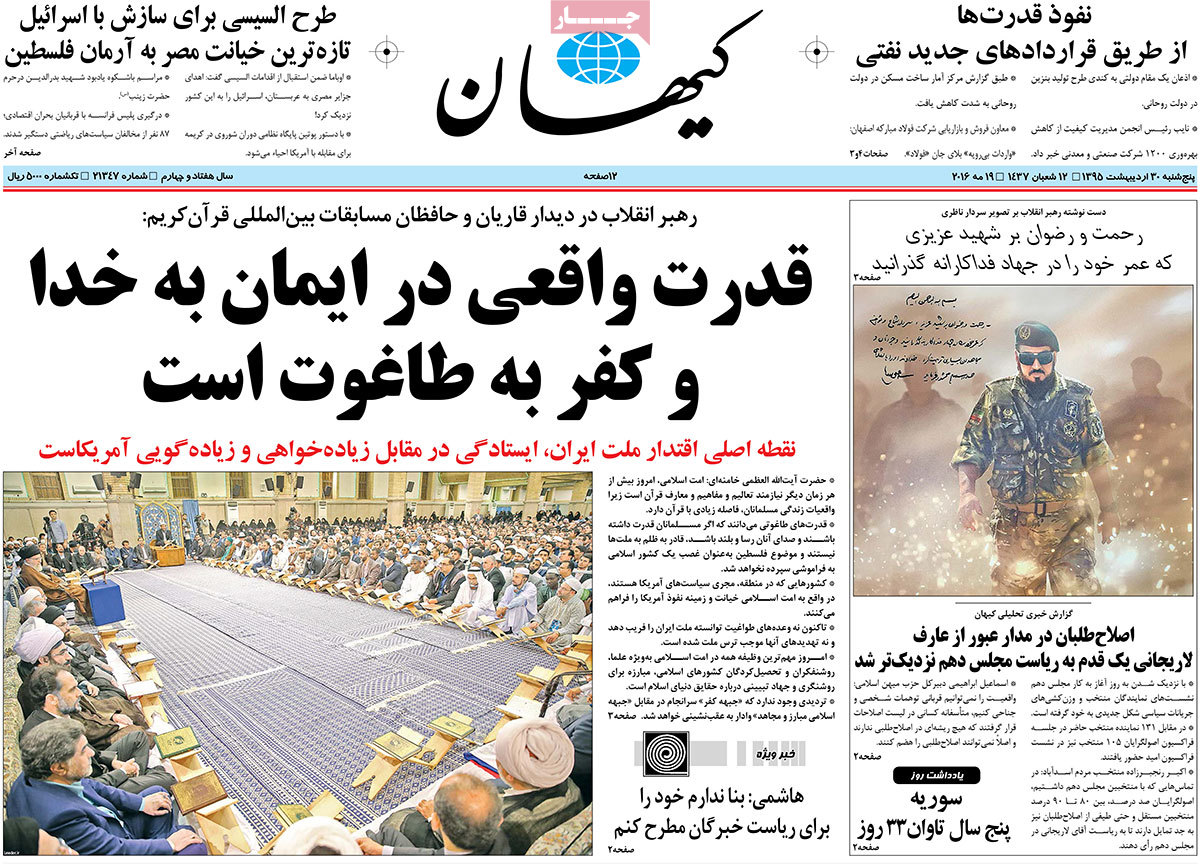 ---
Khorasan:
1- US Postpones Implementation of $2bn Court Ruling [to seize Iran's assets] after Iran's Reactions: Media Report
2- Growing Crisis in Saudi Arabia
---
Resalat:
1- If Muslims Have Power, Issue of Palestine Won't Be Forgotten: Leader
2- Washington and Al Saud Desperate in Damascus: Results of Vienna Talks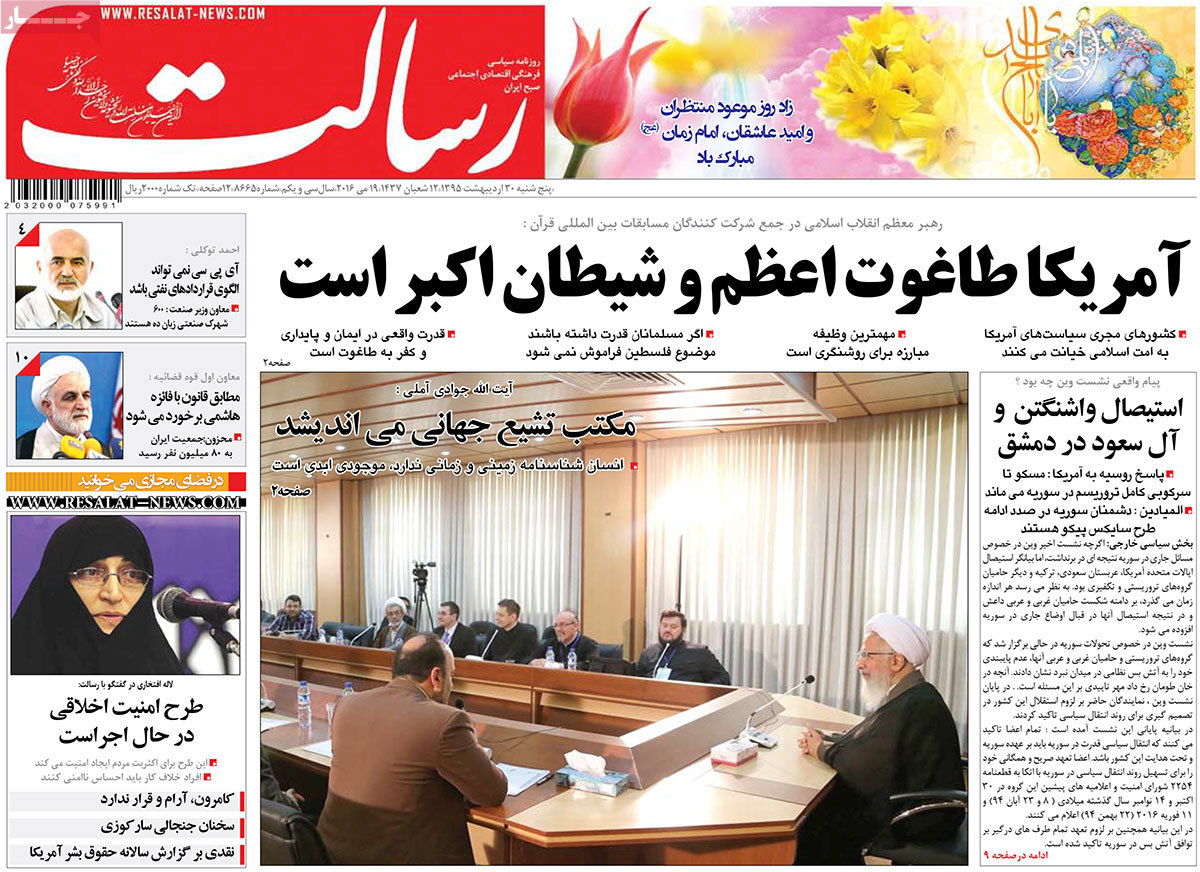 ---
Shahrvand:
1- Living in Villages, Not Anymore Possible in Iran
2- Popular Campaign against US Robbery of Iran's Assets: Cultural Figures Protest at Court Ruling
3- Return of Achaemenid Relics to Iran after 81 Years