Iran's Parliament on Tuesday discussed a plan on receiving compensation from the US over its moves against the country. One of the MPs urged the government to seize US assets in the Persian Gulf, but other lawmakers were opposed to the proposal as it might make the Persian Gulf seem insecure. This was one of the hot stories in Iranian newspapers on Wednesday.
The Iranian press also covered a farewell ceremony for the previous IRIB chief Mohammad Sarafraz, in which the new chief Abdolali Ali Asgari was also presented.
An ongoing visit to Tehran by the Croatian President Kolinda Grabar-Kitarović was also focused on by many media sources.
Abrar:
1- Parliament Rejects MP's Plan to Confiscate US Assets in Strait of Hormuz
2- Republicans Are Either Lying or Have False Information about Nuclear Deal: White House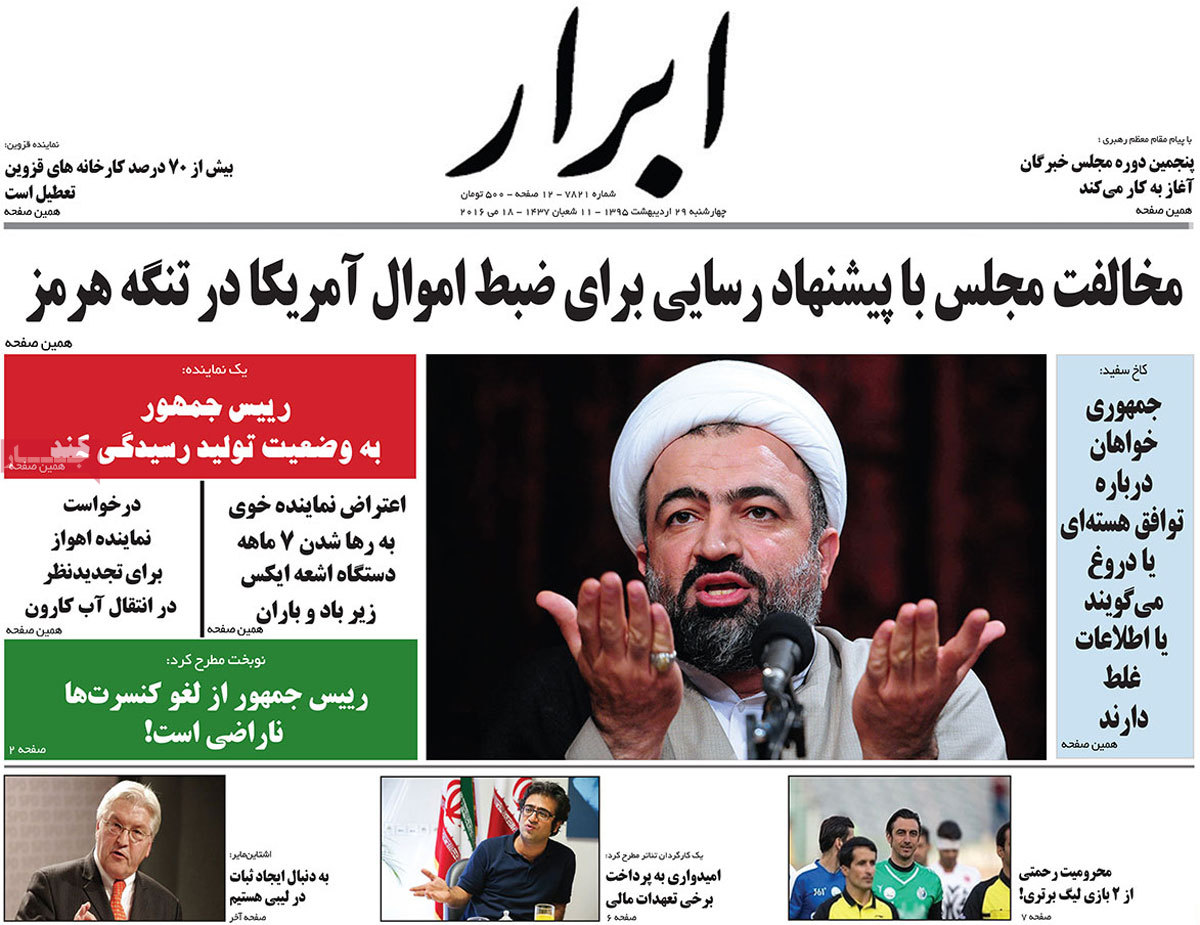 ---
Abrar-e Eqtesadi:
1- IMF Ready to Standardize Iran's Banks
2- Car Industry Has a Turnover of $33bn: IKCO Chief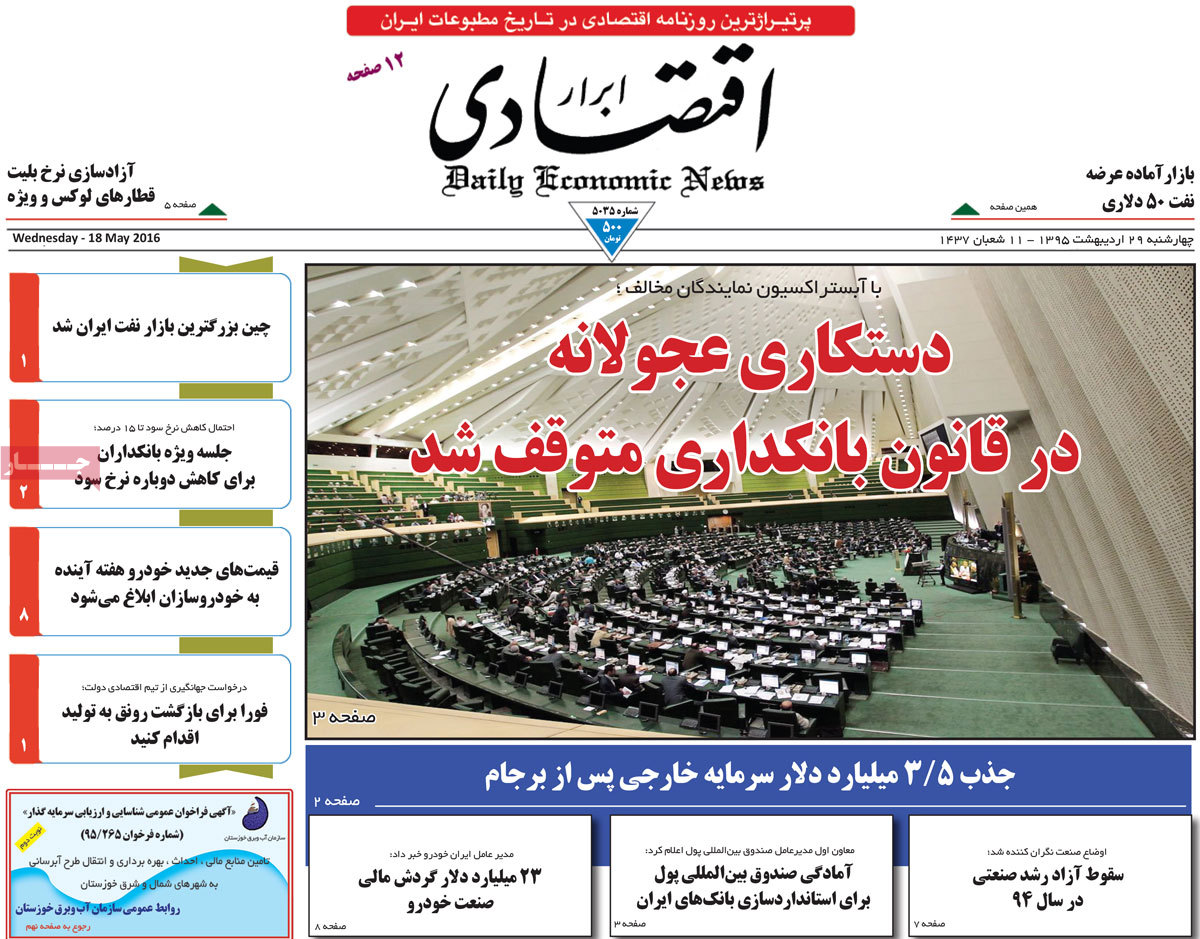 ---
Afkar:
1- IORA [Indian Ocean Rim Association] Summit [in Chabahar] Golden Opportunity to Introduce Iran
2- We'll Pursue US Compliance with Its JCPOA Commitments: Zarif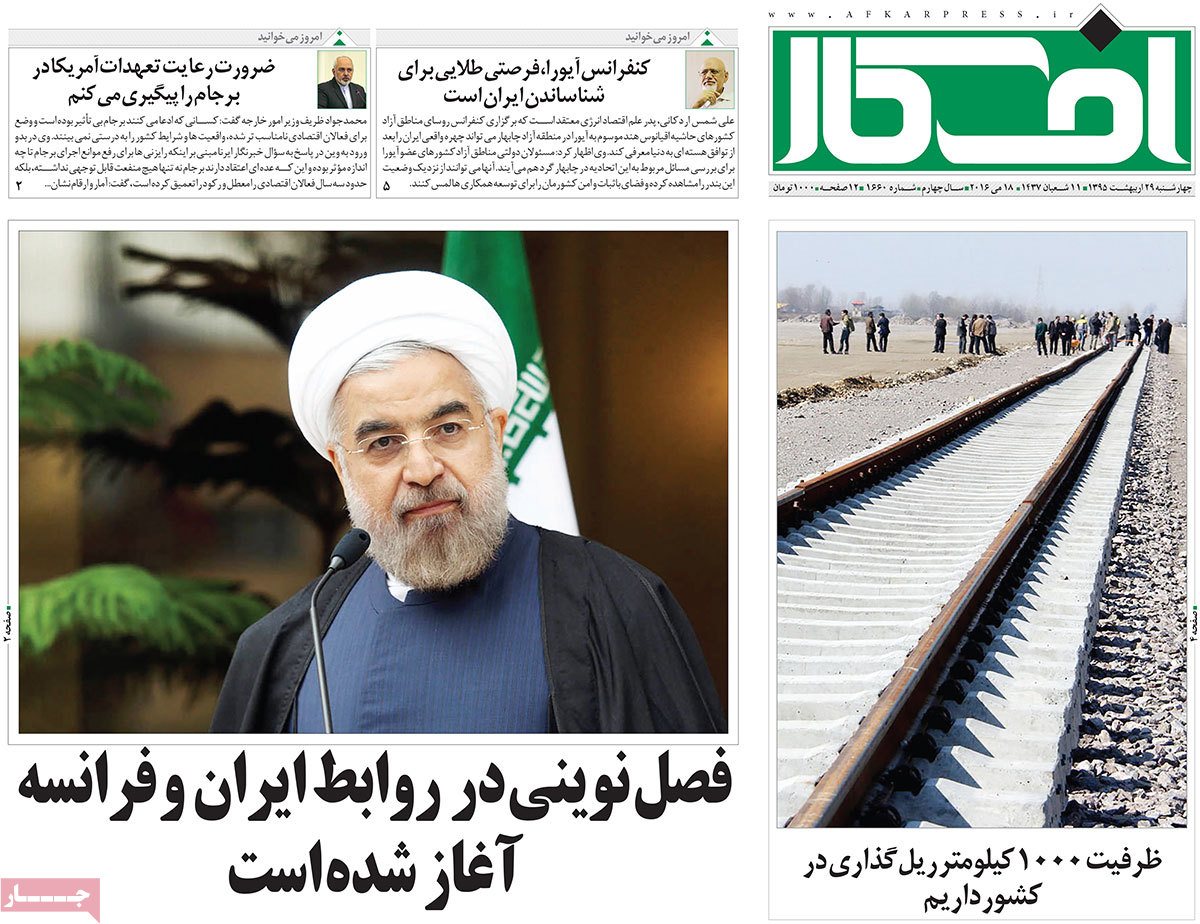 ---
Arman-e Emrooz:
1- Zarif and Kerry Meet to Discuss Proper Implementation of JCPOA
2- President Rouhani Dissatisfied with Cancellation of Concerts: Spokesman
3- Trump or Clinton No Different for Iran: Analyst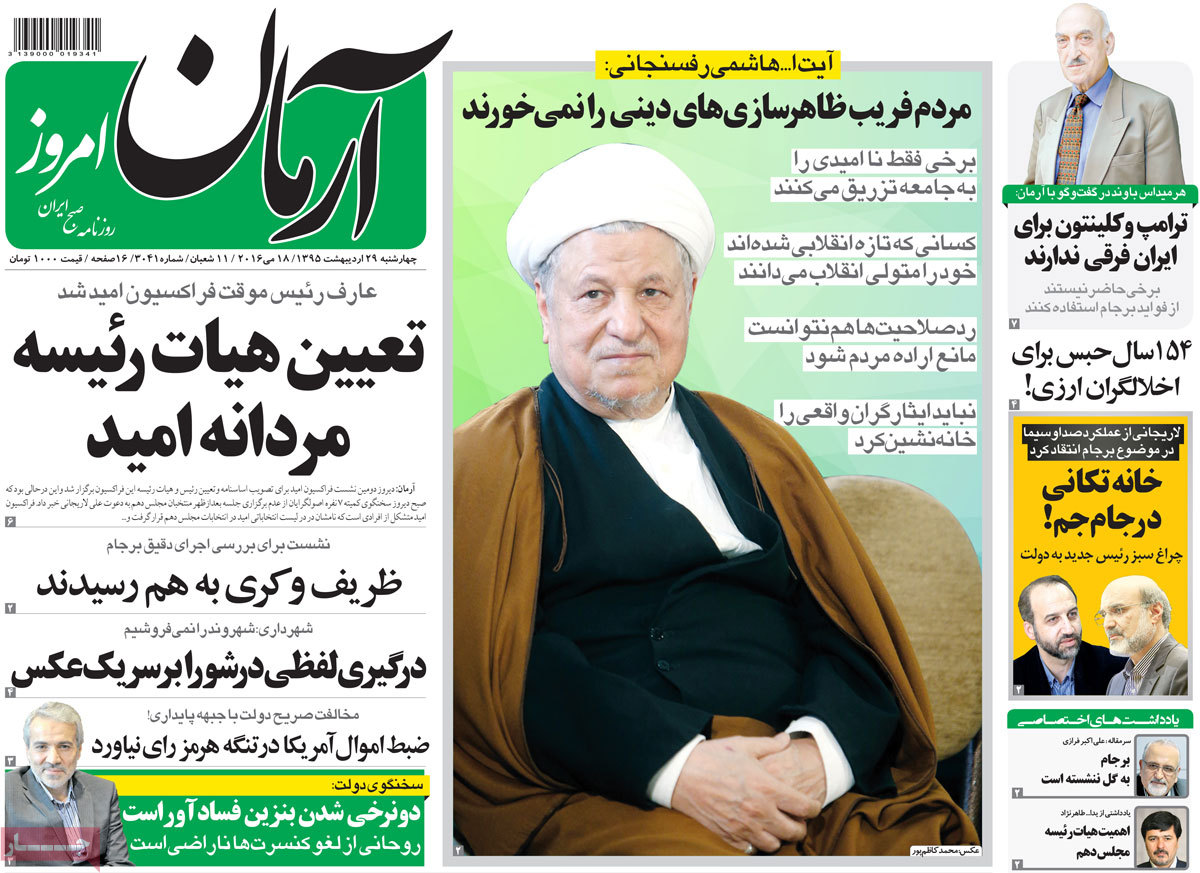 ---
Asia:
1- Indian PM to Visit Tehran on May 21
2- Croatia, Iran's Gate to Europe
3- US Committed to Follow Through Termination of Iran Banking Sanctions: Treasury Secretary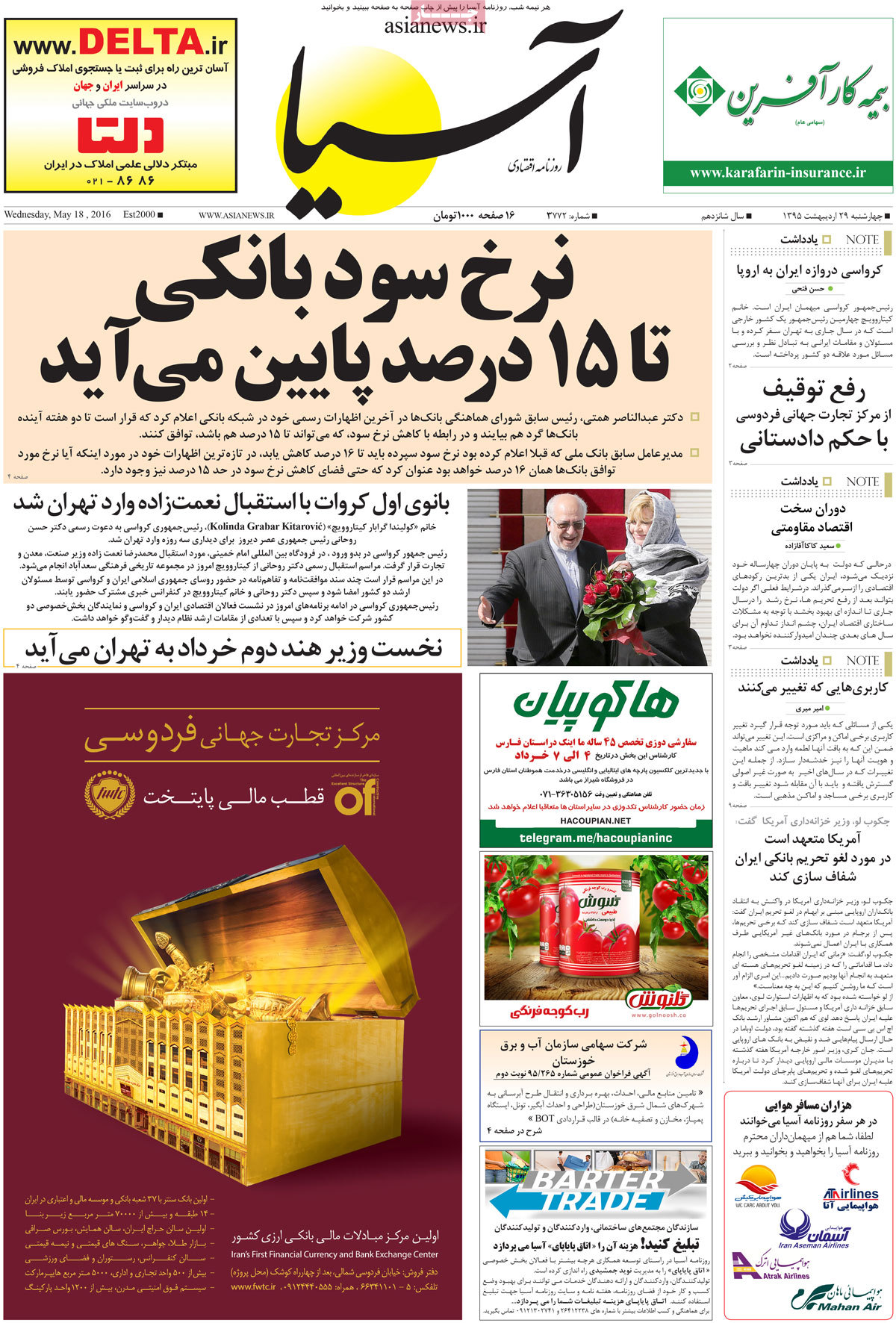 ---
Asrar:
1- Larijani [Parliament Speaker] Slams IRIB's Approach towards JCPOA
2- Transfer of Water from Caspian Sea to Lake Urmia Cancelled
3- Iranian Courts Rule that US Should Pay $50bn [Compensation]: Deputy FM
4- 40% Increase in Iran's Medical Tourism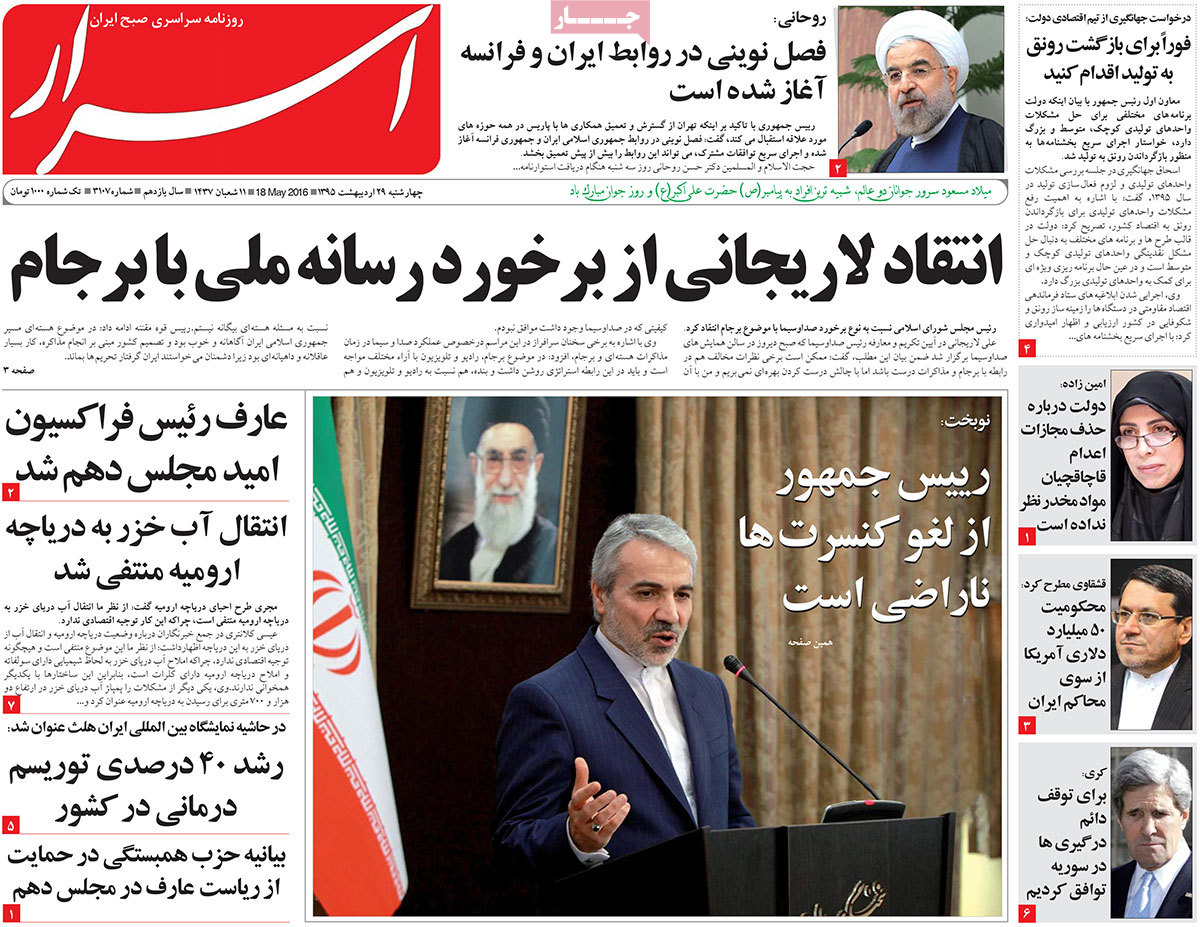 ---
Ebtekar:
1- New Chapter Opened in Tehran-Paris Ties: Rouhani
2- Reformist "Faction of Hope" Decides Its Board Members
3- Demand for Compensation with Empty Hands! [An analysis of a recent motion passed by the Parliament to receive compensation from the US for its hostile moves]
4- 20% of Iran's Population Will Be Elderly by 2050
---
Emtiaz:
1- 150 Historical Sites to Be Renovated This Year
2- 18m Iranians Are Socially Marginalized
3- Video Games Can Lead to Sterility
4- Rate of Female Drug Addiction Doubled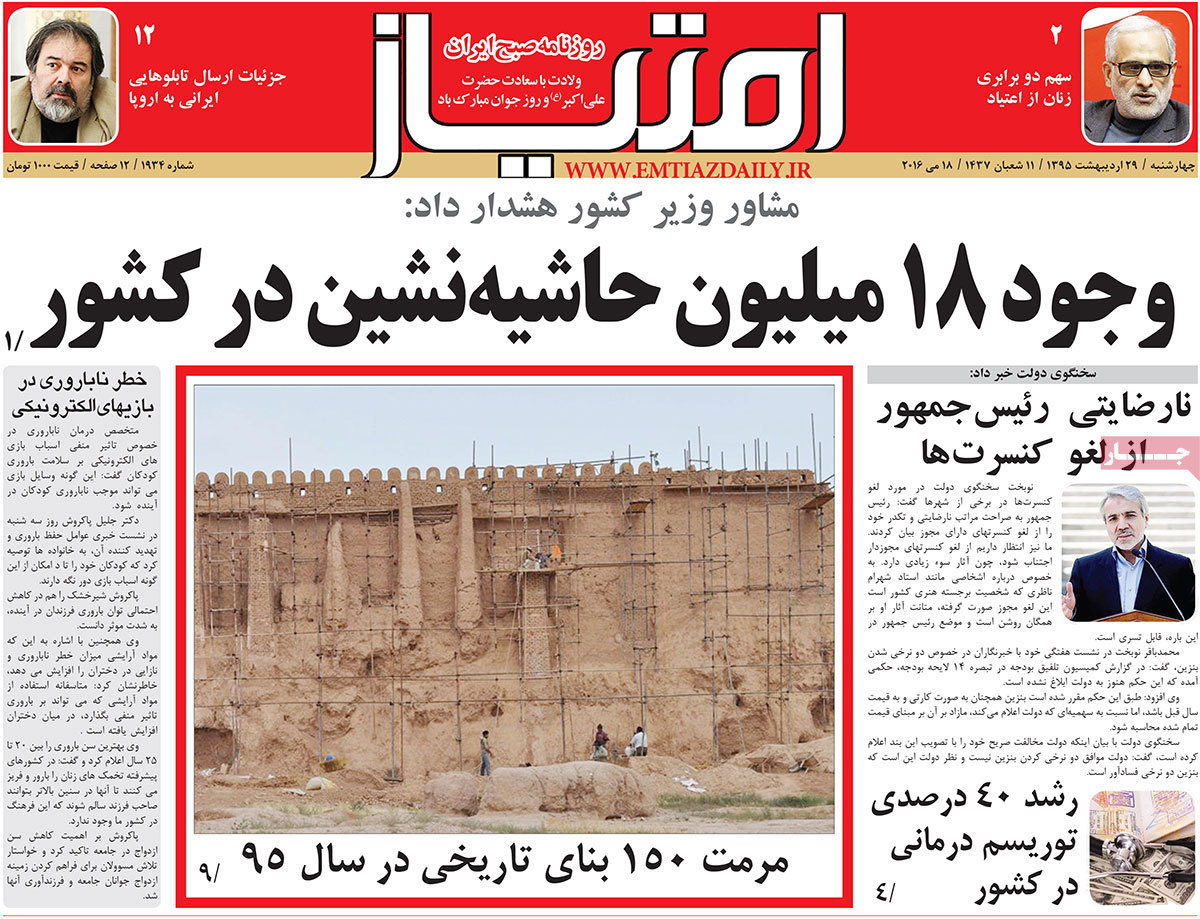 ---
Etemad:
1- ISSG Summit Ends with Repetition of Statement
2- Exhibition Opened to Display Historical Seals Returned from US
3- A Bitter End for IRIB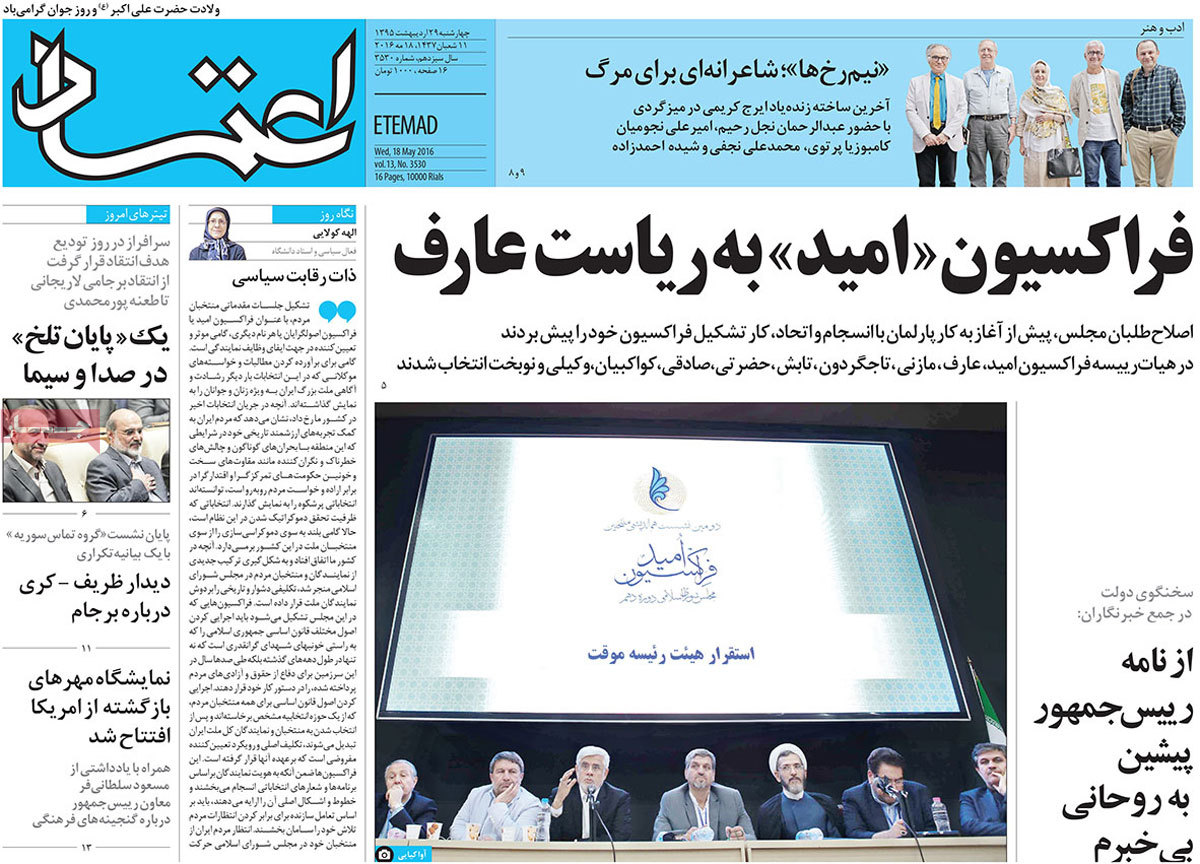 ---
Ettela'at:
1- Iran's Syrian Crisis Position Was Always Political Resolution: Zarif
2- New Chapter Opened in Iran-Europe Ties, Rouhani Says in Meeting with French and Slovakian Ambassadors
3- Croatian President Welcomed in Tehran
4- Iran's Rights Being Pursued in The Hague: Justice Minister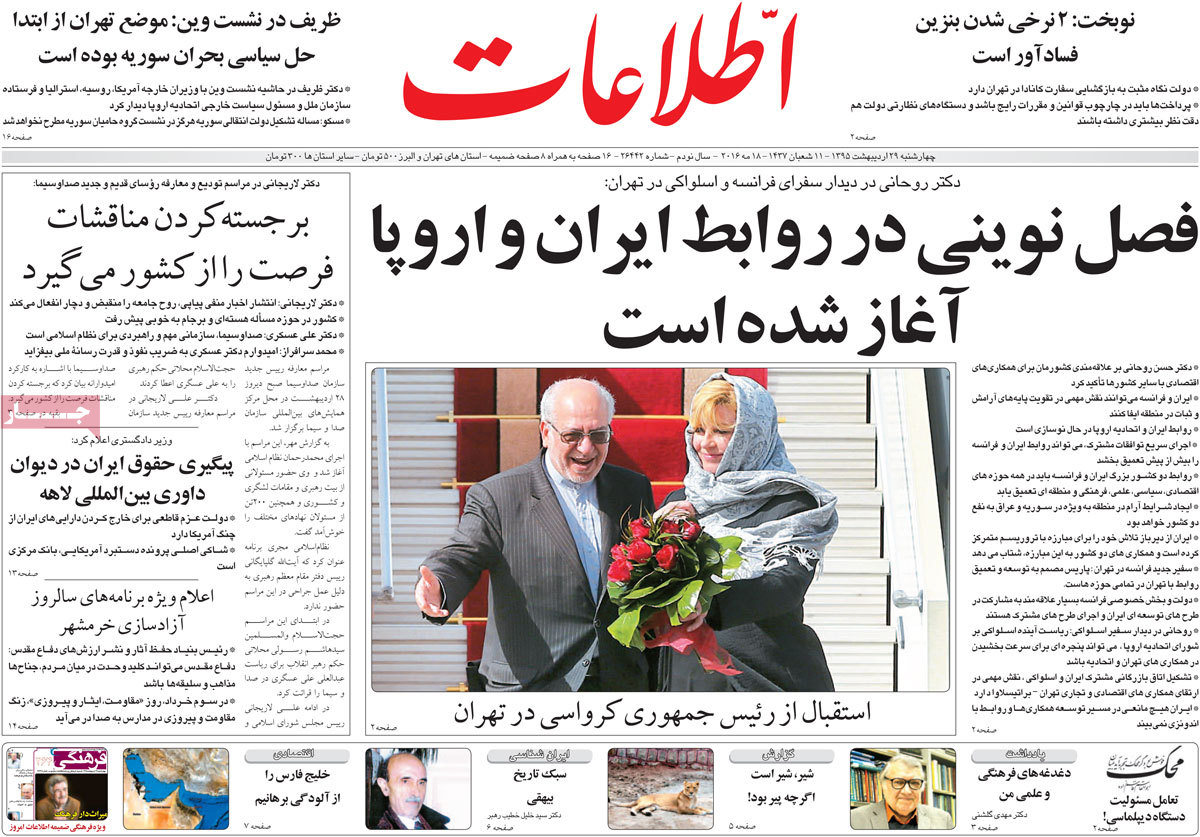 ---
Haft-e Sobh:
1- All Fans of Grabar-Kitarović: Growing Google Trend about Croatian President
2- 69 Iranians on Interpol Red Notice Wanted List: Fugitive Banker Khavari Removed!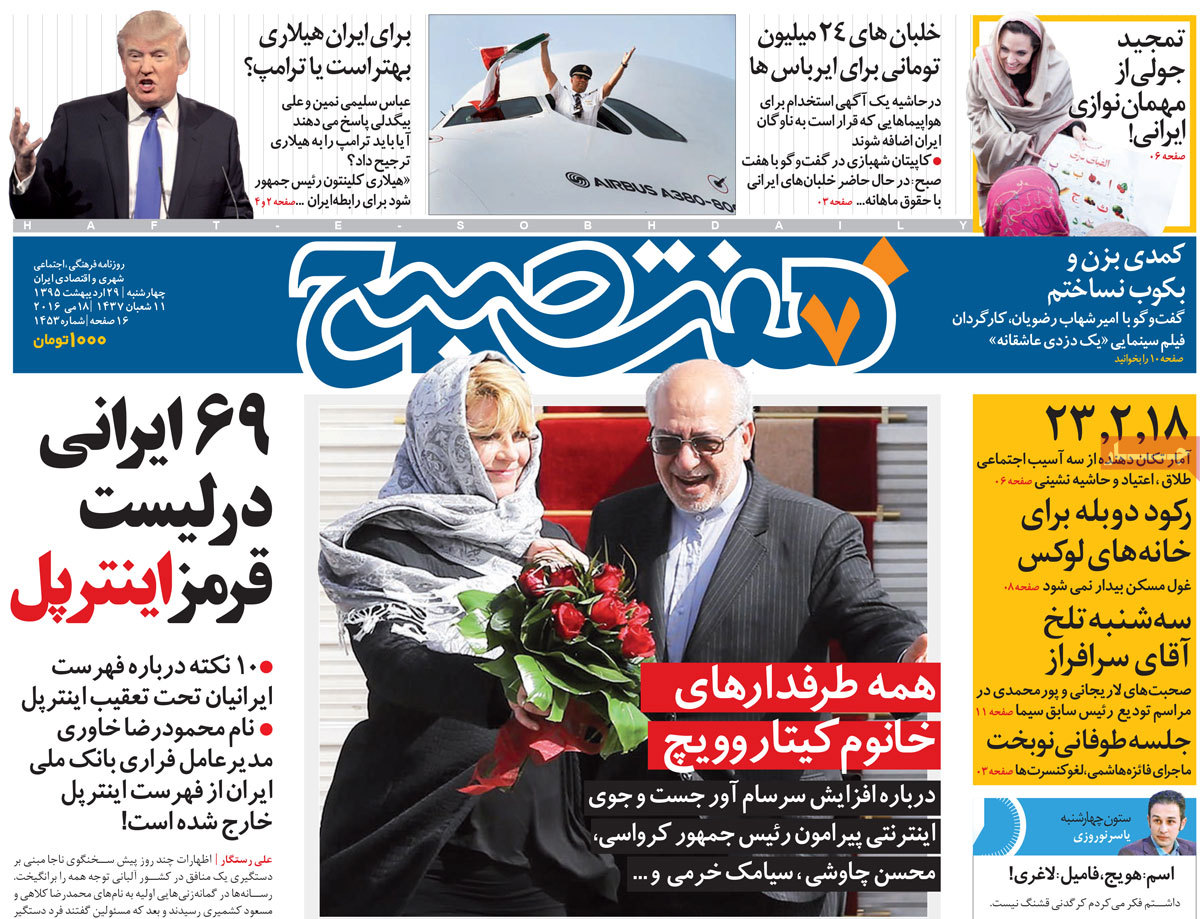 ---
Hamshahri:
1- On International Museum Day: People Can Visit Museums for Free Today
2- Syria Meeting Ends without Any Results Once Again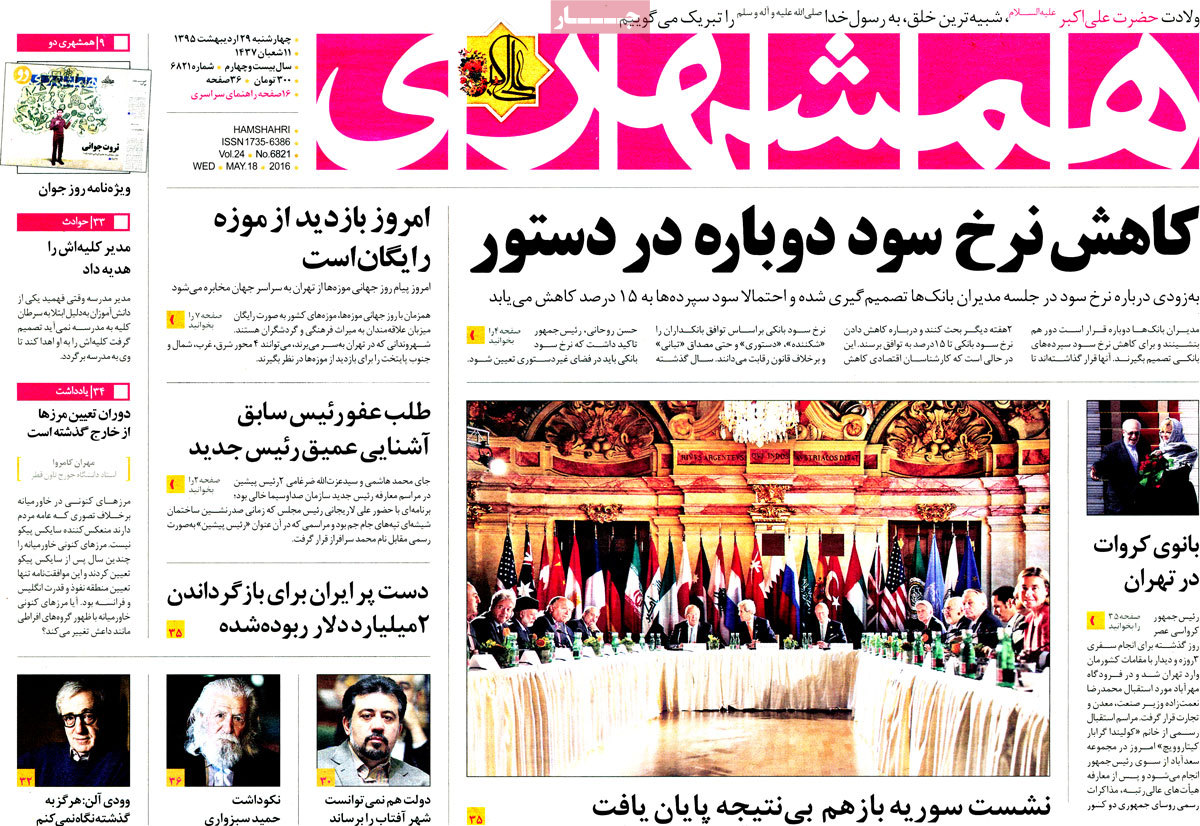 ---
Hemayat:
1- Excessive White House Demands: Trade with Iran Hinges on Behaviour Change
2- JCPOA Is a Means, Not a Solution: Report on the High Economic Expectations of the Nuclear Deal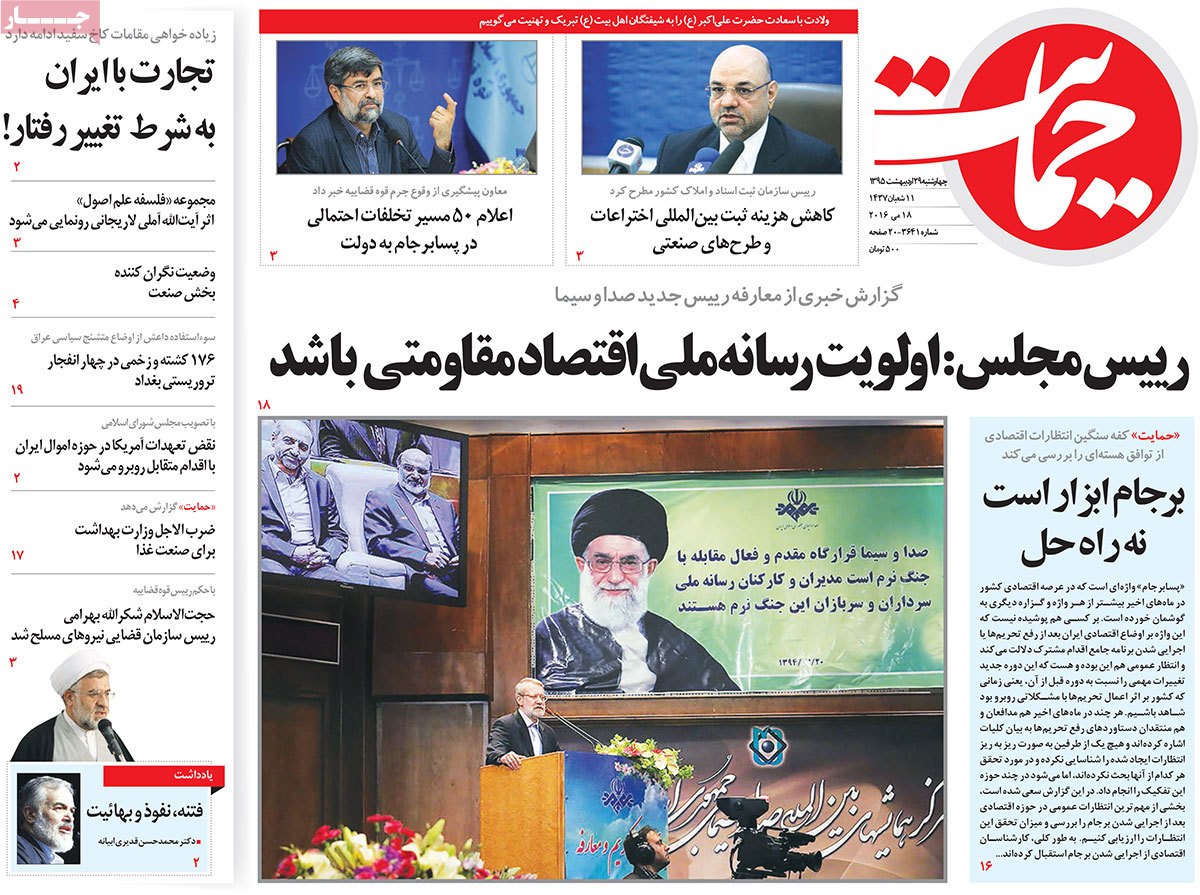 ---
Iran:
1- Coexistence of Muslims and Christians Possible: Pope
2- Aref Takes the Lead in [Reformist] "Faction of Hope"
3- Playing Football 40km Away from ISIS: 2 Iranian Female Players Talk about Playing Football in Iraq
4- Iranian Culprits behind US Seizure of Iran's Assets Should Face Prosecution: Gov't Spokesman
5- Social Development of Oil-Rich Regions Using Oil Budget: 2% of Expenses Dedicated to Social Objectives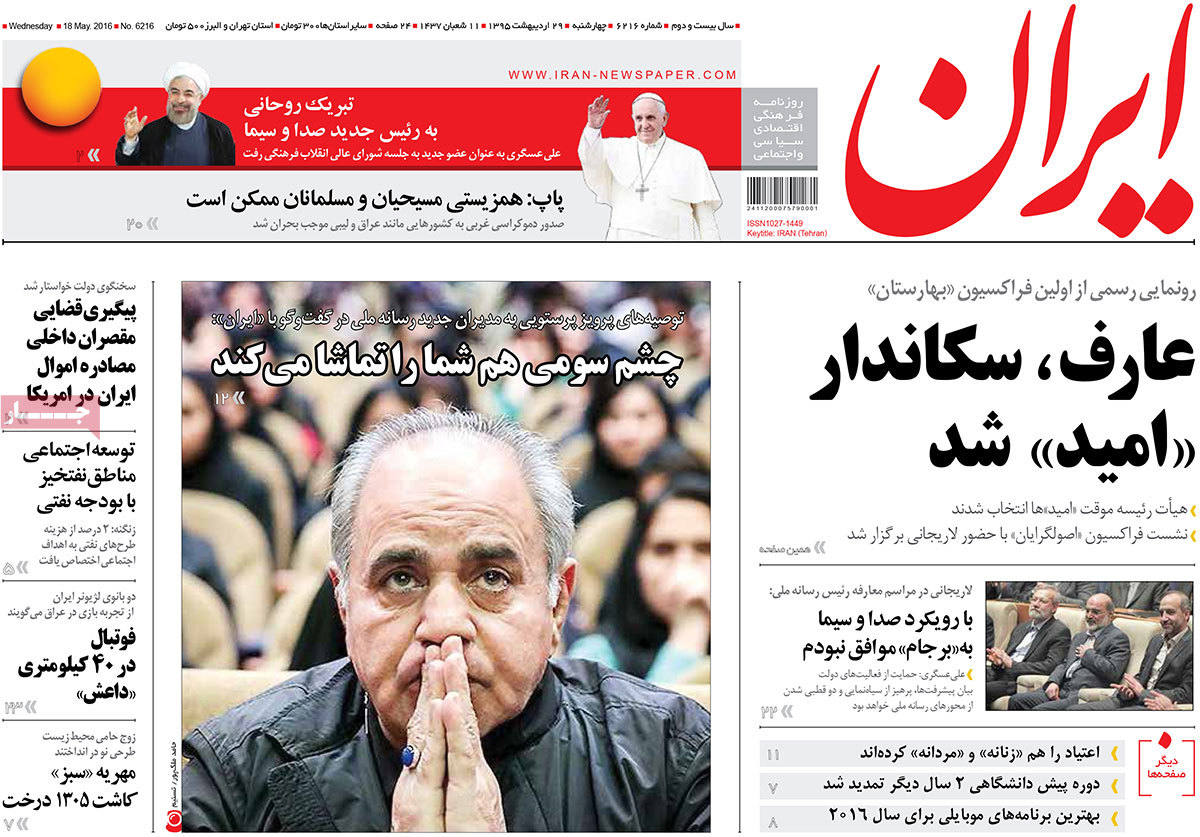 ---
Javan:
1- "Maintaining Terrorism" on the Table for the West in Vienna: Assad's Ouster Once Again Removed from Agenda
2- BBC and Baha'is Worried about Rafsanjani's Family!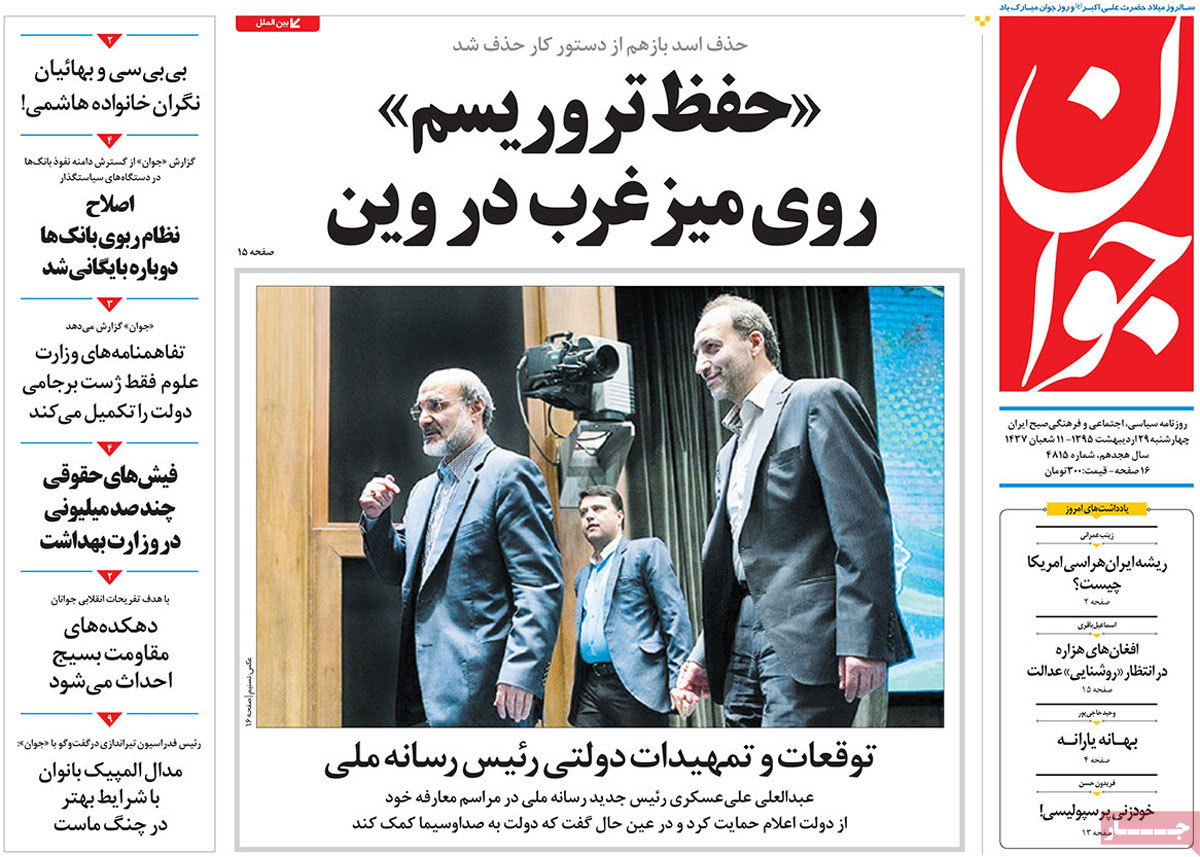 ---
Jomhouri Eslami:
1- Iranian and Russian Customs Offices Sign Largest-Ever Cooperation Document
2- Muslim Women Should Be Allowed to Wear Hijab: Pope Criticizes French Laic Laws
---
Kayhan:
1- CIA, Mossad, and Riyadh Jointly Carried Out 9/11 Attacks: Ex-Officer at Pentagon
2- 1m More Unemployed, But Gov't Still Waiting for JCPOA: MP
3- 69 Martyred, 100 Wounded in 4 Terrorist Blasts in Baghdad
---
Resalat:
1- Iran's Banking Ties with the World Still Unofficial: Tehran's Chamber of Commerce Chief
2- Democrats and Republications' Joint Plan to Keep Anti-Iran Sanctions in Place
3- West Forced to Change Its View on Syria
4- HRW: Being a Shiite Is a Crime in Al Saud's View
---
Roozan:
1- JCPOA, Telegram, and Concerns: Victims of February Elections [Conservatives' Alleged Loss]
2- Parliament Opposed to Seizure of US Assets: Destabilizing Persian Gulf Will Be Detrimental to Iran, VP Says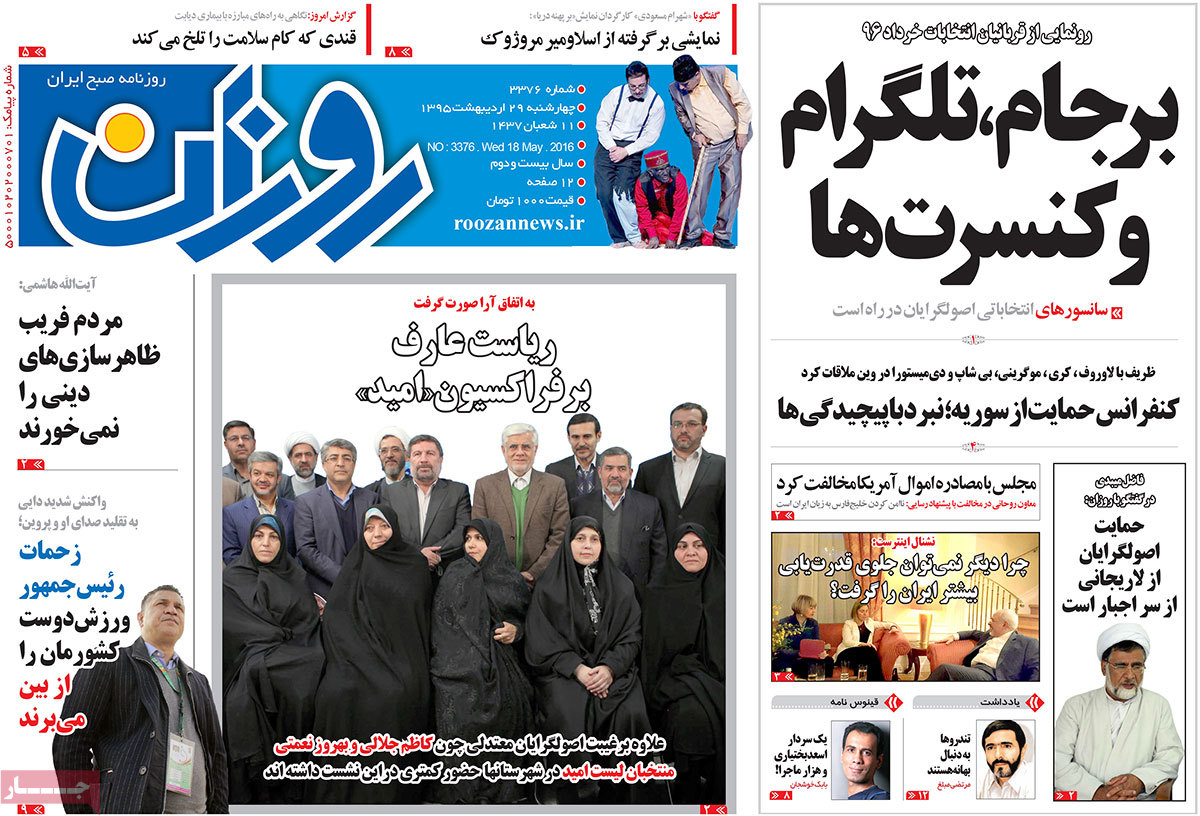 ---
Sayeh:
1- Syria Meeting, an Opportunity to Stress Ceasefire Observance: Zarif
2- Will Death Penalty Cease for Drug Traffickers?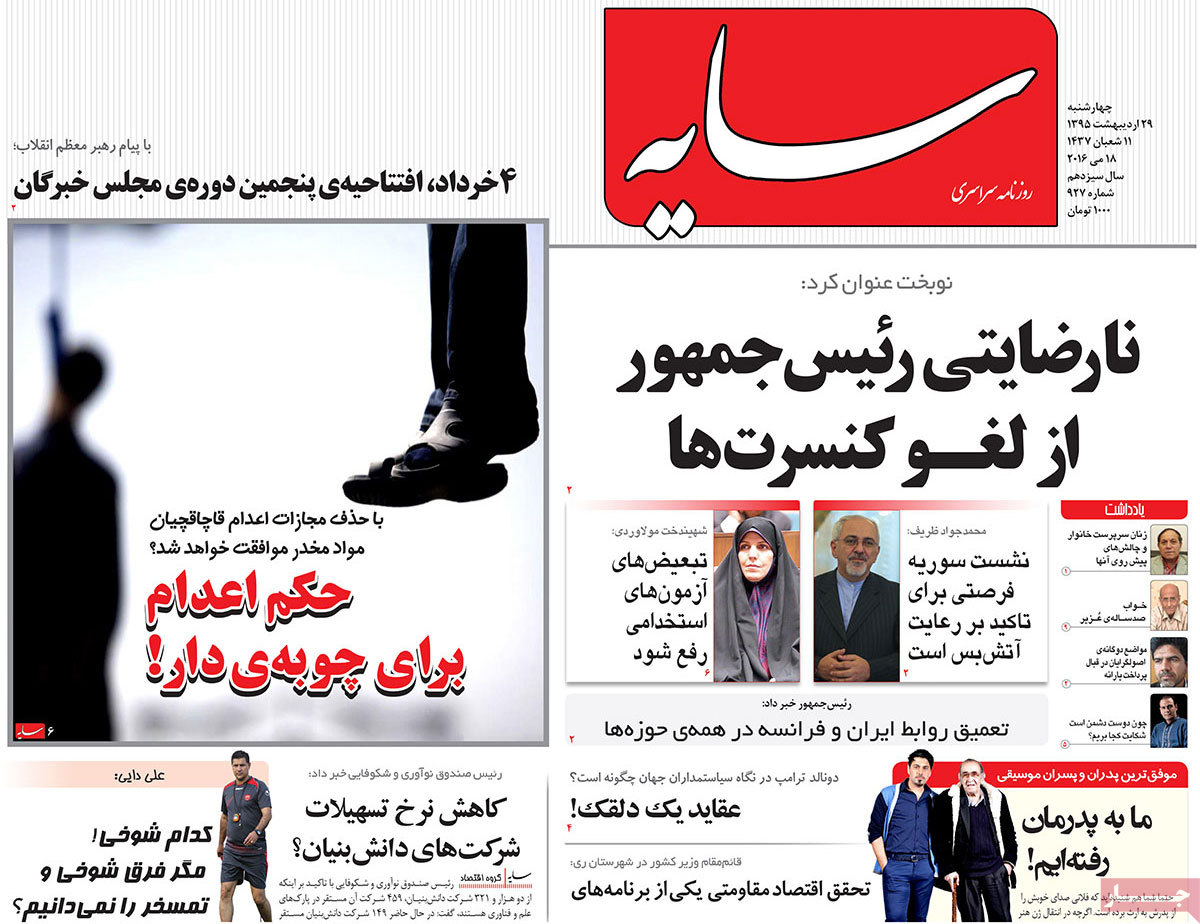 ---
Shahrvand:
1- Foreign Visitors Flock to Tehran's Hotels: All Hotels Reserved until Mid-June
2- 237% Increase in Visits of Foreign Delegations to Iran
3- Regional Unrest Causes More Tourists to Choose Iran
4- 95% of Iranians Stressed about Their Livelihood
5- 13m Couples Missing Appropriate Fertility Age
---
Sobh-e Now:
1- A Report on Illegal Photography Courses: Those Trapped by Modelling
2- Oman to Replace UAE as Iran's Main Trade Partner
3- Online "Mujtahid" Protests in a Silent Society: Loudest Voice in Saudi Arabia Heard via Twitter