On Sunday, Iranian newspapers covered a variety of topics including the remarks by the Leader of the Islamic Revolution, Ayatollah Seyyed Ali Khamenei, on the need for clerics' presence in cyberspace to counter deviant thoughts.
They also reported the unveiling of two new paintings by master miniaturist Mahmoud Farshchian as well as the special concessions announced by Minister of Economy Ali Tayyebnia to be given to foreign investors.
The name of Maryam Mirzakhani, the first Iranian woman to become a member of the US National Academy of Sciences (NAS), was also seen on many front pages.
Abrar:
1- Eclectic and American Islam Fighting Real Islam: Leader
2- 2 New Works by Master Miniaturist Farshchian Unveiled in Tehran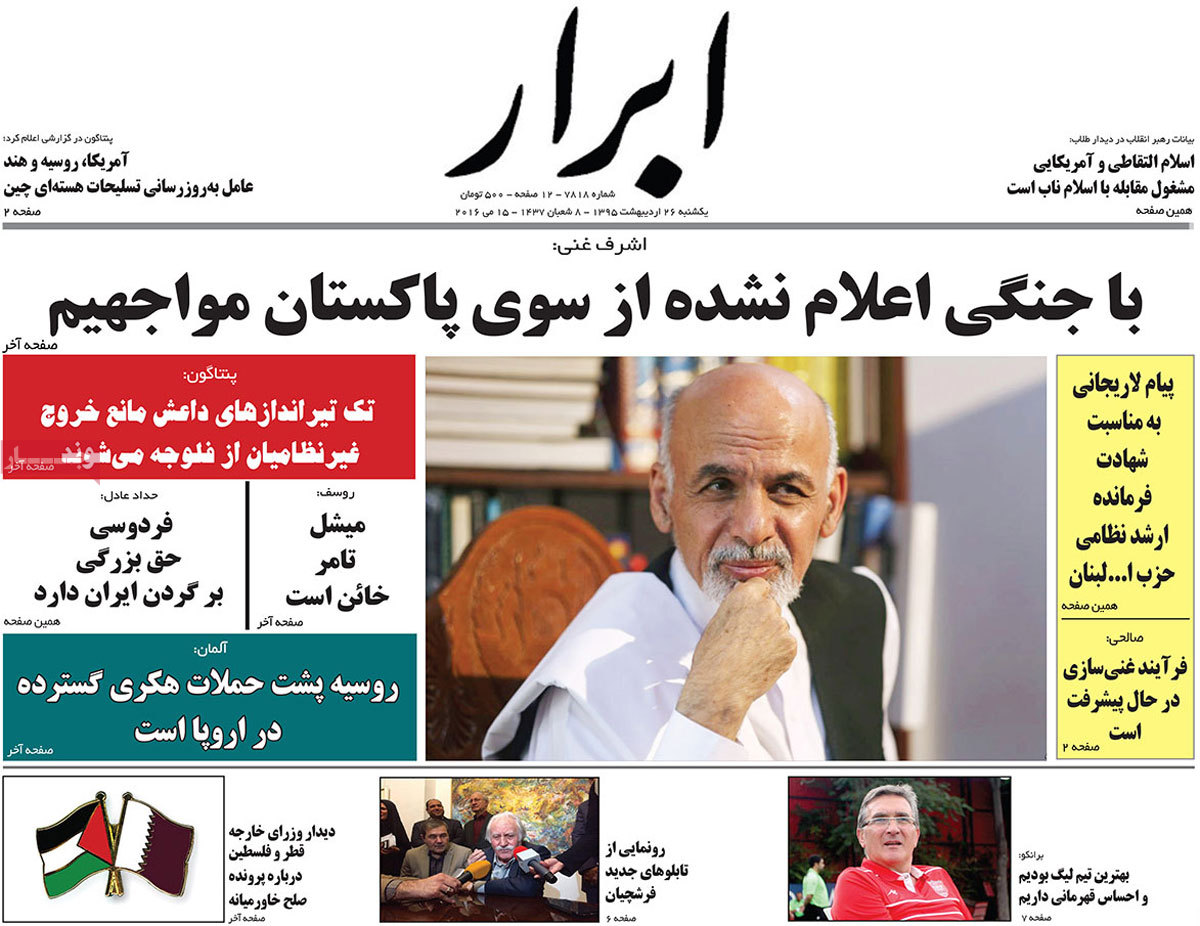 ---
Abrar-e Eqtesadi:
1- Iran to Give Special Concessions to Foreign Investors: Economy Minister
2- Iran Joins Tunisian Power Projects
3- Energy Ministry Sets Preconditions for Cooperating with Japanese Companies
4- Belgium's $6bn Investment to Construct Plant in Iran
---
Arman-e Emrooz:
1- Time for Cabinet Reshuffle: 5 Ministers Likely to Be Replaced
2- Hookah on Delivery! [In Tehran and other large Iranian cities, hookah orders can be received by phone and delivered to the customer's door]
3- Impossible to Make Someone a Believer by Force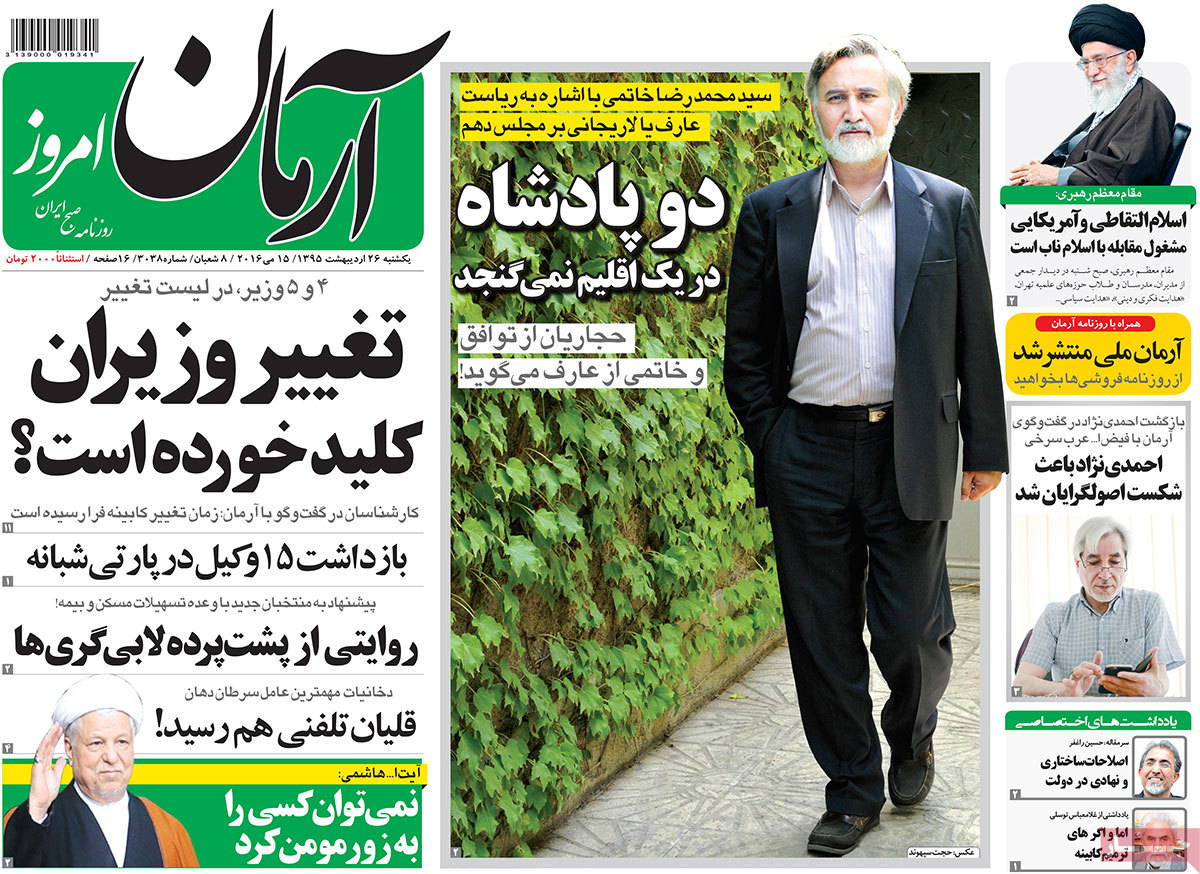 ---
Asia:
1- Huge Int'l Conference "Iran Finance 2016" to Be Held in Tehran
2- Iranian and Italian Economic Players Convene in Tehran Tomorrow
3- London to Host Large-Scale Conference on Iran's Economy
4- US Treasury Will Hold Emergency Meeting to Facilitate Iran Banking Ties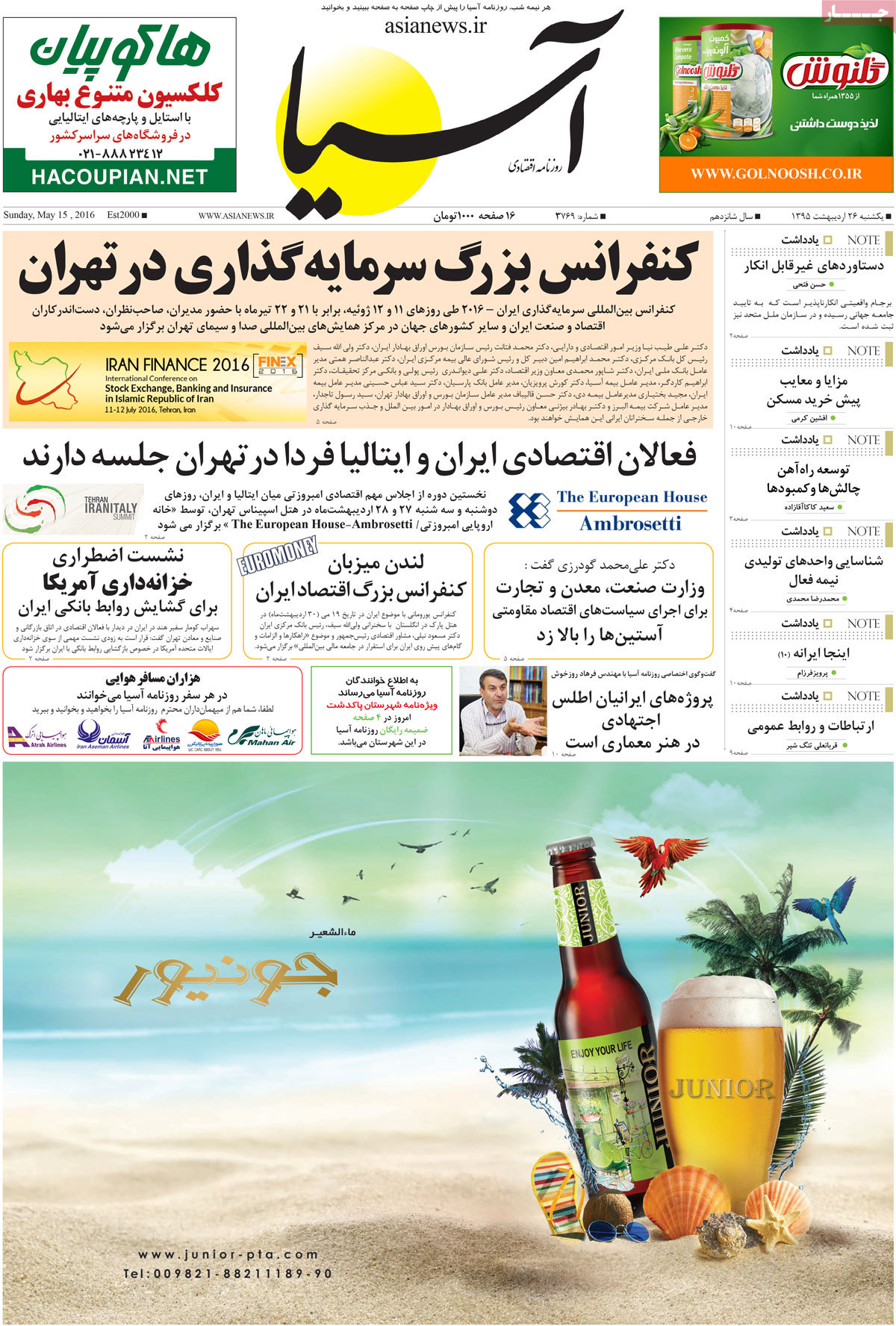 ---
Asr-e Rasaneh:
1- Invitation for Investment: Tax Rates Not to Exceed 25%, Economy Minister Says
2- Phases 20-21 of South Pars [Giant Gas Field] to Come Online This Year with Daily Capacity of 50mcm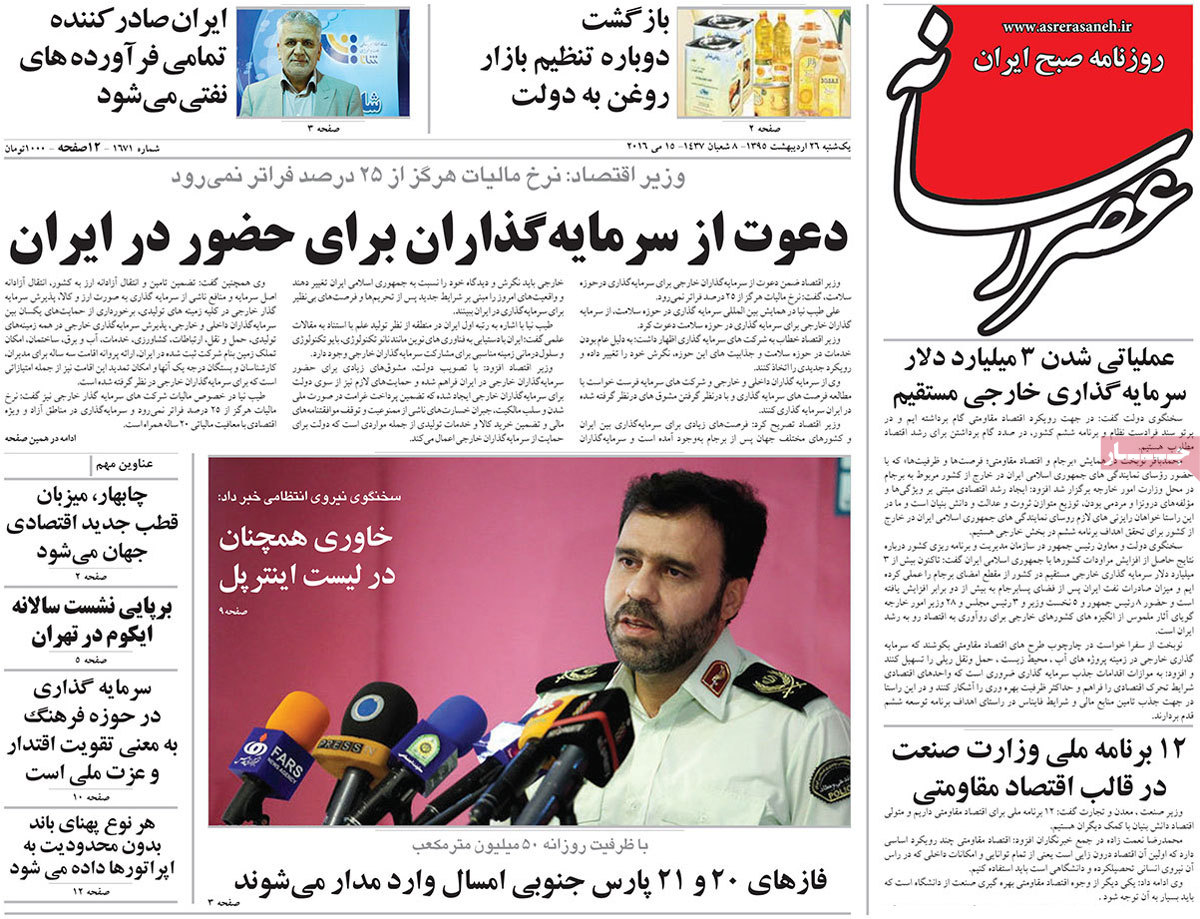 ---
Emtiaz:
1- Contracts for Sale of Oil to Japan Renewed
2- Iran to Unveil Ancient Relics It Received from US
3- 15 Lawyers Arrested in Overnight Party
4- Half of Iran's Population Are Overweight
---
Etemad:
1- Post-JCPOA Era: Gov't Sends Iranian Ambassador on Economic Missions
2- Conservatives Reportedly Start Their Campaigns One Year before 2017 Presidential Polls
3- Suspected Haft-e Tir Bomber Arrested after 35 Years
[73 leading officials of the Islamic Republic, including Chief Justice Ayatollah Mohammad Beheshti were killed in the Haft-e Tir Bombing on 28 June 1981, when a powerful bomb went off at the headquarters of the Islamic Republic Party (IRP) in Tehran]
4- Carlos Queiroz Should Know the Gov't Pays Attention: First VP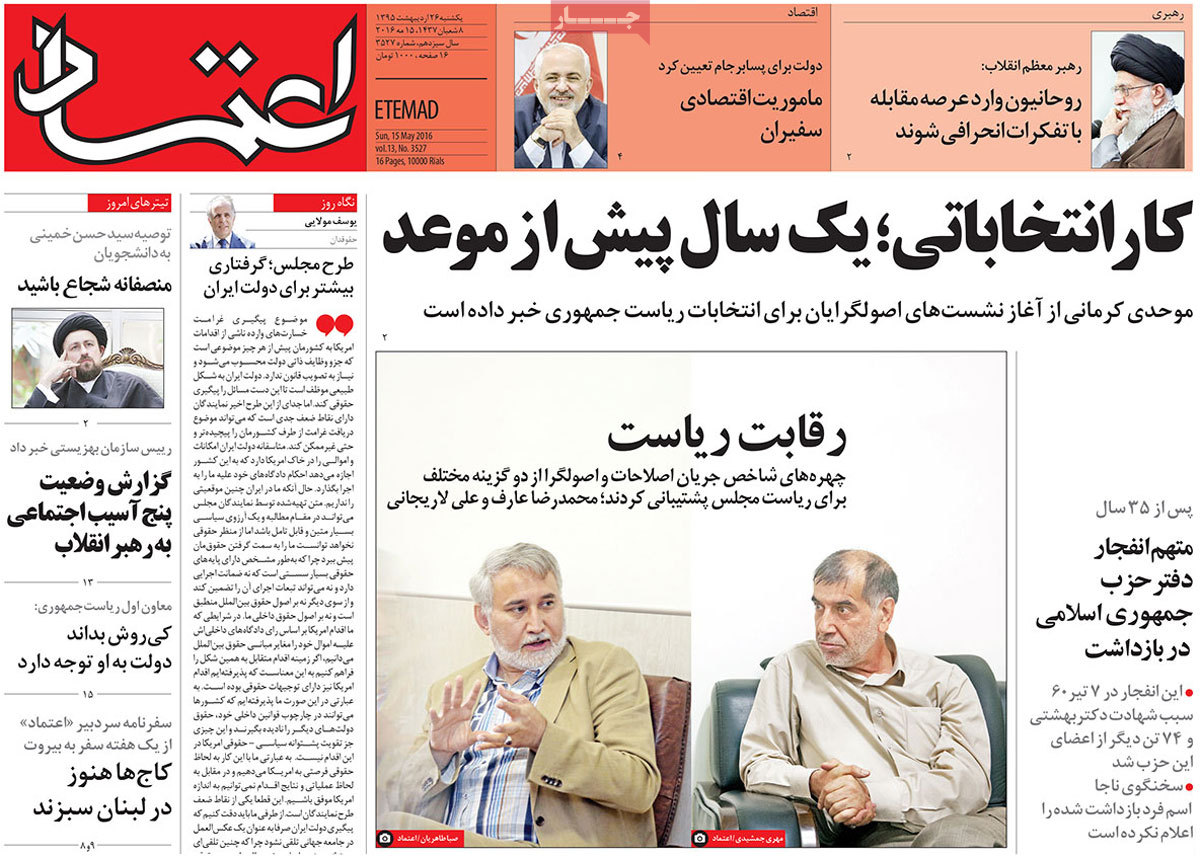 ---
Ettela'at:
1- Al-Nusra Front Criminals Massacre 180 Syrian Women and Children
2- Clerics Must Counter Deviant Thoughts and Questions: Leader
3- Maryam Mirzakhani [Iranian mathematician] Elected to US National Academy of Sciences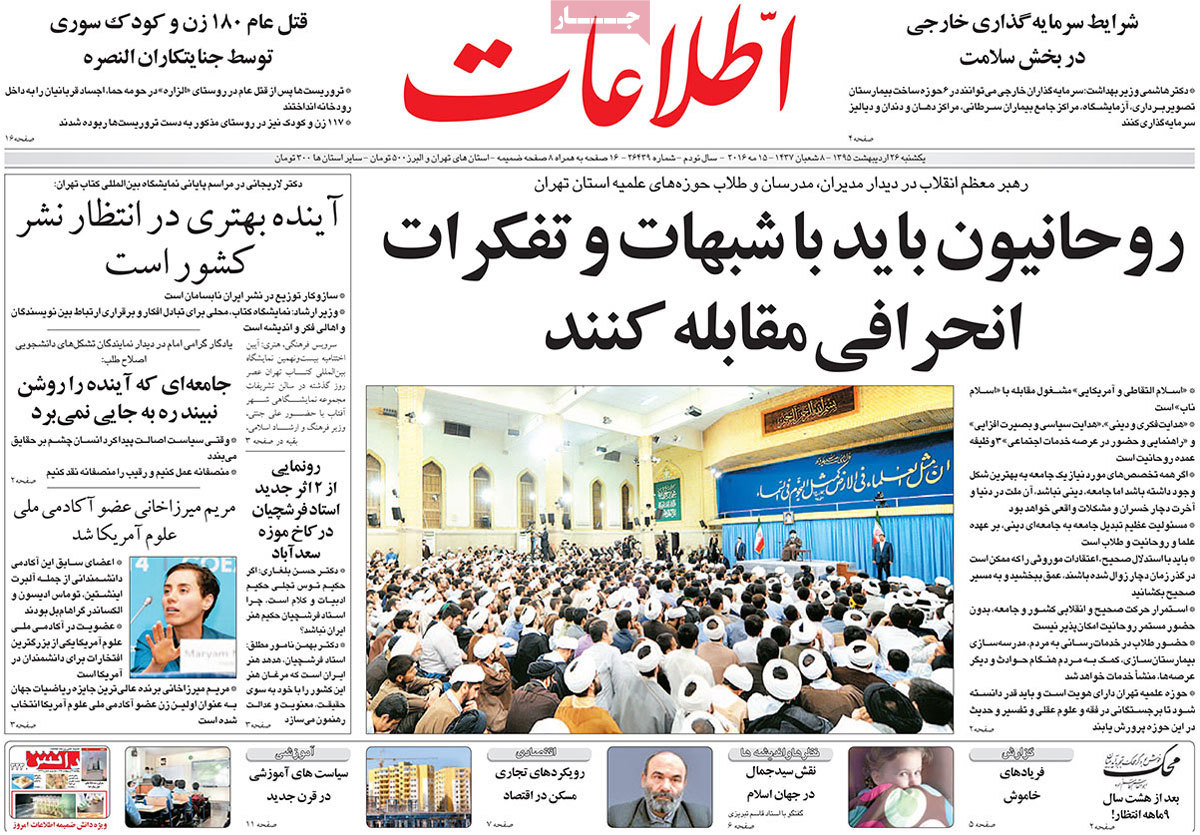 ---
Ghanoon:
1- Some JCPOA Opponents Used to Support Israel
2- Second Cold War Warming Up: War of Words between Obama and Putin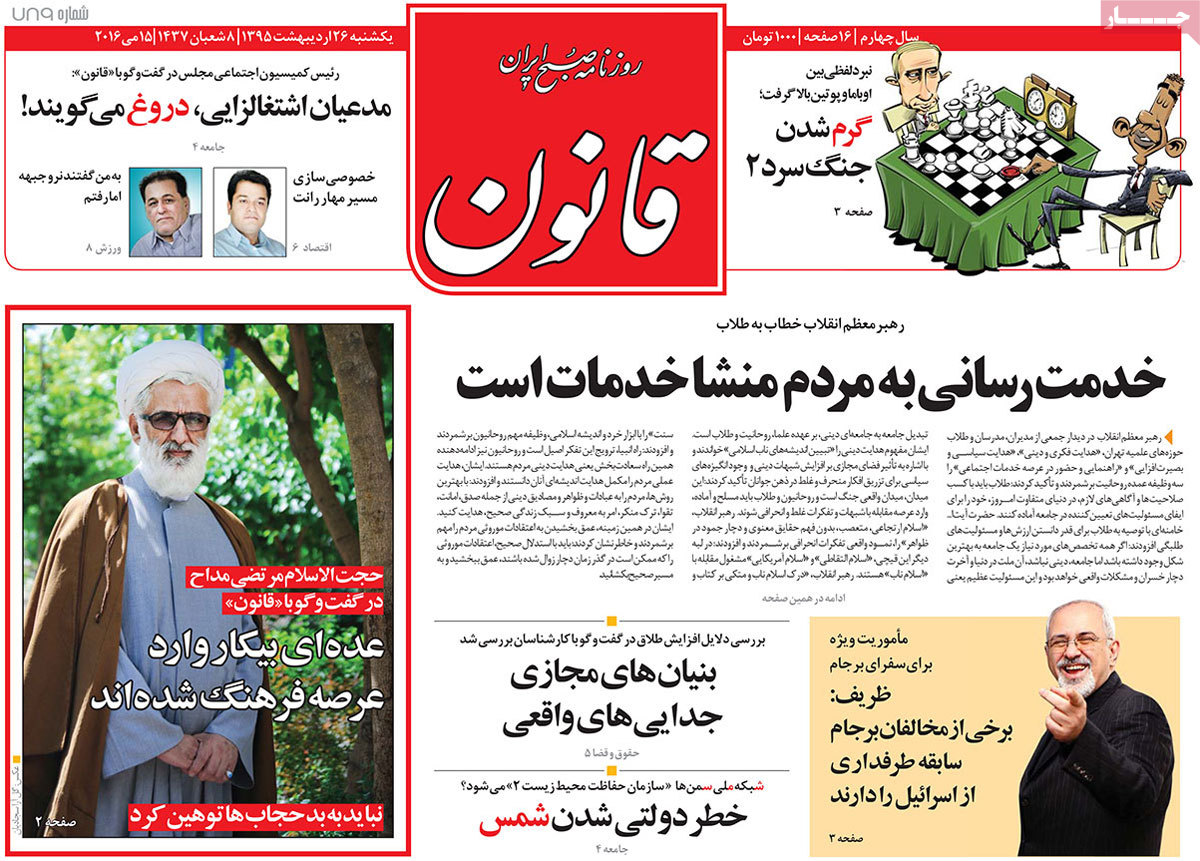 ---
Haft-e Sobh:
1- Did Asghar Farhadi Go to Cannes Film Festival Using Qatari Investment?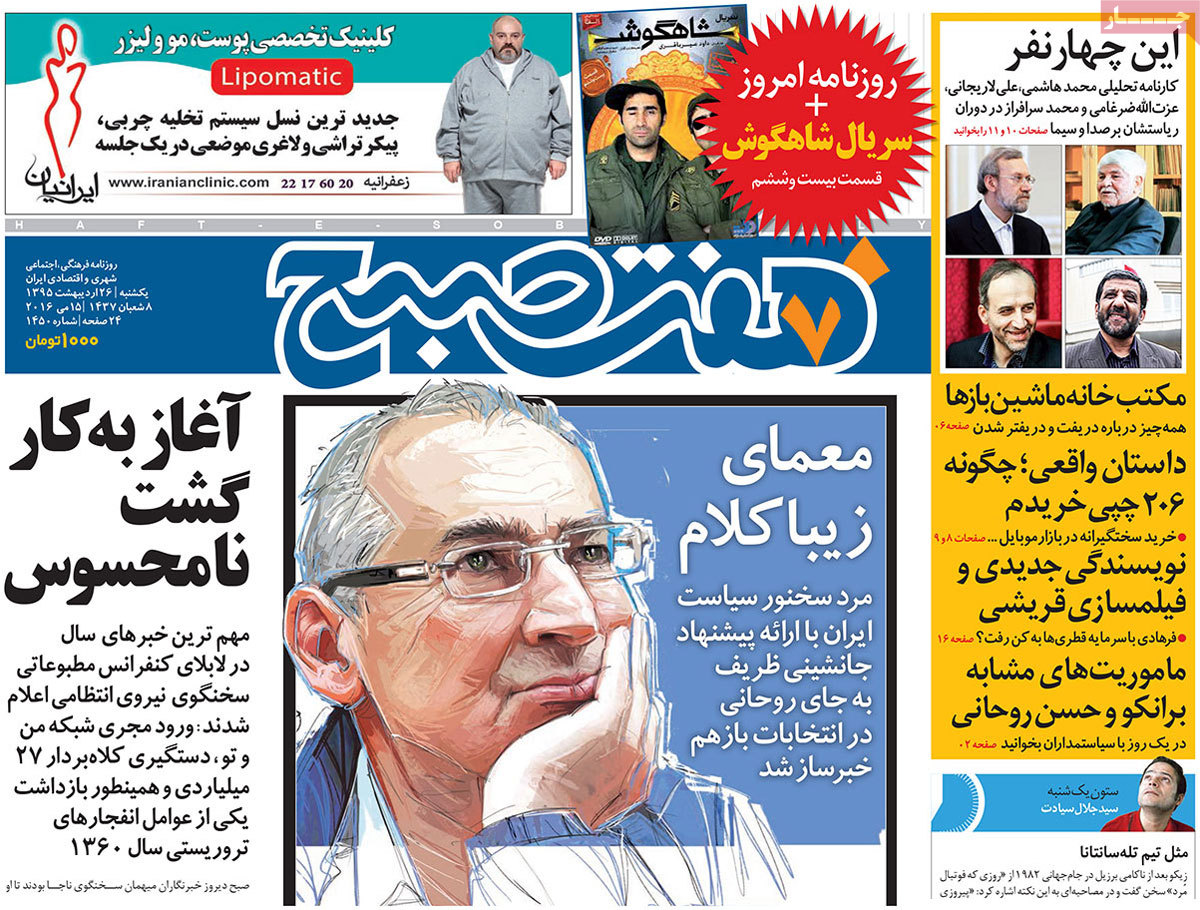 ---
Hamshahri:
1- Red Carpet for Foreigners, Red Lines for Iranians [on the incentives for foreign investors as proposed by economy minister]
2- Even Europe Objects to US Violation of Its JCPOA Commitments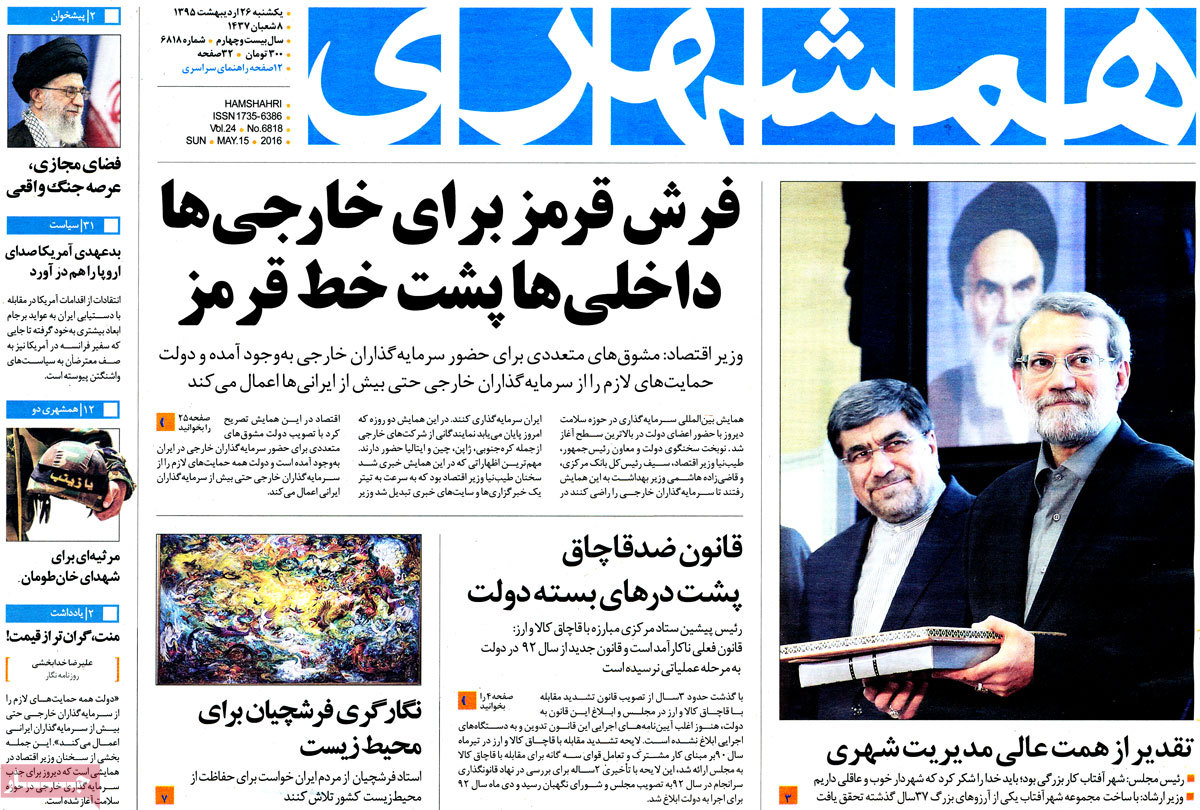 ---
Hemayat:
1- US Is Clear Example of State Terrorism: Judiciary Chief
2- Takfiri Shelling Killed Hezbollah Commander Badreddine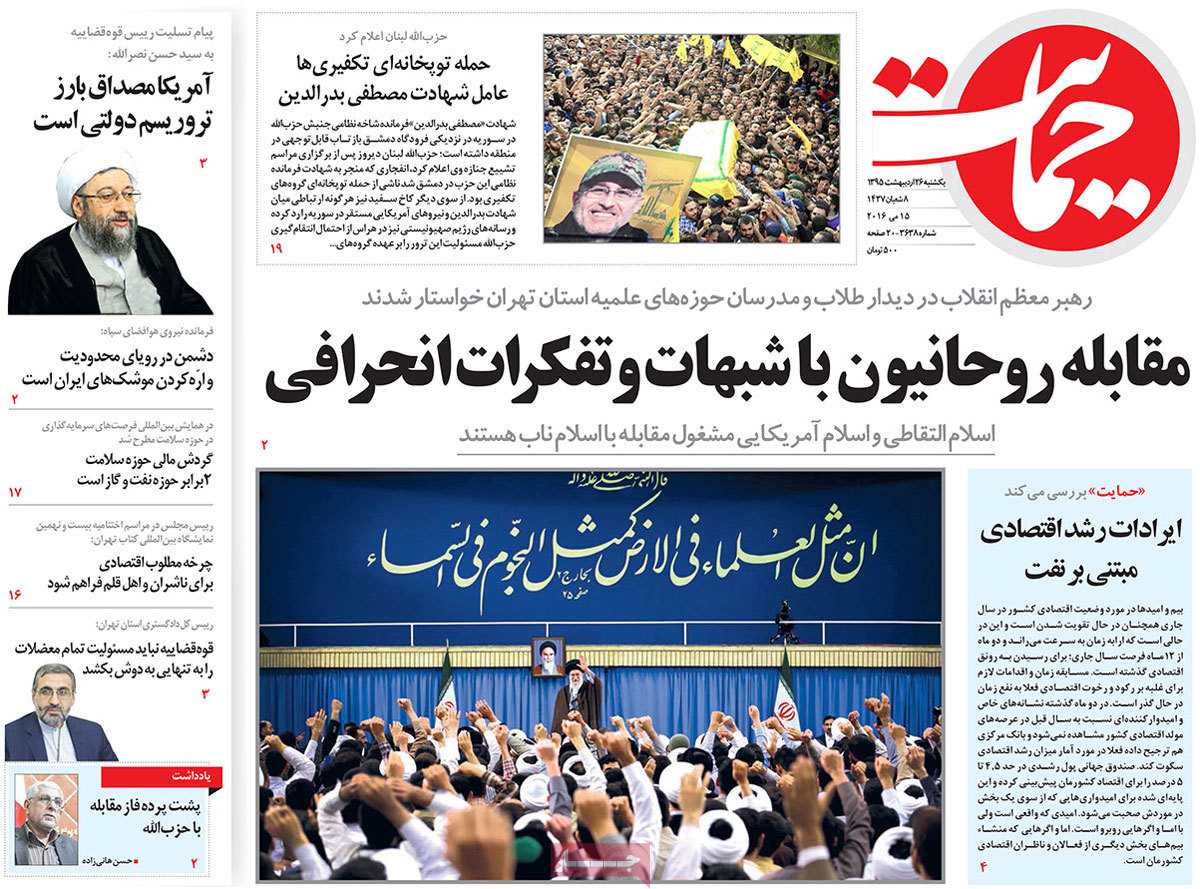 ---
Iran:
1- $73bn Foreign Lines of Credit Opened after JCPOA: Administration Spokesman
2- End of Tehran International Book Fair
---
Javan:
1- European Banks Demand $15bn Ransom from Iran
[In unofficial letters, certain European banks have noted that they are ready to resume their ties with Iran on the condition that Tehran compensates them for penalties already paid by European banks to the US for their relations with Iran, and that it gives a guarantee for future penalties.]
2- Enemies Dreaming of Carving Up Iran's Missiles: IRGC Aerospace Commander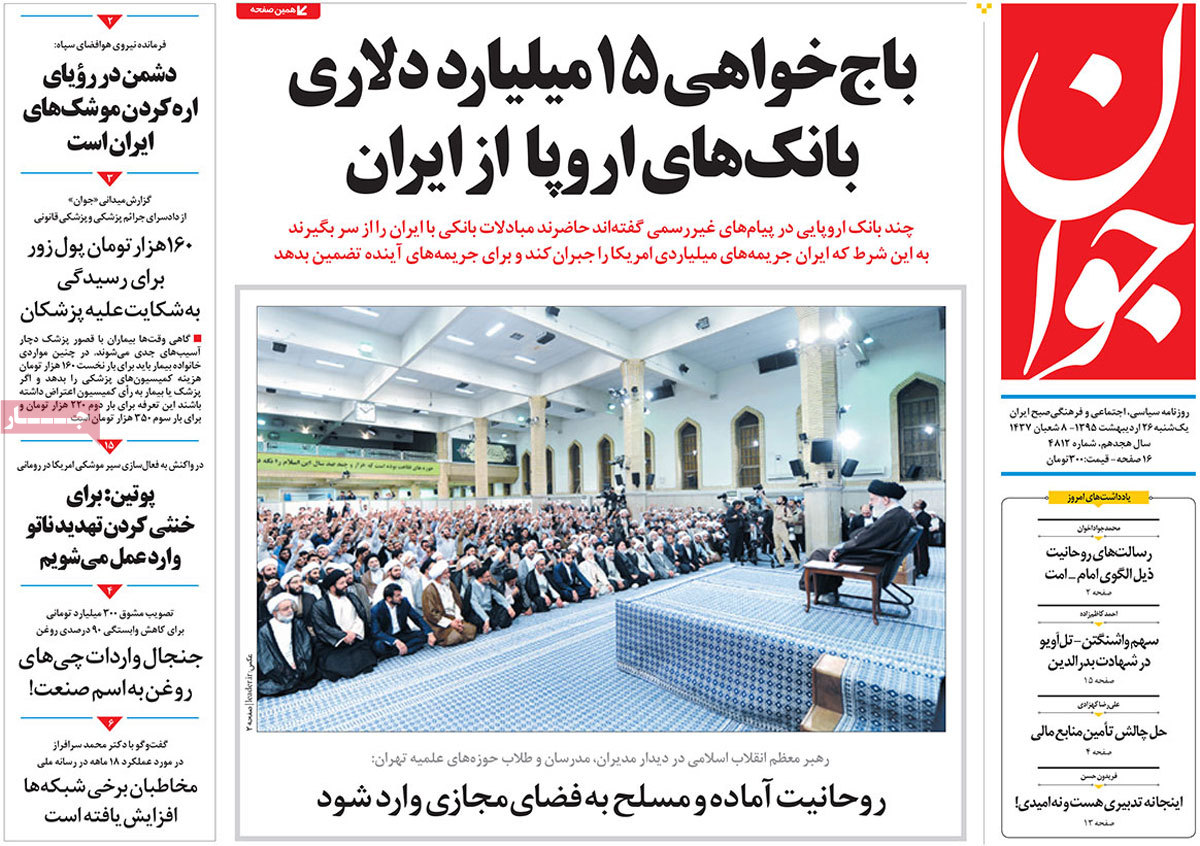 ---
Jomhouri Eslami:
1- Cyberspace Is the Real Frontline: Leader
2- Shocking Stories Told by Survivors of Takfiri Crimes in Syria's Hama
3- Iran Should Benefit from Removal of Sanctions: French Ambassador to Washington
4- 330 ISIS Elements Killed in Western Iraq
5- Iran-Europe Banking Ties Start One Month after Giving US an Ultimatum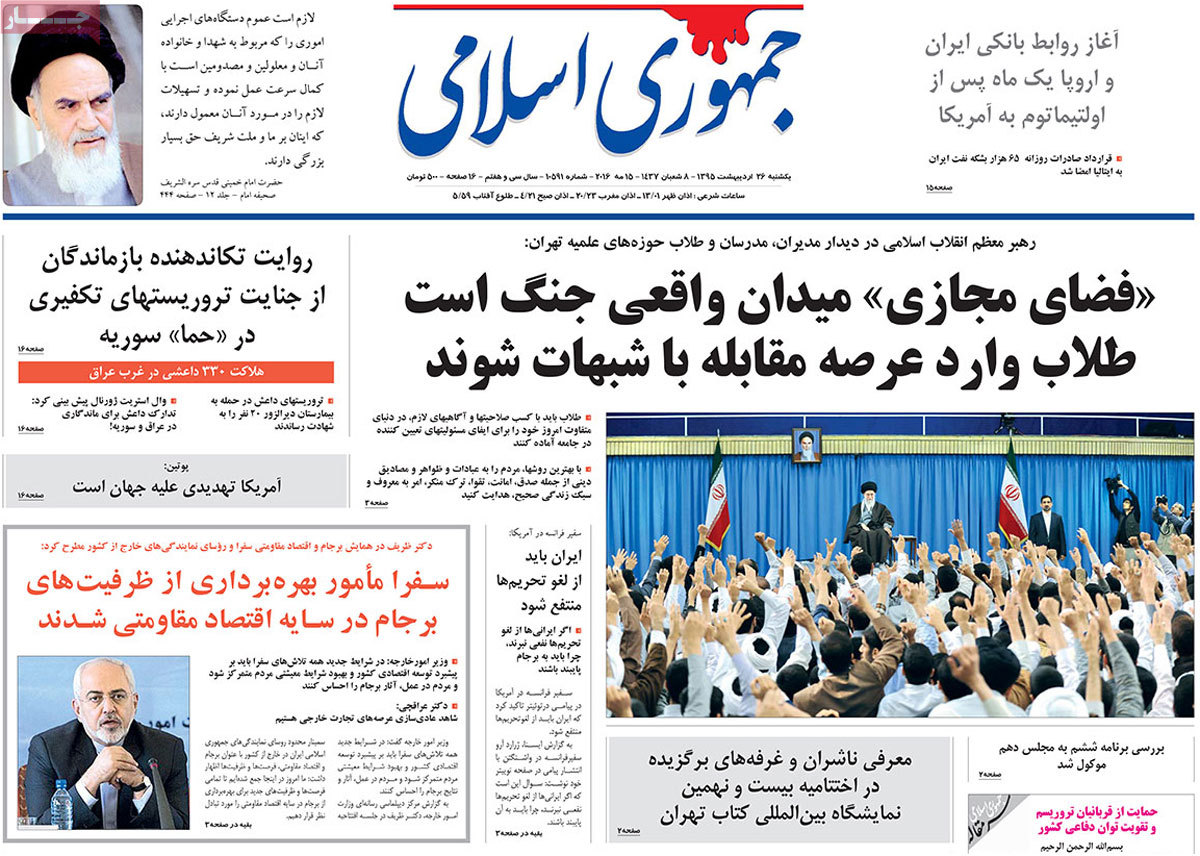 ---
Kayhan:
1- French Envoy to US: Why Should Iran Comply with JCPOA When Sanctions Aren't Removed?
2- Billions of Dollars of Oilseeds Imported in Spite of Domestic Capabilities
---
Payam-e Zaman:
1- Iran Doesn't Want S-400 [Defence] System: DM
2- Germany Ready to Invite Rouhani to Officially Visit Berlin
3- Rumours of Zionist [Israeli] Role in Assassination of General Tehrani Moqaddam Dismissed
4- Iran Is Biggest World Economy Outside WTO: Minister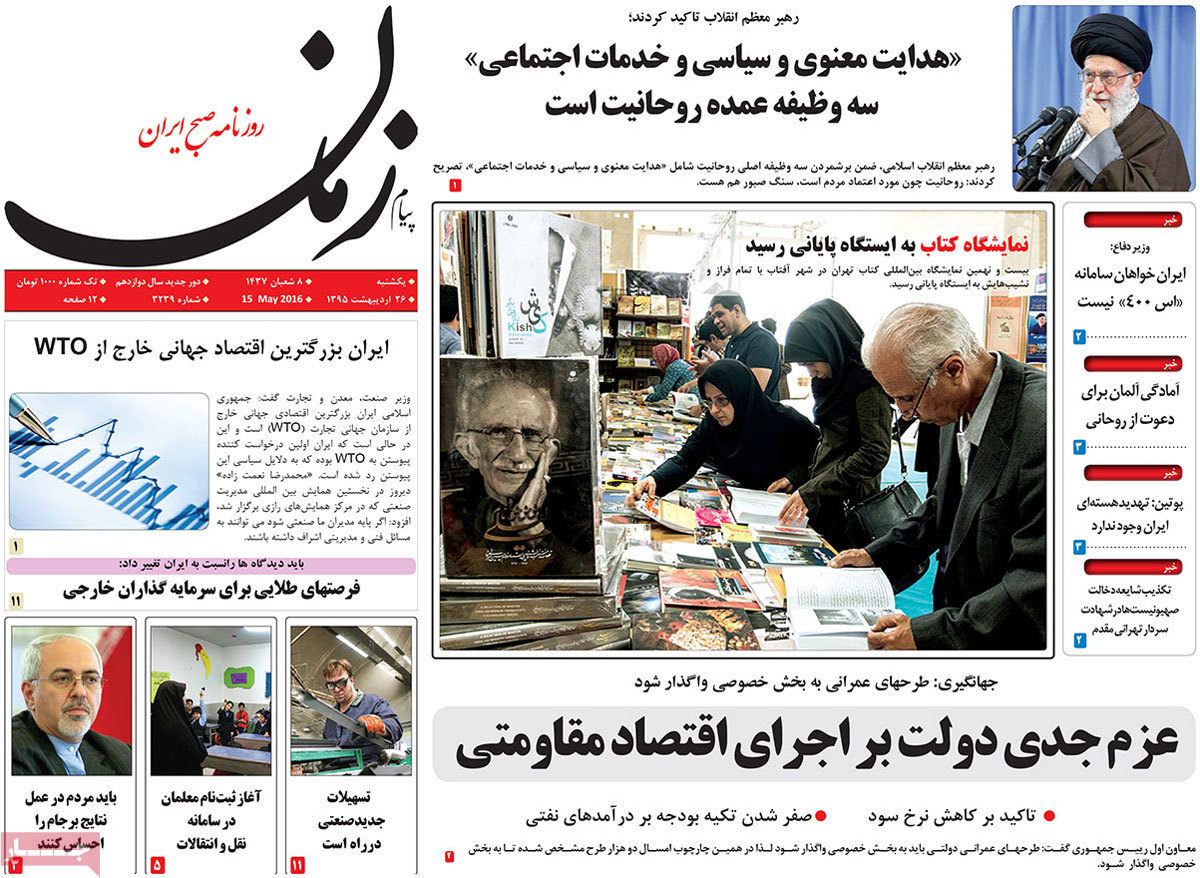 ---
Shahrvand:
1- Diplomats Tasked with Making JCPOA Achievements Tangible
2- Normalization of Ties in All Foreign Trade Fields: Deputy FM Araqchi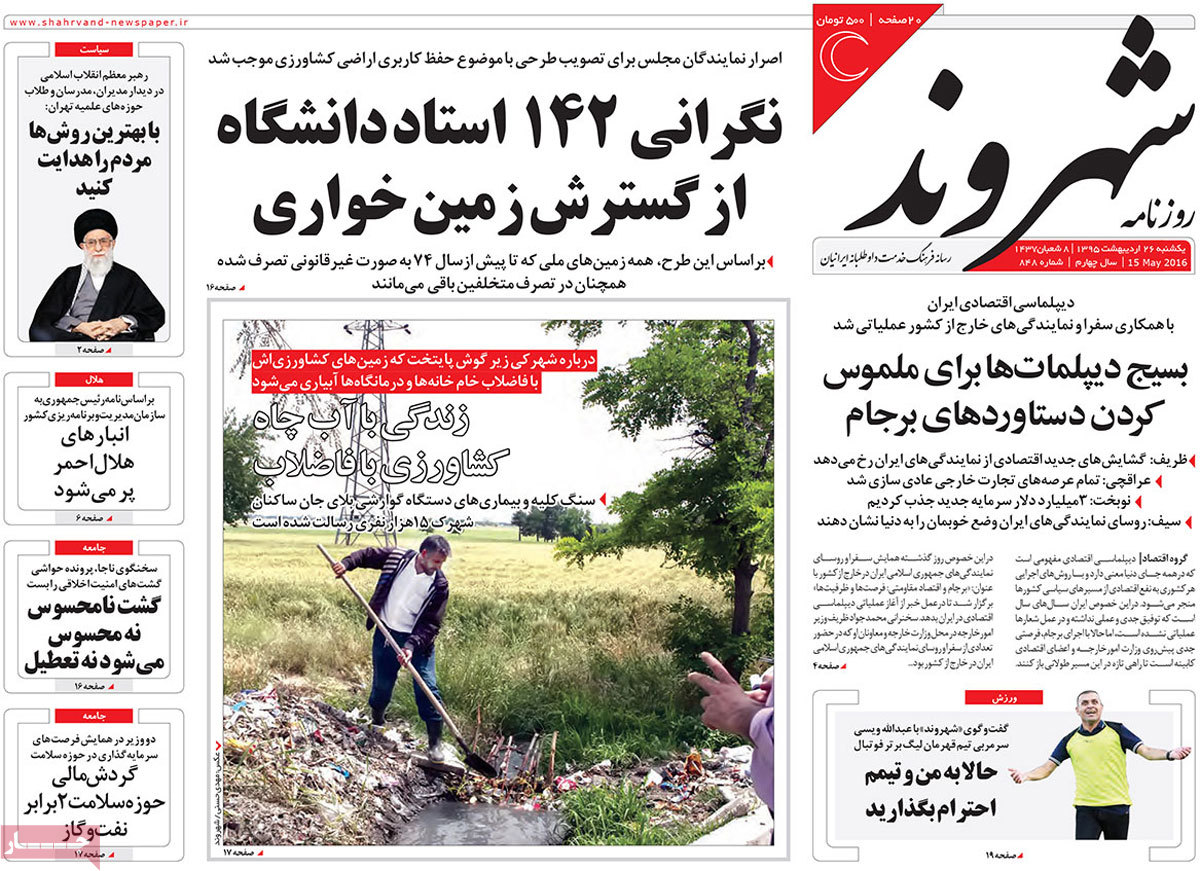 ---
Vatan-e Emrooz:
1- From Language of Influence to Linguistic Influence: Damages of English Language Monopoly
2- Standing with Zolfaqar (Mustafa Badreddine)
3- Clerics Protest at Meeting of Rafsanjani's Daughter with Baha'i Leader