Iranian newspapers on Thursday focused on the remarks made by US Undersecretary of State Wendy Sherman on Iran Talks almost one month ago, which were newly translated by Fars.
The pro-JCPOA statements by Ayatollah Akbar Hashemi Rafsanjani were also a hot story.
The papers also covered the appointment of Abdolali Ali Asgari as the new head of Islamic Republic of Iran Broadcasting (IRIB) following the resignation of Mohammad Sarafraz.
Abrar:
1- Delivery of S-300 to Iran Not against JCPOA: US
2- Nuclear Talks Never Based on Trust: Wendy Sherman
---
Abrar-e Eqtesadi:
1- Iran and Turkey Start New Round of Power Talks
2- Iranian Airlines Continue Talks with Boeing
3- Iran Opens Sales Office in Europe for Its Petchem Products
4- SWIFT Problem Solved, Banking Interactions Are Expanding: Official
5- Taiwan and Sri Lanka Are New Customers of Iran's Oil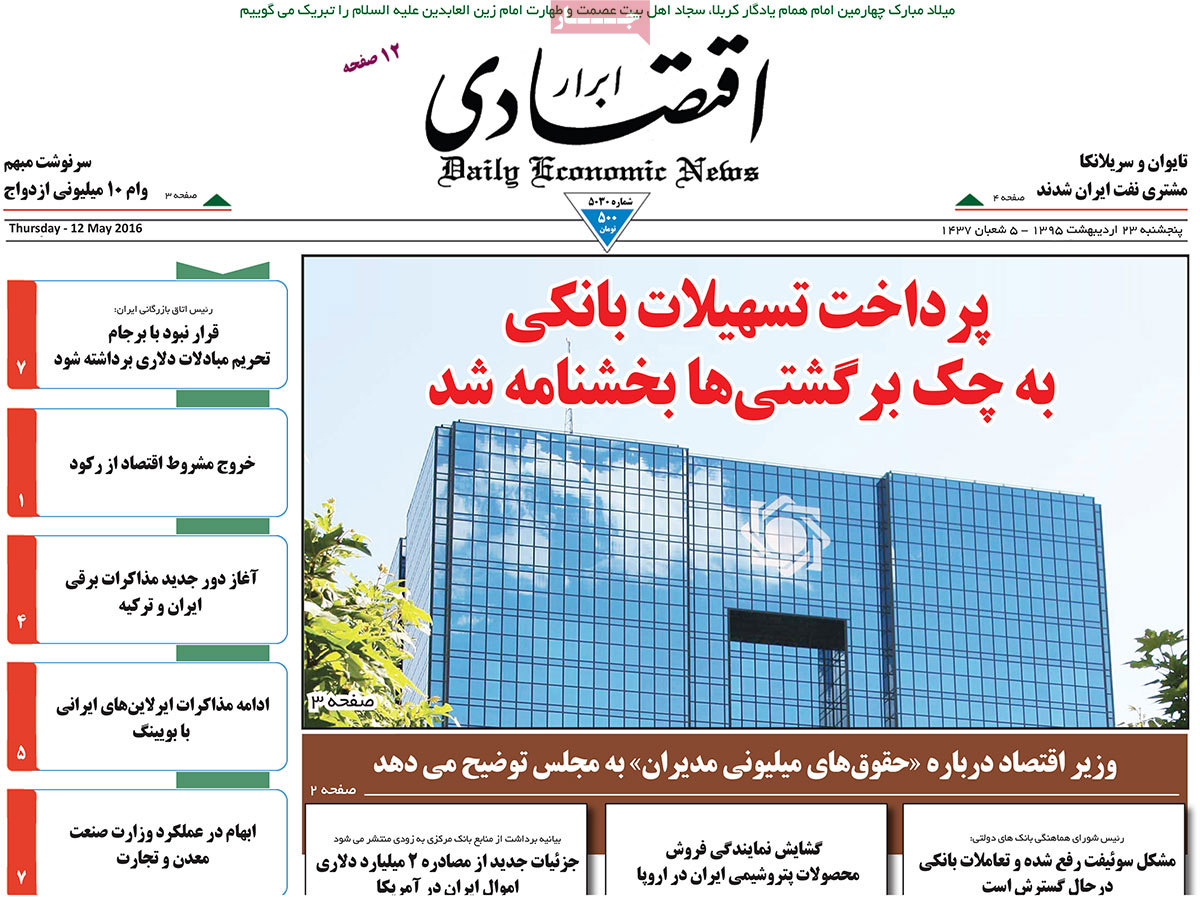 ---
Aftab-e Yazd:
1- Head of Central Insurance Resigns after Astronomical Salary Scandal: Rare Resignation and Apology!
2- Conservatives Back Off from Their Claim of Booking 181 Seats in New Parliament
3- Iranian Army's Choppers Flying over ISIS Positions: Commander
4- Riyadh Hatching a New Plot: Saudi Arabia to Raise Oil Output
5- 6-Year-Old Girl Goes into a Coma after Tonsillectomy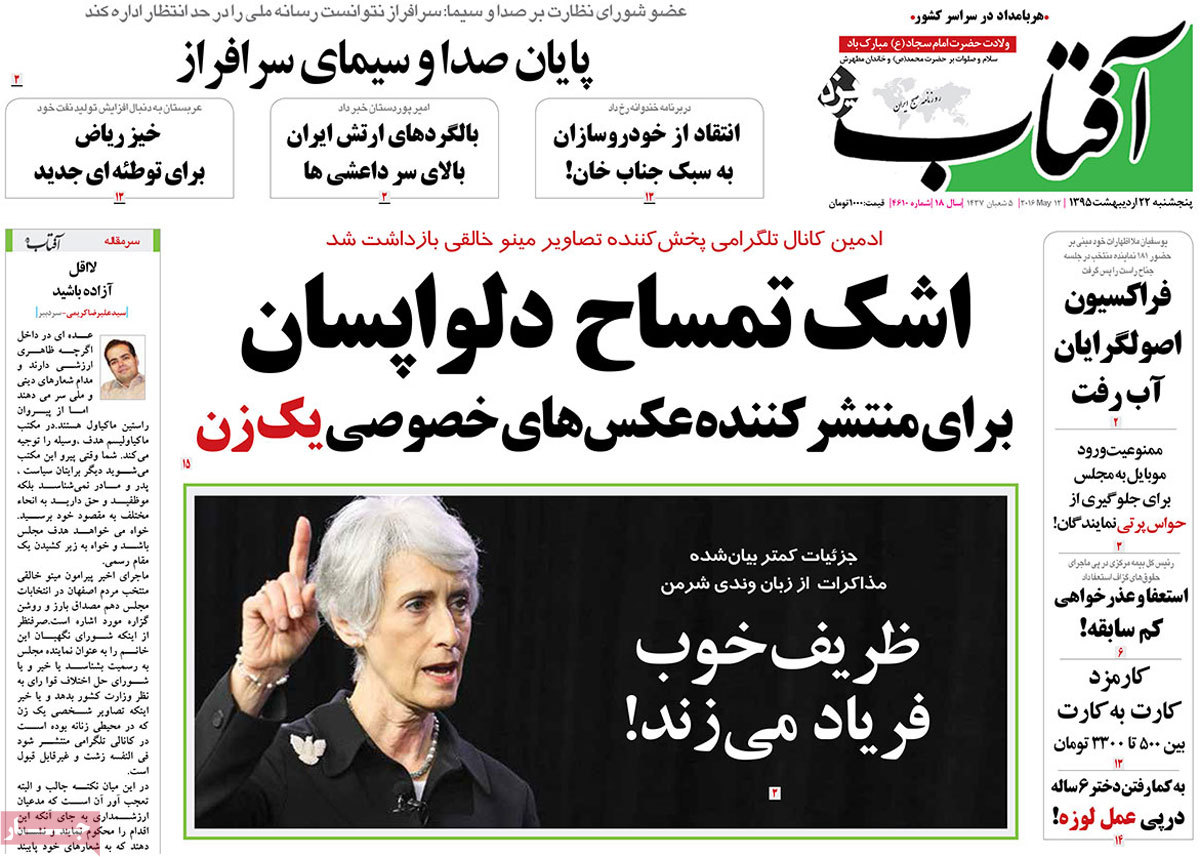 ---
Arman-e Emrooz:
1- Opponents of JCPOA Are Wrong: Rafsanjani
2- Leader Appoints Ali Asgari as New Head of IRIB
3- Previous Gov't Should Have Been Put on Trial: MP
4- Untold Stories about ISIS's Plans to Approach Iranian Borders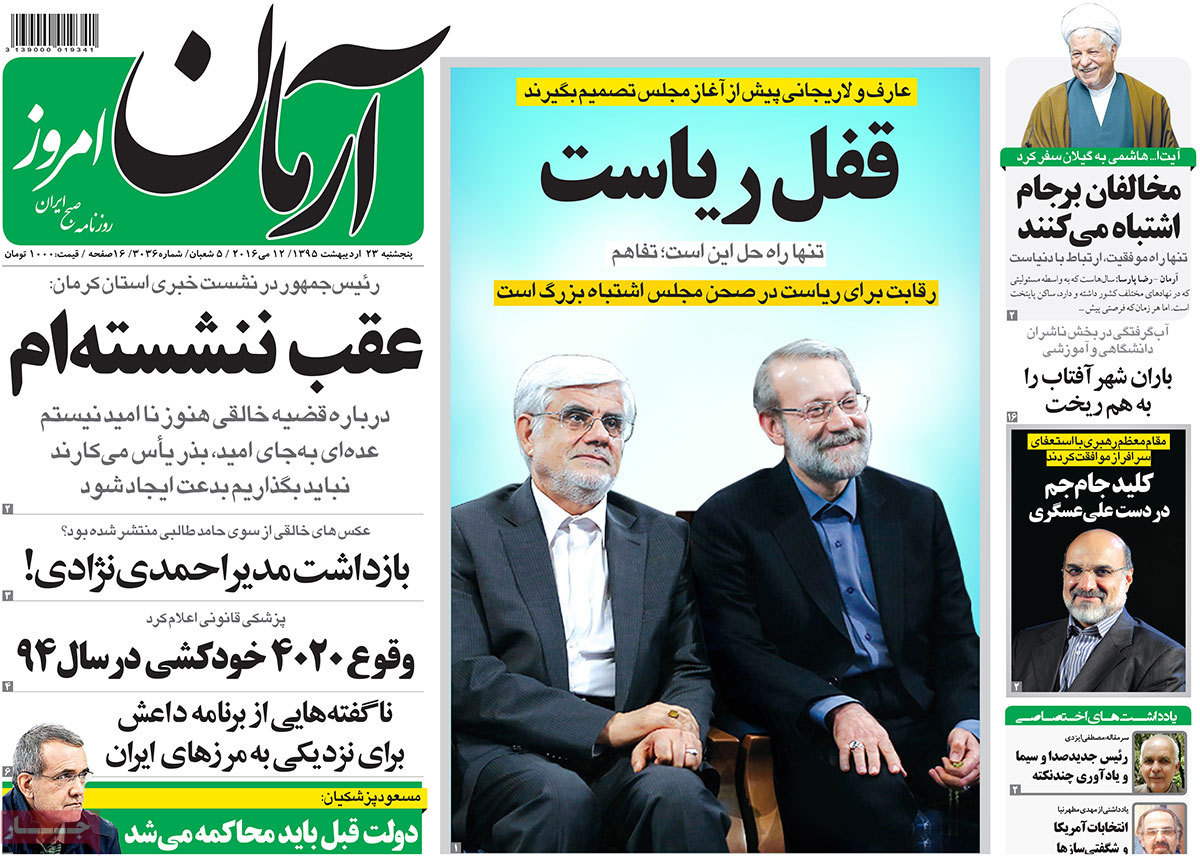 ---
Ebtekar:
1- Online Sale of History: Tiles from Historical Niavaran Palace on Sale in the Internet
2- Kerry Urges European Companies Not to Use US as a Pretext for Avoiding Banking Ties with Iran
3- Government's Success in Restoring Ties with the World Was a Great Job: Rafsanjani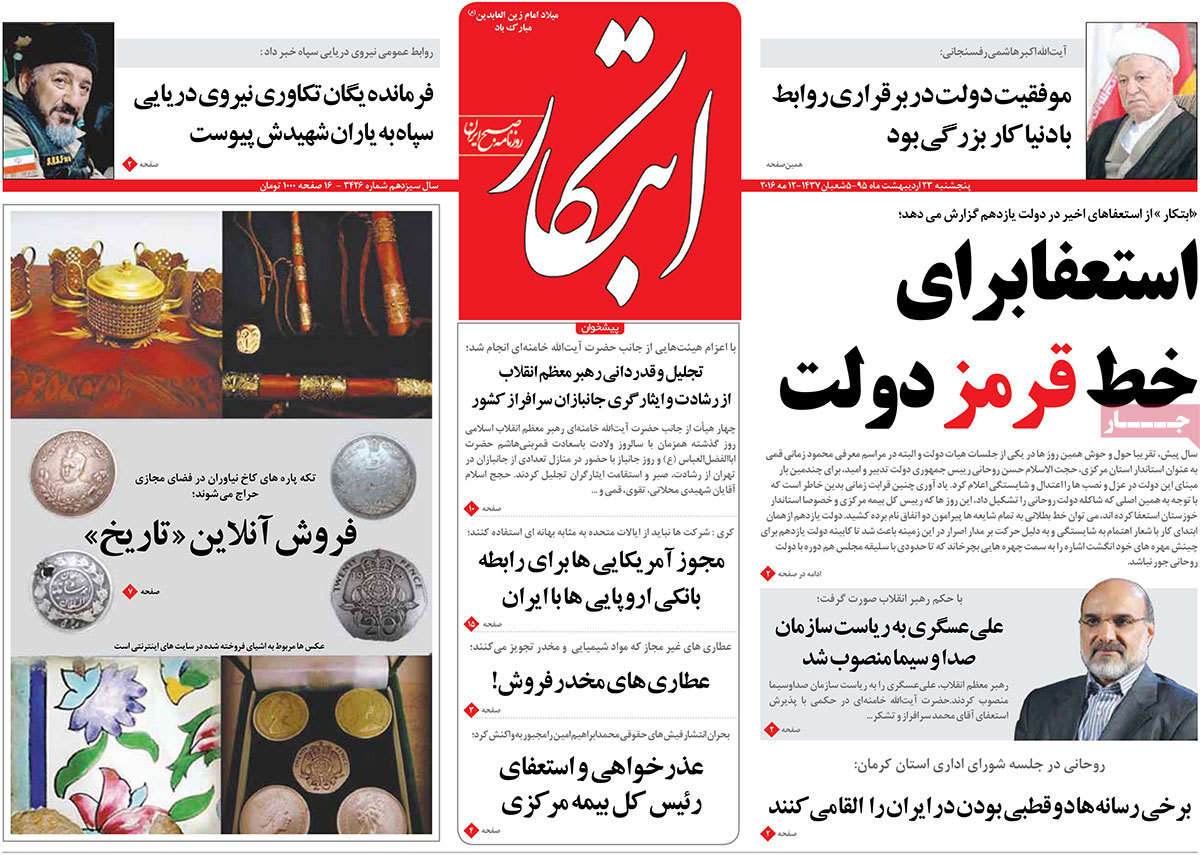 ---
Etemad:
1- I'm Not Disappointed, We Should Not Permit Violation of Law [on Khaleghi's case]
2- Jannati [Secretary of Guardian Council]: GC Supervises Elections in All Phases [even after the end of polls]
3- Based on Iran's Constitution, GC's Supervision Ends When Elections Are Held [Editorial by a jurist]
---
Ettela'at:
1- 80 Dead, 135 Wounded in Iraq Terrorist Blasts
2- Some Trying to Disappoint People Instead of Raising Their Hopes: Rouhani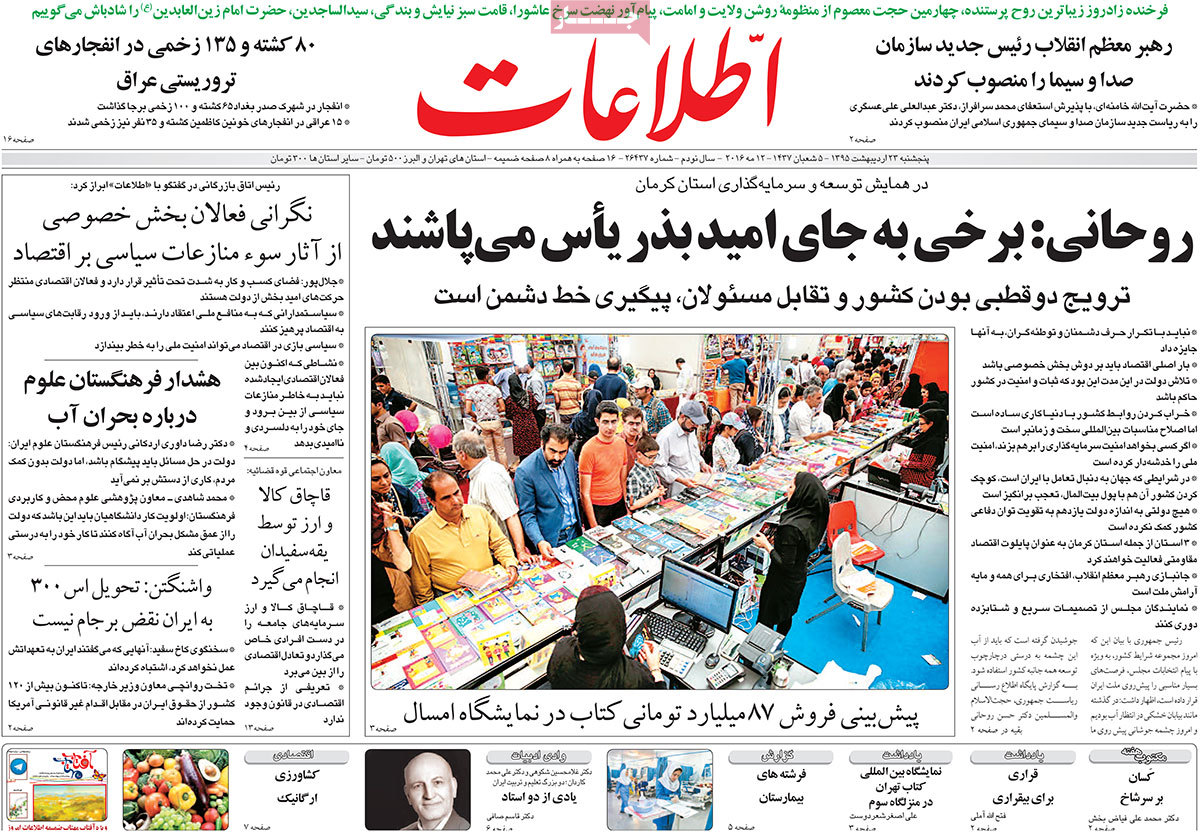 ---
Ghanoon:
1- Afghan Veteran Wounded in Iran-Iraq War Is Now Kept in Kahrizak Sanatorium in Southern Tehran
2- Legal Expert: Mina Tragedy Likely to Be Repeated [during Hajj Pilgrimage]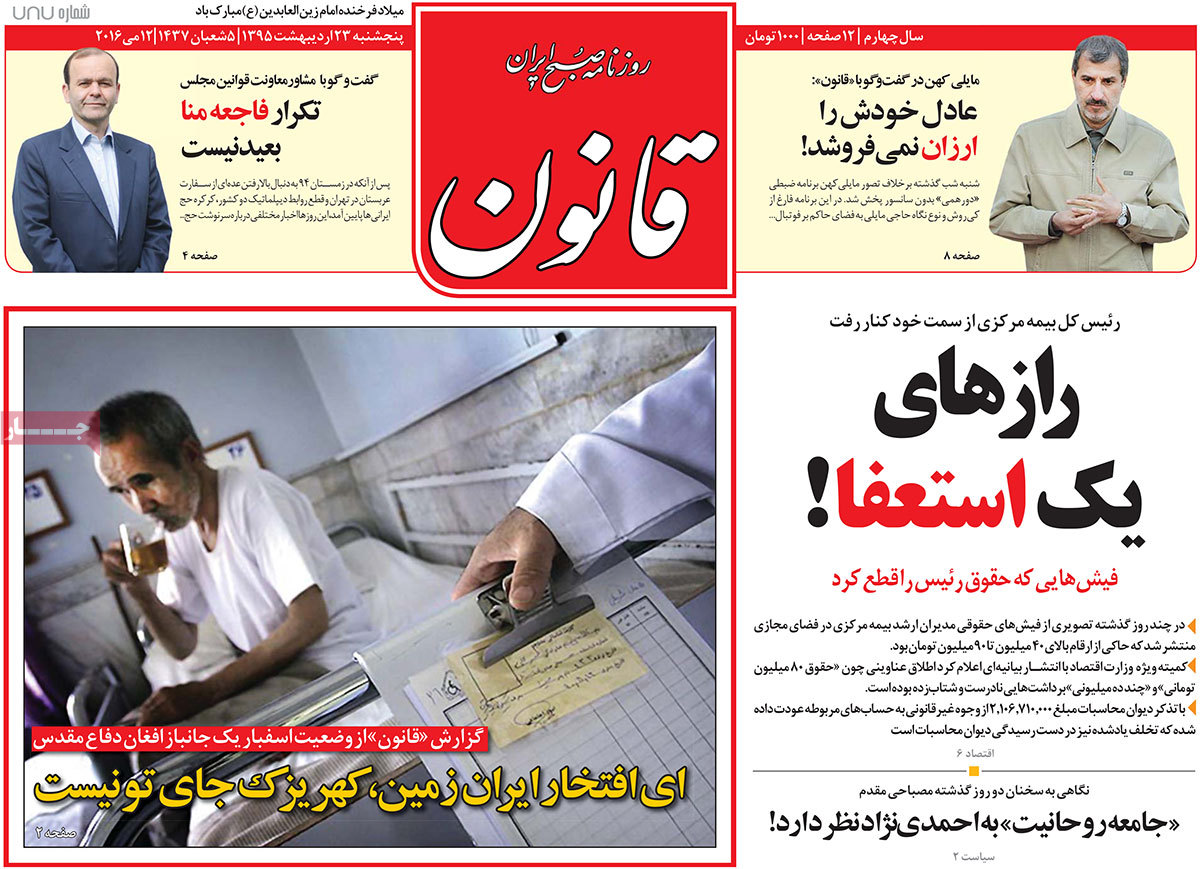 ---
Hamshahri:
1- Iran's Lawsuit against US Waiting for Rouhani's Order
2- Terrorists Freely Active in a Country without Parliament and Gov't: 3 Deadly Blasts Kill and Wound over 200 Iraqis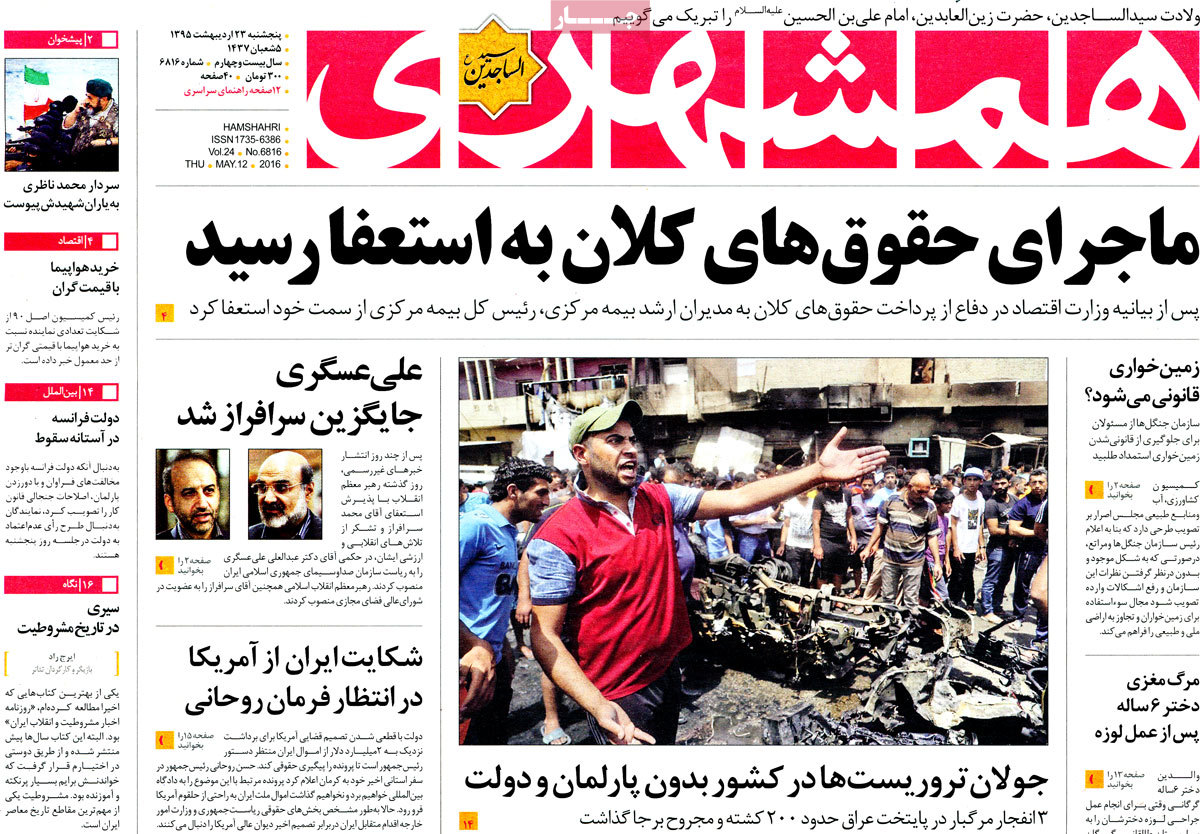 ---
Hemayat:
1- Iran's Judiciary Official Urges Other Countries to Avoid Giving Dual Citizenship to Fugitive Corrupts
2- French Administration on Verge of Impeachment: Clashes between Police and Protesters in Different Cities of France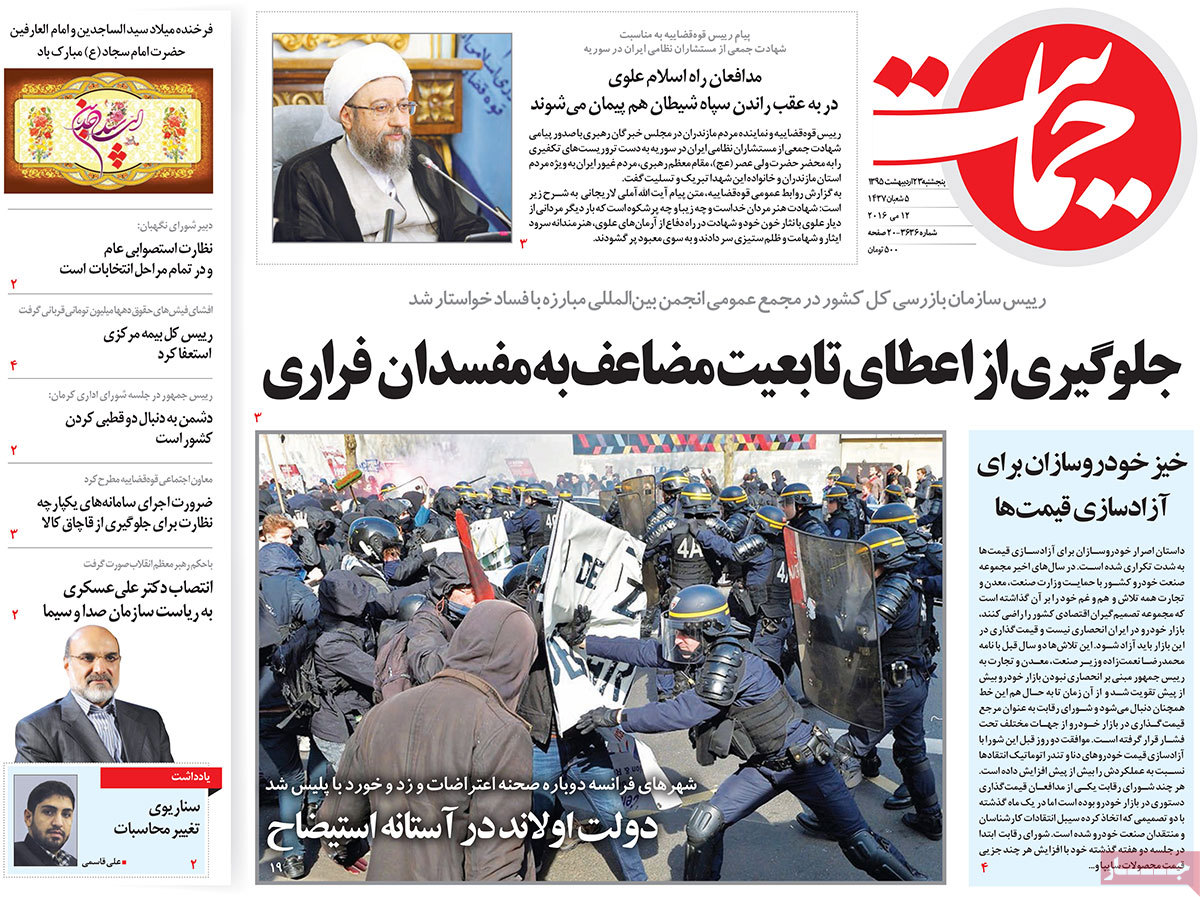 ---
Iran:
1- Decline of Iran's Trade with China
2- Champion of Iran's Professional Football League to Be Determined on Friday
---
Jomhouri Eslami:
1- Peugeot-Citroen Spokesman: We'll Return to Iran with Money and Technology
2- No Problem with [European] Banks' Cooperation with Iran: US
3- Turkey-Israel Intelligence Cooperation against Syria
4- 33rd International Holy Qur'an Competition Starts in Tehran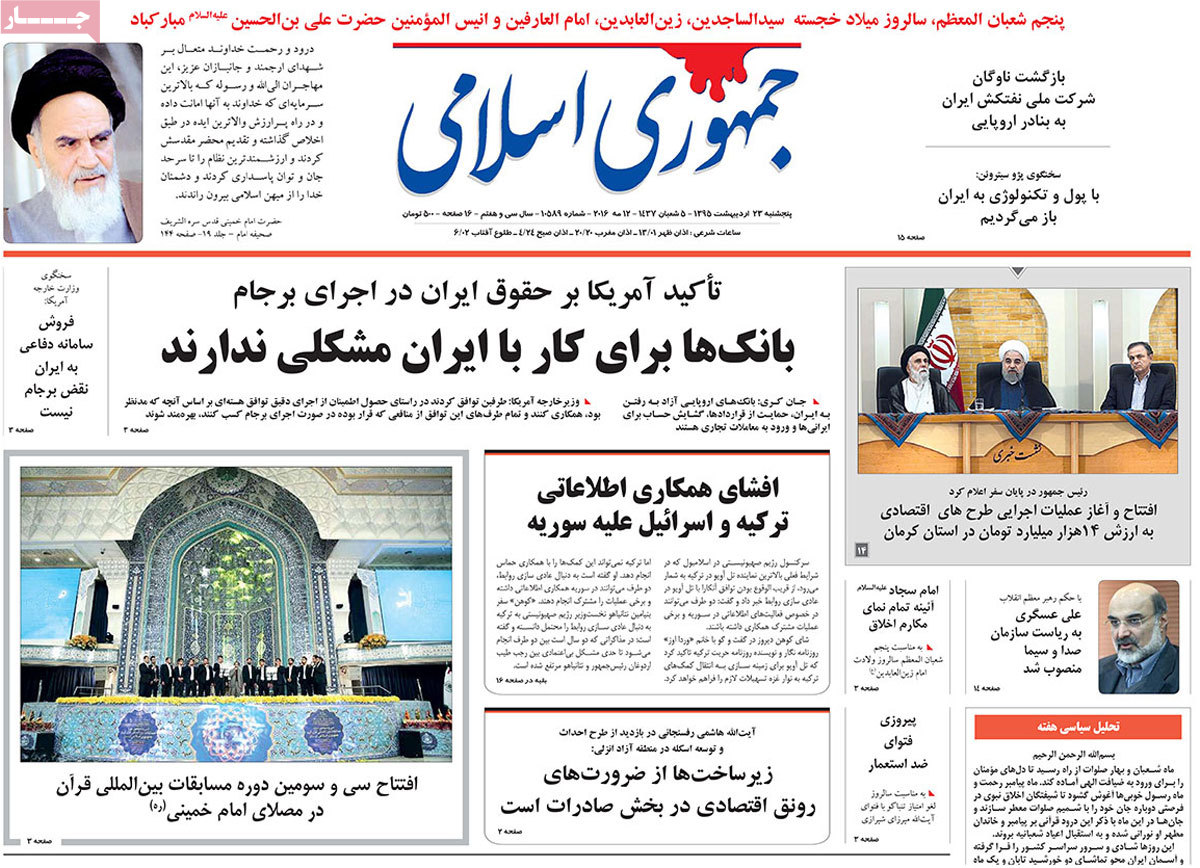 ---
Javan:
1- USA's Double Game with European Banks: Kerry Says Banks Are Totally Free in Trade with Iran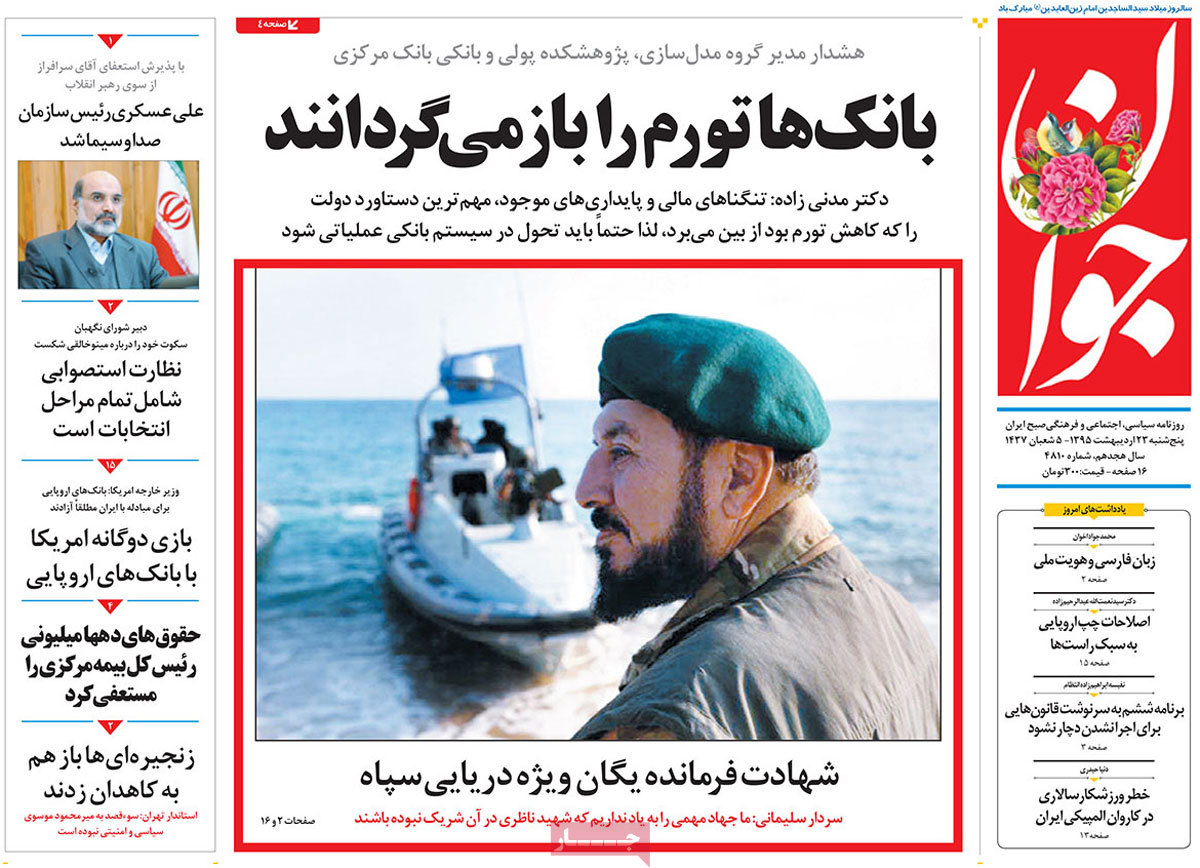 ---
Kayhan:
1- Longer Life Span, Newest Achievement of JCPOA! [Rouhani's gov't claims flight attendants and pilots used to die younger before nuclear deal]
2- US House of Representatives Quadruple Pentagon's Proposed Budget to Help Israel
3- Rouhani's Gov't Stops Construction of Iran's Largest Petrol Production Complex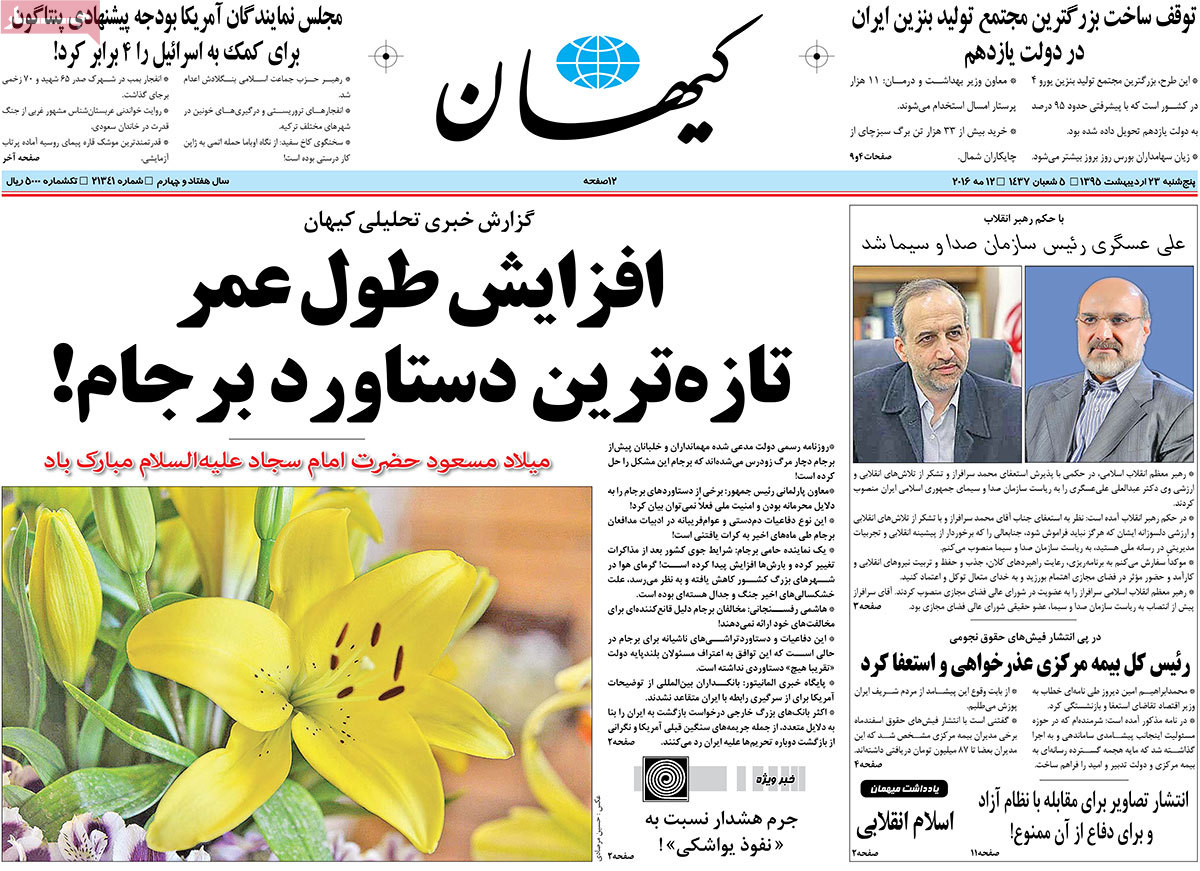 ---
Shahrvand:
1- Warning against Earthquake in Tehran: A Magnitude 7 Quake Would Kill 800,000 Only in 4 Districts
2- 5m Iranians in Danger of Malnutrition
3- Medical Error Causes 6-Year-Old "Elina" to Go to Eternal Sleep
4- Secrets behind Critical Shortage of Serum in Iran
---
Sharq:
1- Will Ahmadinejad Be Summoned to Court?
2- Tehran Book Fair Left Flooded after Heavy Rain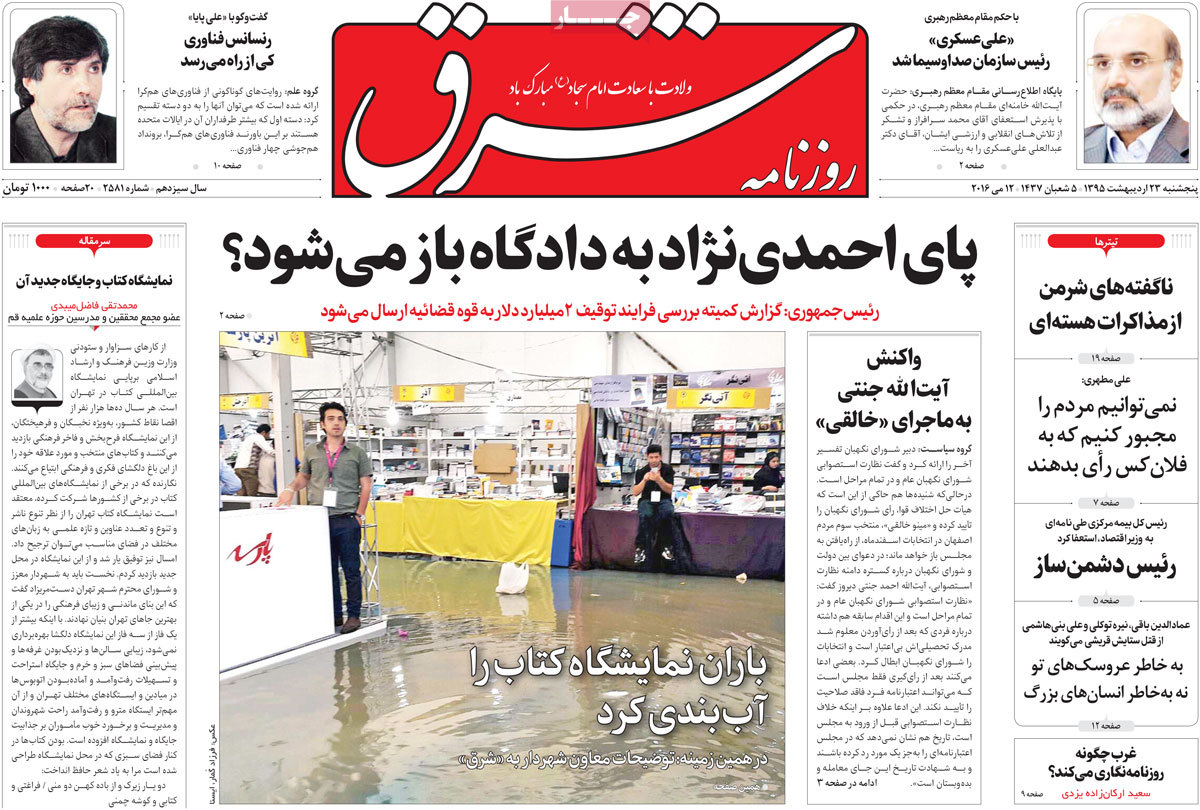 ---
Vatan-e Emrooz:
1- "Silver Fox" Confesses: Sherman Says Military Option Was Not on Table Even If Nuclear Talks Failed
2- VP Ansari: JCPOA Achievements Are Secret!
3- IRGC Navy General Martyred Because of Chemical Warfare Side-Effects: Goodbye Commander!