IFP has taken a look at the front pages of Iranian newspapers on Saturday, March 9, 2019, and picked headlines from 13 of them. IFP has simply translated the headlines and does not vouch for their accuracy.
All papers today covered the Leader's appointment of Seyyed Ebrahim Raisi as the new chief of the Iranian Judiciary, replacing Ayatollah Sadeq Amoli Larijani who served his 10-year term.
Several papers also covered Israeli Prime Minister Benjamin Netanyahu's threat to target Iranian oil tankers smuggling the country's crude, and Tehran's reaction to the claim.
The above issues, as well as many more, are highlighted in the following headlines and top stories:
Abrar:
1- Netanyahu: Israeli Navy to Prevent Iran from Smuggling Its Oil
2- US Calls for Further Sanctions against Iran
3- Pompeo in Reaction to Blackout: Maduro's Policies Result in Darkness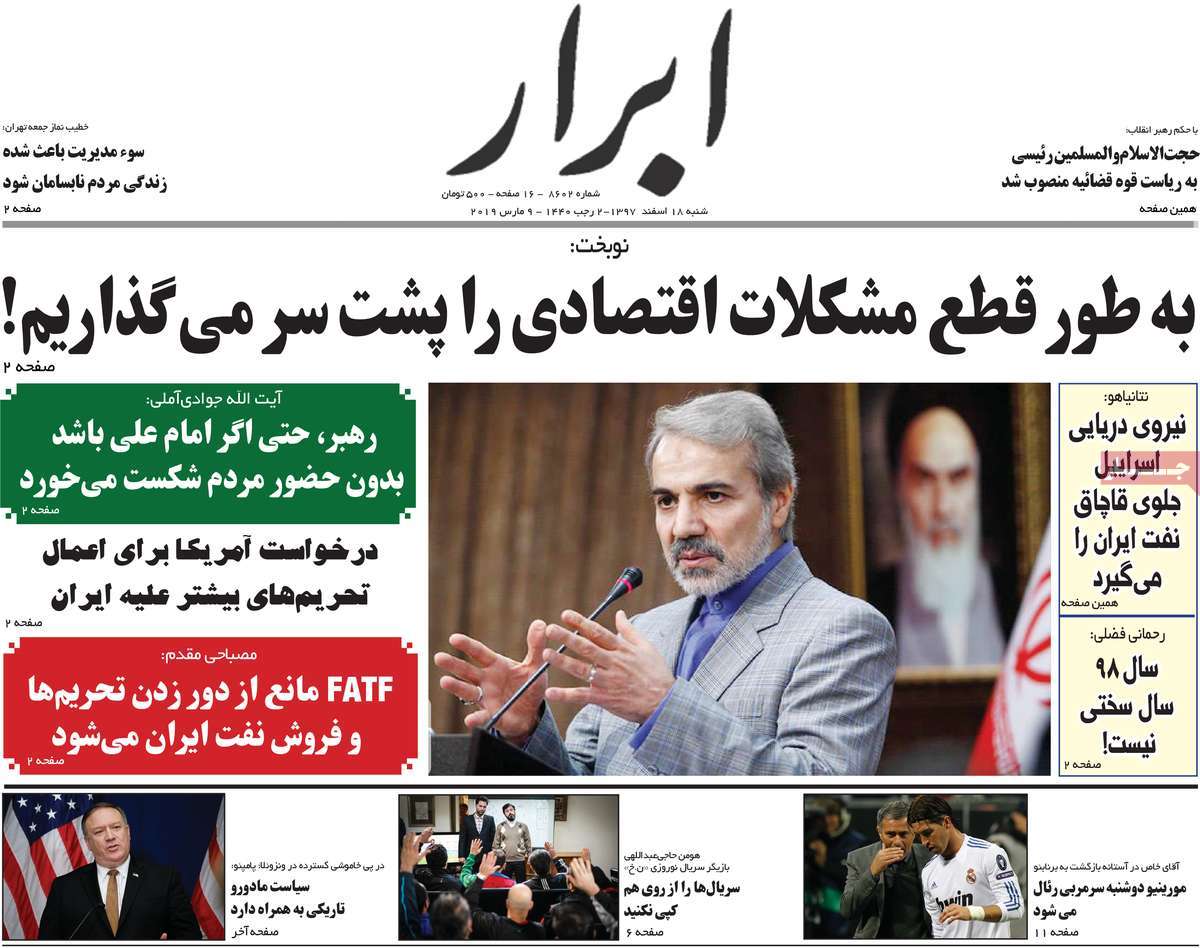 ---
Aftab-e Yazd:
1- Iran Leader Appoints Raisi as New Judiciary Chief
2- Senior Lawmaker: Syria Must Settle Its Debt to Iran
3- No Power Can Seize Iranian Ships: Politician in Reaction to Bibi's Threat
4- Araqchi: INSTEX Not Limited to Food, Medicine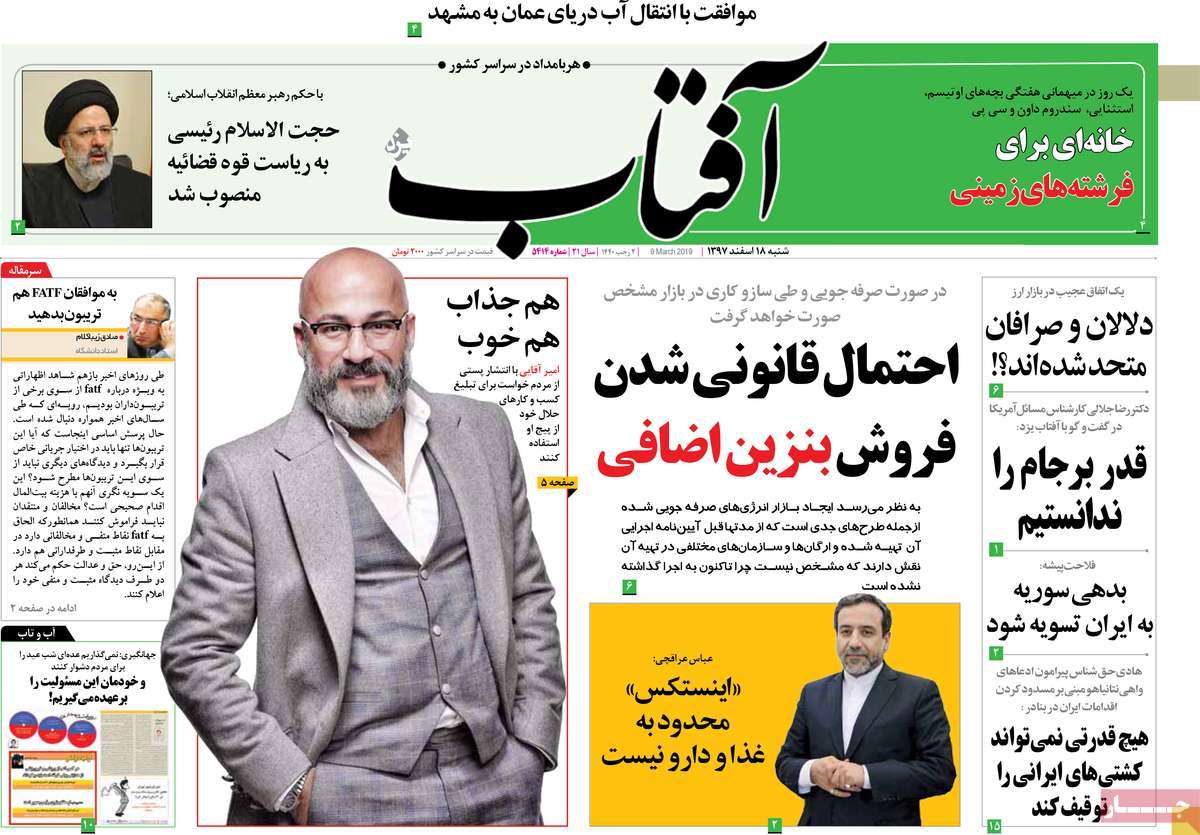 ---
Ebtekar:
1- Iran, Iraq Resolved to Expand Their Trade Ties
2- Difficult Days of People in Venezuela: Massive Blackout in Venezuela
3- Three Terrorist Teams Smashed in Western Iran
---
Etemad:
1- Diplomatic Protection for Zaghari, New Challenge in Iran-UK Ties
2- Trump Denies, but Rouhani Says US President Has Calls for Talks with Him 13 Times Since 2017
---
Ettela'at:
1- Zarif: UN Must Condemn US Move to Impose Medical Sanctions on Iran
2- Value of Iran-Iraq Trade to Hit $20 Billion
---
Iran:
1- First Return to JCPOA, Then Negotiation
Rouhani Says Leaders of 5 States Mediated for His Meeting with Trump
2- Iran Leader Urges New Judiciary Chief to Restore People's Rights, Social Freedoms
---
Javan:
1- If Tel Aviv Hits Iranian Oil Tankers, Not a Single Litre of Fuel Would Reach Israel: Sputnik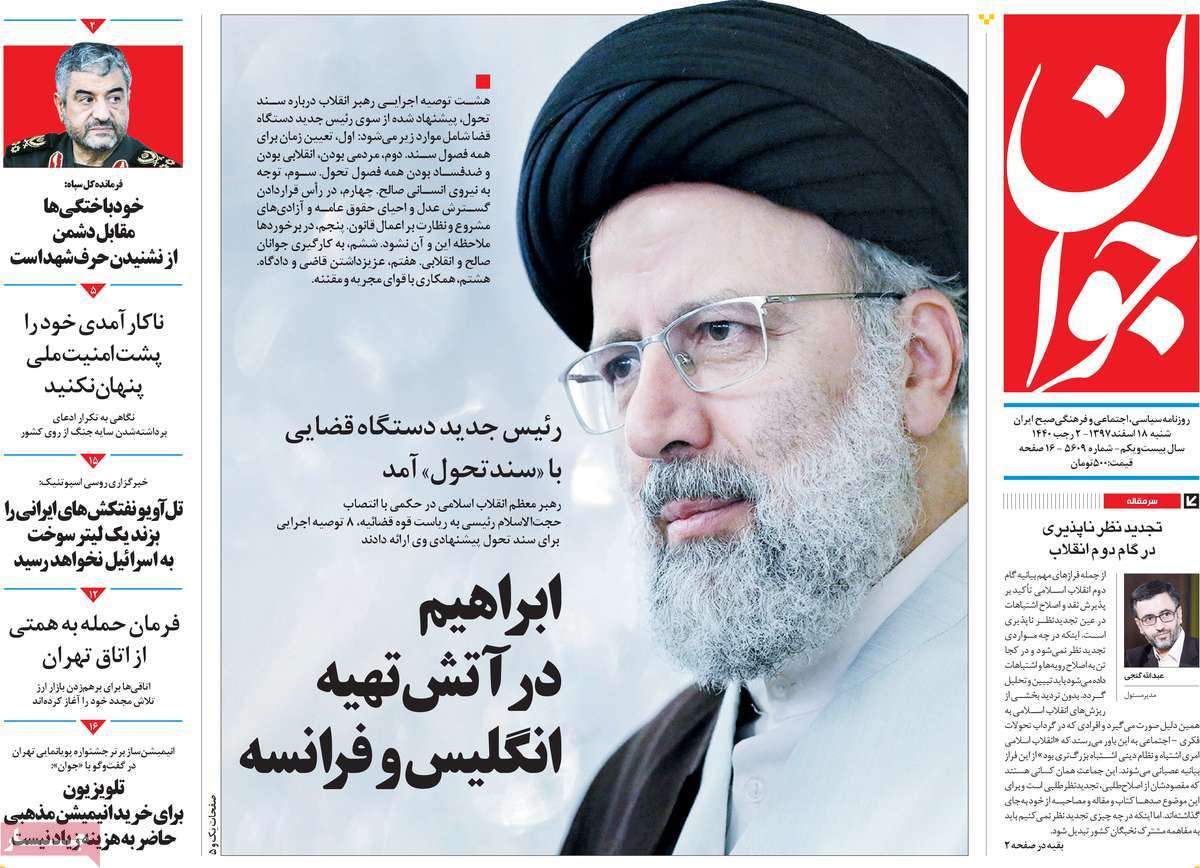 ---
Jomhouri Eslami:
1- United Global Front Formed against Al Saud's Violation of Human Rights
2- Iran: Arab League's Declaration Doesn't Represent View of All Regional States
3- Qassemi Appointed as Iran's New Ambassador to Paris
4- Reuters: India to Keep Level of Oil Imports from Iran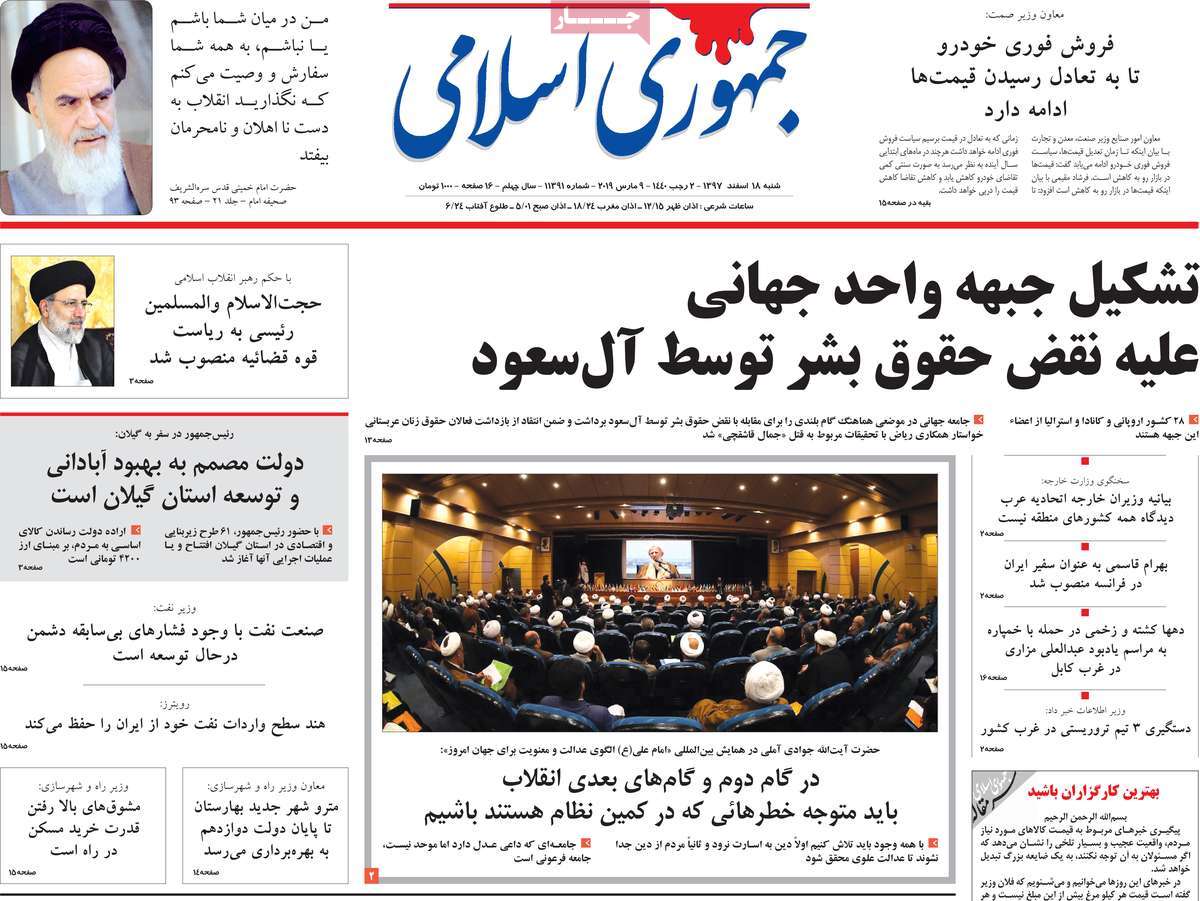 ---
Kayhan:
1- Deputy Agriculture Minister: Self-Sufficiency in Wheat, Sugar Saves $3 Billion
2- Iraq President: All Foreign ISIS Members in Iraq to Be Executed
3- Human Rights Once Again Sacrificed for Dollar
EU Opposed to Blacklisting Saudi Arabia
4- Pakistani President, Premier Write Joint Letter to Iran Leader
5- German Envoy to INSTEX: US' Trade with Iran Doubled but Europe Banned from Doing Business with Iran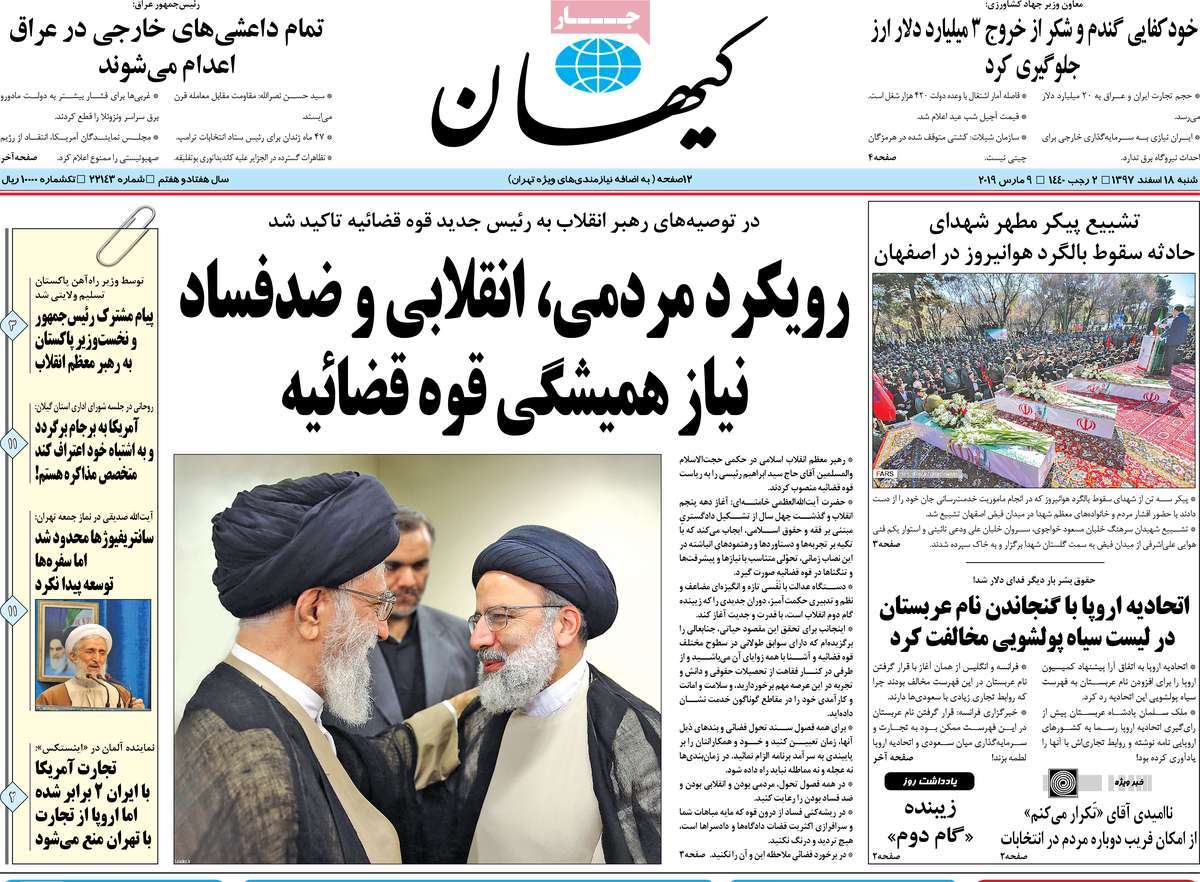 ---
Sazandegi:
1- Return to Judiciary: Raisi Appointed as New Chief of Iranian Judiciary
---
Setareh Sobh:
1- Ifs and Buts of Future of Iran-Russia Alliance in Syria
2- 108 Years Away from Gender Equality: World Economic Forum
---
Shargh:
1- Raisi Appointed as New Judiciary Chief
---
Vatan-e Emrooz:
1- Imran Khan Pens Letter to Iran Leader
2- Iranian Spy under UK's Diplomatic Protection
Nazanin Zaghari Officially Given Immunity