The top story today was a controversial decision by Iran's parliament to raise the maximum salary of executives to around $6,300, which was widely criticized, and lawmakers finally backed off and decided to set it at $3,300. Parliament Speaker Ali Larijani had harshly criticized the opponents for raising false allegations against the legislature.
Newspapers also covered a 'secret committee' tasked with choosing the next Leader of the Islamic Revolution and its ongoing efforts to evaluate the candidates' qualifications.
President Hassan Rouhani's remarks in a ceremony to appreciate Olympic and Paralympic medallists as well as national champions were also widely covered.
The above issues, as well as many more, are highlighted in the following headlines and top stories:
Abrar:
1- Washington Repeats Anti-Tehran Human Rights Claims
2- Deputy FM: No Choice but to Extend JCPOA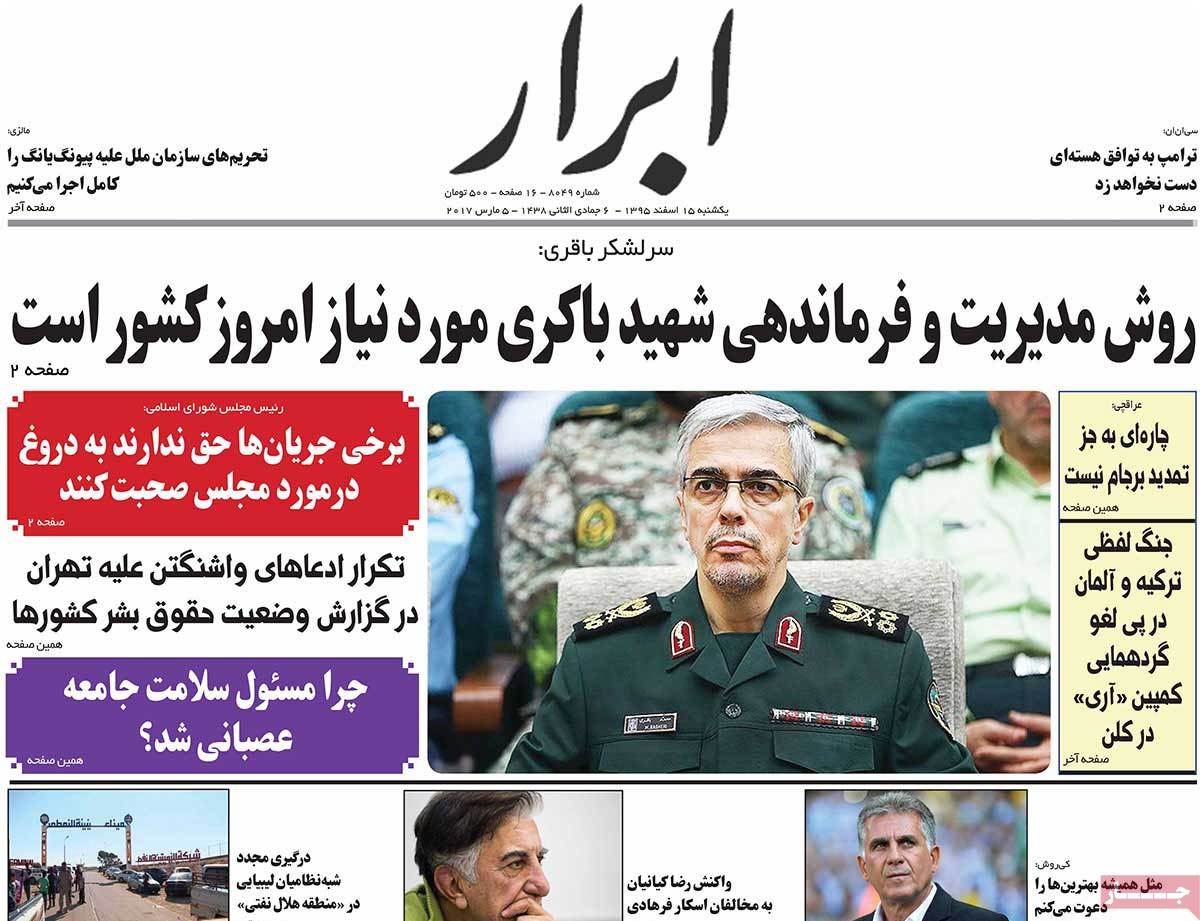 ---
Afarinesh:
1- Rouhani: Sports Can Counter Iranophobia
2- Larijani: Those Who Say Parliament Has Legalised Astronomical Salaries Are Wrong
3- Science Minister: There Are 500,000 Empty Seats in Iranian Universities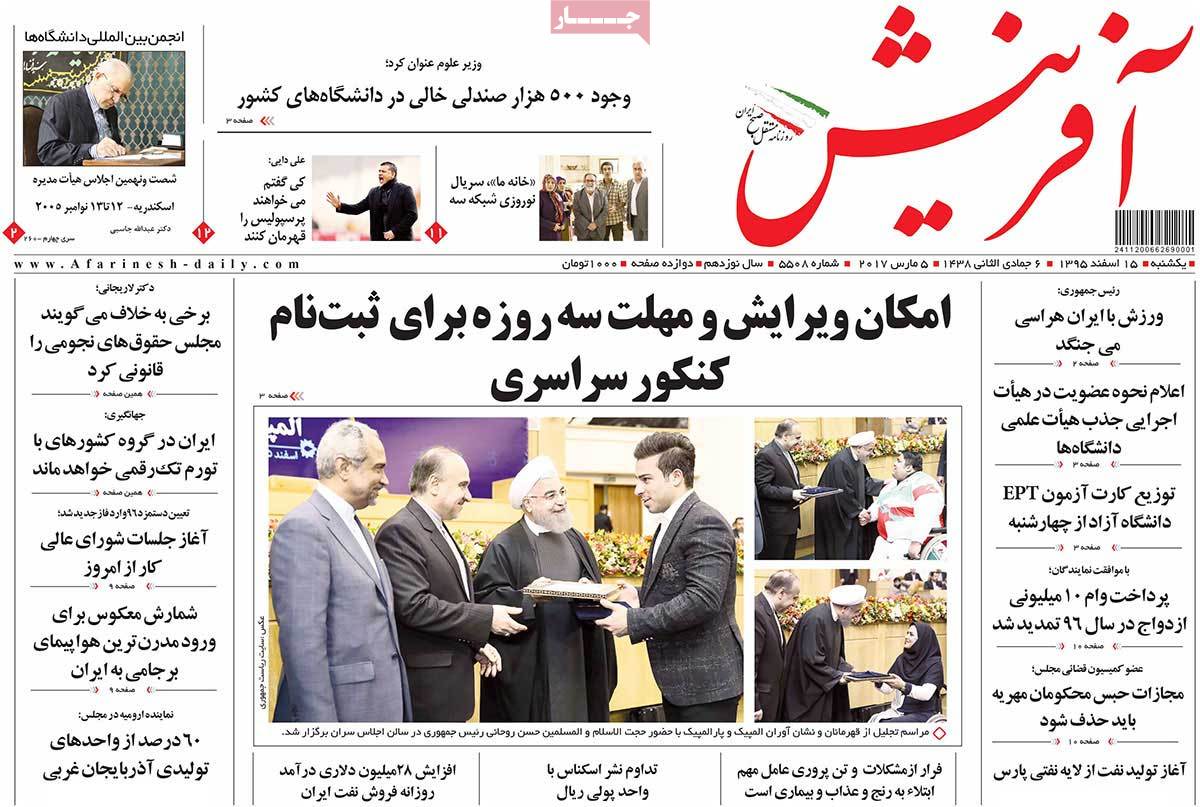 ---
Aftab-e Yazd:
1- President: The Time When Cooking Was All Women Did Is Past
2- Deputy FM: Nuclear Deal Has Done What It's Supposed to Do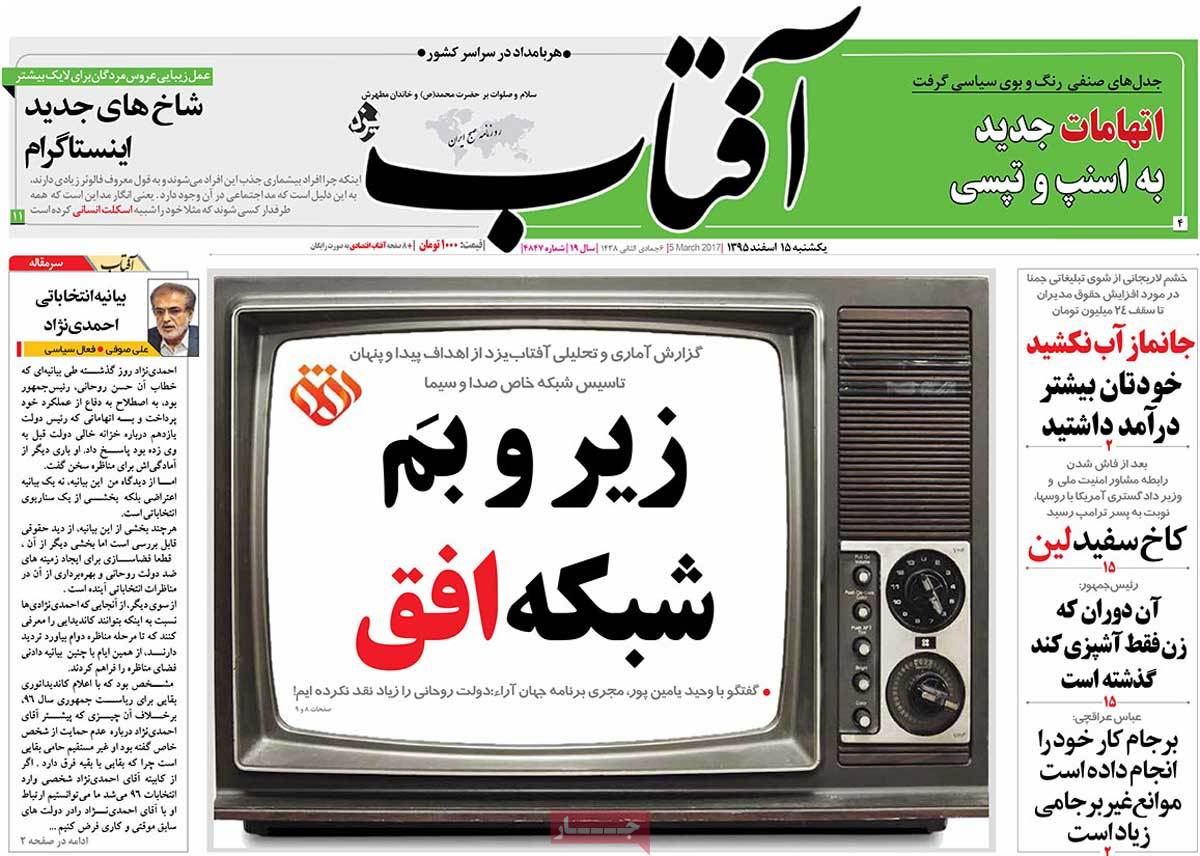 ---
Asia:
1- Paris Central Bank to Finance French Projects in Iran
2- Iranian Refugees Called on to Return without Worrying about Arrest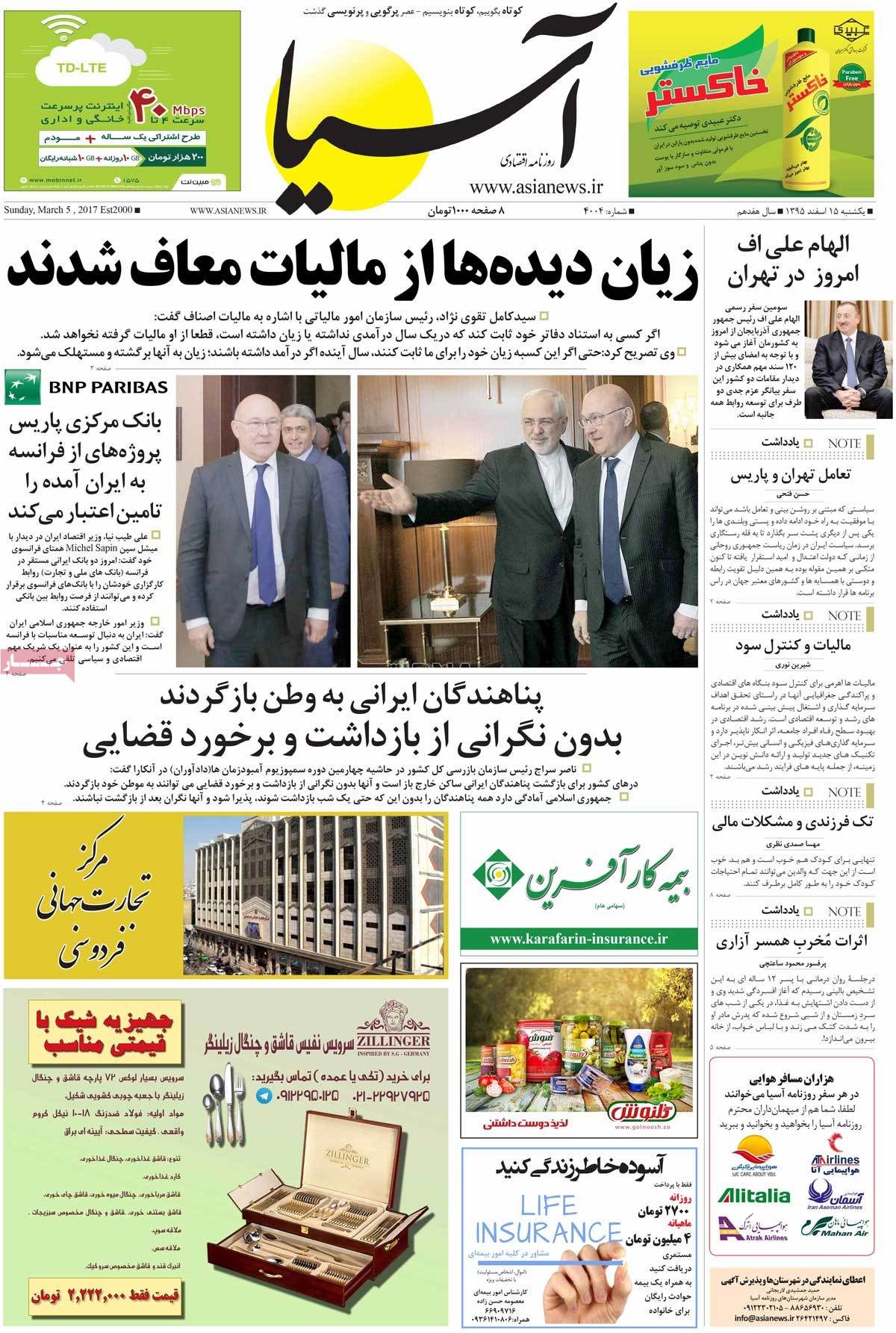 ---
Asrar:
1- Rouhani Criticizes Those Who Always Try to Disappoint People
2- Decrease in Size of Iranian Banknotes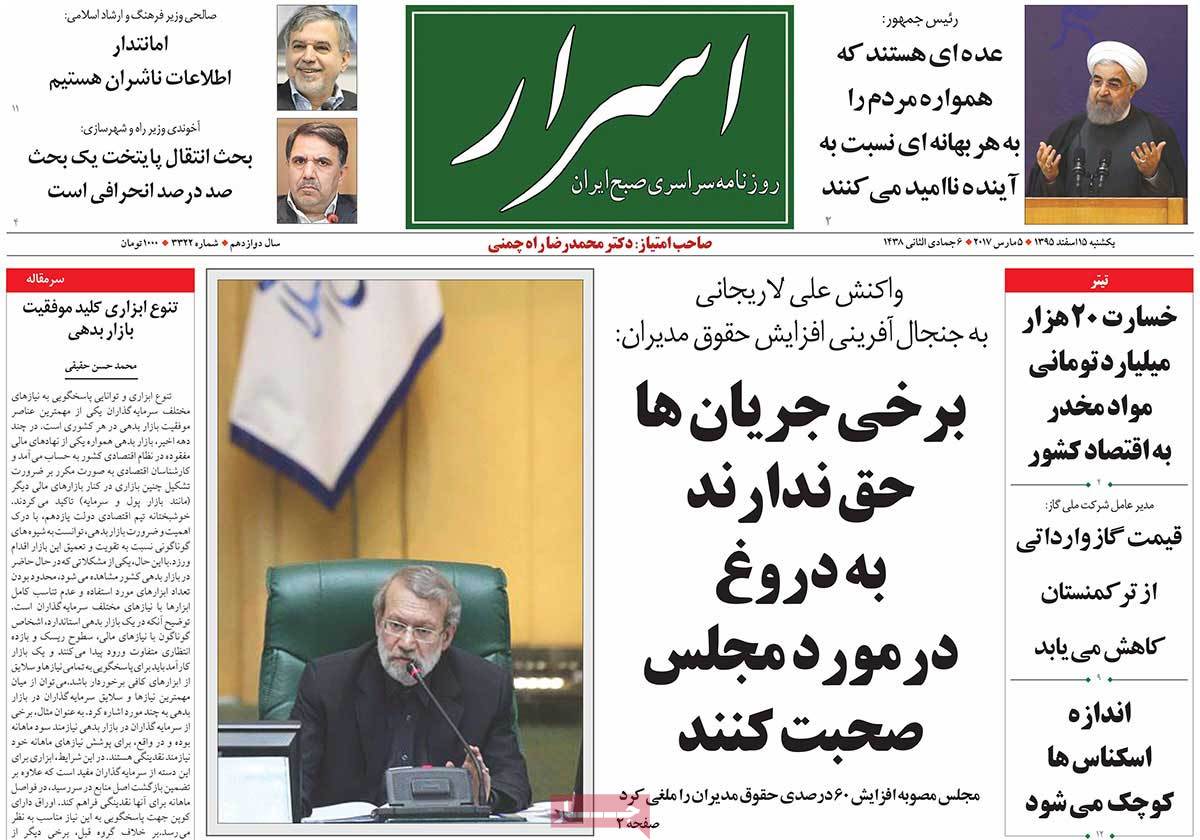 ---
Besharat-e Now:
1- Formation of Committee Tasked with Choosing Future Iran Leader
---
Emtiaz:
1- Rouhani: Society Needs Happiness to Overcome Life Problems
2- Narcotics Inflict $52 Billion in Damages on Iran's Economy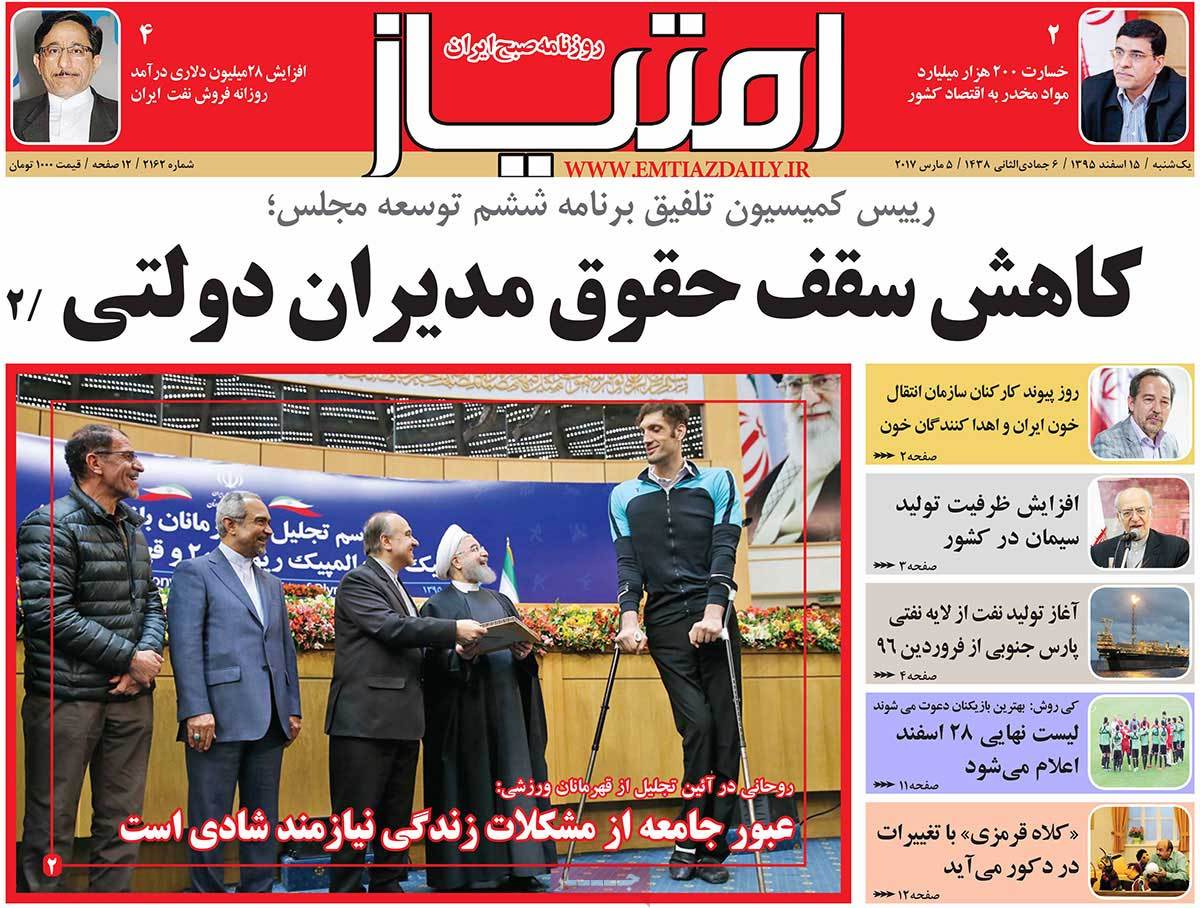 ---
Etemad:
1- I'm the Channel that Links Reformists to Iran Leader: First VP Jahangiri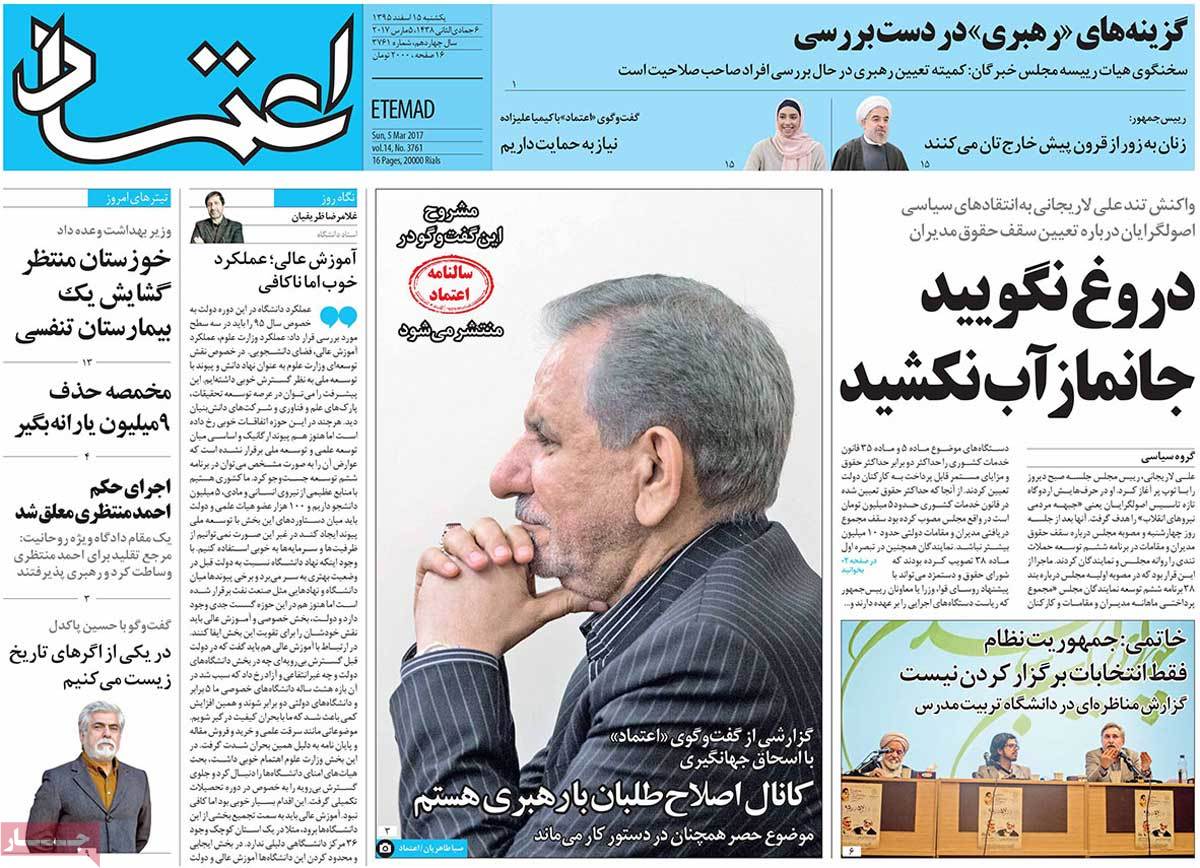 ---
Ettela'at:
1- Iran Operationalises S-300 Missile Defence System
2- Deputy FM: If It Wasn't for JCPOA, Trump Would Unite World against Tehran
3- Maximum Salary for Executives Set at 126 Million Rials (nearly $3,300)
---
Hemayat:
1- Official: Iran Supports Refugees of War-Torn Countries
2- 1,000 Smugglers of Goods, Foreign Exchange in Prison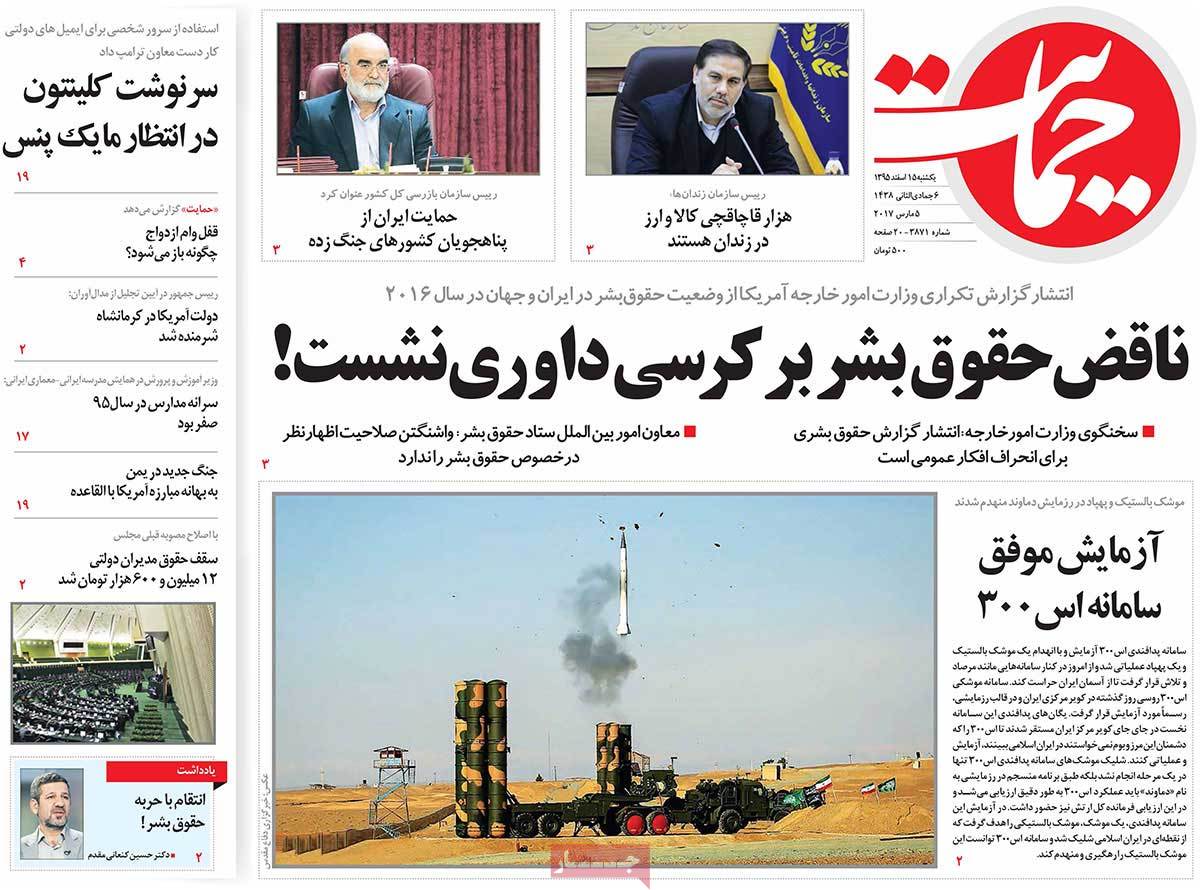 ---
Iran:
1- Don't Lie: Parliament Speaker [to those who raised claims about increase in executives' salaries]
2- Power Minister: Gov't Has Provided 4m Villagers with Access to Water
---
Javan:
1- Parliament Backs Off from Astronomical Salaries
Maximum Wage for Executives Reduced from over $6,300 to $3,300
2- Continued Power Struggle in Washington: Sick Obama Had Tapped My Calls!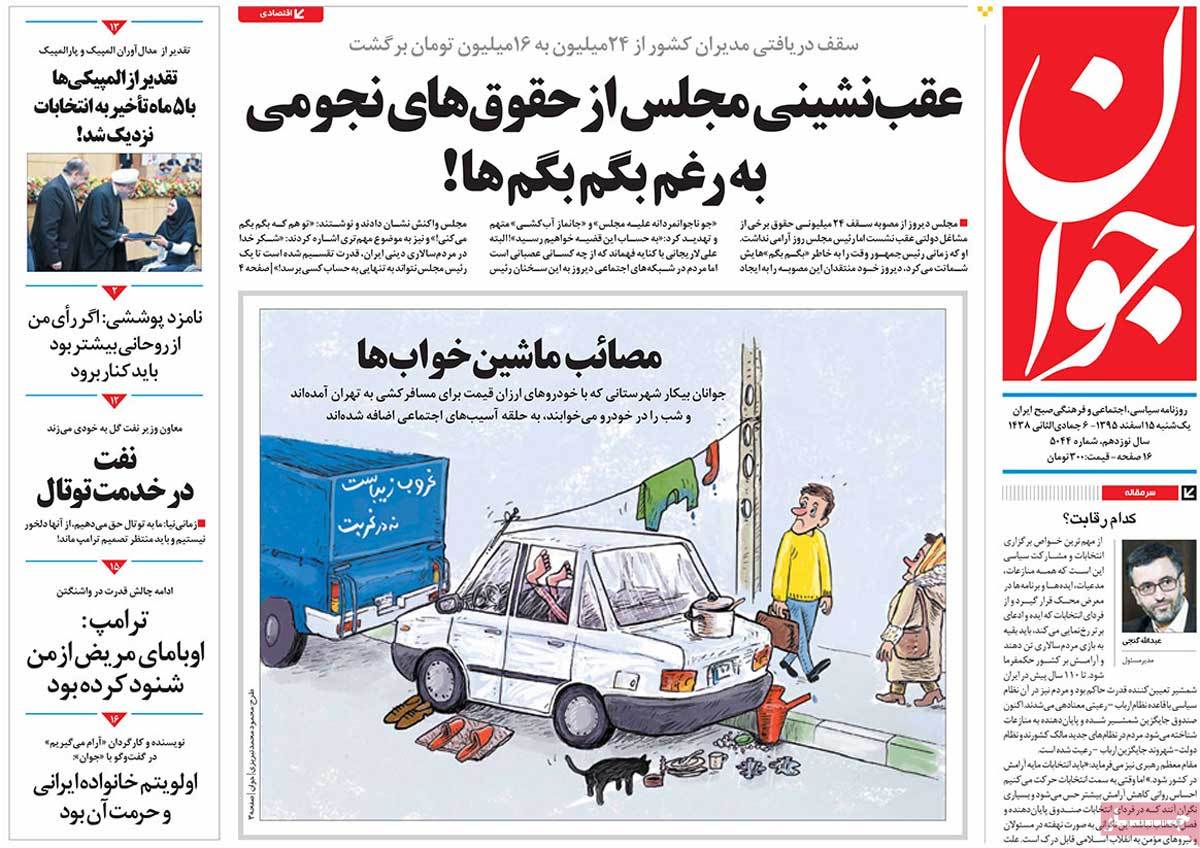 ---
Jomhouri Eslami:
1- President Rouhani Appreciates Olympic, Paralympic Mediallists
2- JCPOA Achievements in Oil, Energy Industries Explained
3- CIA Ex-Chief to Trump: Don't Accuse a Major World Religion of Extremism
---
Kayhan:
1- Parliament Takes Back Bill that Legitimised Astronomical Salaries: In spite of Larijani's insult to critics
2- How Much Iran Leader's Guidelines Were Observed in Past Year
3- Bahraini People Brutally Suppressed in 9 Townships
---
Payam-e Zaman:
1- Asghar Farhadi Appreciated for Receiving Oscar
Farhadi Is Now Master of Iranian Cinema
2- Larijani: Maximum Salary for Executives Is $2,600-$3,300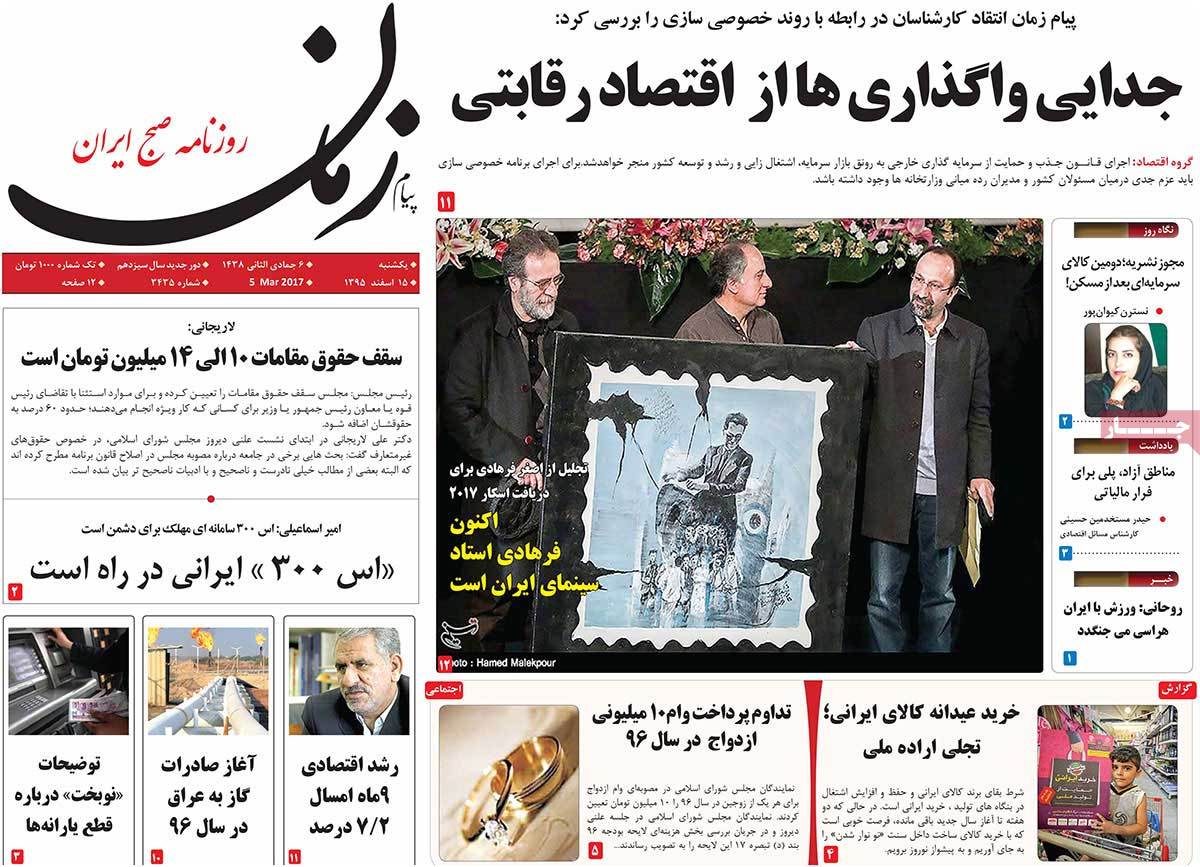 ---
Resalat:
1- Rouhani: Mosque, Stadium Should Be Shelters for Youths
2- S-300 Missile Defence System Is Fatal for Enemies
3- US Not in Position to Criticise Other Countries' Human Rights: Iranian Spokesman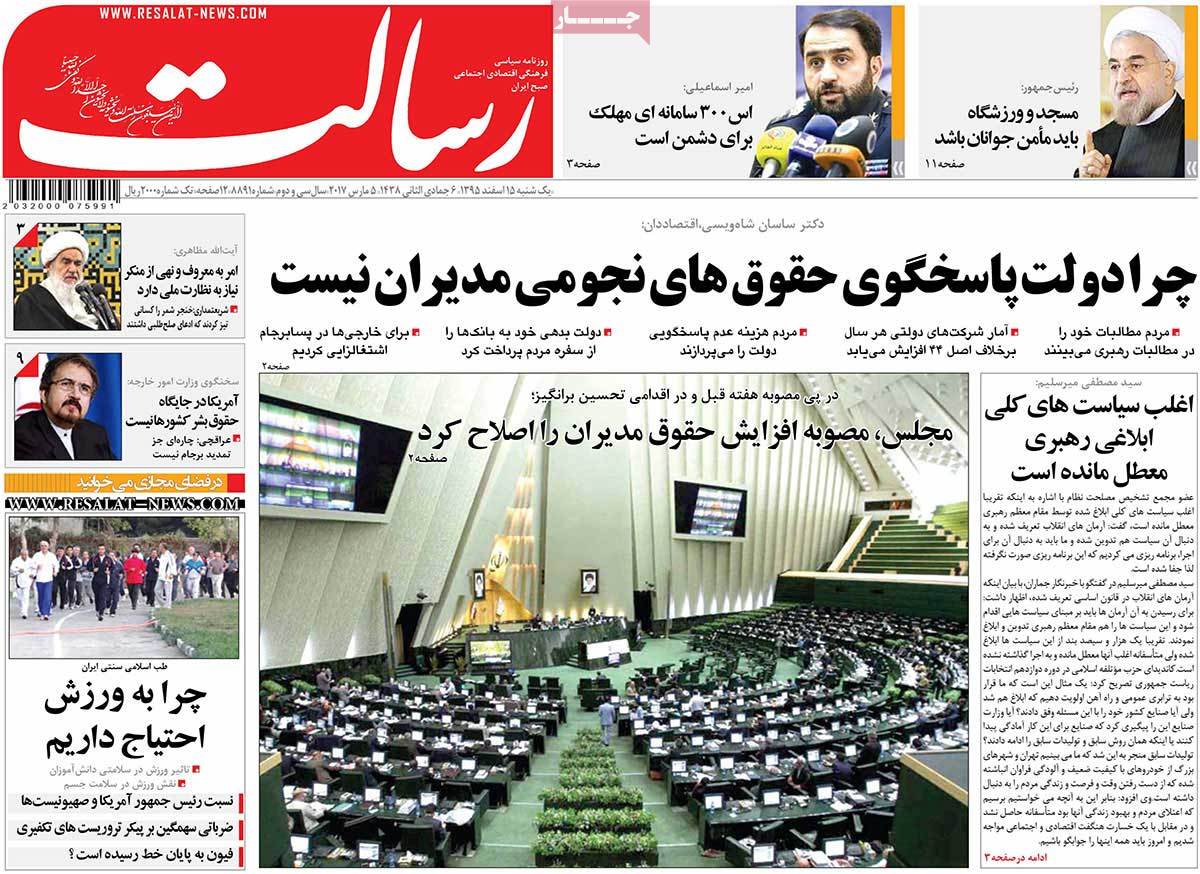 ---
Shargh:
1- Secret Committee to Select Next Leader
Ayatollah Khamenei Said You Should Have 10 Candidates: Spokesman