Newspapers today widely covered the reactions to a bill approved by Iranian Parliament that legalizes salaries as high as nearly $6,300 for executives.
The disclosure of Trump cabinet's ties with Russia and the possible resignations in his justice department also received great coverage.
Iranian President Hassan Rouhani's meeting with his Turkish president and the remarks he made on the sidelines of the Economic Cooperation Organisation (ECO) Summit in Islamabad were among other top stories today.
Newspapers also covered the ongoing visits by Saudi Arabia's King Salman to Southeast Asian countries.
The above issues, as well as many more, are highlighted in the following headlines and top stories:
19 Dey:
1- Iran President in ECO Summit: Asia to Be Pioneer in 21st Century
2- Rouhani: Enemies' Dream about Leader-President Conflict Won't Come True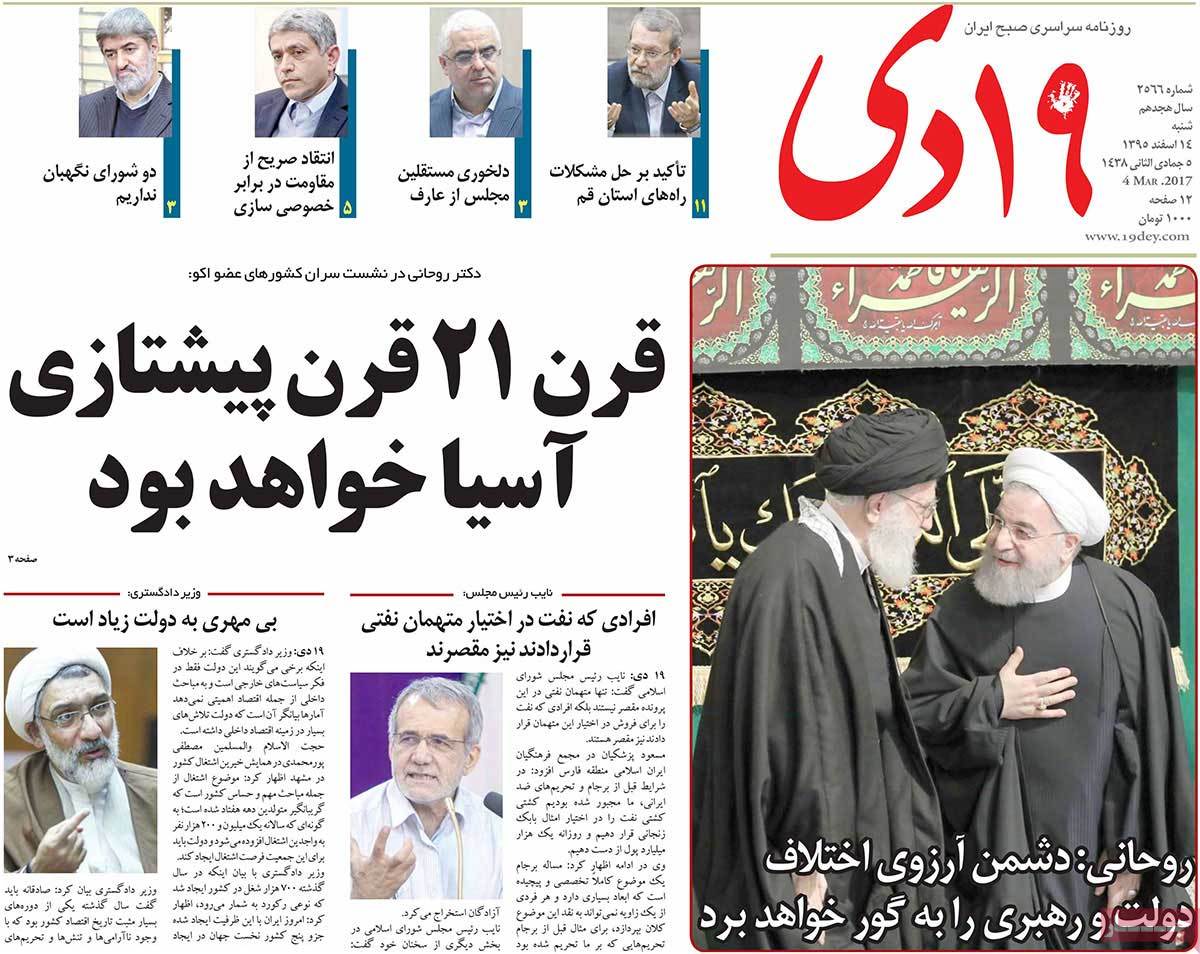 ---
Abrar:
1- Deputy FM: It's Not on Iran's Agenda to Establish Ties with US
2- Foreign Affairs: Trump Should Keep Open Diplomacy Channel with Iran
3- Number of Displaced Mosul Residents at Highest Level
4- Erdogan: We Can Conduct Raqqa Operation in Cooperation with Russia, US
---
Abrar-e Eqtesadi:
1- Iran's Oil Output Close to 4m bpd
2- Iran's €2-Billion Oil Talks with Japan
3- 101-Percent Expansion in Iran's Oil and Gas Industry after JCPOA
4- Iran, Germany's Siemens to Launch Joint Power Factory
---
Afkar:
1- Putin Nominated for Nobel Peace Prize
---
Aftab-e Yazd:
1- MPs' Decision to Set $6,300 as Maximum Salary for Executives Sparks Controversy
2- Iran Parliament's Bill to Allocate $52m to Return Iranian Elites Living in US Is a Show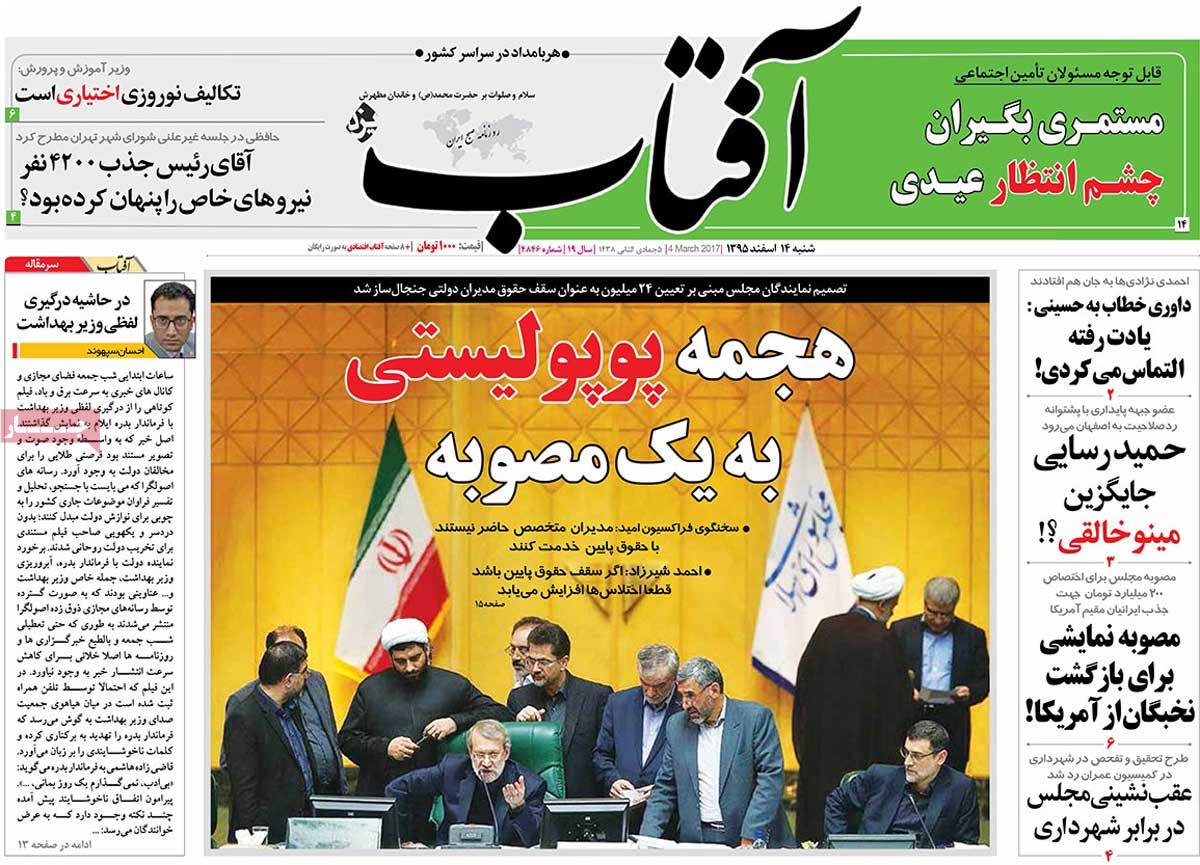 ---
Arman-e Emrooz:
1- We Don't Have 2 Guardian Councils: Vice-Speaker Writes to Ayatollah Jannati
2- State Dept. Official: Secrets behind Obama's Last Negotiation with Iran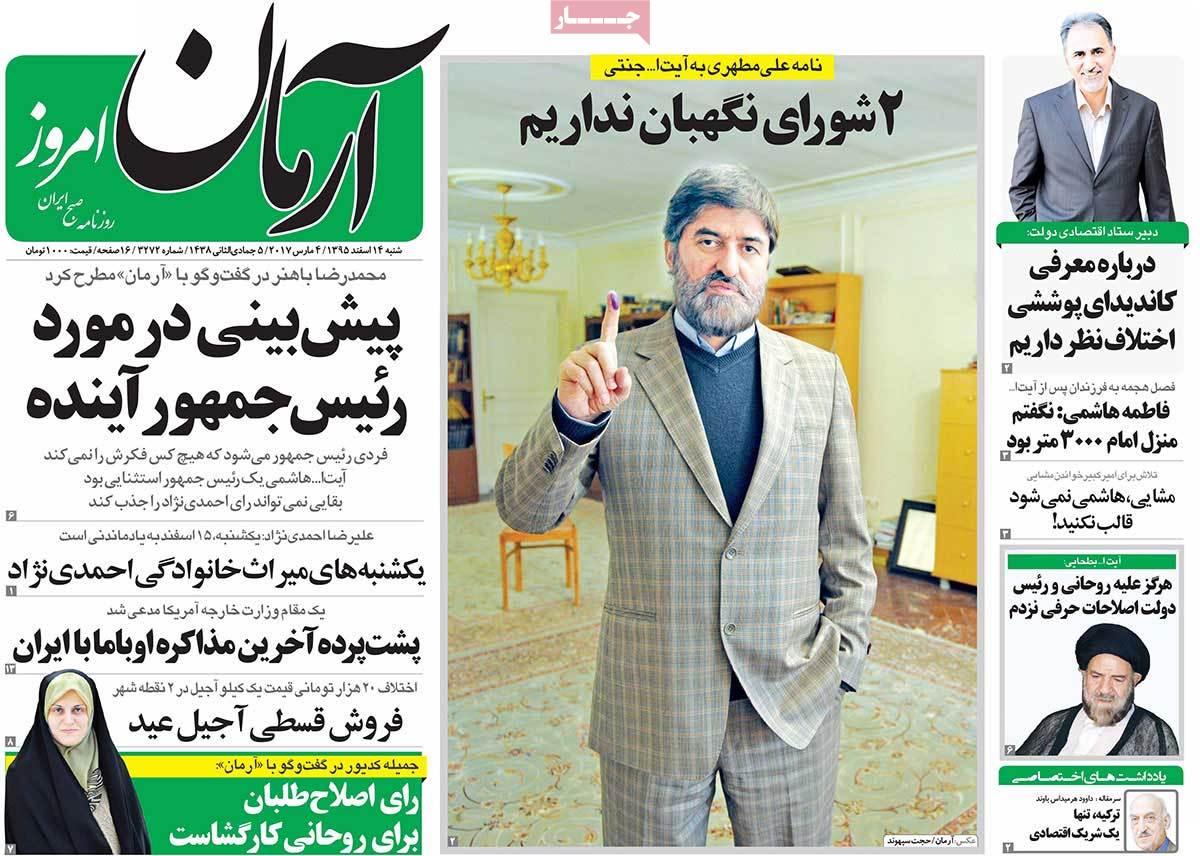 ---
Etemad:
1- Larijani: No Limit to Political Groups' Contact with Iran's Leader
2- Asghar Farhadi in Appreciation Ceremony in Tehran: I Hope I Won't Become Stuck-Up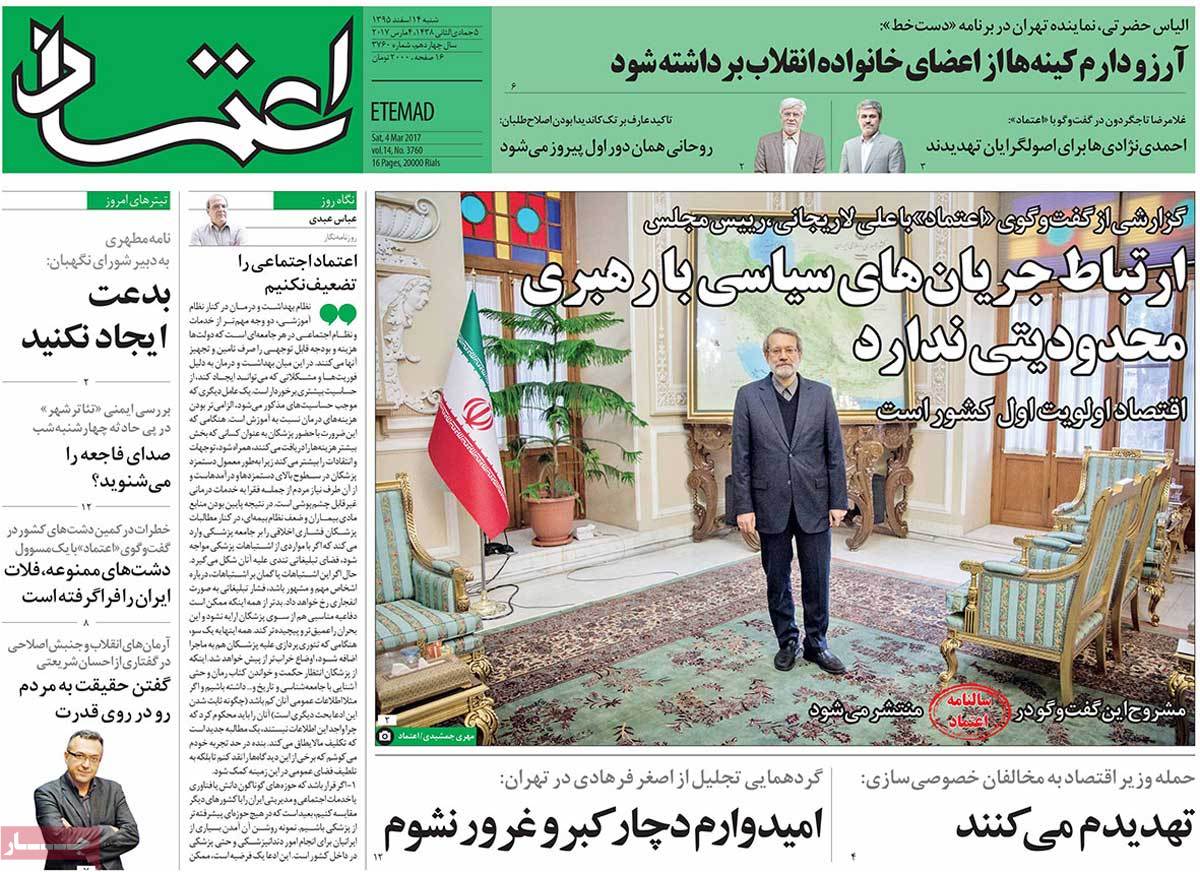 ---
Ettela'at:
1- US Council on Foreign Relations: Saudi Arabia Has Failed in All Fronts
2- UN Harshly Criticizes Saudi Arabia for Human Rights Violation
3- Nigerian Army Once Again Oppresses Shiites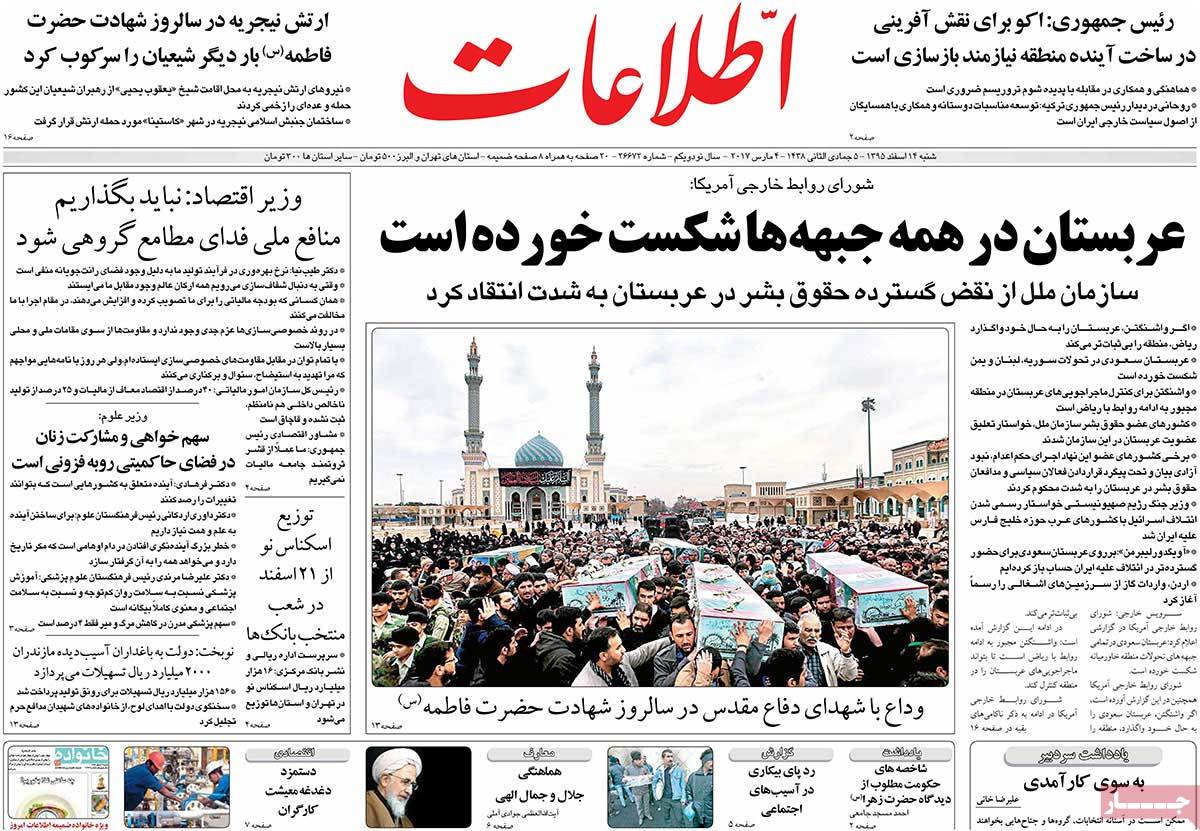 ---
Haft-e Sobh:
1- Iranian Old Woman Dies of Cold, Hunger in Canada Where She Came to Visit Daughter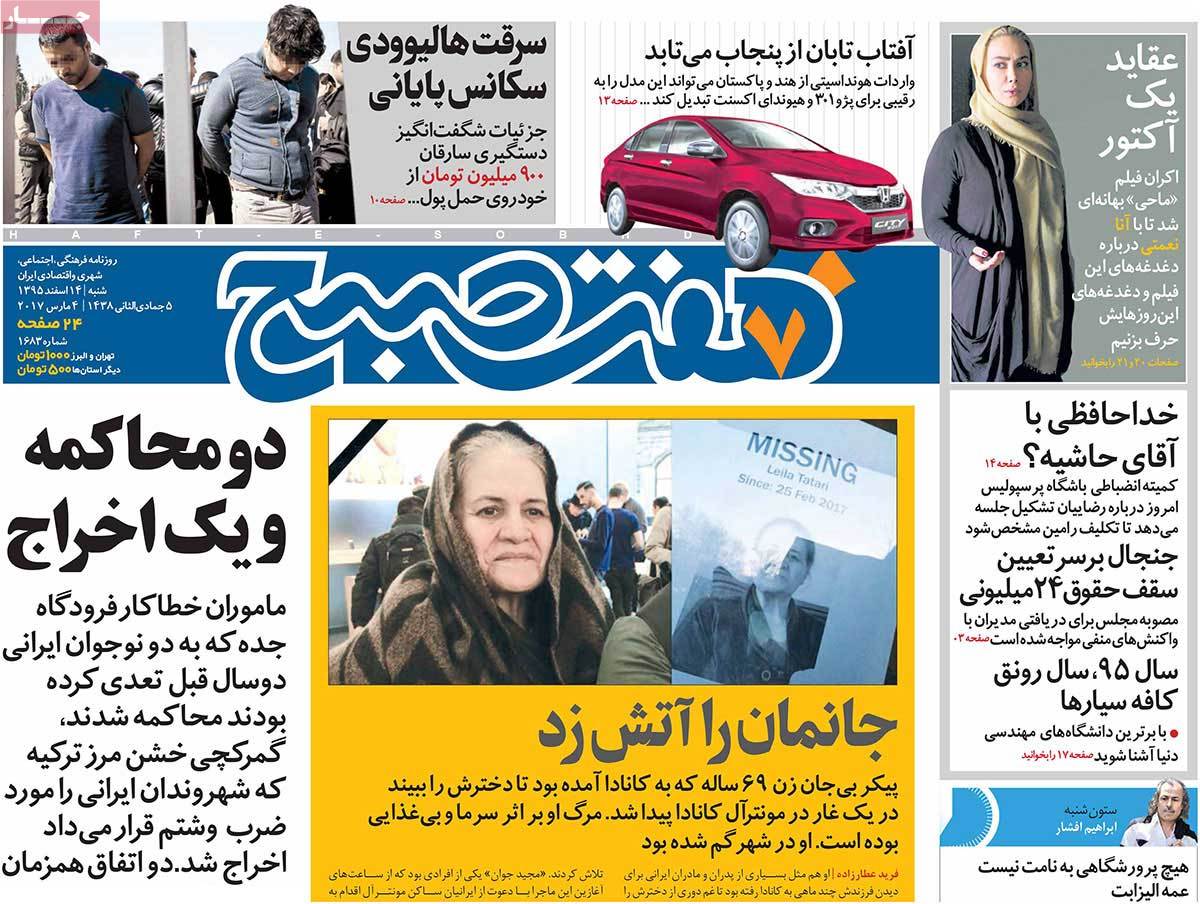 ---
Iran:
1- Iranian Cinema Holds Celebration in Honour of Farhadi
2- Rouhani and Erdogan Meet on Sidelines of ECO
3- Iranian President: We'll Turn Differences to Strengths through Dialogue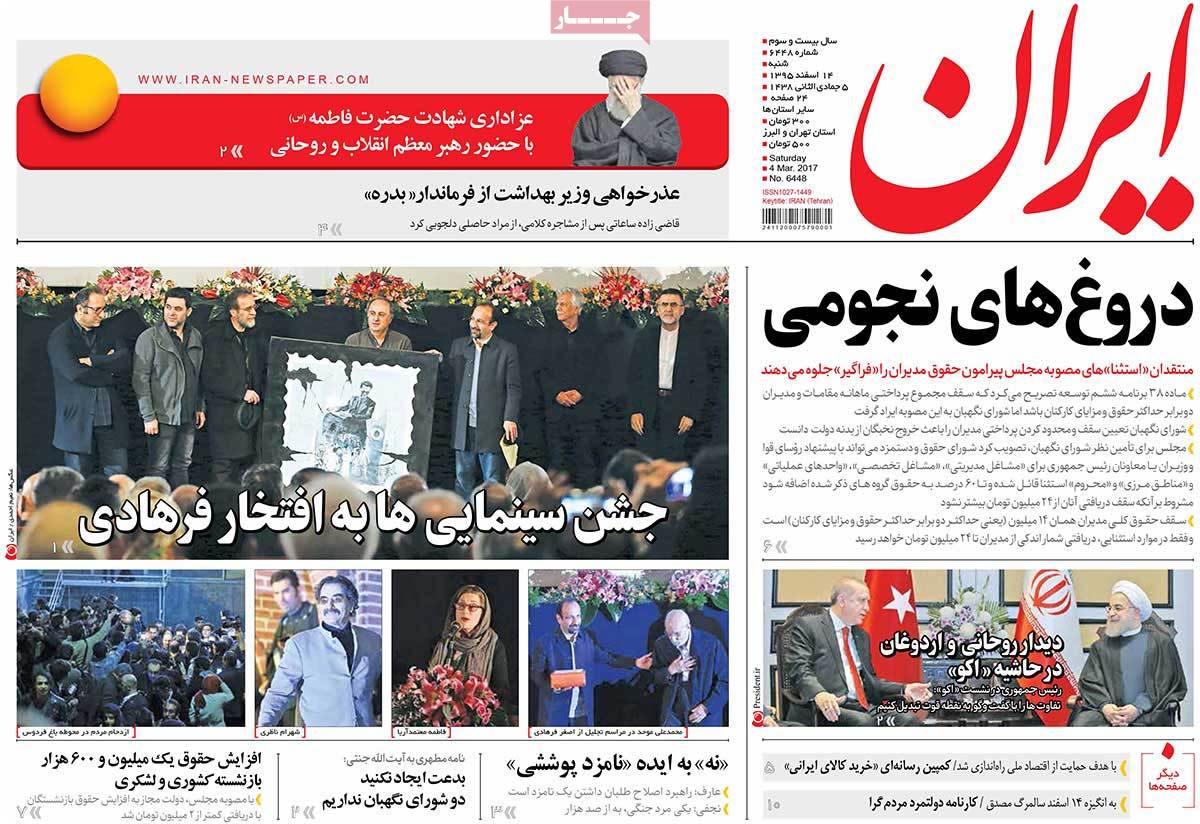 ---
Jame Jam:
1- Nuclear Chief: Iran Continues Demanding Its Rights of Westerners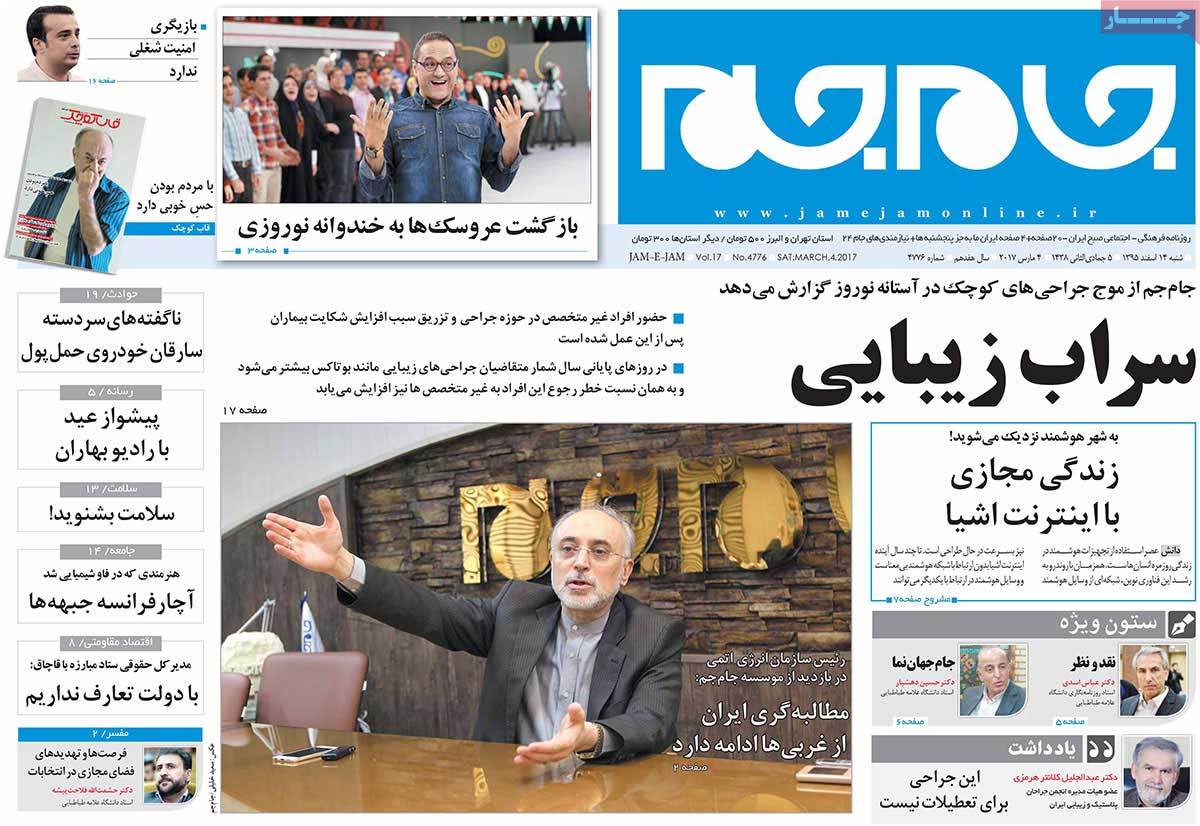 ---
Javan:
1- US Attorney General on Verge of Resignation over Ties with Russia
2- Difference between the Great Brando and Farhadi!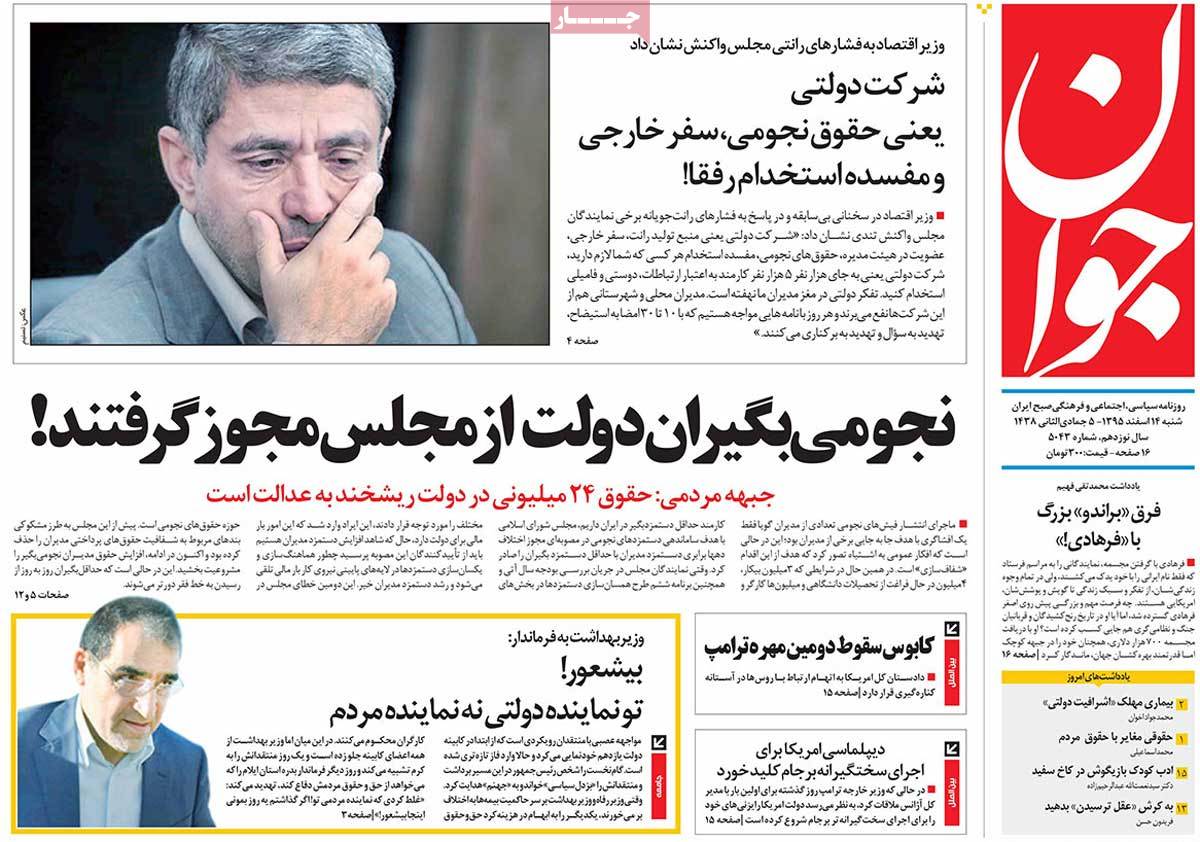 ---
Jomhouri Eslami:
1- Iran's Successful Efforts in ECO Summit to Create Stability in Region
2- Syrian Army Liberates Palmyra
3- Yemenis Hold Anti-Saudi Rallies, Underline Use of Missile against Riyadh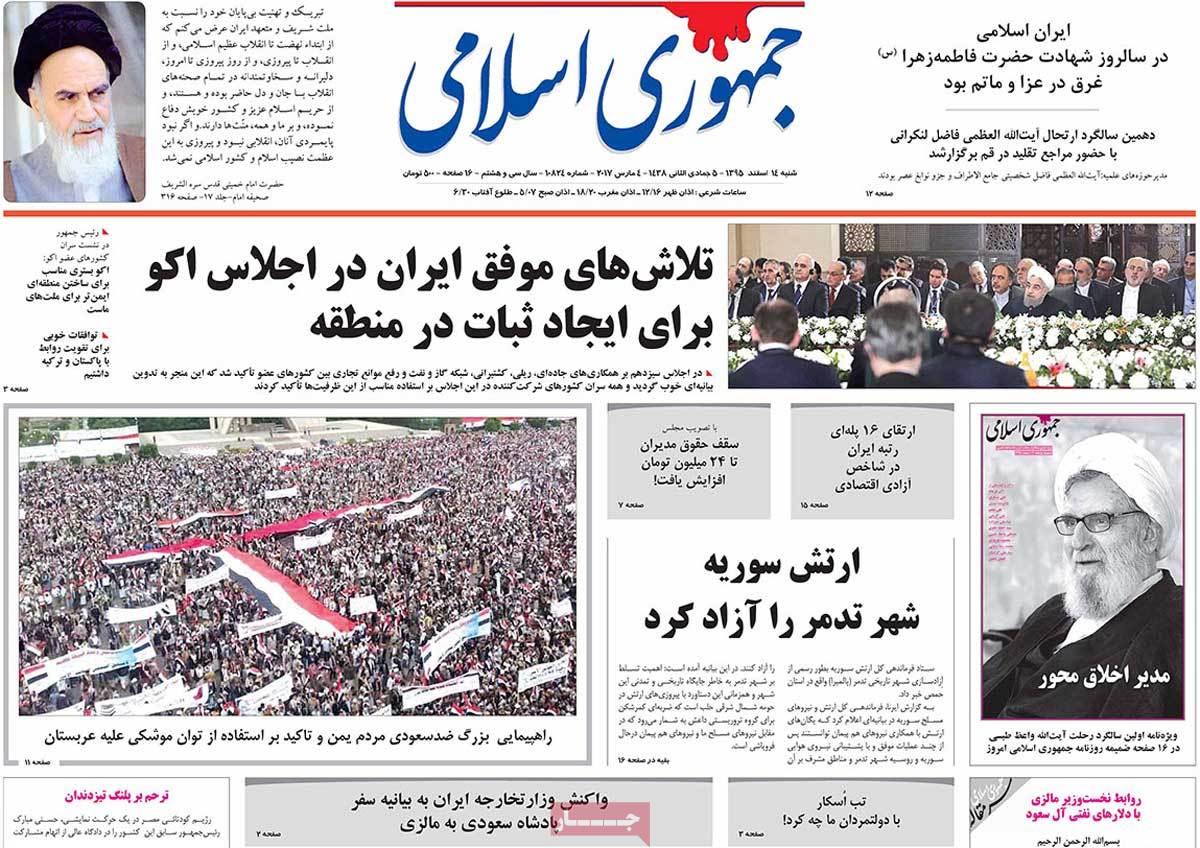 ---
Kayhan:
1- Wave of Reactions to Parliament's Strange Bill: Majlis legitimises astronomical salaries; Executives can receive 30 times more than workers
2- ISIS Leader Admits Defeat; Terrorists Escape to Mountainous Areas
3- Foreign Affairs: US Should Reinforce Moderates in Iran for May Election before It's Too Late
---
Mardom Salari:
1- Saudi Arabia Spends Billions to Counter Iran: A Report on King Salman's Southeast Asia Tour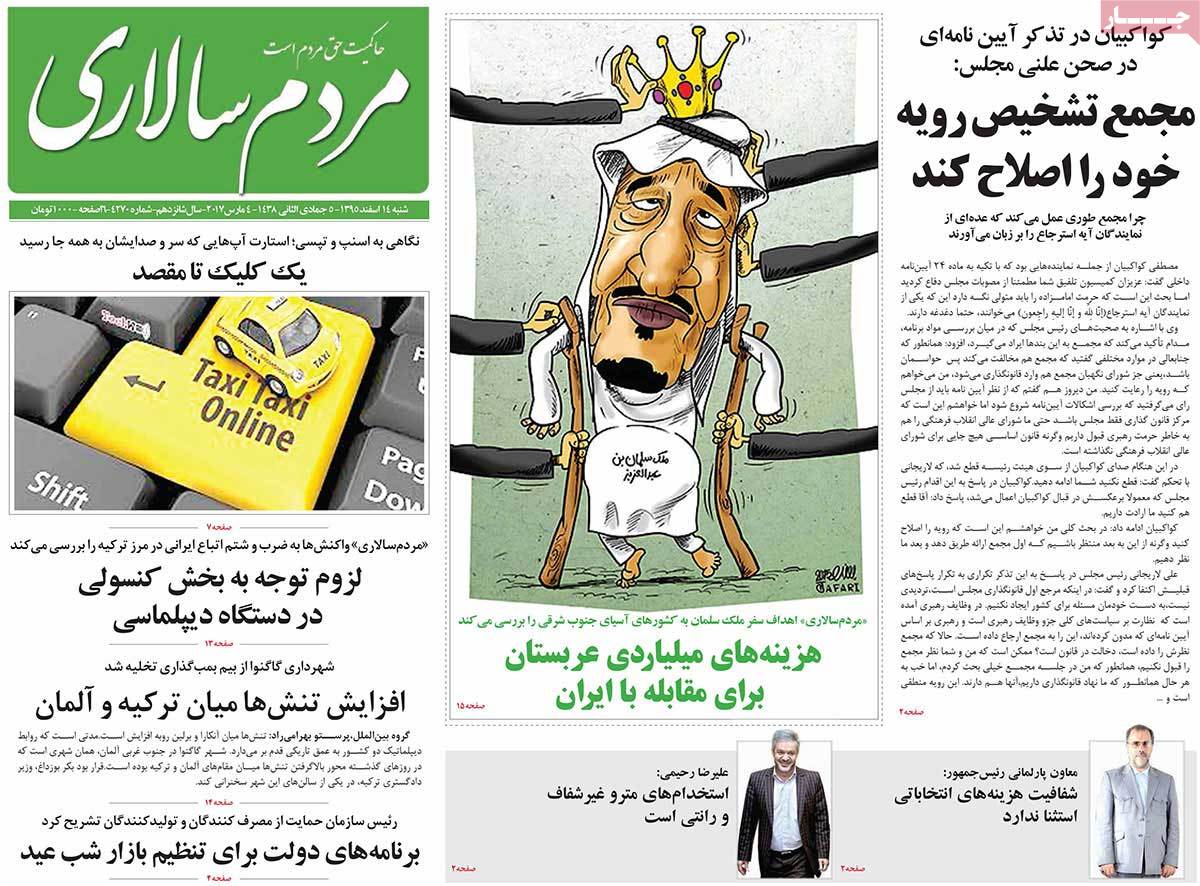 ---
Resalat:
1- Ayatollah Makarem Shirazi: Arab NATO Is US Plot to Destroy Muslim World
2- Ayatollah Khatami: Regional Countries Should Take Lesson from Saddam's Fate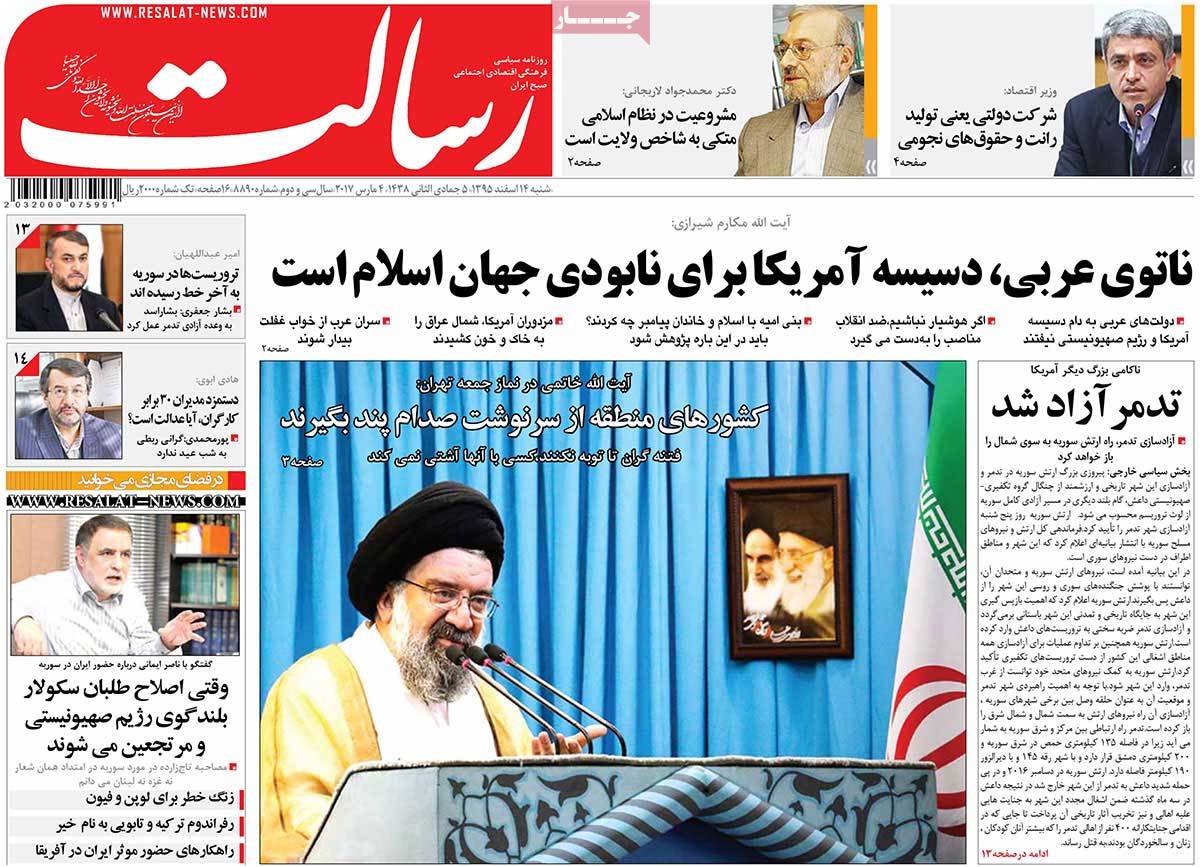 ---
Setareh Sobh:
1- French Ex-PM, Presidential Candidate Accused of Paying $700,000 to Wife, Children
2- US Economy to Become Fragile vis-à-vis China: Analyst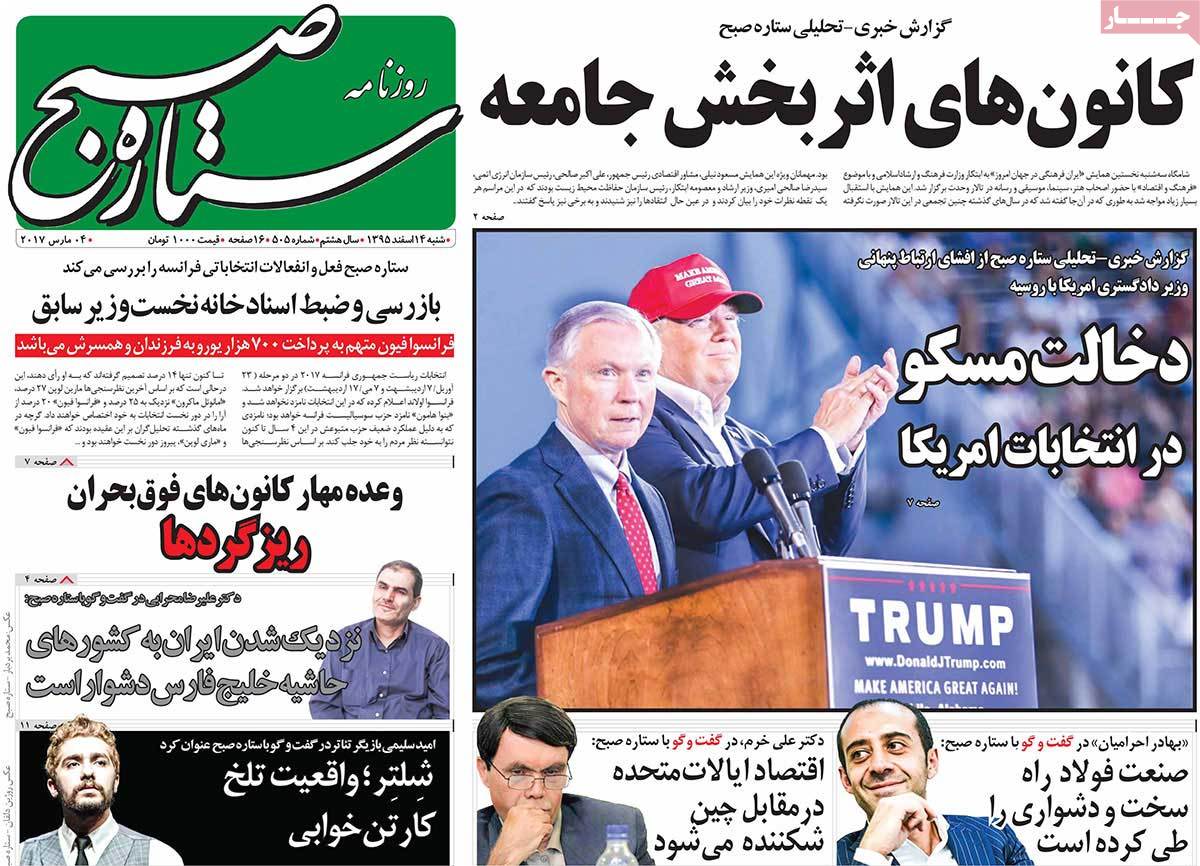 ---
Shahrvand:
1- Iranian Calligrapher Amirkhani Receives Chevalier Order in French Embassy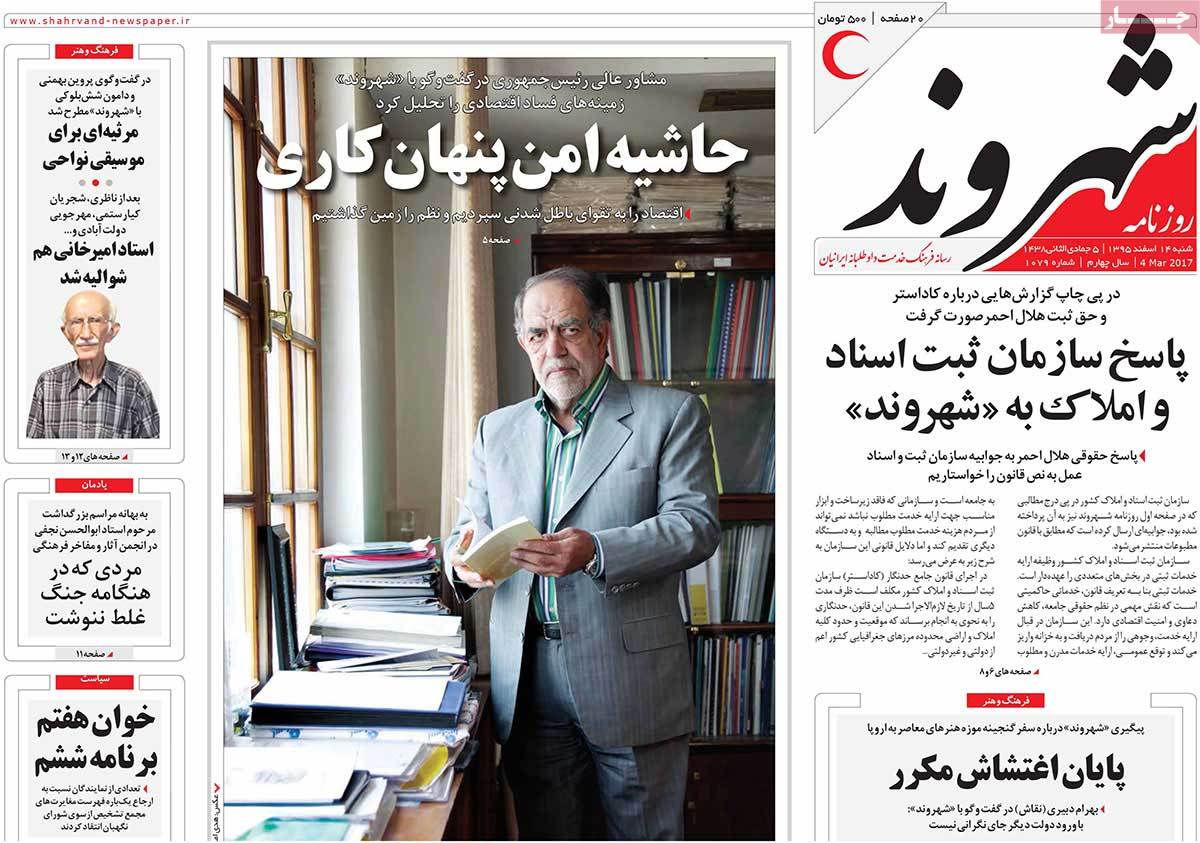 ---
Shargh:
1- Farhadi in Appreciation Ceremony: Cinema Knows No Border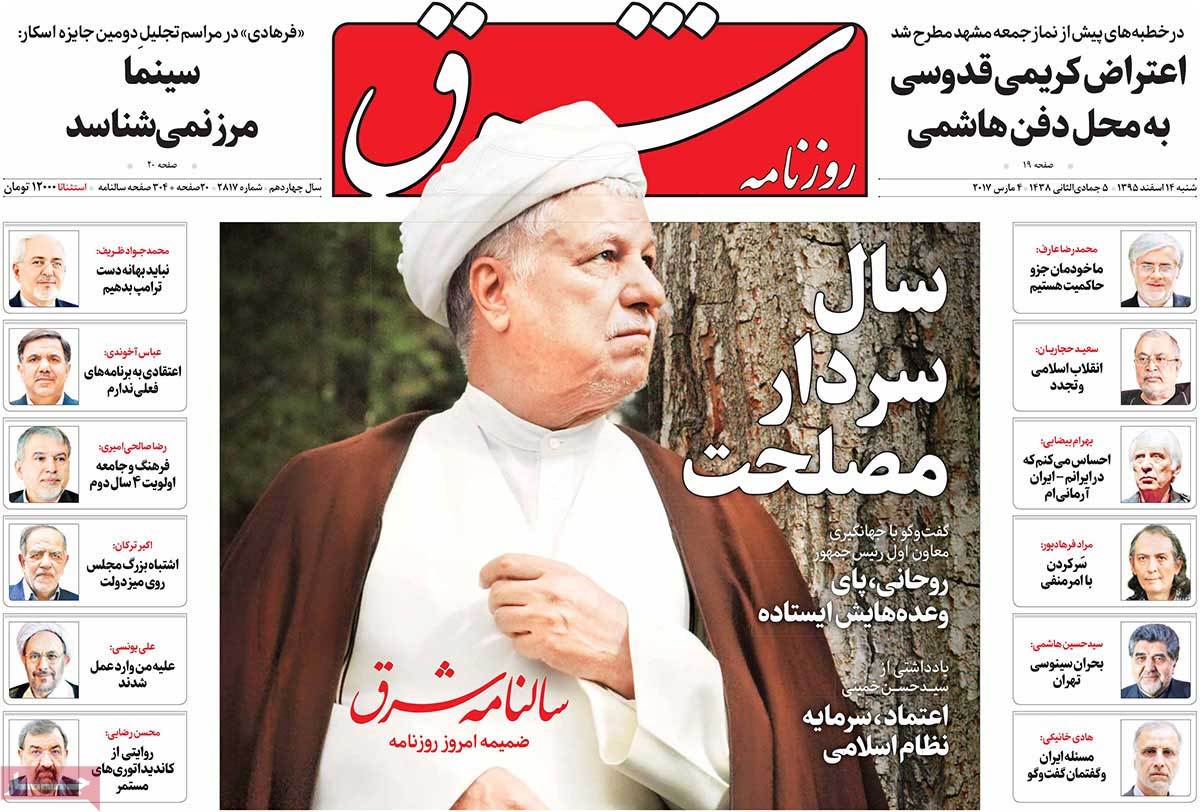 ---
Vatan-e Emrooz:
1- Astronomical Salaries Repeated! Widespread protests against parliament's bill that legalises astronomical salaries for executives
2- Culture Minister: 6 Ministers Pursuing Issue of 'Clash of Clans'!
3- Trump's State Dept. Shut Down: Atlantic's Report about Chaotic Situation of US Diplomacy Apparatus