Thursday, March 17, was the last day Iranian papers were publishes in Iran. 
Most of the papers chose colorful photos on their front pages to felicitate the arrival of the New Iranian Calendar Year.
The Iranian President Hassan Rouhani's accounts regarding his administration's policies for the coming year and the country's economic developments in the year grabbed many headlines on Thursday.
Here are the top headlines:
Abrar:
Iran puts conditions to endorse new Canada approach
President: Iran ready for int'l relations
Ministers' resignation letters sent to Iraqi government
AEOI spokesman: IAEO needs not inspect details of Iran nuclear activities
Speaker: Economic upturn, chief parliament concern
Anti-ISIL spokesman: ISIL seriously weakened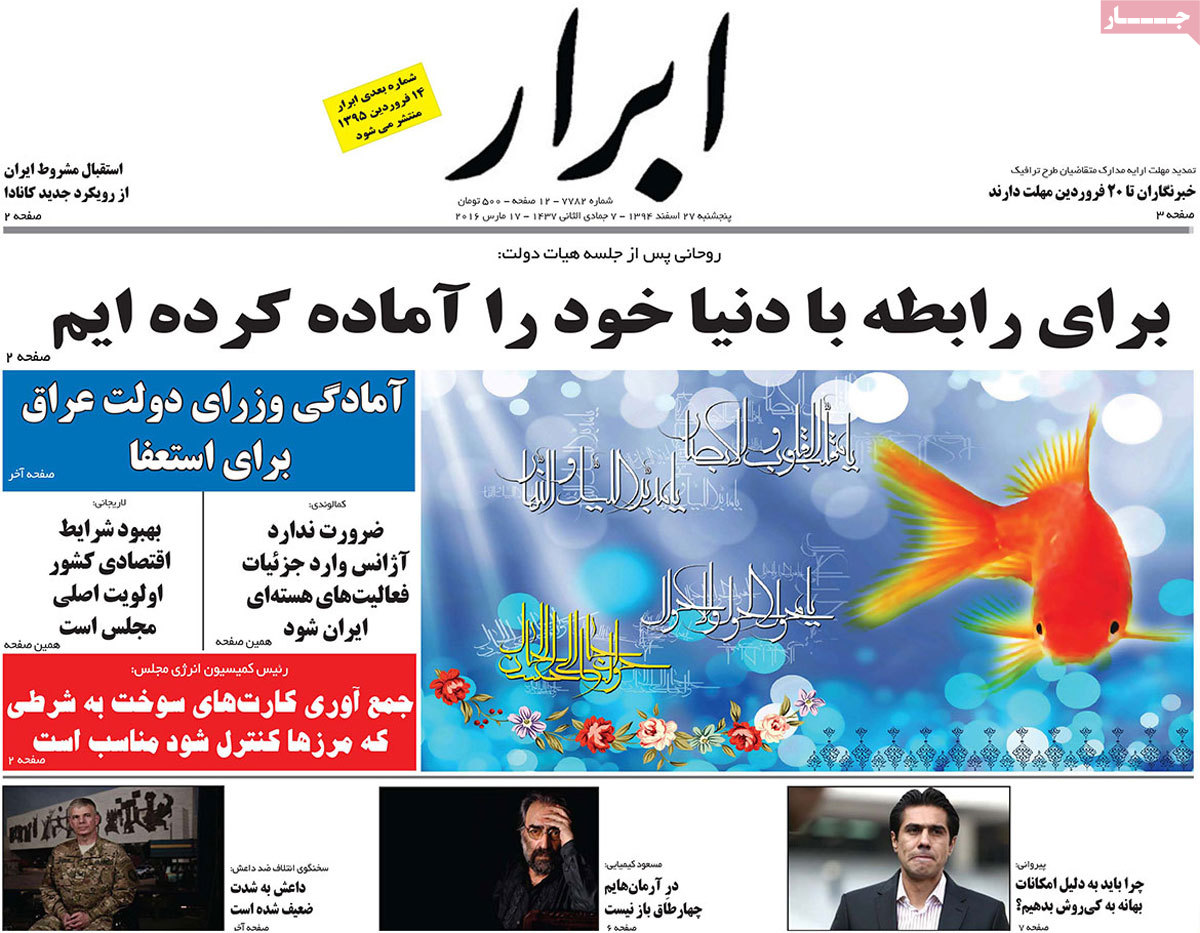 ---
Asrar:
Iran adds 2,000 seats to aerial transportation capacity: Roads minister
Rafsanjani: Nation has the final say
Iran regains lost oil market share: Petroleum Minister Zangeneh
Zarif: ME border change will be apocalyptic
Kerry: Syrian Crisis at a Turning Point
AFC votes to hold Iran-Saudi Arabia games in third country; Penetration of Saudi dollars in Asian sports
---
Arman-e Emrouz:
Rafsanjani: "1394 was nation's year"
1394 is the current Iranian year which comes to an end on March 19.
Details about Tehran marker fire
Tehran Prosecutor reveals major scam case in Bank Tejarat
Rouhani felicitates New Calendar Year: Spring of moderation, peace
---
Ebtekar:
Blossoms of Hope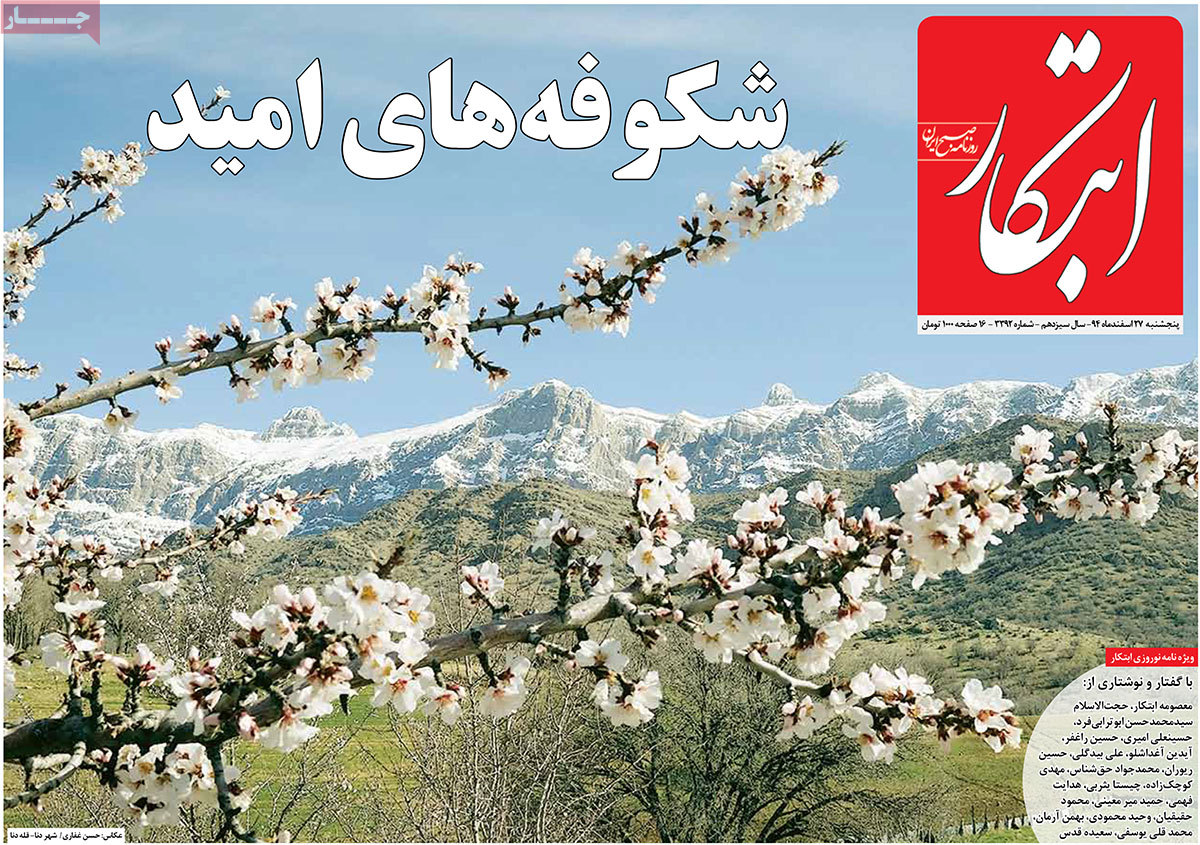 ---
Ettela'at:
Iran to maintain constructive interaction with world: Rouhani
Iranian nation hates tensions, confrontations, extremism: Iranian President Rouhani
Iran military strategy defensive: Zarif
Syrian opposition voice readiness to enter direct talks with Assad
Rafsanjani underlined boosting domestic production for curbing smuggling
Plans under way to sweeten Persian Gulf water for delivery to 18 provinces
End-of-year fire festival kills 3
---
Etemad:
Anticipating spring
CBI reacts firmly to SWIFT opening deniers: Go see SWIFT room in banks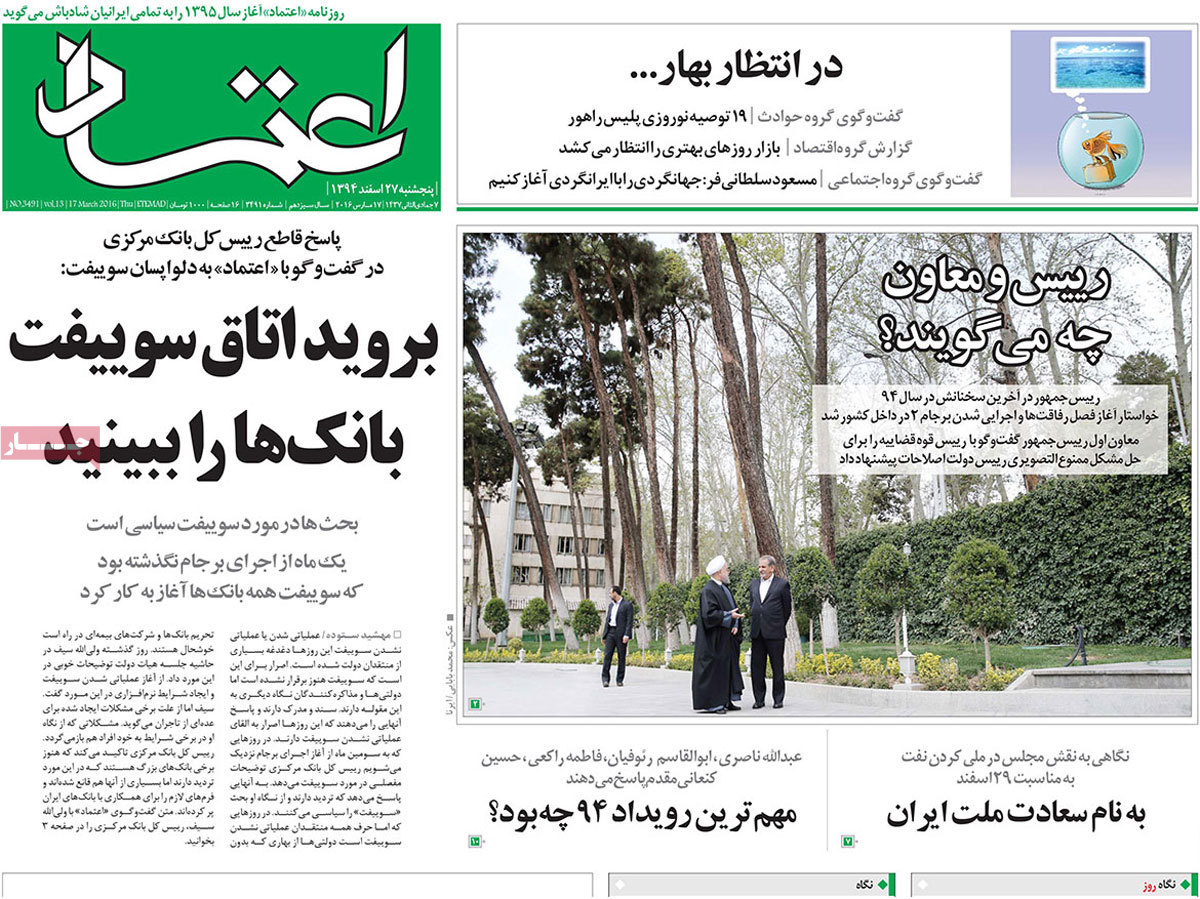 ---
Afkar:
Chief: IRGC has turned military, security threats to opportunities
Republicans seek fresh sanctions in Iran missile test: Zarif
Iran enjoying sustainable security for people in region
25m delisted from subsidy receivers
Major scam case uncovered in Bank Tejarat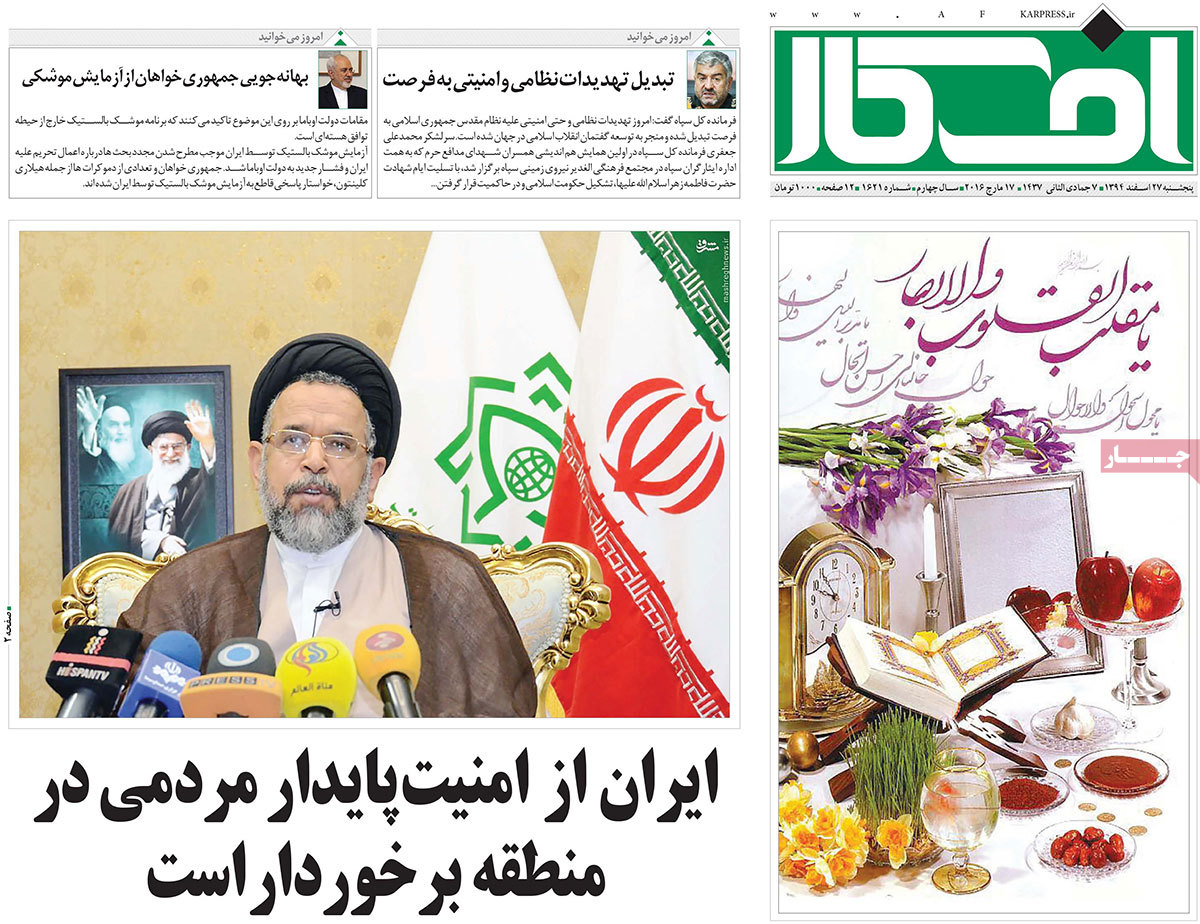 ---
Iran:
Iran safe destination for investors: Zarif
4 new Iranian banks linked to SWIFT: Official
120 projects under way for emergency water supply
Russian troops' withdrawal from Syria was pre-planned: Iran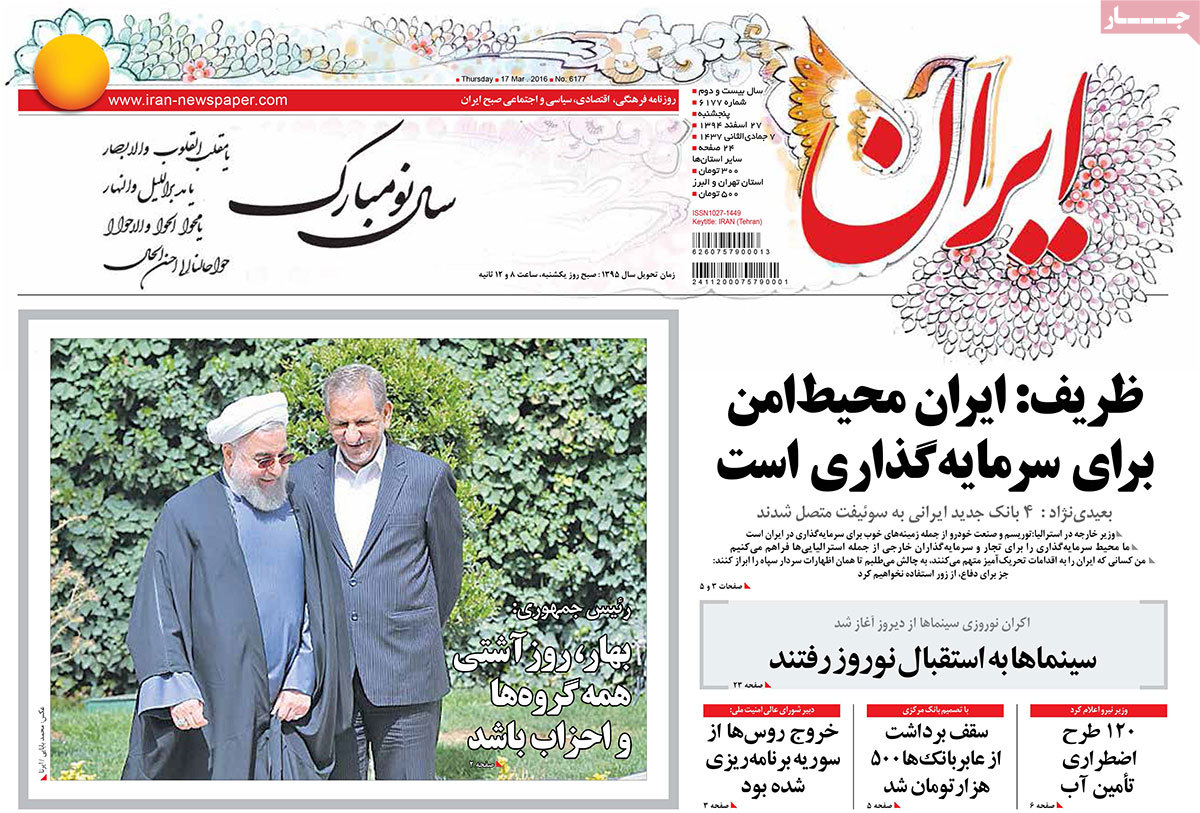 ---
Jomhouri Islami:
Rouhani: I hope next year will be year of intimacy, friendship between parties, factions
Lavrov expounds on why Moscow withdrew troops from Syria
Parliament speaker: JCPOA removed big hurdle in people's lives
Zarif: Sanctioners not concerned about nuclear arms; they fear Iranians' self-reliance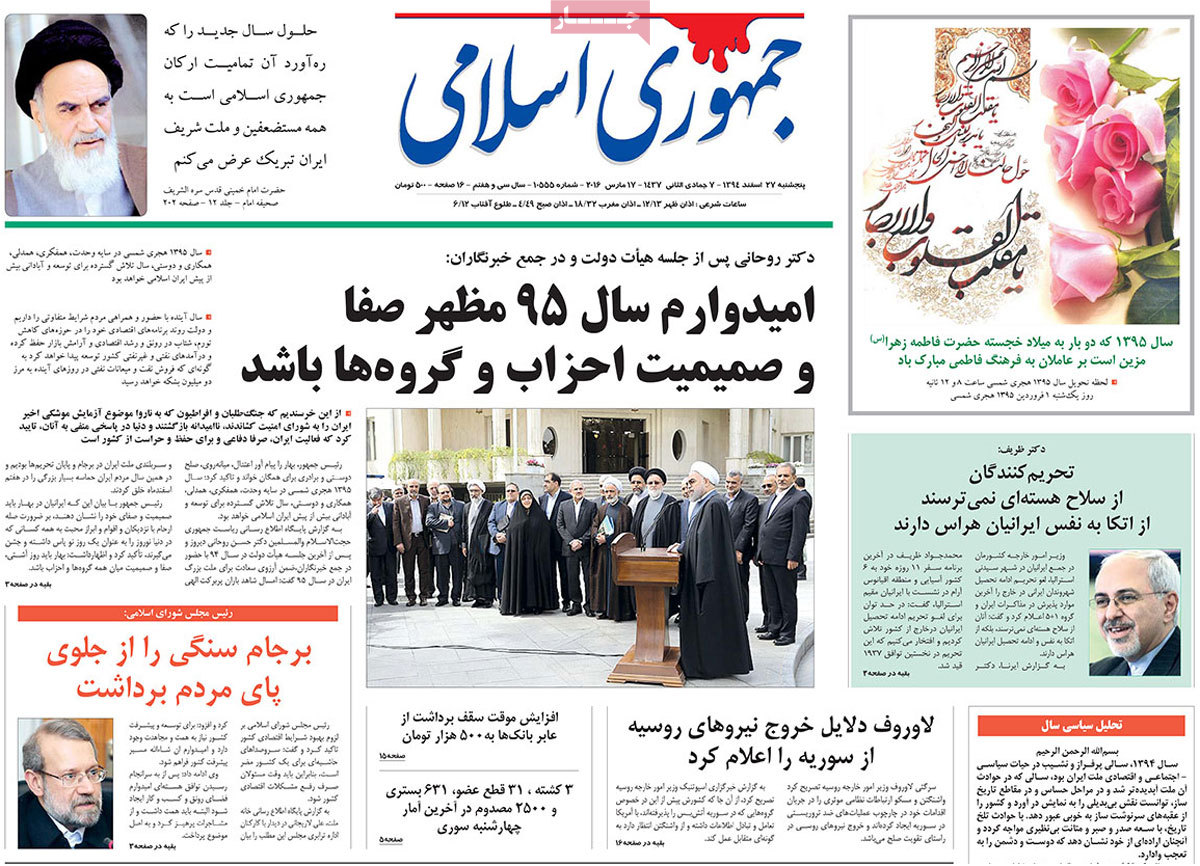 ---
Javan:
Iranian Nowruz in critical territories
Western designs for Russian exodus from Syria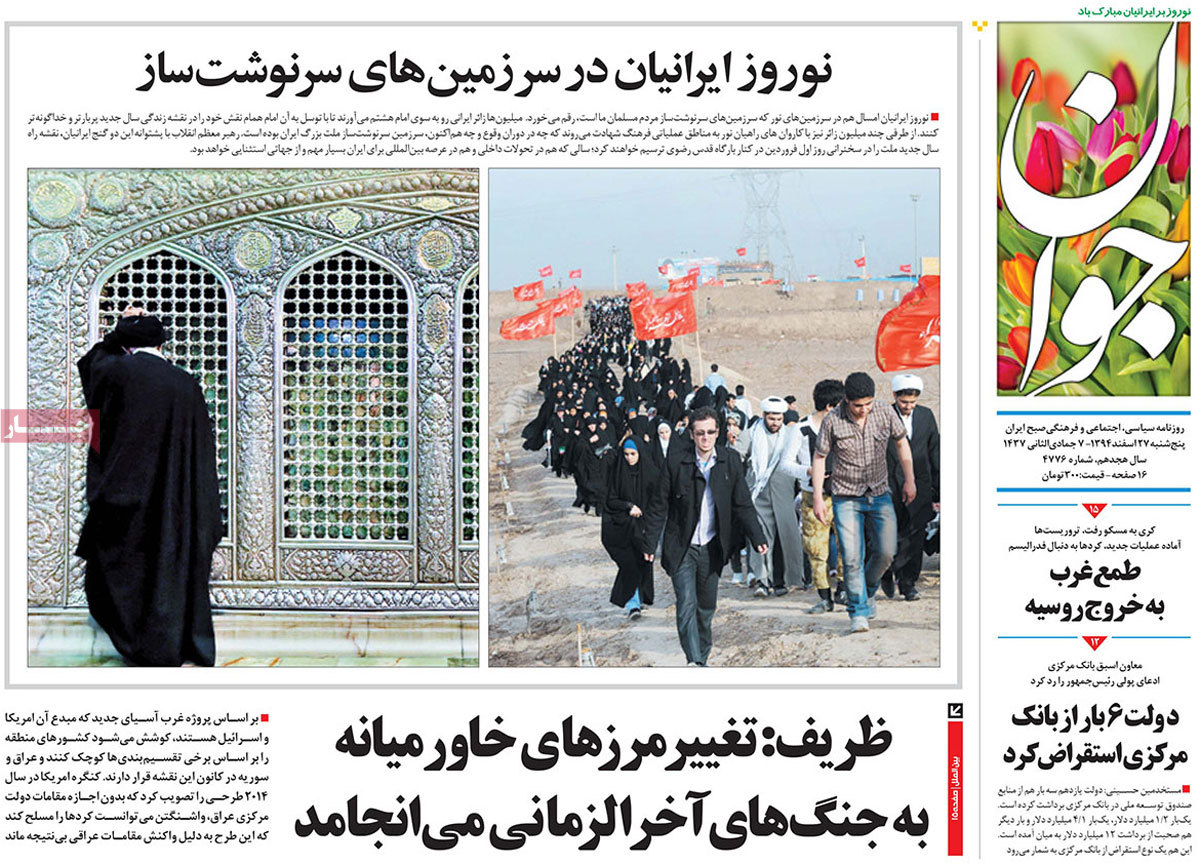 ---
Hemayat:
Murmurs about fresh anti-Iran sanctions; US keeps dishonoring JCPOA commitments: Analysis
Rouhani upbeat about UNSC decision to endorse anti-Iran measure
---
Khorasan:
The paper has garnered a list of famous men and women who made every viewer smile bitterly by their deeds.
"Top bitter laughing stocks of year"
Leader outlines Iran's top strategies for new calendar year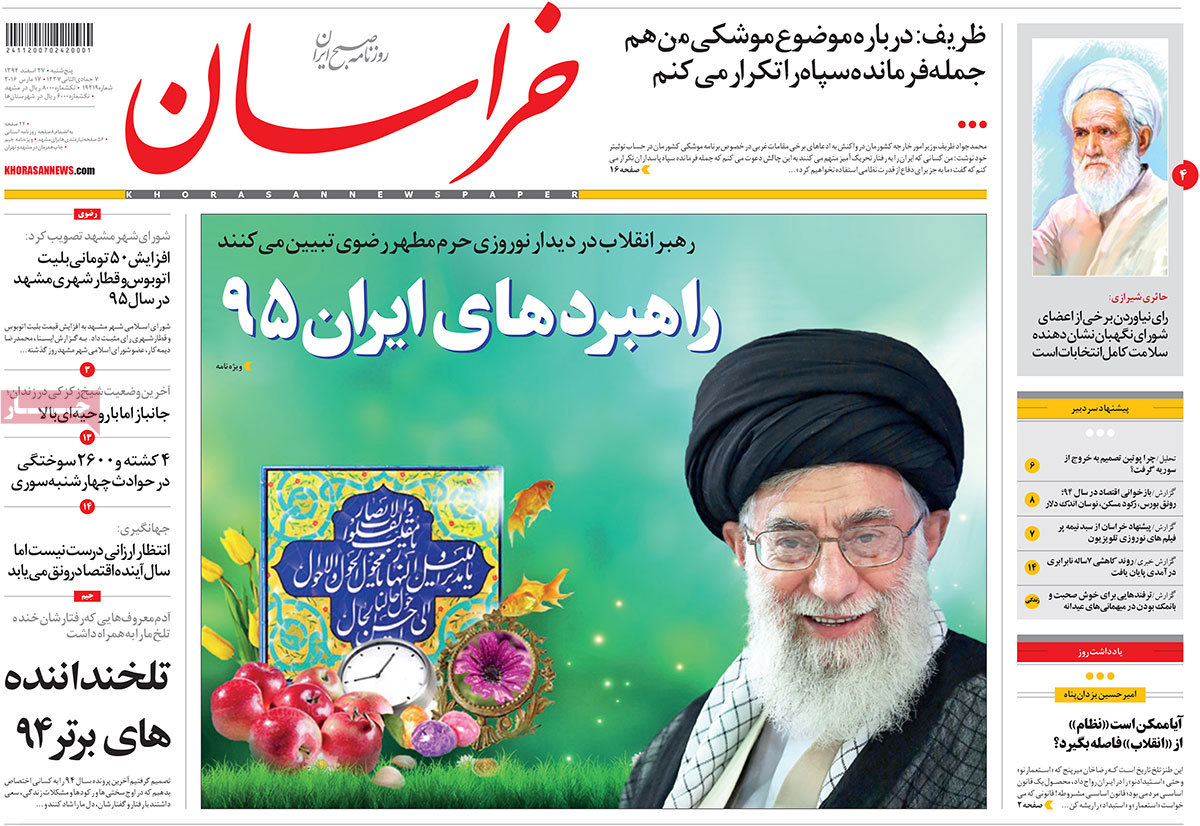 ---
Rah-e Mardom:
Iran ready for relations with world: Rouhani
Zarif: Iran never uses military might except for defensive reasons
Petroleum minister: Resistive economy fully observed in oil industry
People will judge: Gen. Soleimani
---
Resalat:
Iran to maintain constructive interaction with world: President Rouhani
Trump warns of impending upheaval in the US
---
Rooyesh Mellat:
Rouhani says upbeat about world's denial of anti-Iran extremists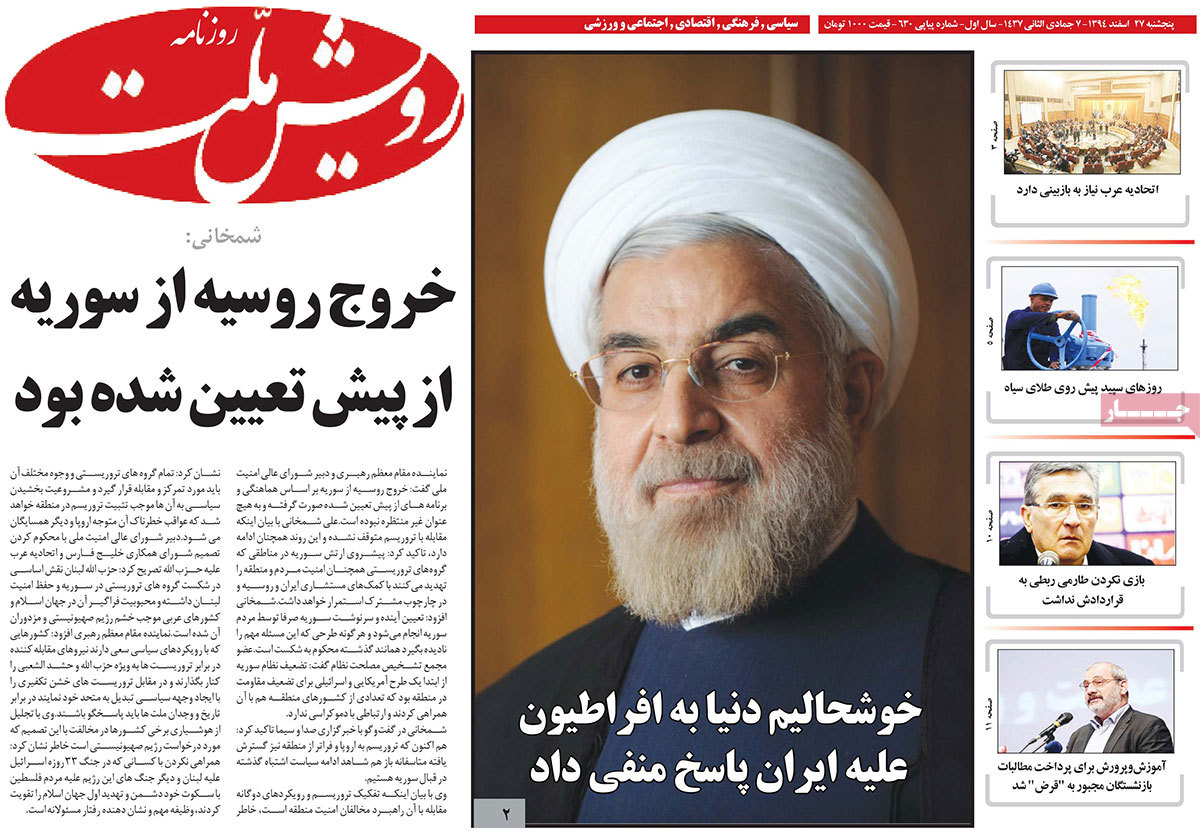 ---
Shargh:
Felicitations for New Iranian Calendar Year
---
Shahrvand:
New year must be year of political reconciliation: Rouhani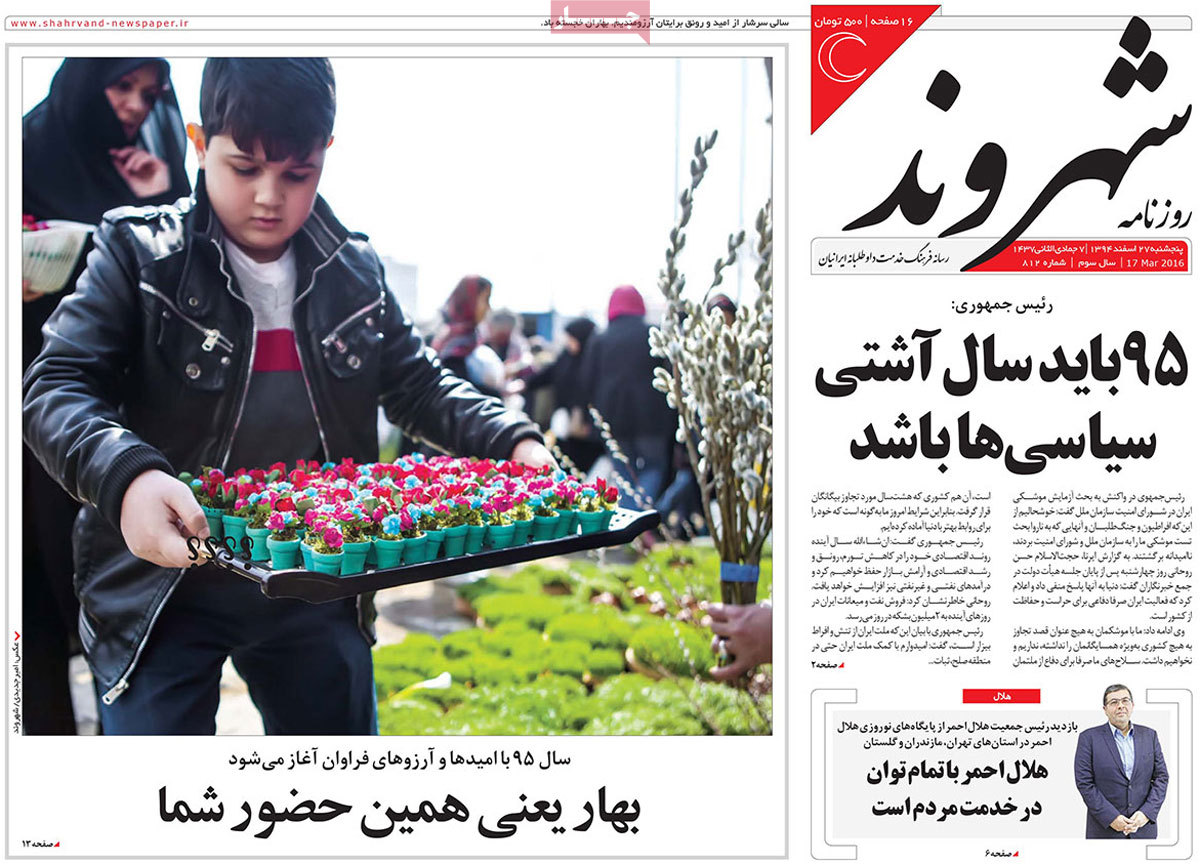 ---
Sahib Ghalam:
Momentous progress ensured by new oil contract model
There comes scent of spring
Persian Gulf FTZ raised steel output by 2.8mt/y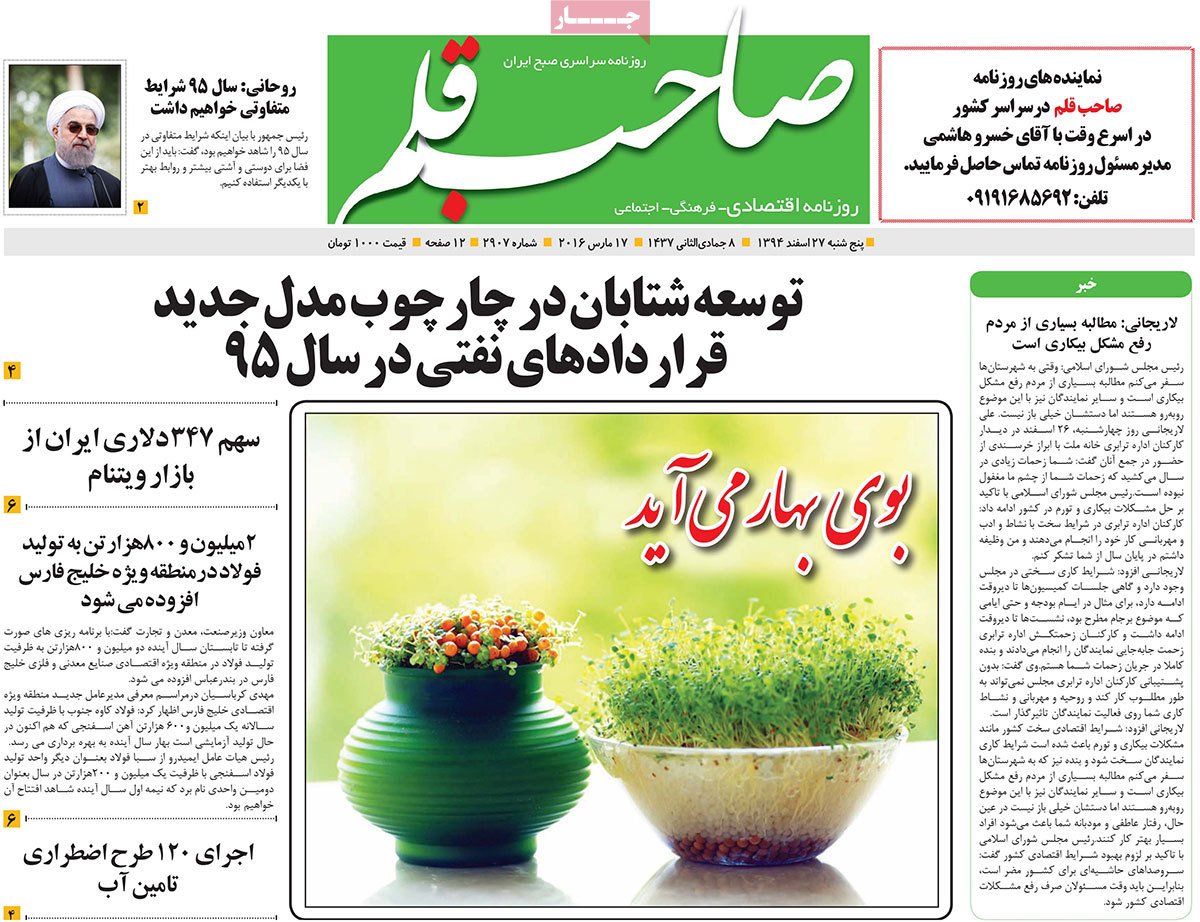 ---
Kaenat:
Iran to finalize airbus deal next year: Minister
Gas blast injures 39 in Tehran market
Economic upturn continues: Rouhani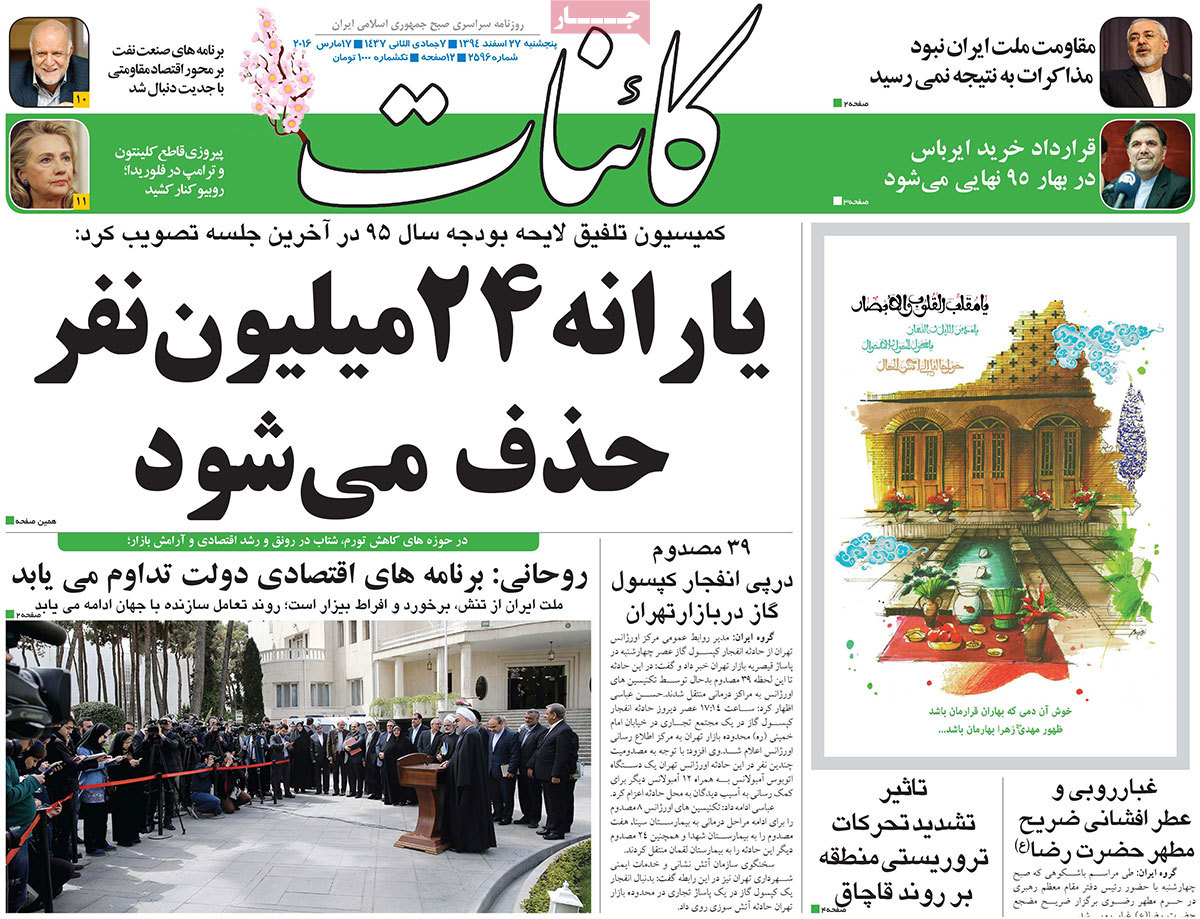 ---
Kayhan:
Lessons of year 94, roadmap for year 95: Report
Saudi fighters kill hundreds in Yemen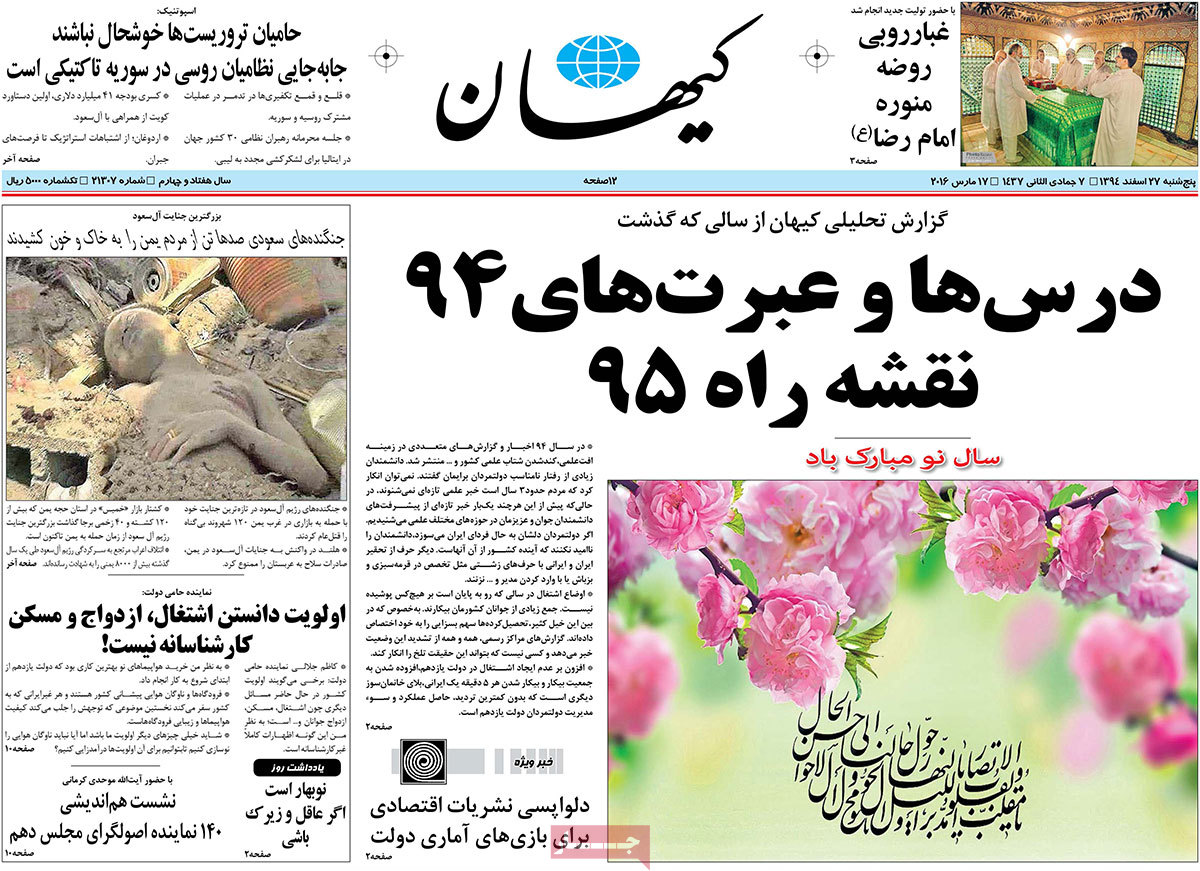 ---
Abrar Eqtesadi:
Iran plans for power export to Europe
Iran non-oil exports up 17%
First Iran oil shipment to call at Greek port by 

March 29

Iran to finalize Renault deal next year